Best Items To Sell On Etsy To Make Money
Best Items To Sell On Etsy To Make MoneyWant to know what sells best on Etsy? This blog post highlights ideas from the TOP selling items on Etsy to make money in 2022 (Etsy Top sellers in 2021).
Etsy is a marketplace where anyone with an idea can turn their creativity into a new craft business. It's become the go-to place for people to sell handmade items and personalized gifts or vintage items.
And why not? Etsy is one of the most trusted online marketplaces with tons of buyers (89.6 million active buyers at the end of June 2021) searching for products every day.
Starting an Etsy business shop is one of the best jobs for stay-at-home moms or anyone wanting to make extra money on the side.
So how to make money on Etsy? What exactly are people looking to buy?
What type of products do they love the most? What are the most popular items on Etsy? Is it worth selling on Etsy?
This can be a daunting task, especially when you don't know how to find what to sell on Etsy.
Well, I'm here to help. This post will provide you with information on some of the most popular things and craft ideas to sell on Etsy in 2022.
Not yet started a store, snag 40 free listings for your new Etsy store and grab this free starting an Etsy shop checklist.
This website contains affiliate links which means we may earn commissions if you purchase through them (no extra cost to you). You can read our policies here.
What Sells Best On Etsy?
There are currently over 70 million items for sale on Etsy divided into hundreds of categories and sub-categories.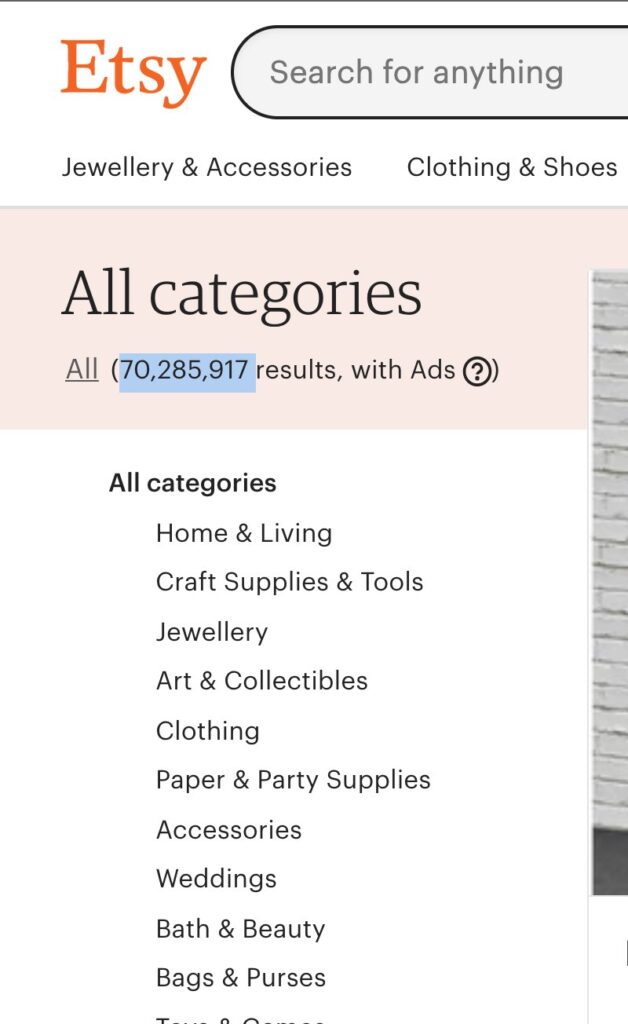 The sheer number of items available on Etsy is enough to make your head spin, and finding what to sell on Etsy can be difficult.
But don't worry, I've got you covered with the ultimate list of what sells best on Etsy.
If you want to know, what should I sell on Etsy to make money? 
Here is the list of top things to sell on Etsy in 2022:
Jewelry
Printables
Wall arts
Greeting cards
Party supplies
Stickers
So, how would you know what are the most popular things to sell on Etsy? 
Well, finding top trending items on Etsy is quite easy. Let's find out how.
How To Find The top selling Items On Etsy?
1. Find the most popular items to sell on Etsy using Etsy
You can go to Etsy search to find the 'Popular Right Now' items and 'Editors' Picks' sections to explore top-selling Etsy items.
To find more insights on trending things to sell on Etsy, I would recommend reading Etsy's trends reports.
Etsy publishes these reports every quarter and they are jam-packed with information on monthly searches, the total number of sales.
2. Using Third Party Sites
There are three great sites you can choose from to discover the top Etsy sellers and see what people are buying.
eRank: One of my favorite tools is eRank. erank helps you figure out the best keywords for your listing so it ranks better.
It also tells you how well your listing is doing compared to other people's listings. It is a free site that allows up to 50 keyword look-ups a day.
eRank also provides a glimpse of the most successful Etsy shops at any particular moment and the number of daily sales they make. You can also get a glimpse of trending keywords on Etsy so you can update your shop with the latest trends.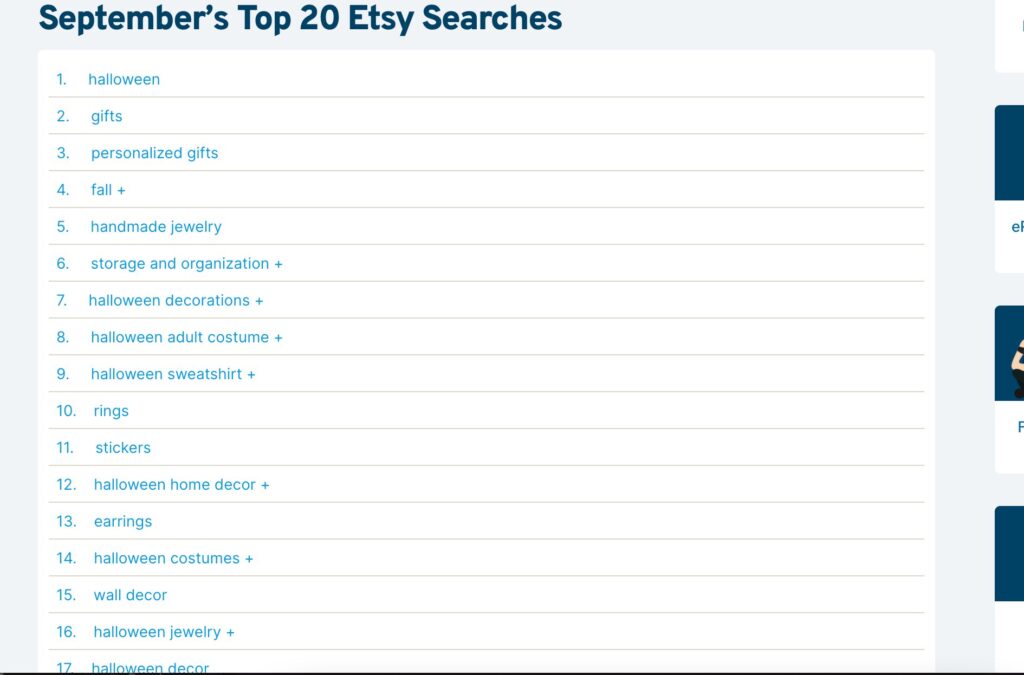 Once you have your own store, it can help you craft great product names and descriptions. 
Marmalead: Marmalead is a paid tool that allows you to optimize your listings and shop through SEO, keyword research, and tracking features.
Marmalead can assist you with comprehensive keyword research if you're not sure what to sell on your listing.
Marmalead is a great tool for veteran Etsy shop sellers, while eRank is best for beginners.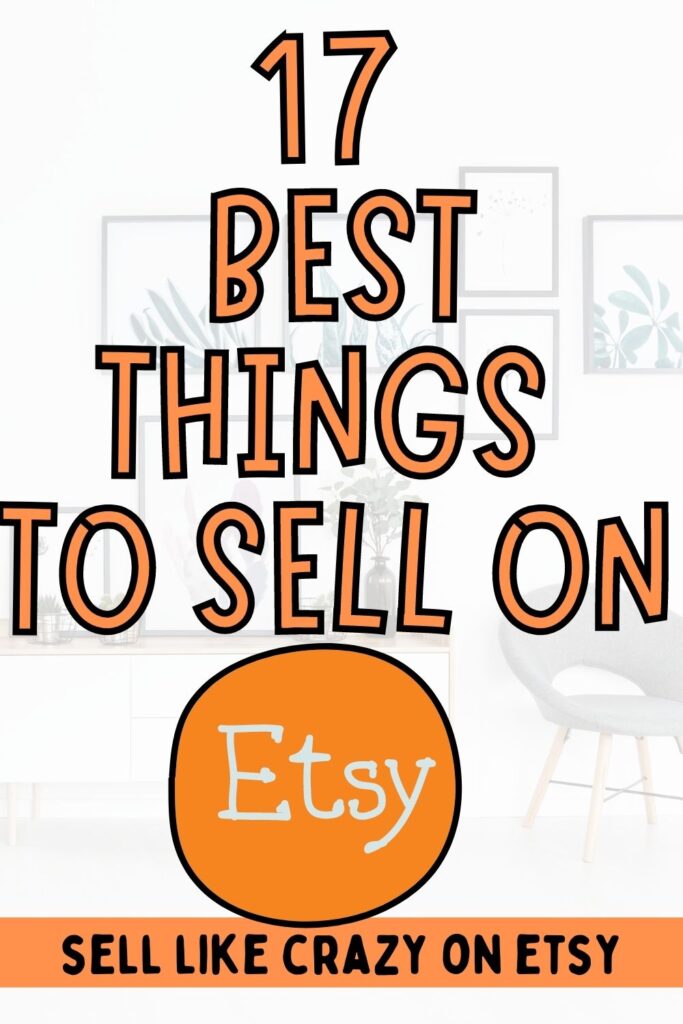 best Items to Sell on Etsy To Make Money in 2022
Here are the top selling Etsy items to make money in 2022.
1. Handmade jewelry
Jewelry is one of the best selling items you will find on Etsy. Etsy has a huge market for handmade jewelry.
It won't be a surprise to know that the majority of the TOP Etsy sellers by eRank are jewelry stores and are among the ones who make the MOST money on Etsy.
The reason behind its high demand is that handmade jewelry is unique and can be customized according to the customers' personal choices.
According to the recent Etsy seller handbook, personalized jewelry is one the trendiest item to sell on Etsy, with a 26%YOY increase in searches for personalized necklaces.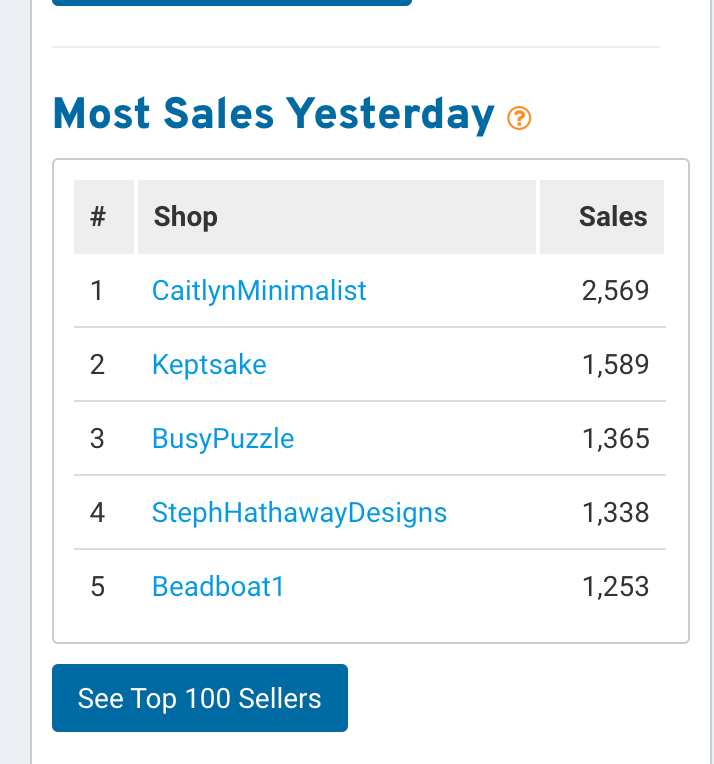 Above is a recent snapshot of the most sold items on Etsy on a day. As you can see, jewelry is the best-selling item from Etsy's top seller CaitlynMinimaslist.
Here are the best selling jewelry items to sell on Etsy:
Beaded jewelry
Personalized hand stamped jewelry
Personalized engraved jewelry
Laser cut personalized items
Gemstone jewelry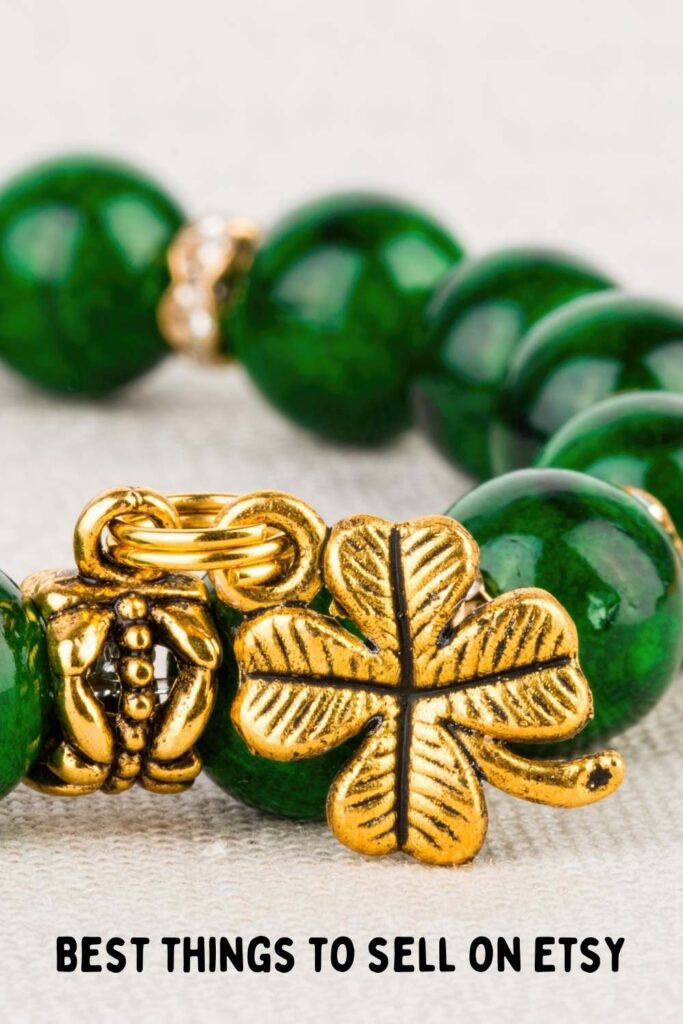 These are evergreen items to sell on Etsy, but if you want to explore ideas on trending jewelry items to sell, then do check my article on trending crafts to make right now, which includes fresh hot trending items that you can sell.
2. Stickers
You might be surprised to see them here, but they are one of the top-selling items on Etsy.
Many successful Etsy sticker shops have generated a lot of sales with just minimal designs as they are one of the most sold items on Etsy.
The best thing about selling stickers on Etsy is that people often buy in large quantities. You can sell them in small packs or larger quantities.
Another cool thing about stickers is that they are versatile; customers buy them for various purposes like decorating walls, giving them to kids as a party favor, etc. You can sell them year-round, but the most popular time for them is during the holidays.
And if you are wondering if making stickers is a difficult task, then you are so wrong.
You can design some cute stickers with a no graphic design background and print them with a sticker printer (or label printer) at your home. Stickers are lightweight compared to other products, so they don't require high shipping charges.
If you don't want to get into the hassle of printing and selling, you can sell digital stickers.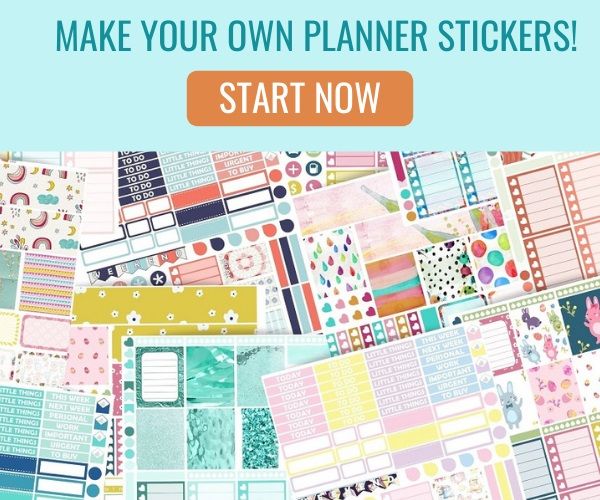 Want to learn how to design and sell stickers on Etsy? Check this free master class from Etsy's bestseller sticker mom and learn how she started and built a 6-six figure Etsy sticker business.
3. Beads And Jewelry Supplies
Next on the list of most profitable things to sell on Etsy are beads and craft supplies. With so many sellers selling jewelry online and crafters wanting to design their own DIY jewelry, beads, and jewelry supplies are among the top-selling items on Etsy. 
The best part is that selling beads and materials is also simple since you won't have to spend hours creating the product. 
As an Etsy supplier, this is one of the easiest things you can sell.
4. Digital downloads and Etsy Printables
One of my favorite best things to sell on Etsy to make passive money are printables and digital downloads.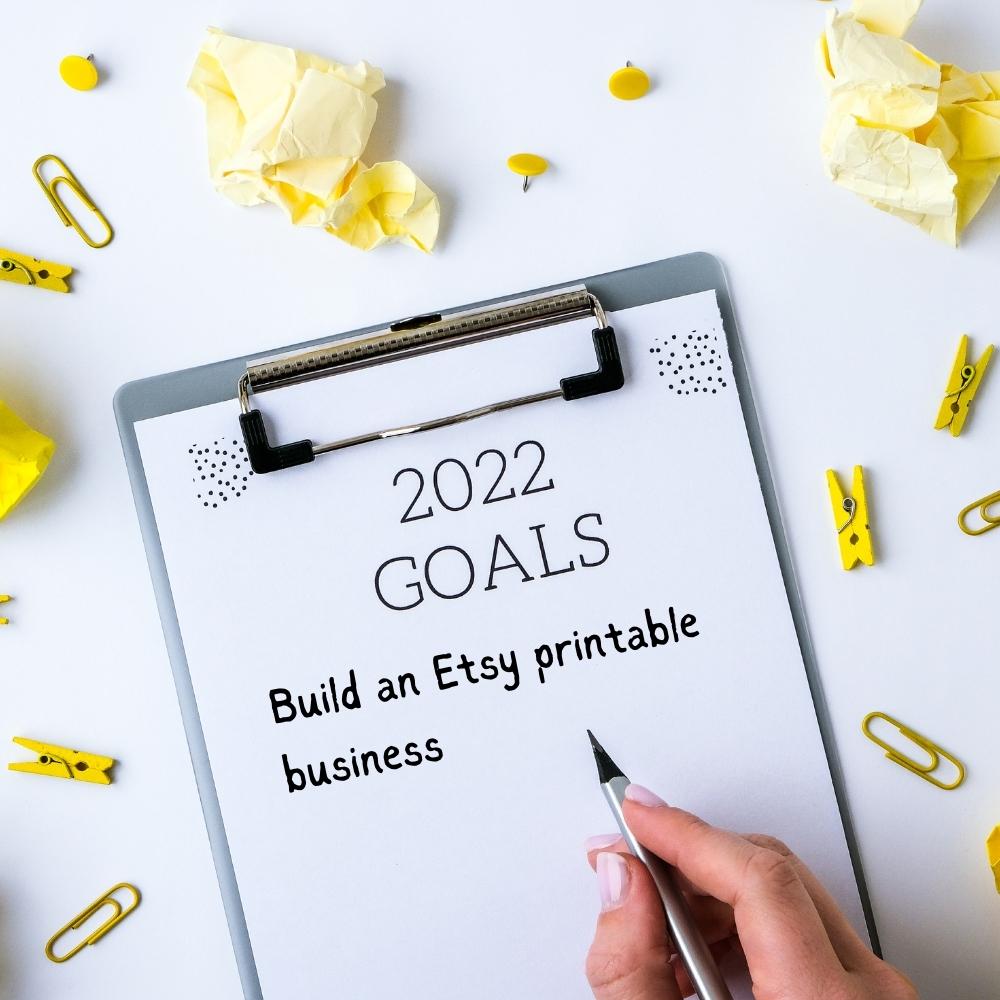 People are always looking for creative ways to express themselves, so it's no surprise that digital downloads and printables are selling like hotcakes on Etsy.
There are three main reasons why they are among the best selling Etsy items:
You make them once and list them on Etsy
No shipping involved
No overhead costs; you can start a new business at no to small low start-up cost!
There are many printables you can make and sell but if you want to do it the best way- check this free hot selling item list from Julie, who made more than $1700 from her one-page printable.
**She also has a free workshop on selling printables on Etsy as a side hustle, and it is one best course to sell printables on Etsy. See raving reviews here.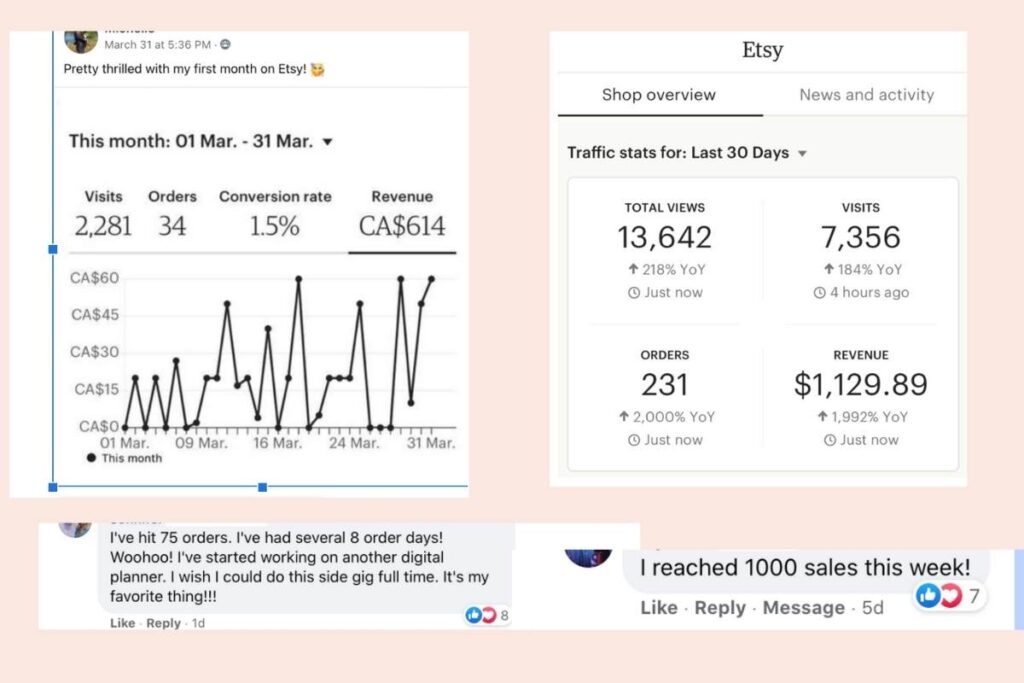 If you are curious to start your Etsy Printables Business, make sure to download this ebook on the best printables to sell on Etsy.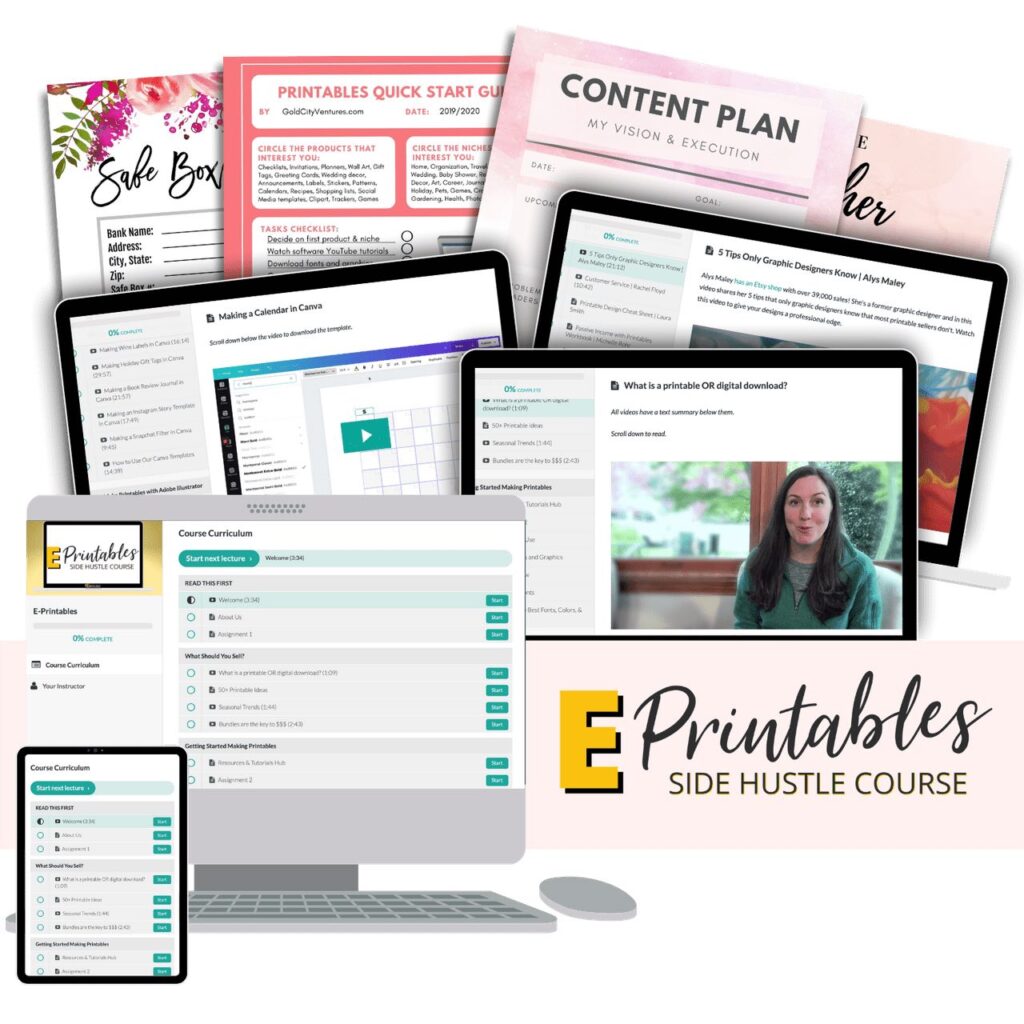 5. Notebooks and journals
The best selling items on Etsy are things that can be made unique to the individual. That's why notebooks and journals are on this list. 
Notebooks and journals are among the top selling items on Etsy because they can be personalized to make them extra special.
For example, you could write a birthday message or even give it as a gift with their name written in calligraphy. A notebook is also something that people may need for school or some special work- so they're always in demand.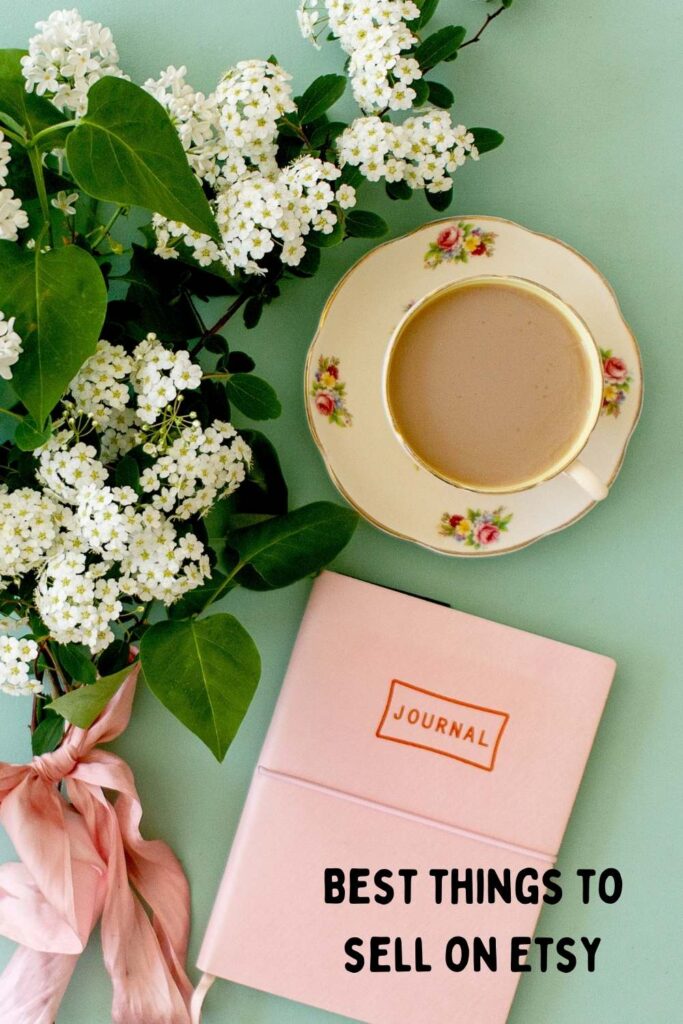 6. Party decorations
Party decorations and customizable party invites are some of the top selling items on Etsy.
And you can guess why? 
They are not just super cute, but tons of people love them and are always searching for ideas to make their special occasion more memorable. And where memories are in abundance, money is not far away.
That's why people are always willing to spend money on customizable party items.  
The Best Selling Party Decorations on Etsy:
Customizable birthday invitations for girls or boys
Themes banners and other party accessories.
Cake toppers made with Cricut or CNC machine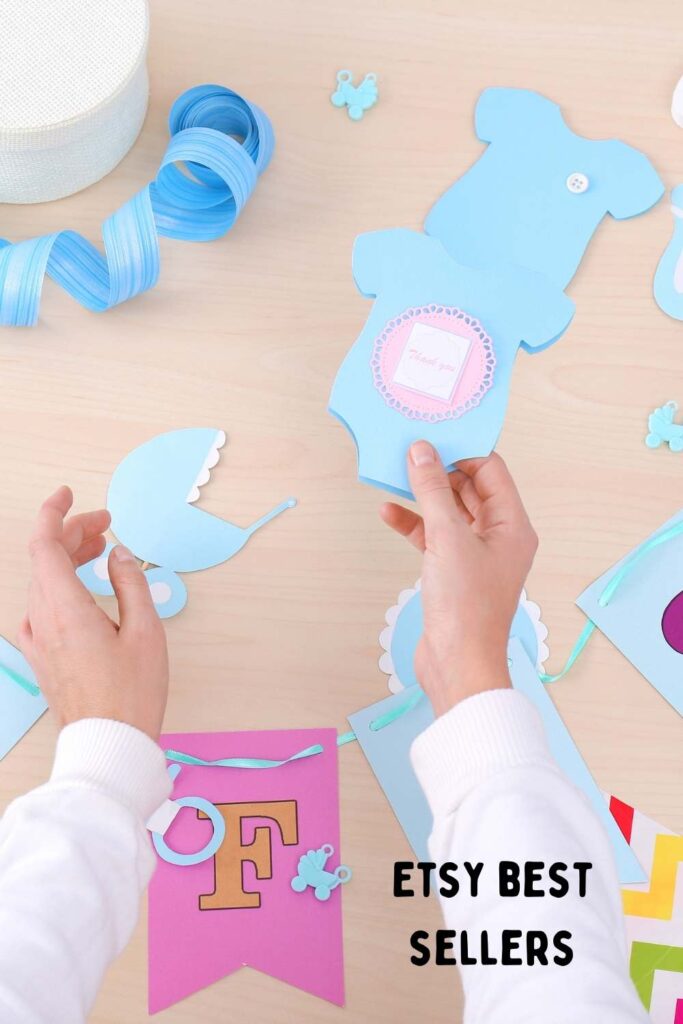 7. Wedding supplies
If birthdays supplies are so hit on Etsy, then why won't be wedding supplies. These are no doubt some of the best selling items on Etsy.
If you are still thinking, why?
Then here is your answer: People love to buy them because they can't find anything like it in stores. It's a niche market that people will pay top dollar for! Yes, I mean it.
They're high-margin items too, which is always great when you want to make money online with your Etsy shop.
The most popular items on Etsy in the wedding category have one thing in common- top Etsy sellers allow people to customize their products. For many couples, the wedding day is really special, so this makes a lot of sense.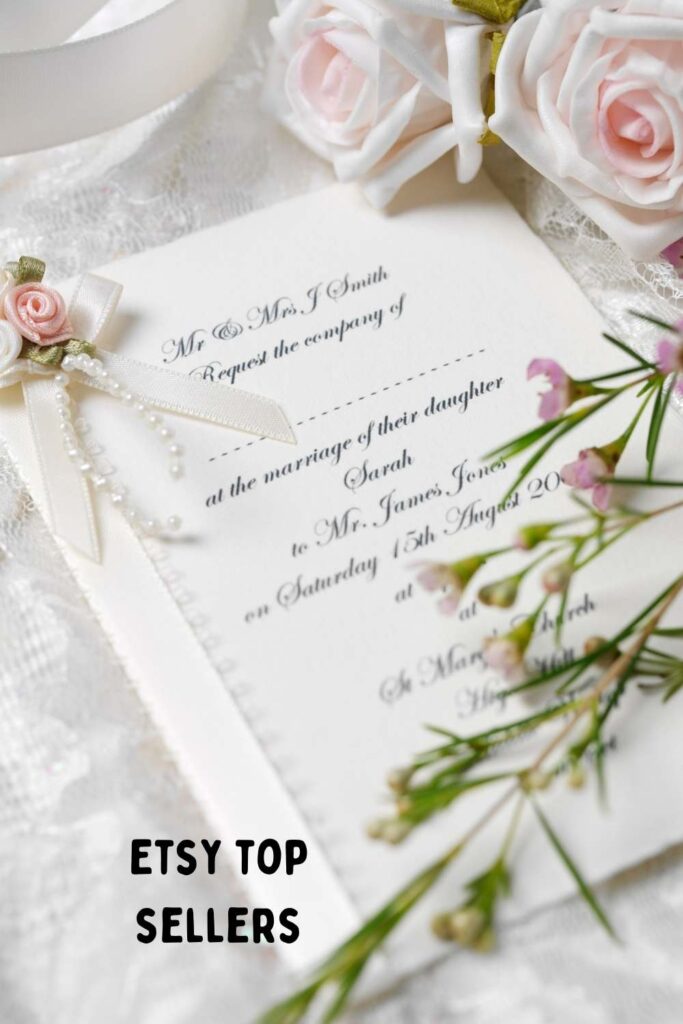 Some of the best selling items on Etsy in this category include:
Wedding Invitations
Wedding Decorations
Personalized Jewelry items
Cake toppers
Bachelorette party invites and games
8. Personalized Greeting cards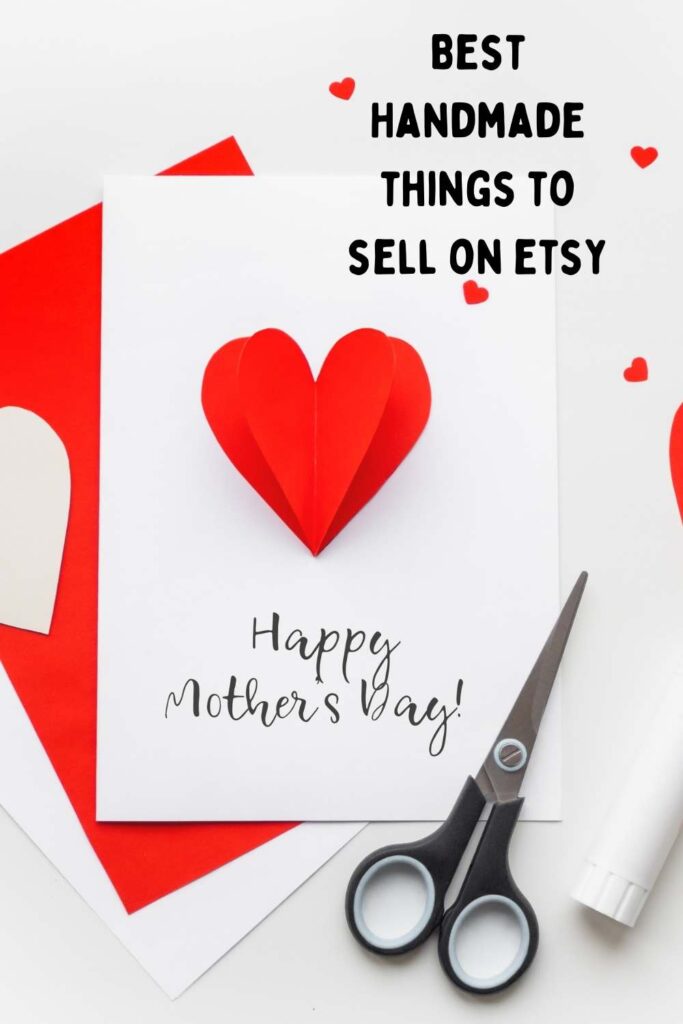 Want to give something unique to someone special? Handmade greeting cards are the way to go.
And of course, Etsy is the best place to find the best-personalized greeting cards.
Etsy shoppers love them as they are thoughtful, creative, and cute. Best of all, you can make them yourself by using upcycled materials like vintage book pages or recycled paper bags.
Some of the popular ideas to sell on Etsy include:
Kids birthday cards
Mothers day cards
Personalized holiday cards
9. Homemade Self care products
If you want to make something easy yet popular, consider making handmade soaps or other self-care products.
Self-care and eco-friendly products are hot sellers on Etsy and can be made using simple ingredients like coffee, sugar, or essential oils.
Soaps, lotions, and scrubs rank as some of the most popular items on Etsy that sell well. The best part is you don't need to have a degree in chemistry – just follow easy recipes with few ingredients!
People love buying these as they are made with natural eco-friendly ingredients that smell great while doing the job of making someone feel special.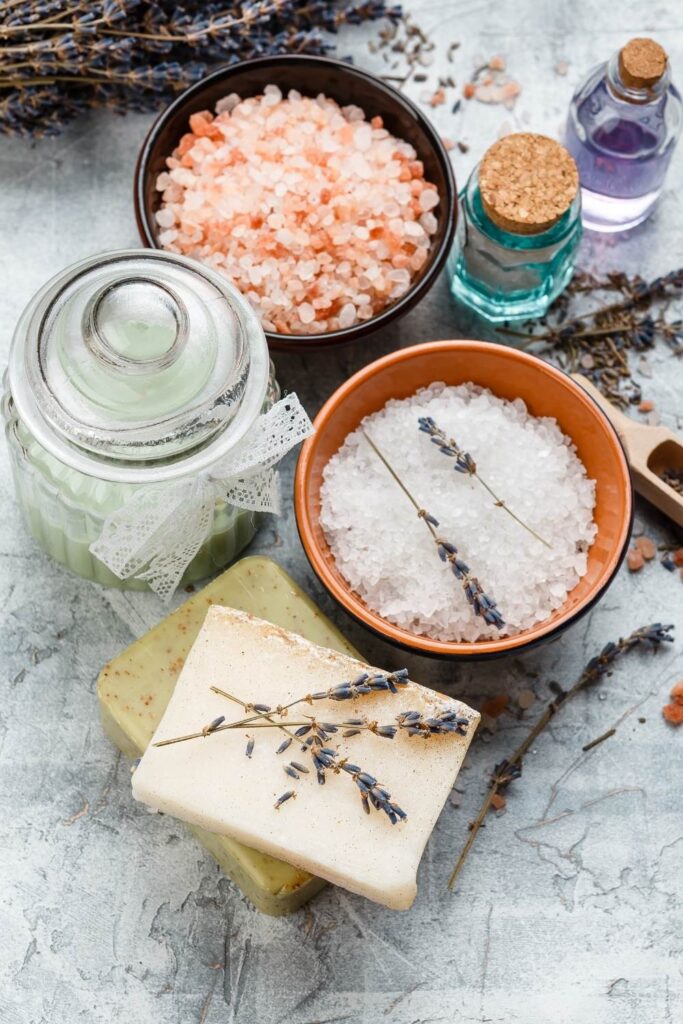 Popular self-care products include:
Homemade soaps with essential oils for relaxation
Lavender-scented bath bombs
Scented whipped body butter with essential oils
Homemade lip balms with essential oils
Handmade lotions and moisturizers for sensitive skin
Best of all they are easy to make! You can even whip up a batch in less than an hour. Since Self care industry is booming, it is the right time to sell these products on Etsy.
Here are a few courses for learning how to launch your skin care brand:
Bonus Tip: If you don't want to make everything from scratch, you can sell self-care kits or boxes on Etsy. Self-care kits are also popular on Etsy and are one of the easy products to sell on Etsy.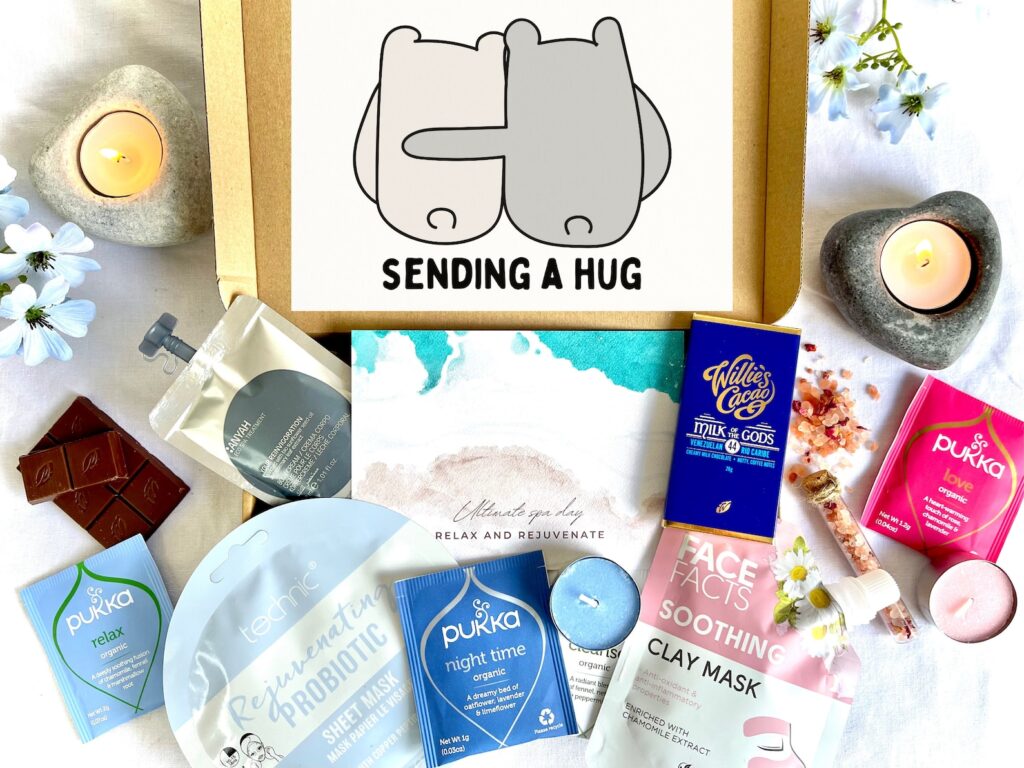 10. Personalized Clothes
People love wearing customized items. That's why personalized clothes and other items are one of Etsy's best sellers.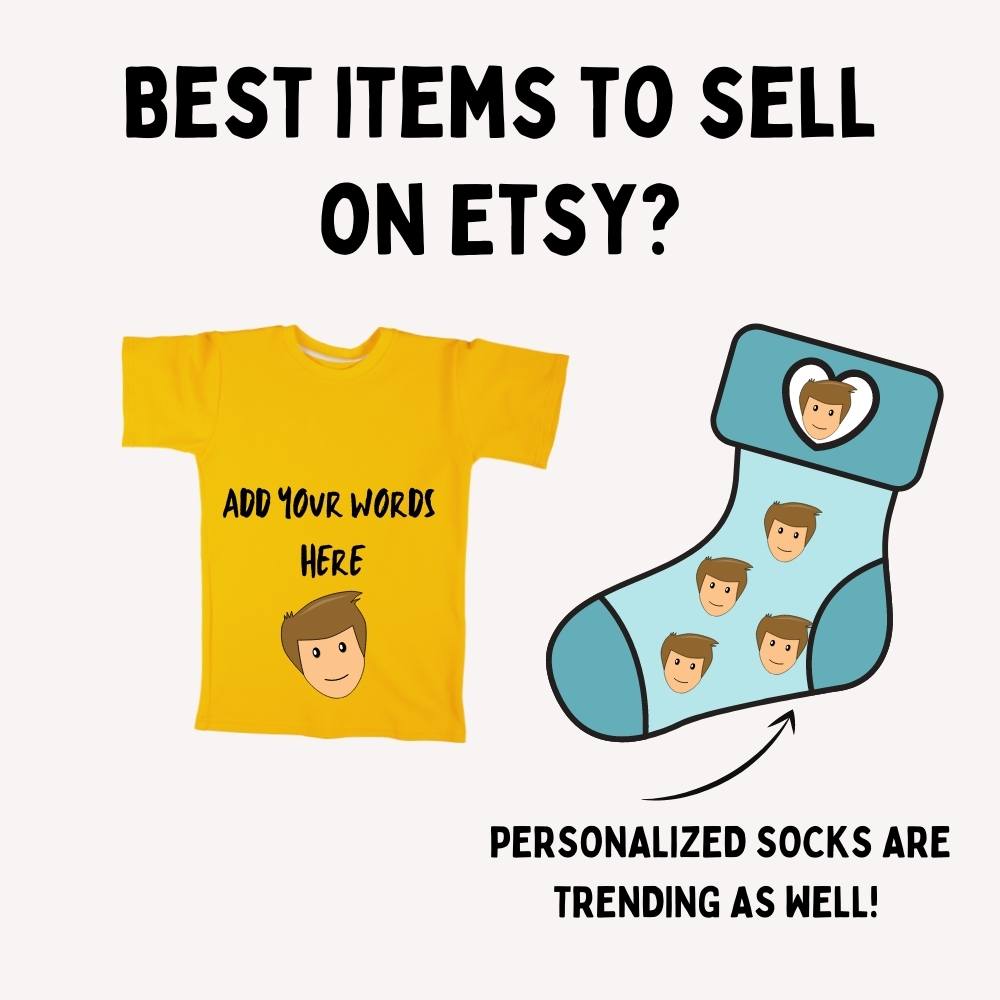 They can be used as special gifts for family, friends, or even wedding favors – just add your names on the design, and you are good to go! T-shirts and hats rank among the most popular things to personalize.
Other personalized items include:
Customized phone cases with your photos, names, or designs
Customized towels
Customized pillows
Here are a couple of recommended courses you can follow to set up your print on demand business.
Related reading: Things to make and sell with Cricut (includes personalized items you can make and sell)
11. Digital artwork and wall arts
Digital artwork and wall arts are two of the most popular things to sell on Etsy. These types of products include illustrations, paintings, quotes, photographs, etc.
Customers can purchase custom-made pieces or designs that have already been created by artists all over the world!
Sales of digital items on Etsy have grown by 60% within the last year alone! Although prices vary based on how elaborate or customized a design is, most products sell for around $5-100.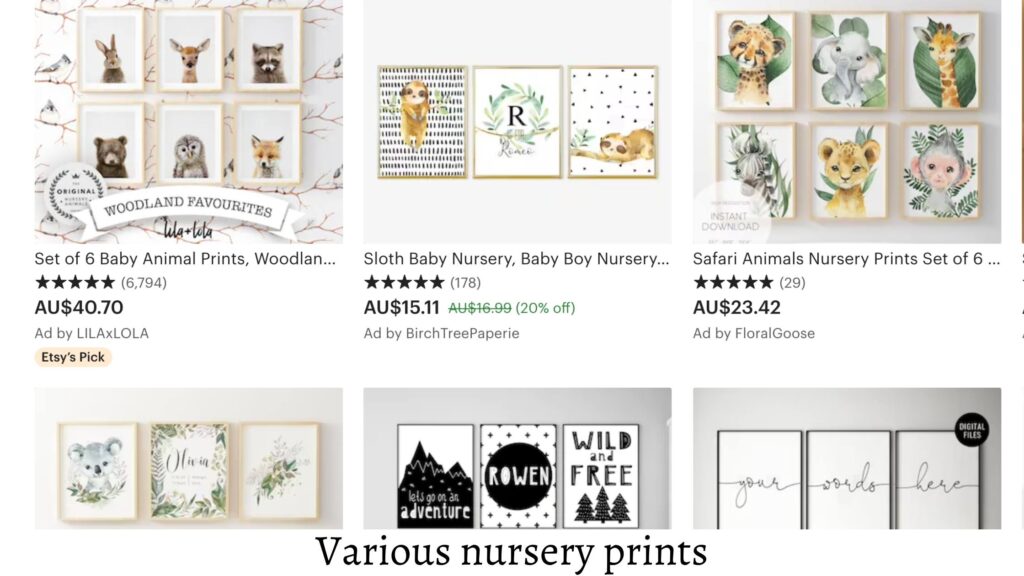 This means that you can earn quite a lot from just one sale with little effort. And you don't even need to worry about shipping items as you can offer free downloads too.
Best selling digital artwork includes:
Nursery animal wall prints
Wall quotes for kitchen, laundry, or bathroom
Botanical prints
Related Reading: If you want to know what are other nest selling printables on Etsy then check these 40 best selling printable ideas on Etsy.
12. Wooden Toys
Wooden toys are also one of the top things that sell well on Etsy. These include classic puzzles, dollhouses, and rocking horses, etc.
I was browsing Etsy's Christmas bestsellers 2020, and personalized wooden puzzles were one of the top-selling items during the holidays.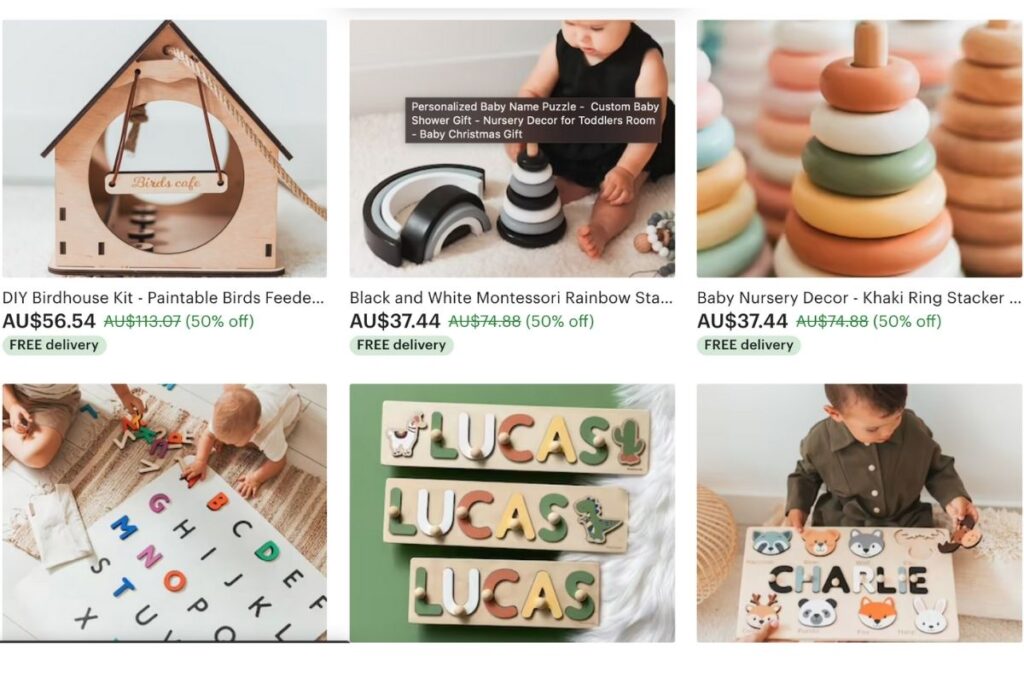 Wooden toys are easy for children to hold onto because they're lightweight like blocks or stuffed animals but sturdy like plastic action figures. They also look beautiful hanging on a wall when not in use.
13. Vintage items 
Vintage items are making a big comeback, and Etsy is always a hot seller of unique items.
The idea of buying something that has been around for years rather than brand new is very appealing to many people.
Something about owning an authentic piece that will last forever makes it even more special and different from other things on the market. Vintage clothing, furniture, records – there are lots of ways you can go vintage on Etsy.
Be sure that your vintage pieces are authentic – this means no reproduction pieces unless you are selling them as reproductions, of course!
Buying and selling fakes is never a good idea anyway because these items will lack the history that makes real antiques so valuable in the first place.
Also, just because it's old doesn't mean that collectors will want it – if you're lucky. 
So be sure that vintage pieces are not only authentic but also valuable. This may mean that you have to do a lot of research before listing your vintage items for sale.
Some of the best selling vintage items on Etsy include:
Art Deco Jewelry
Antique Charms
Vintage 'style' Posters
14. Personalized gifts
The personalization of gifts is a HUGE trend. It is estimated that personalized gift sales will grow up to USD 11.19 billion with a YoY 5.45%.
Part of this can be attributed to millennials, who place more importance on personal connections and experiences – the same reasons they're drawn toward Etsy.
And the good news is there is no risk in trying this trend. You can always offer simple customization on many of your items – just try to make it as relevant and special as possible.
Some of the best selling personalized gifts include: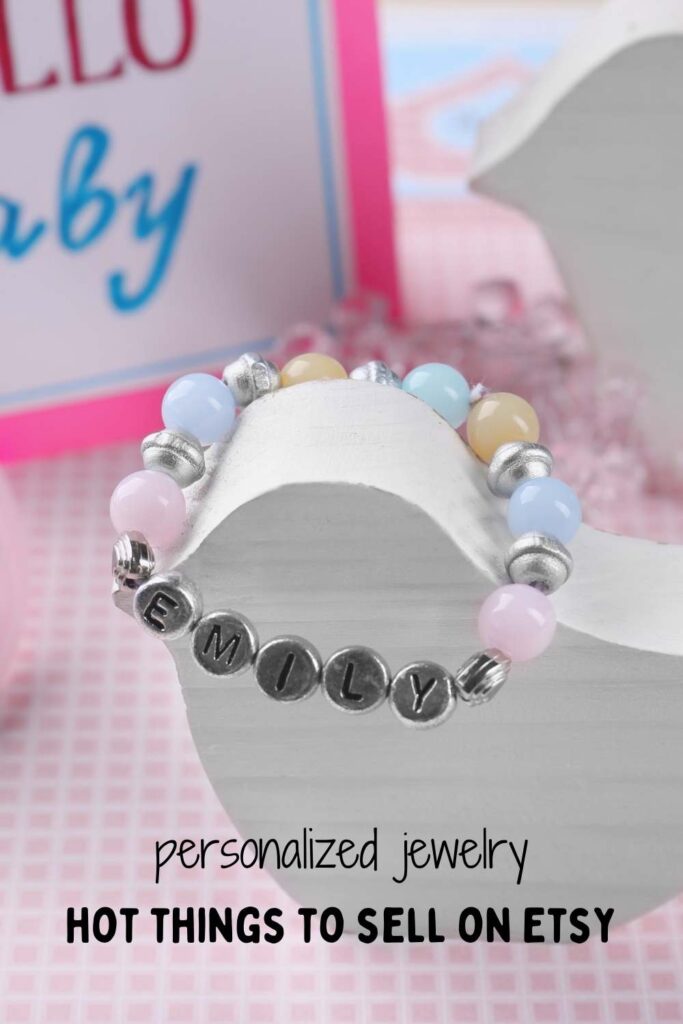 15. Baby products and accessories
What do people definitely love to buy on Etsy? Cute and personalized Baby products.
Parents are always willing to pay for unique gifts and accessories for their kids that are not available in any store.
So, what Baby products sell best on Etsy? There are several things you may create and sell on Etsy. Keep in mind that parents are always looking for new activities to try, so test often.
Here is the ultimate list of cutest things to sell in the baby category:
Gender reveal party ideas
Baby announcement
Baby shower related printables
Personalized onesies
Baby headbands
Baby teething rings
Personalized baby milestone
Personalized milestone mats

16. Accessories 
Fashion accessories like scarves, headbands, belts, and hats are very popular on Etsy. If you can create something that stands out in the crowd, then handcrafted accessories may be the way to go.
Crochet bags, coin purses can also be good choices. If you find the right patterns and colors, they will sell like hotcakes on Etsy.
While not for everyone, there is always money in the DIY niche, so if you enjoy making things yourself, this could be an excellent way to make some income from home while doing what you love.
Best of all, it will cost you nothing but some time and supplies.
Related reading:
Fabric craft ideas to sell (sewing crafts)
17. Pet Supplies
It is no secret that people love their pets like kids and don't hesitate to spend money on them.
According to the American Pet Products Association, there are almost 85 million homes with pets in the United States, and pet ownership has increased from 56% to 68% of all households over the last 30 years.
The pet industry continues to increase every year, and the trend shows no sign of slowing down.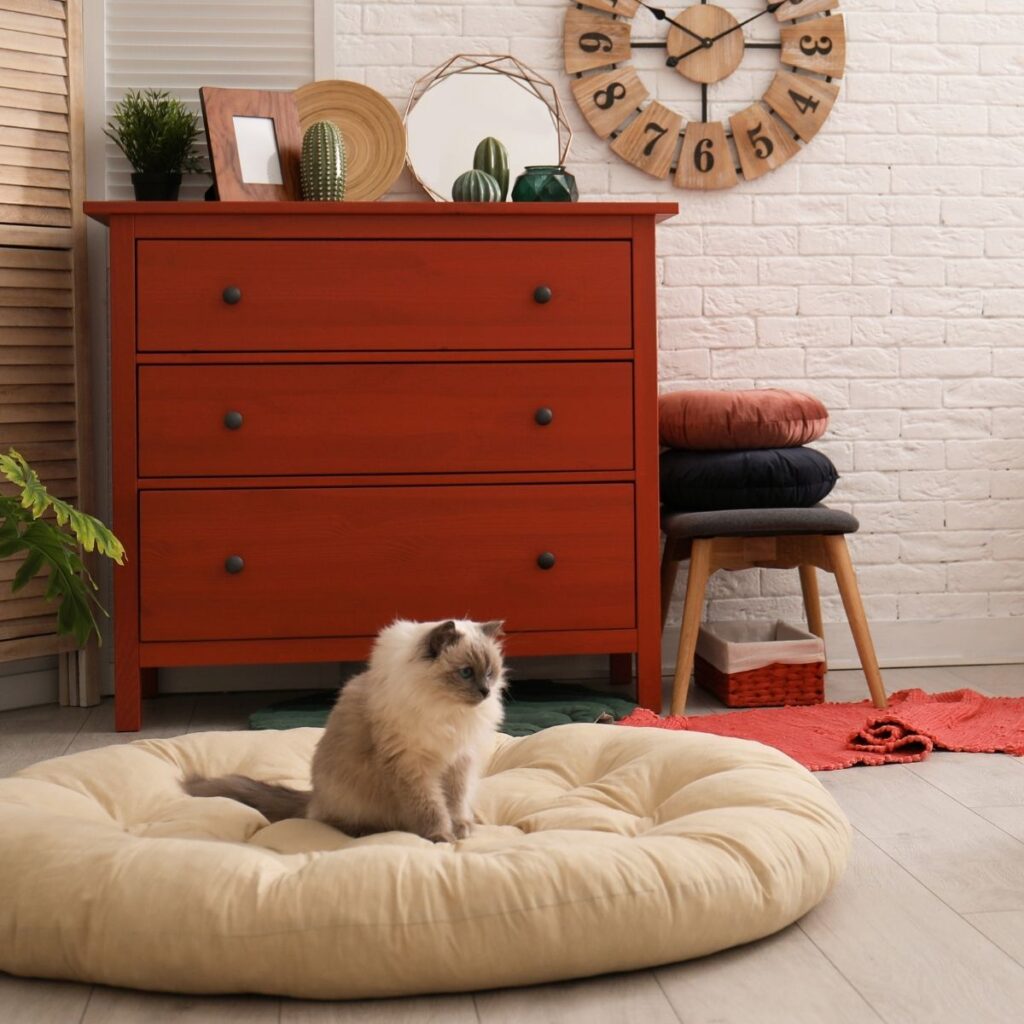 A quick search query on Google shows that U.S. pet market sales revenue has increased from $50.96 billion in 2011 to an estimated $99.1 billion last year. (51.4% increase in total market size.)
It means people are spending more money than ever on their pets, and there are more innovative pet products in the market to meet these demands.
It makes perfect sense that pet supplies are among the best things to sell on Etsy because there is a huge demand for them, and they are willing to spend money on products made with love by hand.
There's a market for anything that makes their pets happier. There's a group of dog owners who will buy it, no matter what the product is.
What are the best pet-related best items to sell on Etsy?
Here Is The Ultimate List of best-selling pet supplies:
Personalized pet collars & leashes
Pet beds and carriers
Pet toys
Pet toothpaste
Pet litter
Pet freeze-dried food
Pet nutritional products
Pet treats
FAQ Related To best selling ETSY items
What Is Etsy?
Etsy is an online marketplace where individuals can purchase and sell handcrafted, vintage items. The goods include jewelry, accessories, bags, clothing, home décor, furniture, and similar products.
It also allows artists to showcase their work in front of millions of buyers worldwide who are looking for unique things they can't find anywhere else.
Is it profitable to sell on Etsy? 
Yes, it can be very profitable if you have a good product in hand and are willing to put the hard work into optimizing your Etsy shop for sales with Etsy SEO.
There are over 1.6 million Etsy shops to cater to the need of over 86.53 million active users. Some of the best ones are turning nearly 500 -600 sales each day.
How much does it cost to open an Etsy shop?

You can sign up and open your Etsy shop today for free. Yes, it is free to set up an Etsy store. You can also get 40 free listings to start your shop now. There are no monthly fees to run an Etsy shop.
However, Etsy charges for listing the products and a 6.5% transaction fee for each sale.
What are the easy things to make and sell on Etsy?
Selling on Etsy doesn't mean you need to have hard craftsmanship skills. There are hundreds of easy things you can make and sell on Etsy to make money.
Some of the easy and popular things include candles, polymer jewelry, handmade cards, bath soaps, bath bombs, etc.
You can read more about easy things to make and sell here.
How much do most Etsy sellers make?
If you think that selling on Etsy is a get-rich-quick scheme, then you are wrong. It takes hard work and dedication to make your store successful on Etsy.
Some sellers make $50-100 a month on Etsy while there are a few who make a full-time income. Of course, this number varies from person to person.
But the good news is that there are hundreds of people who make a side income on Etsy, which they use to pay bills or supplement their regular salary.
Selling on Etsy has become popular because it allows you to work from home or as a side hustle and take control of your business.
Luckily, I was able to find income reports of a few Etsy sellers:
Handmade Journey's Jami made over $50,000 in her first year as a solo artist.
In one month, Jenni from Fuzzy and Birch earned $4000.
Alicia Shaffer, from Three Bird Next, makes over $70,000 a month in sales.
Do I need to pay taxes if I sell on Etsy?
Yes, you have to pay taxes. Many people believe that selling on Etsy is a pastime rather than a business, so they don't have to pay taxes on their store – but this is not true.
If you are selling on Etsy, it is considered to be your own business, and you must pay taxes for the income that you earned from Etsy.
As a seller on Etsy, it's important to know about the tax implications of running a small online business – and it's not as scary or complicated as you might think.
This article explains everything related to taxes on Etsy so you can have a better understanding of how your business works and what tax obligations are involved in running an online store with the most popular handmade platform!
What are the most popular items on Etsy?

Jewelry, jewelry supplies, and stickers are some of the most popular Etsy items. This comes without saying that these are the top things that biggest Etsy sellers sell on Etsy.
Related Reading:
Best selling Etsy items to make money: Final thoughts
Are you ready to open your Etsy store yet? Don't forget your free listings (they are worth $8).
If you have any questions, please comment below or email me. 
If you know someone who wants to start an Etsy shop, please feel free to share this post with them.
More Craft ideas to start an Etsy business for your inspiration