If you're thinking about selling your handmade items on Etsy but want to know how much it will cost to sell on Etsy and how much you'll make, here is the information for you.
Etsy is a wonderful marketplace for thousands of creative entrepreneurs who are trying to sell their products or start a side hustle. Knowing the real cost of selling on Etsy, how much does Etsy charge for each sale (the cuts that Etsy takes), and how much money you will make can help determine if this is the right place for you.
As an Etsy seller myself, I'll explain all the basics about selling on Etsy Fees so you can decide if Etsy is worth it for your business.
Etsy recently increased its transaction fees, this article is updated to reflect the current selling fees on Etsy.
does etsy take a cut?
Yes, Etsy takes different types of fees from your sale when an item sells on Etsy. It includes fixed costs like 0.20 cents listing fees as well as percentage-based commissions like 5% transaction fees on the sale price of each item.
These Etsy cuts may look smaller, but when you add up all of these charges, you will find that they can amount to quite a bit and affect your profit margins.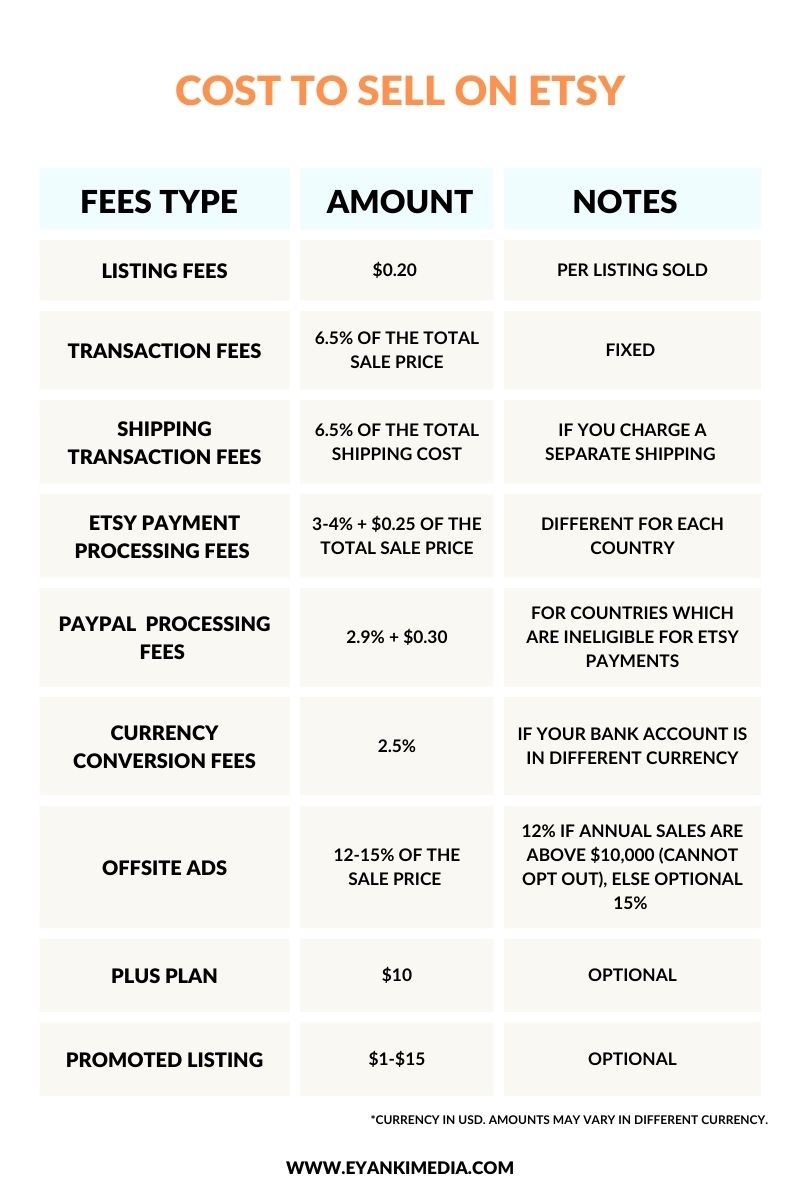 Let's take a look at different types of Etsy cuts and selling fees and what you will pay to sell on Etsy in 2022.
This website contains affiliate links which means we may earn commissions if you purchase through them (no extra cost to you). You can read our policies here.
Related posts on Etsy:
Types of Etsy Fees For selling 2022
Let's start with the types of fees that Etsy charges its sellers with some relevant examples.
Please note that it is free to open an Etsy seller account; anyone can make an Etsy shop and start selling as long as he meets the eligibility criteria to sell on Etsy.
1. Listing fees
When you publish a listing for sale on Etsy, there is a $0.20 listing fee for each item. This listing fee is nonrefundable, whether or not your item sells and valid for four months only.
In other words, your listing will expire after the 4-month listing period unless you set it to auto-renew or renew it manually. If your product sells, this is a one-time fee and does not apply to additional listings of the same product. 
Also, this 0.20 price is in USD, and you will pay the conversion amount (of 20 cents) when you list in any other currency.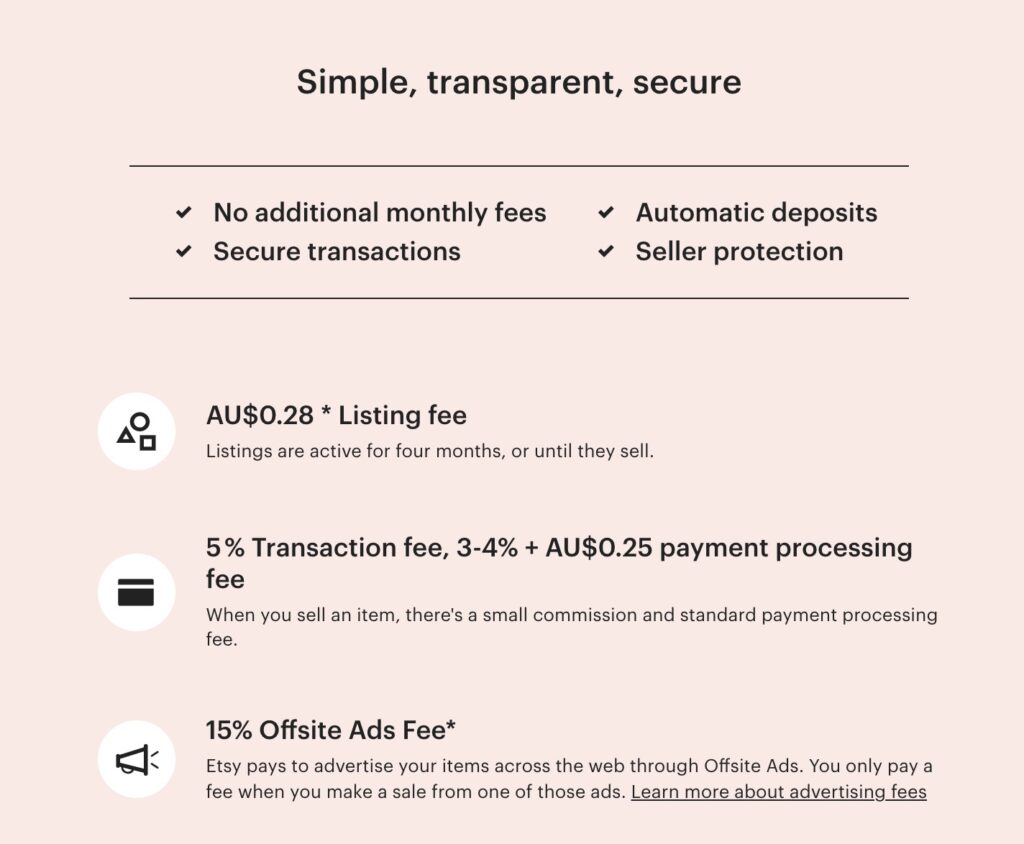 You can get 40 free Etsy listings with the link.
2. Transaction Fees
 When you sell an item on Etsy, there is a 6.5% transaction fee for each listing (5% earlier) item that sells. It is charged when the order or sale payment clears.
For example: If you sell an item for $100 (free shipping), the transaction fee would be $6.5 (6.5% of $100 charged at the time of sale).
3. Shipping Transaction Fees
If you charge a separate shipping fee for your item, Etsy will take a percentage of each shipping transaction. It varies on the amount that you charge for shipping.
It is important to note that while shipping cost is paid by the customer, this transaction fee is paid by you (seller).
This shipping transaction fee is 6.5% of the amount you charge for the shipping.
For example: If you sell your item for $100 and add a $10 shipping fee, Etsy will take $0.65 (6.5% of $10 shipping) from your earnings as shipping transaction fee.
 4. Multi Quantity Fee
If a customer buys a product in multiple quantities, you will see an additional charge known as a "multi-quantity fee."
This multiple quantity fee is not any extra charge but the listing fees ($0.20) for any additional item sold in the same transaction. In simpler words,  if a buyer purchases multiple items in a single transaction, Etsy will charge you 20 cents listing fees for each additional item.
For example: If a buyer gets two products of $100 each in a single transaction, Etsy will charge you $0.40 (0.20 x 2) as the listing fees.
5. Auto-renew Fees
Since Etsy listings are active for only four months, there is an additional charge of $0.20 when Etsy automatically renews the listing after the four-month free period expires.
If you don't set your listing to auto-renew, you will have to re-list the product yourself on Etsy's platform for it to remain active.
Question you might have
What if I'm selling multiple quantities of an item and want it to renew automatically? What will be my auto-renew charges then?
Etsy will charge you $0.20 listing fees (or above mentioned multiple quantity fees) only when you sell any additional items from the listing.
What if I'm selling multiple quantities of an item (on auto-renew), and none of them gets sold? 
Etsy will continue to charge you $.20 every four months as a listing fee until you deactivate your listing yourself.
6. Payment processing fees
To get paid from Etsy and accept payments from buyers, you will need to set up a payment processing method in your store.
Your payment processing fee is different depending on which payment method you are going to use in your store and what country you live in.
There are two ways to accept payments from Etsy, Etsy payments and Paypal.
Etsy Payments
As the name suggests, Etsy payment is Etsy's internal payment processing system available to sellers of 36 eligible countries (including Australia, US, UK, Canada, etc.).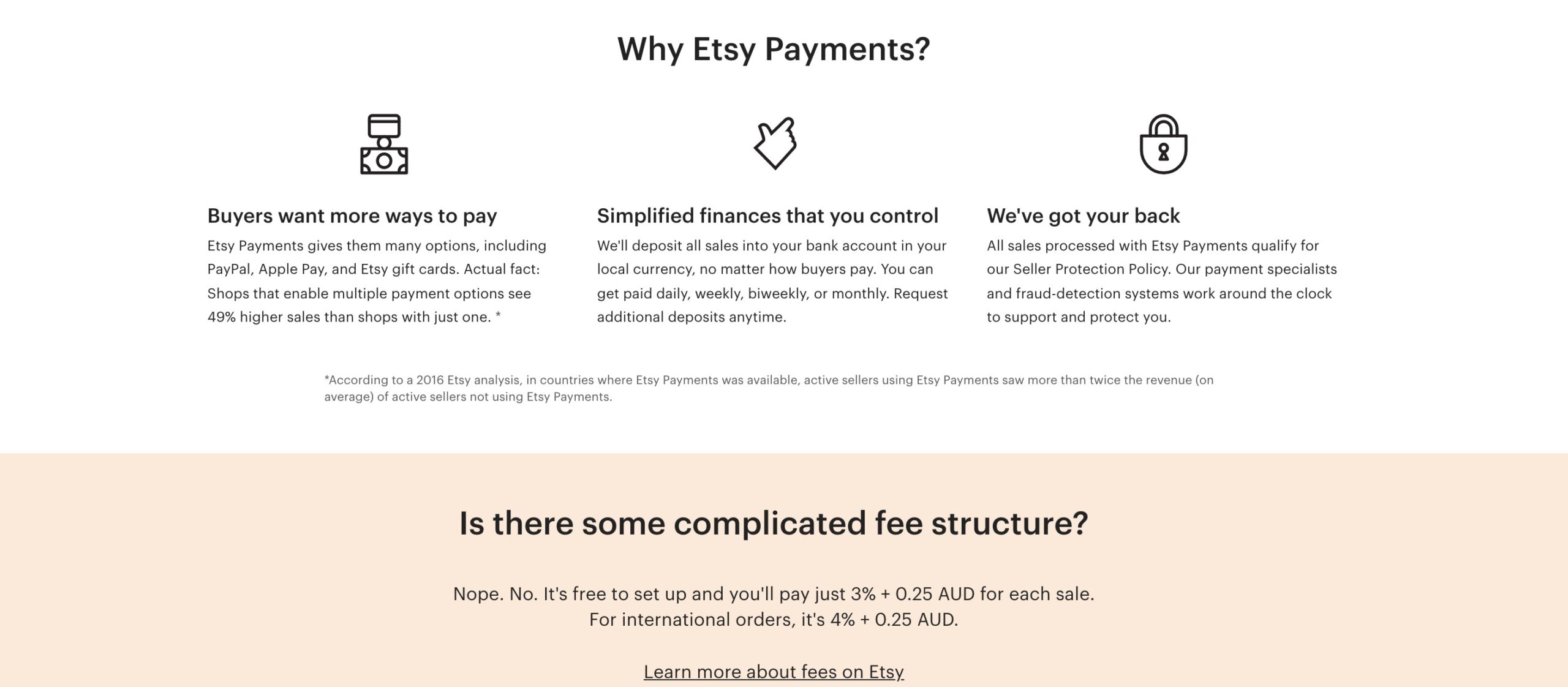 If you reside in one of these countries, you must use Etsy payments as your payment processing method.
Your payment processing fee with Etsy Payments is around 3-4% + $0.25 per order ​plus an additional currency conversion fee if you are not selling in USD.
You may now accept payments by credit card, debit card, Etsy Gift Card, Etsy Credit, PayPal, a variety of bank transfer services, Apple and Google Pay through Etsy Payments. 
You can check your payment processing fees from this table below:
Bank location
Etsy Payment Fees
(% of total sale price + fixed fee per order)
Australia (domestic orders)
3% + 0.25 AUD
Australia (international orders)
4% + 0.25 AUD
Austria
4% + 0.30 EUR
Belgium
4% + 0.30 EUR
Bulgaria
4% + 0.30 EUR
Canada (domestic orders or orders from the US)
3% + 0.25 CAD
Canada (international orders)
4% + 0.25 CAD
Croatia
4% + 0.30 EUR
Cyprus
4% + 0.30 EUR
Czech Republic
4% + 0.30 EUR
Denmark
4% + 2.50 DKK
Estonia
4% + 0.30 EUR
Finland
4% + 0.30 EUR
France
4% + 0.30 EUR
Germany
4% + 0.30 EUR
Greece
4% + 0.30 EUR
Hong Kong
4.4% + 2.00 HKD
Hungary
4% + 0.30 EUR
Ireland
4% + 0.30 EUR
Italy
4% + 0.30 EUR
Latvia
4% + 0.30 EUR
Lithuania
4% + 0.30 EUR
Luxembourg
4% + 0.30 EUR
Malta
4% + 0.30 EUR
Netherlands
4% + 0.30 EUR
New Zealand (domestic orders)
3% + 0.30 NZD
New Zealand (international orders)
4% + 0.30 NZD
Norway
4% + 2.50 NOK
Poland
4% + 0.30 EUR
Portugal
4% + 0.30 EUR
Romania
4% + 0.30 EUR
Singapore
4.4% + 0.35 SGD
Slovakia
4% + 0.30 EUR
Slovenia
4% + 0.30 EUR
Spain
4% + 0.30 EUR
Sweden
4% + 3.00 SEK
Switzerland
4% + 0.50 CHF
United Kingdom
4% + 0.20 GBP
United States
3% + 0.25 USD
PayPal
If you do not reside in any of the 36 eligible countries, you can use PayPal as your payment processing method to get paid by Etsy. 
PayPal charges 2.9% plus $0.30 for each transaction.
For example: If I am selling a printable for $8 in my shop from the US, my payment processing fees, according to 2.9% + 0.30 USD, will be $0.53.
7. Currency Conversion Fee
If your bank account is in a currency other than the currency you are selling your items, Etsy will charge you a currency conversion fee to convert your funds before depositing them in your account.
For example, I have an Australian bank account and sell in AUD.
Etsy will charge me a currency conversion fee of 2.5% if I was selling in USD and wanted to convert my funds before depositing them into my account.
Optional Etsy Selling Fees for Sellers
Apart from the above-mentioned mandatory Etsy charges, there are a few optional fees that you may incur on the Etsy platform.
8. Fee for Promoted Listings (Etsy promoted ads)
If you like to promote your listing within the Etsy marketplace, you can choose to do so with Etsy's promoted ads.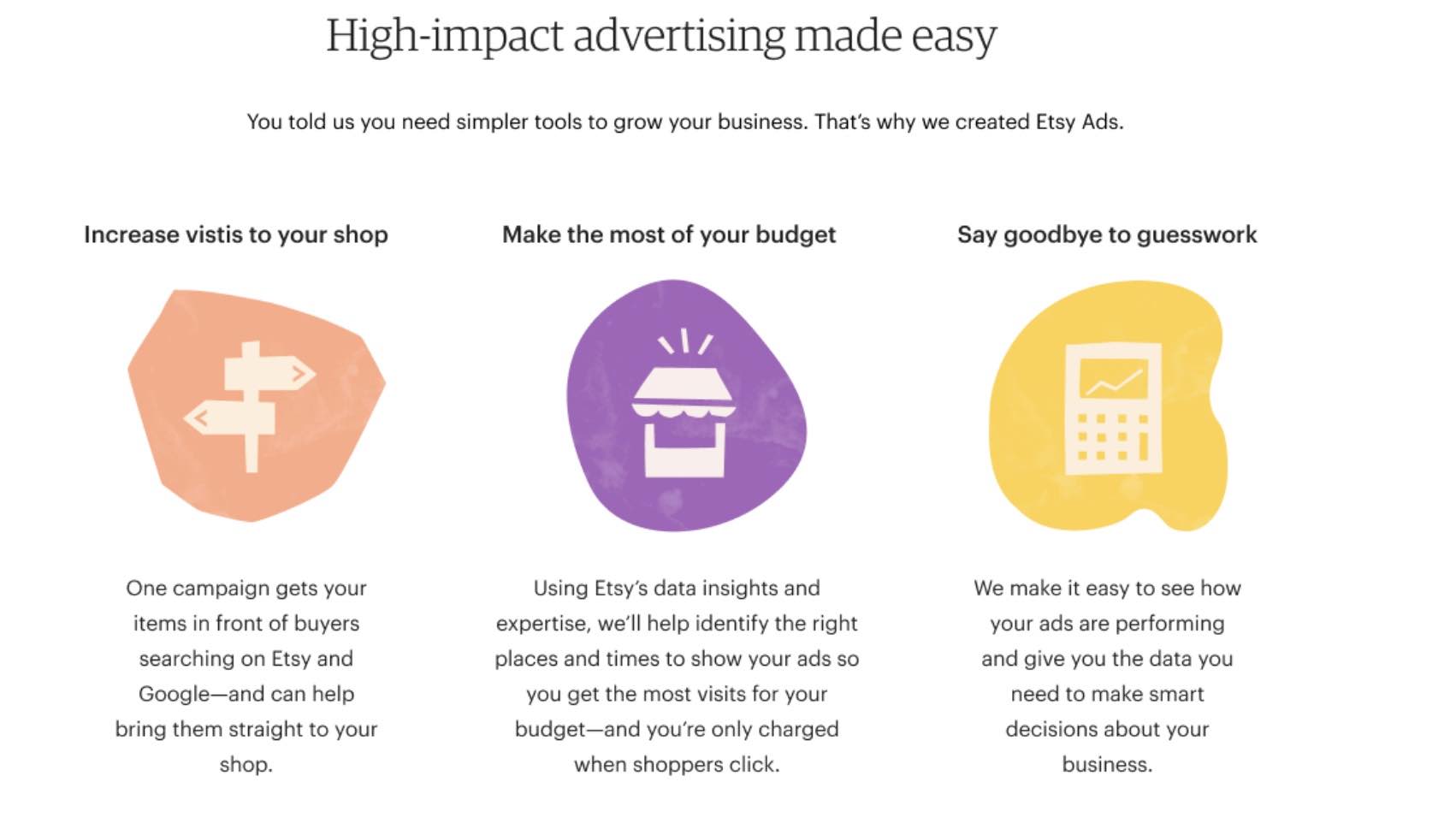 Etsy charges a fee for this service, and the amount depends on how much you want to spend on advertising your product. You can set your daily budget and the listings you like to promote.
These ads are based on pay-per-click pricing, and you will be charged only when a visitor clicks your ad. Once your daily budget is over, Etsy will stop showing your ads.
9. Etsy offsite ads
Etsy's offsite ads are managed by Etsy, where Etsy markets your item outside Etsy on platforms like on major sites like Google, Facebook, Instagram, Pinterest, and Bing.
When someone clicks on an ad (on any of these platforms) that includes your product and buys it from your Etsy shop, you will be charged an advertising fee.
Depending on your yearly sales on Etsy, the Etsy offsite advertising fee is either 12% or 15%.
If you are making less than under $10,000 per year in sales, Etsy will charge you 15% on the purchases price. All Etsy sellers under this category are automatically enrolled in off-sites ads unless they choose to opt-out.
If you are making above $10,000 in sales annually, Etsy offsite ads will be obligatory, and Etsy will charge you 12% on the purchases made through offsite ads.
Sales per year (USD)
Offside ads charges by Etsy
Below 10,000
15% (can opt-out)
Above 10,000
12% (mandatory)
Etsy offsite ad charges
10. Etsy Plus Plan
There are two options for selling on Etsy: a free seller account or a Plus account.

A free seller account is Etsy's standard account that gives access to all basic features to sell on Etsy without paying a monthly Etsy's subscription fee.
It allows you to:
Create Etsy free account
Run promotions/sales for your listings
Use Etsy app
Buy discounted Etsy's postage
You will not have a monthly fee for this, but you can expect to pay as you use the service.
If you are a high-volume seller on Etsy, the Etsy Plus Plan may be for you. This plan offers some amazing features and benefits for a monthly fee of $10.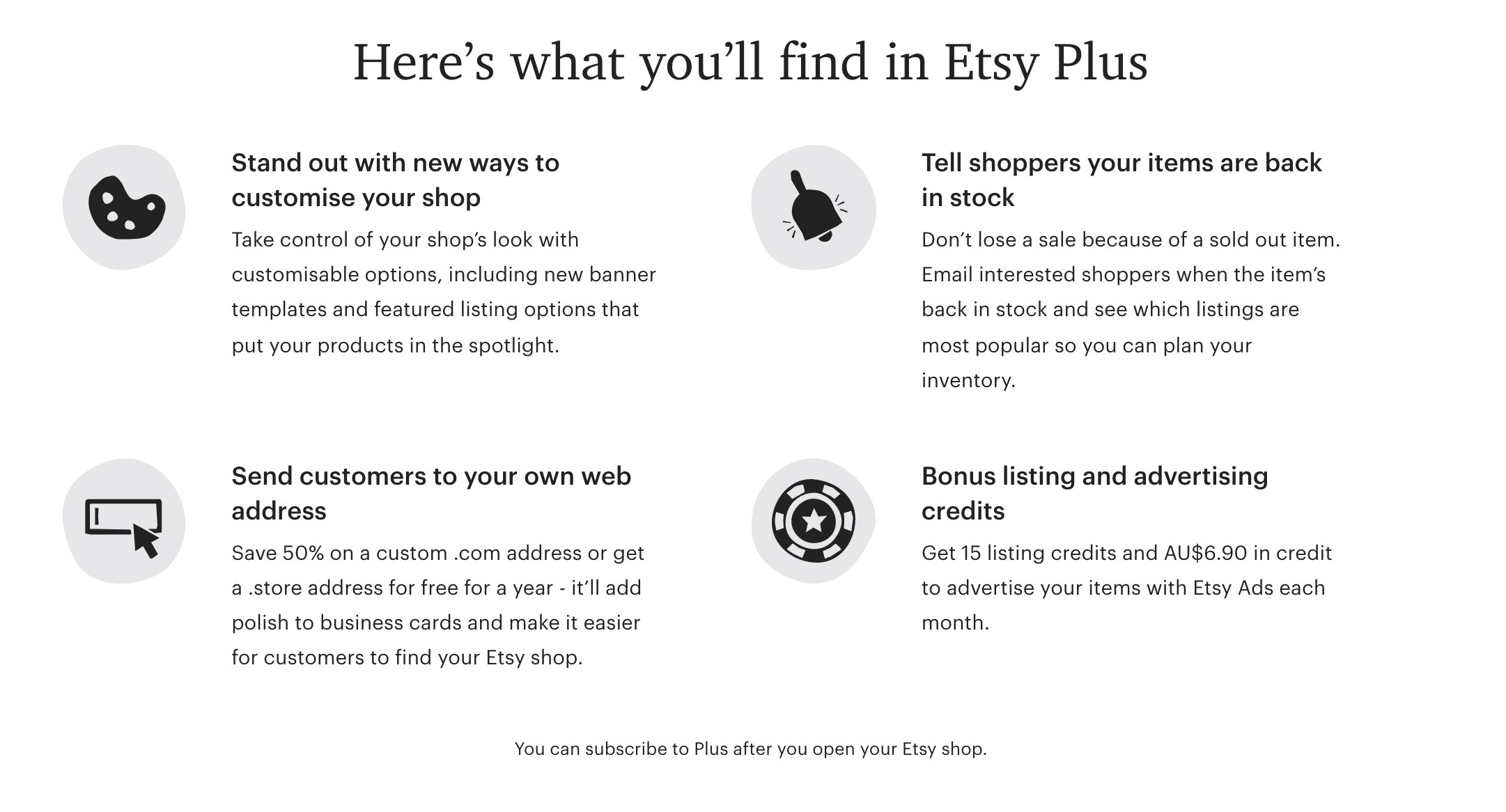 Additional features of the Plus Plan include more extensive shop customization alternatives, listing credit, and Etsy advertising credits, and discounts. However, these credits must be used each month as they don't rollover.
Here's a summary of Plus plan features:
Advanced customization tools for your shop
Monthly 15 listing credits (value $3)
$5 Etsy ads credits
Free .store domains and 50% off select domain extensions: .com .net and .ca
Discounted Custom web address
Custom packaging and promotional materials are both available at a discount.
Plus plan is worth a shot if you use Etsy advertisements and frequently list new items on Etsy.
After all the maths [$10 plus plan cost in USD- ($3 listing credit + 5 ad credit)], you will be paying $2 for more advanced customization tools for your shop.
Cost to sell on Etsy explained with examples
I know there are so many elements that it would be confusing to understand how much does Etsy charges for each sale. Therefore, it will be easier to understand the cost of selling on Etsy with some examples.
These are rough estimates as these do not include taxes, variables like currency conversion, seller's location, buyer's location (international orders), offsite ads (if applicable), shipping, and postage.
Example 1: Simple example with basic costs
Let's say that I live in the US and sell personalized digital printables at $10 per file on my shop, and a customer can order multiple personalized files. Since these are downloadable files, there is no shipping charge.
It means when a buyer purchases a product (priced at $10) from my shop, Etsy will charge me:
| | |
| --- | --- |
| Listing fees | $0.20 |
| Transaction fees (6.5% of the sale price) | $0.65 |
| Payment processing fees (3% of the total sale plus $0.25) | $0.55 |
| TOTAL FEES | $1.4 |
In total, Etsy will charge me $1.4 for selling my digital file.
Example 2: example with shipping
Now, let's say I can ship the above printable to the buyer for an additional $5 shipping cost. Then Etsy will charge me:
| | |
| --- | --- |
| Listing fees | $0.20 |
| Transaction fees (6.5% of the sale price) | $0.65 |
| Shipping transaction fees (6.5% of shipping cost) | $0.325 |
| Payment processing fees (3% of the total sale plus $0.25) | $0.70 |
| TOTAL FEES | $1.875 |
In total, Etsy will charge me $1.875 for sending my printed file to the customer, and I will earn roughly $8.125 from each sale $15-(shipping + Etsy charges).
Example 3: example with multiple items sold in one transaction
Now, let's assume that the buyer ordered 2-digital files downloadable files ($10 each) in the same transaction. Then my cost to sell on Etsy would be:
| | |
| --- | --- |
| Listing fees | $0.20 |
| Multiple selling fees (additional listing charge) | $0.20 |
| Transaction fees (6.5% of the total sale price) | $1.30 |
| Payment processing fees (3% of the total sale plus $0.25) | $0.85 |
| TOTAL FEES | $2.55 |
That means that if the customer buys two digital printables, I will earn $17.45 from the sale ($20 – $2.55).
Keep in mind that these examples are just to give you a general idea of what to expect when selling on Etsy and do not include the cost to produce the product.
Let's assume that my cost to make an item is $6, then my profit from my above sale would be $5.45 ($17.45- 12).
Example 4: example with offsite add sale
Let's say a buyer sees an ad on Google regarding your listing. He clicks on it and purchased an item worth $50 with free shipping. You are an old seller with over $20,000 in the annual sale.
| | |
| --- | --- |
| Listing fees | $0.20 |
| Offsite ads (12% of the total sale price) | $6.00 |
| Transaction fees (6.5% of the total sale price) | $3.25 |
| Payment processing fees (3% of the total sale plus $0.25) | $1.75 |
| TOTAL FEES | $11.20 |
As a seller, it is important to be aware of the potential fees so you can avoid any surprises.
Is It Worth Paying Etsy Fees?
Now that you understand how much Etsy charges, the next question is: Is it worth paying these fees?
The answer to this question depends on your business, profit margins, and what you are selling. 
If you're selling digital files, it can be really cost-effective compared to if your product is a handmade item that requires labor and materials.
Selling physical products can be more challenging as the cost of shipping and Etsy transaction fees can quickly add up.
Keep in mind that when you factor in taxes, it is important you charge your customer enough so that you are still making a profit after paying all of the associated costs.
While they may seem expensive at first, Etsy charges are well worth it if you're just getting started and want to tap into the creative community. Etsy has a large and loyal following and can provide you with a lot of exposure.
But again, you need to be aware of how much time and effort it takes. Because of Etsy's selling fees, margins on your sales could rapidly erode if you aren't cautious.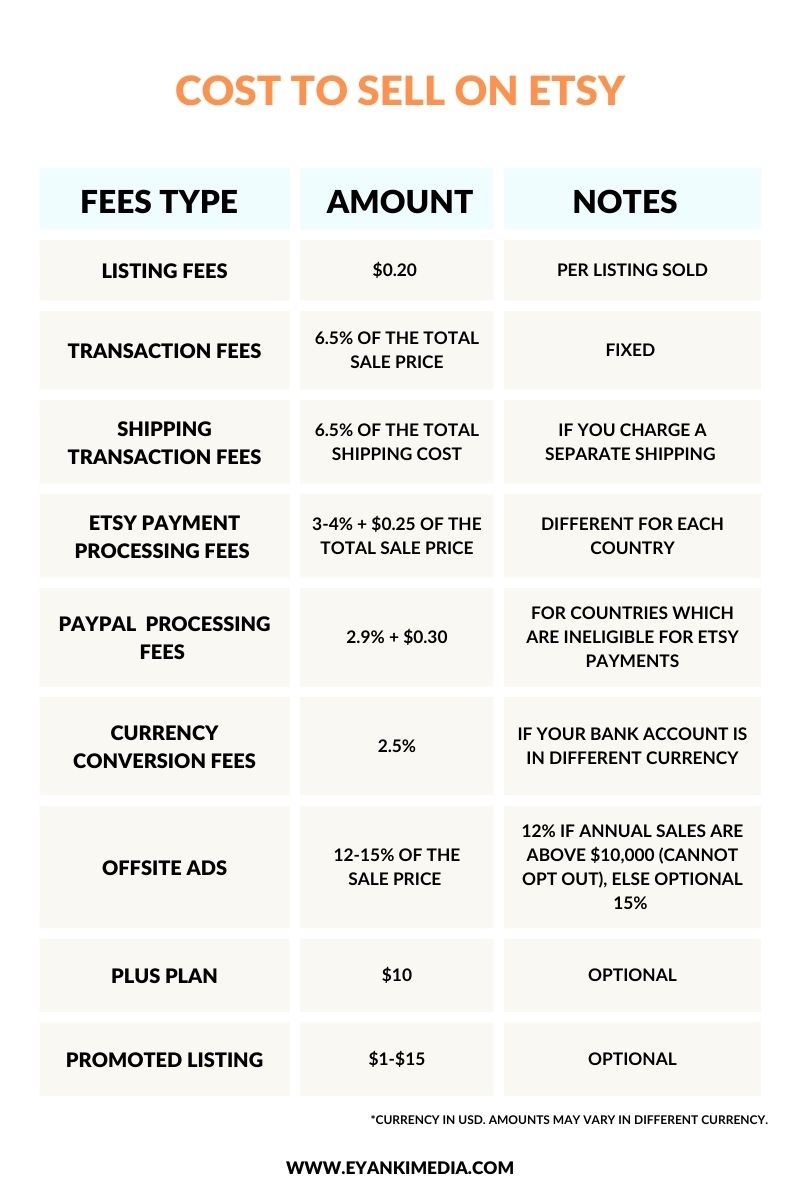 Final thoughts on Selling On Etsy fees (Etsy Fees 2022 For Sellers)
Selling on Etsy is easy, and you do not need any special skills to set it up; anyone with great ideas for products can get started.
Once you understand how much does Etsy charges, the next step is to determine if that cost is worth it for your business and product line.
The Etsy selling fees may seem intimidating at first, but once you get started selling on Etsy, they will quickly become second nature.
Always remember to audit your Etsy profit margins regularly, and if possible, cut costs while pricing your items appropriately.
Start Selling On Etsy Today!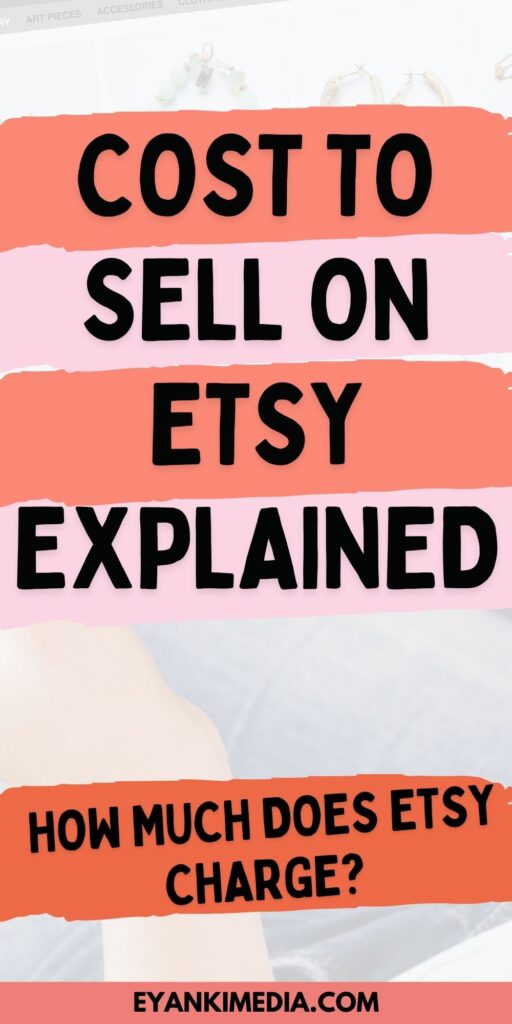 Related articles you might be interested in:
Etsy listing photo size in 2022
Selling digital downloads on Etsy: Make passive income with Etsy printables
Easy things you can make and sell for profit
.