Last Updated on November 8, 2021 by Ruchika Gupta
If you're looking for a way to make money selling coloring pages on Etsy, then this article is for you. We will learn how to create coloring pages to sell on Etsy and explore some best-selling coloring page ideas.
Coloring pages are one of the best-selling printable digital products on Etsy. Once you create a digital coloring page and upload it to your Etsy shop, it can sell for years -It means you never run out of products to sell.
There are plenty of coloring pages ideas that sell on Etsy or on your blog. We'll start by exploring some of the best-selling coloring pages ideas before we learn how to make a coloring page from scratch.
Do coloring pages sell on Etsy?
Yes, coloring pages are among the best-selling items on Etsy, a marketplace that features custom, handmade or vintage goods.
These days people are getting busier with work and kids, but they still want something to keep them creative in their spare time. One fun solution that can help fill that need is a coloring page.
Coloring pages can keep kids and adults occupied for some time. They also make great wall decor or are used as personalized gifts for loved ones.
Coloring books are frequently carried on road trips or during doctor's visits. It makes downtime more enjoyable, so why not create some custom designs to sell?
Coloring pages can be a relaxing activity for adults too.
Coloring designs with mandalas, geometric patterns, abstract art designs, and inspiring words are quite popular amongst adults looking for an antistress coloring activity.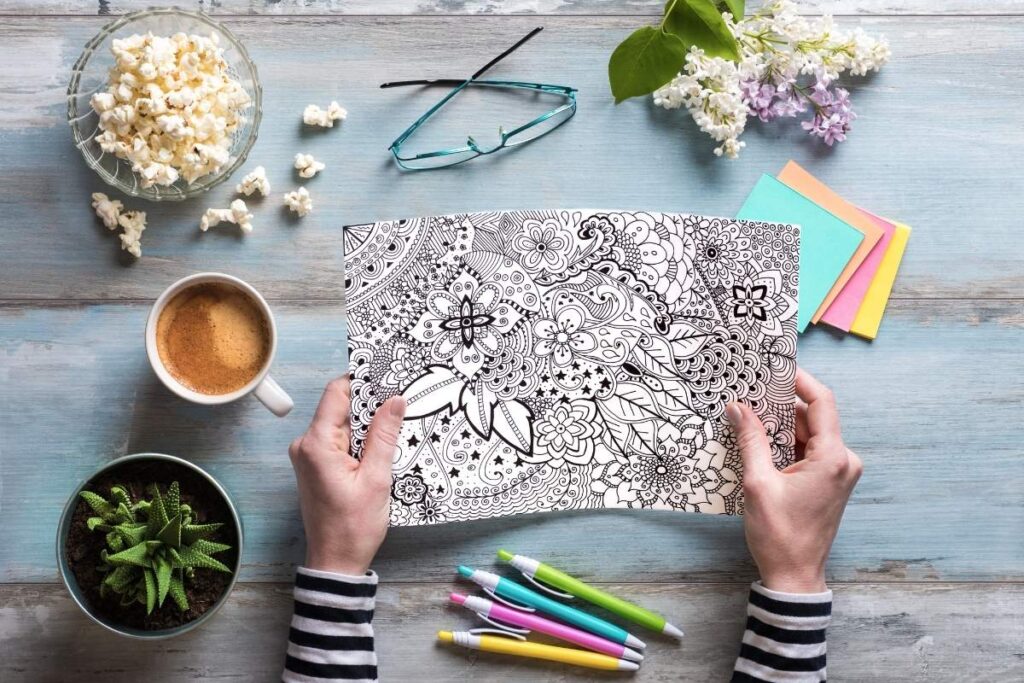 Is it profitable to sell coloring pages on Etsy?
The answer is both yes and no.
While coloring books are in high demand, so is the competition.
At the time of writing this article, my single search of 'coloring pages' on Etsy yielded 126,911 results with ads.

It means the competition is stiff, and you'll need to create a unique design that will stand out from the rest.
But don't worry, there are plenty of coloring page ideas that sell on Etsy if you're willing to put some time into creating them.
You can also find a profitable sub-niche to start with where are only a handful of other sellers.
Making Passive Income with Digital Coloring Pages on Etsy
Let's move on to the million-dollar question:
Can you make money selling coloring pages on Etsy?
Yes, you may generate income by selling coloring pages online on Etsy.
If your goal is a passive income with no extra time spent after creating a coloring page to sell, then it's better to create digital designs. 
However, you'll need to invest some time into this venture before it becomes profitable. 
How much money can you really make selling coloring pages on Esty? 
There is no direct answer to this question, as it varies on several factors like your niche, product uniqueness, pricing, number of sheets, marketing – Etsy SEO, lots more.
If you look at Etsy, you'll see that there are sellers who offer coloring pages for anything from $1 to $5 per sheet, whereas some sell bundle packages with considerably lower prices (average cost per sheet less than $1).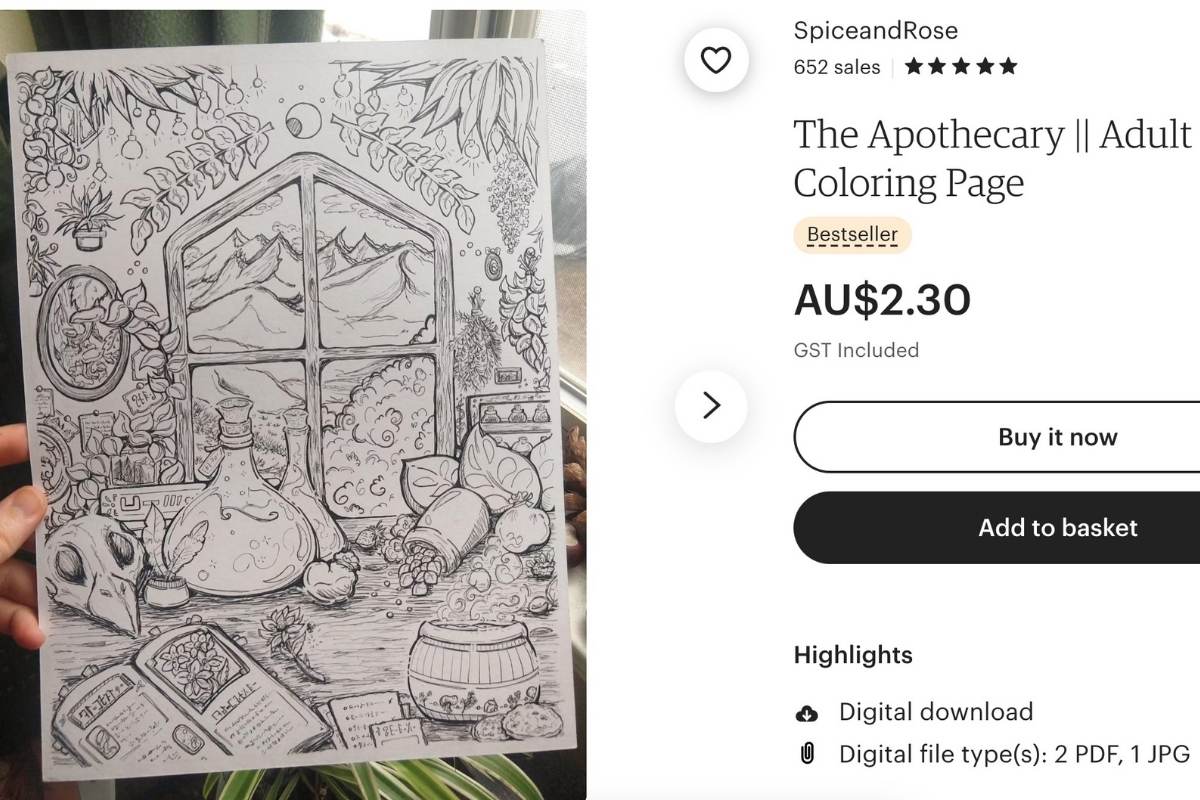 So, you might be wondering how you'll make money if you sell at such a bargain?
Well, remember when I mentioned that once you upload a digital file to Etsy, you can sell it over and over.
You only need to create the design once and upload it to Etsy, but you can make money from it for years to come.
Some people have been selling the same designs for years and they are still in high demand.
What are the costs involved in selling coloring pages on Etsy?
Cost of production
The cost of producing coloring pages is sometimes quite low or even non-existent. With free online tools, you may create a variety of coloring pages.
Since these are digital downloads, you don't need to stock any inventory or print and ship anything. This means there are no stocking or shipping costs to worry about.
So what are the costs involved in selling digital coloring pages?
You'll need a computer or mobile device (phone, tablet) with internet access and some time on your hands.
Selling digital items is a great side hustle that requires little effort after you have created the original design.
What does Etsy charge? Cost Of Selling On Etsy Shop
Selling on Etsy is free! anyone can create a free Esty shop. Etsy only charges a fee when you make a sale.
These charges include a $0.20 listing fee (valid for four months) and a 5% transaction fee. This listing fee is applied only once, no matter how many times you sell a digital file.
For example, if you sell an coloring page for $2.00, your profit from the first sale will be
Listing price-(listing fees + 5% transaction fees)
$2-($0.25 + $0.10) = $1.65
Since you are charged the listing fees only once, your profit from any additional sale will be $1.90.
Free listings: First-time Etsy sellers can also get 40 free listings for selling on Etsy. Simply click on this link and create an account.
Marketing costs
The best investment to market your products would be your time for learning Etsy SEO.
Etsy SEO is an essential part of your marketing efforts because it allows you to gain search engine optimization for your Etsy shop.
You can use social media, blogging, email lists, and other methods to market and promote your Etsy store.
Some sellers choose to utilize Etsy advertisements to increase exposure. It's up to you whether or not you want to run ads.
Best-selling Coloring Page Ideas To Sell/The Best-Selling Ideas for Etsy Coloring Pages: 
If your question is: How do you sell a coloring page on Etsy?
The answer is: First, let's explore some of the most popular and best-selling ideas that can help any beginner get started because it is easy to create a printable file once you know what sells well and what buyers are looking for.
Adult coloring pages
Adults' coloring pages designs are more intricate and detailed than kids' coloring designs, so they tend to be a little more expensive.
Kids Coloring Pages
There are plenty of kids' design ideas that can help you get started with a printable Etsy shop or simply earn some extra money from home by selling
How to Create Coloring Pages to Sell on Etsy?
There are different ways to make coloring pages to sell on Etsy depending upon your skillset.
If your drawing skills are good, you can convert your drawing into a coloring sheet and sell it on Etsy.
If you are an illustrator, then you can easily create coloring pages by designing them from scratch.
Don't worry if you don't have either of the above skills; you can still make and sell coloring pages on Etsy to earn a side income.
I sell kids coloring pages and related printables on Etsy, and I am very terrible at drawing! But I find it easy to put beautiful graphics together and turn them into coloring pages using tools like Canva.
So let's discuss some of these methods in a little more detail. I have also found some resources for you that can help you create coloring pages.
Here are some ideas for creating and selling your own Etsy Coloring Pages.
Convert your drawings into coloring pages
This method is the best option for you if you are an artist or have good drawing skills.
I strongly believe your skill can help you set apart from other Etsy sellers and attract more customers to the store.
You can easily convert your original drawing into coloring pages by taking pictures and uploading them to Etsy as printable downloads.
But before uploading them to Etsy, you might need to edit your design to make it more cohesive and professional using online illustrators like Adobe photoshop and illustrator or Affinity designer.
Here are some helpful resources that I found:
Draw and Trace on a page/ Create using Procreate
Adult coloring pages using Adobe
Create a Coloring Book With Your Own Art using Affinity Designer
Convert free vector images into coloring pages using free vector tools
There are many free vector editing tools (Gravit or Inkspace) that you can use to convert free stock images into graphics for your coloring pages.
Before using any image, please read the licensing terms of the platform you are using, as you don't want any copyright issues.
You can also buy images from websites like Creative Fabrica that sells these images with a commercial license.
Check this video to learn how to create coloring pages using vector images and free tools
Create using Canva
Canva is the tool I use to create my coloring pages and other graphics. If you are an absolute beginner, then this tool is for you.
Canva is a drag and drop editor, which makes designing easy and fun. I use the Canva pro version, but you don't need a paid Canva account to create your coloring pages.
The best thing about this tool is that it comes with a huge library of ready-made templates and designing elements which make creating designs faster.
But before you use any of the Canva templates or elements, make sure that you check your license terms for your plan and the terms of the graphic you want to use.
"Free in Canva doesn't mean free for commercial use."
Here are some quick things to remember:
Always check the commercial license of fonts while using Canva. NOT all fonts available in Canva (or Canva pro) are for commercial use. Use either free Google fonts or buy fonts from Creative Fabrica, Font bundles, etc.
You cannot sell templates found in Canva.
Canva pro elements are NOT for commercial use.
Now what to do if you need elements or graphics to create your coloring pages but they are unavailable in Canva (or are not for commercial use)?
There are many free resources available on the internet, but I would only suggest using them if you have good knowledge about copyright laws and rules related to commercial use.
I prefer buying my graphics and fonts from Creative Fabrica or design bundles.
They have amazing graphics, images, and fonts that come with a commercial use license which means you can use them to create and sell your coloring pages.
From Mandalas to line arts, you can get pretty much everything you need for your design.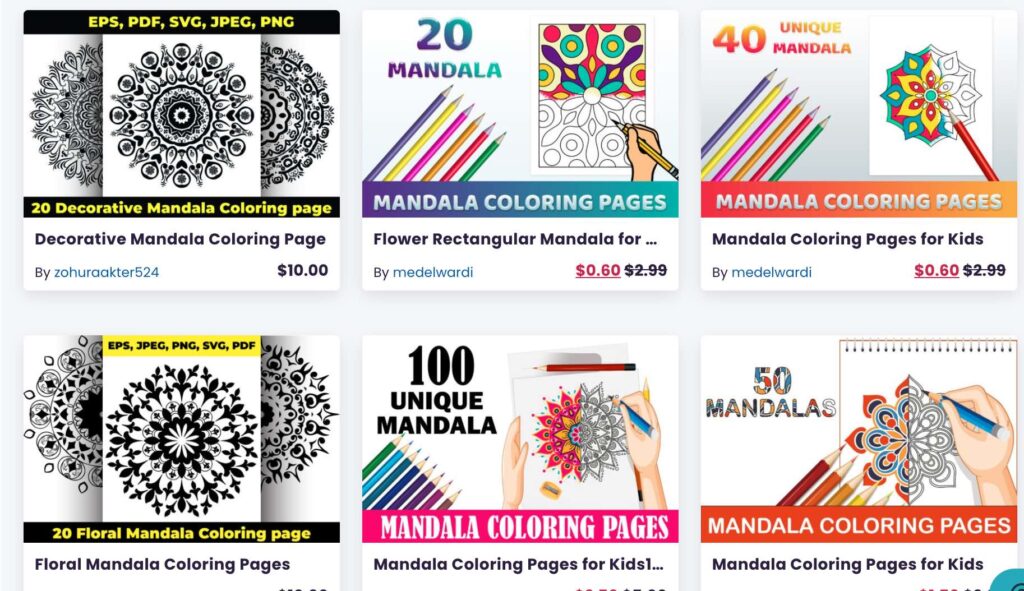 You can also buy SVG files and upload them to Canva to create a coloring page.
CF licensing terms: When you produce coloring pages to sell from graphics you've downloaded, one thing to keep in mind is that you can't simply paste an image on a page and sell it.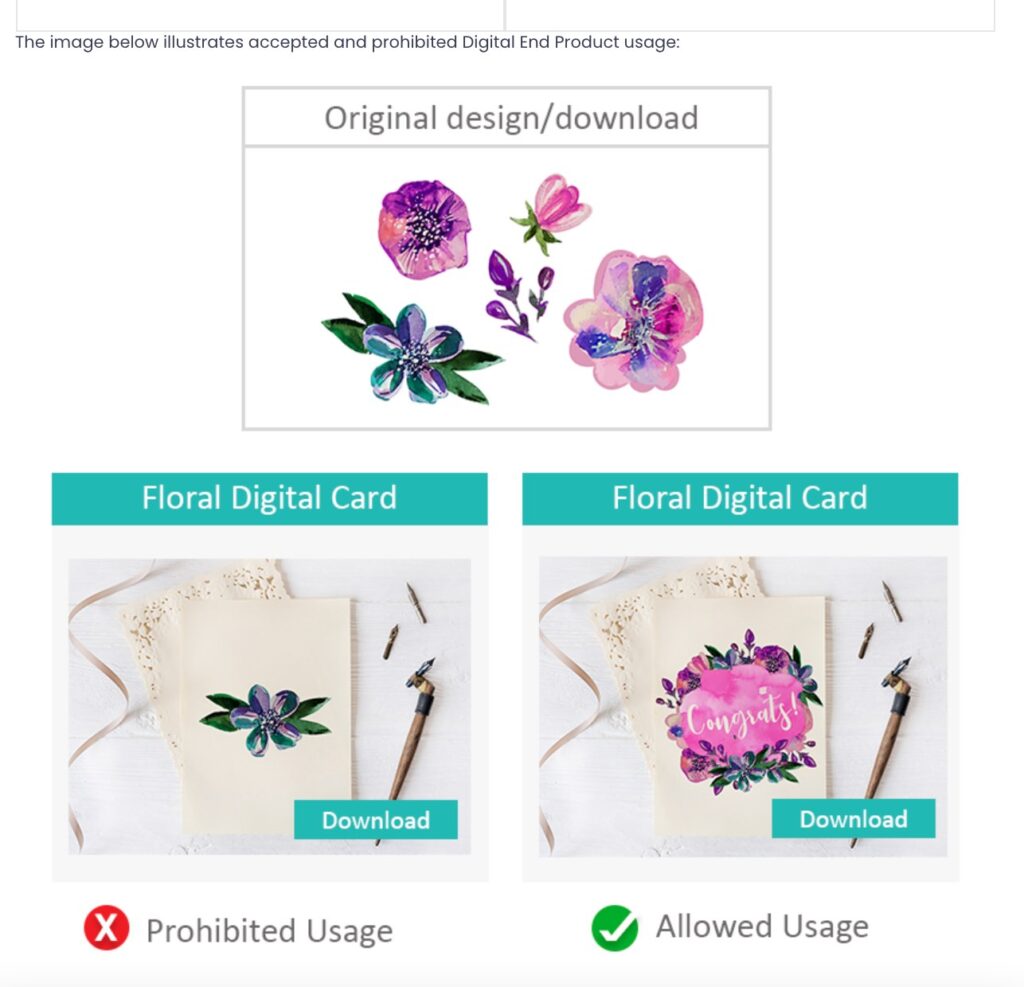 You must develop something new, such as a design, and make it your own.
Hire a freelancer from Fiverr
If you don't know how to make coloring pages (or don't have time), then this is the option for you.
I would suggest hiring a freelancer from Fiverr to get it done for you.
Fiverr is a great place to hire freelancer illustrators, but you have to be careful as some of them might not have the required skills.
Some Fiverr sellers offer packs of coloring pages at a bargain price. The offers may seem lucrative but if you buy what everyone is buying then how will you stand out from the rest of Etsy sellers?
Instead, do a little research and find someone who will help you create something unique.
Make sure that the freelancer has good reviews from other users before hiring them, or ask for samples of their previous work to check if they have the skills required to create what you want.
Important: If you want to buy a unique design from them, be sure to inquire if they will create a coloring page specifically for you and will not offer you a PLR or other commercially available free file. It is a frequent problem on Fiverr.
That's why I always prefer top-rated sellers and check their ratings, time on the platform, and read negative reviews before ordering.
How to sell coloring pages on Etsy?
By now, you're probably wondering how to sell coloring pages on Etsy and make money? 
The process is fairly simple:
Step #1 – Create your designs
Your first step is to create your design. 
It is important to note that not every coloring page will sell.
You'll need to do your research and find out what kind of designs people want before you begin creating them.
You can also look at other Etsy shops selling similar products you are interested in, learn from their experiences by reading the comments left on their listings, and see which ones have been most successful.
Do keep a note of the file format and sizes they are offering.
You can also check the latest trends and seasonal events to come up with a good idea for your Etsy coloring page.
Step #2 – Set up your shop and list your product
Once you've created your design, it's time to create a shop and add your new product listing with an attractive title, SEO-friendly tags, and a clear description.
If you are ready, you can use my shop referral link to get 40 free listings. 
Now set up the price and choose the right licensing terms.
If you're selling digital printables, make sure to emphasize that the listing includes digital products, and no physical items will be shipped. It does happen, many customers do not pay attention.
You can upload your coloring pages file (pdf or jpeg) on Etsy and set it up so that people can download your file after they have paid for the product.
If you are selling a personalized coloring sheet, send a note to customers informing them that you have received the order and estimated delivery time of their digital order.
Here is a snapshot of the note I use for my shop.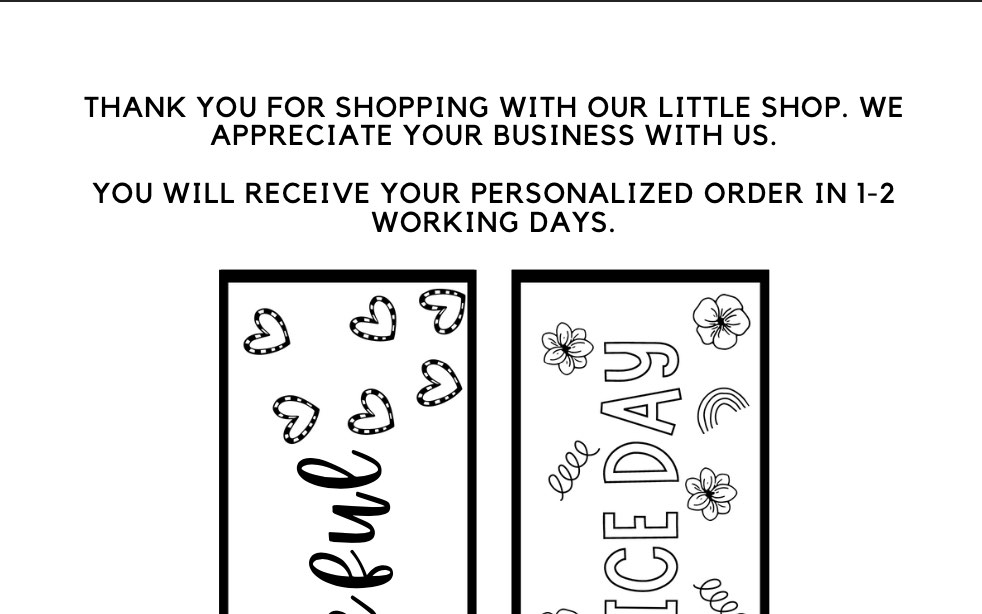 Step #3 – Promote, Test and Repeat
Now that you have listed your coloring page, it's time to do some marketing so people can find out about what you are offering on the internet marketplace.
It is easy to sell digital printables, but they will not sell on their own. Learn Etsy SEO, test different marketing strategies and promotions until you find one that works really well for your store. 
Each store is different; what sells for others might not sell for you.
Step #4 – Be patient!
Finally, be patient since good things take time.
It takes time to build up a business and a following, don't expect sales overnight.
I got my first organic sale after 15 days of opening my store with around 22 listings.
Keep adding more listings, check what products are working for your store, and replicate till you find your unique target audience and an approach that works for you.
I hope this article helped you to make money selling coloring pages on Etsy; feel free to share with me any questions or thoughts in the comments below! 🙂