Want to learn how to sell digital downloads on Etsy? Selling digital downloads on Etsy is a great way to earn passive income online.
Not only selling digital products on Etsy (or on your blog) has become increasingly popular; it's easy for anyone with a creative mind to start this scalable side hustle.
According to recent Etsy data, Etsy digital downloads (and digital printables) are now the second most popular product category on the platform (after physical items), with over 7,288,255 active listings in this category.
That's a lot of competition for sure, but it's also a pool of potential customers.
In this guide, I'll walk you through the steps of selling Etsy digital downloads as a beginner including:
What is an Etsy digital download?
Why to sell digital downloads on Etsy?
How to make digital downloads to sell on Etsy?
How much can you make selling digital prints on Etsy?
Types of digital products to sell on Etsy?
Top-selling digital products on Etsy
How to sell custom editable digital files on Etsy?
Tips on how to sell a digital download on Etsy
Let's dive in and learn how you can also start your own printable Etsy business from home.
This website contains affiliate links which means we may earn commissions if you purchase through them (no extra cost to you). You can read our policies here.
What is a digital download on Etsy?
A digital download is a product that can be downloaded and accessed electronically. It could be anything from an ebook to an excel file or even just a simple PDF document that you can print.
Etsy digital downloads are popular because they're easy to produce and require no shipping. Once you create a digital download, you can sell it for years.
Buyers can download their files after purchase without having to wait for anything in the mail. Therefore, selling Etsy digital downloads is a great way to make passive income online.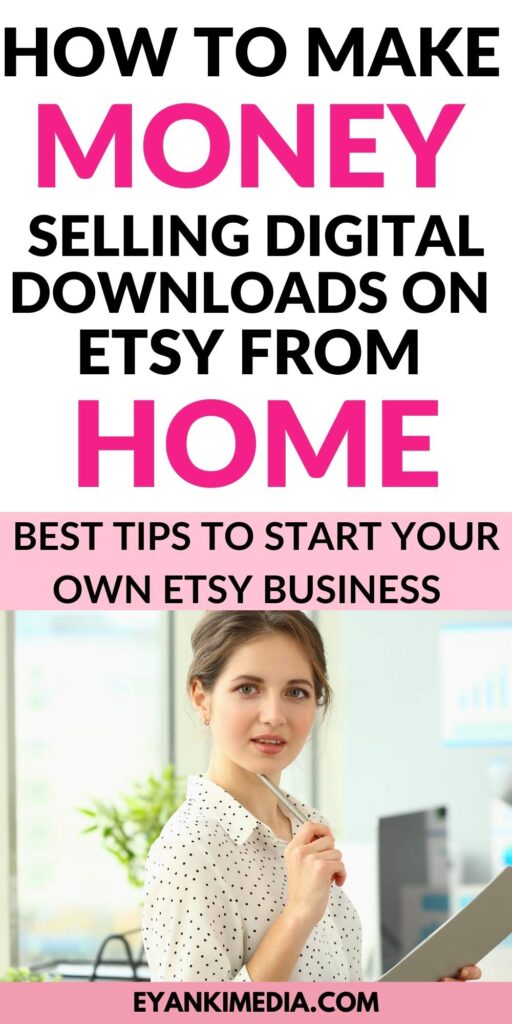 Is it worth selling digital files on Etsy?
Yes, Etsy is a good platform to sell digital downloads.
There are a few reasons why selling digital downloads on Etsy could be a great idea for you:
Etsy has a built-in audience of over 89.4 million buyers (as of September 30, 2021). When you sell your goods on Etsy, you're reaching out to this massive group of potential consumers.
Etsy has inbuilt tools that make it easy to sell and promote your digital products.
Once you upload your files to Etsy, they are automatically delivered by Etsy to the buyer after purchasing.
You don't need to worry about setting up your own payment system or website – Etsy takes care of all that for you.
Etsy takes care of taxes as well. Managing taxes can be a pain when selling digital downloads on your own website.
How Much Can You Make Selling Digital Downloads On Etsy?
How much you can make selling digital downloads on Etsy depends on many factors, such as the
✅ Type of digital product that you're selling
✅ Your level of experience
✅ Pricing
✅ How well you market your shop
Some Etsy shops make a full-time living selling digital downloads, while few Etsy sellers struggle to get their first fifty sales.
For example, I checked eRank (a third-party tool for Etsy) while writing this post.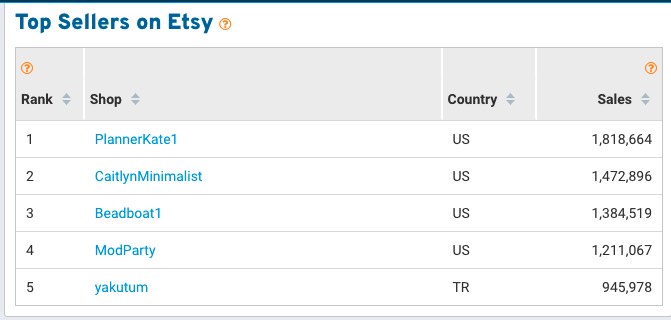 Plannerkate1 is the most popular Etsy seller, as seen in the screenshot below. With an average of around 666 purchases every day, Plannerkate1 sells planner stickers (top-selling digital goods on Etsy) and has sold over 18 million units.

So, yes, it is feasible to earn $1,000 per day on Etsy (but not simple since Etsy has a lot of competition).
What type of digital downloads can I sell on Etsy?
There are endless possibilities for what you can create to sell on Etsy. However, I would suggest starting with a product that you're familiar with and passionate about.
Look at Etsy to get some ideas on digital items you can sell if you're unsure or just starting, I will be discussing some of the top-selling digital items below.
The best thing you can do is scroll through these products on Etsy, compare other similar competitive listings, check the seller stats on eRank or Marmalead and then pick up a niche you can work on.
Here are different kinds of digital downloads that are sold on Etsy:
What are the Most Popular digital downloads on Etsy?
Among all the digital files mentioned above, the following are the best-selling digital downloads on Etsy.
Digital Planners and trackers
Planners are the most popular digital products to sell on Etsy because they help everyone organize their lives. From fitness trackers to goal planners, the options are endless and the buyers are always on the lookout for new designs.

The digital planner and sticker include:
Calendars (monthly or weekly)
Daily planners
Wedding planner
Meal planning printables
Fitness trackers
Goal trackers
Budget trackers
Habit trackers
Printable stickers
Again, as mentioned earlier, stickers are one of the top-selling items on Etsy. They're a fun way to decorate your planner or just about anything. There are a variety of sticker designs to choose from, including:
Quotes
Character stickers
Scrapbooking stickers
Transparent/watercolor stickers
Floral and botanical stickers
Geometric and abstract stickers
Animal and nature stickers

This Etsy store belongs to one of Etsy's star sellers, Mim. She sells digital stickers on Etsy and also teaches other business owners how to create stickers that people love to buy. If you are not sure, you can join her free sticker class to learn how to get started.
Labels and tags
Printable labels are a popular item for shop owners because they're versatile and used for various purposes.
You can use them for product packaging, sealing envelopes, or decorating gifts. There are a few different types of labels you can sell on Etsy, such as:
Food and beverage labels
Product labels
Jar labels
Envelope seals
Gift tags
Party printables
Printable party decorations are a fun and easy way to celebrate any occasion. From birthday parties to baby showers, there are digital products available for every celebration.
People love to buy from Etsy as they can be customized according to their needs. The secret to a successful Etsy business is customization.

You can find printable party designs that include:
Invitations (wedding, birthday, or baby shower)
Decorations (banner, bunting, flags)
Party favors
Printable thank you cards
Party games
Clipart/ Graphic designing files
These are digital files are used by crafters and makers to create their own products. Anyone creating digital printables or tangible items (such as Cricut-made products) to sell on Etsy will require these files.

These files include SVG files, PNG files, JPG files, etc. and are one the top selling digital products on Etsy.
Seasonal printables
When it comes to top-selling digital downloads on Etsy, seasonal printables cannot be overlooked.
 Selling seasonal prints is a great way to make money year-round, as people are always looking for new ideas for their celebrations.
There are different types of seasonal prints that you can sell on Etsy on occasions like Christmas, Valentine's, Mother's Day, Halloween, Thanksgiving, etc.
Free ebook of best seasonal printables ideas – Julie, an Etsy seller has this free ebook for selling seasonal printables on Etsy.
How to create digital downloads to sell on Etsy?
Now that you know what type of digital downloads sell well on Etsy, let's look at how you can make these products.
There are different tools for making digital products. The type of tool you need depends on what kind of digital product you want to make.
Below are the things to consider before picking up a product or creating digital products to sell.
✅ Your skills: Are you good at graphic designing? If not, are you willing to learn?
✅ Type of digital product you want to sell: As I mentioned before, different tools are available for each type of product.
✅ The money you want to invest: How much do you want to invest in making digital downloads to sell on Etsy? Some of these tools are free, while some require a monthly subscription or one-time payment. 
✅ The time you want to invest: Do you have time to create new designs regularly?
*Don't worry if you are not a graphic designer, some tools are extremely easy to use, and you can be creating amazing designs in no time at all.
Once you've answered these questions, it'll be easier to decide which tool is best for you.
Canva
Canva is a user-friendly drag and drop style designing tool perfect for making digital products to sell on Etsy. You don't need any graphic designing skills to use Canva, and it's free to use.

I make all my printables (digital files) on Canva to sell at Etsy. I have an annual Canva pro subscription (discounted) because I use it for so many reasons, but you can get started with a free account.
There are a lot of templates, free elements, and design graphics available to help you create your digital downloads. From invites to planners, printable tags to coloring pages, you can create almost everything on Canva (except SVG files, etc.).
If you're looking for an easy-to-use tool, I would definitely recommend Canva.
Related reading: How to make and sell coloring pages on Etsy
 Microsoft Word, Excel, or Powerpoint
Yes, you can create your digital downloads like spreadsheets, trackers, budget planners with simple tools like a word document, an Excel spreadsheet, or even a PowerPoint.
All you need to do is save your file as a PDF, and you're ready to go. The downside of this option is that not everyone has Microsoft Office which can limit your customer base.
Adobe Illustrator
Adobe Illustrator is a fantastic tool for creating more advanced designs for digital downloads (such as SVG files). It can be a little more difficult to use than Canva, but there are many online tutorials to help you get started.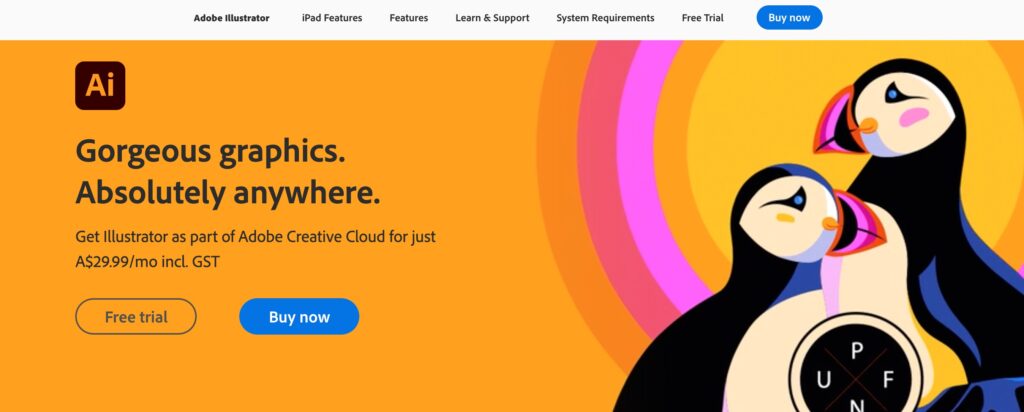 The upside of using Adobe Illustrator is that your designs will be of higher quality, and you'll have more control over the final product.
Adobe illustrator is not free, and you can get it as a part of a creative cloud subscription.
Gimp
Gimp is free and open-source software that works similarly to Adobe Photoshop. Advanced designers use this tool to make illustrations and graphics.
Like Adobe Illustrator, Gimp gives you more control over your designs with its advanced image editing options. There is a learning curve for beginners when using GIMP, but don't worry – there are plenty of tutorials to help you get started. With a little bit of practice, you'll be able to use GIMP like a pro!.
Inkscape
Inkscape is another free vector graphic design tool used by professionals to create SVG files and graphics. It is the closest competitor to Adobe illustrator with many advanced illustrating and editing tools.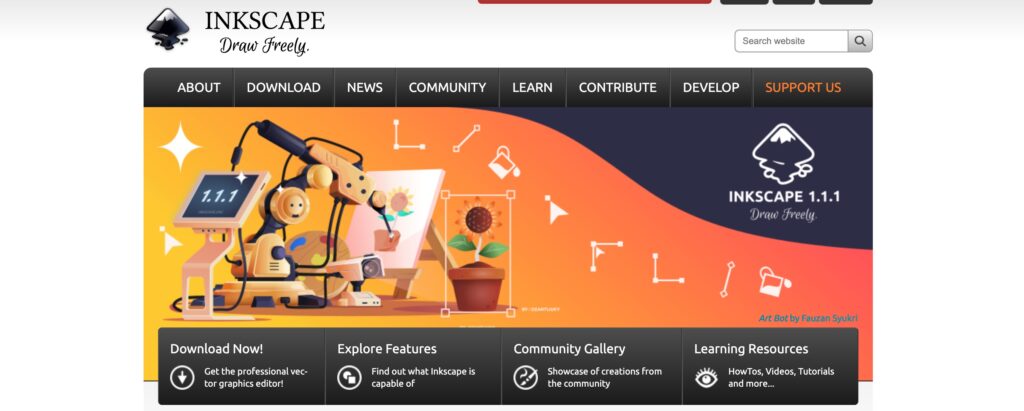 If you want to start selling SVG files, Inkscape is a great option to consider.
Affinity designer
Affinity designer is a paid subscription-free tool that allows you to create digital products for sale on Etsy. You have the option to create vector-based graphics, AI, PSD, SVGs files, or even printables with the tool.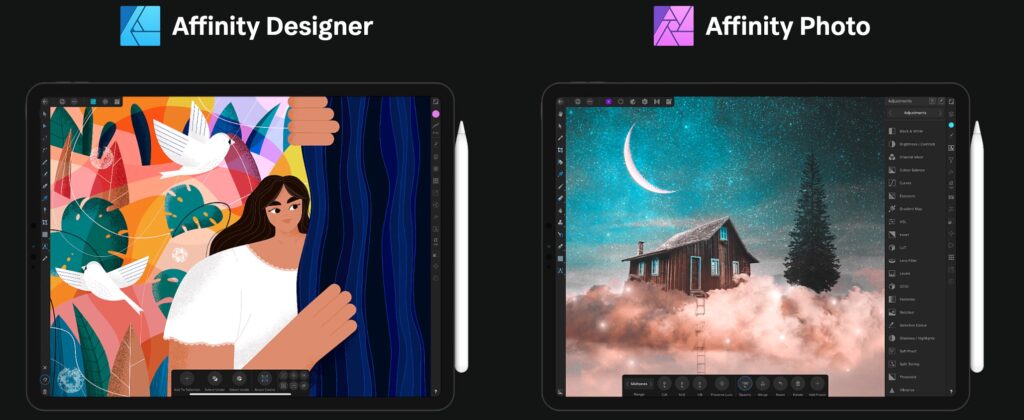 It's compatible with Windows, Mac, and the iPad. For just $54.99, you may buy Affinity Designer for Windows or Mac or $9.99 for iPad.
Procreate
Procreate is a leading digital sketching and painting app for the iPad, designed specifically for artists. It's not free, but it is a great option to create high-quality illustrations, graphics, or simple digital products like digital planners, coloring pages, etc.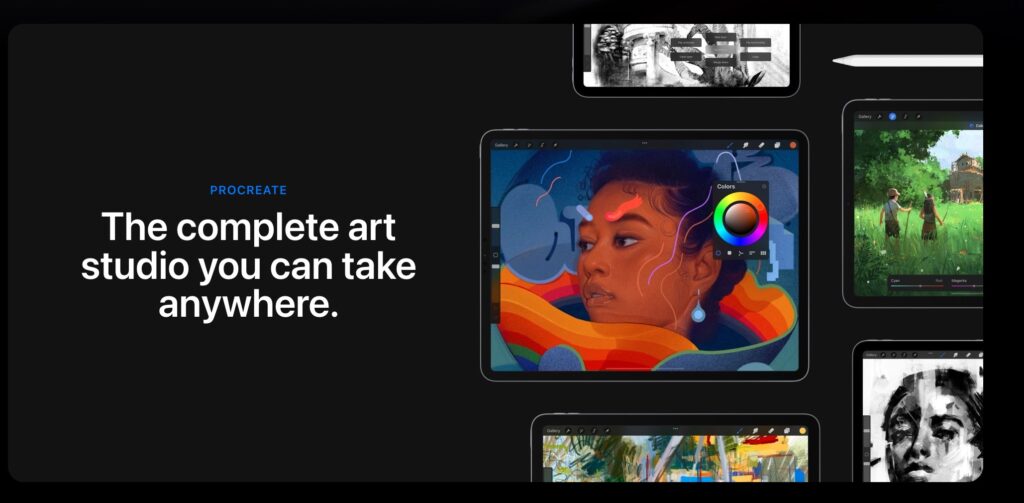 It offers a wide variety of brushes, textures, and editing options that give you more control over your designs.
The downside of using procreate is that it's an iPad-only app, and you need to have an iPad and a pencil to use it.
How to sell digital downloads on Etsy for Passive income
Follow these steps to start selling digital downloads to make Passive Income on Etsy.
1. Do Market analysis to see what's selling
Before you start creating digital downloads, take a look at what's already selling on Etsy. Instead of reinventing wheels, see if you can create something unique for the products in high demand.
How to do market research
To see what's selling for a competitor, check the total sales number. Click on the number; it will show all the recently sold products.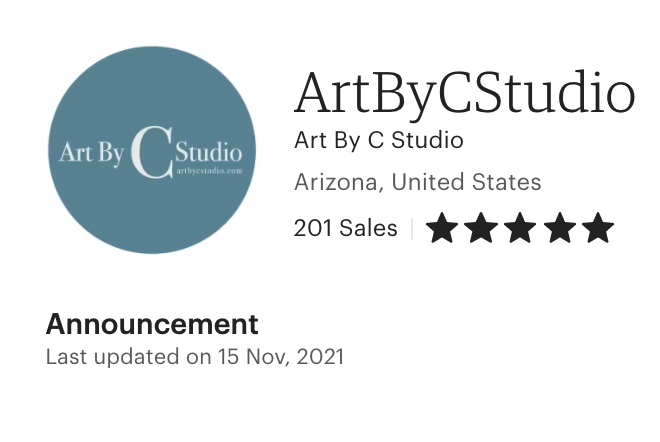 2. Check reviews and see what buyers are saying or what they would like to see in the product. Look for a gap in the market that you can fill with your own digital downloads.
3. Use SEO tools like eRank or Sale samurai to brainstorm product ideas. These tools can help you find keywords with exact volume, top sellers in the category, average price, views or likes of their listing, and much more.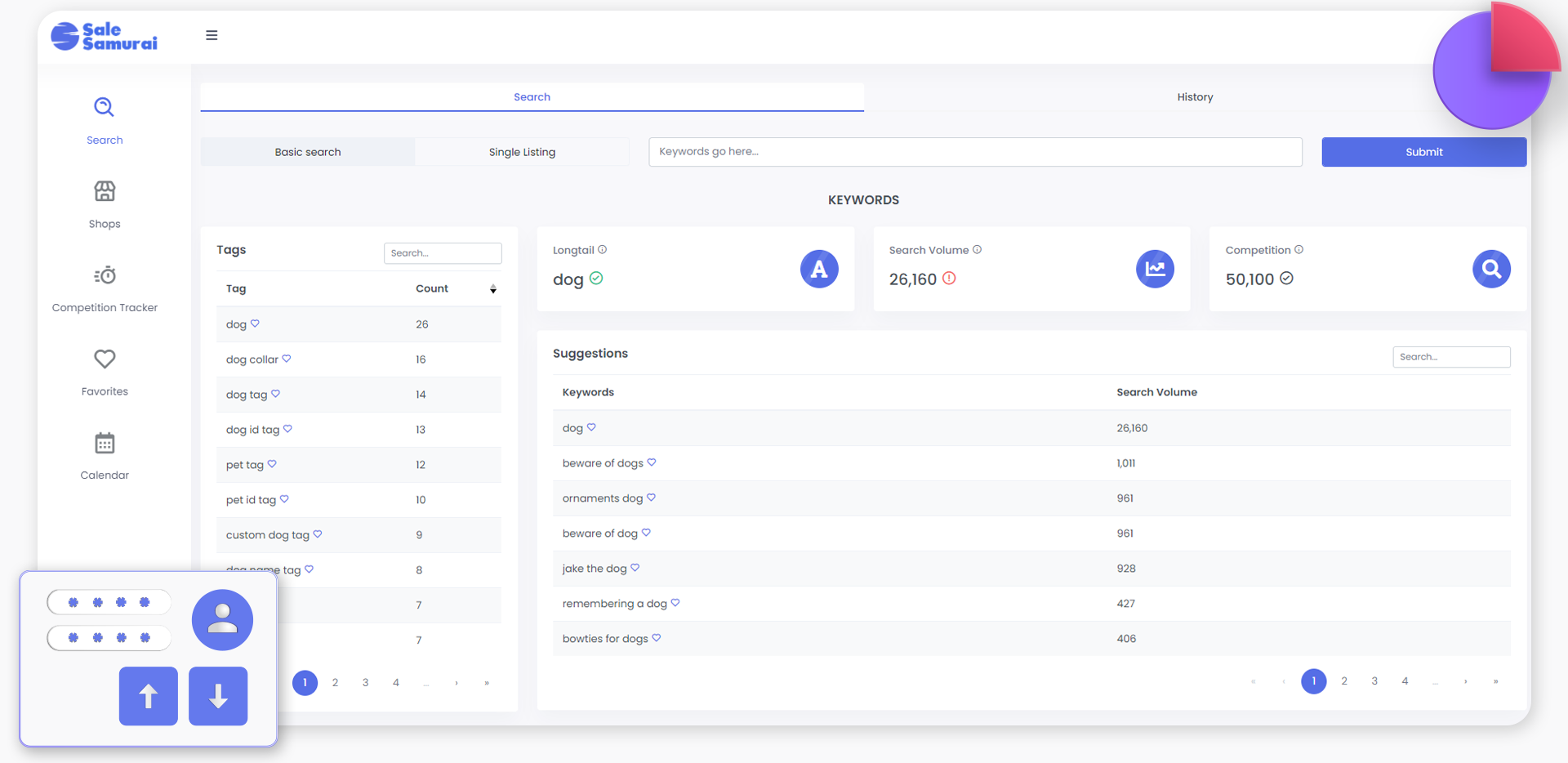 These insights can help you understand what buyers are searching for and how much they are willing to pay.
2. Create your digital item
Once you have a product idea in mind, it's time to start creating your digital download. You don't need expensive software to create your digital products.
I use Canva for all my digital products and get my graphic files from websites like Creative Fabrica. These files come with commercial licenses, so I don't worry about copyright issues.
Cool tip: These graphics selling websites offer daily/ weekly freebies which come with a commercial license. (I have a whole drive of freebies which I use for my products).
3. Set up your Etsy store
Now that you have a few digital downloads created, it's time to set up your Etsy store. You can start your store with these 40 free listings. If you are not ready, you can create an Etsy seller's account now (free) and come back later.
I recommend you to grab my free starting an Etsy shop checklist for all steps and free templates.
Consider the name of a shop that would be SEO-friendly. You can only change the name of your business once it has been created.
If you in Australia, check this guide for selling on Etsy Australia. This is how I make money from home.
4. Create your first listing to set up a store
While setting up your store, Etsy requires you to make a listing. You can add any random photo and other details and delete them later.
Set up your profile. Add description, announcement, and about you section.
Use these free Canva templates to create a logo and shop banner. Your store is now ready!
For banner ideas (with examples) check here. For information on different Etsy banner sizes and templates check here.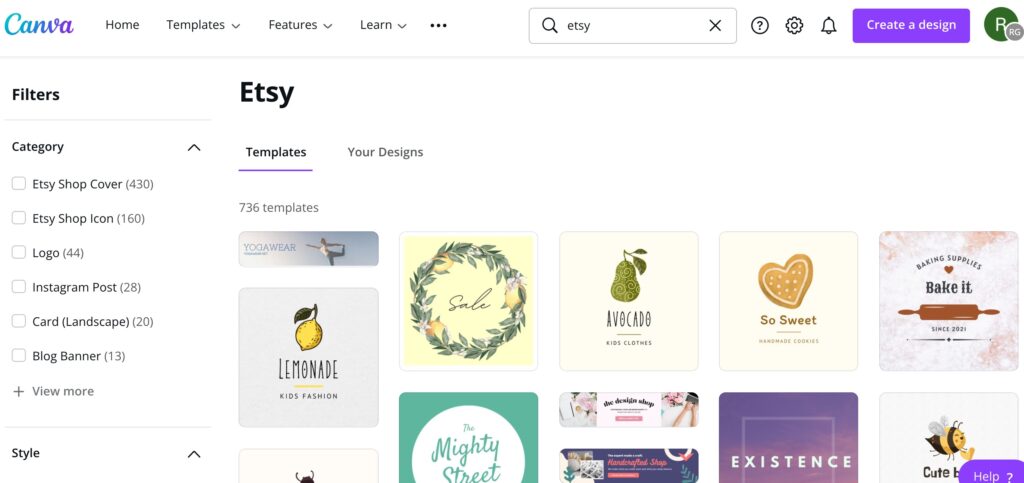 5. List your products
Start adding digital products to your store. Make sure to select 'digital' under the type of listings. 
It may take a while, but I would suggest adding at least 20-30 listings. Take some time to learn Etsy SEO.
Your listing title and tags are the most important elements of Etsy's success. Don't worry if these terms are new; you will learn as you go.

Here are some helpful resources to get you started before creating your own listings:
6. Upload your digital files on Etsy
Now that you have created your digital products, it's time to upload them on Etsy. There are a few things to keep in mind while uploading:
You can't change the file name once it is uploaded. Name your files accurately so that a buyer can understand what is inside the file.
Etsy allows you to upload up to five digital files only.
Each file should be below 10 MB.
Ersy supports digital downloads in formats: .bmp, .doc, .gif, .jpeg, .jpg, .mobi, .mov, .mp3, .mpeg, .pdf, .png, .psp, .rtf, .stl, .txt, .zip, .ePUB, .iBook.
I also send a thank you note to my buyers. It helps them know what they are getting, how to use it, and how to reach me.

If you are selling a lot of items in one listing, you can either zip your files or add a pdf with a link to your Google drive or dropbox.
7. Promote your products
Digital downloads don't always need a lot of advertising. Once they are listed, they will start selling over time as long as you have good SEO. However, there are a few things you can do to give them a boost.
Share your digital products on social media like Pinterest. Create a Pinterest account for your shop and pin regularly. Etsy has inbuilt tools to share directly from the platform.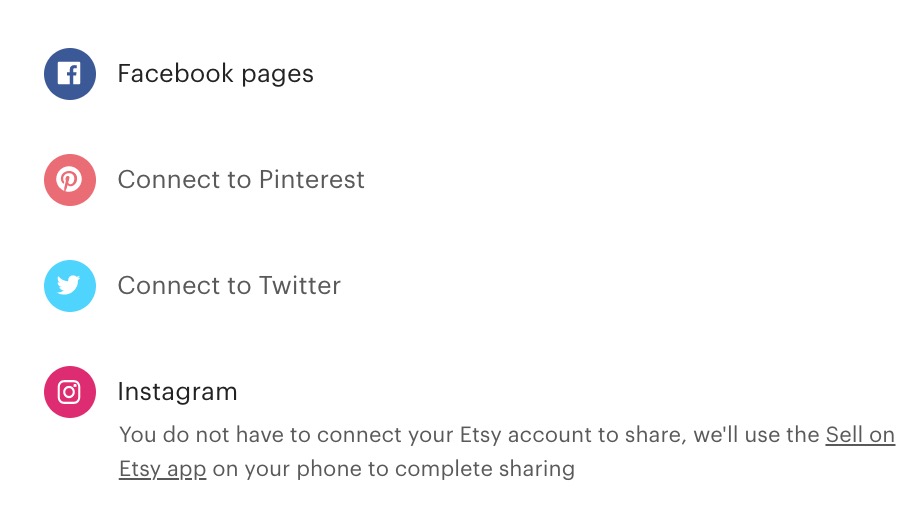 You can also submit your products to curated gift guides on the web.
Create an email marketing campaign for your Etsy shop subscribers. Offer them a freebie and a discount for their first purchase.
8. Analyze, tweak and repeat
As with any business, you need to analyze your results and make changes accordingly. Check your stats and see what's working and what's not. I made my first 30 sales on Etsy in just less than one month of starting my shop.
💡 One of the best ways is to perform a listing audit using any of the SEO tools you use for your shop.
Keep track of your Etsy SEO efforts after you make any change so you can replicate successes in the future.
If you are serious about making money, I will recommend investing in an Etsy digital product course. Although there are many courses, I would still suggest this one as it is a pretty focussed and comprehensive course as it teaches you how to create products with Canva from scratch and sell them on Etsy for profit.
Here is a free workshop as well to learn in and outs of selling printables on Etsy.,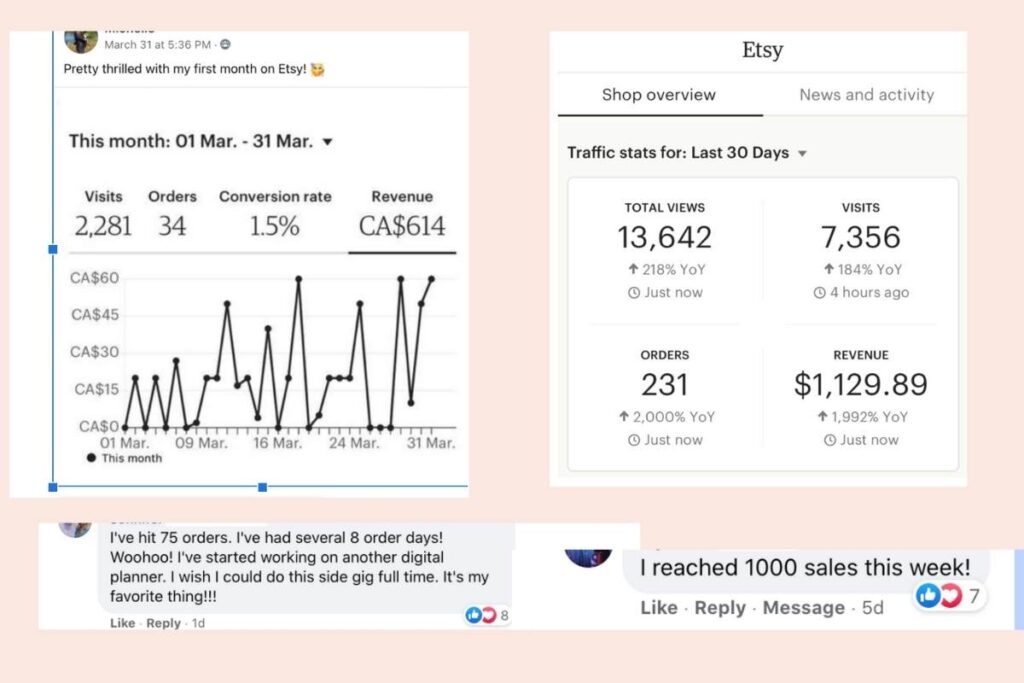 Selling custom digital files on Etsy
Selling editable (personalized) downloads is an excellent way to scale Etsy's printable selling business. People love Etsy printables because they can customize them according to their needs. For example, selling editable invitations on Etsy.
There are two ways to sell editable downloads:
You edit the template and send buyers their personalized digital file.
You sell editable template files that buyers can customize themselves.
Both of these methods have their pros and cons.
Selling digital prints where you edit the template is a simpler process but time-consuming and not really a passive way of making money. These files are usually higher on pricing as buyers are paying for your time.
However, the most frustrating thing is that some buyers request numerous editing or re-editing, which can be a huge pain. If you are selling these files, you must mention how many modifications/corrections will be included.
If you want to sell personalized downloads, turn on the personalization in the listing tab. Below there is the column to request personalization details.

And don't forget to include the delivery time of the final digital download and mode of delivery. Believe me, some buyers are very impatient!
New!! Etsy has recently added a new feature that allows you to create a made-to-order listing for selling custom digital downloads on Etsy. You can read more about how to create made to order listing here.
Selling editable template files is a more passive way of making money as you are not doing any editing yourself. It may require a little extra time while creating the product, but in the end, you will get an instant editable file that you can sell over and over again.
One of the top party invitation sellers on Etsy, Designmyparty studio, sells editable template files.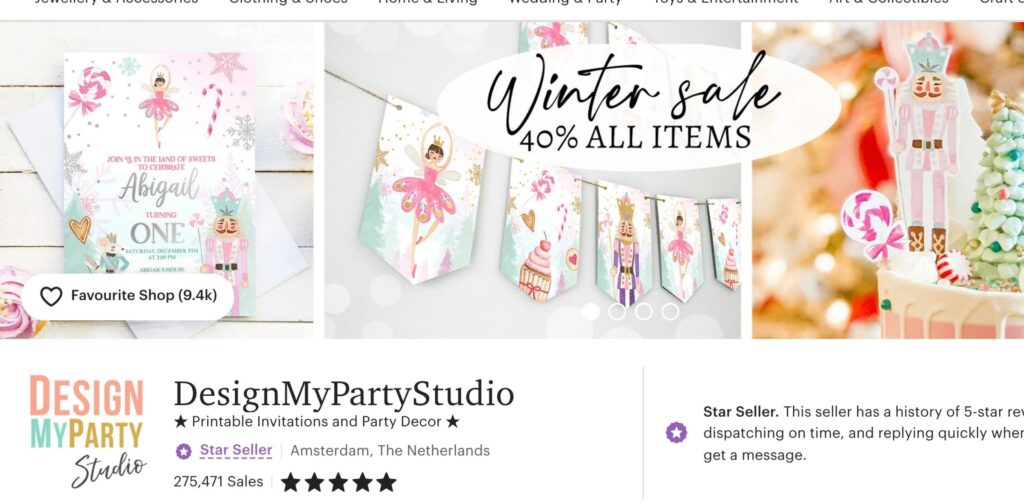 When listing an editable download, make sure to include the following in your product description:
What type of software is needed to open and edit the file?
The text fields that buyers can edit.
Any restrictions.
Etsy Digital Downloads -Tips and Tricks for the first sale
Learn Etsy SEO
To be successful on Etsy, you should know how Etsy search engine optimization works. 
Create click-worthy listing photos or use mock-ups
 Your listing photos are the first thing potential customers will see, so make sure they are high quality and capture your product in a favorable light. I recommend you get mock ups from Creative Market.
For simple designs, you can grab these free listing photo templates and check this Etsy listing sizing guide.
Use Etsy coupons or run a sale
A sale or coupon can be a great way to get more exposure for your products and boost sales. You can run sales or create coupons for an individual item or your whole shop using these simple steps.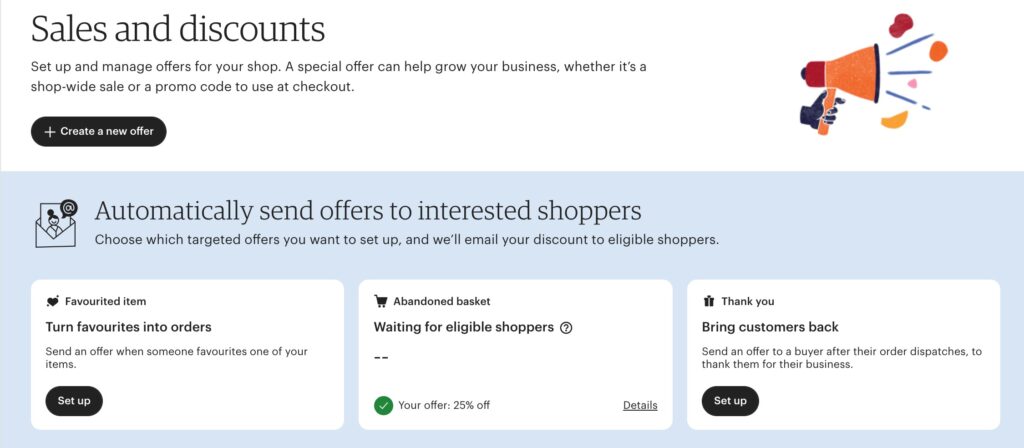 Avoid negative reviews
 Positive reviews are not in your hand, but you can avoid negative reviews by responding to customer inquiries promptly, offering a refund (if needed), writing clear descriptions and usage instructions.
I have heard stories from fellow Etsy sellers that how a negative review completely ruined their business. Offering a refund is far better than a negative review!
Use Etsy ads if you have a budget
Etsy ads can be a great way to get your products in front of more potential customers. Just make sure you target your audience well and keep an eye on your ad spend. You can then use the ad's insights to optimize your listings.
Bundle-up products
Selling digital downloads as a bundle can be a great way to increase your average order value. Bundles are usually discounted and give customers a great deal. Win-Win situation for both!
Don't be shy in investing
Selling digital downloads is a great way to make passive income. If you're not making enough sales, invest in some marketing tools or courses that can help you increase your traffic and conversions.
Sales samurai is an awesome tool that many pro-Etsy sellers use. You can also try it for free for 14 days. Use code 'eyanki10' to get 20% off.
If you need more help or don't have time to learn bits and pieces from several different free sources, it's worth investing in a comprehensive course that covers everything from beginning to end. The time you'll save is well worth the money, and if you're serious, you'll be able to recover your investment.
ETSY Digital Downloads FAQ's
Can you resell digital downloads on Etsy?
NO, you cannot resell digital downloads on Etsy. Most digital downloads have a personal use license which means that you cannot only use them for commercial purposes.
If you want to re-sell digital products you bought on Etsy, you need to check with the seller if the product has a commercial license. Etsy is quite strict about this, and violators can get suspended from the platform.
Can I sell digital downloads on Etsy if I'm not from the US?
YES, you can sell digital downloads on Etsy regardless of your location. However, there are a few restrictions when it comes to selling digital products in some countries. For example, in some countries, digital downloads are subject to GST.
Make sure you familiarize yourself with the tax laws in your country before listing digital products for sale.
Is there a limit to the number of digital downloads I can sell on Etsy?
No, there is no limit to the number of digital downloads you can list on Etsy. However, keep in mind that you need to pay listing fees for each product you want to sell, and you are responsible for fulfilling custom orders (if you sell any).
How to protect digital downloads on Etsy?
When you are selling digital downloads on Etsy, it is important to protect your work so people cannot steal or copy it without permission.
Watermarking is a common way to protect your images and listings in general. You could put a tiny logo or other identification on the file to deter some content stealers, but they can be erased, so there is no assurance.
You can also flatten the design so no one can edit it and claim it as his own. You can read about this here. I usually do this for my printables, it is not 100% foolproof, but it does the job.
Including your licensing terms with your download is also a good idea. 
You should also mention the usage of your products in your shop policies.
Remember to keep your files safe and backed up! There is nothing worse than losing all your hard work because of a computer crash or some other mishap.
How much does Etsy charge for digital downloads?
Etsy charges a listing fee of $0.20 for every product, in addition to a 6.5% transaction and a payment processing fee when you sell a product.
You can read more details about Etsy selling fees with examples in this helpful article.
 Etsy Passive Income: Start selling digital downloads on Etsy
So these are some tips and tricks on how to sell digital downloads on Etsy. Just remember, be patient and keep at it. Selling digital downloads can be a great way to make passive income, so don't give up if you don't see results overnight. 🙂
Meanwhile, grab these freebies that will be helpful for you while selling your digital products on Etsy.
Etsy Digital Products Related Freebies You Might Like
Do you want to start a printable Etsy shop? Get 40 free listings for your store!
Free digital product listing Canva templates: Use these templates to create Etsy photo listings. Refer to my blog on Etsy listing photo size or grab these templates for digital printable products.
Free Pinterest templates: Grab these free Canva Pinterest templates for Etsy sellers. Good to use with a free Canva account.
Free one-month Tailwind: Get a free one-month Tailwind (for new users) and schedule your pins and other posts on social media.
If you have any questions about selling digital downloads, please don't hesitate to leave a comment below or contact me. I'll be happy to help.
Thanks for reading! Please don't forget to save for the future or share with someone who needs this.