"I am new to Etsy. How do I get my first sale?" It is a question that new Etsy sellers wonder about all the time.
No doubt, making your first sale on Etsy can be a daunting task. It seems like everyone is selling something, and it's hard to know where to start.
When I was started my Etsy shop, 'when will I get my first sale on Etsy' was the question that occupied my mind too. I knew it could be hard (not impossible) to make the first sale on Etsy when you are a newbie and have no followers.
But to my surprise, I managed to get my first sale within ten days of starting my Etsy shop and made over 30 sales within the first month of starting my Etsy shop.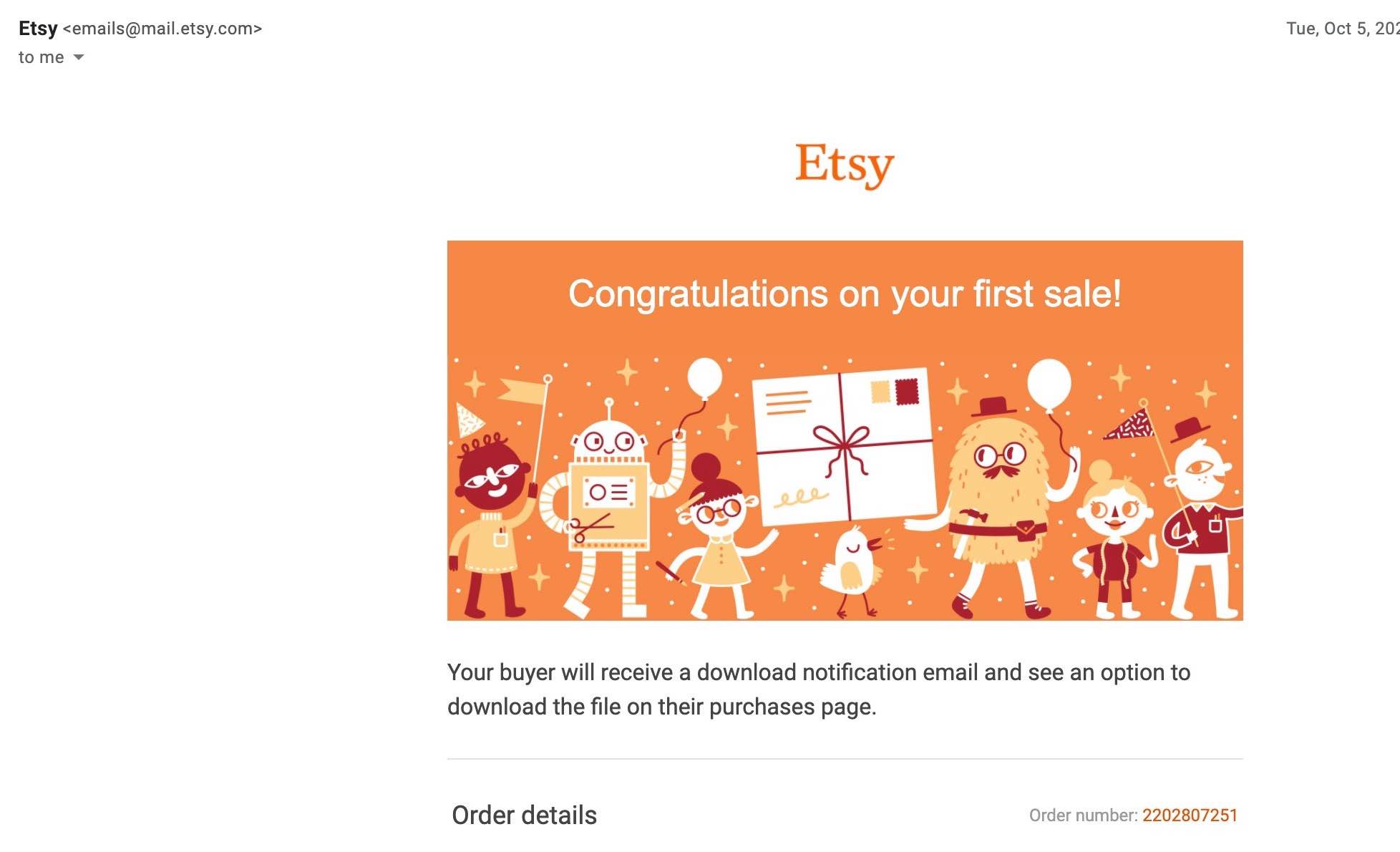 In this article, I want to share how I got my first Etsy sale, and maybe these simple tips can also help you make your first sale and so on.
It's important to note that there is no quick fix for getting sales on Etsy. The key lies in consistent hard work and dedication. However, if you are willing to put in the effort, these tips on 'How To Get Etsy Sales' can help increase your chances of making that first sale on Etsy.
This website contains affiliate links which means we may earn commissions if you purchase through them (no extra cost to you). You can read our policies here.
Etsy related posts you might like:
Is it hard to get the first sale on Etsy?
The answer is yes and no. Yes, getting your first sale on Etsy can be hard if you don't know how to approach it strategically or learn how to use the tools available for sellers correctly.
However, getting a sale on Etsy doesn't have to be difficult when you know what works best for your listings and keep up the consistency.
How Long Does It Take To Make Your First Etsy Sale?
There is no definite answer to this question, but you need to understand that it takes time for the Etsy algorithm to understand your product and show it to potential customers.
Many people say the average time for a new shop to make its first sale is about two-three months. But some sellers made their first sale within a week or two after listing their products.
And yet, I know someone who made a sale on the fourth day too.
When Should You Expect Your First Sale on Etsy?
If you have followed the Etsy guidelines and optimized your shop for SEO, it can take from one week to over a month for your first sale.
As I said earlier, Etsy's algorithm takes a little time to get to know your products, so you must keep listing new items while adjusting your listings to improve their positions in the eyes of Etsy's algorithm.
I know how it feels to be stuck with zero sales that's why I am sharing my experience of how I managed to make my first Etsy sale.
Here are a few key things you can do to increase your chances of making that first sale on Etsy in 2022.
How to get your first sale on Etsy?
1. Build trust
When a buyer visits your shop to purchase an item, the first thing he will like to check is your shop policies, delivery information, and sometimes about section. Having these things in place will help you build trust, especially when you are selling physical items.
You have to assure buyers that you are a legitimate business. Therefore, it is necessary to have a well-curated shop with all the relevant information.
Policies
Policies help set the rules for buyers and sellers so they know what to expect from each other. It includes your refund, replacement, and exchange policies.
I recommend reading through Etsy's seller policy page to understand how you should write your shop policies.
Delivery Details
It's critical to list estimated shipping times for both, local and international orders.
Many people visit Etsy to buy gifts for their loved ones, so they expect to know how long it will take for the order to arrive. If you have a product that someone likes, but there is no shipping time mentioned in your shop, they will certainly go to the next store.
Offering free shipping increases the chances of a sale too! 
About Section
Your shop's about section is where you can tell about how and why you started your Etsy shop. It helps buyers connect with you, making them feel more comfortable buying from your shop.
In my case, I offered a money-back guarantee and refunds. It gave them the assurance that if anything went wrong, they could always get their money back or receive a replacement item.
Logo And Shop Cover
For a professional-looking logo and shop cover, you can use free templates from Canva or hire a freelancer from Fiverr. Be cohesive and use brand palettes. You can set your palettes in Canva and use them over to stay cohesive.

Adding a profession looking banner can help you increase sales too! Yes, check these Etsy banner ideas from other sellers and how they are using to promote their brand. if you need some free templates, check Etsy different banner size guide.
2. Seasonal Trends
Creating seasonal items was my key to success early on Etsy.
I searched for the upcoming trends and created related products that matched those trends. I launched my shop in September with products related to Thanksgiving and Diwali (Indian festival), and those were the ones that got me my first few sales.
Luckily both of these seasonal items were medium competition items, and I was able to rank on the first page of search results within a few days.
If you are also planning to sell seasonal products, make sure you list your products at least 3-4 weeks before the event to give Etsy's algorithm enough time to index and rank your product.
My mistake: When I launched my shop, it had more seasonal stuff than regular items. And then both the events passed quickly; I was left with a shop that had nothing seasonal and very little non-seasonal stuff.
I would say to keep a healthy mix of both types of items to get consistent sales and keep adding regular stuff once you get some sales on seasonal items.
3. Listing Number
One question sellers ask, 'how many listings should I have in my shop?.'
I would say the more, the merrier, but 20-30 listings should be a good place to start with.
More the number of listings, more products will be exposed to buyers through Etsy's search, and better will be the chances of getting a sale. Once you have 20-30 listings, focus on how to improve the visibility of your products.
4. Listing Relatedness
You can also increase your chances of getting Etsy sales by creating related listings.
For example: if you are selling a product, add variations of the same product or other items complementary to it.
Doing this will give search engines a clear idea of what your online shop has to offer, increase your listing visibility, and thus chances of a sale.
5. Linking your related listings
 Linking related listings together put other listings in front of potential buyers and increase the chances of sale.
Once you have a few listings, go through them and find how they are related to each other. Then start linking these listings in your product descriptions and listing photos.
For example, if you are selling a mug, you can link all related products such as the same design in pencils, t-shirts, etc., or link to other mugs available in your Etsy shop.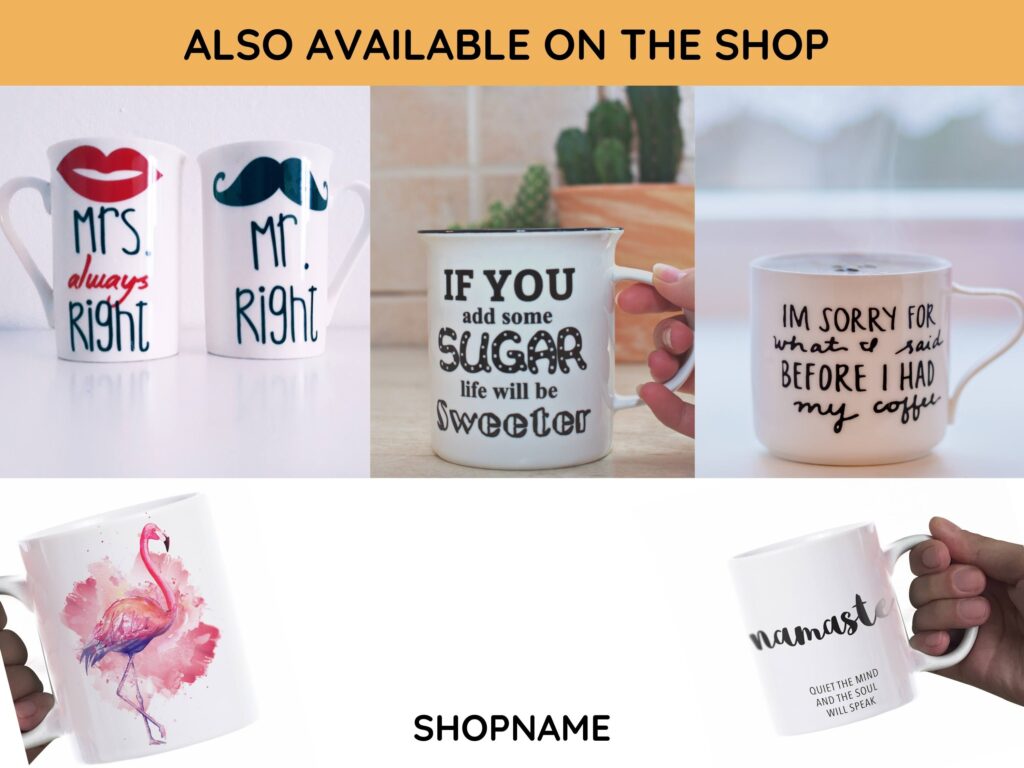 It helps buyers who are already interested in your product( since they clicked your listing) to discover other items on your shop, and they might end up buying.
Related reading: Best Etsy listing photo sizes (plus FREE Canva Etsy listing templates)
6. Improving Etsy SEO for new sellers
  If you are reading this article, I assume that you have already read many articles on Etsy search engine optimization (Etsy SEO), searchable keywords, and relevant tags.
I know how frustrating it can be when every other article says to learn Etsy SEO, and you are trying your best but still not getting any sales.
Just like how the Etsy algorithm takes time to understand your product and rank it accordingly, it is OK for new Etsy sellers to take the time to get a good grasp of Etsy SEO and how to make their products more discoverable.
When I started selling on Etsy, I knew the importance of keywords but didn't know how to use them effectively.
One thing that helped me optimize my listing was 'Etsy listing Audit.' You can do this audit using the Etsy SEO tools you use to find tags and keywords.
If you are on a budget, the free eRank plan gives you an audit of 50 listings a day that's more than sufficient for new Etsy sellers.

Once you click audit, it will show you how well your listing is optimized for Etsy search and suggest some changes that you can make to improve the visibility of your product.
You don't need to do all the changes suggested in the audit, but it gives you a good starting point on how to use keywords in titles, low competition tags, and other listing attributes.
When I first performed an audit on my listings, I was disappointed with how many duplicate tags I was using.
7. Collect data from Etsy ads and other stats
I know people have a different opinions about Etsy ads. But, I believe if used correctly, they can be a great tool for getting Etsy sales. 
When it comes to getting Etsy sales, data is your best friend, and you should use every possible data point to improve your shop's visibility. Etsy ads (and other stats) can help you collect data on how buyers are finding your product and what phrases they are using to find it.
You can run an ad with a budget as low as $1 and choose the listings you want to promote. Etsy will charge you only when someone clicks on your promoted listing to visit it.

For example, if you are selling a product that is not being shown in the ads even though it matches the target audience, then there might be something wrong with your listing SEO.
Similarly, if you are seeing a lot of views on listings but no clicks (or sales), then there could be an issue with listing photos or the target audience.
My mistake: I had a listing that gave me a lot of views but no clicks because I listed it under the wrong category path!
Etsy ads tracks which listings people clicked on but didn't buy. This data is useful for creating new Etsy bundles/combos that customers might find more appealing than buying individually.
Related reading: How much does Etsy charge? Examples of Etsy selling costs
8. Running a launch Sale
I also ran a launch sale for the first two weeks as an introductory discount to get people to buy from my shop.
If you are plan to run a sale, make sure you calculate your margins and how much you want to discount your items.
You don't want to lose money in the long run, and you also want to make sure you are attracting the right buyers who will likely purchase from you again.
Related posts: How to run Etsy sale? Step by step guide to put items on sale on Etsy
9. Offering Freebies
Since I was selling digital downloads, I offered free printable bookmarks and coloring pages to buyers as a bonus.
I put a note in my shop announcement that any customer who purchases any item from my shop will receive the freebies.
It is was a good method to get people interested in buying from me since they knew they were getting something extra.
If you are selling physical items, calculate how much it will cost you to create and ship freebies. You don't want to lose money on freebies, so make sure you price your items accordingly.
Related post: How much does it cost to sell on Etsy
10. Clear and Crisp Product Descriptions
When you list an item, answering all the questions buyers might have related to the product before they buy it can help increase the chance of a sale.
I write precise details in my product descriptions, so buyers know what exactly will they receive, how to use it and how they can get help if needed.
Include all the relevant details, such as size, color, weight, and any specific information that your customer needs before purchasing from you
If you are selling a digital product, make sure to incorporate how many pages are included in the download, format, mode of delivery, size of pages (US letter or A4), and files (MB).
More tips for making MORE Etsy sales (from other sellers)
Listing photo
Make your listings look professional by using high-quality product images and good branding. Use white or neutral background and make sure your product is the focus.
Use Social media
 Many Etsy sellers use Pinterest and Instagram to drive traffic to their shops. Instagram reels and user-generated content is great for showing your products in use and inspiring shoppers to buy from you.
Etsy community
 Be active in the Etsy community by participating in forums, asking questions, and shop critique. Read the seller's handbook and Etsy's latest quarterly report for more tips on how to make your Etsy shop successful.
Etsy Critique
I found this free Etsy shop critique checklist really useful. It has many important points that you should not ignore. Review this checklist and work on the areas that need improvements.
Final thoughts on How To Get Etsy Sales?
There you have it! These simple tips helped me get my first 30 sales in one month. Keep listing new products every few days so the algorithm would see you as an active seller.
It is important to stay consistent and show up for your business every single day to make it a success.
I hope some of these tips will help you start and grow your own successful Etsy shop.
If you found this post helpful, please pin or share it with a friend who might need it as well! And if you have any questions, please feel free to ask in the comments below. Happy Selling!
selling on Etsy related posts you might like
.