This article is for you if you are looking to open an Etsy shop and start selling on Etsy in Australia.
Etsy is one of the most popular marketplaces for handmade items in the world and it's a great platform for Australian sellers as well.
Learning how to sell on Etsy in Australia can be one of the legit ways to make money from home in Australia and can be profitable.
As a fellow Etsy seller from Australia, I'll show you how you can sell on Etsy in Australia, tell you things to do before starting your shop in Australia, explain how to list your products, and give you tips for selling successfully on Etsy.
I also have free checklist and templates to help you get started quickly and efficiently.
If you're ready to set up your Etsy shop in Australia, let's get started on How to Sell on Etsy Australia.
This website contains affiliate links which means we may earn commissions if you purchase through them (no extra cost to you). You can read our policies here.
What is Etsy?
Etsy is an e-commerce platform focused on selling handmade items, vintage products and craft supplies. It's similar to eBay in the sense that it's an online marketplace for buyers and sellers to connect, but unlike eBay, Etsy has a focus on unique items that are often one-of-a-kind, custom made or handmade.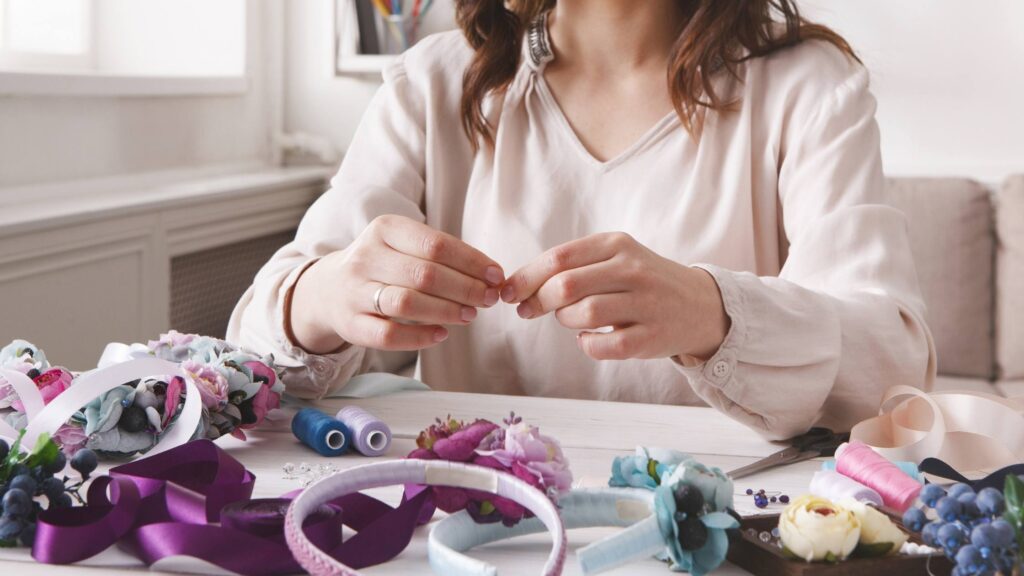 You can find everything from art and handcrafted jewellery to furniture and clothing on Etsy, which is why it's so popular.
Related Reading: Etsy shop ideas to start your Etsy store
Is Etsy popular in Australia too? Can I sell on Etsy in Australia?
Etsy is becoming increasingly popular in Australia with more and more people searching for unique, handmade items from Australian sellers.
In fact, 7% of international sellers on Etsy are from Australia, operating Etsy shop from their homes.
It's a great platform for sellers as it has low fees and is easy to use. You can set up your shop in just a few minutes and start listing products for sale.
Another reason Etsy is popular with Australian sellers is that it gives you access to the global market. When you sell on Etsy, your products are seen by buyers all over the world, not just in Australia.
Things to Do Before You Start Your Etsy Shop in Australia
There are many tax and legal things you must know before starting your Etsy shop if you're based in Australia. Boring stuff but important!
1. Decide: Hobby or Business? 
The first thing is to decide is whether you're going to treat your Etsy shop as a hobby or a business.
If you're selling items that are handmade by you to make a profit, it is likely to be considered a business. As an Etsy seller, I strongly recommend you to treat your Etsy shop as a business from the beginning because selling on Etsy requires an investment of time and money.
If you want to make a profit, you have to be serious about it. If you still consider yourself a hobbyist, you might want to reconsider your decision of opening an Etsy shop.
But if you're ready to start your business on Etsy, let's move on to the next step.
2. Get an Australian Business Number (ABN) 
For selling your products on Etsy in Australia, you will require an Australian Business Number (ABN) as per Australian laws.
An ABN is 11 digits unique identification number for businesses, and it's free to apply for.
You can apply for an ABN through the Australian Business Register website once you have decided which structure is right for your business.
I have registered myself as a sole trader (as most of the Etsy sellers in Australia do), and it's pretty simple and inexpensive.
However, you can also register a company with ASIC as you grow. The main advantage of a company is that the owners are not responsible for the company's debts. It is different from a sole trader or partnership, where the owner is responsible for the company's debts.
If you run your Etsy shop as a sole trader, you are responsible for any debts or obligations the business may have. You can find more information about business structures for a new business on the ATO website.
Once you've registered your business, you'll be issued an ABN.
3. Get an Australian GST Registered Business 
If your business has a turnover of more than $75,000 per year, you will be required to register for goods and services tax (GST) with the ATO.
You can register for GST through the Australian Business Register website or by calling the ATO. You don't have to worry about this now, but it's something to think about for the future.
4. Register your Business Name
Etsy requires you to have a shop name when you set up your Etsy shop. Your shop name (business name here) can be your own name, your company name or something that describes what you sell.
If you want to use a trading name other than your name, you must register it with ASIC (as per ATO).
In simpler words: If your shop name is "John's Handmade Pottery", "Pretty Earrings" or anything other than your personal name, you have to register it.
**Your business name is important as it's how your customers will identify you and your products.
Make sure your business name is unique, so check that it's not already being used by another. You can search the ASIC website and Etsy to see if the name you want is available.
If it's available, you can register it online through the ASIC website for a fee of $36 for one year or $84 for three years.
5. Copyrights and Trademarks
If you have a clever business name, slogan or logo, you might want to think about registering it as a trademark.
Also if you have any original designs, you might want to consider registering them as copyright. It is not essential, but it can give you extra legal protection for your brand. You can find more information about copyrights and trademarks on the IP Australia website.
Registering your business name or logo as a trademark will give you exclusive rights to use it and stop other businesses from using it without your permission.
You can find more information about copyrights on the Australian Copyright Council and IP Australia websites. 
How much does it cost to sell on Etsy Australia?
There are several costs associated with selling on Etsy Australia. Here are some fixed costs to sell on Etsy for Australian sellers.
Listing Fees
The first is the listing fee of 27 cents (AUD) per item. It will be automatically deducted from your account balance when you list an item to sell. This fee is valid for 4-months or until the item is sold. You can then renew your listing for 27 cents if you want to keep your item for sale.
Transaction Fees
When your item is sold, Etsy will charge a transaction fee of 6.5% of the total sale price (including shipping costs, if applicable). This fee is automatically deducted from your account balance when an item is sold.
Payment Processing Fees
If you use Etsy Payments to process your transactions, you will be charged payment processing fees.
For Australian sellers, the standard rate is currently 3% + 0.25 for local orders and 4% + 0.25 AUD for international orders. This fee is automatically deducted from your account balance when an item is sold.
The table below shows how much you would pay in fees for selling an item on Etsy Australia, depending on the sale price of your item.
Main Type of Etsy Fees for Sellers
Amount
Listing Fees
$0.27
Transaction Fees
6.5%
Etsy Payment Processing
3% + 0.25 (Local)
4% + 0.25 (International)
Prices in AUD
Currency conversion fees
 If you sell in a currency other than your default currency, Etsy will charge a currency conversion fee (2.5%) on the total sale. 
Offsite ads
Etsy will also charge you a fee of 15% for any sales that come from offsite ads.
Offside ads are optional depending on how much you make annually.
When it is optional: It is optional if you made less than USD 10,000 from the sales annually. You will be charged a 15% fee for any order made from an offsite ad. You can turn off Etsy's Offsite Ads for your account in your Shop Manager.
When it is mandatory: If you made at least USD 10,000, you cannot opt-out from Etsy offsite ads. In this case, you will be charged offsite ads at the discounted rate of 12%. 
Since we live in Australia, this (USD 10,000) revenue will be automatically converted to Australian dollars at the time of sale.
GST
Another charge that most Australian sellers are not aware of – you have too pay GST on services by Etsy- Etsy fees.
Etsy is liable to pay GST on the services they provide to you as a business operating in Australia and since Etsy makes way over AUD 75,000 per year, GST is automatically included in their fees.
You can read more about this in this thread.
Etsy plus plan
Starting on Etsy shop is free, but there is an additional plus plan for sellers if they want to have more features on their shop. The monthly subscription for the Etsy Plus plan is currently AUD 13.80, which gives access to advanced features, free listings every month and some discounts.

Etsy promoted ads fees
If you want to promote your listings on Etsy, you can opt for Etsy ads.
The fees for Etsy promoted ads will vary depending on your monthly advertising budget and how much you want to spend per day. The best part of these ads are you are charged only when a visitor clicks on your ad.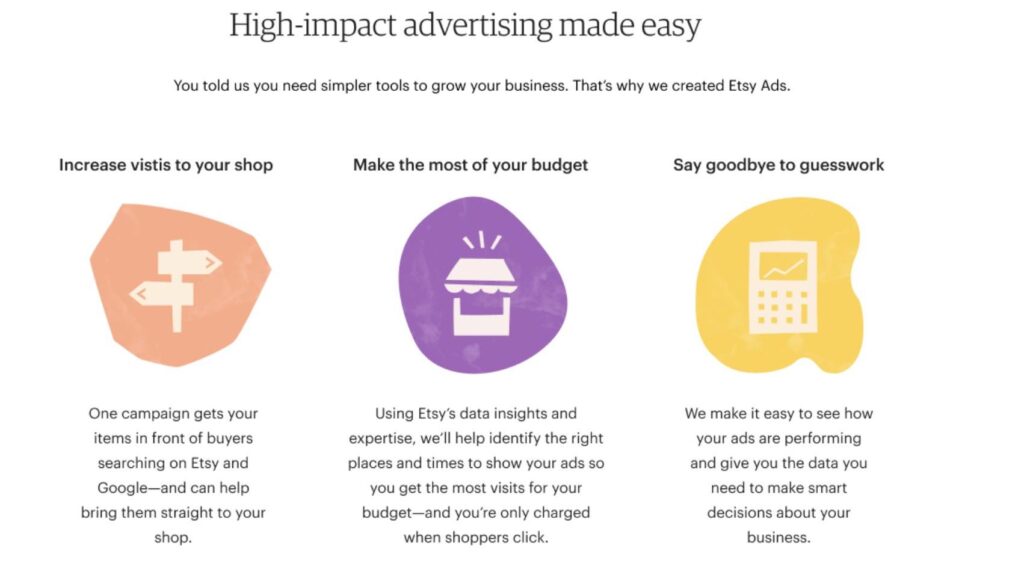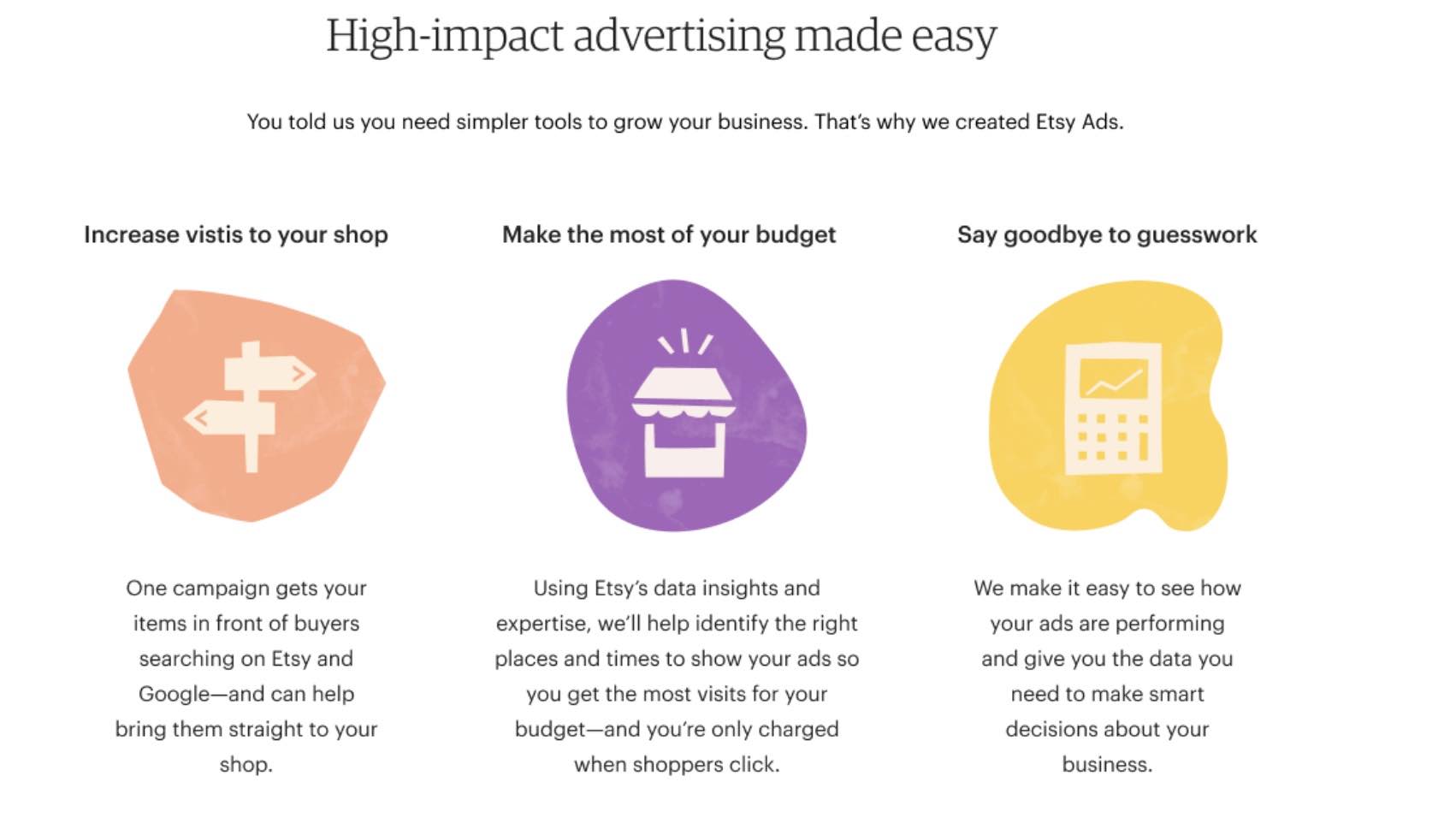 The minimum amount you can spend per day is USD 1, and the maximum is USD 25.
You can read in detail about selling on Etsy fees in this helpful article. It has several examples for more understanding.
Is it profitable to sell on Etsy in Australia?
With all these Etsy selling fees, you might be wondering if selling on Etsy is worth it for Australian sellers. The answer is, it depends.
If you are selling lower priced items, the fees will eat into your profits quite a bit. You might want to consider raising your prices to cover the seller fees.
So, let's check how to sell on Etsy in Australia and meanwhile grab this free starting an Etsy shop checklist to help you get started.
How to sell on Etsy Australia
Here are the 7 steps to set up your Etsy shop in Australia in 2022.

1. Create an Etsy seller account
The first step is to create your Etsy account.
If you have not registered before, you can use this link to get free 40 listings. (If you are not ready to open your shop today, you can still create the free account and come back later to set up your shop).
2. Choose a shop name
 Your shop name is how your shop will be known on Etsy. As discussed before, it can be your own name, your business name or something else that represents what you sell.
If you have not selected any name yet, you can choose any available name and change it later. But note that you can change your Etsy shop name only once.
Check Etsy name generators if you need help to come up with a name for your shop and cross-check the ASIC website for the business name availability.
Here are some handy resources:
How to choose an Etsy shop name
3. Set up your shop
On the next screen, select your shop language, country and currency. Etsy will automatically set the currency based on your country.
4. Create your first listing
To proceed further, you are required to create a listing.
If you are not ready yet
If you are not ready to list your items, you can create a dummy listing to start (that's what I did). To create a dummy listing, add any photo, give a title and enter the required information till you can save it. 
**If you plan to add your original listings later, come back after making your shop alive to deactivate it. You can edit and reactivate it when you are ready.
If your listing has not expired, there is no fee to reactivate it. If your item expires while it's inactive, you have to renew the listing for a $0.27 listing fee to reactivate it.
If you are ready to list your items
If you are ready to list your first item, follow these steps:
Upload listing images: Upload up to 10 images. The size of listing images should be 4:3. Etsy creates a thumbnail for the first listing image so make sure it is click-worthy.

I have a separate article on Etsy listing image sizes with free templates that you can use. Add a 15-sec video if you have one.
Title: Enter an SEO friendly title. The title is important for your SEO success so take time to find long keywords using eRank or sales samurai and use your main keyword first.
Complete your listing information: Enter a detailed description, select category & attributes, add shipping information and set the price.
Add tags: Use all 13 tags and use third party tools to find relevant tags. Use your main keywords in the tags.
Upload files: If you are selling digital downloads, upload your files or ask for personalisation details for custom listings.  

Save your listing: Save your listing and preview it. If your listing is looking good, publish it.
That's it! You are now almost ready to start selling on Etsy Australia.
 5. Select Your Payment Method
Etsy supports different payment methods for Australian sellers. However, Etsy payments is the most popular and recommended method as it gives buyers many payment options and lets them pay in their local currency.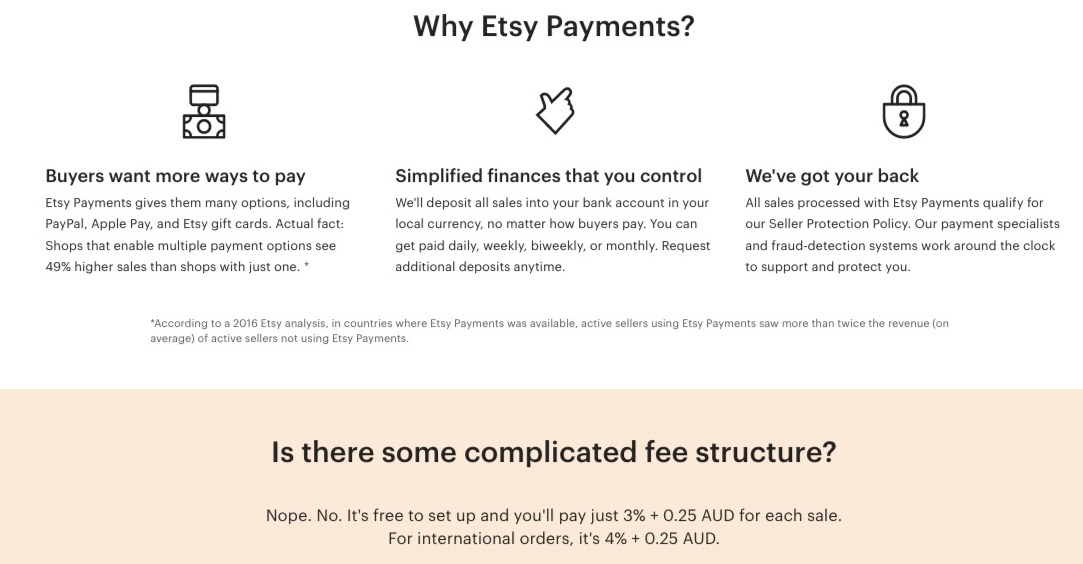 You can learn more about Etsy payments here.
6. Add billing information
The next step is to set up billing for your Etsy shop. Provide your credit card details and choose the country you want to be billed in for Etsy fees.
You will be asked to provide bank details so Etsy can connect with your bank for all payment processing (sales).
That's it! You have now completed the main steps to set up your Etsy shop. Now it's time to customize the looks and feel of your shop to make it professional and trustworthy.
7. Customize your shop 
Add your shop policies and shipping details
This section is the most important as it tells your buyers about your shop policies, terms, and refund/returns policy. For new sellers, adding policies can help build trust with buyers and help them get Etsy sales.
It is important to be clear about your shipping times and delivery methods to avoid any issues later. You can learn more about setting up your shop policies here.
Add a shop announcement
A shop announcement is a great way to communicate with your buyers. You can use it to welcome buyers, announce sales, discounts, or new products.
Add Shop Title
This is a little text that goes below your shop logo. It represents about your shop, brand or product you are selling. You can check these Etsy shop title examples for inspiration.
Add a banner and logo
The next step is to add a banner and logo to your Etsy shop. A professional looking banner and logo can help build trust with buyers and make your shop look more credible.

There are different Etsy banner sizes to choose from. I have some helpful articles on Etsy banner sizes and banner ideas that can help you create a professional banner for your Etsy shop.
These posts have free banner templates as well that you can use with a free Canva account.
Add your Bio and User profile
Your Etsy bio is a great place to share your story with your buyers. It will help build trust and credibility on you. Don't miss this opportunity to connect with your target market. What you can write here:
Add your workplace photos and videos.
Tell them how you create your products.
Tell what makes you passionate about this store
Add a CTA at the end of your bio.
Include your social media profiles
You can read more about adding an Etsy Bio here. You have now completed all the steps to set up your Etsy shop.
Related Reading: Best selling items on Etsy to make money
More Things to know for Selling on Etsy Australia Successfully
Setting up an Etsy shop is just the beginning. To learn how to sell on Etsy Australia successfully, you have to put in the time and effort.
Here are some quick tips to know what to learn and expect.
1. Get Familiar with How Etsy Works
Before you start selling on Etsy, it is important to get familiar with how Etsy works. Etsy is like a search engine, and learning how to optimize your shop and listings for the Etsy search can help you reach more buyers.
Your listing title and tags are the most important ranking factor for Etsy SEO, so they should be optimized for keywords that buyers are searching for.
I use eRank and sales samurai to find my keywords. You can start free on any of these platforms.
You can read this article on How to do Etsy SEO for your shop and listings.
2. You need great product photos
Your listing thumbnail photo is the first thing a buyer sees when he finds your listing in the search results. Therefore, it has to be eye-catching to stop them browsing and make them want to click.
Product photos should be high quality, clear, and show your product in the best possible light. You don't require a professional photographer or expensive equipment to take great product photos.
You can learn to take great product photos with your phone as well, just take care of lighting and focus.
Etsy has this great article on How to take product photos that sell.
3. Set Optimal Listing Price
The next thing you want to focus on is to set the optimal listing price. Your listing price should be based on your product cost, the time it takes to make the product, shipping costs, and Etsy fees.
You also need to consider your target market and what they are willing to pay for your product.
Pricing too high will result in no sales, and pricing too low will result in little to no profit. Find a happy medium where you are making a good profit but also not scaring away buyers with a high price.
4. Learn How to Market Your Shop
Setting up a shop on Etsy doesn't mean people will find it. You have to put in the time and effort to market your new store.
Test different ways to market your products. Etsy has inbuilt tools to connect to social media platforms. Use Pinterest and Instagram to drive traffic to your Etsy shop.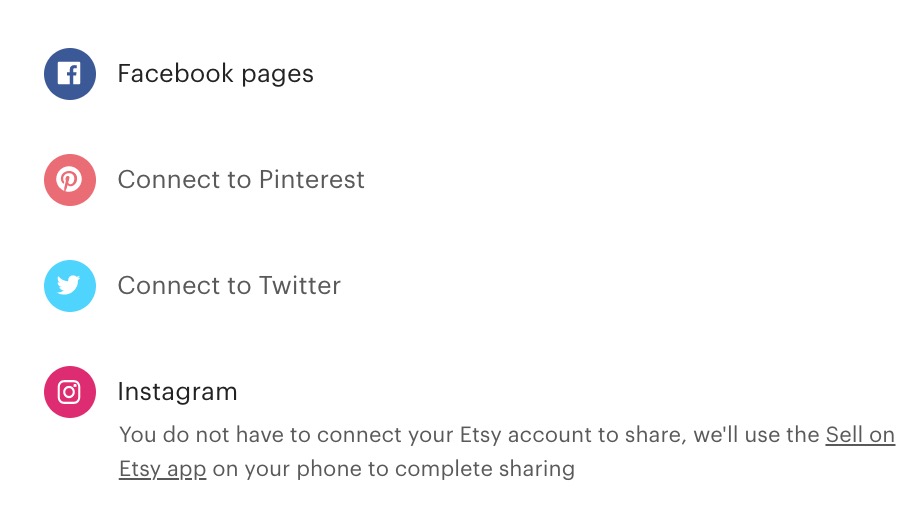 Check other sellers in your niche on Instagram, see how they are promoting their products and get some ideas. Etsy ads are another great way to increase sales to your shop and collect data on what's working and what's not.
5. Take advantage of Etsy sales and coupons
It is one of the ways to increase your sales on Etsy. Etsy has a feature that allows you to send exclusive coupons to buyers who have favourited your items or who have to abandon their cart.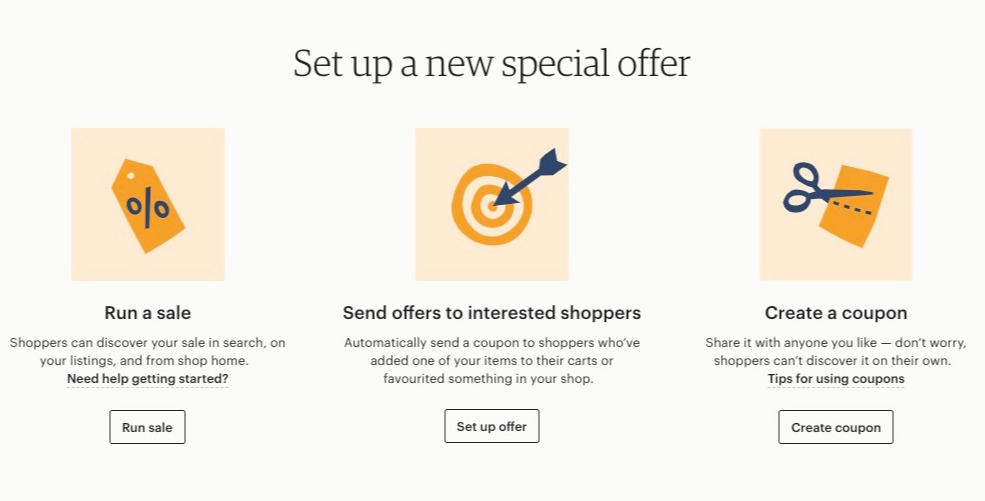 You can read more about it here: How to run Etsy sales and use Etsy coupons.
6. Customer service matter on Etsy
Great customer service to your buyers is one of the hidden secrets of success on Etsy. This includes responding to messages and queries promptly, packing and shipping orders on time, and offering refunds or returns if the buyer is not happy with the product.
Good customer service will result in repeat buyers and good reviews, which will help you attract more buyers to your shop and a better position in the Etsy algorithm.
I have read stories where a single negative review has resulted in a significant drop in traffic and sales for a seller.
7. You need to stand out from the crowd!
This goes without saying that Etsy is a very competitive marketplace, with over 80 million products listed for sale. So, it is important to make your listings stand out from the rest if you want to make sales on Etsy.
And everything starts with creating unique products that buyers are looking for and willing to pay for.
Get some inspiration from Etsy best selling items and see what's selling well in your niche. And then, create unique products that speak to your target market.
By following these simple tips, you will be on your way to success on sell on Etsy Australia! Don't forget your free listings.
I hope this guide was helpful for Australian sellers who are looking to sell on Etsy. Just remember to keep learning and testing new things so that you can continue to grow your shop.
Do you have any questions or tips to add? Please share in the comments below. Good luck and happy selling!`
FAQ'S for selling on Etsy
Do I need an ABN number to sell on Etsy?
Yes, just like any other business in Australia, you will need an ABN number if you plan to generate profit from your store.
Do I have to pay tax if I sell on Etsy Australia?
Yes, you have to pay taxes if you make profit from your store. Income tax and GST apply to all Etsy shop owners.
More Articles on Selling on Etsy Australia for Etsy sellers