Starting an Etsy shop is really exciting. You get to be your boss, set your own hours, or make and sell products you're passionate about, but one of the significant parts that we often overlook is the catchy and effective Etsy shop title.
Your Etsy shop title is one of the first few things potential customers see in your shop, and first impressions are important. 
You want your title to be eye-catching, reflective of what you're selling, and keyword-rich.
Beyond that, your shop title can help your shop be found on search engines like Google or Bing.
In this article, you'll learn how to create the perfect Etsy shop title to maximize your profit. You can also get some inspiration by looking at Etsy shop title examples from stores that have done it well.
Meanwhile, do grab starting my free Etsy shop checklist to help you get started on the right foot.
Related articles: How to start an Etsy shop
What is an Etsy shop title?
The title of your Etsy shop is a small piece of text that will appear under your shop name. This title can be up to 55 characters long, reflective of what you're selling, and keyword-rich so that potential customers can easily find you when they're searching for items like yours.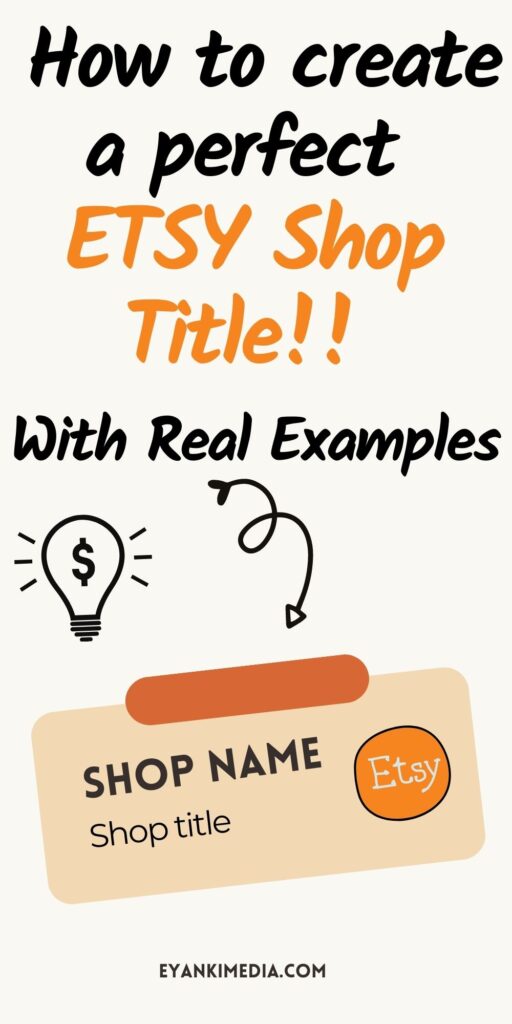 Etsy shop title vs shop name
Before we dive into how to create an Etsy shop title, it's important to understand the difference between your Etsy shop name and title.
Your Etsy shop name is the unique name that you choose for your shop when you're first setting it up. This name can be changed once and is permanent after that.
Your Etsy shop title, on the other hand, is displayed above your shop title, and both are searchable on Etsy. Your shop title on Etsy is a reflection of what you're selling and can be changed as often as you'd like.
Here's an example:
Shop Name: URWizards
Shop Title: Welcome to the Dice Museum 🙂

As you can see, the shop name is URWizards, while the title reflects what she's selling: Handmade Dice!
How to write an Etsy shop title?
Here are a few tips for creating your perfect Etsy shop title:
Keep it short and sweet
In addition to being eye-catching, you also want your Etsy shop title to be easy to read and digest.
A shorter title is easier to remember and less likely to be cut off in search results. Etsy allows you to have up to 55 characters in your title so use them wisely!
Use keywords
As discussed before, potential customers will find you through search engines, so it's important to include relevant keywords in your Etsy shop title.
For example, if you sell personalized jewelry, some good keywords to include would be "personalized," "jewelry," etc. like, in the below example by Caitlyn Minimalist, an Etsy top seller.

Also read: Top selling items on Etsy to make lots of money!!
Be descriptive
You want your Etsy shop title to be reflective of what you're selling. It will help customers understand what they'll find inside, which might make them more likely to buy something.
For example, this shop (a soap boutique) sells handcrafted premium soaps for bridesmaids' gifts or special occasions for women. The shop title, "Luxury Handcrafted Soap and Gift Boxes," reveals what this store sells and is also; SEO-friendly.
Including the word "luxury" in the shop title lets potential customers know that these are not your average, run-of-the-mill soaps.
What else can you share in your Etsy shop Title?
Your shop title is indicative of your shop's overall branding and message. You can use it as an opportunity to set the tone for your shop and share your business slogan or USP.
You can also use adjectives to describe your products or shop, such as "unique," "one of a kind," "finest," etc.
If your shop is known for its handmade items, you can also include that in your shop title like "handmade," "handcrafted," or "custom made."
Now that we've gone over some tips, let's take a look at some more examples of catchy and effective Etsy shop titles.
Etsy shop title examples
If you're stuck on what to include in your shop's title, take a look at some of these examples for inspiration.
Shop title with company's Tagline
"Perfection through simplicity" by The Gilded Bee. This shop sells handmade organic soaps harnessing the power of bees.

Shop title with uSP
"Eco Conscious • Palm Free Soap • Zero Waste Packaging" by Lady Lathers that sells handmade soaps wrapped in eco-friendly packaging.

"Sustainable Living" by Smile Boutiques. This shop sells eco-friendly and biodegradable every day products to help you live a more sustainable life.

Title that describes Your Etsy shop
"♥♥ Organic & Vegan Makeup, Natural Beauty Products ♥♥" by Bare NaturALL. This shop sells all natural, organic, and vegan makeup and skincare products.

"Custom Watercolor Portraits for Any Occasion!" by GiftoholicMe. As the shop title suggests, this Etsy store specializes in made to order watercolor portraits that make for great gifts.

"The Finest Aussie Slimery…" by Mr Chicken Slimes.
Got a target audience? Use it to your advantage like this shop did by including "Aussie" in the title to let potential customers know that they sell high quality slimy products made in Australia.

Title with a slogan
"Buck that Funk with Buck Ridge Soap!" by Buck Ridge Soap. This Etsy store specializes in natural bath and body care.

"Unique Greeting Cards That Make You Smile" by SketchyPrintCo. The title is reflective of the shop's branding and message, and also keyword rich.

Final thoughts on shop title on etsy
Your Etsy shop title is important so take some time to brainstorm with friends or family members and come up with something that you're proud of.
You can use puns or plays on words , include relevant keywords, or simply describe what it is that you sell. Just remember to keep it short, sweet, and reflective of your shop's branding.
If you're ever feeling stuck, take a look at some of the examples above for inspiration.
If you have any questions or tips of your own, feel free to leave them in the comments below. Happy titling!
Now that you know all about Etsy shop titles, check out other posts on Etsy shop ideas to set up your store. To set up Etsy banner, check these inspiring Etsy banner examples. For banner sizes, grab some free templates from here.
For listing your photos, check this post on Etsy listing photos with free templates.
FAQ'S related to Etsy Shop Titles
How To Change Etsy Shop Title?
You can change the title of your Etsy store by going to your Shop Manager and selecting the pencil icon next to your shop name under Sales Channels.
What do I put in my Etsy shop title?
You can include relevant keywords, or simply describe what you sell. Just remember to keep it short, sweet, and reflective of your shop's branding.
More Articles You might like