If you're looking for ideas on digital products to sell on Etsy, I've got you covered! Here are trending top-selling digital items on Etsy that you can create and sell yourself.
I've talked extensively about best-selling Etsy printables and how to create digital downloads on my blog.
This article focuses on popular Etsy digital products that are used digitally and may or may not be printed.
With the rise of digital marketing and technology, there's a growing demand for digital items like these and it could be a lucrative opportunity to tap into if you're good at creating them.
But with so many different products available on Etsy, it can be tough to decide what to sell.
To help you get started, I've rounded up the 21 most popular Etsy digital products to sell in 2022.
This website contains affiliate links which means we may earn commissions if you purchase through them (no extra cost to you). You can read our policies here.
Related Etsy articles: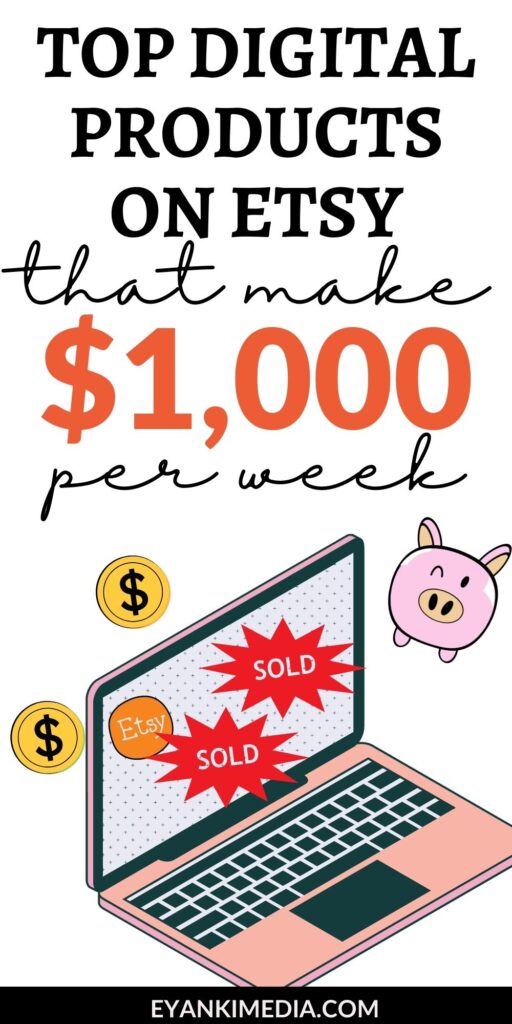 Can you make money with Etsy digital products?
The short answer is Yes!
Digital products have a much higher profit margin than physical goods because of no shipping, overhead, or inventory cost involved.
You can create your product with free tools available online.
These digital items can be sold multiple times (without any extra costs). Once you create them, they can continue to make money passively with very little effort on your part.
Without further ado, let's look at these popular digital products on Etsy to make and sell. 
Meanwhile, you can grab 40 free Etsy listings to start your new shop (just claim your free Etsy account and come back later when you are ready).
I also have a free starting an Etsy shop checklist and printable products checklist (below) which can be super-helpful to you.
Best Digital Products To Sell On Etsy In 2022
Whether you need a flexible stay-at-home job or an easy side-hustle to make extra money with your day job, selling digital files on Etsy can be a profitable business venture.
1. Social Media Templates
As businesses increasingly turn to social media to promote their products and services, there is a growing demand for high-quality, eye-catching templates that allow them to create professional-looking graphics without spending a lot of time and effort.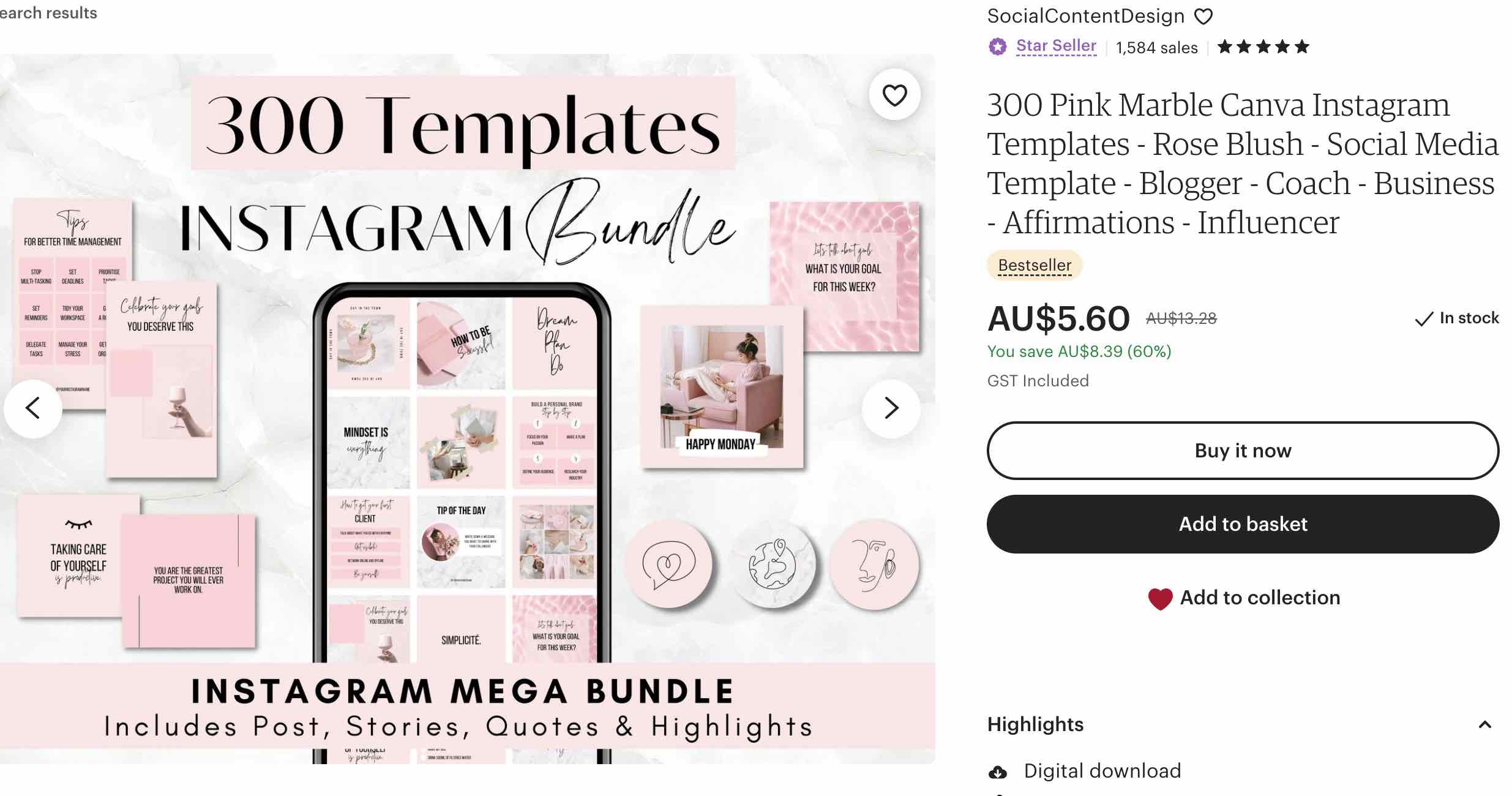 Whether you offer Photoshop or Canva templates, you can be sure that these digital products are in high demand.
Hot idea: Instagram highlights, story templates, and icons are some of the trending examples of social media templates you can sell on Etsy these days.
2. Logos and Branding Kits
As more business owners realize the importance of having a professional and cohesive-looking brand, there is a growing demand for high-quality logo design and branding kits.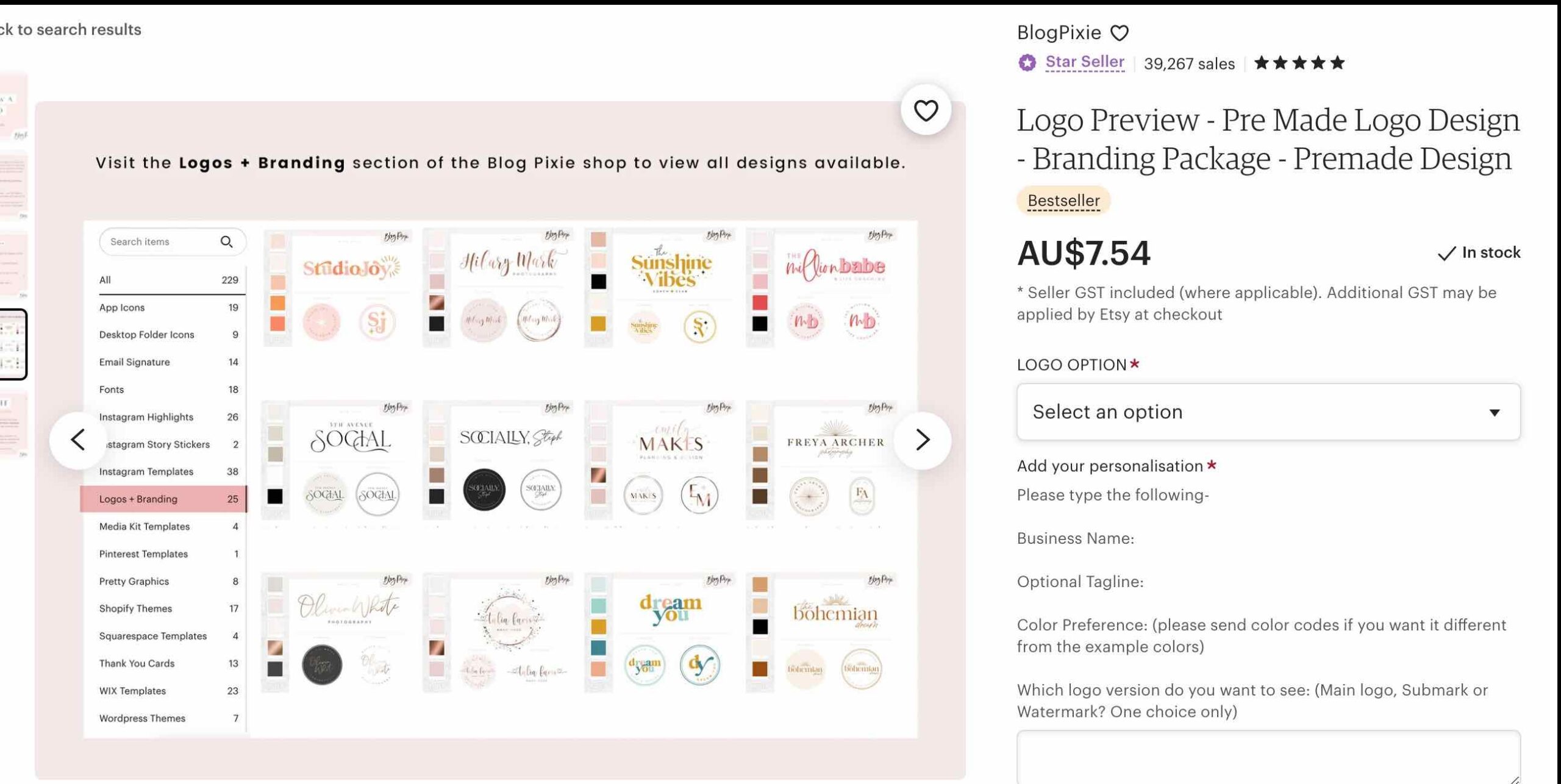 You can sell pre-made logo templates or offer custom logo design services on Etsy.
Kits usually include a logo, color palette, font ideas, and other elements that help small business owners in a developing professional-looking brand.
3. Digital Planners
Planners are often referred to as physical books that people use to keep track of their daily activities, appointments, and objectives.
However, with the rise of technology, there is a growing demand for digital planners that can be used on laptops, tablets, or phones with any PDF annotation app such as Goodnotes, Notability, Xodo, Noteshelf and Notes Writer, etc.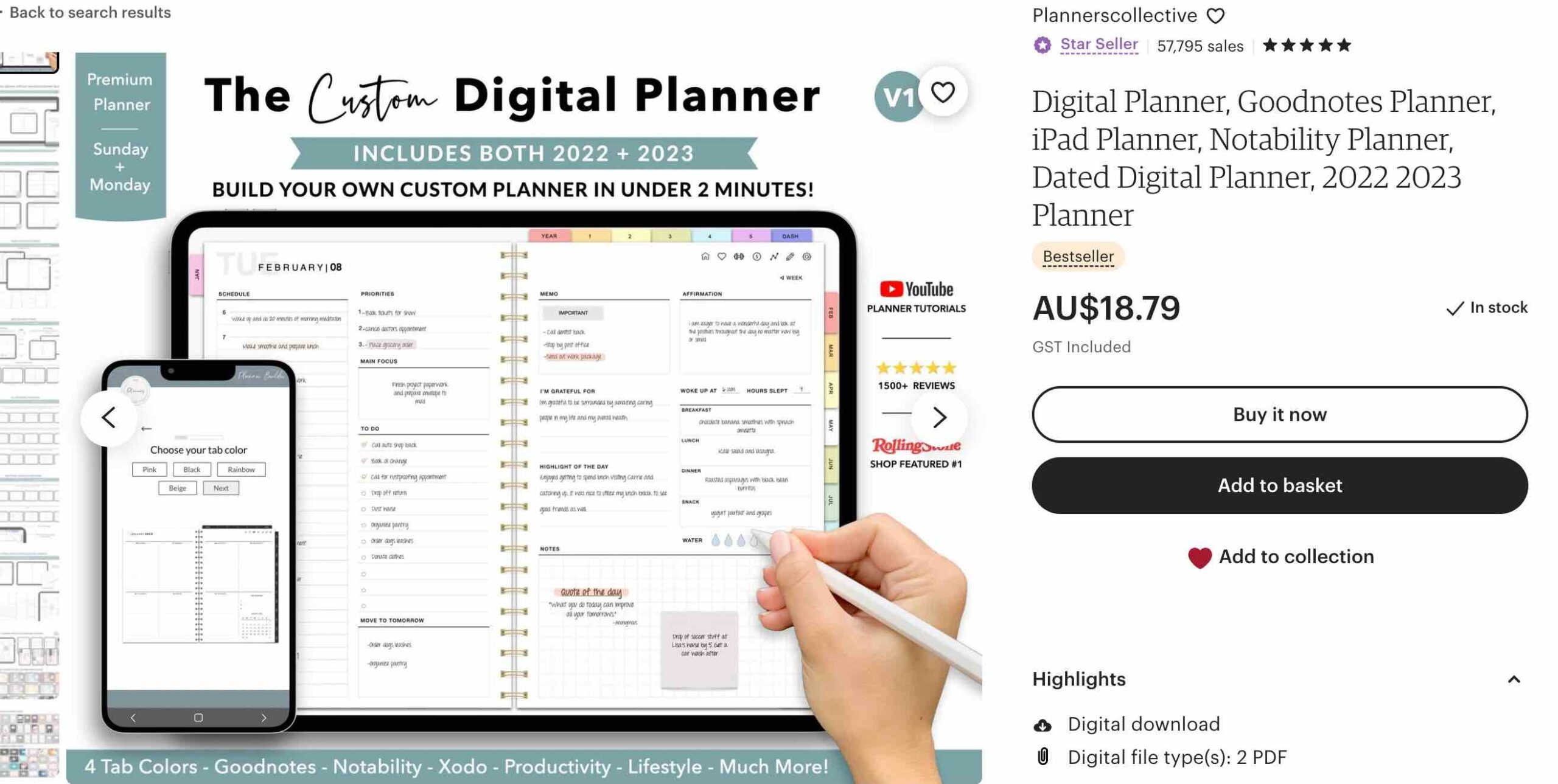 Planners for Goodnotes and Notability are some of the most popular digital things to sell on Etsy.
4. Lightroom Photo Presets
Lightroom photo presets help photographers edit their photos in a consistent style with just a few clicks on the Lightroom app.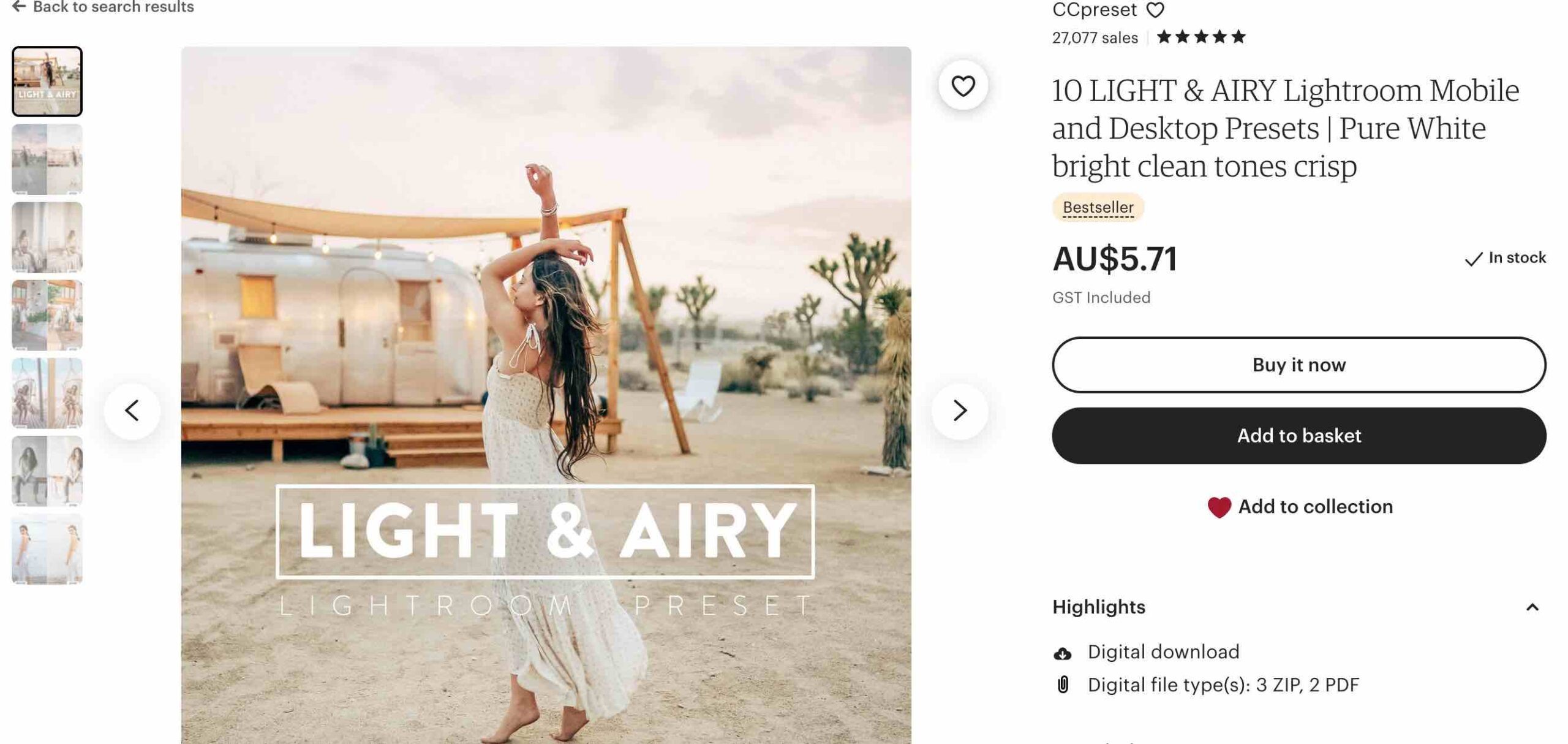 Not to mention, these are also popular among Instagram influencers and travel or lifestyle bloggers as they take a lot of photos for their business and want their pictures to look ultra-professional and stylish.
5. Etsy Shop kit
Etsy shop kits are digital files that include a complete set of templates (shop cover, Etsy banner, shop icon, product listing, receipts, etc.) to help new shop owners set and design their own Etsy shop.
Since not all Etsy shop owners are designers, these kits provide a cost-effective and time-saving solution for them to have a professional-looking Etsy shop.
If you like to grab for your Etsy shop, I have some free templates and ideas for you:
6. Phone Wallpapers
As people spend more time on smart phones, many of them want their phone screens to look pretty and inspiring.
To sell wallpapers on Etsy, you can create them as JPEG or PNG files with beautiful patterns, motivational sayings, or adorable pictures.
7. Apple Watch Wallpaper
Yes, these are quite popular as well! Pretty new trend but popular among smart watch owners.
Digital products to sell on Etsy don't have to be big and complicated. Something as small as a watch wallpaper can also make you good money.
8. Ebooks 
Etsy could be a great platform to sell your digital books and courses as Etsy takes care of taxes, and it is easy to set up a shop on Etsy (compared to other platforms).
If you have expertise in a particular area or hobby, you can create an ebook teaching people about it and sell it on Etsy.
9. Craft Patterns
Do you know how to knit, crochet or sew? If yes, you can create patterns for other crafters and sell them on Etsy.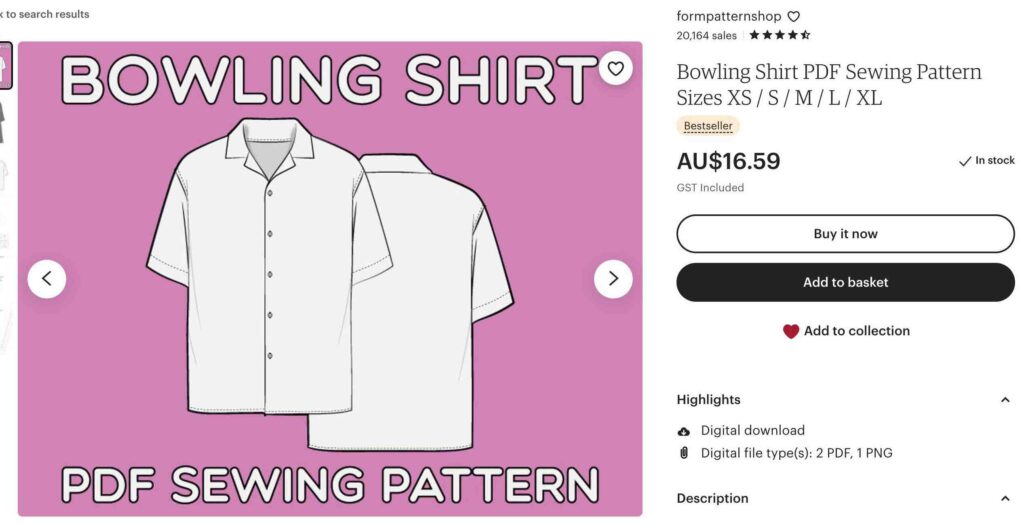 Making money from your hobby is always a good feeling!
10. Resume Templates
A professional-looking resume is a must-have these days to stand out from the competition and get noticed by recruiters.
If you are good at designing resumes, you can create templates and sell them on Etsy.
11. Clip art And SVG files
One of the top-selling Digital Products on Etsy are Clip art and SVG files.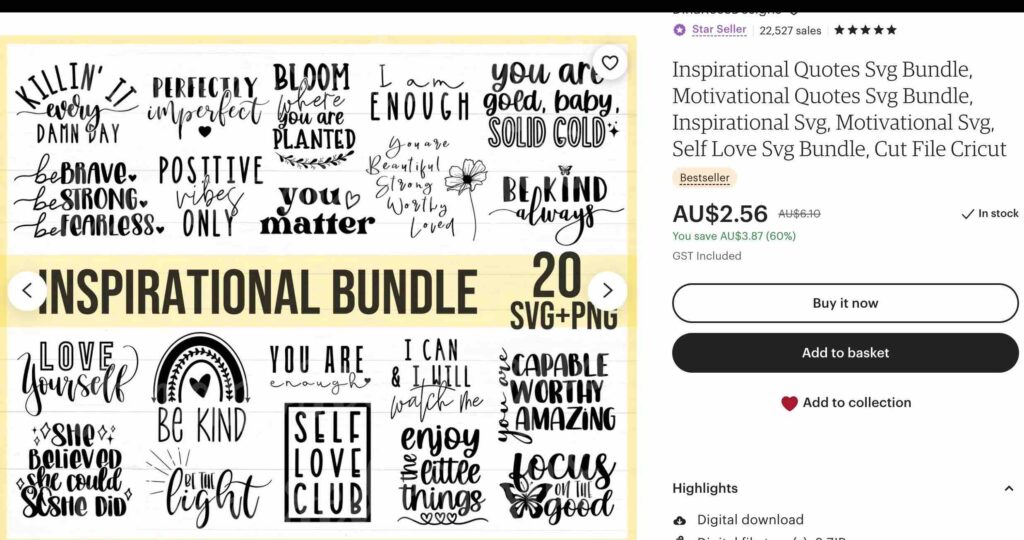 These digital files sell as bundles and are great for other business owners or crafters who design products or create crafts like Cricut crafts or CNC machine, product labels, stickers, etc., to sell.
12. Zoom Background
Thanks to work from home and online schooling, people are using Zoom for many purposes, such as work meetings, conferences, and even social gatherings.
A cool-looking Zoom background makes a video call more fun and professional. 
13. Excel And Spreadsheets
Excel sheets and spreadsheets are a way to be more organized and efficient. There is a huge market of customizable templates for various purposes, such as:
Budget spreadsheet (annual, monthly by paycheck, debt, income tracker)
Bookkeeping template
Wedding planning spreadsheet
Business planning,
Handmade business planner
Profit calculation
14. Digital Planner Stickers
If digital planners are so popular, why won't digital stickers be? Digital stickers are great for those who like to personalize and decorate their planners.
These are one the top-selling digital products on Etsy.
15. Digital Pregnancy Announcement For Social Media
Here is a fun digital product idea to sell on Etsy. These are becoming more popular as couples want to get creative with their pregnancy announcements.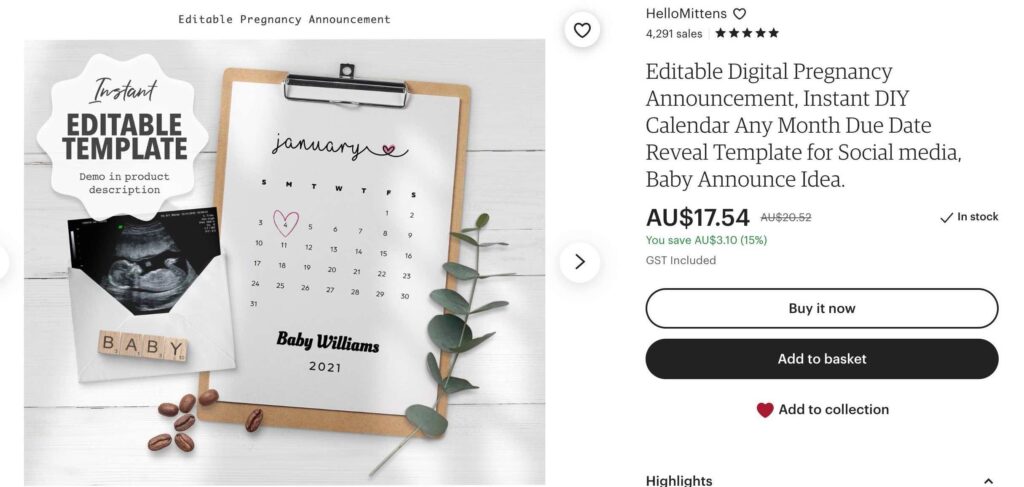 You can create digital announcement templates with different designs and text. Some Etsy sellers also make custom announcement videos as a digital product to sell.
16. Ios Icon Packs
If you are good at designing, you can create themed icon packs for iOS apps and sell them on Etsy.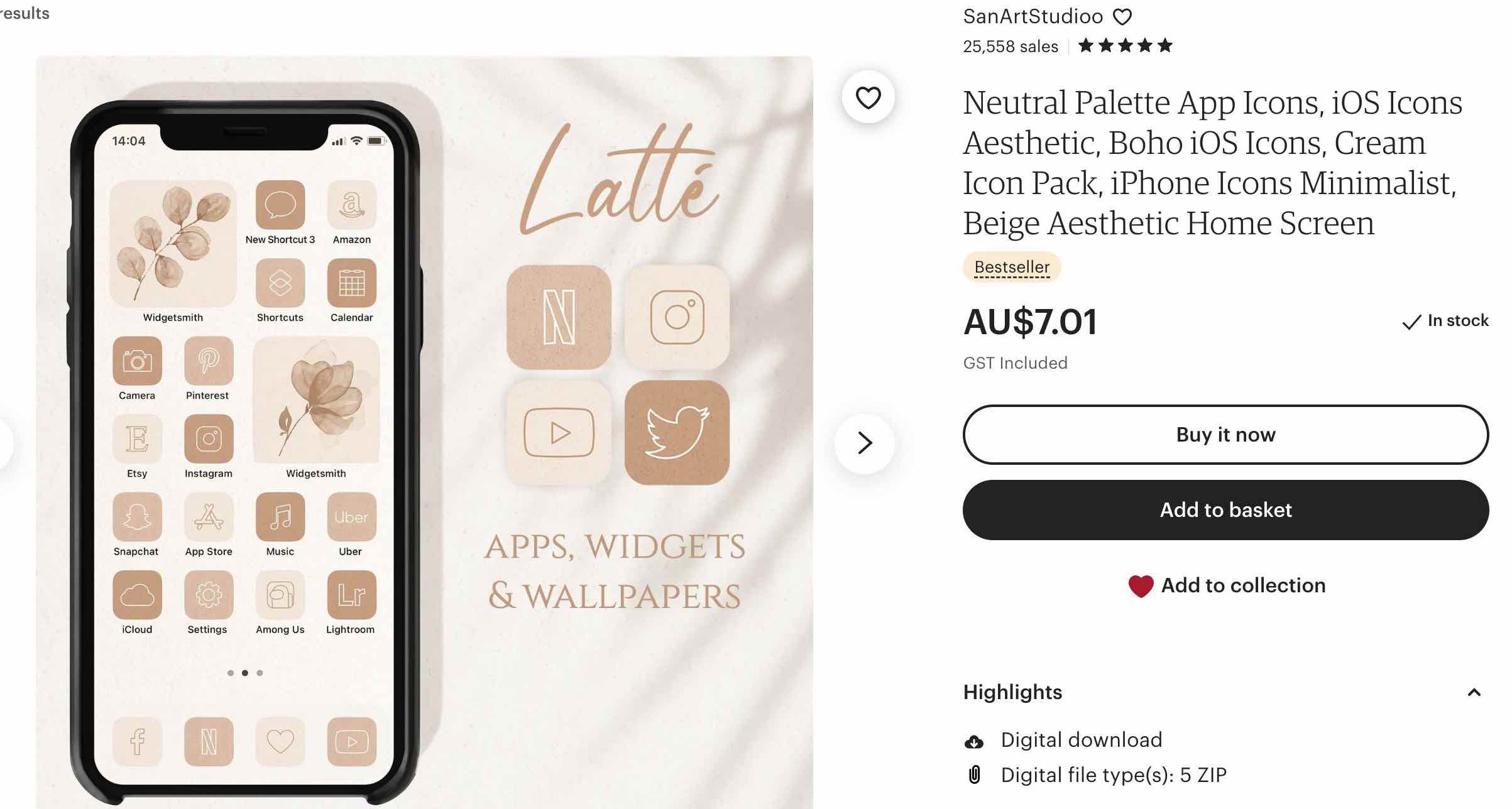 These icon packs usually include a set of app icons, dock, and settings icons.
17. Fonts
Another source of passive income could be selling fonts. If you have knowledge of typography and font design, you can create unique fonts and sell them on Etsy.
18. Instagram Reel Prompts
Help a business owner or influencer create content by selling Instagram reel prompts and ideas. These are great for those who need help getting started on Instagram.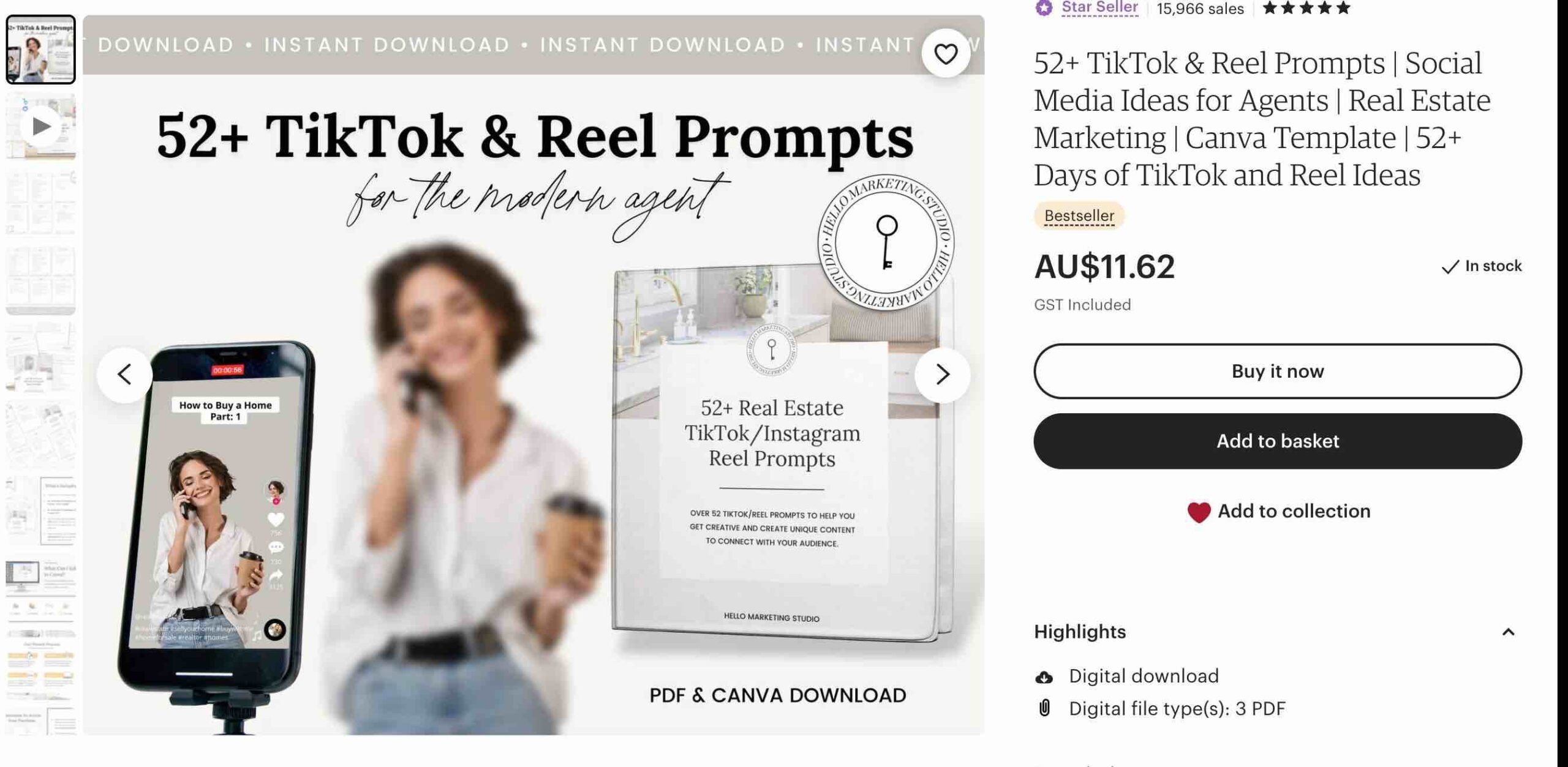 19. Digital Invitations
Gone are the days when people used to send physical invitations for parties and events. In this tech-savvy world, people prefer to send digital invitations to save time and apparently money (print + paper + postage costs).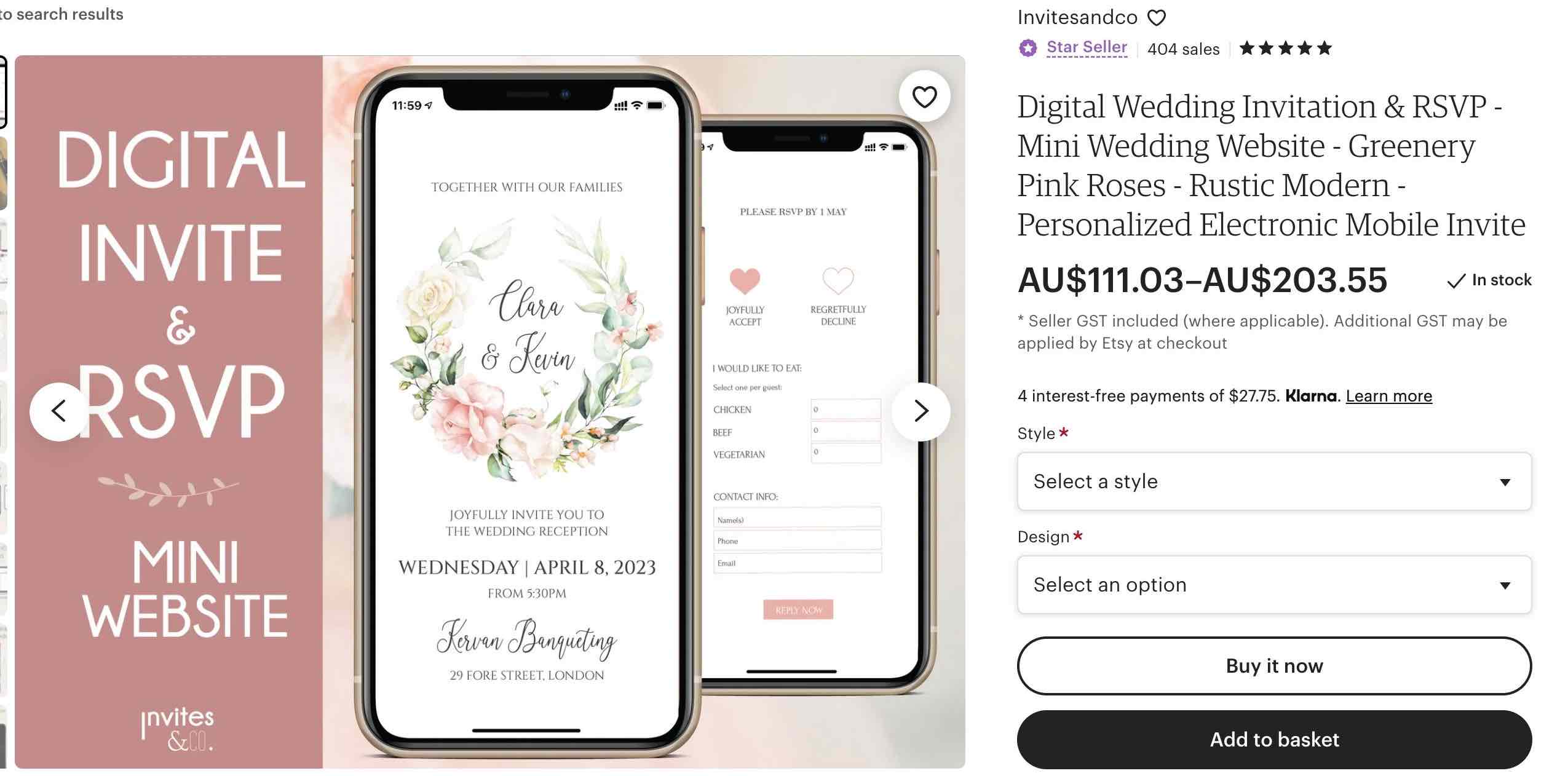 Be it a birthday or a wedding- you can make custom invitations for any occasion or sell templates for buyers to edit themselves.
20. Photographs
Do you love taking photographs? If yes, you can sell your photos as digital products on Etsy.
You can either sell a bundle of images or single images. People often use these photographs for their website, blog, or social media posts.
You can even offer custom product photography for Etsy shop owners who sell physical products.
21. Digital Papers
Just like regular physical scrapbooking papers, digital Papers are digital files that are useful for a variety of purposes such as invitations, digital scrapbooking, card making, and paper crafts.
There you have it, top selling digital downloads to sell on Etsy.
How do I price my digital product?
Many factors come into play when deciding the price of your digital product.
These include the time it took to create the product, associated costs, what similar products are selling for, and what buyers are willing to spend.
Since Etsy also charges fees for selling on its platform, you must consider it while pricing your product.
You can read this helpful post on Etsy fees that explains different types of costs involved with examples.
FAQs Related To Top Selling Digital Products On Etsy
Is Selling Digital Files On Etsy Worth It?
Absolutely, Yes!
Selling digital files on Etsy is worth it. The best part about selling digitals is that they require very little upfront cost and low-time effort after the initial creation.
Also, you can sell these files unlimited times, which means you can make a passive income from your digital products on Etsy.
What Sells The Most On Etsy Digital?
Based on numbers, SVG and clip arts are the top-selling digital items on Etsy. Other than that, people also love to buy fonts, templates, mockups, etc.
How Does Etsy Digital Download Work?
Etsy digital downloads are pretty straightforward. Once a customer purchases a digital product from your Etsy shop, they will receive an email from Etsy with a link to download the file.
The buyer can then use this file as it was supposed to be used.
How To Upload The Canva Template To Sell On Etsy?
As Etsy has the option to upload pdfs, jpg, or png file types only, you can create a pdf document with a link to your Canva template and upload it on Etsy.
How to know if a digital product will sell on Etsy for me?
Finding a digital product idea from the 'list of products that sell' is different from comprehending if the product will actually sell for you.
To find that out, you must spend some time on Etsy and understand
How is the competition? Check using sales samurai.
What your target customer would be?
What is your competitor selling?
Price points and varieties?
Is there a way you can make your product better?
Can you sell the digital product all year round?
Are there seasonal trends that you can take advantage of?
Once you have a good understanding of all these factors, you will be able to decide if a digital product idea is worth pursuing or not.
Next After Finding Your Etsy Digital Product Idea
It goes without saying that once you have decided to sell digital products on Etsy, the next step is to create high-quality products and learn Etsy SEO.
Etsy has a lot of sellers; your products might get lost in the sea of other similar products.
To make sure that doesn't happen, you must learn how to optimize your product listings for Etsy search so that buyers can find your products on Etsy.
Creating beautiful product photos and mockups can go a long way in driving sales. Use Etsy coupons and ads to increase your product's visibility, drive more traffic to your listings and get Etsy sales.
And please remember, every business takes time to grow. Be patient, work hard, and you will see results.
Here are some Etsy articles you might be interested in:
Have you sold digital products on Etsy?
Do you have any questions about selling digital products on Etsy? Let me know in the comments below!
Happy Selling!
More Posts Related To Selling On Etsy