Want to make some extra money with your CNC router machine? Heard you say a loud 'yes'!
CNC machinery is a great investment, but it can be hard to find a profitable CNC project idea to sell. But not anymore!
In this post, we will explore some of the most popular and profitable CNC project ideas that you can make and sell even if you are a beginner.
A CNC router has indeed made our lives easy. These machines come in handy to etch a surface, carve a design or even cut out a shape. There are so many amazing things to make with a CNC router.
Right from sculpting, carving signs to making jewelry or cutting various types of materials, there are many profitable X-carve project ideas to explore.
If we go by the facts, businesses that create CNC products to sell comfortably operate on a 10 to 15 percent net profit margin. And the CNC woodworking business is booming.
Before it is too late, let us explore profitable CNC projects to sell that we think every CNC business owner should consider selling or creating themselves.
PROFITABLE CNC PROJECTS TO SELL AND MAKE MONEY
1. Custom Engraved Signs
Making custom signs on CNC machines is one of the best CNC projects to get started with.
Name signs are a type of investment that can never go out of use, and CNC makes it possible to create one-of-a-kind signs with any design.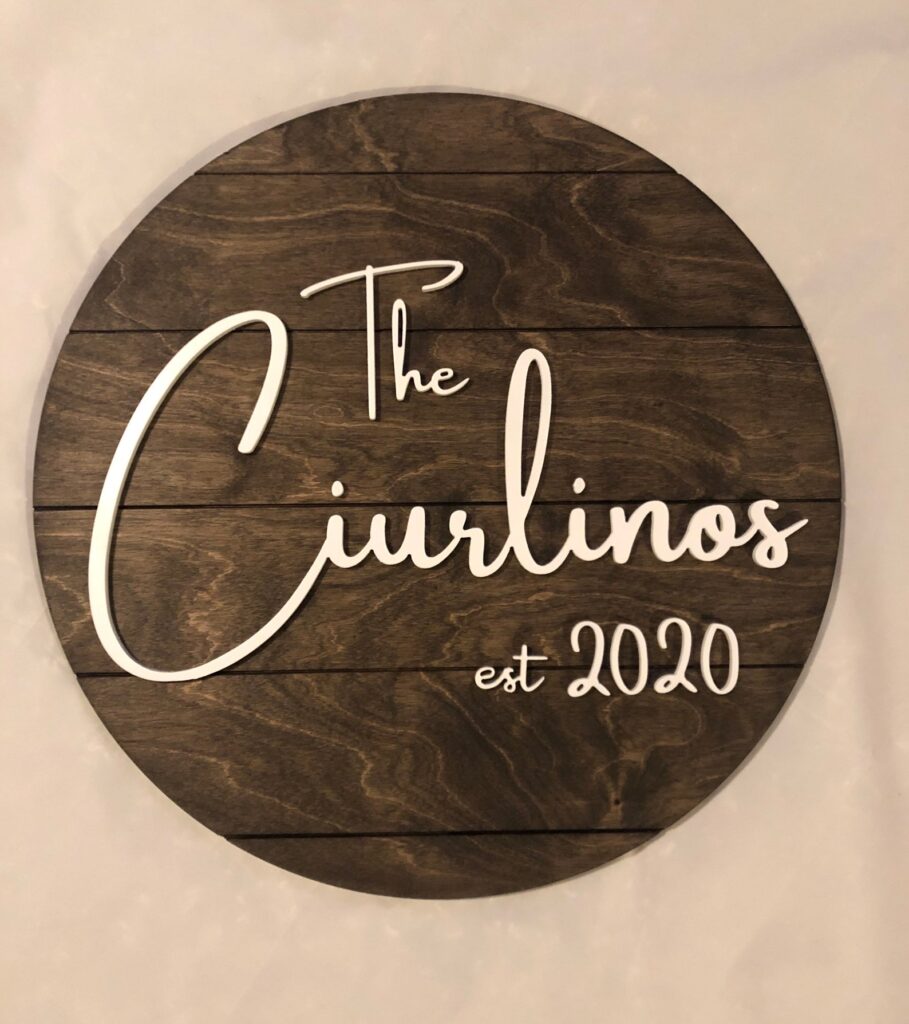 The best part is that signs are not only for homes and businesses. You can find CNC engraved signs at parks, schools, and almost any other public place.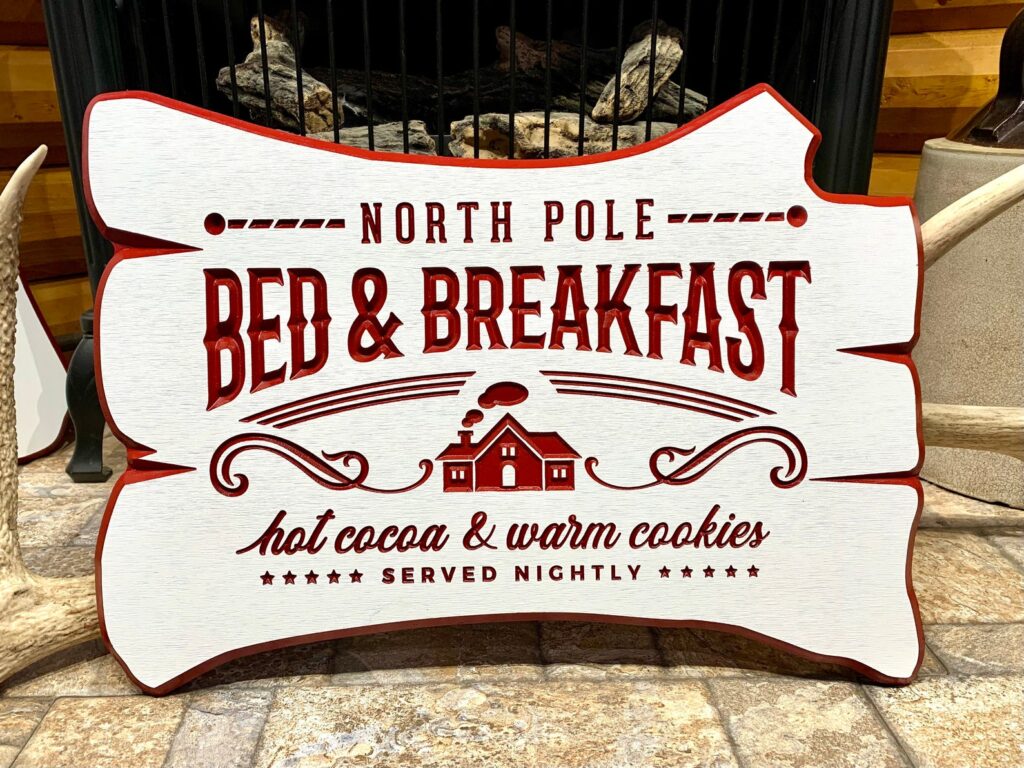 Certainly, wooden name signs are in high demand and are one of the best-selling items on Etsy.
If you have a CNC machine handy; go dominate the industry by offering tailor-made name signs. And remember -personalization is the key to the success here.

These signages work as return-oriented CNC projects that make money.
Related reading:
Most profitable crafts to sell
 2. Wedding Signs
Wedding signs are so popular that they need a special mention. People today are picking up CNC-crafted signs for special events like weddings.
Recollect a wedding you last attended. Did you notice the "Just Hitched" sign sitting in the background?
Where do you think it came from?
A creative head, played around with his CNC machine to roll out this lovely sign.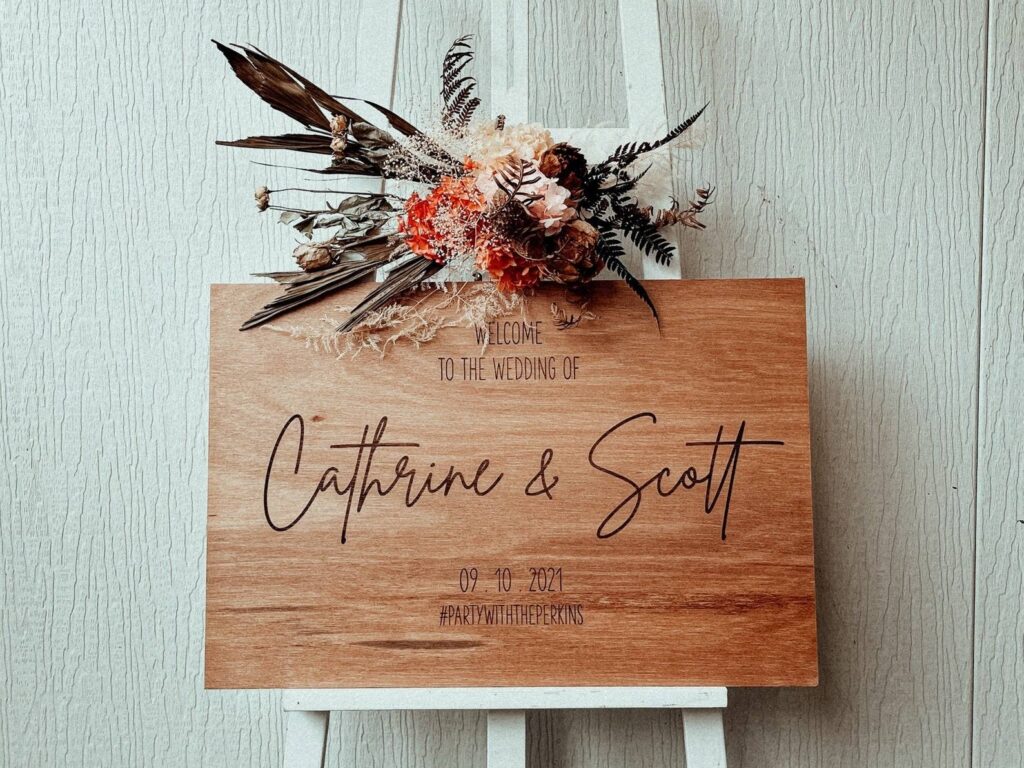 You can try this too!
Some CNC shops focus on routed signs and nameplates, so it might be difficult to make your engraved sign business stand out at first.
However, if you can find a way to personalize the process and offer unique designs, you will be able to set yourself apart from the competition and generate more sales
3. Wall Art
Wall art is another popular CNC project that you can make and sell for profit.
Lifting the aura of your space becomes easier by investing in trendy wall pieces. People love to keep their walls looking complete, and that's where wall art can do wonders.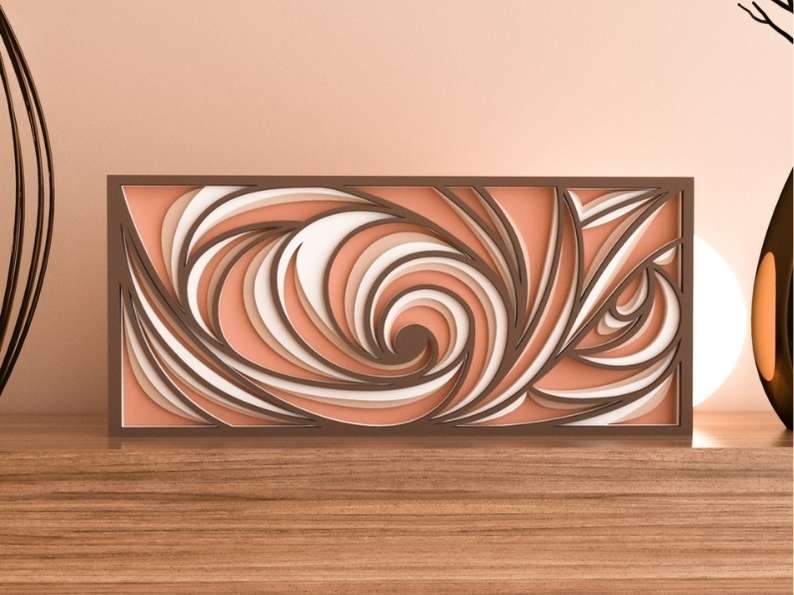 With the help of a CNC machine, you can design beautiful and out-of-the-box wall pieces that add value to a space.
This CNC carved family tree is a fine example of personalized CNC projects that make money.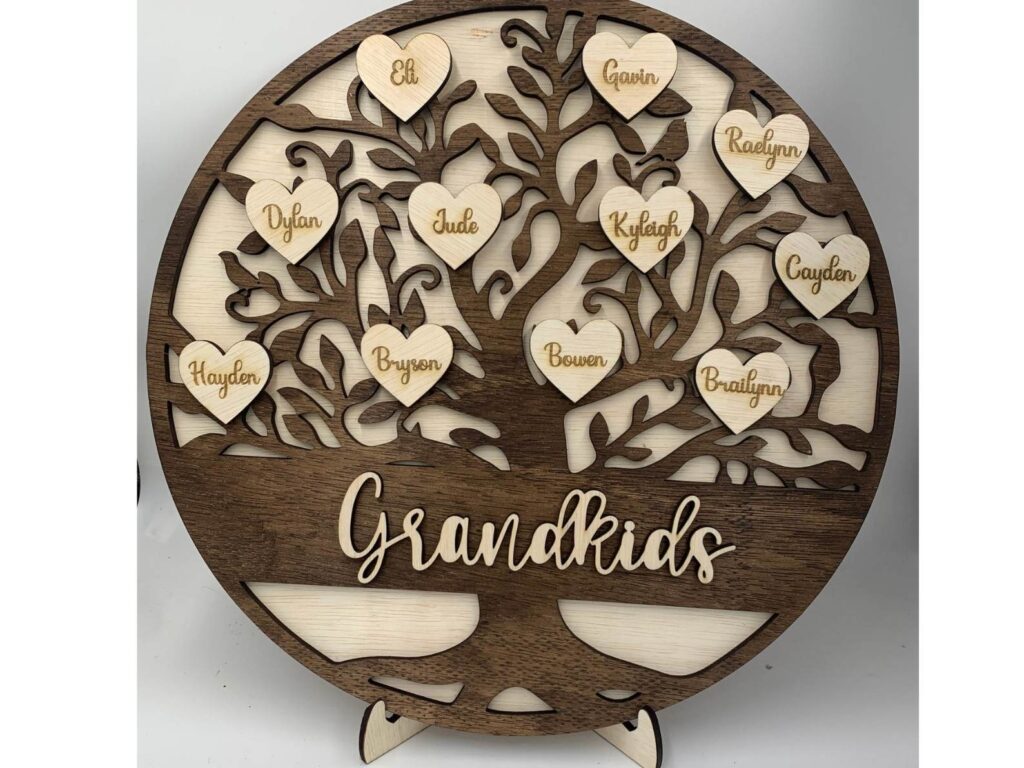 4. Photo Frames
Keeping your best memories collected in your space has become easier with unique CNC-crafted photo frames.
Photo frames are common CNC projects that people like to buy. They make great gifts, and there's always a market for them since people take pictures every day.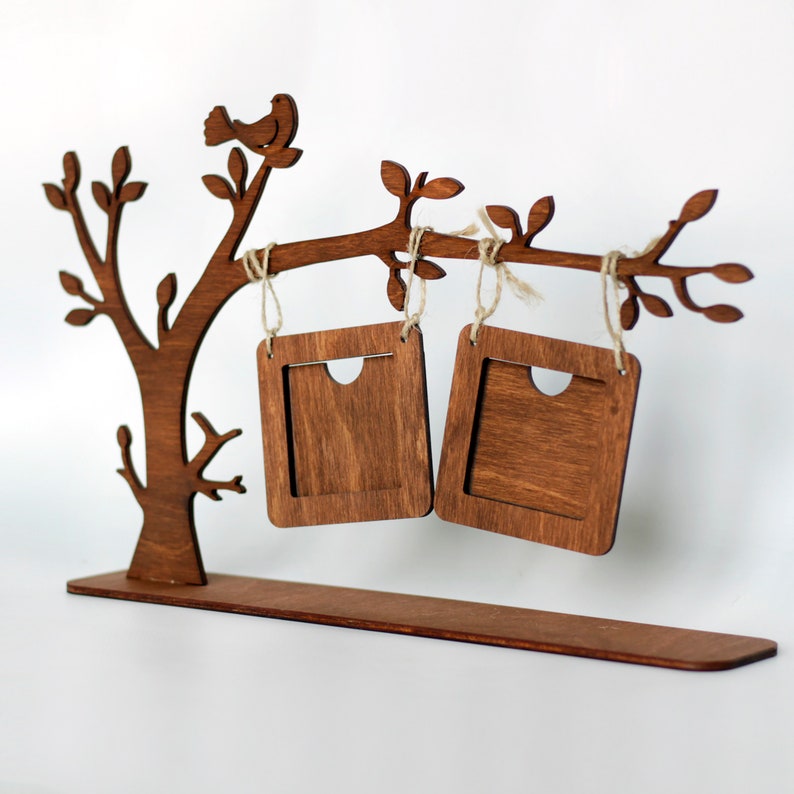 It could be one of your top-selling CNC projects as there is plenty of flexibility in this project like you can use
Material of your choice
Vary shapes and sizes
Customize aesthetics
In addition, you can also CNC engrave a photo frame with text or a design. This will give your photo frame an extra personal touch that buyers always appreciate.
Here's a CNC-made photo frame with an engraved design.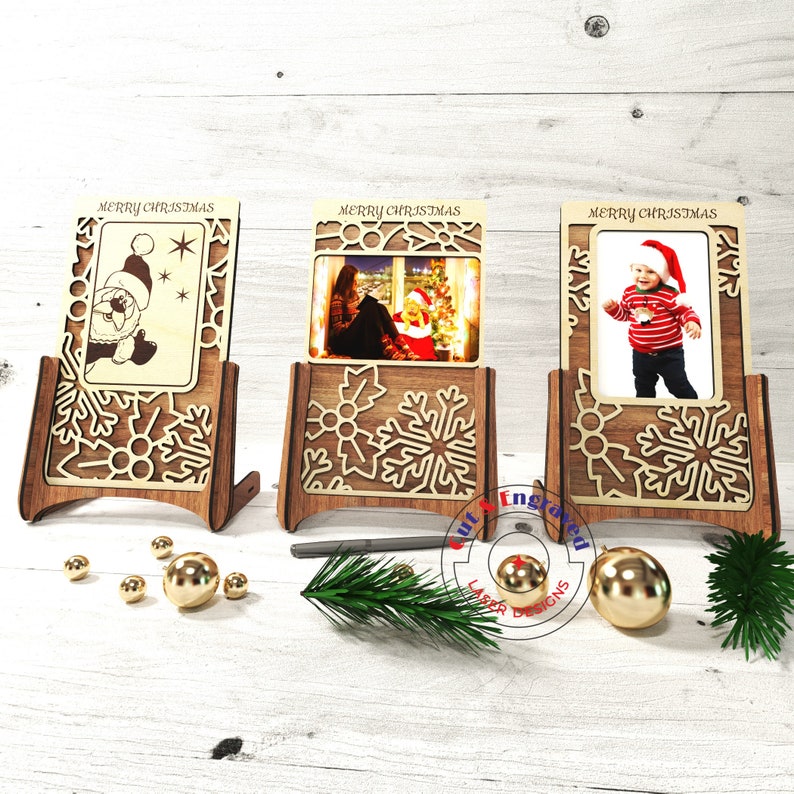 5. CNC Maps
CNC map is a unique and interesting CNC project that can be made and sold.
You have immense scope to grow; once you decide to design maps using your CNC machine. 
People are love maps as they give a physical representation of the place they call home. They love to pick a piece from a large selection of options.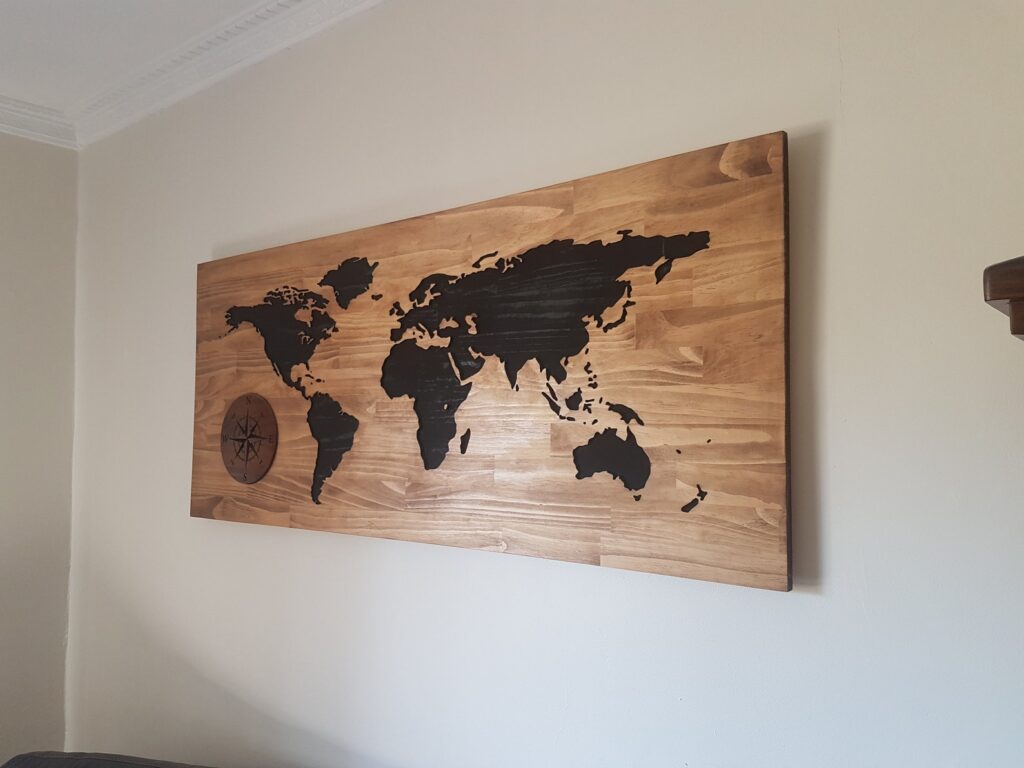 You can think a little out of the box and carve out maps that stand out basis their design, appearance, and usability. 
There is no denying that one of the top-selling CNC projects is maps. Your goal should be to add distinctness to your CNC product.
6. Clocks
Clocks are beautiful CNC projects that people love to buy and display in their homes.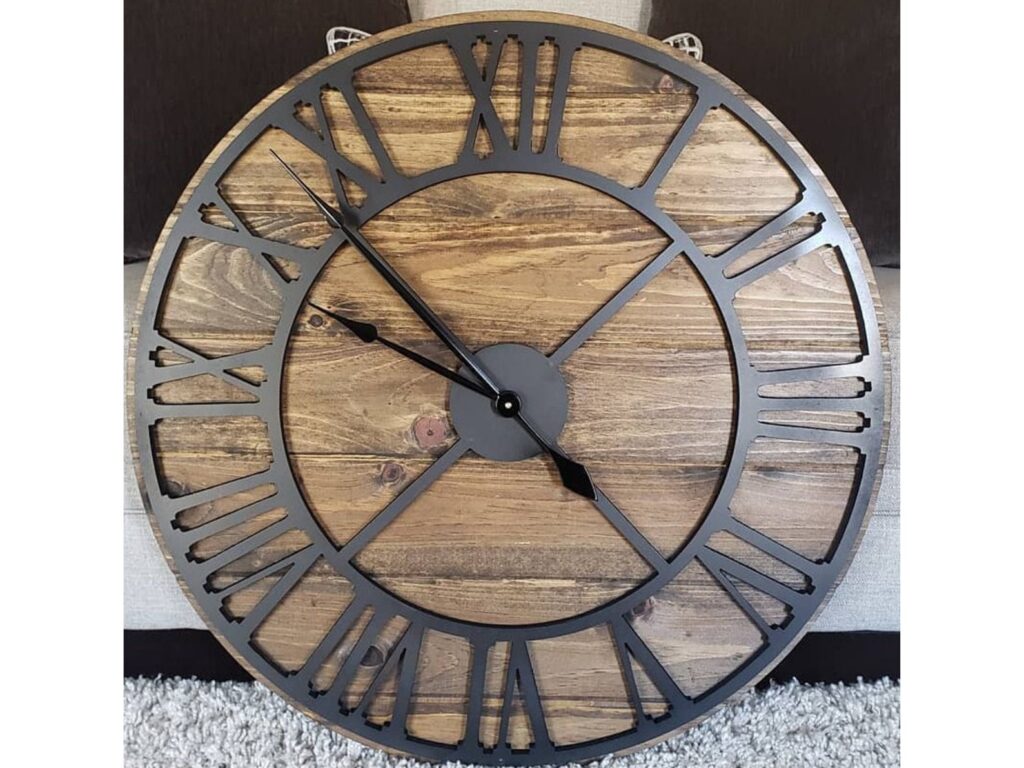 Designing clocks using your CNC router machine is a profitable venture because:
People appreciate clocks as home décor items and often look for unique CNC designs.
There is no dearth of clock designs, and you get to experiment with different styles at your time frame.
You can also CNC engrave clocks for an extra personal touch that people will like.
7.  Coasters
CNC coasters are a popular CNC project to sell because they can add an artistic touch to your home décor.
Buyers are often looking for coasters that sport a unique design and look. If you have a CNC machine, you can start creating coasters to sell for profit.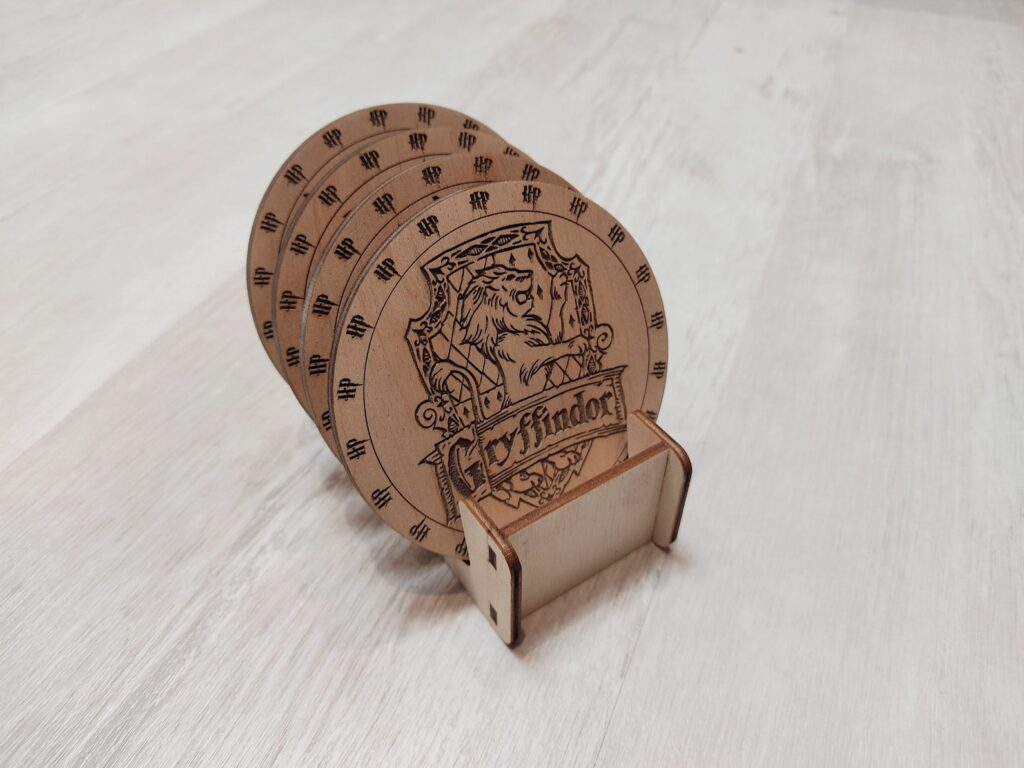 Even though coasters are predominantly made out of wood, people are getting more innovative, which has led to them buying coasters made from different materials like clay, plastic, and marble.
Designing coasters is a great venture for anyone who would love to experiment with his creative edge.
The beauty of CNC carved coasters is that they are not only beautiful but also useful.
8. Trays
Tray-making has become a popular CNC activity, as they are multipurpose in nature.
Gone are the times when people used to buy trays with a purpose in mind. Today, people have opened up to the idea of purchasing trays that have an artistic bent on them.
CNC trays have an aesthetic appeal that makes people want to keep them with them for years. It helps generate revenue from CNC carving.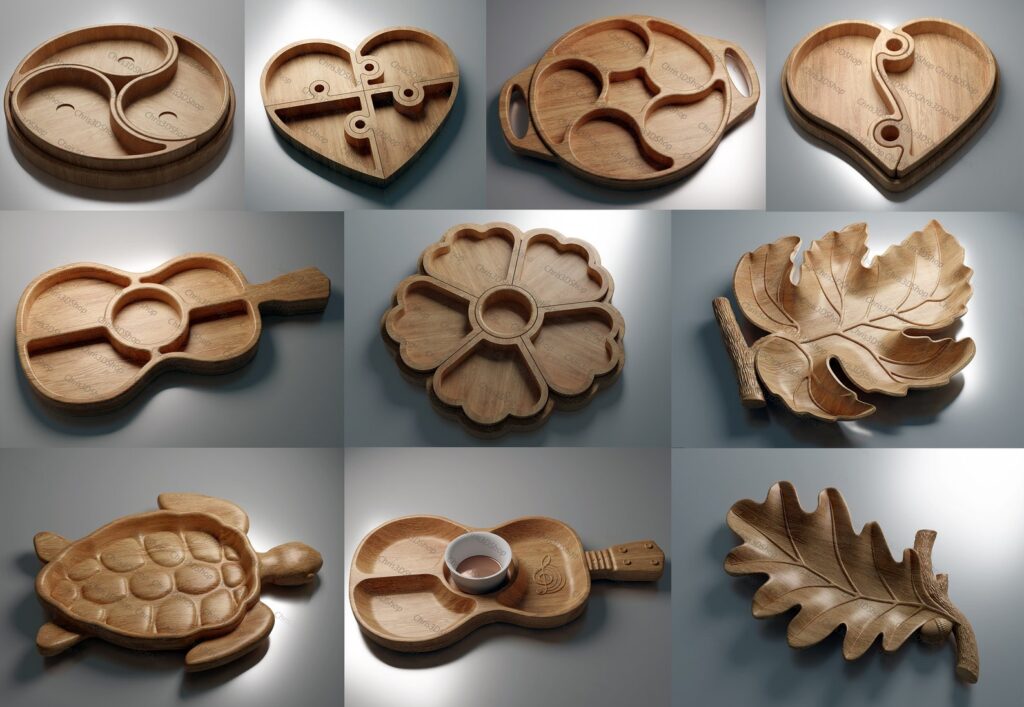 Also, you do not have to be worried about hitting monotony because there is ample scope for tweaking the trays in sizes, shapes, and designs that appeal to you. You can exercise next-level customization.
Here are some of the tray ideas you can make with CNC
Coin tray
Dish tray
Serving tray
Trinket tray
However, the stability of your CNC project is determined by the material you use to carve out a tray. Wood has always been popular for CNC projects because it's sturdy enough while offering ample scope for creativity.
This means venturing into designing trays can be profitable, and you can certainly make a handsome earning. 
9. Toys
Can you guess the top-selling Christmas items on Etsy?
Wooden toys and custom puzzles! 

Everyone loves collecting unique pieces and that's why these personalized wood toys make wonderful gifts.
Children love to play in CNC-crafted dollhouses.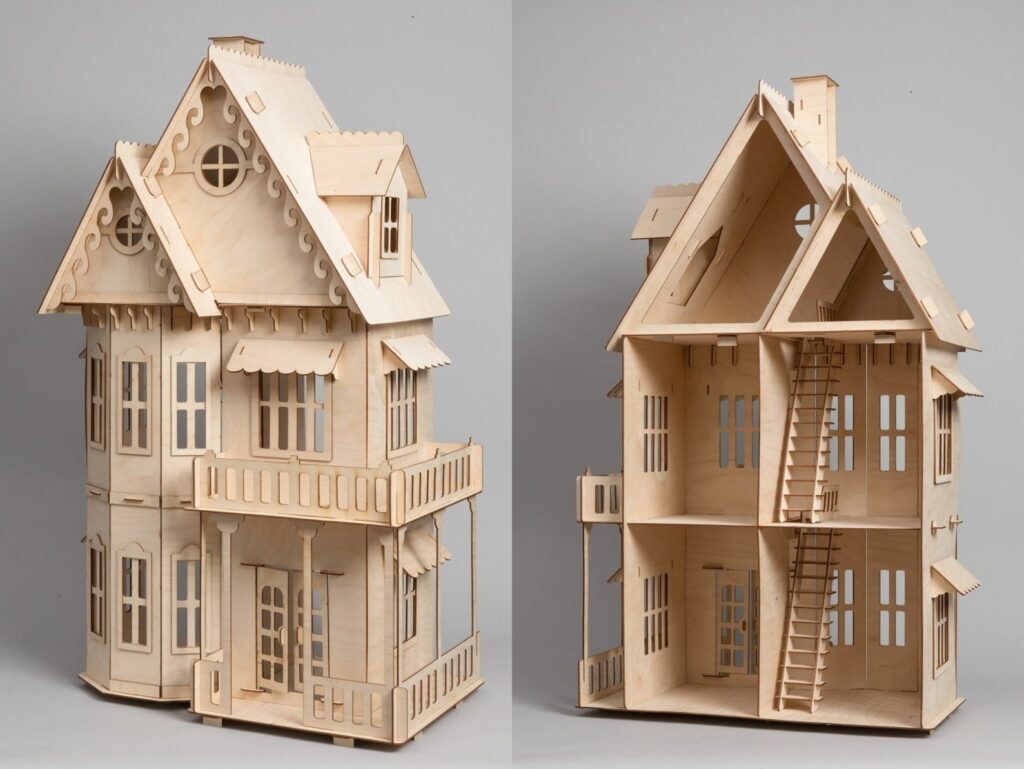 Engage in puzzles.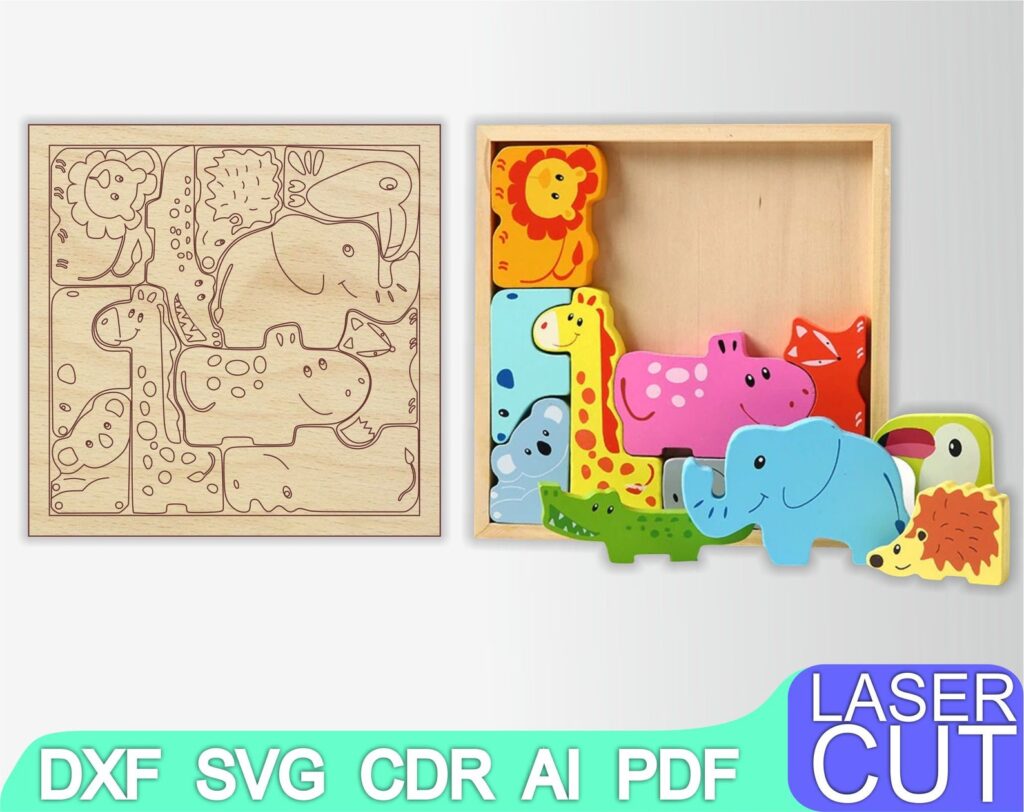 And play with board games or spend time playing with toy cars.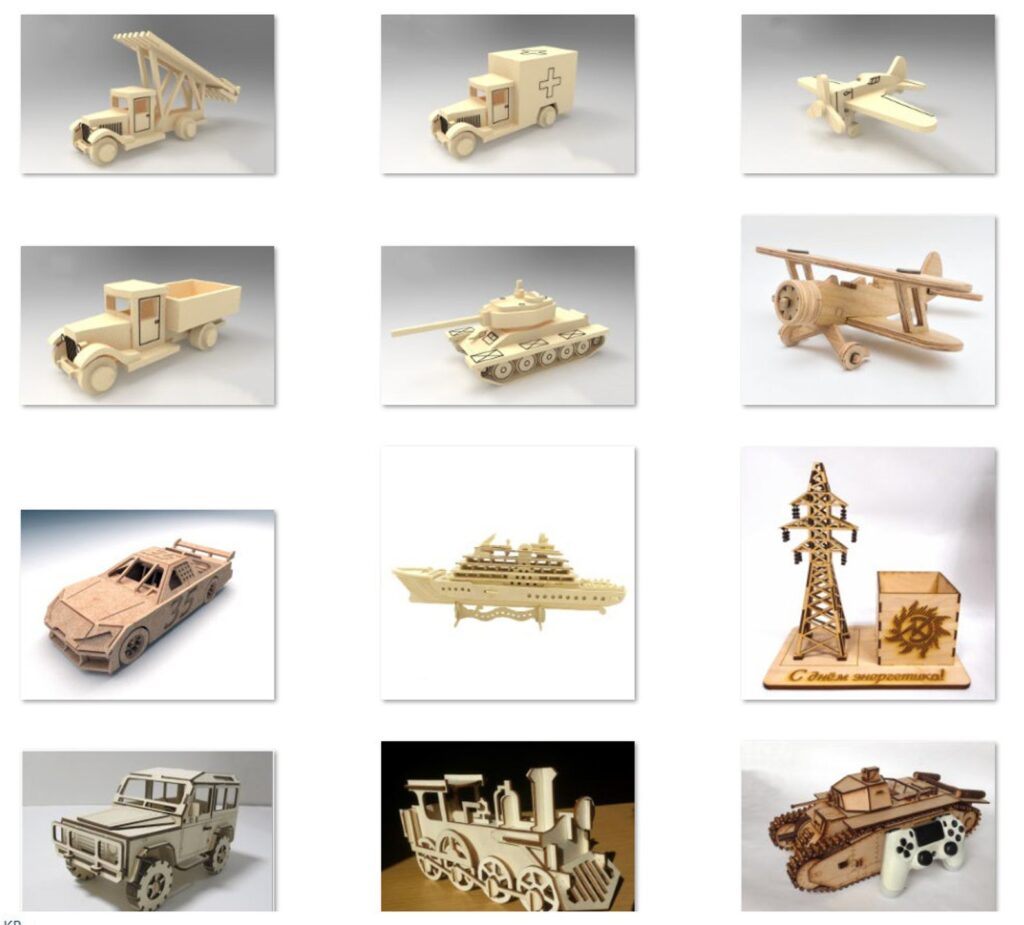 If you have a CNC machine and are looking for profitable CNC router project ideas that make money, then simply roll out toys keeping in mind the preferences of children.
All it takes is some imagination and CNC skills; the rest will fall in place.
10. Christmas ornaments
One of the best things to make with a CNC router to sell during the holiday season is a Christmas ornament.
CNC routers help design beautiful and festive-looking wooden carvings that people love to buy as gifts for their loved ones during this holiday season.
CNC routers can help you carve out a niche in the market by offering customized wooden ornaments that are unique and hard to find anywhere else.
11. More Christmas holiday items
Once you start selling CNC holiday ornaments, you can explore more CNC router-made Christmas items to sell.
Christmas is the best season to sell your handcrafted CNC products to sell as people are already in the buying spirit and love custom-made pieces to decorate their homes or give as a gift.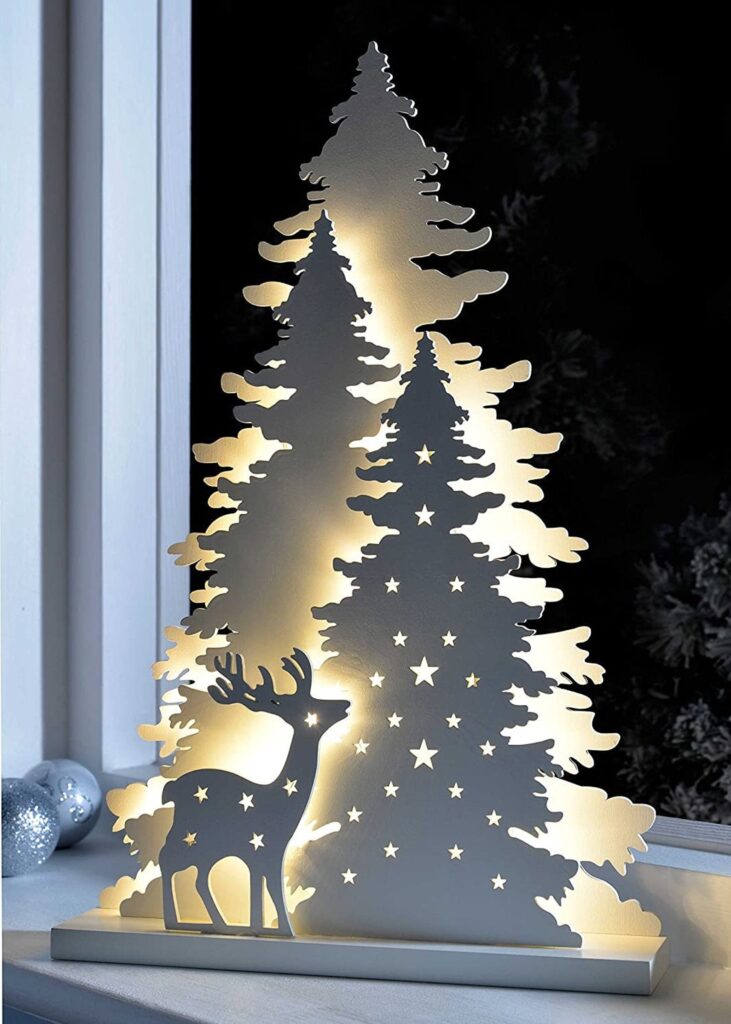 Related Reading:
Wooden Christmas crafts to make and sell
12. Craft kits
Once your CNC machines are up and running, you can start exploring CNC project ideas that help children spend their free time in a fun way.
CNC routers can make it simple to produce multi-part items out of wood or acrylic.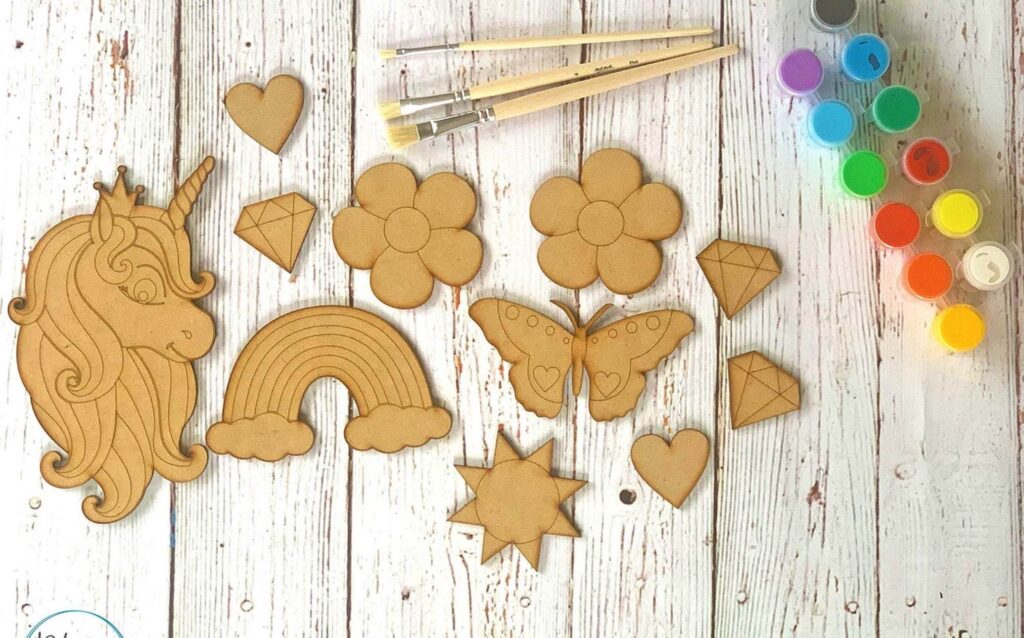 DIY kits are very popular these days, and they are not just for kids. Adults love them too. I love these craft kits on Etsy.
You can add other CNC-crafted items such as photo frames or hanging wall decor while selling CNC project kits that keep the creative juices flowing at home.
Because many craft kits are tiny, you may make them from leftover scrap wood and still earn money.
Kitchenware
13. Kitchen and BBQ tools
Did you know the global cookware market is expected to grow at 6.9% from 2021 to 2028? Being restricted for long periods has pushed millennials to organize BBQ gatherings in their backyards.
 Don't be surprised to witness a rise in the sales of CNC-driven kitchen and barbeque tools. These have now become the go-to things to make with a CNC router.
14. Cutting Boards
Kitchenwares that are used extensively in household and commercial kitchens alike are cutting boards.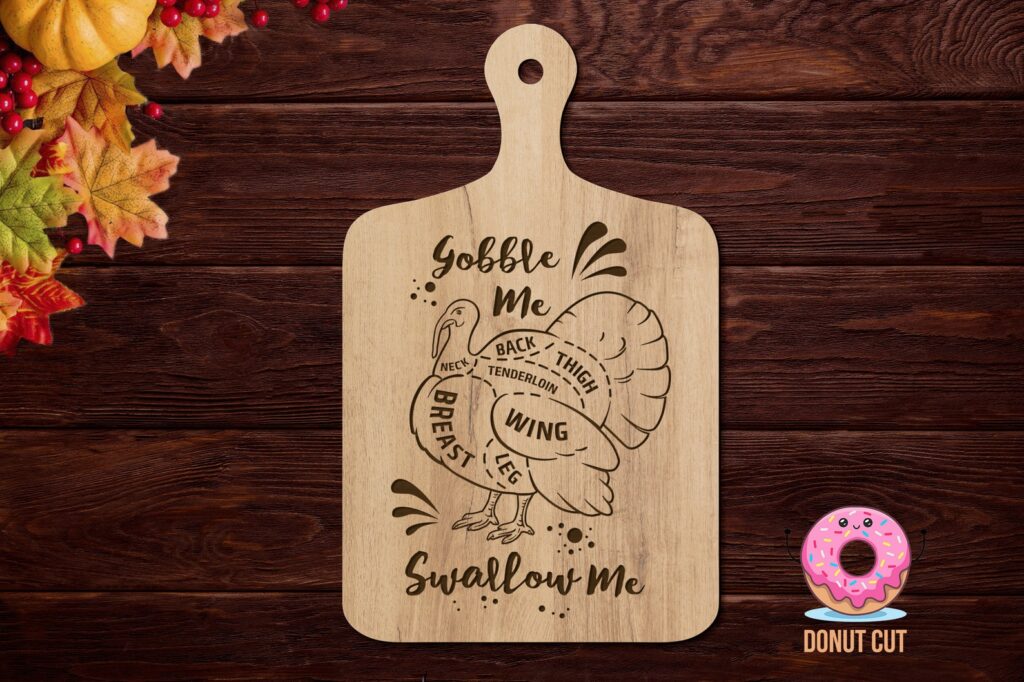 Many people are interested in buying an easy to clean and non-abrasive cutting board, and that's where CNC-based cutting boards become a number one preference.
X machine carving gives you the opportunity to CNC engrave a cutting board with personalized designs.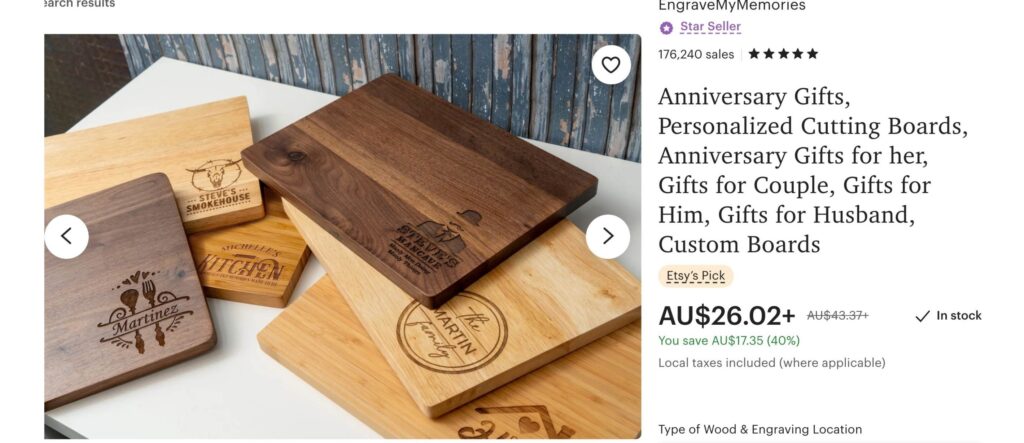 It is one of those CNC projects that can be sold directly or via online marketplaces like Etsy and Amazon.
It's not difficult to find an audience for your CNC product if it appeals to buyers in terms of design, utility, and CNC carving.
15. Tableware
Everyone loves hosting meals on dinner tables that flaunt designer and trendy crockery. 
There's a lot of room to experiment with shapes, sizes, and forms when it comes to serving trays and dishes.
You can now create designer tableware that is elegant and unique using CNC carving techniques.
With events being hosted for different occasions, you might find some events and catering businesses that prefer to make bulk purchases in one go. 
The rising demand has led to CNC-based tableware coming out as a clear winner in the areas of profitable CNC ventures that are hot selling.
16. Furniture
The furniture market is huge, and there is a lot of scope for CNC-crafted furniture.
People love to add furniture with high-end functionality and modern designs to their spaces.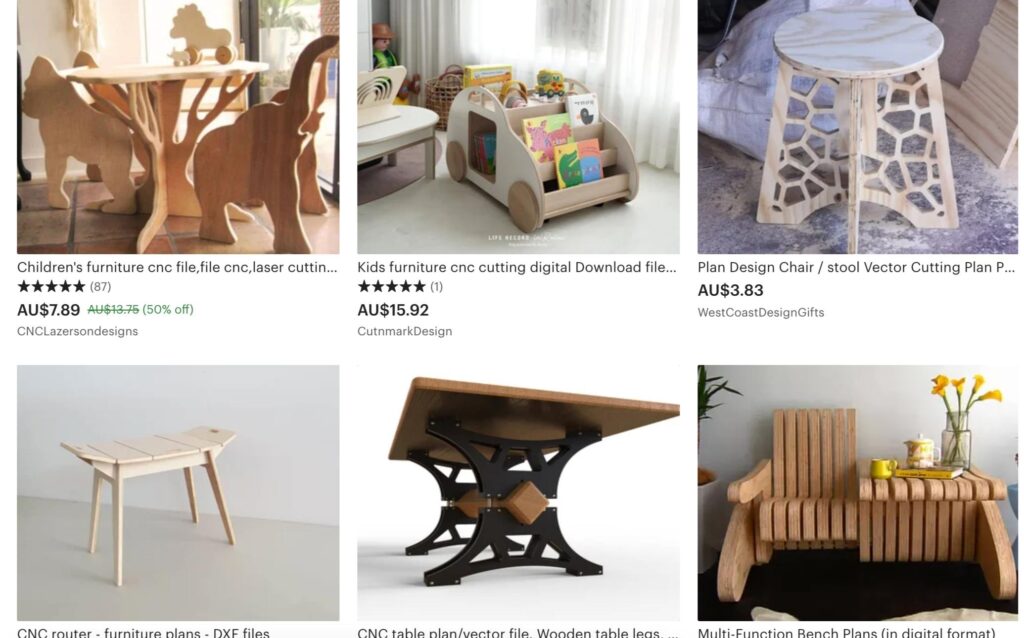 With CNC machines around, simplifying complex parts is an easy task due to the great precision, quality, and processing speed that they offer. 
Since CNC machines help to create unique designs, people are often on the lookout for CNC-crafted furniture that can add an extra edge to their decor.
Designing furniture using your CNC machine can be a highly profitable CNC project that makes money.
There are a lot of CNC project ideas available, with CNC furniture becoming an individual money-making business in and of itself.
You can now build a profitable venture by selling wooden tables, desks, accent chairs, and end tables.
17. Keyholders
One of the best things to make with a CNC router is a CNC keyholder.
It is very often that people have trouble keeping their house and car keys handy. How they wish, they could have invested in a key holder that can keep their important keys safe and within hands reach.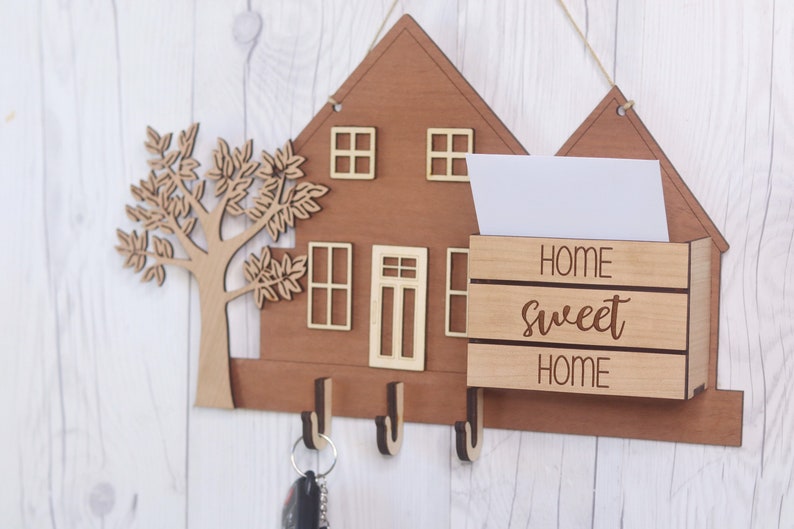 Tap on this opportunity and offer key holders designed using CNC machines, which add an aesthetic value to any entryway and promise great returns. 
You can either make them in bulk or offer them as per the buyer's requirement and design.
18. Wine Bottle Holders
Wine bottle holder makes a great CNC router project idea to sell on Etsy or local shops. It is not only decorative but also serves a practical purpose. 
Most people are very possessive about their wine collection and wish to keep their wine bottles safe and intact.
What better way of doing this than investing in wine bottle holders?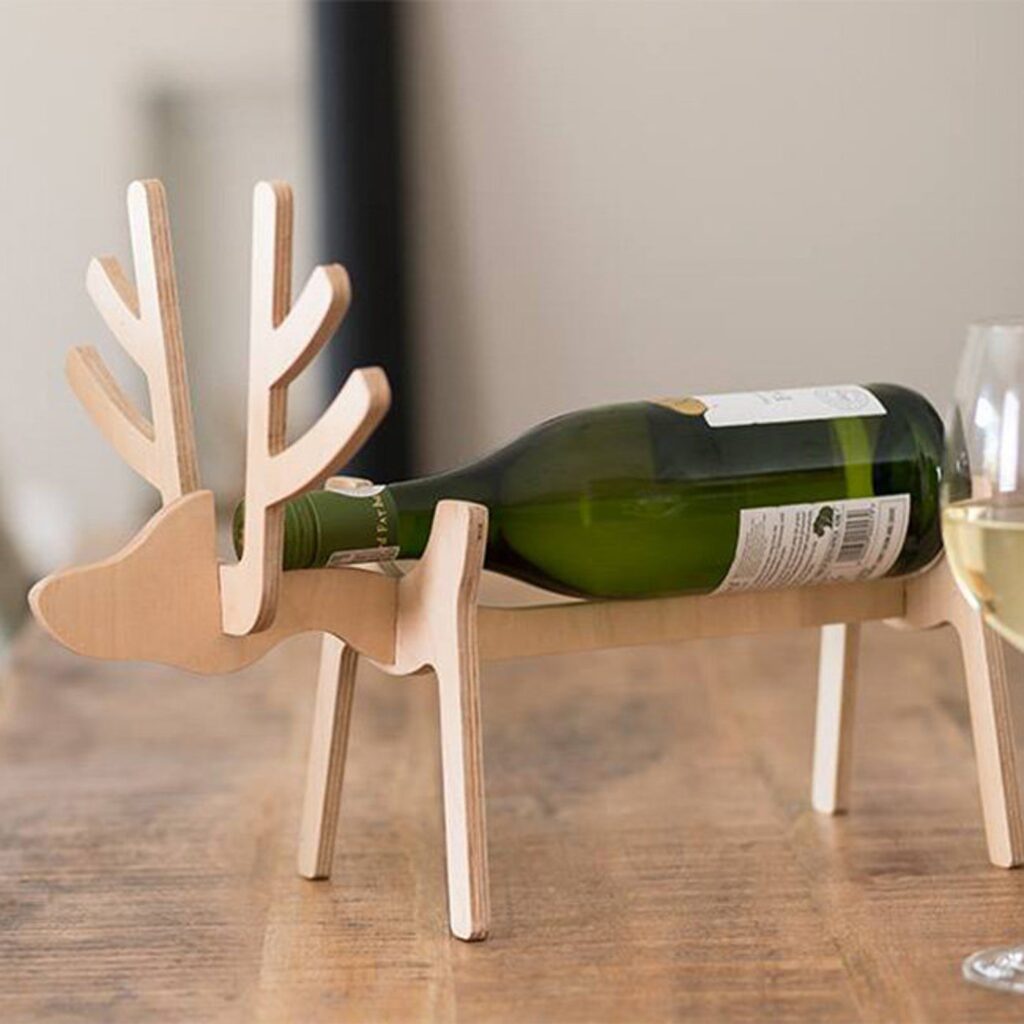 CNC machines help design one of own its kind wine bottle holders making it a highly profitable venture.
19. Candleholders
Lighting a candle is something everyone thoroughly enjoys. 
Be it a candlelight dinner date or lighting essence candles as you sit down to meditate, in either case, you don't want any unwarranted accidents taking place. 
That's where CNC-based candleholders come in to help you with their elegant designs.
You may quickly set up a business making some quick money by manufacturing and selling candle holders that you can make with a CNC router.
What's more, these CNC products make for excellent gifts and conversation starters.
You can sell CNC candleholders at craft fairs or via Etsy, making them a great way of making money with a CNC router machine.
Home and office organisation
20. Pen Holders
If you have a CNC machine handy, you can start designing penholders that are attractive and useful.
It's an excellent way to make money through a CNC router machine, as the market is full of people looking for different types of desk organizers.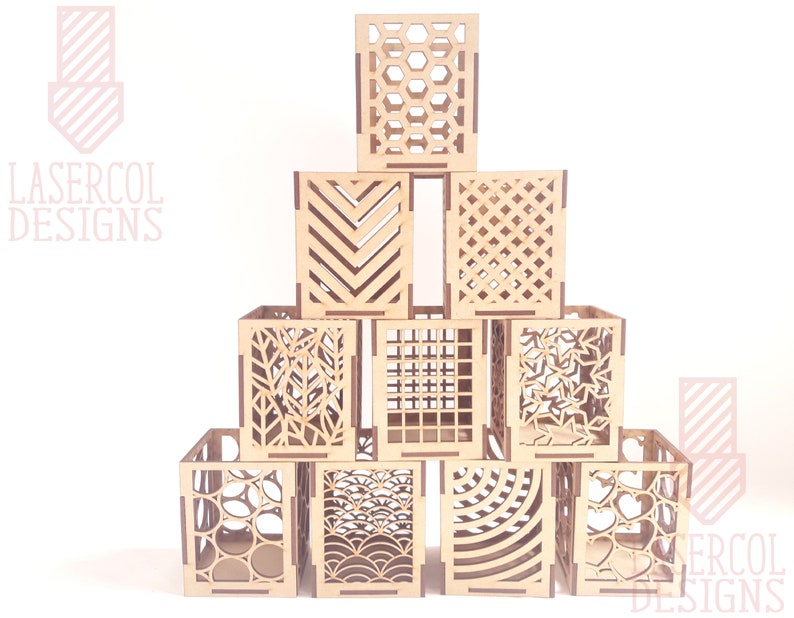 Whether you want to carve a pen holder with your initials or love quotes, there's a lot of room for personalization here.
The best part is that CNC-based pen holders are small and easy to make, making it an ideal CNC project for beginners.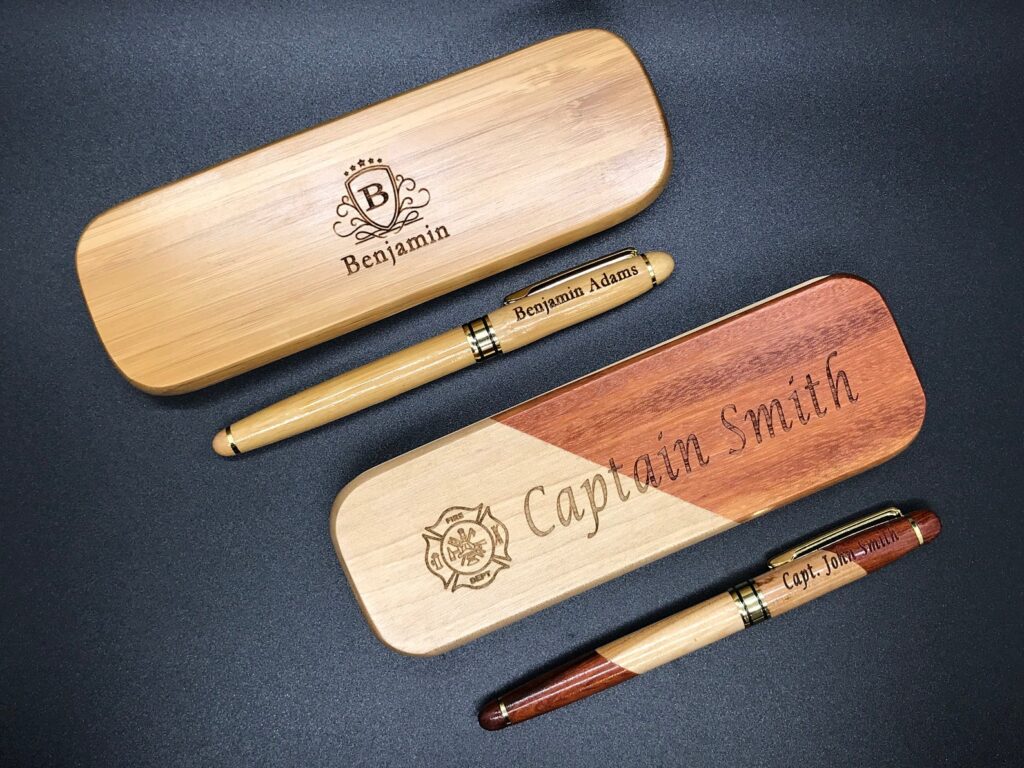 You can sell them at craft fairs, local pop-up bazaars, or at Etsy.
21. Mobile stand
 We often forget where we kept our phones, and buzzing doesn't work because we left them on silent mode. 
To avoid finding themselves in such a situation, people prefer to invest in mobile stands that can help keep their phones secure and handy.
CNC routers can be used to design beautiful mobile phone stands, which people will love to buy.
Since almost everyone has a smartphone these days, the demand for CNC-crafted mobile phone holders is high and can help you make excellent use of the CNC machine to keep profits flooding in. 
You can either design a mobile phone stand that is minimalist or go for a more decorative look.
22. Charging Docks
We all have access to multiple electronic devices, and they all need charging at regular intervals. It can be a daunting task, especially when we charge our devices at different locations. 
Charging docks come to the rescue by providing a single place where we can charge all our devices simultaneously.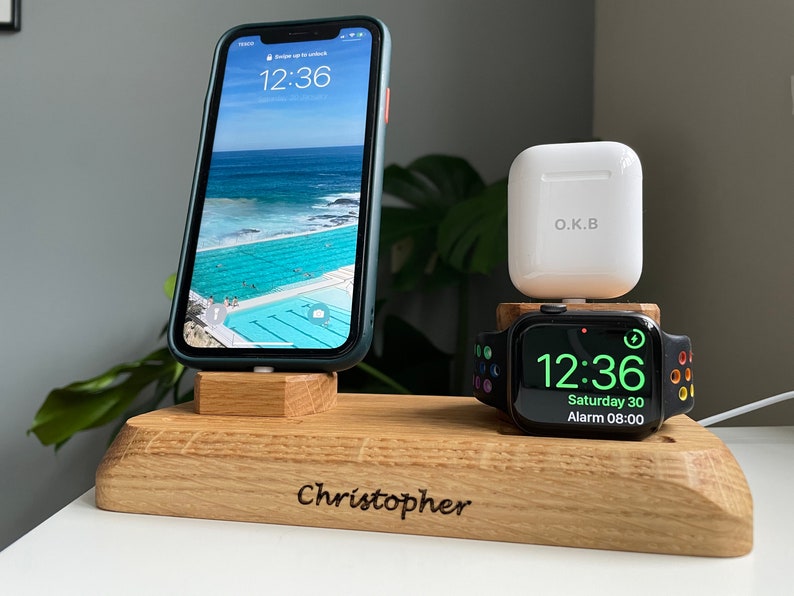 With CNC-crafted charging docks around, it will be a hassle-free task for you to get your devices charged without messing up your space. 
CNC routers can be used to design beautiful and unique charging docks that people will love to buy.
23. Magazine Racks
A good read begins by pulling out a magazine from a precise arrangement. Magazine racks help clear the clutter by keeping away stacks that sit on your study table. 
It is one of the popular CNC products to sell as it helps in the organization while working as a decorative art piece.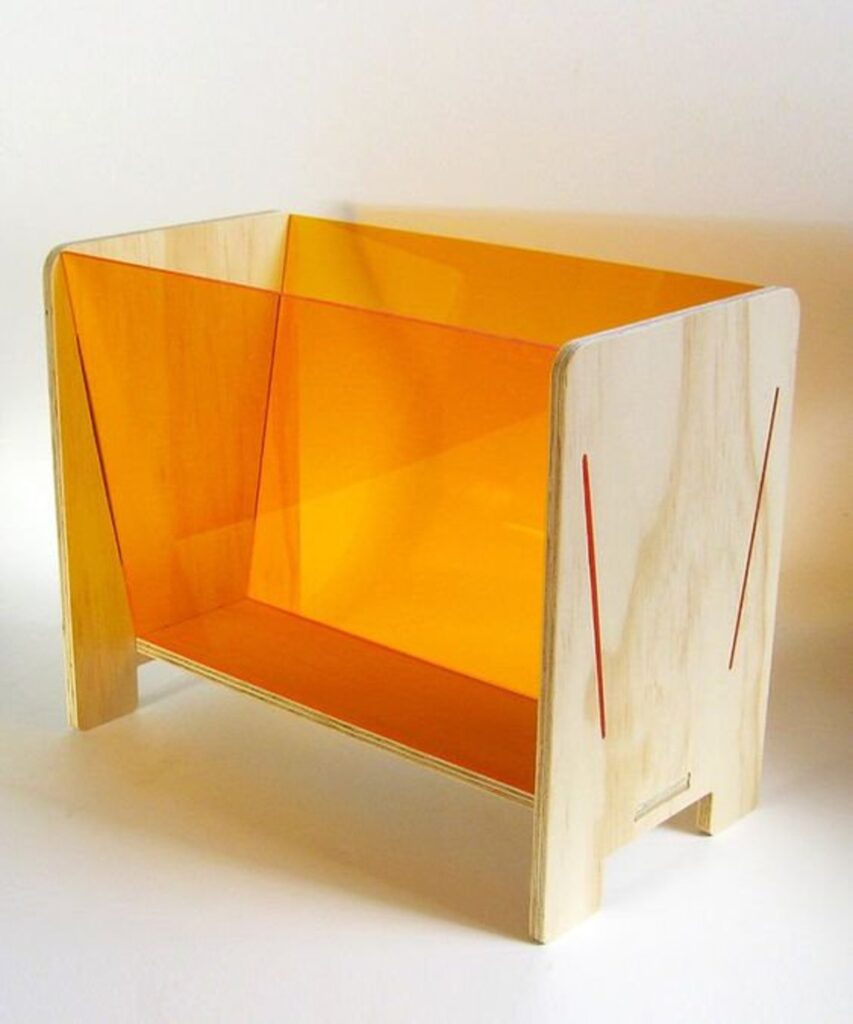 More CNC router projects to sell
24. Jewelry Boxes
One thing that women never want to compromise on is their jewelry that means the world to them.
A well-crafted and sturdy jewelry box are a must-have for every woman, irrespective of the age group she belongs to.
Be it for in-house safety or convenience while traveling, a jewelry box always comes in handy.
With the help of a CNC machine, unique jewelry boxes can be designed that don't just stand out on appearance but are equally purpose-oriented. 
You can either create a classic design or go for a more contemporary look while designing jewelry boxes.
25. Custom CNC Projects
The beauty of CNC machines is that they can be used to create custom X carve projects for clients.
It will allow you to shine as a business and generate more revenue while keeping your customers happy.
People love getting unique CNC products that are designed just for them. This is where your CNC skills can come in handy.
Since you will design projects according to the customer's requirement, it can help build a better relationship with them.
Not only does this project increase loyalty, but allows word-of-mouth marketing.
FAQS
What is a CNC router machine?
A CNC router is a computer-run machine programmed to cut and carve out designs on different types of materials.
CNC stands for "Computer Numerical Control" since the CNC router machines help control cutting of the material with great precision by following a sequence of commands based on numerical values fed into them.
CNC-powered devices have changed the way many products are made and customized.
Where to sell CNC wood projects?
Even though you can sell your CNC wood projects at local fairs and exhibitions, the online mode is worth exploring.
You can utilize social media platforms like the Facebook Marketplace to sell locally or create a brand handle on Instagram.
I would also suggest setting up an Etsy shop and start selling there. Etsy is the best marketplace to find customers who are looking for unique hand-crafted wood projects.
Can you make money selling CNC products?
Yes, you can make a lot of money by selling CNC wood projects.
Many CNC router users have started a profitable business through CNC routers and other CNC machines. 
CNC machines offer immense creative freedom. 
With CNC routers, you can cut out products from wood or acrylic with high precision and speed that far exceeds any other traditional method. 
You just need to be creative with your CNC project ideas and put in the hard work to bring them to fruition.
Once you learn CNC skills, you can start making money by turning to some top-selling CNC projects, which we have discussed above.
These ideas, coupled with the ever-growing popularity of CNC machines, make selling CNC products a profitable venture.