Unlock the magic of the holiday season with these creative Christmas Resin Ideas! These resin crafts are perfect for adding that extra special touch to your holiday gifts or creating stunning resin items to sell. 
With the holidays coming up, we are sharing some cool Christmas resin ideas and holiday projects that you can make at home to spread some holiday cheer.
You can make a lot of cool things with resin and it's fun to work with when it comes to crafting. Things like coasters, art, jewelry, and some home décor items are all made with resin. 
This list of Christmas resin ideas includes everything from Christmas decor like art and figurines you can put around the house to some fun holiday gifts like ornaments and photo projects you can give to friends and family.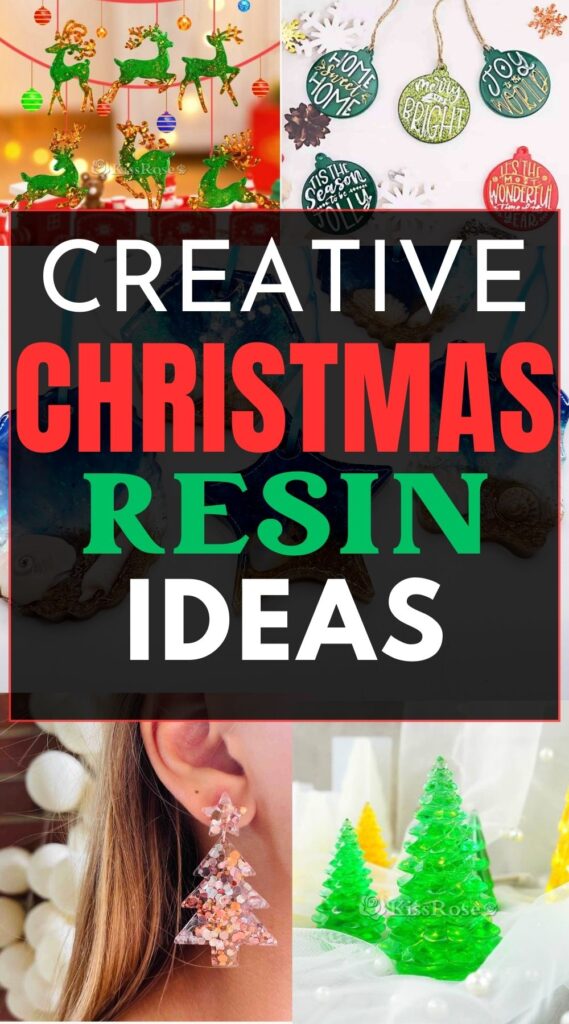 Christmas Resin Ideas
A. Christmas Ornaments
Most popular resin craft during Christmas to sell or gift.
Choose any shape and add your choice of glitter and your craft will be ready. Use them as is or personalize with vinyl stickers.
Personalized ornaments sell very well at bazaars or online.
Christmas Ornaments With Christmas Greetings
Ornament molds have unique Christmas sayings/ greetings.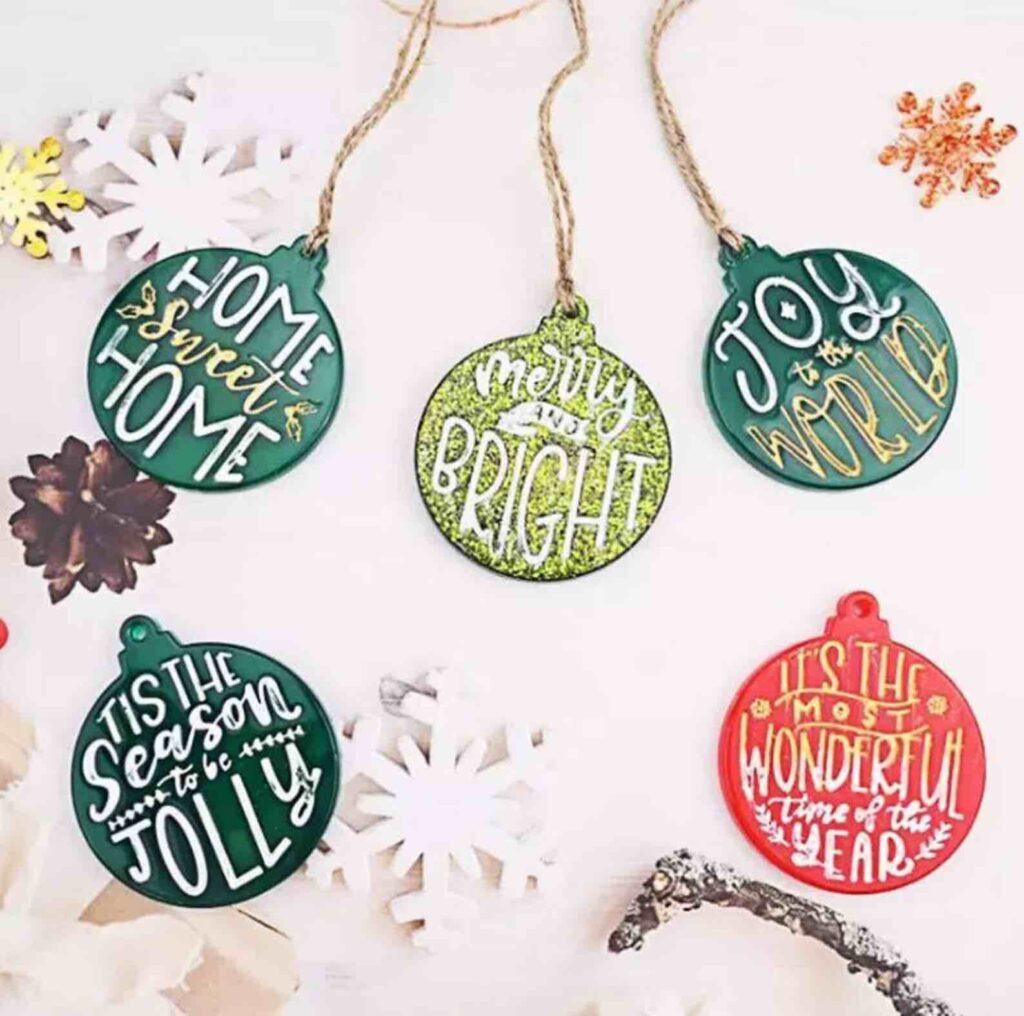 You can buy similar molds from Amazon!
 Ocean Christmas Resin Ornaments
Add a touch of the beach to your holiday decor this season with a sweet coastal-inspired ornaments. You can use mold of any shape and add resin and shells .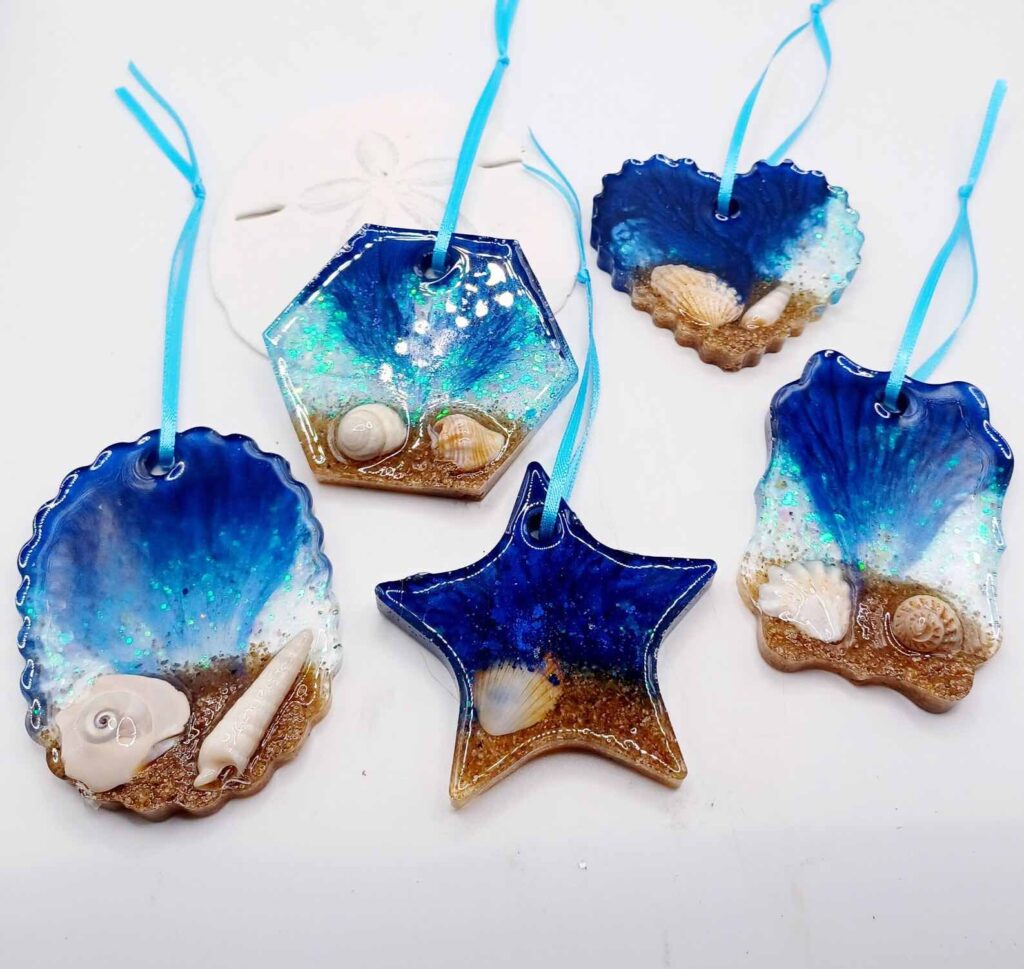 Wood Resin Christmas Ornaments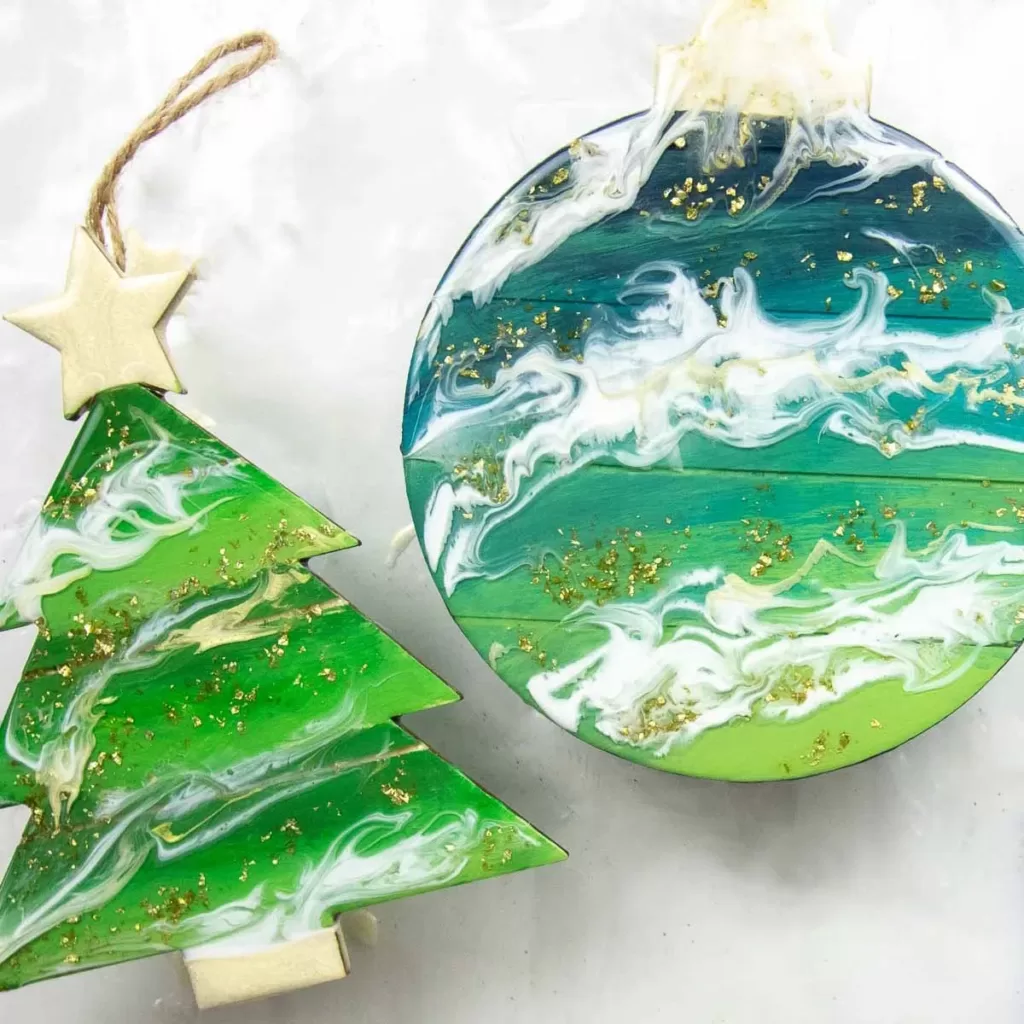 Christmas Ornament and Photo Pendant Resin Mold
Create your own holiday ornaments or jewelry pendants with this resin mold set.
You can personalize the pendants with pictures and special holiday messages.
3D Ice Crystal Resin Ornament
Grinch Christmas Ornament
 Resin Angel Fairy Ornament
Big Snowflake Ornament
Related post:
b. Resin Christmas Trees
With these Christmas resin molds you can make your own differently styled Christmas trees.
Use the trees for holiday decorations around the home or as part of a centerpiece.
Epoxy Wood Shim Trees
These DIY wood shim trees are a must-have DIY! Filled with crystal clear epoxy encasing sparkling glitter and twinkling string lights for a brilliant Christmas decoration!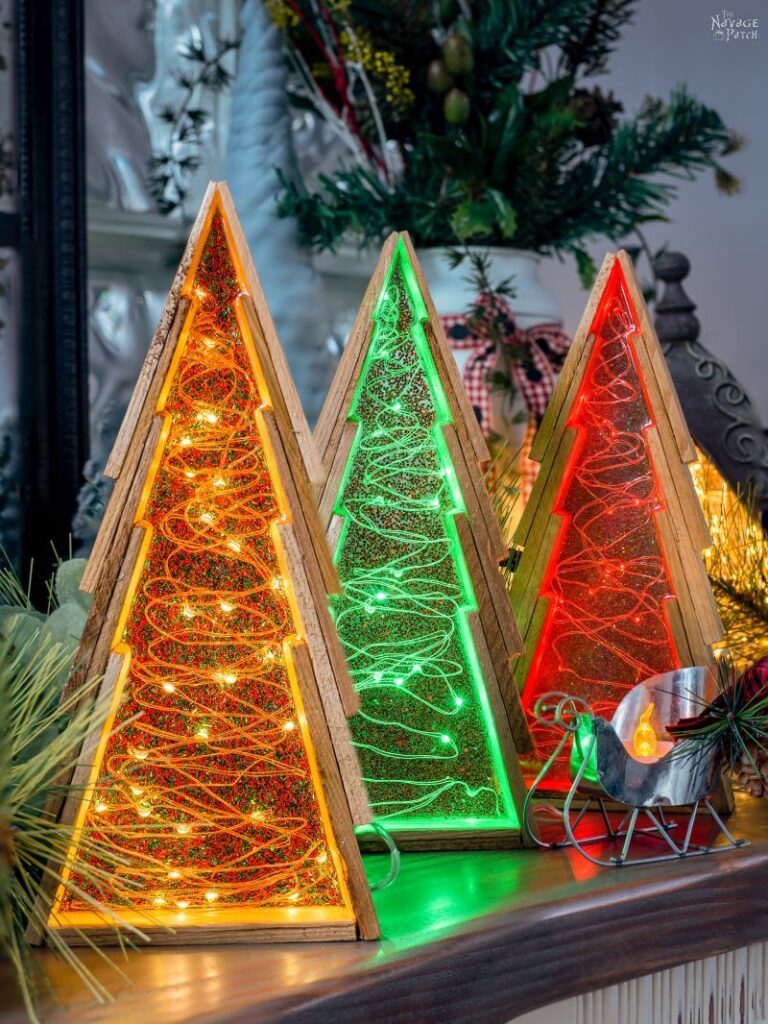 Christmas trees With Lights
These popular resin molds can help you create a light tree that you can put light in.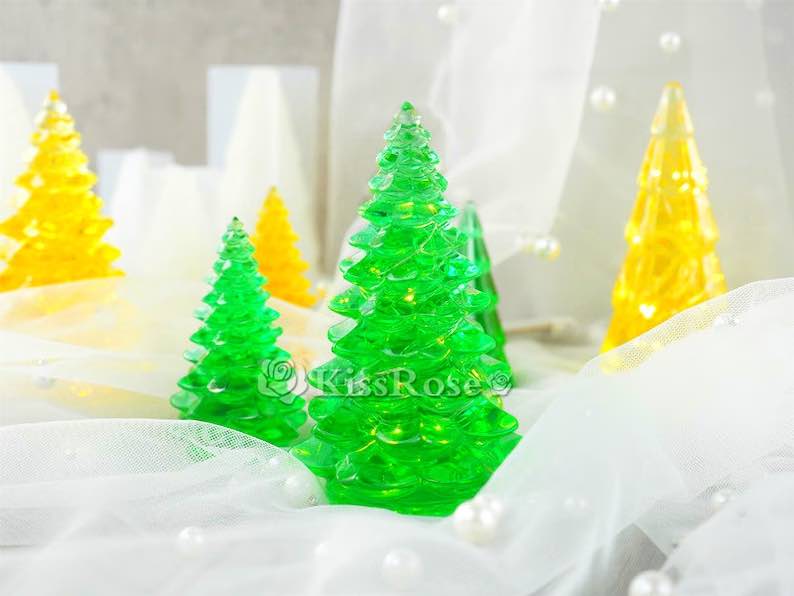 Bulbs Christmas Trees
Create some unique and colorful Christmas trees with this Christmas resin mold. There are a variety of different ways that you can use the finished Christmas tree.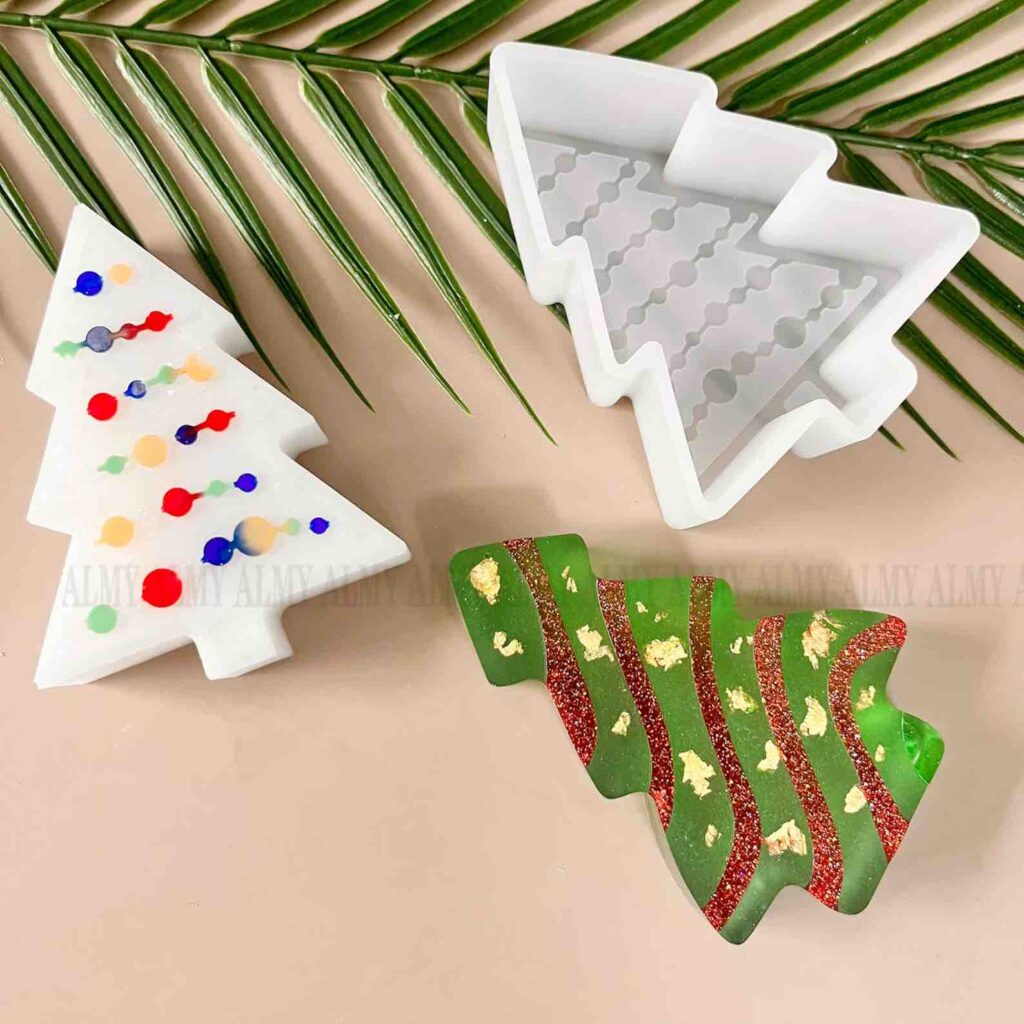 C. Christmas Earrings
Resin earrings are perfect for exploring the world of festive Christmas accessories, adding a touch of holiday magic to your look."
Jingle bells
One of the trendiest earrings you can make for Christmas!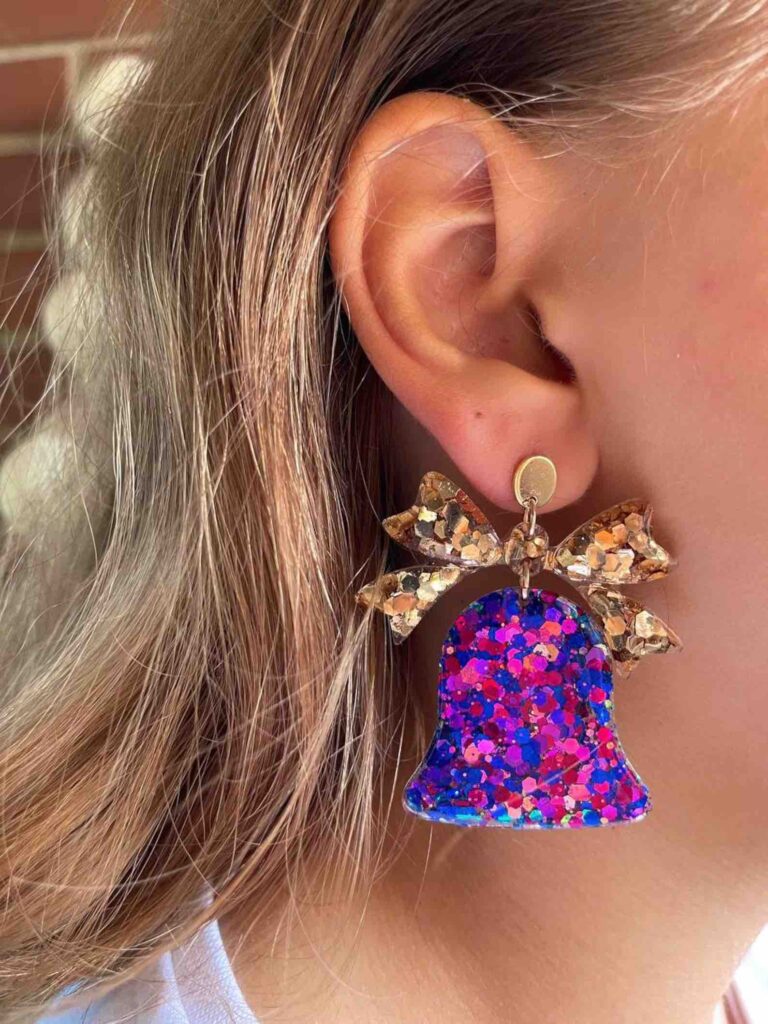 Christmas Tree Earrings
One of the best selling mold for Christmas tree shaped earrings. Add glitter of your choice, you'll have this glittery earring everyone will love!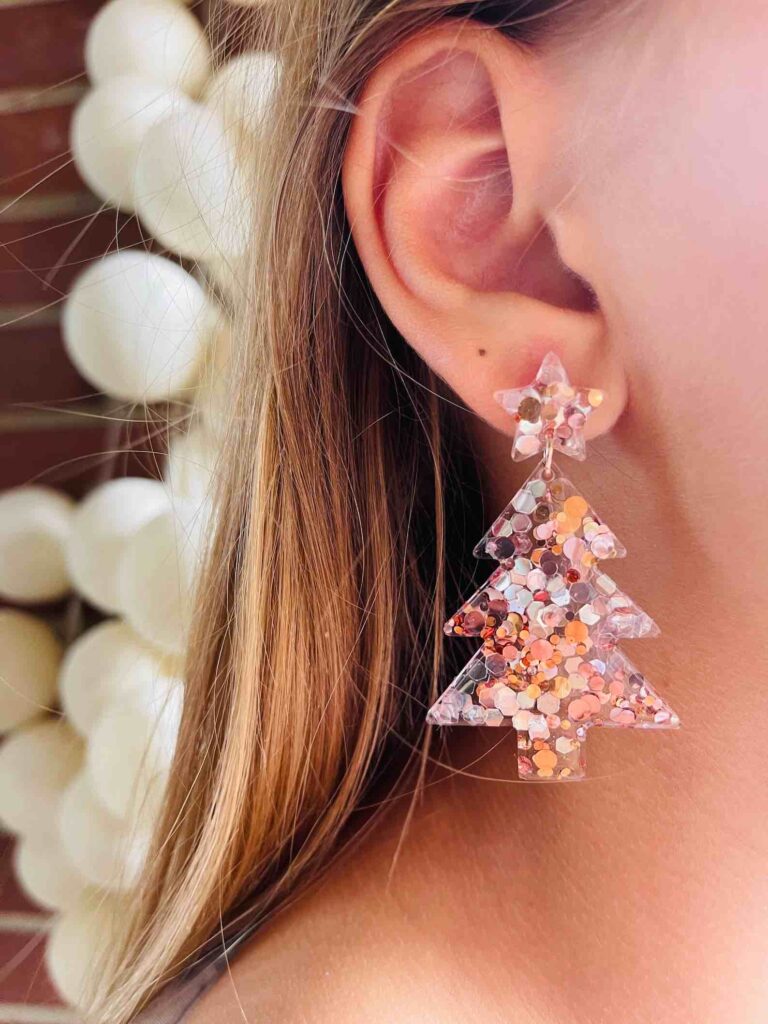 Candy Cane Earrings
Use this mold to make your own candy cane shaped earrings or pendants. They're perfect for the holidays and make fun holiday gifts.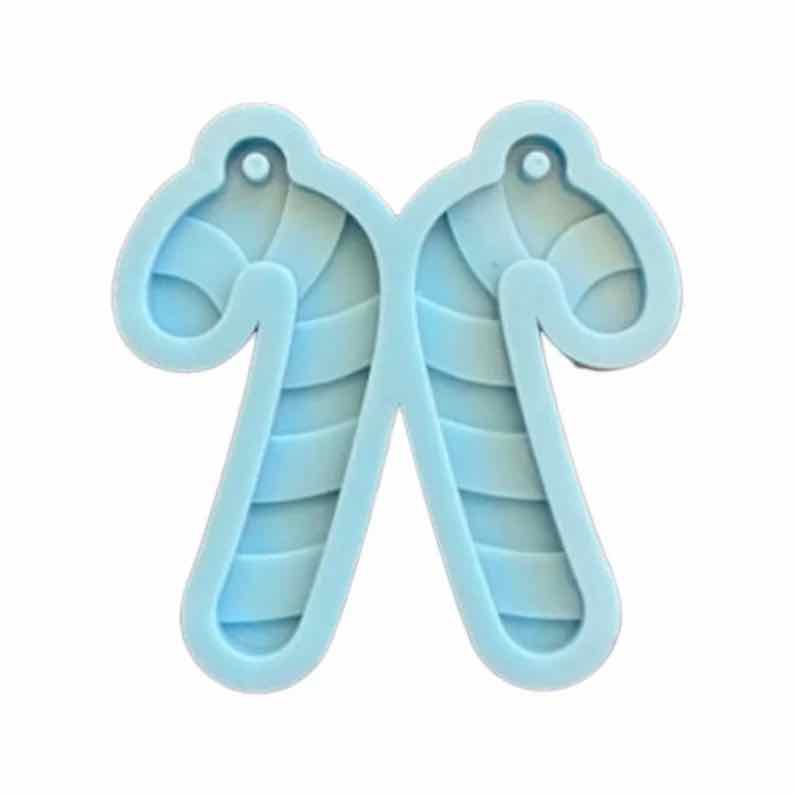 d. Resin Coasters 
This set of resin molds will allow you to easily create some adorable reindeer or moose coasters for the holidays. These coasters can be used for the holidays or given as gifts. 
E. Christmas Elks
These Christmas Elk pendants will allow you to create elks with different stances. You can then turn them into tree ornaments, decorations, or unique handmade gifts.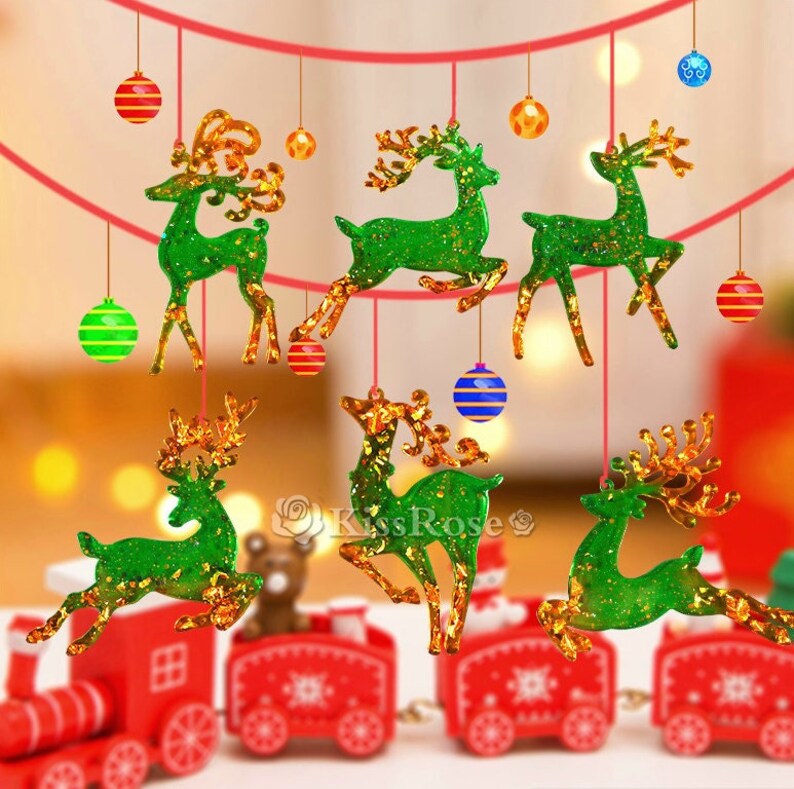 F. Christmas Jars
Cute and fun for the holidays, make these small 3-4 inch Christmas jars and use them for decorations around the house.
You can store small pieces of candy in them too!
G. Christmas Sign
We Wish You A Merry Christmas Sign
Add some extra cheer to your home by making a festive holiday sign. Shaped like a Christmas tree with the words "We Wish You A Merry Christmas", this will be a great gift or decoration for the holidays.
Merry Christmas Sign Resin 
Use this resin mold to create your own special sign for the holidays. Wish friends and family a Merry Christmas with this handmade resin mold craft.
H. Christmas Resin Tray Mold
Create your own holiday serving tree with this cute Christmas resin mold. You can serve up some tasty holiday treats, use the tray as part of a centerpiece, or gift it to someone special.
I. Christmas Tree Hanging Photo Frame For Gifts
Create a unique gift for the holidays or show your picture perfect holiday photos off with this festive Christmas tree resin mold. 
J. Cardinal Bird with Flowers
You can create a beautiful holiday cardinal and floral wreath design with this resin mold. It's perfect for the holidays and you can use it for home décor, jewelry, and more.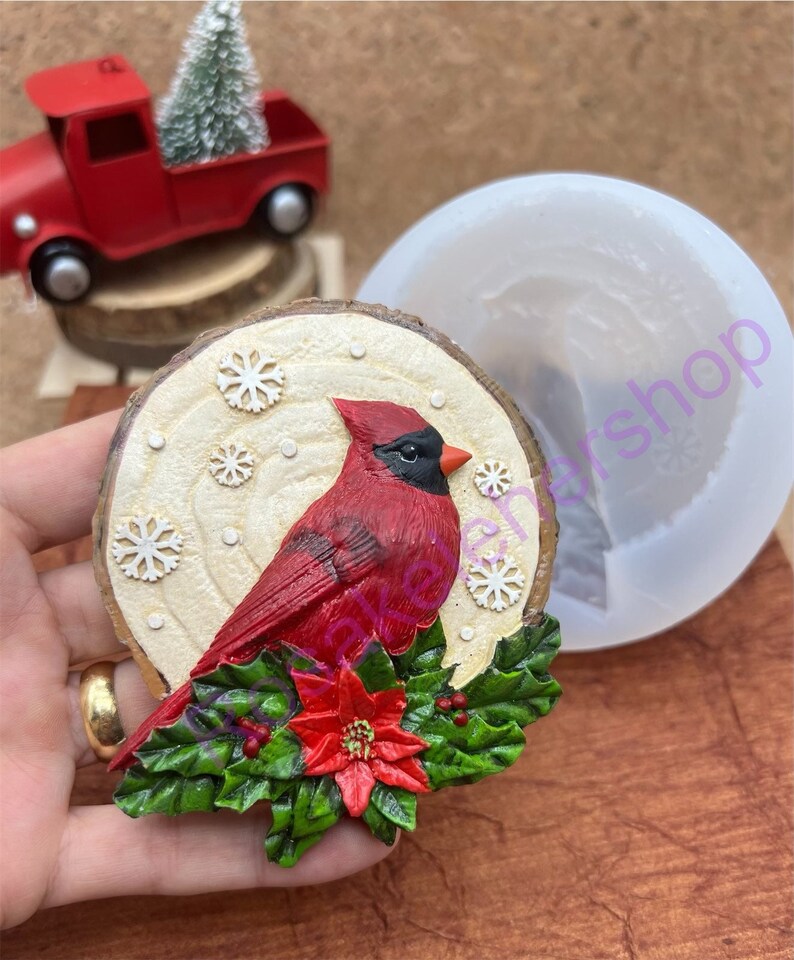 Christmas specific things to put in Resin
 Christmas stickers
Holographic Chunky Glitter
Holographic Snow Flake Snowflake
White iridescent snowflake glitter is a fabulous glitter full of sparkle and shine!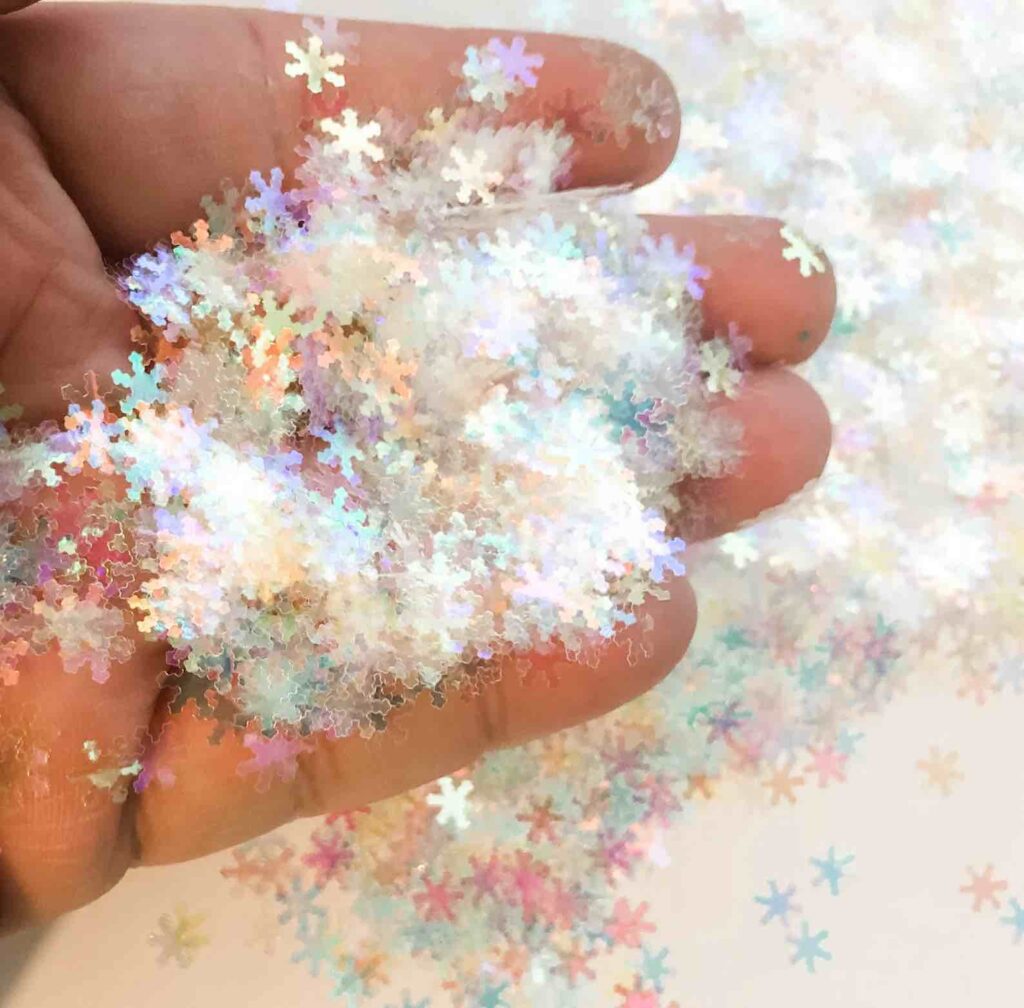 Christmas Red White Green Dot Glitter
This glitter mix looks vibrant & fun in every mold you'll use.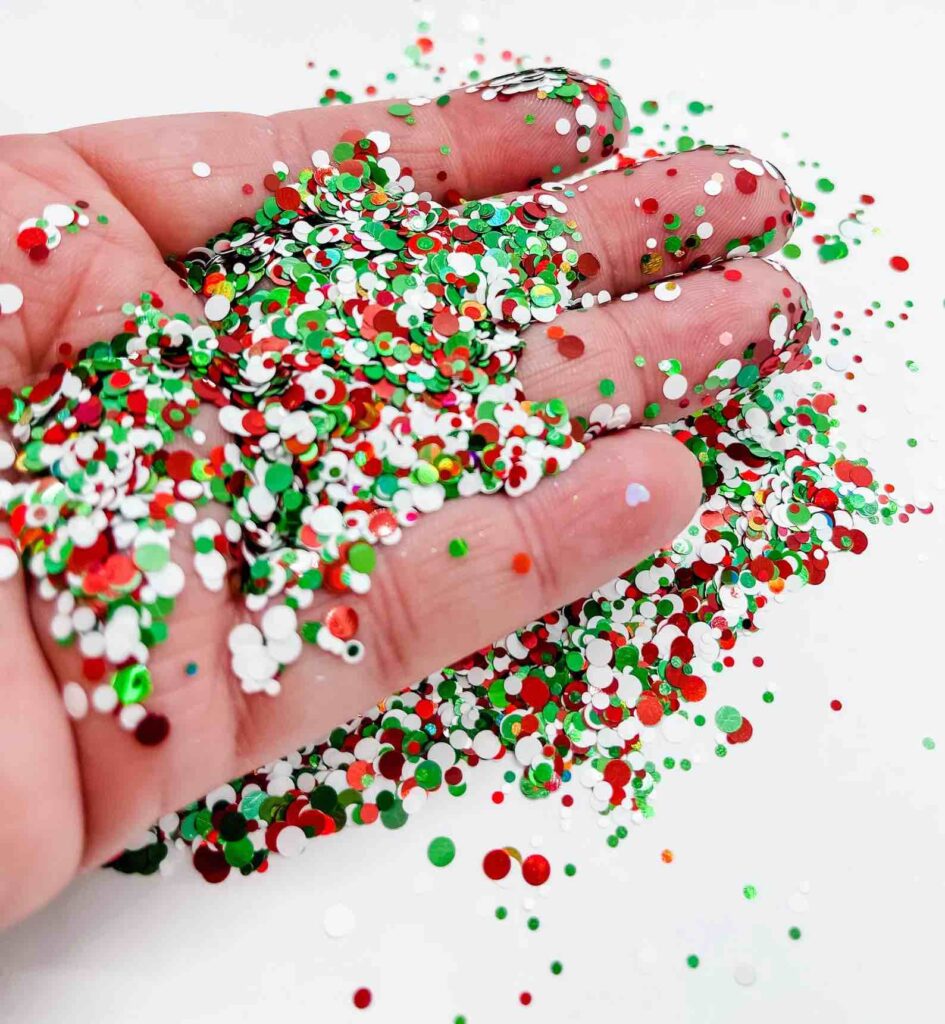 Christmas Light Bulb Lights 
Comprised of small light bulb shaped glitter, this glitter is great to fill resin ornaments.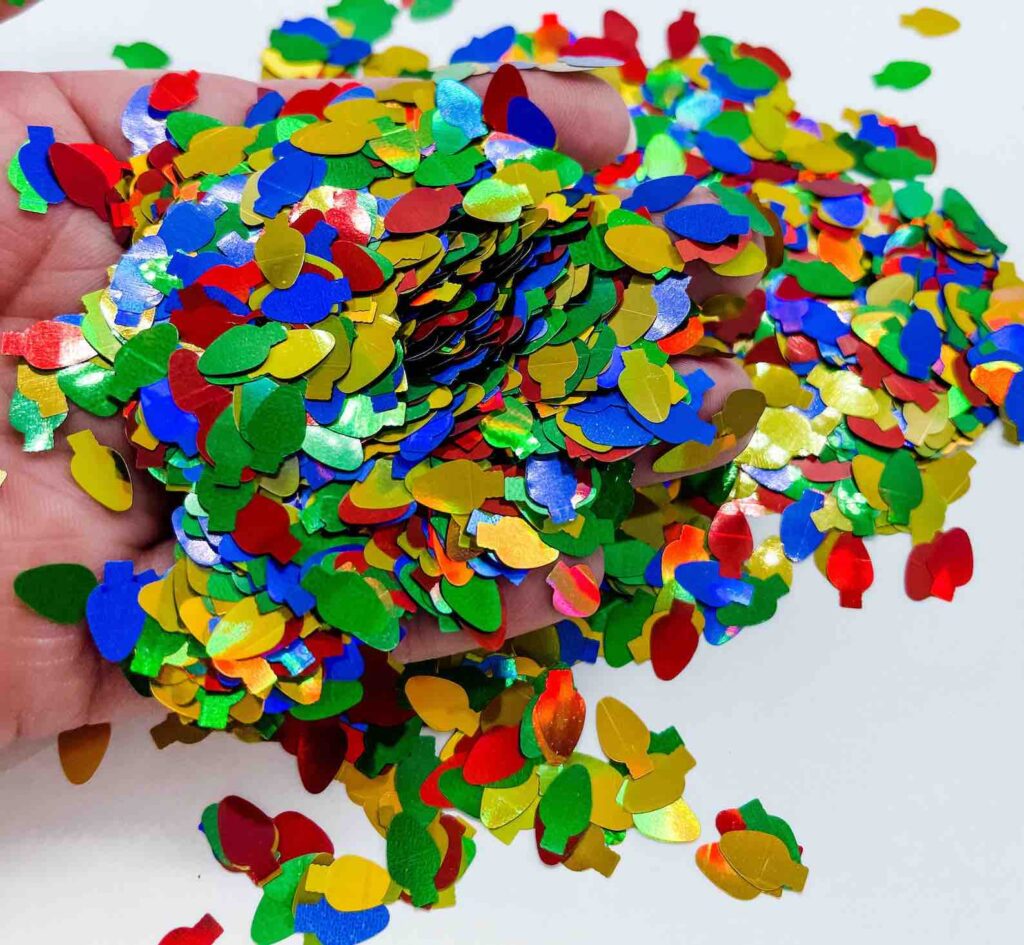 Ho Ho Ho Santa Holiday Holographic Confetti
Red & Silver Holographic Ho ho glitter is a fabulous glitter full of sparkle and shine!