Resin Crafts To Sell
Looking for Resin craft ideas to sell? Wondering what are the best resin projects to sell?
In this blog post, we'll talk about best selling resin crafts (and projects) you can make to sell and turn your crafting hobby into a profitable resin business.
Do you love crafting things with epoxy resin?
Resin crafts are a wonderful way for crafters to express themselves creatively while making money.
If you are among those crafters who love resin arts, you are in luck as the resin art industry is rising, and it is a great time to start your resin business with these resin art ideas to sell in 2023.
So let's find the best things to make with resin to sell and the most profitable resin craft business ideas to start in 2023.
This website contains affiliate links which means we may earn commissions if you purchase through them (no extra cost to you). You can read our policies here.
Can you make money selling resin art and crafts?
Resin is one of the excellent choices for selling handmade crafts because resin projects are versatile, and there are many resin craft ideas that sell hot right now!
If you look at Etsy, resin artworks and furniture items sell for hefty prices, ranging from a hundred dollars to thousands of dollars. Though crafting furniture items can be a bit tedious, remember it is something not everyone will get into.
For example, resin crafts like keychains are one of the popular and easy things you can make with resin to sell, but this calls for more competition.

65,351 results with one single search keyword on just one selling platform. As a result, resin crafts crowded with the competition will be more difficult to get traction in.
That being said –it is important to do your research while choosing resin projects you are going to sell. Look for ideas that are not very saturated but are still in demand and find innovative approaches to market your products and reach more customers.
Lindsay Ann Gottschall and Courtney Joy Bleier are two sisters who run an Etsy store called Ann And Joy.
They made over $65,000 in revenue in one year by offering customers the chance to send flowers to be encased in resin jewelry for them to wear.

So, YES you can make money selling resin crafts if you do your homework, master resin crafting techniques, and come up with unique ideas that are both creative and appealing to customers.
How to start a profitable resin business and make money?
You can make money with resin crafts, but not all popular selling resin crafts are the most profitable ones. To start a profitable resin business and make money with resin crafts, these are a few things you should consider:
Choosing resin crafts to sell
As we discussed earlier, resin crafts are in high demand, and some resin projects can be extremely competitive.
Therefore, it is important to research the market and find resin craft ideas that have less competition but are still in high demand. And most importantly, you have an interest in them. 
For example, If jewelry is something you love, resin jewelry for Valentine's Day or things like year long personalized gifts for couples could be great ideas to sell.
e-rank is a free tool to help you research your market and competition on Etsy.
Marketing Your Resin Business
Marketing is the key to resin craft success. You can't just make resin crafts and expect them to sell on their own. 
You must understand how you will promote your items and attract new consumers. Pinterest, TikTok, and Instagram are the best social media platforms to start with. 
Update: With the popularity of Instagram reels , it's no surprise that more and more businesses are using this platform to reach their customers. Don't sleep on Instagram.
Create videos showcasing your products or services, add behind the scene or in-process videos, or add testimonials. Reels are an excellent way to engage with your audience, and one successful reel can lead to more customers and sales for your business.
Craft Inventory
Once your business gets traction, it is important to have resin craft supplies at your fingertips.
It takes time for the resin to set (depending on your niche/resin project you are selling), and some resin crafts are heavy which means shipping those resin items can be a tedious process.
For printing discounted UPS and USPS shipping labels, try Shipping Easy (free for 30 days).
Having resin craft inventory will be helpful for you to move your resin business forward.
Here are a few things you will need:
Resin Craft Pricing
You may sell resin crafts for as little as $20 or even a few hundred dollars. 
It's also crucial to consider things like shipping charges (esp. for heavier goods), packaging expenses, your time, selling platform fees, and other overhead costs while calculating your selling price.
You must not undersell your craft as it will ultimately result in low-profit margins so make sure you track your big or small expenses well.
Accounting software like FreshBooks to make it easier to track your expenses and save you a lot of time while filing your taxes at the end of the financial year.
Business structure
The legal structure you choose for your business will impact how much you pay in taxes and your personal liability.
This company is one of the most reputed and trusted corporations that has helped over 500,000 business owners since 2004. You can register your business for as little as $0 + state fees and no contracts or fees.
Don't take this decision lightly—talk to a business registrar to help you choose the best option for your business.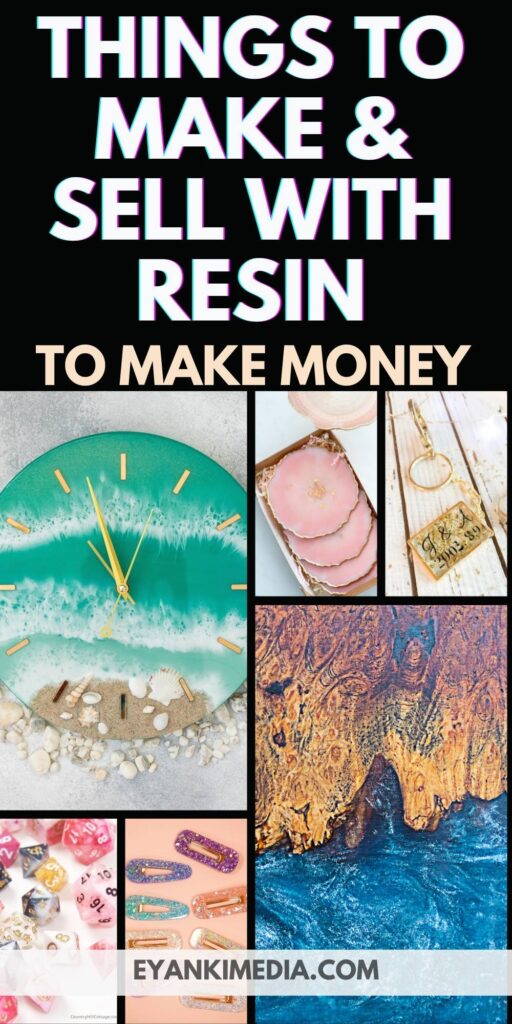 Let's find out how you can turn your resin craft hobby into a profitable resin business – one of the most rewarding businesses.
Best resin ideas to sell in 2023
These are the best things to make with resin to sell at craft fairs, local market place or websites like Etsy.
Resin keychains
Resin art and home decor
Resin furniture
Resin jewelry
Resin trays and coasters
Resin phone cases
🔥 Trending these days: Best things to put in resin
Best Selling Resin Craft ideas In 2023
1. Resin Keychains
Resin keychains are one of the top-selling resin crafts on Etsy.
They are not only easy to make but there are many ways of creating beautiful keychain pieces to sell.
The most common methods are embedding pressed flowers, or personalizing with customers' names.
Resin crafts like this sell around $8-15 on average depending on the design.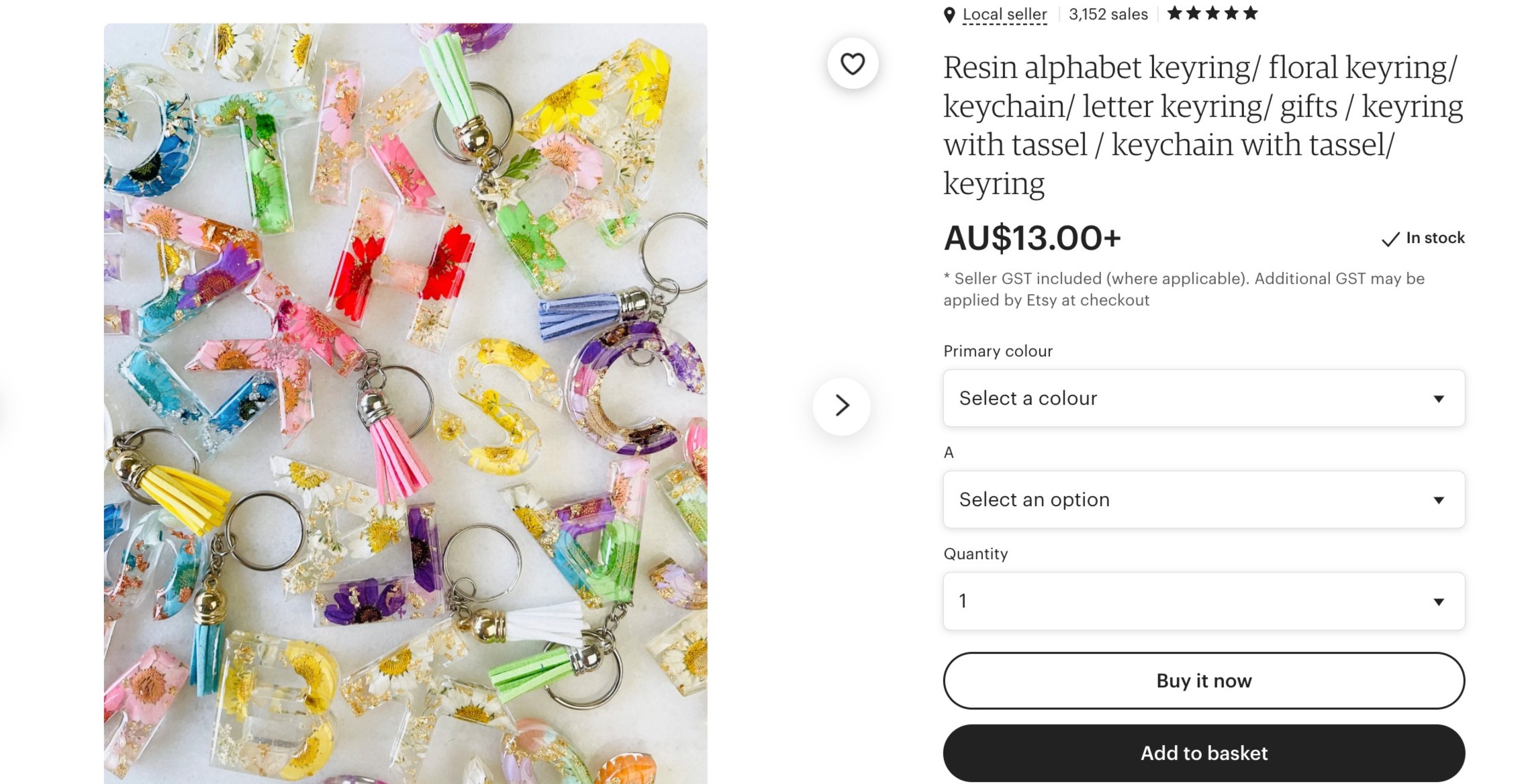 However, if you want to sell resin keychains projects on Etsy, there is a lot of competition and you really need to find a unique idea to sell to stand out from the competition.
Here is another unique idea to personalize resin keychains, Faux inscribed resin keychains by Sustain my craft habit.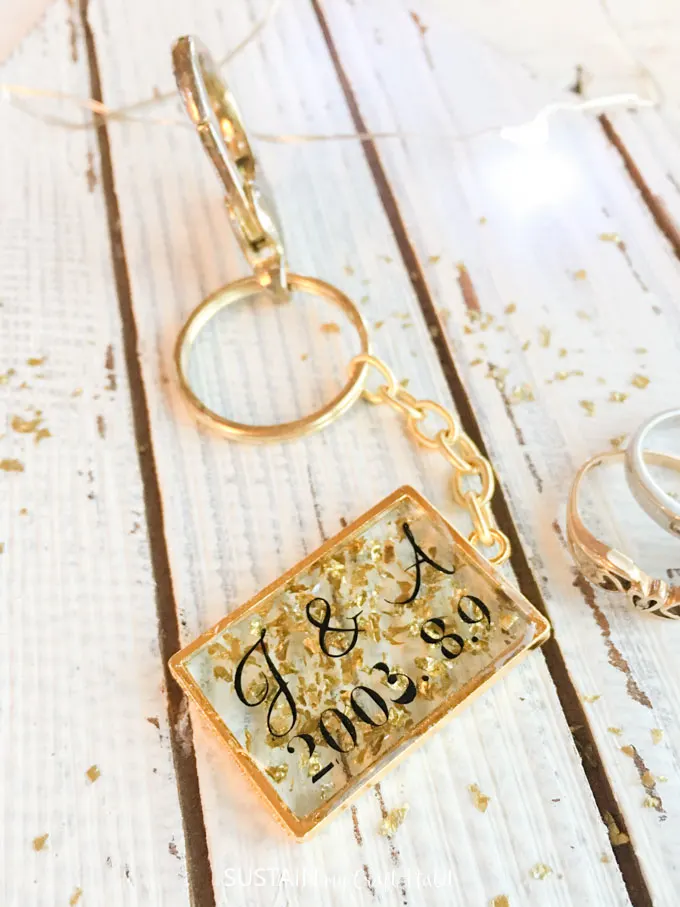 2. Resin Phone Cases
Making resin phone cases is another way to get started selling resin crafts. Resin phone covers may be molded to any smartphone size or shape and are long-lasting and attractive.
These crafts serve great as personalized resin gifts to sell, such as resin crafts related to teachers, resin gifts for bridesmaids, or special days like mother's day.
Depending on the design and mold shape, it is possible to sell these resin crafts for $20 – 30 per piece for flower-pressed designs.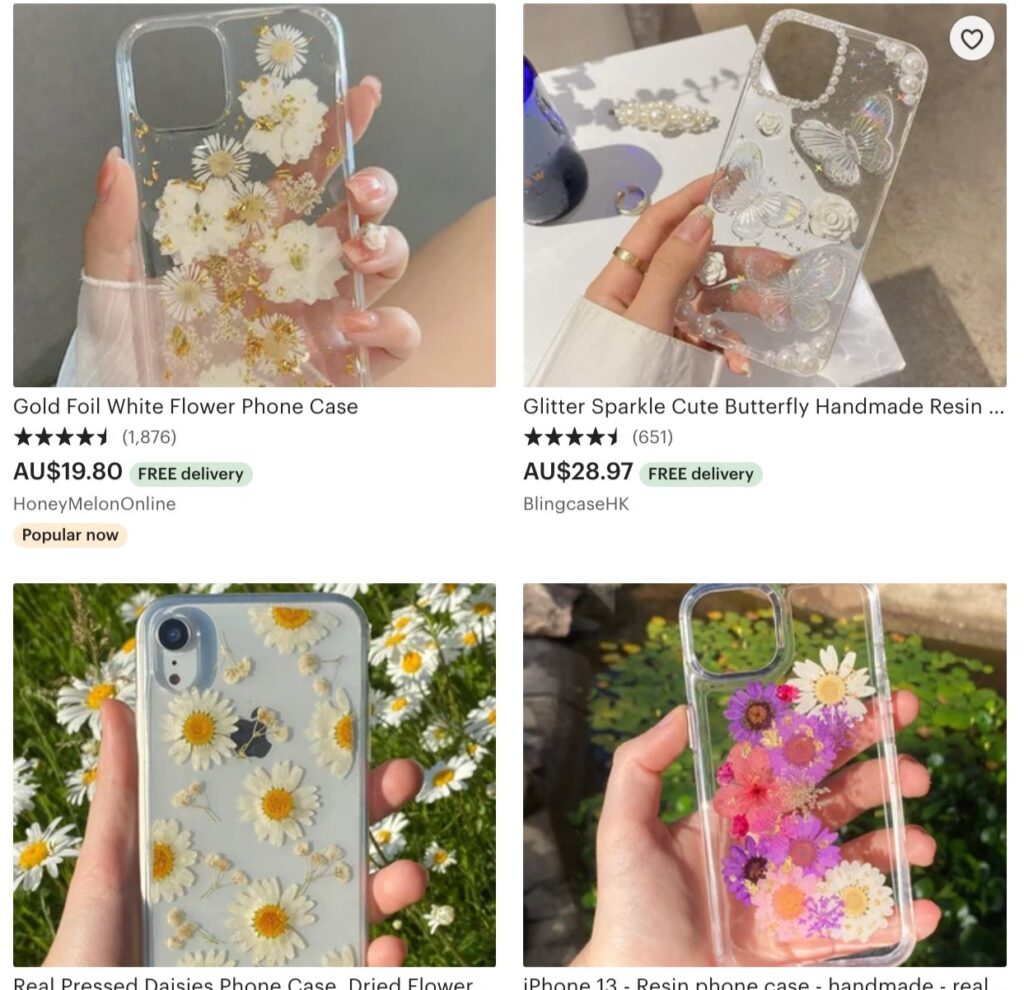 I like this idea of these wood resin phone cases, they are still not so competitive and sell at a better price as compared to average resin phone cases.
3. Resin Trinket Boxes
Do you know you can make a jewelry box with resin to sell?
Yes, making these cute little resin trinket boxes is another resin craft idea to make with resin.
These resin crafts can be used as gifts, resin home decor, or can be personalized to give as favors for weddings or bridal showers.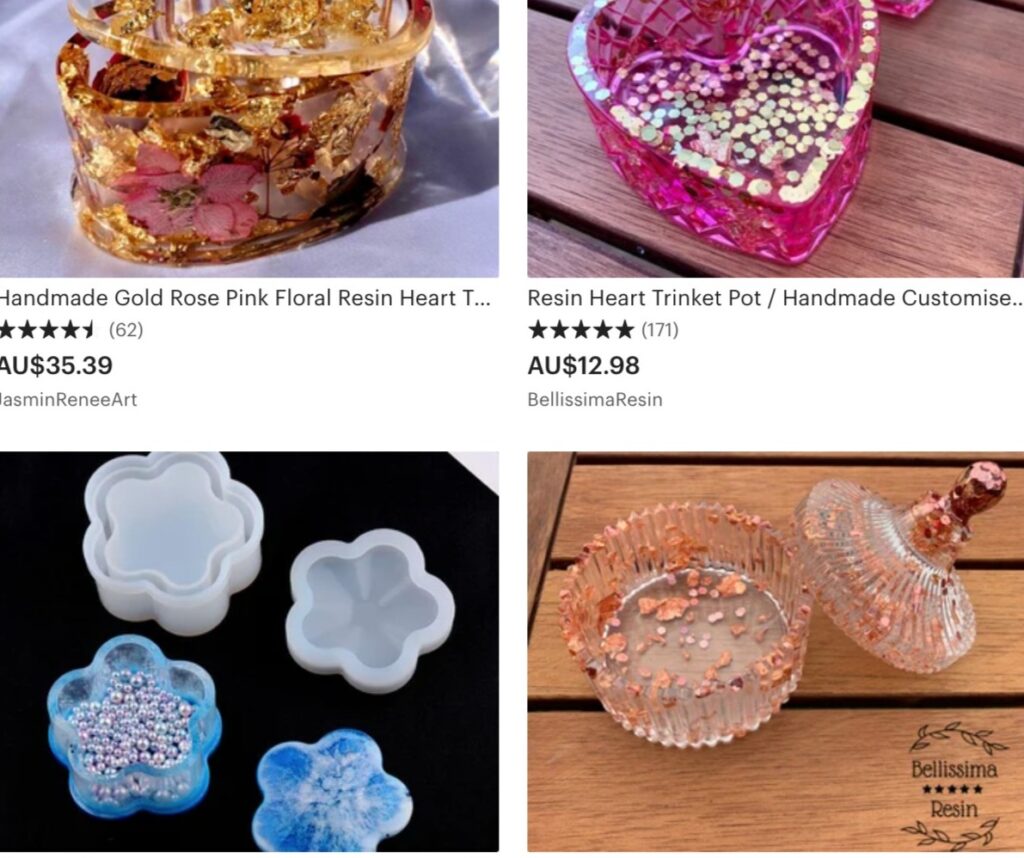 Depending on the size of the mold used, you may sell them for $20 – $30 for each piece.
4. Resin Bookmarks
A resin bookmark is a great resin craft to make and sell for our little bookworms. You can add other embellishments like beads, glitters, flowers or gemstones in your bookmark molds and give them extra touch.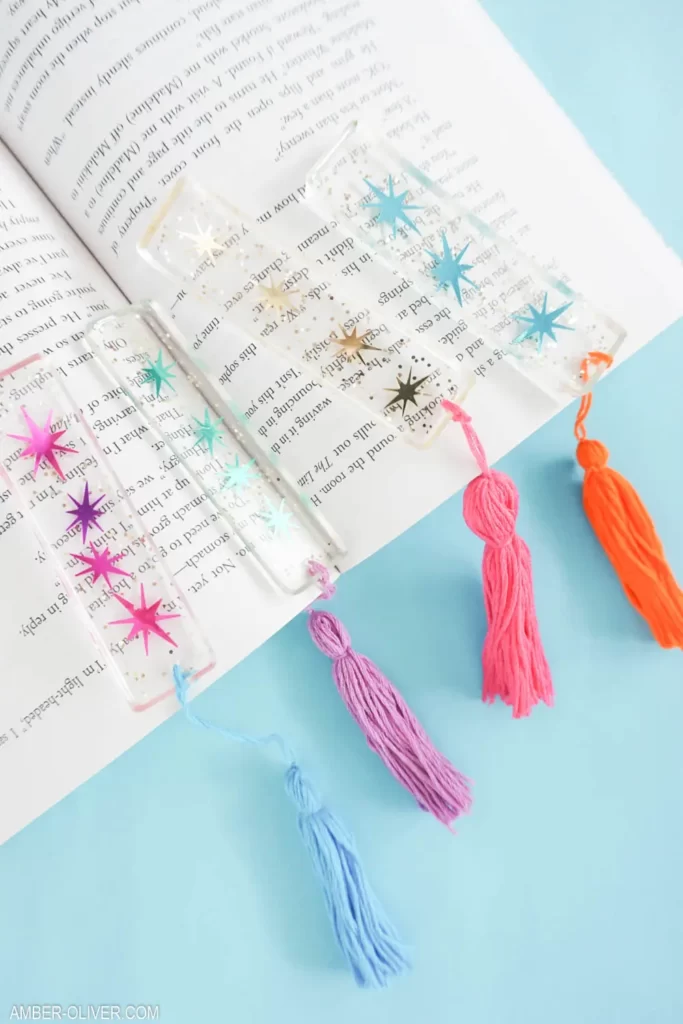 Resin bookmarks are simple yet very cute resin crafts to sell at $15 – 20 for each piece depending upon the decorations used.
You can also make and sell flower-pressed bookmarks OR personalized bookmarks like these bookmarks made out of epoxy (best selling on Etsy) for adults.
They are excellent DIY gifts to sell.
5. Resin Coasters
Ocean-inspired Resin coasters – one of the best selling resin crafts -will not only add a little shine to a table but will also protect it from watermarks and scratches.
You can make and sell resin coasters in bulk or personalized resin gifts for special events like weddings, bridal showers, etc. 
Here is one of the videos I found, she has many amazing resin coaster tutorials you can watch.
The average price for these is typically somewhere around $20 per pair, but this varies depending on the resin you choose.
Look at these gold personalized resin costers below, they make great gifts to sell on different occasions.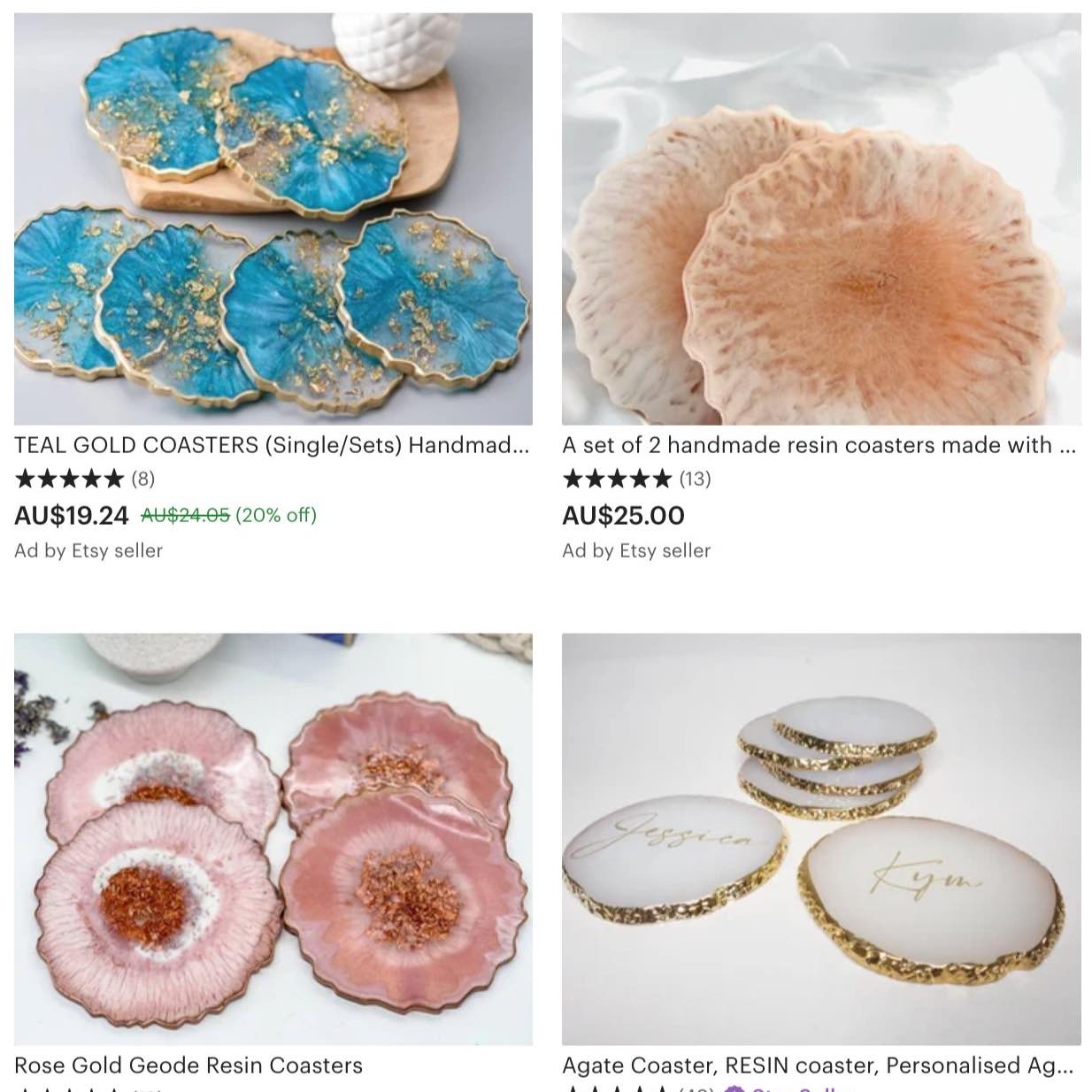 6. Resin Ornaments
Christmas ornaments are one of the best Christmas crafts to sell during holidays, and ornaments made with resins are a huge hit too.

These resin Christmas tree decorations can be made with different shapes and colors like hearts, circles, stars or can be personalized with the choice of your decoration.
Depending on the form of the resin ornament, it's possible to sell them at $10 – 20 at craft fairs or Etsy. It could be a little higher if you add personalization to them.
Related Reading:
Stunning Christmas ornaments to make and sell
7. Resin Pet tags
Resin pet tags are easy resin crafts to make and sell for our little furry friends.
These resin pets tag can be simple or customized with the pet's name, I.D., or designs like paw prints, dog bones, etc.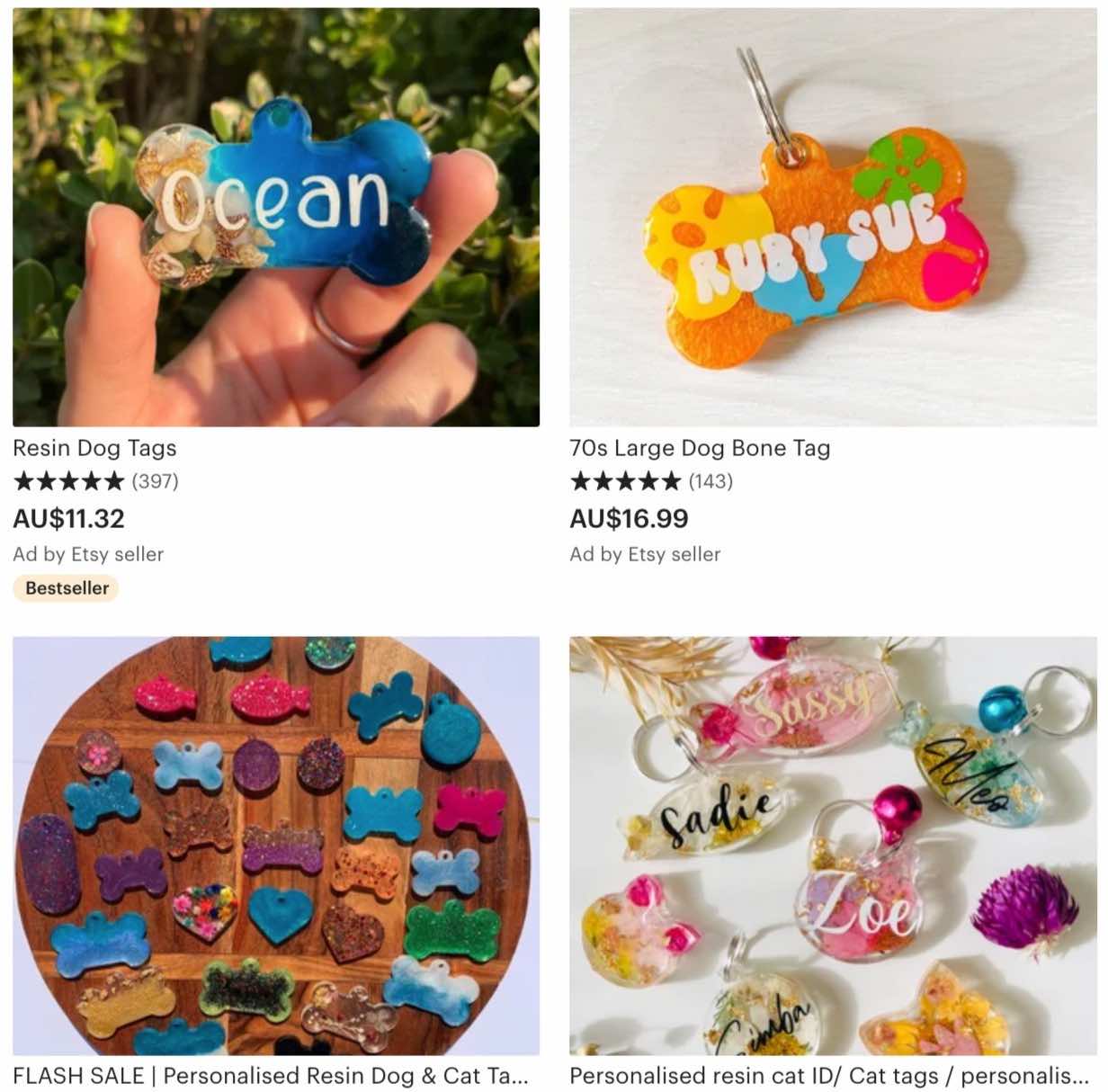 Resin pet tags usually sell from $20 – 30 for each piece based on the quality of tag used and customizations added to it.
8. Resin Earrings
Jewelry has always been the best thing to sell on Etsy and resin jewelry is not an exception.
Resin earrings are one of the popular resin craft ideas to make and sell jewelry to match any outfit. They can be custom-made for weddings, bridal showers, or any special event you can think of like these earrings for Valentine's day.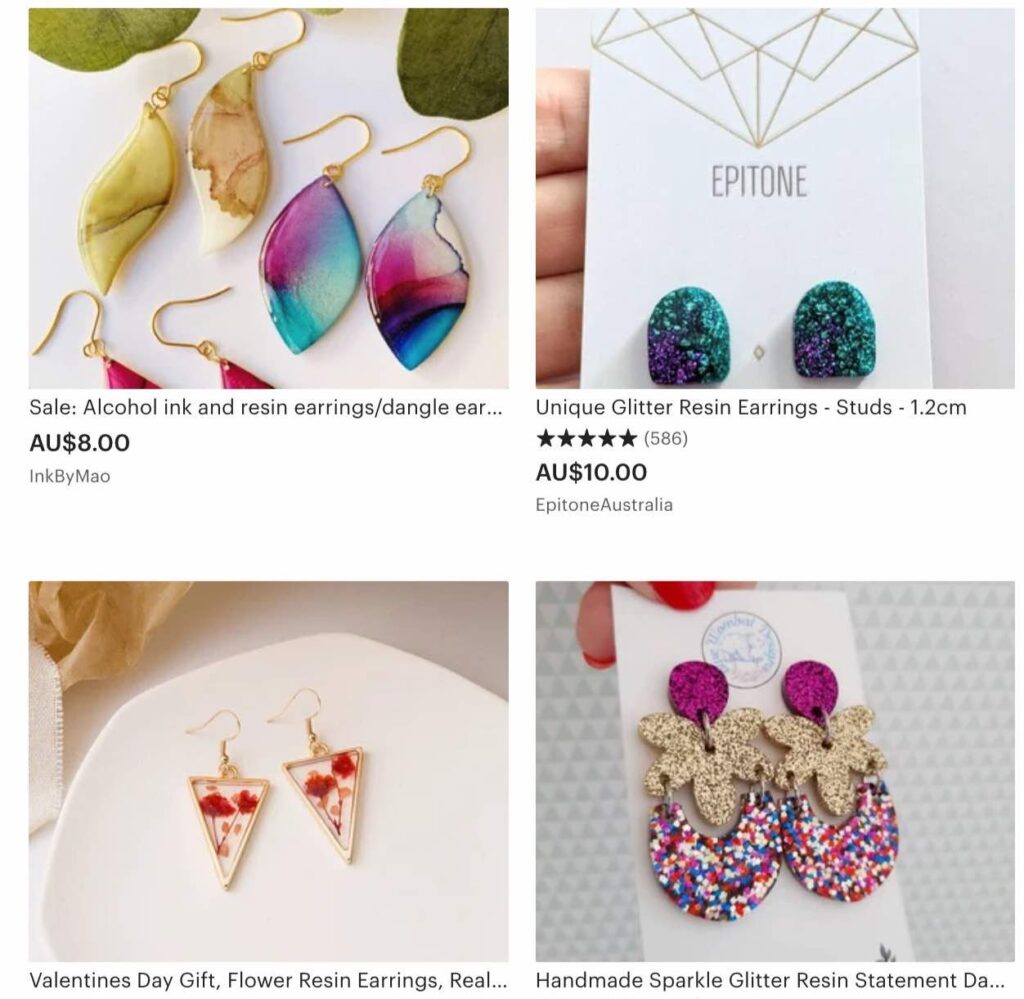 Resin earrings may sell up to $30 for each pair, based on the level of craftsmanship and embellishments used.
Pressed flowers earring are among the popular things to make with resin to sell.
Related Reading:
Etsy shop ideas to start selling this year
9. Resin Rings
Making resin rings is another fun resin craft idea to make and sell resin handicrafts in bulk or individually. You can add other embellishments like sparkles or beads for more personalized resin ring gift ideas.
If you're looking for a quick and easy epoxy craft to sell in craft fairs, I believe these are a great choice because there are so many shapes available and so ways to customize them.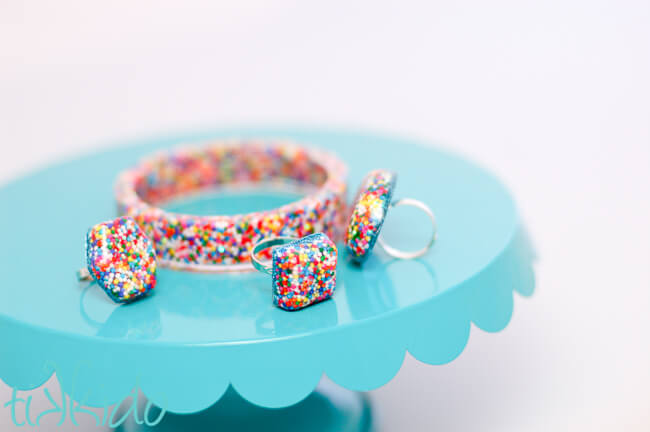 10. Resin Bracelet
If you want another easy addition to your jewelry store to sell, then making resin bracelets is another great choice.
This is a beautiful resin bracelet design for people of all ages who enjoy wearing accessories like this one.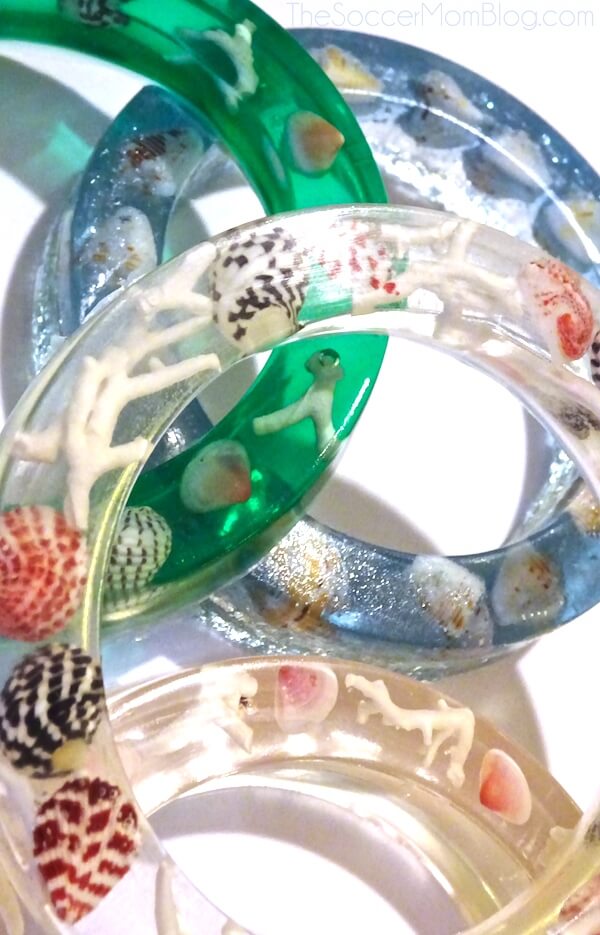 Crafting spectacular resin necklaces with flowers is an easy resin craft idea that you can sell to make money.
11. Resin Necklaces
Though it is a highly competitive niche to get in, resin necklaces are very popular resin crafts to make and sell for bridal showers or sell at craft fairs.
You can also add a variety of embellishments for more personalized resin necklace ideas to sell.
These resin necklaces, depending on the design you choose, may sell for anywhere from $20 to $30 per piece for pressed flower necklaces to up to $50 for these statement necklaces made out of resin.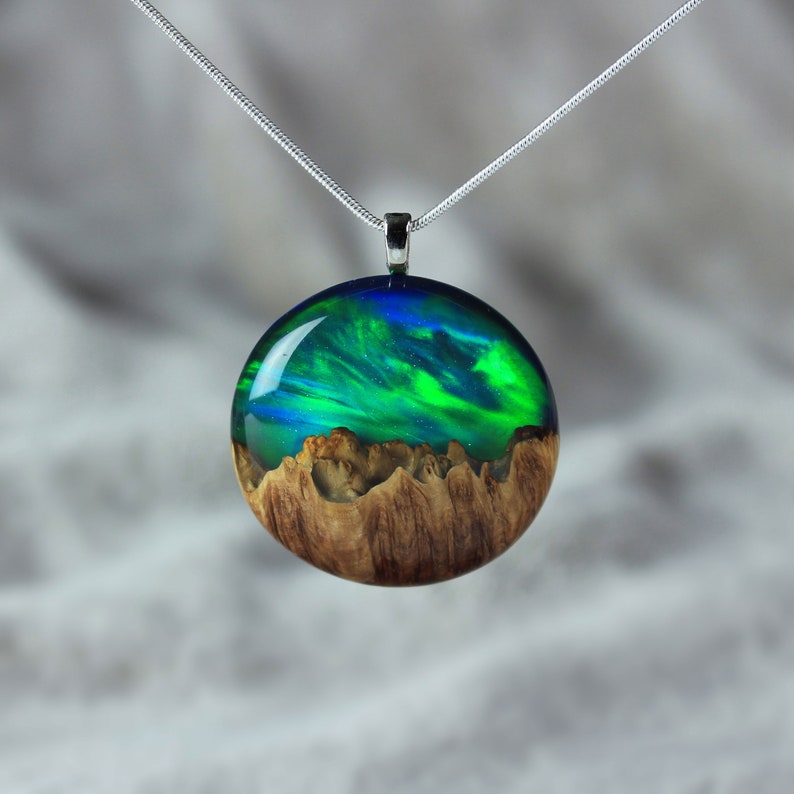 More ideas: These forget me not and northern lights rood resin necklaces are one of kind necklaces that anyone will fall into love with.
12.Cute Resin Hairclips
This is one of the super easy and quick resin projects to sell. You can make a variety of hair clips at home to sell at local fairs with simple instructions.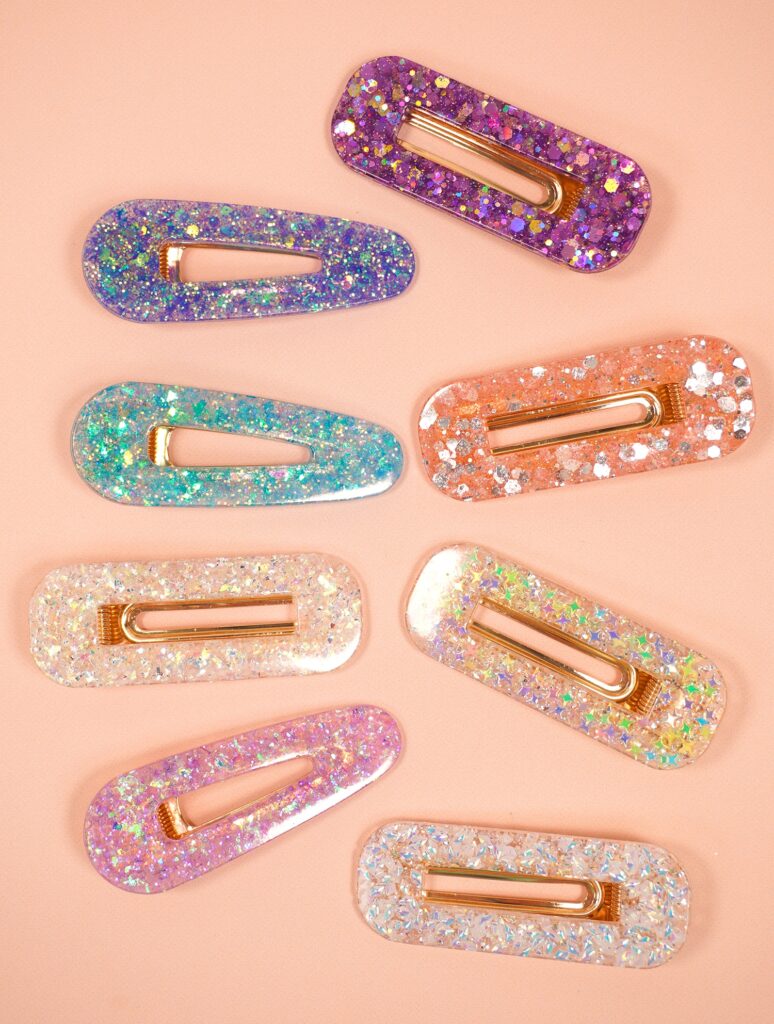 All you need is some resin, clear glue/adhesive, resin kit with resin molds in your choice of shapes like stars, hearts, or anything you like.
You can customize these hair clips to match any outfit by adding several types of decorations to make these resin accessories to sell at different occasions like Christmas (red glittery), Valentine (heart), theme weddings, or other special events.
13. Resin trays
Resin trays are not just gorgeous but definitely a trend that is still hot to sell. 

These DIY resin tray projects can make great gifts, home decor items, or be used as serving trays. 
Resin tray projects may range in price from $20 – 30/piece based on how intricate the design is, tray mold types and the embellishments used.
Crystal trays, like these, are common hues for trays and may be quite valuable since they also stand as a stylish statement in any room!
14. Cutting boards resin
Resin wood slice trays are other popular resin craft ideas to make and sell for your store. 
Like serving trays, resin boards are simple resin crafts that can be used as cutting, serving platters, or decoration pieces on the wall for home decor purposes.

Patterns like this beach-themed resin wood slice tray can easily sell for $150 per board.
Whatever you choose from resin crafts ideas, always remember the main rule of selling anything: Know your market!
15. Resin bowls and dishes
Like resin trays, resin bowls are not just decorative home accents to sell; they are also functional and can be used to store things like jewelry, makeup, engagement rings, etc.
These resin dip wooden bowls are one of a kind and Etsy best sellers too. Here are some mold ideas to use.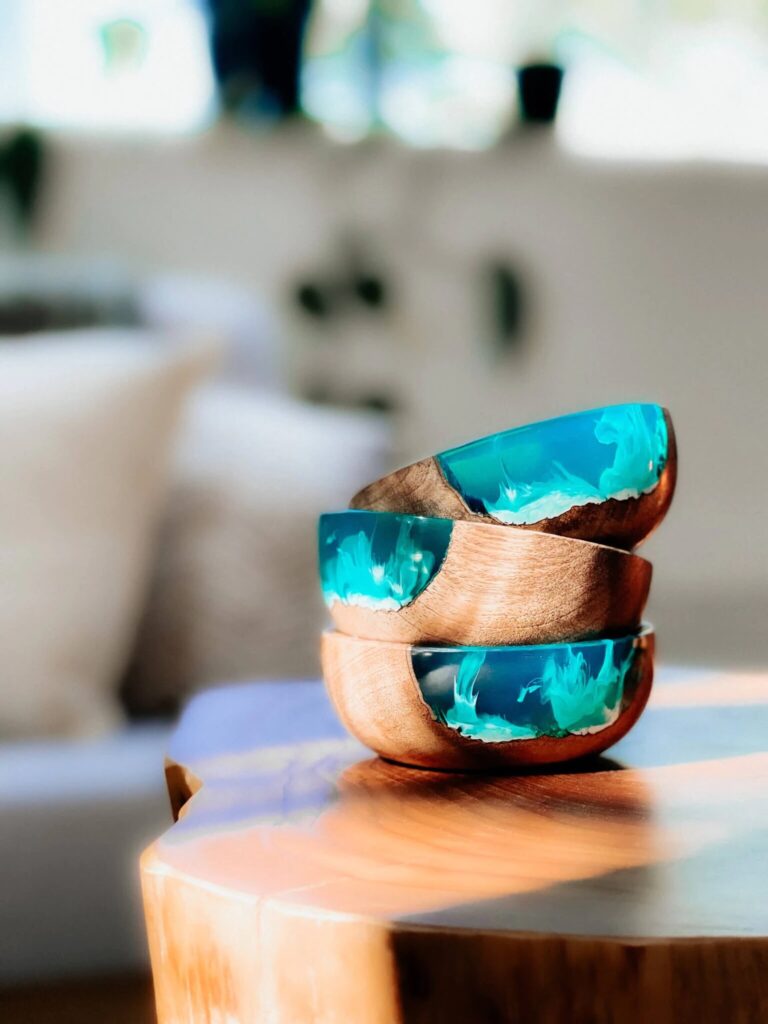 16. Resin Art Ideas and home decor 
Resin paintings and artwork are some of the expensive home decor items you can make to sell on Etsy on demand.
There are endless possibilities of what you can make with resin by adding different colors and additives, making your every artwork stand out from the rest.
If you have skills, space, and willingness to grow, resin home decor arts can be your most profitable resin project to sell.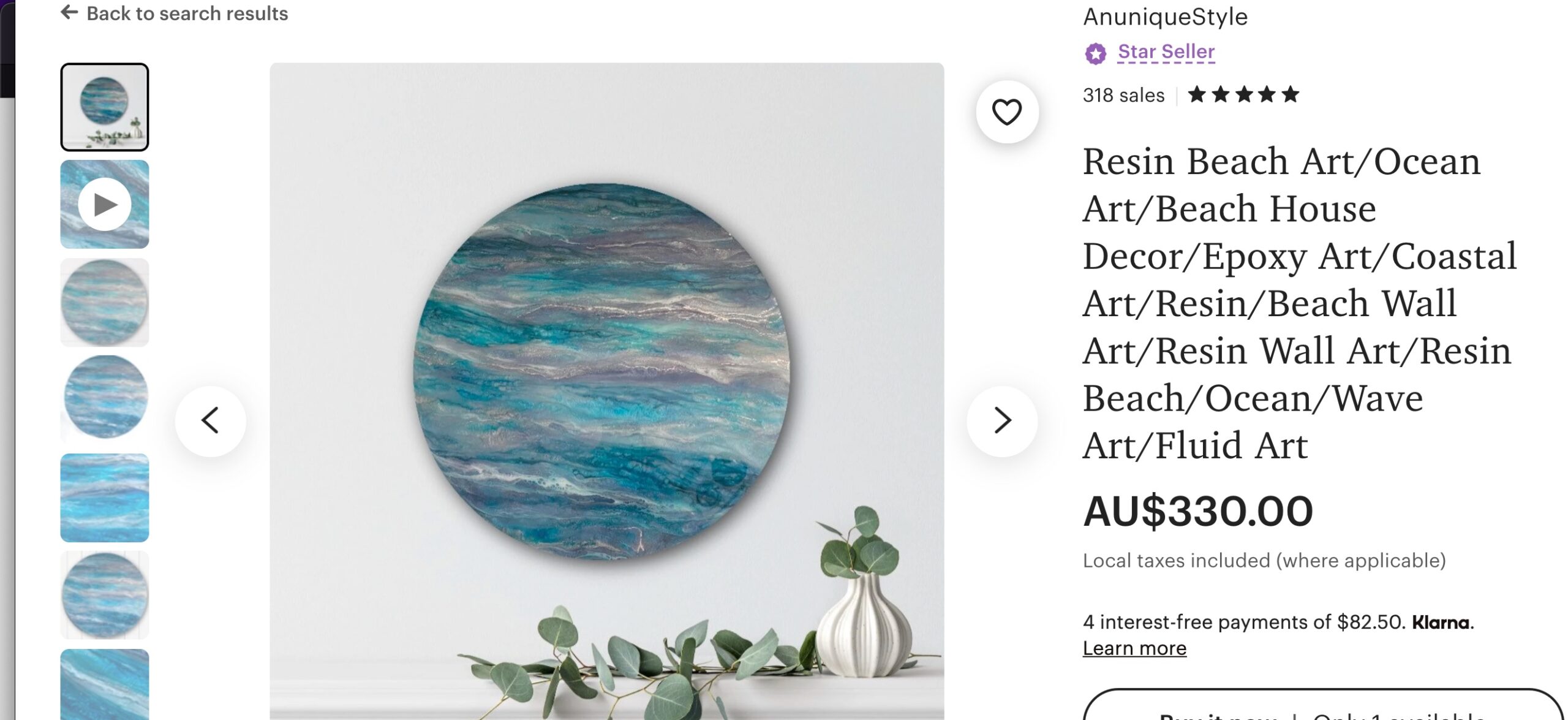 17. Resin Crystals
Have you come across gorgeous crystals with dried flowers on them on Pinterest?
Well, don't be surprised as you can make crystals like those in different shapes with resin to sell.
Resin crystals have a huge potential and there are so many ways you can customize them to sell in your next craft fair or on Etsy. 
One of the popular things to make with resin to sell is Resin Geode –  an artistic version of a geode made with resin. 
Resin geode art can sell from $20 to over a hundred a piece over Etsy.
18. Resin Paperweight/pyramids
Resin pyramids or so-called paperweight are resin crafts that can be used for multiple purposes.
These resin creations can serve as either a decorative object to sell in your store or an office accessory if properly made and decorated with stones, flowers, etc.
Etsy has a big market for office décor and stationery items so resin paperweights can be a good resin craft idea to sell.
19. Resin pens and penholders resin
Resin pens and penholders can be sold as business gifts or home decor items.
These resin creations are not only beautiful but can be functional too, making them one of the resin crafts ideas to sell in your store.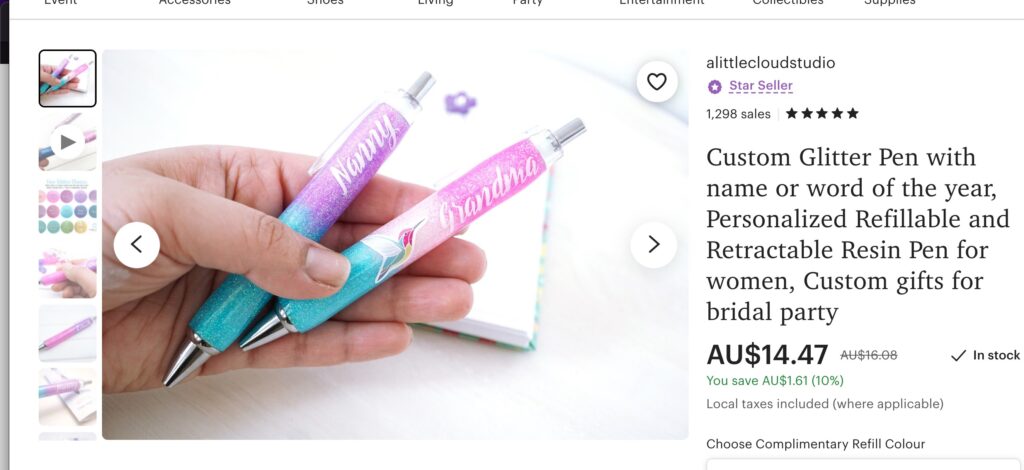 20. Resin Furniture 
Resin tables are a trending high ticket home decor item to make and sell with resin for your store.
Lately, there has been a huge demand for resin chairs as well as resin coffee tables with crystals or wooden projects on Etsy and other marketplaces.
I was browsing Facebook Marketplace the other day, and I came across a post about selling custom-made resin furniture items on demand.
Creating and shipping these pieces can be laborious, but they really sell fast. No matter how expensive they are, there are still going to be a lot of resin furniture buyers out there.

Just remember that resin is not only used as an easy way to create one-of-a-kind art pieces but also has functional uses in our daily life from resin paperweights, resin pens to resin tables.
21. Resin candle holders
Another resin craft idea to make and sell is resin candle holders- these are not just great as gifts but also stylish pieces of décor.
Candles are always in high demand (phew! we all love candles!) and resin candle holders can be your best-selling resin craft to sell in your store.
22. Resin Keycaps
You know you can sell one-of-a-kind, handmade keycap pieces for keyboards. Customizable resin keys are a fantastic resin crafting project to offer since they may be readily modified based on the design you want.
23. Resin clocks
Our next home decor resin art idea to sell is resin clocks.
Ocean-themed resin wall clocks are quite popular to sell as resin crafts, but don't simply make what everyone else is making; check out these glitzy gold-touched resin clocks.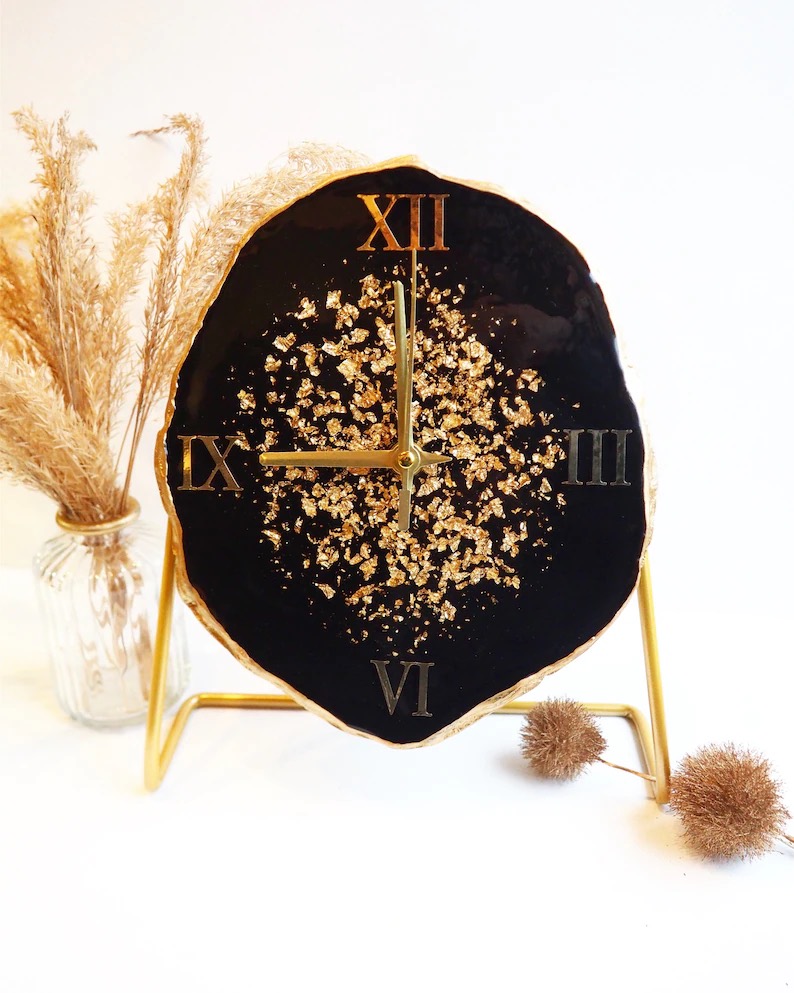 Because they can be little technical to produce, these resin clocks may be sold at competitive prices. If you want to try something new, try custom resin clocks!
More Easy, Fun and quick Resin Crafts to sell at Craft fairs
If you are looking for quick and easy resin craft ideas to sell at craft fairs, you can try any of these epoxy resin craft ideas as inspiration.
25. Sprinkle Rings
A fun resin project to sell that your kids will enjoy! Sell them at craft fairs or use them as birthday party favors.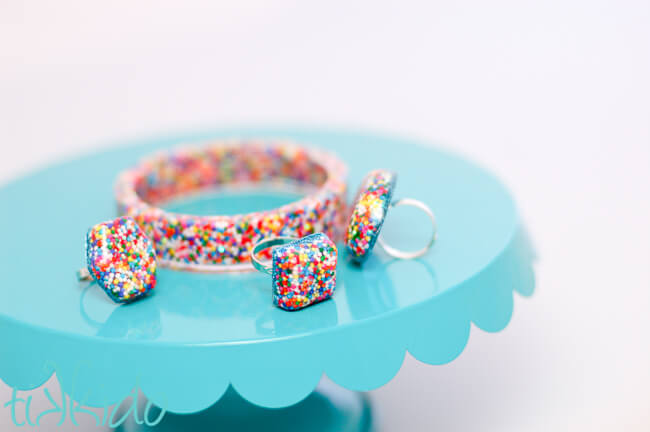 26. Resin Stirrers
Aren't these cute?
Make resin stirrers in different shapes and colors for your next craft show to sell and you will be please to see new happy customers in your shop.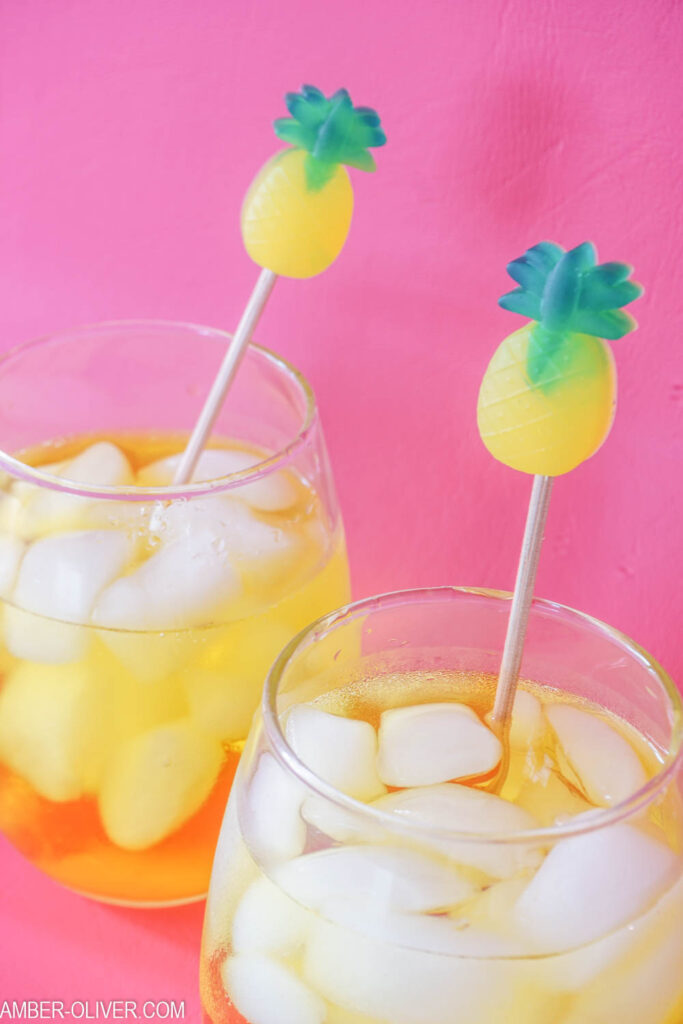 27. Resin Dice
These epoxy resin dice (mold) are really cute and colorful. One of the quick and easy resin projects to sell at the craft bazaar.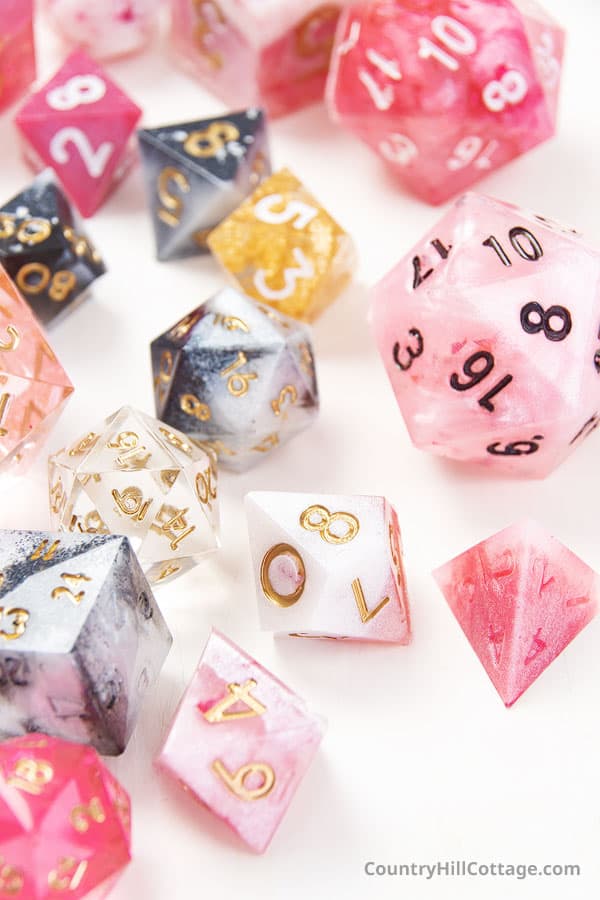 28. Resin Magnets
Another easy resin craft idea to sell at craft fairs or pop-up markets. You can use pressed flowers like below or even glitter to make these adorable magnet pieces.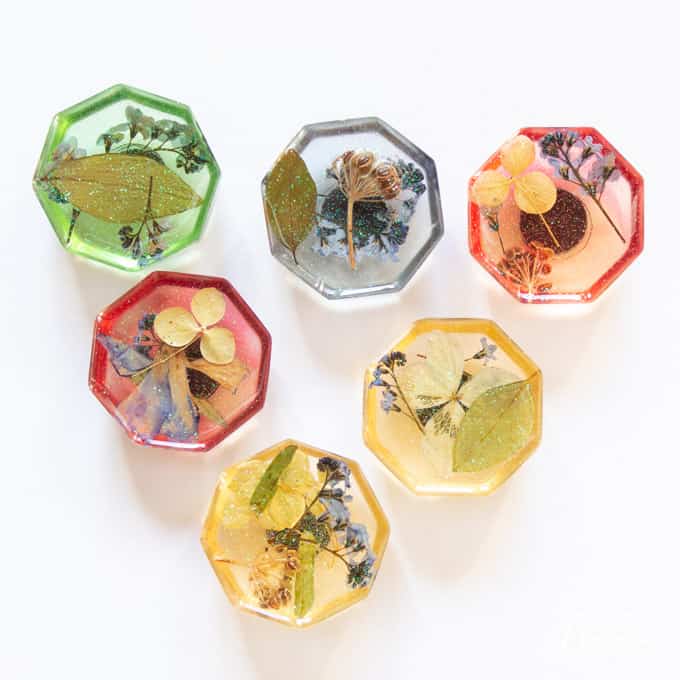 So, there you have it, best selling resin crafts to make and sell for extra money from home.
Where to sell your resin crafts?
You can sell your resin crafts online or locally. Some of the best places include:
Etsy shop: Grab my free Etsy shop checklist here with many free resources.
Amazon handmade
Word of mouth
Pop up craft show
Craft fairs
Local selling groups
Your website/store like Shopify
Ready to start with your resin Craft idea to sell?
If you're interested in starting a resin business, take a look at these resin craft examples as inspiration to get your new resin art venture started.
Which one of these resin craft ideas are you going to try first?
Let me know in the comments, I would love to hear. And don't forget to pin it for later.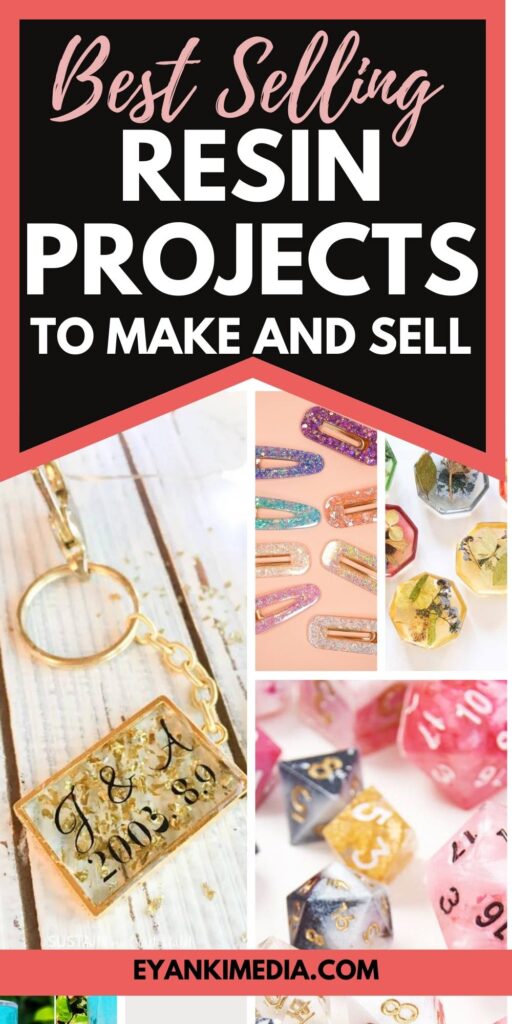 Related Money Making Crafts posts you might be interested in:
Things to Make and Sell with Cricut
Easy Things to Make and Sell for Money
Craft Business Ideas to Start from Home
Related Crafts Posts