If you are looking for a creative way to make money from home, your crafting hobbies might just be the answer. Many people have already turned their craft hobby into a profitable business. 
It may seem like a daunting task, but it is feasible and can be very lucrative.
In this blog post, I will discuss many profitable craft hobbies that make money from home.
If you have been practicing a hobby for a long time or looking for a new hobby to try in your spare time, these creative side hustle ideas can help you make extra money.
For stay-at-home moms, turning a DIY craft hobby into a small business can be a perfect way to make some extra cash. 
You can work on your crafts while the kids are playing or during nap time.
I am a work-at-home mom too, and I have discussed a lot of (non-crafty) stay-at-home mom job ideas in my other post. 
But if you want to get paid to do something you love, then read on for some great ideas.
This website contains affiliate links which means we may earn commissions if you purchase through them (no extra cost to you). You can read our policies here.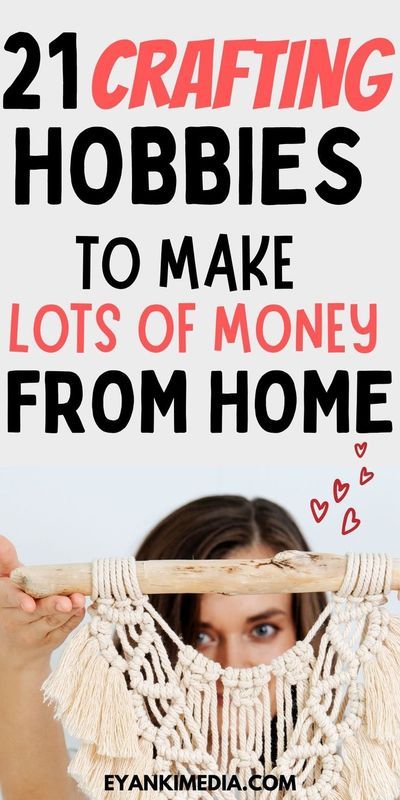 Craft hobbies that make money in 2023
Below you'll find our handy list of best crafty hobbies that make money to find the perfect craft hobby for you. But if you are looking for business ideas, you can also check my post on easy craft business ideas to start from home.
1. Crochet and Knitting
Crocheting and knitting are very popular crafting hobbies that can be profitable.
There is a large market for handmade crochet and knit item, especially if you specialize in one type of item like hats, scarves, or blankets.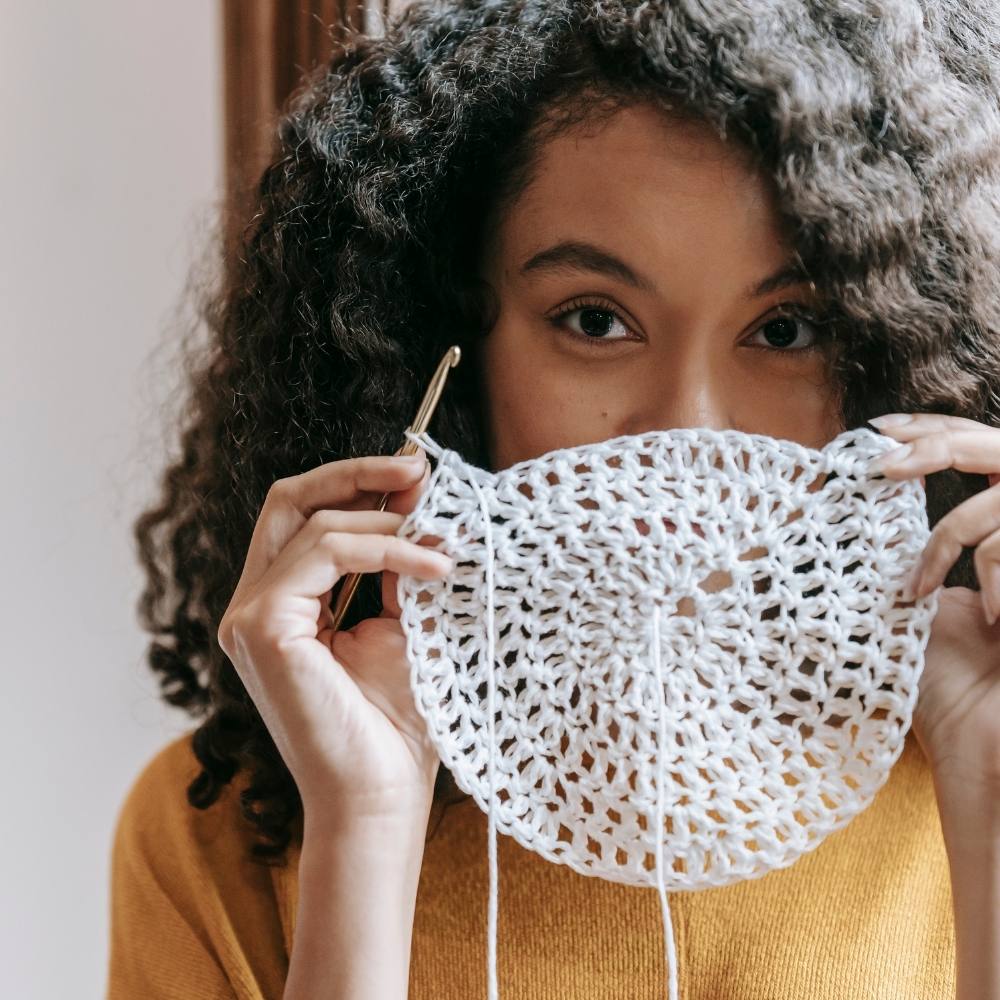 You can sell your crochet and knit items online on Etsy, in boutiques, at craft fairs, or locally online.
How to make money with this crafting hobby?
Experienced crochet crafters and knitters can also make money online by teaching others via their blogs, youtube, or selling their crochet patterns.
2. Crafting with Fabric (Sewing and Quilting)
Sewing is one of the lifesaving stay at home hobbies that make money.
I am terrible at sewing; whenever I want to get my clothes altered, I take them to ladies who do these jobs from home.
They charge $20-$30 for a very simple alteration every time (which is very pricey as per my mom, and she always scolds me for not learning to sew).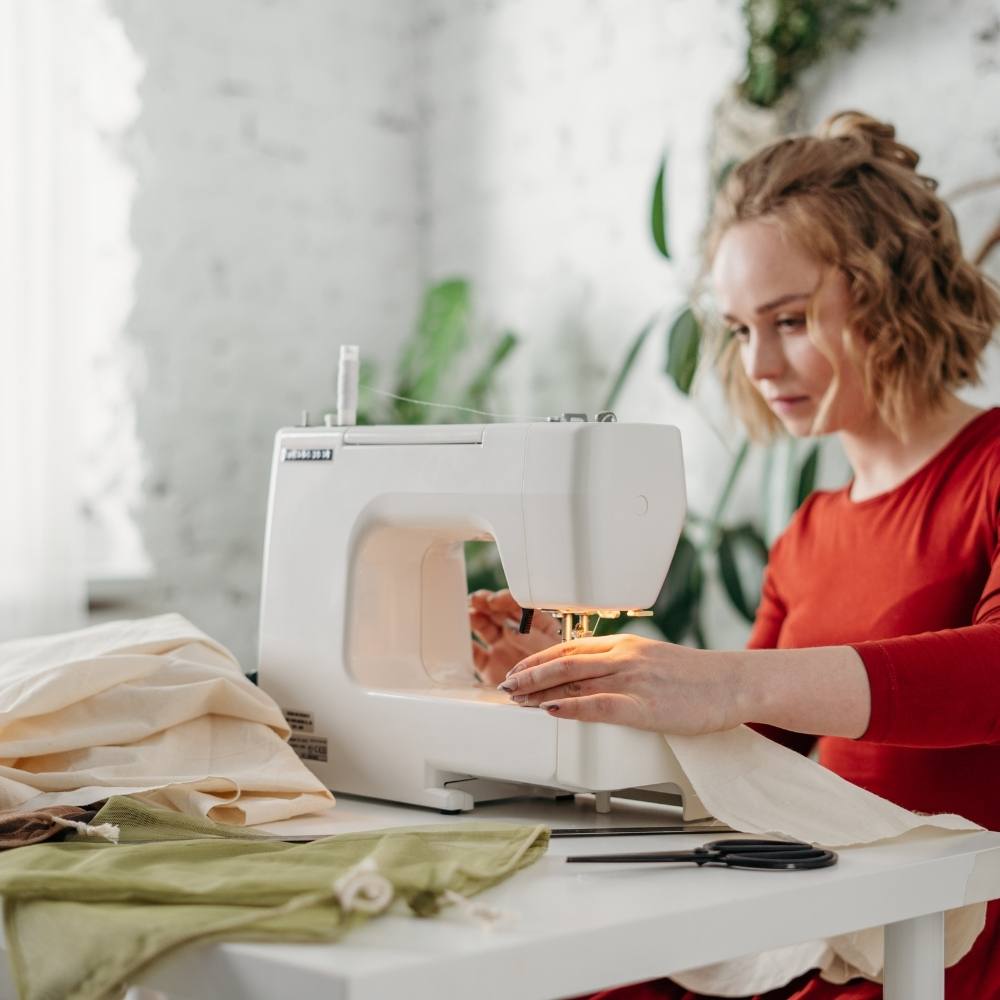 If you are good at sewing, you can do the same and help moms like me.
Anyways, like crochet and knitting, you can make cash by sewing clothes, bags, or knitting other items and selling them online on Etsy, in boutiques, or at craft bazaars.
I have a whole article on the best things to sew and sell from home that can give some inspiring sewing project ideas.
How to make money with this crafting hobby?
Offer custom services or sell items. Some experienced crafters also earn money by creating tutorials on their blogs or Youtube.
3. Macrame
Macrame is a form of textile crafting that involves knotting cords or rope to create decorative items like wall hangings, plant hangers, and other home decor items.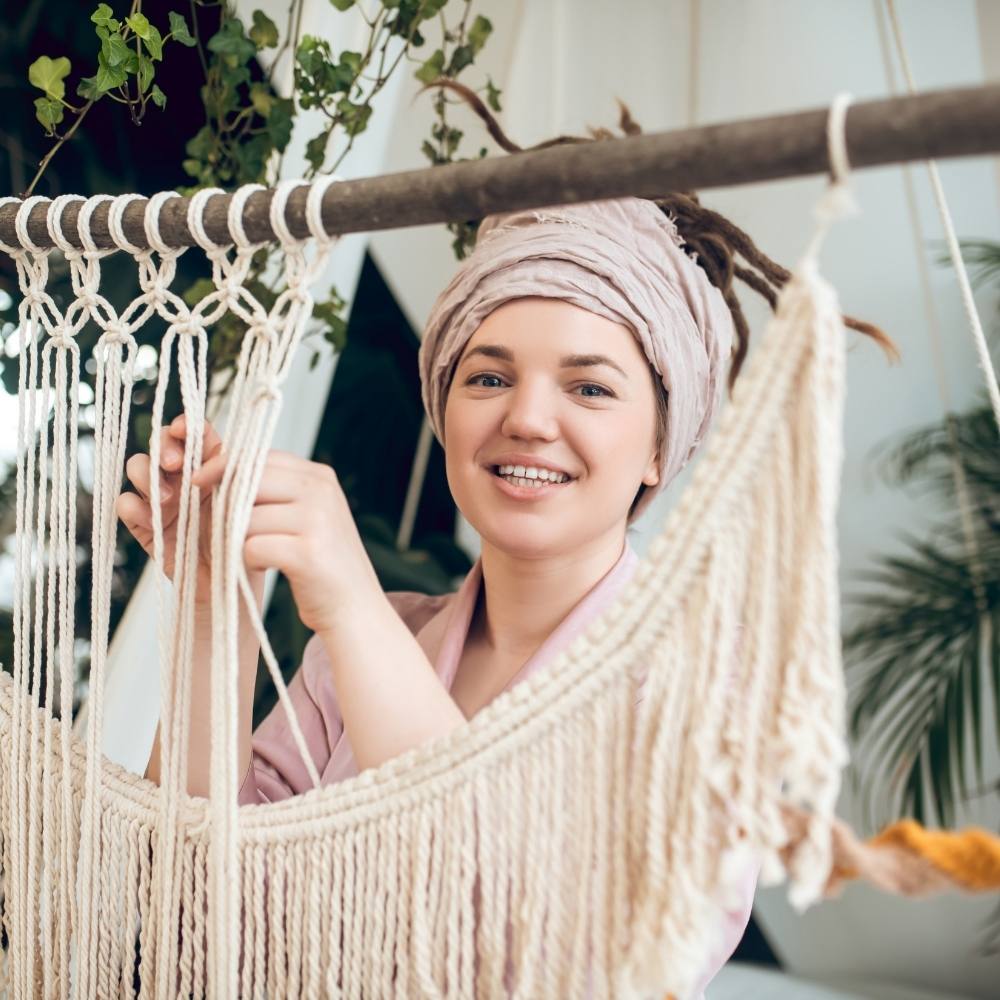 This craft has seen a resurgence in popularity in recent years, and there is a profitable market for handmade macrame items.
See the below pattern on Google trends; it shows the popularity of macrame search in google over the years.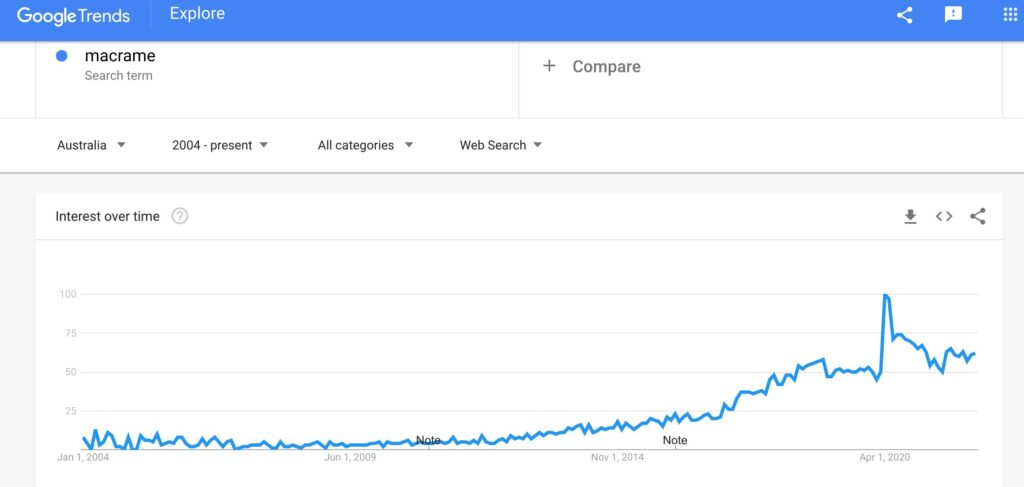 I found this seller on Etsy who sells macrame creations, and some of them sell for over $3500 each!
You can sell your macrame items at craft fairs as well. I have also seen DIY macrame kits selling in my local store and online.
How to make money with this crafting hobby?
Sell on Etsy or art fairs. Make tutorials for blogs or Youtube. Take classes.
4. Crafting with polymer clay 
Polymer clay is one of the most popular crafting materials and is used to create a variety of items like beads, jewelry, charms, and more.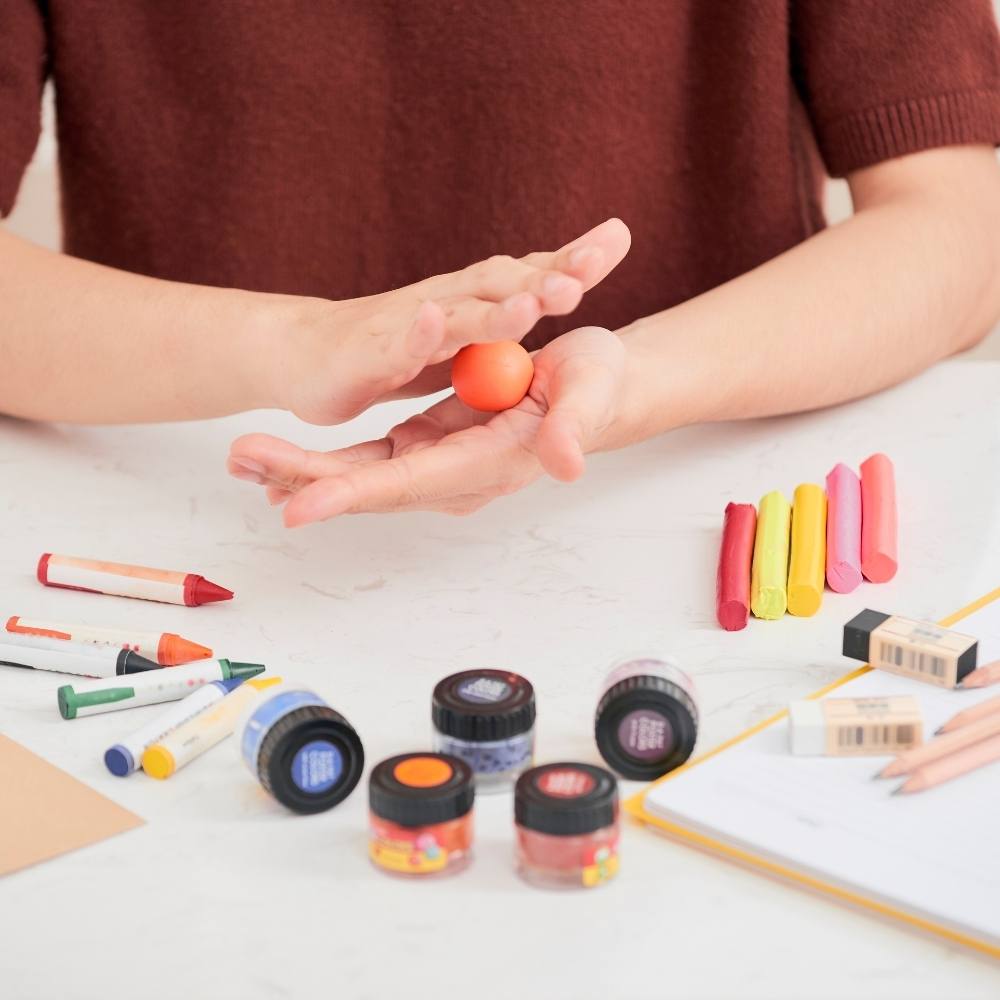 Polymer clay crafts are easy and loved by hobby crafters of all levels of experience and age (even kids can make money with it).
Since polymer clay is very affordable and versatile, there is a large market for polymer clay creations, especially jewelry.
How to earn money with this crafting hobby?
You can sell your creations online on your store, Etsy, at craft fairs, or locally through social media. Many crafters use Instagram to drive traffic to their stores. Some crafters also share their tips online via their blog or Youtube.
5. Crafting with epoxy resin
Epoxy resin is a material that can be used to create beautiful jewelry, coasters, keychains, and other home decor items.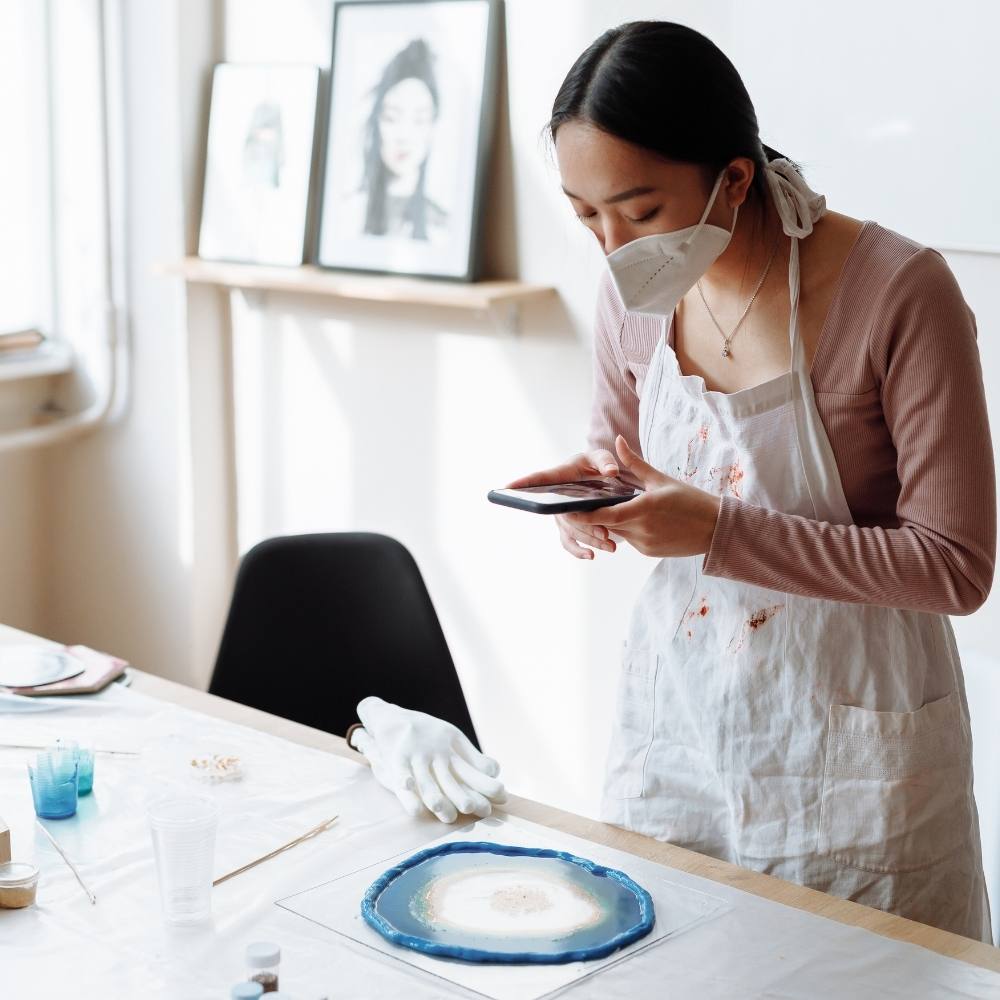 Resin creations have become popular post COVID due to the increase in DIY trends and people wanting to make their own pretty things at home. There is a large market for epoxy resin creations and high-end items like resin river tables are especially trending.
Since resin can be molded into different shapes and you can add almost anything to make it personal, customized resin jewelry is in demand right now and buyers are happy to pay a good price for unique pieces.
If you have this money making hobby, check this article on things you can make and sell with resin (based on selling trends on Etsy).
How to make money with this crafting hobby?
Many crafters use Instagram to drive traffic to their stores. Again, create tutorials to share online.
6. Pottery
Pottery is a timeless craft that can be used to create beautiful and functional pieces for the home. While pottery can be a time-consuming hobby, it is a very rewarding hobby and can be profitable.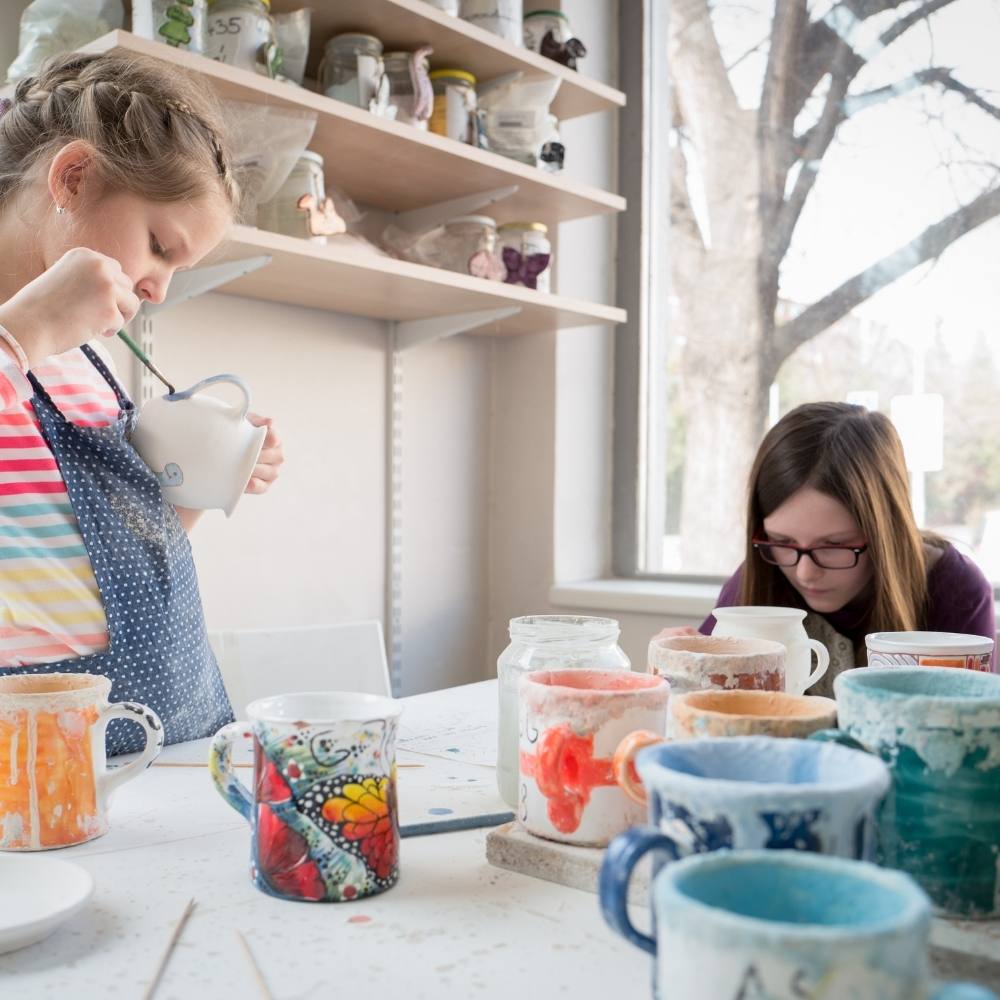 There is a large market for handmade pottery. It is particularly true if you specialize in one type of product like mugs, bowls, or plates.
Recently, I came upon a DIY maker on Instagram who was displaying her handcrafted personalized cups. Her mugs are handmade and so lovely that they sell out immediately every time she puts them up for sale.
How to make money with this crafting hobby?
Sell online, make DIY kits for other crafters. Teach beginners or other hobby crafters.
 7. Crafting with Wood 
Woodcrafts are evergreen products, and there is always a market for them. Thanks to the latest laser cutting machines like a CNC router or Glowforge, wood crafting is easier than ever.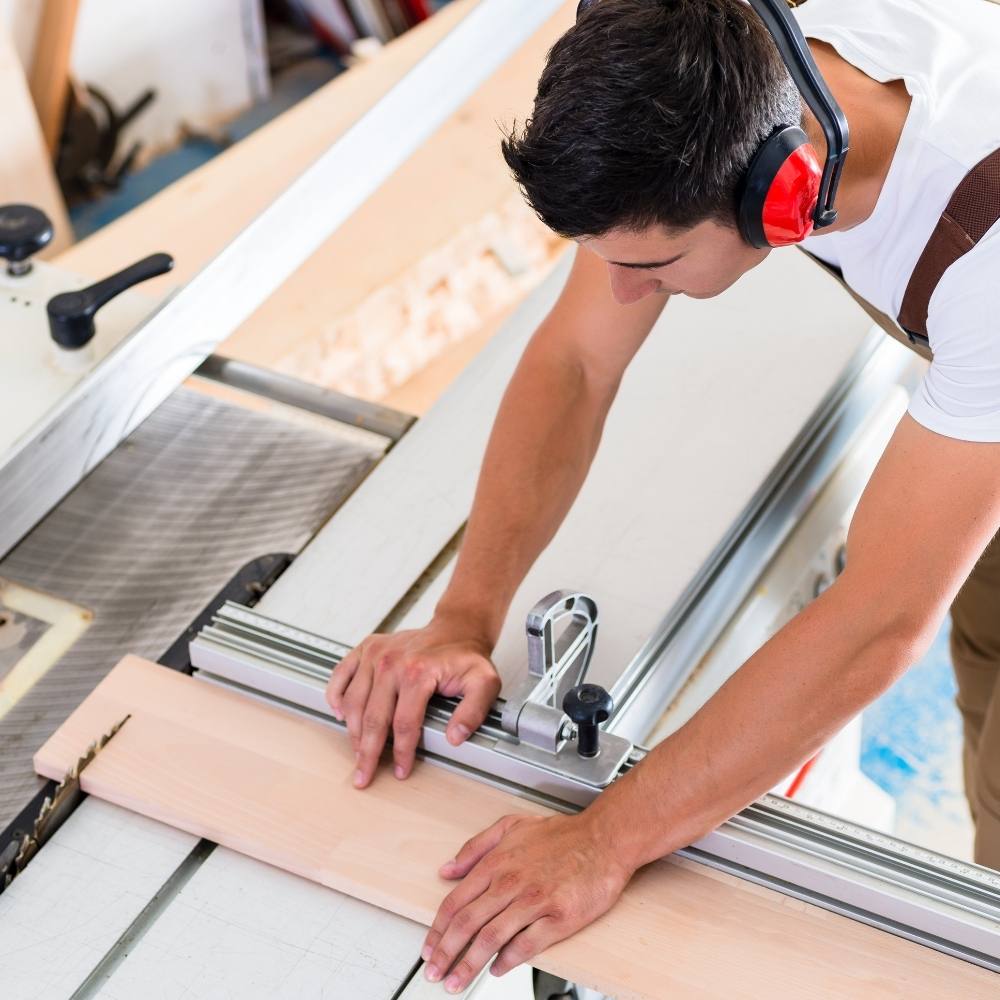 But that doesn't mean you need expensive machines to make wood products to sell. 
Simple farmhouse-themed wood signs (made with stencil or vinyl) are very popular among buyers.
How to make money with this crafting hobby?
One of my favorite places to find handmade woodcrafts is local farmers' markets. There you can find everything from rustic wood frames to carved wooden bowls.
Decide what you want to create or sell. If it is a machine-based product like CNC, selling custom projects can bring in a lot of money. You can also create Youtube tutorials and earn money through affiliate marketing.
8. Jewelry making hobbies
Here comes one of the most profitable hobbies, crafting beautiful jewelry pieces to sell.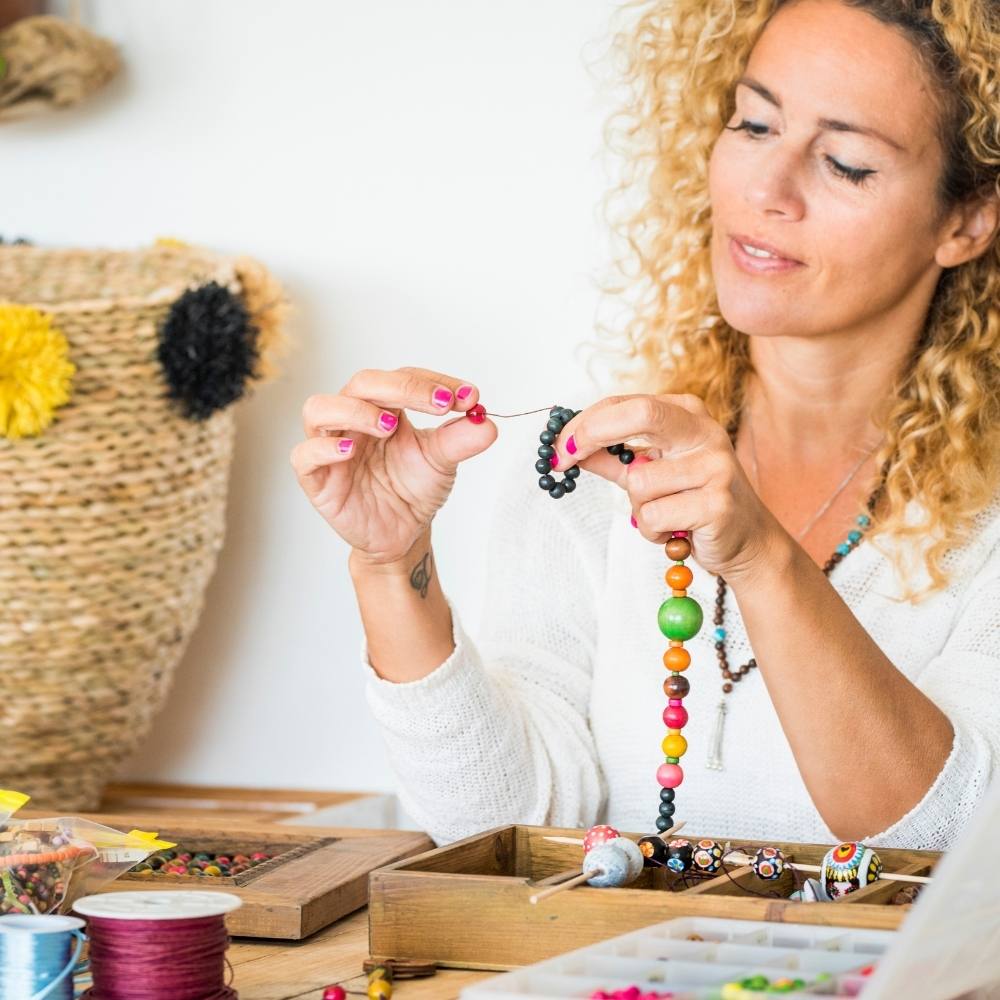 One of the best-selling items on Etsy is personalized handmade jewelry. If you do a quick search, you will see over a million handmade jewelry listings on Etsy.
There are lots of ways to make jewelry and some of the popular (and easy) ways are using beads, resin and polymer clay.
Look at these different types of jewelry items for inspiration in trending jewelry crafts in 2022.
How to earn with this crafting hobby?
Pick a niche product to sell. DIY crafters love simple crafts that they can make for themselves. You can teach them via blog or creating tutorials.
 9. Crafting with Paper (Quilling, origami, scrapbooking)
Paper crafts may appear simple, but they can be lucrative. Handmade paper crafts are popular for a lot of reasons: they're personal, unique, and often affordable.
Depending on your paper crafting hobby, there is a healthy market for handcrafted papercrafts.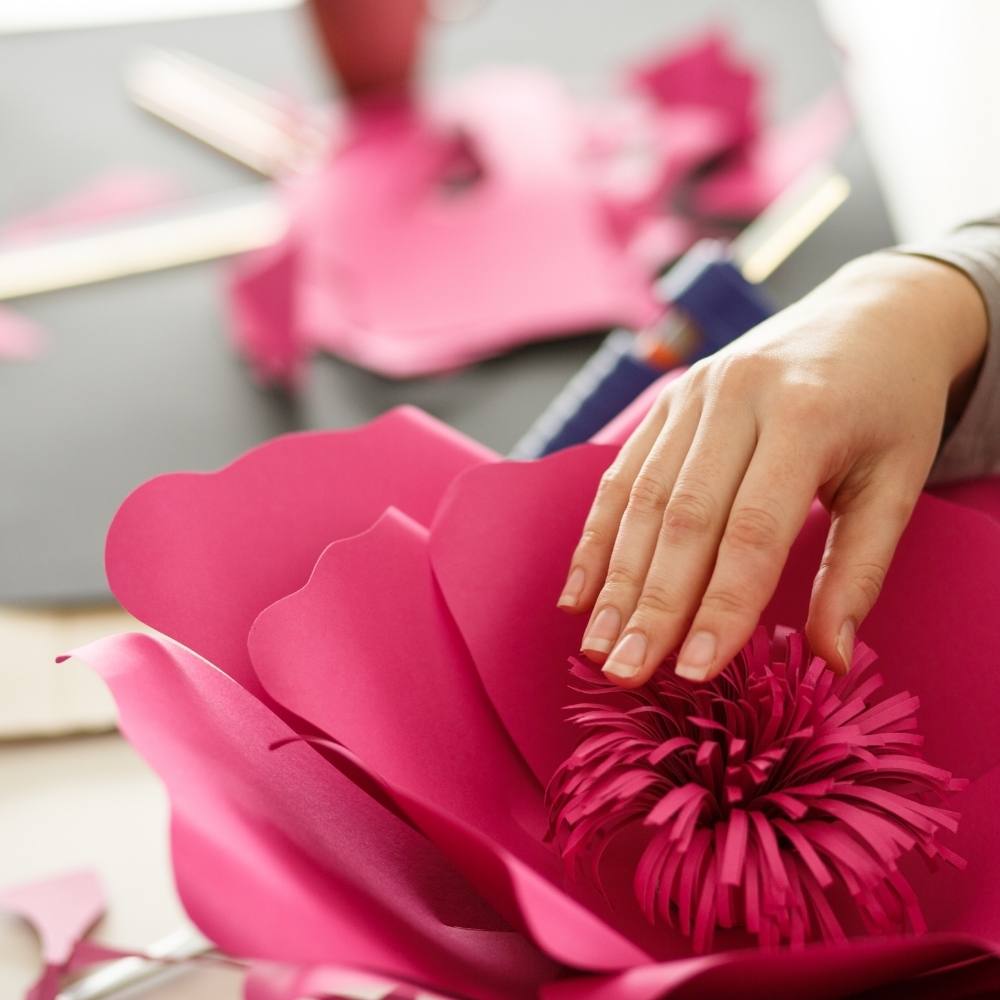 Handmade cards and paper flowers are the most popular papercrafts hobby ideas that are in demand.
Etsy has a huge market for personalized handmade cards, and you can sell them all year round.
Paper flowers are popular for wedding and event decor. Their demand is bouncing back after covid as gatherings and events are getting back to normal.
However, if you are more into quilling or origami, the market may be smaller but still present.
Quilling cards and origami jewelry are popular items that sell well and can be quite profitable. Check quilling cards here and origami jewelry here.
How to earn money with this crafting hobby?
Create custom products to sell on your website, make how-to videos or blog posts.
10. Soap Making
One of the easy and profitable craft hobbies to turn into a home-based business is soap making.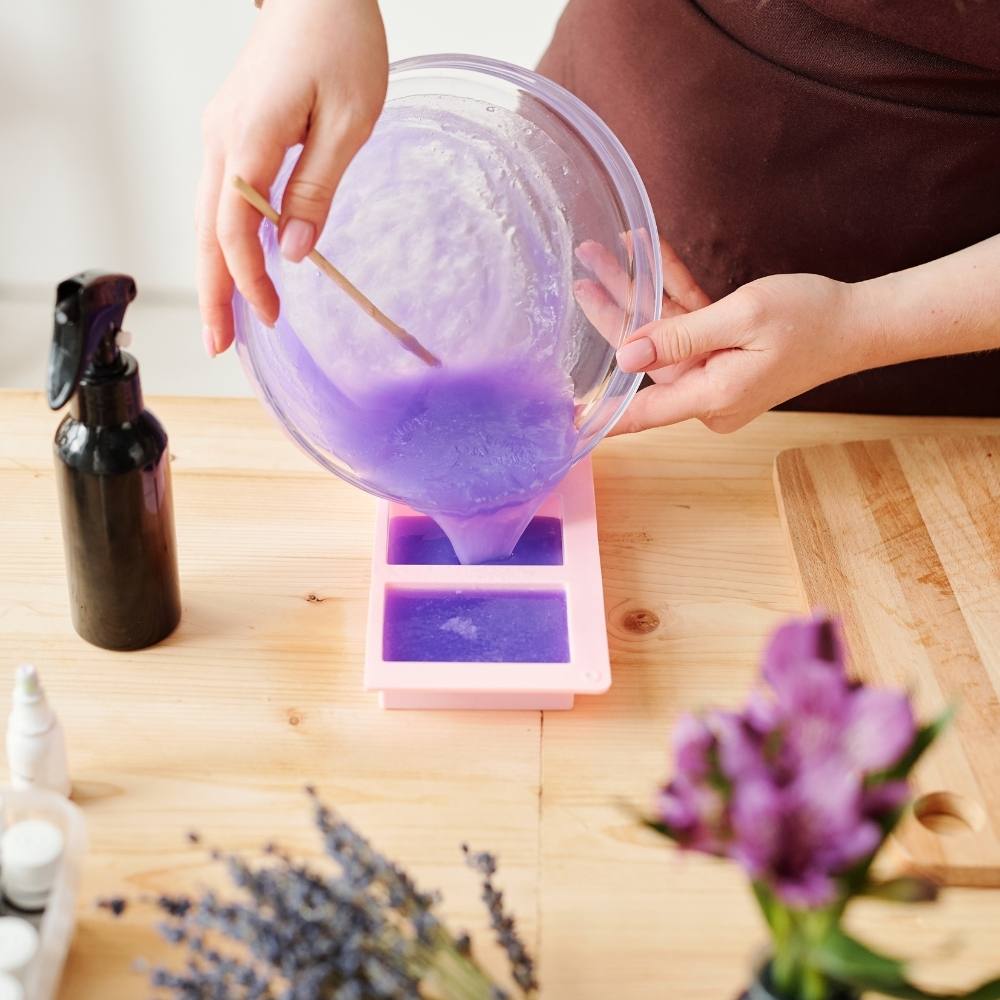 If you know the basics, you can make different types of soap in different shapes, colors, and smells. It is one of the crafting hobbies that you can actually make money from.
Needless to say, soap making is so easy that even kids can make and sell cute soaps for extra money.
How to make money with this crafting hobby?
You can create custom gift boxes or care packages. Sell at craft fairs at your own website. You can also create your own product line.
11. Candle making hobby
You know Yankee Candle was originally started as a hobby project.
Crafting your own candles can be a great way to make money from home. You can sell them at local farmers' markets or online. With just a few supplies and some creativity, you can create beautiful candles that people will love.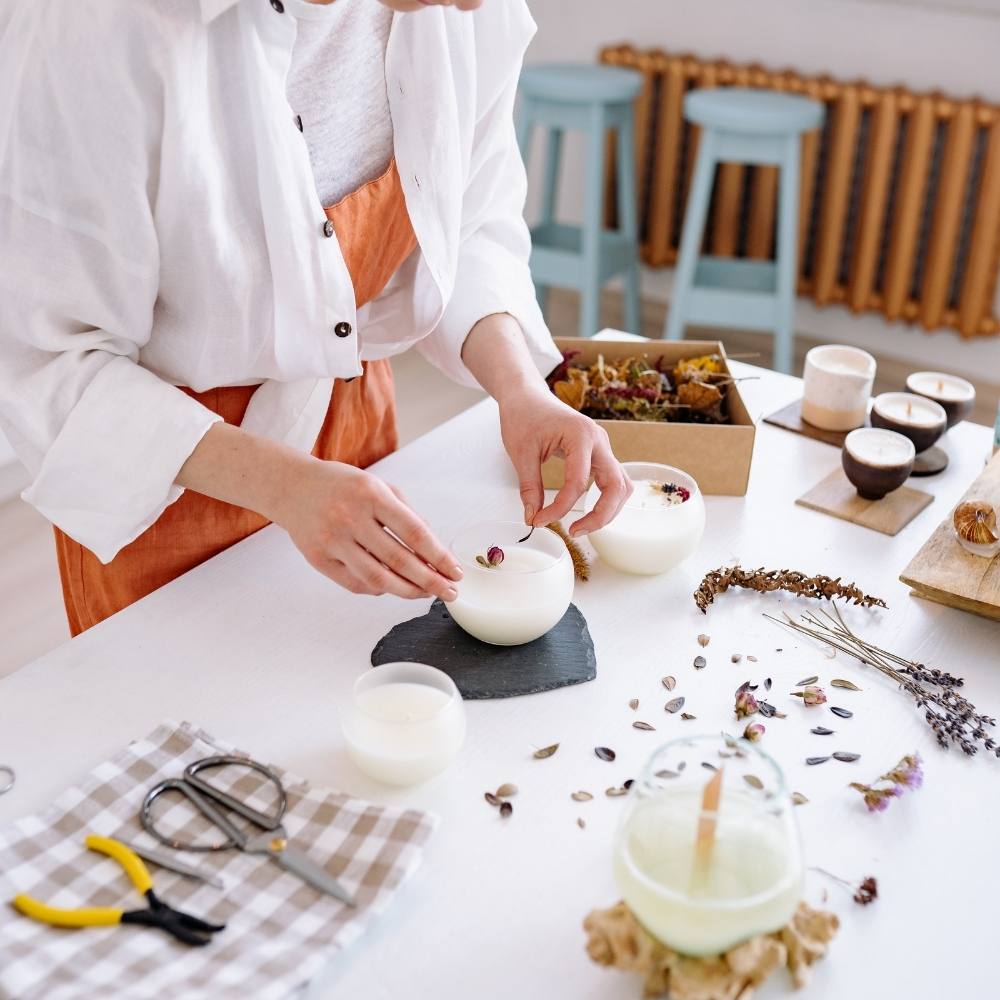 Candles are popular home decor items and make great gifts. Making candles is very easy, and you can make a variety of candles to sell, including scented candles, soy candles, beeswax candles, or even gel candles.
12. Painting hobby
Do you like to paint? Painting can be a very relaxing and therapeutic hobby. You can also make some great money by selling your paintings.
But what if I tell you that you can also make passive money by selling your painting prints?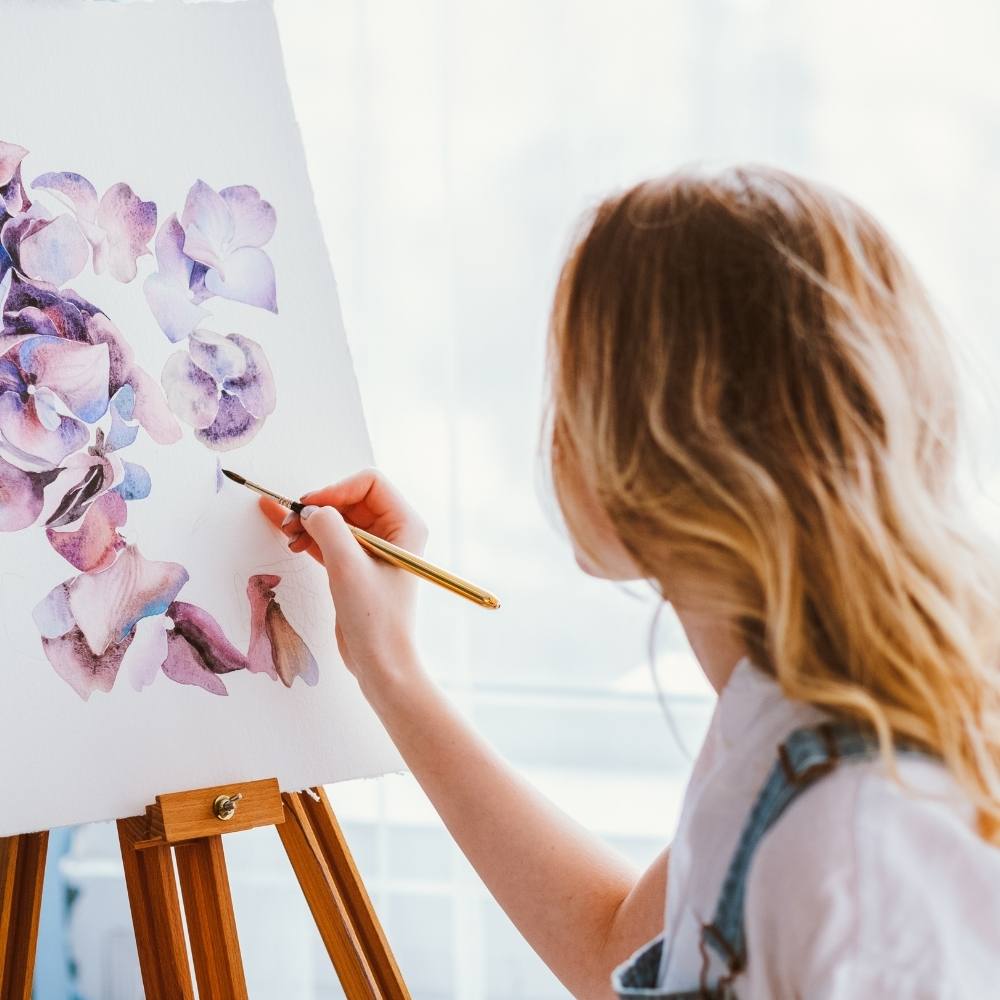 How to make money with this hobby?
Yes, you can create digital files of your paintings and sell them. Botanical prints are the most popular type of prints, and they sell like hotcakes.
13. Drawing hobby
If you like to draw, you may simply convert your art into digital coloring pages and sell them.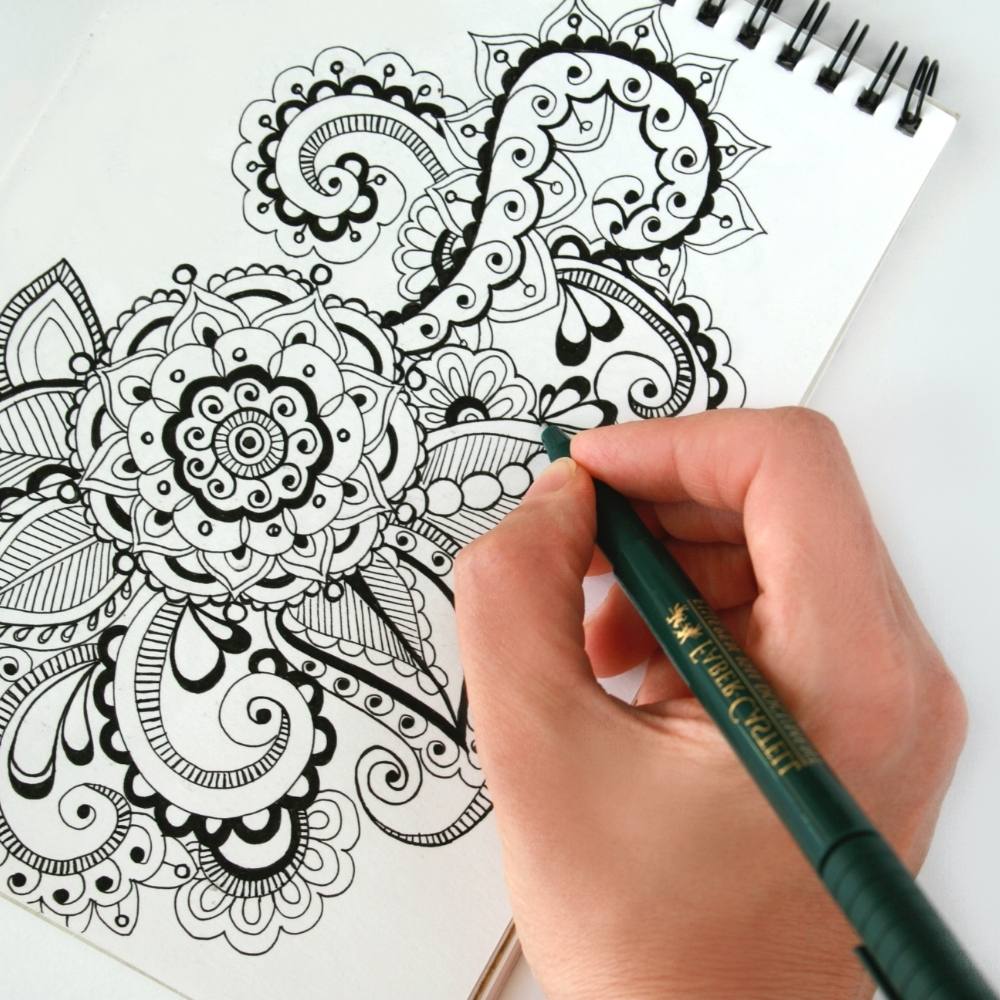 There are several options for converting your drawing into a print. I have discussed them in my post on how to create coloring pages to sell.
Coloring pages are one of the most popular printables that sell well on Etsy. Customers love to buy them for themselves or their kids.
14. Remodeling furniture
Do you like finding old furniture at garage sales and fixing it up? If you do, it could be a great way to make some extra cash on the side
You can buy old furniture for cheap and then refinish it and sell it for a higher price at local Facebook marketplace or eBay. You can even start your own flipping business by buying furniture from garage sales and refinishing it yourself.
Is it profitable?
Yes, Many people do this as a side hustle and some even make a full-time income from it. My friends, Rob and Melissa made over $42,000 a year by flipping items they found on marketplaces.
Imagine flipping a $50 sofa and selling it for $2100 (on of their flipped items).
If you want to learn more then get on this free webinar where they will teach you about how to find the perfect items to resell, and give you best tips to start your own reselling business.
Further reading:
Best things to sell for quick money
15. Illustration
If you are good at drawing, you can start an illustration business. There is a lot of demand for people who can create cartoons and illustrations for other businesses.
You can also create digital illustrations to sell on your Etsy shop or sell your services at niche markets like 99designs, Hire an illustrator, or Behance jobs.
You can use your designs to create physical products like t-shirts, mugs, and tote bags with your designs and sell them online via print on demand.
Or another lucrative way to make money while you sleep is to sell your vector designs on designer markets like Creative Fabrica and Creative Market.
Another profitable ways is to teach others and make money.
Some professional illustrators who make thousands selling online courses on platforms like Udemy and Skillshare.
Look at this course, it has been sold over 86,000 times for $42.99 each. Even if Udemy takes 50% of the sales, you'll get lots and lots of money.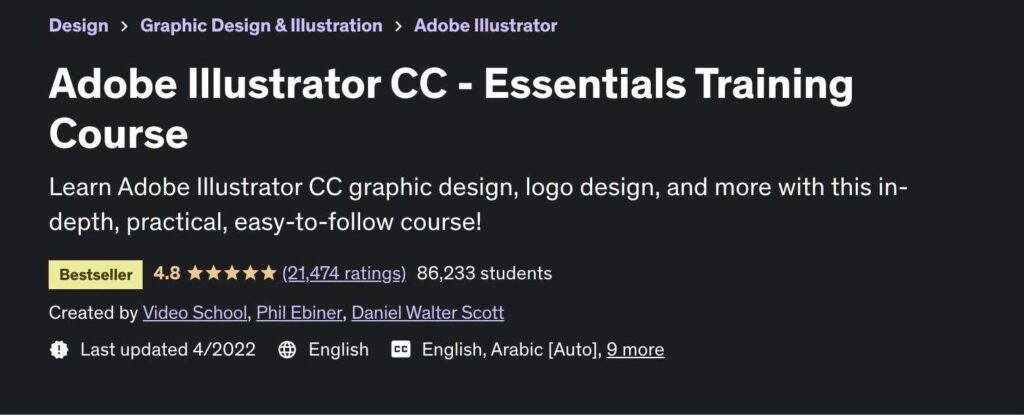 16. Baking
Do you like to bake? Baking can be a fun side hustle to earn income from home. You can sell your baked goods at local farmers markets or online.
You can also start a baking business where you make and sell custom cakes, cupcakes, pies, and cookies. It is a great business idea for people who love to bake and decorate cakes.
You will need to check legal requirements for starting a food business from home, but if you have the passion for baking, this could be a great way to make money.
There you have it, profitable hobbies that make money from home.
What are the best craft hobbies to make money?
It really depends on what you like to do. Do you knit, crochet, or sew? Maybe you like working with wood or making jewelry. Whatever your crafty passion may be, there are ways to turn your hobby into cash.
However, every craft is different, and some may be more profitable than others. Your level of experience and marketing skills also play a major role in how much money you can make.
how to Make Money from a craft hobby?
There are a few different ways to monetize your craft hobby and make a profit from home. 
✅ You can create and sell your crafts online on marketplaces like Etsy, in boutiques, craft fairs, your online store or locally online on Facebook. If you plan to sell on Etsy, here is my step by step checklist you can grab for free.
✅ Another way to monetize your hobby is to offer live classes or workshops locally.
✅ You can create craft tutorials to sell on websites like Outschool or Skillshare or Udemy. Here is a best selling course to help you get started.
✅ You can start a Youtube channel and share your crafting skills that way. Youtube is a great platform to show off your work, reach a larger audience, and make some money through ads or sponsorships.
✅ You can start a craft blog and share your crafting tips, tricks and tutorials. Blogging is one of the best ways to passive money through ads, affiliate marketing, and sponsorships. This is how bloggers make money (and me too).
✅ You can sell your craft patterns or related digital files like SVG files for Cricut. It is another way to make passive money if you are skilled at designing crafts.
✅ You can create craft ebooks or printable books to sell on Amazon or at book stores.
✅ Some crafters also sell DIY craft kits of their most popular projects. It works well if you already have a following or you are good at promoting your work.
As you can see, there are many different ways to monetize your craft hobby and make some extra money from home. One can start with just one or two of these ideas and grow his online business from there. 
You might be interested in:
Sell digital downloads on Etsy: A fun way to make passive money. Create printables for kids and sell them online. You don't need to be graphic designer. It is super easy with tools like Canva. Check my posts on how to sell digital downloads on Etsy.
Legit stay at home mom jobs: Here are some legit stay at home mom jobs. Some of these are flexible that you can do while taking care of your kids.
crafting hobbies That Make Money
Crafting is a great way to make money from home while doing something you love in your spare time.
With a little creativity, some planning, and hard work, you can turn your hobby into a business or make money on the side.
Do you have a crafting hobby that could earn money?
Share in the comments below. If you are not sure if you can make money from a hobby, comment below to share your hobby, and I will be happy to help you figure out a way to monetize it.
If you enjoyed this post, please share this post on money making hobbies with your friends.
More Ways to make money