Creative business ideas for Crafters: Start a small craft Business from home with these profitable craft business ideas
Do you want a side-hustle, or looking for a way to make money and have the flexibility of working from home? If so, starting your own craft business might be the answer.
The craft business industry is a billion-dollar industry, and handmade crafts are always in demand. Whether you are a stay-at-home mom needing some time to play with your little one or are just looking for ideas on how to make money, starting a craft business is an excellent option.
In this blog post, I've compiled some low start-up cost craft business ideas that you can start from the comfort of your own home.
Not looking to start a business from home?
Check these flexible stay-at-home mom jobs you can start as SAHM (some of these don't need experience or any special degree!).
This website contains affiliate links which means we may earn commissions if you purchase through them (no extra cost to you). You can read our policies here.
What are the best craft business ideas for Home?
Here are 14 different low-cost DIY handmade craft business ideas you can start from the comfort of your own home.
1. DIY Jewelry Making as a Jewelry designer
Jewelry is an evergreen craft that you can create in a variety of styles and set prices. Jewelry is the most profitable craft business that makes money and is one of the best-selling items on Etsy.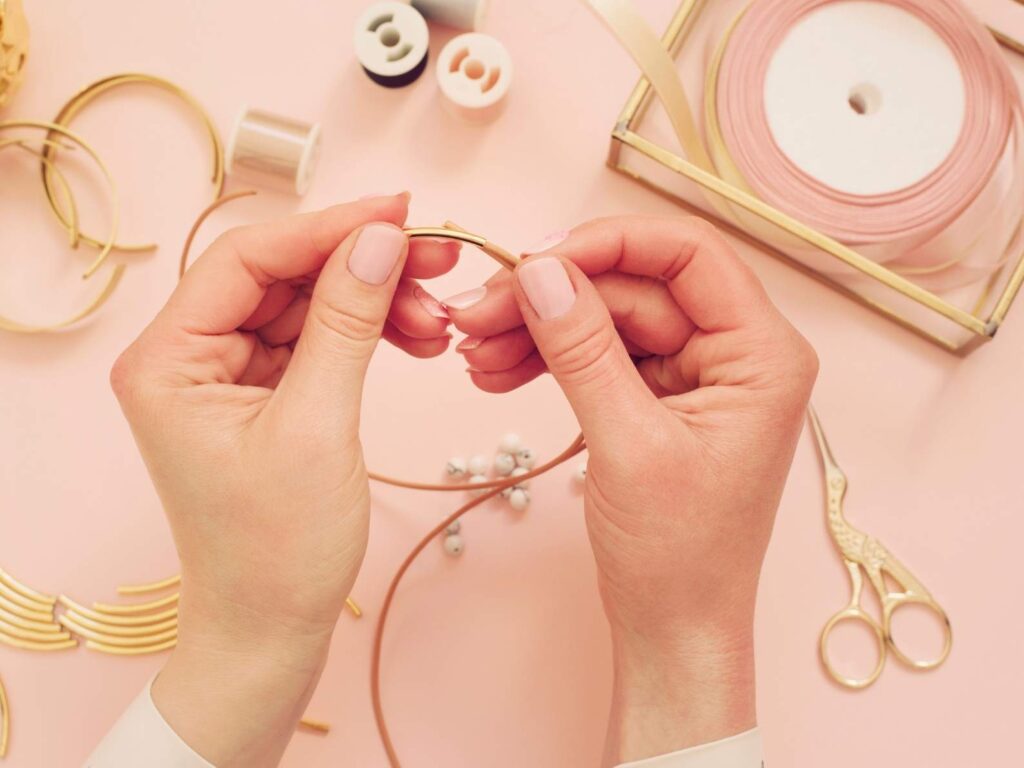 You can make your own jewelry using beads, stones, and other precious materials.
However, this isn't to say that you must only create jewelry with expensive materials. Simple macrame, wooden, resin, and polymer clay jewelry items are becoming increasingly popular, and they may provide good returns if you can market them right.
If you are willing to invest in comparatively low cost cutting machines like Cricut or laser engravers like xTool machines, you can open a small craft business specializing in personalized jewelry.
With a Cricut machine, you can effortlessly cut out intricate shapes and patterns from various materials, including leather, fabric, felt and even basswood.
On the other hand, laser engravers like the xTool machines offer precise engraving and cutting capabilities on additional materials such as wood, acrylic, stone, glass and metal.
By using these cutting-edge tools, you can create unique bespoke jewelry designs that only stands out in the market but also ranks among the best-selling items on popular handmade marketplace, Etsy.

2. Personalized gifts
Another lucrative avenue to explore in your small craft business is offering personalized gifts.
From everyday gifting to celebrating milestones moments and occasions like Father's day, custom gifts have become the preferred choice of shoppers as they are more unique and meaningful.
By leveraging your creative skills and the versatility of one-of-a-kind compact crafting machines like this engraver, you can effortlessly create custom-made gift items from the comfort of your small craft room.
For example, personalized laser-engraved wooden cutting boards are incredibly popular as gift items that can be customized for any special occasion.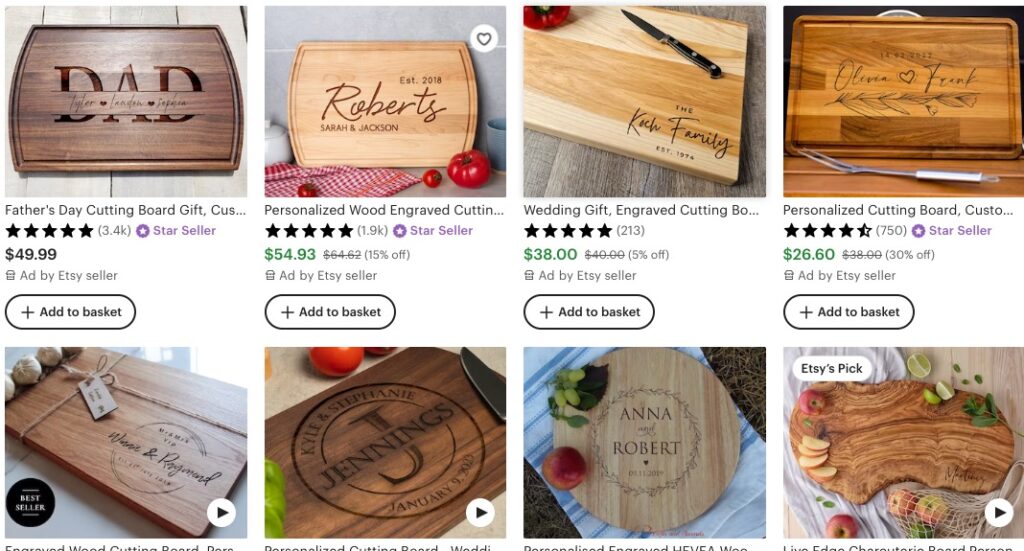 Like these, there are countless other unique and customizable items you can create. However, it is crucial to do some research on the products you want to make. Choose a niche, and then you can gradually expand based on market demand.
Recommended reading: How to make money with xTool M1?
3. Candle Maker 
Candles are another craftsman's delight because they can be made from so many different materials that relate to the creator's mood or intent.
Candlemakers can use various types of wax, oils, scents, colors, and shapes in their craftwork.
Candle making is an excellent craft business idea from home because there's a low startup cost and demand for decorative candles will only rise in the coming years.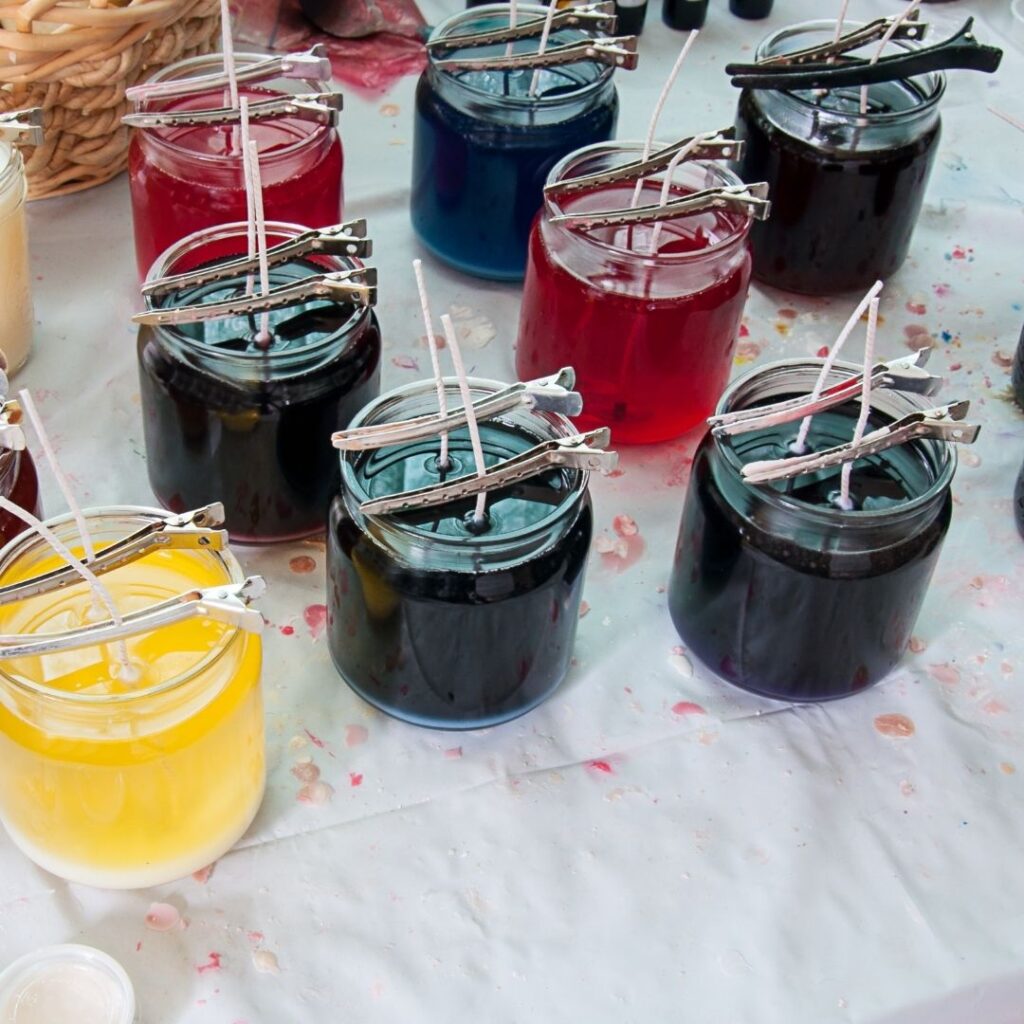 According to MarketWatch, the homemade candle-making industry is expected to rise to $5 billion by 2026. People are often drawn to handmade candles because they use safe, sustainable materials and make an excellent gift item.
With around 76% of candle buyers viewing them as appropriate Christmas gifts, this is the perfect time to start a candle-making business.
4. Soap Maker 
Soap makers are in the same boat as candle makers because they can use a variety of natural ingredients to make their products. Homemade soaps and related products are top-selling handmade items to sell these days.
With the growth in demand for organic and cruelty-free skincare items, it is reasonable to assume that the handmade soap industry will continue to grow over the next few years. While selling handcrafted soap may seem simple at first, it actually requires many hours of research and testing to produce something that people will want to buy.
From shea butter and coconut oil to essential oils, soap-makers have an endless list of options when it comes time for mixing up batches.
These items also require little startup costs: all you'll need is a mold or some clay pots if you're making cold process soaps that don't harden with heat.
You can either niche down to a single product or create a new line of handmade bath products, the industry is full of opportunities.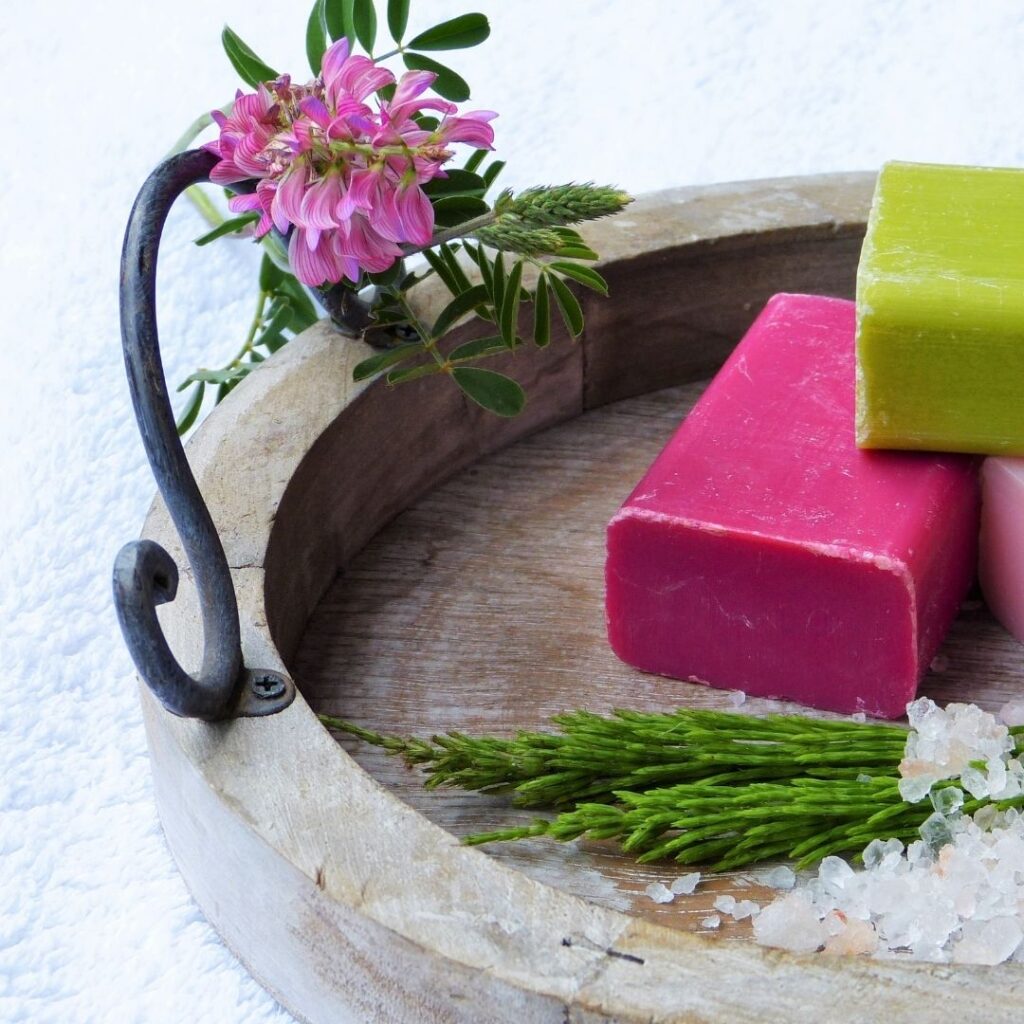 Although a handmade soap business is a low start-up cost business idea, making it successful needs investment in time and effort. 
Here are some articles that can help you create a successful soap-making business.
Things You Need to Know Before You Start a Soap Business.
5. Bath Bombs
A related craft would be bath bombs which might appeal to those looking for self-care projects or presents for others who enjoy good pampering treatments like manicures, facials, and massages (or just want something yummy).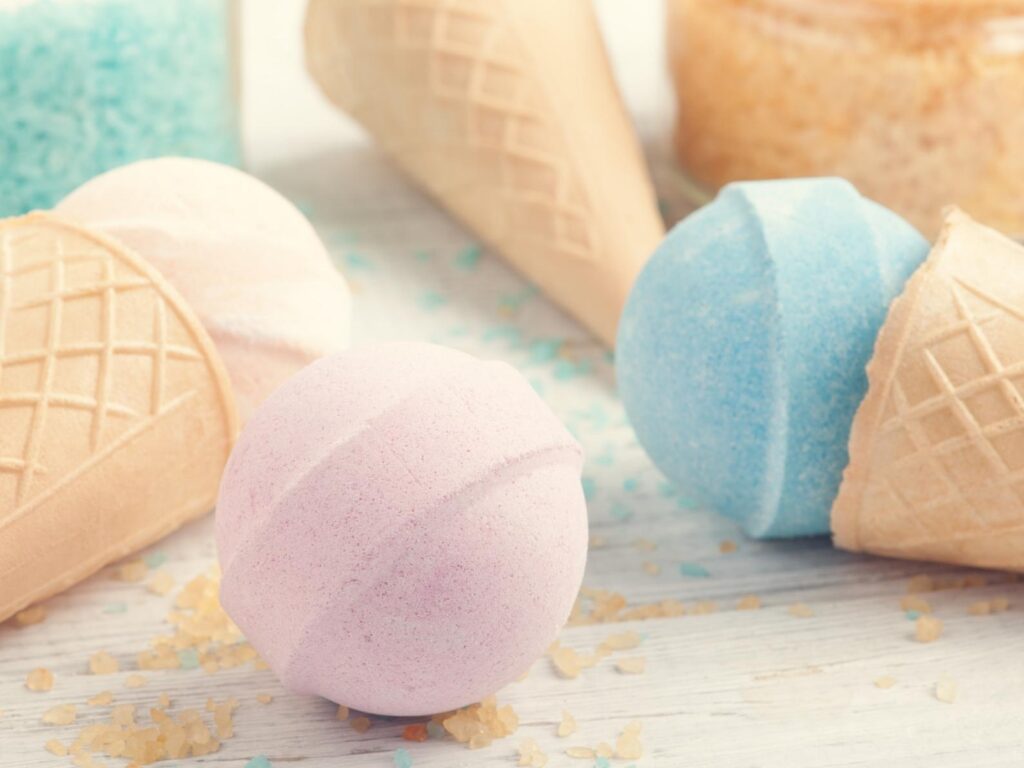 Bath bombs are easy things to make by combining sodium bicarbonate, citric acid, essential oils, or fragrances like lavender and chamomile, bittersweet cocoa powder for color, and a few drops of food coloring. Molds come in all shapes and sizes: some are metal cut-outs that can be used over and over again.
Bath bombs are so easy to make that even kids can sell them for profit.
6. Knitting and Crocheting crafter
Knitting and crocheting are inexpensive hobbies that you can do from home. Knitting is not just a hobby for grandmothers anymore.
Starting this business from home and making serious money is very practical, especially when you consider how cheap it is to get started.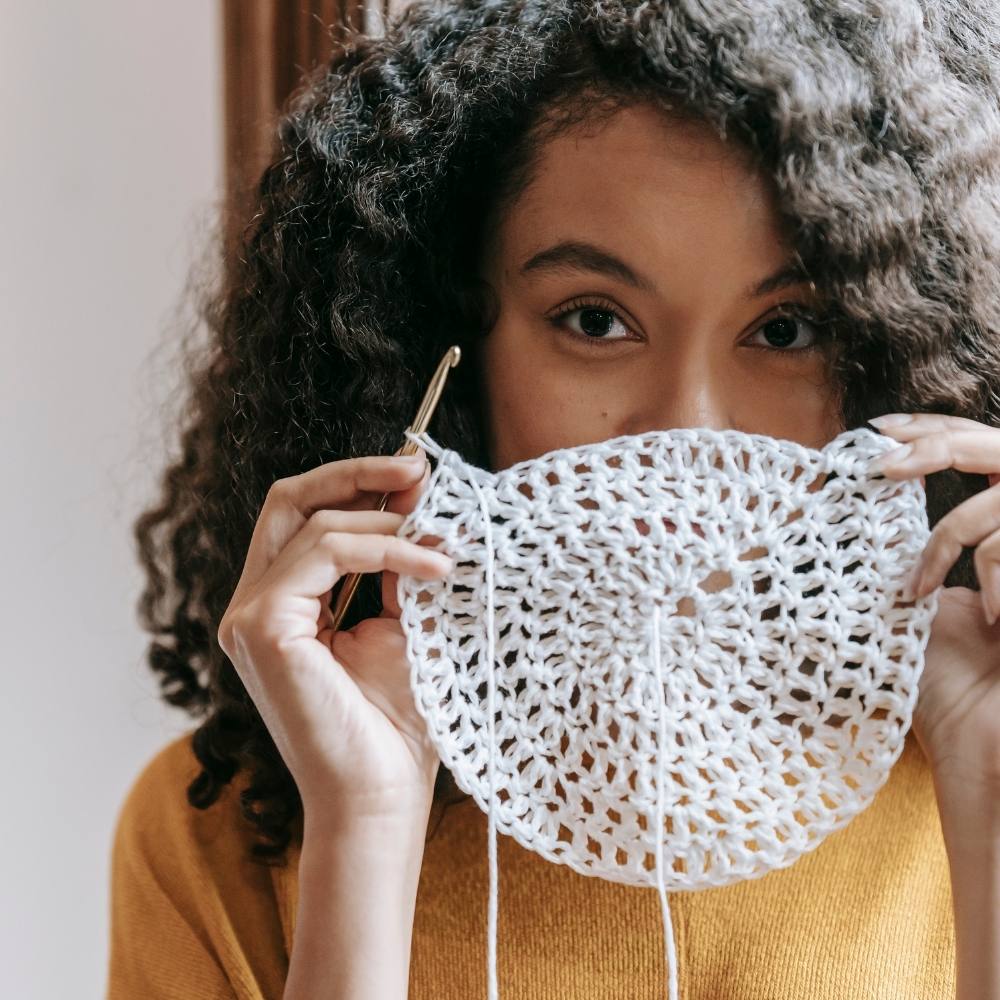 You can find free tutorials on Pinterest and Youtube that will teach crocheting and knitting skills which allow you to finish simple projects like hats, scarves, shawls, or sweaters.
Related reading: Crafting hobbies that make money.
7. Photographer 
A photographer can work from home and make a decent living. The average photographer nowadays spends about 50% of their time traveling for jobs or to take classes, but they spend the other half working out of their own studio, which is usually located in their home office space.
It takes an investment upfront to start this business with equipment like cameras, lighting gear, editing software, and storage drives; however, you can find great deals on Craigslist or at garage sales if you're looking for used items.
You'll also need to build your portfolio before starting your freelance photography career so think about what type of photography appeals to you most: engagement shoots? weddings? family portraits?
Related reading: How to sell hand pics online or sell feet pics from home.
8. Printable designer 
Moms looking for craft projects to fill their days or earn an income may want to design printable products. The best part of selling downloadable printable designs is that you don't have to worry about inventory, storage space, or equipment.
Once a design is created and uploaded onto your blog, Shopify website, or Etsy you can sell it over and over making a perfect side hustle business from home.
Here are some ideas to make and sell as digital products:
To-do lists, Trackers
Digital arts
Digital planners,
Fitness planners
Budget planners
Meal planners
Julie, a mom of a toddler runs a successful Etsy shop as a side hustle and has coached many moms to start their own digital Etsy store. You can join her waitlist (yes, it's very popular) or grab her Free e-book of best-selling seasonal products.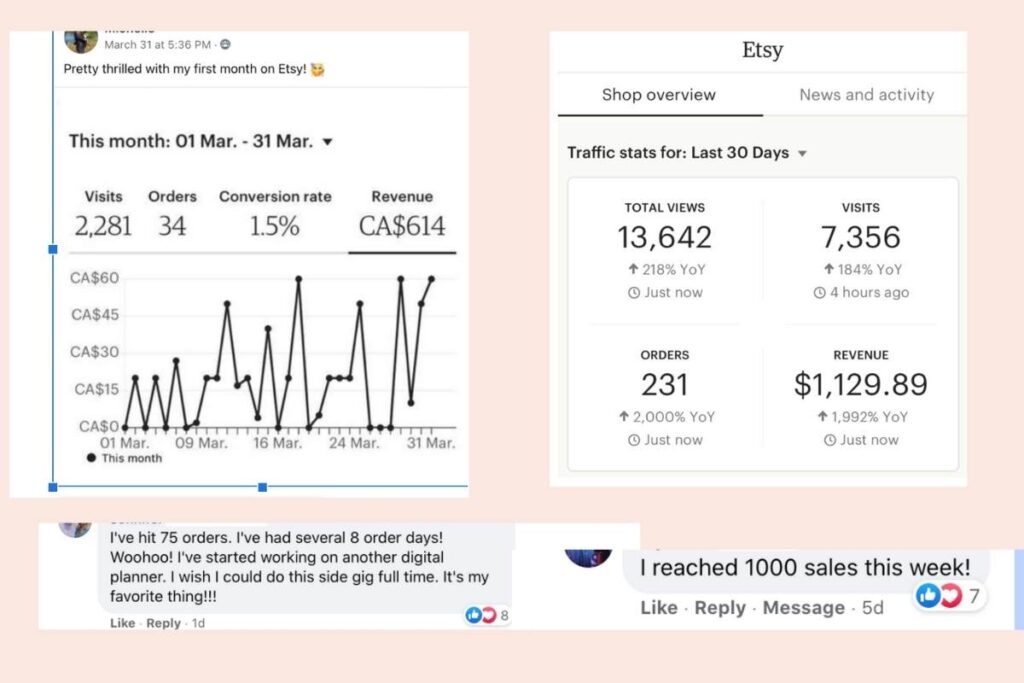 9. Print on demand
An easy way to make some extra money from home is with photo printing or print on demand.
You can create designs on your computer that you can print onto a variety of items, such as t-shirts, coffee mugs, bags tumblers, and many more items!
Print on demand is a great way to make money from home because you don't have to worry about inventory, storage space, or equipment.
Once a design is created and uploaded onto your own e-commerce website, you can sell it multiple times. Some people print on their own, while others use third-party sites where they order prints from them and ship your design for you.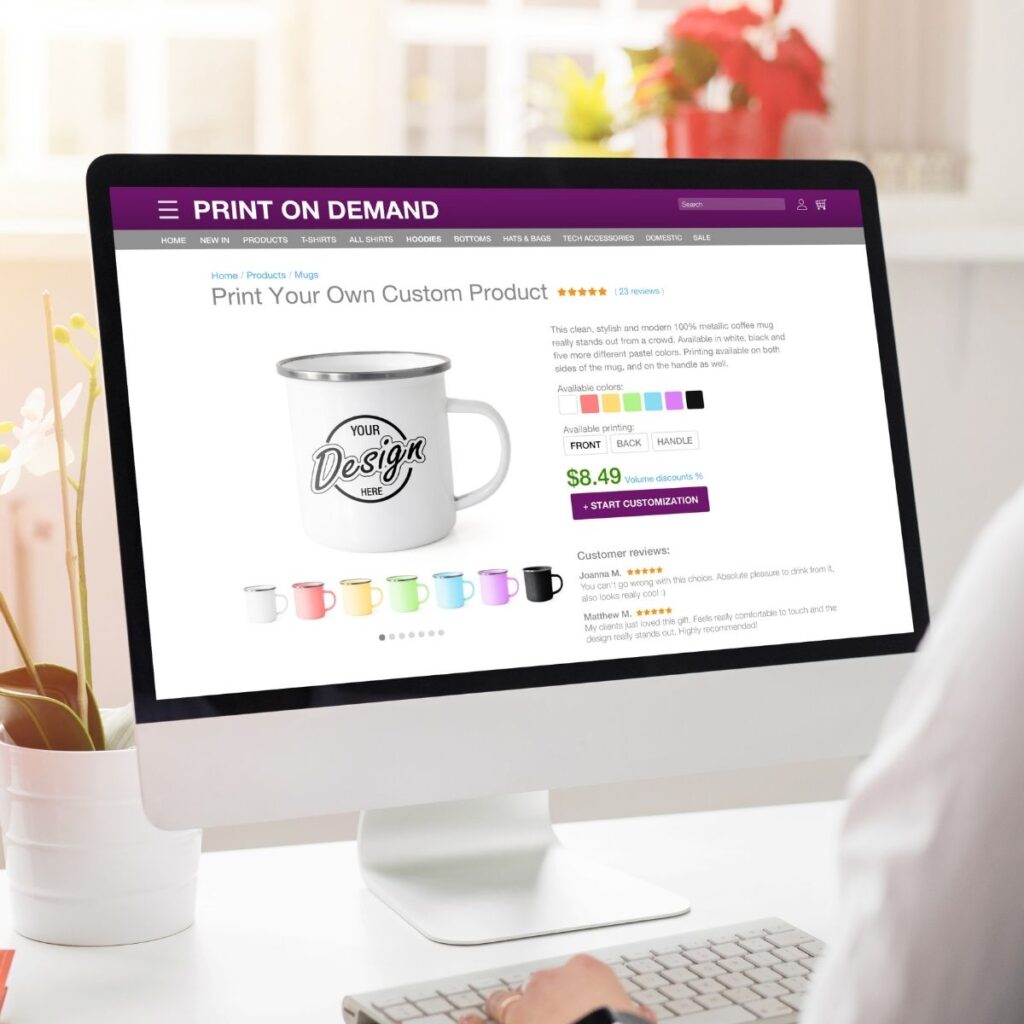 10. Gift Basket Business
I was recently at a craft fair where I saw someone selling gift baskets. They looked so cute and unique that I grabbed one for myself.
You do not need to say that gift baskets are a perfect gift idea for any occasion, from birthdays to holidays like Valentine's Day or Mother's Day.
You'll be able to create a custom gift basket of your very own by picking themes for different occasions, choosing items, and then designing it all into the perfect presentation.
You can even use this as an amazing way to start your own business if you're looking for something manageable in size on a local level!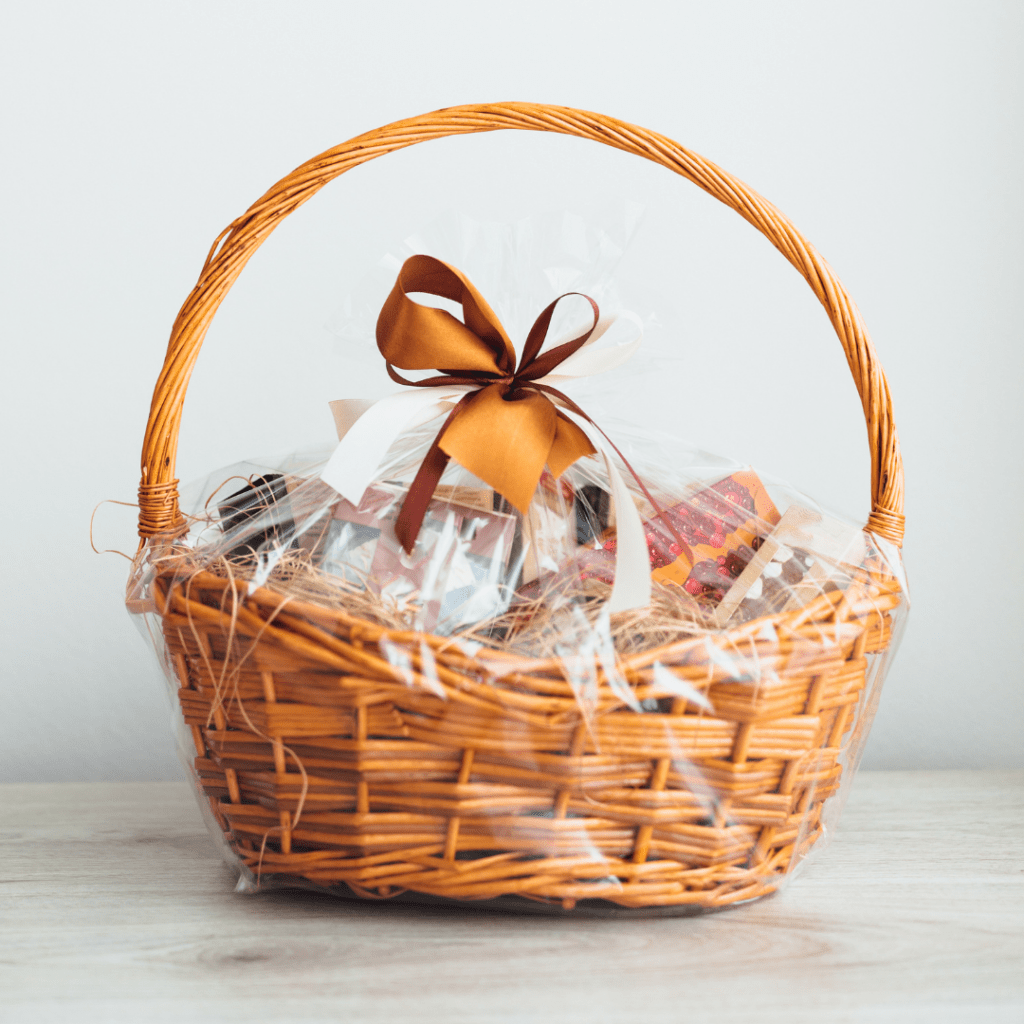 11. Sticker Business
Stickers are quite popular products to sell on Etsy or Amazon, but it's even easier to start your own sticker business. Stickers are one of the best ideas for crafters because they don't require a lot of room to store and can be sold at different price points.
Pick a theme for your products. Think about what is popular and what people want. You could sell Christmas-themed stickers during the December period.
For a sticker business, you'll need supplies like stickers, labels, or a cutting machine. If you want to get started without investing in any inventory upfront, you could try selling stickers as digital downloads for only $0.99 and offer them through sites such as Teachers Pay Teachers!
This is an easy way of getting started with no risk-taking required!
Once people buy the download from your site, they can print it off at home themselves- no waiting around for shipments or distribution services needed here.
Mim, a mom is a 5-star ETSY sticker seller who built her six-figure business selling stickers on Etsy. You should really join her free masterclass to see how easy is to start a sticker business and make earning from home.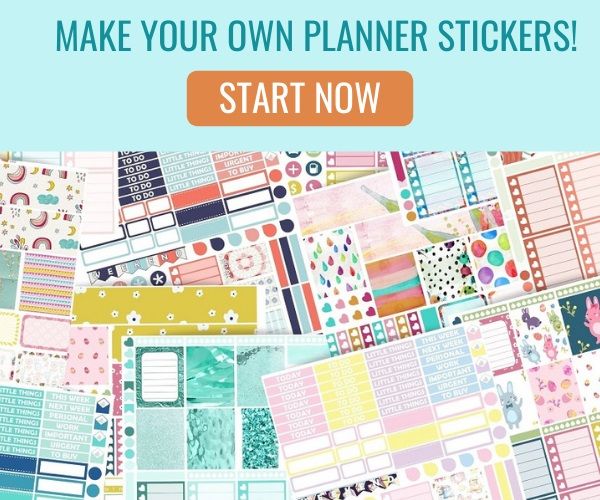 12. Greeting Card Maker
Greeting cards are always popular products that people buy every year- so why not jump on this bandwagon and start selling your own greeting cards.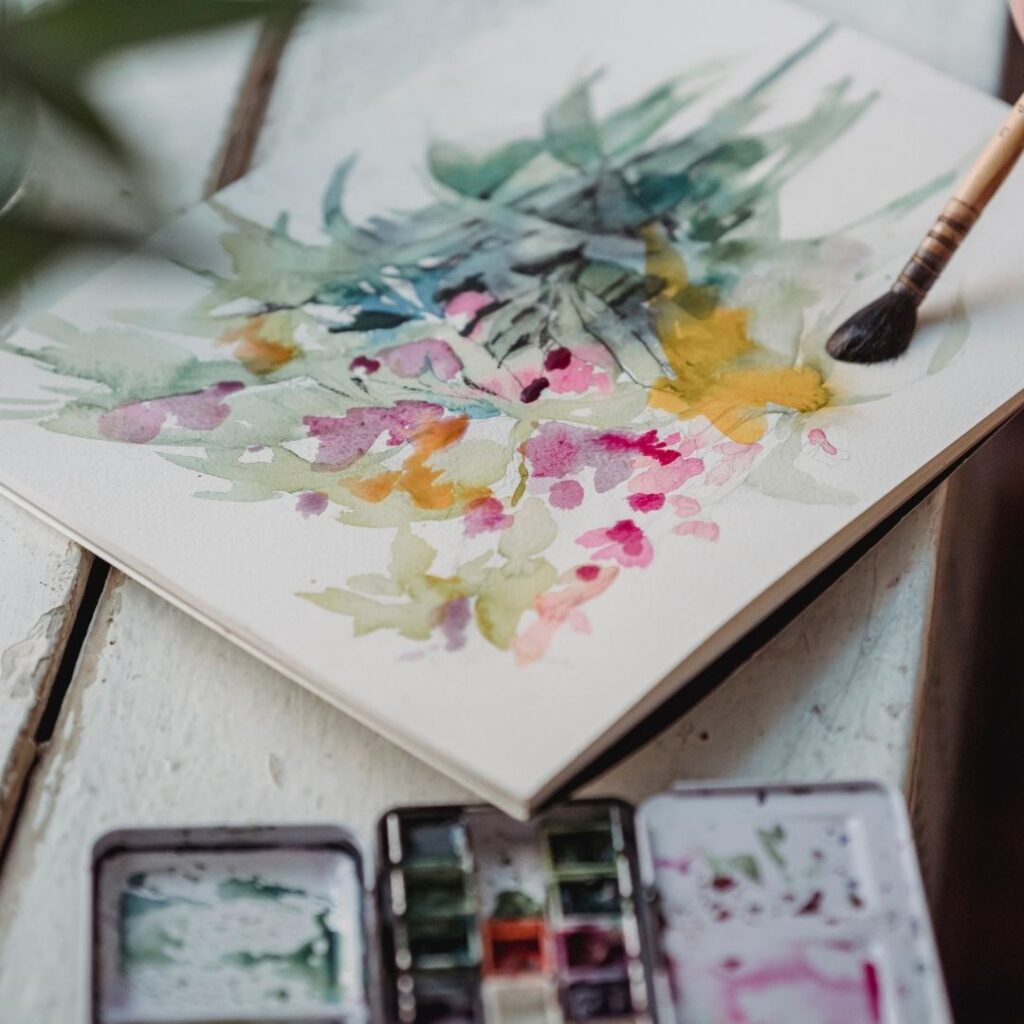 You have different options here – you can sell your designs, custom print and sell cards, or make handmade cards.
Etsy is a good place for artists to sell customizable greeting cards at a fair price.
Related reading: Easy Etsy shop ideas to make money on Etsy
13. Become a coloring book/pages illustrator
Though this is a tough industry to get into, it is surprisingly easy considering the popularity of coloring books.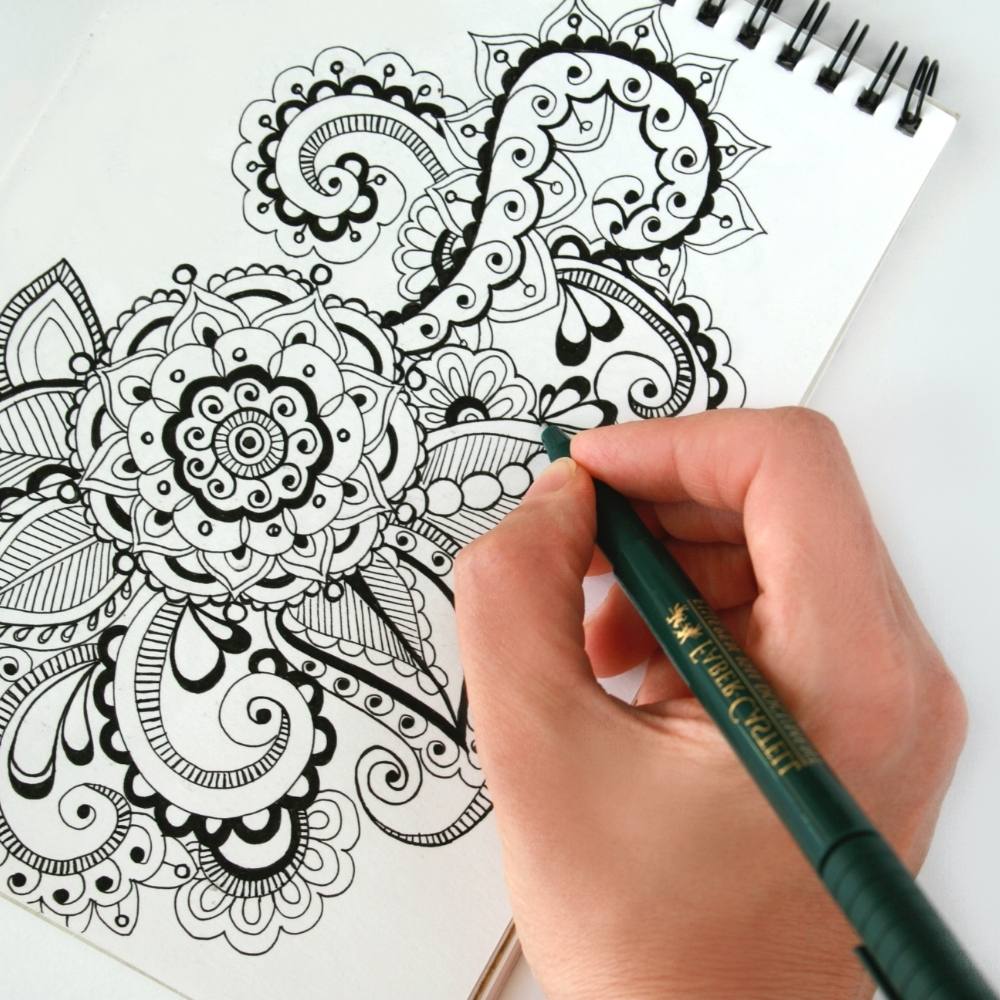 Not just small kids, many people are looking for new ways to unwind and decompress- so why not sell your coloring book! You can even fill it with quotes or tips on how best to color.
You can sell coloring pages in the form of printable pdfs on your blog, Amazon, or even Etsy.
Related reading: How to sell coloring pages on Etsy(even if you are not a designer).
14. Sewing and Clothing business 
It is one of the great business ideas for stay-at-home moms or crafters looking to make some extra money. 
There are a few things you should know before taking the plunge. You'll need some basic knowledge on how to use a sewing machine and cut patterns, but after that, it's possible for people of all skill levels can make simple items like pillowcases and dish towels until they get better at their craft.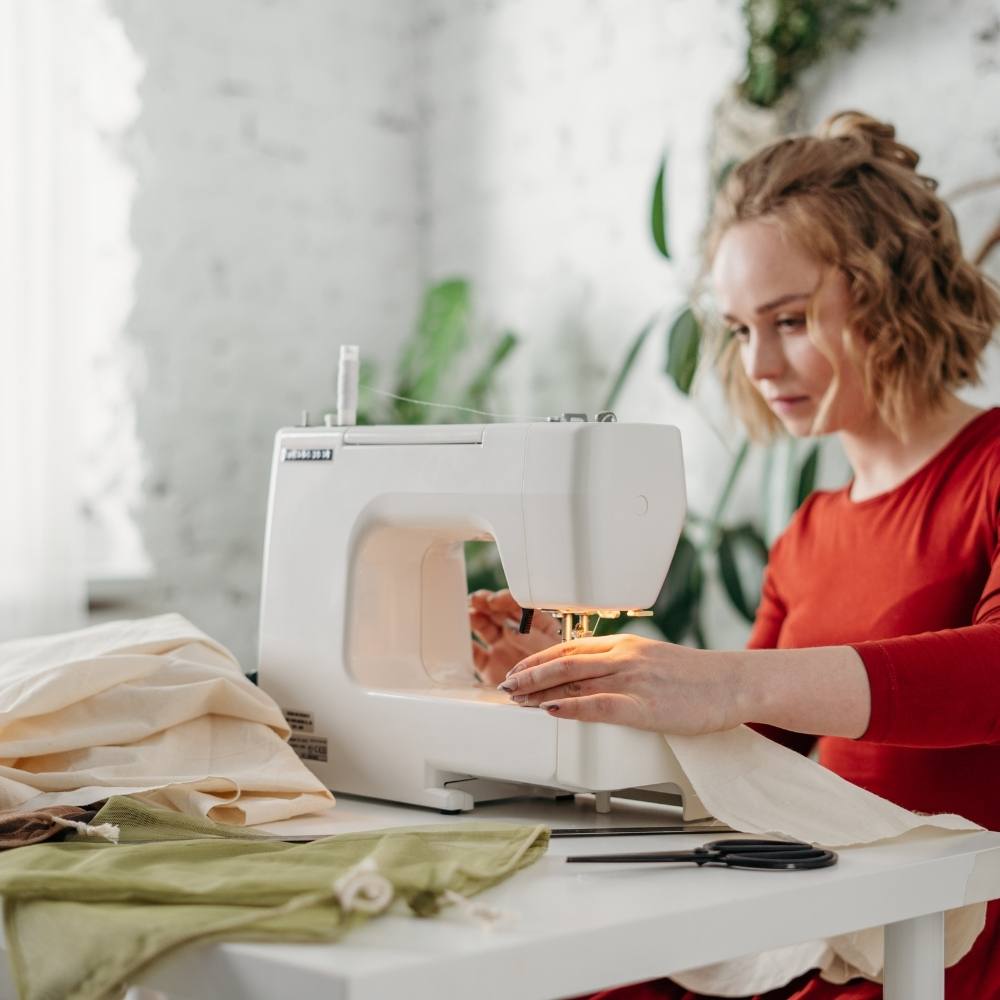 Those who have mastered using their machines might want to try making clothes or accessories – with custom designs available too! Hair bows, headbands, totes bags…
There are endless ideas out there that I have not even mentioned here, but those should get you started thinking about successful ways this would work.
Related reading: Things to sew and sell for extra cash
15. Start a flower arrangements business
Flowers are a popular choice for people who want to send an uplifting gift. So if you have a green thumb and enjoy arranging flowers, why not start your own business with this idea?
For flower arrangements supplies, all you will need is a vase or container of some kind (preferably made out of glass), floral foam, water-absorbent sponges, scissors, cutters/pruners, and screws.
You can always experiment by finding what's the best option that works for you! And then sell them at events like weddings or charity galas. It would be helpful to know how much work goes into each arrangement too, so it may take time before you're ready to take orders.
16. DIY Home decor
If you have a knack for home decor and know how to make things from scratch, this might be the perfect opportunity!
From lampshades to crafty outdoor signs or even wall arts and portraits, there are plenty of options. You can also use your local Facebook groups and get great ideas for products that do well in your neighborhood.
All a crafter needs to get started is crafting supplies related to the product they would like to create.
Since this is all happening at home, you have the luxury of pricing your work according to what can best suit you financially. You may also want to think about attending craft fairs to get more exposure and make it easier for customers who don't live nearby.
Important legal stuff for starting a craft business 
Starting a business is exciting, but it's equally crucial to know the legalities involved in setting up and running your business.
Here's a list of things you need to keep in mind:
Licenses and permits
Most businesses require some form of license or permit to operate legally. The type of license you need depends on the industry, state, location, and other factors. 
Not having the proper documentation can result in fines or even shutdowns.
Check here for license requirements in your state. Alternatively, hire someone to do the background work for you.
Business structure
The legal structure you choose for your business will impact how much you pay in taxes and your personal liability.
There are a few different structures to choose from, each with its own advantages and disadvantages.
Don't take this decision lightly—talk to a business registrar to help you choose the best option for your business.
This company is one of the most reputed and trusted corporations that has helped over 500,000 business owners since 2004. 
You can register your business for as little as $0 + state fees and no contracts or fees.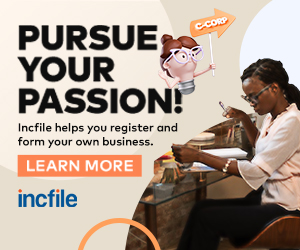 Federal and state tax IDs
Make sure you're familiar with the applicable tax laws and regulations. You may need to register for a tax identification number for your business.
Book a Free tax consultation if you are not sure. It can be a big help, especially if you're just starting out.
Expenses and income tracking
You'll need to keep track of your business expenses and income for tax purposes.  
A separate bank account for your business is always advisable. 
I also recommend using accounting software like FreshBooks to make it easier to track your expenses and income. 
Where To Sell Crafts from home?
You might already have an idea of what craft to sell by now. But before you pick your scissors, consider the options of where you can sell your crafts.
Etsy
ETSY is one of the most popular platforms for people to sell their handmade goods. It could be anything from clothing and jewelry to painting or artwork of any kind. Etsy has a large customer base, but intense competition is still present.
Setting up an Etsy store is free and Etsy charges listing fees and takes some commission on the sales you make. But having an Etsy store is highly recommended.

If you are ready to start an Etsy store, click this link to get 40 free listings on Etsy. I have this Etsy shop checklist that might be helpful while starting your Etsy shop.
Here is a list best selling items on Etsy for further reading and inspiration.
More articles on Etsy
On your own Blog
Selling on your blog is an easy way to earn money when you have a blog. This is because people who visit your blog may be interested in what you are selling.
You can sell digital files, printable arts invites, or e-templates from your blog using a free woo-commerce plugin or Shopify. Selling on your blog takes time as it takes time to build traffic and hence sales.
Don't get into the trap if someone says it is the simplest way of selling crafts or digitals. Blogging takes time and selling from your blog can be profitable in the long run (provided you are consistent).
If you're not sure of where to start, check out this in-depth blog post on starting a blog for a step-by-step guide.
Facebook
Facebook groups allow crafters of all kinds to connect, share resources or even sell handmade stuff. Selling your crafts locally on Facebook Marketplace can be a profitable option for stay-at-home moms.
Pinterest
Pinterest is a great place to post pictures of what you are selling. People use Pinterest for inspiration, and home decor items do well on Pinterest. You can also use it for marketing purposes by inserting links into the description boxes or in the pins themselves.
e-bay local
e-bay is a great place to sell your crafts. You can post and auction off what you have available for sale on e-bay with the local option turned on so that only people from your area will see what you are selling.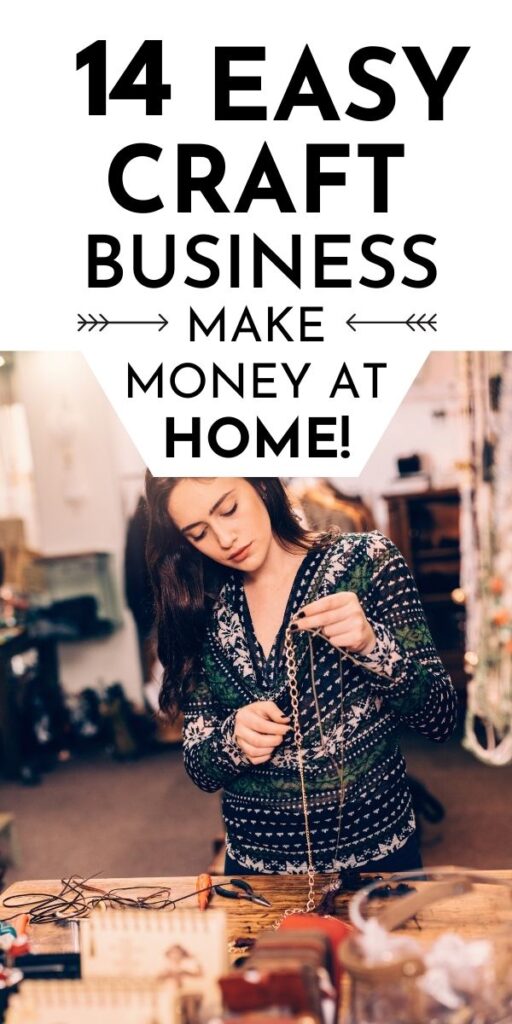 When it comes to advertising, there are a lot of different tactics you can use. For instance, social media and print advertisements have been proven successful for some businesses.
However, I always recommend taking advantage of online tools that offer an alternative opportunity in cutting costs on these traditional forms of marketing.
I personally use Canva for all my designing needs (and selling printables). It is a free online tool that makes designing so easy and you won't need a graphic designing experience.
Start you Profitable dIY Craft Business idea today
I hope this blog post has given you some good craft business ideas for a new side hustle or home business. The best part of starting a business is never knowing what could happen.
On the other hand, there's also no telling how long it will take for your idea to really start gaining traction – and that can be frustrating.
If you're considering an entrepreneurial venture as a way to make money on the side or add some extra cash flow into your life, I encourage you to plan your small business well before jumping in to start a new venture.
Understand different business structures and laws in your state. Make sure you track all your expenses and and know your tax implications.
Purchase order financing for small businesses is another option to explore if you have a company up and running and need cash to complete an order.
Don't forget to use good quality materials and take great pictures to make your work stand out.
If you have any tips or ideas on crafts business from home that we should add to our list, please share them in the comments below!
Have fun crafting. Good luck with your new venture.
Related posts on Craft business Ideas for Crafters