Looking for DIY Easter craft ideas? In this blog post, you will find the best Easter crafts you can make to sell or use as inspiration to make gifts for family and friends.
Easter is a time when many people celebrate by getting together with family and friends. It's also a great opportunity to make some Easter-themed crafts to sell at a craft fair for some extra cash.
These DIY Easter art and craft projects are perfect for crafters of all levels of experience. From Easter wreaths to Easter baskets or custom kids tees, there are so many craft ideas to choose from.
So, without further ado, here are some of the best Easter craft ideas to sell in 2023.
These DIY projects not only make great Easter crafts to sell at craft bazaars (or online on Etsy) but you can also use them as holiday decorations or Easter gifts for friends and family.
I hope you enjoy these bunny craft ideas and find the perfect one to make for your next Easter project.
If you are looking for just spring crafts ideas, here is a post just on Spring craft ideas to sell.
This website contains affiliate links which means we may earn commissions if you purchase through them (no extra cost to you). You can read our policies here.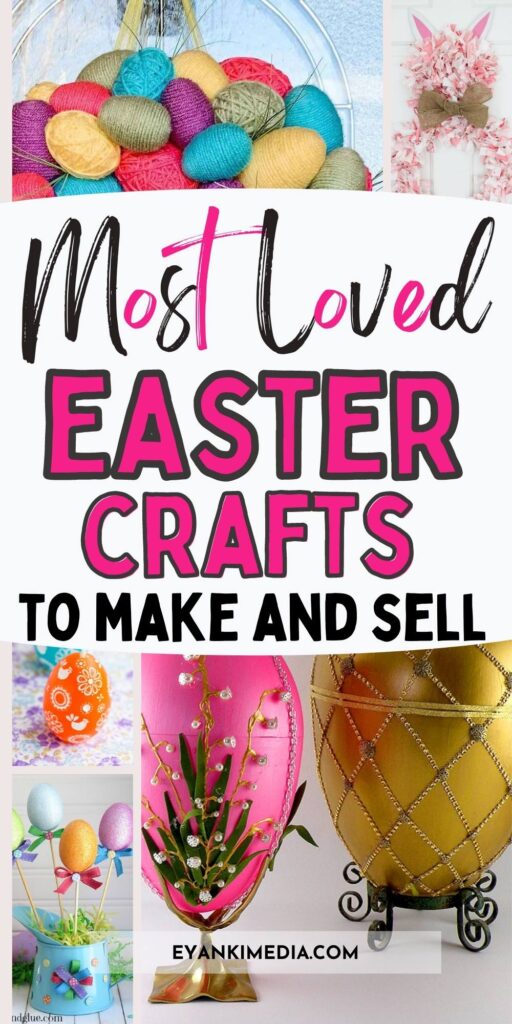 Home decor Easter Crafts to Sell
If you're looking for home decor Easter craft ideas to make and sell, these are a few popular ones.
1. Yarn Wrapped Easter Egg Wreath
A wreath is a wonderful Easter craft idea to make because it is both festive and functional. It can be used either as an Easter decoration or as a door wreath to welcome guests.
Easter-themed wreaths are one of the best Easter crafts to sell. This colorful spring Easter egg wreath is both inexpensive and simple to create with some yarn-wrapped plastic Easter eggs, a styrofoam wreath, and some artificial grass.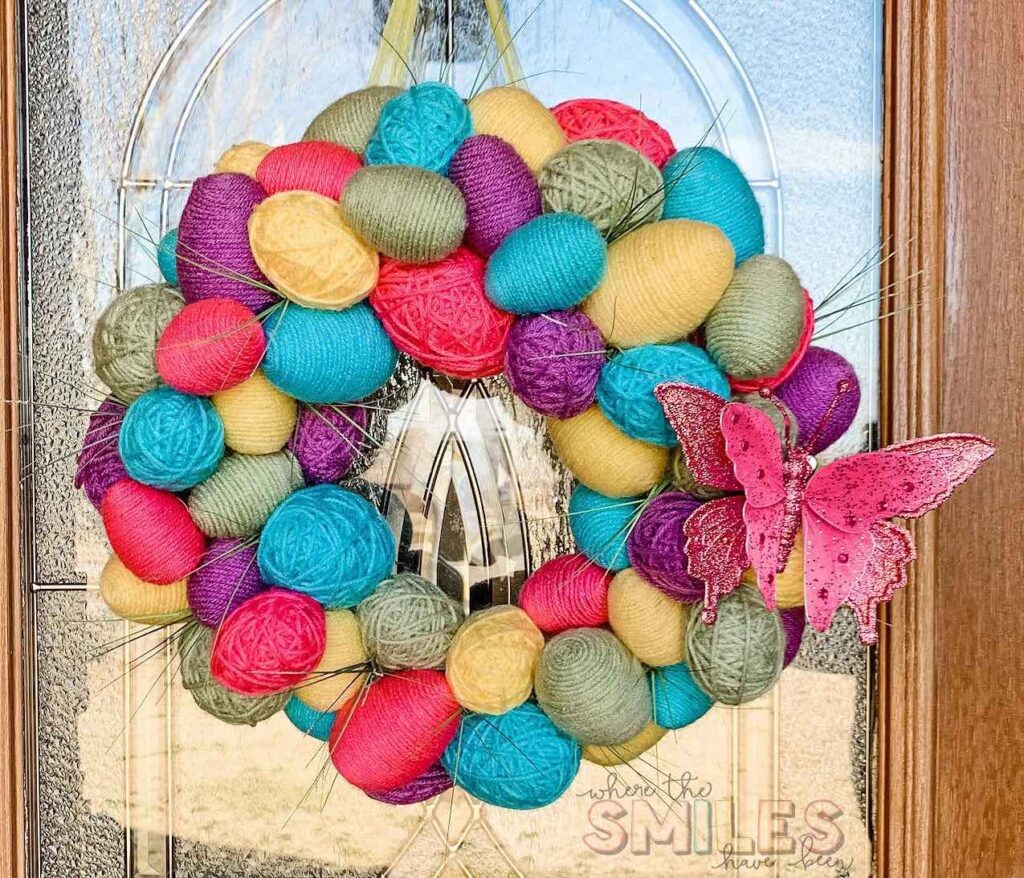 2. Moss Covered Bunny Door Hanger
Buyers love Farmhouse themed items, and this moss-covered bunny door hanger is a farmhouse-inspired Easter craft that is sure to sell online or in craft bazaars.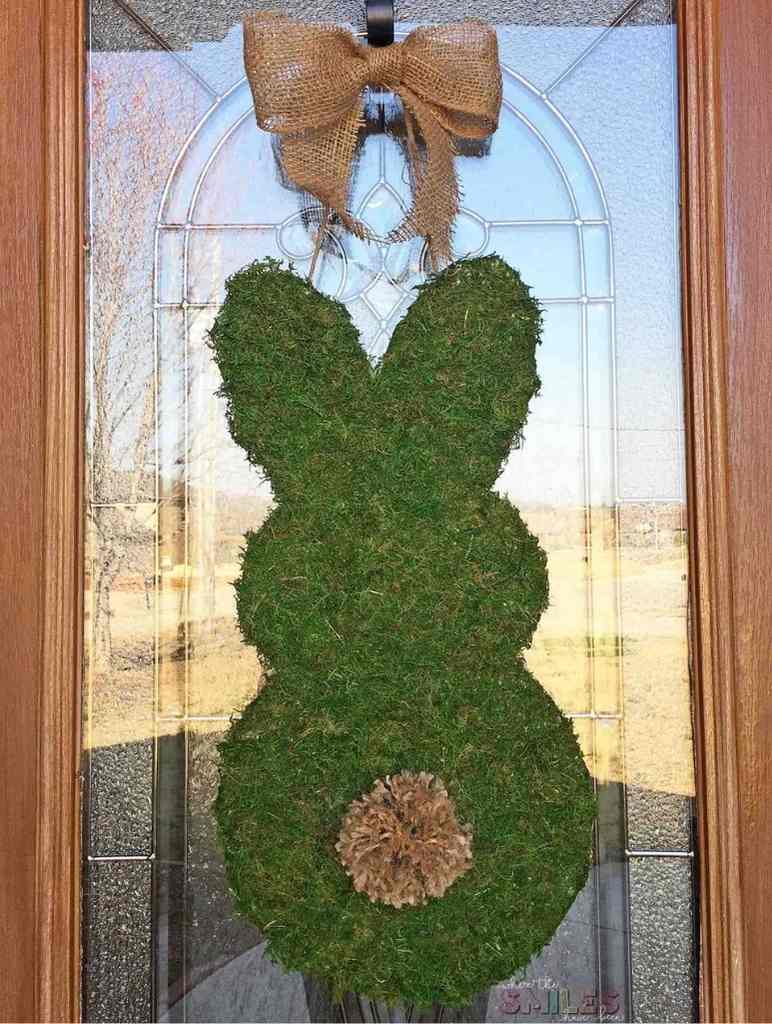 3. Easter Bunny Butt Wreath
This super cute bunny bottom wreath is easy to make with inexpensive craft supplies and the perfect Easter craft to sell at craft bazaars.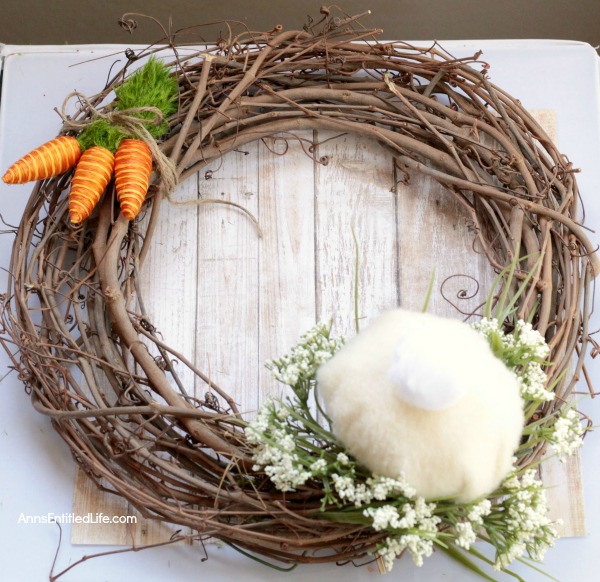 4. DIY Easter Mesh Wreath
Another easy wreath craft you can make with colorful mesh for spring decor. I have seen crafters selling these types of Easter crafts at craft markets and my local Facebook groups.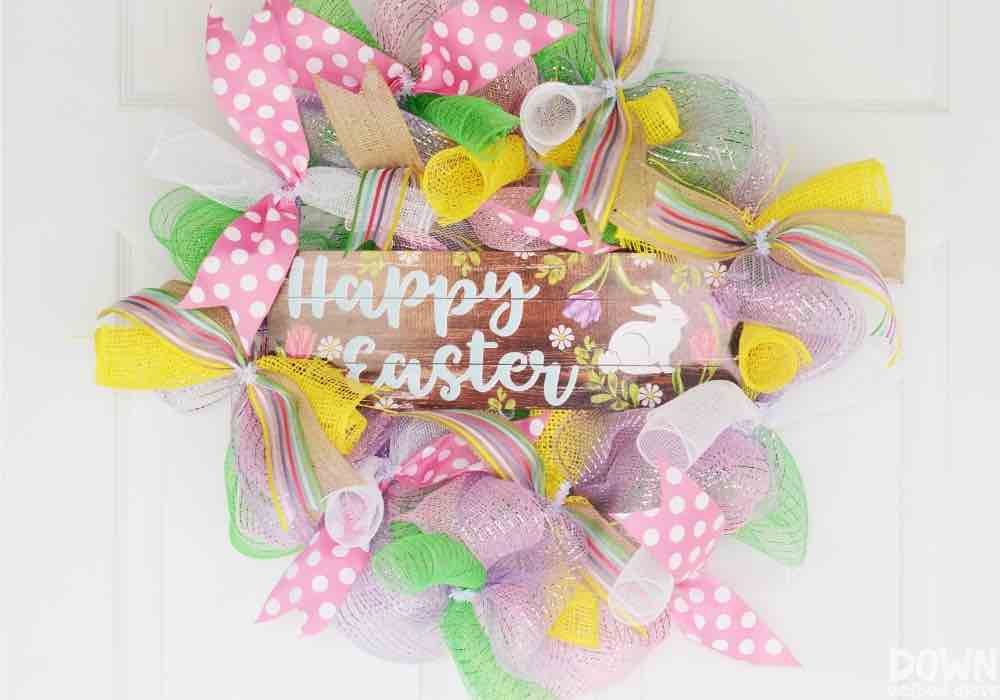 5. Easter Candy Centerpiece
This Easter Egg Centerpiece is a simple yet super cute Easter craft to sell at school craft bazaars, which even kids can make with inexpensive dollar store supplies.
6. DIY Faberge Eggs
Made with large-sized eggs, these DIY Faberge Eggs are perfect for Easter place settings or as Easter gifts to make and sell. They will surely impress many people at crafts shows!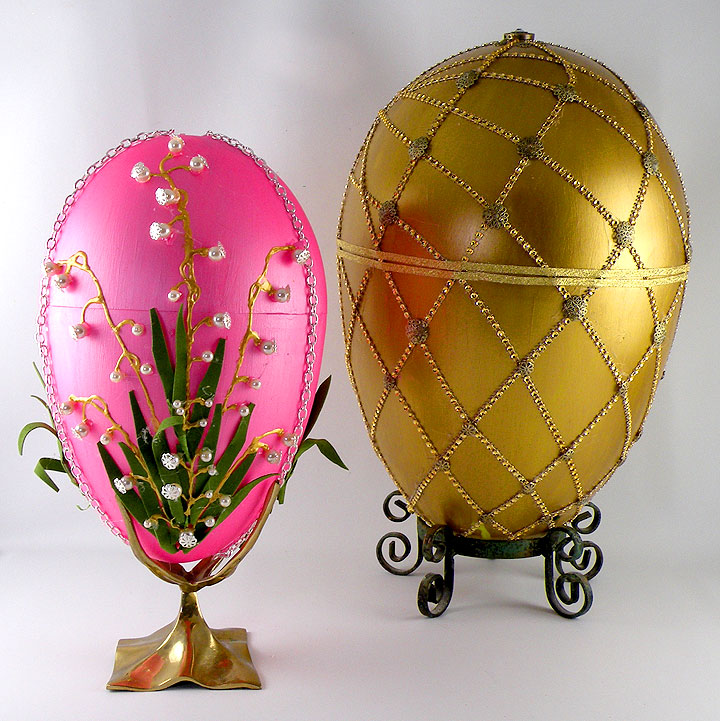 7. wooden Easter eggs
Easter egg decorating is not just for Easter eggs! You can use this technique to create beautiful wooden Easter eggs that are sellable too. These decorative eggs are great for Easter table settings and egg hunts.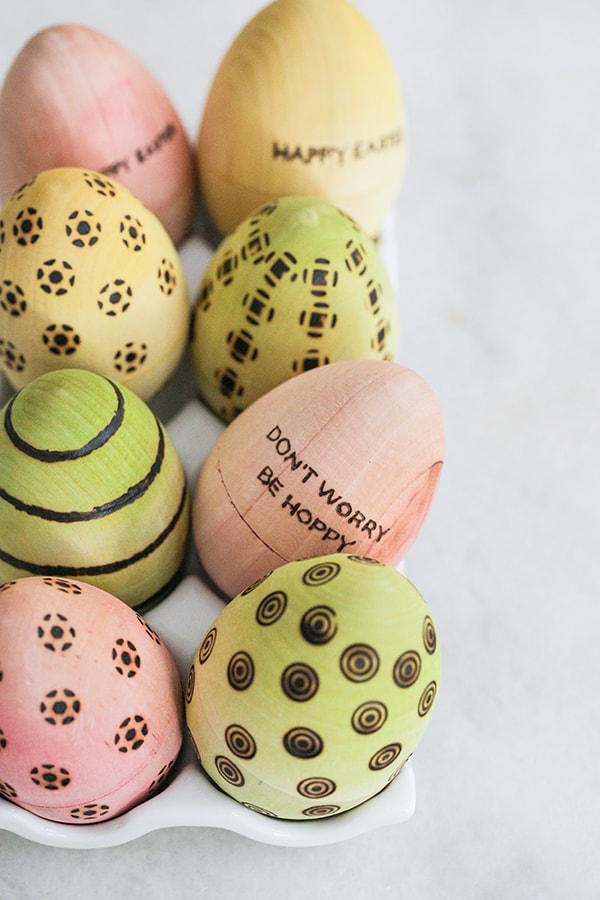 8. Felt Easter Bunny
This felt bunny is another easy Easter craft to sell at a craft fair or to decor your home space. You can make this simple craft with your fabric scissors or use a Cricut machine to make cuts.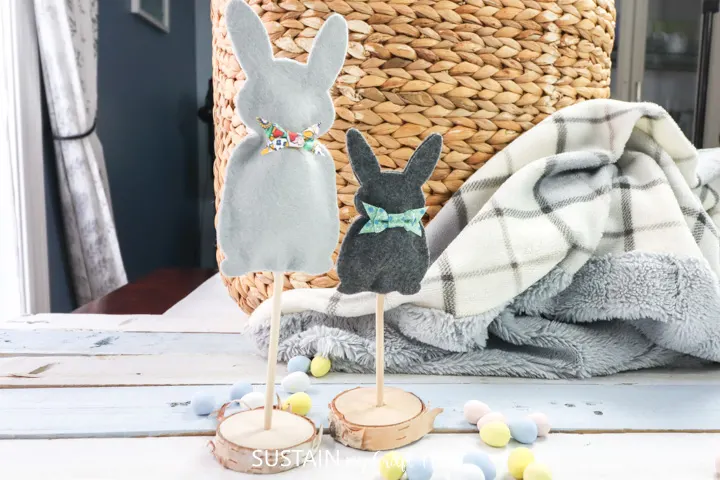 Cricut Easter Ideas To Sell
Below mentioned Easter crafts are perfect for crafters who use a Cricut machine to make and sell crafts. Cricut machine makes it simple to create personalized Easter gifts or cut out beautiful shapes for Easter decorations.
9. Cute Easter Bunting Banner
This Easter banner is a fun and easy Easter Cricut craft to cheer up any home.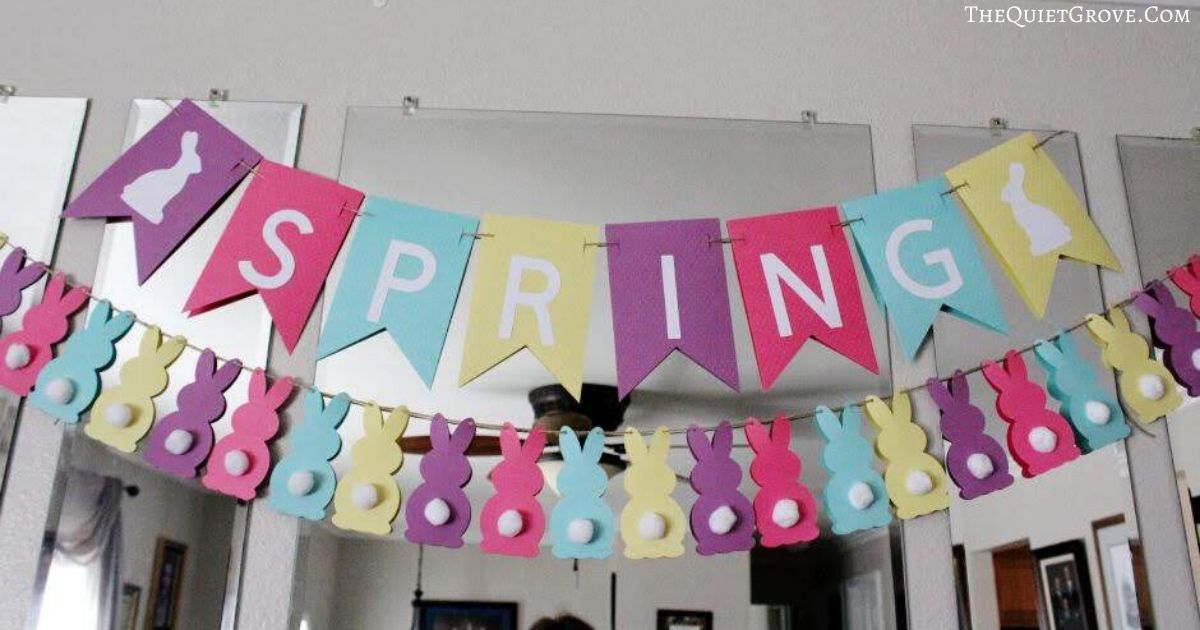 10. Rag Wreath
This bunny-shaped rag wreath made with Cricut hand tools is an awesome way to reuse your scrap fabrics to make Easter crafts to sell.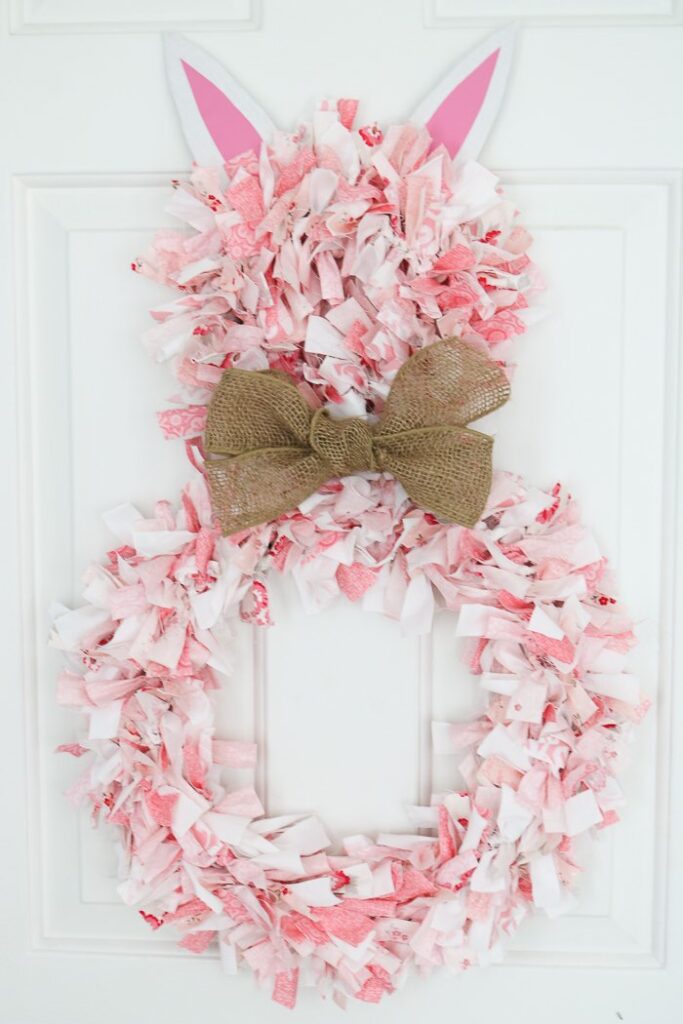 11. Personalized Easter T-shirts
Personalization is a big trend right now, and Easter shirts are no exception. Cricut makes it easy to personalize shirts to sell or give as gifts to loved ones.
Here are some cute graphics I found for making or selling custom Easter T-shirts:
This 'Will Trade Sister for Easter Eggs' is a super cute idea. I can imagine my toddler wearing this type of t-shirt– superfun!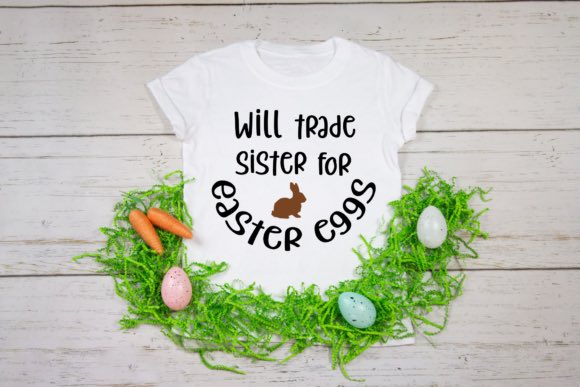 Here is another Easter bunny t-shirt idea that you can make for the whole family. From Mama bunny to Gigi bunny, there are so many relationship options to choose from.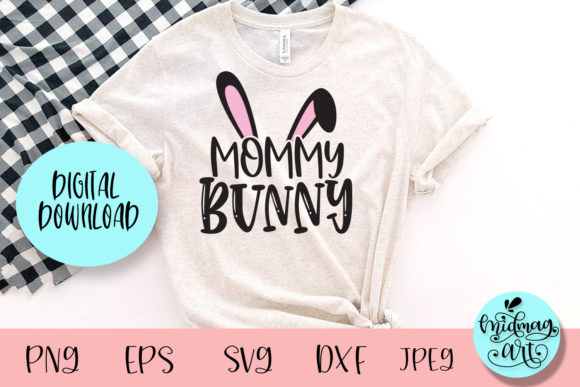 12. Kids Easter color Tops
I saw this idea on my Facebook (an ad) and really liked it. You make and sell these coloring t-shirts with fabric markers for kids to color. They would make great non-candy Easter basket fillers.
Though I don't have access to the same ad, there is a similar SVG file I found on Etsy that comes with a commercial license. Pretty awesome to make and sell for Easter.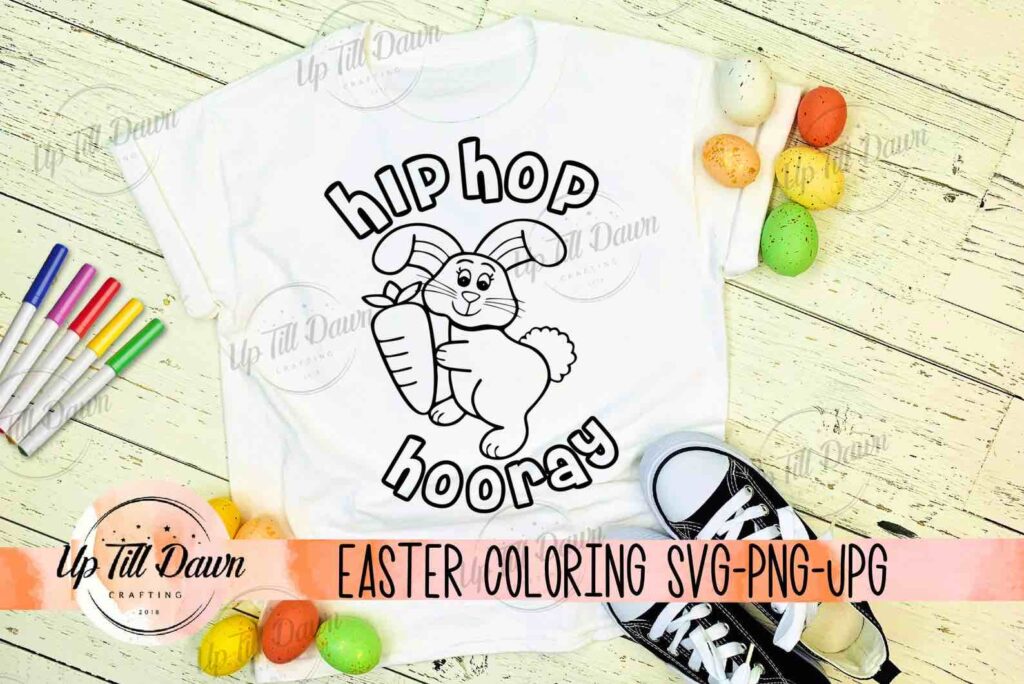 13. Personalized Easter Baskets to Sell
Personalized Easter baskets are a big hit at Easter, and with a Cricut, you can easily make some custom baskets to sell at Etsy or on your local Facebook marketplace.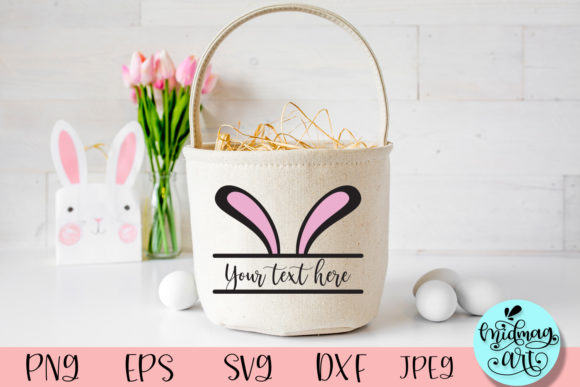 *I see a lot of custom baskets selling these days in my local Facebook groups. You can check what sells in your area and price your baskets accordingly.
Related Reading: Best things to make and sell on Etsy
14. Easter Egg Holder Animals
Another cute Cricut Easter craft idea to sell at a craft market or pop-up bazaars is this Easter Kinder Egg Holder bunny or other animals (even Dinos). Kids love kinder eggs, and this DIY Easter project makes an adorable Easter basket filler.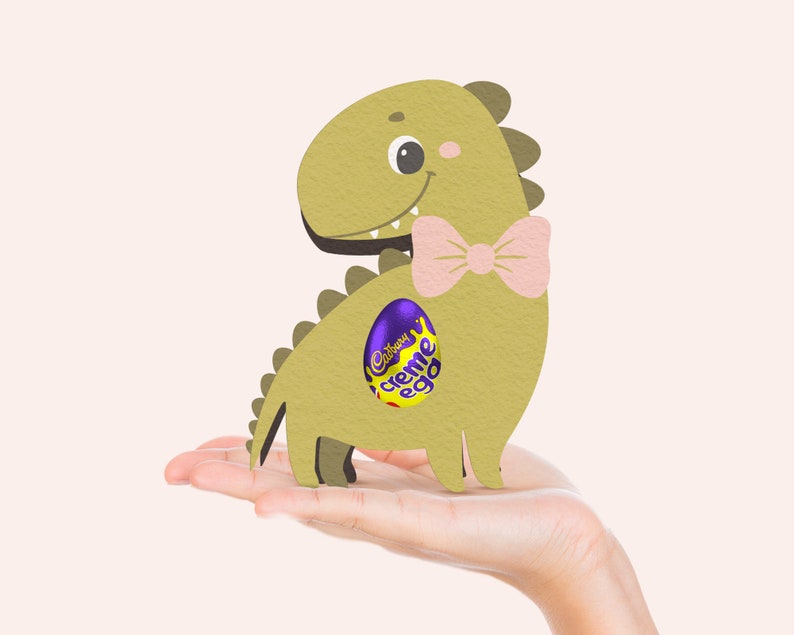 15. Easter Wall Decor sign
People love to buy Easter decorations, and what could be more festive than a wooden Easter sign? This project is easy to make and can be completed in just a few hours.
Every Bunny Welcome Wood Sign Svg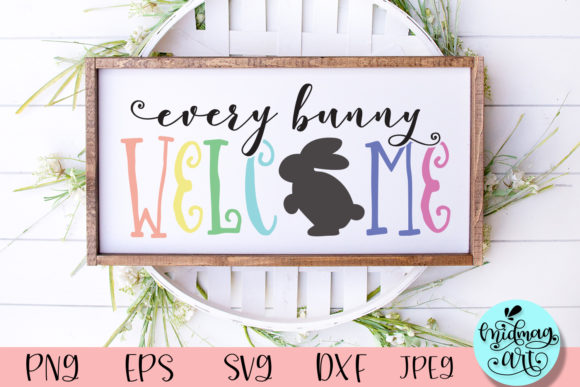 Bunny Kisses and Easter Wishes Sign Svg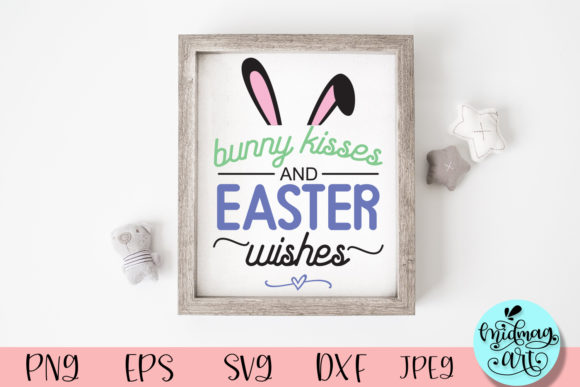 More Easter Crafts to Make and sell
16. Easter Porch Sign
Easter-themed porch signs are always popular sellers in springtime.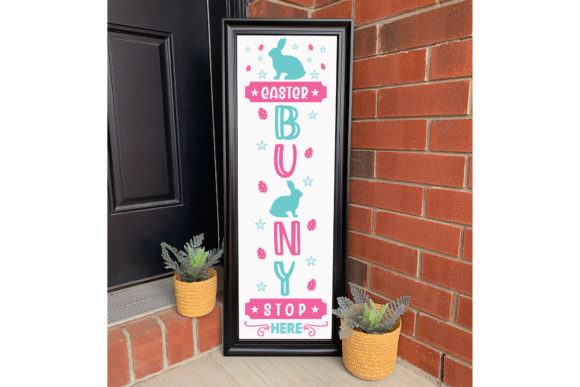 17. Easter Gift basket tags
A quick search on Etsy shows that Easter gifts basket tags are also popular easter crafts to sell. You can easily make these tags with your Cricut machine or a laser cutting machine like CNC.

Easter Gifts To Make And Sell
18. Easter bath bombs
Egg and bunny-shaped bath bombs are one of the easy things to make for Easter to sell. I saw in a crafters group that these sell like hotcakes and make great non-candy Easter basket fillers as kids love bath bombs.
Aren't these egg Easter bath bombs super cute?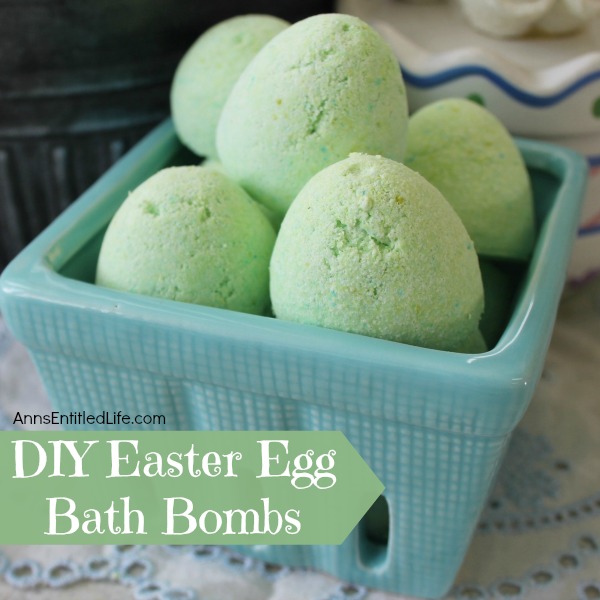 19. Egg shape candles
Easter egg shape candles are a must-have for any Easter decor. Candles are an easy craft that even kids can make and sell.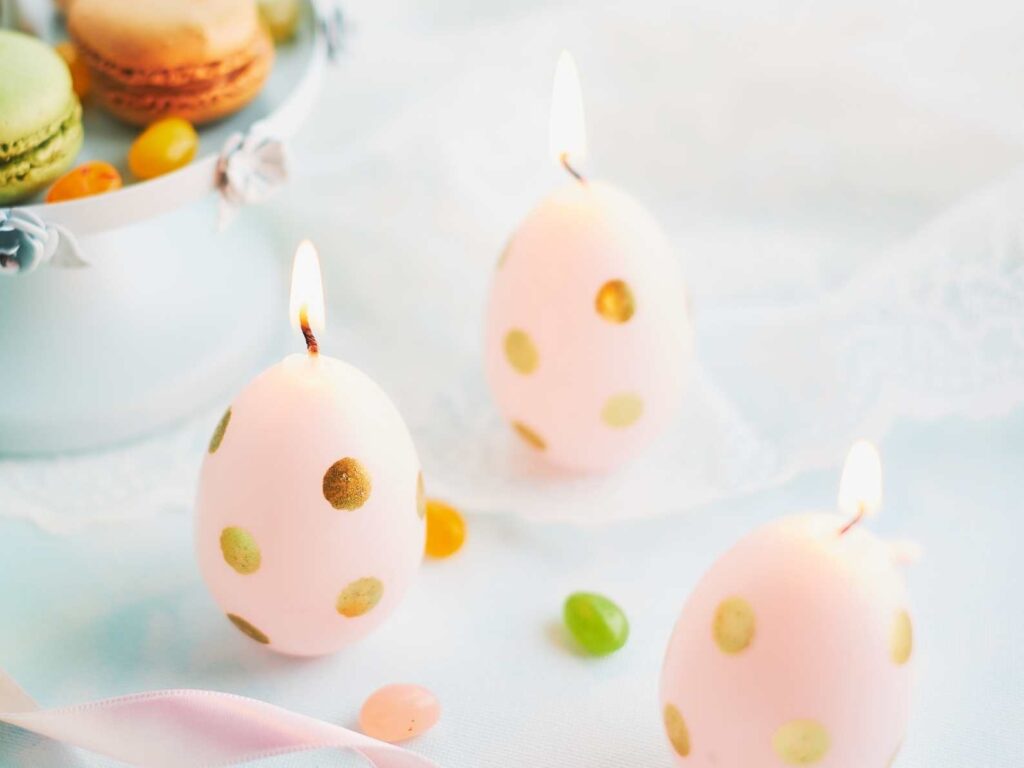 You can get egg-shaped molds and Easter-themed candle scents to dress up your Easter candles.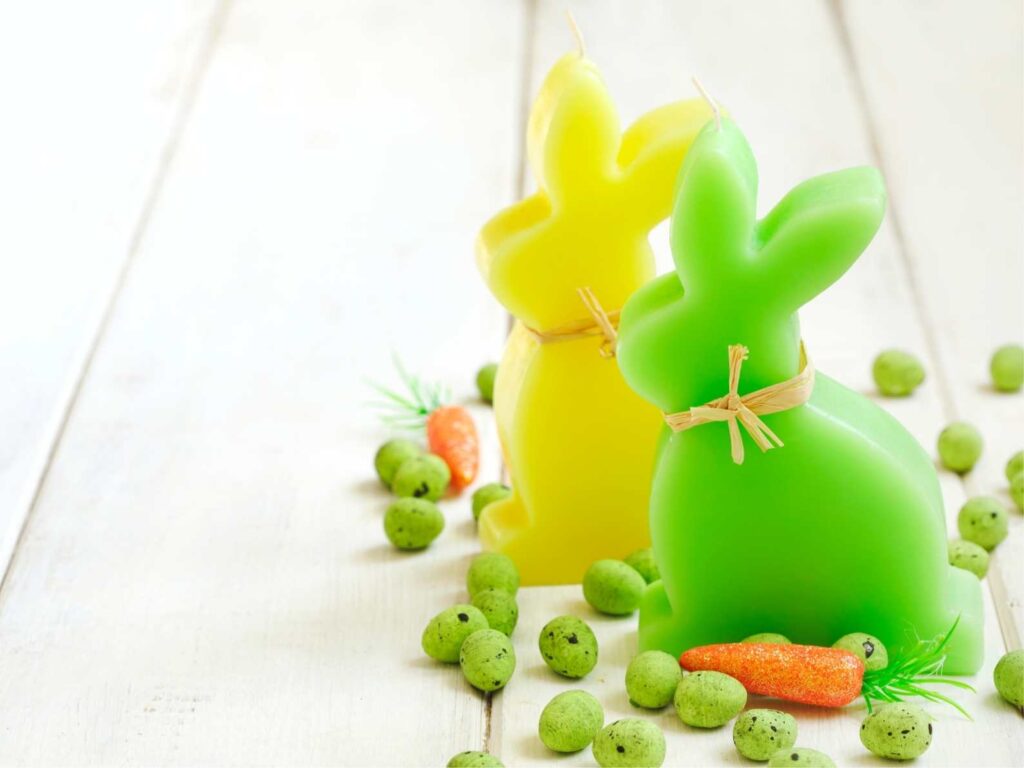 * You may also include candles in Easter gift hampers to make and sell on Etsy or the local marketplace. (a similar Etsy listing I found on Etsy)
19.Spring Sugar Scrub
Another fun and easy Easter basket filler that you can sell at craft bazaars or school fairs.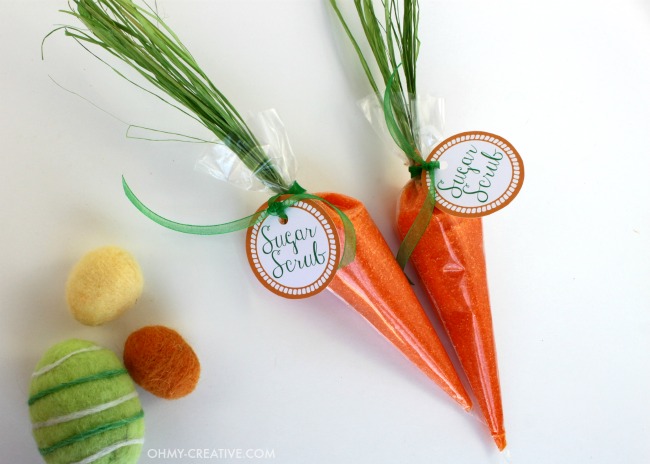 20. Easter basket
A non-candy Easter gift basket idea to sell at the local marketplace.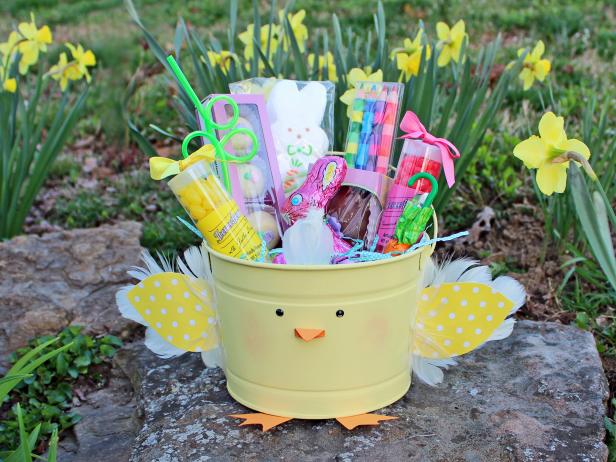 21. Toddler Gift basket to sell
Another fun and easy Easter basket you can make with Dollar store supplies.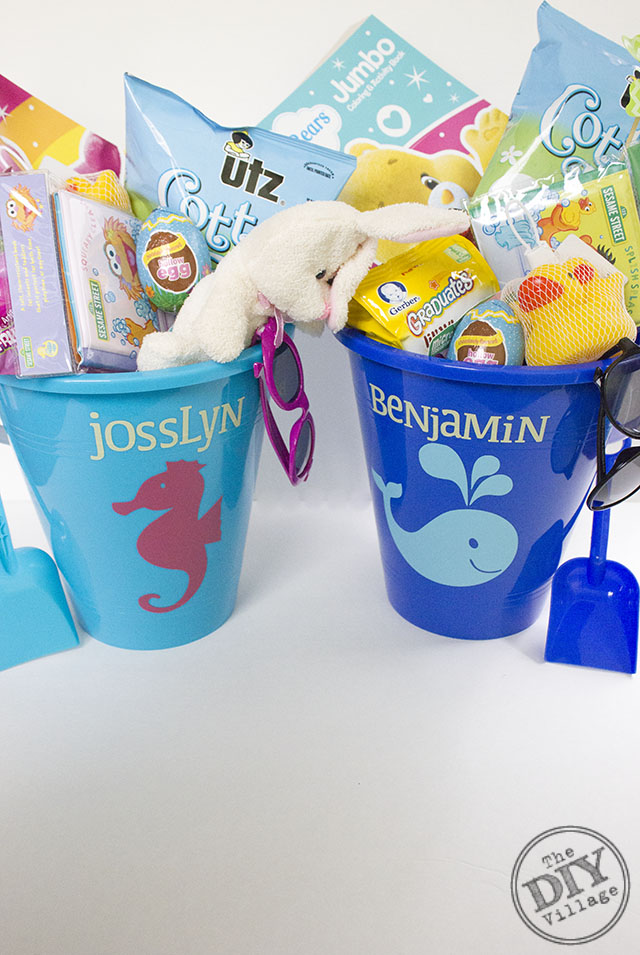 22. Easter Bunny Mason Jars
These mason jar crafts would be perfect for Easter gifts (filled with candy or other treats) or to sell at a craft flea market.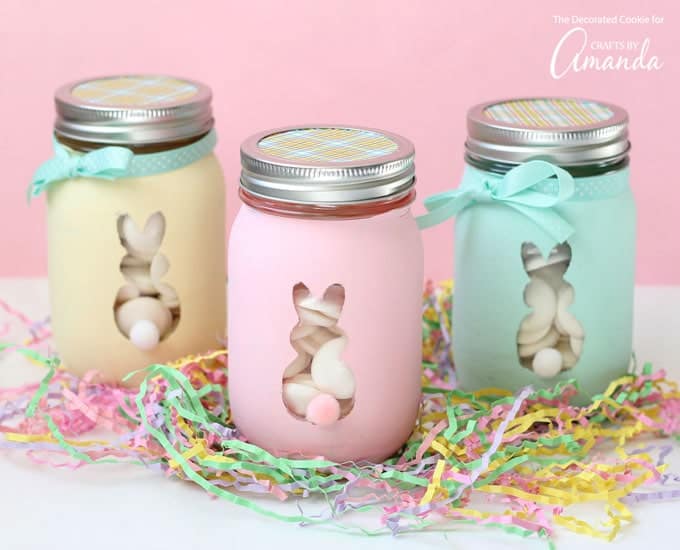 More DIY Easter Craft Ideas to sell
23. Easter Bunny headbands
Bunny ear-shaped headbands are very popular among little girls. My daughter has so many of these.
There are many tutorials available on Youtube for inspiration. These sell really well at both craft bazaars and on Etsy (see a popular listing here).
Here is a simple tutorial to create an Easter bunny headband: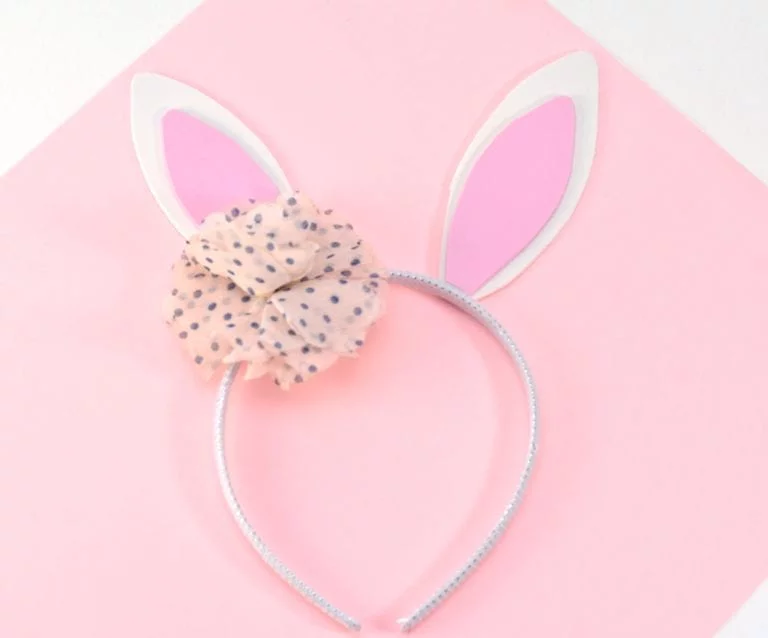 Winding up Easter Craft Ideas to Make and sell
These are just a few ideas for Easter crafts that you can make this year to give to your loved ones or sell as 'Easter gifts to sell'. Get creative with these DIY Easter craft ideas and come up with your own ideas, too.
With Easter right around the corner, now is the time to start crafting. Happy Easter! What are your favorite Easter crafts to make and sell? Let us know in the comments.
More Craft Related Posts You Might be Interested In
Craft business ideas for Stay at home moms: Easy DIY business ideas for moms to sell from home.
Trending crafts to make and sell: Latest craft to sell (updated list every year).
Etsy shops ideas: If you want to start an Etsy shop, these are easy ideas for you to explore.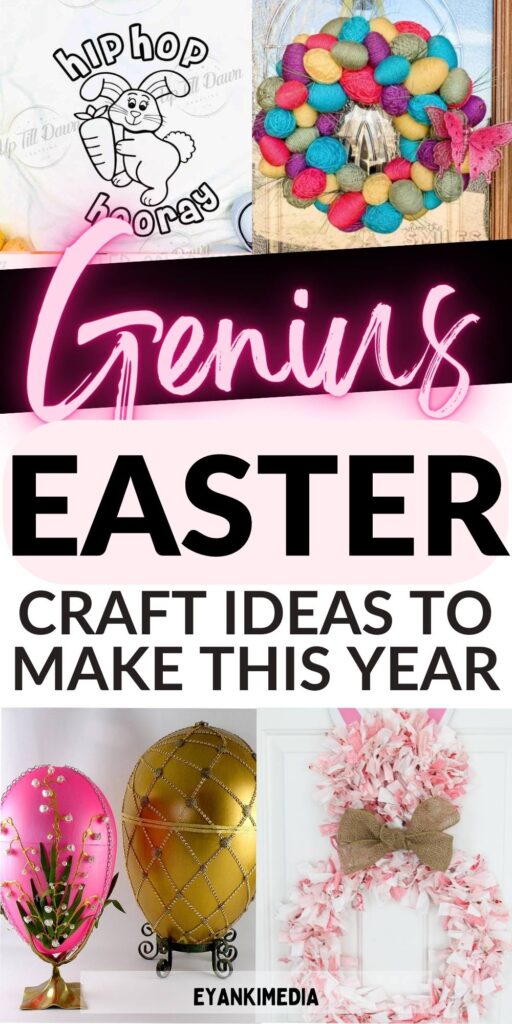 More Money Making Crafts Posts