Here is a list of the most loving DIY spring crafts that are both; beautiful and profitable. Whether you are making spring crafts to sell, for yourself or to gift, this list has got you covered!
Spring is a season of new beginnings, and what would be a better way to welcome it than with some DIY spring crafts?
Crafting is not just a fun hobby but can also be profitable, especially when you tap into the demand for seasonal items.
With this in mind, we've scoured Etsy and other popular marketplaces to find the most popular and in-demand crafts for the season.
These include tried and tested spring craft ideas and some new ideas/ trends that are gaining popularity.
So, read along and save this post for future reference, as you never know when you'll be inspired to try something new!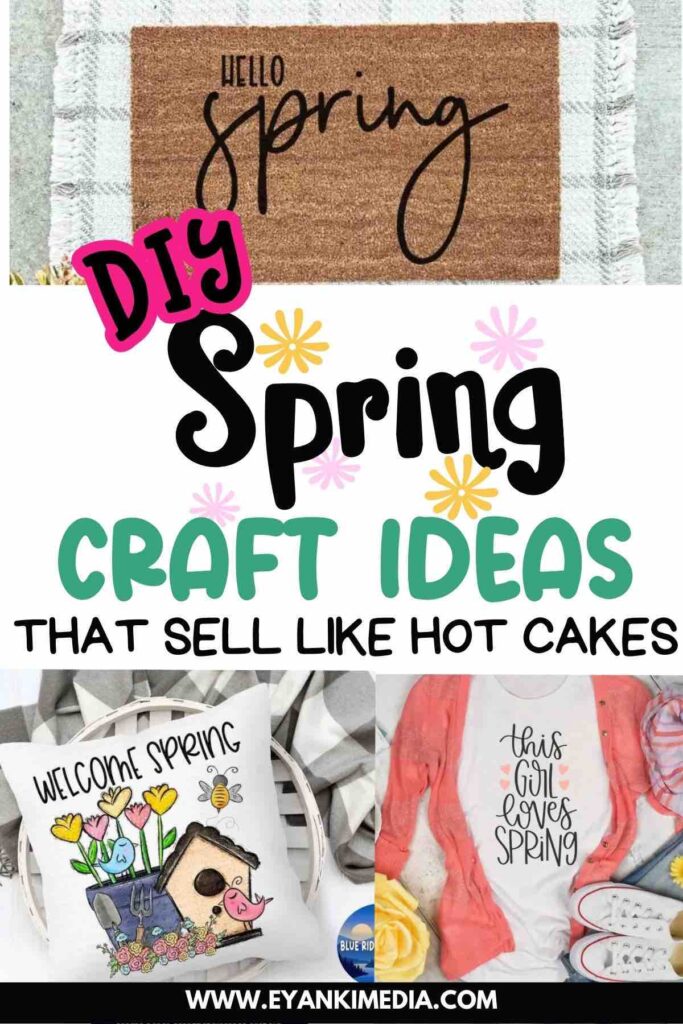 If you're looking for fresh ideas for spring crafts to sell or just for fun, there's something for everyone on this list.
What are the most popular spring crafts?
Spring-themed home decor items are quite popular as people love to refresh their homes and bring the beauty of the season inside. When it comes to spring home decor, there are many ideas to consider like wreaths, door hangers or front porch signs, etc.
Spring Crafts to Make and Sell
Spring wreath
A spring wreath for the front door is one of the top-selling spring crafts to make and sell on Etsy or at craft fairs.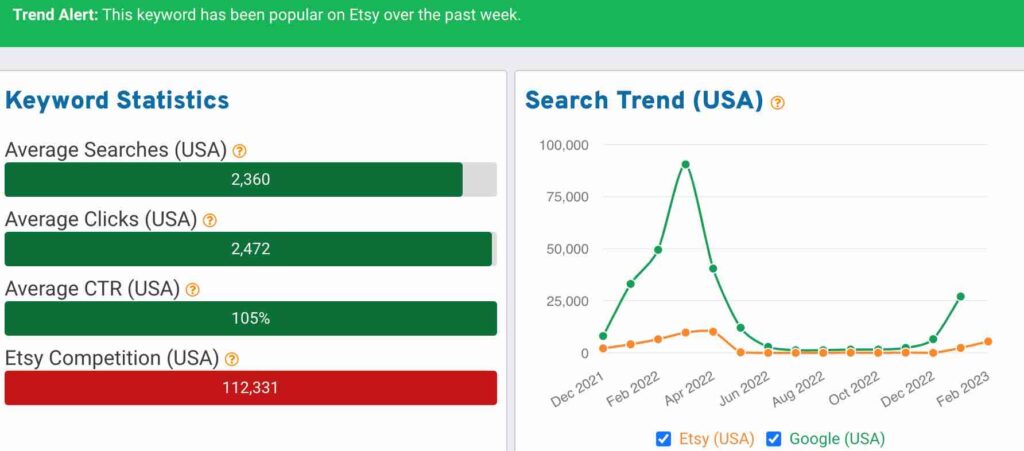 People love spring wreath as it is the best way to welcome the season and add a touch of springtime cheer to any home.
"Spring wreaths can come in a variety of colors and styles, from bright and bold to soft and pastel, making them versatile decorations that can suit any home!"
Spring wreaths are typically made with a base of grapevine and then adorned with various real or artificial spring flowers, such as daisies, tulips, wildflowers, and hydrangeas.
You can include seasonal elements like butterflies and birds as well as other.
Farmhouse style wreath by An off grid life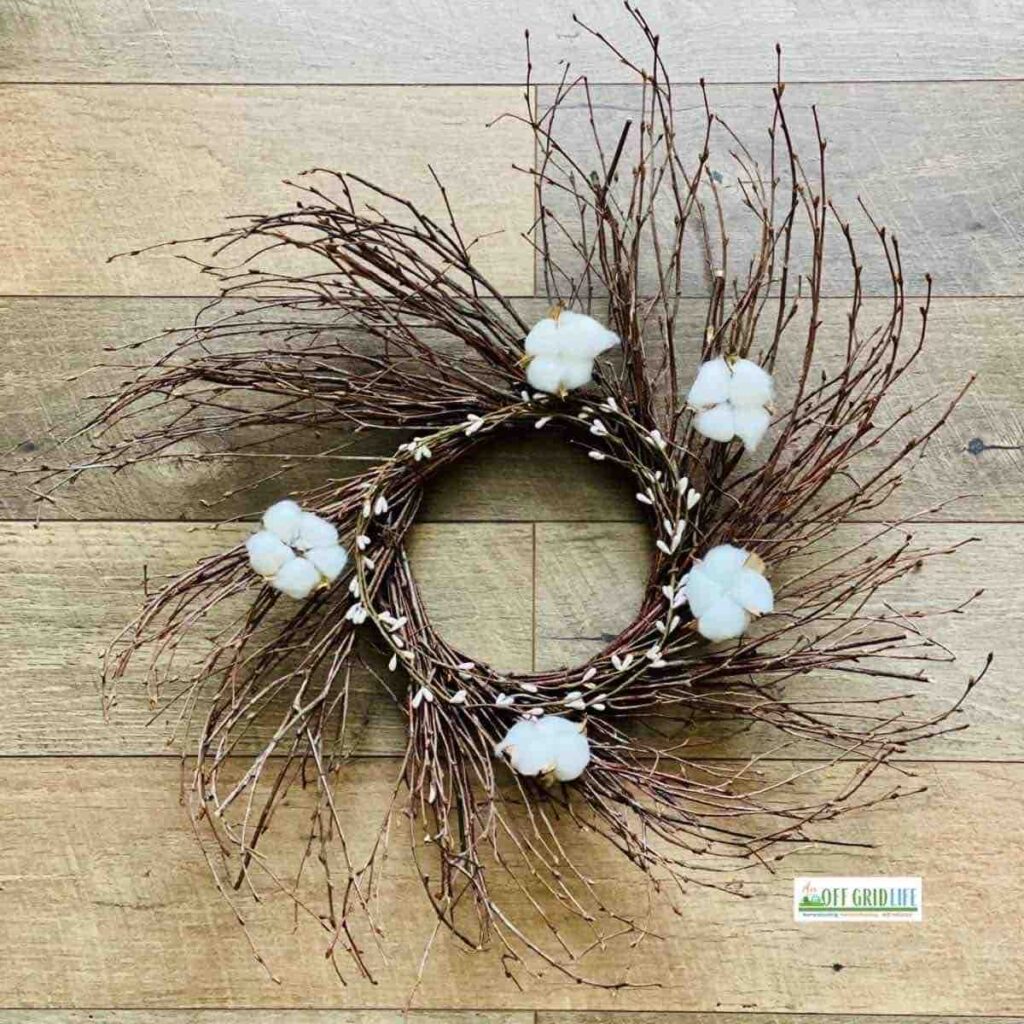 Tulip Wreath by Amanda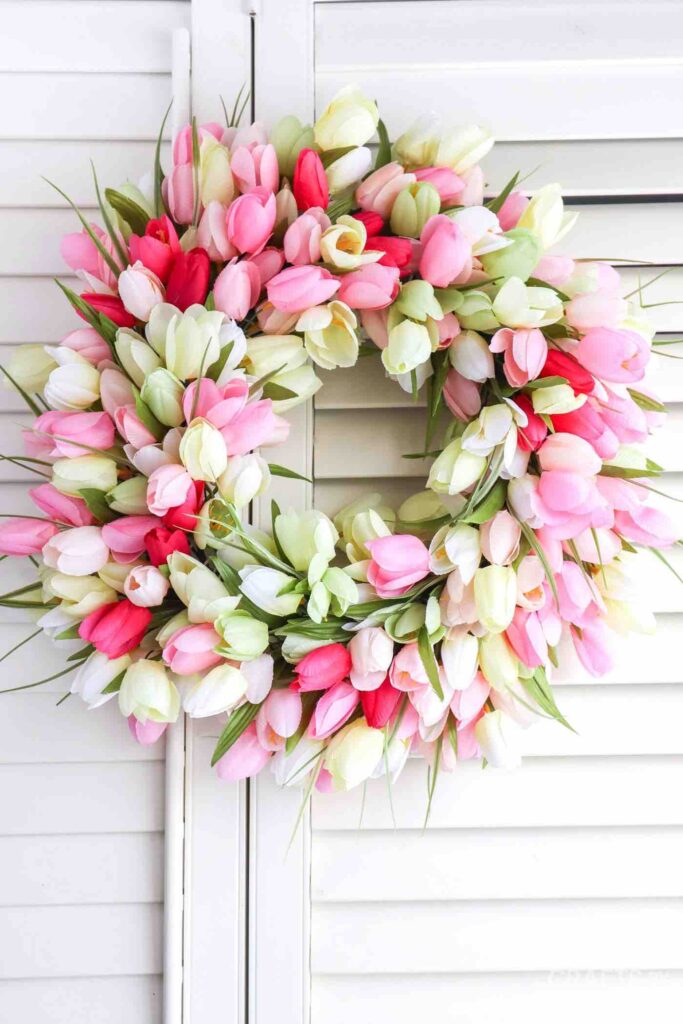 Some people use them as a mother's day gift as well!
Spring garland for mantle decor 
Spring garlands are a popular decoration for the season, and there are many ideas you could consider when creating them to sell.
One idea is to create a garland using artificial blooms and green foliage items. 
Or you can use felt balls or yarn balls in light spring colors to create a simple and elegant display garland.
Yarn Ball & Twig Garland By A Pretty Life In The Suburbs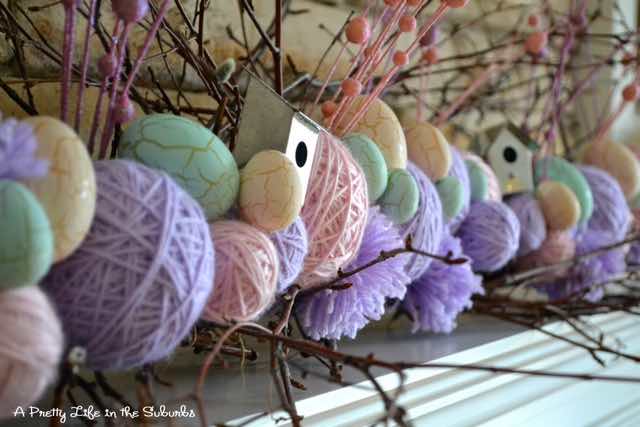 Easter themed spring garlands are popular too! Make these in egg shapes or Easter bunnies.
I have a whole post dedicated on Easter crafts to sell and it has amazing ideas that can go along.
Spring tiered decor
Using tiered decor, you can create a beautiful and inviting display that reflects the joys of spring. 
I absolutely love this tray idea below. It is so refreshing and stunning!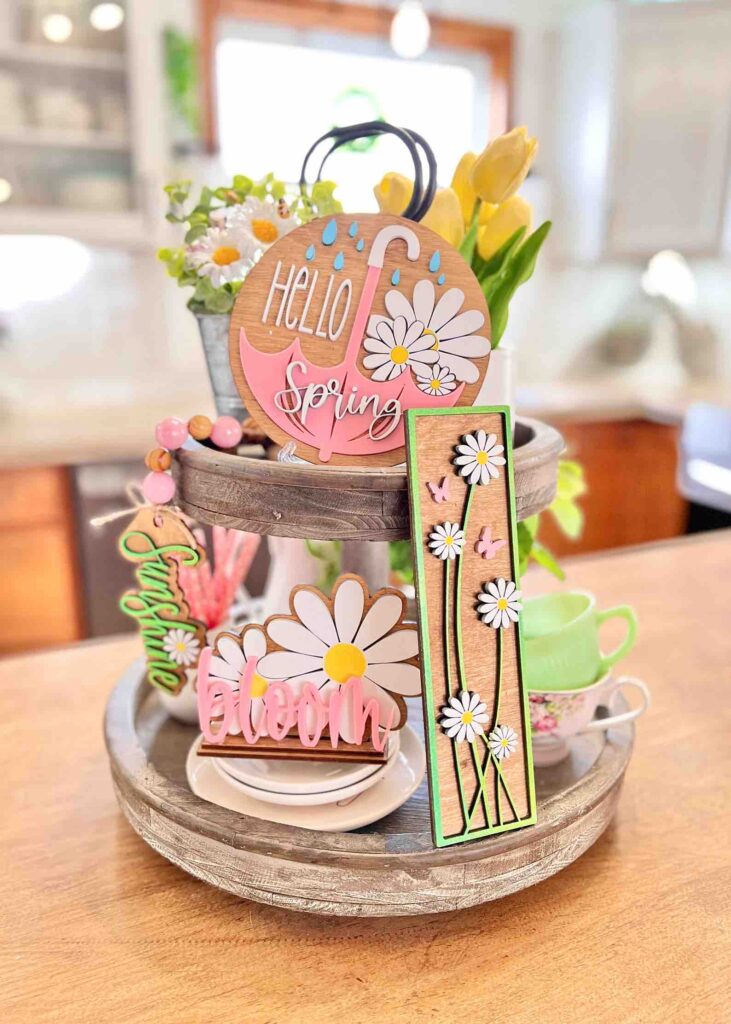 The best part is you can be creative, and experiment with different colors and textures, making an inviting display for your customers.
Popular ideas for spring trays include: 
Miniature flower pots
Small birdhouses
Spring-themed signs
Easter figurines
Fake gardening tools
Candles
You can find trays at Amazon and other hobby store near you. Then use your Cricut machine or laser cutter like Glowforge to make some gorgeous items for your spring tiered trays.
Here are some of the most loved spring tiered decor files. Most of these come with commercial to sell physical products as well!
Spring Tray For Glowforge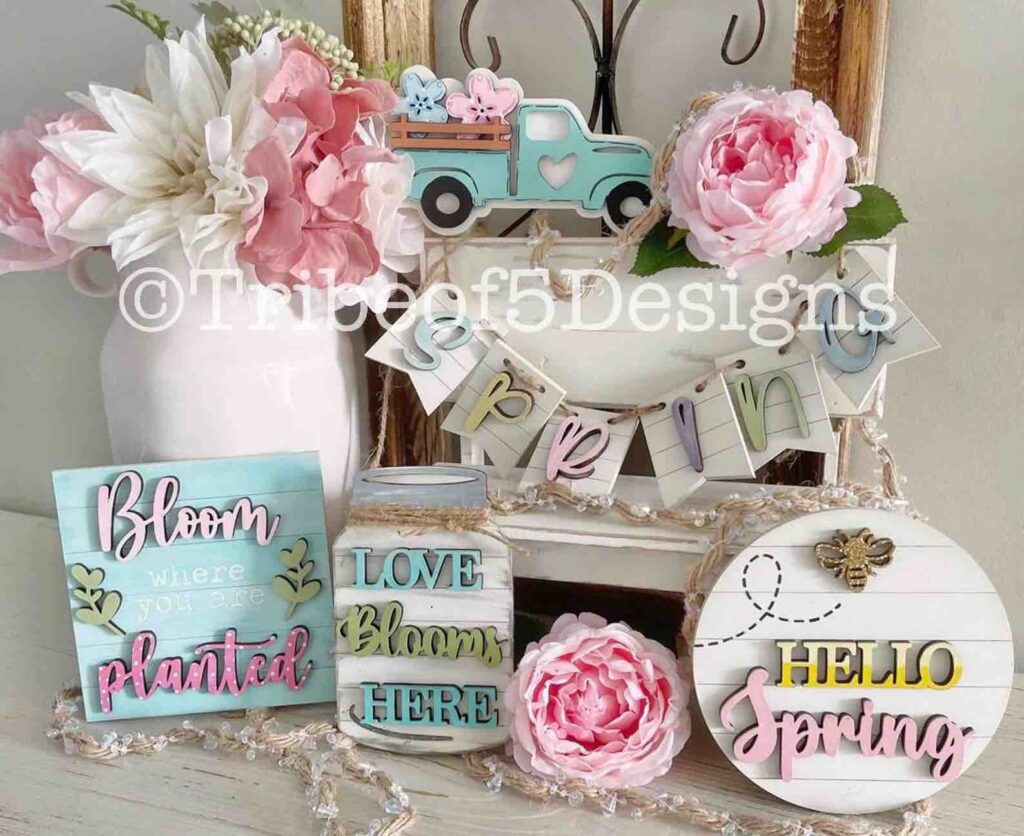 Flower market spring tray for Cricut and Laser Machines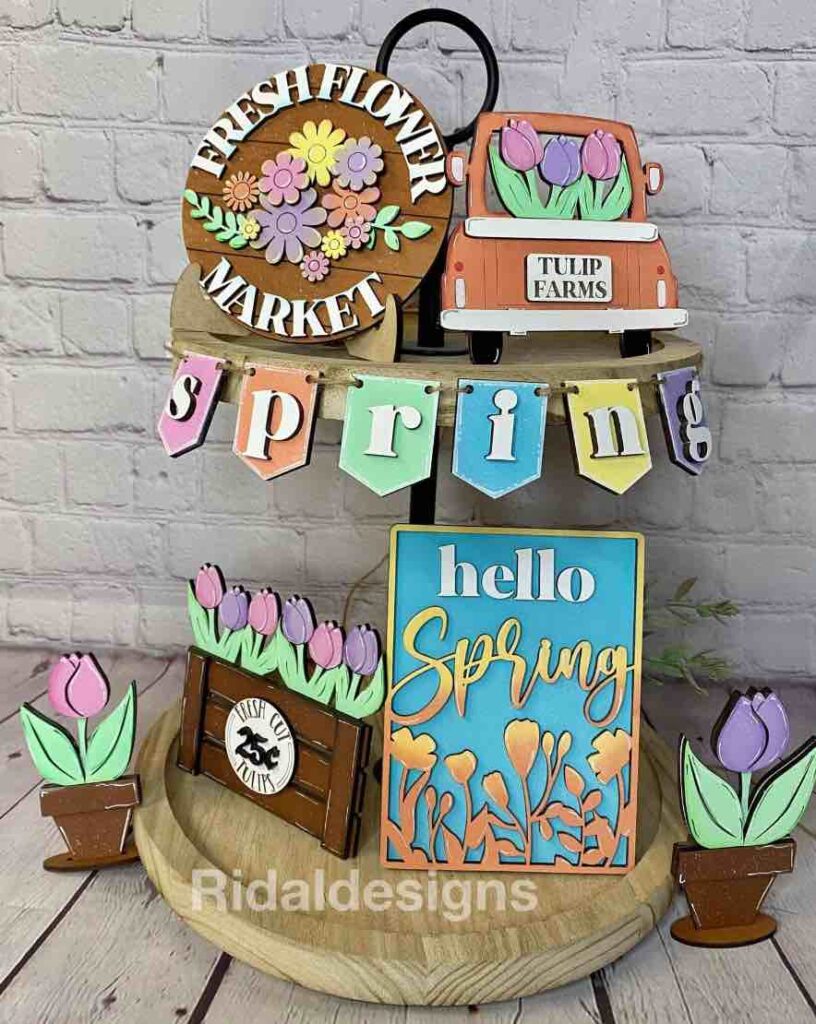 Super Cute Gnome Spring Tray For Laser Cutting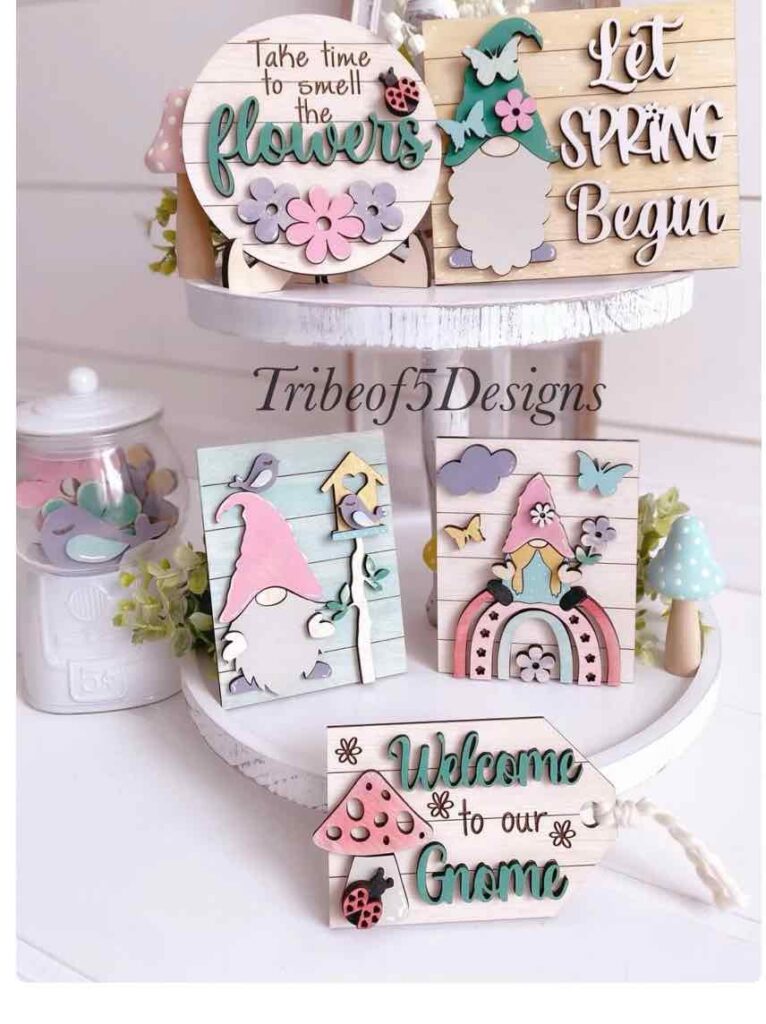 Related posts:
Spring-themed Wooden Signs
Another hot selling item during spring is a 'Hello Spring' sign.
If you have a Cricut, use adhesive vinyl decals with similar phrases and apply them to the signs.
Some people prefer making stencils with removable vinyl as it tends to last longer.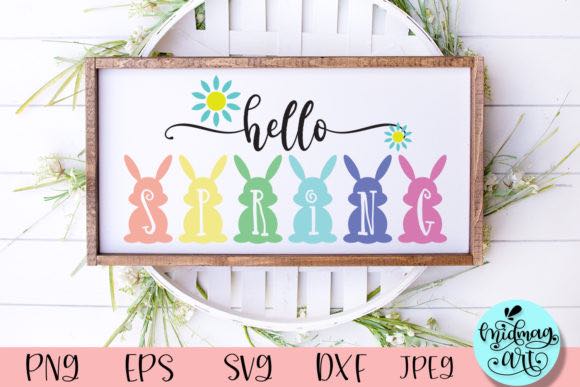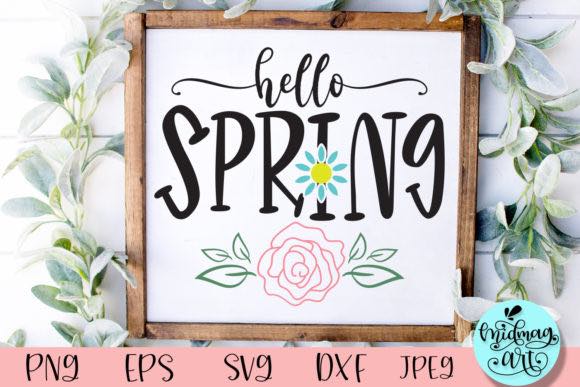 Or you can use laser cutters to create intricate wooden signs (they sell for better price) with phrases like 'Welcome Spring', 'Happy Easter, 'Hello Spring' or ' Spring Market.'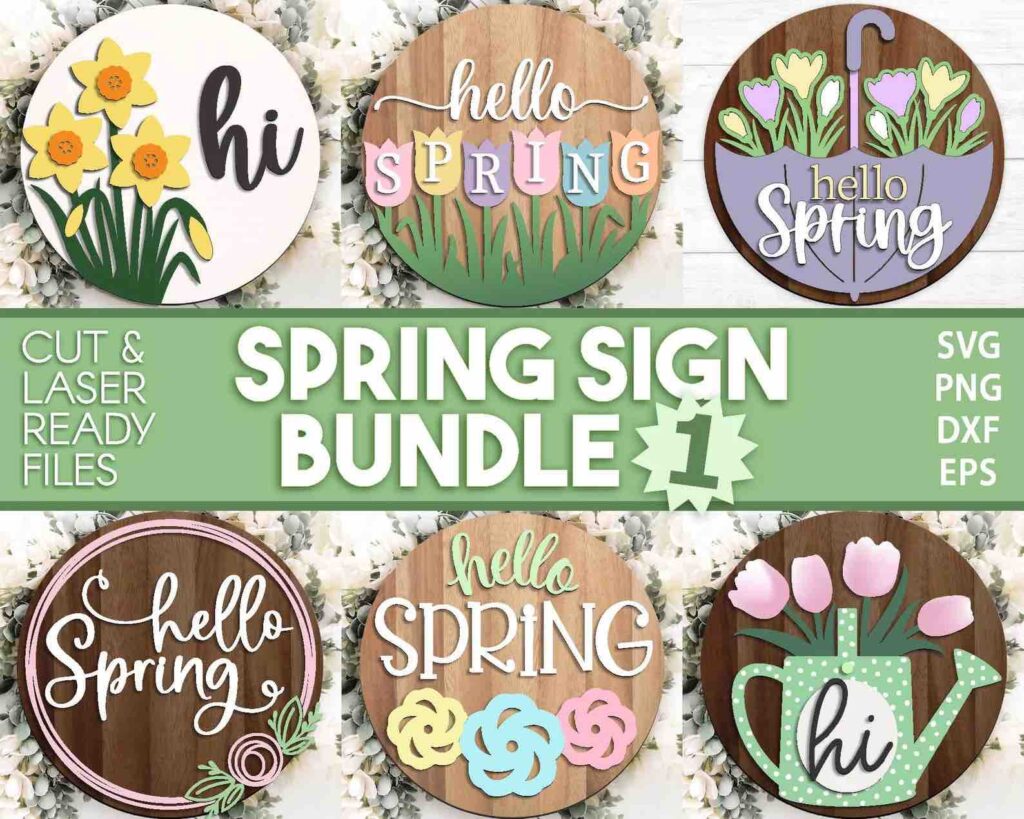 Front porch signs
People love to decorate their front porches for spring, and a wooden front porch welcome sign is a perfect addition to any porch decor. 
They are relatively easy to make using Cricut, Vinyl and some paint supplies. Just make sure to weather proof them using a coat of varnish or polyurethane.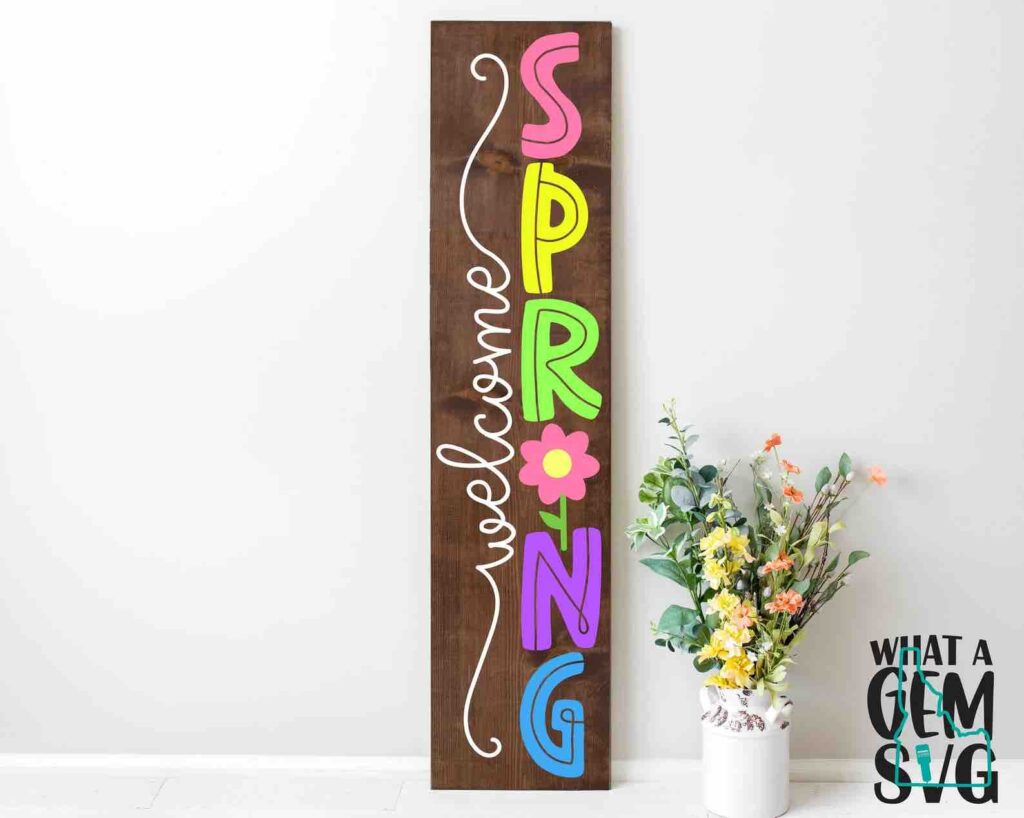 Spring Themed DIY Door Mats
A spring-themed door mat is an excellent choice for a DIY project, as it's both practical and eye-catching.
Consider creating a DIY door mat with charming floral designs and welcoming messages in pastel colors or floral patterns.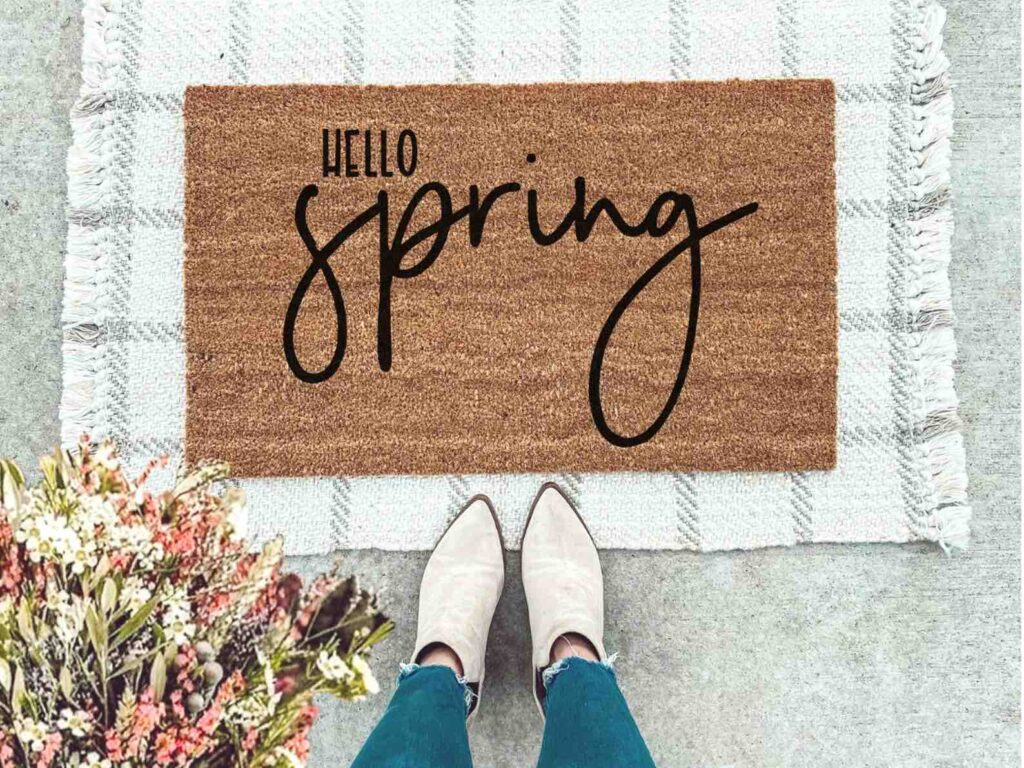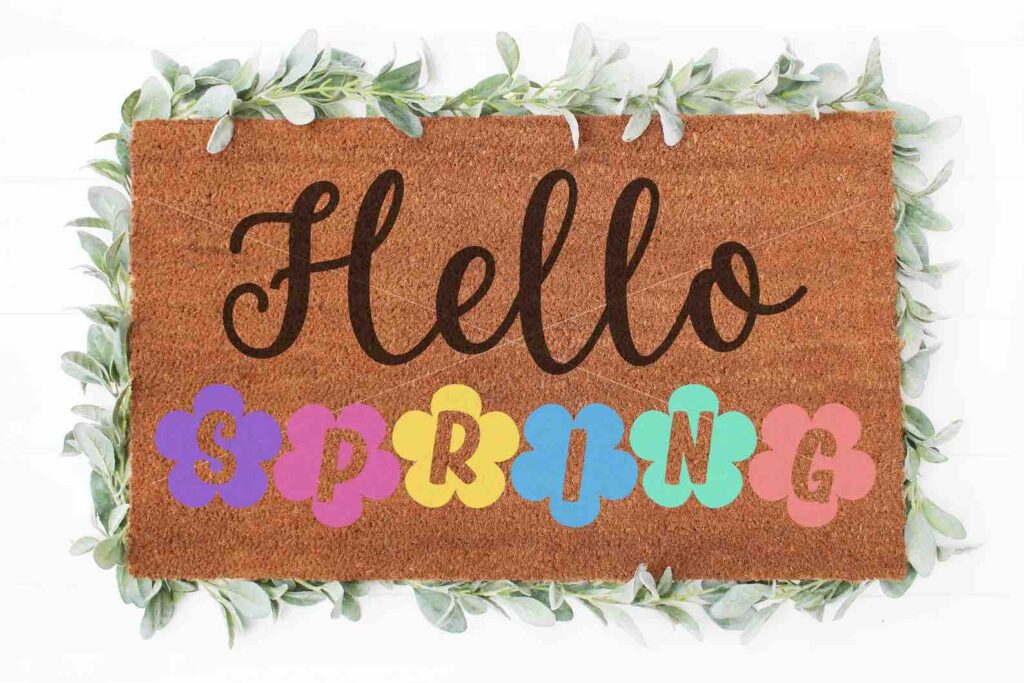 Or you can create a 'Welcome spring or home' doormat replacing 'O' with a flower or an Easter bunny.
Spring Themed Table runners
If you want something easy to sell, you can't go wrong with spring themed table runners!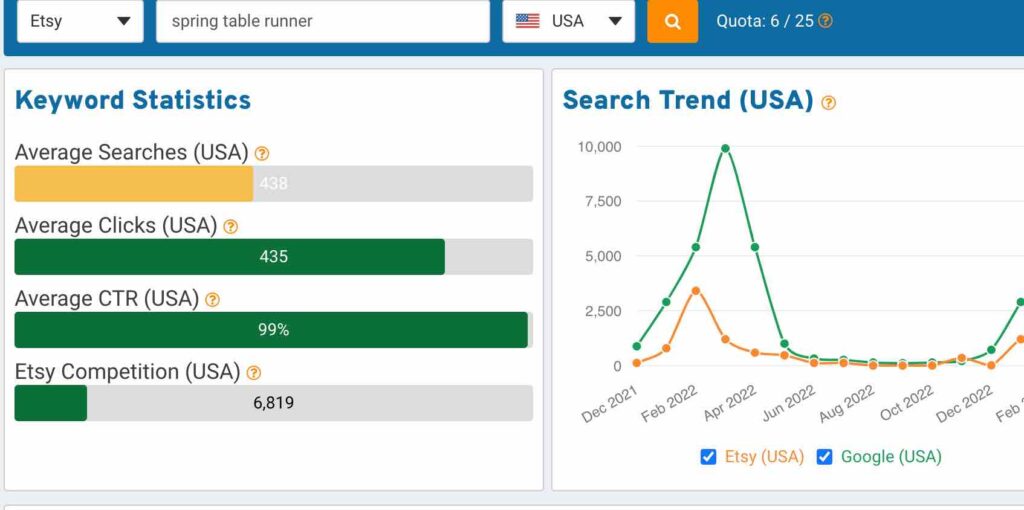 You can sell them in craft fairs, pop up markets or online.
Consider using light and airy fabrics like cotton or linen in soft pastel shades to create a fresh and inviting look.
I've seen table runners with all sorts of cute designs. Here are some ideas:
Floral prints: classic choice
Polka dots and stripes: whimsical option
Animal motifs: cute and playful
Rustic burlap: adds a natural touch
Spring Earrings
How can we miss spring themed earrings!
As the weather warms up and people start to shed their winter layers, they are often looking for new and trendy accessories to update their look.
And one of the best and affordable way to do is wearing spring-inspired earrings.
Polymer clay earrings are a fantastic choice for anyone looking to get into jewelry crafting.
Not only are they easy and affordable to make, but they also offer endless possibilities for creative expression.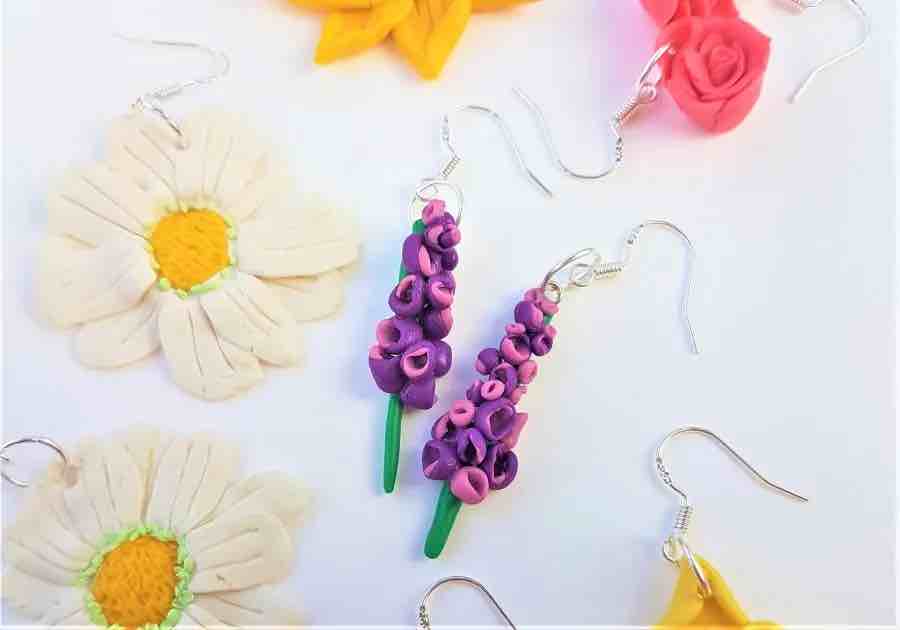 Spring Pillows
Another really popular spring fabric craft idea to sell is spring pillows and pillow covers.
From floral prints to bold fabrics, the possibilities for creating unique and stylish pillow covers are endless.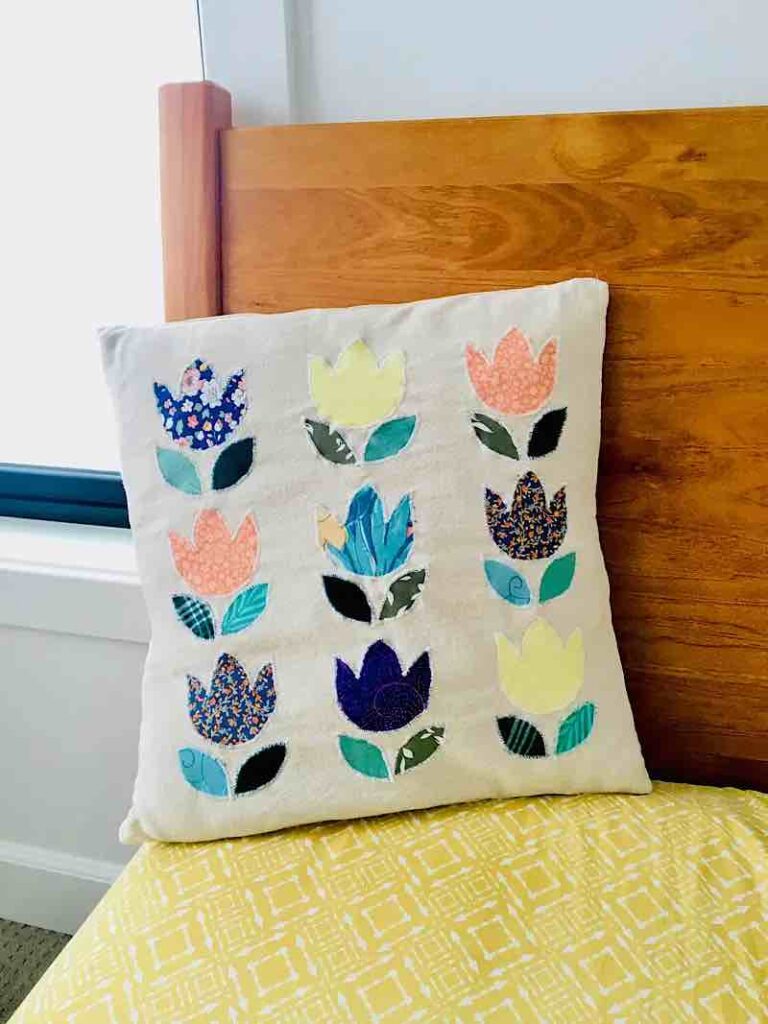 You can buy fabrics and sew pillow covers or personalize with Cricut and Iron on Vinyl.
Sublimation is another hot and trending area worth exploring!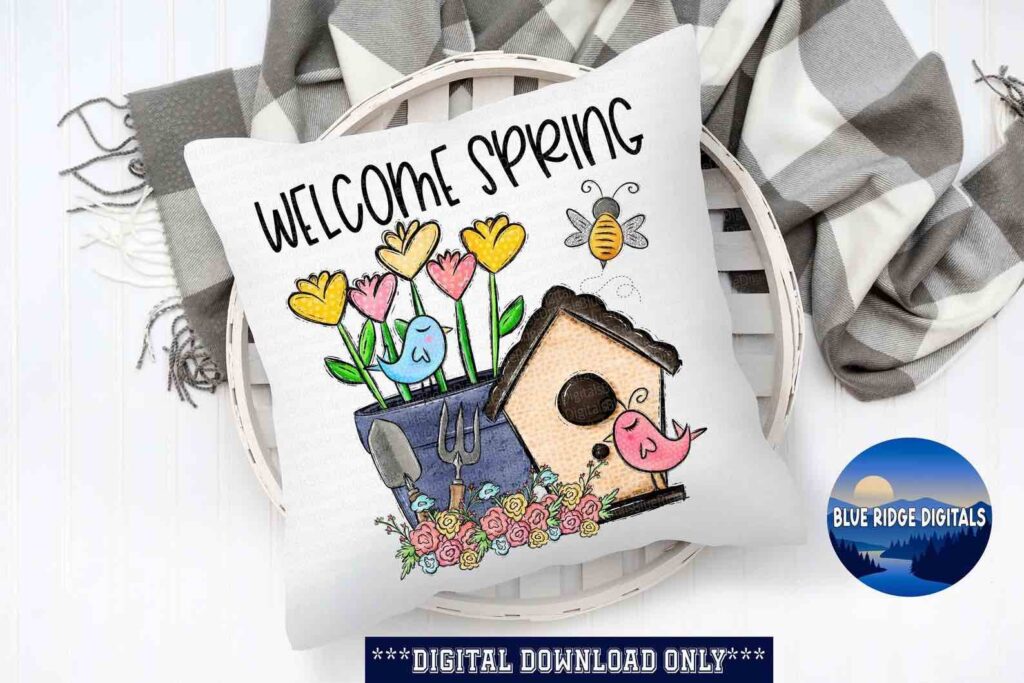 Farmhouse inspired centerpieces
One thing that always sells really well is farmhouse inspired decor items.
This spring centerpiece is super-fun to make and make an elegant flower display that you can sell.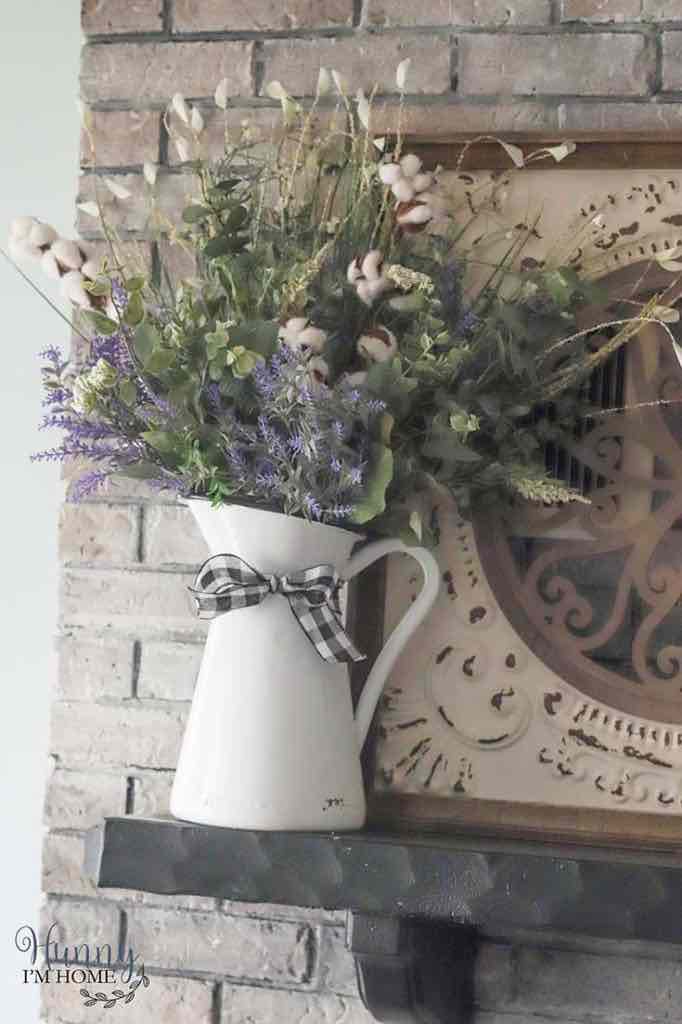 Spring Mason Jar Crafts
Mason jar crafts are ALL THE RAGE these days.
I love mason jar crafts myself and know many people love using mason jars for home decor purposes and creating a unique line of products for spring is no different.
Here are some ideas that really sell well:
Paint them in chalk pastel colors and add spring quotes, and blooms, or keep them like that only!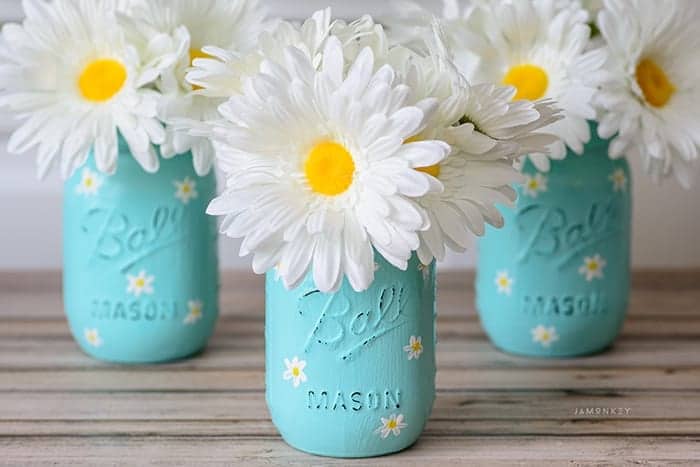 Or you can make adorable bumble bee spring vases like below!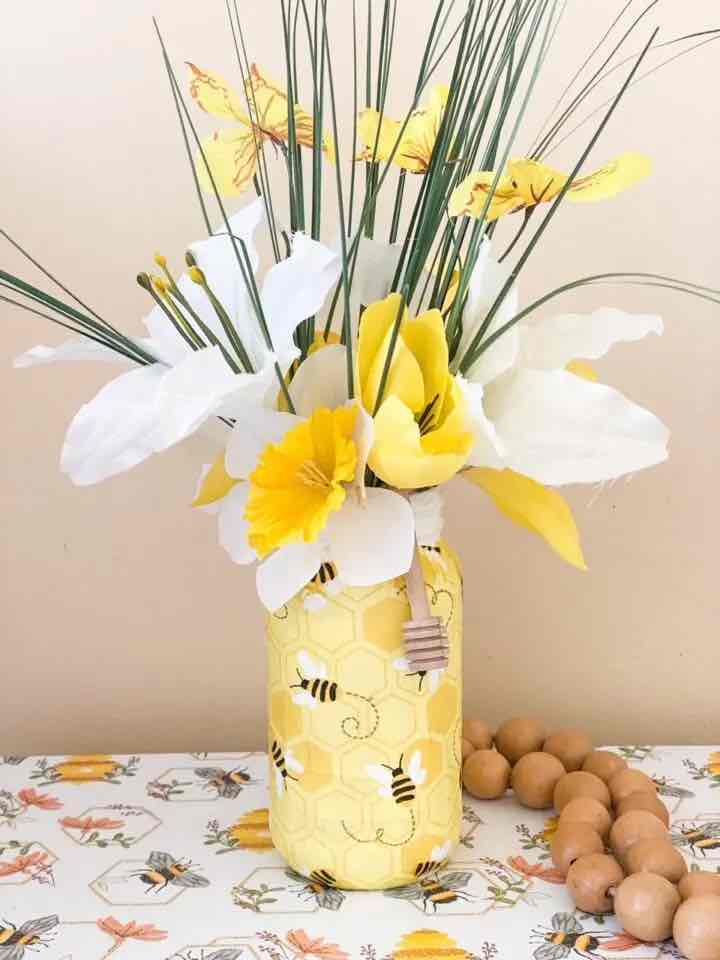 Here is another one I absolutely love!
Here is another amazing idea to turn your mason jars into speckled robin's eggs. Perfect for someone looking for gifting!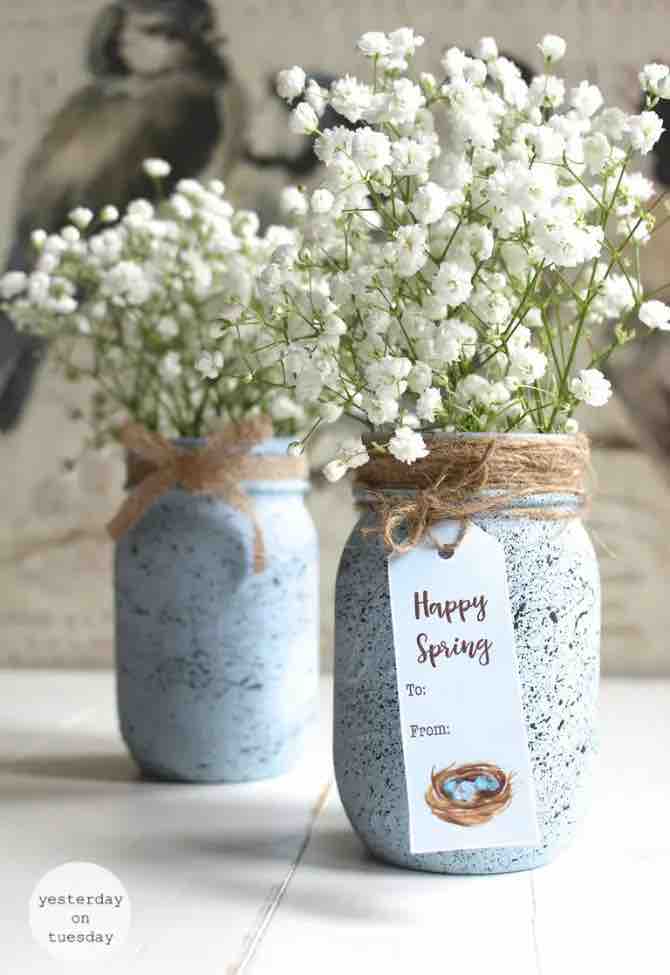 Related posts:
Spring Shirts
Here is another cute spring craft, you can't go wrong with!
The shirts are easy and quick to make with a Cricut easy press machines or using sublimation printer.
Just grab so fun graphics like this and get crafting!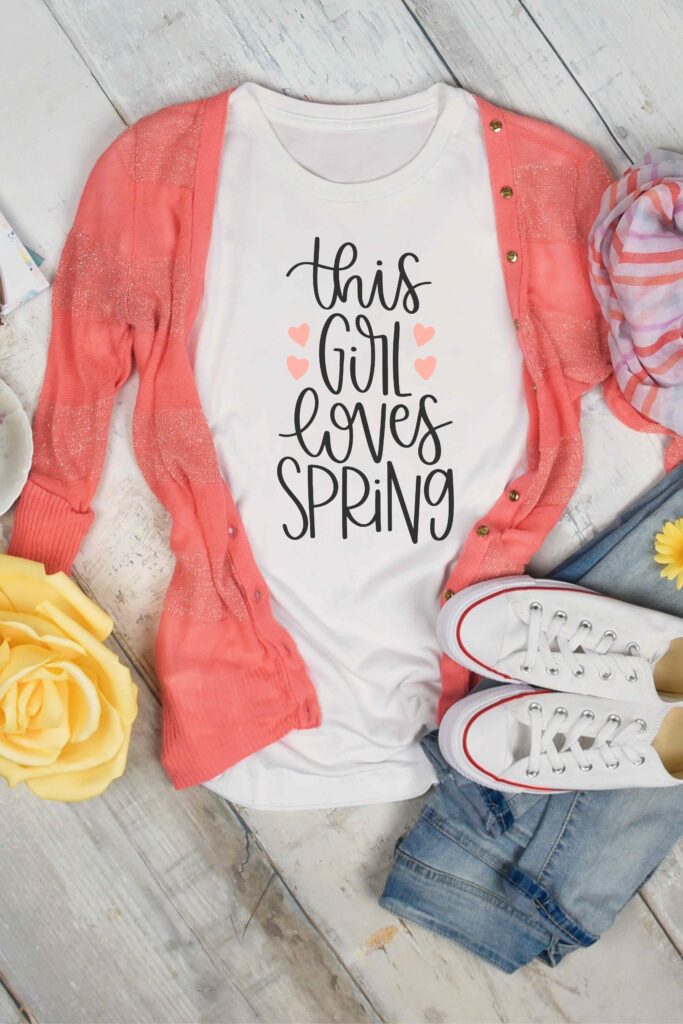 Spring Tumblers
If you want to make something trending these days, then a tumbler is a perfect choice.
Personalized tumblers are absolutely adorable and look great too!
Here is a beautiful tumbler wraps idea you can use in your next spring project to sell.
Personalized White Daisy Tumbler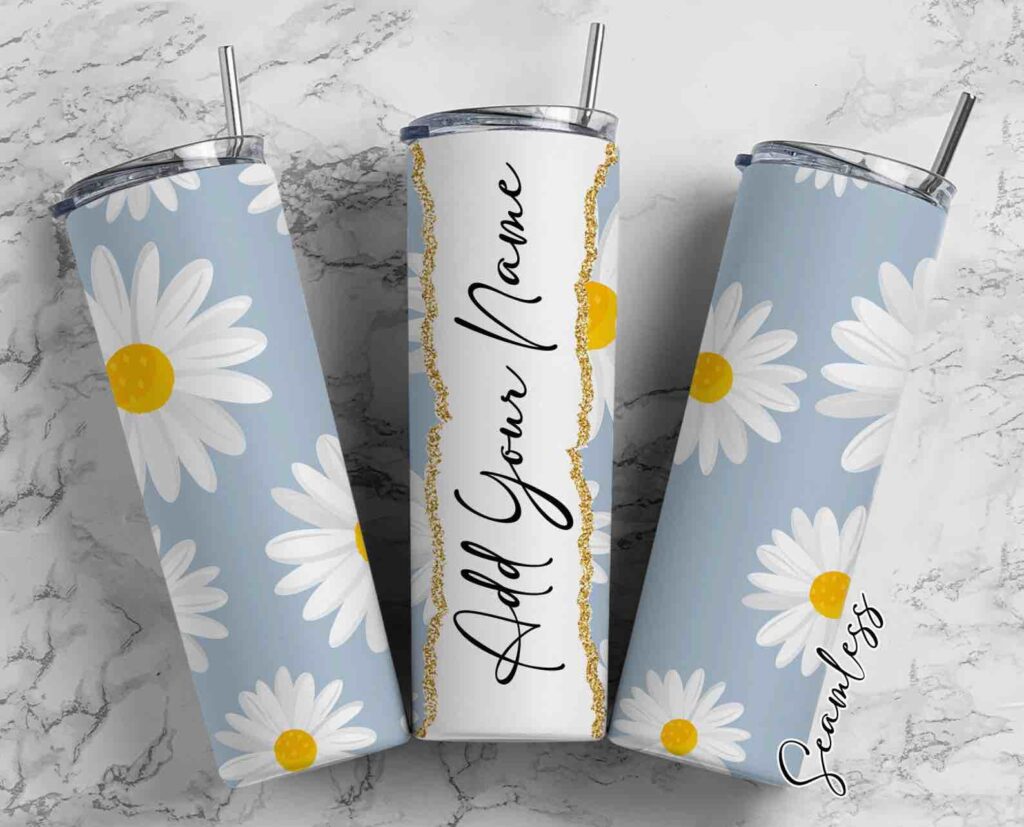 Planters
A gardening-loving person can never have enough planters, and since spring is the perfect time for this, selling pots and planters is a great idea too!
From wooden planter boxes to galvanized metal planters and hand-painted pots, you have plenty of options to explore based on your skills.
Spring Planter Box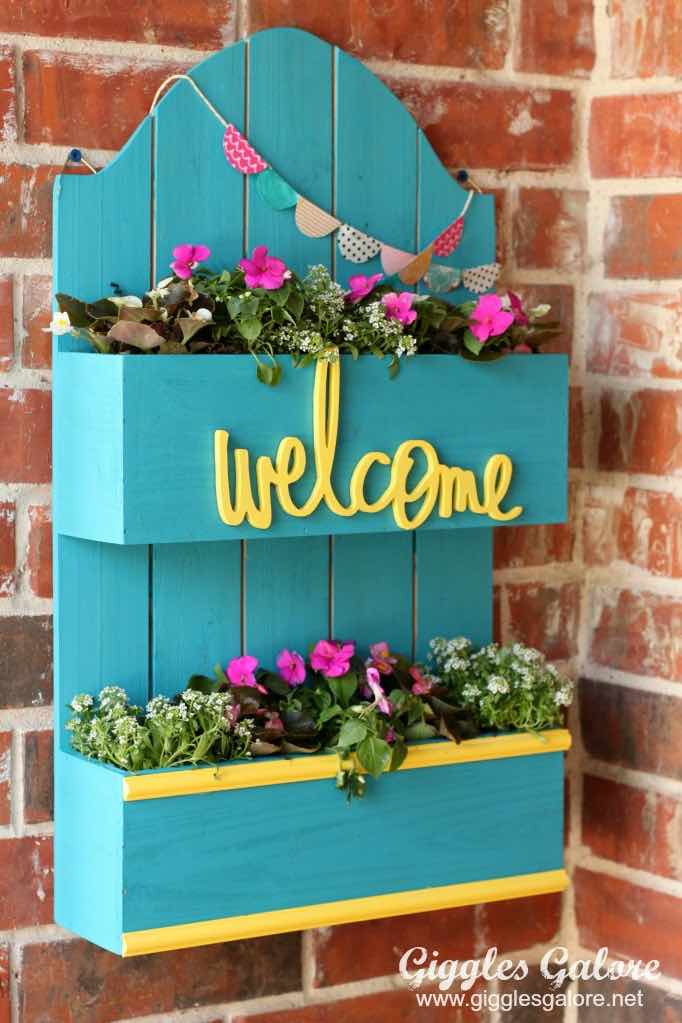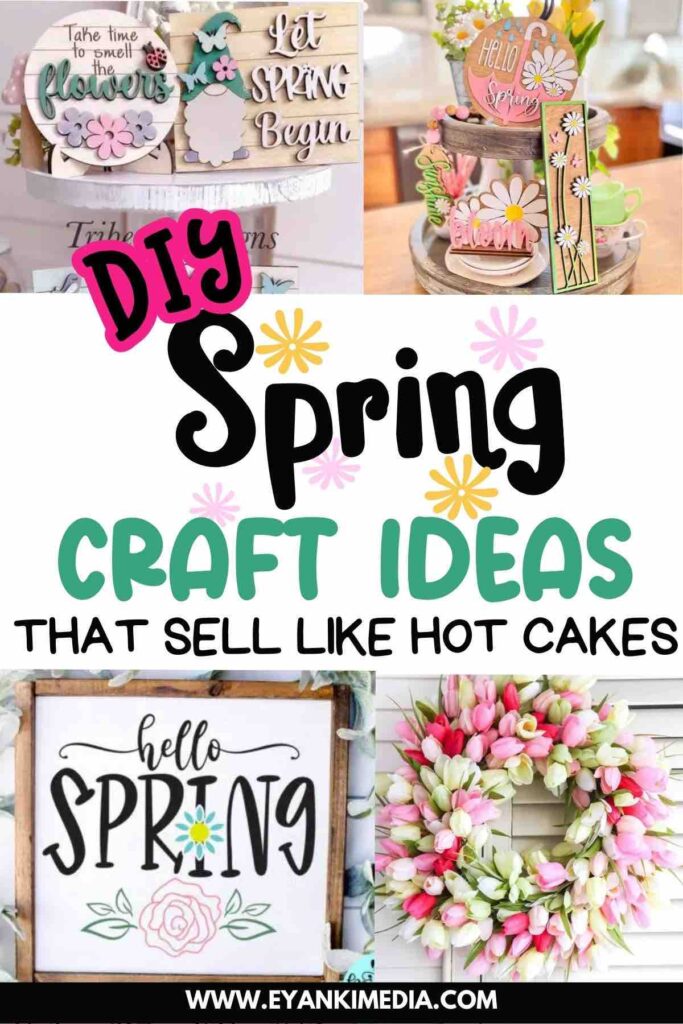 Spring Crafts To Sell For Profit
I hope that this post on Spring craft ideas was helpful in providing you with some inspiration on seasonal crafts you can create and sell for profit.
If you are looking for more ideas to sell, here are some of our most popular posts:
Profitable Craft business you can start today
Easy things you can make and sell