Best Etsy printables course
I have a lot of posts about Etsy and how to make money by selling Etsy printables on my blog. Creating a passive income stream on Etsy was always on my checklist, and it has been a lot of fun.
I started my Etsy shop on Sept 2021 and was able to get more than 30 sales in my first month.
In the mean time, I have had many questions from people who want to know if investing in an Etsy printable course is worth it since there are a lot of free Youtube videos and resources available online.
To be honest, this is a tricky question as it depends on lots of factors.
And as a matter of fact, I have taken around three Etsy printable courses myself.
Yes, you read that right!
I did one mini-course before starting the shop, another one that helped me open my Etsy store with some great ideas, and the third one (for sure the last one) that filled in all the gaps that I had in my Etsy printable business journey and helped me make over $200 per day.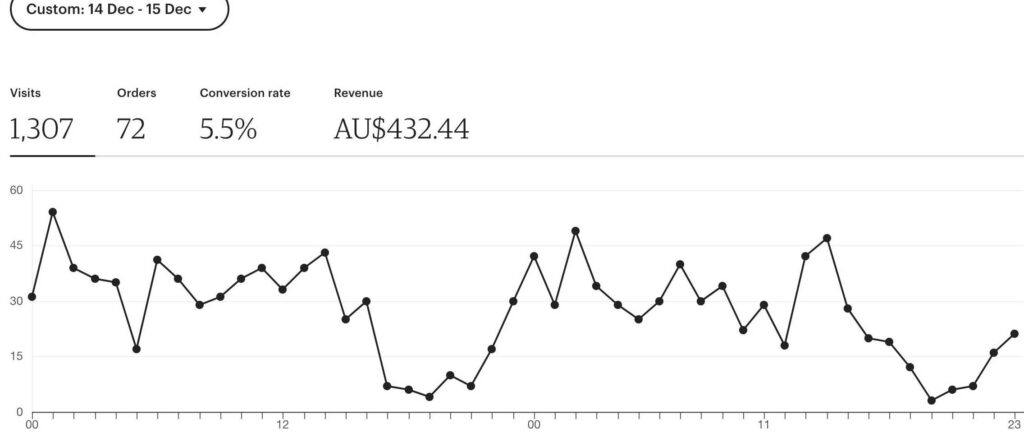 In this article, I will discuss different Etsy printables courses available to you, what to expect from these courses, and if taking an Etsy printable course is worth it.
This website contains affiliate links which means we may earn commissions if you purchase through them (no extra cost to you). You can read our policies here.
Is it worth spending on Etsy printable course?
As I said earlier, it depends on lots of factors.
For example, if you are a complete beginner and have no idea where to start, investing in an Etsy printable course can help you get started faster and in the right direction than banging your head against the wall of free Youtube videos.
Imagine learning its and bits from different free Youtube videos and trying to connect the dots yourself. It is feasible but very time-consuming.
On the other hand, a 'comprehensive' Etsy printable course can give you actionable steps and relevant resources to quickly set up your store and work on things that matter.
Templates, checklists, worksheets, and done-for-you resources are some of the bonus items you can get access to by enrolling in an Etsy printable course.
Some courses also offer support like a Facebook group or Q&A calls which can help you stay accountable and troubleshoot any Etsy or printable-related issues that you might have.
Trust me when I say this, Etsy printable courses are worth it, if they offer comprehensive content, provide support beyond the course material or after starting a shop, and have a community of engaged, successful Etsy shop owners. 
Related Posts On Etsy
Best Etsy shop ideas to start a business
Best items to sell on Etsy to make money
Best Etsy Printables Course in 2023
1. Gold City Ventures Course: E-Printables Side Hustle Course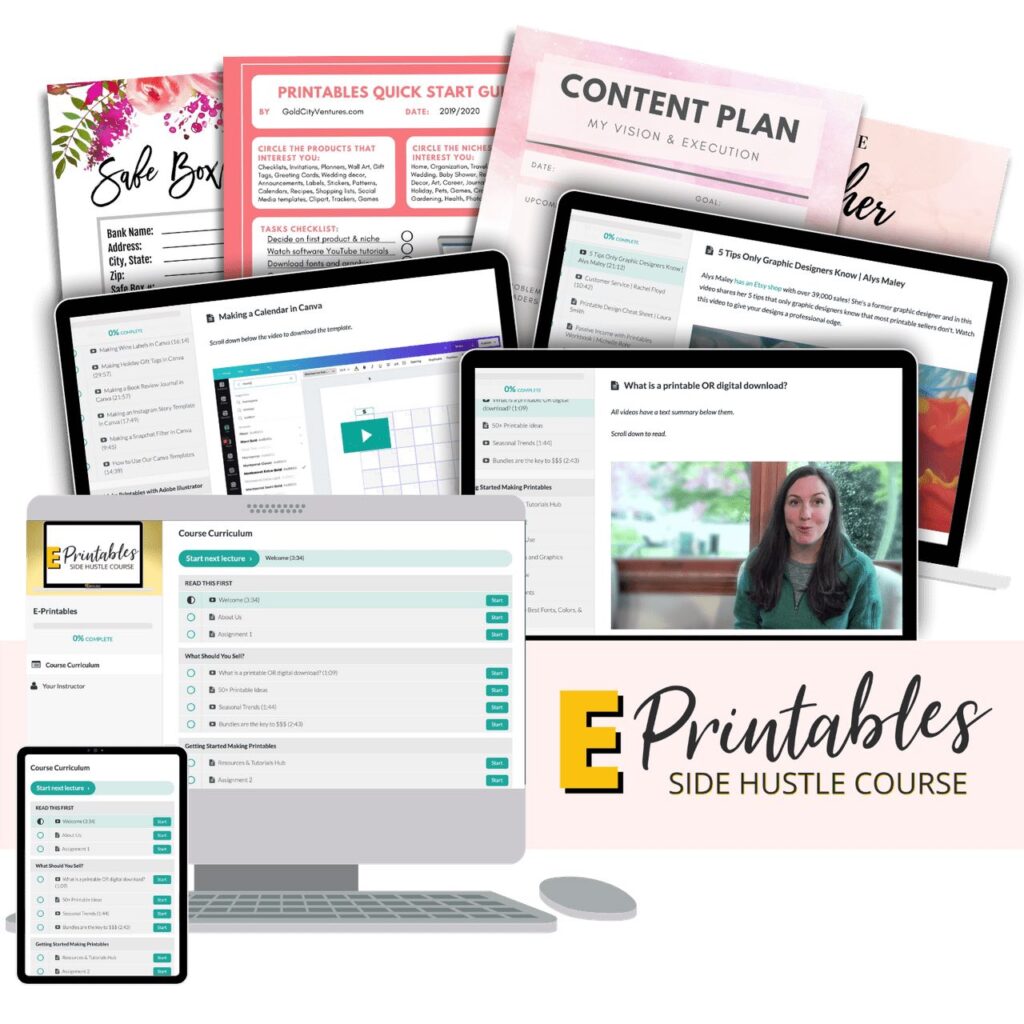 I am starting my list of printable courses for Etsy with the last one I took: E-Printables by Gold City Ventures.
This course checked all the boxes for me- it is very thorough, has an amazing community, and I absolutely love the resources it offers.
Starting an Etsy shop and creating a listing is very easy, but the real challenge is to find your niche and get traffic to make sales on Etsy.
It offers clear strategies to make and improve products that can help grow traffic to your Etsy shop.
If you already have an Etsy shop and find yourself stuck, this course has a lot to offer. Not to mention, it has been positively reviewed by many side hustlers, and some of them have even become star sellers on Etsy.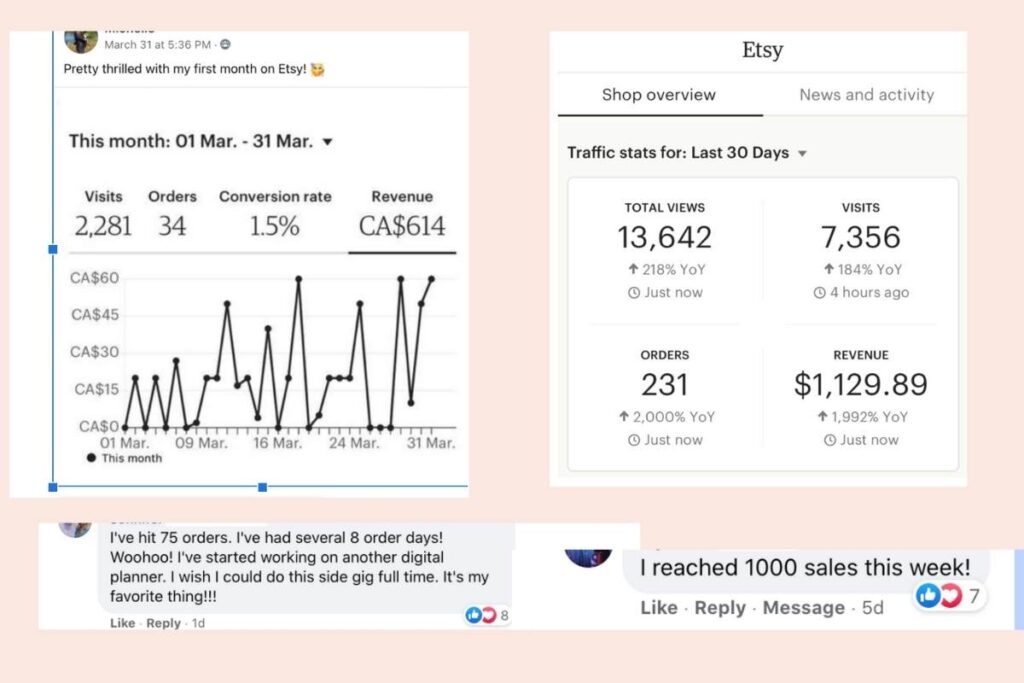 When you join the E–Printables course, you'll get one month of free access to bonus VIP Membership Vault, which includes bonus videos, free templates, and access to a group of successful shop owners.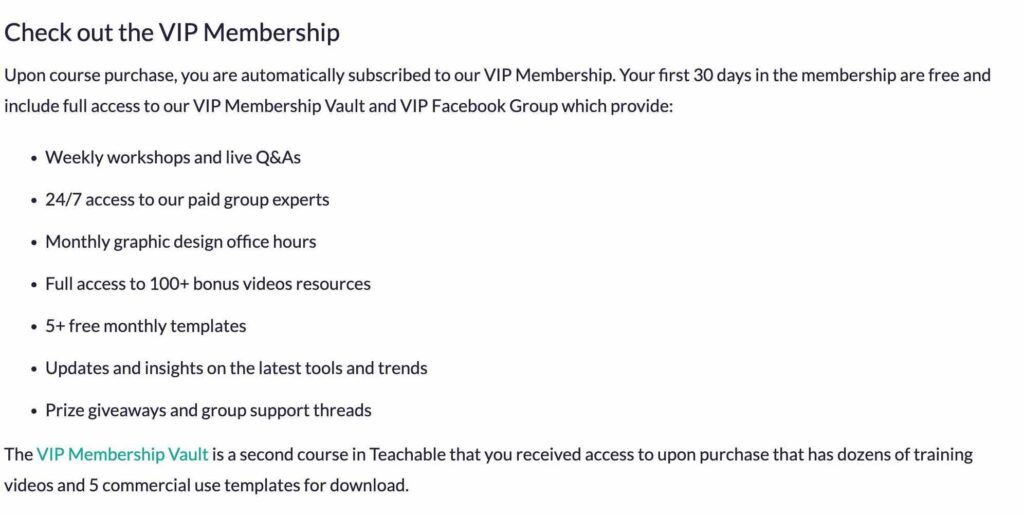 After one month, you can either buy it as a monthly subscription or get it free after you reach your 100 sales on Etsy. I am not going to deep dive into its content as you can check all that on their website itself (scroll down). 
I'll focus on the best parts of this course that I found to be most beneficial or which were missing in other Etsy printable courses I took.
✅ Different platforms to make printables: It is not limited to just Canva; there are many lessons on how to make printables (including editable) using Adobe Illustrator, Acrobat Adobe, Corjl, and Templett.
And if you want to dive into selling digital planners, it has some bonus training on making them too.
💰 Finding 'your Unicorn product' and your niche: I got this term from Julie (course creator) and absolutely loved how the course outlines various methods to find low competition (and high cart value) products that people are actually searching for on Etsy and how to stand out from the crowd by offering something unique.
This is what makes an Etsy shop successful in the long run.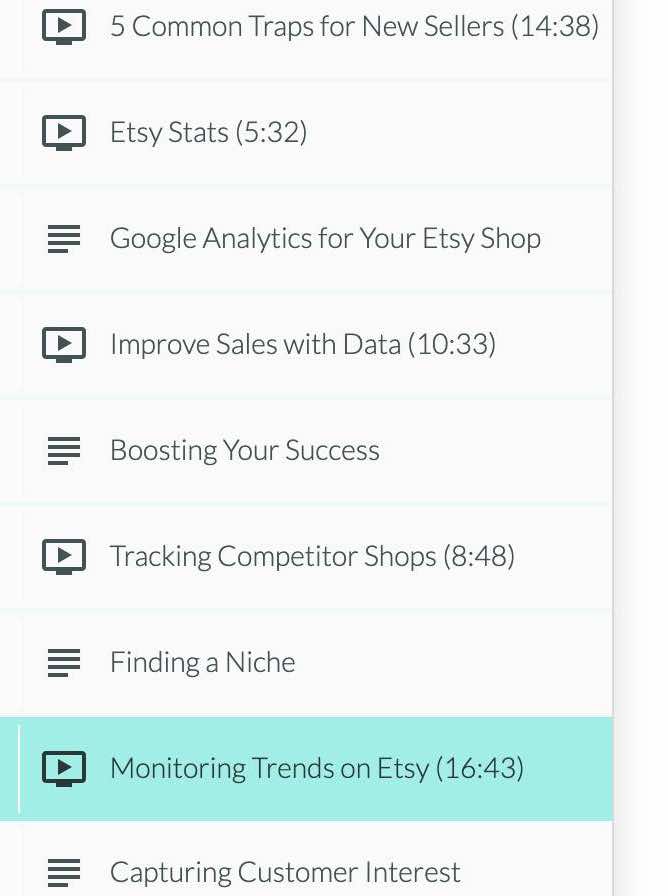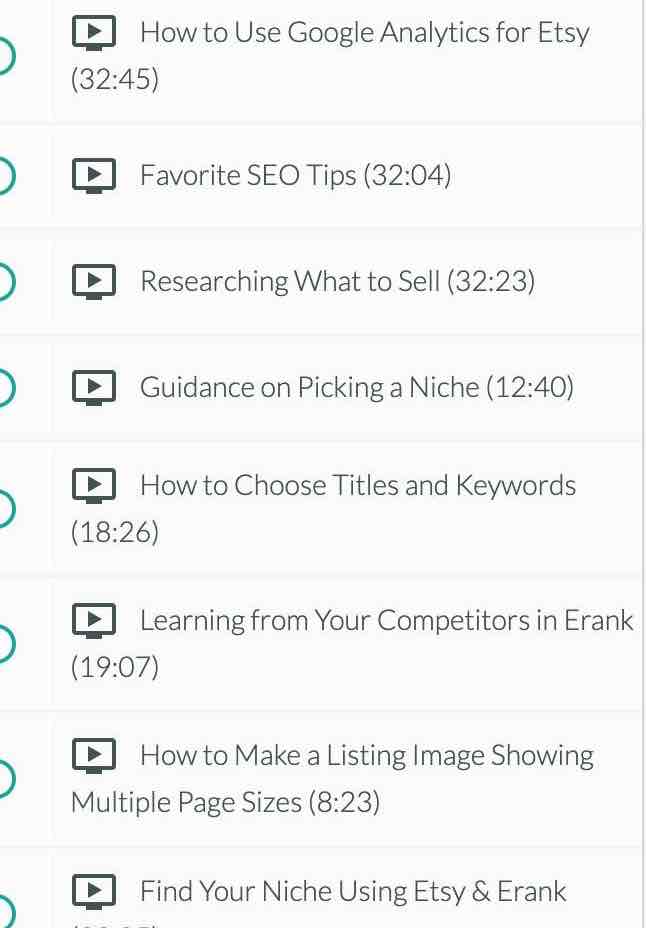 It doesn't focus on copying what everyone is making and trying to get a piece of the pie. I have not seen any other Etsy course going so deep into finding a niche and spotting trending profitable products.
🚀 Boosting sales using data: If you are a data-driven person like me, you'll love this part. It has a great module on using different analytics (not just Etsy analytics) to improve your sales conversion rate.
(I didn't know about this before taking the course 🤦🏽‍♀️.)
📈 Plenty of Conversion tips: There are so many bonus modules from successful students on how to improve your Etsy listings and overall conversions on Etsy.
This includes behind-the-scenes of successful shops, advanced competitor analysis, and guest presentations.
There are also detailed demos of the 3-most powerful Etsy SEO tools on market today: eRank, Marmalead, and Sales Samurai.
Even if you don't know what to sell on Etsy, these videos can help you find a product that can be profitable.
✅ VIP Membership Templates: Each month, you get access to 5 new templates in the VIP membership vault with their instructional videos and keyword research tips. 
I was amazed to see the quality of these templates, as they are not just like templates you get from a PLR shop.
Some of these are over 30 pages long in different sizes and designed with trends and keywords in mind- well worth the money you'll spend on this Etsy course.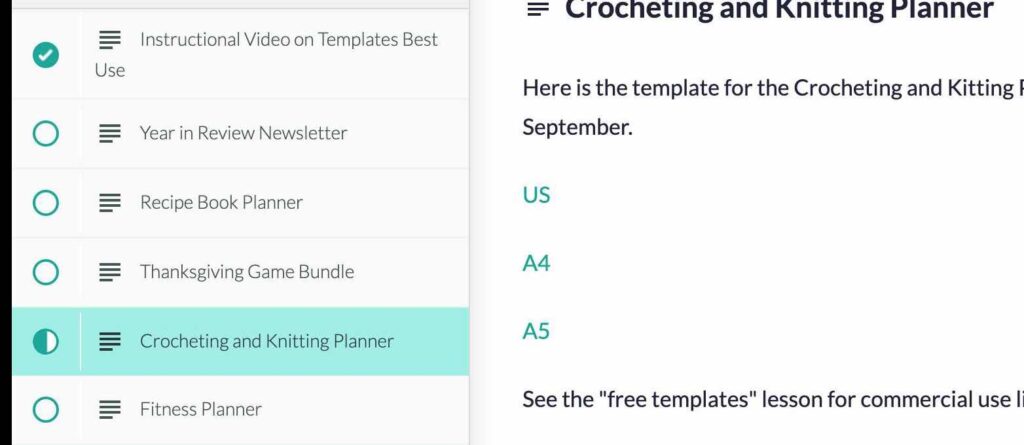 ✅ Training and sessions inside Facebook group: Here is another big reason to join the Etsy Printables course: a vibrant and supportive Etsy community inside a private Facebook group.

✅ You can get constructive feedback from experienced sellers in the group on your products or shop.
✅ If you need design help, there are monthly sessions you can submit designs for review by a professional graphic designer in the group. Sometimes a little color change or the looks of your listing can make a big difference in your Etsy product conversion rate.
✅ Monthly coaching sessions with Cody and Sasha to get more personalized advice for your Etsy shop. Sasha is a student of Etsy printables and a top 1% Etsy seller with a wealth of information. 
I could go on and on as it is a well-rounded course, but I'll stop here.
I might put up separate  E-Printables review article, but for now, I would say – this course actually delivers on its promise and is continuing to get even more updated with new modules with time.
If you are not sure, try this free workshop to get a glimpse of selling printables on Etsy and what they offer.
2. Build Your Digital Etsy Empire by Sadie
Build Your Digital Etsy Empire by Sadie is the course that helped me start my Etsy store. Sadie has a lot of experience in blogging and selling on the Etsy space. 

You'll love how she teaches and breaks things down into bite-sized pieces for easy understanding. 
Most of her Etsy course is based on Canva and includes many easy-to-use templates.
Her course is a good place to start if you are new to Etsy or want to learn more about selling digital products on Etsy to make passive income.
If you want to learn how to make passive income online, Sadie is the best person to learn from.
Apart from her Etsy course, she also offers a monthly membership called Passive Income Pathways, where you can get access to all her courses, templates, and resources for a monthly price.
3. Amy Harrop's Printable Courses
Amy Harrop is another seasoned marketer in the Etsy space. She sells many bite-size niched courses for selling digital printables on Etsy.
Her courses are not at all expensive and include relevant stats, keywords to target, and Canva templates to help you make your products.
I have done one of her party printables courses in the past, and for the price, it was a decent Etsy course with relevant information.
Here are some of her most popular courses:
Easy Learning Printables: With over 1,000 sales, this course has been one of her best-selling courses to learn printables in kids learning and education niche.
Positivity Printables Made Easy: With over 2000 sales, this course teaches you how to create and sell printables, journals, planners, and related printables in the popular positivity and wellness niches.
Examples include wellness and goal-setting products, vision boards, and more.
Succeed With Seasonal Printables: Making money with in high demand seasonal printables. One of her most recent course.
4. Printables By Number 3.0 From Suzi
Printables by number is another popular course for selling printables.

I have not taken this course myself, but I've heard that Suzi has recently updated the course to include modules on selling on Etsy as well.
Suzi is a very popular mom blogger with a large following, and her courses are generally of high quality.
If you are looking to sell printables on your blog, this Etsy course might be a better fit for you as it includes modules on selling printables using Thrivecart, Convertkit, and Teachable from your blog. (Looking at the course module on the sales page).
5. Sell Printables On Etsy In A Weekend By Faith
Faith is a well-known coach and printable product PLR seller with lots of templates and courses to sell digital products.

Her Sell Printables On Etsy In A Weekend By Faith course teaches you how to create printables using Powerpoint and Canva. She also has tons of videos on Canva tips inside it.
It further offers details on how to set up your shop, create a logo, and list your product to sell.
Other popular Etsy printable courses on Udemy
6. How to Sell Printables On Etsy & Market Them On Pinterest

With a 4.8 rating on Udemy, this is currently the best-selling course on Udemy. Looking at its content structure and reviews, it seems like a good Etsy course for beginners.
The instructor, Stephanie, goes over the basics of Etsy and shows you how to create your product using Canva and market them on Pinterest.
I am not sure what printables you'll learn, but if you are just starting out and want to get a feel of things, this Udemy course might be a good place to start.
7. Etsy 2022: Learn Etsy from a Top 1% Seller

Next on my list is a popular course on Udemy, Etsy 2022: Learn Etsy from a Top 1% Seller by an experienced seller, Lara Roxana Popa, who has made over 22,000 sales only on Etsy with over 6,000 5-star reviews. 
If you already know how to make printables and want to open your Etsy store, this might be a course you want to check out. 
Looking through the course structure, it seems like a pretty decent Etsy course that goes over the basics of Etsy marketing, how to find your niche, SEO tips, branding, and Etsy Ads.
It includes a lesson on how to create printable quote wall art, but if you want to learn more about making printables, this Etsy course might not be the best fit for you.
8. How to Make Printable Art To Sell On Etsy

Printable wall art is one of the most popular items to sell on Etsy.
Competitive, but if you find the right niche, there are a lot of opportunities to make money.
This course will help you to make digital art that is high quality and ready for printing. You will learn how to use free tools to create your wall art, listing mockups, and watermarks for your digital designs.
How to Find Which Etsy Course Is Best For You?
The best way to know which Etsy course will be suitable for you is by assessing your goals, time commitment, and skills.
Although all these courses are reasonably priced, selling on Etsy to make money still needs research and time investment to be successful.
If you just want to test the water and have ample free time, Youtube videos or a simple course on Udemy can work.
On the other hand, if you are really serious about making money with your side hustle and value laser-focused content, then Etsy courses by seasoned Etsy sellers can help you to cut down your learning time and get started quickly.
Amy's courses are inexpensive and self-paced, but I believe these are more for those who already have experience in selling printables.
I wish I had started with E-printable courses when I began my Etsy shop. My store would have been much more successful from the beginning as I made many mistakes that could have been easily avoided.
I wasted so much time creating low-profit products that practically everyone else was selling.
E-printable courses course is definitely worth your time and money investment. 
(You can also buy it on a monthly payment plan to make it more affordable.)
That's why I recommend E-Printables, you'll be able to recoup your costs faster.
FAQS On Printable courses For Etsy
Do You Need A License To Sell Printables On Etsy?
You don't need a license to sell printables on Etsy. However, you need to be sure that you are not selling copy-righted material and have a commercial license for all the elements you are using in your designs. E-printables course offers a section on this to help you get started.
Is Selling Printables On Etsy Profitable?
Depends on your niche and product. Etsy is a very competitive platform, but if you find the right niche and product, there are a lot of opportunities to make money. A shop with consistent sales may make up to $1,000 or more each month passively.
How Much Do Etsy Printables Make?
There is no specific answer to this question. Finding a profitable niche and product is key to making money on Etsy.
Some shops hardly make any sales, and some shops make over $10k per month
Is There A Free Etsy Course?
How Do I Make Printables To Sell On Etsy?
There are many ways to create printables to sell on Etsy. Experienced designers use Adobe tools to make printables. But you don't need graphic designing skills to sell printables. You can use free tools (like Canva or Microsoft Powerpoint) to create Etsy printables.
Ready to start your Etsy printable journey?
I hope this information was helpful! If you have any questions regarding the courses above, please feel free to leave them below, and I'll get back to you as soon as possible. 🙂
More Money Making Articles You Might Like:
Best online jobs for stay at home moms
Best side hustle apps to make money
Thanks for reading!
More Etsy Related Courses You Might Like