If you're looking to start an Etsy printables business for selling digital printables in 2023 but don't know where to start, this list of best selling printables on Etsy is for you. You can use these ideas to make printables to sell on Etsy.
So you've decided to make your first digital product to sell on ETSY? Great!
Etsy is a great place to sell digital products because it has an established customer base, and there are no upfront costs involved. Selling Printables on Etsy is a great way to start earning passive income.
However, creating your first digital product can be scary, especially if you have no idea where to start.
When I started my Etsy printables store, I did a lot of research to find printables that sell well on Etsy. That's why I decided to create this list of top-selling Etsy printables ideas for anyone looking to start their own store.
The best part of these printable items is that they are easy to make and very popular among buyers.
This website contains affiliate links which means we may earn commissions if you purchase through them (no extra cost to you). You can read our policies here.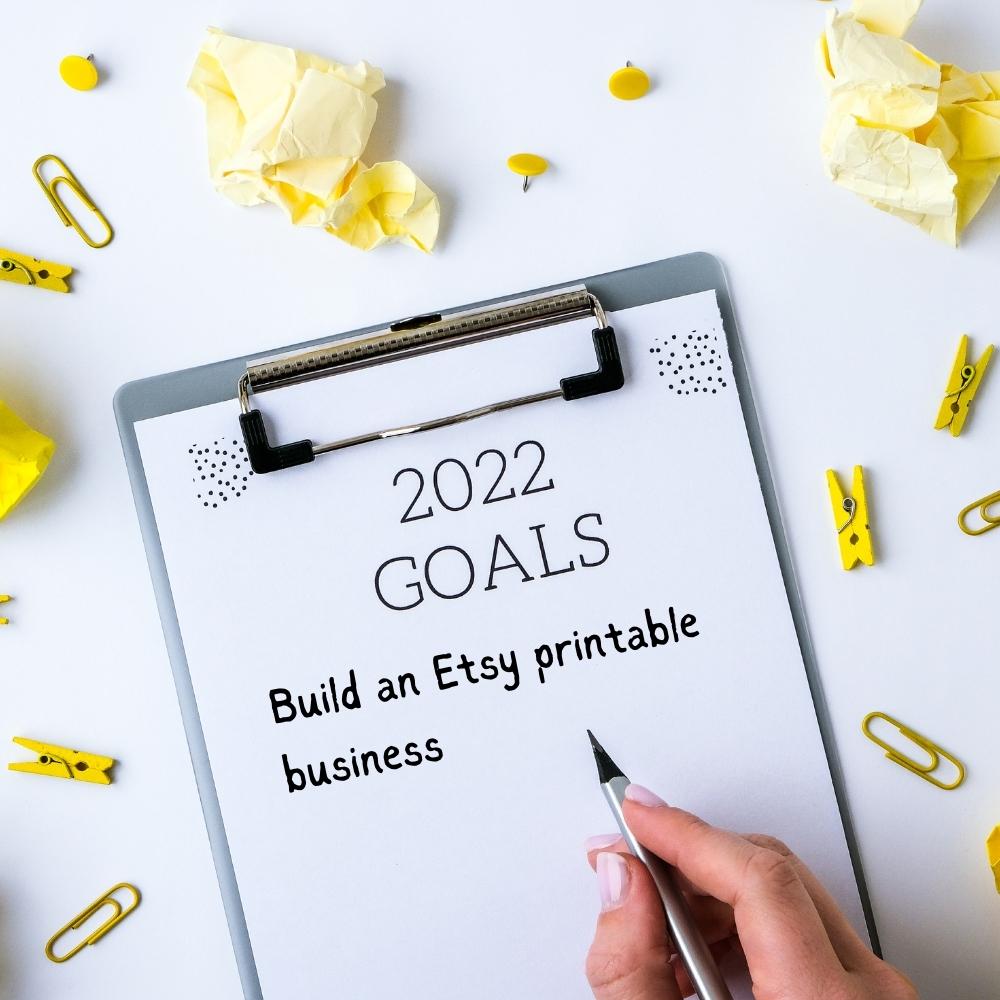 Is it worth selling Etsy Printables?
Absolutely YES, Etsy is a fantastic online marketplace to sell digital products. Etsy is best known for selling handmade items, but they have a thriving market of digital downloads as well!
Selling on Etsy makes sense because it's an already popular platform that you can tap into and take advantage of its pre-existing traffic.
According to a report, Etsy had 89.6 million active buyers by the end of Q2 2021 (June 2021), and this number is still increasing.
This means Etsy is an attractive platform to build an online business. However, as more sellers join, the competition gets harder.
To be a successful Etsy digital product seller, you must take an analytical approach to find a product that people are looking for and willing to pay for it.
And make sure you know the real cost of selling on Etsy before starting your Etsy shop.
Want to start an Etsy store? Sign up here and get 40 free listings! And don't forget to get free Etsy digital product listing Canva templates and Pinterest templates for Etsy sellers at the end of this post.
How Can I make Money selling Printables on Etsy?
It all depends on your niche and the demand for that content because some niches are more popular than others. However, if you tap into the right niche, you can sell your printables to hundreds of people on Etsy over years.
For example, Julie has a best-selling digital download in the wedding niche, and it has made her over $1700! Just one printable product that took her a few minutes to design.
She has put a free e-book of other hot-selling printables that you can create as a side hustle.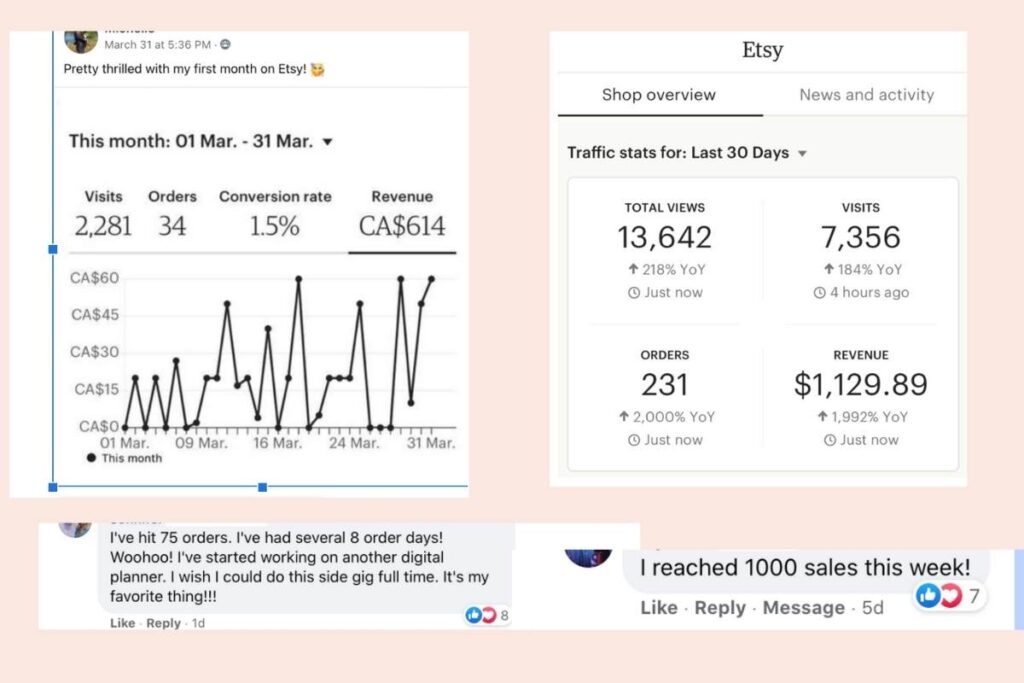 She also has a free course that has got some raving reviews! This course teaches everything you need to know to sell all kinds of printables on Etsy.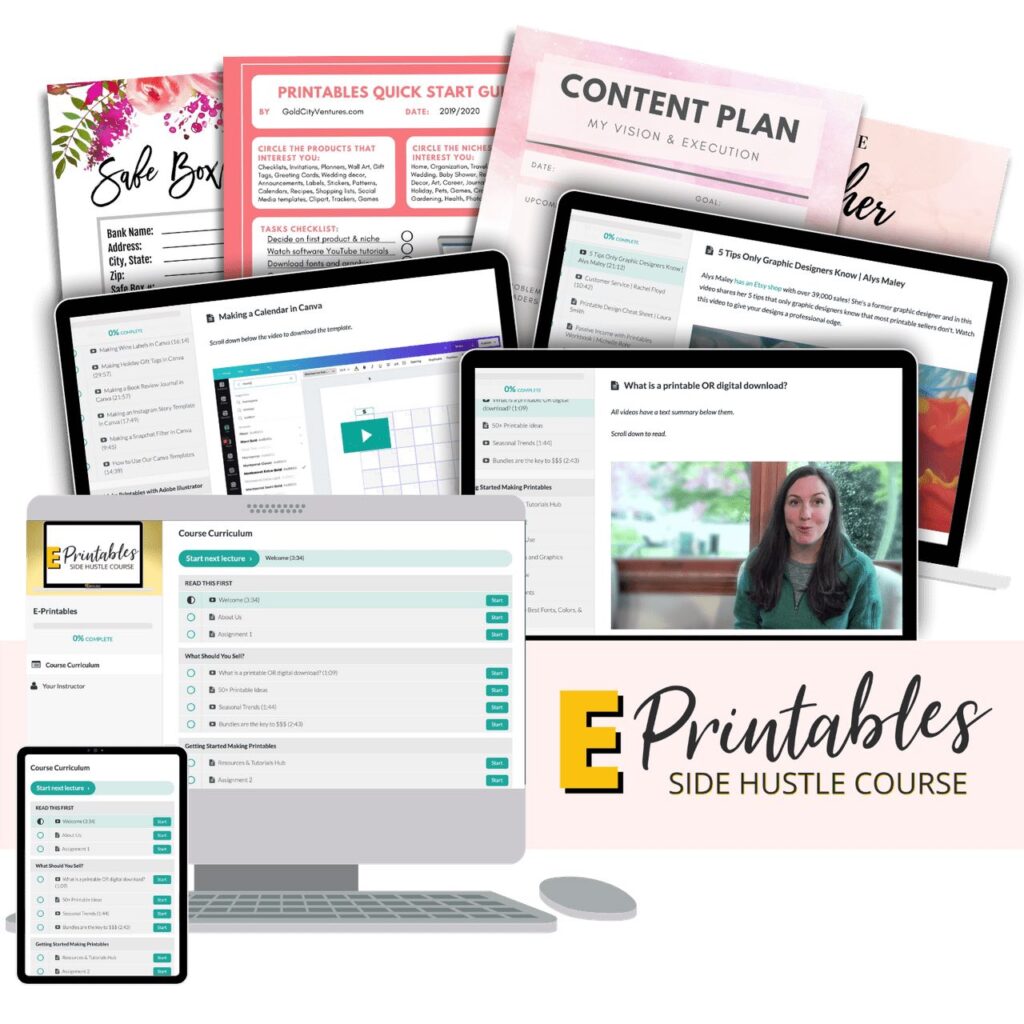 An Etsy bestseller can make you a lot of passive income, but it requires testing and research to find the best product.
Don't know how to make Etsy digital printables to sell? I recently published this helpful guide on selling digital downloads on Etsy as a beginner. I am sure it will help you a lot.
Tip 💡: Creative Fabrica has lots of daily free deals. I LOVE these daily free gifts which come with free commercial license. For mock ups, I recommend Creative Market.
And since you will be testing a lot of printables, I recommend getting a good megatank printer 🖨️ and save money on ink in the long run.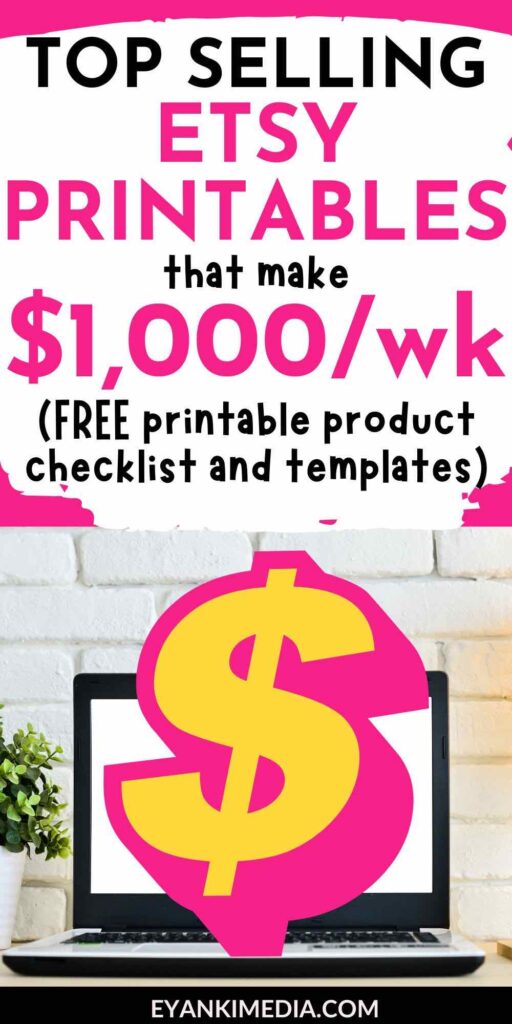 What are the most popular printables on etsy?
There are two types of printables that sell well on Etsy:
Seasonal printables: Printables that are popular during certain time of the year. For example, Christmas tags, Holiday greetings, Halloween favor tags etc.
Evergreen printables: Printables that sell all year round and people can use them for different occasions. For example, birthday cards, thank you notes, party invitations, trackers, journals, etc.
The best way to find out what to sell on Etsy is by doing research when you first get started as a new seller.
There are many ways to do this, but one of the best ways is to look at what printables are currently 'popular' on Etsy. Then you can see what printables are selling and which niches have the most demand.
When I started selling in my shop, I added around 18 seasonal listings (popular at that time) along with evergreen digital products, and those seasonal products helped me make my first 30 sales.
So having a mix of both seasonal and evergreen products gives you the best chance of having a successful Etsy printables shop.
The most popular items on Etsy are not always the best-selling, but they do give you an idea of what type of products to create in order to get started with your own Etsy store.
Here are some BEST SELLING Etsy niches to consider while setting up your Etsy printables shop. Within each category, you'll find the most popular printable ideas to sell on Etsy.
Wedding printables
Home decor and wall art
Baby and nursery
Self improvement -planners, trackers or journals
Printable for kids
Theme party invites and decor
Seasonal printables
Best Selling Printables on Etsy in 2023
Here are the best selling printable ideas to sell on Etsy and earn passive money from top sellers in 2023, and coming years.
Customizable Wedding Printables to sell
Wedding is one of Etsy's most popular printable categories, and there are several types of printables you can make to start your Etsy printables business. From save the date cards to thank you cards, you can design and sell your top creation on Etsy.
The best part is that these can be customized according to your customer needs – theme, color, or wording.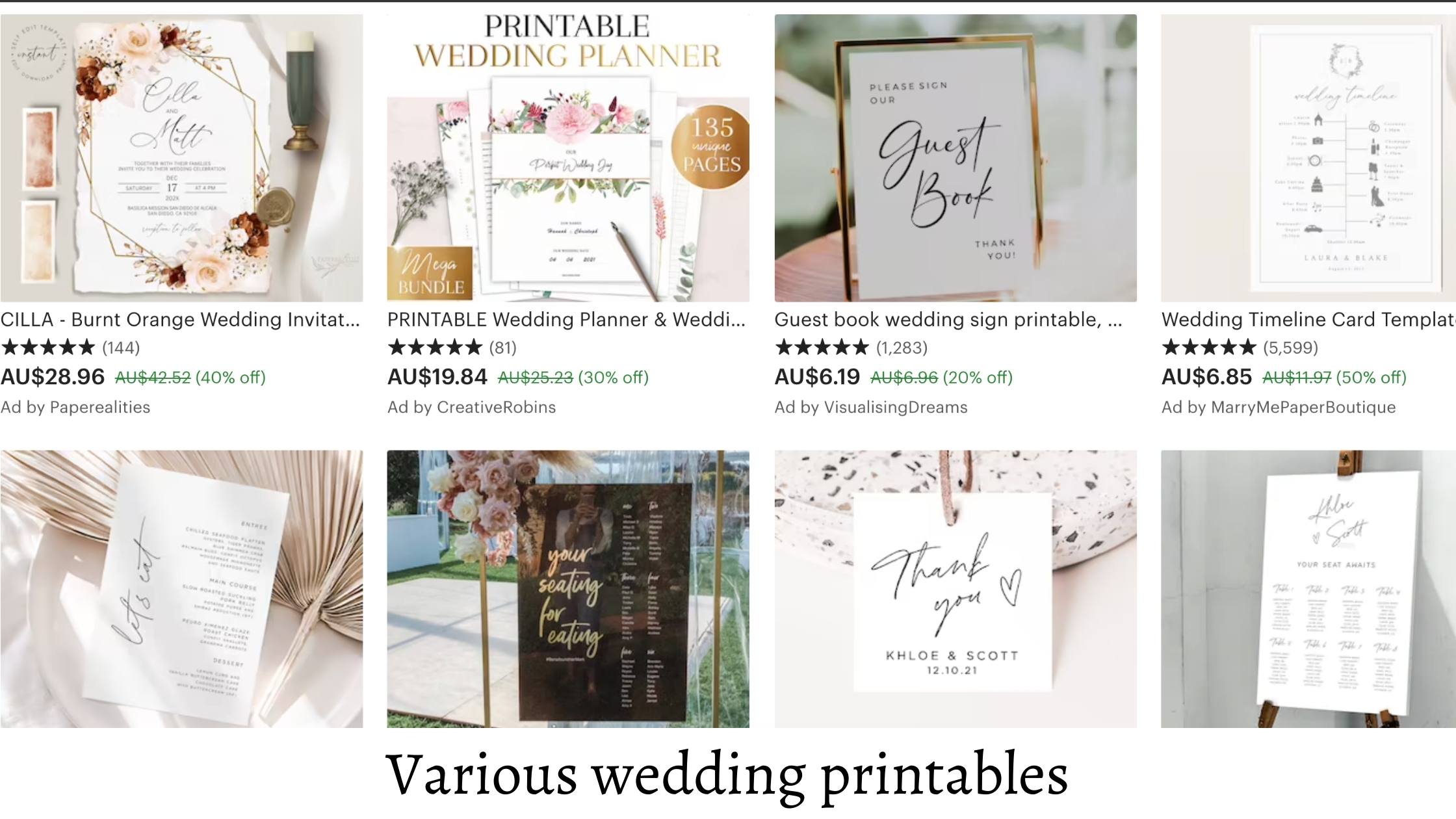 These top selling wedding printables include:
3. Bachelorette and bridal shower games
4. Save the date card and invite template
7. Place cards and table numbers
Best Printable Ideas for Kids
Your best-selling printables on Etsy can be anything that has to do with kids. This will help you get a lot of sales because parents are always looking for cute things or activities to print for their kids.
Consider best selling printables ideas like: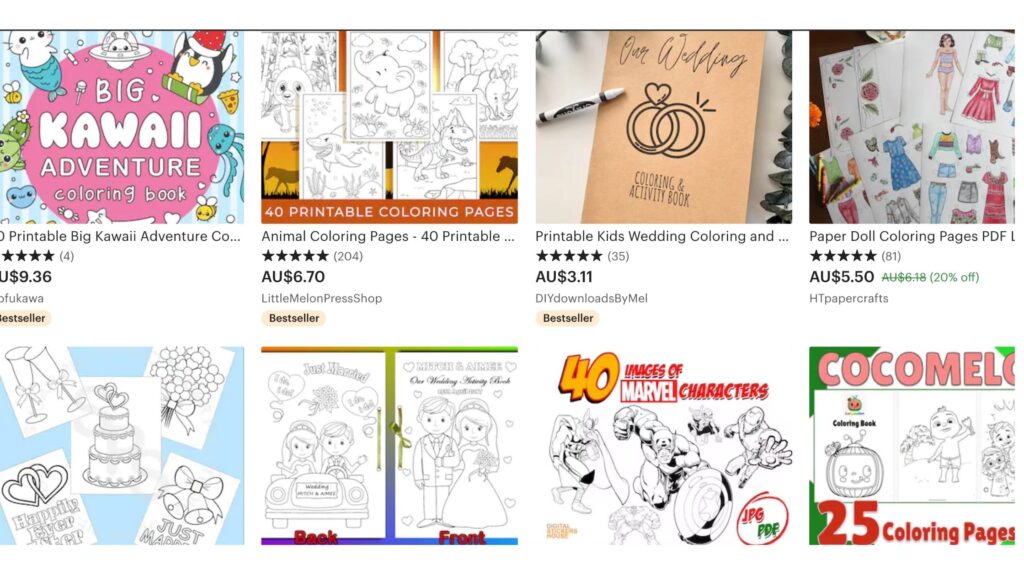 9. Customized back to school signs
10. Weekly chore chart and reward coupons
11. Handprint activities like Father's day cards
12. Worksheets and educational resources for homeschool kids
13. Kids lunch notes
14. Kids affirmation cards
Best selling Home decor wall art
Home decor and wall art is another popular niche on Etsy to sell digital downloads to print.
You can turn inspiring quotations or your watercolor art into digital files as art or prints for the nursery, bathroom, laundry room, or kitchen and sell them as pdf files.
Printable bestsellers on Etsy are often printables for the bathroom or kitchen. People like to download these files and use them as wall art, decorations, etc., but they can also give them away as gifts!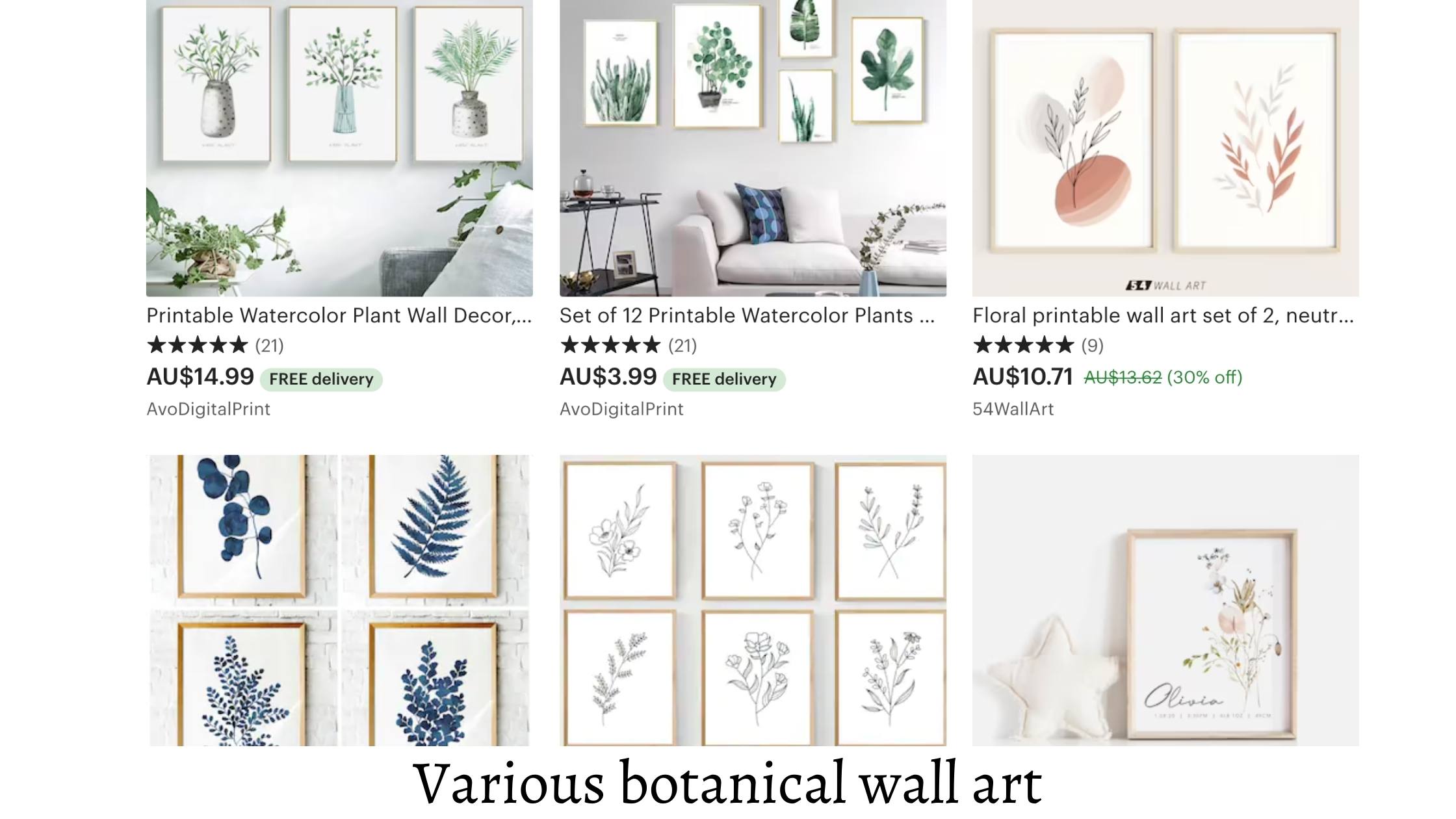 Here are some best selling digital arts on Etsy:
15. Prints of artwork like botanical watercolor prints
17. Custom wall prints (family portraits)
18. Personalized family name prints
19. Funny quotes
Top Cute Baby and Nursery printables to sell on Etsy
Next on our list is the best-selling printable on Etsy: Baby and Nursery. This is also a very profitable niche to target. People are always excited to buy a printable that is perfect for their baby shower or nursery.
Some of the top printable ideas to consider: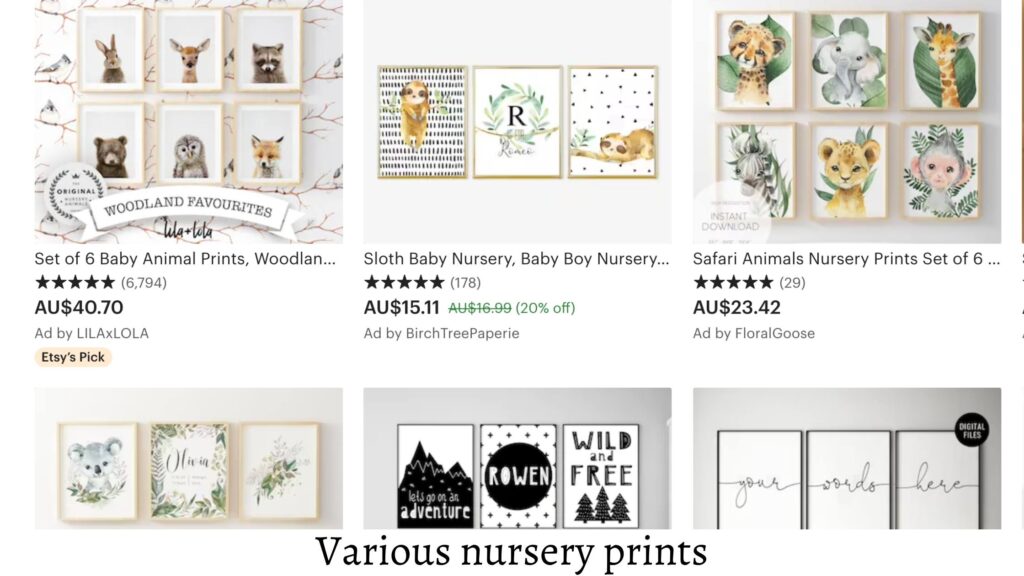 20. Animal print nursery wall art
21. Rainbow wall art
22. Personalized gender reveal for parties
23. Personalized newborn birth announcement
24. Playroom prints (eg. constructions prints or simple educational wall art)
25. Personalized letter name initial print
Popular Printable Planners, trackers, or journals
Etsy has a huge market for people who like to buy products related to planning and organization or self-improvement. In fact, one of the most popular sellers on Etsy – Plannerkate is a planner shop that sells printable planners.


Planners

You may sell complete planner kits or just individual components. Planners can be as basic as day planners or as complicated as seasonal ones.
27. Weekly planners
28. Daily sheets
29. Meal planners with grocery lists
30. Budget planners
31. To-do lists
Poplular Trackers and Checklists
These are best for people who like to track things that require more detail. They can also be used by companies or individuals looking to keep track of specific goals, events, and deadlines, etc.
Here are some of the hot-selling ideas for digital downloads:
32. Debt trackers and saving trackers
33. Habit trackers
34. Goal Setting
36. Baby milestone tracker/charts
Journals Ideas
These are best for people who like to track their daily activities, moods, or feelings and want a more personalized experience. 
Here are some top-selling ideas:
Top selling Etsy Party Printables
Kids theme party invites are one of the popular digital products to sell on Etsy.
You can sell templates so that parents can add party details using easy-to-use software like Corji or offer personalization as an upsell.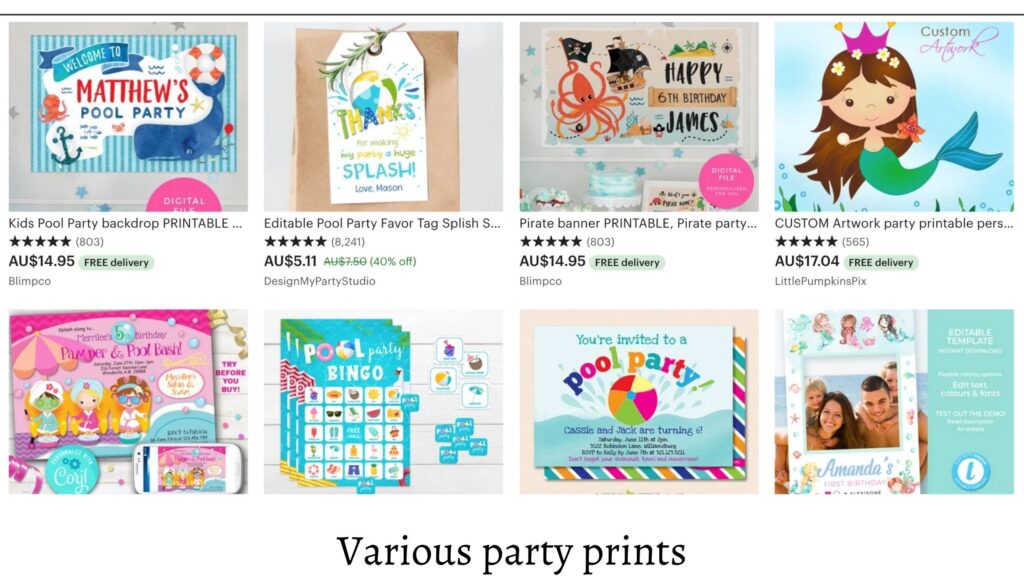 In addition, Scavenger hunts are the perfect solution for birthday parties, holidays, and corporate team-building events. Your printable could stick to a specific theme or use customized items for an age-appropriate game.
41. Personalized birthday placement mats
42. Birthday party games like scavenger hunts, bingo
43. Birthday party theme banners
44. Party favors cards
Trending Seasonal Etsy printables
Selling hot seasonal printables is one of the best methods to get your brand's name out there and tap into a lucrative Etsy printable market.
They're easy to sell, and the best part is that people looking for these printables are already in a buying mood. They've got the money ready to spend on your products so you don't even have to persuade them too much about why they should buy from you.
45. Gift Tags – Christmas gift tags, Trick or treat tags
46. Greeting cards – Birthday cards, seasonal greeting cards
47. Printable gift activities for kids like handprinted cards for mother's day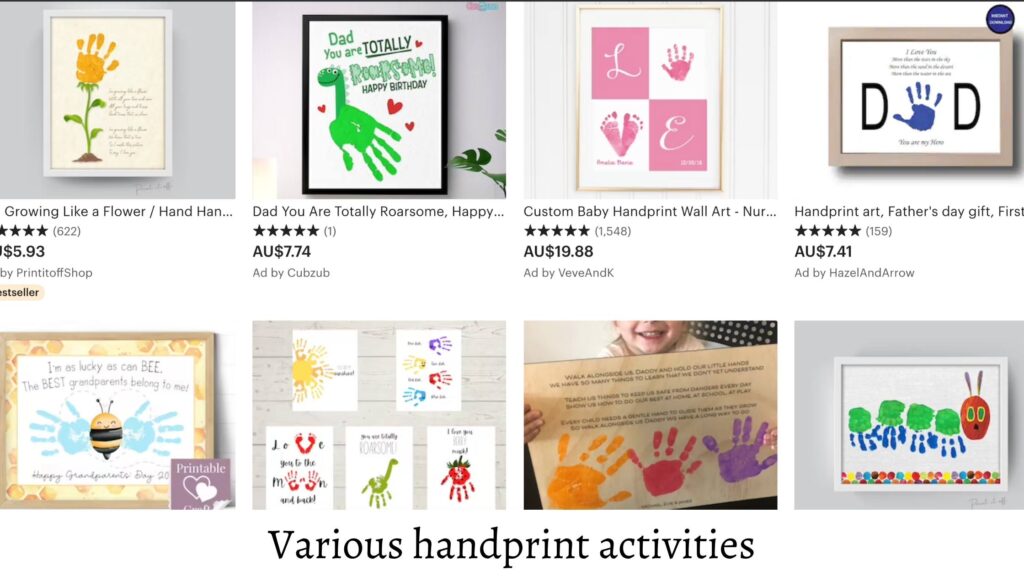 48. Make Money Selling Printable Stickers
Stickers are the TOP selling products on Etsy, not just in the printable or digital category. They are versatile and are used in so many ways.
As best-selling products on Etsy, they have been around a while, but you may not realize how easy it is to make them yourself!
If you're interested in earning money from home, designing your own printable stickers is a profitable idea.
Mim is a 5 star Etsy sticker seller and has a free sticker class for anyone wanting to make and sell stickers on Etsy.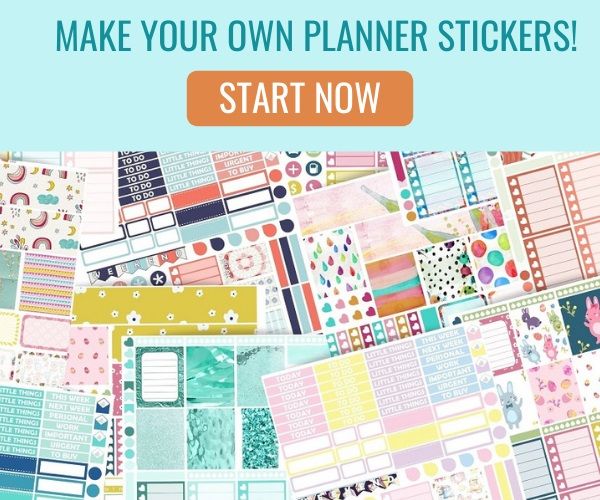 How to Price your etsy printables?
Pricing digital products can be a challenge. You need to make sure you are competitive with the market and find your sweet spot. You can price on a higher-end, but it's best if you test out lower prices first until you hit that perfect place.
The best way to determine price is by doing some research and seeing what your competitors are offering.
Remember that you can run sales on Etsy. If not many people are buying at a full price, try lowering the cost next time or running a sale. Just wait and watch to see how it performs. 
FAQs Related To Top Selling Printables On Etsy
What are Etsy printables?
Etsy Printables are digital files that can be printed. They are generally used to print and create personalized items such as invitations, calendars, thank you cards, etc.
What is the difference between Etsy digital downloads and Etsy printables?
Printable products are digital downloads that can be printed at home or taken to a professional printer. Digital downloads, on the other hand, are when you pay for access to an online file, which may or may not be printed. 
Some examples of best digital products include files like SVG files, e-books, clip arts, video tutorials, etc.
What are the best-selling digital downloads on Etsy?
Can I use Canva to create printables to sell on Etsy?
Yes, you can use Canva to create printables on Etsy. You don't need Canva pro, free Canva is enough to make and sell printables. But make sure to read Canva terms and conditions before diving into selling printables on Etsy.
You cannot use templates provided by Canva to sell. You must design your product from scratch, and it should be different from what's on Canva.
How much does it cost to sell printables on Etsy?
Starting an Etsy shop is free. Then it takes $0.20 to list the printable on your shop. Once you make a sale, Etsy charges a transaction cost of 6.5% on the sale price. Here is a helpful article on selling on Etsy fees.
How To Sell Digital Printables on Etsy?
To start selling printables on Etsy, you have to find a profitable product and set up an Etsy shop. I have a helpful guide to help you make printables and sell digital printable products on Etsy.
Can I make money selling coloring books on Etsy?
Yes! You can create best-selling digital products like coloring books for kids and adults.
You have to be strategic about how to do it and learn best practices from successful sellers who are already making money with their printable Etsy shops. Learn how to sell coloring pages on Etsy and make money.
Ready to start your etsy Printables Business?
Starting an Etsy printable business is one the best low start-up cost and easy side hustle you can start today and earn passive money with it.
Printables may be a fantastic business opportunity for anyone looking for part-time work or stay-at-home moms who need a flexible way to make money from home.
There are several popular Etsy printable ideas you can make in your spare time and sell for a profit. The best part is that you may sell them as many times as you like with no shipping fees involved.
And If you don't know how to create digital products to sell then do read my ultimate guide on selling digital downloads on Etsy to make passive income in 2022.
You can start creating your printables today or hire a freelancer below to help you create one for yourself.
Related Freebies You might like
Do you want to start a printable Etsy shop? Get 40 free listings for your store!
Free digital product listing Canva templates: Use these templates to create Etsy photo listings. Refer to my blog on Etsy listing photo sizes or grab these templates for digital printable products.
Free Pinterest templates: Grab these free Canva Pinterest templates for Etsy sellers. Good to use with a free Canva account.
Free one month Tailwind: Schedule for posts on Instagram, Pinterest and Facebook with free a Tailwind account and you can try a plus for a month too!
What kinds of printables do you want to sell? Tell me in the comments.
More Etsy related posts you might like
Best Etsy Printable Courses On Etsy: Best Etsy courses to start your printable business.
New 'Made to order' listing on Etsy: Create a custom listing for digital products with a new made-to-order listing type.
How to put items on sale on Etsy: Learn how to run Etsy sales and create coupons.
How to get Etsy sales: Tips on how I got my first Etsy sale and 30 sales in the first month.
Related Posts on Making Money selling Printable downloads on Etsy