Etsy is currently doing some changes in the listing images (as of Aug 2023) and this article is updated to reflect the changes!
What size should my Etsy listing photos be? Is there any Etsy listing photo size ratio I should follow?
What is the recommended size of my first thumbnail image? And so on…
These were some of my questions when I started my first Etsy store. I know many Etsy sellers are still wondering about correct Etsy product listing photo sizes.
I'd like to list down some information that will hopefully help you out, but first, let me tell you something most important:
Etsy listing photo size is directly related to the Etsy search results page which means it's important for your success as an Etsy seller.
Just like it is said, the first impression is the last; you need the appropriate size and quality of your first Etsy image so Etsy can generate a thumbnail optimized for search engines and can catch a visitor's attention.
In a hurry? Let's look at what listing size Etsy recommends and how we can create our listing images to make our product listings more visible and increase our chances of a sale.
Etsy now recommends that your listing photos should be square with shorter size at 2000 px. You can continue using the images with the crop feature.
(I have added a new free image listing Canva templates below, so you can easily remember or crop your photos before uploading to Etsy. You can use them with your free Canva account.)
This website contains affiliate links which means we may earn commissions if you purchase through them (no extra cost to you). You can read our policies here.
Related posts: Not sure what should be the size of your Etsy banner? Check this Etsy banner sizes guide with templates of each size. Or, grab this Free Etsy shop checklist to set up up your Etsy store in few steps.
Etsy Listing Photo Size in 2023
What photo listing sizes does Etsy recommend?
According to the recent update, Etsy suggests:
The shortest side of the listing image should be 2000 pixels.  And all images should be smaller than 1 MB so they can load faster and appear in search results.
The first listing image should be square (Etsy confirms now).
Etsy says to upload photos that work for multiple crops and ratios, like square or rectangle.
So what does it all mean?
What is the best size and ratio for the first Listing photo?
The best aspect ratio of your first listing photo is now a square image and should have 2000 pixels minimum. 
Etsy uses this image to create a thumbnail out of it.
What is the best image dimension for Etsy listing?
I still prefer to use either 2700 x 2025 or 3000 x 2250 pixels for the best results and quality as increasing the size further will increase the image size, and we want a file below 1 MB.
Since it is the best image dimension for Etsy, it will let you optimize the picture for the web.
It is very important when you are selling any physical or artistic product, where buyers want to see all the details. Maintaining this ratio will make sure that your photo does not get too small or blurry when someone zooms in on it.
**Make sure you take photos in high resolutions so you can crop them later to fit into recommended size. Etsy also recommends taking horizontal shots so you can make the most use of space in your picture. Vertical images will require more cropping. 
Why Etsy recommends using a landscape listing Image?
Etsy recommends that the first picture in a listing should be horizontal since horizontal photos are better in cropped thumbnail views.


Can I use a rectangle image For listing my photos? 
Yes, you can still use a rectangular photo but crop it using Etsy's cropping tool. It ensures that your listing images will fit into standard thumbnail dimensions and won't get distorted when they are cropped down to thumbnail sizes by Etsy's system.
Can I upload a smaller image like 1696×1280?
Yes, you can upload a smaller image. It's just that that it might look a little blurry. Make sure you always preview your images creating your listing.
What about Etsy listing photo size for additional pictures? 
Etsy recommends providing a cohesive experience when a buyer moves from one image to another, but you can use any size as long as your image is of good quality.
Having a great product and a good quality image is more important to make a visitor buy your product.
Etsy listing Templates For product Photos
You may use these free Canva templates to create your Etsy listing images. I've saved them as a template in my Canva account so I don't have to worry about the correct size again and again.
They are also useful in quickly generating pictures for my listing and will be helpful for you as well.
You can add your product pictures to these templates and crop them if needed. Canva has an easy drag and drop cropping tool to help you resize your images and make Etsy listing photos.
Related posts: Etsy banner ideas from top sellers (with free banner templates)
How to create a photo for Etsy Listing with Canva?
Creating a photo for an Etsy listing is pretty easy and you can do it with Canva free account as well. Create an account if you haven't and follow the steps.
Click on the above template, a new tab will open like below. Click 'Use template'.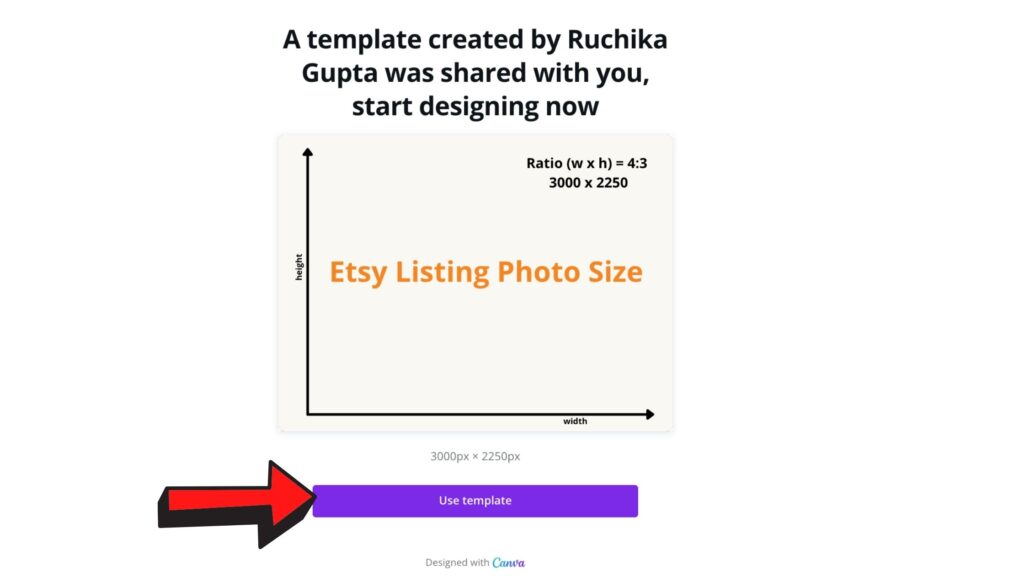 2. It will open up Canva editor. You can add pages to your editor by clicking the + icon on the bottom of the photo template.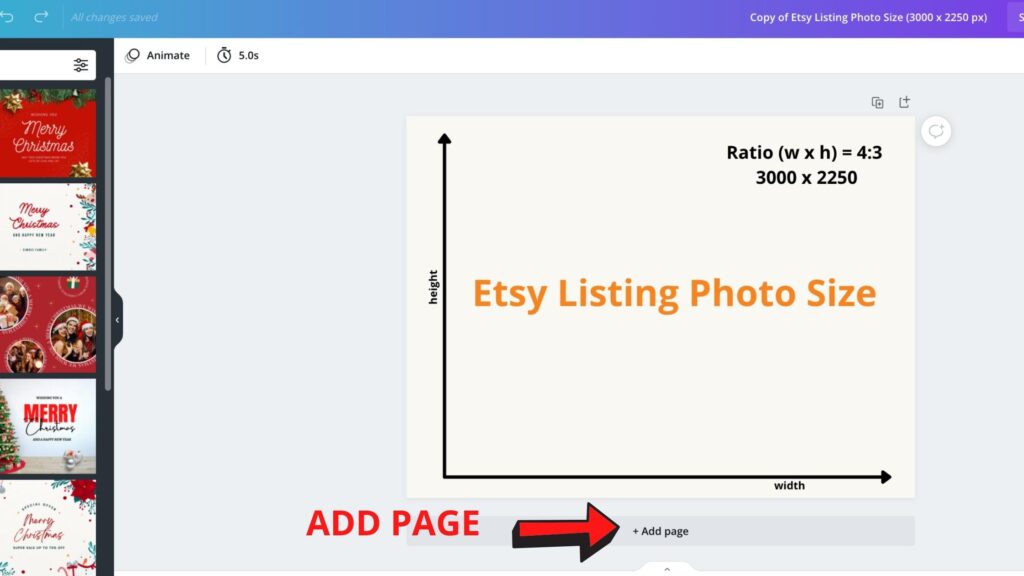 3. Upload the images to the Canva and drag them to your editor.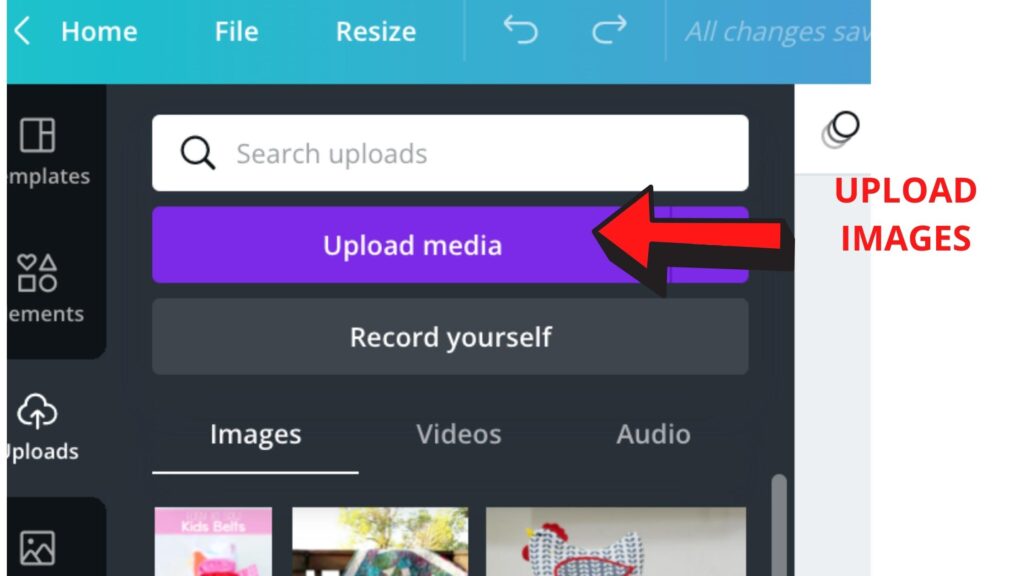 4. Adjust the size of the image by dragging the arrows or using the crop tool above on the dashboard.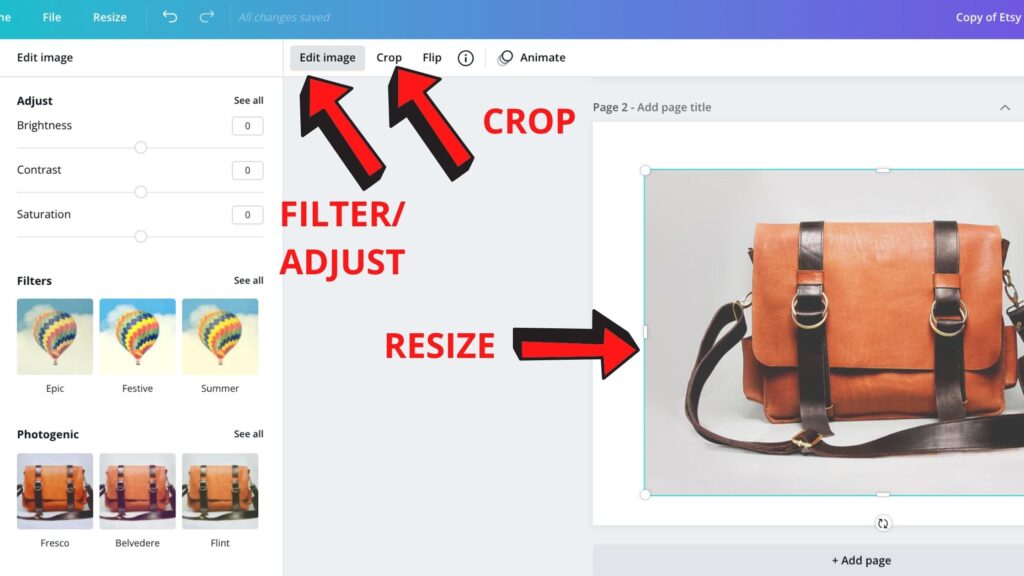 Click on edit image if you want to adjust colors or add filters to your listing photo.
5. Once ready, click download as PNG or JPG. If your PNG file is heavy (more than 1 MB), download it as a JPG file.
What else can you do with Canva with your listing photos?
There are many awesome Canva features you can use to optimize your Canva listing photos.
Some of the things I like to do with my listing photos using Canva:
Add shadow effects: Make your listing photos look more professional and unique.
Make a mock-up: If you are using a digital product. You can create mockups for t-shirts and mugs as well.
Apply filters: You can apply filters to make your images look more professional, crisper and make them lighter or add contrast.
Reduce the size of images: You can reduce the size of your listing images by toggling size/quality buttons at the download. This is the trick I use to reduce the size of my blog post images.
Create social media images: Quickly create another size of listing to make social media images like for Pinterest using resize button. Though it needs little organizing but saves your time.
Add text to your images: Though this is a bit general, Canva does a great job adding text to listing images. Things like you want your customers to know beforehand because not everyone reads the entire Etsy listing description.
That was little about Etsy listing image sizes and ratio.
I hope this blog post helped you understand more about the Etsy listing photo sizes and how you can create your listing quickly with Canva. If you have any questions, please leave a comment below.
I'd love to hear from you. And do check Etsy banner sizes, if you haven't added a banner yet. For banner ideas, check this post on 10 best Etsy banner examples.
More Etsy related reads for you
How to get Etsy sales? These tips helped me make my first 30 sales.
Free Etsy shop checklist: Step up your store in few steps
How much does Etsy charge? Complete Etsy selling prices with examples
How to sell digital downloads on Etsy? A guide to making passive money on Etsy
Easy Etsy shop ideas to start selling on Etsy