Looking for trending crafts to make and sell in 2023 for profit? This blog post contains some of the most popular trending handmade products that are in demand right now.
Crafts are a timeless way of expressing yourself, and there is always a new trend to keep up with. Making trending crafts to sell is a great way to increase sales in your store or online business by offering more unique products for sale.
Whether you're looking for something new to make or sell or just want inspiration for your next hobby project, we have compiled the top trending craft ideas that people are making right now and have some tips on how you can get started the right way.
Top Trending Crafts to Make and Sell in 2023
Trending crafts are a great way to increase your sales, so it pays to stay up-to-date with the latest trends. The best way to keep yourself updated with top trends is to follow ETSY trends reports, Etsy bestseller data, Pinterest trends, and look into "popular right now" sections of Etsy.
You can make a killing on Etsy if you have the know-how to scale these trending craft to sell ideas.
Handmade items in demand for 2023:
I have pulled some of the newest crafts trends from ETSY and Pinterest trends reports.
Resin and polymer clay jewelry 
Personalized jewelry 
Embroidery crafts
Face masks and chains
DIY Craft kits for kids 
Woven and knotted home decor like macrame hangings
Ceramics
The above are just some of the general trending crafts on Handmade. This list does not include seasonal items, such as holiday crafts at Christmas time which are way too popular during their times of the year.
This website contains affiliate links which means we may earn commissions if you purchase through them (no extra cost to you). You can read our policies here.
What to make depending on season and current time? Fall crafts to make money
Best Crafts to Make and Sell for Profit right Now
Trending jewelry to make and sell
For anyone who loves jewelry, there are a variety of trends that will be popular this year. Here are some trendy ideas to get started with:
1. Personalized Jewelry
The trend of personalized jewelry is on the rise. Have a loved one's initials or name engraved onto their favorite necklace, ring, bracelet, or key rings to make it personal for them.
Judging by a 26% YoY increase in searches containing 'initial necklace on Etsy, the trend for this type of craft is getting stronger.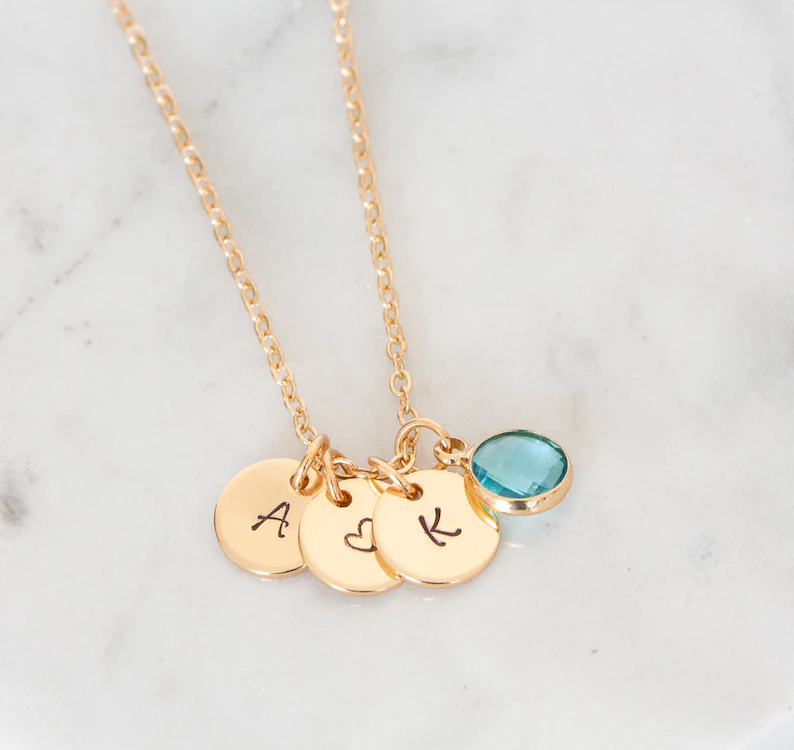 2. Polymer Clay Earrings
Who doesn't love earrings? Polymer earrings have become a trend in jewelry that can be made quickly and easily with the help of molds and a good quality polymer like this.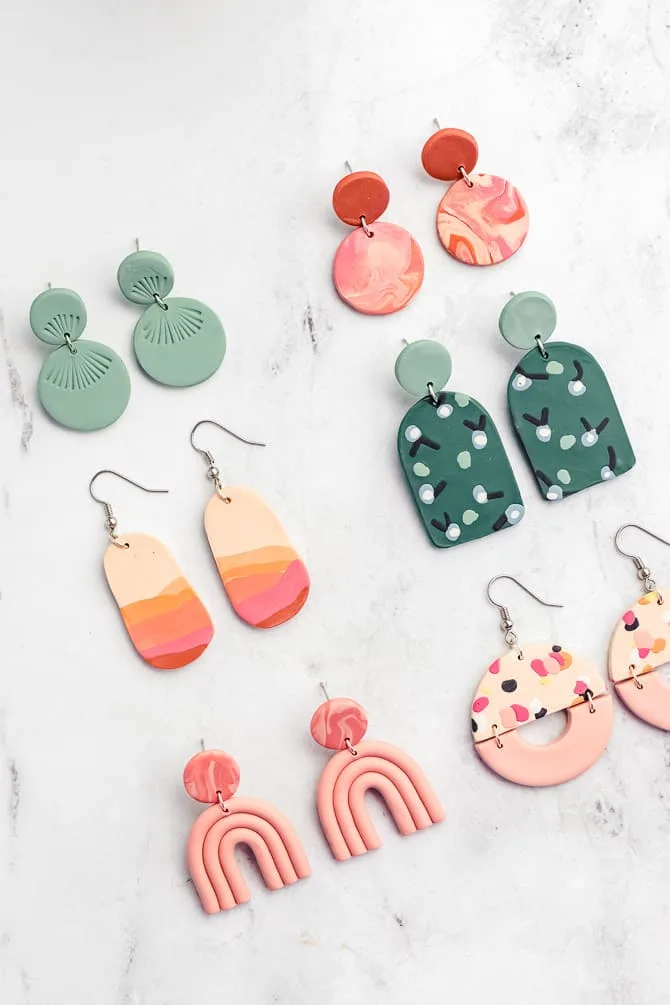 Looking for more polymer clay ideas to make? Check this post on Polymer clay creations you can make from home for your business!
3. Beaded Jewelry
Beads are a trend that will never change. Trendy beaded jewelry is easy to make and can look very professional for those who want to sell them.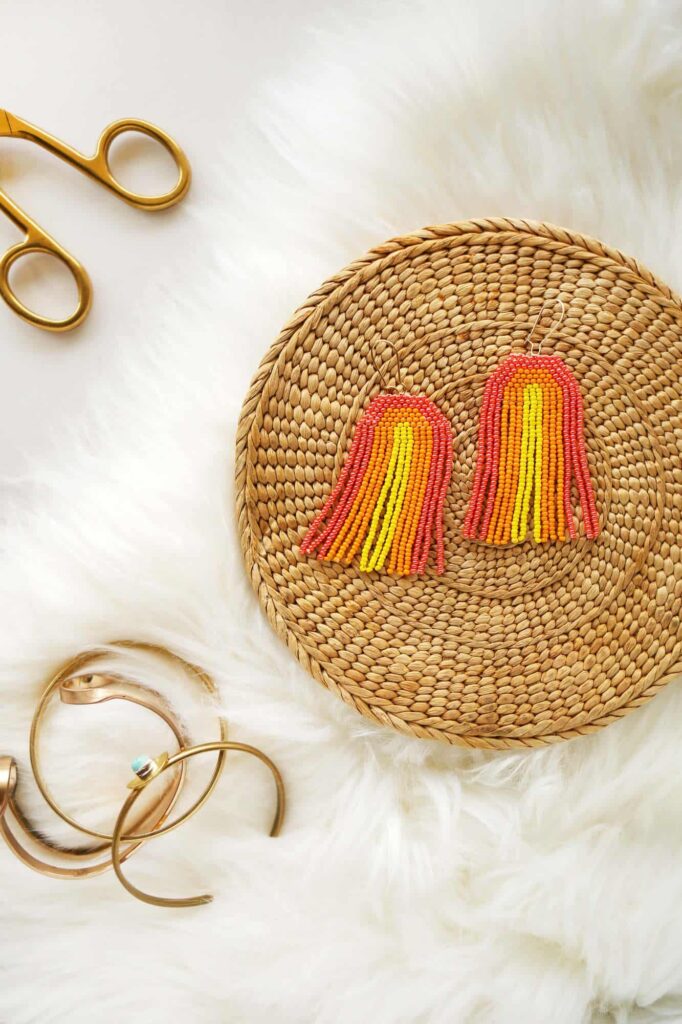 There are so many different beads out there, making it possible for you to customize your creations with the best materials available.
4. Wooden Jewelry
Wooden jewelry has become trendy for several reasons. They're durable, lightweight, and chic, but also environmentally friendly. You can even use scrap wood to make different types pf wooden jewelry.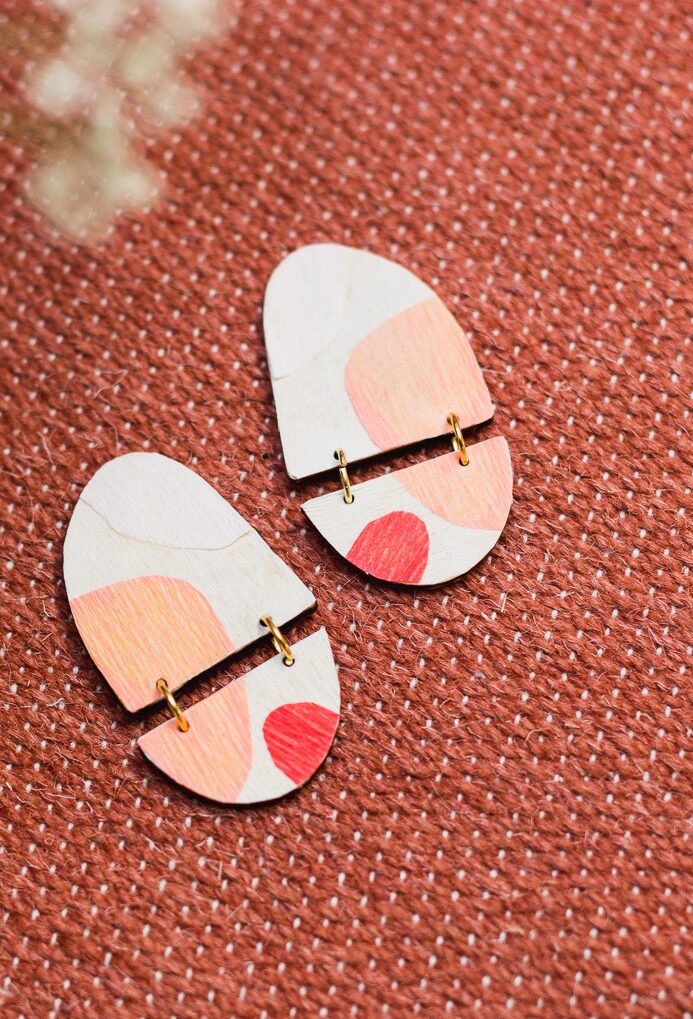 5. Carnelian Jewelry
A new hot trend in jewelry seems to be Carnelian jewelry. According to the latest ETSY report, searches for carnelian jewelry on the Etsy platform increased by 2,142% during three months from April to June.
Carnelian is a stone used in jewelry since ancient times. It will be easy to make the trendy necklaces and bracelets out of this material using simple stringing techniques like reverse knotting, macrame, or even crochet.
Wait!!! Do you know our favorite way to make extra money in my free time? Readers love them too!
Trending macrame crafts to make and sell
Macrame is a type of textile created by knotting or braiding plant fibers (such as hemp, jute, sisal) together. Macrame is a trending craft that has been popular for decades but will be seen more in the coming years.
Trending macrame to make and sell is a quick, easy project perfect for beginners or anyone who gets bored with knitting or crocheting patterns quickly.
From custom-made handmade wall hangings to DIY kits, there are plenty of macrame crafts to make and sell. And yet don't forget these gorgeous macrame tassel earrings which are perfect for your next craft show or ETSY.
6. Macrame Wall Hangings
Trending macrame crafts also include these gorgeous, custom-made wall hangings, which will jazz up any room! These are one of the expensive crafts to make and sell.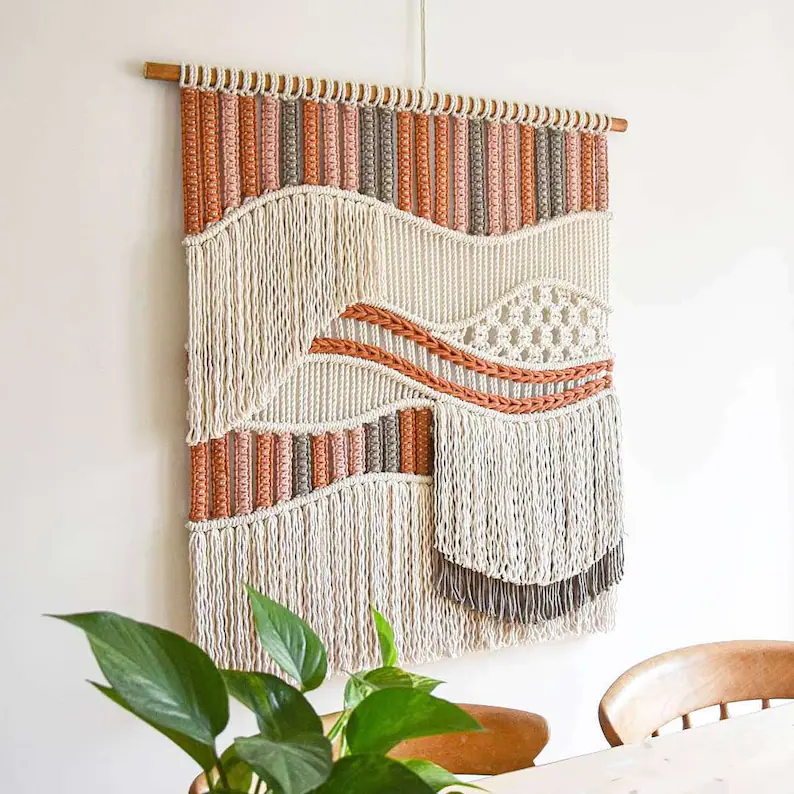 7. Macrame Plant Hangers
A macrame plant hanger is a perfect project if you're looking to indulge in creativity while also making some money.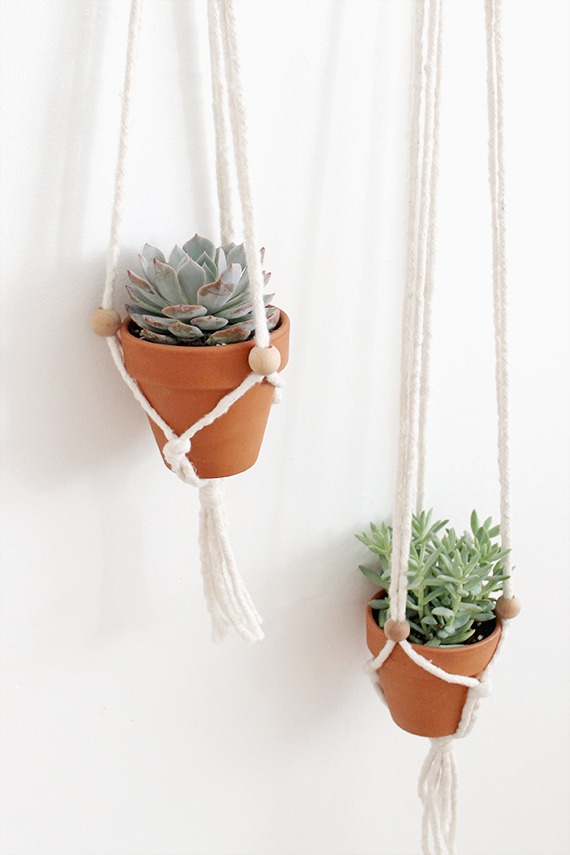 8. Macrame Earrings
These trendy handmade macrame earrings are easy to make (even for beginners) and will jazz up any outfit.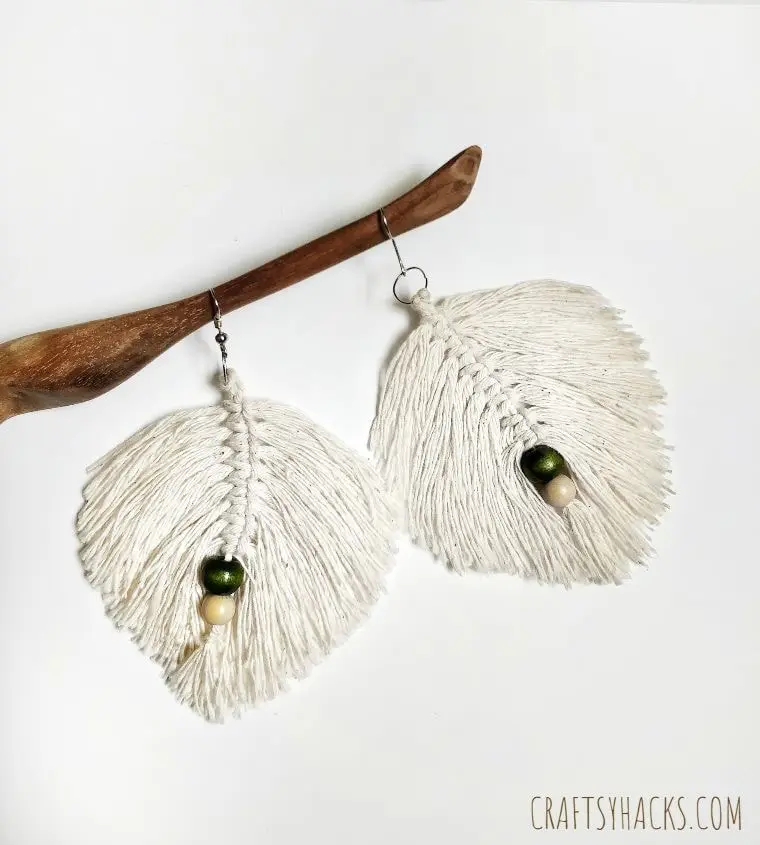 Trending wooden crafts to make and sell
Despite the constant shifting trends on Etsy and other craft markets, some items never lose their demand. 
Although wooden crafts have never gone out of style, one trend that has become increasingly popular in the market lately are projects involving personalized engravings such as Wood Burning and Letter Engraving (engraved a name or initial).
Wood burning and letter engraving are both time-consuming tasks, which means the end product will be worth it if you are looking for a long-term investment to make.
While there's no telling what the next trend will be in the craft market, making a few educated guesses is possible based on what's popular right now.
Trending handmade wooden items include:
9. Personalized Cutting Board
They make one of the best handmade gifts for couples. You can easily make these with a laser engraver or use die cutting machine like Cricut maker to make designs like these.
Here are some free designs (with commercial license) you can use for your boards.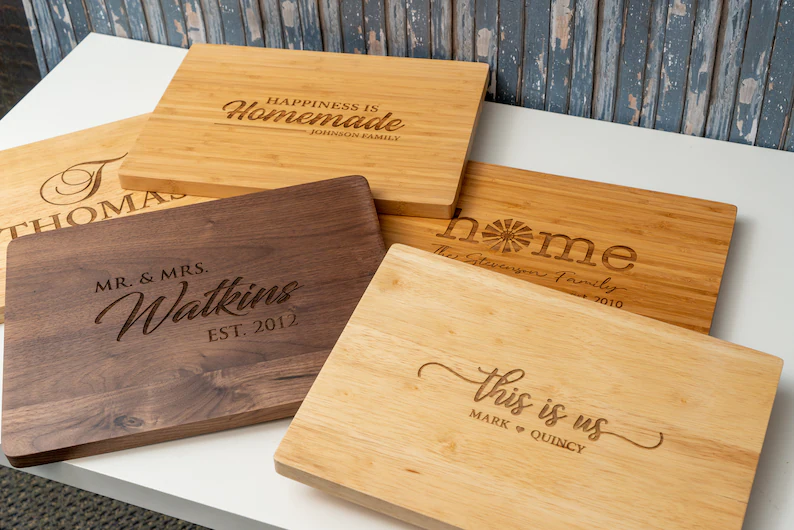 Related posts: Profitable CNC projects you can make and sell.
10. Wooden Name Signs or Name Plaques
These signs are super popular and profitable to make for weddings, home decorations, or kid's room decor. Again you can use a Glowforge or CNC machine to laser cut shapes and letters to make signs like these.

11. Wooden Baby Milestone Keepsakes
These wooden craft ideas are the perfect gift for new parents or as a keepsake for children.

11. Cake Toppers
Design these with a beautiful script font to be one of your hot sellers. People love to buy custom cake toppers for their weddings or birthday celebrations. One of the best things you can make with your Cricut machine to sell or Glowforge.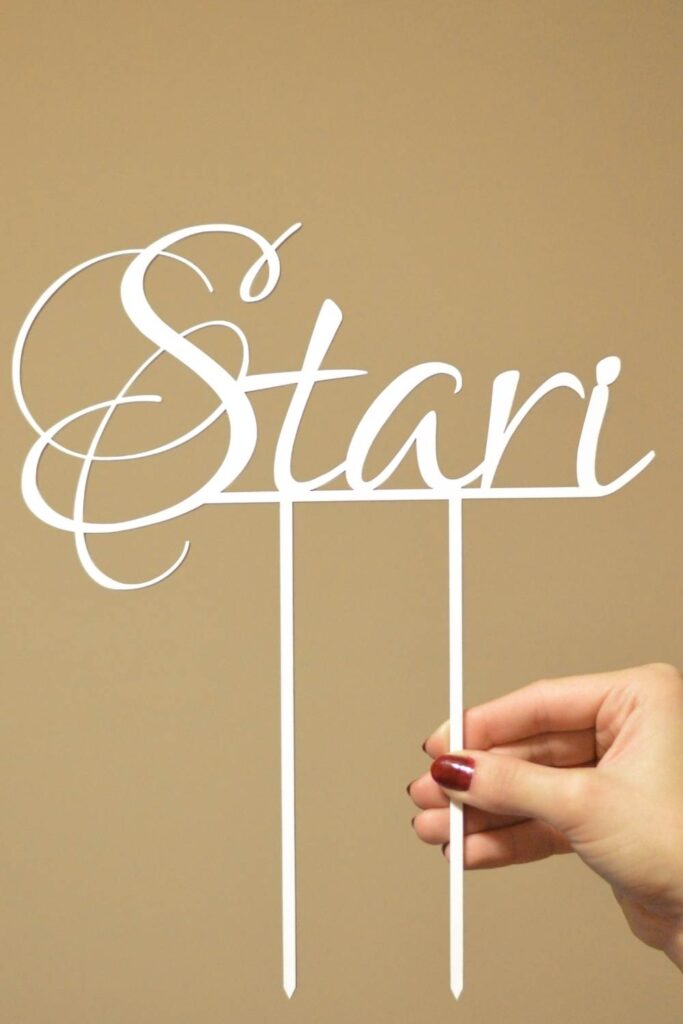 12. Personalized Wooden Puzzles
You'll be surprised to find out that these crafts were one of the best sellers on Etsy during 2020 Christmas (and even 2021) but they are not limited to just Christmas, they make excellent learning gifts for small kids.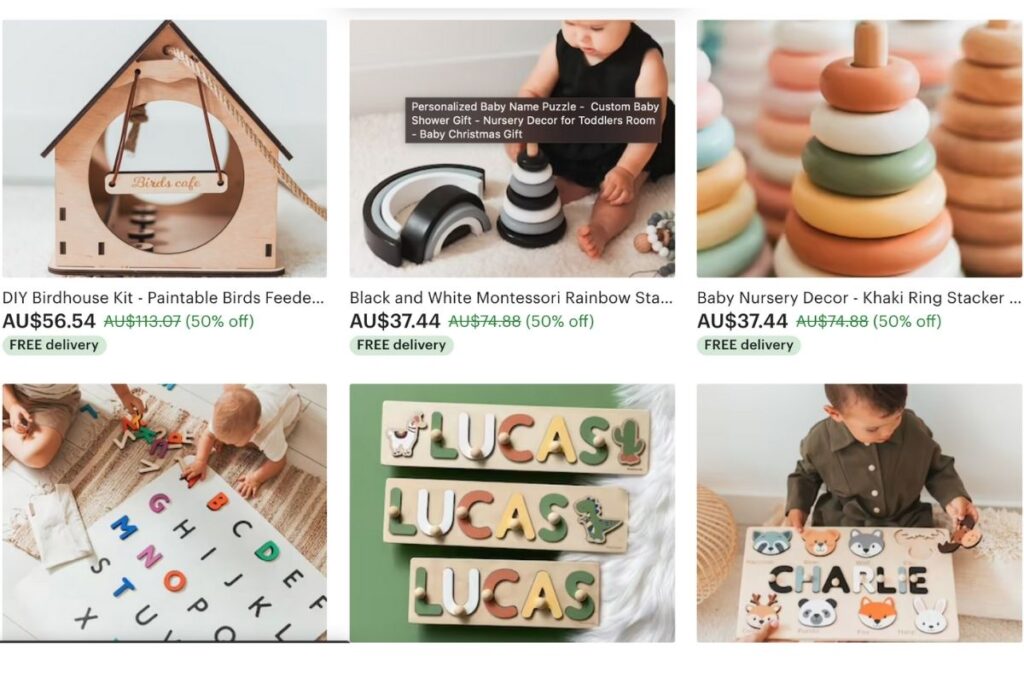 Trending self-care items to make and sell
Healthful self-care products are on the rise as more people seek to save themselves from stress. Trending crafts to make and sell are items that promote self-care, such as aromatherapy candles, spa items or face masks.
13. Homemade Spa items
Spa items such as bath salts, bath bombs, body butter, and soaps are also popular craft ideas to make and sell. These require low start-up costs and are easy things to make and sell even as kids.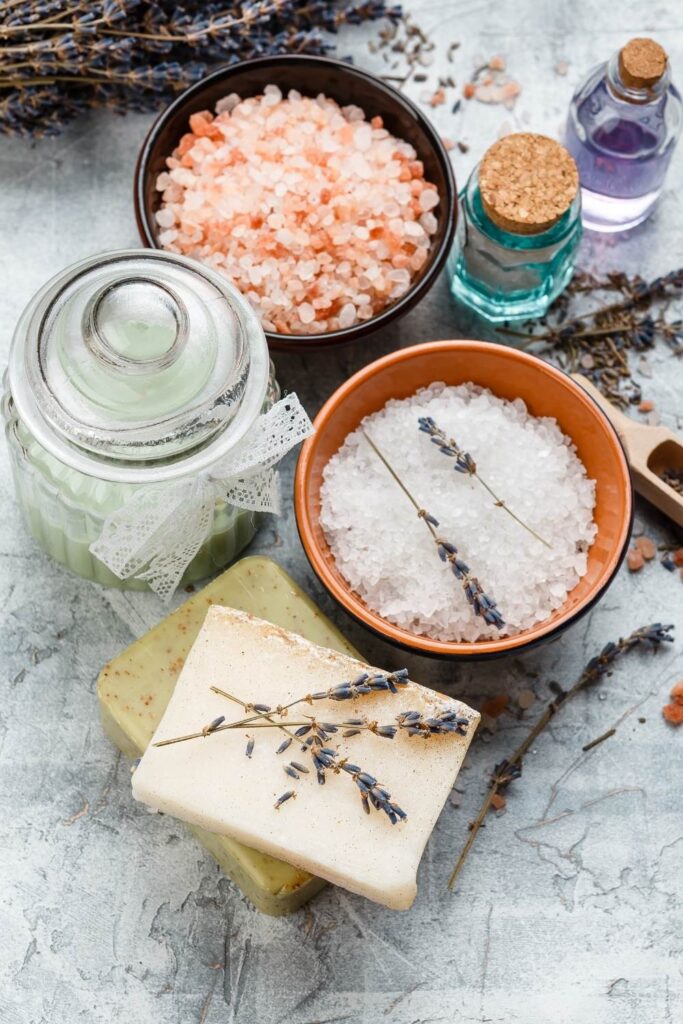 You can sell individual items or sell gift boxes like this.
Here are quick and easy recipes for you:
14. Candles
Aromatherapy candles help promote relaxation, reduce symptoms of depression through smells such as lavender or peppermint, soothe headaches with chamomile scents.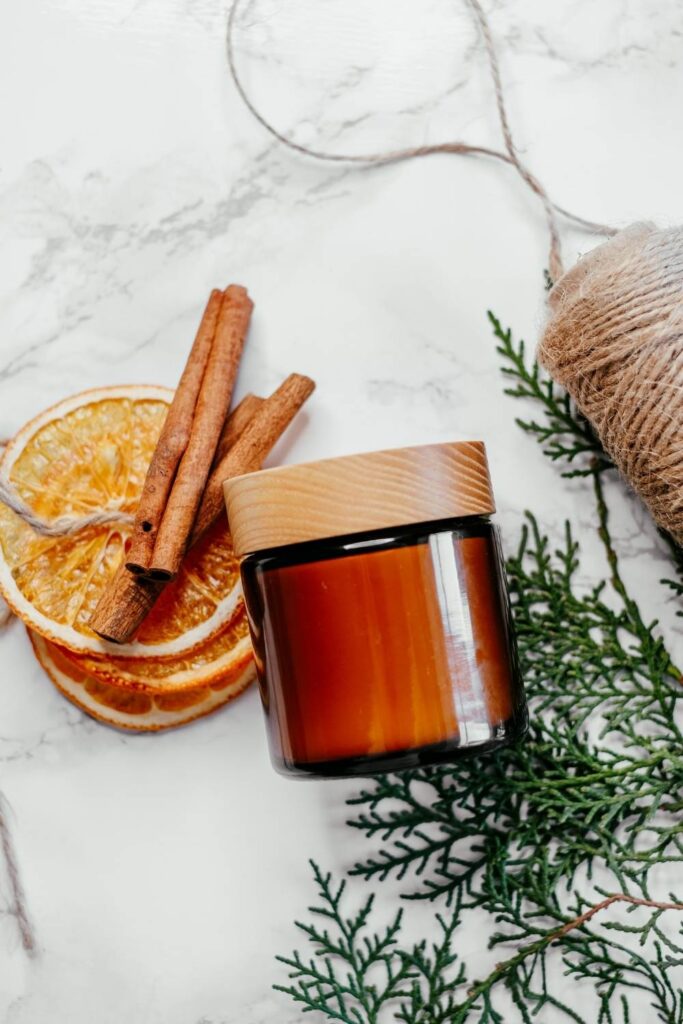 15. Selfcare Kits
One popular handmade product to make and sell is self-care kits, which can be sold individually or in a subscription box. These kits are a great option for people who want to start their own homebased small business.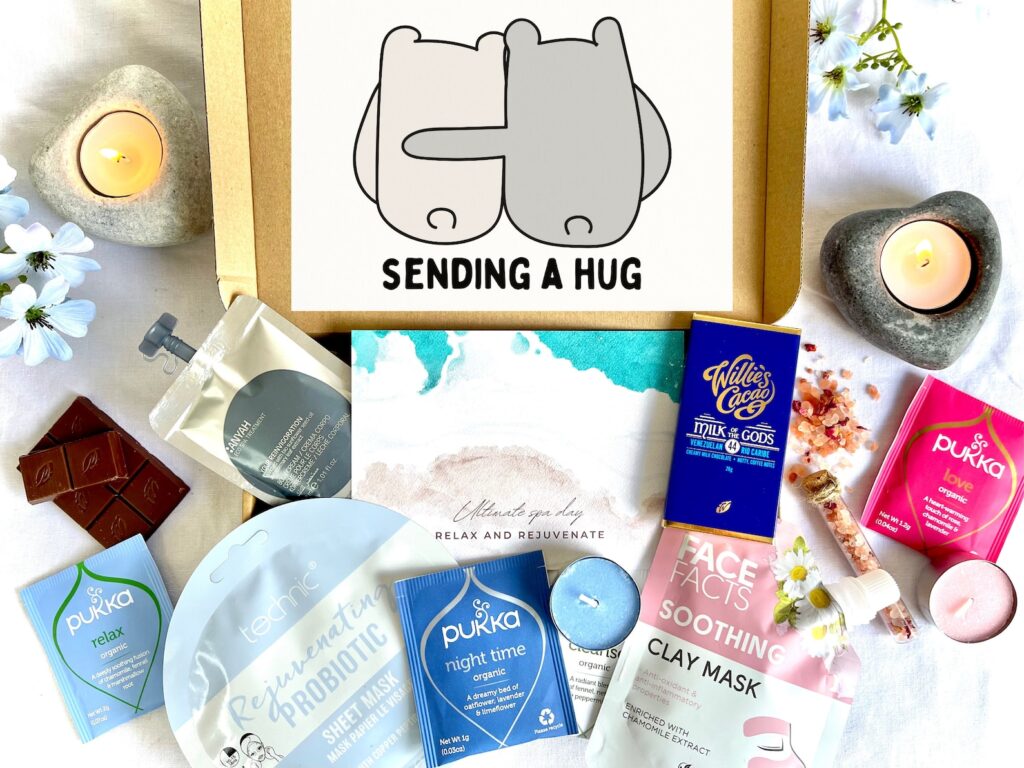 17. Self-care Journals
Self-care journals and workbooks are available in digital formats or as hard copies. Some key features of self-care workbooks include reflection tools on recent accomplishments, monthly goals, and space for prioritizing week-to-week activities to ensure a healthy work/life balance.
DIY Arts & Crafts kits
One of the many upsides to 2020's post-quarantine is the new influx of hobby crafters, from novices to experts.
And thanks to this crafting boom, the kids crafting market is also booming. There is a rise in the popularity of intermediate crafting kits to keep up with the 2020s' novices.
Take advantage of their interest by offering DIY crafts kits for adults and children. These craft kits may include kits of little ones that can be completed with minimal supervision and promote fine motor skills. 
There are so many Etsy shops successfully selling these to DIY crafters all around the world.
Some popular DIY kits include:
18. DIY Kits for Adults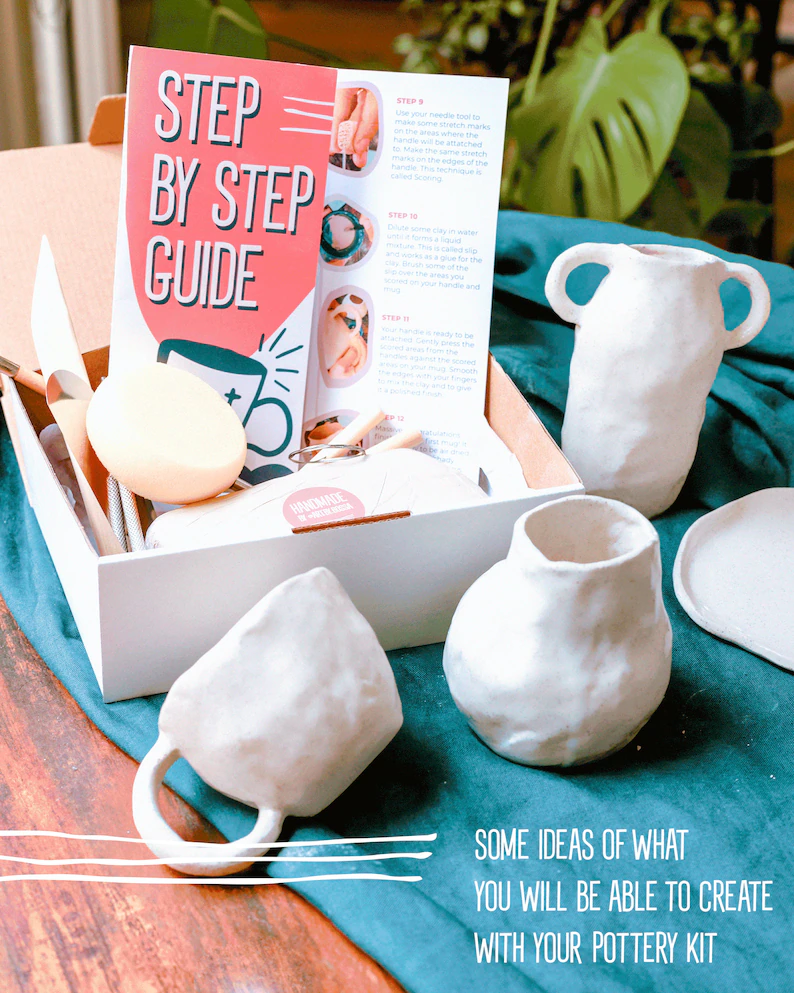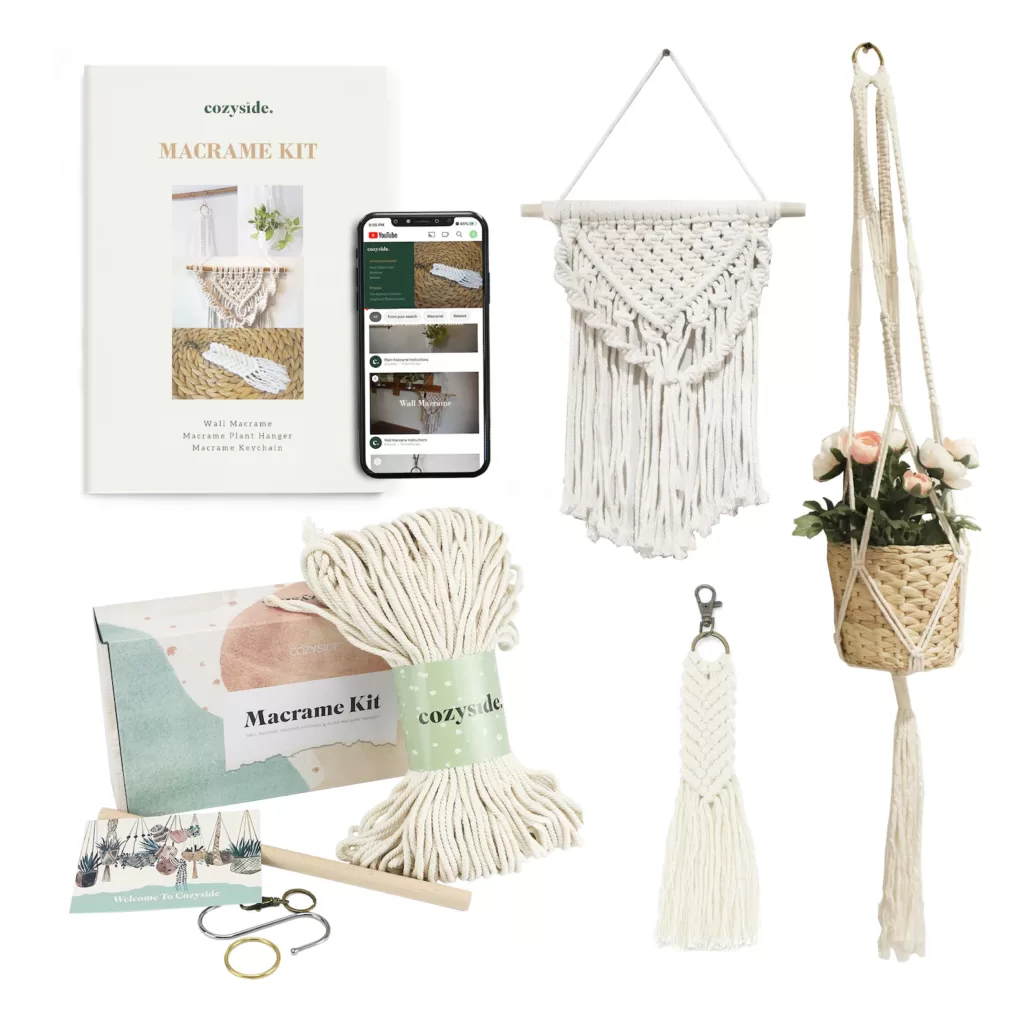 19. DIY Kits for Kids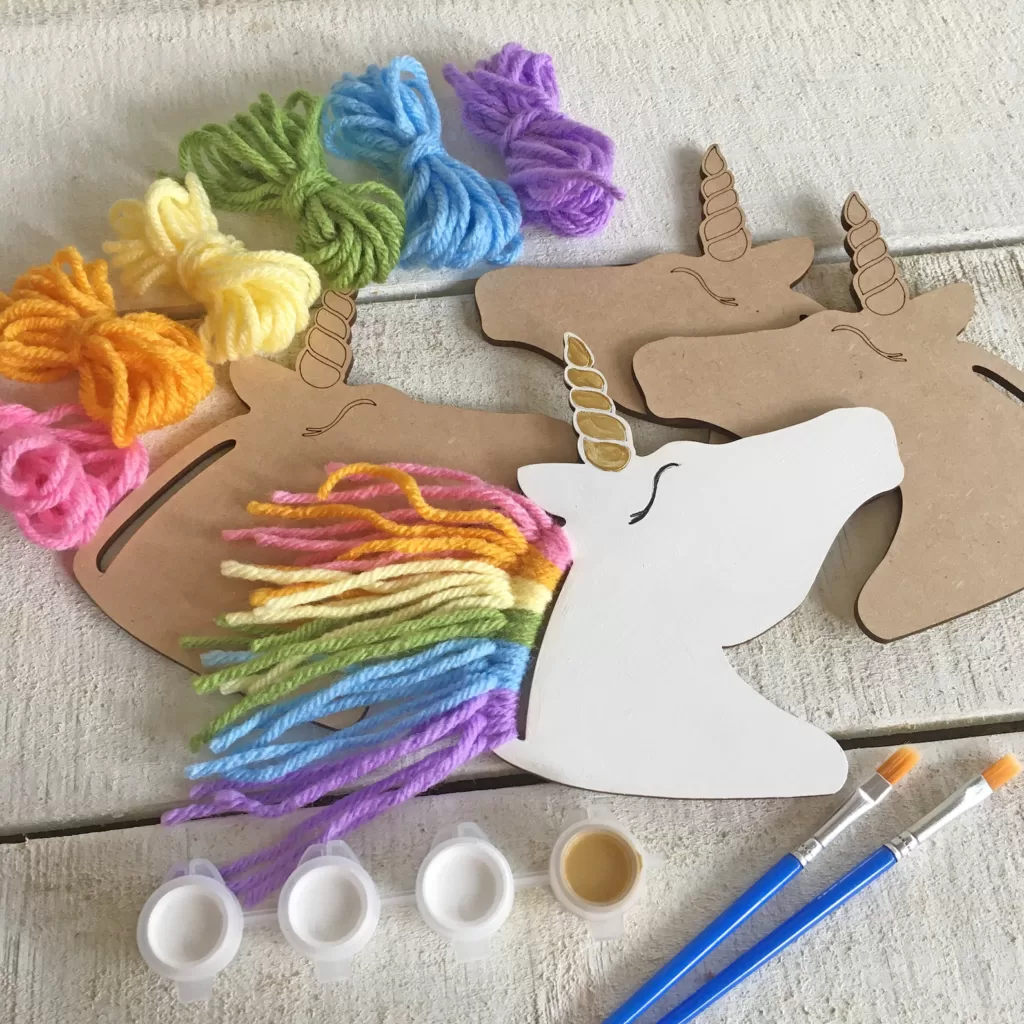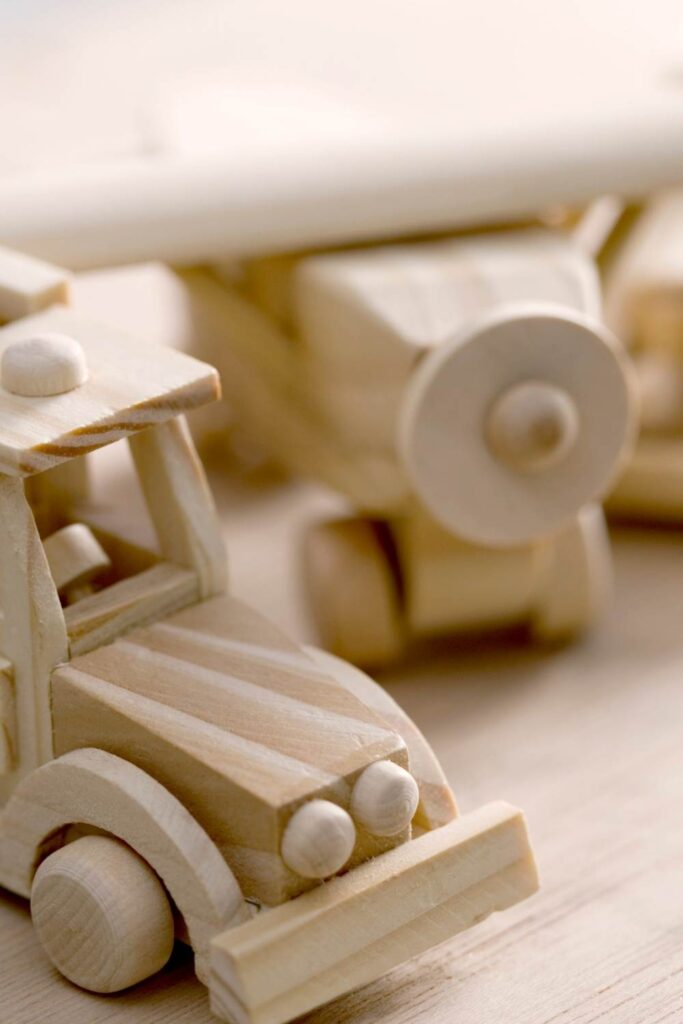 Here are some interesting numbers I found on the ETSY trends report:
A 140% YoY increase in searches for ceramic kits and a 306% YoY increase in searches for summer crafts
Sewing crafts to make and sell
20. Face Masks
Thanks to social media, the trendy mask face masks are getting a lot of attention and exposure.
One of the 2021 trends in crafts is to make fabric masks using fresh, creative designs and branding them according to season. Like floral prints and retro patterns are quite popular these days. 
Perhaps you can sew on shiny sequins or beads to make your mask more beautiful. You could also add designs to jazz up the product, like these masks with party wear embellishments.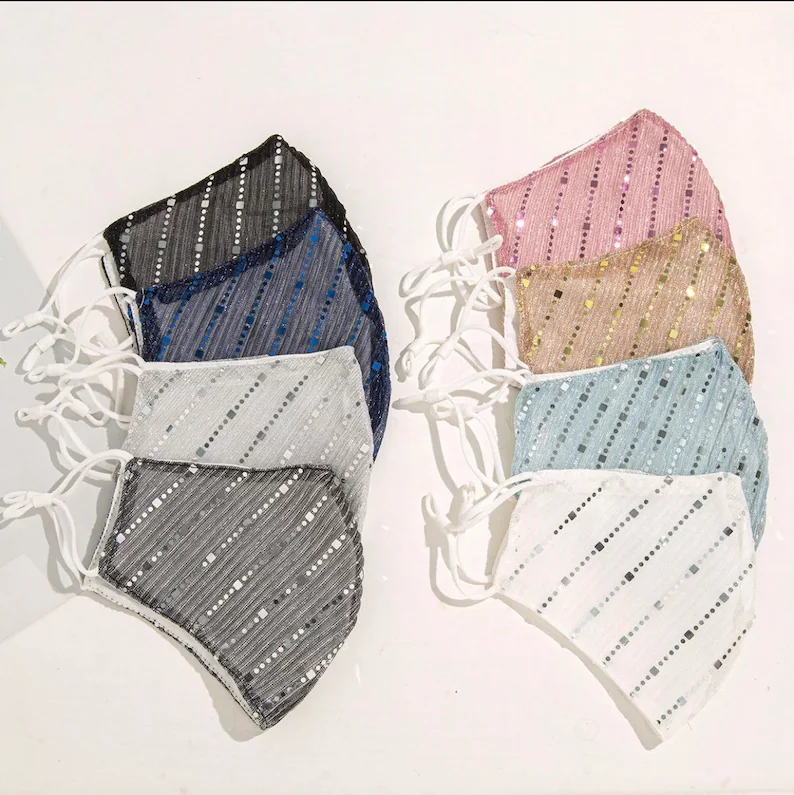 21. Beads Mask Chain
Beads mask chains are another hot trend to make and sell while they last! This craft project is easy, inexpensive, and quick to do!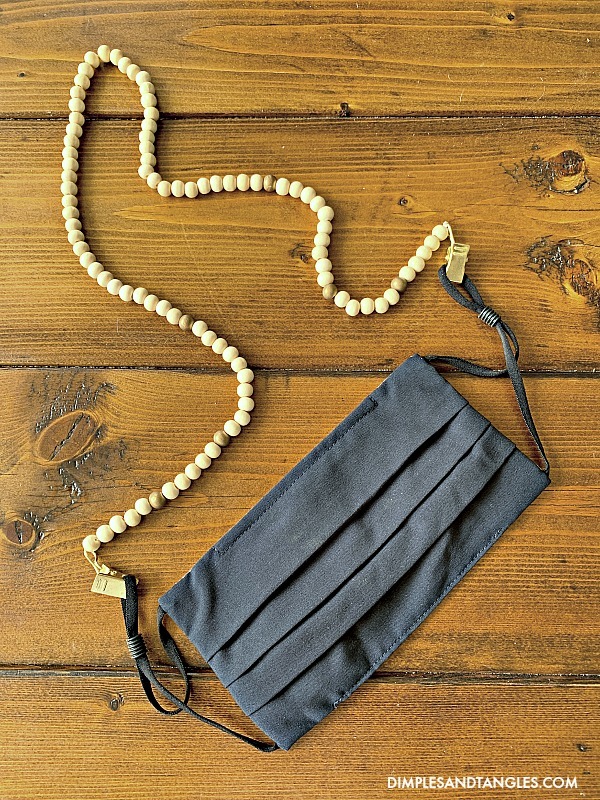 If you like crafting with fabric, here are some more fabric craft ideas to explore!
Trending Home decor arts to sell
22. Custom Wall Art
Adding a touch of personality to your home is trending. You can make and sell home decor items like personalized portraits, framed arts, canvas, or digital downloads by customizing with the first letter, name, or custom-requested phrase.

And this trend is here to stay as interest in this trend is only increasing as searches on Etsy containing "custom wall art" have increased by over 50% YoY.
23. Wavy and Fun Shaped Home Decor
Recent trends in home decor show an increase in playful designs, inspired by pop art.
One example is the design of wavy candles which has seen a 28,858% growth in YOY search numbers.
Luckily, I found these easy tutorials for these trendy DIY terrazzo candle holders and geometrical candles from A Kailo Chic Life.
Aren't they so cool?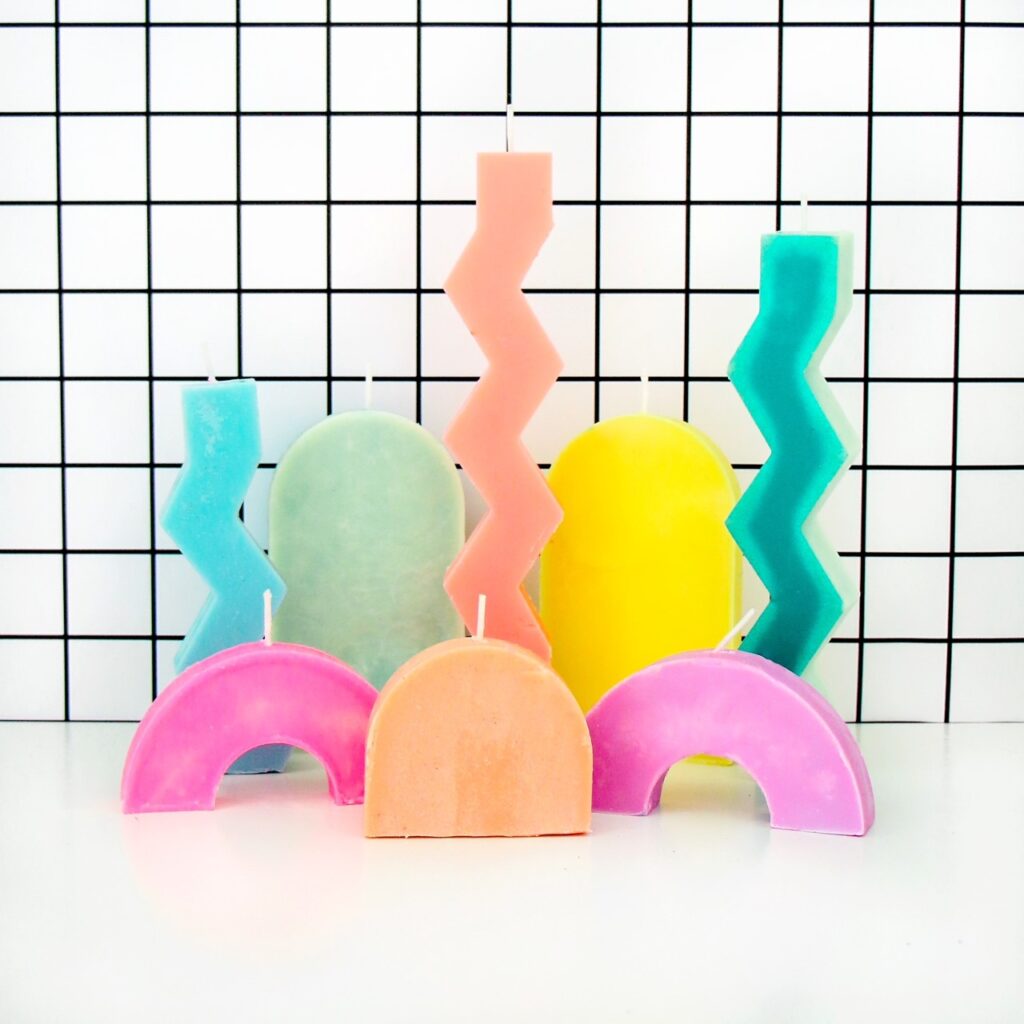 Trending Crafts to Make and Sell
The craze for DIY projects that involve paper is not subsiding anytime soon. From handmade paper flowers to gift wrapping supplies, there are plenty of paper crafts you can make and sell for profit.
24. Trending Handmade Cards
Card making is not just for Hallmark stores anymore. There are many types of cards which range from handmade ones with burlap and lace to more contemporary card designs with humor quotes or scratch-able cards.
Although cards have been popular gifts for decades, the latest trend shows that this isn't an exception with a 937% YoY increase in searches on Etsy for handmade greeting cards.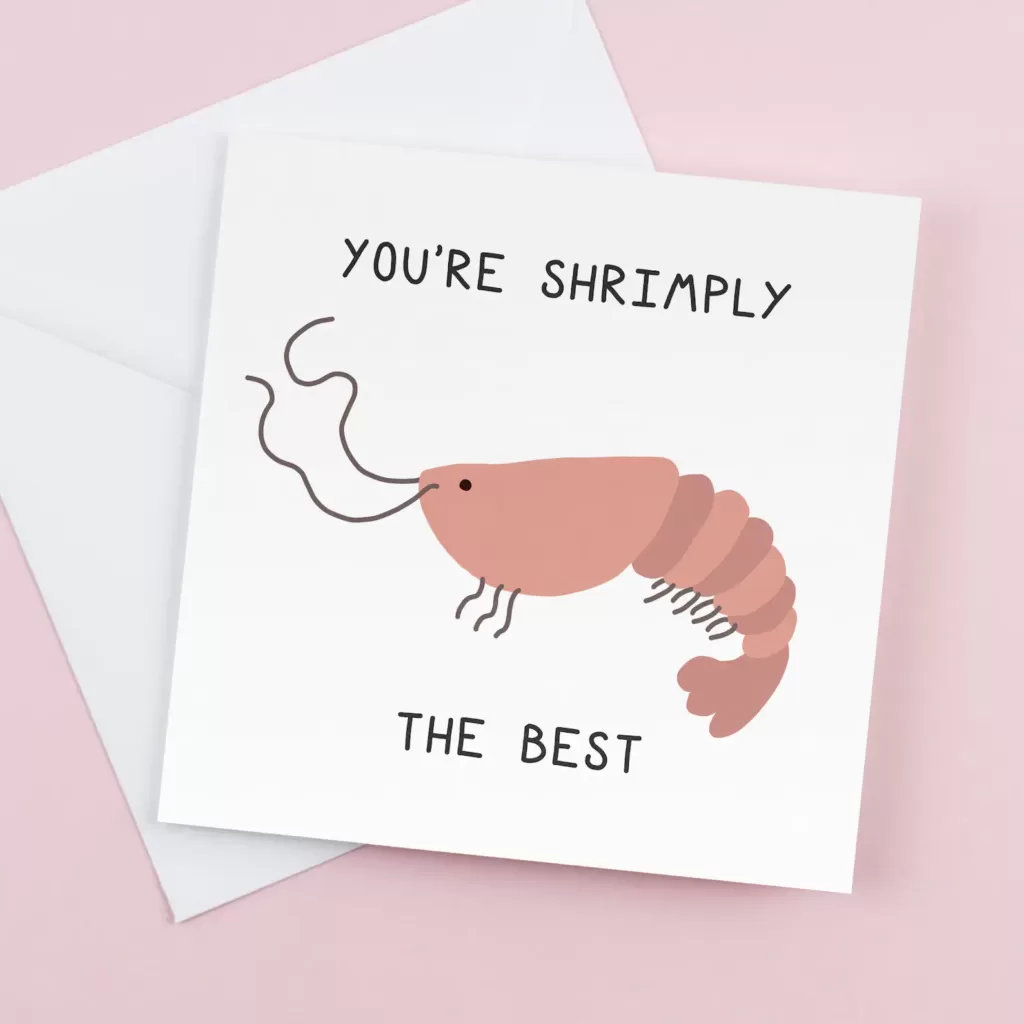 Where to sell handmade crafts?
Selling handmade crafts or starting a craft business is one of the best ways to make money online. There are a ton of great sites where you can sell your creations and earn some income on the side or even profit from as your full-time business.
Etsy
The most popular site for selling handmade items is Etsy! With over 80 million active buyers from around the world, it's definitely worth putting some time into this craft portal as an aspiring crafter.
Check what sells best on Etsy before selling your handmade products. You might also like to know about the cost of selling on Etsy as you will be selling to make a profit on the platform. If you plan to start an Etsy store, you can use these 40 free listings to create a free Etsy seller account. (Don't worry, you can start your store later.)
If you plan to start your Etsy shop, here is my free starting an Etsy shop ckecklist.
Related post: Easy Etsy store ideas to sell on Etsy and start a new business
eBay
eBay has over a billion listings at any given time so you can make your craft stand out by making it more unique or finding a niche.
Craftsy
Selling your crafts on this site is a great way to make some money from home while you teach other people how to do the same!
Amazon Handmade
You can sell your crafts on Amazon Handmade, and you'll be able to reach a ton of new customers who would never have found your product otherwise.
Facebook
Facebook Marketplace is a great place to sell your crafts if you're looking for something different, as there are no listing or seller fees. I have seen so many people selling on the Facebook local marketplace, in groups or using Facebook page.
Related post: Best selling items of Facebook marketplace
Craft fairs
One of the most popular places for crafters to sell their wares is at a craft fair, and these happen all year round.
You can even find them in your local area by looking on Google!
If you're really feeling up to it, go the extra mile and organize a craft fair in your area.
Related posts: 14 Easy Craft business ideas you can start from home
Final thoughts on Hot Crafts to make and sell
You should always ensure that you have looked into the trends for your particular niche when deciding on what craft to make.
The best places to look for trends are :
Pinterest trends for crafts to make and sell
Trending categories on Etsy as well as Etsy reports.
Trending handmade products on eBay
Google
eRank
Picking out the latest trends in your niche will allow you to keep up with the latest trends while giving potential customers something new and exciting that they can't get elsewhere.
I hope this blog post has provided you with some popular craft concepts and ideas for your business. If you enjoyed this article, please share it on social media to spread joy! And of course, don't forget to comment with your favorite craft trend.
More Money Making Craft Ideas