Looking for Christmas Crafts ideas to sell in 2022? Well, I have got you covered. Here, you will find the most popular Christmas crafts ideas to make and sell in 2021 (inspired by best-selling Christmas crafts on Etsy and craft bazaars in 2021).
Christmas is a time of the year that brings people together. It's also a time for families to spend quality time at home, cooking and crafting together.
And if you want to make some extra money in this holiday while enjoying making personalized gifts and crafts, then, in this blog post, I will show you some DIY Christmas crafts to sell for profit.
There are many Christmas crafts that sell well (really well!) at craft fairs, bazaars located near your home, or even online market places like ETSY.
*New: Recently Etsy published its 2020 holiday sales report with 2020 Christmas bestsellers.
I have included them in this post and listed them (with similar links) at the bottom of the post too. I am sure you will love them!
What can I make for Christmas to sell?
Here are the main best selling Christmas craft ideas to sell in 2021 from home:
Christmas decorations ideas: Ornaments, wreaths, table centerpieces, wall decor, garlands, shelf decor, and rustic wooden decor.
Personalized Christmas gifts: Personalized ornaments, cards, stockings, gift baskets, placement mats, kids name puzzles, handmade cards
Handmade Christmas theme clothes to make and sell: Ugly sweaters, pajamas, shirts

Christmas printable ideas

: Cards, Santa letters, gift tags
Christmas gift baskets: Mix and match to any theme
Christmas treats: Cookies, baking mixes, cakes, candies
Christmas DIY cheap gifts and stocking stuffers ideas: Christmas jewelry, bath soaps, bath bombs, small candles
What Christmas Crafts are selling Now in 2022?
Here is a snapshot I took on Nov 10, 2021 People are already shopping for Christmas gifts: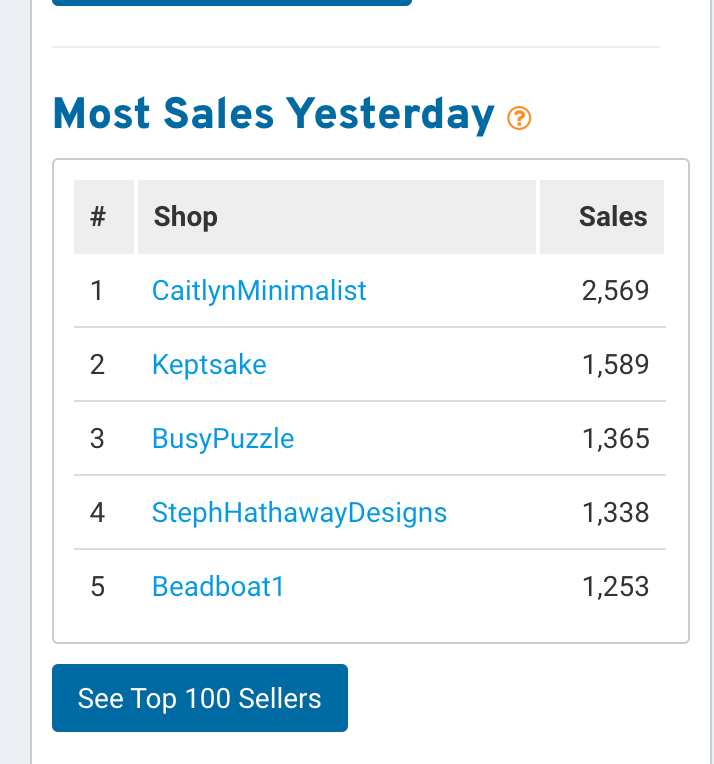 The best selling Christmas crafts these days according to the above snapshot from Etsy are:
Personalized jewelry (Gifts for her)
Personalized ornaments
Wooden puzzles (Gifts for kids)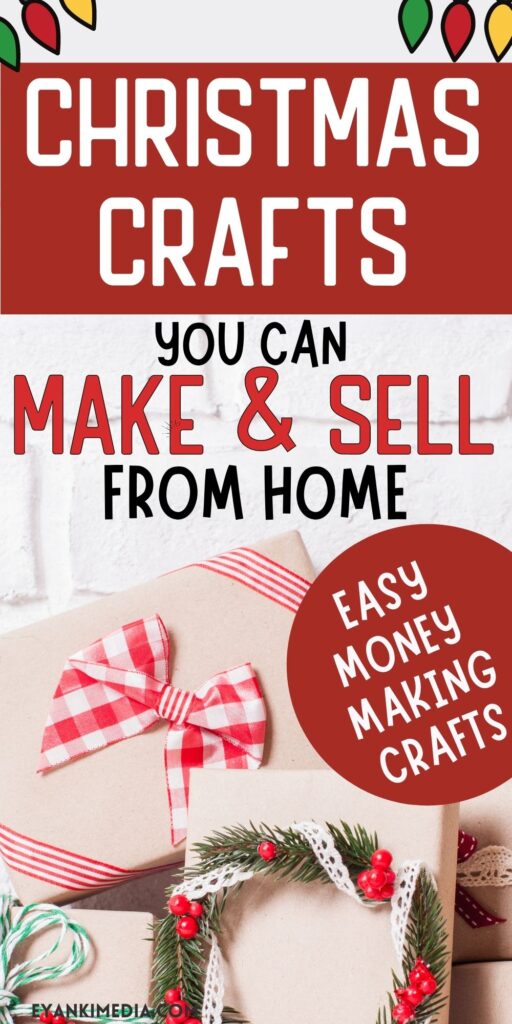 This website contains affiliate links which means we may earn commissions if you purchase through them (no extra cost to you). You can read our policies here.
Related posts:
Best selling DIY Christmas crafts ideas to sell At Bazaar and etsy in 2022
Here are some of the best Christmas crafts to make and sell in 2021 for extra cash. I have included a lot of Christmas crafts ideas for your inspiration from fellow crafters who sell at craft bazaars, craft fairs, or at Etsy.
DIY Christmas decorations to sell in 2022
1. DIY Christmas ornaments
Making homemade ornaments and selling them is a great way to make extra cash. With a little time and creativity, you can create beautiful pieces that will sell for a profit.
Personalized ornaments are a great way to stand out from the competition. These are always a huge hit on Christmas, and if you have a unique way of personalizing them, you will have a product people are willing to pay for.
Here is one easy idea to make personalized Christmas ornaments but don't forget to check my exclusive post on Easy Christmas ornaments you can make and sell. There are over 16 stunning Christmas ornaments ideas for your inspiration.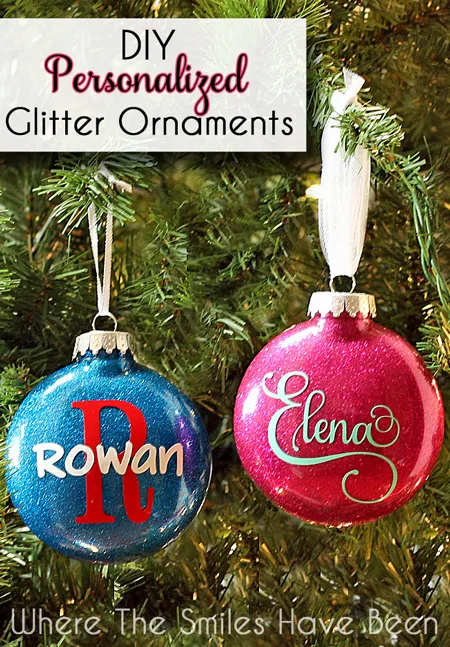 Related posts: Check these 16 Stunning and Easy Christmas ornaments you can make and sell.
Tip: Thrift stores are a good place to go for those looking to buy ornaments in bulk. Look at the after-Christmas sales, and stock up on extra inventory when they're discounted too!
2. Handmade Christmas Wreaths
Wreaths are another popular DIY Christmas crafts that sell well. One way to make the holidays less hectic is by crafting some beautiful Christmas wreaths from your home to sell at the local craft fair or in your yard.
A wreath is one of the simple Christmas crafts that you can make. You can use different types of materials to create a wreath, making it a versatile and inexpensive option.
For example, if you want something natural and simple, try using pinecones wrapped with burlap or twine. Or for a more colorful and Christmasy look, get some colorful ribbons to form a wreath.
The possibilities are endless, find what works for you and enjoy the process.
Here are some beautiful Christmas wreaths for your inspiration: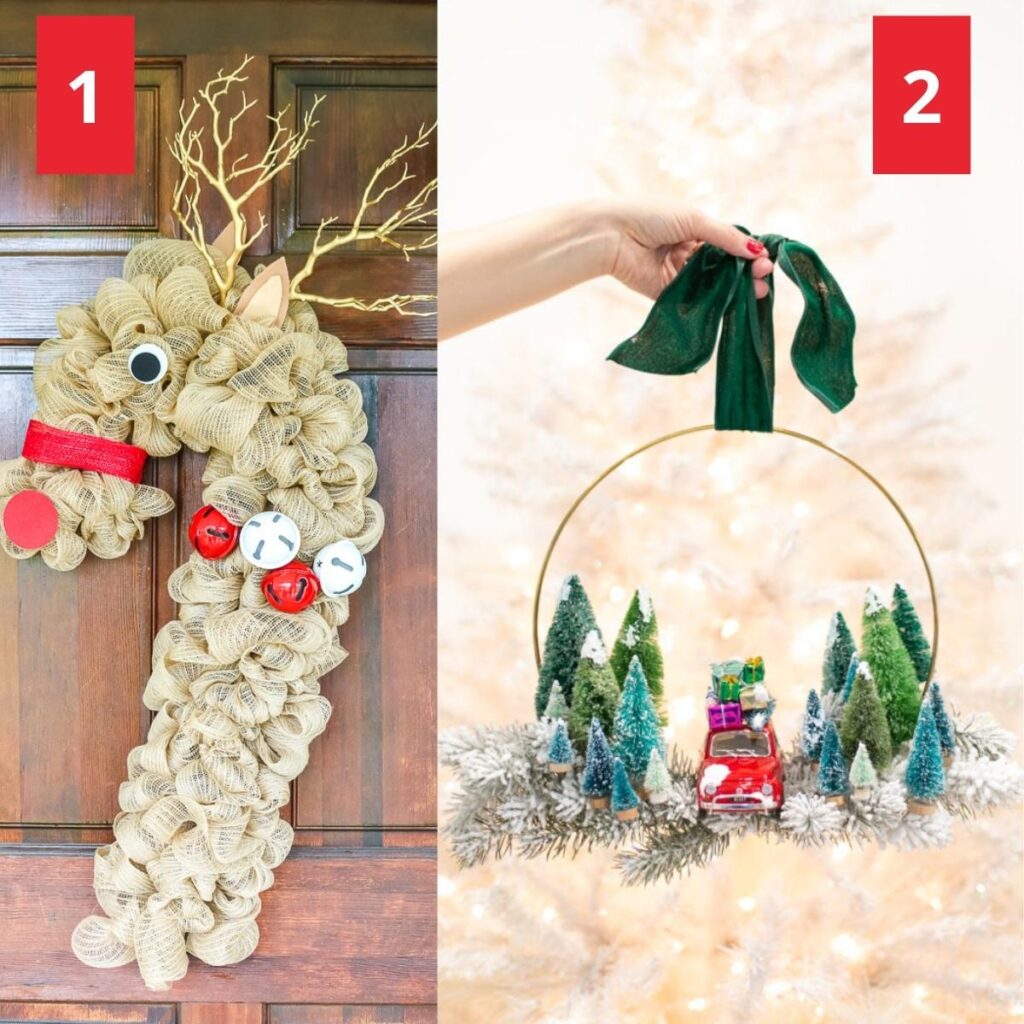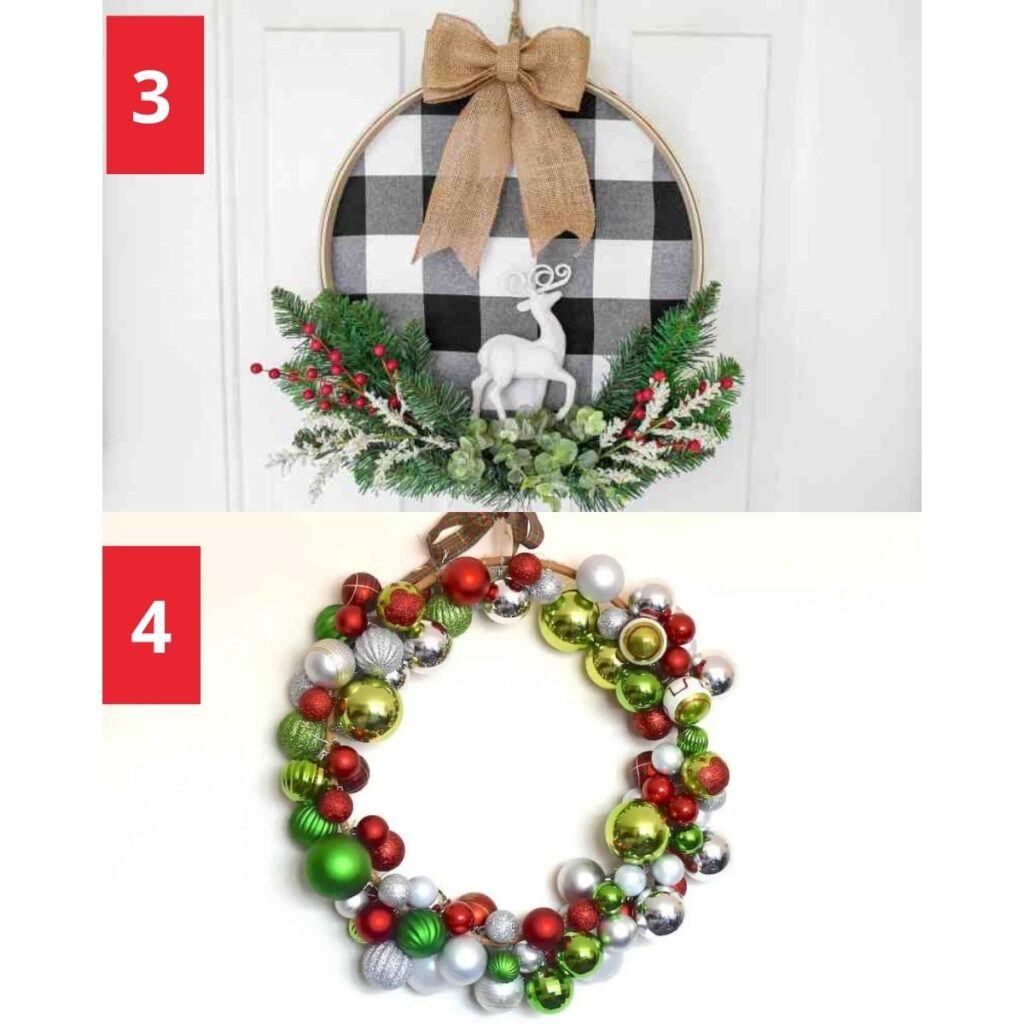 You can also check this Pine Cone Wreath made from Pinecones.
If you want to make and sell a fresh wreath here is a video by one of my fav gardening-girl
3. DIY Holiday Table and shelf Decorations
Another craft idea that can do pretty well at craft fairs is a holiday table decoration or a holiday-themed centerpiece.
You can get creative with this one or even keep it simple by just painting some pinecones, holly berries, snowflakes, or whatever else and putting them together to make an appealing centerpiece.
Here are some ideas for holiday centerpieces. Use them as inspiration and add your creative ideas to make them stand out from other sellers.
1. Christmas tiered decorations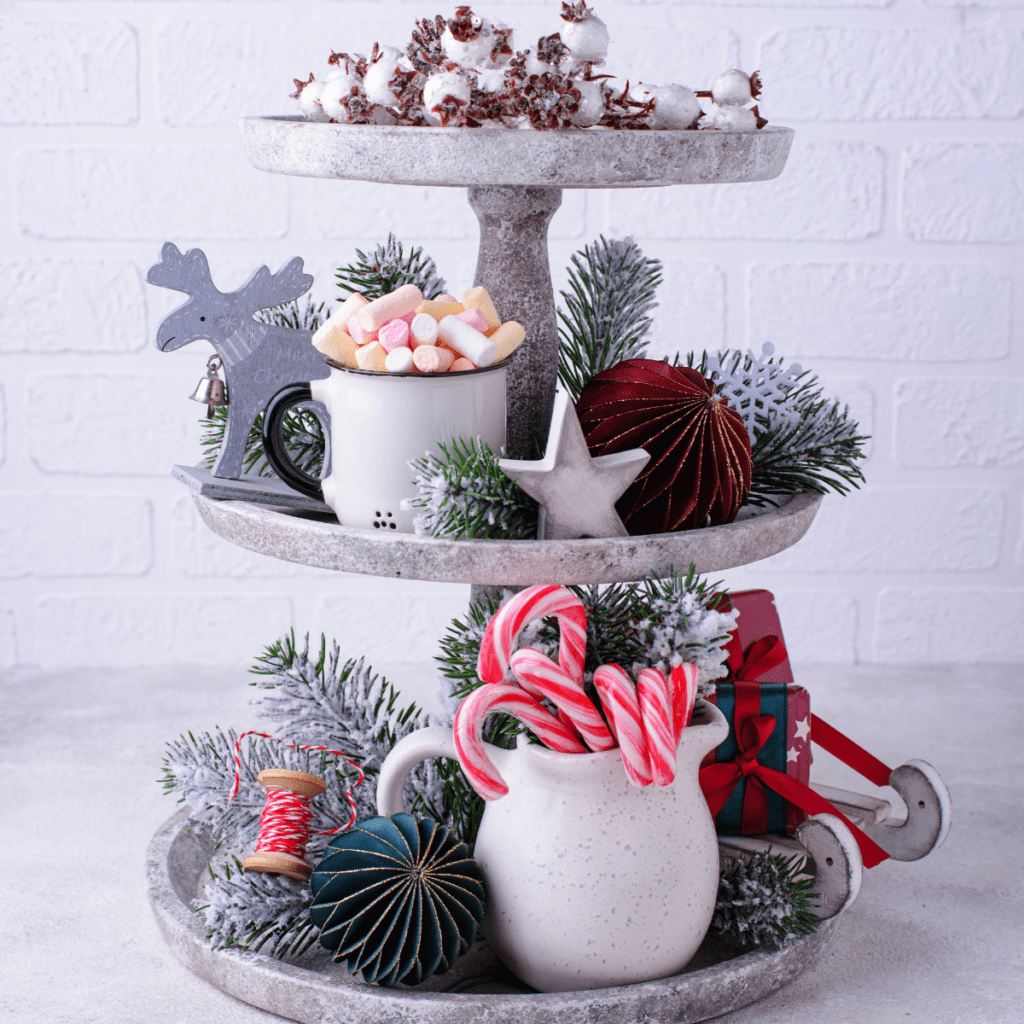 Tiered decorations are very popular during holidays and they sell well on Christmas. The best part is you don't need expensive supplies to create these amazing centerpieces.
There are many people who create these Christmas decorations from Dollar Tree items and sell them locally. You can find many people selling them on Etsy as well (check Etsy listings here).
Here are a few resources I found that can help you make these beautiful centerpieces:
Dollar Tree Craft Ideas – A Facebook group for Dollar tree craft ideas from the real crafters sharing their creations and wins.
Youtube videos and tutorials-
Here is another video to learn how to make 2 tiered Christmas Tray by KraftsbyKatelyn:
2. Make and sell DIY Christmas trees and other related home decor items
You can also make and sell small Christmas trees, or other Christmas-themed items for home décor.
Sea Glass Christmas Tree DIY by Down red bid drive
Primitive Christmas Trees by Mixed creations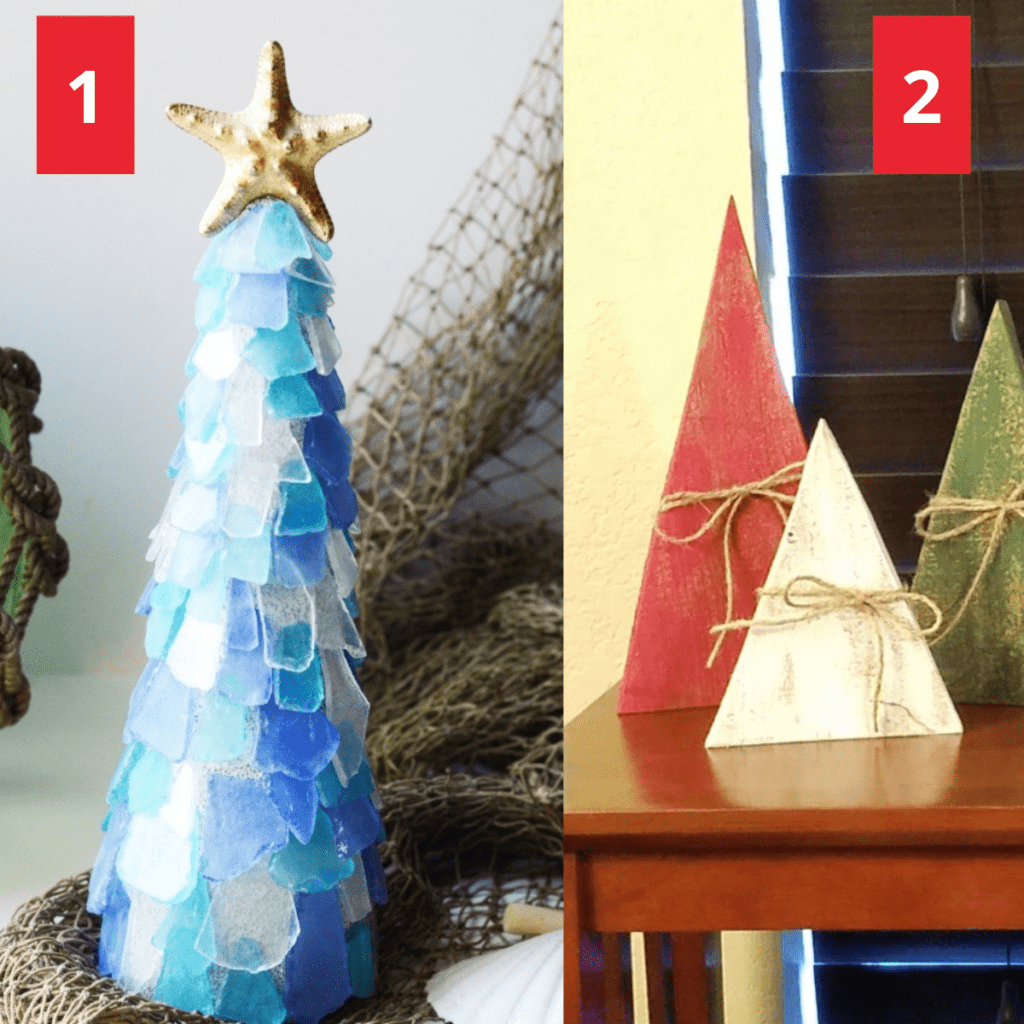 3. Christmas Terrarium by Crafts by Amanda
4. DIY Snowman with Glitter by Leap of Faith crafting (can sell really good at Christmas bazaar)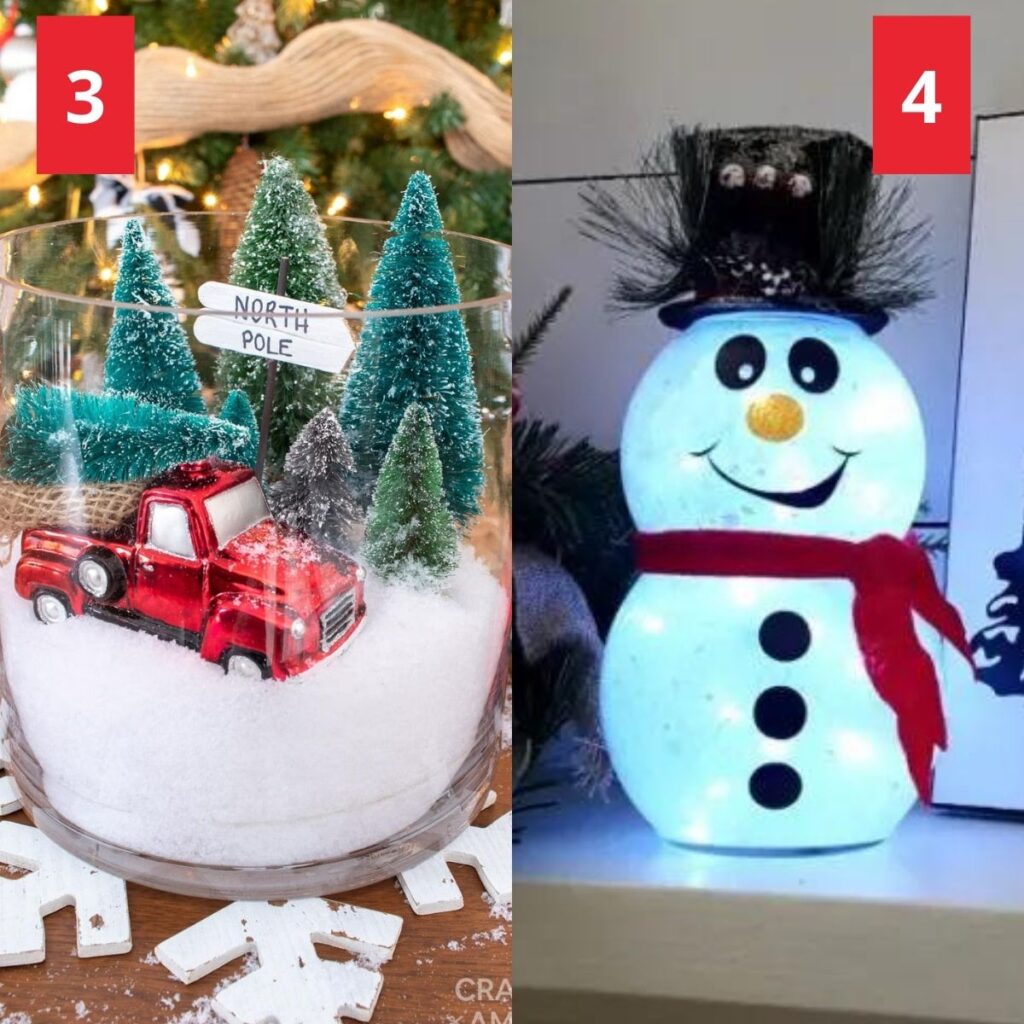 For more Christmas trees ideas, do check my post on wooden Christmas crafts you can make and sell.
4. DIY Holiday Garlands
Another Christmas craft idea to sell could be Christmas-themed garlands.
This is a simple craft where you can get creative and make it your own. You can use a variety of materials to make your DIY Christmas garlands, such as ribbon, yarn, or twine.
Here are some DIY Xmas garlands ideas:
DIY Gingerbread house Christmas garland by Tikkido
Christmas Bead and Fabric Garland by Chicken Scratch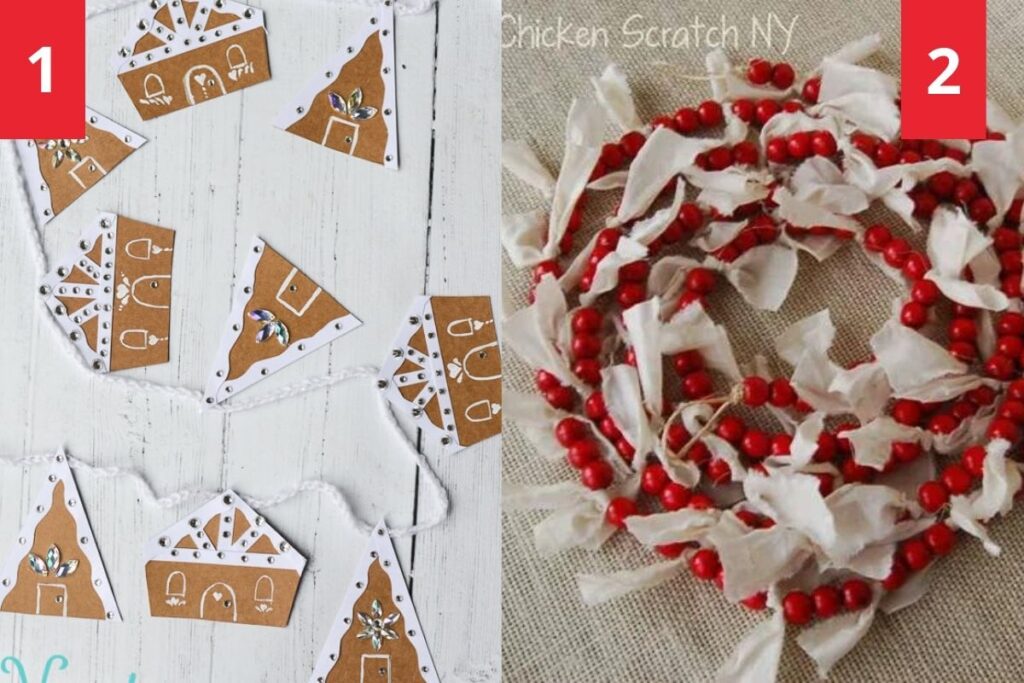 More DIY Garlands ideas to sell
Professional looking DIY Christmas Garland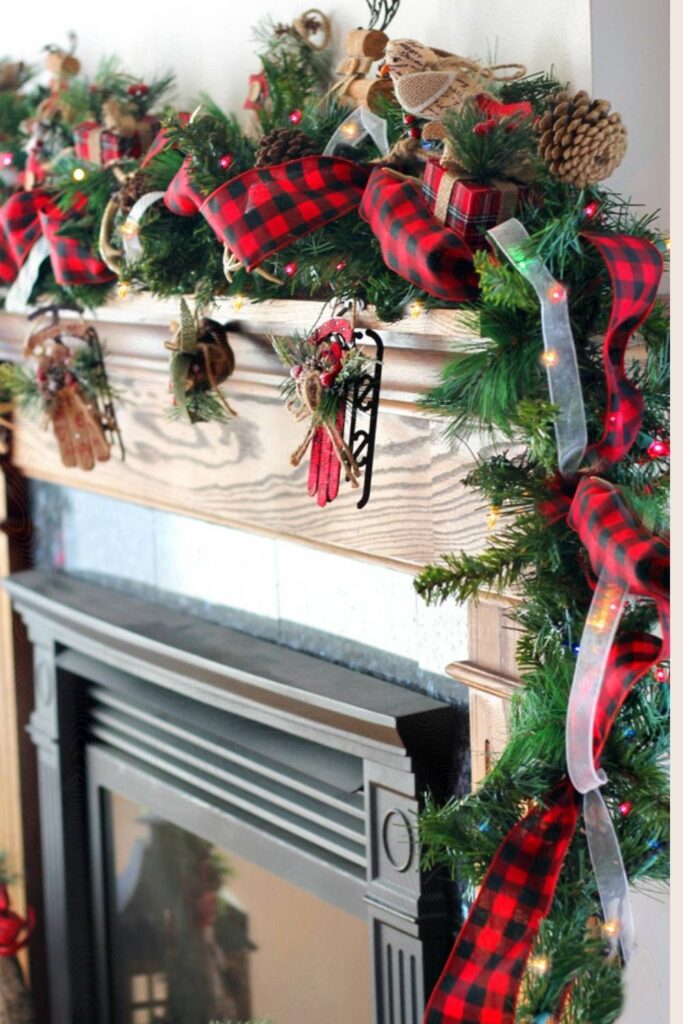 Christmas Garland from Dollar Tree items (Youtube video)
5. DIY Rustic Wall decor ideas to sell on Christmas
Many people are huge fans of rustic and farmhouse decor, making these great craft ideas for Christmas to sell.
One of the simple ideas: String together popcorn strings in different colors or sizes, add some pinecones and holly berries on the back of each string, with some ribbon tied around them.
You have DIY wall decor that will look rustic and festive at the same time.
Here are some rustic decor ideas to take inspiration from:
Rustic Wall Signs
Rustic wall signs are popular things to make and sell for Christmas.
Here is one wall sign for your DIY inspiration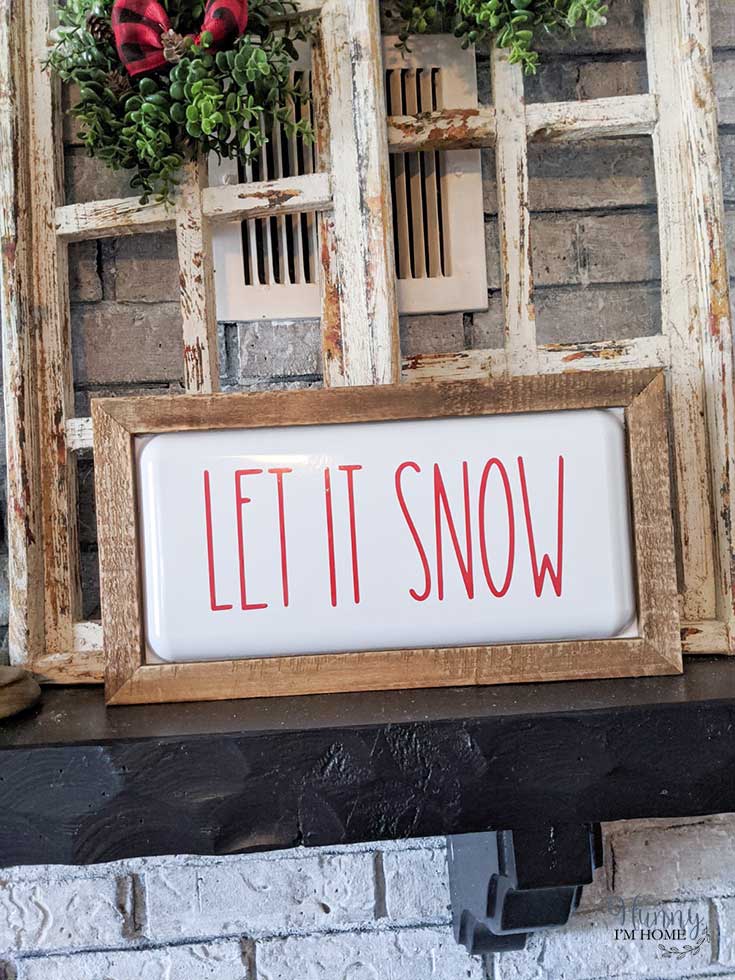 Farmhouse-themed decorations are always a huge hit. People love to decorate their houses with farmhouse style as it prioritizes practicality, simplicity, and adds rustic charm.
This reversible (Thanksgiving and Christmas) wall sign is one of its own kind and I bet it can be your bestseller too!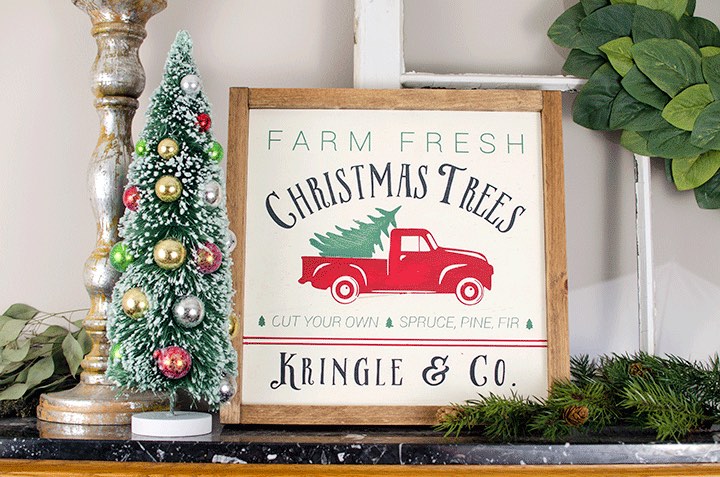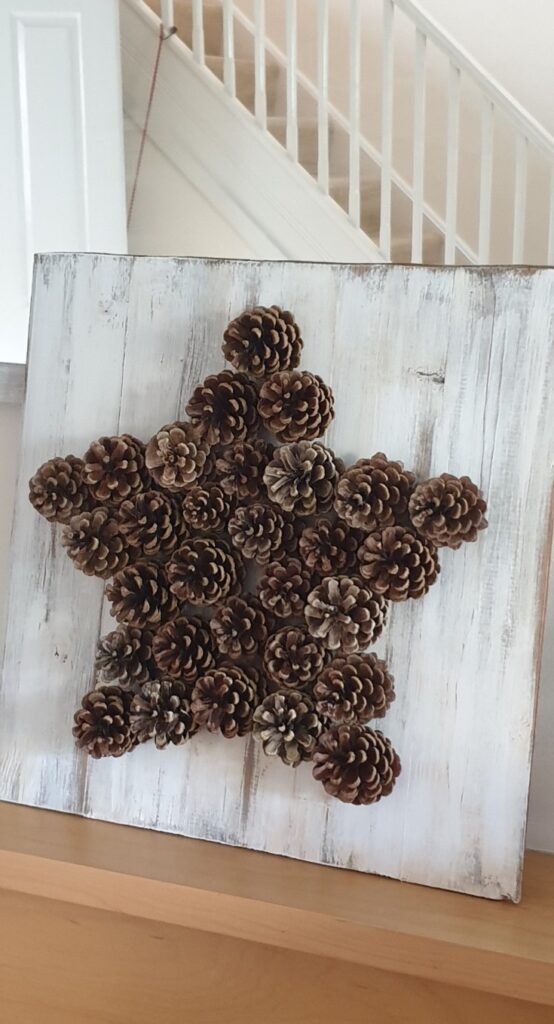 6. Personalized Christmas stockings
Personalized Christmas stockings are another popular DIY Christmas craft to sell.
You can customize them for individual buyers and make it their "family" stocking by including the person's name at the top of each stocking.
Creating a personalized holiday stocking doesn't have to be difficult – you can use pre-made stockings and then personalize them by using fabric paint, embroidery hoops, vinyl stencils, or any other craft supply.
If you are making gift baskets to sell, be sure to add personalized stockings to the basket as well.
DIY Stocking ideas to get inspiration:
Quilted Christmas Stockings for the Entire Family by Gluesticks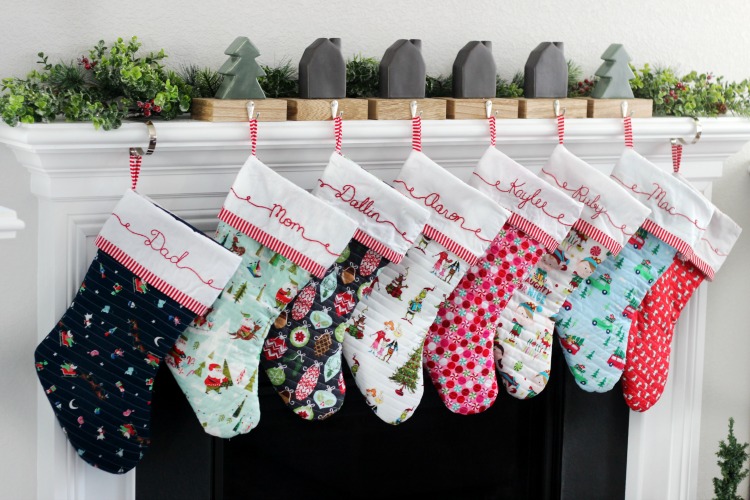 If you have a circuit, here is a video tutorial on how to personalize stockings with the Cricut.
Handmade Christmas clothes to Make and sell
7. Ugly sweaters
The ugly Christmas sweater is a very popular trend in the holiday season. When a person wears an ugly sweater, it is a statement that he is celebrating Christmas and having fun.
You can make and sell ugly sweaters for families or customize them for individuals according to their favorite holiday movie, latest trend, TV show, or Christmas song.
Ugly sweaters can be a great hit at the Christmas craft fairs or online as a way to make money from home.
Don't forget to add the latest fad and offer sweaters in multiple sizes so people can buy for themselves as well as their families.
For inspiration check out these ugly sweaters available on ETSY. These sweaters by tackyuglychristmas are just soo tacky (Amazing, I mean).

8. Christmas Shirts and Pajamas
If you love sewing and want to put your creativity to work for the holidays with low overhead costs, making matching PJs or shirts can be an easy option.
You could even customize them by adding each person's name or the family's last name on the pair!
This is an idea that would work well as extra cash in this holiday season – just think about all those families who like wearing matching PJs or dressing their kids with matching clothes.
Here is one tutorial on DIY sibling shirts for Christmas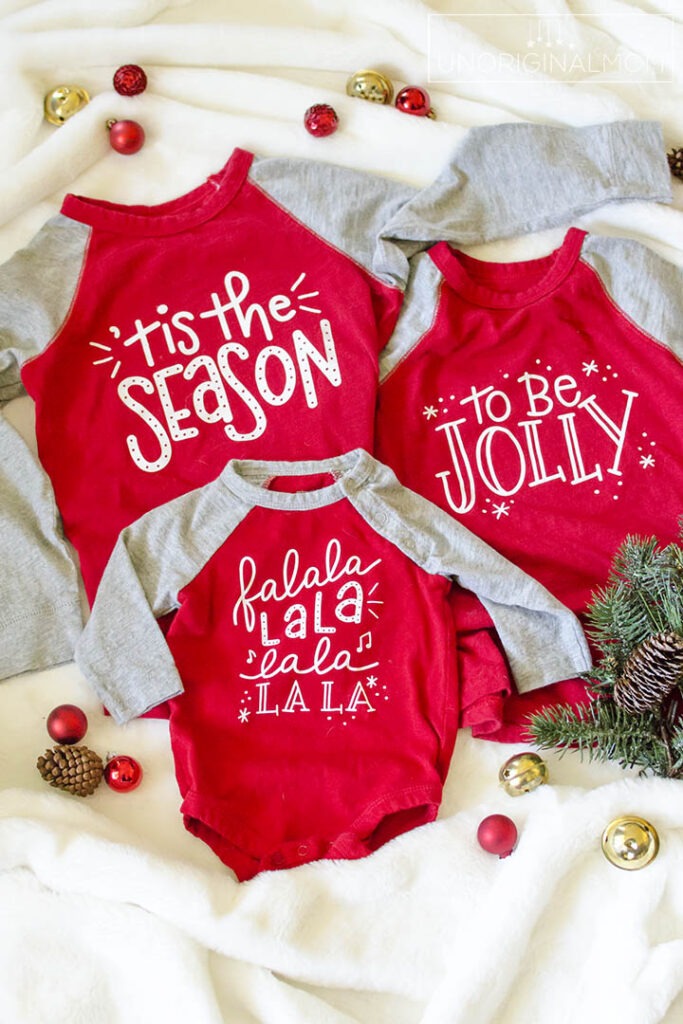 Wait!!! Do you own a Cricut machine? If so, you might like these 30 PLUS exclusive Cricut Christmas Crafts Ideas to Sell in 2021.
9. Christmas Printables ideas to sell on Etsy
Printables and digital downloads are some of the easiest things you can make and sell from home to make money. And customizable Christmas printables are immensely popular on Etsy, especially for the last-minute gift shoppers.
The best part about this business is that you can resell the digital over and over again, year after year. You could create downloadable wall arts, gift tags, letters to Santa Claus for kids…the list goes on!

Creating different types of Christmas printables is easy and you don't need to be a graphic designer. I am not a graphic designer but I sell printables on Etsy using a really easy drag and drop free designing tool – Canva.
If you're looking for more inspiration on what to make and sell from home, check out this free resource, including the hottest selling ideas that will help you start your business.
Related Reading: 40 best-selling printables on Etsy.
Christmas treats and sweets to make and sell
Christmas festivity is incomplete without holiday treats. If you think of food-related things that can really sell well on Christmas, then these are the ones to take into consideration as they will make your pocket happy too.
10. Holiday cookie gift boxes
Make someone's Christmas merry and bright with gingerbread cookies or holiday spirit butter cookies in different shapes. Pack them well in festive gift boxes, decorated with beautiful strings and tags.
Cute Rustic Christmas Tree Sugar Cookies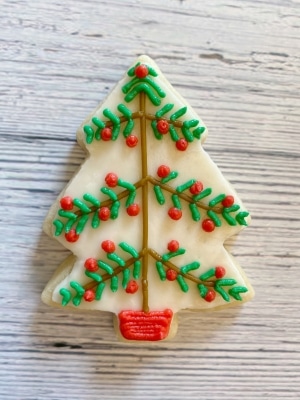 11. Mason jar Christmas treats
Mason jars are a popular trend and the perfect jar for any Christmas Treat. Fill them with your favorite homemade goodies like pies, cookies, cakes (cheese, bake/no-bake, shortcakes), candied nuts, or anything you are good at, and watch as they fly off the shelves in minutes.
The festive season is always a hit so you can make some good money from these treats. 
This Chocolate and mint Grinch cake looks delicious and can be a perfect Christmas treat idea to sell locally.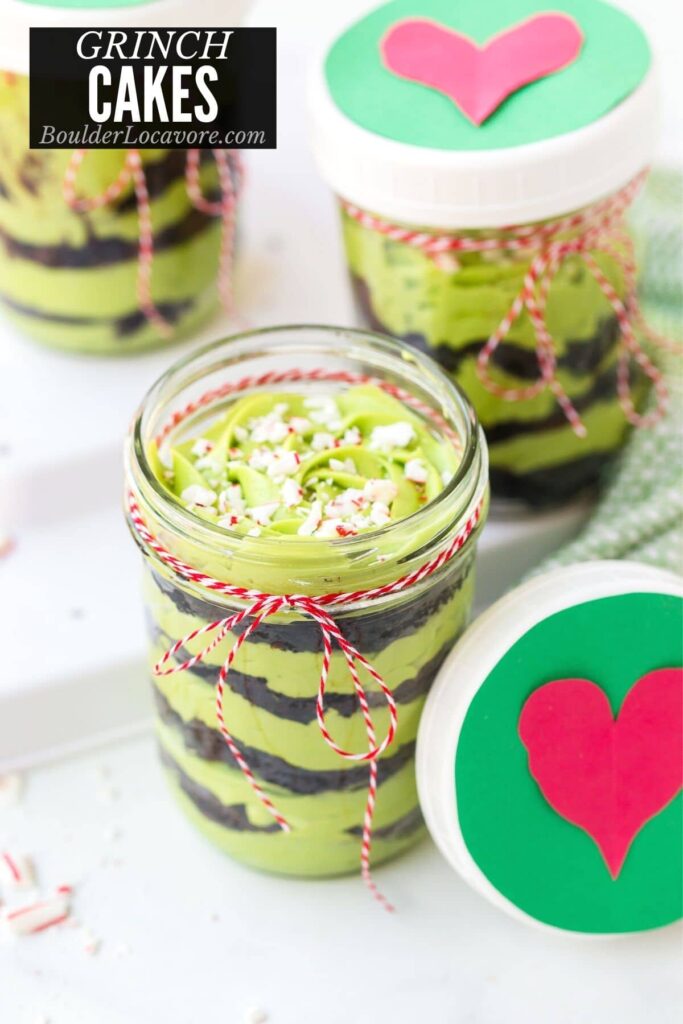 There is another gift jar idea -put all the baking ingredients needed to make a dessert in an adorable jar with instructions on how to bake it and wrap it beautifully.
Here is a simple idea for your inspiration: Oatmeal Chocolate Chip Cookie Mix In A Jar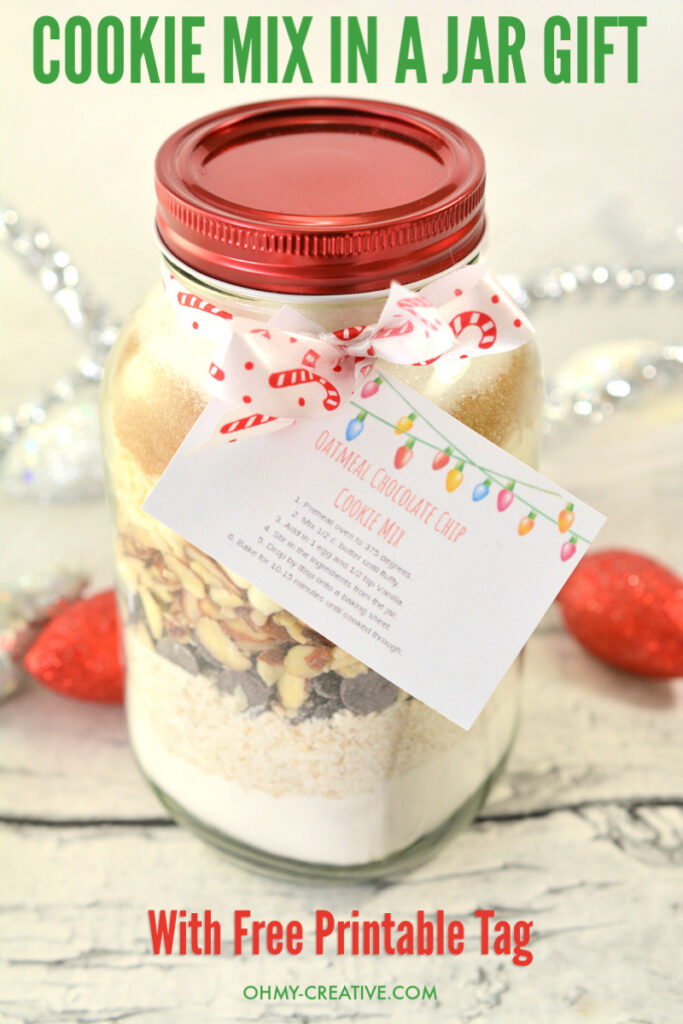 13. Kids Treats ideas
Candy cane cake pops: Kids will be overjoyed to have these sweet treats. Making simple frosted lollipops in the shape of candy canes is a sure way for you to make kids happy and your pockets too!
Here is one cute candy cane reindeer pops idea to make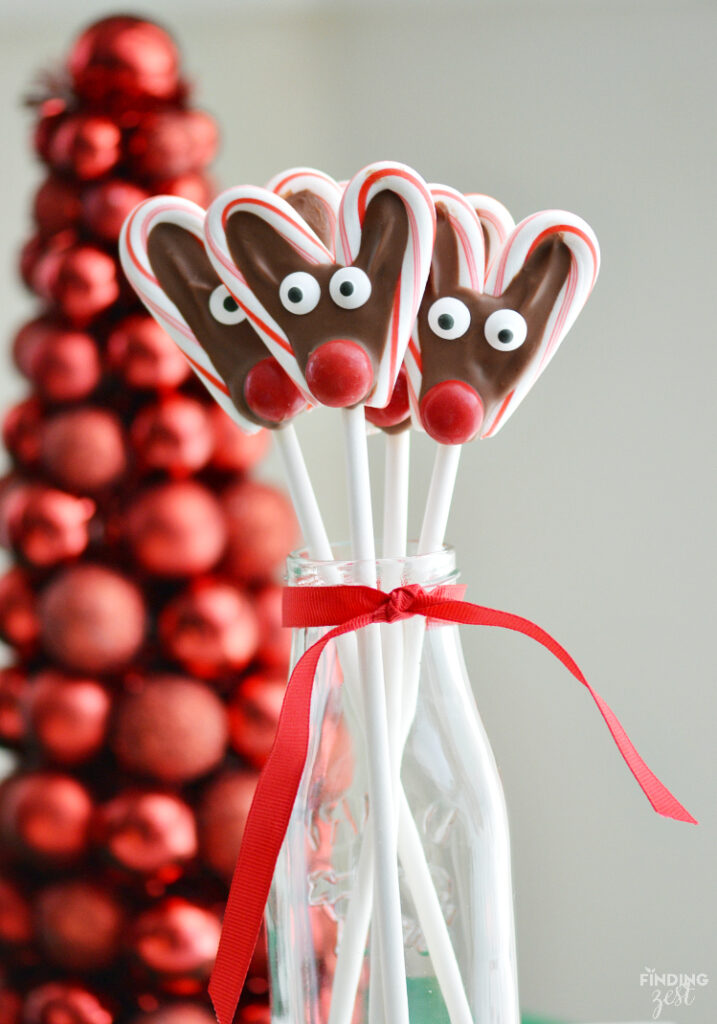 S'mores kit: Kids love this one- a DIY Snack Mix Kit with graham crackers, chocolate bars, marshmallows and other treats inside these kits for the perfect DIY Christmas treat that sells well in craft fairs or local shops.
Candy cane marshmallows treat: These are the perfect Diy Christmas treats you can make at home to sell at craft fairs or bazaars.
Make them in a cute snowman shape or dip them in chocolate, they make a perfect treat for little ones.
Here is one candy cane marshmallow recipe for you: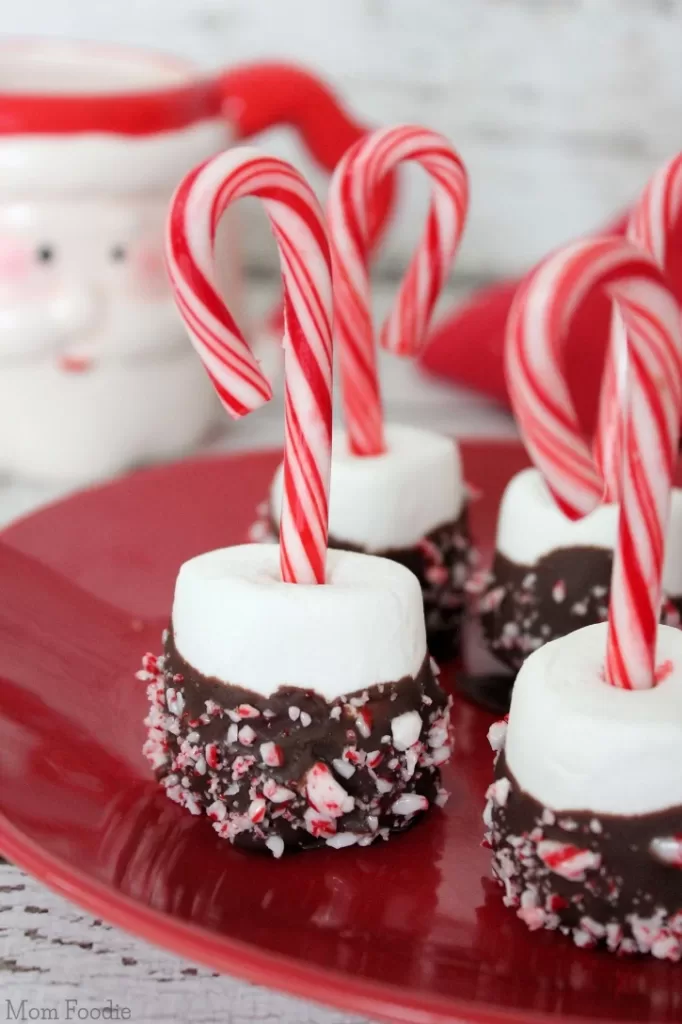 Best Selling DIY Christmas Gifts To Sell
These include things you can make and sell on Christmas as giftable items or add to your gift baskets. Some of these DIY items make great stocking stuffers too.
14. Handmade wooden toys to sell on Christmas
Do you know wooden name puzzles were one of the top holiday product sellers on Etsy in 2020?
One of the best ways to make money at Christmas time is by making and selling handmade wooden toys. 
These are surefire sellers because they're a gift that's made with love, not just bought in bulk from overseas factories.
They are a good choice for parents looking to make environmentally friendly Christmas crafts.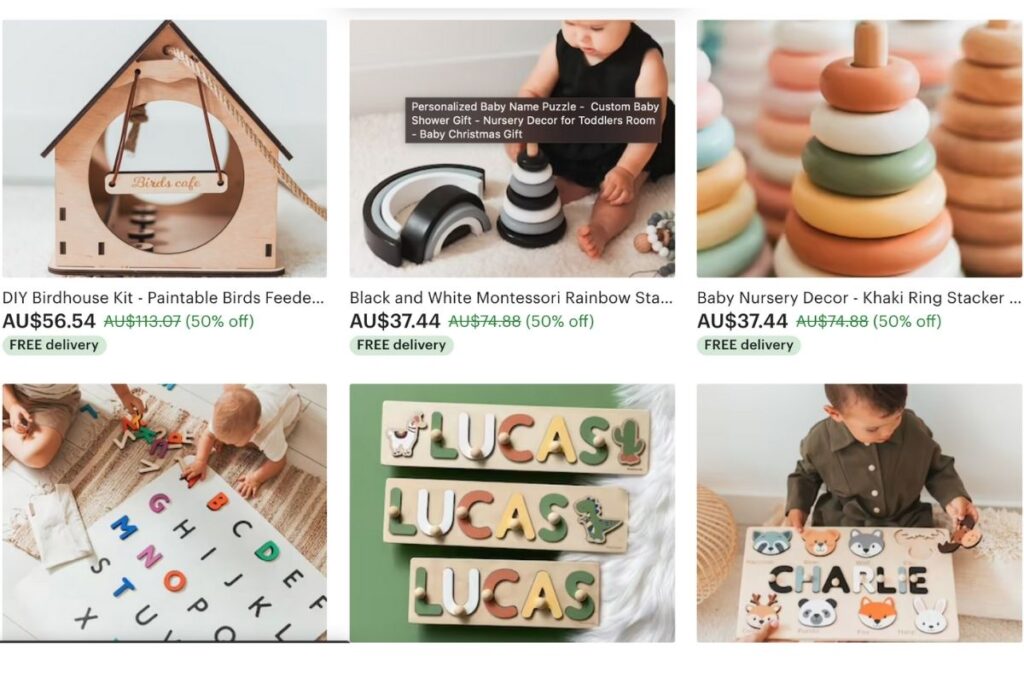 15. Holiday Gift Baskets
Holiday gift baskets are a wonderful way to make extra money from home. You can create a Christmas theme basket with holiday chocolates, ornaments, and other assorted goodies that people will love buying for their friends and family members.
Making a gift basket is easy and fun. You can also offer personalized gifts in the form of wrapped packages containing homemade items like homemade treats, holiday candles, soaps, bath bombs, or anything you can think of.
To make your crafts more appealing to buyers with different budgets, crafting at various price points can help.
Gift baskets are quite popular Christmas things you can make to sell in fairs or local marketplace (including Facebook marketplace).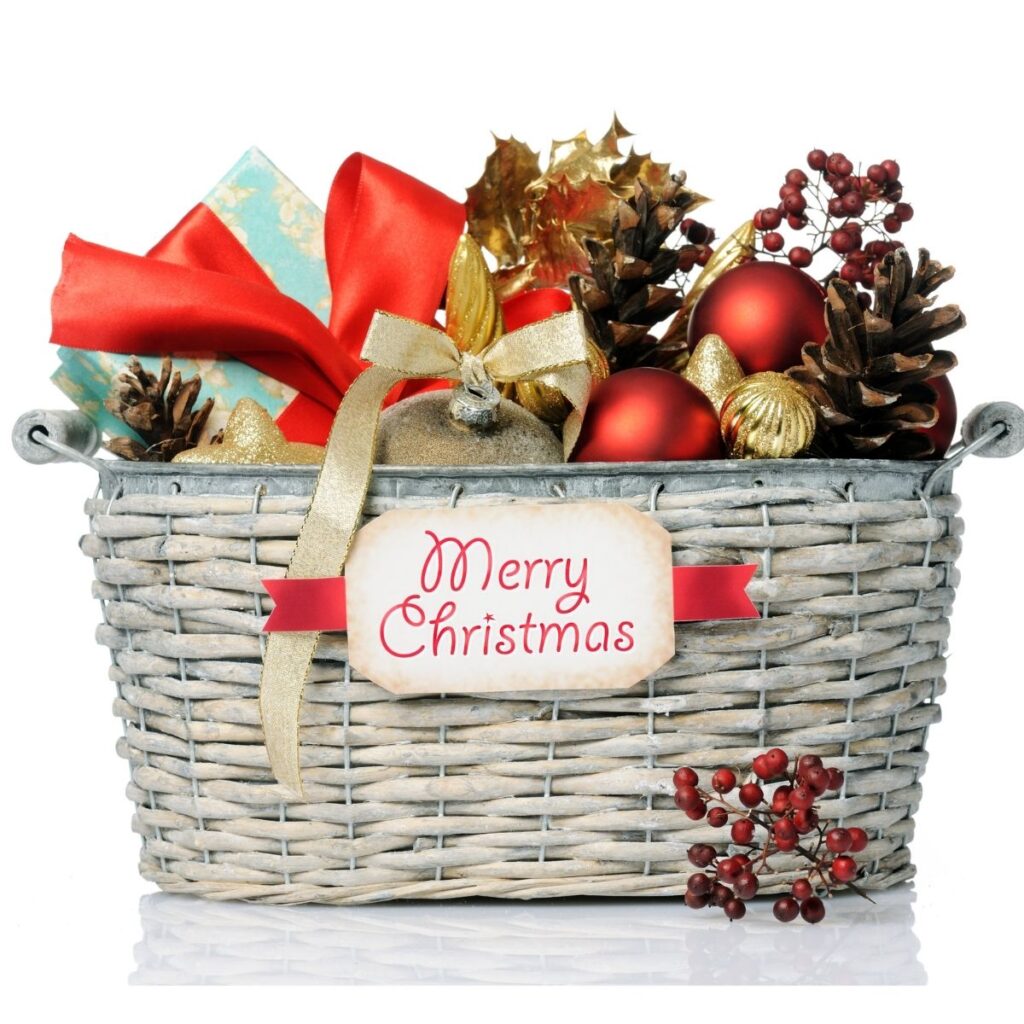 If crafting gift baskets appeals to you, check out this book or follow Shirley George Frazier's blog (world's gift basket expert) for tips on starting and marketing your gift baskets.
Or if you live to create a gift basket with Dollar Tree items, check this video from a Youtuber who creates beautiful baskets with Dollar Tree products.
16. DIY Christmas Jewelry to sell at craft fairs or online
Handmade jewelry is one of the most popular items that sell well at craft fairs. It's so versatile and customizable that you can make personalized pieces to sell.
The best part of making holiday jewelry to sell is that it doesn't have to look expensive- just Christmasy!
Wholesale kits and supplies provide you with everything you need to make bracelets, rings, and earrings for Christmas.
Christmas theme earrings and pendants are some of the most popular Pinterest Christmas crafts to sell! You can make earrings in the shapes of Christmas trees, ornaments, or other Xmas-themed items.
*Name shape Christmas pendants were one of the best sellers in jewelry on Etsy in 2020.
Also, check trending jewelry crafts to make and sell for inspiration (updated in Aug 2021). These can give more ideas to make and personalize your crafts.
17. DIY Holiday Candles to make and sell
Scented holiday candles are another popular craft that people love to purchase. Christmas Candles are extremely popular because they make a home smell amazing and you can't have a Christmas without Christmas candles.
You can make a variety of candles using different Christmas scents like cinnamon, peppermint, ginger, orange, or even frankincense and myrrh!
Don't forget to add a little color and some decorative touches to make your DIY Christmas candles more festive. You can easily find tutorials on how to make homemade candles from scratch.
If you are an absolute beginner, you can try making a few using candle-making kits available in most of the stores.
18. Christmas soap, bath bombs or body scrubs
The next Christmas craft you can make and sell for profit would be nothing other than these super cute Christmas-themed soap and bath bombs that are perfect as stocking stuffers!
You could even make a few soap or bath bombs that smell like peppermint, cinnamon, or gingerbread! Kids are sure to love them as gifts this year because they can be used in the tub with their favorite floating toy.
Soaps and bath bombs are incredibly easy to make and you can sell them in your local craft market for extra cash. And if you are making gift baskets to sell, include these too!
Make sure your labels are clear and that you include warnings about any allergens in your items.
Check these DIY ideas for these soaps, bath bombs, salts, and body scrubs.
19. Christmas Advent Calendar
This advent calendar for kids is a great DIY that can become a family heirloom! You can make it into a nativity, or just stuff the pockets with little trinkets.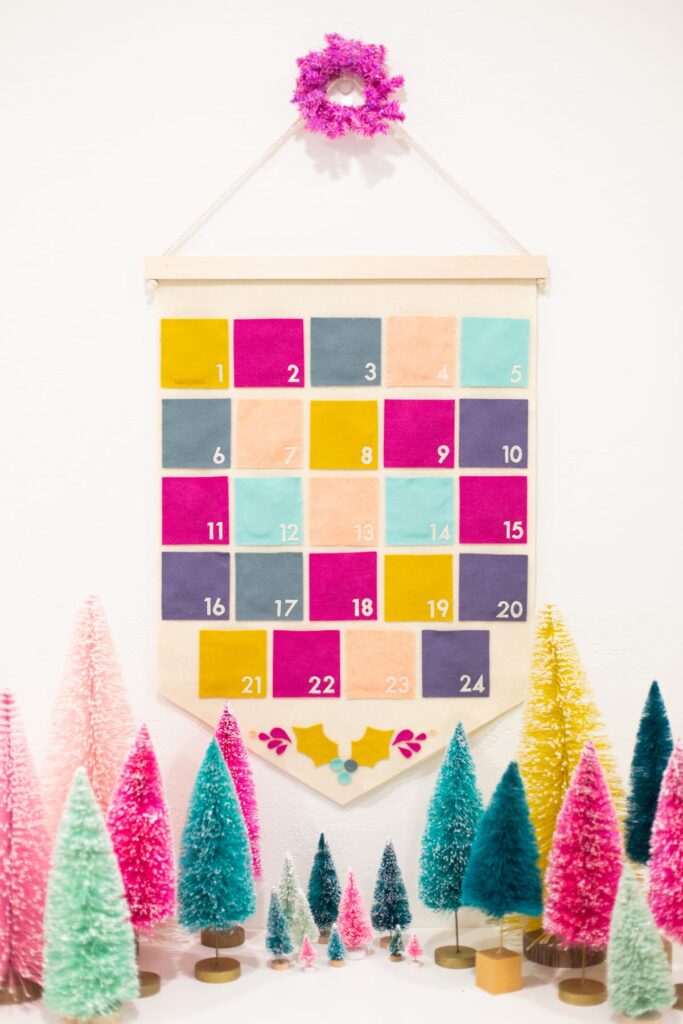 20. Handmade Christmas cards
Handmade Christmas cards are popular gift items to make and sell on Christmas. Julie, who owns an Etsy shop has shared this tutorial of handmade cards she sold on Etsy. 
And you might be surprised to know "Christmas cards" was the top searched item among male shoppers on ETSY in 2020.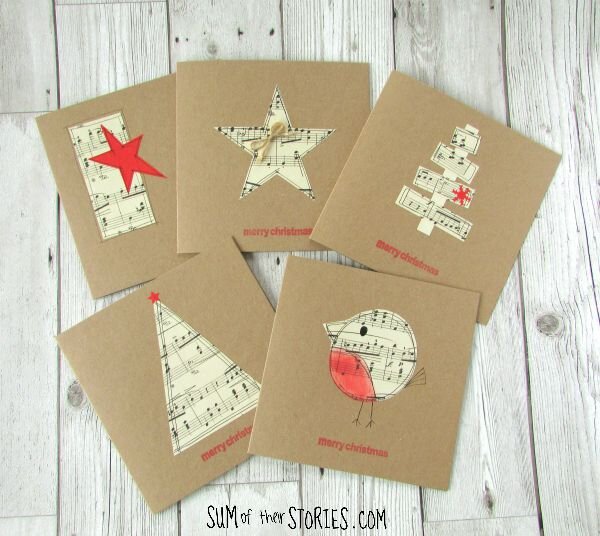 21. Handmade Christmas gift wrapping
Not just handmade gifts, shoppers love handmade gift wrapping items as well.
Handmade gift wrapping ideas include handmade wrapping papers, paper bags, reusable cloth bags, gift card holders, paper gift boxes, name tags, and personalized wooden gift boxes.

Check these DIY ideas for handmade gift wrapping: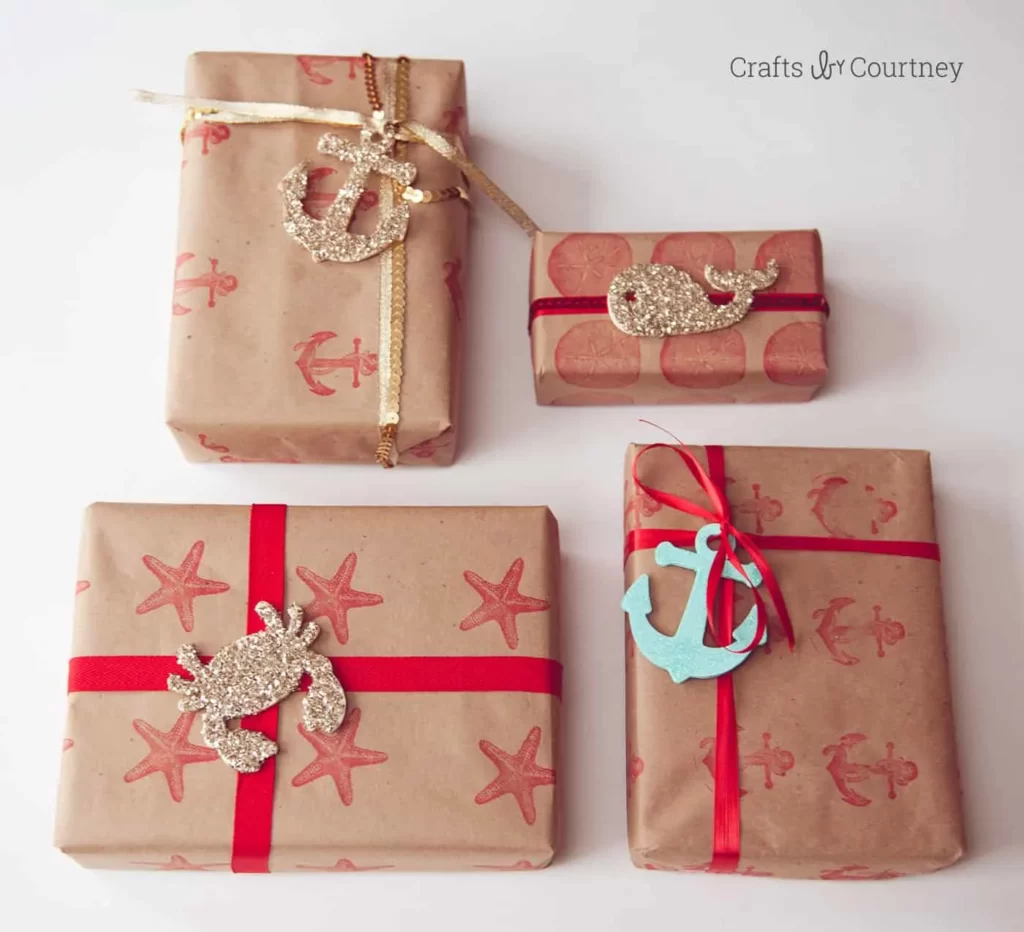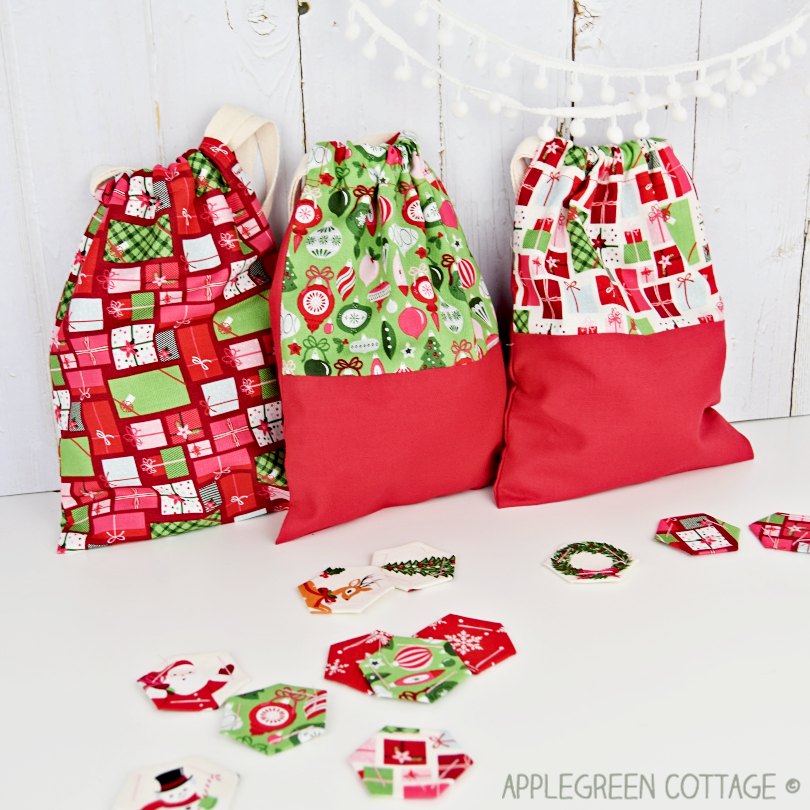 Sewing Christmas Crafts to Sell
22. DIY Pom Pom Tree Skirt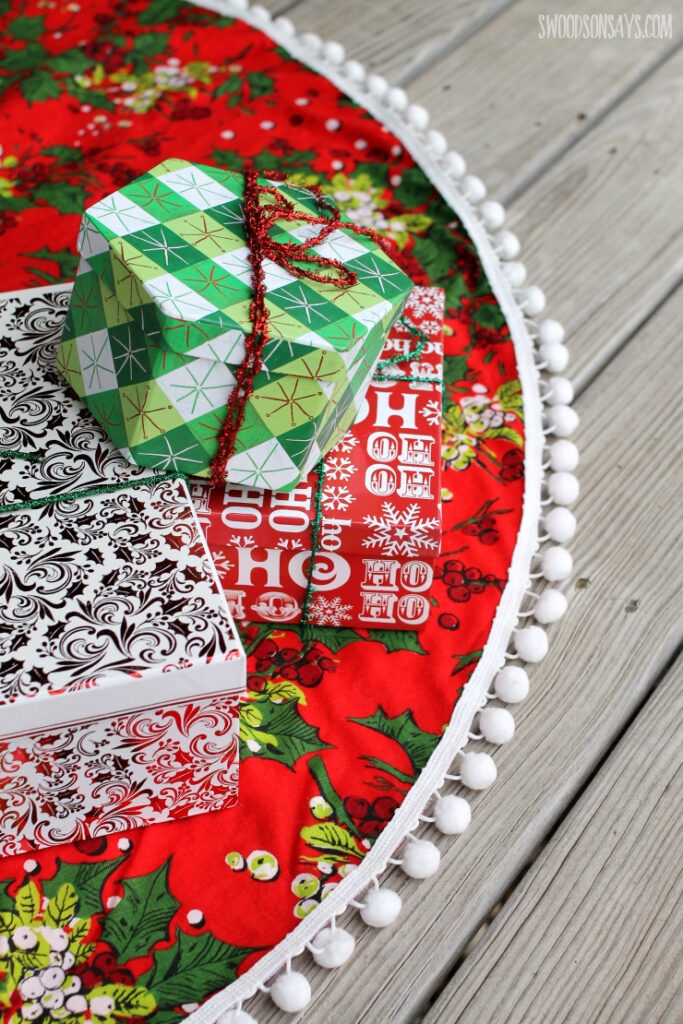 23. Modern Christmas half square triangles quilt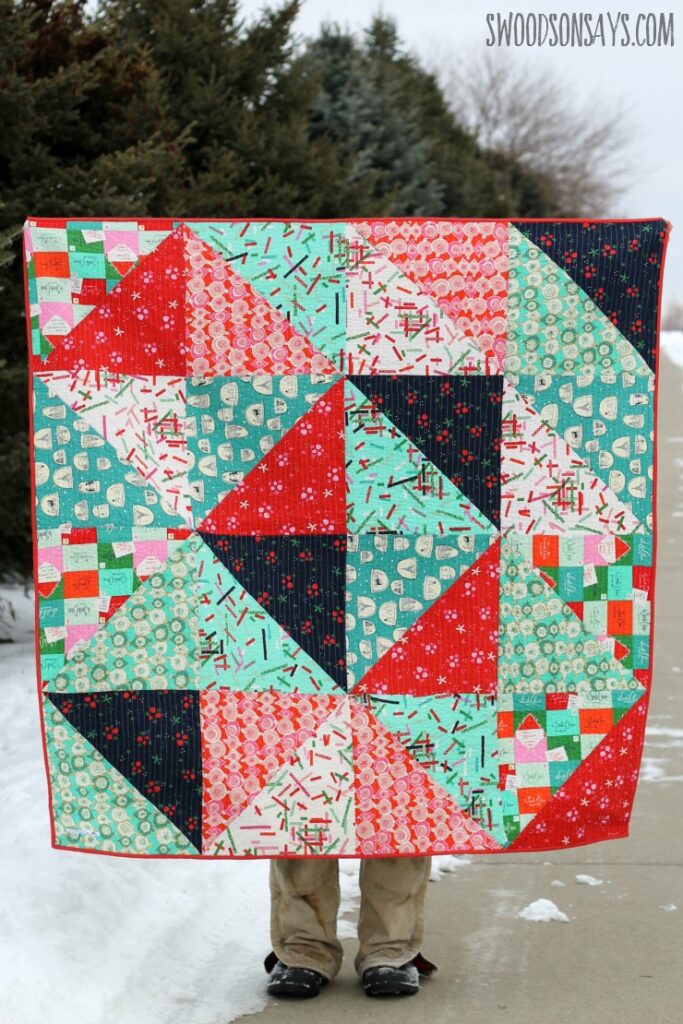 Cricut Christmas crafts to sell
24. Personalized gardening toolset for gardening lovers
Looks like a cute gift idea for gardening lovers. Personalized gifts are in trend and this easy Cricut tutorial can help you create this beautiful craft to sell.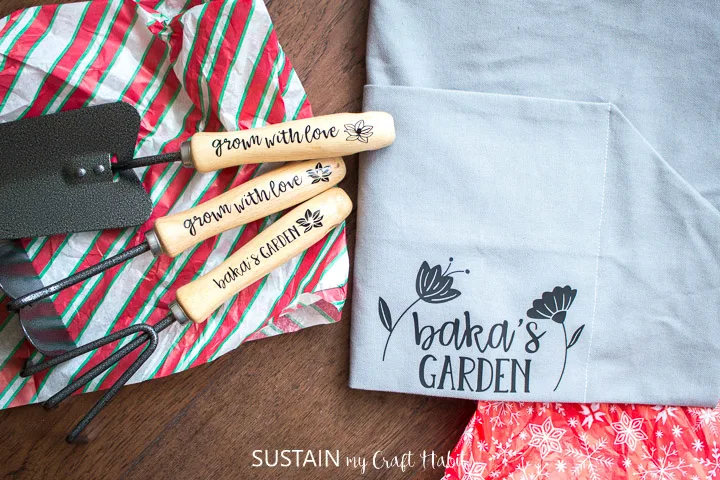 Recommended Must Read:
More Ideas For Christmas Crafts To Sell In 2021
25.Christmas/Santa treat tray
This craft looks fun and parent will love to buy this tray for their kids. It adds more fun to the Christmas spirit and celebration.
You can even personalize this cookie tray, check its tutorial here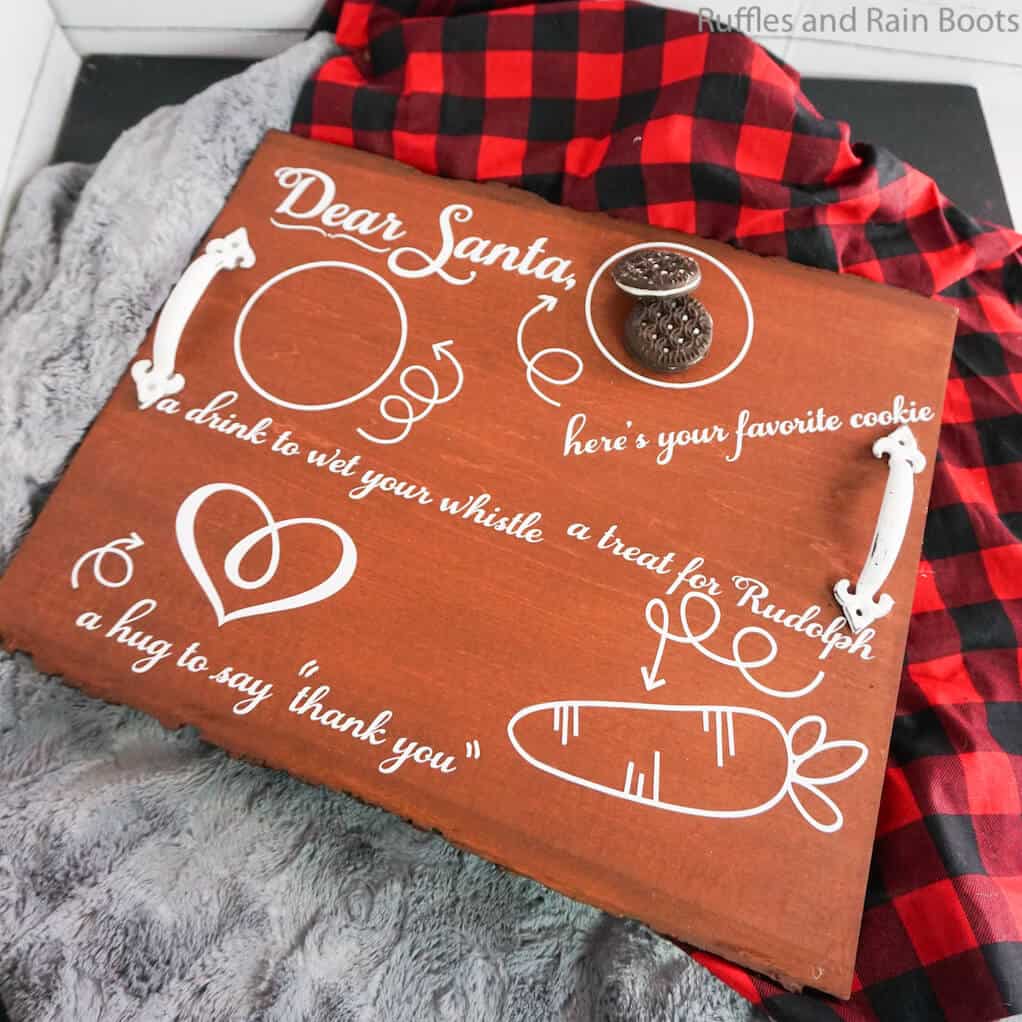 26. Mugs
Here is another easy idea to sell at craft fairs. You can make these with Dollar tree mugs, adhesive vinyl, and different SVG files from craft bundles, design bundles, or related stores.
If you don't know how to heat transfer on mugs, here is an easy tutorial for you.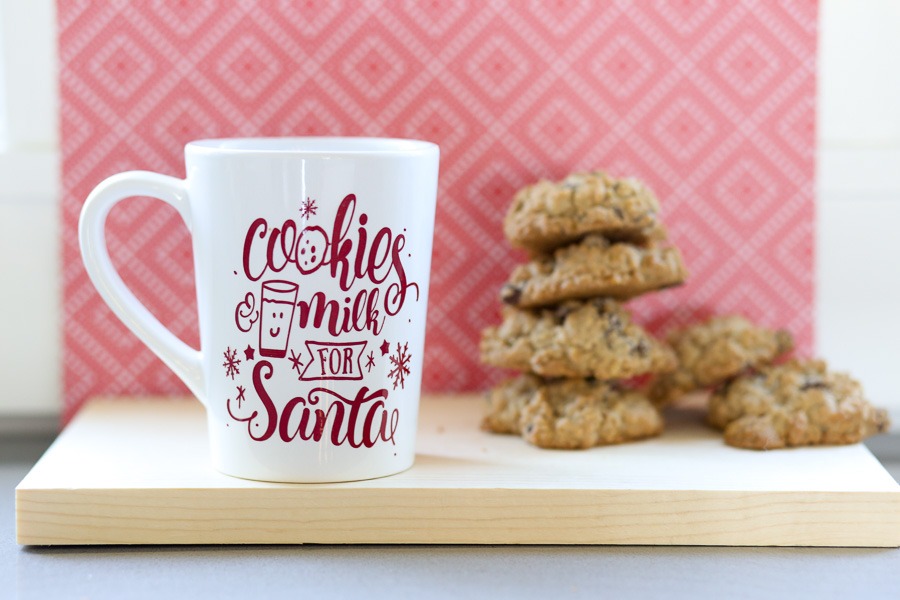 27. Christmas logs
These cute logs are another fun craft to sell at craft fairs.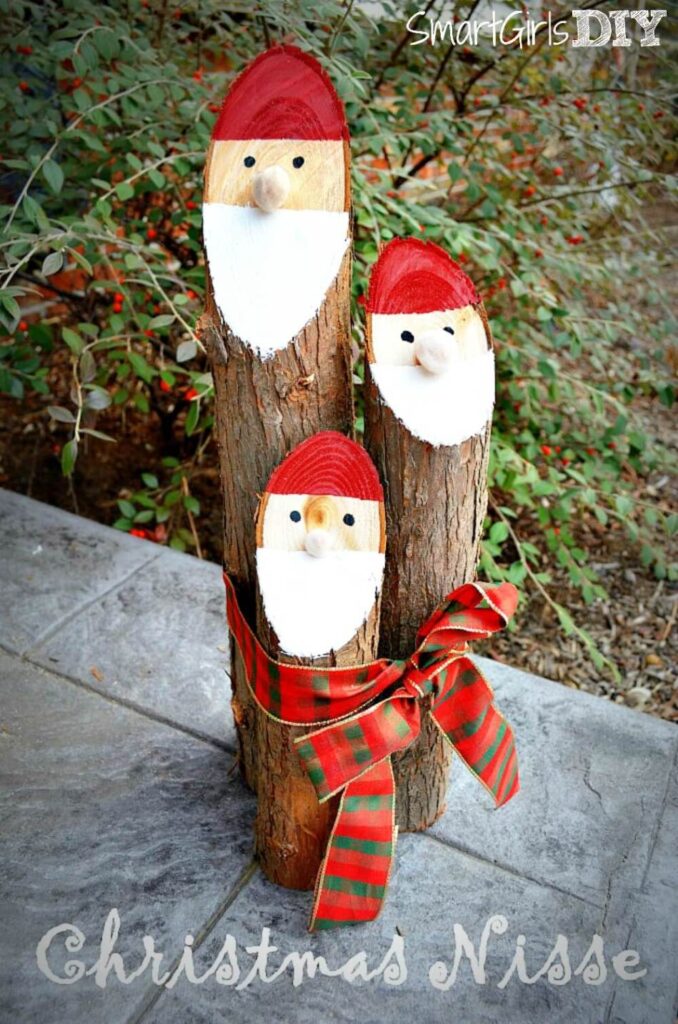 28. Rustic Stocking Holders
You can make these stocking holders to sell at craft bazaars.
29. Girls bows (hot)
If you have a Cricut machine, there is one best thing you can sell with Cricut at craft bazaars- stacked girls bows.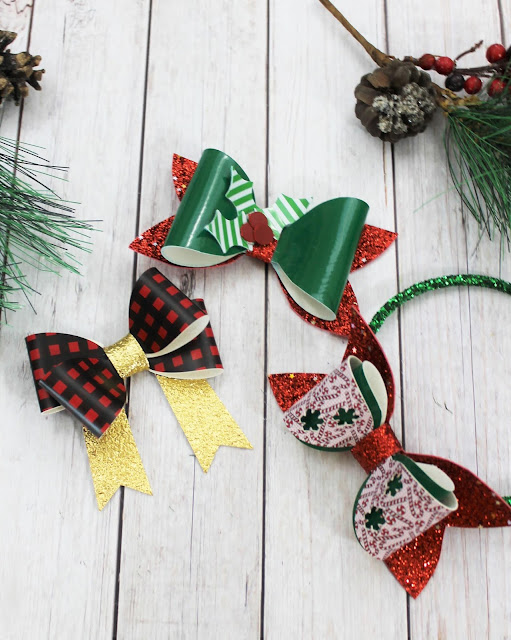 30. Dogs Costume
It is no secret that pet owners love their dogs like their family members and don't mind spending on them.
You can make these cute dog costumes for all those dog lovers.
Etsy Bestsellers in 2020 (Christmas Crafts Ideas To Sell)
Recently Etsy published its annual trends report for 2021 that included Etsy bestsellers for 2020 Christmas.
For best success in this holiday season, consider taking some inspiration from these Christmas crafts that did really well in 2020.
Here are the top Christmas products that did well in 2020 on Etsy. All these links lead to Etsy's pick or best sellers.
Stocking fillers
Christmas crackers (UK)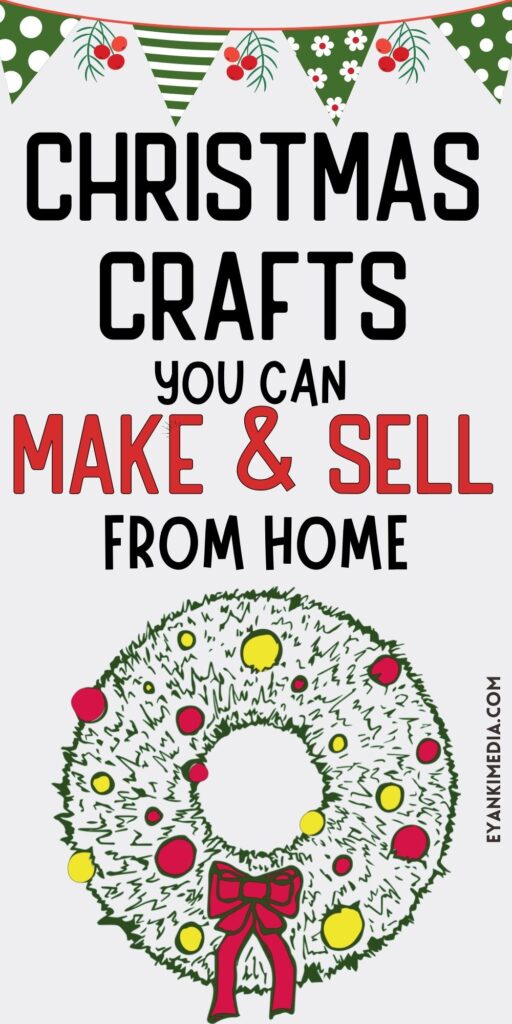 Things to take care of before looking into ideas for Christmas crafts to sell
Before you start crafting things to make and sell for Christmas, there are several things to consider that might help you craft a better business plan.
You can start with the most important decision:

What type of DIY Christmas crafts to make and sell?
Do you have any special skills you are confident in that can help to sell more?
How much time and money do you want to put into the project? This question is crucial because it will help you determine how many items to make, what type of items you should offer, and how much you can charge.

For example, if you are only looking to make a few items for your family, then this may be an easy DIY project. But maybe you want to offer your products to a wider audience, and in that case, you will need more time and money.
Christmas crafts ideas for kids and family to make: Would this be a good project if your whole family is involved in making it, including the kids?
For crafts with low-cost items: How many hours does it take to create and assemble one item?
For DIY Christmas ornaments: What is the production cycle (how many hours does it take me to create one item)?
Who is your target market for this product (friends & family or other people)? People who want to gift handmade Christmas items or want to buy for themselves?
What is the ideal market for this product? And where do you want to sell your crafts -at craft fairs, bazaars, from home, or online?
For holiday crafts to sell on Etsy: What can you make that will be easy to ship?
For things to make and sell at home: Is this DIY project something you can do in your own space (garage, basement, or apartment)?
For any DIY Christmas crafts to sell near me (you): Do you have any personal connections who could be interested in your item but are not on the internet or cannot travel out of their home?
For Christmas crafts to sell at a craft fair: How many hours do you need to create your product to have enough inventory for the show?
For Christmas crafts that can be personalized: How many different designs or colors will you need to create? Can you offer variations of your creation so you don't have to make the same thing over and over again?
For Christmas crafts to make for kids: Will this DIY project use any toxic materials?
Final thoughts on making Christmas crafts to sell at bazaar OR online
There are many Christmas crafts that you can make and sell for a profit. You will find something to suit every taste in this list of DIY Christmas crafts with a few creative ideas.
From the more traditional crafts like making Christmas stockings or fun and creative handcraft projects like creating gift tags, there are several options to choose from.
Have you tried selling any Christmas crafts yet? Let us know what they were and how you sold them.
Do you want to add any other Christmas craft ideas to the list?
If you are already selling your crafts, I'd love to hear how it's working out for you and what successes you've had!
More DIY Christmas Crafts To Sell You Might Like
More DIY Money Making Crafts Ideas You Might Like