Do you have a bunch of pinecones lying around and don't know what to do with them?
How about turning them into some cute pinecone crafts to sell this winter? Here are the best pinecone craft ideas that are sure to sell and make money in 2023.
These pinecone projects are unique and fun and range from simple to more complex ideas. Whether you're a beginner or an experienced crafter, you'll find a project to love on this list.
How is this list of pinecone crafts to sell made?
I am a data loving person so I made this list of pinecone crafts to sell by analyzing the trends and looking at top selling pinecone crafts on Etsy and other popular craft websites. I looked at factors such as pinecone craft type, material used, price point, and seasonality.
Some of the most popular pinecone crafts to sell are seasonal items like wreaths, ornaments, garlands, and centerpieces. You can find links to pinecone crafts mentioned in this article by clicking on the images or links in the text.
This website contains affiliate links which means we may earn commissions if you purchase through them (no extra cost to you). You can read our policies here.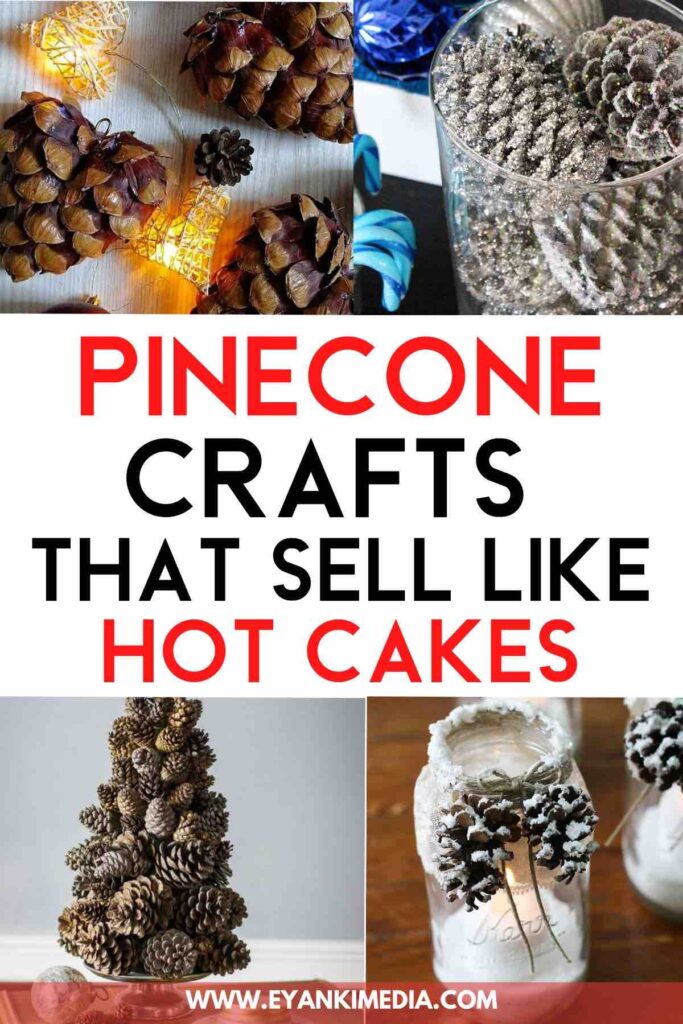 How To Prepare Pine Cones For Crafts?
Before you start using pinecones for crafts, be sure to clean and prepare them since they might be covered in sap, mildew, or creepy crawlies.
You don't want to use pinecones that haven't been cleaned properly in your projects, especially if you're going to be selling them.
Cleaning them is a simple process though it requires little time and patience.
Remove Dirt
Remove any loose moss, dirt, or pine needles with a pair of tweezers or a brush.
Soak
Soak the pine cones in a solution of one cup of water and a half cup of white vinegar for 20-30 mins.
Make sure that the solution covers the pine cones completely and rinse them thoroughly with water after soaking. It will help remove any sap or resin and also disinfect the pinecones.
Let them dry completely overnight.
Bake
The best way to clean pinecones is to bake them in the oven at 200 degree F for 30-40 mins.
This step will kill any critters that might be lurking inside, as well as remove any sap or residue.
Seal And Preserve
Seal the pinecones with a sealer. You may use clear acrylic spray, polyurethane, or spray varnish. 
This is an optional step, but I would highly recommend it if you're going to be using the pinecones in your home decor project or selling them. 
Best Pinecone Crafts To Sell
I searched the internet for the best pine cone crafts to sell and these are my top picks in 2023.
Sell Pinecones
It is without a doubt the simplest pinecone project on this list, but it's also one of the most popular. 
Pinecones make great home decor items and are used in many ways.
You can sell pinecones 'as is' or get creative and add some embellishments.
1. Natural Pinecones
Sell them as craft supplies on Etsy or other craft supply stores. Big or small, you can sell any size of pinecone to make money.

2. Painted Pinecones 
Add some color to your pinecones by hand-painting them with good quality acrylic paint and sell them online.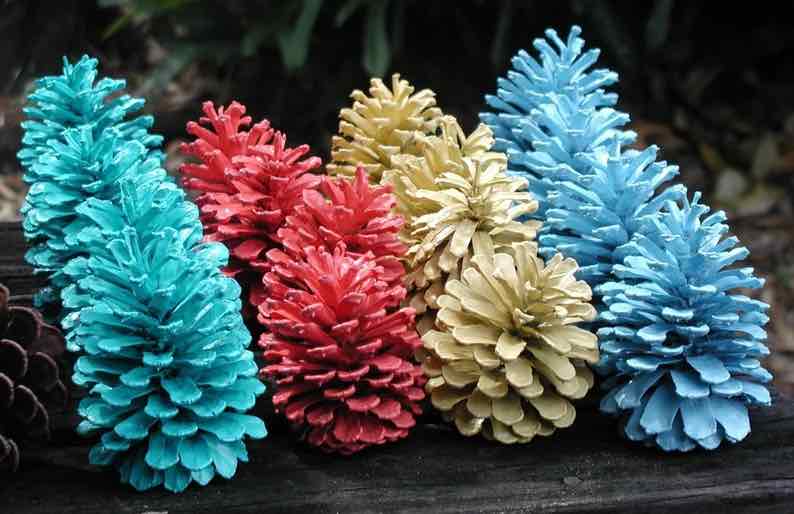 Give your customers the option to choose their favorite colors or paint them in a particular holiday theme.
💡 To increase the value of your cart, you can also offer to put screw eye-hooks or twine on your pinecones for customer to use them easily. (This is what I am referring to.)
3. Glittered Pinecones
Who doesn't love a little sparkle? Glitter pinecones are perfect for the holidays and make great home decor items.
Spray paint your pinecone and add glitters after some adhesive spray. What a glam and fun pinecone craft to sell at craft fairs!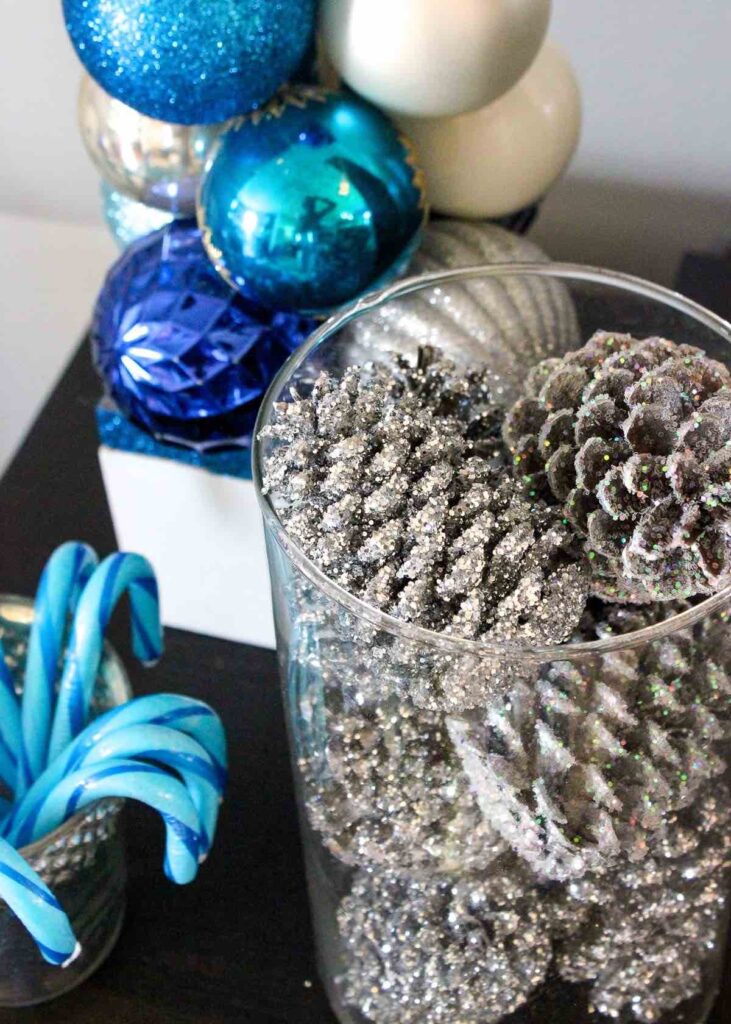 4. Bleached Pinecones
If you're looking for a more unique pinecone craft to sell, try bleaching them. Bleaching gives the pinecones unique color blends that you won't find in nature.
5. Pinecone Ornaments
Thanks to the shape of pinecones, they make great Christmas ornaments and are one of the easiest pinecone crafts to sell.
You can keep them natural or paint and glitter them for a more festive look. Add a ribbon or burlap to the top, and you're all set!
Below are few more ornament ideas that really sell.
Red Glittered Pinecone Christmas: Just add glitters to your pine cone and an eye hook for hanging.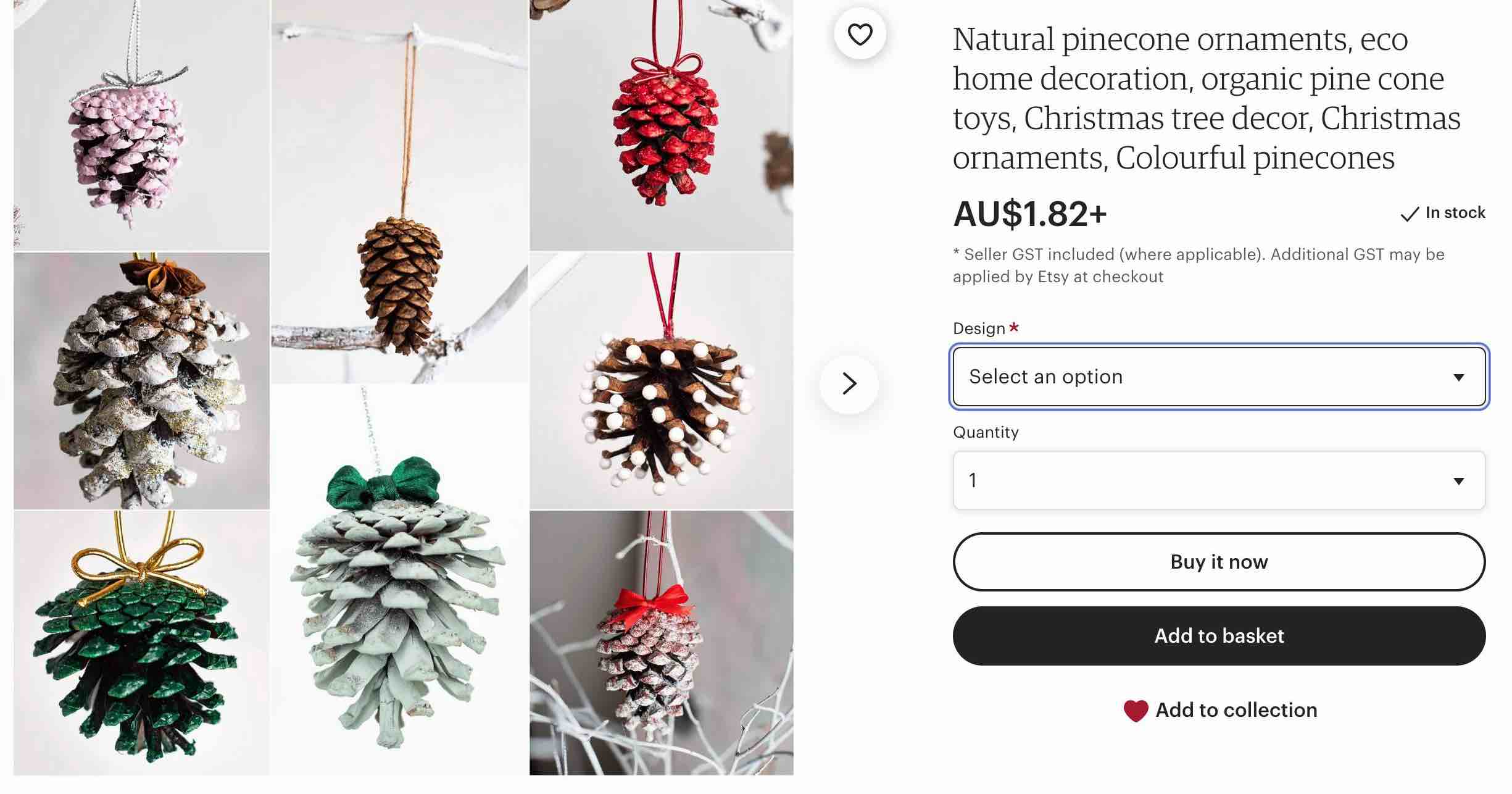 DIY Rustic Flocked Pinecone Christmas Ornaments
7. Pinecone Elves
These little pinecone elves are just too cute and make great Christmas ornaments.
Just grab some felt, pinecones, and some hot glue and you're good to make them.
8. Pinecone Wreaths
Wreaths are a popular choice for Christmas home decor and pinecone wreaths are just perfect for a traditional themed decor. There are so many popular ideas to sell pinecone wreaths.
Pinecone Fall Wreath
Grab a grapevine wreath, some faux leaves, berries and pumpkins to make this wreath for this DIY fall wreath to sell.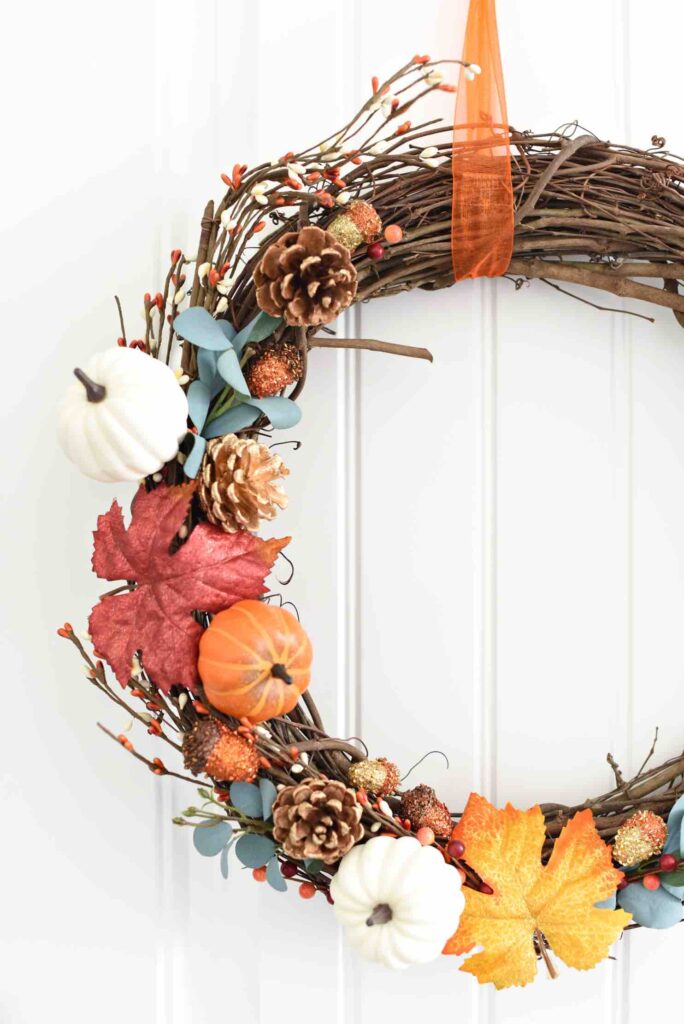 Related post: Fall crafts to make and sell
9. Colorful Pinecone Wreath
This pinecone is absolutely stunning to make and sell if you have good supply of pinecones. It may require a bit of work but hey, it sells at a good price.
You will need a good quality primer, spray paint and a sealer along with some trimming to give them a unique look.
Kudos to the artist for this beautiful piece!
10. Pinecone Christmas Wreath
You can add green faux foliage, colored berries or just earthy tone elements (like burlap) to make one of kind pinecone wreath to sell like this.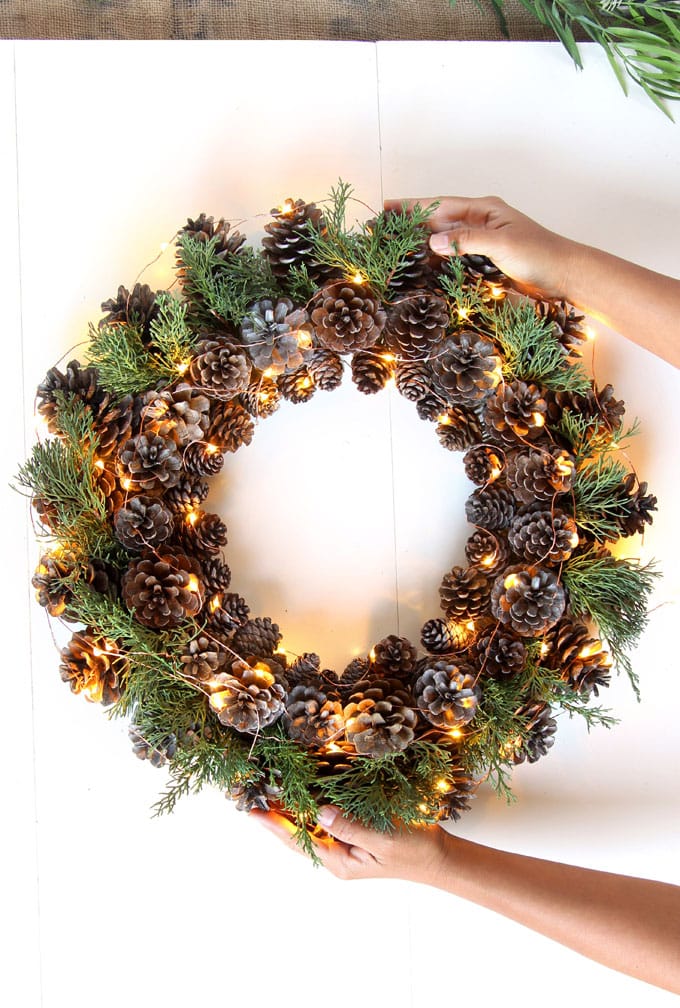 Here are some more extremely beautiful pinecone wreath ideas to explore:
Pinecone and Red Berry Mixed Leaf Christmas Wreath
11. Pinecone Topiary
This topiary is absolutely stunning. You can make a large one like this image below or mini topiaries with pinecones for a garland or a simple table decoration.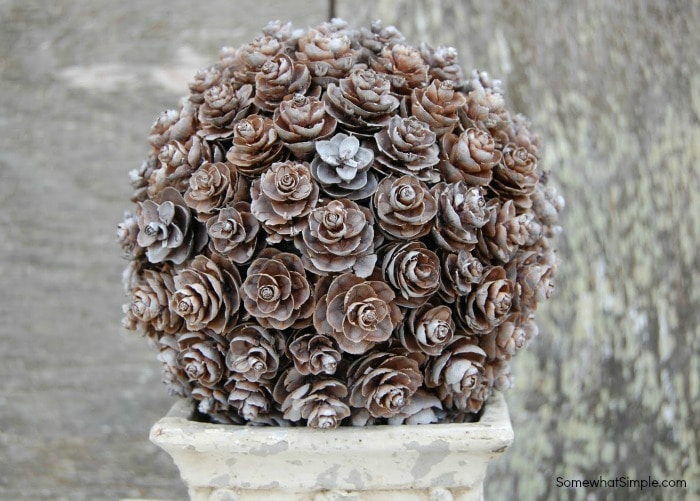 12. Mini Pinecone Topiary
Here is an example of mini topiary made with colored pinecones.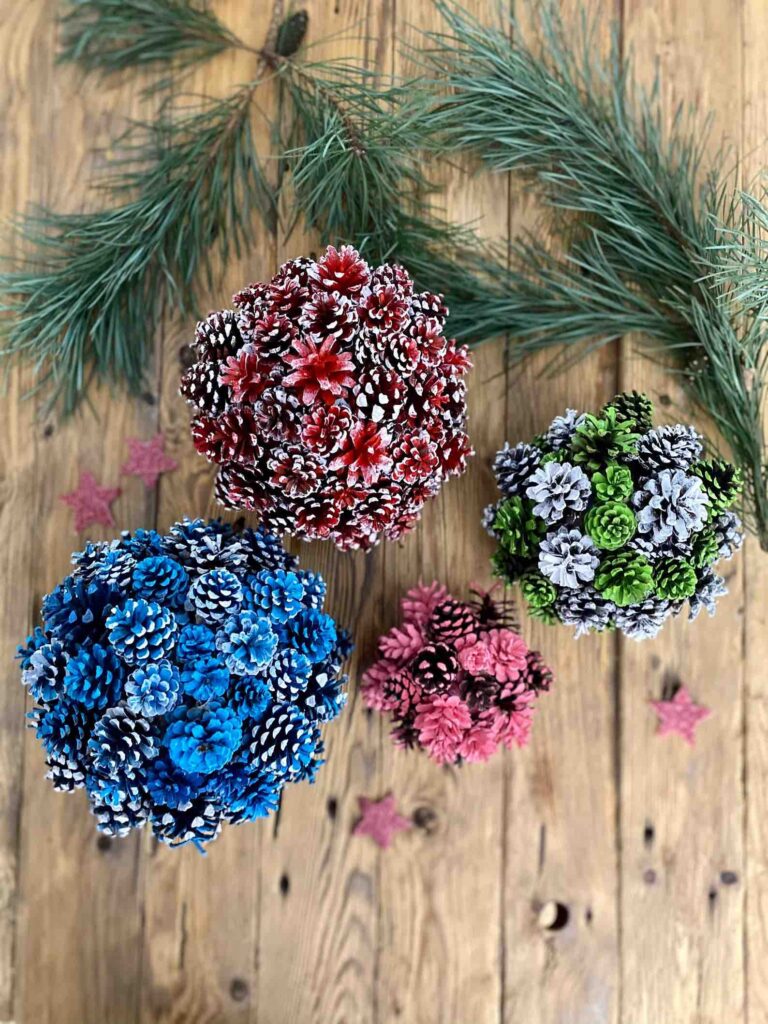 13. Pinecone Rustic Garland
Want to make something eco-friendly to sell? Here is an easy pinecone craft that sells.
Grab some pinecones and string them on a natural brown twine to sell.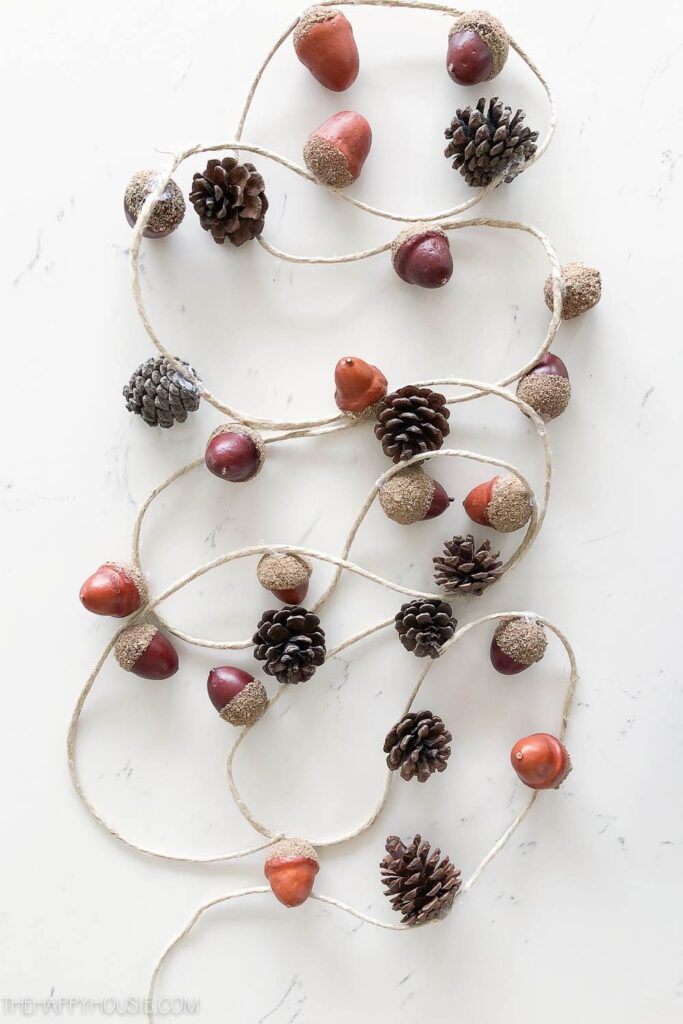 You can also use other eco-friendly items in your garland to decorate it. (Here is the idea I am talking about!)
14. Pinecone Flowers
A must have pinecone project to sell. These pinecone flowers are so pretty and make great gifts or home decor items.
Cut and shape pinecones into flowers and paint them with a good quality acrylic paint.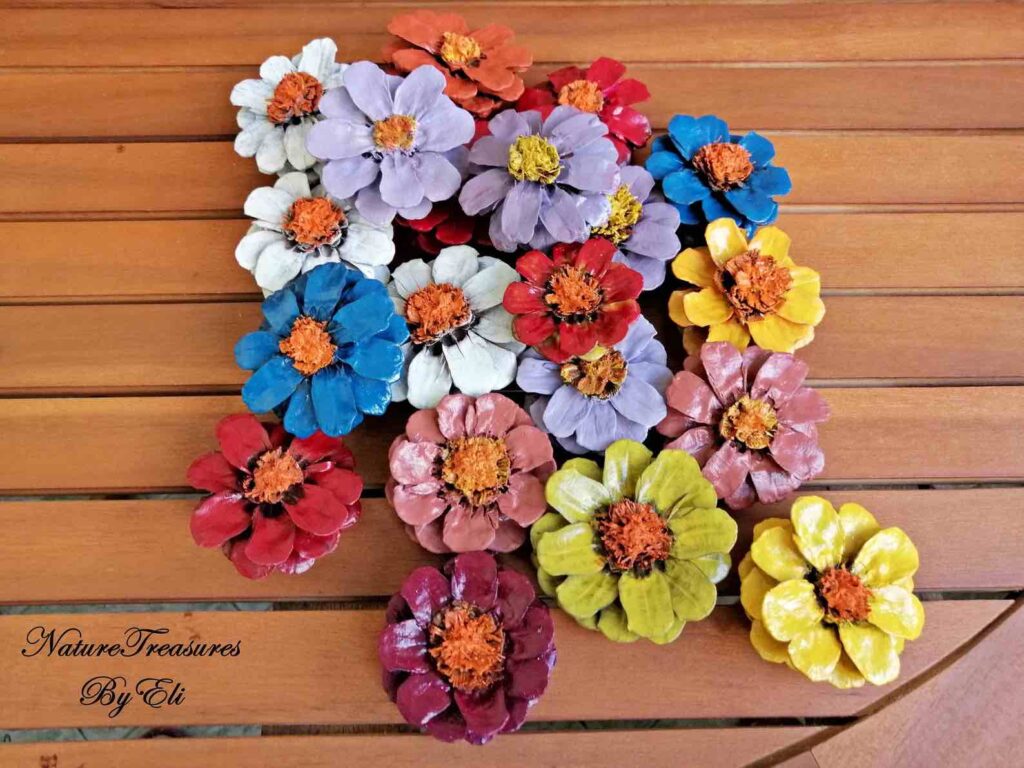 You may sell these individually or make a beautiful bouquet to sell (like this).
Here's how to make pinecone flowers:
15. Pinecone Flowers Wall Hanging
Feeling more creative? Make a wall art with pinecone flowers.
Make sure you use a good quality hard glue else they won't stick for long. You can find wood panels on Amazon or your local craft shop to use as the base.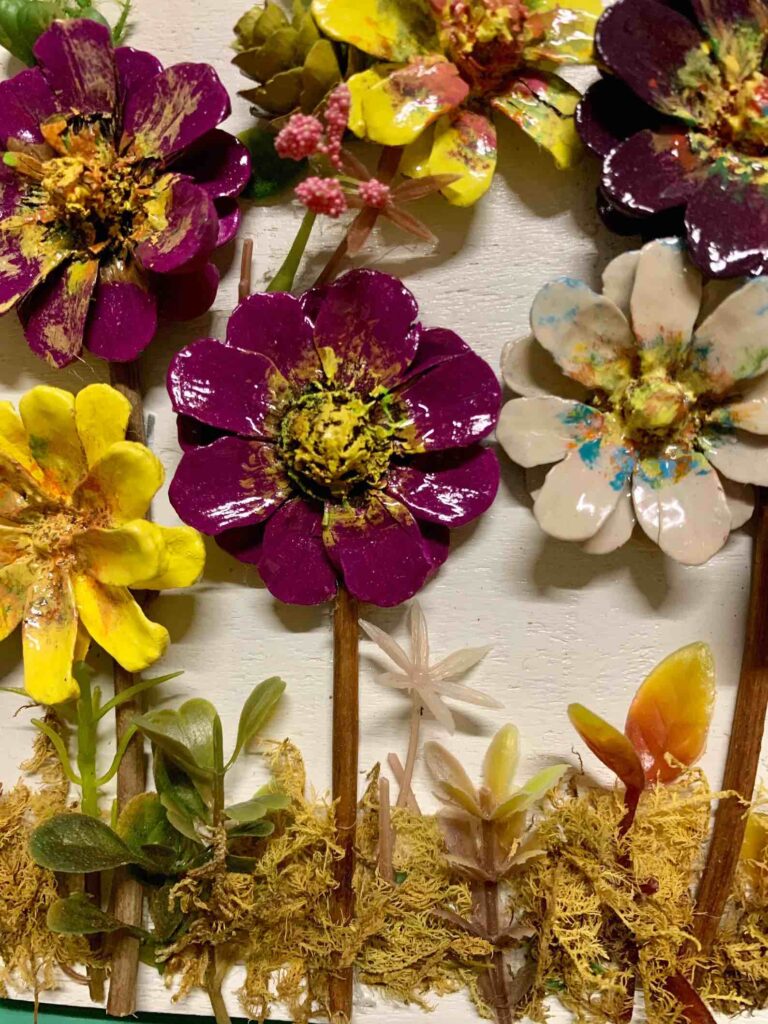 16. Wedding Name Card Holder
Yes, rustic name card holders are a thing to sell on Etsy. They are one of the most popular items that people sell on Etsy.
Grab some wood slices and glue your pinecones (as such or colored) with a name tag.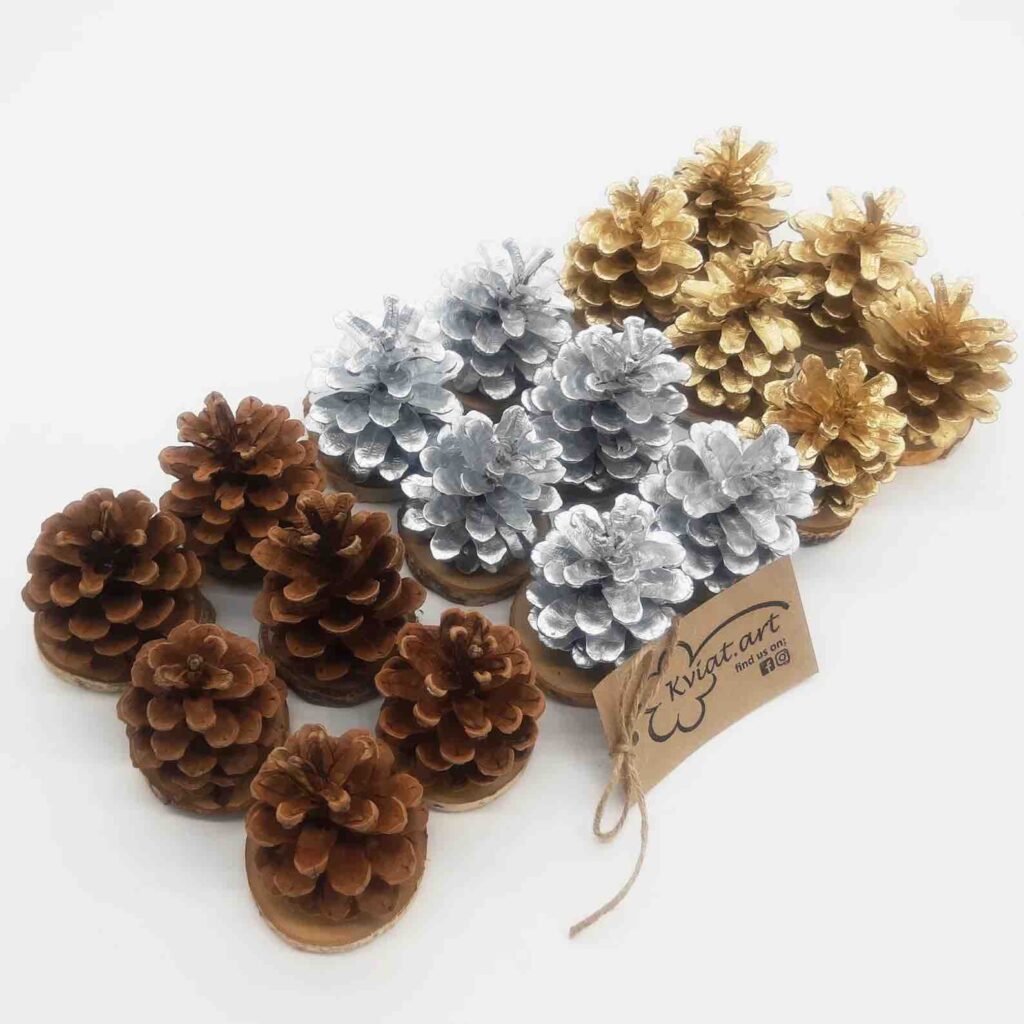 17. Pinecone Earrings
Here is another idea to sell- Autumn theme pinecone earring from real small pinecones with hypo-allergic earring findings.
Great for those who don't like artificial stuff!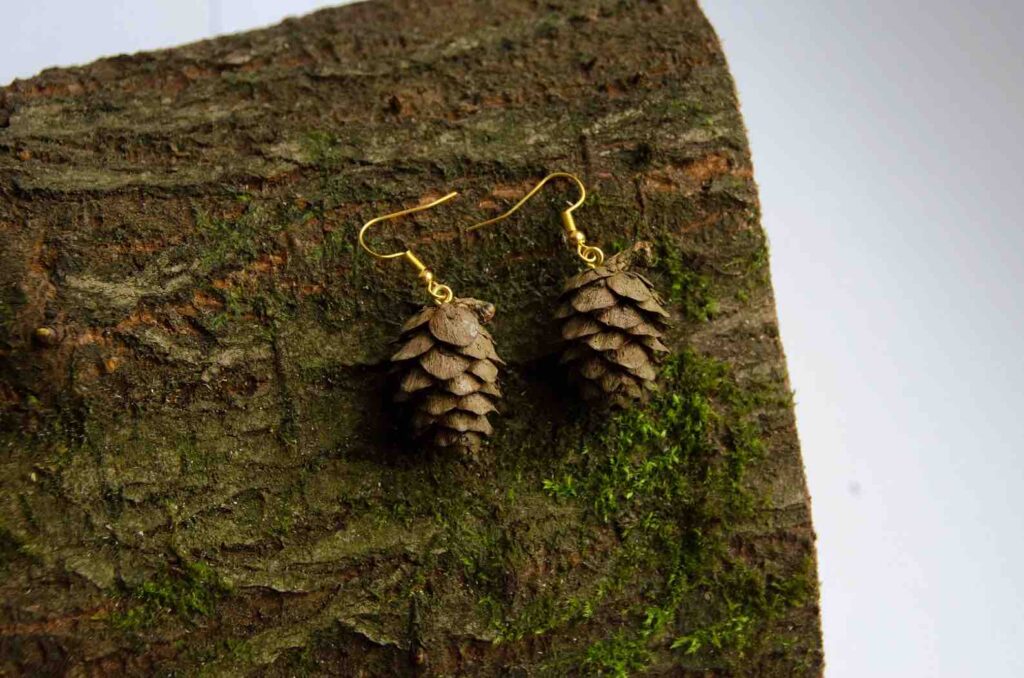 18. Pinecone Tea Light Holder
Pinecone tea light holder add a rustic touch to any home decor and is so easy to make and sell at craft bazaars.
You can find many stores selling candle holders in different designs and cuts.
Here is a video that explains how to cut a pinecone to make a candle holder:
19. Pinecone Table Decor
Pinecone crafts make a nice addition to any table setting. Be it for Christmas, Thanksgiving or Fall; there are so many things you can make out of pinecones to sell.
Here are some ideas based on what actually sell on Etsy.
Pinecone Bouquet
This pinecone bouquet is so beautiful and would make a great gift to sell for someone special or home decor.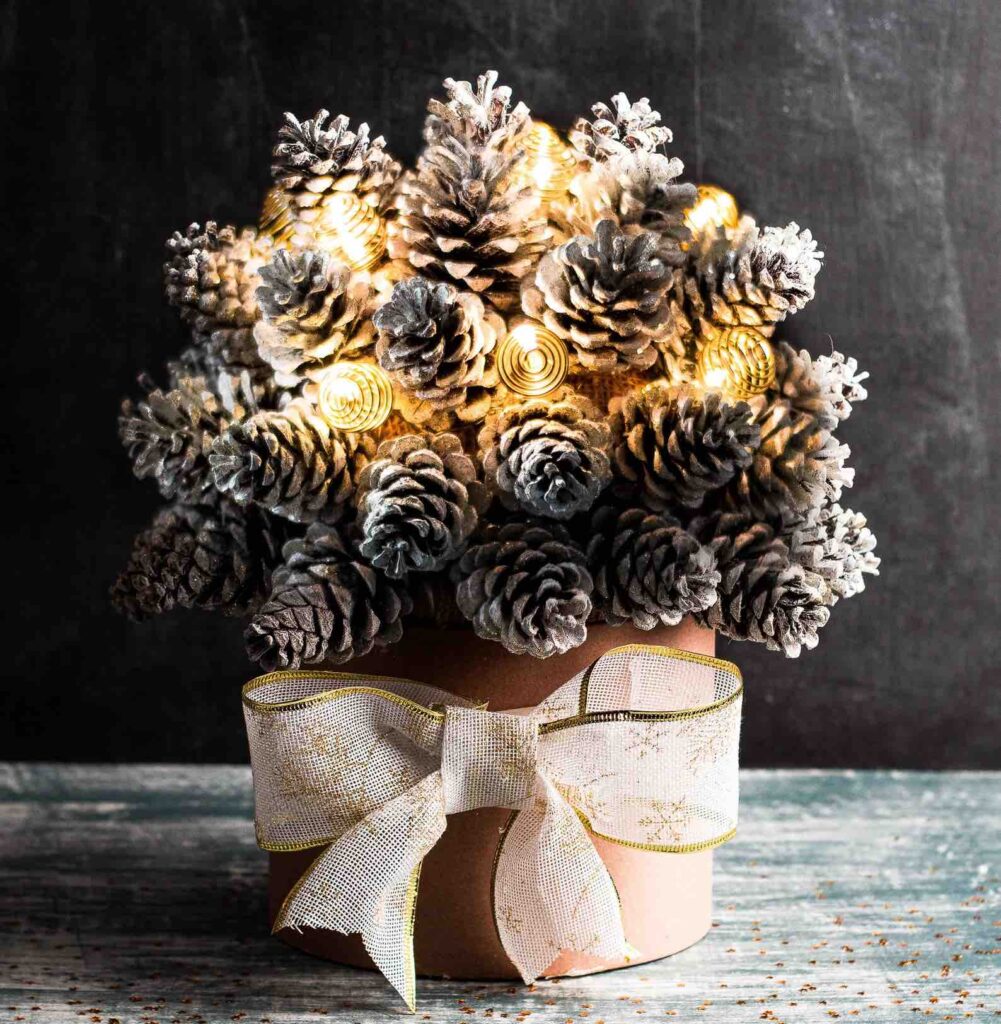 20. Pinecone Rustic Arrangement
Arrange pinecones with other seasonal blooms or leaves to create amazing centerpieces.
If you plan to sell something in winter green, here is one that sells at good price on Etsy.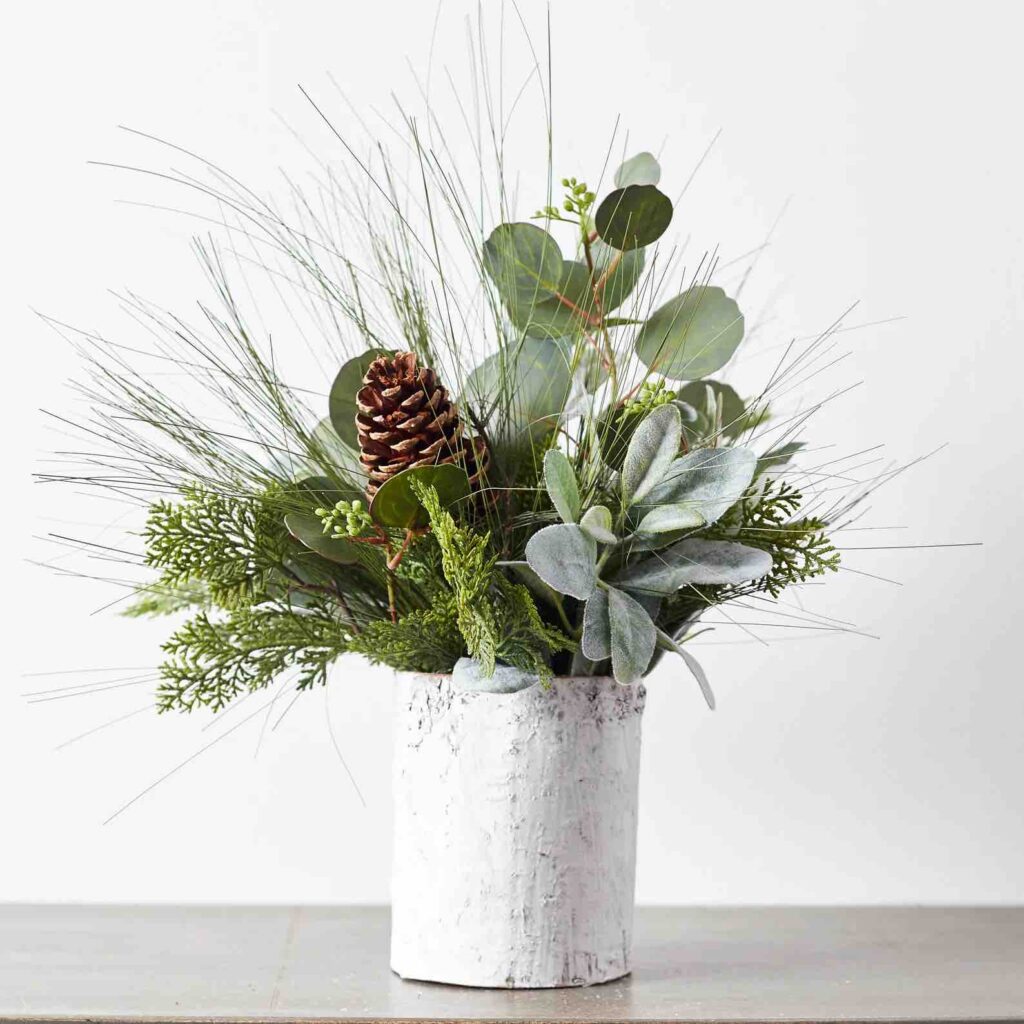 Here is another idea for fall themed centerpiece to sell this autumn.
21. Pinecone Christmas Trees
Pinecone Christmas tree are very popular crafts and depending on length of your styrofoam cone, you can create them in various sizes.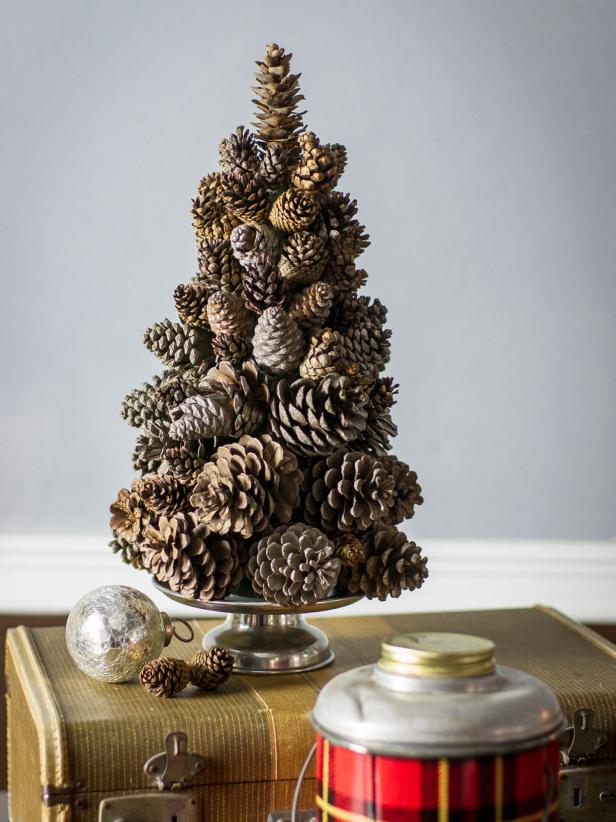 You can further paint, add lights or glitters to make it more unique and attractive.
22.Pinecone Tabletop Christmas Tree
Here is another amazing Pinecone Christmas tree idea shared by Sustain my craft habit. They have many Pinecone craft tutorials that are worth checking out.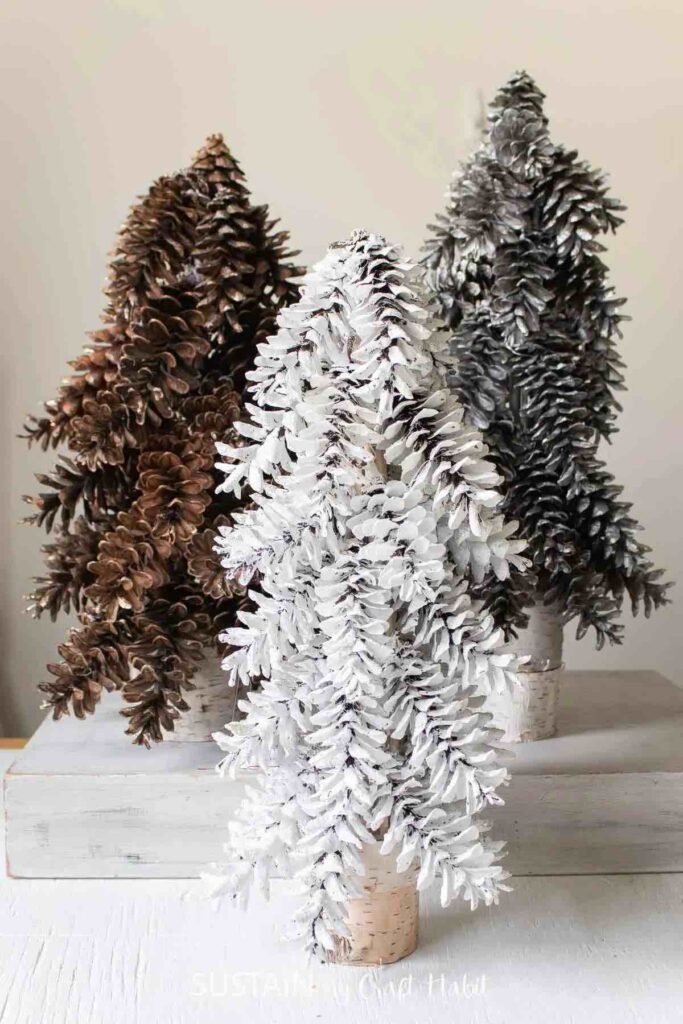 23. Pinecone Christmas Kissing Ball
24. Mason Jar Luminaries
Mason jar crafts are popular Farmhouse themed crafts that people use to decorate their homes. Grab pint size mason jar to make rustic decorations to sell.
25. Pinecone Wall Decor Ideas
Painted Pine Cones Angel Wings
Where To Sell Pinecone Crafts
There are a few different ways to sell pinecone crafts. You can sell them online through sites like Etsy or eBay.
Etsy is a popular choice for selling pinecone crafts. You can sell them as supplies for other people to make crafts, or you can sell them as finished products on Etsy.
If you plan to sell pinecone crafts on Etsy, here is my free starting an Etsy shop checklist, including free Etsy listings.
Etsy charges some fees to sell on its platform. You can check my detailed post on Etsy fees for more information.
You can also sell pinecone crafts at local craft fairs or farmer's markets.
Final Say
There you have it, pinecone craft ideas to sell. Pinecones are such a versatile craft supply, and there are so many things you can make with them.
I hope this list has inspired you to get creative with your pinecone crafting.
Use these ideas as inspiration and create your unique version of pinecone crafts to sell this winter. Don't copy these ideas as is.
What other pinecone crafts would you add to this list? Let me know in the comments below.
Happy crafting!​
Here are more ideas to sell
Easy things to make and sell to start a business
Etsy shop ideas to make money on Etsy