Spooky season is just around the corner, and that means it's time to start thinking about all things Halloween!
If you're looking for some crafty inspiration to make money on Halloween, we've got you covered with the 27 best spooktacular ideas on Halloween crafts to make and sell.
From easy DIY decorations to creepy-crawly creations with Cricut, these Halloween craft ideas are based on what actually sells well on Etsy and other online marketplaces. You can use these for DIY gifting, home-decor or sell.
So whether you're a beginner crafter or a seasoned pro, get ready to DIY and make some extra cash with these Halloween craft ideas!
This website contains affiliate links which means we may earn commissions if you purchase through them (no extra cost to you). You can read our policies here.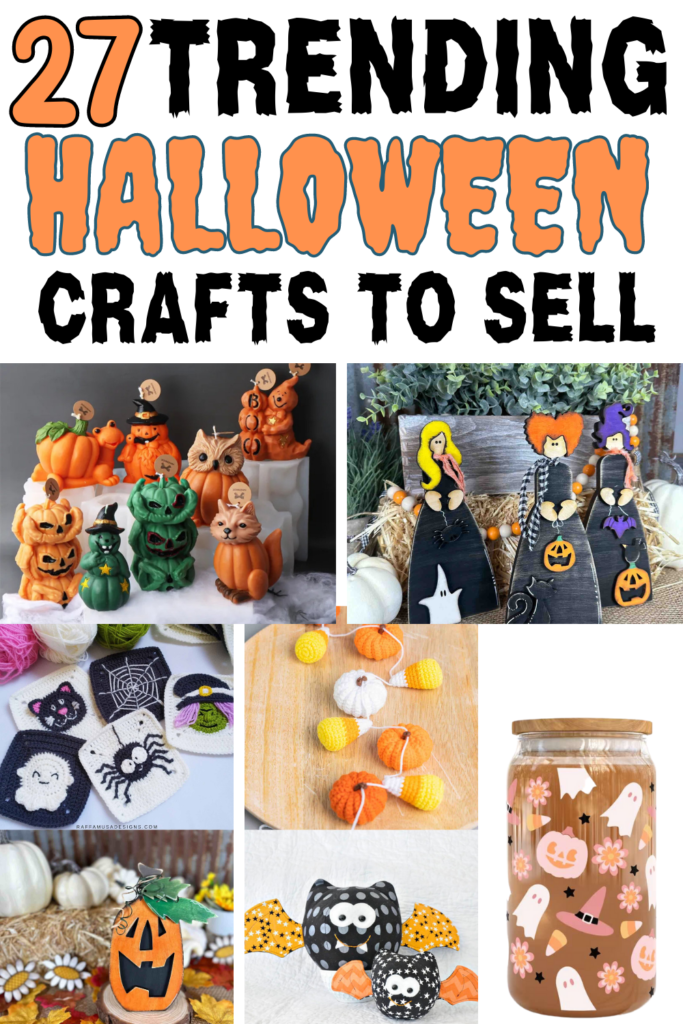 Can I make money with DIY crafts on Halloween?
Yes, Halloween is a great time to sell your Halloween-themed crafts
People are in the mood to buy decorations and treats, so it's the perfect opportunity to grow your craft business and reach new customers.
If you are already making and selling things to make a profit, adding Halloween items can help you increase sales and make more money.
Or, if you're thinking about starting a business selling Halloween crafts, this list will give you some great ideas to get started.
Related posts:
Halloween Crafts to sell
Check out these great Halloween crafts you can make and sell this 2023.
Halloween Wreaths
Halloween wreaths are a popular decoration to add Halloween spirit to any home or office.
Just grab the glue gun and create a wreath using fake spiders, spider webs, fake skulls, ribbons, bats, or anything spooky on a wreath base.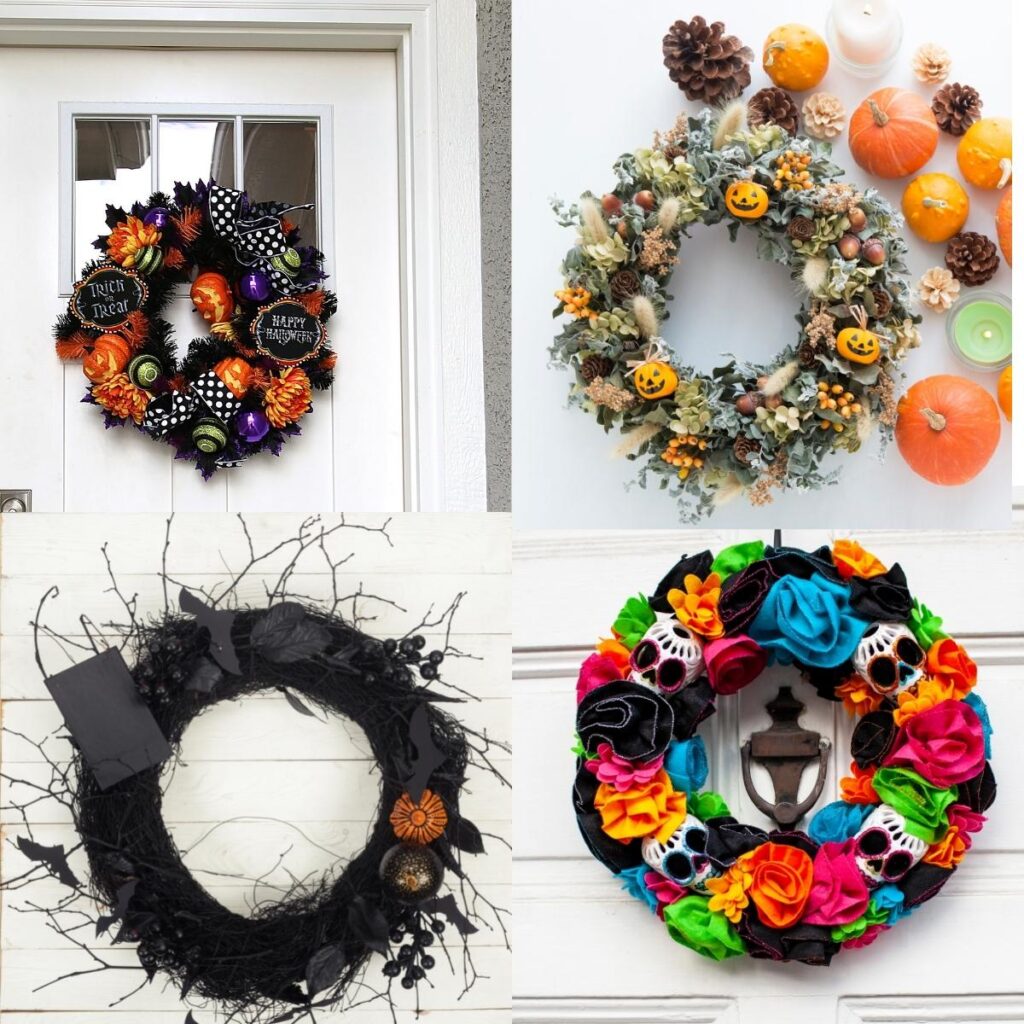 If you need some inspiration, check these Halloween wreaths on Etsy for inspiration. 
Halloween Door Hanger
Seasonal door hangers are a perfect fit for Halloween decor and are easily customizable with a Cricut machine or a CNC machine.
If you are a Cricut owner, grab a hanger base, color it, add some vinyl, and get creative.
For designs, check Creative Fabrica for some great SVG ideas for door hangers.
You can make anything from a trick or treat sign to a spooky ghost on your door hanger or something like this.
For more Cricut ideas, check my post on Cricut crafts to sell
Halloween Garland
One of the simplest Halloween decoration crafts to sell is a garland. There are so many ways you can make a Halloween garland to sell.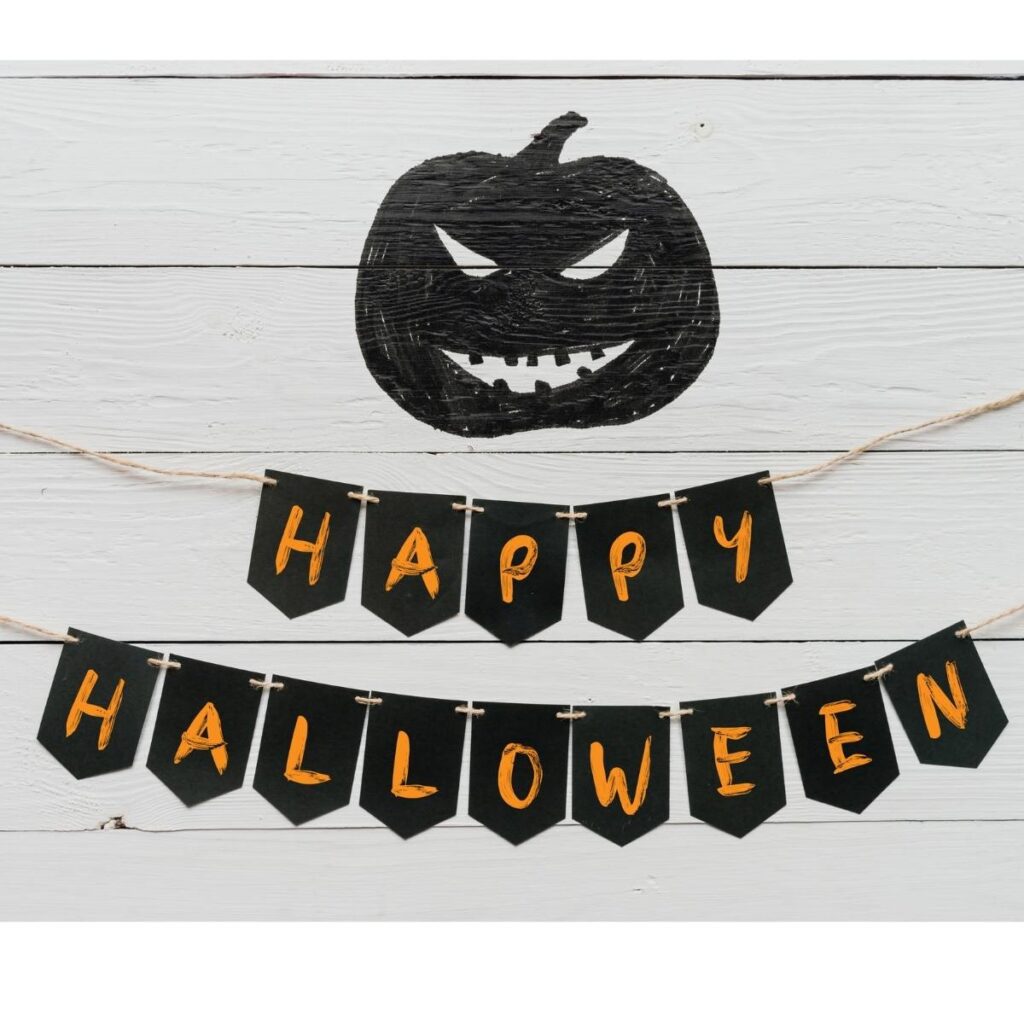 Felt banner: Stuff felt cutouts and string them to make cute Halloween garlands. This one is really cute.
Crochet banner: If you know how to crochet, you can make a Crochet Halloween garland. All you need is some Halloween-colored yarn and a crochet hook.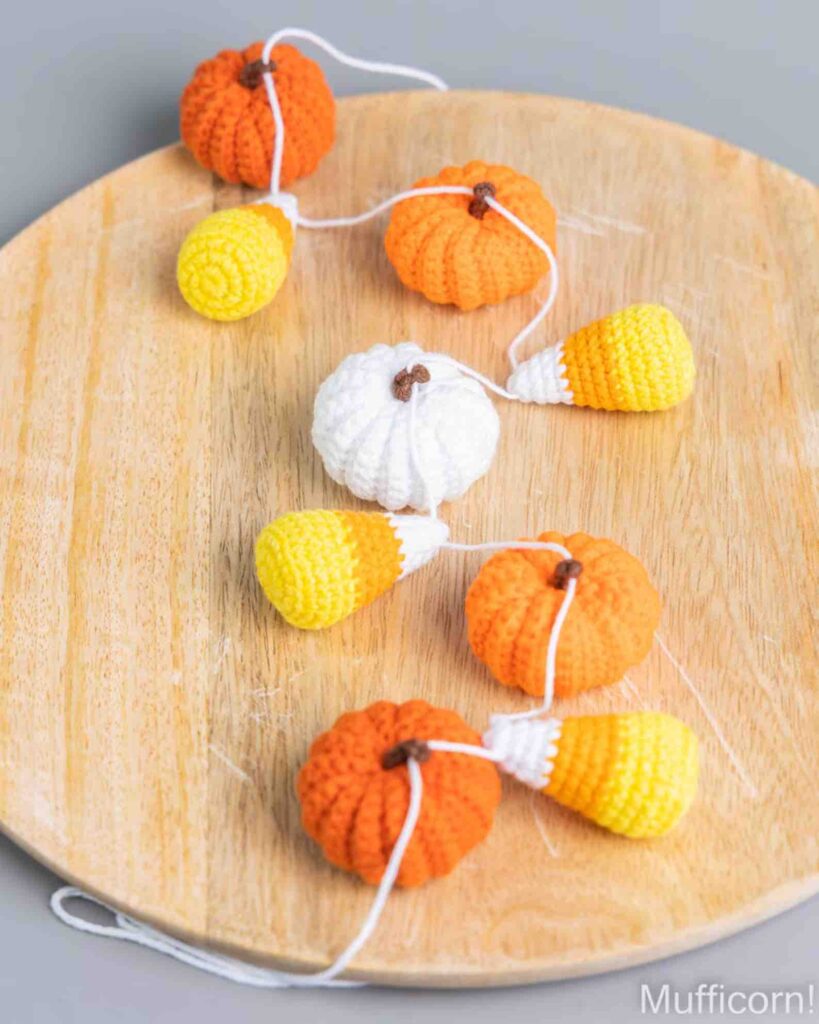 Macrame banner: This will be quite a unique Halloween decoration to sell. You can make it with Halloween colors of cord or yarn and some beads for extra decoration.
Paper banners: Paper banners are the most common banner. You can make them by hand cutting Halloween shapes out of paper or using a Cricut machine for more complex designs.
Halloween Candles
Candle-making has always been one of the easy craft businesses to start from home and Halloween candles are no different.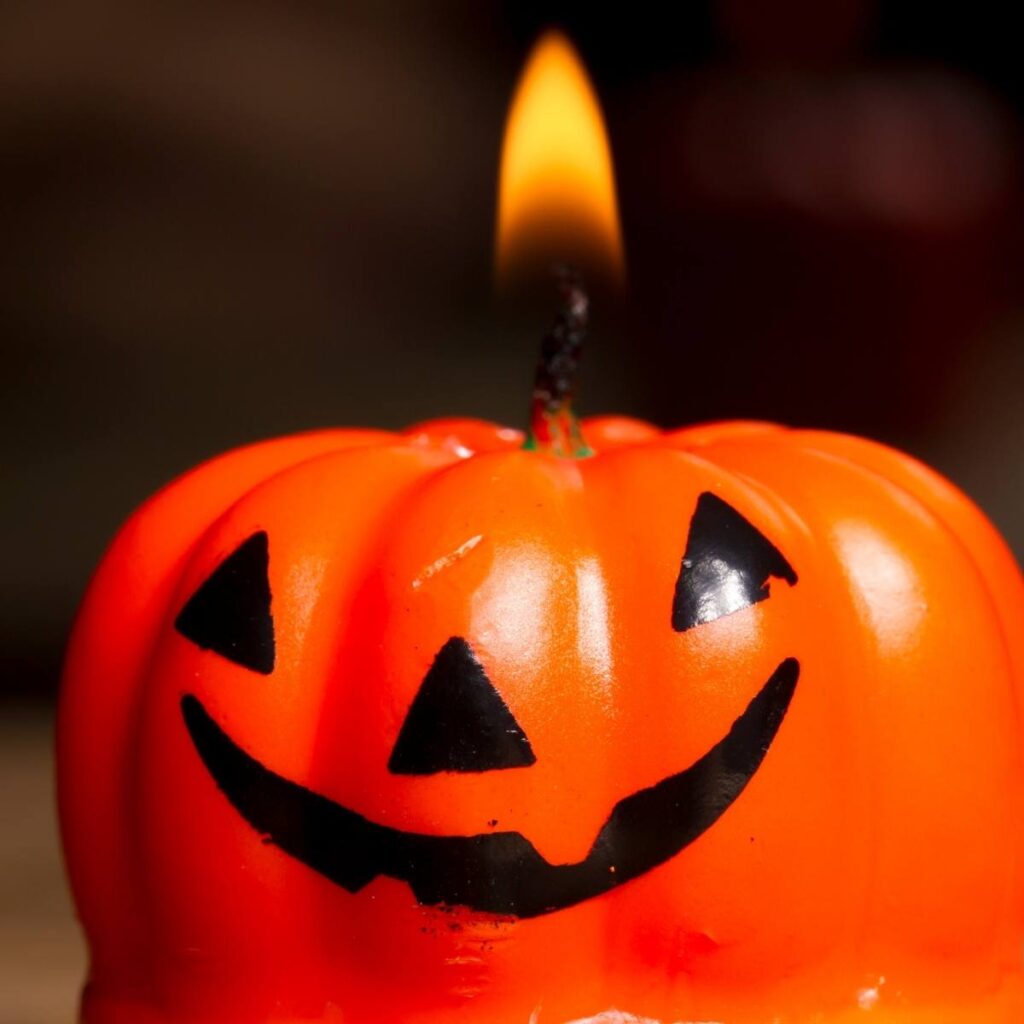 You can find fun candle molds for Halloween easily, or you can use any molds you have and decorate them with these Halloween embellishments.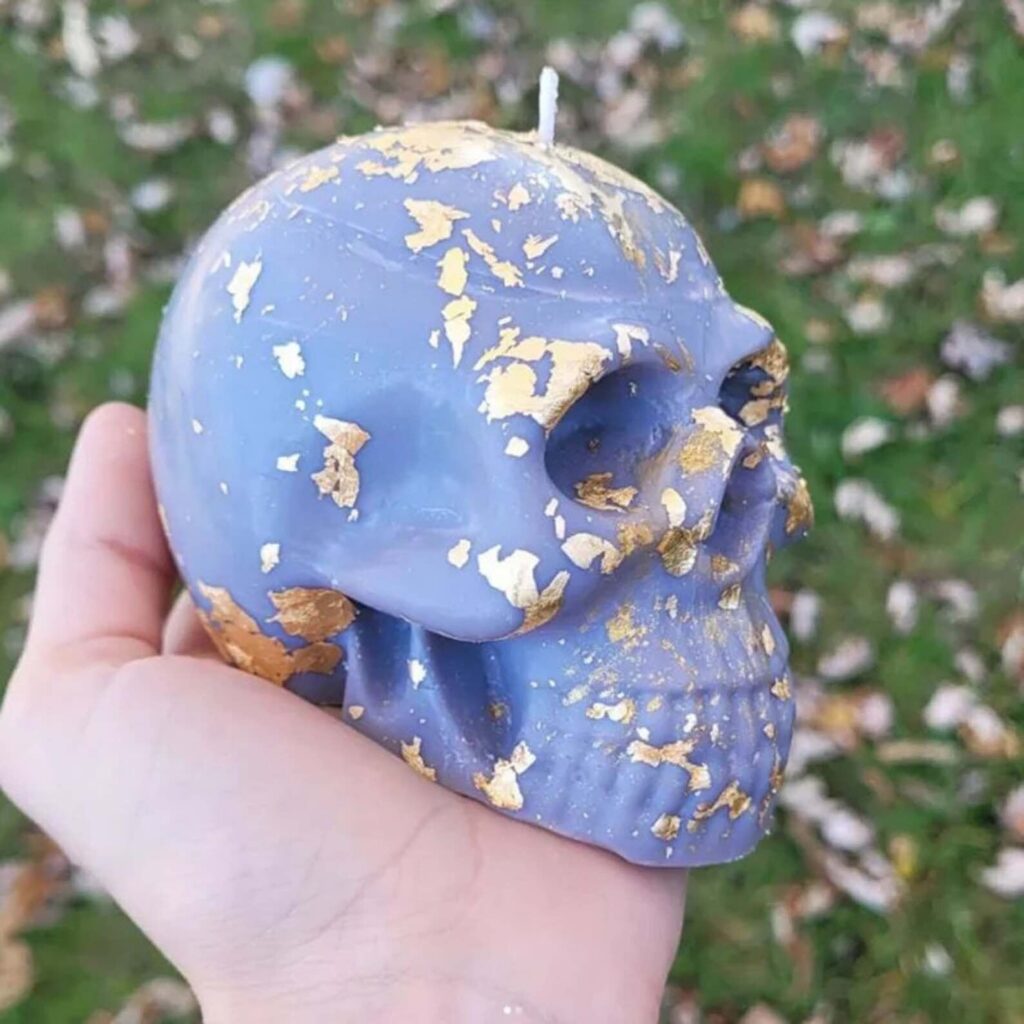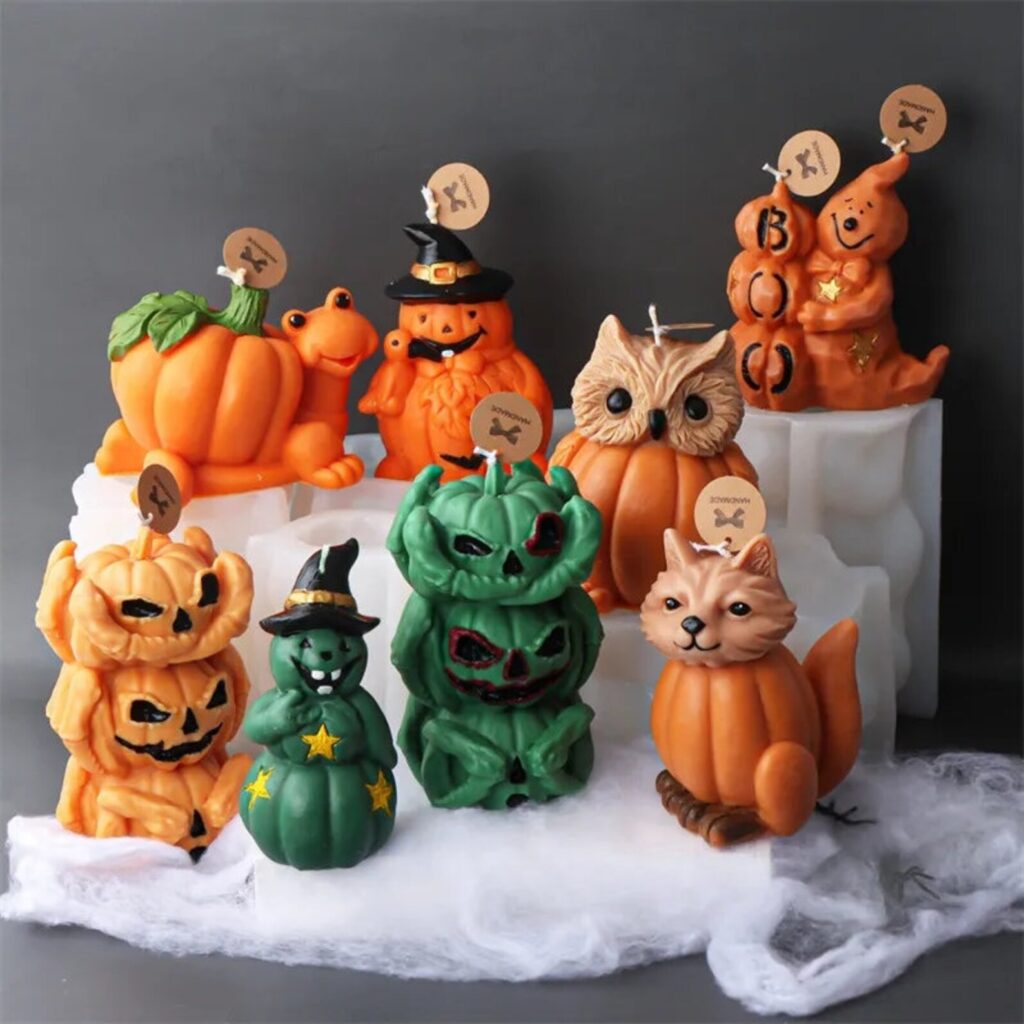 Witch Soap
Using this mold you can easily produce this one of kind teen witch design. This mold has amazing reviews and is great for chocolate and soap making.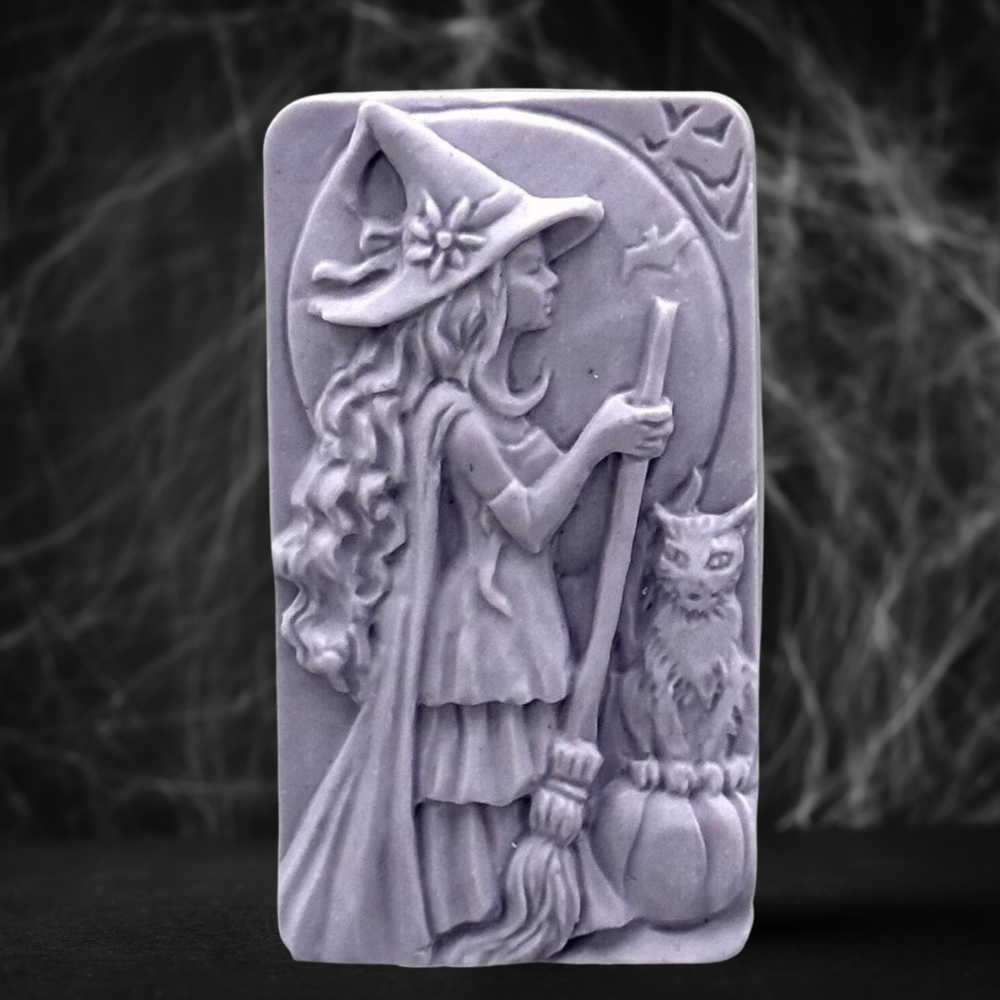 You can also use Halloween-themed essential oils and blends to create unique seasonal scents.
Customized Halloween T-Shirts
T-shirts have always been a great hit during Halloween. You can make Halloween-themed T-shirts using heat transfer vinyl, sublimation with a heat press, or even actual fabric paint.
And there are lots of room to get creative, for example, you can customize with spooky slogans or print Halloween character faces.
Cotton t-shirts can do the trick for vinyl and fabric painting, but for sublimation, you will need polyester shirts.
You can find some cool graphics for your Halloween T-shirt from Creative Fabrica (I like this one) or Etsy.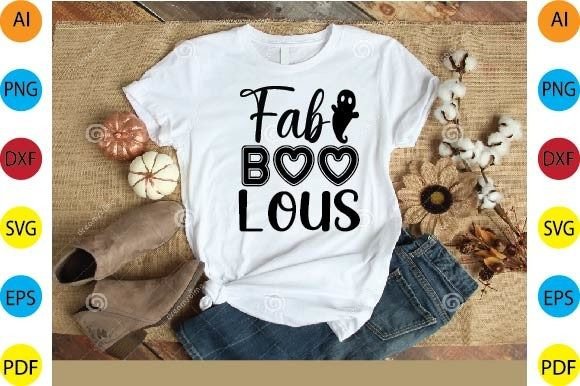 Halloween Sweatshirts
Sweatshirts, much like T-shirts, are an excellent way to display Halloween spirit as the weather gets colder.
And they are also easy to make, and you can use the same methods as T-shirts.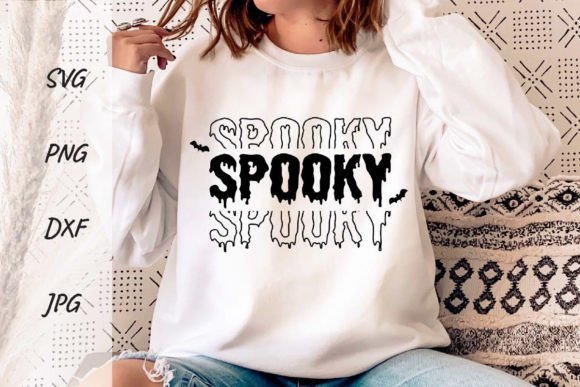 Halloween Mugs
Another Halloween project idea that sells well is Halloween mugs.
You can make them with the vinyl transfer or with a mug press machine to transfer your designs using infusible ink on a blank mug.
💡 These mugs typically sell for $20-$25, and you can let your customers customize their names to increase the personal touch and hence; raise the price even more.
Here is a popular sublimation designing pack for mugs and other Halloween items.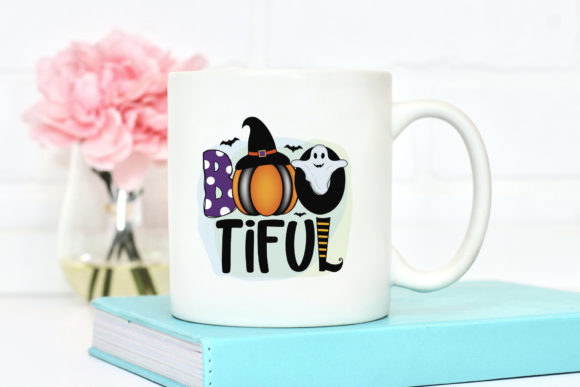 Halloween Pillows
Pillows are a must-have home decor item, and Halloween pillows add a perfect touch of Halloween to any home.
Grab an easy press and sublimate your designs on sublimation blanks. From FRANKENSTEIN to dancing skeletons, Halloween pillows are a great way to show off your Halloween spirit.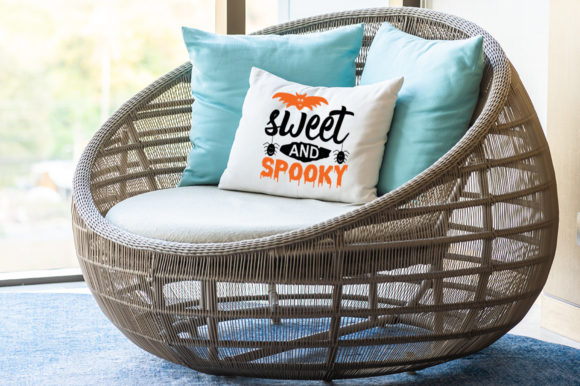 Halloween Libbey Glass
Decorate a Libbey glass can with this cute pumpkin and boo wrap to sell. You can even use color-changing vinyl for a delightful fall iced coffee experience!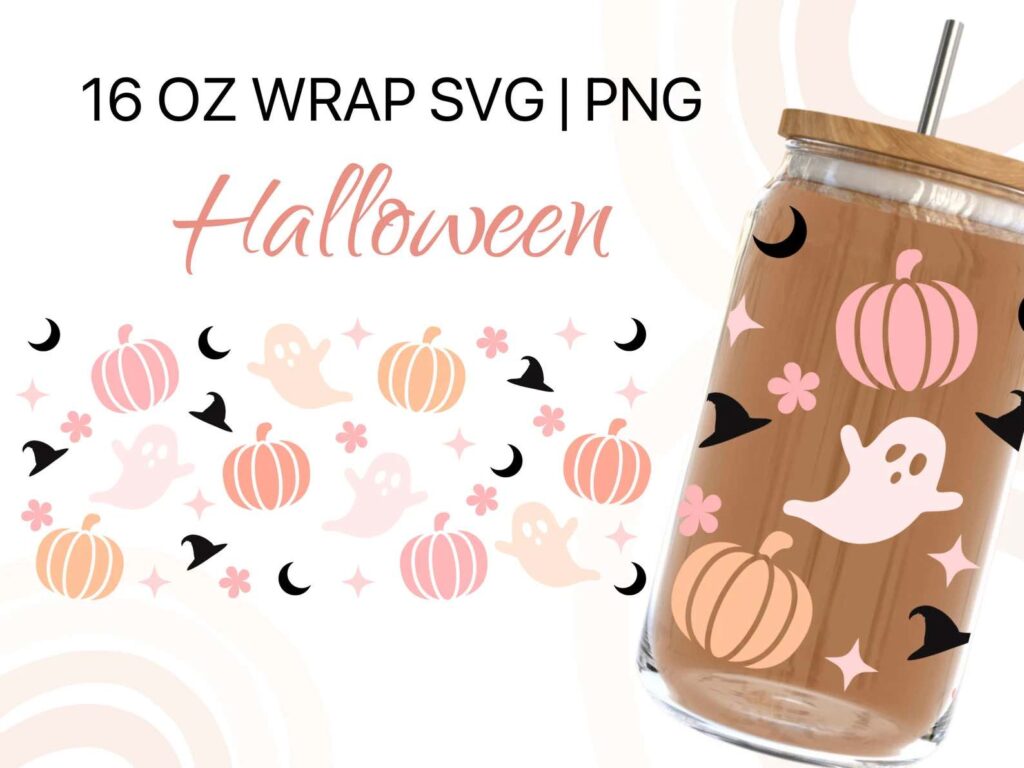 Or use this boho Halloween wrap to make cute glasses to sell.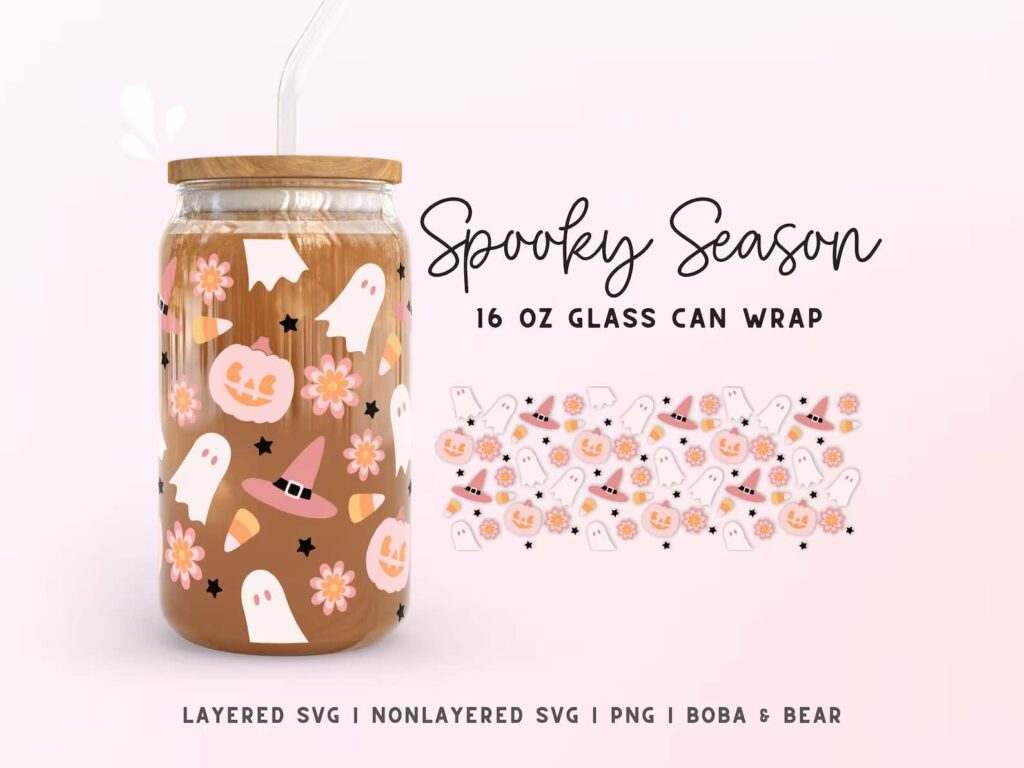 Halloween Jewelry
Jewelry has always been a popular accessory, and you can make some funky and unique Halloween jewelry to sell using polymer clay or resin.
Resin Earrings
Resin is another great material to make eye-catching Halloween jewelry. You can add glitter or even 'glow in the dark ink' to your resin molds to create one-of-a-kind pieces.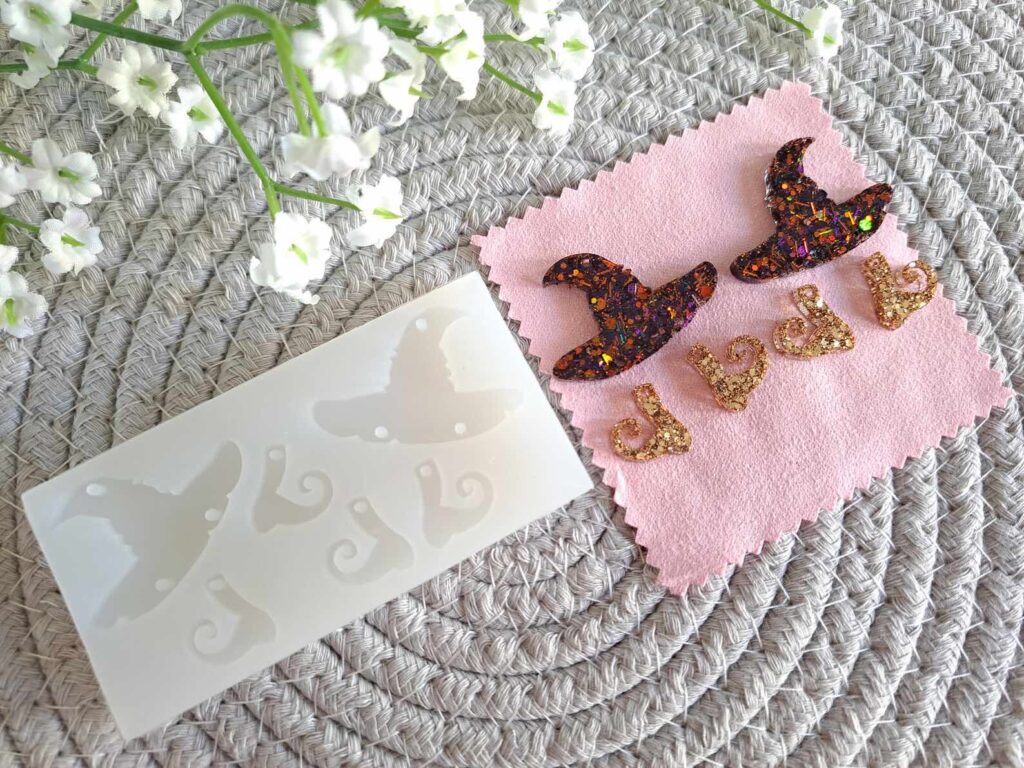 Polymer Clay Earrings
Crafting with polymer clay is easy and fun, plus you can make Halloween charms, pendants, or earrings using Halloween-themed cutters.
The below one is from Etsy and she has amazing collection of spooky earring cutters.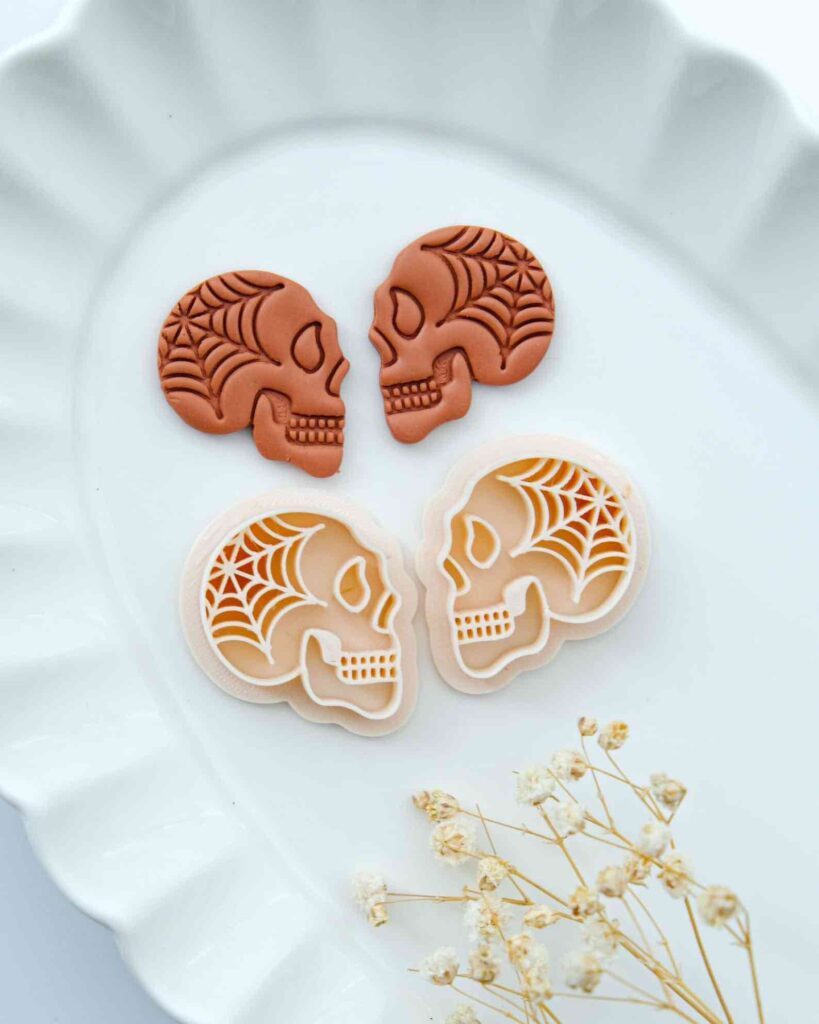 Halloween Sewing Crafts
With the Bewitching Bats sewing pattern, you can create two sizes of adorable bats, just in time for Halloween.
These little creatures come together quickly, making them an ideal and festive gift option!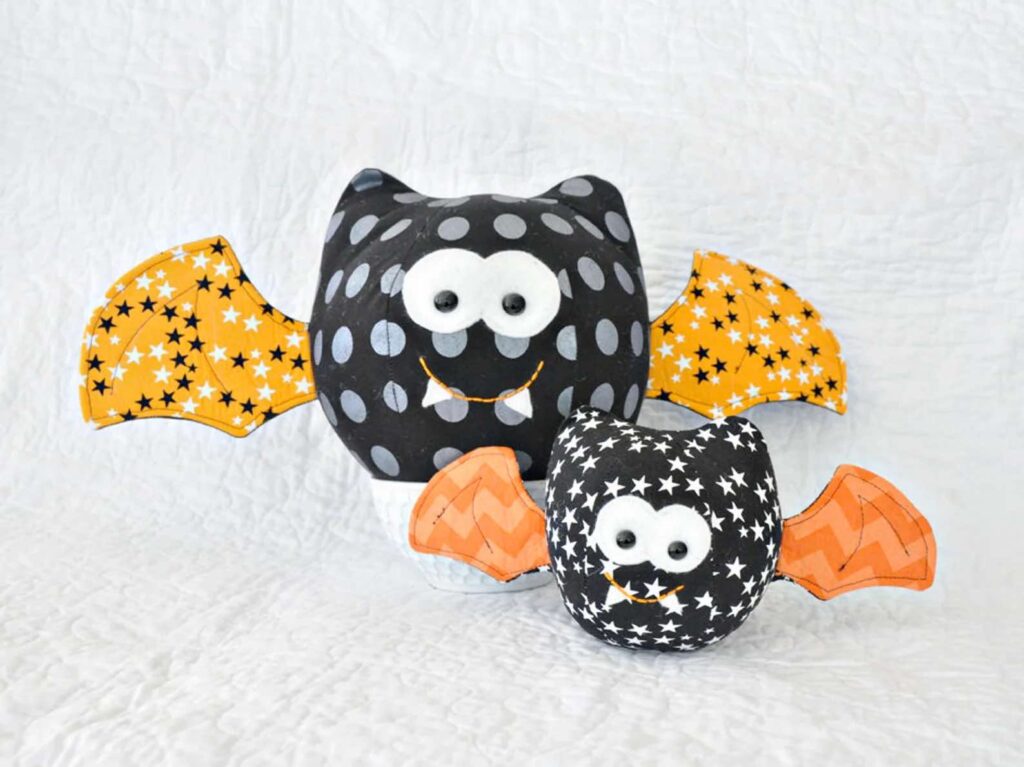 Laser Cut Halloween Earrings
Use these designs to quickly and easily make beautiful horror earrings to sell or to gift with your laser cutter.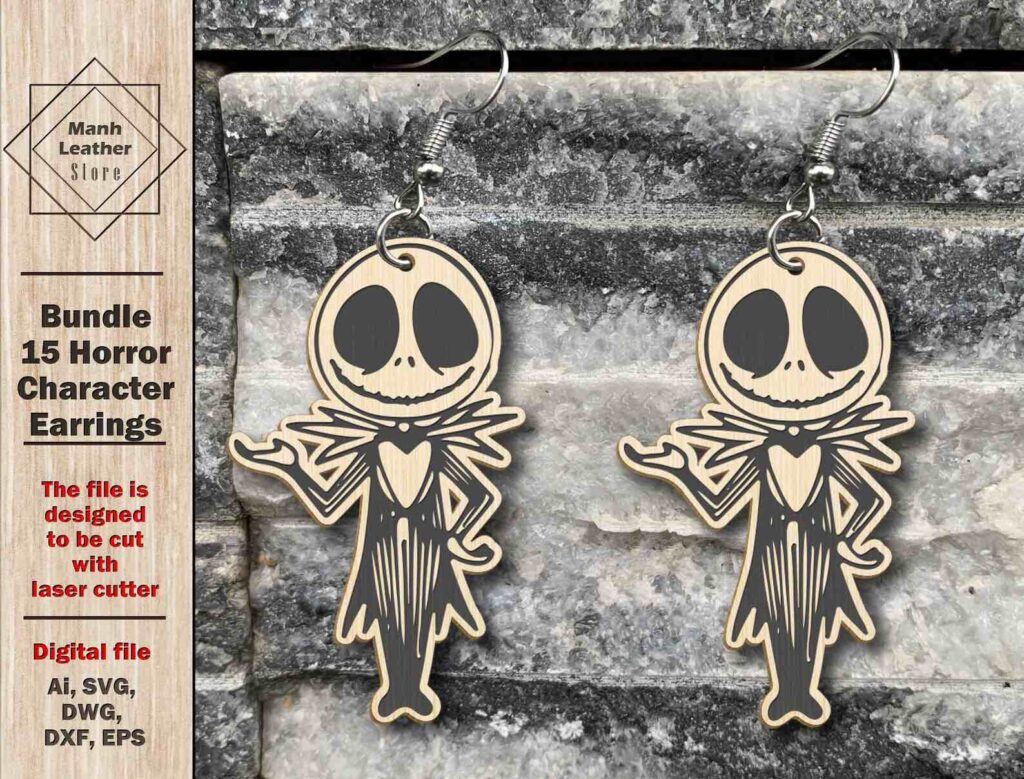 Cute Earrings With Cricut
Create a fabulous array of Spooky Halloween Earrings with these Halloween Cutout Collection of SVG Templates. These are Cricut friendly and use can use leather, felt, faux leather or foam.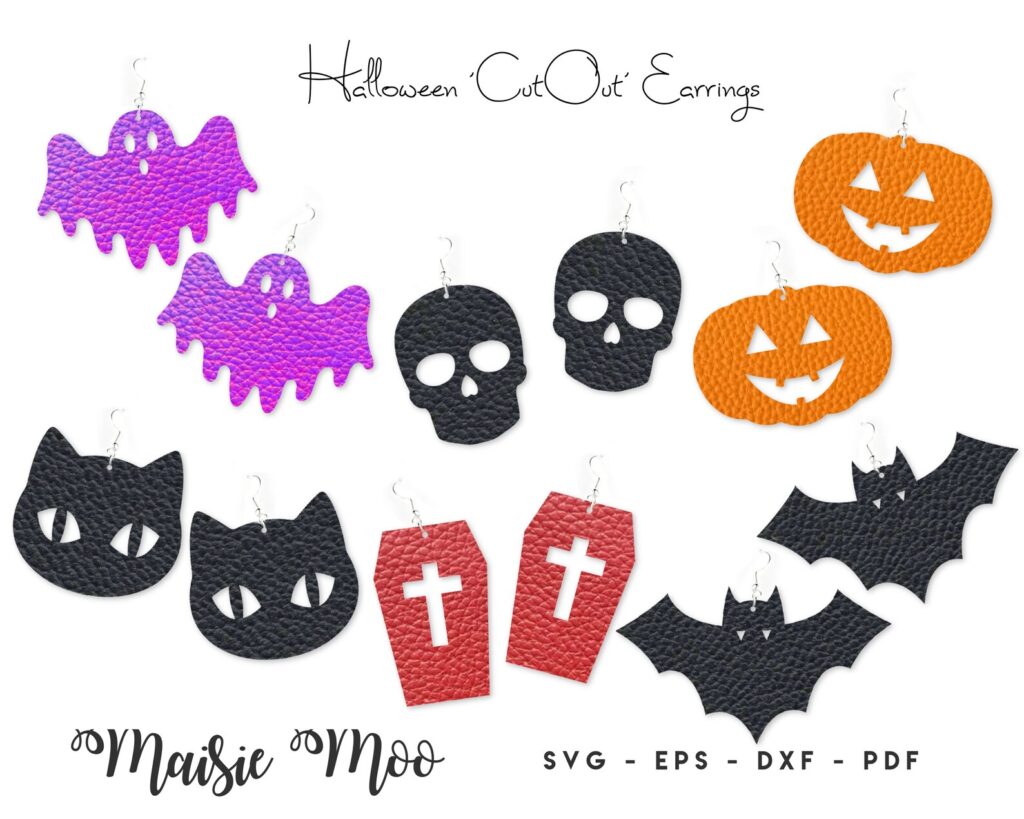 Halloween Pumpkins
Without Halloween pumpkins (Jack-o-Lanterns), this list of Halloween crafts would be pointless.
The sky is the limit when it comes to making or decorating pumpkins, especially if you have a laser cutting machine or 3D laser printer.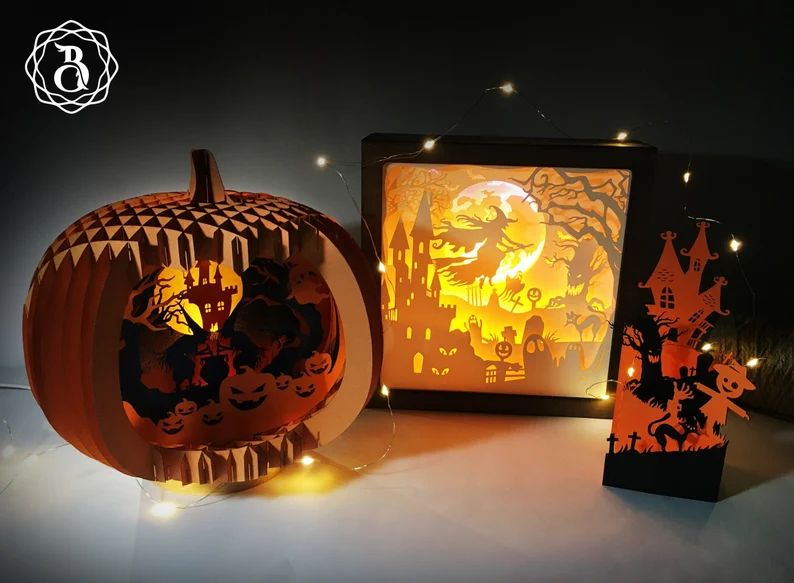 But don't worry, there are different ways to make pumpkins/Jack-o-Lanterns without needing special machines
Felt spooky pumpkins
Fabric Jack-o-Lanterns
Resin pumpkins
Foam scary pumpkins
Paper pumpkins
You can even buy plastic pumpkins in bulk and decorate them to make them spooky with acrylic paint and Halloween crafts like googly eyes, spiders, bats, and so on.
Follow this link to find more creative resin ideas!
Halloween Shelf Sitters
Use your laser cutter to make one of a kind shelf sitters for halloween decor!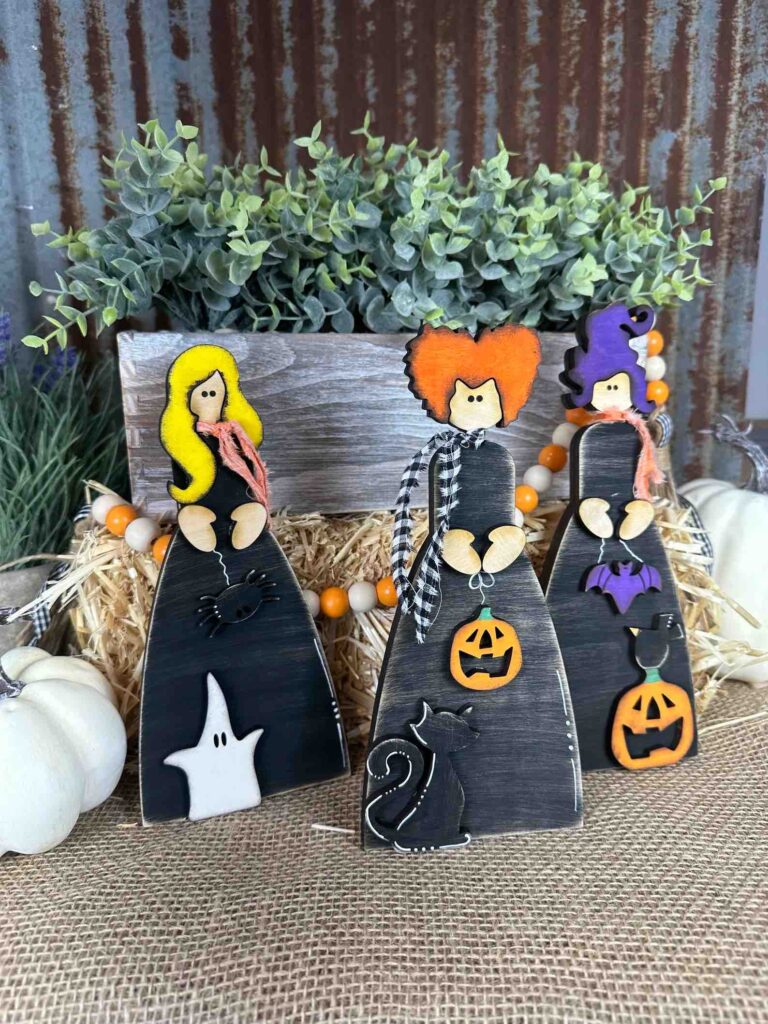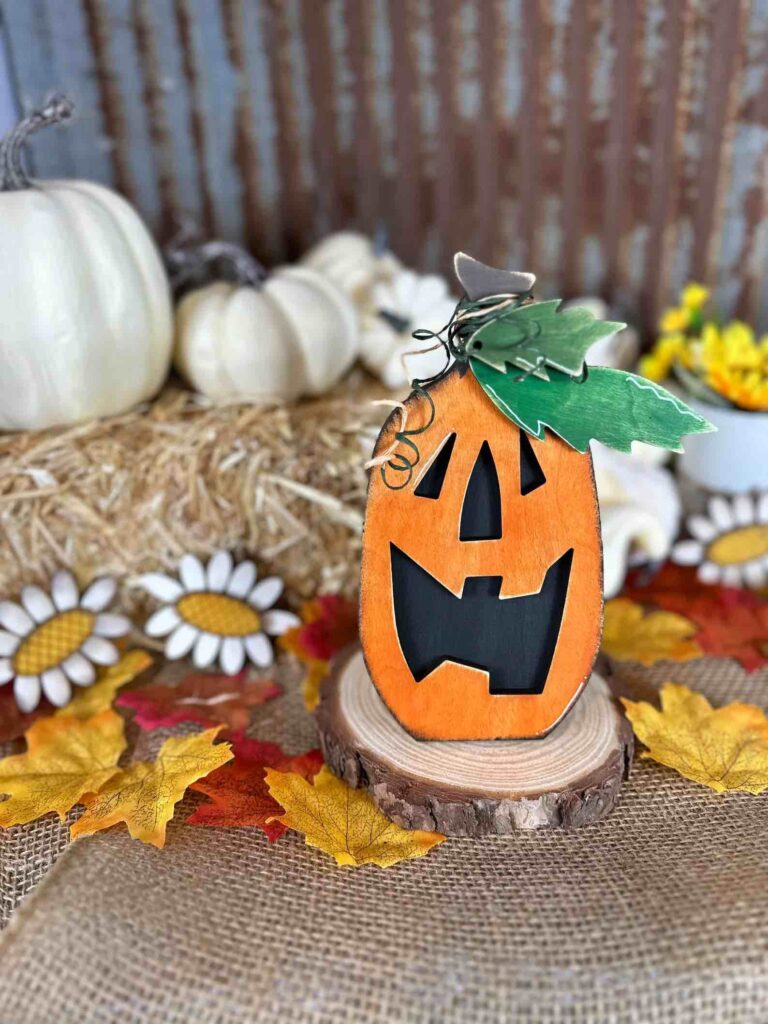 Halloween Crochet Granny Squares
Know how to crochet? Make Halloween Granny Squares with this collection of 20 Halloween-themed afghan blocks.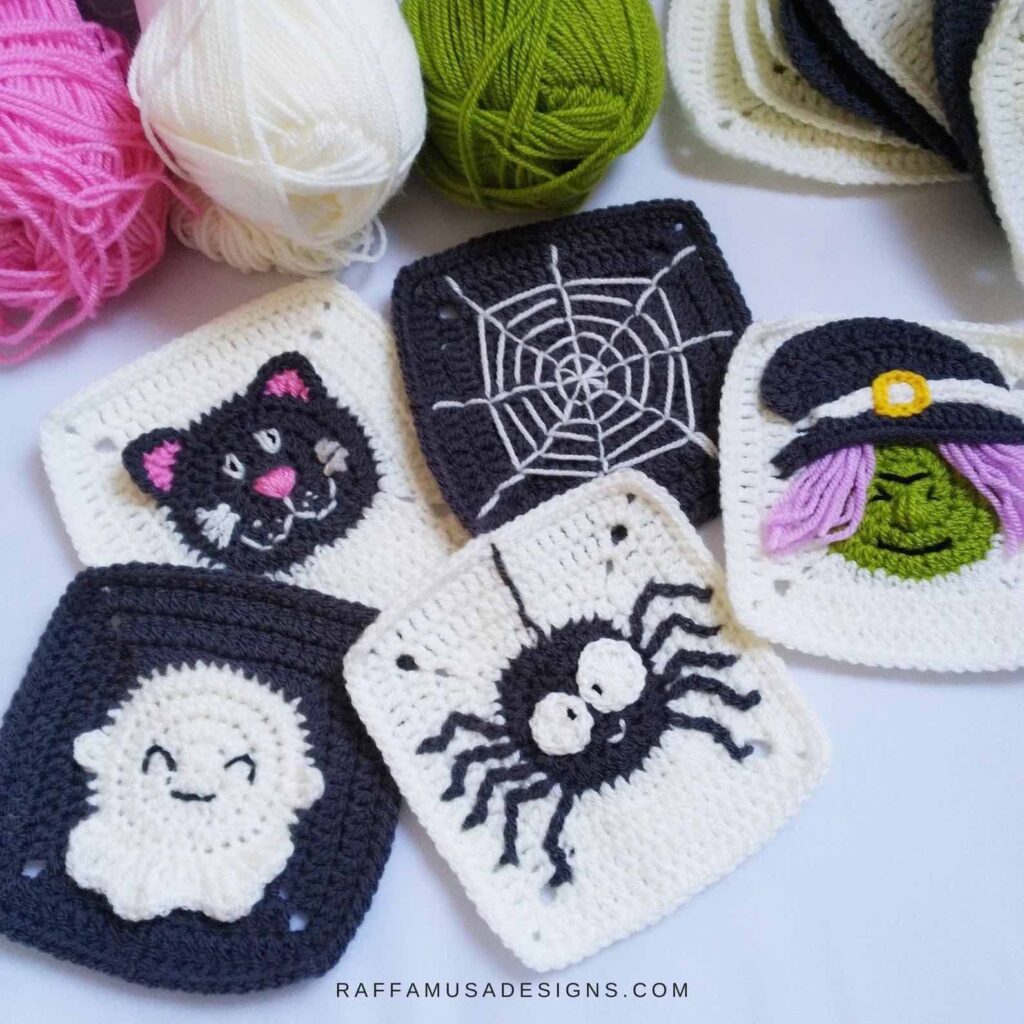 Trick or Treat bags
One of the most popular Halloween project ideas is to make personalized Halloween treat bags for kids.
Create some fun and cute designs for little trick-or-treaters using your choice of a heat transfer method or even fabric paint.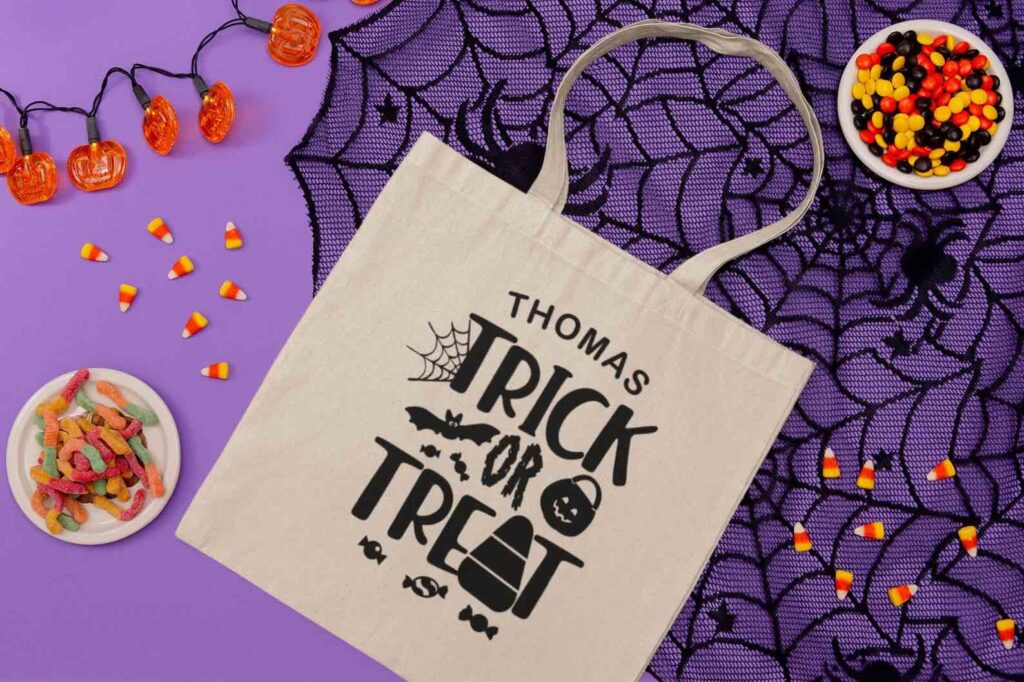 Feeling more creative? Try sewing Halloween baskets on order and offer customizations.
Here are some sewing patterns and designs for baskets.
Handmade Halloween Costumes
One of the best-selling Halloween items is costumes!
You can make them for kids, adults, or even pets! Store-bought costumes are great too, but sometimes they don't fit very well, are too common, or are made of cheap material.
Think of all the Halloween movies and fiction characters you can make into costumes. Making matching custom costumes for families is also a great idea and can be very lucrative.
Halloween Treats
If you love to bake or cook, Halloween is the perfect time to show off your skills!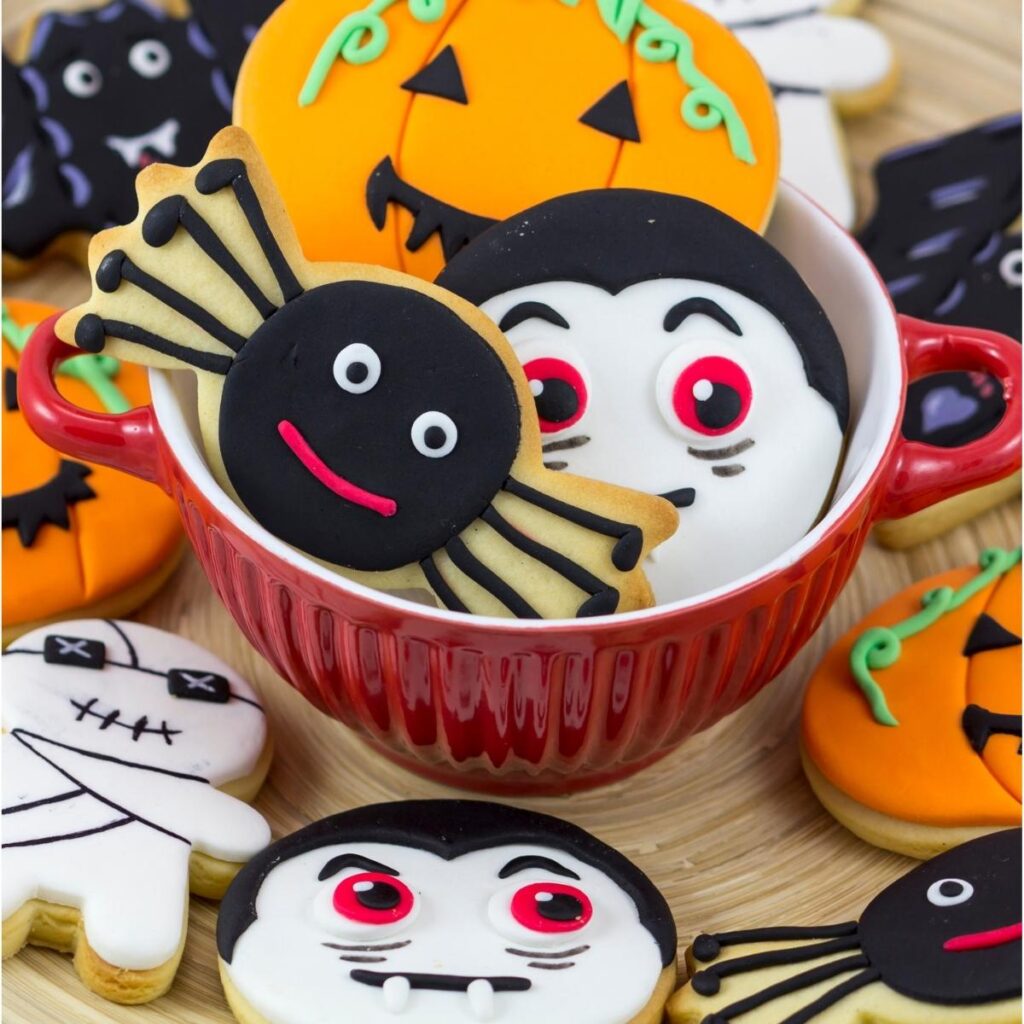 Get creative in the kitchen and whip up some Halloween-themed goodies. From sweet cupcakes to special Halloween dinner recipes, the options are endless.
Spooky Cookies are always a classic Halloween treat, you can make them in any shape or form.
You can find some seriously-good Halloween cutters on Amazon or Etsy to make your life easier and sell some amazing cookies near you.
Halloween Porch signs
Since decoration is the mainstay of Halloween, porch signs are a hot selling commodity.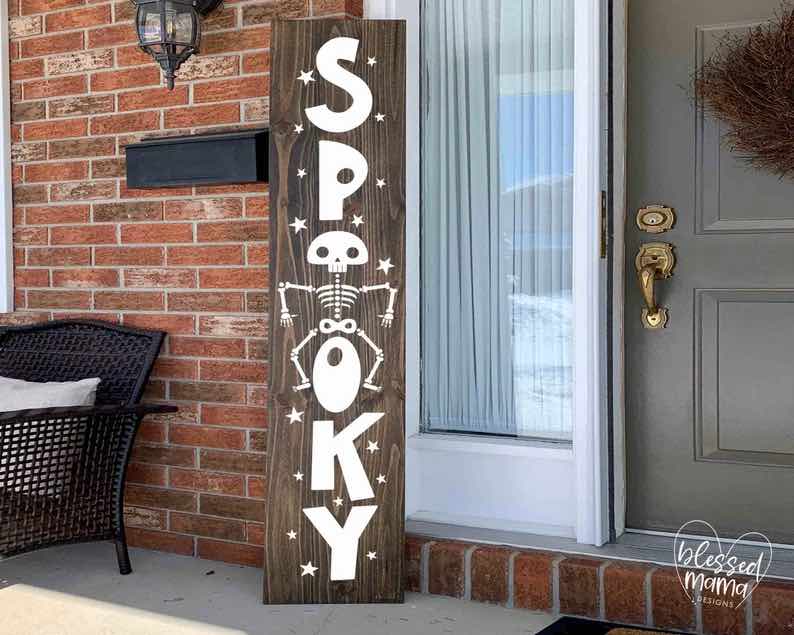 You can make Halloween porch signs using stencils or vinyl transfer on wooden blanks on Amazon or your local hardware store.
Some popular Halloween phrases for porch signs to sell are:
"Trick or Treat!"
"Beware of Zombies!"
"Happy Halloween!"
"Welcome to the haunted house!"
Halloween props and accessories
Halloween props are must-have Halloween decorations for an extra spooky touch.
You can make Halloween props to sell, depending on your skills.
Some popular Halloween props are:
Fake spider webs and bats
Ghosts
Spooky signs
Potion bottles
Miniature dollhouses
Fake bloody eyes
Halloween lights
Halloween Accessories
Think about scrunchies, headbands, hair clips, brooches, witch's hats, and keychains you can make.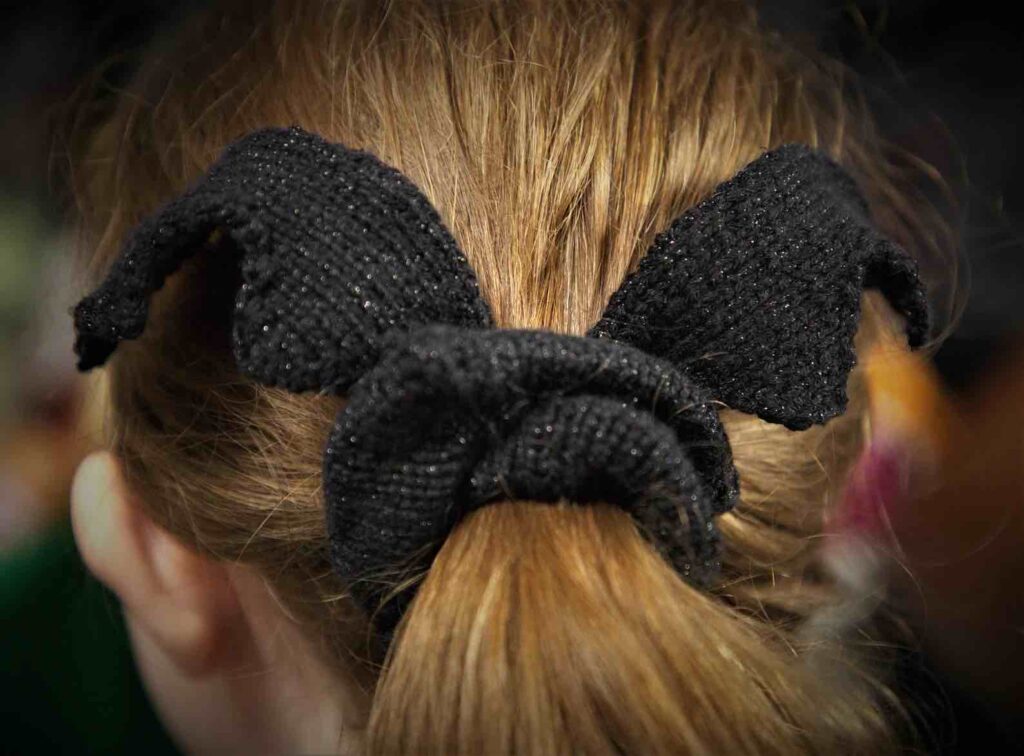 Resin hair clips can be a hot item to sell in craft bazaars. You can find molds and Halloween-specific add-ons to make a large number of hair clips in a batch.
Halloween Bows 
Cut the bows parts by hand or use Cricut to make these bows for little girls in four different spooky designs- Bat Winged, Cute Skulls, Pumpkins and Spider Web!
Perfect to sell at craft fairs and markets!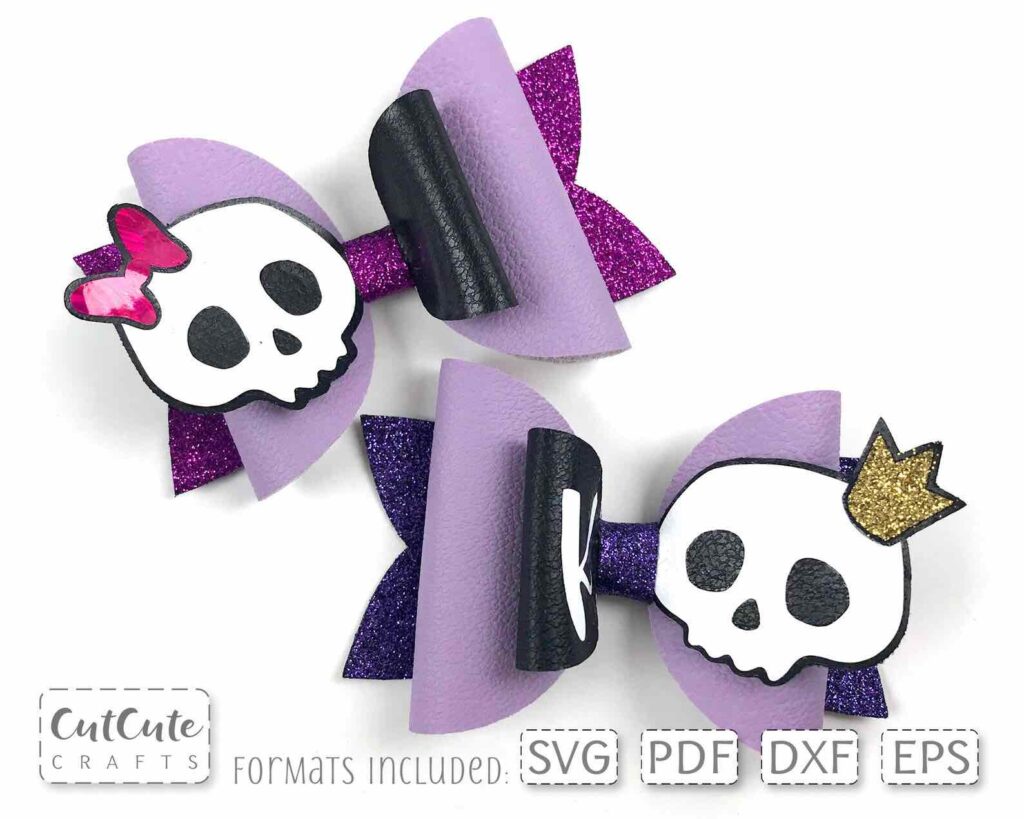 Cake Toppers
If we can go fancy with Halloween treats, then Halloween cake toppers are a must to sell!
Whether you use cutting machines or make them using printables, Halloween cake toppers are super easy to make and can be profitable too!
Halloween Stickers
You might be surprised to know that stickers are one of the best sellers on Etsy, and they are very profitable too.
From fun and scary sticker for kids to labeling stickers for business, stickers are the best way to tap into this lucrative market.
They are easy to make, all you need is a cutting machine and some basic knowledge on how to design in Adobe Illustrator.
I recommend you join this free class from Top Etsy sticker seller; Mim to know to make and sell stickers from home.
Halloween printables
Do you want to know an easy way to make money on Halloween without creating a physical product? Sell Halloween printables!
Printables are now a well-established product category on Etsy, and Halloween is one of the best times to sell them. You can sell printables in your store too!
I make over $4000 per month selling printables in my Etsy shop.
You can make Halloween gift tags, cupcake toppers, labels, banners, planners, bingo games, or anything you can think of and sell them as a digital product.
I have many resources on this blog to get you started or you can join this free training to learn how to make money selling printables.
The resources on my blog include:
Where to sell Halloween crafts?
Like making crafts is important, it is also crucial to know where to sell them or better say, where to find the right audience for your Halloween crafts.
Some of the best places to sell Halloween crafts are:
Online marketplaces: One of the most famous handmade items selling marketplace. You can start your shop for free. Etsy charges when your product gets sold. I have this free Etsy shop checklist that can help you set up your Etsy store.
Other than Etsy, you can sell your crafts on Amazon Handmade and eBay.
Local craft shows and bazaars: Check your local community for Halloween-themed fairs and markets.
Farmers' markets are great to sell Halloween porch signs, wreaths, fresh Halloween treats, and other Halloween decorations.
Facebook marketplace is another good place to sell Halloween crafts. You can sell in your local FB groups as well.
There you have it, Halloween crafts to make and sell!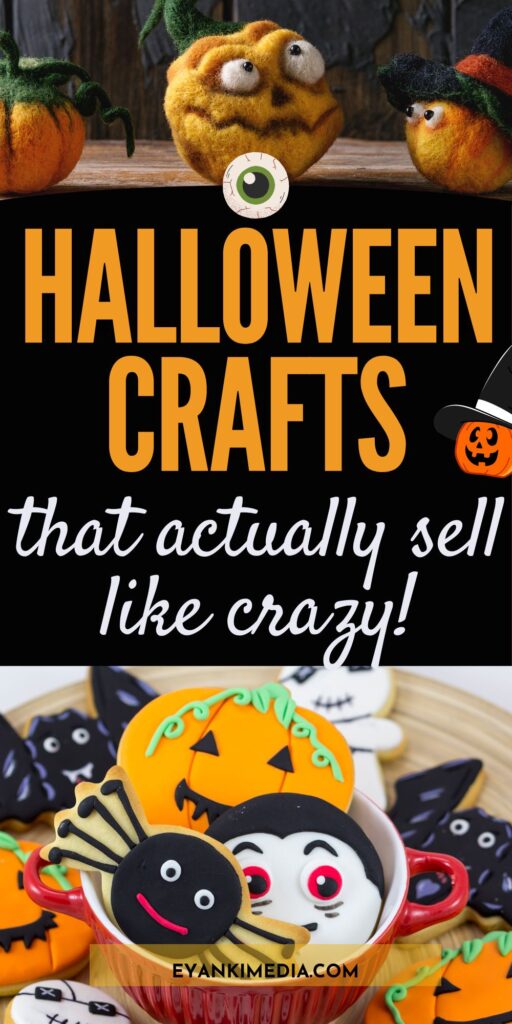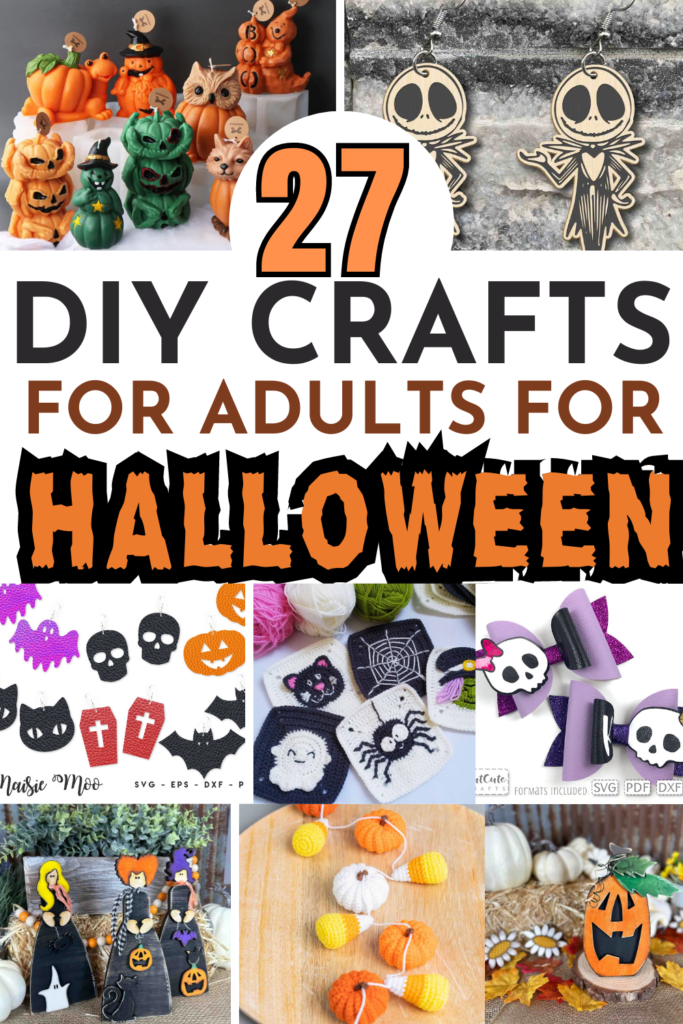 Ready To Make And Sell Crafts For Halloween?
Halloween is the best time to get your craft on and make some extra money. Use these ideas for inspiration, and make something unique to sell.
If you are selling online, remember that great product photography is key to making a sale.
If you are selling on Etsy, be sure to learn Etsy SEO to ensure that your items are being seen by potential customers.
Finally, have fun and be creative!
What Halloween crafts will you be making this year? Let me know in the comments! Have a happy and safe Halloween!​
And remember to come back and check the crafts that you can sell for Christmas.