Many holiday gifts are made and sold during the holiday season, but nothing is more timeless than a DIY wooden Christmas craft.
Wooden Christmas crafts are a popular item to make and sell during the holiday season. This is because they combine holiday cheer with the practicality of having your own handmade gift to give this year.
Christmas is fast approaching, and soon people will need last-minute gifts for their friends and family members. Why not offer them something that you made by hand?
In this blog post, we will discuss just a few of the amazing wooden Christmas crafts to make and sell in 2022.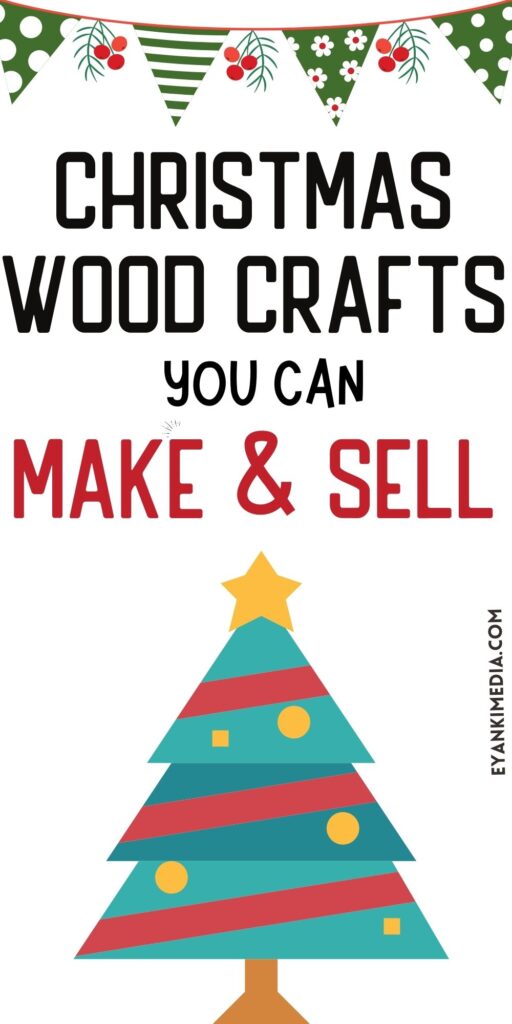 Related Posts:
Crafting hobbies to make money
Easy things to make and sell from home
Best Cricut crafts to make money
wooden Christmas crafts to make and sell
1. DIY Wooden Christmas Ornaments
Wooden Christmas tree ornaments are one the most popular wooden Christmas crafts to make and sell.
They are simple but very festive crafts to make.
These ornaments are inexpensive crafts that you can sell at various price points depending on how ornate they look.
One thing to keep in mind when creating a wooden Christmas ornament is that it should not be too heavy so you can hang them easily.
Here are a few DIY Wooden Christmas Ornament ideas:
Wood Slice Christmas Ornament
Ready under $5, this wood ornament made with vinyl is so simple to create and is perfect for Farmhouse decor.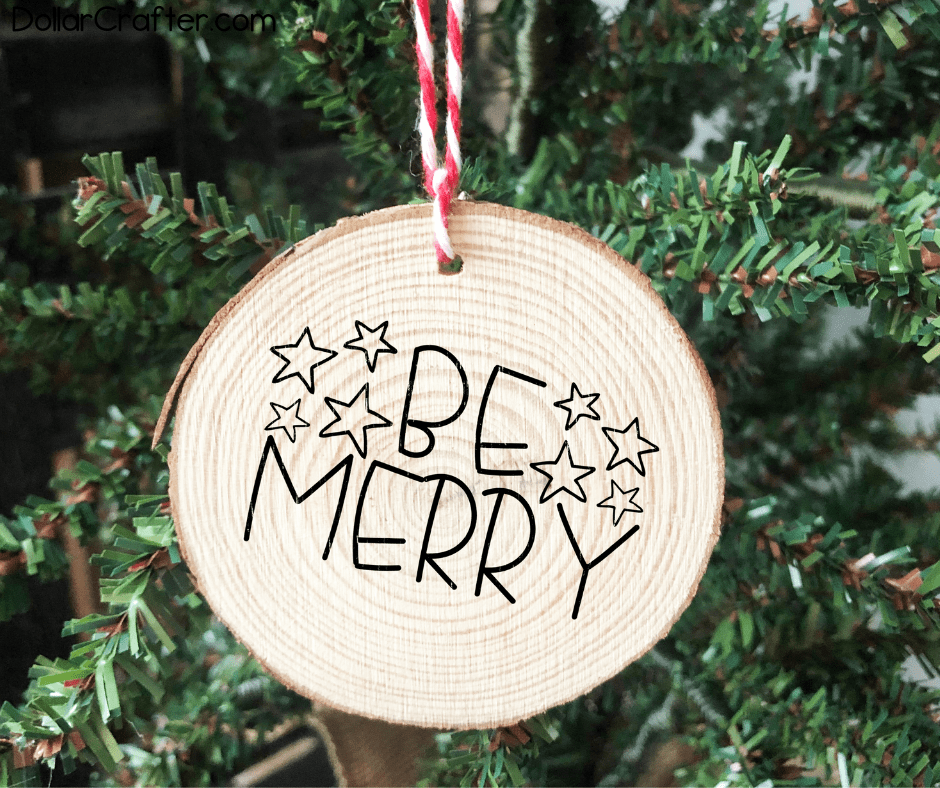 Personalized Christmas Tree Ornaments
One of the ETSY bestsellers Christmas ornaments to make and sell with custom name engraving.

Check out my post on exclusive Christmas Ornaments to make and sell for more ideas.
2. DIY Wooden Christmas Tree decor ideas
Handmade wooden Christmas trees are a perfect addition to any holiday decor. These are not just beautifully made ornaments for decoration; they're perfect additions to any holiday decor, whether it's traditional or contemporary!
Your customer's eyes are going to light up when they see your hand-made wooden Christmas tree!
Here are a few for your inspiration: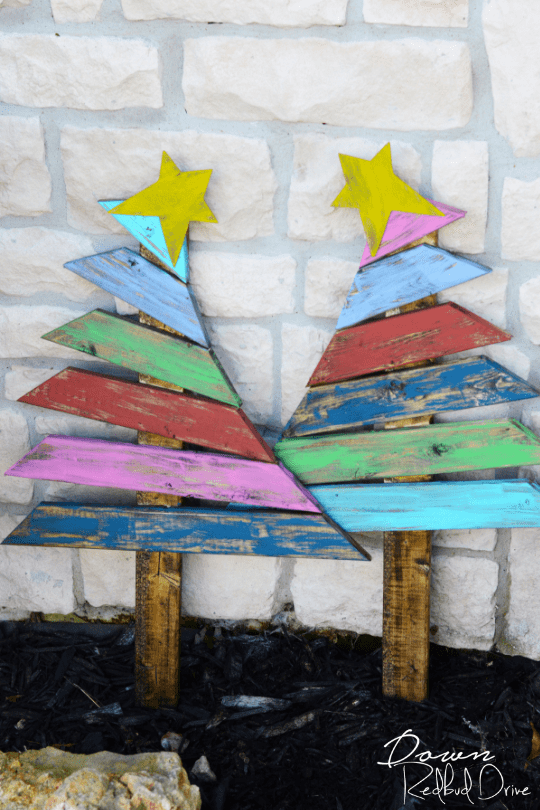 Rustic DIY Christmas Decor- A Pinecone Star by Upcycle this DIY that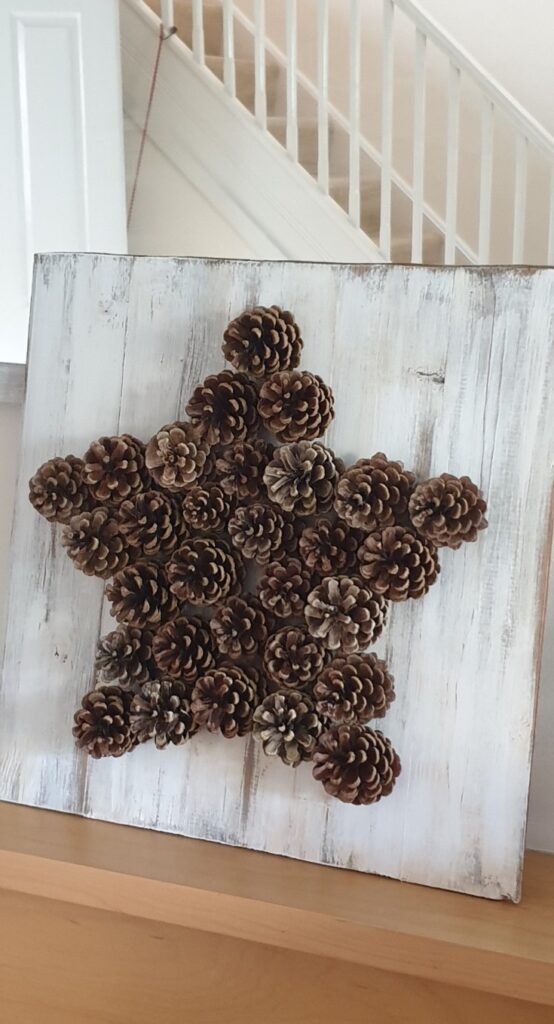 DIY Wood and Fabric Christmas Trees by Down Redbud Drive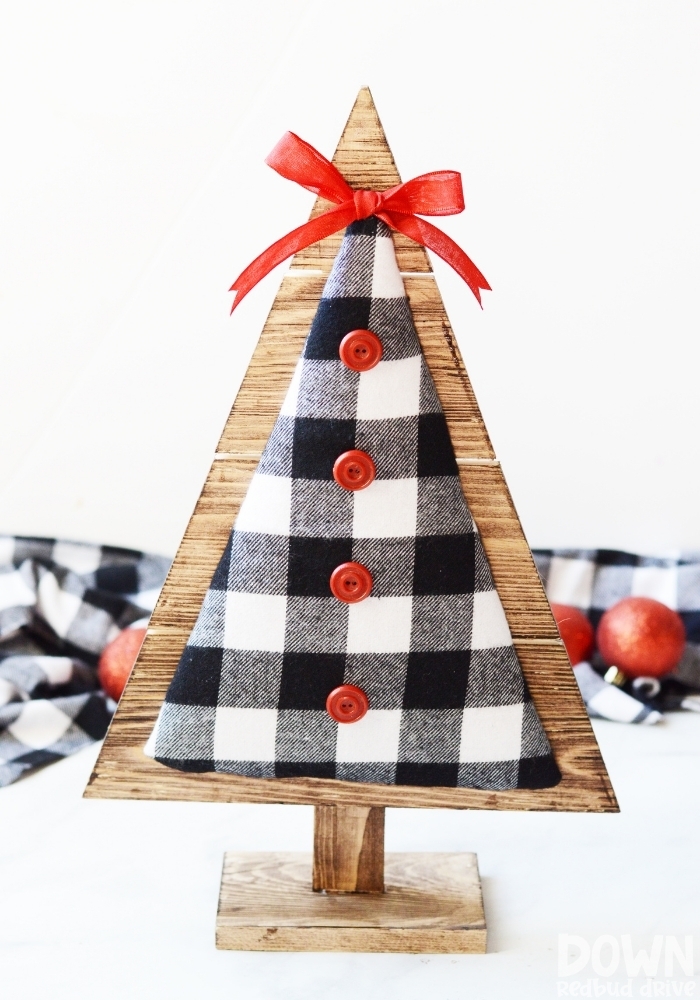 Small Wooden Christmas Tree with Farmhouse Style by DIY Candy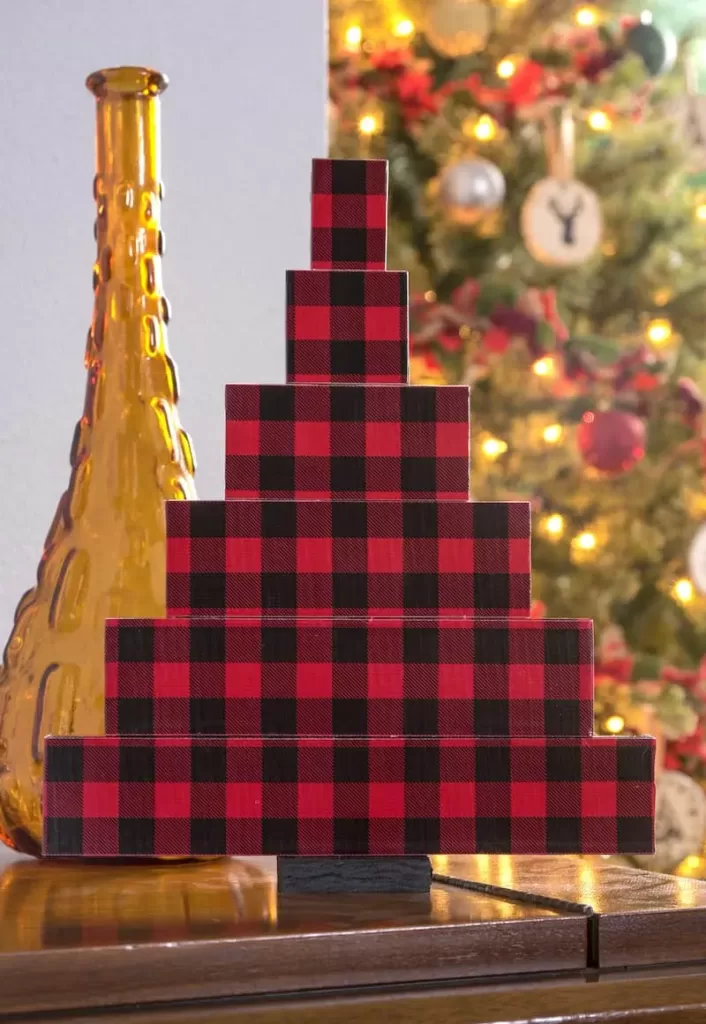 DIY Wooden Christmas Tree for Porch by Happiest Camper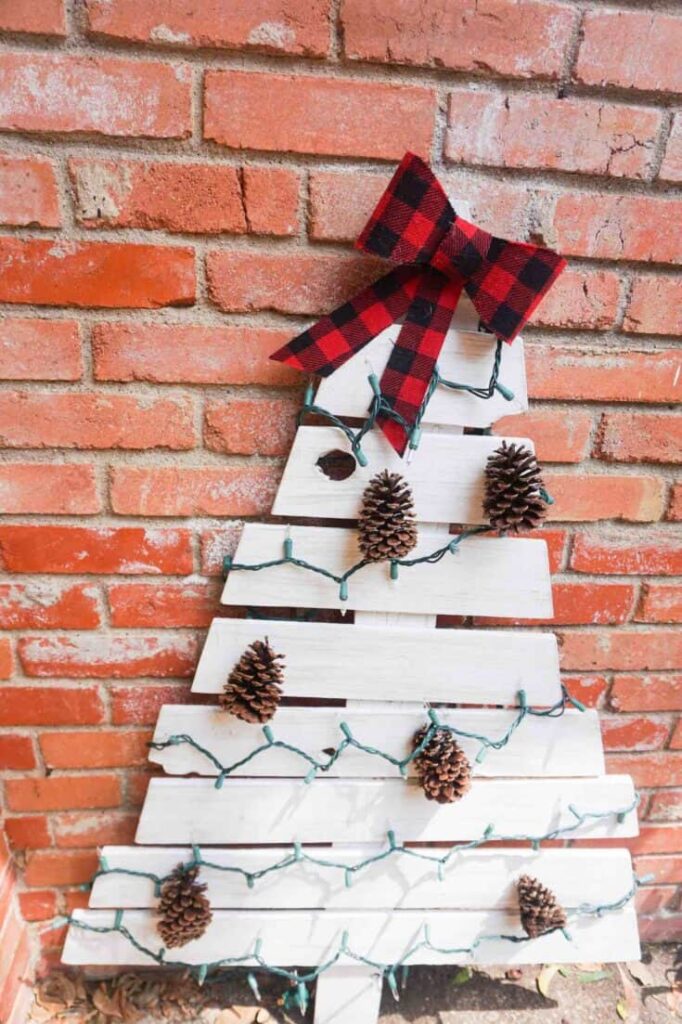 3. Reindeer Stocking Holder DIY
Another unique wooden craft to sell at craft fairs is the DIY Stocking holder made of wood. Little kids will love this and it can be made in a number of designs, from reindeer to snowmen.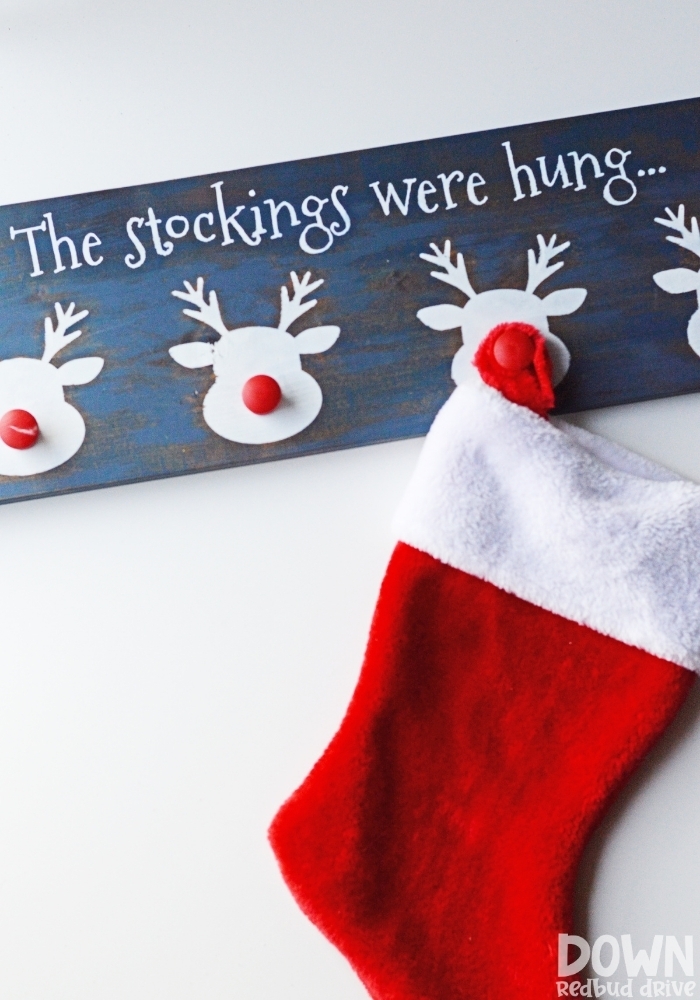 4. Easy DIY Christmas Magnets Made from Wood Slices
Another way to make and sell Christmas wooden crafts is with magnets.
These can be made from wood slices, painted or left natural, or other material like paper. Magnets are a great gift for friends and family members because they don't take up much space on the fridge!
Here is one DIY Christmas magnet for your inspiration.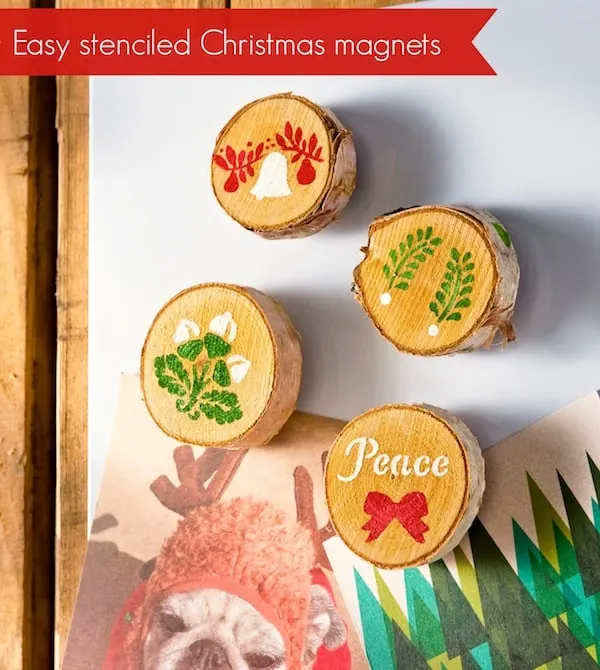 5. DIY Rustic Scrap Wood Snowman
This DIY wooden snowman is a great way to use up scrap wood and make something for the holidays!
These are perfect decorations to sell at craft fairs if you're looking for wooden Christmas crafts to make and sell this year. This snowman will bring a little bit of rustic charm to any home.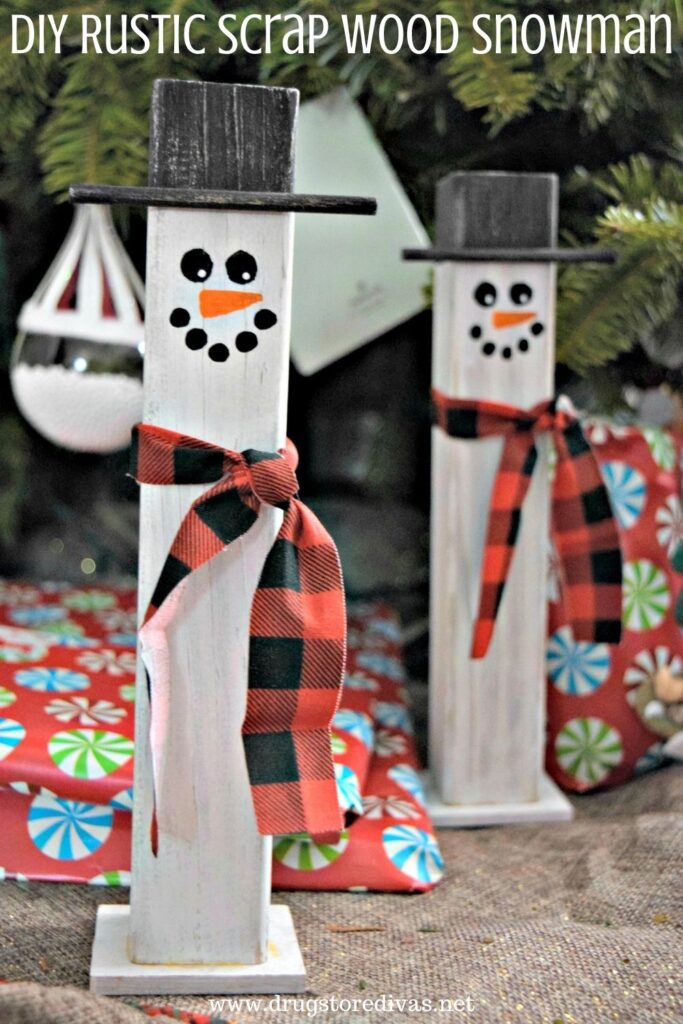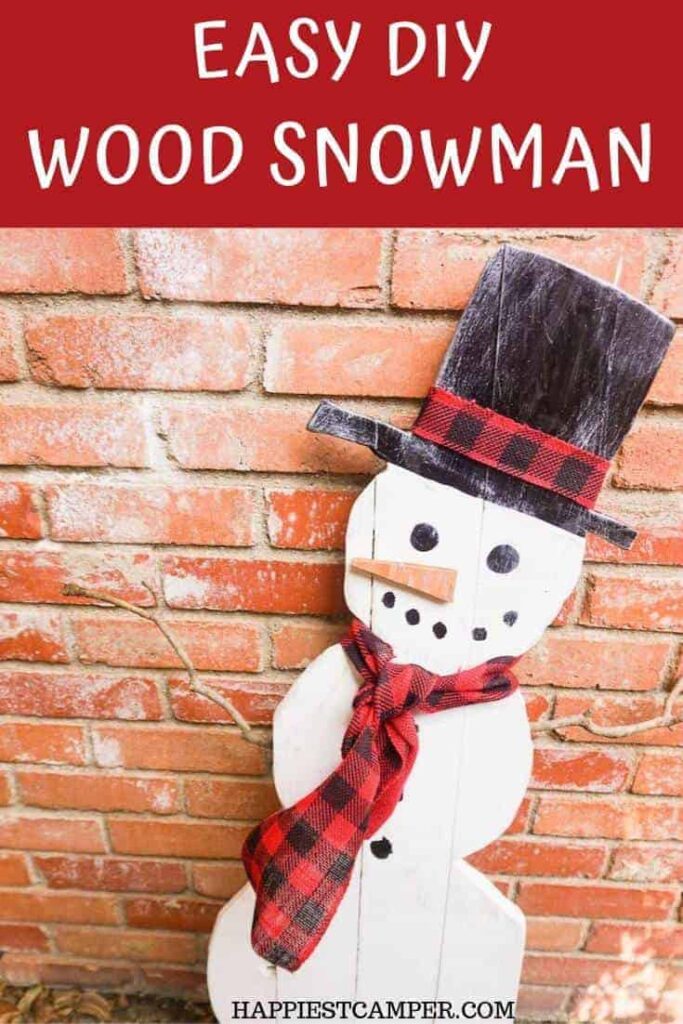 6. Rustic Christmas Countdown Clock
This countdown clock is a great project to make and sell at craft fairs because it's both easy and beautiful.
Parents with little kids will love this, and it would be a great decoration in the house for Christmas.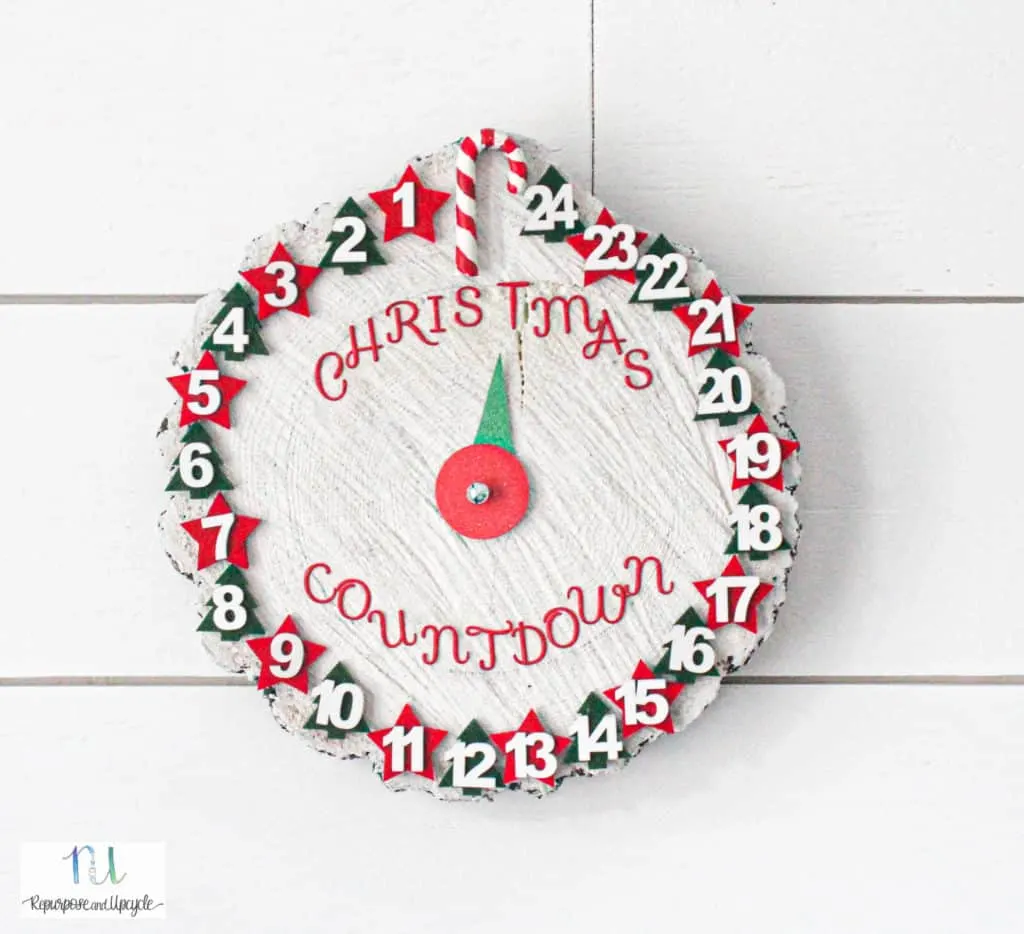 7. Christmas Tree Box Stand with Shiplap
This DIY wooden craft is quite useful as many people enjoy decorating their Christmas trees by adding them to a box. It can be customized and makes the tree safe.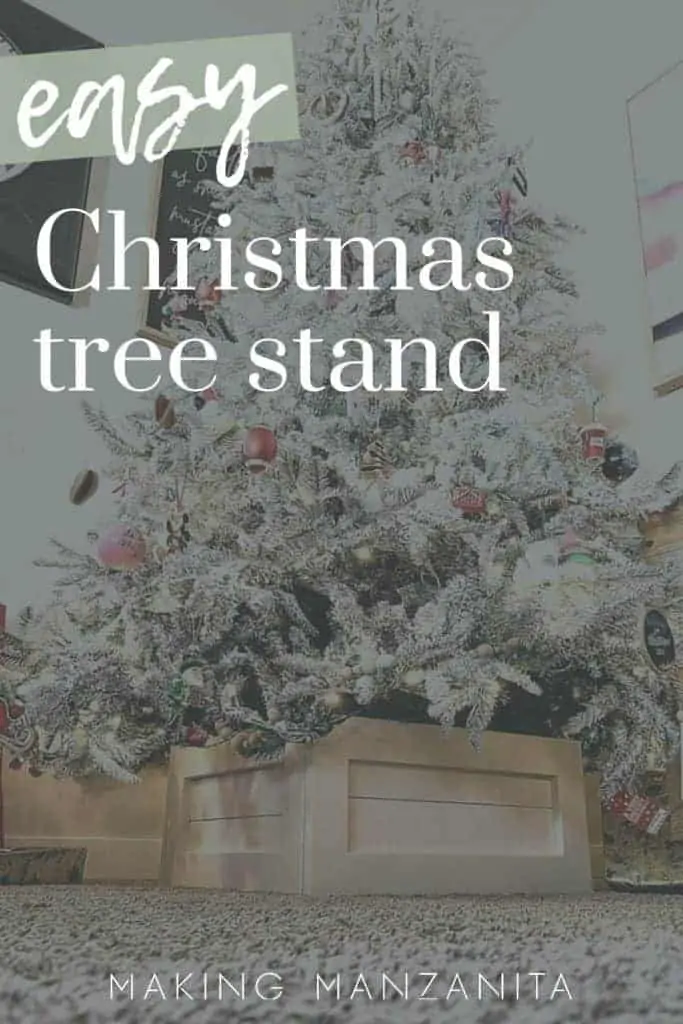 8. DIY Christmas Table Decoration
Wooden Tiered Christmas Trays
If you are looking to make and sell a few more expensive crafts, these tiered trays would be perfect. They can also double as home decor or could even be given away for Christmas gifts!
You can make and sell tiered trays as craft supplies for others to decorate or sell decorated trays as finished products. When it comes to decorating these trays, you have unlimited options!
Here is one good tutorial on how to make a 3 tier wooden tray by Wood Shop Diaries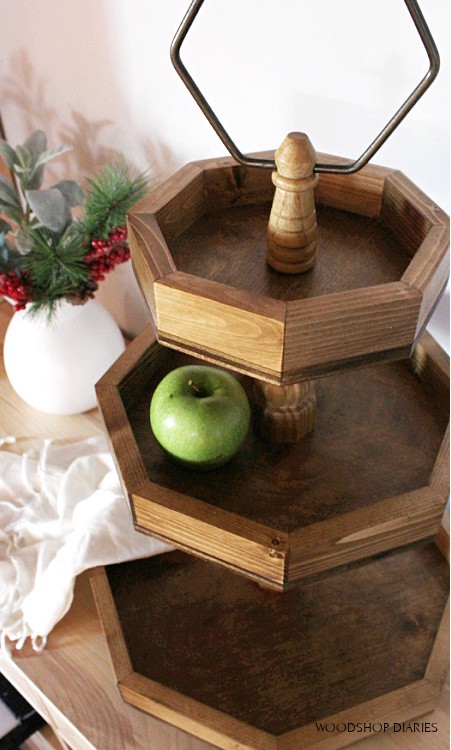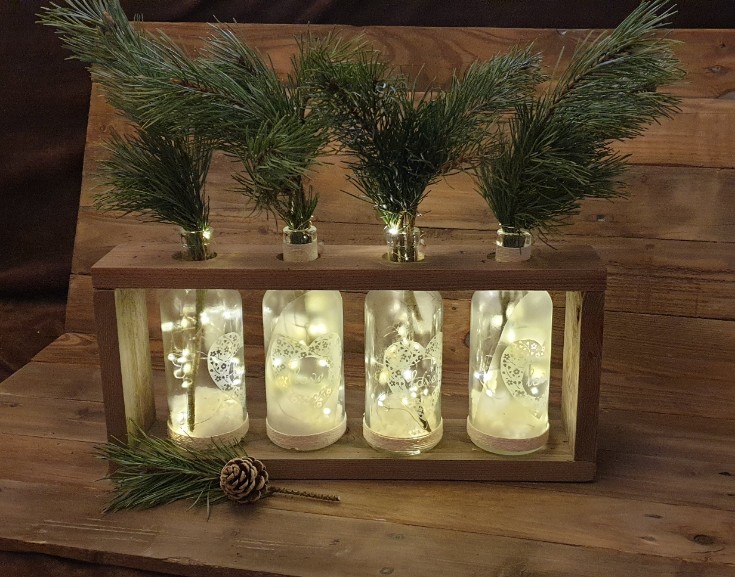 9. DIY Winter Checkers Game
DIY wooden Checkers game is a great project to make and sell at craft fairs, especially if you're looking for wooden Christmas crafts to make and sell.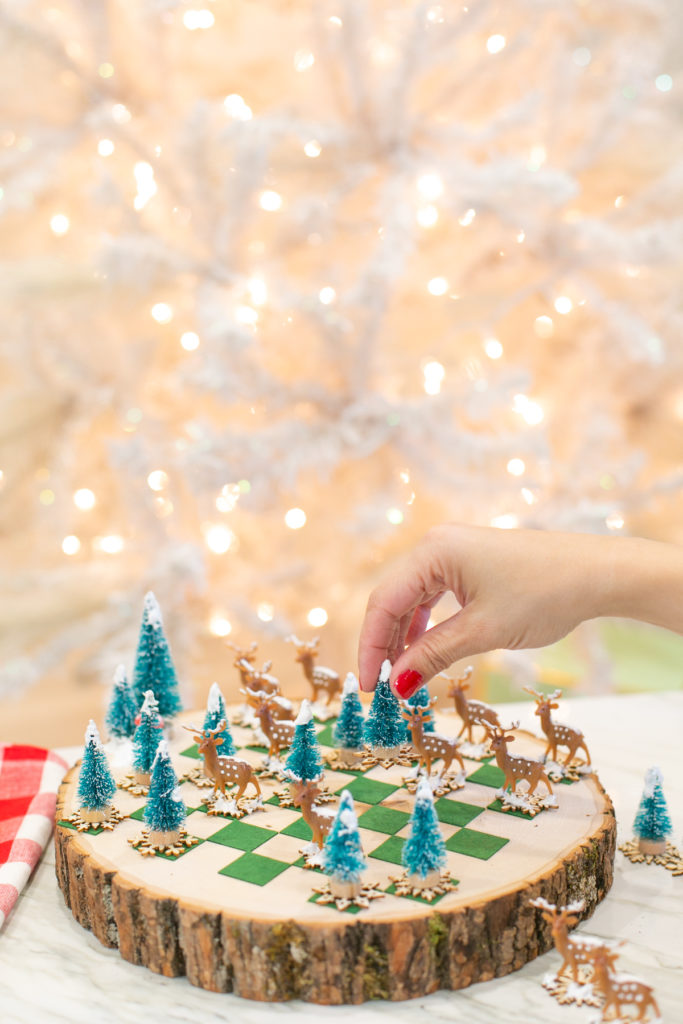 10. Christmas Village Shadowbox
This cute wooden Christmas village is a fun craft to make and sell at craft fairs.
 11. personalized Wooden Photo Holder 
Another wood-inspired gift idea that can be customized to sell on Etsy or Amazon Handmade.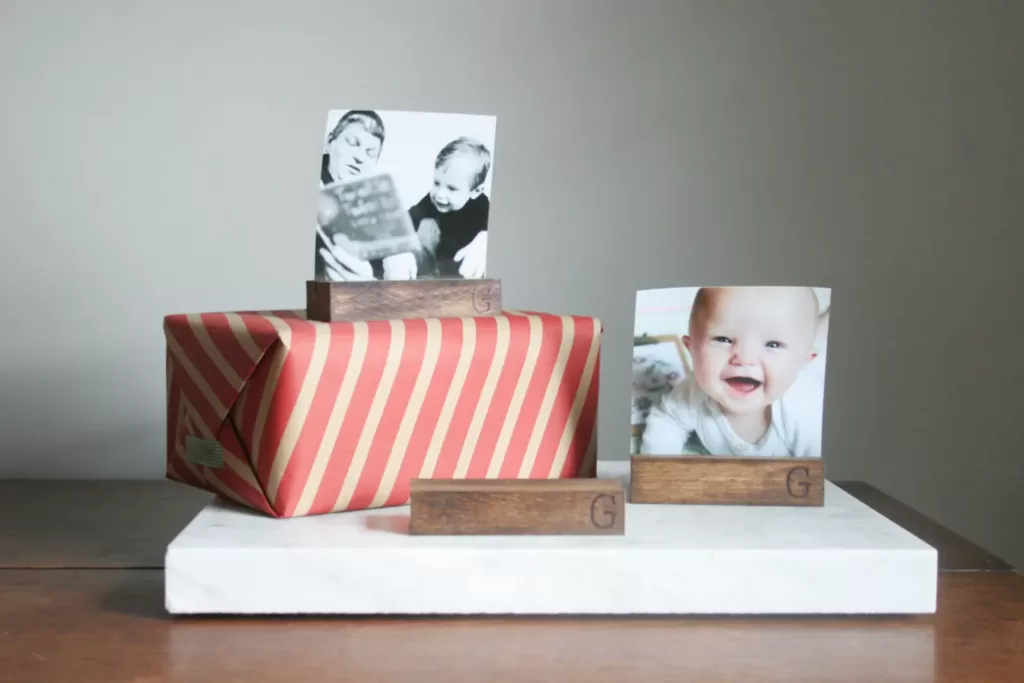 12.Handmade Christmas Signs
Homeowners are looking for ideas that give their homes a warm, cozy feel. That's why holiday handmade Christmas decorations and other rustic-inspired decors can sell out quickly during the holidays!
Christmas Signs made from wood are one of those things that can be designed and painted in so many ways. They can have different words, phrases, colors, designs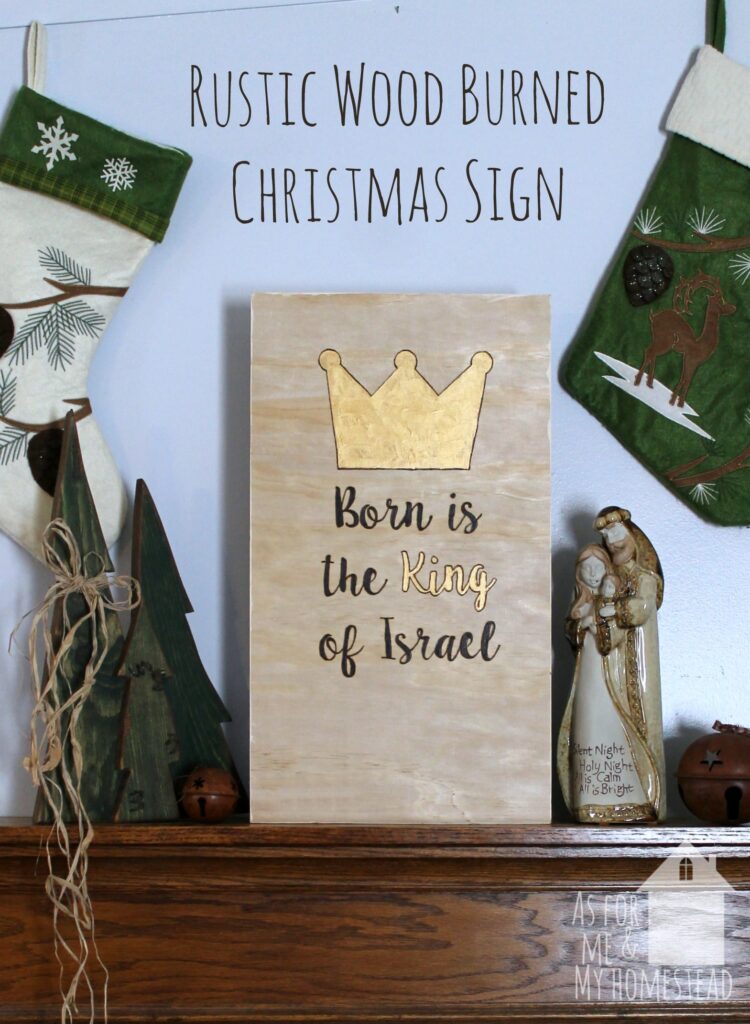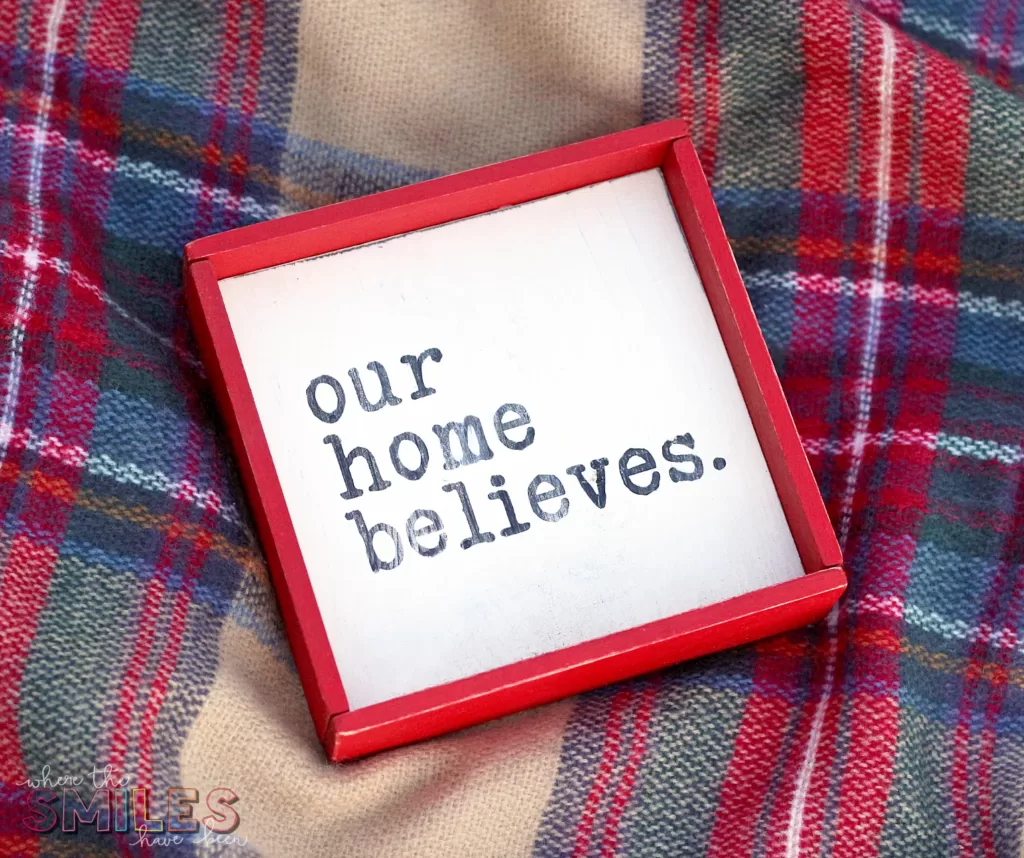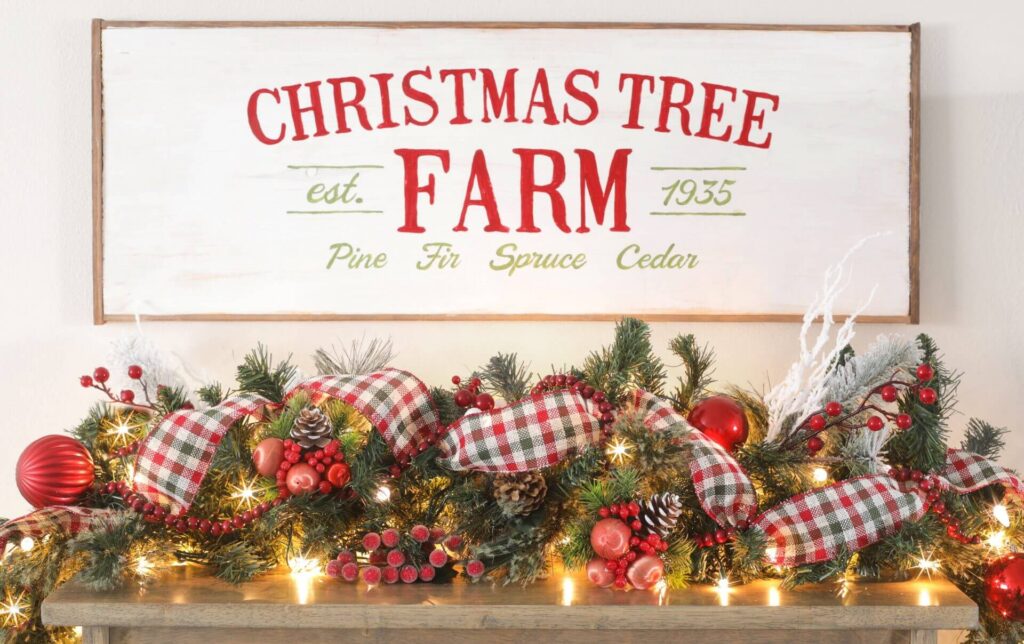 Related Reading: Best Christmas Cricut crafts to sell
13. Personalized Wooden Recipe Book
One of the ETSY bestsellers in personalized gifts, these custom-made wooden recipe books make a special gift to mothers or anyone who looks baking special Christmas treats.

14. Unpainted Gnome cutouts
This is a great raw material to use for Christmas crafts. Gnomes can be painted and decorated in all different ways or left natural if you want them to look rustic.

15. Santa Cookie Treat tray
Another fun woodcraft to make and sell is the Santa cookie tray.
This is a great DIY to make for the holidays that will be loved by kids and adults alike. Here are some ideas I found on ESTY.

16. Personalized Christmas Eve gifts Boxes for Kids
If you're looking for a very special wooden craft to make and sell for Christmas, consider making some wooden boxes. I found them on Etsy.
This is an adorable way for kids of all ages to receive gifts on Christmas Eve because it's personal, not just wrapped packages. You can make a rectangular box or give them a Christmas Sleigh shape.

17. Vintage Look Holiday Blocks
Other easy wooden crafts to make and sell are these vintage-inspired blocks. These are simple to make and look good on all home decor styles.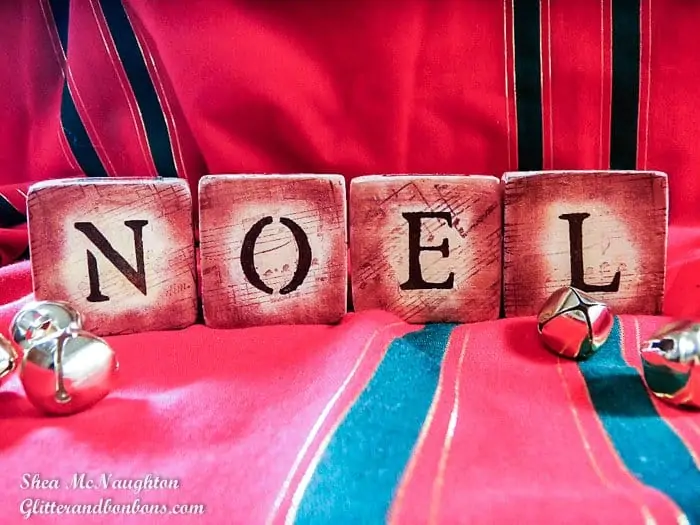 18. Santa Stop Here Christmas Sign Post
These Santa stop signposts are fun projects that you can sell in your local market or nearby Facebook groups, and kids would love to have them on their front porch.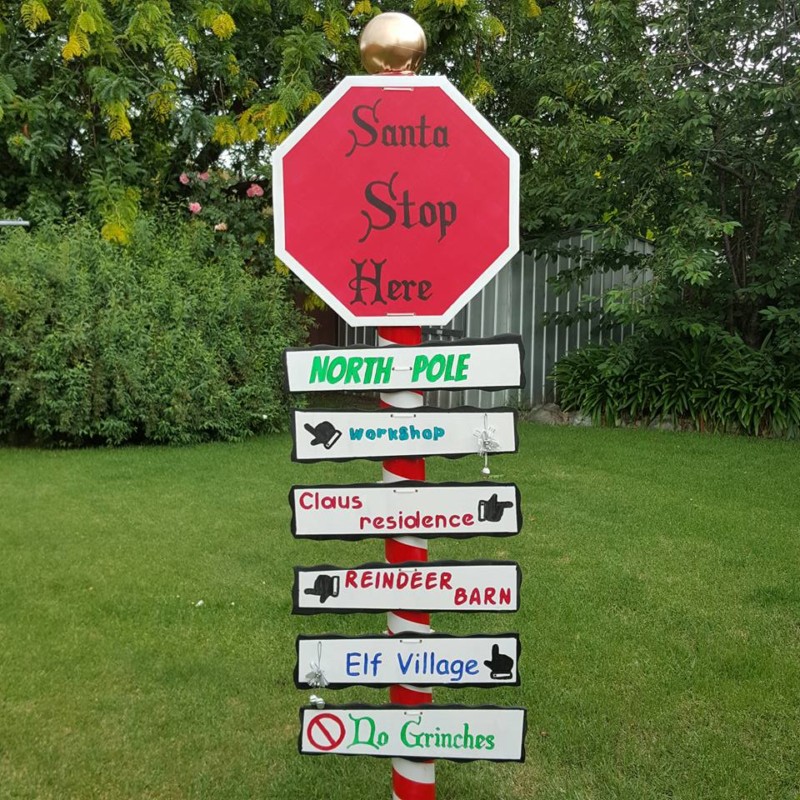 19. Wooden front porch signs
Holiday-inspired front porch signs are one of the popular Christmas wood crafts. They add more warmth and cheer to the holiday celebrations.
Here is one unique idea for your inspiration that includes a wreath
You can also buy clip art files from creative Fabrica. They have plenty of designs for front porch signs.
If you enjoy painting, here is another lovely snowman front porch sign that will brighten up any space.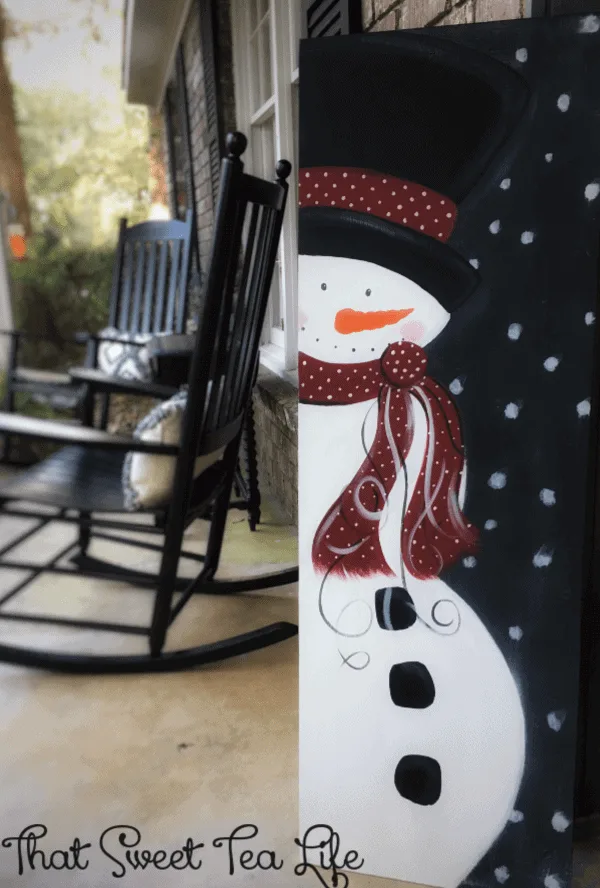 20. Christmas Door Hangers
People like to decorate their doors with Christmas door hangers, which are another popular Christmas woodcraft. If you look at Etsy during the holiday season, you will some of the best ideas to get inspiration from.

What are your Favorite wooden Christmas crafts to make and sell?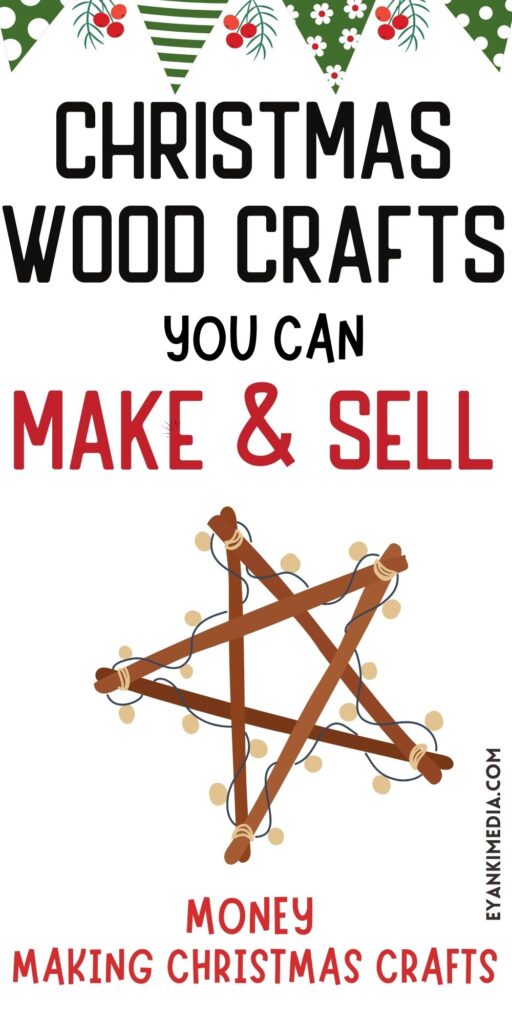 Wooden Christmas crafts are a great way to showcase your woodworking skills and create something that will sell. The beauty of these projects is you don't need large pieces of lumber – almost any scrap wood can be used!
People will be more likely to buy these crafts because they are unique holiday decorations.
Expert Tip: – The best time of the year to sell Christmas crafts is right after Thanksgiving and before New Year when people are looking for gifts. You can hold a craft fair in your own town or set up an online store.
Start promoting early! There are plenty of Christmas-themed tutorials on Pinterest that can be a big help, as well. Or You can follow my board, I will be adding more crafts you can make and sell.
Related reading: Scrap wood projects to make and sell
What is your favorite craft project? Share in the comments below! I would love to add to my post. 
Are you looking for other holiday crafts ideas to try this year?
Check out these posts:
16 Stunning Christmas ornaments to make and sell
30 Cricut Christmas ideas to sell
Easy craft business ideas you can start from home
51 Most profitable crafts to sell