Looking for ideas on how to use up your scrap wood? If you're a woodworker, then you know that scrap wood can often be a pain to get rid of. But what if there was a way to turn that scrap wood into something useful and profitable?
In this blog post, we'll take a look at some creative scrap wood projects that sell and can make you some extra money.
There are many woodworking crafts and projects that you can make and sell from home. From rustic wooden signs and floating shelves to unique plant stands and jewelry organizers, these projects offer both functionality and aesthetic appeal.
This post features a diverse range of creative scrap wood projects that are not only enjoyable to make but also have the potential to be profitable when sold.
Whether you're a seasoned woodworker or just starting out, these ideas will ignite your imagination and help you transform discarded wood into unique, marketable creations. Get ready to explore the world of creative scrap wood DIY projects that you can sell for a profit.
How to choose your scrap wood project to make and sell
When it comes to repurposing your scrap wood, there are a few things you should consider before starting your project. 
What type of scrap wood do you have?
What size is your scrap wood?
How much time are you willing to invest in the scrap wood project?
What type of tools do you have?
Can you create your scrap woodcraft with tools you already have?
Once you answer these basic questions, it will be easier for you to make a better choice.
Now let us discuss some scrap wood projects that you can create using different types of scrap wood to sell at your next craft fair. So gather up those scraps and get started.
scrap wood projects To Make and Sell
Whether you have some spare wood lying around from previous DIY projects or are planning to acquire some, you'll find a collection of unique DIY ideas below. These projects use various materials like scrap plywood, deck and fencing boards, driftwood, and more. Get inspired and make the most of your unused wood!
Sell them as scrap wood to crafters
There is a huge market for scrap wood among DIY enthusiasts and crafters. They can use them to make things out of scrap wood like wooden crafts, home decor items, and other woodworking projects.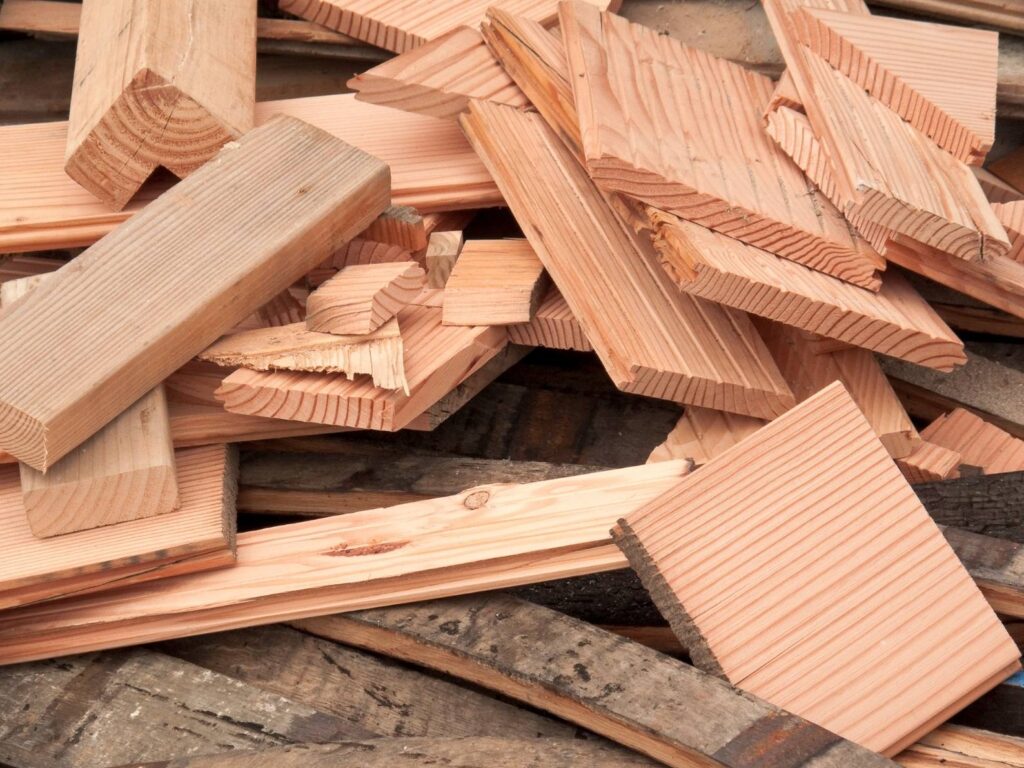 If you have lots of wood scraps in different sizes, you can box them as a variety pack and sell them for profit.
Try searching terms like "scrap wood, raw materials wood" on Etsy, and you will see various types of scrap woods for sale.
Craft supplies and Unfinished craft items
You might be surprised to know that craft supplies are one of the top-selling items on Etsy and eBay.
Selling unfinished (ready to finish) wooden craft supplies that you can make out of scrap wood is a great Etsy shop idea.

Some of the popular wooden craft supplies that you can make include:
Wooden Christmas tree cones (Very popular during Christmas)
Raw wooden buttons and small cones
Round plywood circles for ornaments, milestones, etc.
Wooden picture frames
Wooden picture frames are one of the easiest scrap wood projects you can make and sell. You will need small pieces of leftover wood, a picture frame kit, and some basic supplies to create this DIY project.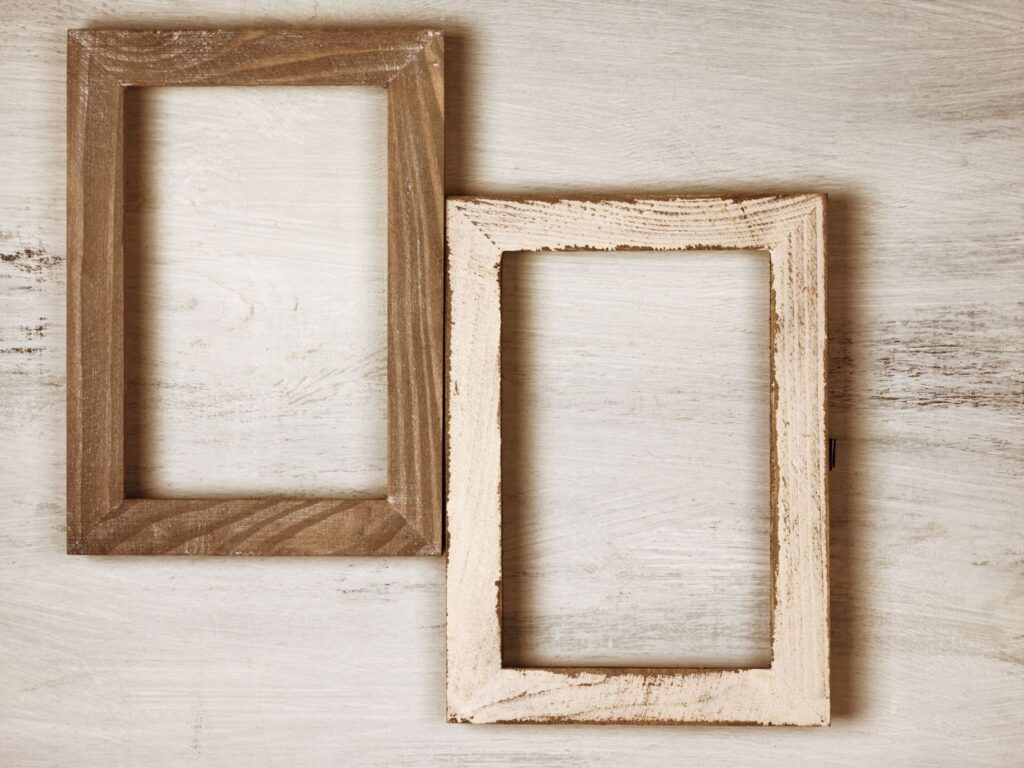 I loved these farmhouse-style diamond shape picture frames on Etsy! They are like hot sellers on Etsy and got great reviews too!
DIY picture frames with a burned wood finish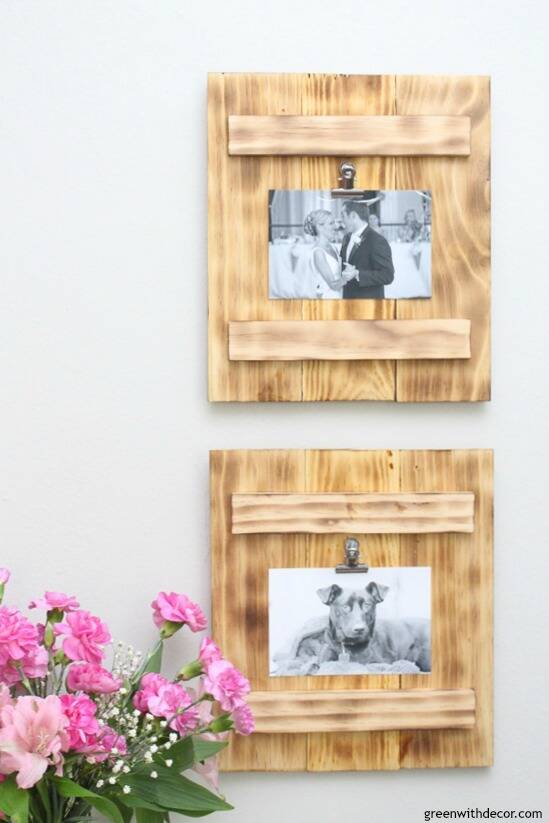 Picture Hangers
You can also explore picture hangers like these. They are trending these days and are quite easy to put together.
Ornaments
A scrap wood project which is perfect for the holiday season is making Christmas ornaments. You can create different types of ornaments using scrap wood, including Christmas trees, snowflakes, and Santa Claus.
Related reading:
Christmas ornaments to make and sell
Coasters
If you are looking for a quick and easy scrap wood project, then coasters are the answer. You can make a set of four coasters in less than an hour using scrap wood and some supplies that you already have.
You will be surprised to see the final product, which is likely to look unique when your scrap wood boasts of its different textures and colors.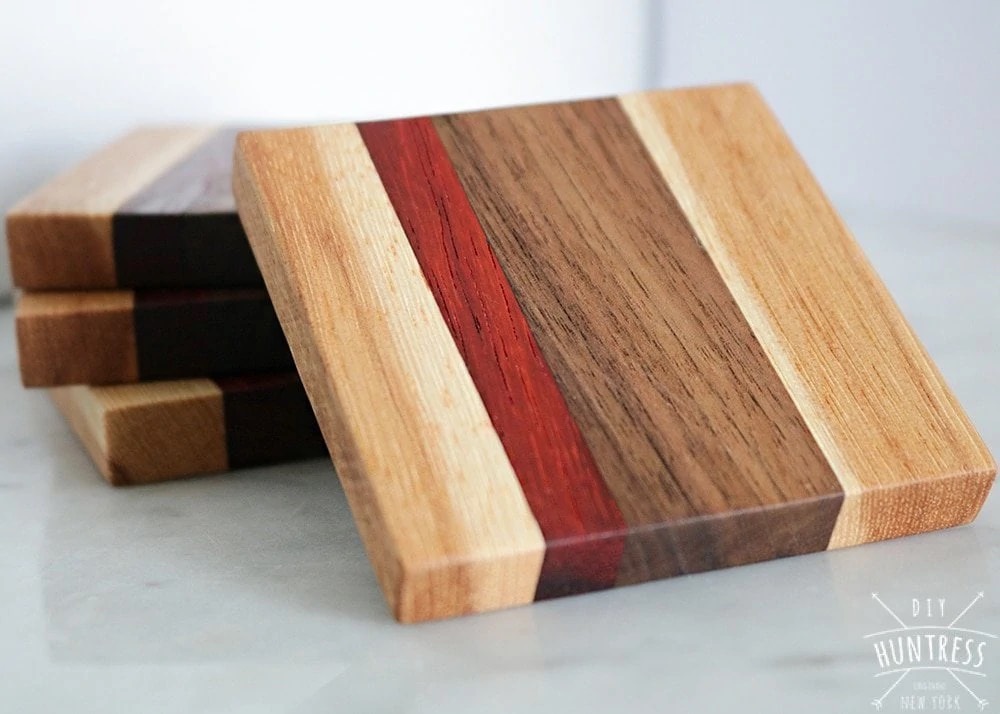 Wooden Keyrings
Making Wooden keychains is a simple, low-cost project that can be turned into a lucrative business. You will need some scrap pieces of wood, a cutting tool/device, and an assortment of drill bits for different-sized holes.
The best way to earn profit from keyring business is by adding personalization. Buyers adore adding a name or initials to their keychains, making them unique and personal.
Here are some great ideas I found on Etsy: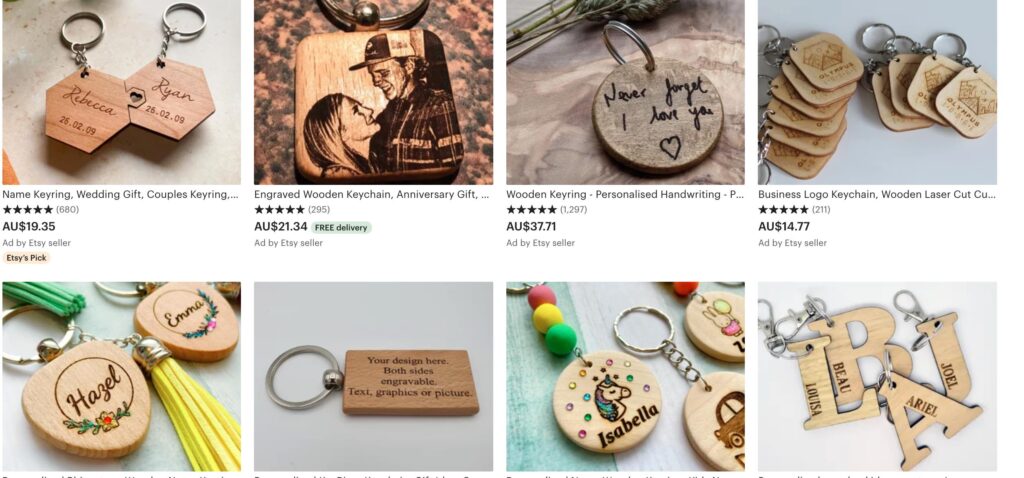 Wall Art
People love playing around with the vibe of their spaces. An ongoing trend in recent times is to invest in eye-catching art pieces.
Some great artworks can easily be designed using scrap wood. Wood makers should explore this interesting area. 
The best part about scrap wood art pieces is that they allow wood makers to exercise innovation and creativity to their liking.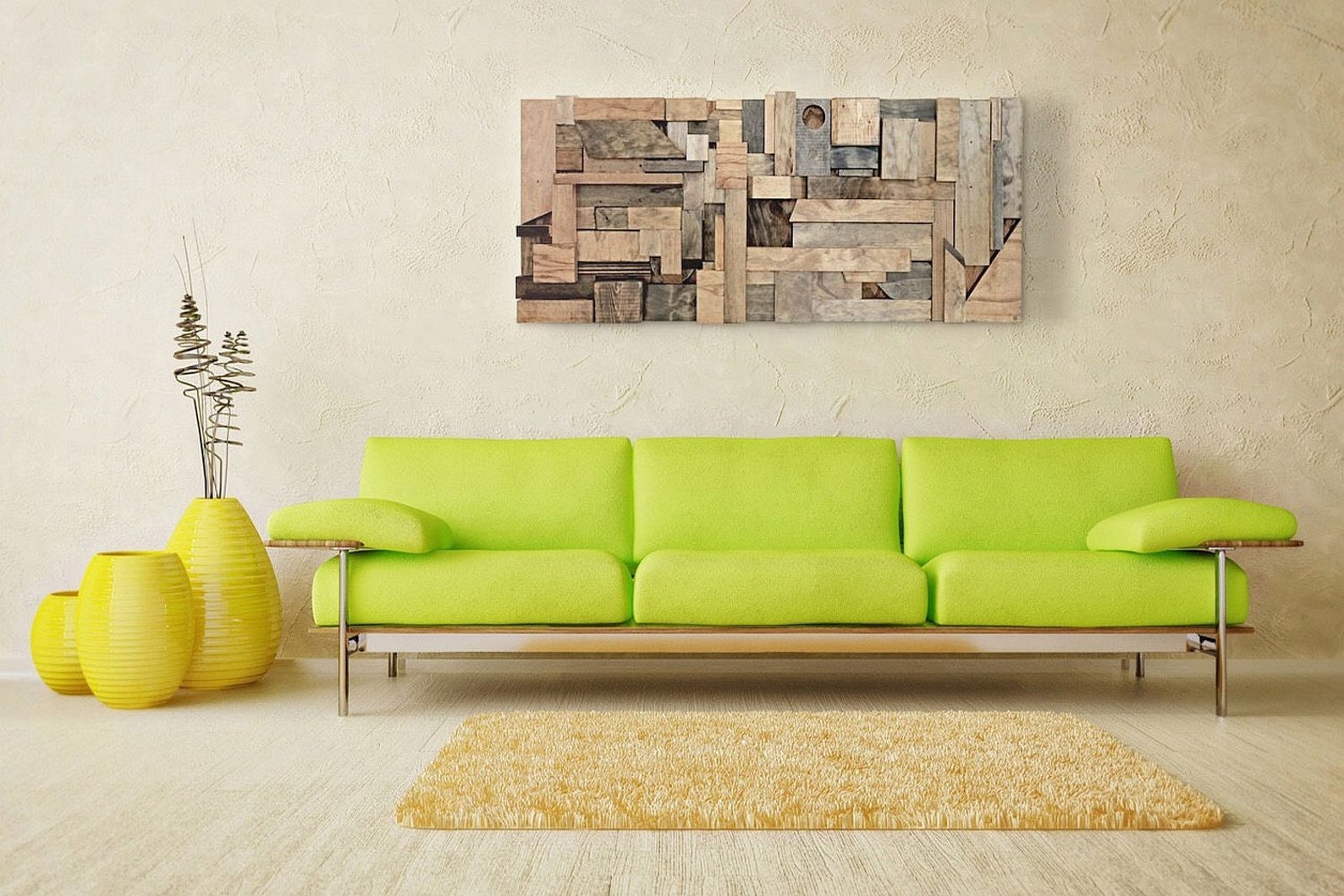 Rustic wood signs
Rustic wood signs are a part of a huge money-making niche and one of the most profitable crafts to sell.
This type of signage is popular in home decor, wedding and many people are looking for unique signs for their homes.
You can create a wide range of rustic wood signs, such as Welcome Signs, Family Name Signs, or even laundry room signs from leftover scrap wood or pallets.
The sky's the limit! Just use your imagination and get creative.
Here are a few easy signs that I found selling on Etsy. Use them as inspiration for your next scrap wood sign projects.
You can use a stencil, vinyl cutter (like a Cricut machine), or a laser cutter like a CNC machine to add text or designs to your scrap wood.
If you need inspiration for more pallet wood scraps, consider reading this article on pallet wood projects that sell.
Related posts:
Cutting boards 
A wooden cutting board is a very easy scrap wood project that you can use to your advantage.
These boards are of immense use in commercial kitchens as well. And there are many different designs and patterns for cutting boards that you can explore.
You may also personalize your scrap wood cutting boards to make them more appealing and attract new customers. These personalized cutting boards make a wonderful housewarming or anniversary gifts.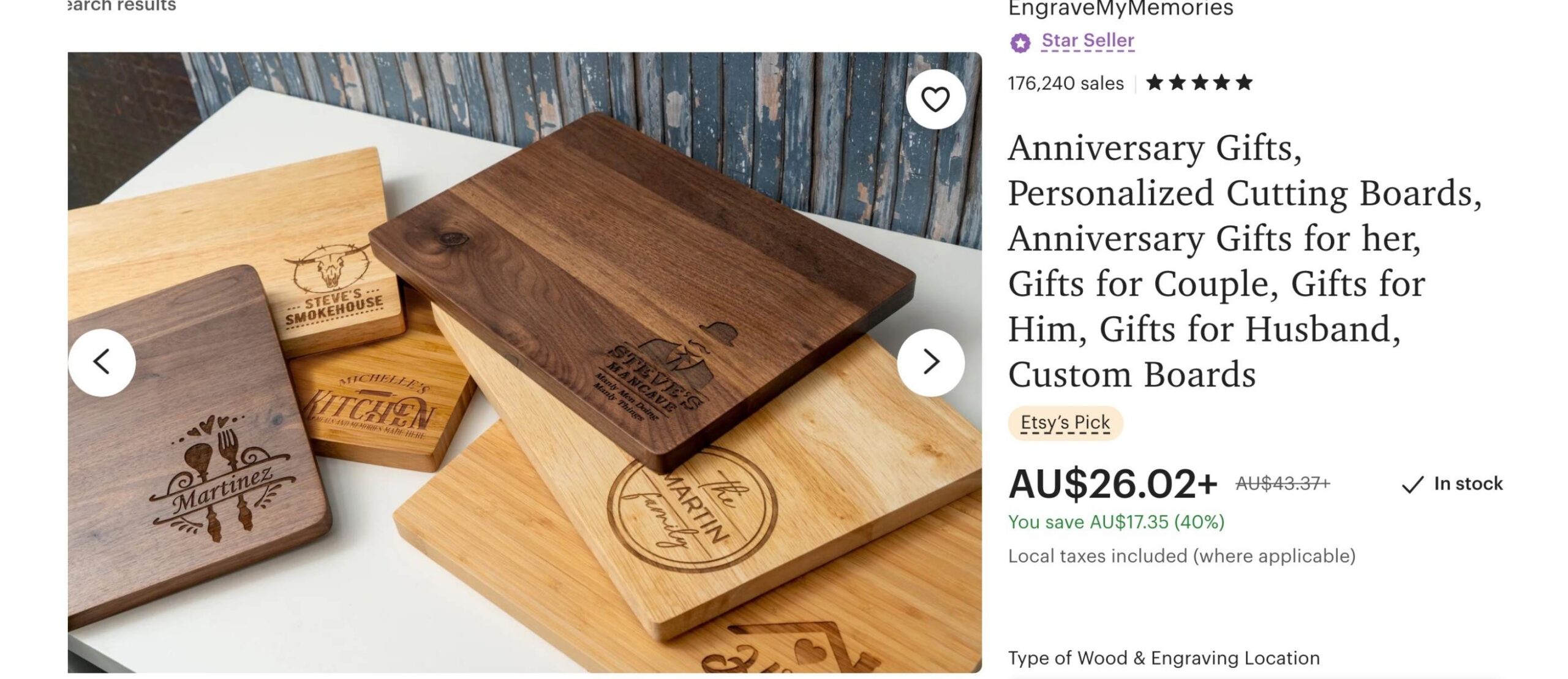 The best part about making these is that the materials required, such as scrap hardwood, are easy to find and relatively inexpensive.
Here are a few cutting boards ideas you can use as inspiration for your next scrap wood project.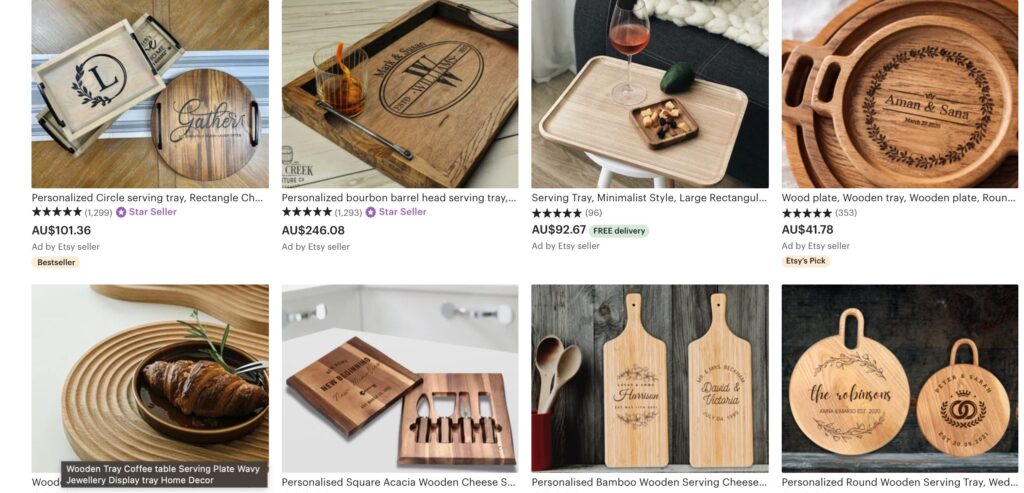 Wood Lanterns
Scrap wood lanterns are also simple DIY projects gaining traction these days.
These lanterns are not only attractive but also very functional. You can make hanging lanterns, farmhouse-style tabletop lanterns, or floor-standing lanterns using scrap wood.
These sell pretty well at craft fairs, local bazaars, or Etsy (here is one of Etsy's top sellers).
Here's a video I found that explains how to make scrap wood lanterns:
Rustic Candleholders
Candle holders are popular scrap wood projects that you can make and sell.
You can make simple and elegant candleholders (for tea light or regular candles) from scrap wood and a few supplies in no time at all.
The best part is that you, as a wood maker, can bring heaps of creativity to the table and design unique candle holder pieces.

Bookends 
Bookends are an easy and quick scrap wood project that you can make to spruce up any reading corner. As a woodworker, you can tap into this market and come up with scrapwood bookends that are not only easy to make but also useful.
These bookends are quite adorable and simple to make with whatever scrap wood you have lying around.
Serving trays 
Serving trays are a scrap wood project that is worth exploring.
Serving trays are extremely useful in households and commercial spaces such as cafes, restaurants, and events. It would be a great idea to curate serving trays using scrap wood.
Wood makers enjoy the liberty of churning out scrap wood serving trays that come in different sizes, shapes, and designs. 
You can offer customized serving trays as they make a fantastic gifting option. 
Lap desk
The scrap wood lap desk is another easy scrap wood project that you can make out of scrap wood.
Since these pieces are broader than our lap, we can comfortably place our laptop, mouse, and coffee mug atop them. 
If you have, scrap wood lying around the go-ahead and curate a fancy lap desk. Once done, wait for the demand to sweep you through.
Laptop riser
A scrap wood laptop riser is perfect for students who want to elevate their laptops while they study.
These scrap wood projects can be placed in the living room, bedroom, or in your home office.
Here is one easy laptop riser idea you can use as an inspiration.
Reversible Pumpkins and Snowmen
Make and sell these reversible wood decorations to anyone looking for a rustic 2 in 1 decoration for fall and winter!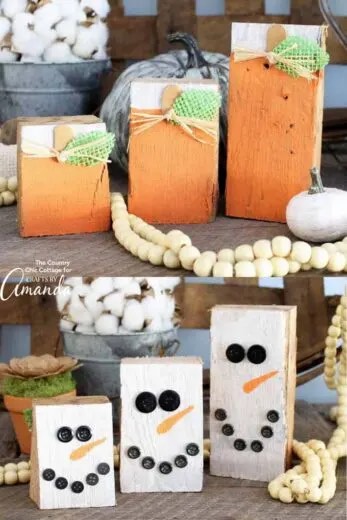 DIY Wood Toy
Turn those wood blocks and pieces into colorful stacking toy for kids.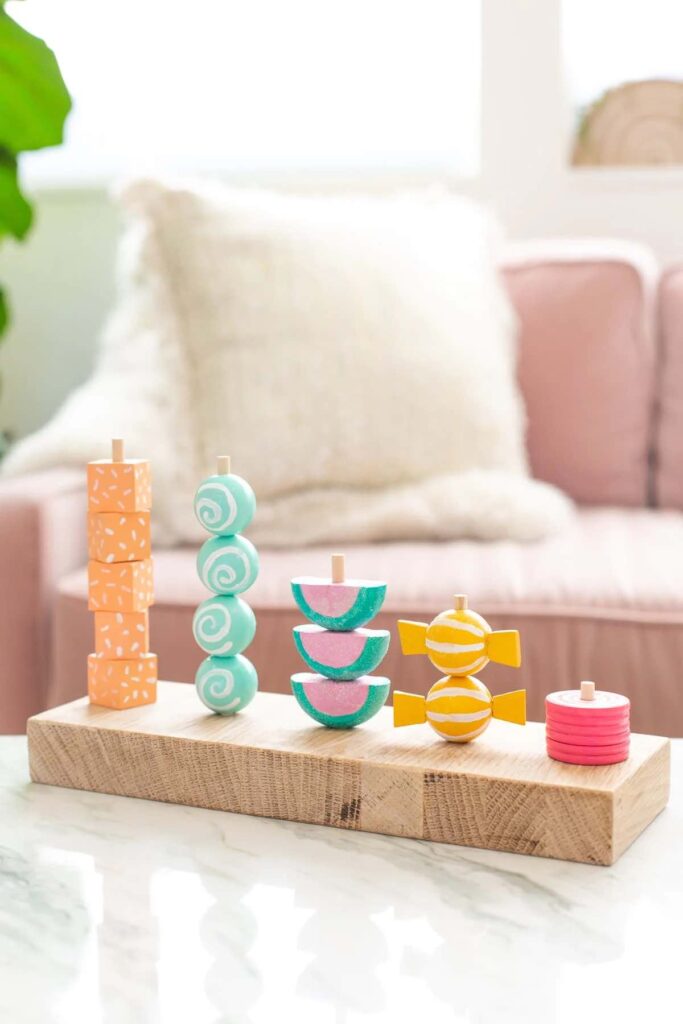 Scrap Wood Wall Mirror
This colorful entryway wood mirror is a great way to use your wood scraps. Just use what you have, add colors and turn your trash into treasure.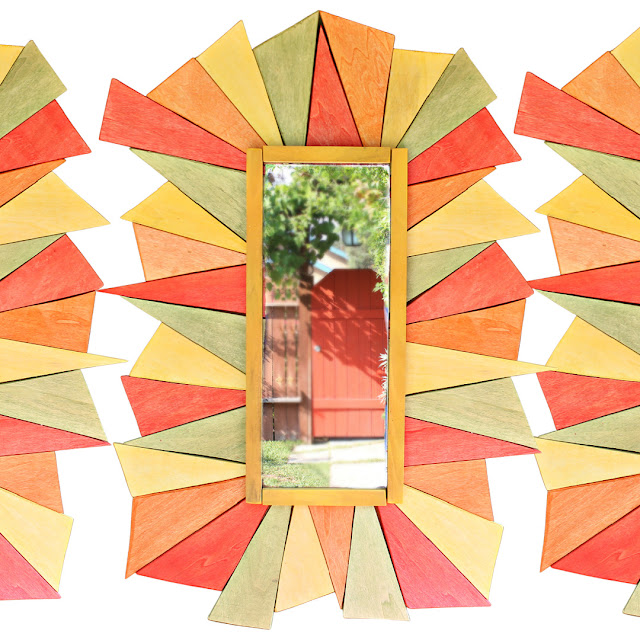 DIY Wooden Christmas Tree 
Greet Christmas with this DIY wooden Christmas tree made simply by repurposing pallet wood, bits of skirting board, old knobs, hooks and general ironmongery.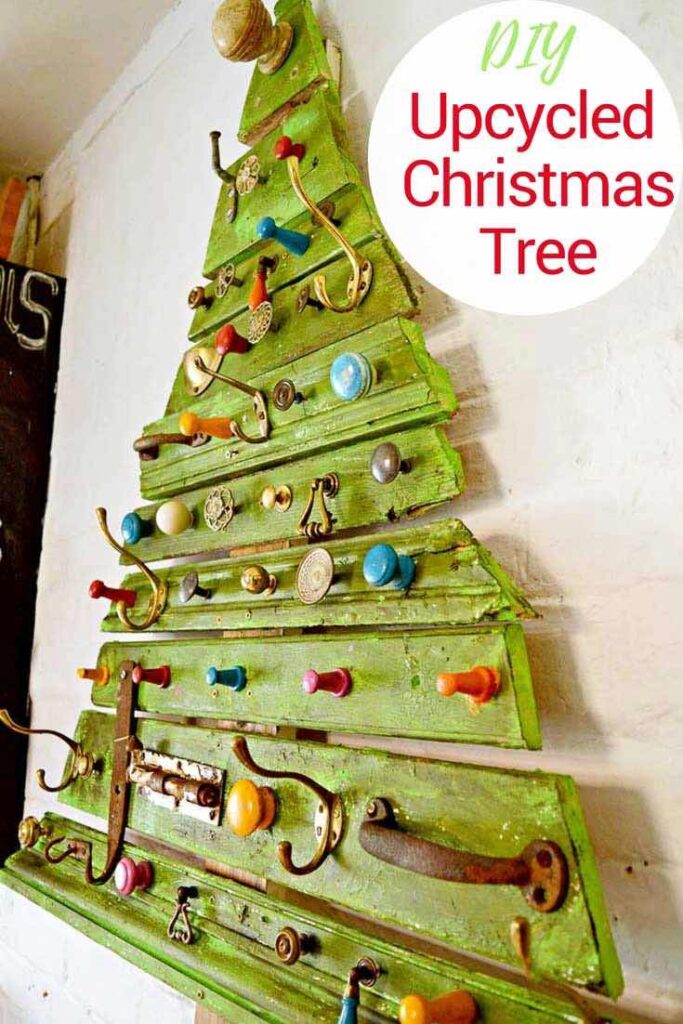 Wood Slice Ornaments
These wood slice ornaments are so simple to make and are great gifts or decor for the Christmas.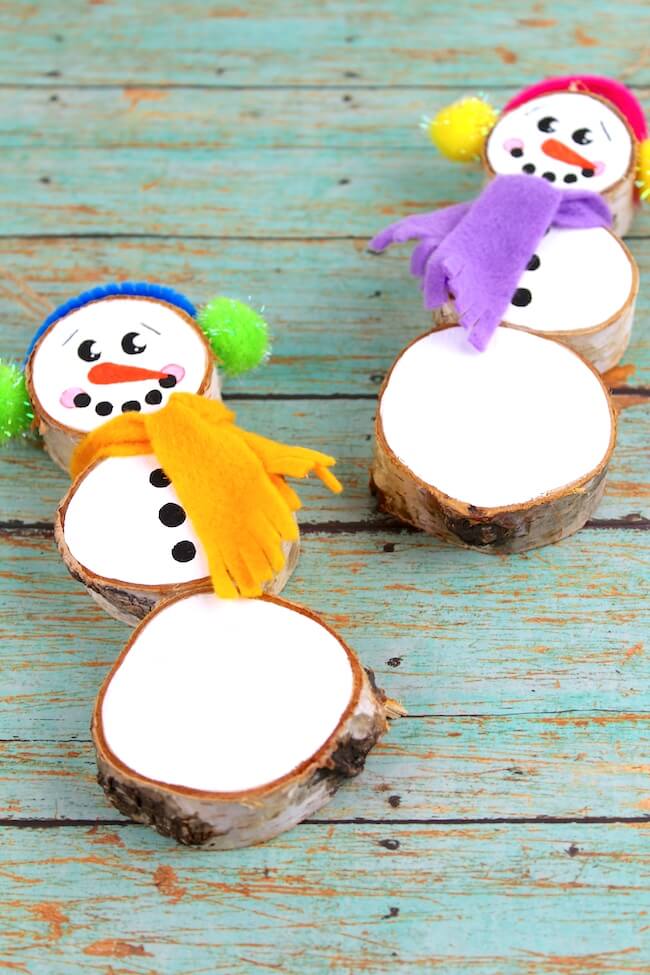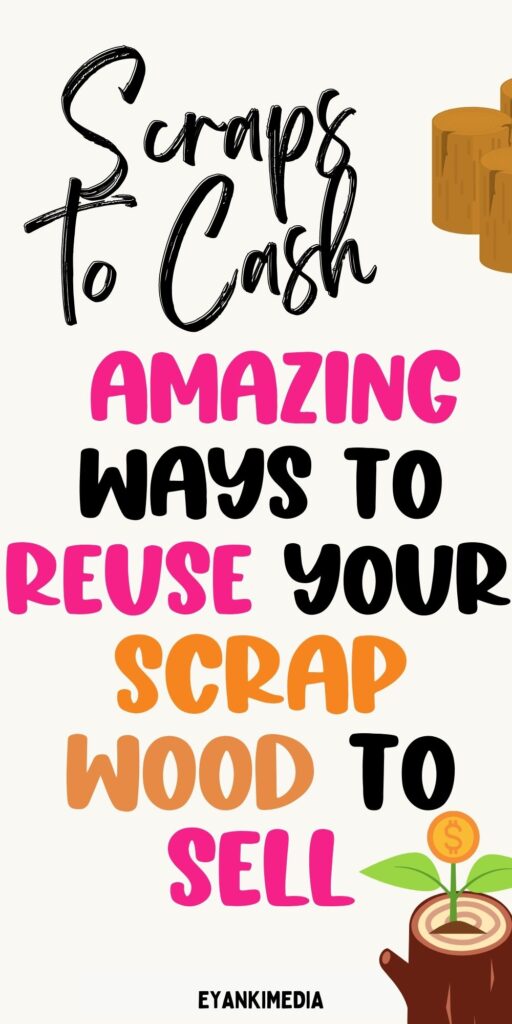 Final thoughts on Scrap Wood projects that you can sell
No matter what your skill level as a woodworker, there are always scrap pieces of wood lying around that can be put to use in a creative project. Sometimes the most challenging and rewarding projects are those made from materials that were intended for another purpose entirely.
Many scrap wood projects mentioned above can be finished within an hour or less. If you are looking for easy yet profitable ideas on how to use your scrap wood, then some of these on the list would find their way into your heart.  
It is important to be creative and think outside the box to set yourself apart from the competition.
Use the ideas in this post as a starting point and get creative to come up with your own unique scrap wood projects that will sell.