In this blog, we will discuss how you can make and sell crafts to make money right from your home and explore some of the most profitable crafts to sell (trending, in-demand craft ideas for adults to sell) online and at craft fairs in 2022.
Do you love crafting?
Would you like to make some extra cash by following your craft hobby?
Art and craft is indeed something almost every person loves doing and if you are good at that, you can make fair money by selling crafts that make money.
Starting small a craft business certainly sounds interesting, but finding the right information about the best crafts that sell for profit can be way out confusing.
In this blog pots, we'll explore the most popular crafts and hot, in-demand handmade items you can sell today. From handmade jewelry crafts to stationery products, there are so many trending crafts ideas for adults to make and sell.
This is an essential read if you're looking to get into craft selling and want to know the top trending crafts for 2022 and what types of items will bring in the most revenue.
I have also added a few links from craft shops that are really doing well so you can find some inspiration to get started with your money making crafts.
crafts business That makes the most money
Getting into crafting and selling items can be lucrative, but it doesn't always work out that way.
In order to be successful in the craft business, one of the most valuable skills is to find an enticing item and develop a strategy for selling it.
If you're willing to convert your hobby into a new handmade craft business or a new profitable side hustle, here are the main handmade craft categories that sell well 'always'.
Jewelry: Most profitable crafts to sell
Easy to make and sell digital and printable products
Personal care crafts that make money
Cricut crafts that sell like crazy
Home decor DIY crafts
Personalized gifts
Most Profitable Crafts To Sell For Money 2022
Below are some fun and easy money-making crafts you can make and sell from home. Use them as inspiration to get some new hot craft ideas for adults to sell for your craft business.
These are profitable crafts that sell on Etsy, Amazon, and other craft sites as well as at traditional craft markets.
Most profitable Jewelry crafts to sell
The jewelry business is one the most profitable craft businesses to get into. Made from inexpensive supplies or high-end metals like gold and precious gems; jewelry products are always in high demand.
By adding your creativity to designs, new customization patterns, and appealing packaging, you can attract your target market and maximize your sales. 
According to a recent survey, jewelry is the best-selling craft on Etsy, which is not surprising considering people love personalized jewelry, and Etsy is the most popular destination for handmade jewelry items.
Here are some most profitable jewelry ideas to sell:
Personalized handmade name jewelry
Learning how to make dainty personalized name necklaces and bracelets with laser machines can be your key to success in the jewelry business.
Buyers are obsessed with delicate and customized name necklaces, so it's no wonder this craft is one of the most profitable to sell.
Initial letter necklaces, nameplate pendants, initial necklaces, or name rings made of silver or 14k gold are some of the best-selling items in this category.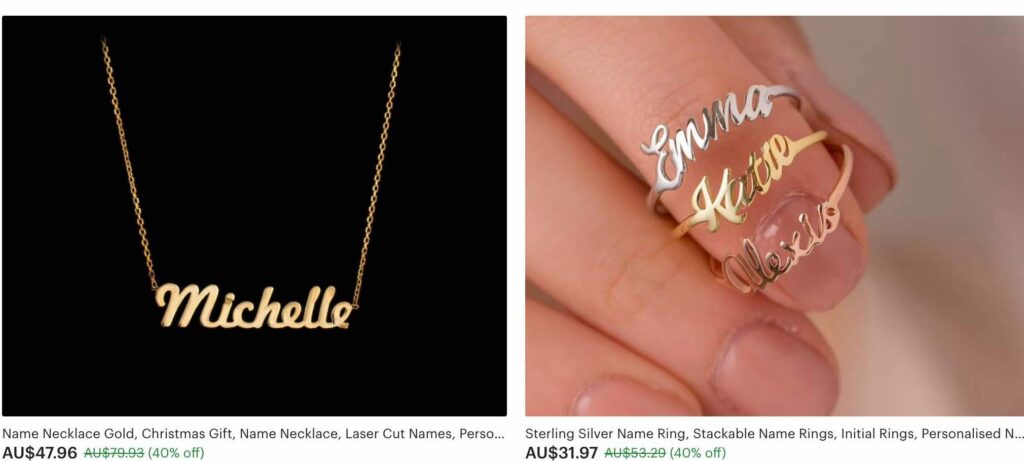 Hand-stamped metal items
Another hot jewelry trend is hand-stamped metal items. You can create unique personalized jewelry with names, initials, and charms.
It is one crafty business idea that is not only limited to jewelry. Stamping metals is a good way to make other personalized items like pet items, key rings, or stamped spoons.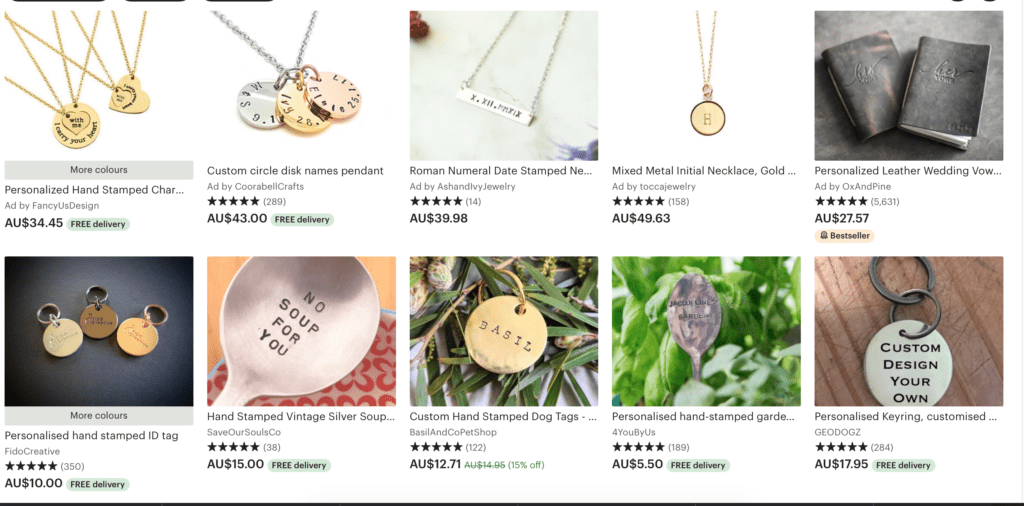 Tassel Jewelry
Making and selling tassel jewelry like earrings is a great way to step up in the crafting business as material costs, as well as shipping costs, are not so high, and this product can be sold easily for extra cash.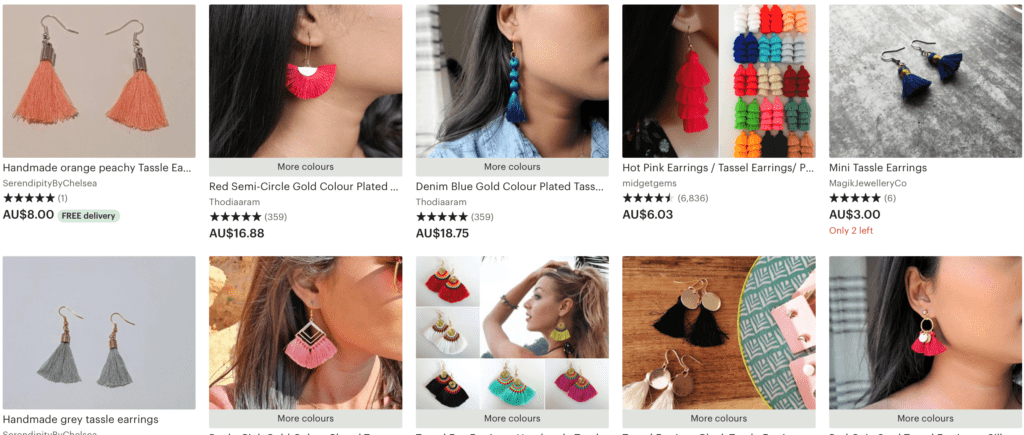 Tassel earrings are quite popular crafts to sell online on Etsy shop and therefore, the demand will be on the higher end as well.
You can also make and sell Tassel necklaces like these.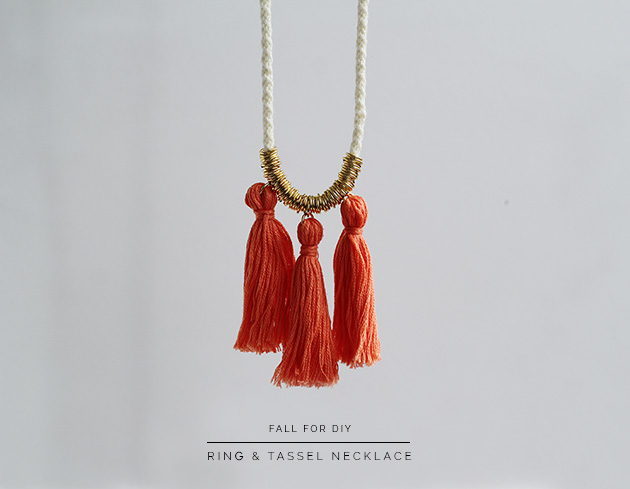 DIY Clay Earrings
If you are a total beginner, don't lose hope as they are relatively easy to learn.
Air-dry clay earrings or polymer clays are fun and easy DIY craft items. Plus, you can make a batch of earrings in a short amount of time without needing special tools.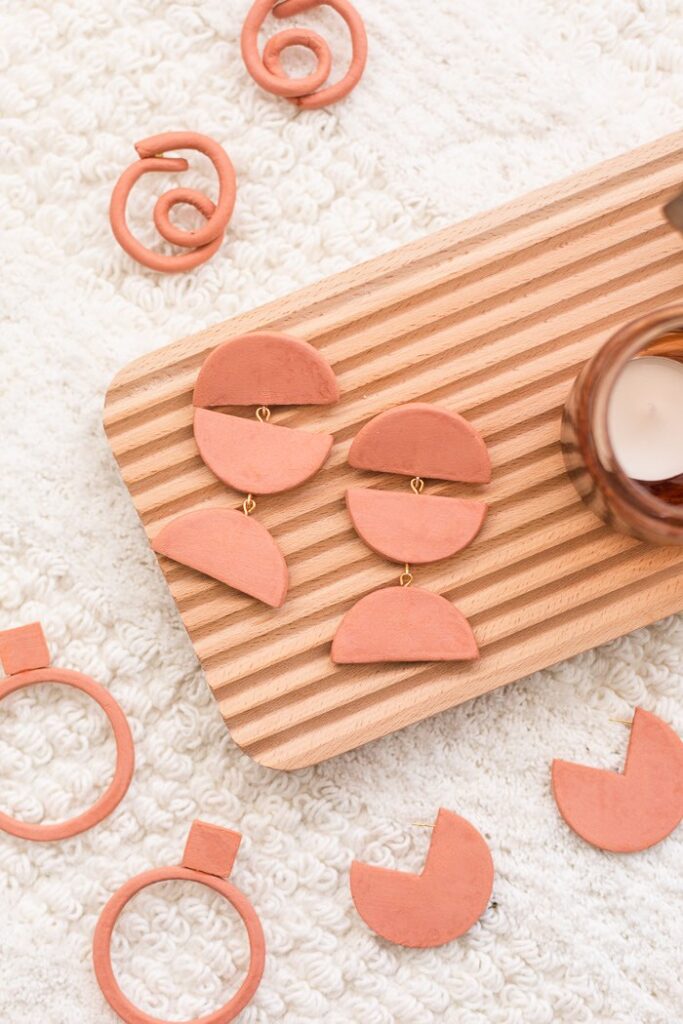 Here are some more polymer clay earring ideas to sell.
Wooden Earrings
Wood earrings are one of the trending crafts right now and can be customized to make different varieties.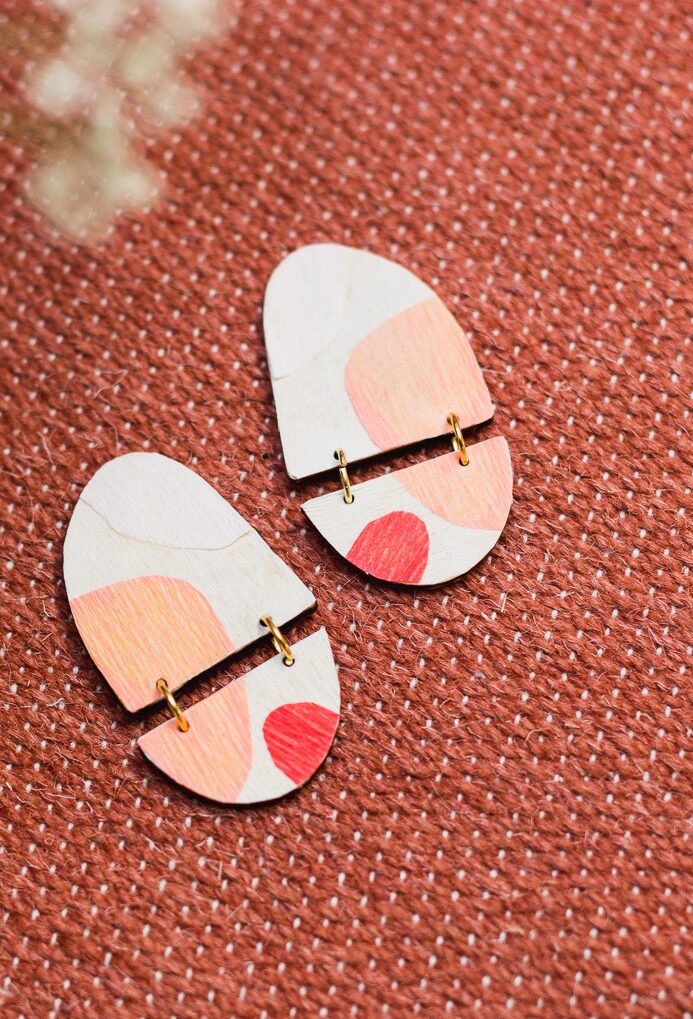 Flower pressed resin jewelry
Resin is another crafting material that is popular among jewelry makers. You can create beautiful resin jewelry by adding flower petals, glitter, and other embellishments to the resin.

This resin jewelry is quite popular on Etsy and sells like hotcakes
Cricut Crafts that sell like crazy
Cricut crafts are one of the most popular items to sell online as they allow to customize the craft according to the customer's preference. From Cricut joy machine to Cricut Maker 3, you have plenty of options to choose from and make creative projects for your business.
There are tons of great craft ideas that you can create with your Cricut machine to sell. If you have skills, you can create your own design files or get files from Creative Fabrica to sell.
Here are some most profitable Cricut ideas to sell
Stickers
You might be surprised to see them as the TOP SELLING ITEMS but they are quite the trendiest and hot crafts to sell on Etsy. Low shipping rates combined with endless ways to customize make them one of the most profitable crafts to sell on Etsy.
You can easily make more than 50% of your investment with stickers and you don't need any special equipment, you only need your laptop and internet.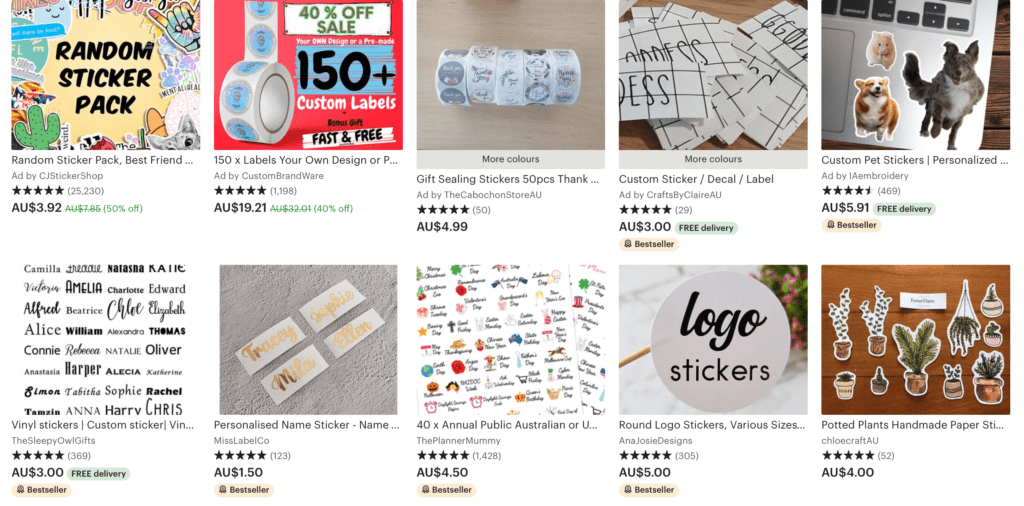 Mim is a 5-star ETSY sticker seller who built her six-figure business selling stickers on Etsy. You should really join her free masterclass to see how she is really killing on Etsy and you can start too.
Custom Mugs and Tumblers
Custom mugs and tumblers are one of the easiest vinyl projects to sell for Cricut beginners. This new Cricut mug press makes it easier than ever to make professional-looking mugs and tumblers.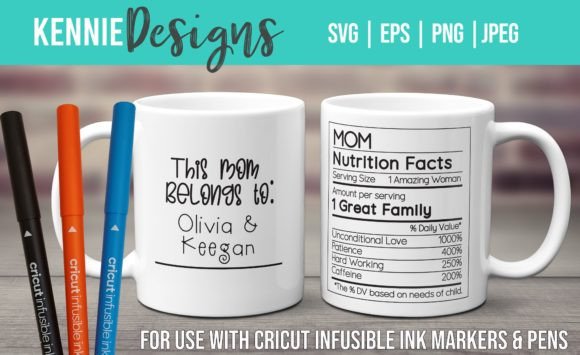 These mugs make great gifts for every occasion, including birthdays, bridal showers, Mother's Day, and Christmas.
Custom T-shirts
The best way to make money with your Cricut is to create custom t-shirts. There is a huge market for custom shirts, and with the help of your Cricut machine and new easy press, you can create professional-looking designs that people will love.
From funny quotes to matching duo t-shirts or custom baby t-shirts, the sky is the limit when it comes to t-shirt designs.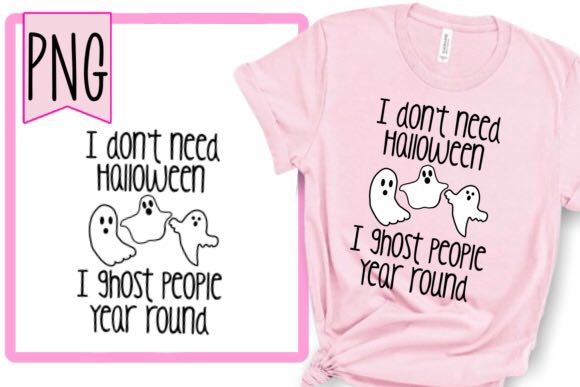 Easy to make and sell Digital and printable products
I love the fact about digital products that you can sell them an unlimited number of times – this way you don't have to spend time creating new things all the time.
If you're looking for a business with a one-time cost and the potential to generate residual income, printable goods are your best bet.
Most people believe that you need a degree in graphic design and expensive software to create best-selling printable products.
But, oftentimes, you can make these products using simple free tools that require no graphic designing background.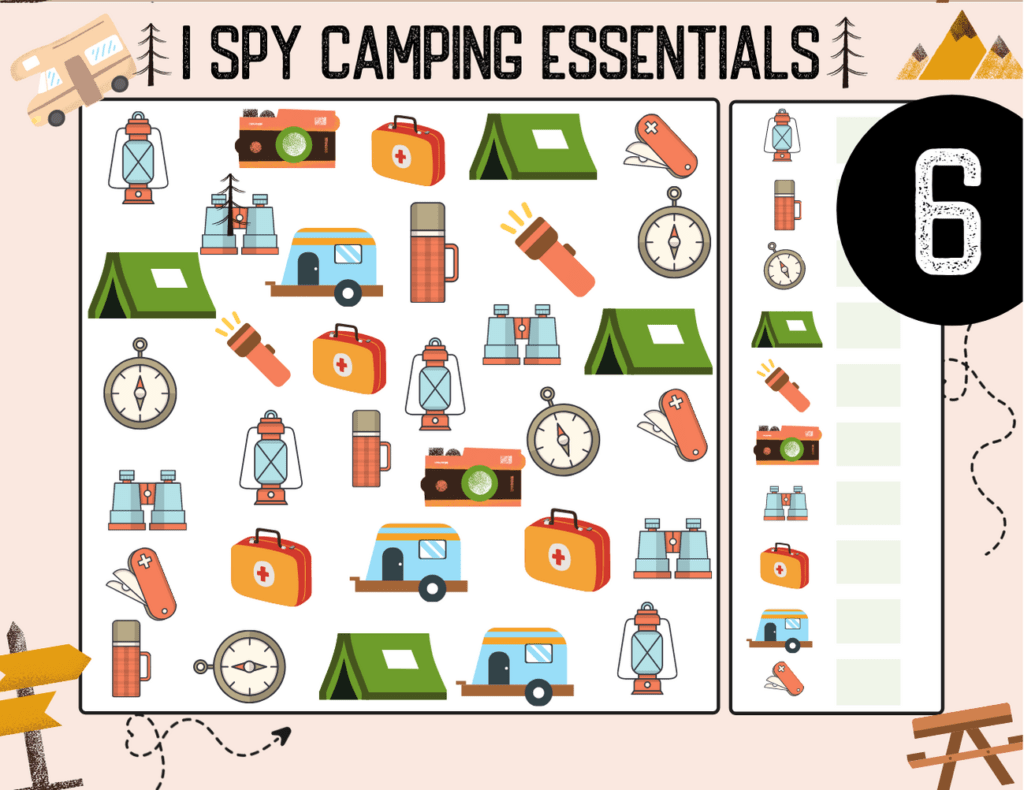 These digital downloads are the most popular ones:
Selfcare journals
Trackers and goal planners

Customizable Party invitation cards

Wall arts -Nursery decor
Wedding invites
Budgeting sheets, planners, debt trackers
Easy Homemade Candles Crafts To Sell
Candles business is one of the most popular and profitable small craft businesses you can start from home with the least investment.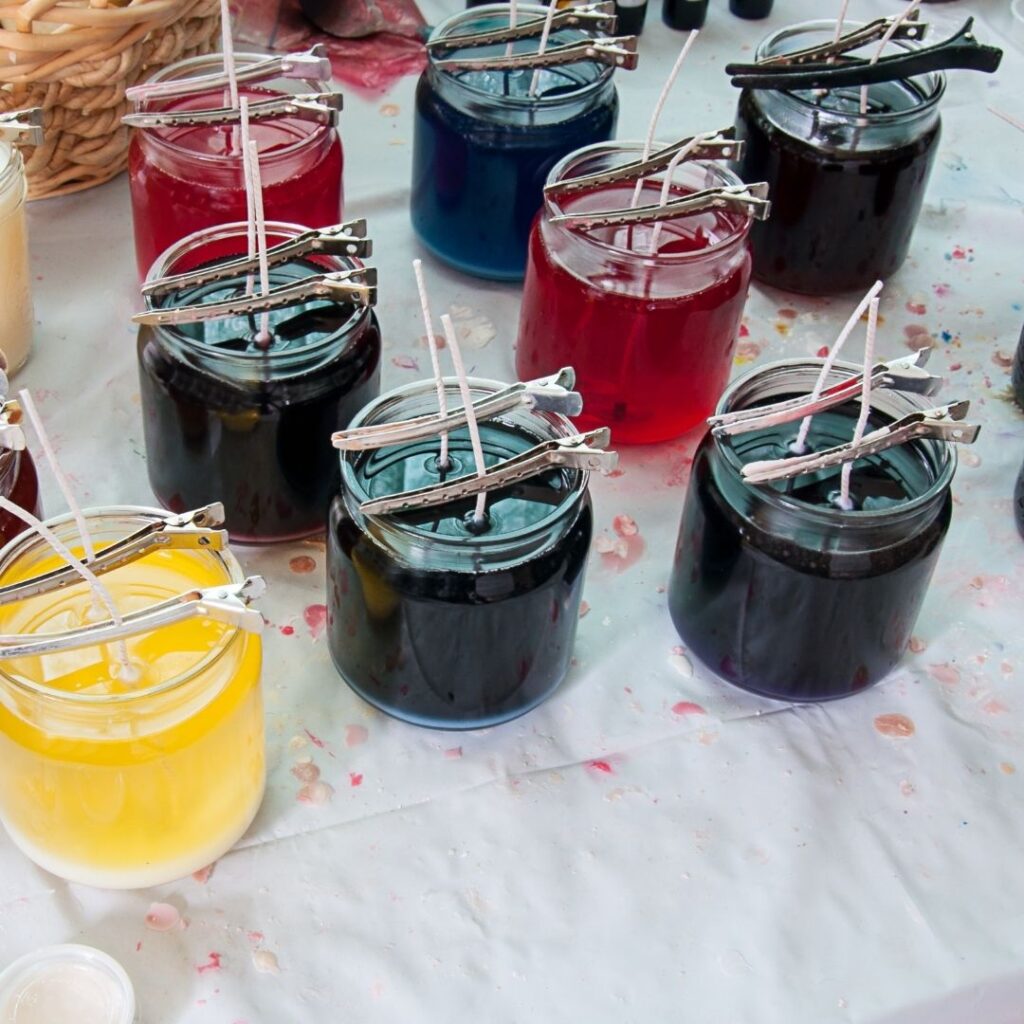 "Selling candles is a lucrative business opportunity, as seventy percent of households in the United States use scented candles. A candle that costs $3 to make, for example, could sell for up to $9-with the help of good marketing."
Candles are always in huge demand and can be sold for a good profit margin as they come in different sizes, shapes, colors and can be customized for different occasions.
Personal Care Crafts That Make Money
The personal care industry is one of the fastest-growing industries as people are looking for products that are all-natural and free of harsh chemicals.
You might be surprised how much people will pay for homemade soaps, lip balms, lotion bars, insect repellents, or other natural products if they can resonate with your brand.
Soaps
You can find regular soap easily, but it is harder to find soap with a special scent and goodness of essential oils and other toxin-free natural ingredients.
I know you might be thinking that how a $6 soap bar can be profitable. The point is that they are consumable items, which means people will continue to buy them for themselves or as a gift for loved ones.
It's all about finding the right niche and marketing your products to the right audience.
Here are some different types of DIY soap crafts you can make and sell from home for profit based on data
Gifts for bride-maids
Soap for mother's day gifts
Luxury artisan soaps for those who love to pamper themselves
Theme Soaps for kids as return gifts
Body Scrubs
Body scrubs are easy and cheap to make, so you can offer a product that customers love without needing much money or equipment.
Making sugar scrub is not difficult as long you know your audience and are ready to test a few scents.
Fact: Not everyone buys body scrubs but those who do love to pamper themselves or give them as gifts.
So think about the occasions where people might want to buy body scrubs as gifts and make your products visually appealing.
Here are some niche ideas to get you started: 
Wedding favors
Bridal party gifts
Gifts for mom
Teacher appreciation gifts
Christmas stocking stuffers
Bath Bomb
Like body scrubs, bath bombs are one of the popular crafts to make and sell online that you can make without investing a lot of money. 
Ideal for people who like a little "me time" in the bath or for kids who love a fun, fizzy bomb in the tub, bath bombs are products that can be made in any shape or size.
As long as you know your audience, you can make a big batch for very little cost and sell them for a nice profit.
Here are some ideas to get you started: 
Fun-shaped bath bombs for kids
Botanical bath bombs box sets as pamper care gift
Mini hearts as return gifts
Luxury bath bomb sets for her
Crafts to Make and Sell on Christmas
One of the most popular time to sell handmade goods is during the holidays.
Even though Christmas crafts are seasonal items, they are among the best selling craft items during the holiday season due to their HUGE demand.
From Christmas home decor items to DIY personalized gifts, there are all sorts of popular Christmas crafts you can make and sell for a nice profit.
Here are some best selling ideas to get you started:
Personalized Christmas Ornaments
Christmas ornaments are the best holiday crafts that you can sell for profit during Christmas! With plenty of personalization options and ways to decorate, you can make an incredible crafty ornament for a Christmas tree.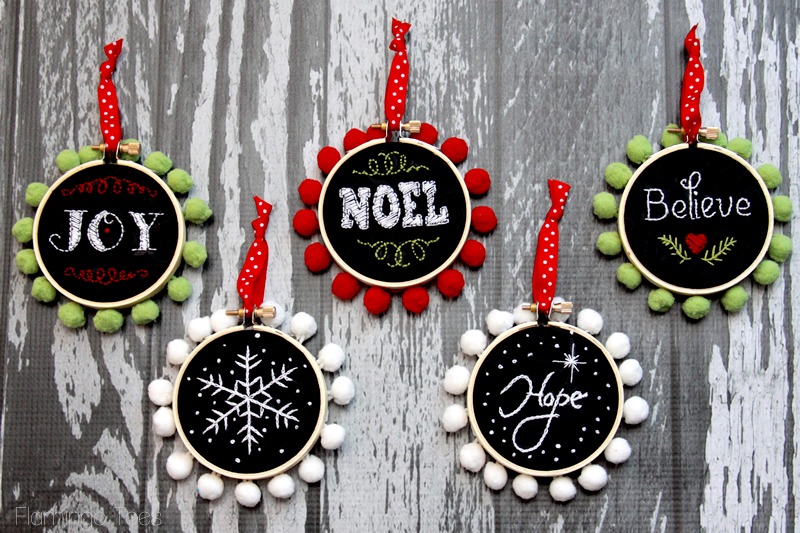 Related posts: 16 Stunning and Easy Christmas ornaments to make and sell
Christmas Wreaths
These are among the other hot selling crafts for holidays. Make them in your style, any particular theme, or customize them for your clients. They are undoubtedly one of the easy-to-make and best-selling crafts.
From Christmas garland to handmade wooden toy wreaths, there are plenty of ideas to make and sell for Christmas.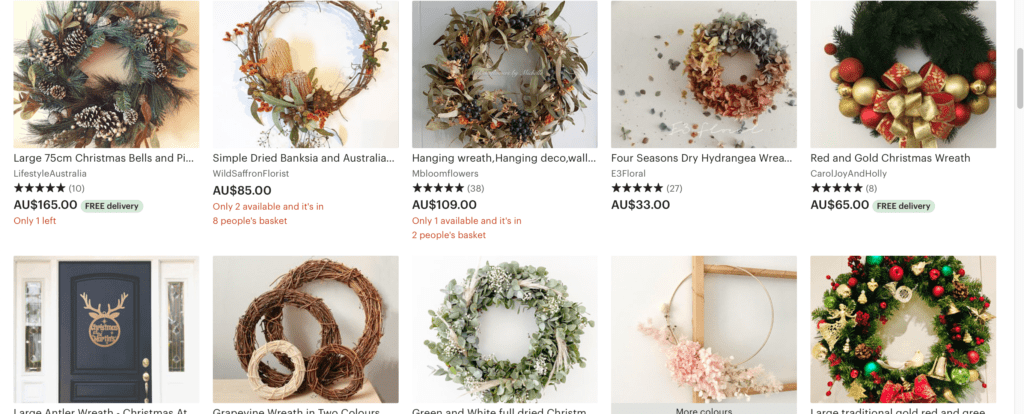 For more Christmas crafts, check these posts:
Christmas Cards
Handmade Christmas cards might be basic, meaningful, and yet be profitable. I remember an Etsy shop that sells minimalist type Christmas cards doing extremely well during Christmas.
Home Decor DIY Crafts to Make and Sell
The world of home decor is an ever-growing market with something for everyone.
From personalized wall decals for nurseries to throw pillows and wooden products, home projects offer many great crafting ideas- some of which can be customized according to needs.
As home decor crafts are somewhat evergreen items, you can use materials that will last for years to come and make a much greater profit.
Wooden Name Crafts with laser cutting machines
A laser cutting machine can take your crafting business to the next level. They are not cheap but are allow for precise and intricate cuts that you can use to create high end home decor projects.
Crafters make most money with laser machines by offering custom cutting services.
Name signs
On Etsy, you'll find a plethora of custom name signs that sell like hotcakes all year. From family name signs to the wedding and new baby name signs, there is a huge market for these beautiful pieces.
You can make them out of wood, metal, or even acrylic.
One of the most popular items to make with a laser cutting machine is a wooden name sign. These signs are perfect for nursery decor, home welcome signs and business name signs.
Wooden name signs for nursery
Wooden name signs are also one of the best crafts to make and sell with a laser cutting tool like CNC machine because most people want them before bringing their new baby home.

And like most things, you can personalize these with a child's name or a phrase that means something special for the parents such as "our little angel.
Baby Milestone Cards/Discs
Baby Milestone Cards are another trending craft to sell that many people like to buy. These cards can be the perfect gift for any Mum-to-be or a new baby.
They have an area where parents fill in the information, such as date of birth, weight, and other details.

These cards also have space to document every special moment with these keepsakes that will last forever
Kids wooden toys and Montessori toys
Kids' wooden toys and puzzles are a great craft to sell if you love working with wood. You can customize the toy or puzzle by decorating it with paint, stickers, or even adding a personalized message to make it more special.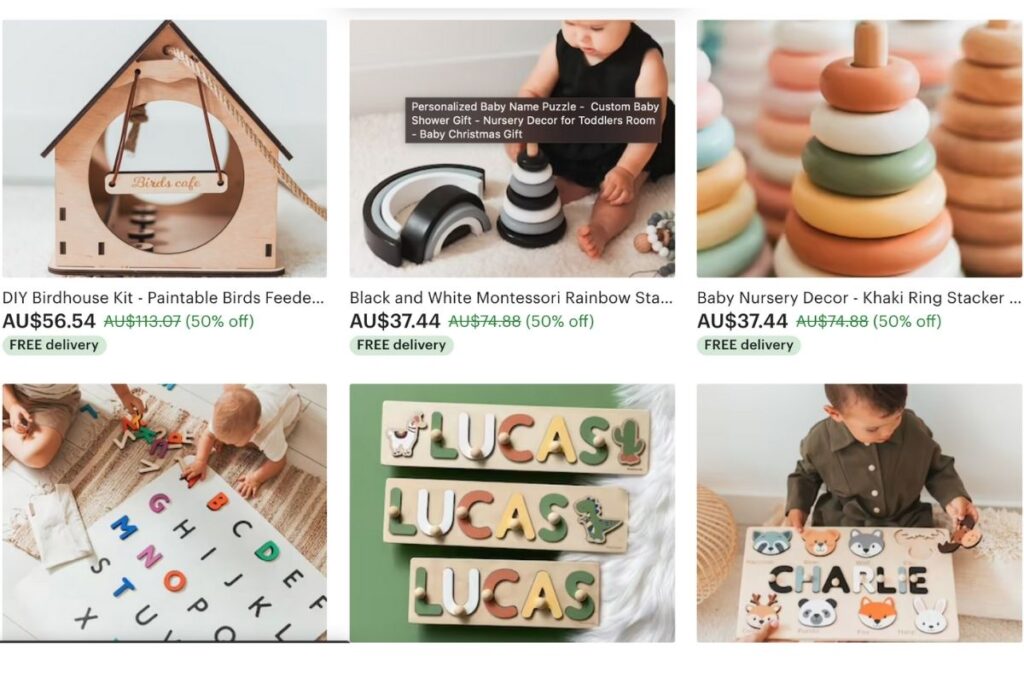 Related reading: Profitable CNC crafts to sell
Scrunchies
Easy Hair Accessories And Crafts To Make And Sell For Profit
You don't need to be a professional sewer to make scrunchies. All you need is some colorful fabrics (you can use scraps), elastics, and a sewing machine.
Scrunchies are one of the most popular under-rated hair accessories and can be sold for a good profit margin.
Here is another video tutorial on how to make these scrunchies and sell them for profit.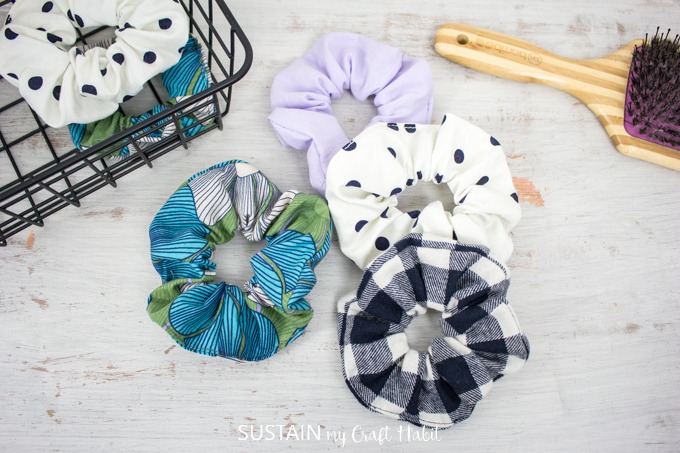 Cute baby bows
Cute bows for babies are another profitable crafts to sell. They are in high demand and there is always going to be a little girl out there who wants her hair done up in one of these cute baby bows.
Having said so, there is heavy competition on Etsy and other online selling sites and it can be hard to get your product noticed among all those sellers. But if your product has what people want (and they can find it easily), then this niche market could be right up your alley.
Plush Toys
Making plush toys is the most profitable craft to sell because they are easy and cost-effective to produce. All you need is a needle, thread, stuffing material (such as polyester fiberfill), fabric of your choice, scissors, and time.
You can make a whole set of these in an afternoon or two with the right pattern instructions.
Baby Milestone Blanket
Baby milestone blankets are a one-of-a-kind, innovative way to capture those precious moments of the month or during the baby's first year of life. They make perfect gifts for new and expectant parents but also work as excellent decorations for any nursery.
Here is an easy DIY baby milestone blanket tutorial.
Mason Jars Craft Idea
Mason Jar bathroom storage DIY
This Mason Jar bathroom storage is an easy way to decorate a bathroom and give a little more storage room. Mason Jar crafts are one of my all-time favorites because they can be used for so many things and make the perfect handmade items to sell for profit!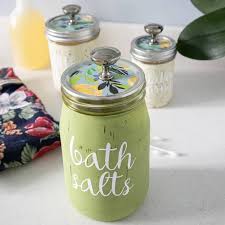 Pallet Wood Crafts
If you have pallet wood lying around, you can easily make pallet wood crafts or scrap-wood projects like these to sell for profit.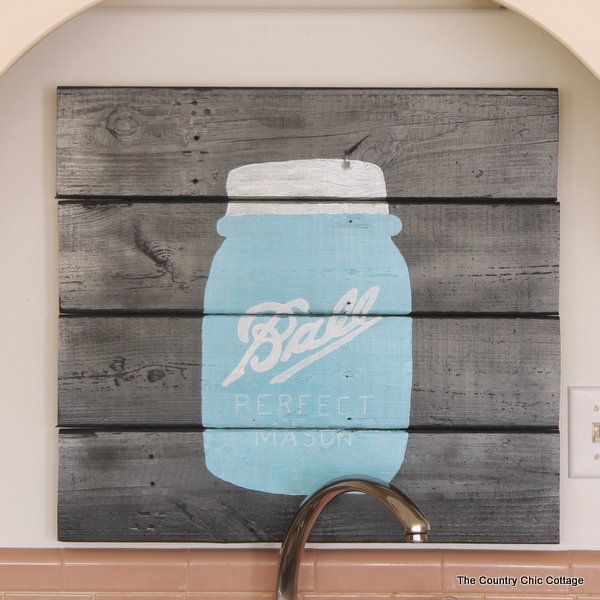 Another DIY craft idea is to mount a mason jar vase on the pallet to make this beautiful wall vase. This is really a nice idea and you can change the flowers as the season changes. Check out the easy tutorial at Unoriginal Mom.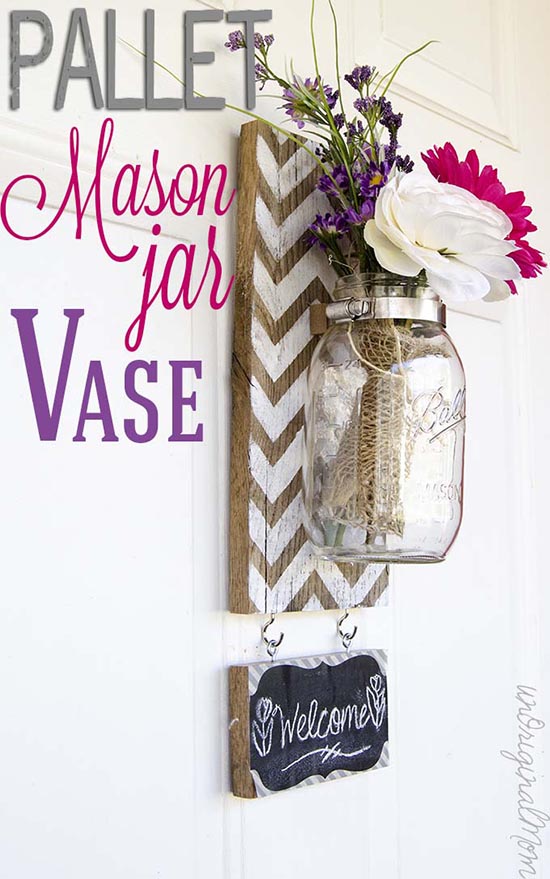 Also, check this cute DIY song lyrics wooden sign from thehappyhousie.
Personalized Door Mat
They are fun and inviting on any front porch. Read here to know how to make these customized mats.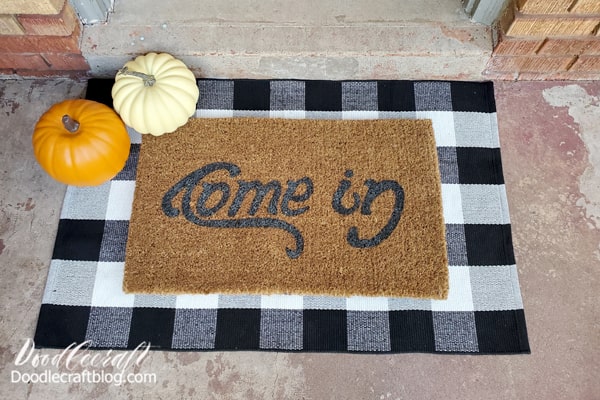 Grass pebble magnet
Here is one of my favorite most profitable crafts to sell on the list – Glass Pebble Magnets by Stampinfool, made from pebbles!
50 magnets ready in 10 mins with about 300% ROI, they are the perfect crafts to sell in the craft fairs. These are also great for kid's birthday parties, teacher thank you.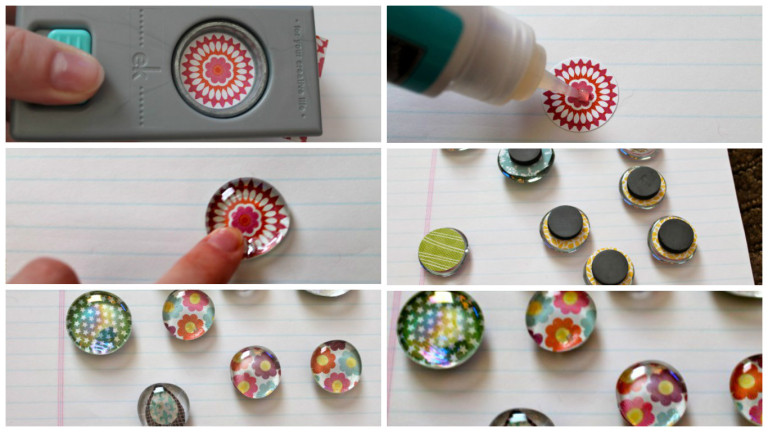 These are quite popular in every modern house, and if you can just collect pretty stones and colors and other such materials, these are very easy and quick things to make and sell.
Wood Burning and letter Carving crafts
The most profitable crafts to sell are ones that will last forever and make the most profit in return for your time put into making it. One example would be wood-burning and letter-carving projects.
They can be as simple or complicated as you want them to be, depending on the tools that you have available.
Wood burning and letter wiring can be applied to a variety of crafts that are perfect as gifts: bookmarks, earrings, serving dishes, wall decor, furniture, signs for children's toys, and more. It is a skill that you will use over and over again.
For example, you will be able to sell them as they are or customize the piece by adding a personalized message, such as "I love Daddy" for Father's Day.
Check these free tutorials for more wood craft ideas that will sell like hot pancakes.
Here are some very good resources for you:
For more wood crafts, check another post on wooden crafts to make and sell.
Sew or Knit Scarves
Designer scarves are a common component in every wardrobe. Be it summers or chilly winters. Scarves can be easily styled and worn with almost every outfit. One color-blocked scarf has the capability of transforming the entire outfit significantly.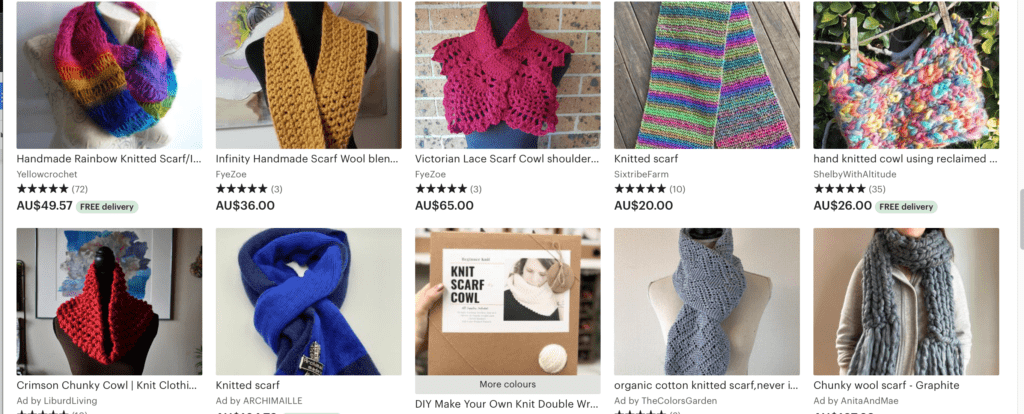 Therefore, if knitting or sewing is your favorite pastime hobby, opt for making scarves of different colors and designs and selling them for profit. Try exploring with different fabrics and make unique designs, and you are sure to sell many in the lot!
Check out these tutorials for a step-by-step tutorial on curating infinity scarfs.
Chunky Knit Blanket
This chunky knit blanket is easy to make and has a good profit margin! Add some more colors and it will end up being one of the most beautiful items you've created this year!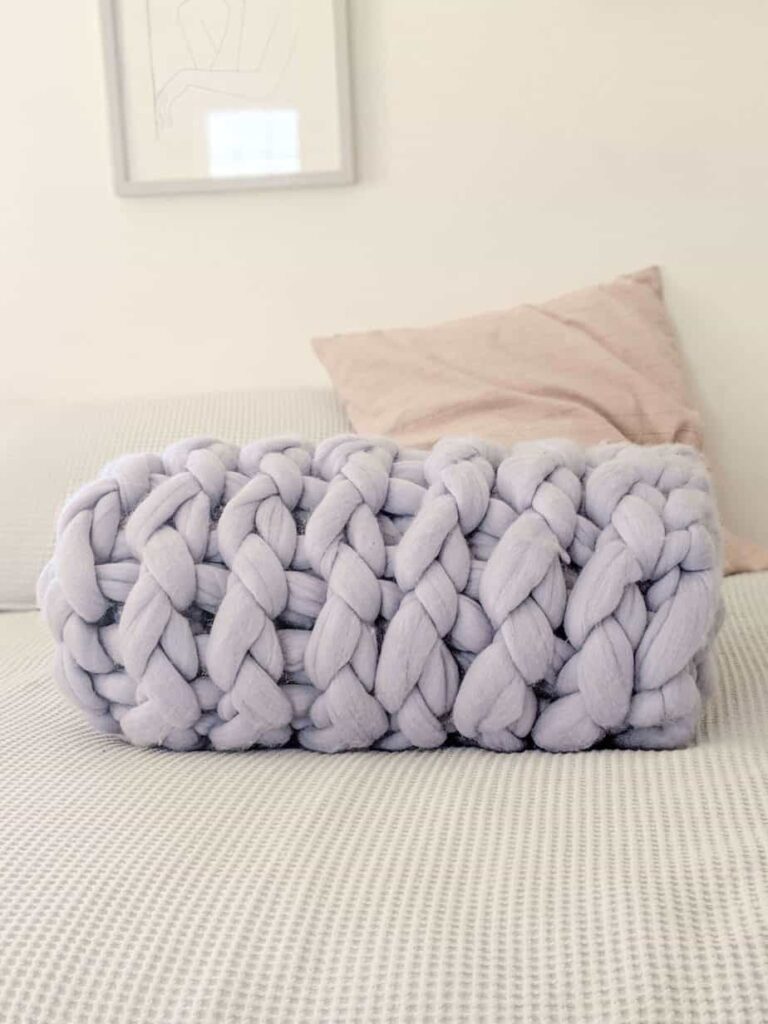 Tote Bag
A tote bag is quite popular as it is a simple and useful item that can be styled and customized according to needs. The good news is that it doesn't need a considerable investment or expert skills and is a cool product to sell at craft shows and make money.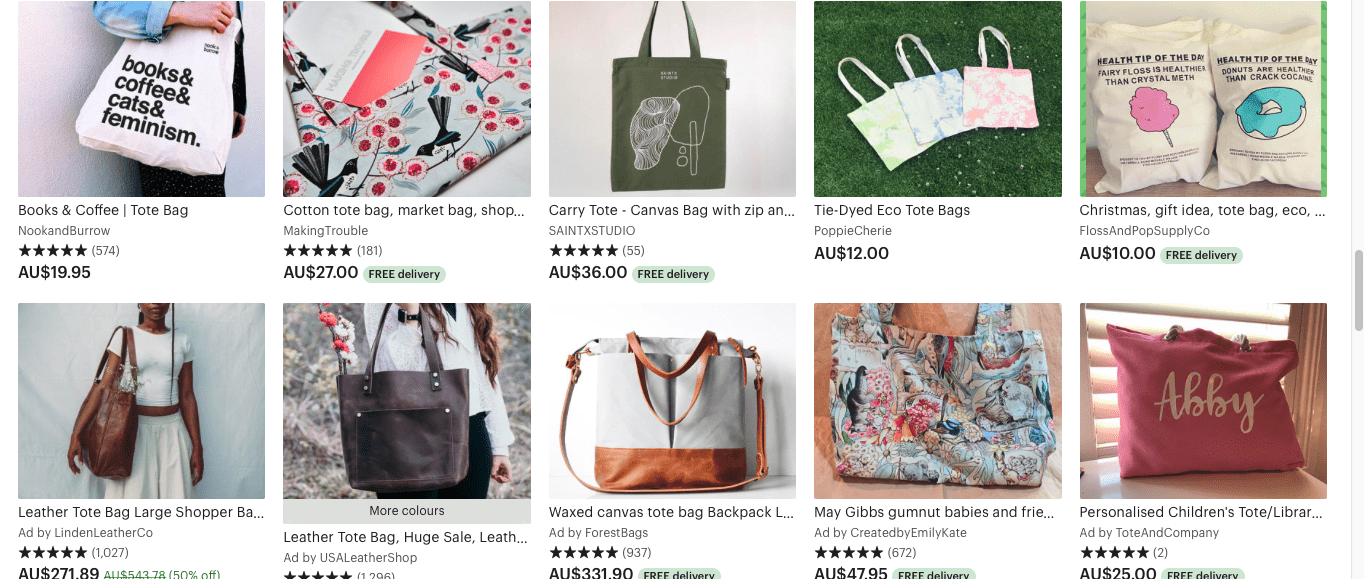 Here are some classic inspirational ideas for handmade totes:
Leather Tote (Shopper and Shoulder) Bag
Ice Cream Cone Tote Bag made with block printing.
Classic Waxed Canvas and Leather Market Tote
 Pillows
This post won't be complete without pillows and pillow covers as they are quite easy things to make at home and sell. 
Use old t-shirts or buy fabric yard from the store; homemade pillows are a huge hit among your customers if you make some stand-out designs and do some personalizations. 
Check these handmade handicrafts items/pillows.
Resin Keychains
Customizable Resin keychains are always in huge demand as they are trendy and are quite easy crafts to make and sell for profit.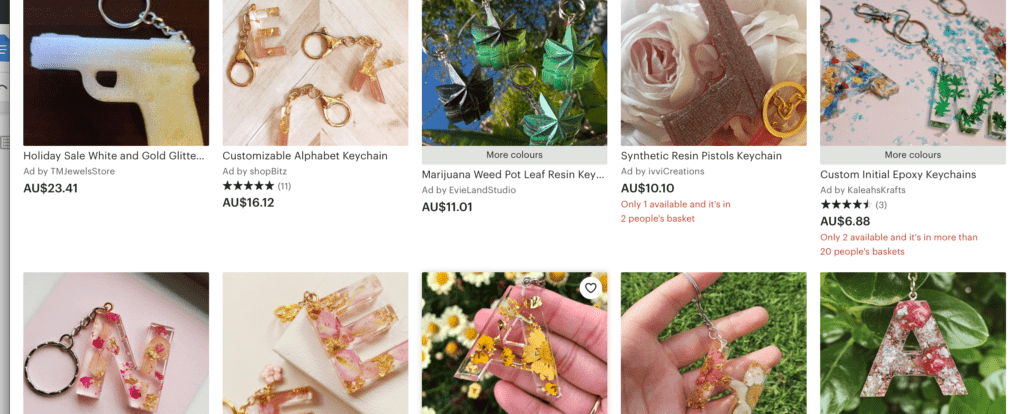 Must check this blog post on best-selling resin related craft ideas to sell.
handmade Paper Crafts to Make and Sell
Other Notable crafts that make good money on Etsy are
Handmade party supplies
Paper decorations including paper flowers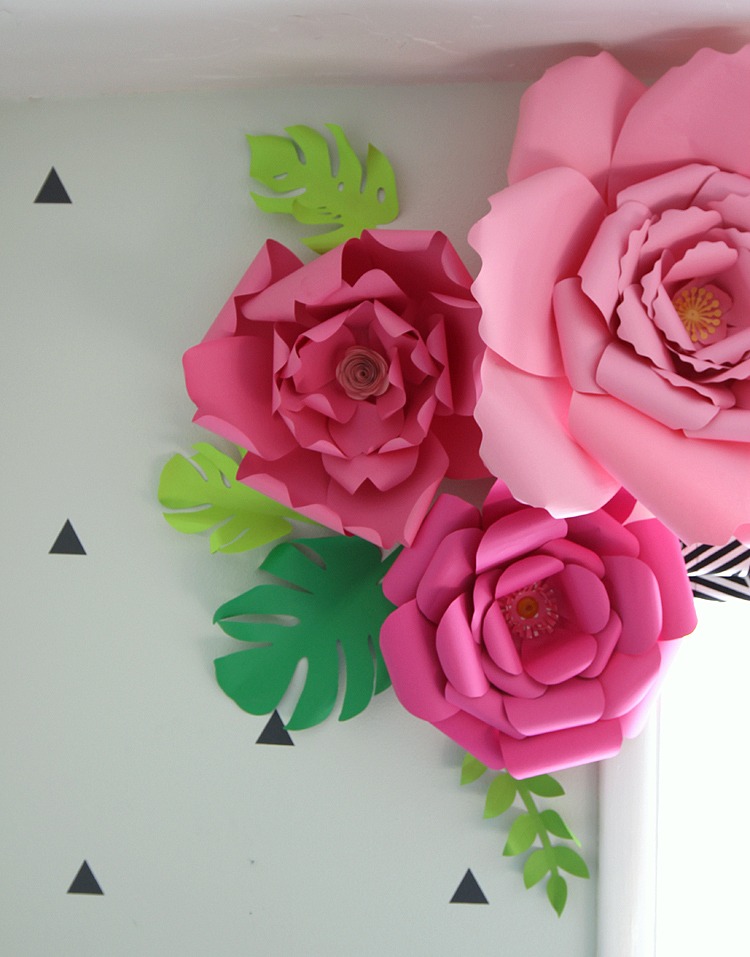 Pet crafts to Make and Sell
Americans are known to spoil their pets with lots of pampering. People are always searching for more creative cute pet crafts to do with their animals.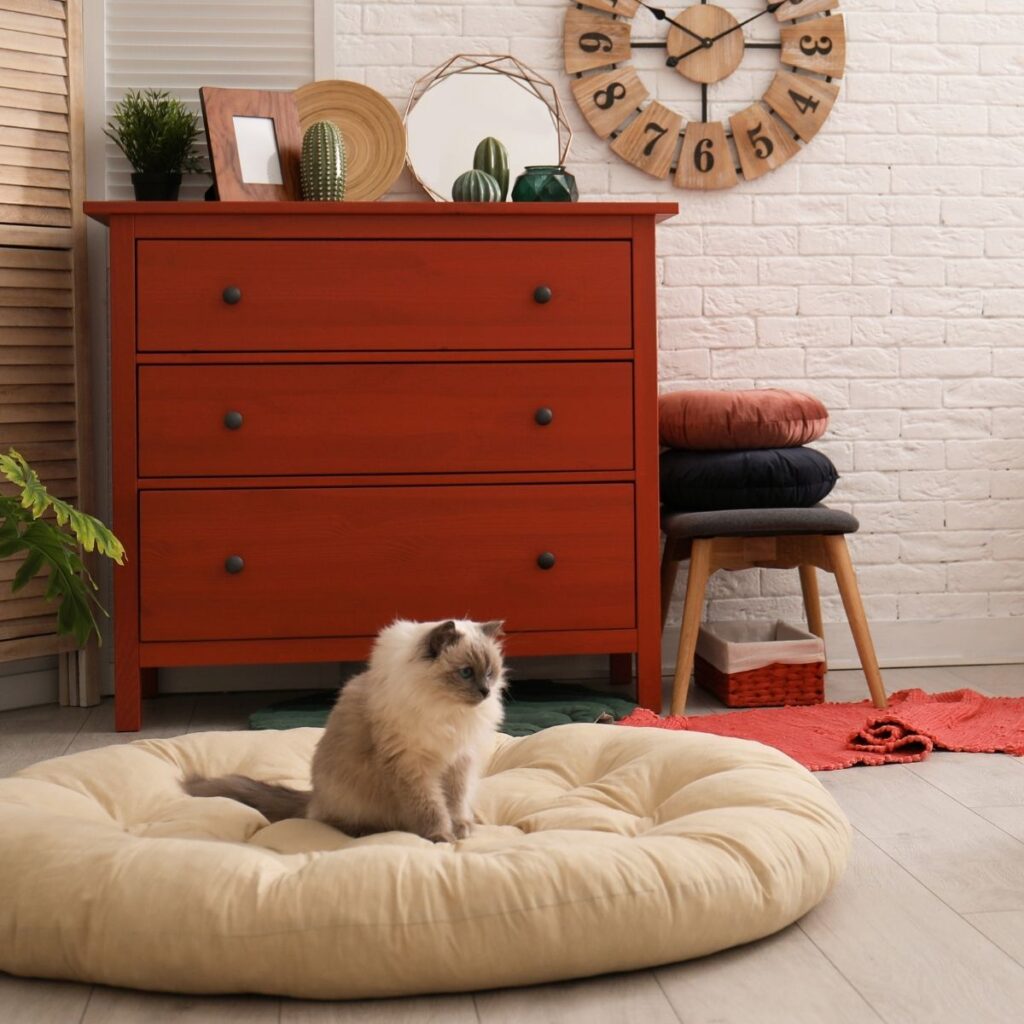 Check out these furry friend craft ideas below:
Pet clothes
Dog beds
Pet accessories and toys
How To Make And Sell Crafts From Home For Profit?
Before you dive into what crafts you will be making, you need to determine where and how you will be selling crafts. It is essential because it helps calculate your profit margin.
Find Crafts that Make Money
For starting a successful craft business, it is important to estimate business expenses that can incur while setting up your new business. Although there are many options to choose from but not all craft businesses will be profitable.
Consider items that can be made quickly or over a long period of time with materials already on hand, such as glass pebble magnets. I would suggest starting with 2-3 products and make varieties of the same craft.
Spend more time on your most profitable crafts to sell – this could mean not making as many projects of the less-profitable ones so you can focus more attention on what is most likely to make money for you in the end.
price Your crafts appropriately
Every craft business has overhead costs like startup costs (material costs, labor costs), selling platform fees, shipping costs plus some hidden tangible and intangible costs.
While deciding which craft you want to sell, take into consideration these expenses plus the time and input needed to make and further sell these craft items.
Consider reading this article about pricing your crafts.
Use Various Platforms to Sell
No matter what you sell always remember to be omnipresent and never put your eggs in one basket.
If you are really serious about your crafting business then also having an Etsy shop is a must. Etsy is one of the most popular platforms to sell customized products and DIY projects.
Harness the Power of Social Media
Social media is among the most effective marketing methods that you as a small business should use to drive traffic to your craft store. However each social media platform is different in terms of audience demographics, selling power, customer taste, and type of content that work.
To find your ideal customer, first identify your audience (gender, age, income, selling power, etc), your goals, and study different platforms to choose the right platform for your business.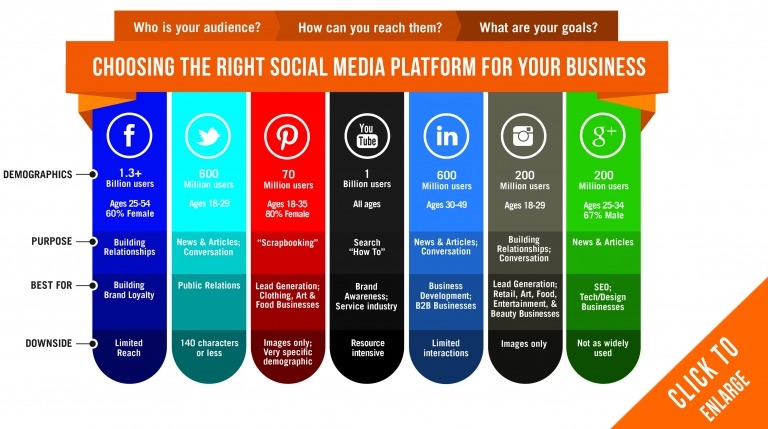 If you have an Etsy shop, be sure to post updates and new items on your blog for Facebook.  For example "I just added 20 more crafts to sell." Posting frequently on social media will increase customer engagement which leads to more visits and higher conversions.
Offer freebies such as a "free shipping code", "launch price" or "limited period" discounts on products that are already reasonably priced.  For example, if you make wood-burning projects, then give your customers 20% off when they purchase two or more.
Offer Good Packaging
Packing can be an opportunity to show off your most profitable crafts and make them a little extra special. It is important to pay attention to the packaging of your crafts when selling, as it can make a huge difference in whether or not people purchase.
Offer Great customer service
Provide excellent customer service with quick response times when answering messages or emails – this will help grow trust among customers which in turn will increase profits.
From a recent study, 73% of consumers prefer brands with good customer service. Even if they can find the same product for less money, they'll still buy from those businesses because of their good service
Best Places to sell Crafts That Make Money
Where to Sell handmade crafts Online?
Since it is the age of digitalization, these are the best places where you can sell your handmade crafts:
a. Sell on Etsy
Etsy is one of the preferred platforms to sell handmade items; if you are not very tech-savvy and want a readymade e-commerce platform with a vast audience, then setting up an Etsy shop is the right choice. 

However, selling on the Etsy shop does require some fees (listing fees, transaction fees, shipping costs, and/or ads fees). You can check the costs here but generally speaking, it is quite affordable, esp. if you take into consideration its huge audience.
If you are looking for a platform that gives you total control over your store, then you can look into Etsy alternatives to sell your physical or digital products.
b. Sell from your Craft Blog
Out of all the options available, a blog is undoubtedly the most profitable option available to sell crafts online. Well, running a general blog website can be entirely free, but to take it a step further for selling your crafts, you need to invest in a hosting company that can host your blog. 
If you are on a budget and need reliable hosting, I would recommend going for Bluehost or Hostinger. If you want top-notch service, Cloudways is an excellent choice. Cloudways backs up your website on multiple cloud servers and boosts for advanced caching tools to boost load speeds and performance and this platform.
Related read: How to start a successful blog and make money
Once you have reliable hosting, set up your blog and choose e-commerce plugins to sell your handmade goods
c. Sell on Shopify
If you don't want the hassle of creating a blog and hosting, then signing up for Shopify to sell your crafts is a better alternative. 
You can easily create your profile there and start with the process eventually. However, you will need to drive traffic to your Shopify store. If you have hot craft ideas and do your Shopify store promotion the right way, you can get good traffic to your craft store and make good sales.
d. Sell on Amazon Handmade
Amazon handmade is a community for artists to sell their handmade products on Amazon. As the name suggests, you can only sell handmade products.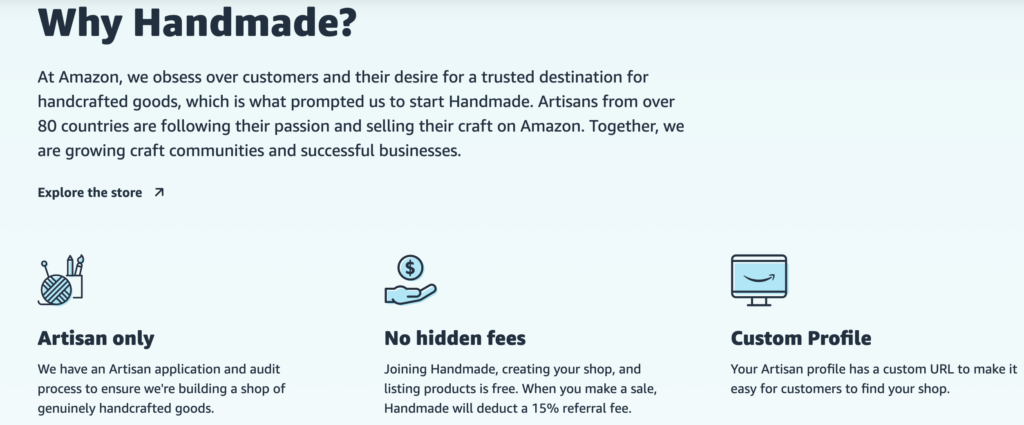 Fees: Selling on handmade is free (only 15% referral fee), but you need to apply to be an artisan on handmade to sell your homemade crafts. 
e. Sell on eBay
eBay is another good platform to make and sell things online (local pick up as well). eBay already has a considerable customer base, and you can easily set up a seller account on eBay.
Like Amazon, eBay does not charge any listing fees but charges a final value fee (in %age) once your item is sold out. With eBay, you can sell your products locally as well where customers can pick up the items from your store.
Once you establish some reputation on eBay, you can also set up an eBay store to expand your craft business.
b. where to sell handmade items locally
If you don't want to get into the mess of shipping your items, you can consider selling your things locally to make money. However, you might still need to post your craft ideas online (local channels) to get customers.
The few right places to sell locally are a Facebook marketplace, Facebook area-specific groups, Craigslist, apps like offer up, or eBay local. 
Besides promoting your craft business online on local channels, craft fairs, craft shows, and flea markets are also the right spots to sell your craft item and create brand awareness.
Most Profitable Crafts to Sell on Etsy (Best selling items on Etsy )
Since Etsy is the one and only platform that sells creative crafts and handmade items, it is worth determining what are the best things to make and sell on Etsy and top-selling items for 2021 along with top Etsy sellers.
Let's have a look at the best Etsy sellers according to eRank: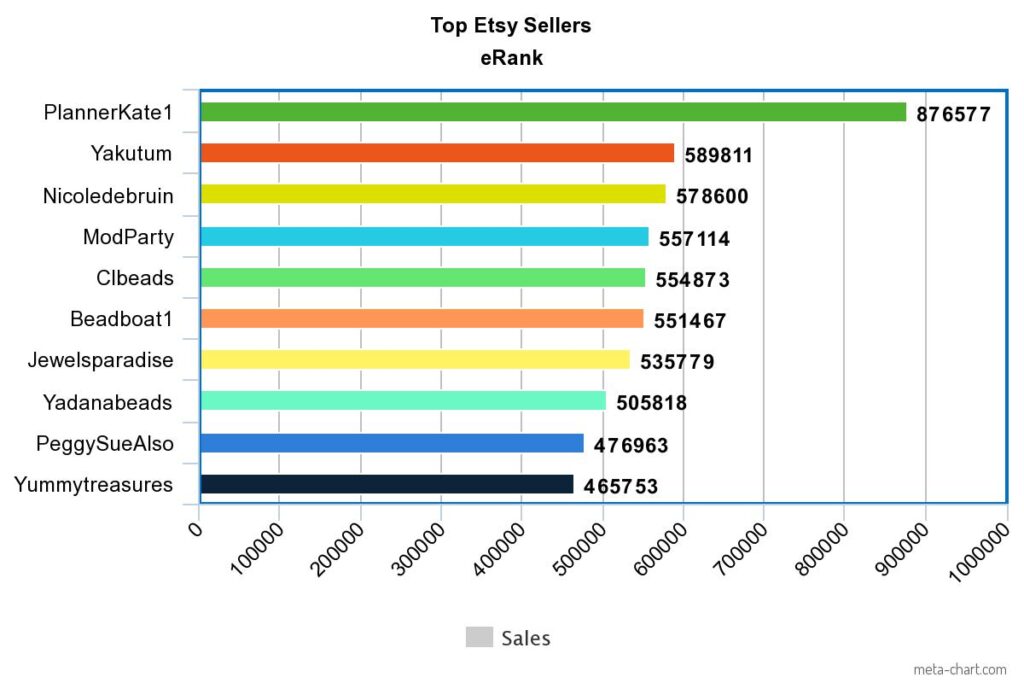 Final Thoughts on Making Money From Crafts that sell
It's time to get creative. It might seem intimidating at first, but there are people out there that want and need your crafts!
A word of warning: no matter how great your product is, it's not going to sell itself! You'll need a strategy for getting people interested in your work, and this takes more than just posting about it on social media once or twice.
The most successful crafters I know have a specialized audience in mind before they start their business and make sure that everyone who sees them knows how to follow along with what they're doing.
Remember that you're making crafts for people who want them, not just for yourself.
I hope that this blog was helpful in giving you an insight into craft businesses and things you can make and sell for profit. Therefore, don't hesitate any further and unwrap your hidden craftsmanship. If you have the zeal, you are all set to rock here and will surely achieve a feat in no time soon!
More crafts related posts:
FAQ'S About How to Make Money from Crafts
Do I Need a Business License to Sell Crafts at Home?
If you want to pursue it as a hobby or don't make any income then you might not. But If you want the right start and earn money, it is advisable to have a License.
Where Can I Sell My Crafts for Free?
For free you can try the local Facebook marketplace, local apps, Amazon handmade, or Groovesell.
Is Craft Business Profitable?
Yes, handmade crafts and DIY are popular products that people like to buy. A craft business can be very profitable and a way to earn an additional side income from your home. But to have a successful craft business, you have to choose a craft that people like to buy, and you can earn profit from it.
Apart from choosing a sellable craft item, strategic planning and brand promotion play important roles in making a craft business profitable.
What is the Most Profitable Craft Business?
Among all, the most profitable craft business is making and selling jewelry. Material costs for making handmade jewelry (like simple beaded jewelry) are less, and if bought in bulk, you can increase your profit margins. For expensive jewelry items, profit margins depend upon the quality of your product and the cost involved in the production.
What are the best craft ideas for adults to sell?
The best crafts for adults to make and sell are crafts related to Cricut, Glowforge, 3d machines, or wood-related crafts. These are the crafts with high-profit margins and sell well online.
Related Make Money from Craft Articles: