Want to know what are the best selling items on Facebook Marketplace? This blog post will give you a list of the most popular items that people are buying and selling on Facebook Marketplace.
Facebook Marketplace is a great place to sell your old items or buy new ones. It has become so popular because it is easy, quick, and free!
Many people are turning to Facebook Marketplace as a way to buy and sell items as a full time side hustle. You can also make some extra cash by selling the things you no longer need on Facebook Marketplace.
If you are wondering what are the best things to sell on Facebook marketplace then many factors go into determining what will be successful.
But don't worry, in this blog post, I'll give you some tips on 
How to sell things on FB marketplace, 
How to make your sale stand out from the rest,
And the best items to sell on Facebook marketplace (from my personal experience). 
I've sold hundreds of items on Facebook (when we moved from the USA to Australia in 2019). From extra baby supplies to gardening stuff, we sold everything in 3 weeks and made around $3,000 by just selling on Facebook marketplace.
And lucky enough, it made me a highly rated seller on the Facebook marketplace that helped me sell more items in less time. 
Along the way, I also learned that some items tend to sell well than others, and buyers are always looking for them. That's why I have created this list based on my experience and my most sold items on Facebook marketplace.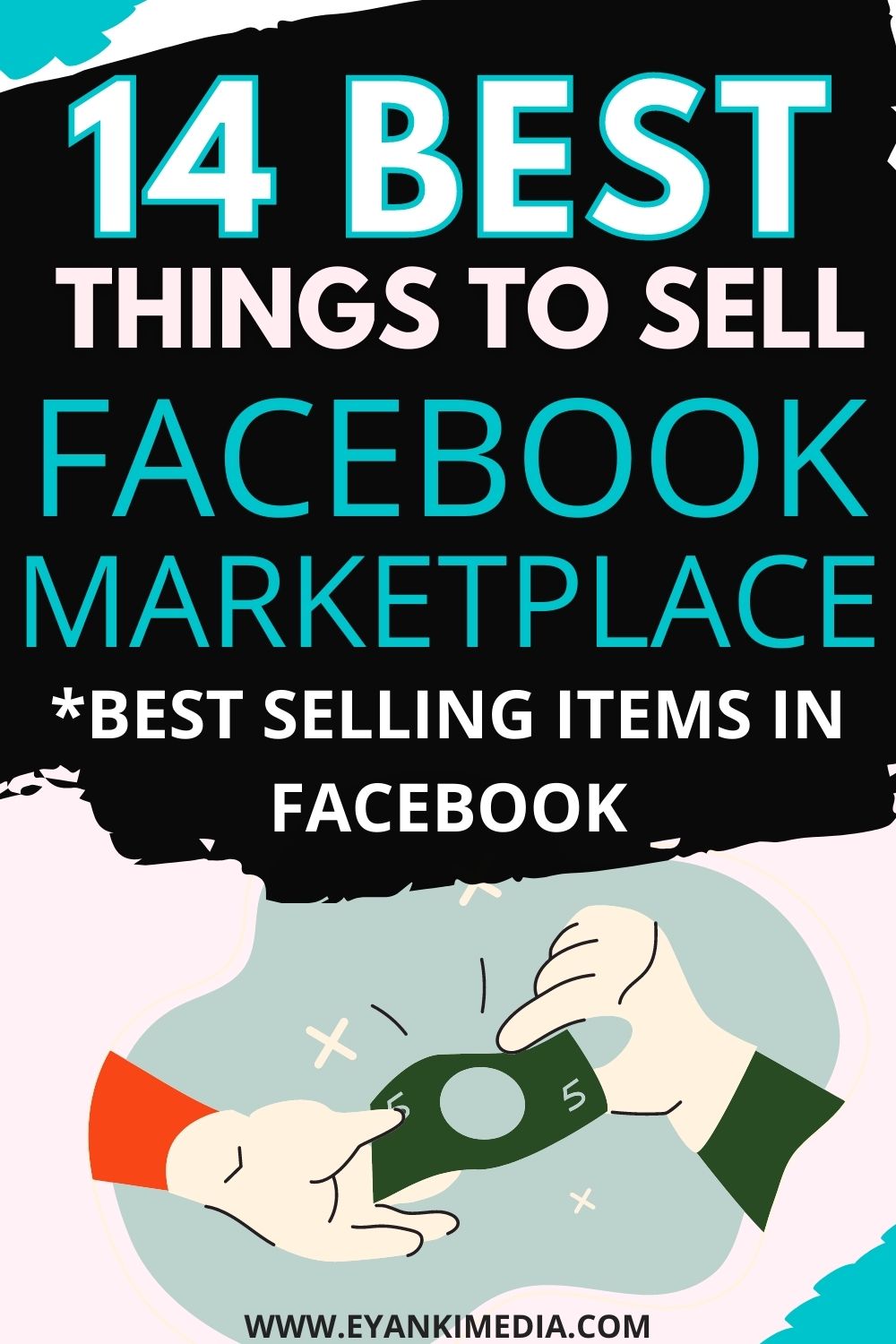 What sells best on Facebook marketplace?
There are over 18 distinct categories in which you can sell your items. From vehicles to hobby supplies to pets products; Facebook is a good place to start selling items for money.
Out of all, the best items to sell on Facebook marketplace kids stuff are Toys, Clothes, and Home Furniture. However, you should always research before putting your items up for sale on Facebook marketplace.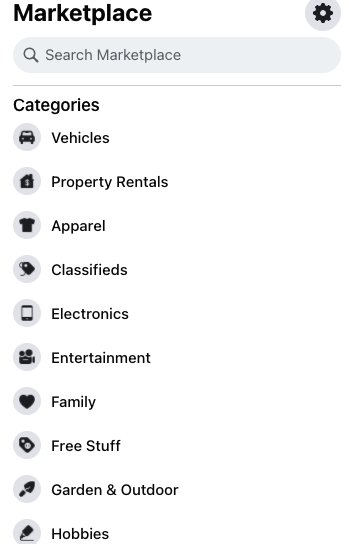 Related posts:
Facebook marketplace selling etiquette (Dos and Don'ts of selling successfully)
Can you make money flipping pallets?
Best Selling Items On Facebook Marketplace in 202
Here are the best items to sell on Facebook marketplace in 2022. Let's check them out with some special tips that can help you sell more.
1. Furniture
It shouldn't come as a surprise that furniture is one of the top-selling and best items to flip on Facebook marketplace. Buying new furniture items can be expensive that's why many people use Facebook Marketplace as an alternative to find and buy used furniture.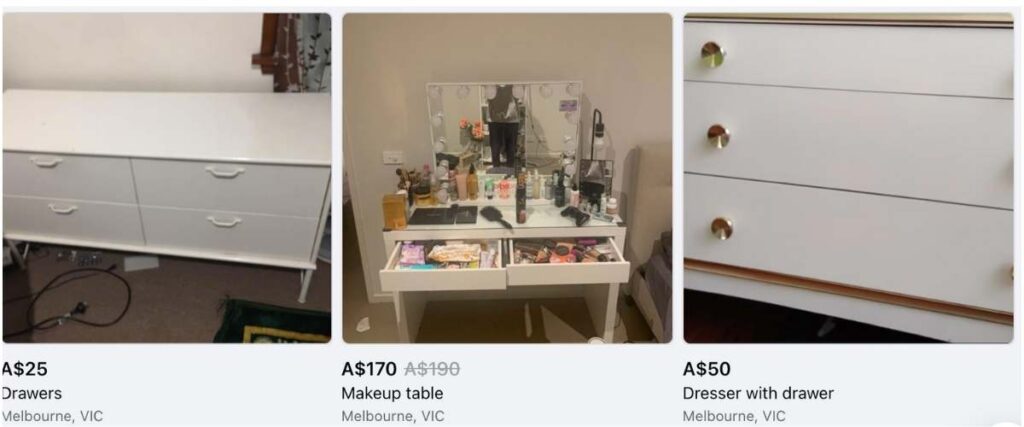 If you live in a region where many migrants, renters, or college students reside, you will have no trouble selling furniture items.
You can sell expensive Ashley's old furniture on the marketplace, but lightweight items sell better and faster.
The reasons are obvious: they can be dissembled to fit into a small space, and are easy to transport which reduces the extra cost of hiring a mover.
That's why smaller furniture items are more popular than big ones and sell faster.
It doesn't imply that large pieces of furniture will not sell; they'll sell if you price them right. But yes, it would be a little hard to sell furniture items over $1000 (or sometimes even $500) no matter where you bought them from.
The best selling furniture items on Facebook marketplace include:
Drawers (esp. Ikea Malm)
Side tables and end table
Cubes
Kids toy storage (esp. Ikea Trofat, wooden boxes)
Bookshelves (smaller ones sell faster as they can fit into small cars)
Entry tables (come on sale rarely)
Tips for selling furniture items: 
Take photos of any marks or scratches. Painted scratches are better, but they're still noticeable, so be realistic about how much money people will pay for something with a flaw.
Add dimensions of furniture items as buyers would like to know if the stuff can fit into their car. Instead of assuming things, give them measurements and let them decide.
Make sure your furniture items are clean and dust-free. Any sign of dirt or lack of maintenance can turn off some potential buyers.
2. Kids Clothing
Kid's clothing in lots is one of the most popular items on Facebook marketplace.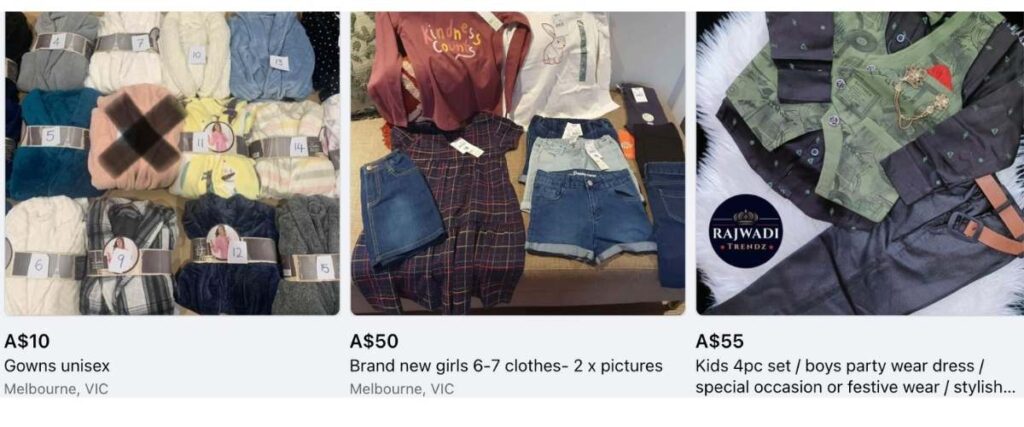 Kids grow so fast that it's not uncommon for parents to jump on the chance to buy their children's clothing in bulk for a way lesser cost than they would at malls or department shops.
Although you can sell clothes year long, the best time would be before any season changes or school start for school uniforms (when your child grows out of their current size).
Tips for selling kids clothes: 
You can dump the clothing in a large bag and sell them for a quick dirt price. However, if you want to get a decent price for the entire lot, take good photos of all the clothes and include measurements.
You may take photos of 10 or 20 items at a time and ensure that everything appears tidy. Pictures that are appealing attract more customers who are willing to pay extra for quality stuff.
Pro tip: If you want to sell clothes regularly, make sure that your listing is accurate and the sales are hassle-free. You'll be amazed at how many repeat customers you receive if you're honest enough.
3. Kids toys
You can sell new boxed toys at a discount price on the FB marketplace. People looking to buy birthday gifts or toys for Christmas gifts love to buy new-in-box toys at a lower price.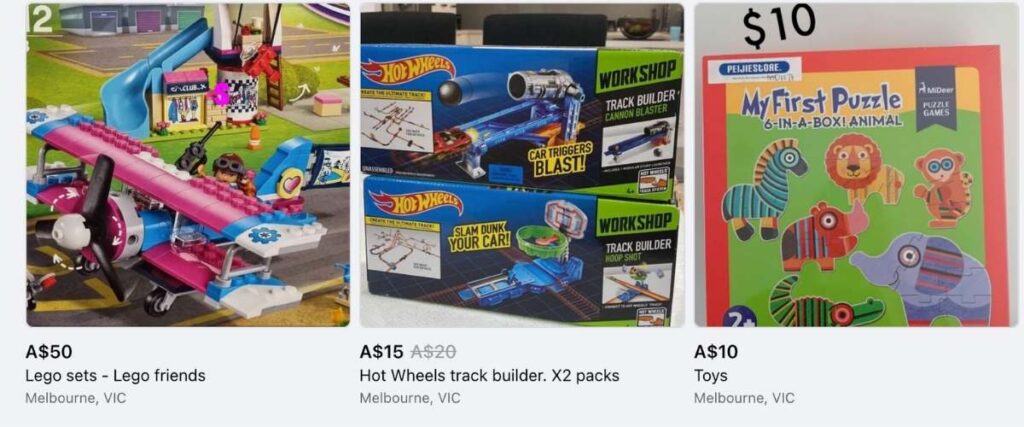 Although boxed toys were one of my bestsellers, used toys did well too. Before selling toys, always research the price of similar listings in your marketplace.
I've seen small baby toys like teethers and rattles do well in bundles. Toddler Fisherprice toys sell well around $5-10, while ride-on toys can sell for anywhere between $5 and $15 depending on their make.
Soft toys and stuffed animals sell well in bundles too. However, if you have an extra-cute plushie like a unicorn or bennie boo, you can sell it separately as well.
And don't forget Legos and Lego tables, these sell very fast, and you can buy good Lego sets after Christmas clearance from Walmart.
Tips for selling toys: 
Before selling your kid's toys, make sure that they are clean and hygienic. Some people prefer buying from pet-free homes.
Always mention if the toy is battery operated and batteries are included or not.
Like children's clothes, be fair and accurate.
New: How I found 90% off deals at my favorite stores in USA. I saved 1000s of Dollars.
4. Books
Though I am not a big reader, I buy books from time to time for my kids. Facebook is my first place to find all those fairy books that my daughter wants to read as you can get popular kid book series at a fraction of the price.
If you have a collection of books that you are not going to read again, you can sell them for a good price.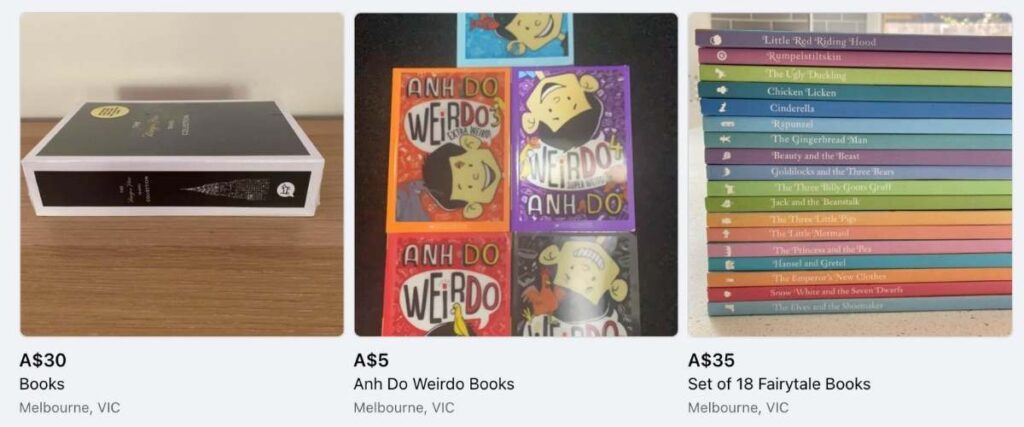 I've also seen book bundles with different books in them selling for around $20-30 per bundle, depending on the popularity of the books.
Tip for selling books: 
Buyers prefer to buy the whole series of books and not just a single book.
Always mention the author name, number of books and include serial numbers if possible.
Make sure to get good pictures of the book front and arrange them in chronological order.
Don't forget to mention the condition of the book in your listing, whether it is new or used.
5. Sports
Selling used sports equipment can be a good idea as these are usually expensive when you buy from the stores.
I've seen biking and scootering equipment, skateboarding and rollerblading equipment, soccer balls, and footballs doing well on the marketplace.
Children's bicycles are one of the best things to sell on the Facebook marketplace as kids outgrow them after a year or two.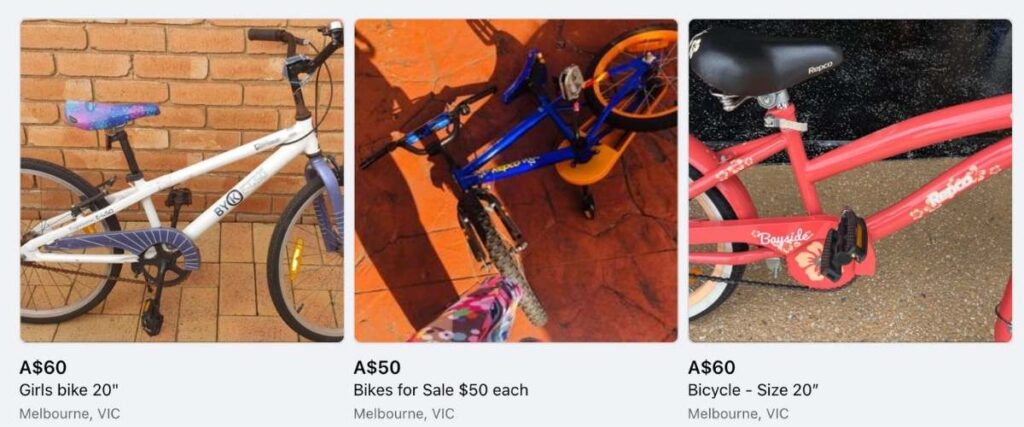 Many people resell bikes on the marketplace (as a side hustle). You can also buy used children's bicycles at garage sales and sell them online by adding some extra bucks in it.
Tips for selling sports items: 
Always mention the brand name, size of the bike, and condition of brakes, wheels, or any wear tear in your listing.
You should make sure that your tires do not look too dirty. If they are, it might put people off buying the product.
6. Fitness And Exercise Equipment
People are becoming fitness conscious, and since everyone is working from home, fitness products are one of the most popular items on Facebook marketplace these days.
You can sell exercise machines like stationary bikes, treadmills, elliptical trainers, etc depending on their quality. Similarly, you will find good deals on dumbbells and yoga mats if they are still in good condition.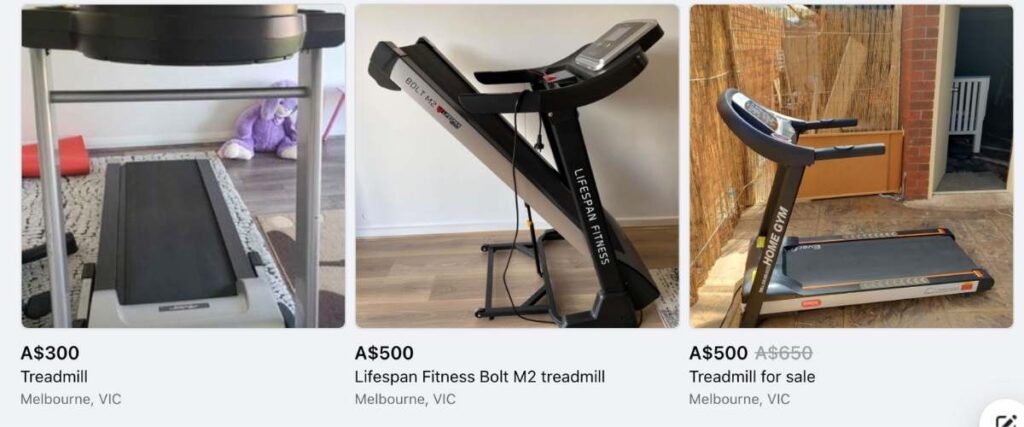 TIP: The best time to sell fitness and exercise equipment is after Christmas when most people are trying to lose weight and getting ready for new year goals.
7. Baby Supplies
Baby products are among the most popular items on Facebook marketplace as baby stuff is costly and parents always need it. 
I still remember that I sold my stockpile of baby boy diapers and toiletries (thanks to baby coupons) when I moved including most of the baby gear. Many parents are huge fans of Chicco stuff, and it sells really well on the marketplace.
Some of the popular items in the baby category include: 
Unopened Diapers (in pack of 5)
Baby essentials: unopened pack of toiletries esp Aveeno followed by Johnsons
Baby gear: Strollers, car seat, high chairs (transition one sell better)
Baby changing table, crib
Tips for selling baby supplies:
If you plan to sell a car seat, mention its expiration date and make. Include a pair of car hanging toys or the baby mirror as bonus.
You will get more money if you mention the brand name of each product as well with its price tag still on it.
8. Seasonal items
Seasonal goods are another best selling items on Facebook marketplace.
If you are a clearance hunter, then you can sell all those clearance finds at a discount rate through the Facebook marketplace. Follow some FB groups or Insta accounts to know about clearance finds.
If you need help finding groups like these, drop me a comment below I will share some details.
Some of the best selling seasonal stuff you can sell to take advantage of this increased demand for seasonal products include :
Big Toys (not seasonal but great buys to sell later)
Christmas decor: lights, ornaments, artificial trees
Halloween costumes and related decor
School supplies (back to school)
Mother day gifts
Easter eggs
Summer outdoor sets, over-the-ground pools, backyard summer toys. grills/barbeques
Beach supplies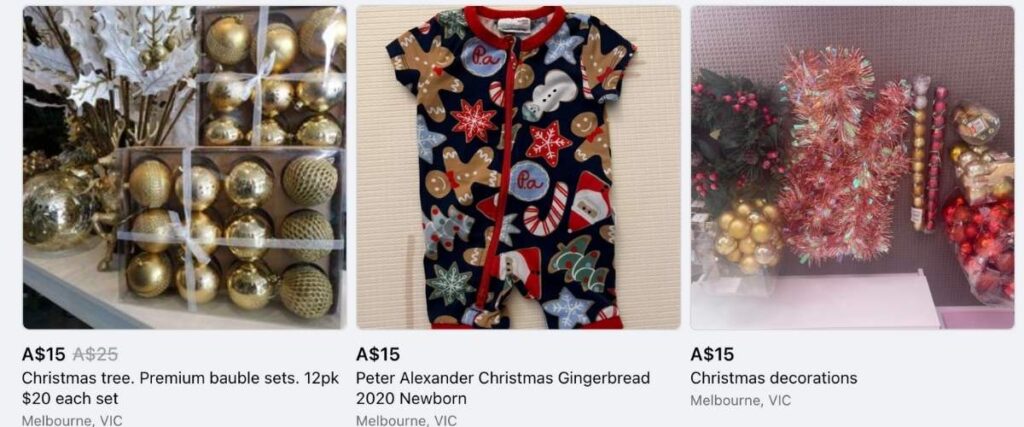 Not just this stuff, you can sell many DIY crafts and seasonal gifts on Facebook marketplace.
People like buying gift baskets, personalized present items for their friends and family, and if you live locally, they can pick them up without having to pay for delivery.
Here is how my Facebook marketplace looks like right now as we are close to Diwali and Christmas: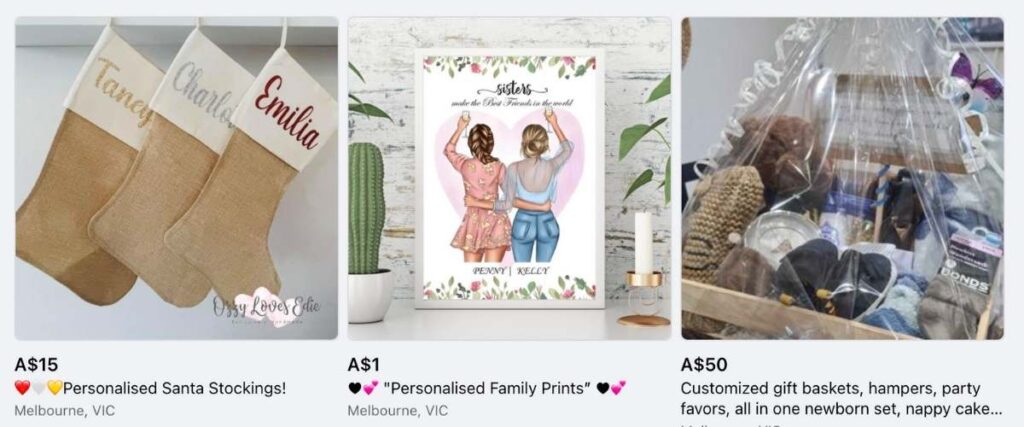 I have a lot of posts on crafts you can make and sell. Personalized gifts made with Cricut are among the ones that sell like crazy but I can see some easy to make resin and polymer crafts selling on my marketplace in Australia.
If you want to know what sells in your area, then simply search terms like 'personalized gifts', 'gifts', 'self-care gifts' on your Facebook marketplace. You will see different range of items based on the current season and popularity in your area.
Tips for selling seasonal things on Facebook marketplace:
Look what other sellers are selling and what sells the most on the Facebook marketplace in your area. You can also look at other Facebook groups in your area to gauge how things are selling there.
If you know your product will go out of season, then try to list it as early as possible so that you can get the best price for it.
Keep a stock of your easy to make or hot selling items for last minute gift buyers.
9. Electronics
The Facebook marketplace is a treasure trove of electronic appliances that you can buy cheap and sell for even more.
My partner recently purchased a one-month-old Apple iPhone 13 from a marketplace for $300 less than the retail price in Australia, and the phone is in excellent shape.
Like this phone, you can find the best deals on good quality headphones, speakers, TV sets, laptops, and tablets.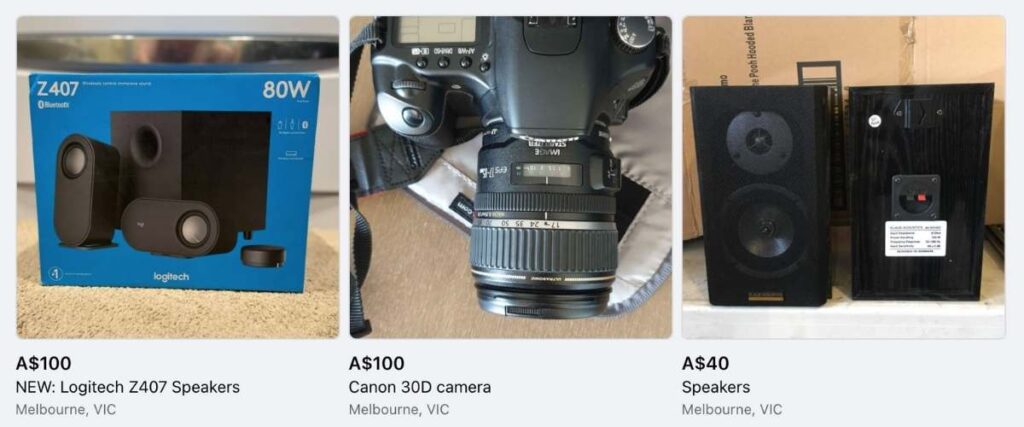 Some of the best selling electronic items on Facebook marketplace include:
Televisions
Vacuum cleaners
Bluetooth headphone
Old phones (Apple phones in warranty)
Video Games and consoles
Small kitchen appliances
Microwaves
Tips on selling electronics on FB marketplace:
Always mention their condition, model number, age (usage years), warranty in your listing along with the price range of electronic product you are selling. Things in warranty sell far better than those that are not.
Sometimes having an original box of an item increases the chance of a sale. You might not agree but it has always worked for me always esp. with small kitchen appliances or old mobile phones.
**Buyers usually check the working condition of any electronic product before buying.
We had a small set up in our garage for any electronic sale as we were not comfortable letting strangers inside our home. Make sure you have things in place while selling any electronic items.
10. Tools
Though tools are not the best sellers on Facebook marketplace, they still sell well.
Large tools like pressure washers, mowing machines, and craftsman power drills are very expensive, and many people prefer buying them from the FB marketplace.
Small power tools, woodworking equipment, or hand tools will sell better if you offer them together. Like I had a lot of gardening tools that I sold to someone who just moved into a new home. Kind of a win-win situation for both. 
**The time of year has a bearing on which tools you may sell. A lawnmower will sell better in summer than a snowblower so plan your sale accordingly.
11. Home decor
Home decor items are another good things to sell on Facebook marketplace. People like to decorate their houses, and the marketplace is one of the greatest locations to get home decorations at a low price.
When it comes to home furnishings, the FB marketplace is a bit pickier. Certain goods do particularly well on the market than others.
Some of my bestsellers in this category were:
Large good quality photo frames or multi photo frames with quotes
Large vases
Table Lamps and light fixtures
Farmhouse style decorations
Large rugs in good condition
Matching drapes and rods
**If you sell home decor items, take pictures of the area/room where they are used as it will give them an idea of how they will look in their homes.
12. Vehicles
Since Facebook marketplace is local, it also offers a great opportunity to sell your car.
Many people prefer buying used cars from the FB marketplace rather than dealers to avoid the additional dealer fees.
If you are selling your vehicle, make sure that you have these items ready with you
Vehicle Title & registration papers 
Maintenance records and receipts for repairs done in last two years -Carfax reports with accident history if any or available
People often look at the pictures and ask you questions about your car before visiting your home to see it in person. 
Pro tip:
Make sure that your listing has good pictures of the exterior and interior of the car. You can get an estimate of the price of the car by checking on kbb.com.
13. Garden plants
Though I gave my plants to my friend when I moved (due to my emotional attachment), plants may be another popular thing to sell on FB marketplace.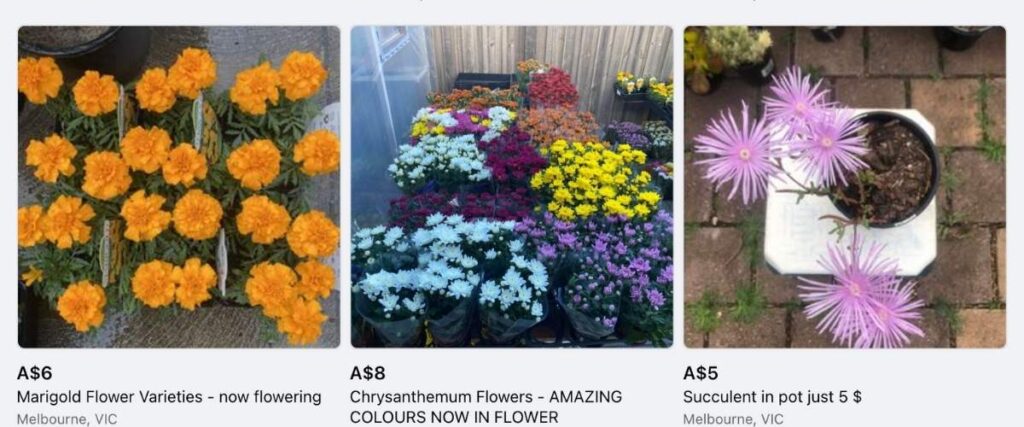 On Facebook marketplace, you can find plants and cuttings for a good price that are pretty expensive in home stores or nurseries.
If you have a garden with a green thumb, then FB marketplace is the best place to sell plants and cuttings. It costs almost nothing to grow these plants, so it is indeed a good idea.
Tips on selling garden plants on Fb marketplace:
When selling your garden plants, make sure you have enough pictures of the plant from different angles and show how it will grow in a specific location or time of year.
Don't forget to mention if pots are included.
14. Expensive Clothing and Accessories
Brand clothing, expensive accessories, and jewelry items are worth a try on Facebook, but you need to know how to price them.
Honestly, I found more success in selling clothes on places like Mercari.
People on the Facebook marketplace, in general, do not like to pay a lot of money for clothing items unless it is very high quality. Try selling brand-name shoes or accessories at lower prices than retail prices if you want more success on the FB marketplace.
I had more success selling less expensive items that I already knew were high-quality brands. For instance, if it was $50-100 in retail, I would sell it for $30-40 on FB marketplace.
What items cannot be sold on Facebook Marketplace?
There are a few things that are not allowed to be sold on Fb Marketplace. If you create listings for these products, Facebook will reject your listing. You can go through Facebook commerce policies before selling any item on Facebook.
Alcohol
Animals
Adult products and services
Gift cards
Even tickets
Health care products
Prescription, illegal or recreational drugs
No real items (posts like in search of)
Before and after pics (weigh loss program/products)
How to sell things on FB marketplace?
Selling items on Facebook is simple and straightforward. You just have to create a listing for selling your item, take good quality pictures of it and provide accurate information about the product you are selling on FB marketplace.
Follow these steps to know how to make a Facebook Marketplace listing:
Open your Facebook Profile. From your main Newsfeed, go to Facebook Marketplace (little shop icon)
Select "Create a New Listing"
Choose Listing Type
Select "Items for sale"
Select "Add photos" to add pictures
Write your Title
Type in the price you're asking for
Select the category and condition of the item
Write a description of the item
Enter "Publish" to make your listing live
Then listing will go for a review by the Facebook team. If it follows the FB commerce policies, it will be approved. Otherwise, it will be declined, and you have to revise your listing before publishing it again.
Once the item is live, Facebook shows it in the Marketplace section of News Feed on the mobile app or desktop version depending upon where someone is looking for an item, like yours when they search FB marketplace.
How to hide listing from friends and families?
There are times when you have to hide listings from friends, like for me, when I had to sell unwanted toys my kids got on their birthday.
It was not an option before but now you can just toggle the bar after you create a listing and FB will stop showing your listings to your friends.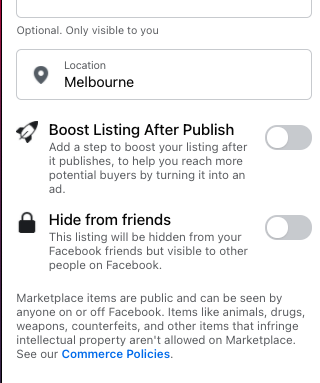 More Tips on Selling items On Facebook Marketplace
We've looked at what sells the most on Facebook marketplace so far, and now, we'll learn how to make your listing stand out while making selling a breeze. Plus you might like to check simple etiquettes for selling on Facebook.
Get quality Photos
Pictures give first impressions to your prospective buyers. A clean, nice clutter-free picture can make a huge difference in your listing.
Take pictures of the items you are selling with a white or bright background so that they stand out more in the Marketplace photo feed.
Take multiple pictures and make sure that all photos show different angles/views of the product.
Take pictures of any flaws in the product you are selling.
Add an image of the box (if you have it) or store listing (original store) so buyers can search and read more about the product. It can save your time as buyers can find answers to their questions from the source.
Write Clear and Enticing Title
The title is the second thing that buyers see in the listing. Make your title stand out so that buyers are intrigued to click on it.
Write clear and descriptive titles.
Make it keyword rich too to make sure your listing comes up first in Marketplace search results, which lets more people see them leading to better chances of sales.
Keep titles short and sweet if you have multiple items for sale at once.
Good Description
A description is the next thing that buyers see when they click on the listing.
Be as detailed as possible to give them a clear idea of what they'll get when they buy from you.
Include important details like color, size dimensions, model so people can make an informed decision about purchasing items.
You can write the name of your street or a nearby landmark to provide buyers with an idea of the pickup area. It just saves time and avoids frequent location inquiries.
Mention any exclusions or inclusions, if applicable.
Mention if the price is negotiable or not. Use terms: OBO (or best price) or price firm.
Specify if you are going to hold the product or it is first come first serve.
Mention if your home is pet-free and smoke-free.
Include if you will accept COD (Cash on Delivery) or wire transfer.
You may also include the reason for selling in this section; sometimes, buyers like to know why you're selling something.
Price it effectively
The best way to make sales is by pricing your items competitively, so buyers feel like they are getting more value for their money rather than paying extra bucks. You will need to take a look at how other sellers on Facebook Marketplace price their items.
Make sure that your price is similar or even lower than theirs, and not higher. Unless you have something very rare or in perfect condition, you will want to make sure that you are priced competitively, so people do not go elsewhere.
Ensure your Safety
Safety is another important factor for people who are buying and selling on Facebook Marketplace.
Make sure to include a few disclaimers or follow these:
If you're meeting up with the buyer, mention that it's best to meet in public spaces like malls, parking lots where there will be lots of other people around as well.
If a potential buyer is visiting your house to pick an item up, be sure someone else is there at home as well. 
Avoid dealing with fake accounts or accounts with a single picture.
Check buyer review/buyer profile before you meet up for any transaction.
Some people say they will send a cheque or something, but most of these people are scammers. So, it is best to avoid them.
Finally, Is Facebook Marketplace a good place to sell things and make money?
Facebook has become a part of our daily lives to connect and share information with our friends and family. According to recent reports, Facebook marketplace now has over 1 billion users (globally).
With this large number of users, it makes sense to sell on Facebook Marketplace.
Facebook Marketplace is a cost-free platform where you may sell your items. Whether you're decluttering to make money fast or launching a side business to flip things, Facebook Marketplace is worth a try.
However, it is important to remember that not everyone who uses Facebook Marketplace is a real person. There are some scammers from time to time, so make sure you're careful when selling things on Facebook marketplace and be safe.
People with little or no experience can also sell their products through Facebook Marketplace as there is very minimal setup required.
Be smart about how much money you sell and how you get the payment.
Top Things to Know Before Selling on Facebook Marketplace – FAQs
How much does it cost to sell on Facebook Marketplace?
Selling on Facebook marketplace is free. You can start selling on Fb marketplace by creating a listing today.
What sells fast on Facebook marketplace?
Children's clothes and toys, small furniture, working electronics, fitness, or storage furniture are among the most popular products on Facebook Marketplace and sell fast.
How to sell fast on Facebook marketplace?
To sell fast on Facebook Marketplace, you need to have great photos and precise descriptions of your items.
You also need to price them competitively so people are willing to purchase them quickly rather tan go somewhere else where they might get a better deal. Small items that are easy to transport sell faster.
If you need to sell heavier items fast, consider providing drop-off or free delivery.
So there we go, the top selling items on Facebook marketplace, and some tips to make selling on FB marketplace successful!
Do you have any questions about selling items on Facebook marketplace? What are the most popular items on Facebook marketplace in your area?
Comment below with your thought and your best items to sell on Facebook marketplace. And don't forget to check my article on BrickSeek (Walmart inventory checker).
Related posts you might be interest in
What sells best on Etsy: Top selling items on Etsy. If you sell on handmade crafts on facebook marketplace, then you can look for these ideas.
How to post an ad Gumtree: If you live in Australia, you might like to check this post on selling on Gumtree Australia.