Flipping Pallets for Profit can be a lucrative business venture, but it's not as easy as it may seem.
There is a lot of work that goes into finding a profitable pallet, organizing the inventory, and selling it for a profit. TikTok and YouTube videos make it look easy, but trust me, it's not.
However, if you're up for the challenge, pallet flipping can be a great way to make extra money.
In this blog post, we will give you the real scoop behind flipping pallet for money in 2022 and find out how to make money pallet flipping. We'll also share some tips and tricks for finding the best deals on liquidation pallets.
This website contains affiliate links which means we may earn commissions if you purchase through them (no extra cost to you). You can read our policies here.
You might like: How to use Brickseek to find clearance deals (Retail stores inventory checker).
What is flipping Pallets?
Pallet flipping is the process of buying liquidation pallets at discounted prices and re-selling individual items for profit.
These pallets are loaded with inventory that retailers need to get rid of quickly, usually, because it's overstocked, damaged, or returned items.
This inventory is typically sold at a deeply discounted price in order to clear it out quickly and free up space for new stock.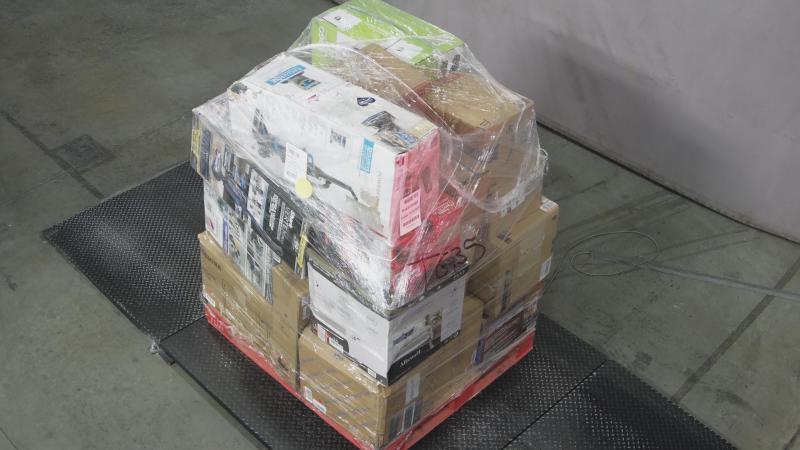 While some of the items on these pallets may be damaged or not sellable, there are often a good number of items that can be re-sold for a profit. With a little bit of creativity and elbow grease, you can turn these liquidation pallets into cash.
Can you really make money with flipping pallets?
Yes, You can make money with flipping pallets, but it takes some background work and knowledge. Flipping pallets is not a get-rich-quick scheme, and there is no guarantee that you will make a profit on every pallet you purchase.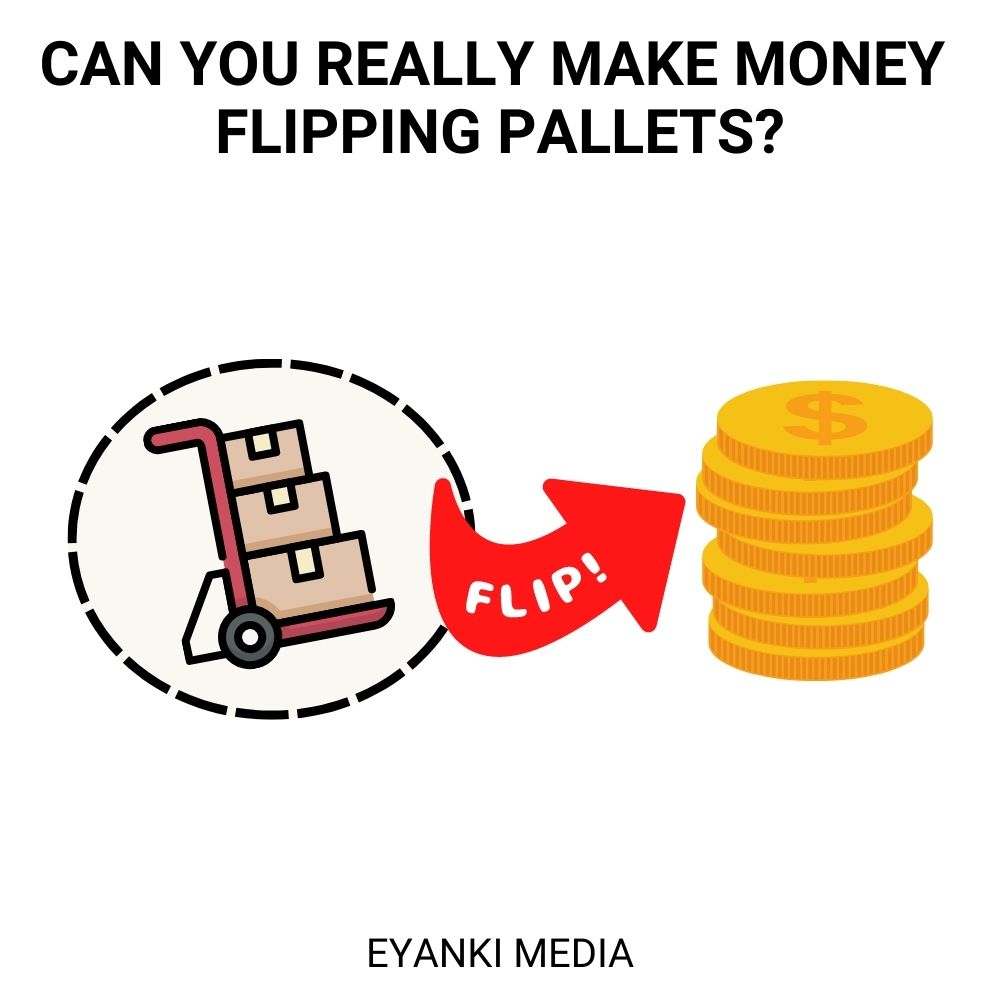 That's because you can't see everything on a pallet. You can only see pictures of the packaged pallet or some of the items around the packaging.
However, if you do your research and are careful with your purchases, you can certainly make a decent income by flipping pallets.
The key to a profitable pallet flipping business is finding the right pallets to buy, pricing your items correctly, and selling them on multiple platforms, so they don't sit for too long.
In general, 30% of MSRP value or less is a good rule of thumb to follow when considering a purchase, as 20-30% of stuff will never sell (broken or useless).
For pricing, you need to find the perfect balance between making a profit and making sure your items sell quickly. For this, you'll must take into account the overhead costs and fees when selling online.
In general, selling on multiple platforms is recommended because it allows you to reach a larger audience and sell your items more quickly.
The longer an item sits, the less money you make.
We'll go into more detail on each of these topics later in this blog post.
Things to know before starting a pallet flipping business
Before we dive into how to find and flip liquidation pallets in 2022, there are a few things you should know: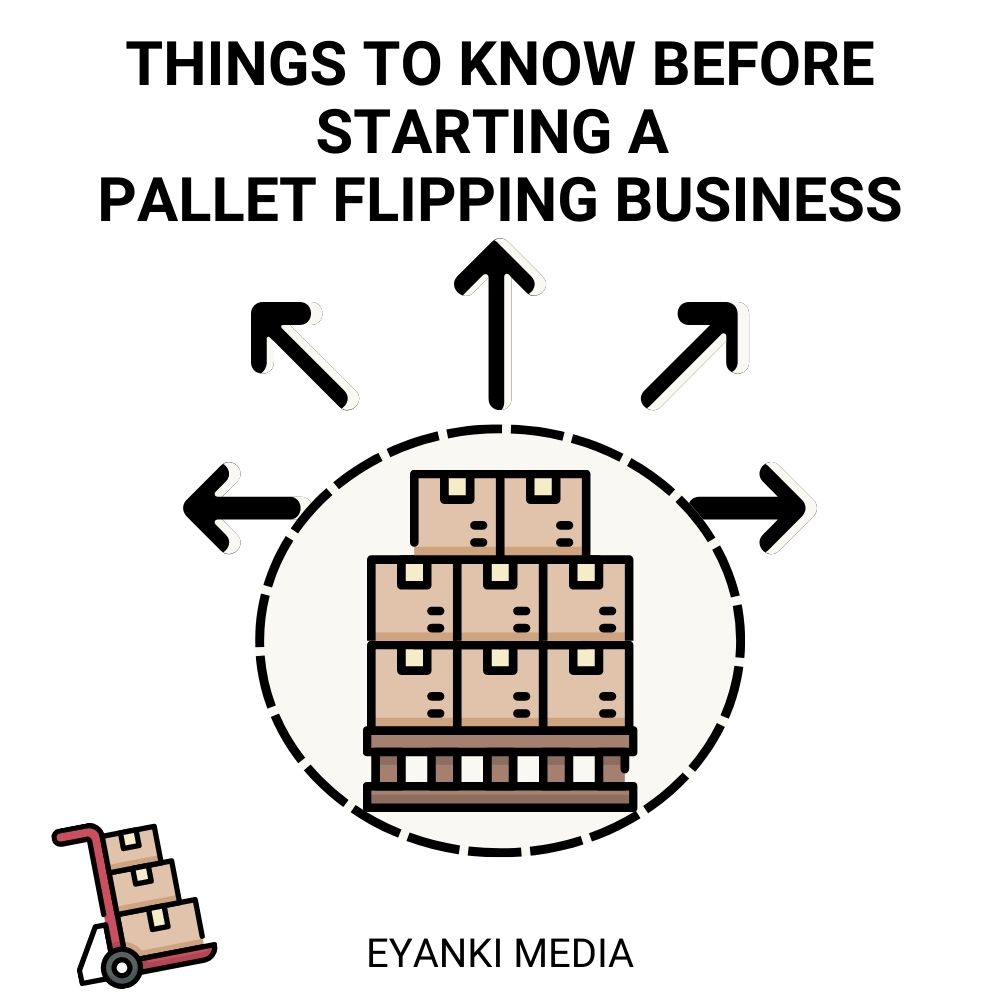 1. Risks
You need to understand the risks involved in pallet flipping. As with any business venture, there is always the potential for loss.
You could purchase a pallet of inventory that doesn't sell well or you could overspend on a pallet and not make a profit.
It's necessary to do your research and understand the risks before getting started.
2. Market
Thanks to TikTok and YouTube, the pallet flipping market has become saturated in recent years.
There are a lot of people doing it, which means the competition is stiff, and finding good pallets is getting harder and harder.
And to add to this, more and more liquidation stores popping up all over the country (accessible to the public), which means there is more competition for pallets.
It can drive up prices and make it harder to find deals. You need to be aware of the market saturation and be prepared to work hard to find good deals.
3. Knowledge about products you want to sell
There are all sorts of different items that you can find on liquidation pallets. It's crucial to find a product niche that you are familiar with, as it will be a lot easier to determine whether or not a product is worth flipping and how much money you might make.
You don't need to be an expert, but having an understanding of retail prices, outdated and popular models, and market trends can assist you in making flipping profitable.
For example, I'm interested in home goods, so I look for pallets with items like small appliances, kitchenware, and home decor.
Picking game consoles as my product to flip would be a bad idea because I don't know anything about them, and I might pick up models that don't sell at all.
4. Operating Costs
 In addition to the cost of the pallet itself, you'll also need to factor in additional costs involved, like shipping pallets to your storage, storage rental, and fees involved in selling individual items.
You may keep inventory in your garage to save money while starting out. However, as your business grows, you'll need to consider these additional expenses.
5. Picking the right platform
Not all selling marketplaces are created equal. It's a good idea to research different marketplaces and pick a website that is well suited for the items you want to sell.
eBay is always a good option, but there are many niche marketplaces that may be a better fit depending on what you're selling. 
Just remember to use more than one platform to reach a larger audience and sell items quickly.
6. Evergreen or seasonal stuff
Seasonality is a big factor when flipping pallets.
For example, trying to sell Christmas decorations in the middle of summer is going to be nearly impossible. You can buy them at a discount after the holidays, but you'll have to wait until the following holiday season to sell them at a profit.
Meanwhile, you will have to pay storage fees for keeping the inventory.
Pros and cons of pallet flipping
Now that we've covered the basics, let's take a look at the pros and cons of pallet flipping.
Pros:
Flipping pallets can be very profitable if done correctly.
Scalable business.
Flipping pallets is a flexible business – you can do it part-time or full-time.
It's a relatively low start-up investment business venture. You can start your pallets flipping business from home.
Cons:
Flipping pallets takes time to learn and master. Not an overnight business.
There is a lot of competition in the market.
Flipping pallets can be physically demanding (lifting and moving heavy objects) if you don't have help.
You need to have some knowledge about products and retail prices.
Flipping pallets requires some operating costs like storage and shipping fees.
Where to buy pallets from?
As we already mentioned, one of the keys to making money flipping pallets is to find a good deal on the pallets. You need to find a reliable source of liquidation pallets.
There are a few different options when it comes to finding suppliers.
1. Direct from retailers
Although finding pallets direct from retailers is the best option, it can be difficult to find someone in the company who is willing to sell you their pallets. They have truckloads of pallets and prefer selling them in bulk (whole trucks) to other liquidators.
However, if you're persistent and build a good relationship with someone in the company, you may be able to get your hands on some good deals.
2. Online marketplaces/Liquidation sites
These are online auction websites or liquidation sites where retailers sell their liquidation goods instead of packing them in pallets. These liquidation sites generally have ties with retailers to sell off their returns and other liquidation inventory.
Depending on their selling model, you can buy truckloads or individual pallets from them at a fixed price or auction.
Genco marketplace
Genco Marketplace is a company that FedEx owns. It is one of the largest liquidations of customer returns.
B-Stock Solutions
Another big liquidation online marketplace that operates for large retailers and manufacturers like The Home Depot, Walmart, Target, Amazon, etc. 
3. Local Liquidators
These are local sellers who buy directly from the warehouse or from auction sites. You can find them on local marketplaces like Facebook and Craigslist.
They are basically resellers, trying to make a quick profit from their purchases. If they a pallet for $350, they will flip it for $600 to $700.
You have to be careful when dealing with local liquidators as there is always a risk of getting scammed. Some of them pick good items from the pallet and sell the rest of the pallet as-is, which makes it hard to make a profit.
How to buy and flip pallet for profit?
Broadly speaking, there are three major steps to make money flipping pallets. These are
Finding a profitable pallet.
Storing and managing inventory.
Shipping and selling.
Let's take a closer look at each option.
1. Finding a good pallet
Assuming you have selected your supplier and niche, the next step is to buy the pallets. Buying the right pallet is crucial as it will determine your profit margin.
There are things you need to look for when buying a pallet:
Condition of the pallet.
The master selling price of items.
Itemized list of the pallet (if available).
An estimated price of the items on the pallet (try to find).
Shipping cost.
With all these factors in mind, you need to calculate the estimated profit margin. If it's less than 50%, it's not worth pursuing, and you should look for another pallet.
2. Storing and managing inventory
Once you've bought a pallet, the next step is to organize and store your inventory.
If you have a small storage space, you might want to consider renting a storage unit. Liquidation pallets are heavy, and you will need help and resources to move them around.
That being said, the next is to find to organize your inventory in an efficient manner.
It includes:
Removing the products from pallets.
Checking the items to verify that you received everything specified on the manifest.
Inspecting the products to make sure they are in working condition and there is no damage.
Sorting and organizing the products by category, type, or model number.
Creating a spreadsheet to manage the inventory.
Creating a storage system that is easy to access and management.
3. Shipping and selling
The final step is to sell your products and ship them. There are many selling platforms, and some of them charge fees for selling.
You must consider this selling fee as well as the shipping cost while calculating your profit margin.
Most popular: eBay, Mercari, and Amazon
Best for local selling: Facebook
Best for Selling Designer Items: Poshmark
As a seller, it is best to list on as many platforms, so your items have maximum exposure.
The first step for selling is to create listings for your products. It goes without saying that creating good listings is crucial as it will help you sell your products quickly.
Related post: Best items to sell on Facebook
Essential Facebook Marketplace selling Etiquette
Some tips for creating good listings:
Take high-quality photos in a well-lit area with a clean background.
Write detailed descriptions, and mention all defects and conditions.
Set the right price. Don't oversell or undersell yourself.
Bonus: Managing inventory
Listing on multiple platforms and managing the listing once they are live can be very time-consuming. You can do it manually when you start, but you will need tools to automate the process while scaling scale.
List Perfectly, and Vendoo are two good tools you can use to cross-list and manage your inventory on multiple platforms.
How to ship?
Well, the last piece of the puzzle is shipping your products. If you are selling locally, then you can arrange for a pick-up. But if you are selling online, you will need to ship the products.
The cost of shipping will depend on the weight and size of the product. You need to factor in the shipping cost when you are calculating your profit margin.
Heavier items are more expensive to ship and thus will eat into your profit.
Buyers like free shipping! You can include shipping charges in your product price and offer free shipping.
Many shipping carriers offer discounts to small business owners based on the number of packages they ship. You can also print discounted shipping labels from websites like Pirate Ship and Shippo.
Some more tips for reducing shipping costs:
Use lightweight yet durable packaging materials.
Use free shipping boxes of shipping carriers.
Ship items together to save on shipping cost.
Use prepaid flat rate shipping options when possible.
What about tracking Id? 
Most shipping carriers will provide you with a tracking ID for free. If not, it's better to pay a little extra as it will give your buyers peace of mind and also help you with any potential shipping issues.
Returns
Unfortunately, there will be times when you will have to deal with returns too. It could be more common in the case of re-selling liquidation stuff.
Returns can eat your profits, but you can minimize them by a thorough inspection of products before listing, writing clear and accurate descriptions of products, and having a return policy in place.
There you have it, the real scoop behind Flipping Pallets For Profit.
Pallet Flipping for profit (Final say)
Flipping liquidation pallets can be a lucrative way to make money, but you need to do your homework and know what you're doing. There's a lot of money to be made, but there are also a lot of risks involved. 
I hope this has given you a better understanding of how to make money with the flipping pallets business. By following the tips above, you can make a good profit by flipping liquidation pallets.
Again, Flipping liquidation pallets is not a get-rich-quick scheme. You might not get success the very first time. Just keep learning, and you will be flipping pallets for profit in no time.
Now it's time to put what you've learned into practice. Go out there and start flipping some pallets.
Please leave a comment if you have any questions or would like to share your experiences with flipping pallets.
Happy Flipping!
Related posts:
Best stores for dumpster diving
More Articles You Might Like