Beem It app is one of the popular ways to send and receive money instantaneously in Australia. Since launching in May 2018, this amazing app has been used by over a million people to make instant payments.
If you are new to Beem It, below is a quick guide on Beem It. In this Beem It app review, we will be discussing:
What is Beem It?
How does Beem It work?
Is it safe?
And finally, is it worth it?
What is Beem It? 
Beem It is an app that allows you to make and receive payments instantly through your phone. It is like a digital wallet that you can download on your phone.
Beem it app, now called 'Beem' is available on the App Store for iPhone users and Google Play for Android phones. Once downloaded, you can link your debit card to the app, which will allow you to make and receive payments.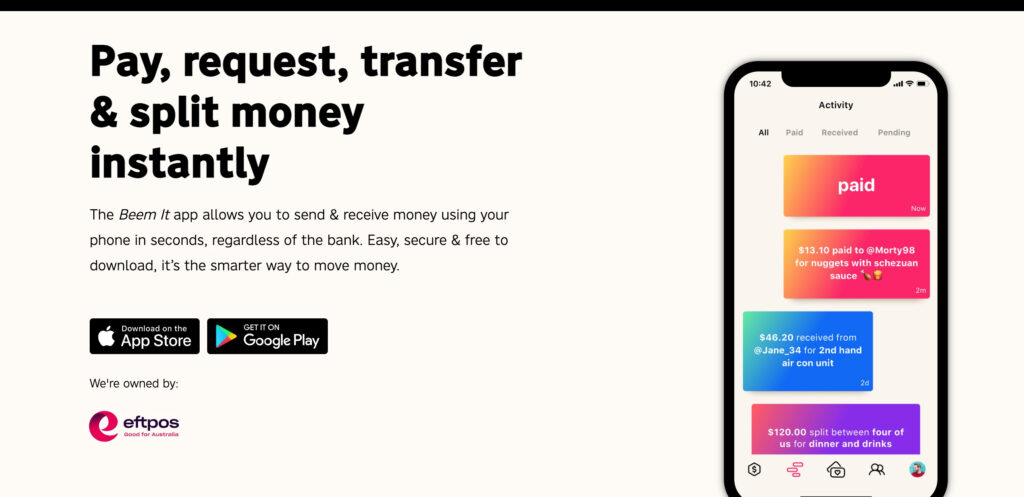 Beem app simplifies making payments to our family members, friends, colleagues, flatmates, and even merchants. We can also request money from other Beem It users. A group of users can split a bill among themselves. You may also use it to transfer money from one bank account to another.
The best part is that all these transactions happen in a few seconds. While doing all this, we also earn rewards that we can redeem or cash out later. The app is also loaded with features such as Rewards, BPAY, Gift Cards, Stickers, Groups, and Loyalty.
How to sign up for Beem It App?
Signing up for Beem It is pretty straightforward.
Download the Beam app. Head to the App Store to download the Beam app
Enter your phone number. Beam App will ask for your phone number to send a confirmation code. Enter the code you receive to start the account.
Choose your Pincode. After that, choose your four-digit PIN and verify your email to complete your Beem It profile.
If you need to make or receive payments, you'll also need to submit your ID and add a valid debit card. Beem It only accepts valid Passport, an Australian driver's licence, or an Australian Medicare card.
Beem It fees
There are no fees to download this app or to use it. You may use its all features at no charge.
How does Beem It work? 
Beem It simplifies all our daily money transactions. Whether making a payment, requesting a payment, splitting a bill, or transferring money within our accounts, it is just a matter of a few clicks and swipes on our phones. All you need is the recipient's Beem Id or QR code.
The Beem App offers several features. Here's how each one works:
1. Paying someone
You can pay someone who has a Beem It account in a few seconds. The money gets transferred from your bank account to their bank account instantly. You do not need their account number or their BSB number.
Select the recipient Beem It handle, enter an amount and the reason, select a date for payment, and slide. 
What's more, you even get an option to schedule the payment. For example, automatic payments until a specific date.
2. Requesting money from someone
I am sure you will all agree on one fact. Requesting money owed to us is awkward. Now, with this app, all the awkwardness is removed. You can now send a request through the app. 
First, enter the amount and the Beem It user handle you are requesting from. Then, enter a reason and slide to send the request.
You can even set automatic reminders. The Beam app will take care of sending the messages. The receiver will choose to pay you with a slide of a finger. The amount is transferred in an instant.
3. Splitting expenses
The Beem It app makes splitting expenses within your group easy and hassle-free. For example, imagine meeting your friends over dinner at a restaurant. As long as all of you use the Beem It app, you can split the expenses equally by creating a special group.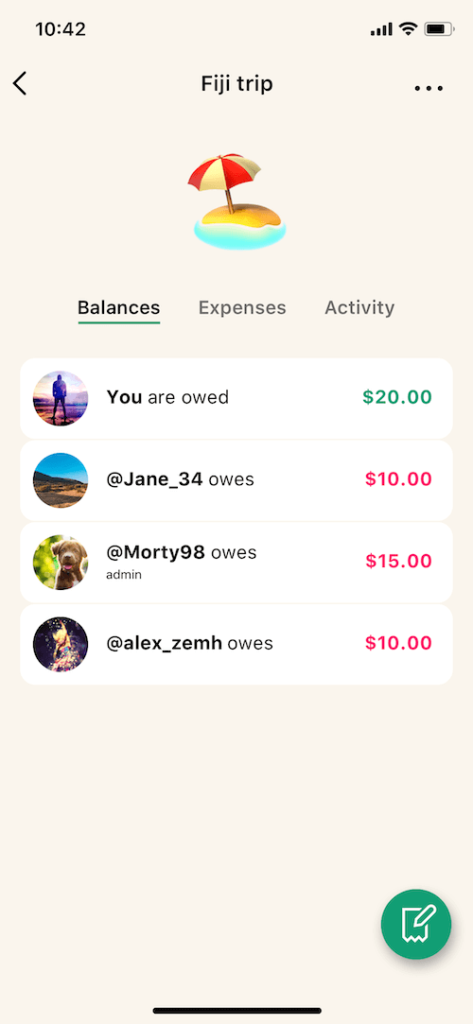 This is an excellent feature when an expense needs to be divided among many people.
4. Transferring money between your debit cards
Gone are the days when we had to wait for a few business days for a transfer from one of our debit cards to the other. You can link up to 5 debit cards that are issued from Australian Banks.
The transfer of money between these cards is instant. Quite literally, all it requires is a slide on your phone. You can send up to $2000 daily. In a rolling 30-day period, you can transfer $10000. What's more, you do not pay any fees for the transfer.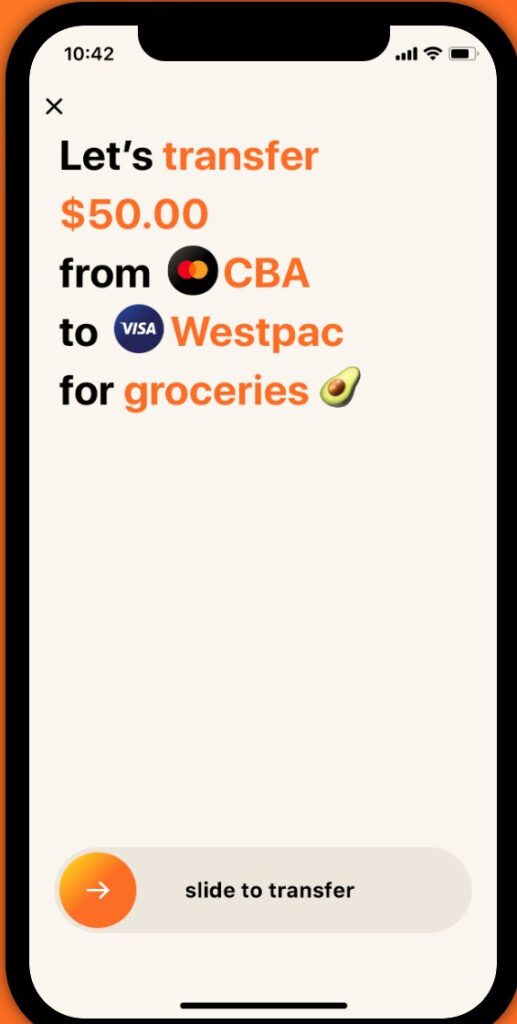 5. Getting rewarded
Like other cash back sites in Australia, each time you pay Beem It partner retailers, you accumulate cash in the form of Beem bucks. You have a choice to use the rewards for spending or cash out to the debit card linked to the app. This amazing feature of the app rewards us for using the app.
Related reading:
Cash Rewards review: Is it the best cashback site in Australia?
Shopback review: How to save money with its amazing features?
6. BPAY
Beem It app supports BPAY. This means that you can now pay for your utilities using the BPAY feature built into the app. For example, you can pay your mobile phone bill directly from this app. To cite another example, flatmates can split the utility bill for the flat.
No need to sit down to calculate who pays what. The app will calculate the split and send messages to each flatmate about the payment they must make.
7. Gifting someone
You can buy and send personalized digital gift cards to anyone. You can make it a memorable experience for the recipient.
8. Storing and using loyalty cards
Just scan the store loyalty cards through the app. You do not have to carry these cards everywhere. You can now use and earn loyalty rewards directly from the app. 
9. Beem It for business
Beem It is designed to help small businesses grow as well. As a business owner, you can create a separate account and receive payments through Beem It app. However, you would need to use a different mobile number and bank account for your business transactions.
There are three ways you can receive payments for your business:
QR Code: Works best for restaurants, cafes, and hairdressers where you can get paid instantly after scanning the QR code. You can easily create a QR code for a pre-determined amount or variable amount with your Beem app and share with your customers or print it to use as a barcode.
Username: Your customer can also send you payments using Beem It username (business handle). It works best for fundraisers or anyone running a small business.
Request: If someone owes you money for a service, you can request it using their Beem It handle.
With Beam it, you can accept up to $10,000 per month without paying any fees. All of your transactions will be deposited directly into your linked bank account.
Is Beem It safe?
Since we are discussing a financial app, the most crucial aspect to consider is safety. Beem It is one of the safest options to use for money transfers. I would like to present a few reasons why it is safe to use it.
No personal information is shared in the app. The transfers are done using the Beem It handle or username. 
No financial information is shared through the app. The app does not show details like your bank account number, BSB number, and debit card number to anyone. Since the transfer needs only the Beem It handle, all the critical financial information is kept safe.
All information is transferred in encrypted form.
Each transaction is authenticated.
Beem It performs fraud monitoring for transactions done through the app.
Having cited these points, you are requested to keep your details safe from any fraudulent use. Never share your passwords. 
As far as possible, avoid sending money to people unknown to you or to someone you do not trust. Remember, since the transfer is immediate, there is no turning back once you make a swipe.
Beem It reviews: Is it worth it?
The Beem It app is safe, quick, and simple to use. There is no wonder why over one million Australians are using Beem It. Though I could not get anything on Trustpilot, the app Play Store rates it at a solid 4.9 stars out of 5.

WithI also dug up the internet to find a few Beem It reviews from other Beem It users. 
Let's take a look at what they have to say.
"Beem It is another method of fast payments. It's done through your debit card on the EFTPOS network instead. It can be a quick and easy way to send payments. But both parties need to be signed up to Beem It."
"I also like that you get instant phone notifications for any requests/payments that come through."
"Like others mentioned the best part is the request payment, history tracking, and split bill features. And it can auto remind someone to pay up if they have forgotten last week's dinner bill :)"
"You can use emoji."
"I find Beem It to work best with groups of people. Easier to split the bill, and you can see a history of who has/hasn't paid, which makes it less awkward for those "hey did you end up paying me back for that coffee yesterday" conversations."
People seem to be really enjoying the app and find it helpful in many situations. No one likes to be the awkward one asking for money owed, and Beem It takes care of that.
What are some of the pros and cons of Beem It?
PROS:
Quick and easy to use
Free to use
Safe and secure
Bill splitting feature
Beem Rewards
CONS:
Need both parties to be signed up to Beem It
Transfer limits
Not available internationally
FAQs about Beem It APP
Does Beem It transfer instantly?
Yes, Beem It transfers money within seconds. As soon as you swipe on the Beem It app on your phone, the transaction is completed, and the money goes straight into the bank account. It's both quick and simple.
Can you send money internationally with Beem It?
No, at this time you can only send money to other Beem It users in Australia. International payments are not available.
Who owns Beem It?
Beem It was jointly owned by three of Australia's biggest banks – Commonwealth Bank, NAB and Westpac until Eftpos acquired it in November 2020. Beem It is now owned by Eftpos.
How does Beem It compare to other payment methods?
Other popular instant payment methods in Australia include Osko and PayID. Beem It is similar to these in that it offers a quick and easy way to send money. However, Beem It also offers Beem rewards, bill splitting, and auto-remainders to request money from others, which set it apart from its competitors.
And you don't need a person's BSB or account number to make a payment – all you need is their Beem It handle.
Final Take on Beem It App
The main pros that stand out are its simplicity, safety features, and the fact that it is free to use. There are some cons worth considering as well, such as the need for both parties to be signed up to Beem It to make a transfer, and there are some transfer limits.
Overall, Beem It seems like a great option if you are looking for a safe and quick way to send money.
Have you tried out Beem It? What did you think? Let me know in the comments below.
Happy beeming!​
You might also like: