Does Officeworks Price Match? Here's what you need to know.
A few months ago, my partner bought new Apple Air-pods from the Facebook marketplace at a great price. The seller told him that he had purchased 4 of them at an even lower price using the Officeworks price match policy.
He also mentioned that he flips items on the marketplace as a side hustle, and this deal made him $50 profit per pair.
Not bad at all. We were pretty impressed and decided to give this a try the next time.
And well, we tried and it worked! We saved over 100 dollars on new mobile connections by price matching at Officeworks.
In this article, I'll share with you
How Officeworks price match policy works,
Stores that Officeworks Price Matches,
What is allowed and what is not,
How to get the best deal by price matching at Officeworks.
And finally, how we saved with their price-match policy (with our proof of purchase).
This website contains affiliate links which means we may earn commissions if you purchase through them (no extra cost to you). You can read our policies here.
Does Officeworks price match?
Yes, Officeworks has a fairly good price-matching policy known as a price-beat guarantee. It means that if you find a cheaper advertised price on an identical in-stock item, they will price match and beat the price by 5%. The best thing about their policy is that it applies to both; in-store and online prices, which is great if you're looking to buy something online.
Of course, there are certain conditions for this to work, but you can get a good bargain if you know how to use this policy to your advantage.
For example, if you find a pair of headphones advertised for $200 at some other store online and Officeworks sells it for $250, they will price match to $200 and then smash the price by 5% to sell it to you for $190.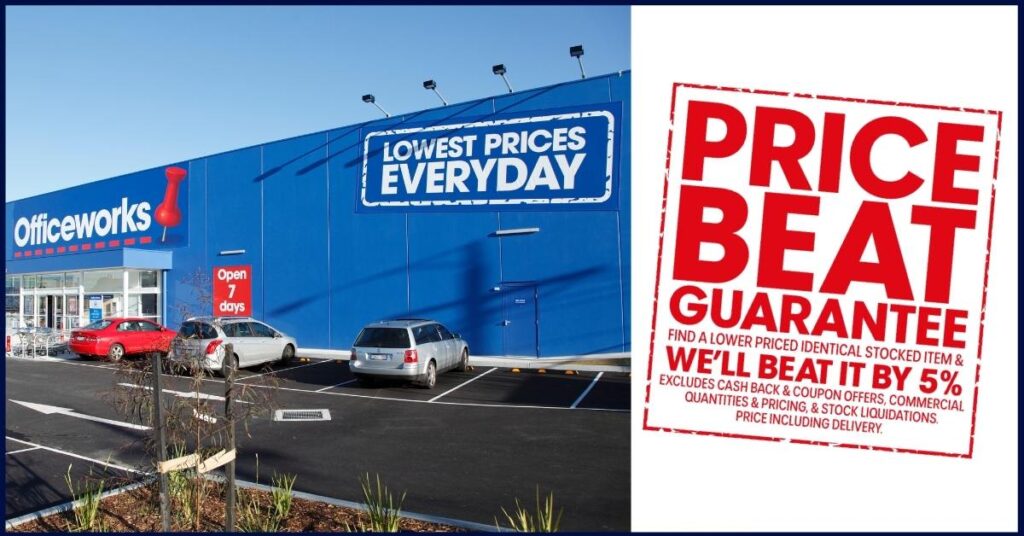 Conditions for price-beat guarantee:
The item you want to price match must be identical in all terms– brand, model number, colour, and features.
It must be in stock at both Officeworks and the competitor's store.
A cheaper price at other stores means a normal or seasonal sale. You cannot get a price beat if the competitor is selling the item on clearance or as a liquidation sale.
You cannot use discounts, coupons, or cashback offers on top of the price-beat guarantee.
You cannot price-beat if something is meant to be sold in commercial quantities to another business.
How does Officeworks price match policy work at the store?
My partner is not very comfortable doing stuff like price-matching, but still, he was able to do it without any issues. So be assured it is a very simple and hassle-free process as long as you take care of the conditions for the price-beat guarantee.
Here is what you need to do:
1) Take a snapshot of the competitor's advertisement or save the website's URL. 
2) Go to the Officeworks store and find your item.
3) Go to checkout as usual and show the proof to the person at the checkout counter. He will confirm the model as well as the availability of the item at the competitor store. (In our case, he added the item to the online cart of the competitor to verify the price and availability.)
4) If everything looks fine, they will beat the price by 5%. That's all.
How does Officeworks price match policy work online?
Officeworks doesn't offer online price-matching, but you can price match on phone by calling their office at 1300 633 423.
Please be informed that Officeworks also considers shipping costs while price matching an online competitor. If a $40 item costs $5 to ship, Officeworks will consider both prices (total of $45) while price matching.
Anyways, coming to the point, to price match, they'll check the item over the phone, and if it matches, they will price beat and help you place your order on the call itself.
Is there a list of stores Officeworks price beat?
I could not find an official list of stores, but they consider all major retailers. If you have confusion about a particular store, you can always ask their customer care, and they will let you know if the store is eligible for a price-beat or not.
How we saved more than $100 with the Officeworks price match policy?
We were looking for a new mobile network provider as our current one was giving a lot of trouble lately.
My partner found an offer on a Boost mobile prepaid sim card, which was on sale for $152 at an online store. But the same card was available for $200 at Officeworks.
We went to the Officeworks store and showed the snapshot to the person at the checkout counter. He price-matched it and gave a 5% extra price beat discount bringing the price down to $144.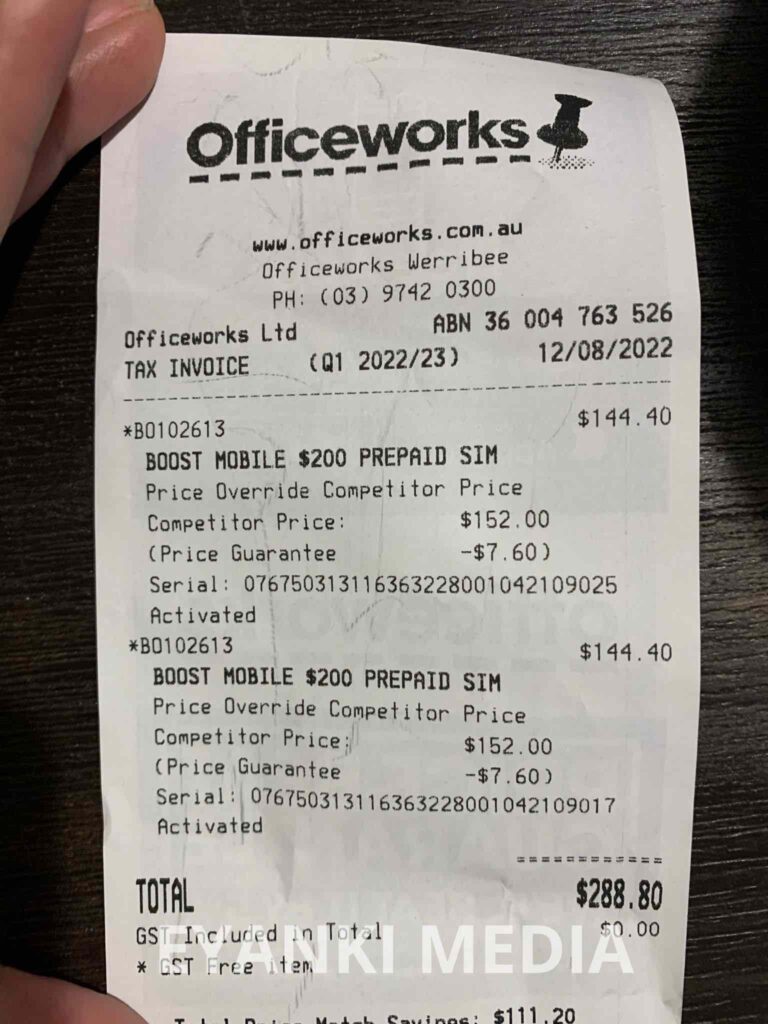 Does Officeworks price match with Amazon?
Yes, Officeworks does price match with Amazon as long as conditions of PBG are fulfilled.
As previously mentioned, Officework's price beat will include shipping costs while matching prices with Amazon. If an item is $50 on Amazon and shipping will cost $5, Officeworks will price beat the total of $55.
 Does Officeworks price match Apple?
Officeworks does price match with Apple products, but at this point, I am not sure about Apple's Education Store. I see JB HI-FI price matches them in-store if you are a part BYOD program and show your student ID.
Does Officeworks price match Kogan?
I have read mixed reviews about it. While they price match items sold by Kogan Australia, there are many threads in local forums where people have complained about not being able to get a price-beat on items sold by Kogan Marketplace sellers who import stuff from overseas.
It's better to check with Officeworks customer service if you have a doubt about any item.
How to save if you can't price match or get a lower price?
Here are a few things we try if we can't get a price match:
Look for Cashback offers: We use Cashrewards and Shopback to get cashback on my online purchases. We usually get 2-10% cashback which helps offset the cost a bit.
Look for sales and promotions: If you are planning to purchase something big around any public holiday, it is worth waiting for a sale or promotion. Many stores have sales around this time.
Look for eBay offers: eBay has been a lifesaver for us. You can find major big box retailer stores on its marketplace.

It's also worth mentioning that if you're an eBay plus member, you might be eligible for additional savings throughout the year. Occasionally, it provides 15-22% off coupons that can be used on these large box stores as well (if they are included in the sale).
Here is a snapshot of one of my latest transactions: 

FAQ
What is Price Match Policy?
Price matching is when a store agrees to sell an item at the same price as a competitor's store. Many stores offer this policy to win over a customer who is planning to buy the same item from the competitor.
Final say on Officeworks Price Beat Policy
Overall, I am happy with the Officeworks price match policy. It is quite straightforward and a great way to save money as long as you're aware of the PBG conditions.
Just remember they will only price match an item if it is currently in stock and the advertisement is recent. Other than that, you should be good to go.
Have you ever saved money with Officeworks price beat policy? How was your experience? Let me know in the comments below.
More articles you might like: