Do you love getting cashback rewards on your purchases? Well, I do, and if you are anything like me, you'll love these Australian cashback sites and apps I've listed below.
Online shopping has become a hobby lately. What scares us is the bill that comes after. But what if there are ways to make your online shopping experience a little more rewarding?
Yes! You heard it right. There are different cashback apps in Australia that offer rewards on your purchases. Some work by giving you a percentage of your purchase total back in the form of cash or vouchers, while others offer you a discount on the products you buy.
I was a big fan of cashback sites back in the US, and when I moved to Australia, I was so excited to find out that we have cashback rewards in Australia as well.
Although the overall cashback schemes (and discounts) are not as great as they were in the US, there are still a few good Australian sites that offer some pretty decent deals.
And all thanks to them, I was able to save a few hundred dollars while settling in my new home country. When we are starting everything from scratch, every penny counts!
I've put together a list of the Best Cashback Australia Sites for Australians, so you can start earning money back on the things you buy every day!
This website contains affiliate links which means we may earn commissions if you purchase through them (no extra cost to you). You can read our policies here.
What are the cashback sites?
Cashback sites or apps are platforms that give you money back when you shop, dine out, or book travel through them. You get the rewards only if you use their specific links, use cards associated, use their codes at the time of payment checkout, or simply upload your receipts. 
How do cashback sites in Australia work?
The cashback sites in Australia work like a loyalty program that gives back a percentage of your shopping bill. 
To avail of the discount, you will have to shop through the cashback site. Instead of going directly to the merchant store online, you will have to access the shop through the cashback website or use their chrome extension.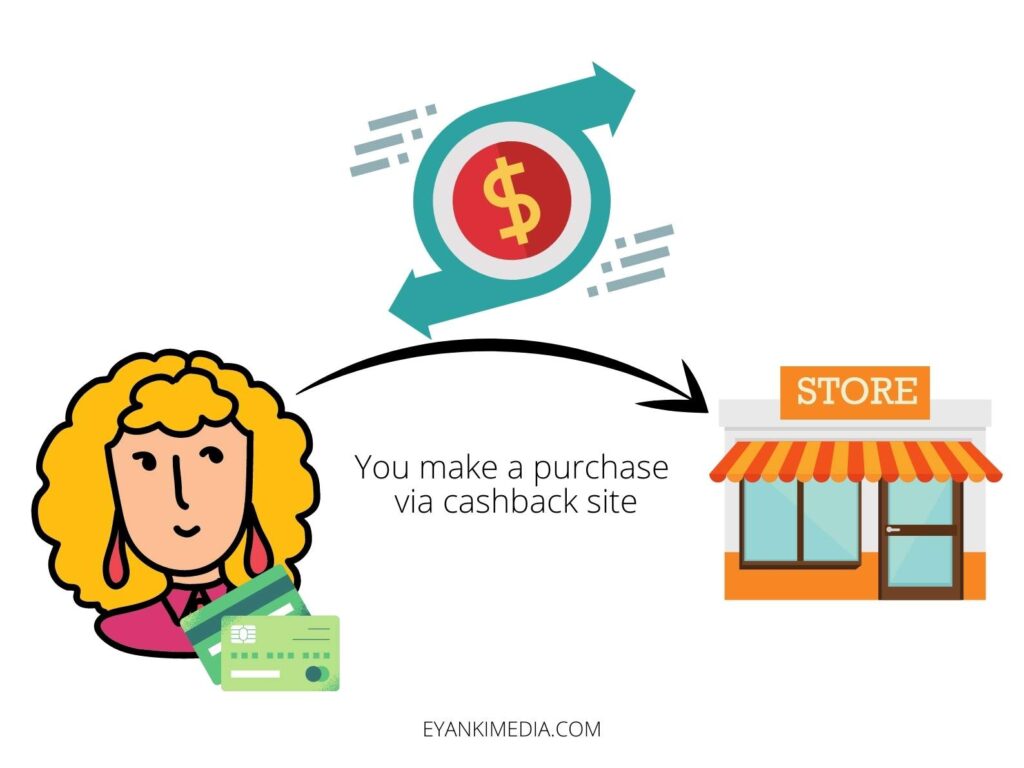 Cashback sites often collaborate and work in partnership with several small and big brands. Whenever you buy through a cashback site, they get the commissions, and you get a portion of that commission.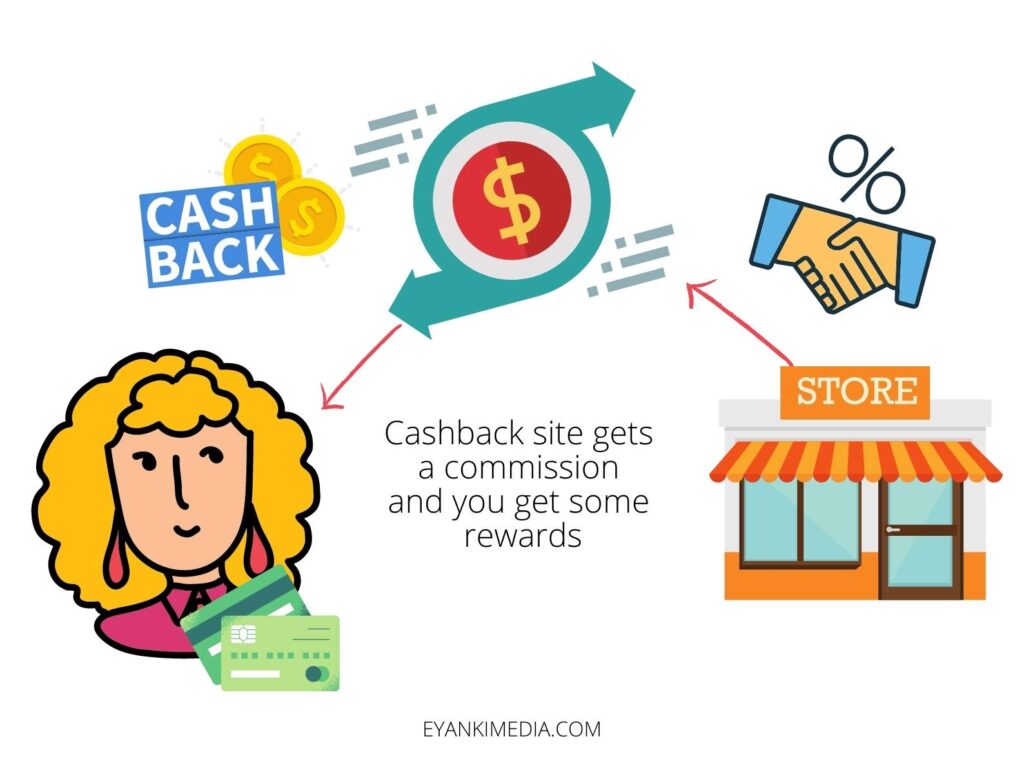 To start with, you will need to sign up using your email and phone number. Upon successful registration, you can see the offers and stores available on the website and enjoy the benefits. The sign-up process is simple and easy.
Follow the steps below to shop online on any cashback sites in Australia.
Firstly go to the cashback website and create an account.
Then search for the partner stores on the website.
Go to the online store of your favourite brand through the cashback website. Either log in through the cashback app, use the rewards website, or chrome extension. 
Now you can shop just like you shop online and make payments.
Once your order is confirmed, you will see a pending notification in your cashback account. 
Once the vendor approves your cashback, you can cash out the amount as per your cashback website instructions.
Once you receive the cashback amount, you can cash out to your bank account, Pay ID, Paypal, or redeem gift cards. 
Wait!!! Do you know what's my favorite way to make extra money in my free time? Readers love them too!
User Interviews: I love User Interviews, one of the best online focus groups. I have made over $100/hr by just talking about stuff I use daily at home (see the proof here).
Octopus group: Highest paying survey site in Australia.
Survey Junkie: Highly rated survey site. Join for FREE for short and easy surveys. Get your first 250 points just for signing up.
Opinion Inn: High-paying survey site. Get a $10 joining bonus.
Swagbucks: Get paid up to $50 for completing offers and surveys. Get a $5 Signup bonus.
Related reading:
Are cashback sites worth it?
Yes, cashback rewards sites are totally worth it. Who wouldn't love to save every time they shop. Even if you are getting a small discount of 5%, it is still worth it.  On huge bills, the discounts come as a boon.
If your shopping bill amounts to $200, with a 5% discount, you will get $20 back. So you will be paying $180 for products worth $200. 
Moreover, some cashback sites offer higher percentage discounts. Also, there are reward points and bonus discounts for frequent buyers. If you sum up everything, you will end up saving a lot. 
Are cashback websites legit?
Yes, cashback websites are legit. These cashback rewards apps (or sites) make money when you shop through them. Hence they will never try to cheat you as it is in their best interest that you continue shopping with them, again and again, to earn higher commissions from the companies.
The websites mentioned in this article are all reputable and legitimate cashback platforms. Many of these websites are working for years and have been used by millions of people.
How do cashback websites make money?
Cashback websites make money when you shop through them. They get a commission from the merchant for referring customers to them. Cashback websites also make money when you sign up for their services or download their apps.
best Cashback Sites Australia 2022
Here is a list of the top cashback apps and sites in Australia I currently use and recommend.
You can use this table to compare and get a quick overview of these cashback sites.
| Cashback Site | Features | In-store or online | Bonus | Payout |
| --- | --- | --- | --- | --- |
| Cashback Rewards | Best Australian cashback site, link with ANZ card to activate Cashmax for cashback boost | Both | $10 bonus after your first eligible purchase of over $20. | Cashout amount at $10.01 into Paypal or bank |
| Shopback | Lots of stores, Cashback on gift cards, price drop alerts | Both | $10 bonus after your first eligible purchase of over $20. | Cashout amount at $10 into Paypal or bank |
| Swagbucks | Best survey site, get paid to watch videos, play games | Online | $5 bonus after verifying your account. | $5 minimum PayPal cash or gift cards |
| Honey | Chrome extension | Online | 500 Honey gold points | $10 gift card with gold points |
| Kickback | Offers membership tiers based on purchases. | Online | $5 Kickback rewards with eligible purchase of $20 or more | Cashout amount at $10.01 into Paypal or bank |
| Receipt Jar | Make money scanning your receipts | Both | 200 points | Cash out into gift cards when you have at least 1,000 points |
| Beem It | Transfer money, spilt bills | Both | NA | Beem bucks can be cashed out into debit card. $10 minimum |
1. Shopback
Shopback is a great cash rewards site I love and one that has given me a lot of cashback. A must-have rewards site if you are shopping online.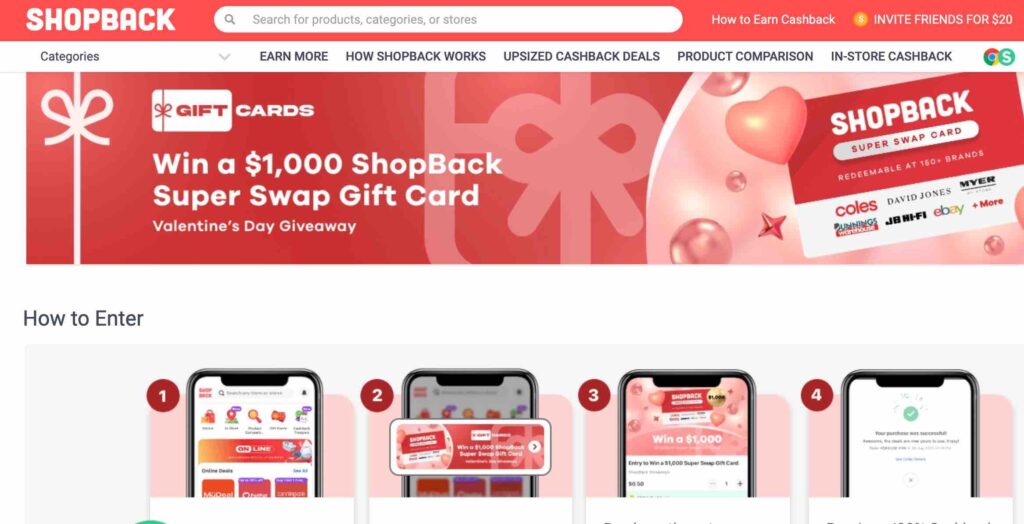 It is a popular Asia pacific rewards site with over 1500 online and in-store merchant partners across various categories.
You can earn cashback when you purchase anything from flight tickets, and hotel bookings to groceries, and even Entertainment products such as Apple products, Spotify, and Xbox cars.

They also have a cool product comparison tool that lets you compare prices and get the best deals before making any purchase. I recently saved more than $50 on an item using this tool. You can read more about it (and how I saved that money) in my Shopback review.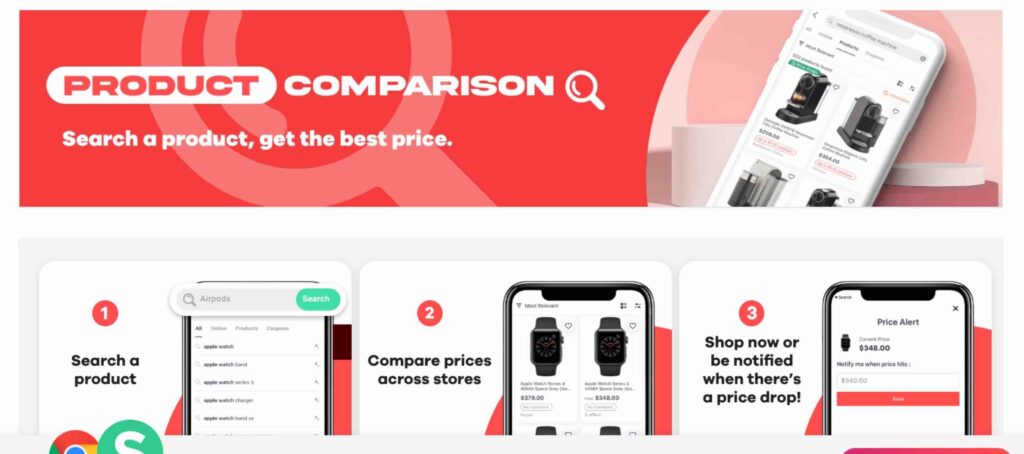 Not just that, you can also save items in your watch list and receive price drop alerts. It also has many upsized cashback deals, so you can earn more cashback when you purchase through Shopback.
Like this one that just popped out on my screen!

How to Sign up
The sign-up process is simple. It will take only 5 minutes to fill in your details and create an account. You will receive a $10 bonus after your first eligible purchase of over $20.
Moreover, you will get rewards if you refer your friends to shop with Shopback. 
You can also download the Shopback app from your app store. It makes it easier to create an account and shop on your phone.
Cash-out
 Once your purchase is confirmed, the cashback amount reflects on your Shopback account within 48 hours. You can cash out a minimum of $10 through a bank or Paypal.
Best Features
Compares a product price to help you find the best deal.
Gives you price drop alerts.
Earn cash back online and in-stores
Buy instant gift cards to gift pr personal use and earn cashback.
Easy to use app and handy browser extension.
Related Reading: ShopBack review and everything you need to know about this cashback website
2. Cash rewards
A 100% Australian made and run – Cashrewards tops this list with its extensive coverage of more than 1700 stores.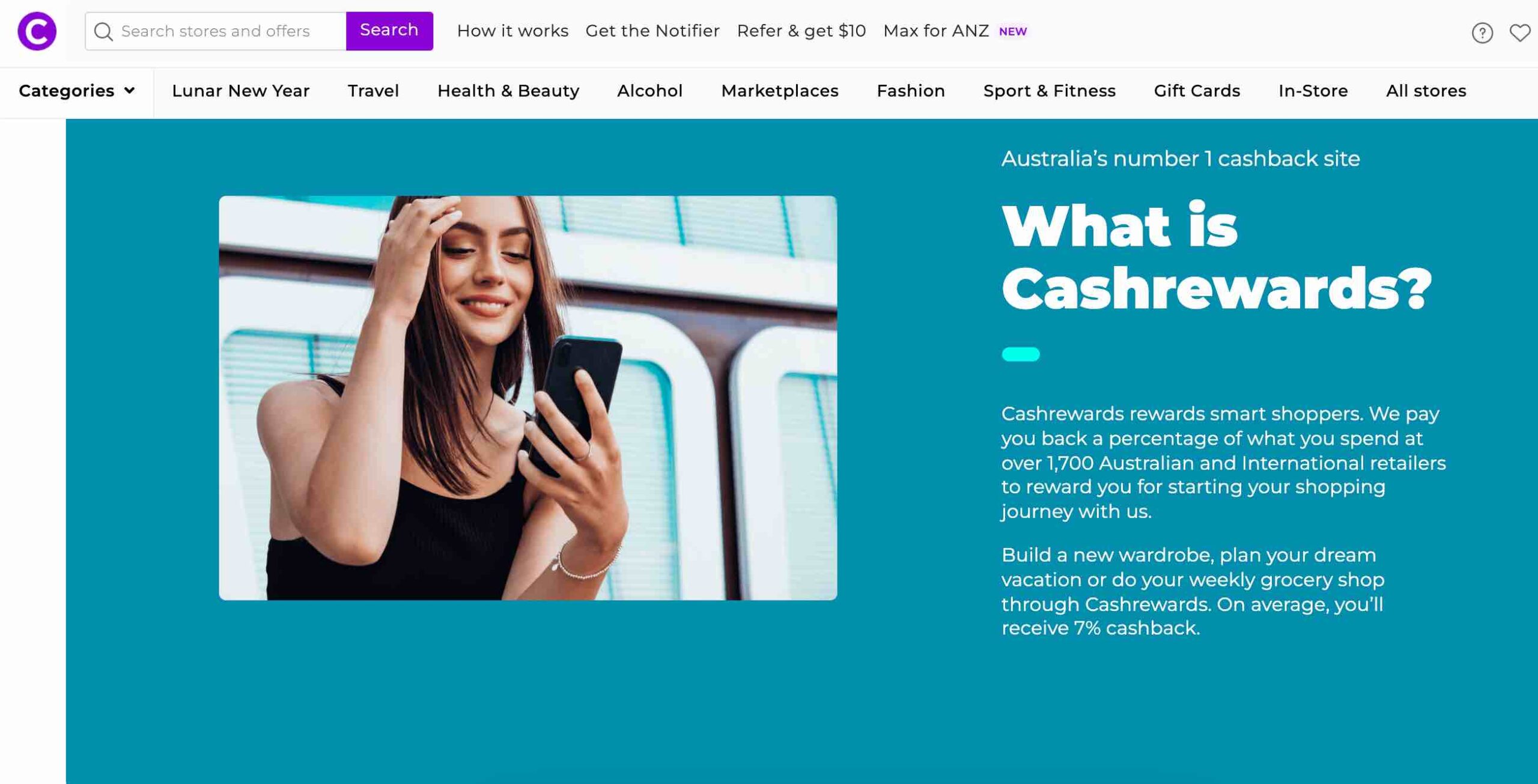 With over 4.9 stars on trust pilot, Cashrewards is one of the top most popular cashback apps in Australia.  You can get both; online and in-store cashback rewards with this site on clothes, groceries, travel, liquor stores, and even gift cards. 

You will have access to all major stores like Amazon, eBay, Harvey Norman, Woolworths, David Jones, Chemist Warehouse, ASOS, The Iconic, Groupon, Dan Murphy, and The Good Guys, Booking.com, BCF, Virgin Australia, and many more to name.
And not to mention, the Cashrewards team is always looking for new ways to increase your rewards. 
On several occasions, you will find exclusive deals, featured offers, or boosted cashback, making it one of the best cashback apps in Australia. You have to be on the lookout for these bumper offers. 
You can also link your card with cash rewards to get automatic cashback on every in-store purchase you make in participating stores.
How to Sign up
All you need is to sign up on the Cash rewards website. On sign up, you will receive a $10 cashback as a bonus. The important thing is that you must make a purchase of a minimum of $20 within 90 days of joining. 
Cash-out
 The best thing is that the cashout amount is as low as $10.01. You can make payment through Paypal or Bank. 
The pending cashback will appear in the "Available Cashback" section of your account. Once the retailer approves your cashback, it takes 1-7 business days to process the cashback.
*Please note it can take anywhere from one to 100 days for the retailer to approve your cash for withdrawal.
Best Features
Works online and in-store at participating stores.
Over 1700 stores with many offering exclusive deals to cash rewards members.
Link your card for automated cash back (at participating stores).
Use the cashback app, website, or browser extension to maximize your profits.
Donates 1% to business equity and 1% of every cash reward you redeem to the foundation
Pay later with Afterpay or Zip Pay, and still earn cash back.
Cashback on gift cards
Amazing customer service.
Related Reading: Cashrewards review and everything you need to know about this cashback website
3. kickback
Launched in 2020, Kickback is another Australia-owned and run cashback site that works with a chrome extension. It has partnered with over 1000+ retailers to offer you the best deals. 

Like ShopBack, you can search shops by their brand name or compare products for prices and offers. 

Kickback also offers membership tiers based on the number of your purchases through this site. THE MORE YOU BUY, THE MORE YOU GET!
Regular buyers get additional discounts and offer on the purchases made through its website.


How to Sign up
It's easy to sign up with Kickback. All you have to do is provide your email address and password on the website.
Once you've joined, install the company's Chrome extension for easier shopping. You may get $5 Kickback rewards if you make an eligible buy of $20 or more within 90 days of opening your account.
Cash-out
If you have shopped with a partner, your purchase should appear in your Kickback account within 48 hours. The Cashback amount will take between one day and 120 days to become available for withdrawal from your Kickback account.
You can cash out your rewards once you have reached the minimum of $10 in your bank account.
Best Features
Partners with over 1000+ retailers.
Regular buyers get additional discounts and offers.
Chrome extension for ease of use.
A price comparison tool is included on the website.
https://kickback.com.au/invite/ruchikagupta
4. Swagbucks rewards
You might have heard of Swagbucks before as it's one of the most popular paid survey sites. You can earn points (called SB) by taking surveys, watching videos, shopping online, and even searching the web. These points can be redeemed for gift cards or cash (via PayPal).
With Swagbucks, you can earn cashback on your online purchases from Australia as well. 
Swagbucks has a chrome extension called SwagButton which will notify you of any available coupons or deals before you checkout while shopping online so you can save even more money.
If you're looking to earn some extra cash, Swagbucks is definitely a site worth checking out!
How to join Swagbucks Australia
Joining Swagbucks is very simple and only takes a few minutes. Just go to their website and sign up with your email address.
Once you have registered, you will be able to start earning points by taking surveys, watching videos, and shopping online. And yes, you will also earn a $5 bonus just for signing up.
Best features:
Make money with your online activity
Different ways to earn gift cards
Highly rated survey site
Get gift cards or cash back to your PayPal account
App and SwagButton Chrome extension 
5. Cashback club
When talking about cashback sites in Australia, you cannot afford to miss Cashback Club.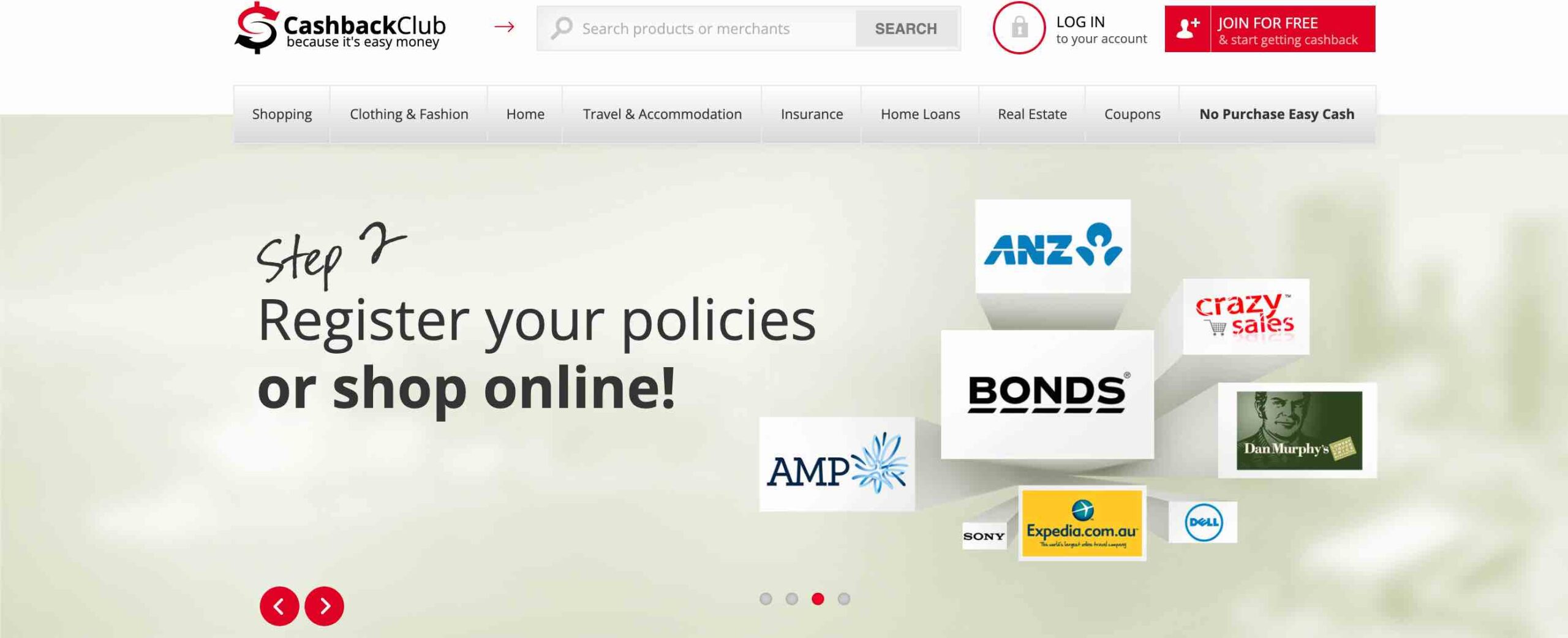 Unlike the reward apps discussed above, this website also offers cashback on home loans, insurance policies, and sales commissions you pay your real estate agent when you sell your property.

You won't find any big grocery brand names on the Cashback Club website. If your favourite retailer is on this Cashback website, you might not find discount offers as big anywhere else.
Real estate commissions
They also offer Cashback credits if you sell your property through an agent introduced by them. Cashback Club will receive referral fees (a percentage of sales commission), and you will earn cash back on that referral fee.
You might be able to earn thousands of dollars on these transactions alone, depending upon how much your home is worth.
Home loans
Cashback Club can also help you get serious cashback on your home loans if you choose any of the Cashback Club's home loan brokers. 
CashBack club will credit cashback to your account based on the sales commission they receive from your chosen bank (lender).
Policies
With this club, you can cash back on new or existing personal insurance policies such as life insurance, permanent disability, income protection, critical illness or trauma, or even insurance on business expenses.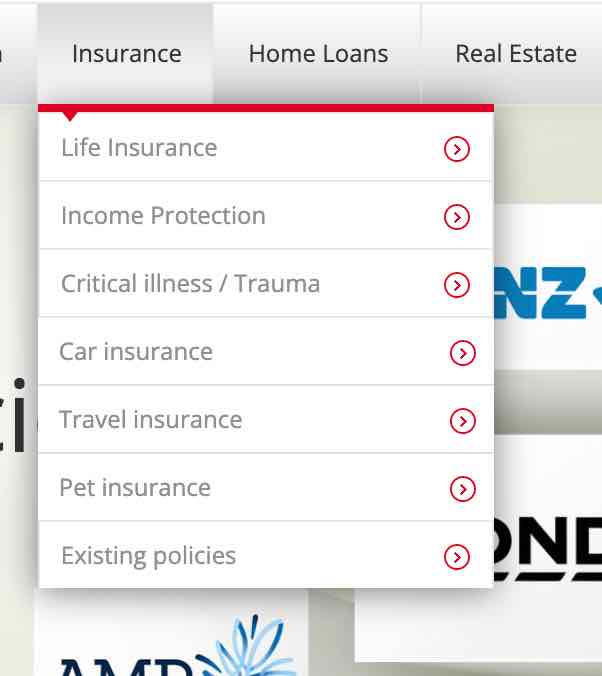 If you are shopping for a new policy, you will get back a percentage of the sales commission that Cashback Club makes with this deal. This alone might result in hundreds to thousands of dollars in rebates.
You may even designate CashBack Club as your broker if you already have a policy. Here they will work as your new brokers (without any change in your policy), and you can get cash back credit for the future trailing commissions.
Other offers:
In addition to the above cashback deals, you can get cashback on several other online retailers and travel and accommodation deals. You won't find any big grocery brand names on the Cashback Club website. If your favourite retailer is on this Cashback website, you might not find discount offers as big anywhere else.
How to Join
Cashback Club is free to all Australian residents over 18 years of age.
There are three membership levels, each of which offers a different amount of cash back for any retail purchase made via the Cashback Club website.
These all are free to join but require you to take advantage of certain Cashback club offers. You can find the details on the terms page of the website once you are inside.
Cash-out
There is no minimum limit to cash out the cashback amount. Once the order is confirmed, the 'Payable' button below the amount will be active. You can then cash out the amount to your bank account.
Best Features
Cashback on mortgages, home sales, and policies.
Discount coupons from top participating brands
Personal insurances and home loans from Australia's top companies can be compared using Cashback compare.
No minimum payout.
6. Honey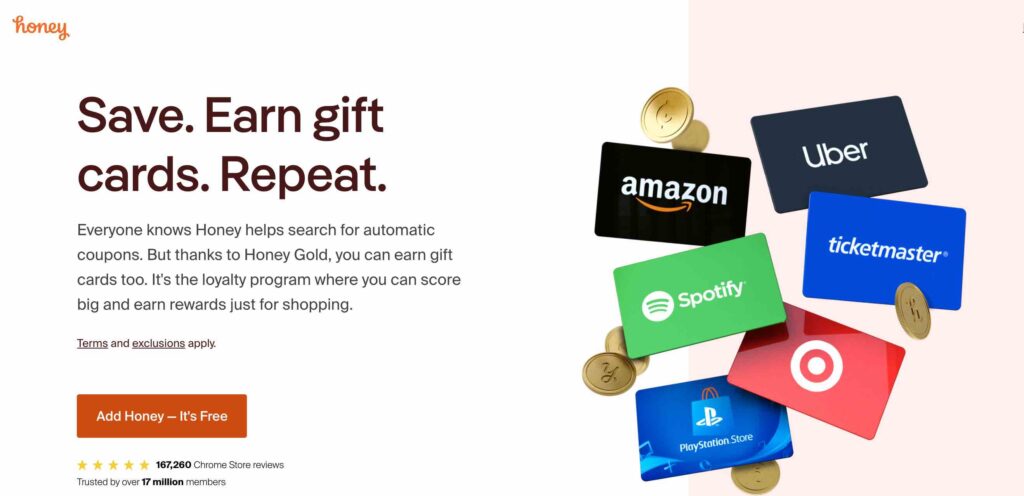 Honey is a coupon cum rewards site that gives you the freedom to buy from your favourite brand and save on bills. Unlike other cashback sites, you will not be restricted to a few brands on the cashback website. You can explore any brand or retailer store online as it covers approximately 40,000 brands worldwide and around 5500 Australian stores. 
Honey runs in the background to find you the best deals on the product you are looking for. All you need to do is download and install the browser extension. 
Whenever you are shopping online, it will automatically pop up and let you know if any coupons or deals are available for the product or the brand. 
Aside from coupons, you will also earn Honey Gold every time you shop from its participating stores. You can use the Honey Gold points to buy gift cards from stores like Spotify, Woolworths, eBay, and Amazon.
Moreover, you can send a Honey referral link to your friends or family. If they buy something using your link, you will receive 500 Honey Gold points.
How to Sign up
You can join Honey by signing up with your email, Facebook, PayPal, or Apple. Then you can install the chrome extension.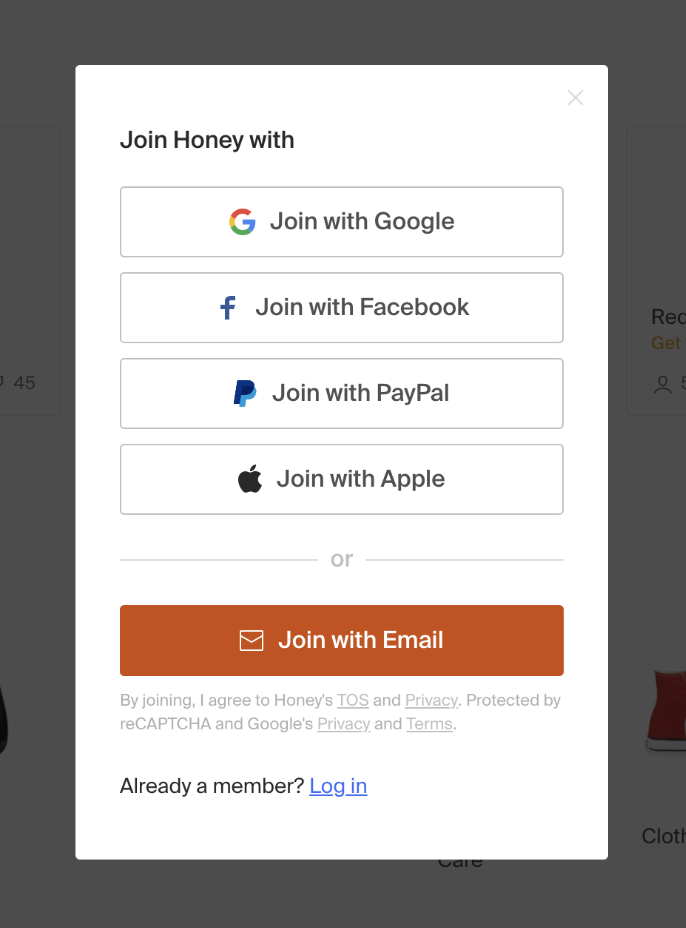 Cash-out
Once you have enough gold points, you can redeem a $10 gift card from participating stores.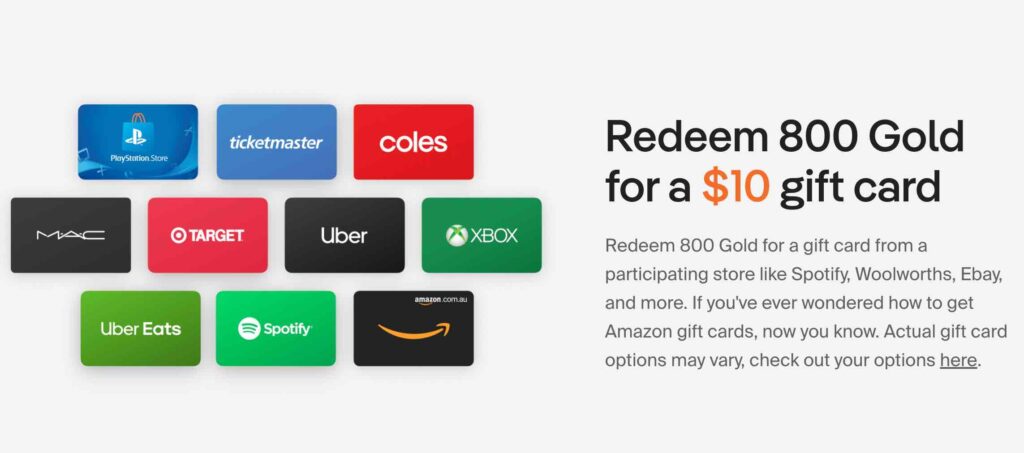 Best features
Automatically finds the best coupon for you
Includes Amazon price tracking and price history tool 
Notify you about the price drops of your saved items
Earn honey gold (reward points) along with eligible purchases.
Helps you earn more with bonus Honey gold offers
7. Receipt Jar
Receipt jar is an easy-to-use cashback app to turn your shopping receipts into cash. It is available for android as well as IOS users.

It allows you to take pictures of receipts from any store and automatically create a digital archive for them. You may get cashback on everything from groceries to fashion to restaurants and petrol.
It is a safe app that collects data on consumer shopping habits for marketing research. The information is then de-identified, combined, and sold to firms as consumer insights.
How does it work
 It is a point-based rewards app in which you earn points for every eligible receipt. 1,000 ReceiptJar points are equivalent to AUD 5.

You can earn points for your total spending. The more you spend, the more points you'll earn. I've outlined the different point levels below:
If it is below $10, you get 5 points.
If it is between $11 and $50, you get 10 points.
If it is between $51 and $100, you get 15 points.
And if it is over $100, you get 20 points.
How to join
To join, download this reward app from Google Play Store or Apple App Store and create an account. Use code RUCHGYQJF to get a bonus of 200 points. Once you have verified your email address, you are ready to start snapping receipts.
Cash-out
You'll need at least 1,000 ReceiptJar points in your account to cash out. You can either cash transfer these into PayID or buy a gift card.
Best Features
Earn cash back on almost everything
Points for every receipt, even if it's from a restaurant or petrol station
Easy to use
8. Beem It
Beem It is a new cash rewards site that is quickly becoming a favorite among online and in-store shoppers.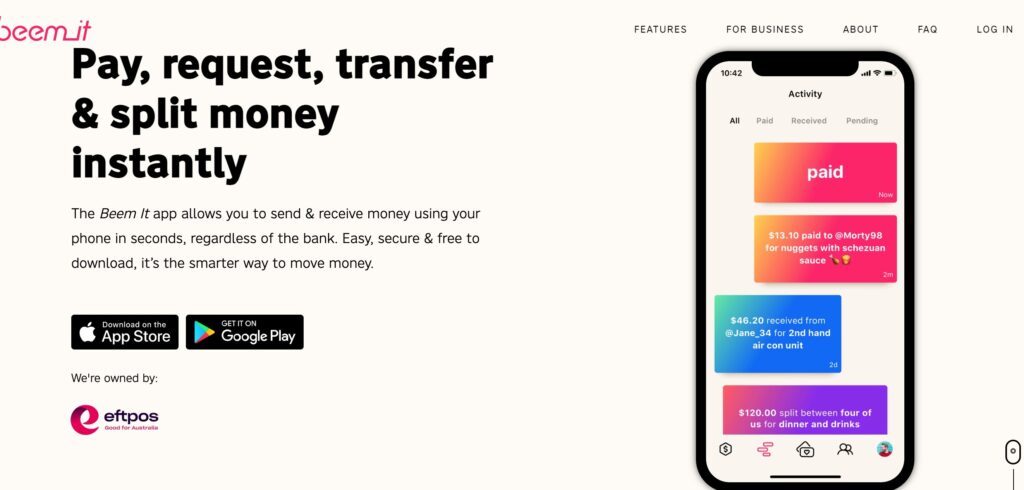 With Beem It, you can get Beem rewards for your online purchases. But Beem it is not just a rewards app – it is like an Australian Cashapp that lets you send and receive money quickly for free. You can also use it to pay split your bills with friends and pay your monthly bills.
Beem It also acts as a digital wallet where you can load your loyalty cards and use it to shop online or in-app. What sets Beem It apart from other cashback sites is that you can transfer your earnings to your bank account for free.
There are no fees whatsoever. You can also choose to receive your payments via PayPal or Amazon gift card.
How to join
Joining Beem It is very simple. Just download the app and sign up with your phone number and verify your email. Once you have registered, you will be able to start earning cash back on your everyday purchases. You can then link your debit card to send money.
Related reading: How does Beem It works? Is Beem It safe?
Which is the best cashback site for me?
Each person's needs will be different, and hence it is difficult to recommend just one site. However, Cashrewards and Shopback are good websites to start as they offer Cashback from major retailers we use for our household needs, such as Coles, Woolworths, JB Hi-Fi, The Good Guys, and more. You can also save on energy bills when your switch your provider with Cashrewards.
I started with Shopback and Cashrewards first and then branched out to others. Whenever I am shopping, I compare these apps for their cashback amount, terms, and special offers and then choose the best one.
Cashback Australia Sites: Final Thoughts
If you are shopping online, Cashback sites are a great way to earn money back on your purchases. All websites have terms and conditions, so it is important to read them. For example, some might not allow you to add products to the wishlist or use a coupon.
Also, keep in mind that Cashback sites generally take a little longer to approve your cashback claims (compared to other reward programs). But, if you are patient and follow the instructions carefully, you will see results.
Now that you know all there is Cashback Australia Sites,
Do you use any Cashback Sites? Is there one that is not included here but should be? Let us know in the comments below.
More Articles you might be interested in