Can you get paid to talk about stuff you use daily? Yes, you do! I will explain everything about it in this post.
Given how many survey sites are out there that proclaim to make you money online but give you peanuts, it's natural if you're wondering, "Is User Interviews legit…is it really real?"
That's why I have put together this User Interviews review to give you the required details of this high-paying online study site and to show you whether User Interviews is worth it or not.
I have been using User Interviews for a while now (completed around 10 studies) and have earned over $700 by just talking about stuff I already use (including hand soaps and shampoos). 
See the below screenshot, these are some of the gift cards I earned with User Interviews.

I was skeptical at first, but now, it's one of my favorite ways to make extra money on the side. I am sure you will like it too!
In this User Interviews Review, I will cover: 
Is User Interviews legitimate?
How User Interviews works?
If User Interviews is safe?
My best User Interviews tips to make money on the platform (including the $10 welcome bonus). 
This website contains affiliate links which means we may earn commissions if you purchase through them (no extra cost to you). You can read our policies here.
What is User Interviews?
User Interviews is a market research platform that connects companies with people who are willing to give feedback about their products, services, or user experience.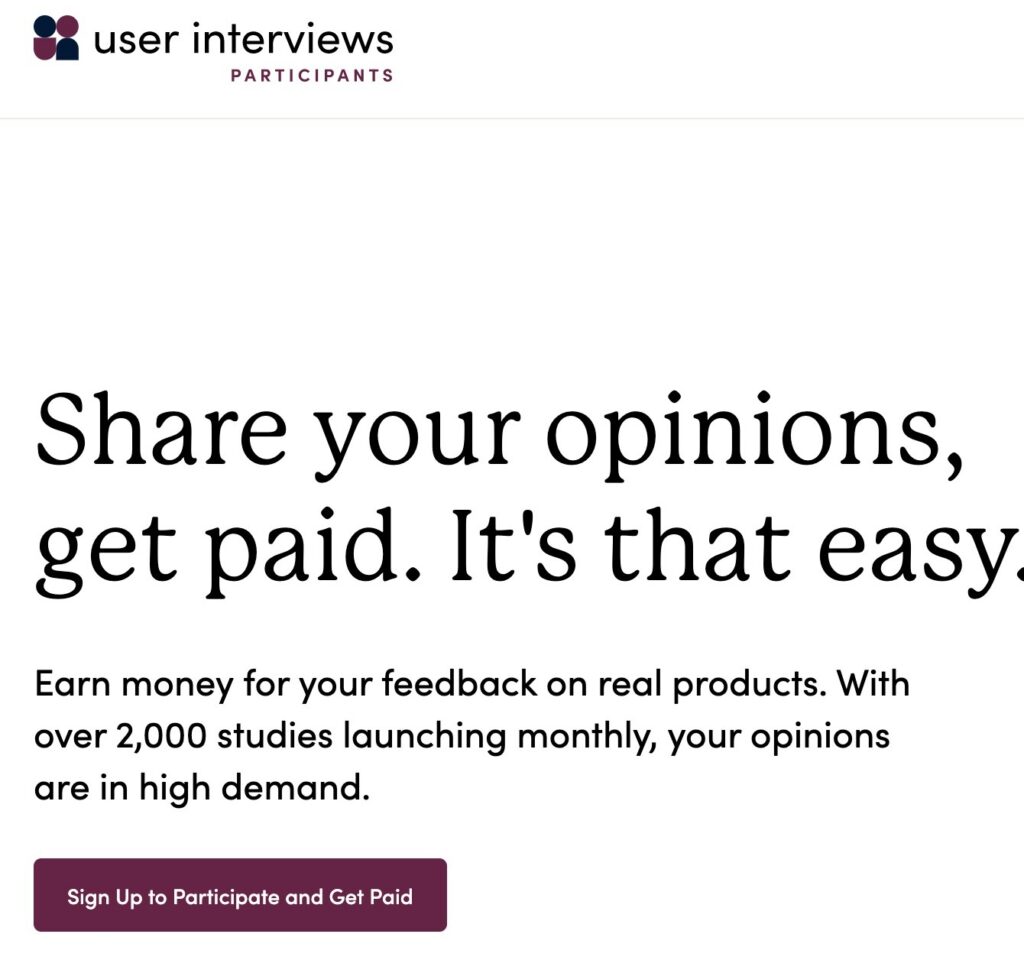 This feedback is important for them to ensure that they are going in the right direction and not making a mistake that could be very costly.
User Interviews help companies collect this feedback from the target audience (that is you!) so they can make changes and improve their products before they are released.
And since your feedback is valuable to them, they are willing to pay you for it.
Is User Interviews Legit?
Yes, User Interviews is 100% legitimate. I have participated in many studies and got paid without any issues. It is one of the highest-paying sites I have come across with an average study pay of over $50. 
They've paid out to 30,000 participants in the past year, working with well-known firms such as Adobe, Pinterest, and Amazon. Here's a look at User Interviews ratings from top sources of customer reviews: Capterra 4.4 stars/5.

How Does User Interview Work?
It is quite easy to start with User Interviews. You just need to sign up with your email address and fill out your profile.
After signing up, you will see different studies you can apply to participate in.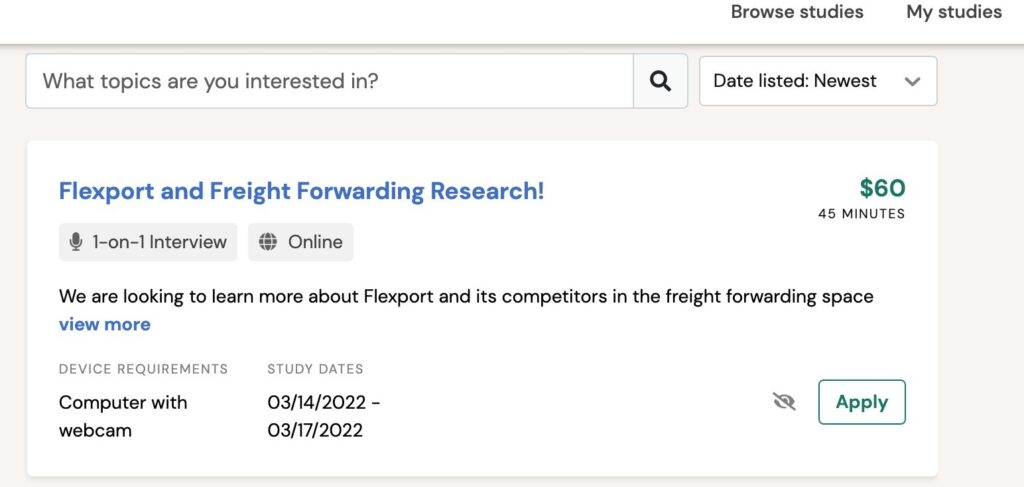 For each study, you can see
Type of study
Format
Study dates and time commitment
The amount you will get paid
A summary of the researcher's goals.
You can apply to as many studies as you want. You can also filter the studies based on: Study format and type of study.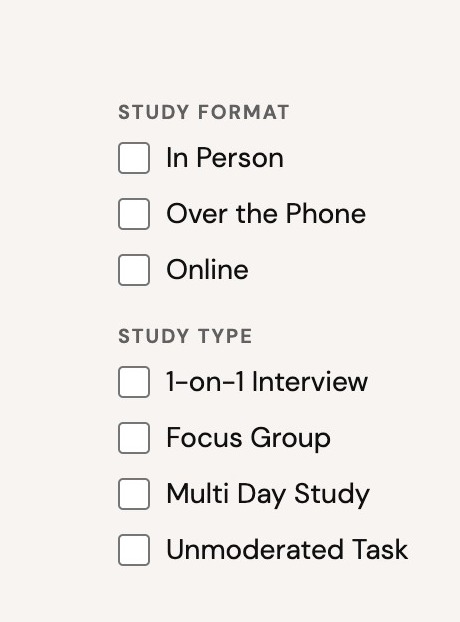 When you find a study that interests you, all you need to do is click on it and fill out a screener (a set of questions to see if you qualify for the study).
User Interviews will invite you to participate in a study only if you match the target audience for that specific study. If you are, user interviews will provide all the details about the study and ask you to pick a time slot that works for you.
You will then have a user interview with the researcher as per the study format.
For example, I was invited to participate in a 30-minute group interview about my experience with a household cleaning product.
During the video call, the interviewer asked us questions relating to cleaning products we use at home, like the reason for choosing them, size, fragrance, etc. 
We were also asked about any features we would like to see in these products.
It was a great experience, and user interviews paid me $60 for it. No hard work and I got paid to talk about stuff I already use.
How do I sign up for User Interviews?
Signing up for user interviews is very easy. Go to their website and sign up with your email address, Facebook profile, or Linkedin.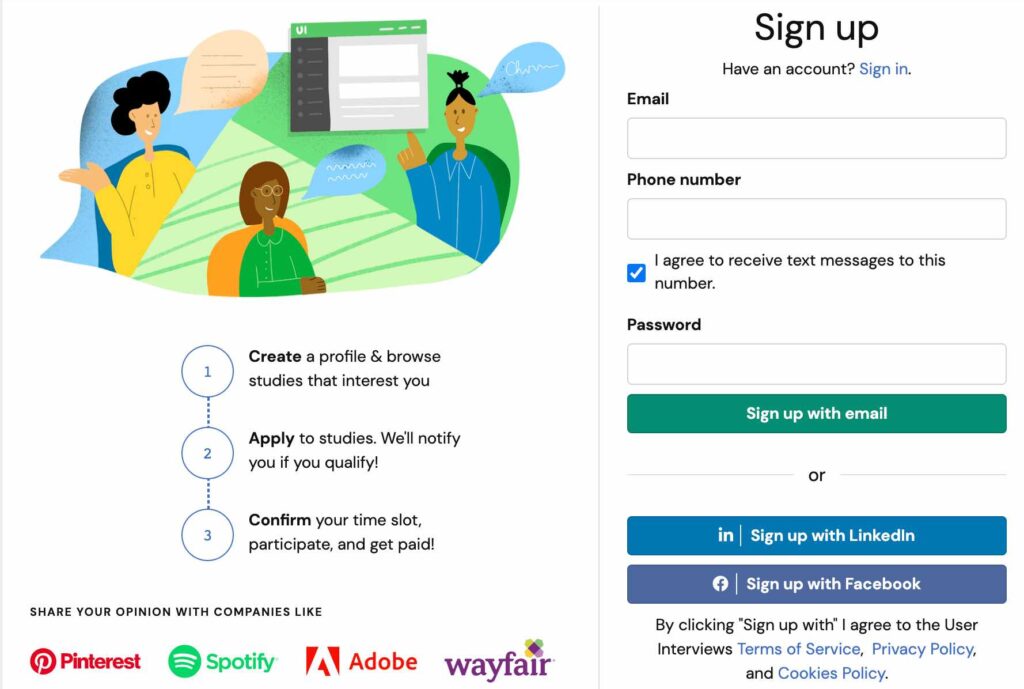 Once you verify your phone number, you will need to fill out forms to provide your professional, demographic, and technical details. It might take a few minutes, but it is very important to fill out these forms completely and accurately.

I recommend that you take some time to fill out your profile as much as possible so user interviews can match you with studies that fit your interests and demographics.
Signing up for an account with User Interviews currently provides you with a $10 welcome bonus. To earn the incentive, you must join through a referral link, confirm your email address, and complete at least one study.
What to expect after signing up for User Interviews?
Once you have completed your sign-up process, you can start taking part in studies that match your profile.
There are two ways to do that:
Browse through the User Interviews website and apply for a study that matches your profile.
You will be notified about available studies via email as well. You can apply through those emails for the ones you are interested in.
How to apply
Once you click Apply, you will be directed to a screener (questionnaire). This screener is created to help User Interview find the right participants for the study. Just answer the questions based on your best judgment.
If selected, you will receive an email from User Interviews to pick a time slot for moderated task or a deadline for an unmoderated one. Select a time that suits you and set up a reminder. User Interviews also sends a reminder email before the task is due.
Once you have completed the task, you will receive an email with a link to access your incentive with in 10 days of completion.
How Much Does User Interviews Pay?
User Interviews pays well depending on the study and the experience required.
I have participated in different studies with an average payout of around $50 per 30 minutes.
I have also seen some studies that pay as high as $250-$350, although those are usually longer (60-90 minutes) or require more special technical skills or experience. My close friend, for example, gets many invites to participate in studies that pay up to $350 for his experience as a software engineer.
Types of User Interviews Studies
User Interviews have a wide variety of studies. While the majority of these are online (video chat or screen recording) or conducted over the phone, they also have in-person user interviews.
I have participated in four types of online studies as I prefer to work from home. If you are looking for ways to make extra money from home, here are the main types of Paid online studies:
1. Paid online One-on-one interviews
These are usually 30 to 120 minutes long and conducted over video chat or phone. These are one of the highest-paid User Interviews studies.

These may require special skills, but there are studies for nontech people too!

My first User Interviews study was about toothpaste we use at home, and I made $100 for it. Many studies offer up to a $300 payout per interview, but you might need special skills or specific professional background to get selected. These could be anything like talking about payment processors, workforce management software like Zira, or any other tool you use at your workspace.
2. Paid online Focus Group interviews
These are shorter, 15 to 60 minutes long, and conducted over video chat with a group of people (usually around four) and moderated by a user interview researcher. They usually pay around $50.

I have participated in one group study with other moms and made $50 for 30 mins study.
3. Paid Online Unmoderated Tasks
 In these User Interviews, you will be asked to perform some tasks on your computer while being recorded within a timeframe. It could be as simple as testing a website or an app and sharing your thoughts about it.

These are generally 10-20 mins long, and you will have to download recording software on your computer before you start the task.
I made $30 for a 20 mins task of testing an e-commerce website. Here is one more I recently did.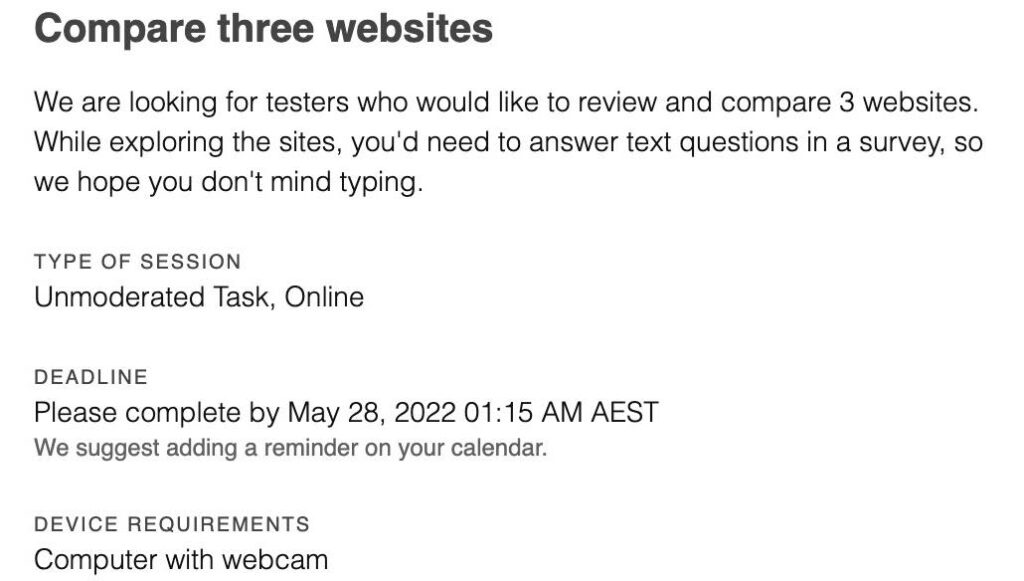 4. Paid Online Moderated Task
 In these, you will be asked to perform the task or answer some questions while being in a group chat with the researcher and other participants.
These could be 30-60 minutes long depending on the task. Here is one of the moderated conversation study (just chat) I participated in.

5. Paid Online Multi-Day Studies
These user interview studies are conducted over days or weeks. You will be asked to test a product or service and give your feedback about it at different intervals. 
I have not participated in any multi-day study as of now, but I know people who have, and they say it is a great way to make some extra money.
6. In-person User Interview
User interviews will send you the details of the location where the study will take place.
I have not participated in any in-person User Interviews, but I remember getting an invite for a one-on-one on-site study for a new app.
How do I get paid by User Interviews?
User Interview pay incentives in the form of gift cards. When I joined User Interviews, Amazon gift card was the only option, but now there is an option of digital reward link gift card as well. 
Reward Link is a gift card program that allows you to choose from dozens of stores, restaurants, services, and experience gift cards. You can redeem your reward in your choice of five currencies: USD, CAD, AUD, GBP, or EUR.
I have seen the Paypal option too, but it is not available for all the studies. At least not in Australia.
User Interview Tips To Make Money (Based On My Experience)
Even if you don't have any special skills, you can still make good money with user interviews. Here are some tips (and mistakes to avoid) that will help you make the most of User Interviews:
Respond to the invite promptly
User Interview sends out invites to selected candidates after initial screening. If you don't respond quickly to the invite, you will miss the opportunity to participate in the study.
I remember missing a $225/hr study invite as I thought I could book a time slot later. But by the time I logged in, the study was already full.
I would suggest adding your phone number to your User Interviews account so that you get a text notification as soon as an invite comes in.
Be Professional
Act professionally and be respectful to the interviewer.
Even if the study is being conducted remotely, make sure you are in a quiet place with no distractions.
You can also increase your chances of being selected by taking more screener surveys. There are times when researchers directly reached out to me for my availability for the study.

Complete your profile
Make sure you have completed your user profile on the website. Include as much detail as possible about your work, education, skills, etc. The more information you provide, the easier it is for User Interviews to match you with your studies.
Keep trying
User Interviews are a great way to make some extra money, but it is not always easy to get selected for studies.
I have been using user interviews for over more than one year, and there have been times when I haven't received any invites for weeks. However, I've also had periods where I've been invited to participate in multiple studies in a month. The key is to keep trying and not give up.
User Interviews Pros and Cons
Pros
Legit way to make money in your spare time: It is a legitimate way to make extra money during your spare time. It is flexible and can be done from home.
High-paying studies: I have seen studies that pay up to $250-300/hr. Can cash out via PayPal, Amazon, or Visa gift card
Cons
Not consistent: It is not always easy to get selected for studies. You may not receive any invites for weeks or even months.
Not always easy to get selected for studies. You won't be paid for the time you spend doing screener surveys. These surveys usually take less than 5 minutes, but it can be frustrating if you don't qualify.
Limited studies and not available in all countries: user interviews are currently available in the United States, Canada, Australia, and the United Kingdom.
Is User Interviews Worth It?
Absolutely! Although it does not replace a full-time income, it is a great way to make some extra money.
It is flexible, and you can participate in studies from the comfort of your own home. Incentives are good, especially if you are selected for high-paying studies.
I would recommend user interviews to anyone looking for some sort of easy side hustle or for stay-at-home moms who have some free time.
User Interviews Bonus
You can earn $10 if you sign up and finish your first study after creating a User Interviews account.
 User Interviews Alternatives
User Interviews is undoubtedly one of the best-paid research platforms out there, but studies are limited, and you might not always find something that's a match for your profile.
Here are some other websites like User Interviews that also offer paid surveys:
Respondent: Respondent is a study group very similar to User Interviews. You can find high-paying one-on-one studies on this platform.
Survey Junkie: One of the famous websites (over 10 million people registered) where you can take surveys and get paid in cash or rewards. Survey Junkie has been around since 2013 and offers short surveys that you can do in your spare time. 
But don't just take my word for it, it has trust rating of 4.5 on Trustpilot and an A+ rating with the Better Business Bureau (BBB).
Swagbucks: Swagbucks is another highly rated website that pays you for taking surveys, watching videos, playing games, and more. You can redeem your points (called SB) for PayPal cash or gift cards to your favorite stores. Join here and earn $5 sign up bonus.
User Interviews Review FAQ
Who is Eligible to Participate in User Interviews?
To participate in User Interviews, you must be at least 18 years old and based in English-speaking countries like the United States, Canada, Australia, United Kingdom, France, Germany, and South Africa.
Is There a Sign-Up Fee?
No, User Interviews is free to join. You can sign up today and start applying for studies. 
Is User Interviews a scam?
No, User Interviews is not a scam. I have been using User Interviews for over more than one year and have cashed out many times.
How much can you make with user interviews?
The amount you can make with user interviews varies on the study you are selected for. The average figure is about $50 to $100 per hour.
When will I get paid?
User Interviews pays within 10 days of completing your panel study or survey. They offer several payment options, including check, PayPal, Amazon, or Visa gift cards.
Are my User Interviews incentives taxable?
If you are in the US, the IRS requires that you report any payments of $600 or more on your tax return. However, if you live outside of the United States or redeem benefits in other currencies, User Interviews will not provide 1099. But do check your local tax laws.
Final Thoughts on User Interviews
So there you go. If you are looking for an easy side hustle that pays well, User Interviews is a great option. It is flexible, user-friendly, and pays well.
I haven't had any problems with User Interviews and would recommend it to anyone looking for a way to make extra money online.
Do you participate in paid user interviews? What has been your experience? Let me know in the comments below.