Learn How I Saved 100s Using BrickSeek To Find Deals Or Check Walmart Inventory!
If you want to find the best deals and clearance items at Target, Walmart, or any other store, you need to know how to use BrickSeek.
I have used BrickSeek a number of times to check Walmart inventory (and sometimes Target) to find the best clearance prices on several items.
From kids' Legos to Frozen princess castle and general household items, this online tool has saved us hundreds of dollars (and made us money too, when we sold everything on FB marketplace and moved out of the US).
BrickSeek was a really big help to us as we lived on a single income for six years. It allowed us to buy things we wanted and needed without breaking our bank.
You'll love BrickSeek if you like finding great prices on items you've always wanted to buy!
In this post, I will explain how BrickSeek works and how to find the best deals at your favorite stores. I have also added some important tips and don'ts for using BrickSeek. You will also find some online receipts of my clearance finds that I had saved on my Walmart app.
So, let's explore more about BrickSeek (also called Walmart clearance app), how it works and how to check inventory at Target, Walmart, Home Depot, or other stores. And do save it for your future reference.
This website contains affiliate links which means we may earn commissions if you purchase through them (no extra cost to you). You can read our policies here.
Related posts:
What is BrickSeek? 
BrickSeek is a website (and app) that helps you locate clearance items and in-stock inventory at stores near you.

It gets its name from the brick-and-mortar stores (like Target and Walmart) where people can go to find these deals.
You can use BrickSeek to find clearance items, price markdowns, or see what products are in stock at your favorite stores, both online and in-store.
How does BrickSeek work?
BrickSeek uses product identification numbers like stock-keeping units (SKUs) and unique product codes (UPCs) to give you up-to-date information on what products are available in-store, quantity, and how much they cost.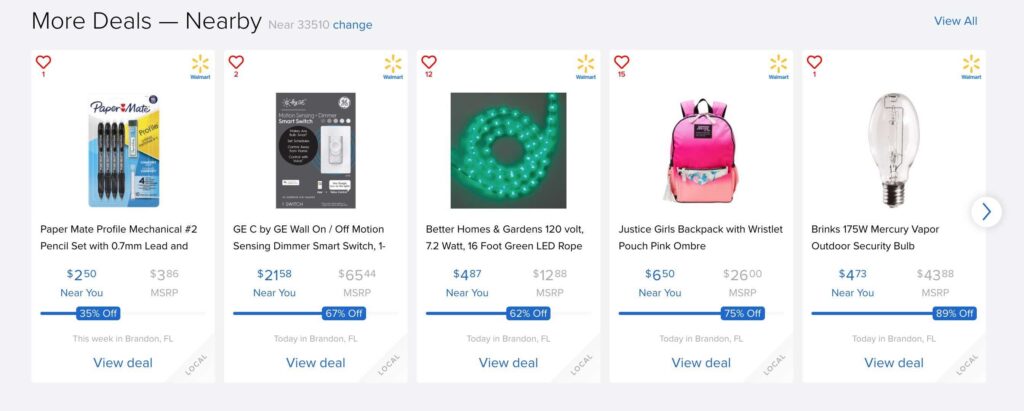 To find out if a store has a certain product in stock, you will need the SKU or UPC of the item. 
You can find these numbers on the product itself, the store's website or app, or the packaging (Don't worry, we will go in details later).
Once you have a product's SKU or UPC, you can enter it into the BrickSeek search bar to find out where the product is sold and for what price.
What store inventories does BrickSeek track?
BrickSeek currently tracks the inventory of major retailers like:
Walmart
Target
Best Buy
Home Depot
Lowe's
Macy's
CVS
Office Depot
Staples
Ulta
These are obviously not all the stores in the US, but these are some of the most popular stores people use BrickSeek for.
How much does BrickSeek Charge?
BrickSeek has three membership options:
A free account: For someone who likes to look for good deals occasionally. 
Premium membership: For the shopper who wants to save money and is willing to put in some effort. It costs $9.99/month but gives early access to deals (compared to free members) and shows price markdowns.
Extreme Deal Hunter: For the seasoned shoppers and deal hunters. Ideal for those who want to make some extra income by flipping clearance items.
It costs $29.99/month to be an extreme deal hunter member. Extreme deal hunters get the first access to all deals and markdowns and can set more local and online deal alerts.
Here is a table of the features offered in each membership type:
| Free BrickSeek Membership | Premium Membership | Extreme Deal Hunter |
| --- | --- | --- |
| For causal deal hunters | For those who love to hunt good deals now and then | For the seasoned shoppers and flippers |
| Contains Ads | Ads-free | Ads-free |
| Free limited access to the deals | Get early access to the deals | Get first access to the deals |
| Set 1 local inventory alert | 5 local inventory alerts | 20 local inventory alerts |
| Set 3 online deal alerts | Set 10 online deal alerts | Unlimited online deal alerts |
| Markdowns by store not available | Show markdowns by store | Early access to markdowns by store |
| N/A | See the latest trending nationwide markdowns, and explore the popular deals in-store near you (what others are looking for) | See the latest trending nationwide markdowns, and explore the popular items in stores near you |
I had the free account, and it worked just fine for me as I was shopping for personal use and not to make extra income.
If you are just starting, I recommend the free membership. You can always upgrade later if you find yourself using it more often or want to start making some money by flipping clearance items.
But I will be honest; there were times when I wanted to upgrade to the premium membership. There were some great features that I would have loved to have had access to:
Early access to deals (compared to free members)
The ability to see local deals and set more alerts.
I had my own solid reasons why I never upgraded, and I am still happy that I was able to find many great deals for my family.
My BrickSeek Finds
Here are some of my favorite finds that I have gotten using BrickSeek. 
Luckily, I had saved some of my receipts on my Walmart app. I used to scan and save my paper receipts for returns. Now I am glad they came in handy for this post.
I was so excited when I found this high chair for my son at Walmart for only $15! The original price was $119 or above.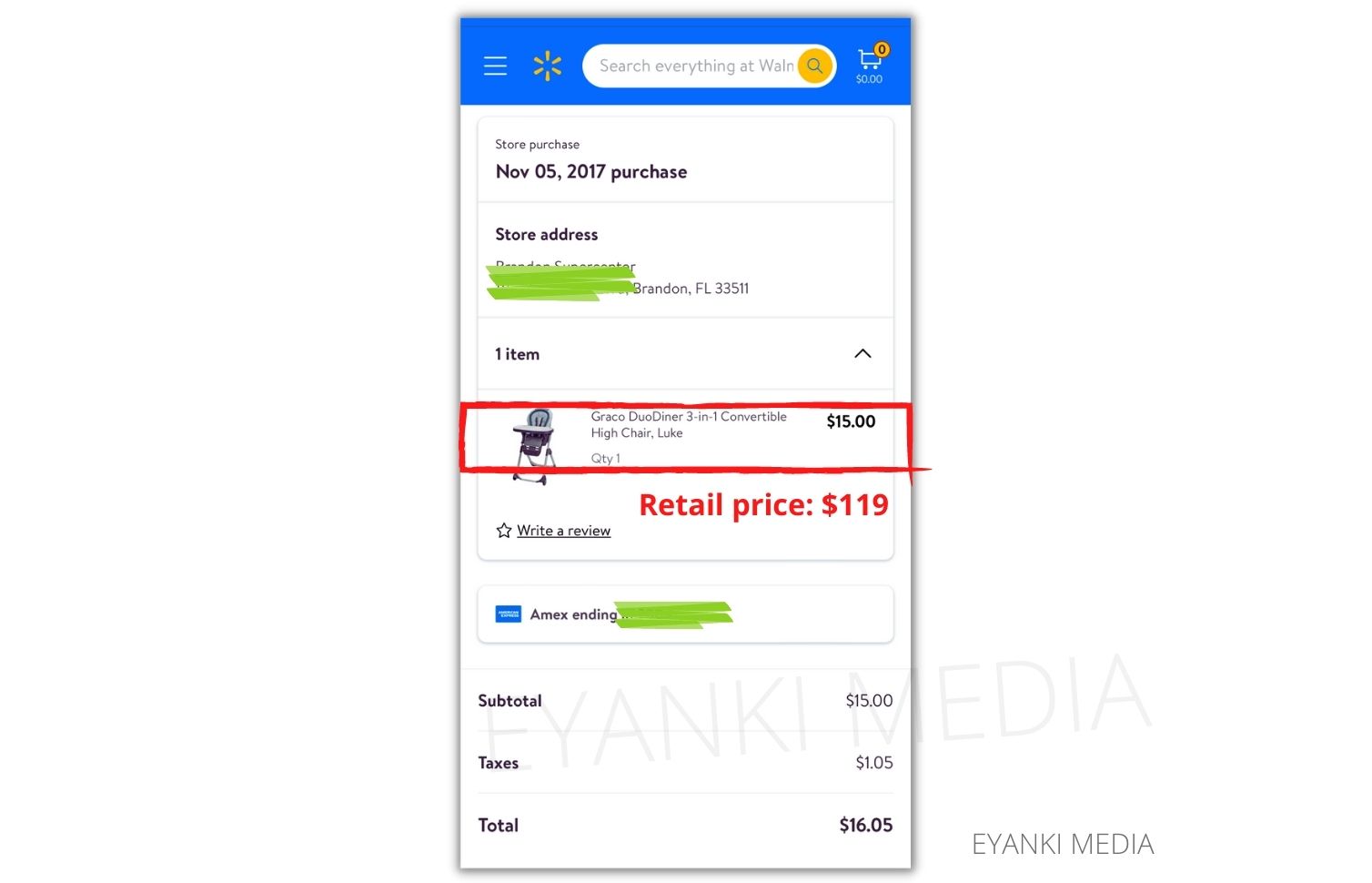 This LG Smart TV was another deal I found at my nearest store using local alerts.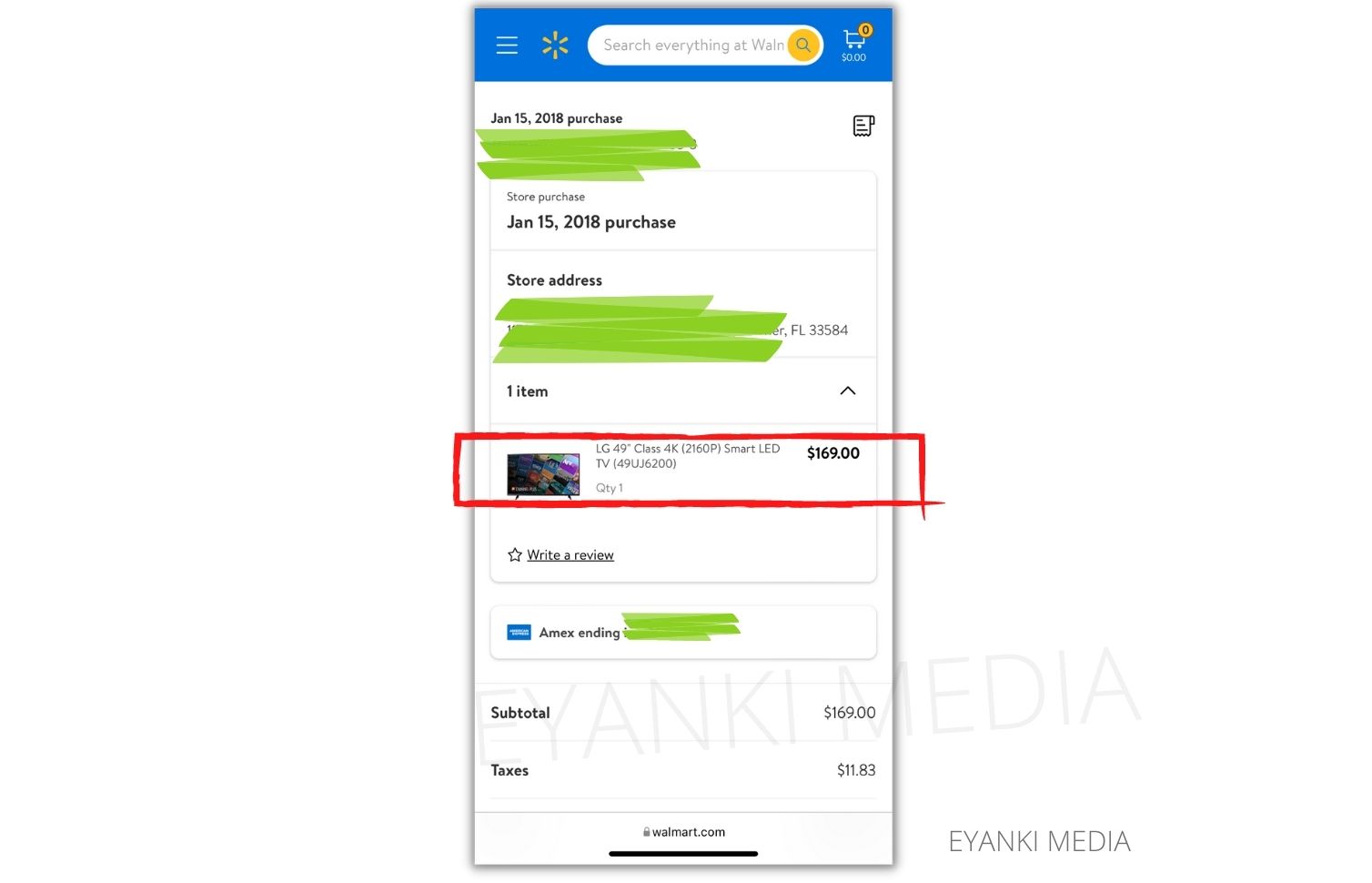 Here is a little glimpse of some toys deals I was able to get. My best finds were play-kitchens, baby alive dolls, big Hot Wheel tracks (big Christmas toys), and Frozen dollhouse.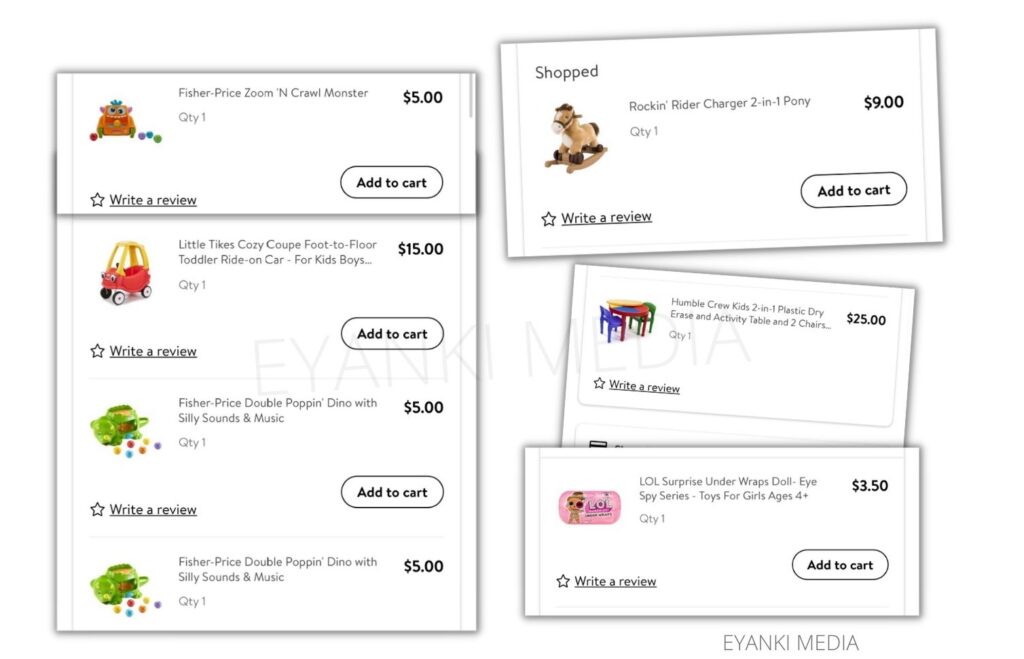 I wish I had all the receipts! I also found great deals on patio sets, garden swings, big carpets, Lego sets, kids' bikes, and good-quality king mattresses.
How to Use BrickSeek
If you don't know how to use BrickSeek, here is a quick guide to help you learn about BrickSeek to find Check Walmart Inventory in 2022:
1. Create an account
You will first need to create a free account on the website. You can do this by going to the website or downloading the app.
It is a simple process and only requires an email address. Once you have created your account, log in and enter your zip code.
Click on Inventory checkers (at the top) to see a list of stores near you. Select the store you want to search. I selected Walmart as I mainly used BrickSeek for Walmart items.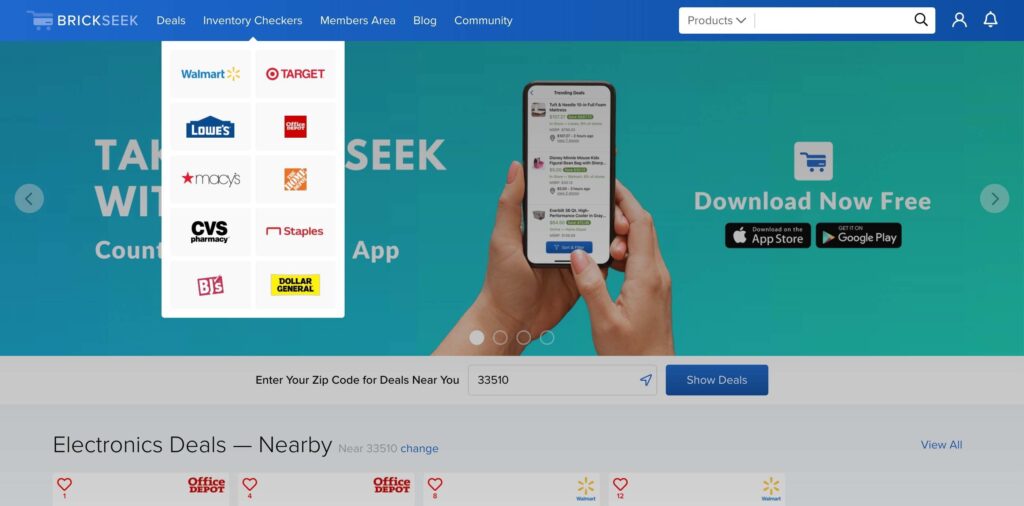 2. Find the UPC or SKU of the product
 First, you will need to find the product's UPC or SKU number. 
What is UPC?
The UPC, also known as the barcode number, is the number printed below the barcode. UPC is the unique product code that is given to every product. You can find this on the item's tag or label.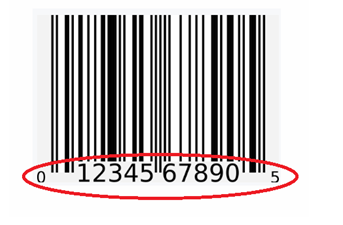 What is SKU number?
The SKU number refers to the stock keeping unit used by Walmart to track inventory of a particular product.
To find the SKU number of a product, go to the product page on Walmart's website and look for the URL. The SKU number is the long number at the end of the URL.
For example, I searched for this girl's bag at Walmart. In this URL is: https://www.walmart.com/ip/Justice-Girls-Backpack-with-Wristlet-Pouch-Black-Splatter/624065689/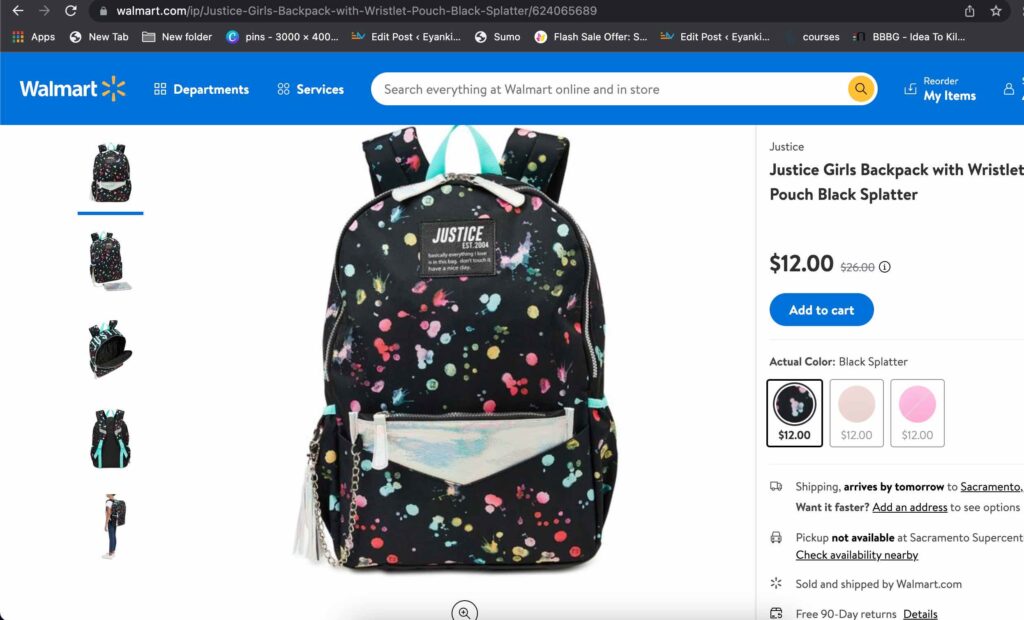 The SKU number is: 624065689
3. Check BrickSeek For Walmart Inventory
Once you have the UPC or SKU number, go back to BrickSeek and enter the number in the search bar of the Walmart inventory checker.

Filter using distance, and hit enter. On this page, you can see the MSRP (retail price), SKU, UPC, online price, and a link to Walmart.com. You can now scroll down the page to see a list of stores near you that have this product in stock and its price.
Look at the snapshot below, where it shows that this bag is available at my local store for $6.50 (75% discount).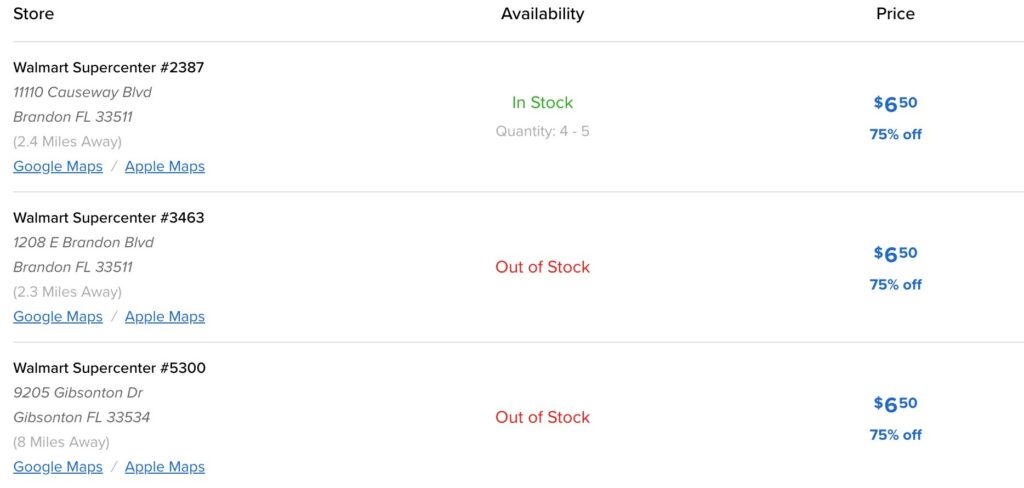 Cool right! This is one of the reasons why I loved using BrickSeek.
**Please note that Walmart inventory checker is not 100% accurate but it is still a great tool to use for finding clearance items in stores.
Tips on Using BrickSeek like a Pro
Now that you know what BrickSeek is and how it works, here are some tips and BrickSeek features I have learned over the years to help you get the most out of BrickSeek:
1. Set up local alerts
You can set up alerts for products that you are interested in buying. To set this, click on 'alert' on the BrickSeek inventory check page of the item.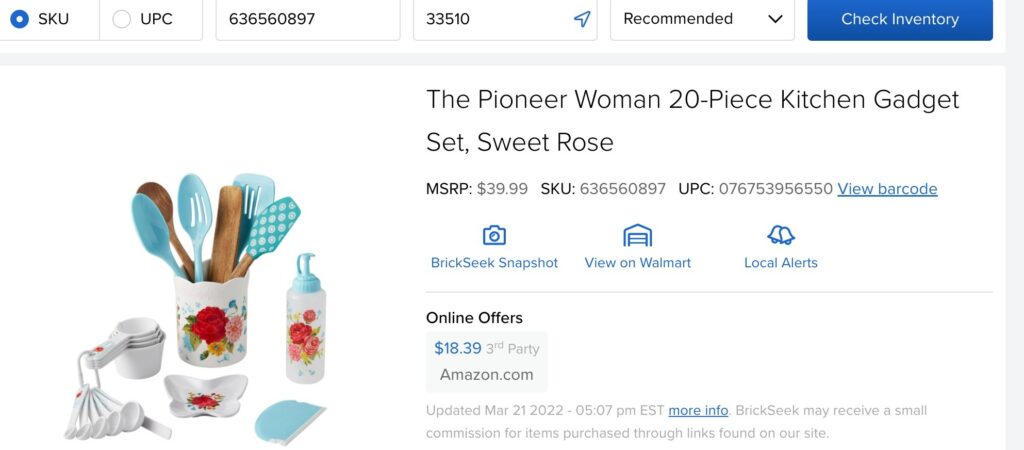 Enter your zip code and the type of alert you want. You will be notified via email when there is a price drop or quantity change in stores near you.

It is a helpful feature if you are in the business of buying products at a low price and then selling them for more (retail arbitrage). 
BrickSeek will notify you when saved items become available. That way, you can get them before other people do.
See this Graco high chair I found for my son.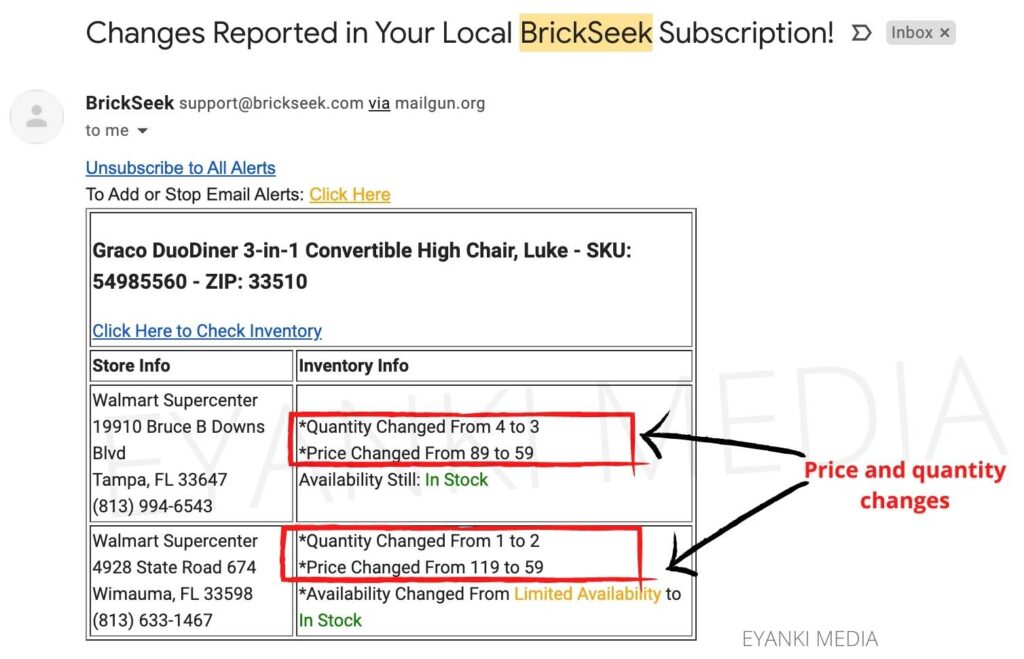 2. Check already trending deals on the deal page
BrickSeek's deal page is a great place to find online deals and in-store price drops that are already trending.
To see these deals, go to the website and click on "Deals" at the top of the page. You will see a list of deals that are currently trending.

3. Join BrickSeek Community
The BrickSeek community is another great place to connect with other clearance hunters. Brickseekers always share their deals with tips and tricks in the community forum and Facebook group.
To join the community, click on "Community" at the top of the page. You will be taken to a forum: BrickSeek Talk, where you can look for deals posted and add your finds too.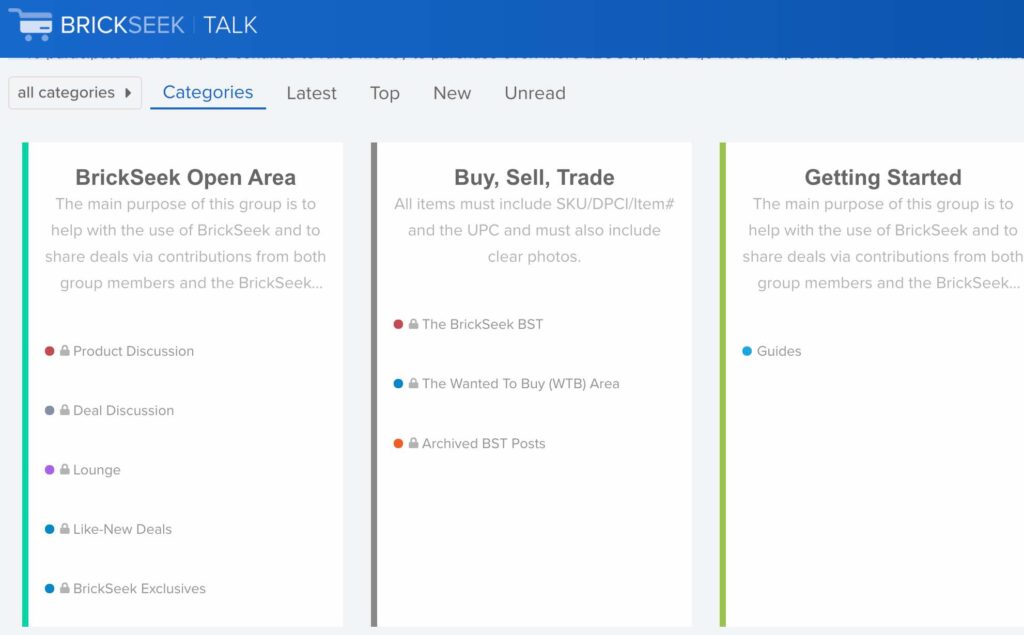 4. Latest Price Markdowns
It is one of the paid BrickSeek features where you can see the latest price markdowns from your favorite retailer.
It is a must-have for anyone serious about brick seek clearance hunting and reselling.
There are so many benefits to this feature.
You can see all of the latest clearance markdowns in one place so that you don't have to search through each store's website individually.
It is a great way to stay ahead of the competition because you will know about clearance markdowns before anyone else does.
To access this markdown feature, you need to sign up for a paid membership.
With the paid membership, you will also have access to exclusive inventory information, price history of products, and more features that are not available with the free membership.
Do's and Don't of Using BrickSeek: Most Important Things to remember for beginners.
BrickSeek undoubtedly is an amazing tool for anyone who loves to save or make money.
However, there are certain things you need to keep in mind while using BrickSeek so that you don't end up wasting your time or getting disappointed.
Here are some of the most important do's and don'ts of using BrickSeek based on my experience.
Remember BrickSeek is a tool
If you are new to using BrickSeek, always remember that BrickSeek is not perfect, and the inventory information is not always accurate. 
Just because it says that a product is in stock doesn't mean that it is actually available.
Instead of traveling miles to a store, start small and look for deals in your nearby stores.
I've had success and failures with BrickSeek as well. Rather than hunting deals at stores that were miles away; I began with my nearby stores. 
It not only saved my time but also helped me get familiar with how BrickSeek works.
You can slowly expand your search to stores that are further away once you get more comfortable with using the tool. 
Always Price Check In-store
Sometimes exactly similar-looking products may have different UPCs and hence the prices. Maybe one is on clearance while the other one isn't.
Hence, it is always a good idea to price check in-store before you buy anything and avoid surprises at the checkout.
Deal with Store Employees Respectfully
There will be times when BrickSeek says that a product is on clearance, but the store employees say otherwise.
In such situations, it is always best to be respectful and ask them to check again or look for the product themselves. Most of the time, they are happy to help you out.
However, if they still don't budge, it is probably best to walk away to avoid any confrontation.
BrickSeek is a third-party tool; mentioning its name or inventory details won't change anything.
If you face any other issue at the checkout, talk to the manager politely. His decision will be final, don't waste your or his time arguing.
Value your Time and Don't Get Addicted
As I mentioned before, it is a tool, and it is easy for anyone to get addicted to it. I have been there myself!
Your time is valuable and BrickSeek should not consume all of your free time. Spending hours looking for deals that you may or may not find is not always worth it.
Instead of brick seeking all day, allocate some time each week to look for deals and stick to that. This way you will be able to enjoy the process without getting overwhelmed.
brickseek reviews
Whether you are a seasoned shopper or just starting, BrickSeek is a tool that can save you time and money if used correctly.
Is BrickSeek Legit? 
Yes, BrickSeek is a legitimate website (and app) to check inventory at major stores like Walmart, Target, Home Depot, Lowes, and many more in the US. It helps you find clearance and price markdowns without going to the store. I have used it many times, and it works but can be inaccurate sometimes. 
Is there an app for BrickSeek?
Yes, Brickseek has recently launched an app. You can download it on your iOS or Android devices. 
Is BrickSeek accurate Walmart?
It is not 100% accurate. It is a third-party tool. I have used it mainly for Walmart and found many deals, as you can see in many screenshots.
Final Thoughts On Using BrickSeek
I hope this guide helped you understand how to use BrickSeek and get the most out of it.
Have you ever used BrickSeek? What are your thoughts about it?
If you have any questions or want to share your BrickSeek-ing experiences, feel free to leave a comment below.
Happy Deal hunting Like this post? Pin it for later or share with your friends and family.