If you're looking for a way to shop and save in Australia, you should definitely check out ShopBack. It has gained a lot of popularity in recent years, and for a good reason.
Using this cashback site is one of the easiest ways to save some extra bucks online. I am writing this ShopBack review because I have been using this cashback site for a few months now and have saved quite a bit of money.
From an online purchase at Woolies to a shopping frenzy for presents at Myers, there are many ways to save money using ShopBack.
New to the world of cashback reward sites or not sure how does ShopBack works? Don't worry! In my ShopBack Australia review, I will explain everything you need to know about this shopping site and show you some of the best ways to shop using this app.
Let's take a closer look at what ShopBack has to offer.
This website contains affiliate links which means we may earn commissions if you purchase through them (no extra cost to you). You can read our policies here.
Related Reading:
What is ShopBack? 
Shopback is a popular online shopping site where users can shop from their favorite stores via the ShopBack website or app and earn cash back on their purchases.
They have a huge selection of stores to choose from, so you're sure to find something that interests you.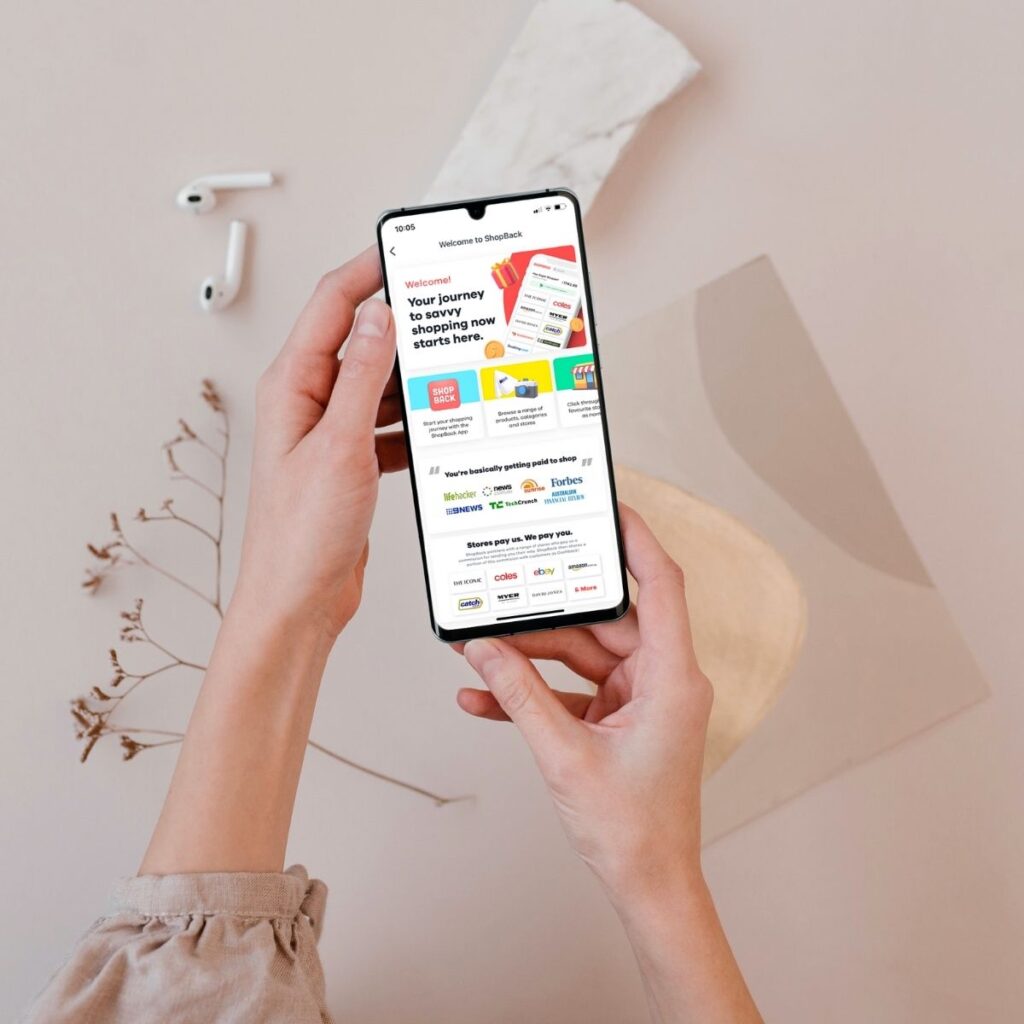 From grocery store giants such as Coles and Woolworths to fashion boutiques like ASOS and The Iconic to tech leaders such as Apple and Dell, there is a shop for everyone on Shopback.
In addition to this, Shopback also offers exclusive deals and coupons to help you save even more money.
And yes, ShopBack is not just for online shopping. You can also earn cashback on a variety of physical shops by linking your credit or debit cards to your ShopBack app.
How does ShopBack work? 
ShopBack is an affiliate marketing site, which means it refers shoppers to stores via unique affiliate links.,
When you shop through their site or app, they receive a commission from the store. In turn, they give a percentage of this commission back to you as cashback.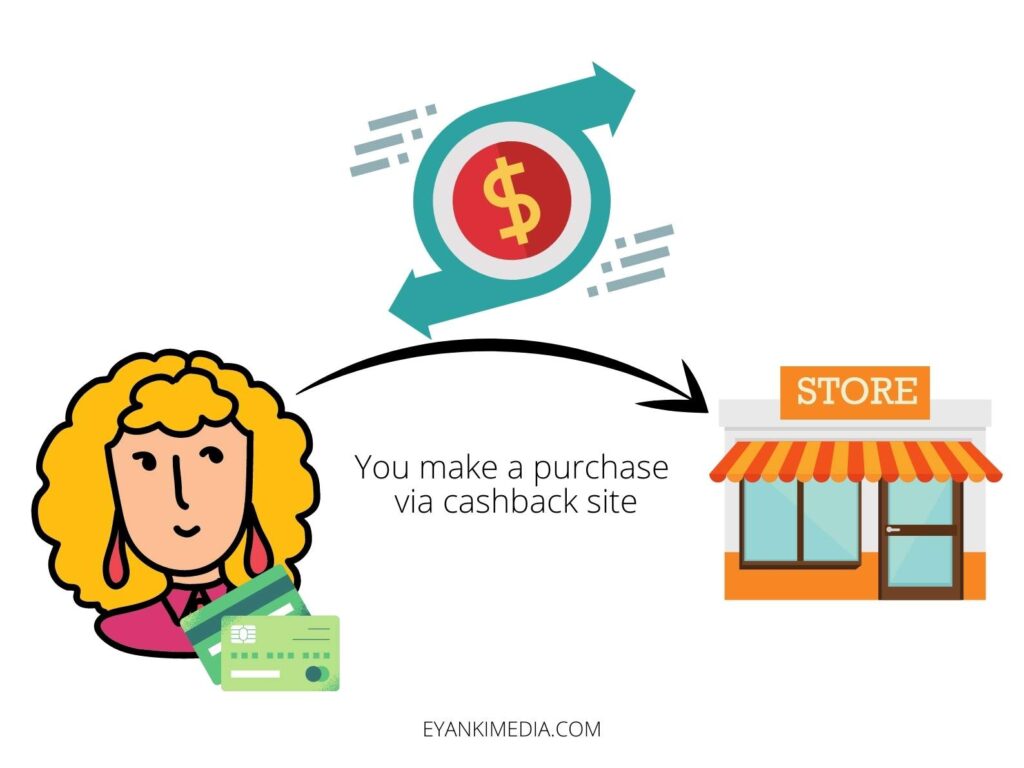 Every time someone clicks on one of the affiliate links and makes a purchase, ShopBack earns a commission. This commission is then shared with the user, depending on the shop and category of purchase.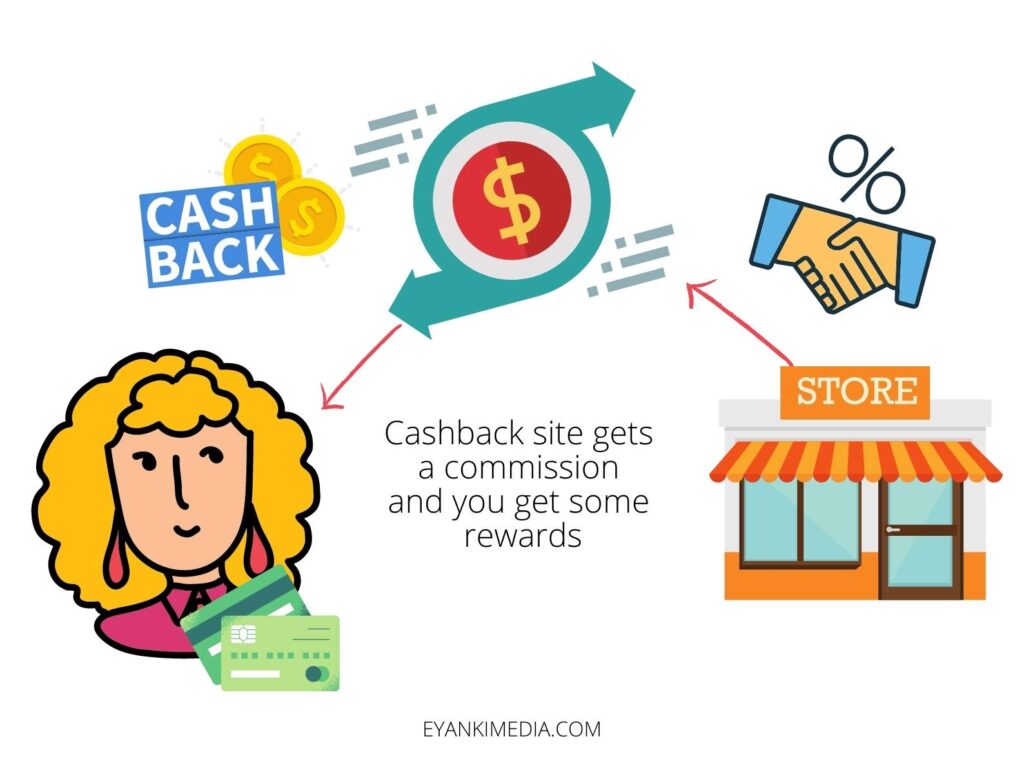 For example, if you shop at H&M via ShopBack, you will earn 5% cashback on your total purchase value. If you were to spend $100 at H&M, you would receive $5 in cashback rewards.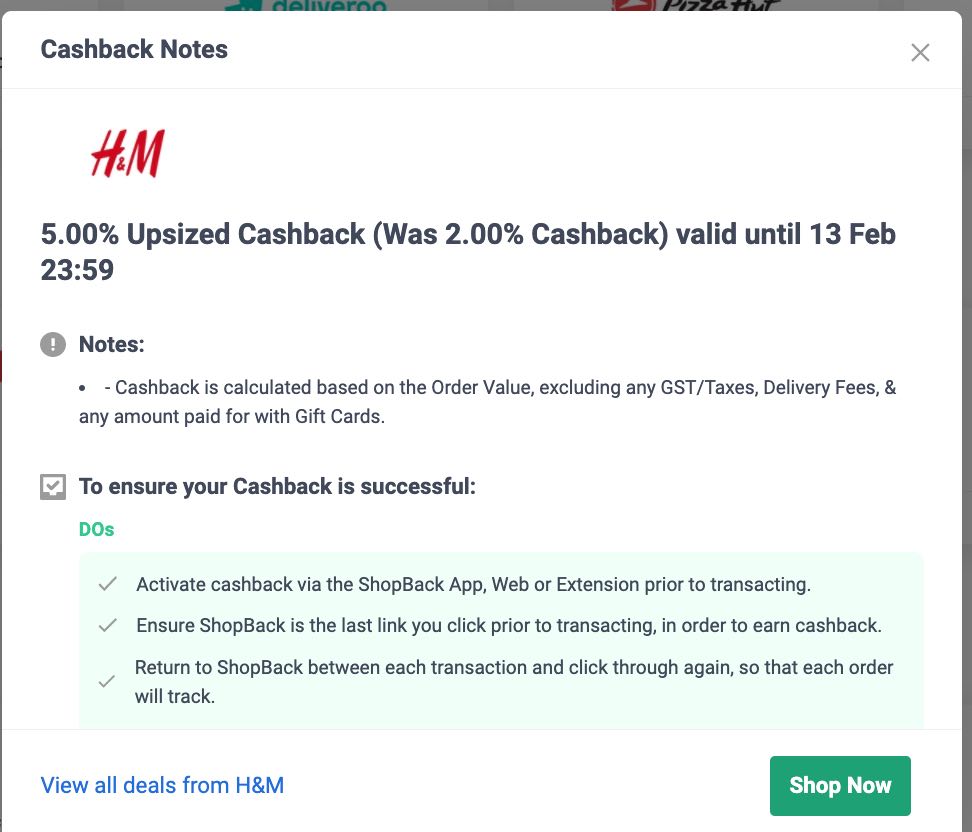 The great thing about Shopback is that there are no limits to how much cash back you can earn, and it's completely free to use their site or app.
How do I sign up for ShopBack? 
It's quite easy to sign up for Shopback – all you need is a valid email address to get started.
Just for signing up through this link, you will earn $10 after you make your first $20 purchase at a favorite participating store using one of their referral links.
To sign up, head to the ShopBack website and enter your details. You will then be asked to create a password and complete a quick verification process.
Once you're registered, you can start shopping through Shopback's site or app immediately. You can now click on a referral link to any store you like to shop with, and it will activate your cashback earning potential.
ShopBack Referral code
When you spend $20 or more, you will receive a $10 cash back bonus, plus any cashback you earned from your purchase.
ShopBack stores 
ShopBack is a great place to shop because it has a lot of different stores to choose from. It's the leading shopping and rewards platform in Asia-Pacific, serving over 30 million shoppers in ten markets with over 10,000 online and in-store merchant partners across a variety of categories, like fashion, beauty, food, electronics.
There are over 1500 stores to choose from in almost every category for Aussies. Here are some of the most popular stores on ShopBack:
Amazon Australia Coupons & Deals
eBay
Myer
Harver Norman
Kogan
David Jones
Big W
ASOS – Fashion, shoes, and accessories
Apple Store
The Iconic
Liquor-land
This list is only the beginning. There are a lot of other stores on its radar.
If you have to do some quick online shopping, you may get some money back from your purchase. Just shop from the Shopback app or website or use the chrome extension. Even the tiniest cashback payments add up over time.
ShopBack Review: How I Saved Money with ShopBack
I moved from the US to Australia in late 2019, and I was a huge fan of couponing and cashback deals back there
I thought that I would not be able to do the same when I moved here, but thankfully cashback sites like Shopback exist.
I have been using ShopBack for a little over two years now, and I absolutely love it!
Here is one of the few cashback reward I received when we bought a refrigerator from eBay (Good Guys store).

But it is not just this, I love its product comparison tool (I have discussed later). It helps me save a lot of money when buying online.
How to save money with ShopBack?
Here are some easy ways to shop and save money using ShopBack.
1. Download the ShopBack app or use the website
ShopBack has an app for both Android and iOS devices, so you can shop on your smartphone while you're out running errands. It's super convenient.
And if you don't want to carry your phone around, you can also shop through the ShopBack website.
2. Install the Chrome extension 
The ShopBack chrome extension is the best way to earn cashback. The extension will show you how much cashback you'll earn on each store before you click through to it, so there's no need to worry about missing out on any savings.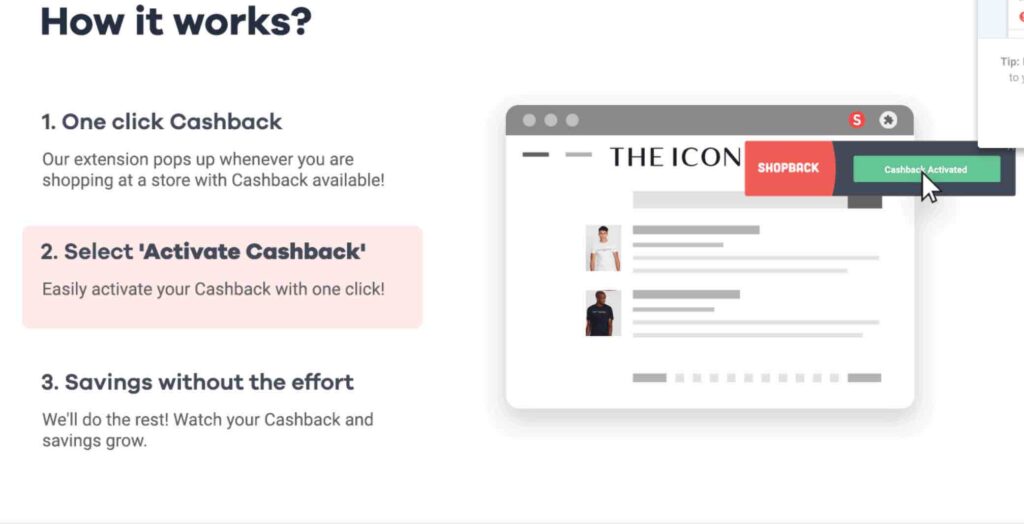 3. Link your credit or debit cards for in-store cashback
Another great way to earn cashback is by linking your credit or debit cards to the Shopback app. This way, you'll automatically receive cashback every time you shop at one of their partner restaurants – no need to remember to activate any deals or coupons.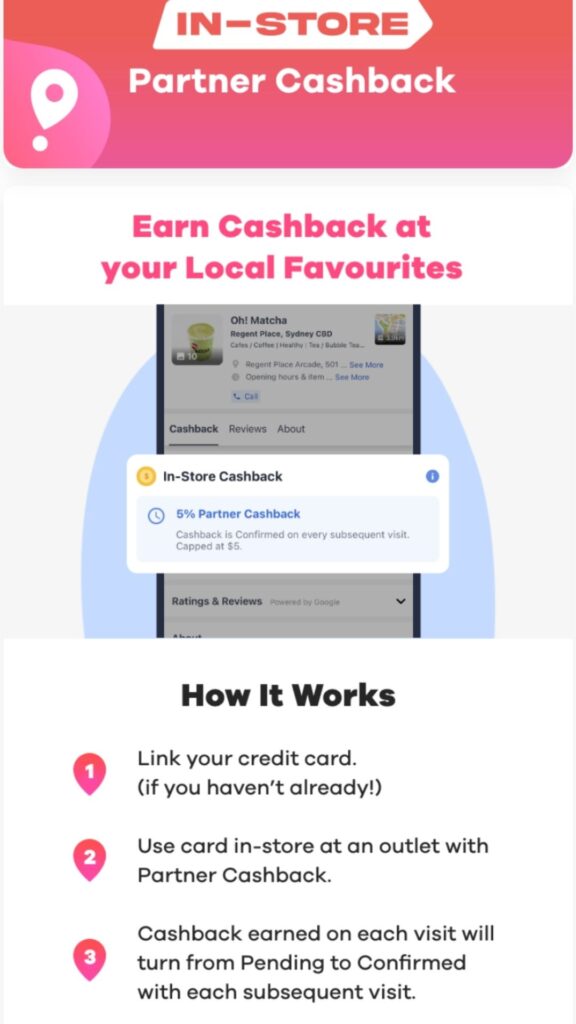 It is available in Sydney only (as of now). Lucky ya all!
4. Buy discounted restaurant vouchers
One of the ways to save money when eating out is by using the ShopBack app to purchase discounted vouchers. You can save up to 50% with these vouchers, and you can also earn cashback rewards when you buy them. So, it's like a double win.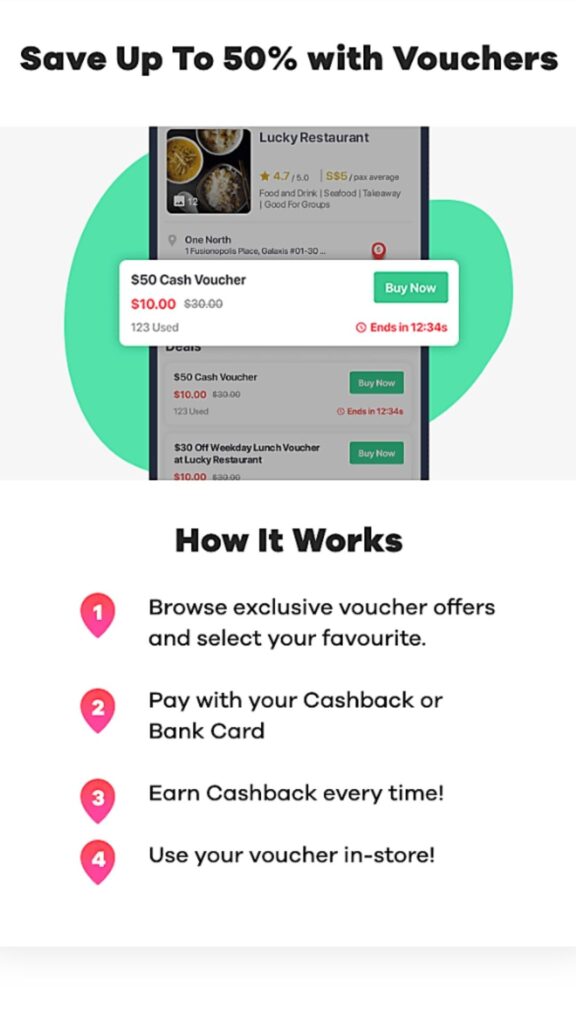 5. Buy discounted ShopBack Gift cards
You can also buy discounted gift cards through the Shopback app. It is a great way to save money on your shopping or simply gift them to friends and family.
Just like discounted vouchers, you will also earn cashback when you gift cards with the ShopBack app.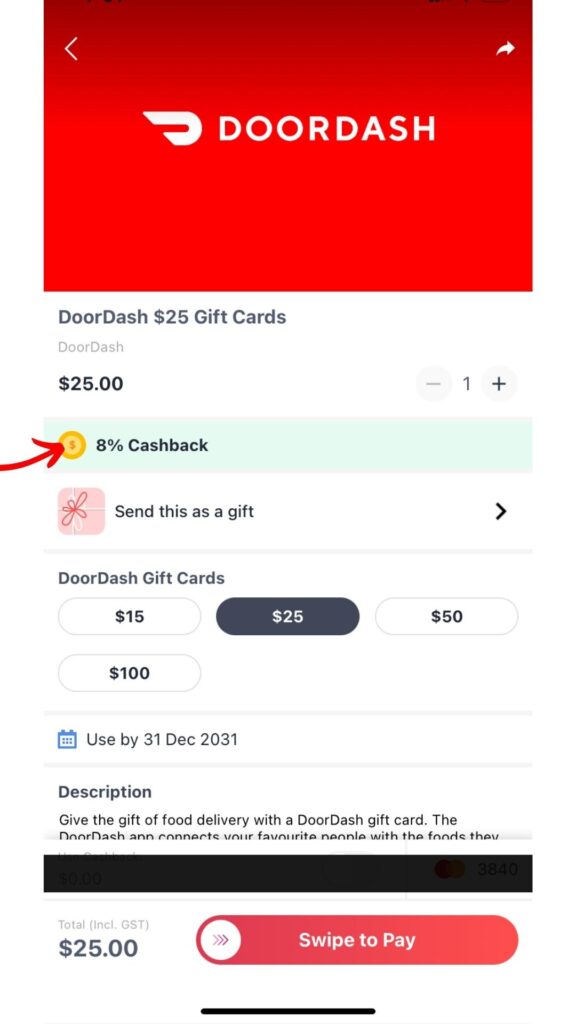 6. Shopback product comparison tool
One of the best features of ShopBack is its product comparison tool. This useful tool may help you save money on items by comparing pricing across numerous stores and calculating the ShopBack bonuses you will receive.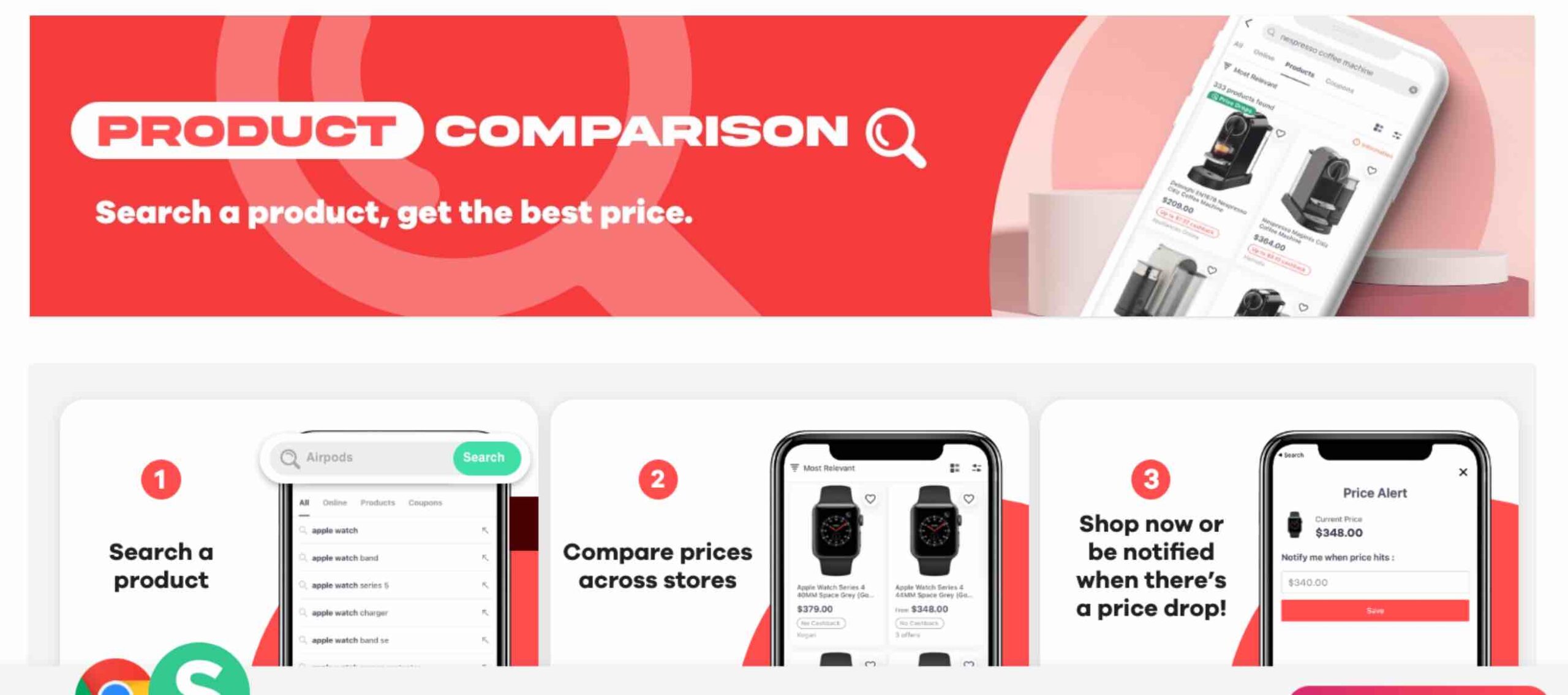 Another icing on the top is that ShopBack lets you check the price history of a product. This way you can make can add the product to your watchlist (if you are not in a hurry to buy) and wait for the price to drop.
ShopBack app has inbuilt tools where you can add a product to the watchlist and set the price drop alert price.
For example, see this Air fryer I bought from Amazon. I checked Shopback for its price history, and it showed its price dropped to $134. Since I was ready to wait, I added it to my watchlist and set a price drop alert.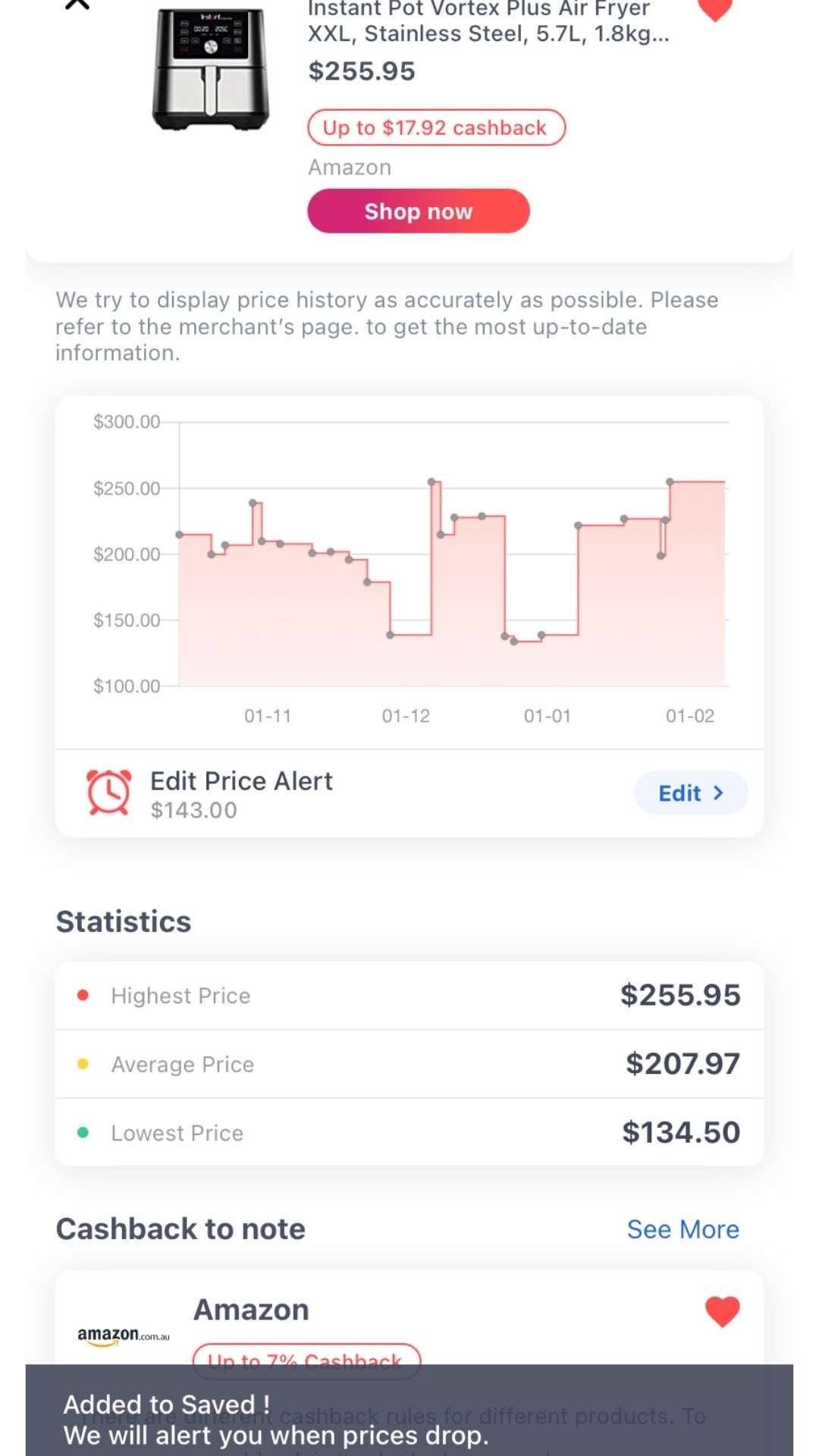 And voila, the next time Air fryer's price dropped in December 2021, I got an email notification from ShopBack and I managed to get it at $139, which was $60 cheaper than the price I would have paid if I didn't use ShopBack.
7. Upsized deals, Challenges, and exclusive deals
To help you earn more (or better said, make your shop more), ShopBack usually upsizes the deals from time to time and offers exclusive cashback deals. You can find these deals on your ShopBack website, app, or in your emails.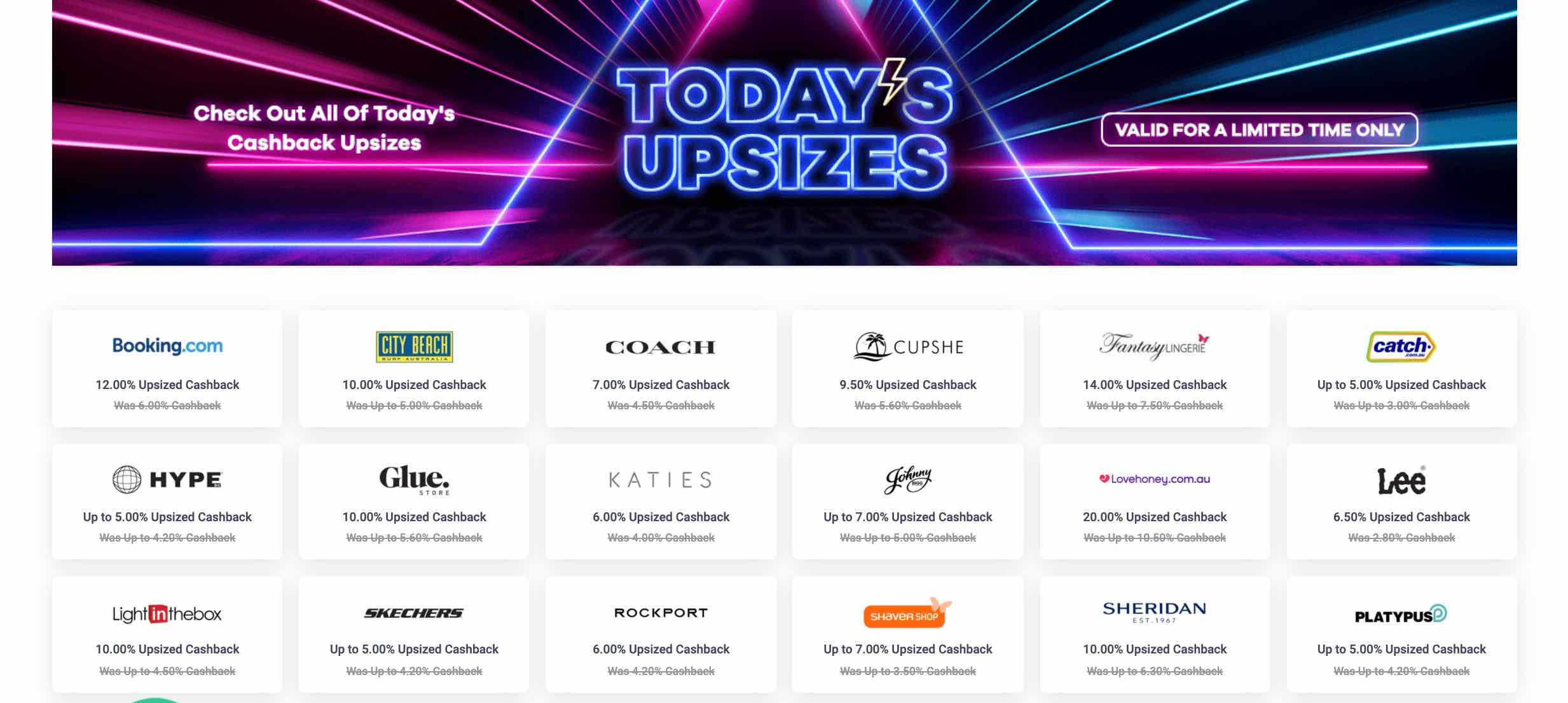 These are some of the upsized deals and challenges I saw on my ShopBack website.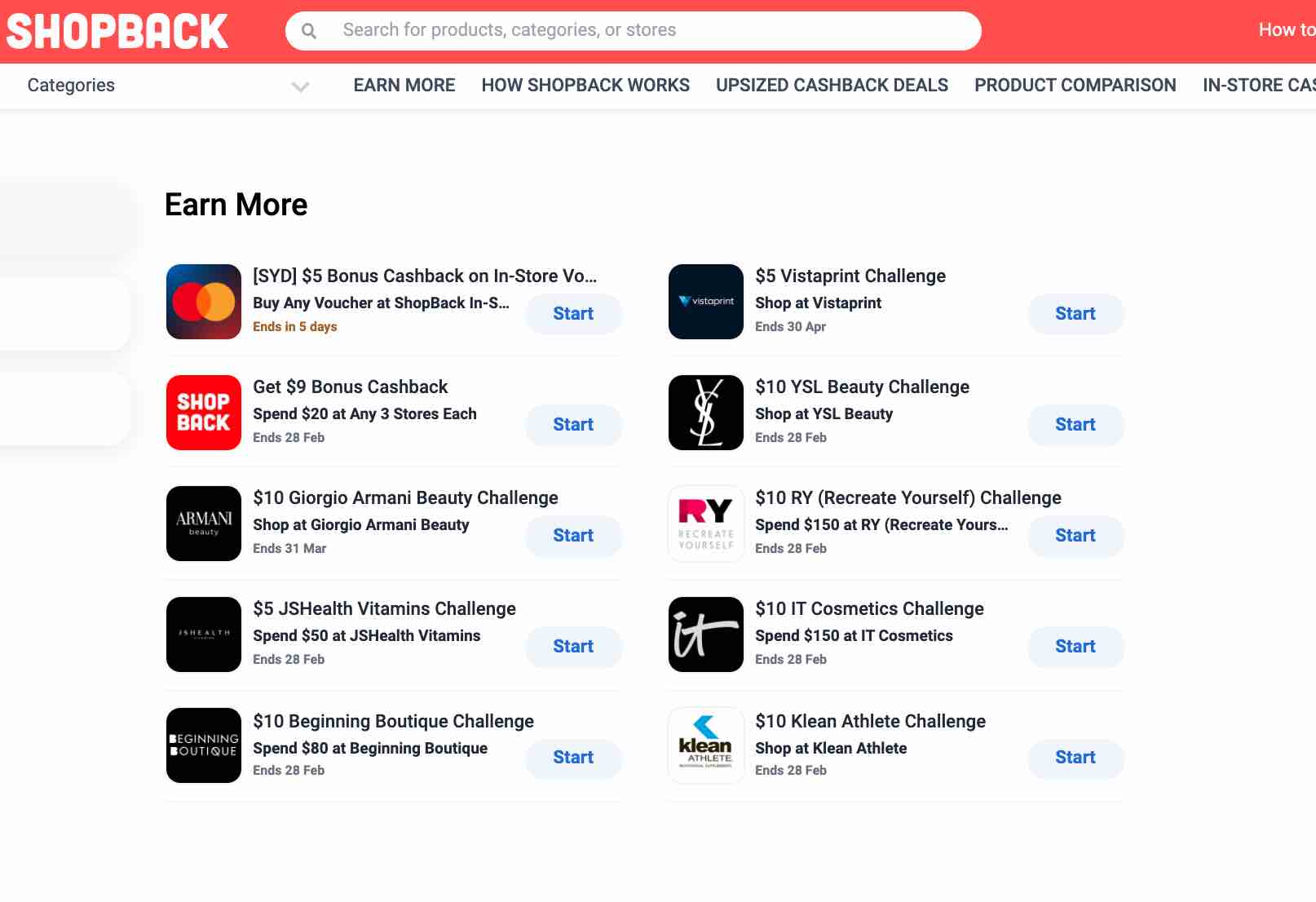 8. Exclusive coupons
To help you save more, ShopBack also offers exclusive coupons to over 500 renowned Australian brands. This list includes Myers, Amazon, David Jones, UberEats. etc.
9. Earn referral bonuses 
Lastly, one of the best ways to earn extra rewards is by referring friends to ShopBack.
If your friend signs up and makes an eligible purchase of $20 or above through ShopBack, you both will earn cashback.
And there's no limit to the number of friends you can refer!
Is ShopBack Australia safe?
Yes, ShopBack is a legit and safe register business successfully running in many countries. There are over 20 million ShopBack users across 9 countries.
It even has over 8800 reviews on Trustpilot with an average rating of 4.3 stars.
How does ShopBack make money?
ShopBack partners with over 1500 brands to offer cashback rewards on orders made through their links.
These stores pay ShopBack an affiliate commission for bringing customers to their site. Once you make a purchase, ShopBack gets a commission from the store and then shares a portion of this commission with you as cashback.
How long does ShopBack take?
ShopBack usually tracks cashback orders within 48-72 hours of the purchase. However, it may take up to 45-120 days to validate your cashback claim and during that time your cashback will be pending. Every store has a different processing time. 
You can check the individual store on the ShopBack website or app before making any purchase.
Once your cashback is approved, ShopBack will transfer it to your ShopBack account. 
How do I receive my cashback?
Shopback pays you in the form of cashback, which will be credited into your ShopBack account. You can then withdraw this money to your bank account or PayPal. You need to have a minimum of $10 in your account before you can withdraw your money.
How to use ShopBack in-store?
To use ShopBack in-store, you'll need to link your debit or credit card to the app. ShopBack will keep track of any cashback and credit them into your ShopBack account when you make a purchase.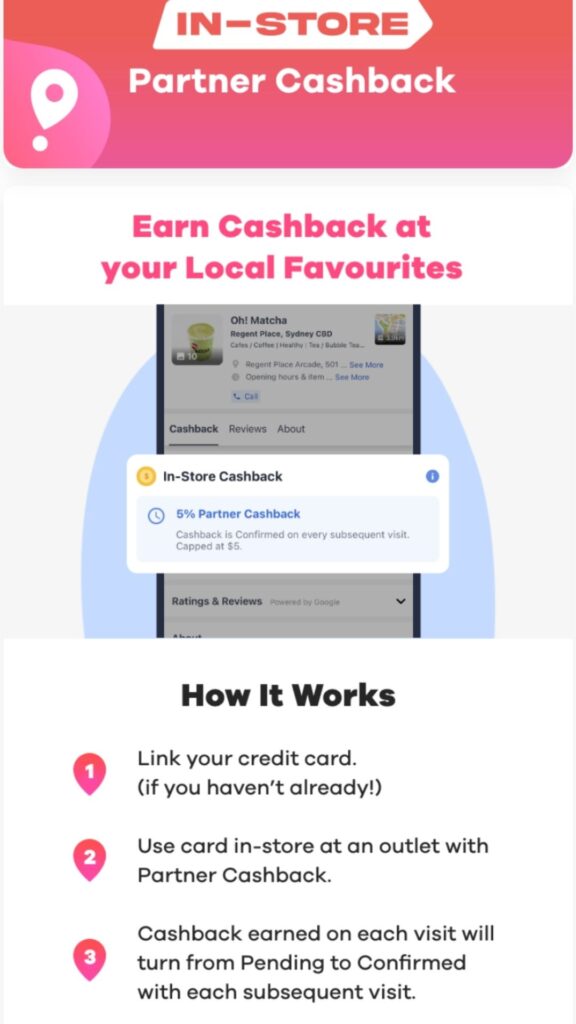 Is ShopBack worth it?
Yes! As long as you're doing your research to ensure that you're getting the best deals available.
ShopBack offers an extensive list of products and brands to choose from, so finding what you want should be easy – and there's even a handy product comparison tool to help you find the best price.
You can shop at your favorite stores through ShopBack and get cashback deals on almost all products including, electronics, fashion apparel, toys, and more.
Even if you shop for groceries at Woolworths or Coles, ShopBack will give you cashback on your purchases.
ShopBack is a great way to shop and save money while doing so. You can even take advantage of ShopBack gift cards, vouchers, and extra deals to save more. 
So shop smart and shop with ShopBack!
Final words: My honest ShopBack Review
With so many amazing features, it is no wonder why Shopback is one of the best cashback sites in Australia.
I hope this article has helped introduce some of the best ways to save using ShopBack.
Be sure to check out ShopBack's website or app for more deals and savings.
And always follow best practices to ensure your cashback is tracked successfully; else, you will lose the ShopBack reward. Using adblockers, clicking on 3rd party websites or other ads can cause cashback tracking issues. You can find more details inside the ShopBack app or website. 
I hope you found this ShopBack review helpful! If you have any questions, please leave a comment below, and I'll get back to you as soon as possible.
If you like ShopBack, you might like Cashrewards too! Don't forget to check it out. I use both.