Cashrewards is one of the top Australian cashback websites to save money while shopping online. But is the Cashrewards worth it? I'll uncover it all in my Cashrewards review for 2022 and take a look at its new features, such as Cashrewards max.
When I moved to Australia in 2019, I was a little sceptical about whether or not good (and legit) cashback sites existed here. After some research, I found Cashrewards, and it has been a part of my life ever since.
If you are new to the world of cashback sites, it is basically a way to earn cashback when you shop for various products and services like you normally do.
And if want to try this cashback app, my Cashrewards Australia review will cover all of the basics of how Cashrewards works, how to sign up, get paid and why Aussies love it so much!
This website contains affiliate links which means we may earn commissions if you purchase through them (no extra cost to you). You can read our policies here.
Cashrewards Promo Code Sign Up
If you are here only for the Cashrewards promo code, you can sign up for Cashrewards using this referral link.
By using this link to sign up and shop through Cashrewards, you will receive a $10 cashback welcome bonus.
(You will only receive cashback if you make a qualifying first purchase of $20 or more. Don't worry! I will go through everything you need to know about eligible purchases in this blog).
What is Cashrewards?
Cashrewards is one of Australia's oldest and most popular cashback websites that helps you earn cashback whenever you shop online through its website, app or extension.
It has partnered with hundreds of Australian brands to offer you cashback on everything from fashion and beauty to travel, insurance, household products and much more.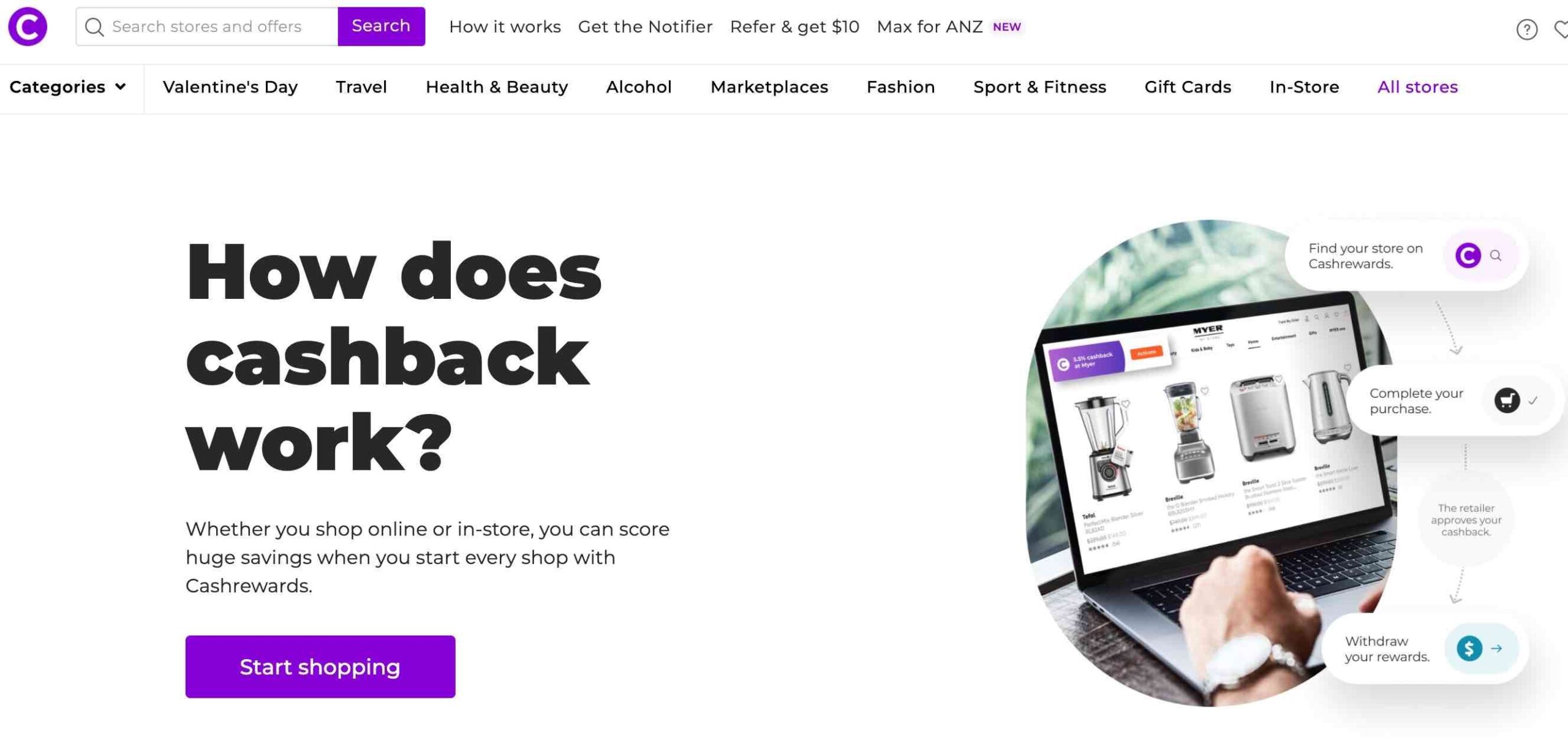 Is Cashrewards Legit?
Absolutely yes, Cashrewards is a 100% legit cashback site that has been around since 2014.
It is a 100% Australian owned and runs Aussie cashback app highly-rated by Aussies and cashback experts. 
With an excellent rating on Trustpilot, it shines as the number 1 cashback provider in this category. Over that time, it has paid out more than $100 million in cashback to its over 1,000,000 members.
But that's not its best part.
Cashrewards also donates 1% of its business equity and 1% of every cash reward you redeem to the starlight foundation and has helped over 20,000 kids so far – making it one of the most generous cashback sites around.

How Does Cashrewards Work?
Now that we know Cashrewards is heaps good, let's take a look at how it works. The process is simple.
First, you need to sign up for a Cashrewards account. It's free and only takes a minute.
Once you're signed up, you can start shopping at your favourite stores through the Cashrewards website, app or extension. Cashback has partnered with these brands to offer cashback to its members. The amount (usually %age ) of cashback you will receive varies from store to store.
Each brand you shop with pays Cashrewards a commission for sending them your business and Cashrewards shares this with you.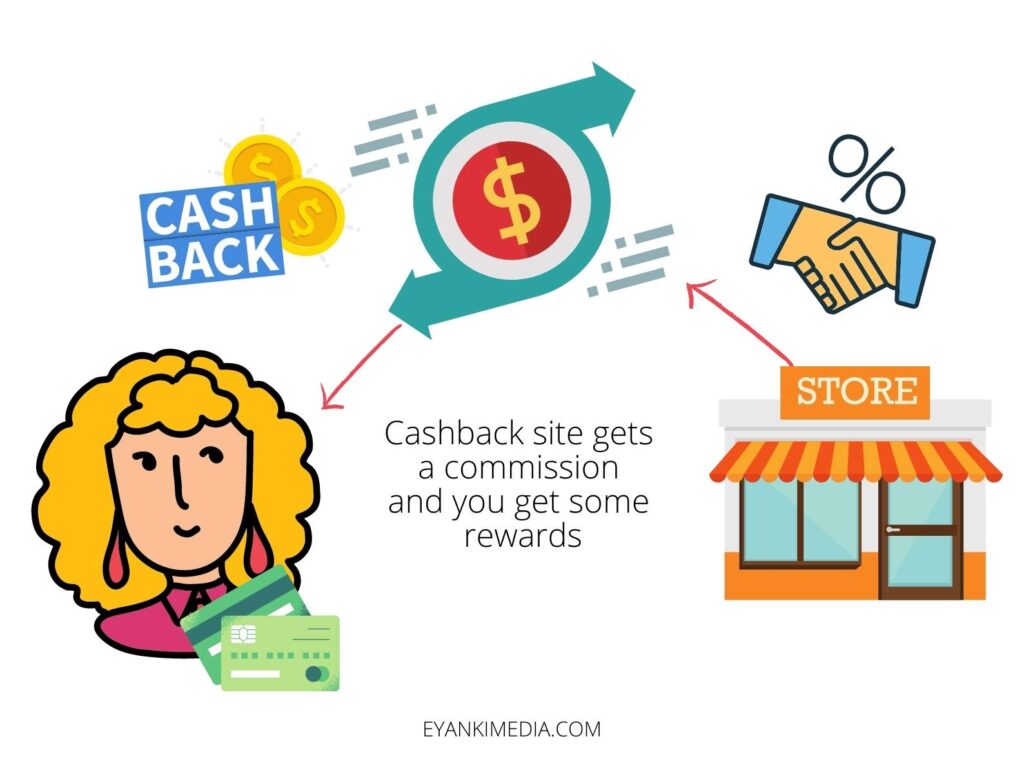 Once your cashback is approved (depending upon the merchant approval date), Cashrewards will give you cash back on the amount you spend. When your cash back balance reaches $10 or more, you can cash out and receive it in your bank account or Paypal within a few days.
For example: If I want to shop from Sunglass hut, I would simply log into my Cashrewards and look for the cashback they are offering. Like today, they are offering 14% cashback.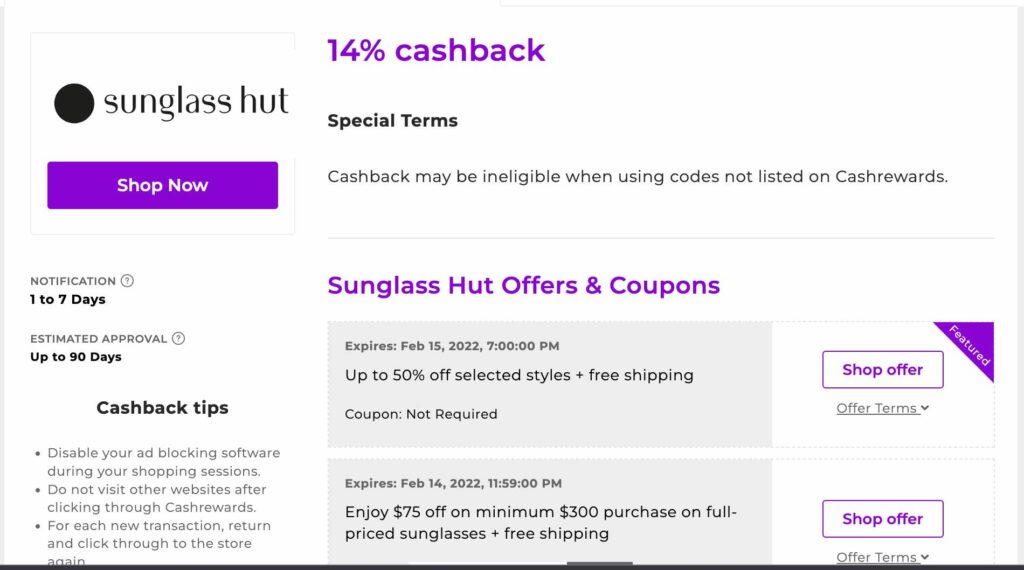 I will read their special terms and cashback tips next and then click on the cashback button to visit the Sunglass hut website through Cashrewards and do my shopping.
It will ensure that cash rewards track my purchase, and I get my cashback later.
Let's say; I bought a pair of sunnies worth $100. Now Cashrewards will track my purchase, and once cashback is approved, I will receive 14% cash back or $14 in Cashrewards balance in about 90 days!
Cashrewards In-store
You can also earn cashback when shopping in-store by using the Cashrewards app.
Simply connect your cards with your Cashrewards account. When you use your linked card in-store at participating retailers, Cashrewards will track your purchase and add cashback to your wallet.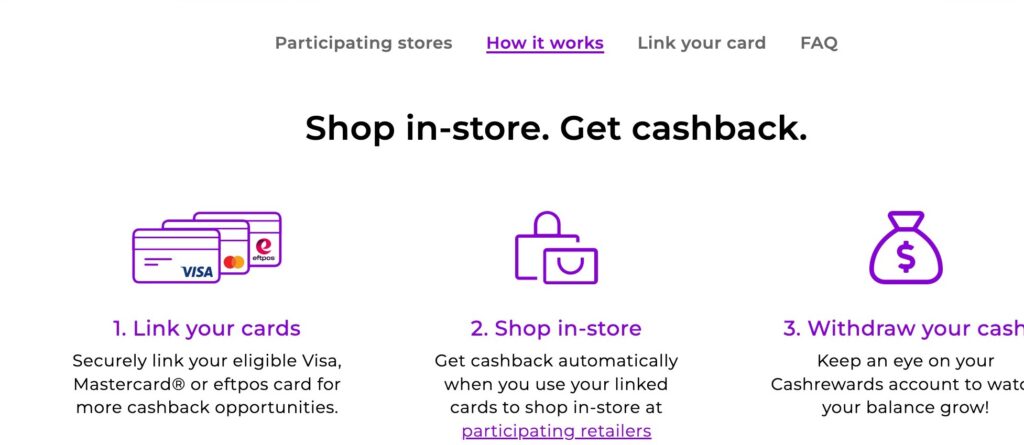 There are around 150 stores where you can get cash rewards in-store, including restaurants, pharmacies, retail stores and even Liquor land.
Cashrewards Max
Cashback max is a premium cash rewards program for eligible ANZ cardholders.
Cashrewards Max lets you earn exclusive deals and more cashback for some offers compared to the standard Cashrewards program. You can get the benefits of this program both in stores and online.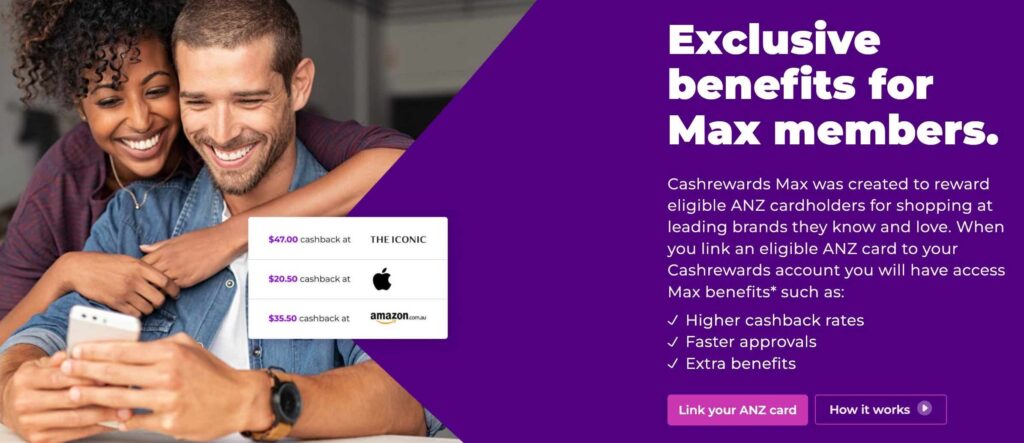 Does it works?
Yes, it does! I recently booked a hotel using Cashrewards Max to see if there is any difference. I got a boosted offer that saved me $30 in that trip. Not too bad I guess.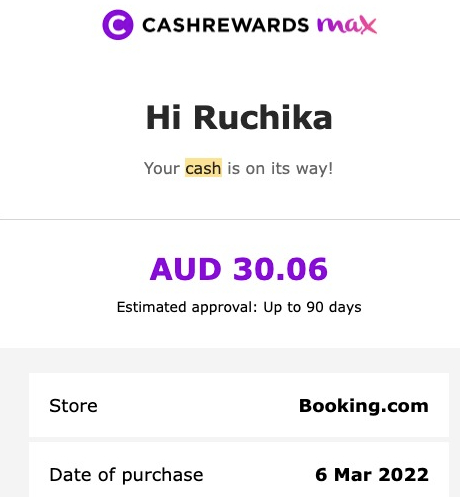 How does Cashrewards make money?
Cashrewards is an affiliate marketing based cashback website and does not charge its users to join or use the service.
Like other affiliate sites, Cashrewards makes money by sending customers (we-the shoppers) to its partner brands. When we click the brand link on Cashrewards and make a purchase, Cashrewards get paid by the brand for the referral.
This commission is usually a percentage of the transaction value, and cash rewards pass on a chunk of this commission to its members(to us-the shoppers) in the form of cashback.
Cashrewards also donates a portion of its business equity and cash rewards redeemed by members to the starlight foundation. So, not only do you save money with Cashrewards, but you also help a good cause.
I love it when I can save money and help out a good cause at the same time.
How do you get paid by Cashrewards?
After your purchase, you'll generally get rewards within 30 to 120 days. Cashrewards may take 90 days after the conclusion of your trip for your rewards to be authorized if you've booked a flight, holiday or rental car through them.
Once your cashback balance reaches $10 or more, you can cash out and receive it in your bank account or Paypal within a few days.
Ways to use Cashrewards to earn cash back (and More cashback)
Like many other Australian cashback apps, Cashrewards gives us many ways to maximize our earnings. 
We have already discussed shopping through the Cashrewards website and in-store cashback, but there are more ways to earn rewards through Cashrewards:
1. Use Cashrewards extension
Cashrewards extension is a Google Chrome browser extension that allows you to earn cashback and save using coupons when you are shopping online.
The extension will automatically detect whenever you are visiting a site that offers cashback. You can then activate cashback offers by clicking on the Cashrewards cashback extension icon.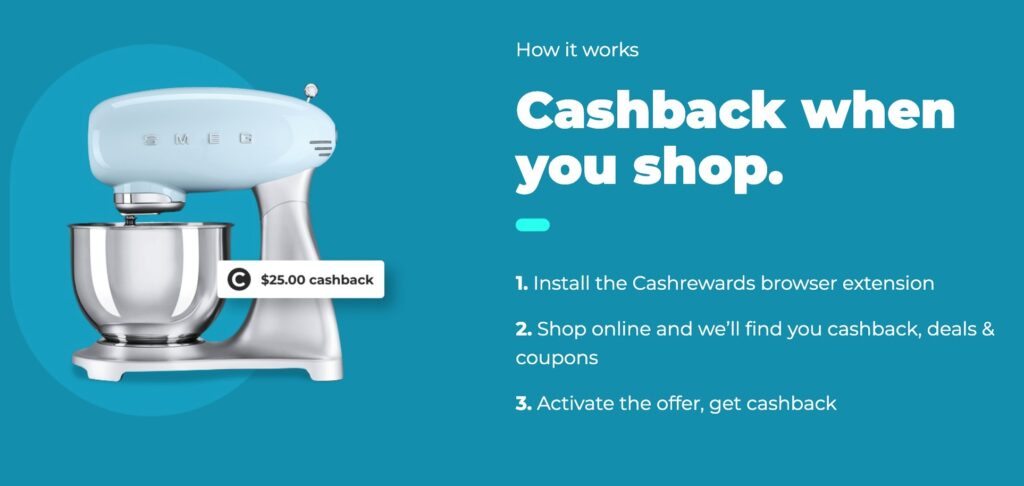 2. Use Cashrewards gift cards
Another way to earn cashback is by buying gift cards from Cashrewards.
If you love giving gift cards for special occasions, Cashrewards gift cards are the way to go. You can earn cashback for buying gift cards from retailers like Myer, Amazon and Goodguys through Cashrewards.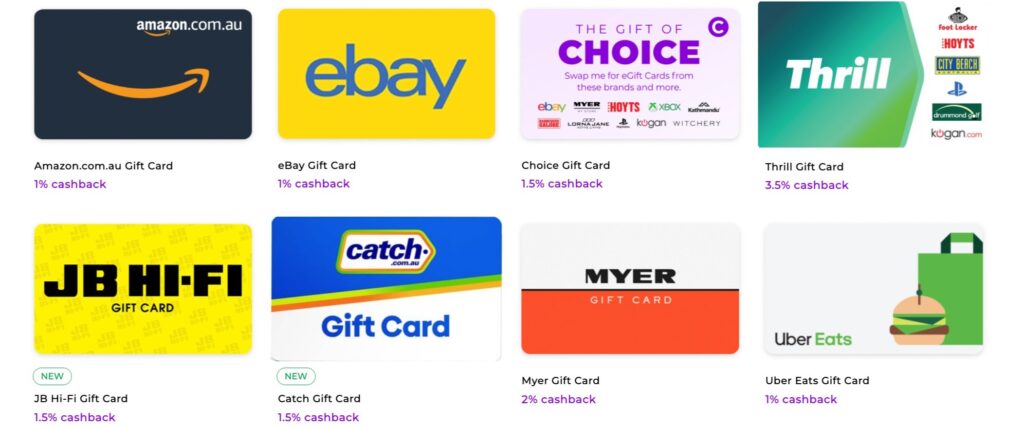 3. Boosted cashback and Featured offers
To help you save more (or tempt you to shop according to my hubby's words) Cashrewards offers extra cashback on featured products and brands. 
These cashback rates can be up to 20%, more than what you would get for a brand or product.
 4. Refer friends to Earn a bonus
Cashrewards also offers cash rewards for referring friends. You can earn $10 for every friend you refer who joins and makes an eligible purchase through Cashrewards.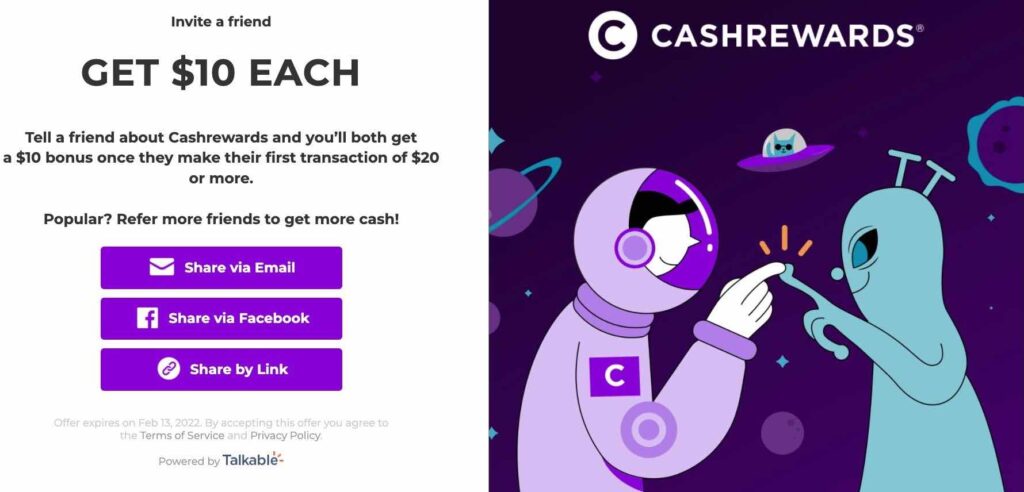 Cashrewards stores: You can use it for more than for general shopping
Cashrewards offer cashback not just for fashion shopping and retail but also for travel, entertainment and other services. You can use your cashrewards app to book hotels, flights or car rentals through Cashrewards partner websites and earn cashback.

You can also earn cashback for new energy connections!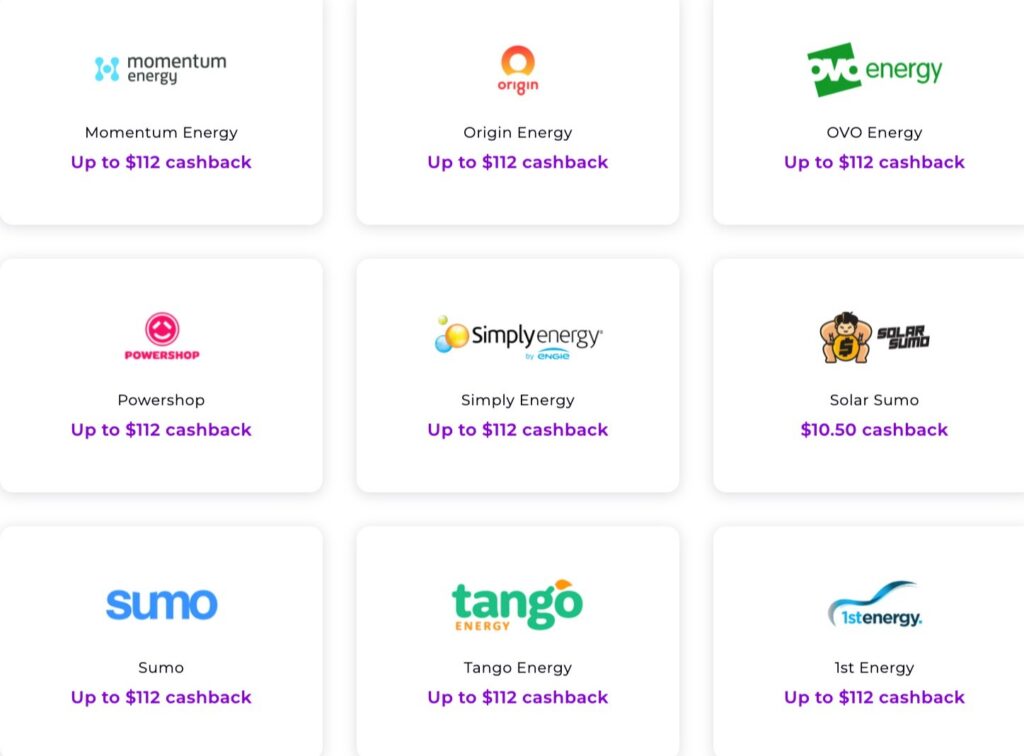 Car Insurance and travel insurance are two other great examples of services to earn cashback rewards.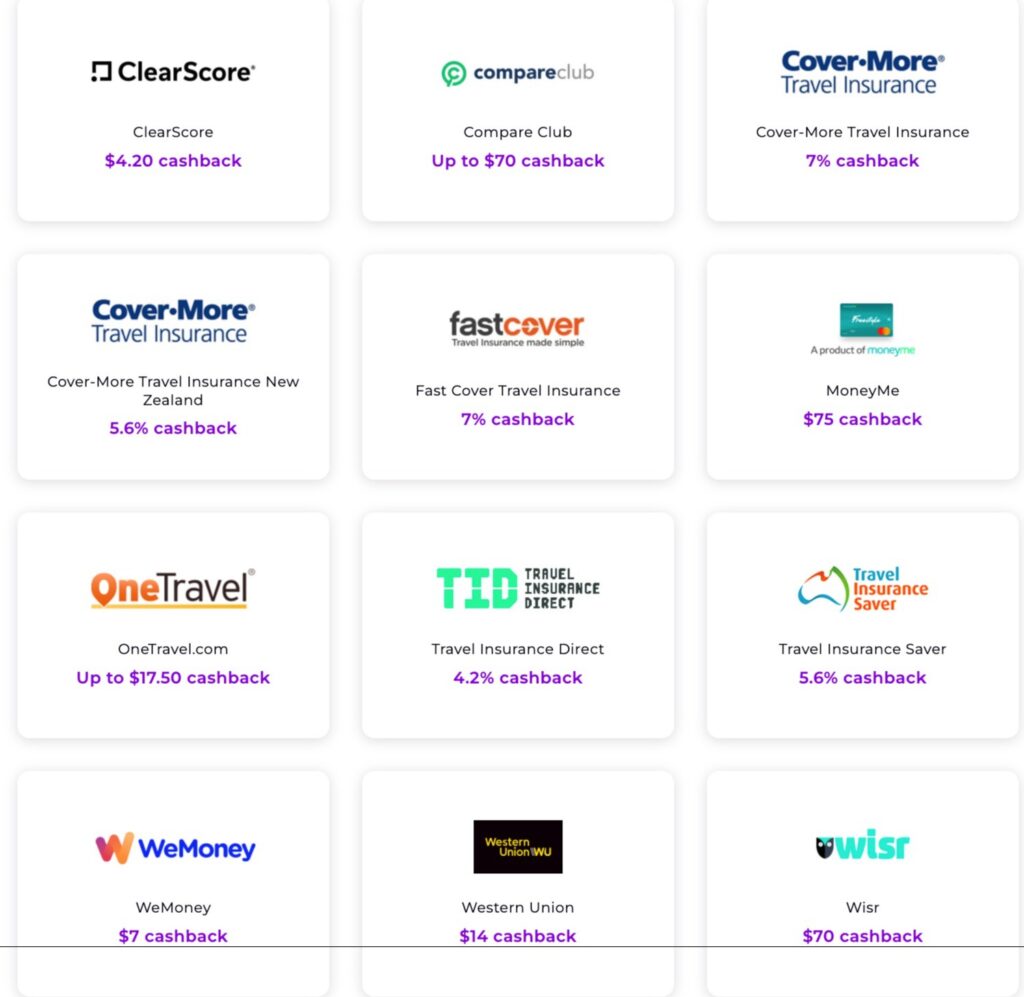 So Cashrewards review final word — is Cashrewards worth it?
In my opinion, YES! I've saved heaps of money using Cashrewards and have received over $100 in cash back so far. We normally use ANZ cards for most of our shopping, so Cashrewards max is a no-brainer for us.
Plus, I love that a portion of Cashrewards business equity and cash rewards redeemed by members goes to the starlight foundation. So not only do you save money with Cashrewards, but you help out a good cause as well.
All in all, Cashrewards is one of the best Australian cashback app you can use to earn cash back when shopping online or in-store.
If you are someone who shops often, it is definitely worth checking Cashrewards out!
If you liked this article, you might also like my Shopback review. Shopback back another cashback site I use and love for its 'price drop alert' feature.
Interested in more ways to make and save money? Check out these posts: