If you're looking for 'made in Australia Etsy shops' to buy handmade products, then this list is for you!  We've put together a list of 21 Amazing Etsy shops in Australia run by incredible Australian makers.
From handmade jewellery and candles to art prints and homewares, there's something for everyone on this list of Australian Etsy shops.
So without further ado, here are our best Etsy shops in Australia.
*You can find a handy table at the end of this post where we have sorted Australian Etsy stores according type of shop or buying occasion. This includes more than 50 Etsy Australia stores.
This website contains affiliate links which means we may earn commissions if you purchase through them (no extra cost to you). You can read our policies here.
What is Etsy Australia? 
Etsy is an e-commerce website focused on handmade or vintage items and craft supplies.
These items fall under a wide range of categories, including art, photography, clothing, jewellery, food, bath and beauty products, quilts, knick-knacks and toys. Many Etsy sellers also sell craft supplies such as beads, wire and jewellery-making tools.
Is it safe to buy from Etsy Australia? 
Yes! Etsy is a very safe platform to purchase from. Etsy has been in business since 2005 and has processed billions of dollars in transactions. It offers a secure payment system and also offers buyer protection.
Additionally, all sellers on Etsy must agree to abide by Etsy's policies, which includes timely shipping and sale of counterfeit items.
What is the difference between Etsy Australia and other online stores? 
The main difference between Etsy and other online stores is that Etsy focuses on handmade, vintage or supplies items while most other online stores sell mass-produced items.
So if you're looking to buy handmade, vintage or craft supplies from Australian businesses, Etsy is a great online marketplace to explore!
Why buy from Etsy?
There's something about buying something that has been handmade with love and care that makes it so much more special. When you buy from an Etsy shop, you know that you are supporting a small business and the artist behind it.
Additionally, many items on Etsy can be personalized, which makes for a great gift-giving experience. You will love the unique and creative products you'll find on Etsy!
Best Etsy shops in Australia
1. Tilly And Wilbur
Want some personalised clothing for special occasions? Here is one Australian mum owned Etsy shop that sells custom tees for the family.
The best part is, the founding director is a mum who hires other local mums for printing and packaging. As a mum in business myself, it's great to see a mum operated business like this!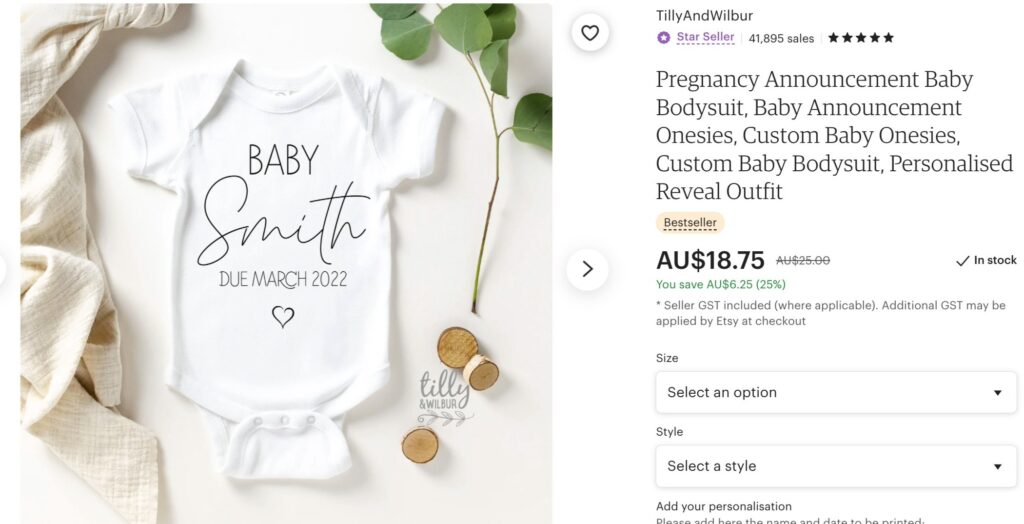 2. Le Rose Gifts
LeRoseGifts is an Etsy shop based in Sydney that specialises in bridesmaid items.
Bride/ bridesmaid robes, pyjamas and personalised bags are some of the bestselling items you will find in this shop.
3. Clover Decal
If you are looking for personalised phone cases, supercute switch skins and cases for your air pods, CloverDecal is one Etsy shop based in Victoria.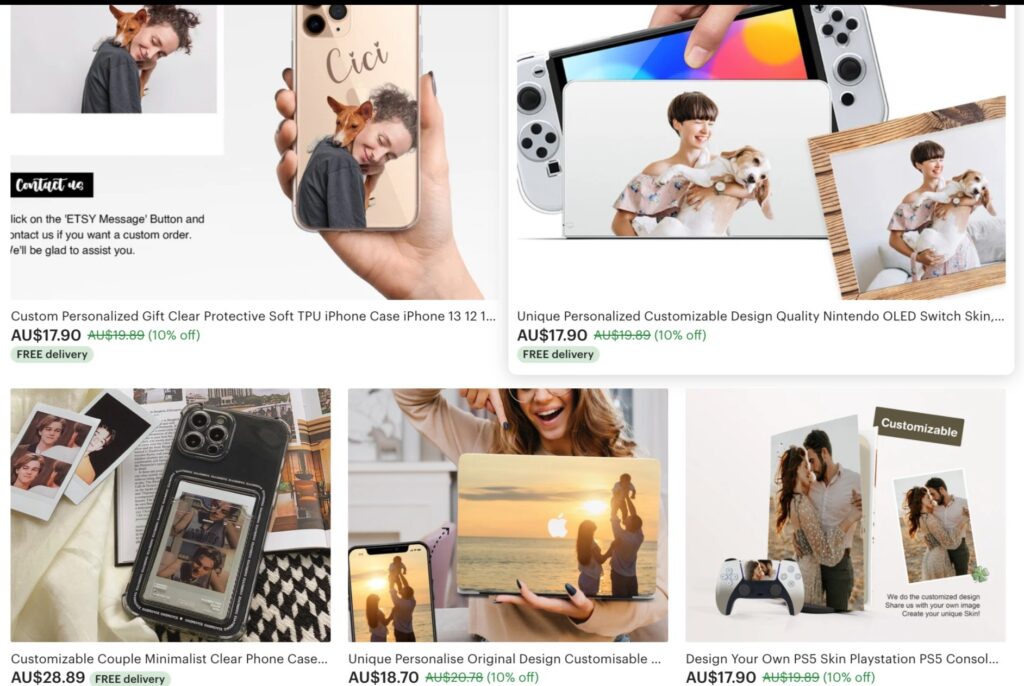 The shipping is free for all Australian orders!
4. Creating Monkies
CreatingMonkies is one of the popular Etsy shops located in Australia that sells personalised name signs and cake toppers.
You can order a wide range of personalised products for special occasions like weddings, baby showers and birthdays.

5. Wrapd In Love
This Queensland based Australian shop sells hand-dyed and knitted headwear. These include headwraps, headbands, scarves and beanies. 
I loved their colourful headwraps, ideal for people with hair loss after chemo.
6. Phoenix and Spruce
If you are looking for some great DIY materials for your next project, check out PhoenixandSpruce. This Etsy shop is based in Victoria and offers a wide range of products like texture stamps, earrings and polymer clay shape cutters.
7. Sterly Pop
Are you looking for some statement pieces to add to your jewellery collection?
SterlyPop is a great Etsy shop to check out! This Australian based shop offers unique and stylish handmade acrylic earrings for all occasions.
Prices start from $5 for studs and can go up to $45 for more elaborate designs
8. Mask Studio AU
MaskStudioAU is a great place to find masks that are both fashionable and protective.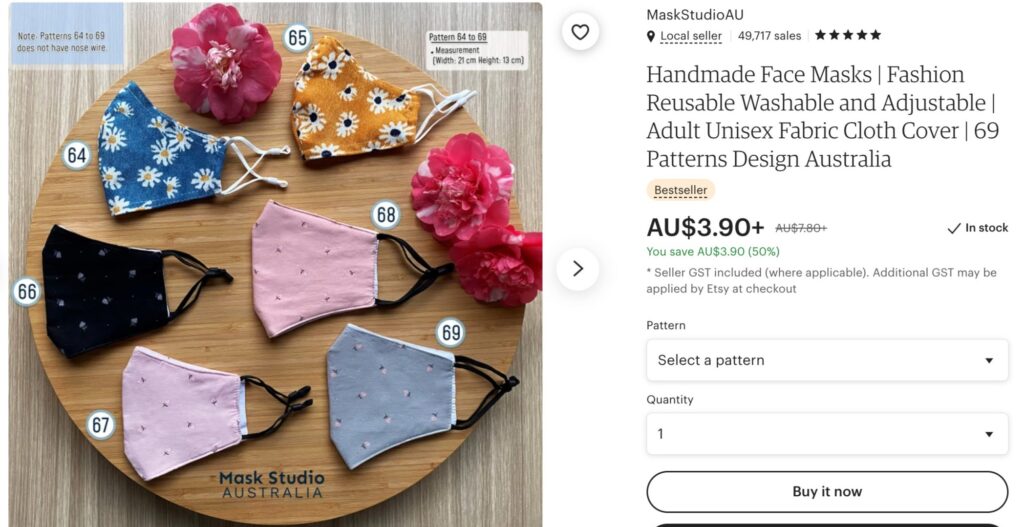 This Australian Etsy shop offers a wide range of face masks made from premium fabrics for adults and kids. You can find masks in different prints, colours and sizes.
9. Unique Gifts Australia
This Etsy shop specialises in a range of personalised gifts made from Australian wood. 
From engraved hammers for father's day and chopping boards for mother's day to one of a kind nursery gifts, this shop has a gift for every occasion. 
You can also find beautiful hardcover wedding books and memory boxes in this made in Australia only Etsy store. 
10. AUA Premium Gifts
AUAPremiumGifts is an Etsy store based in Australia that offers a range of handcrafted pamper gift boxes for your loved ones.
The boxes are packed with all-natural and handcrafted goods such as soaps, skincare goods, candles, and other items- all made entirely of Australian ingredients.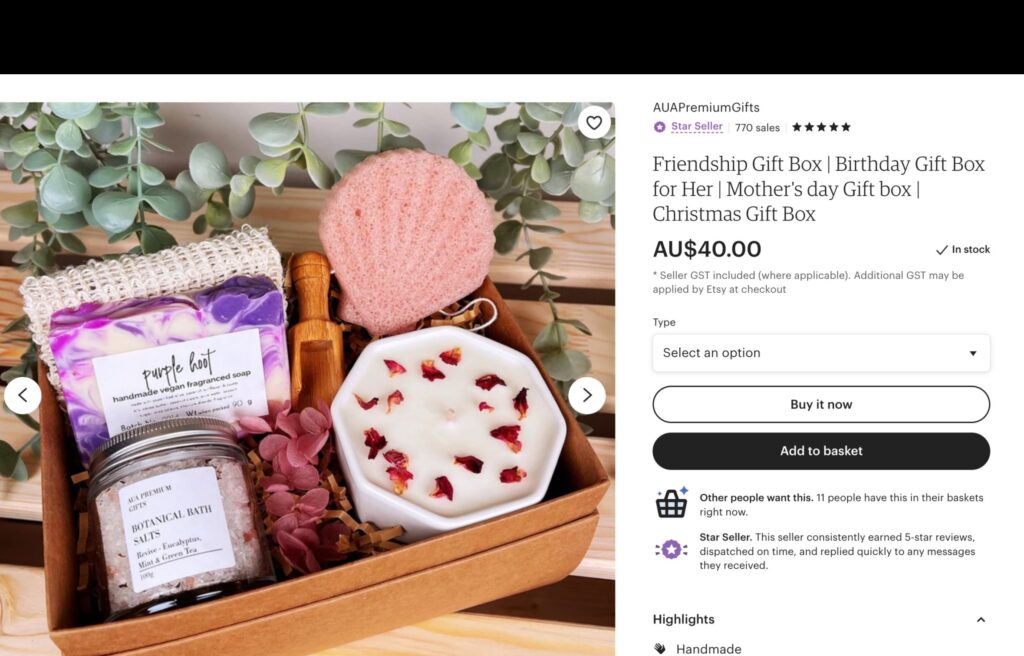 11. wax and coshop 
An Australian Etsy shop that sells handmade pure soy candles that you can personalise.
Soy candles are available in a variety of scents, all within decorative frosted jars with lovely minimalist labels.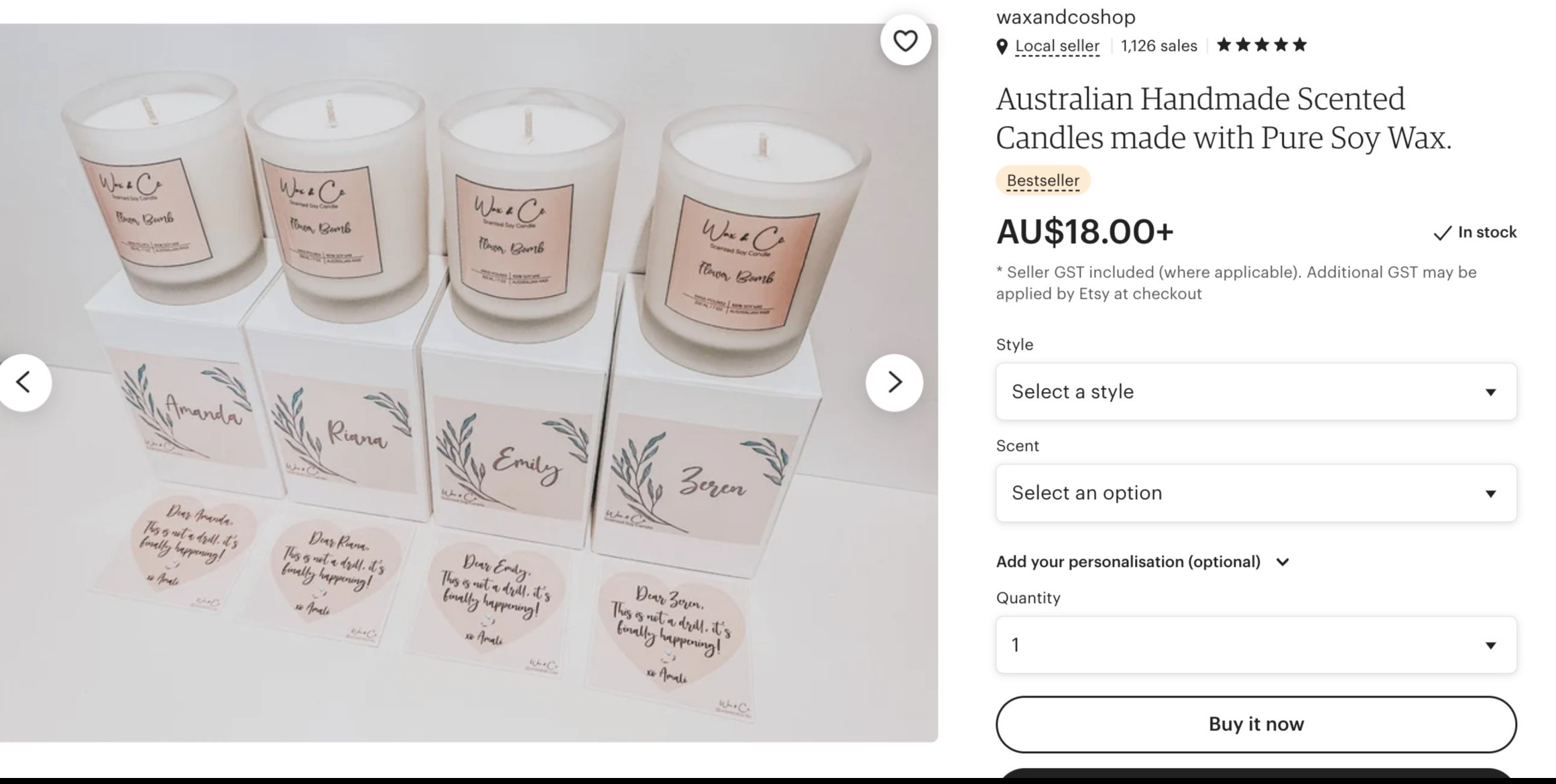 12. LYNN Minimalist 
Personalised silver jewellery has always been a popular gift idea, and LYNNMinimalist offers some beautiful and minimalist designs that are the perfect gift for her.
You can find custom name necklaces, bracelets, earrings and rings in this Etsy store from an Australian seller.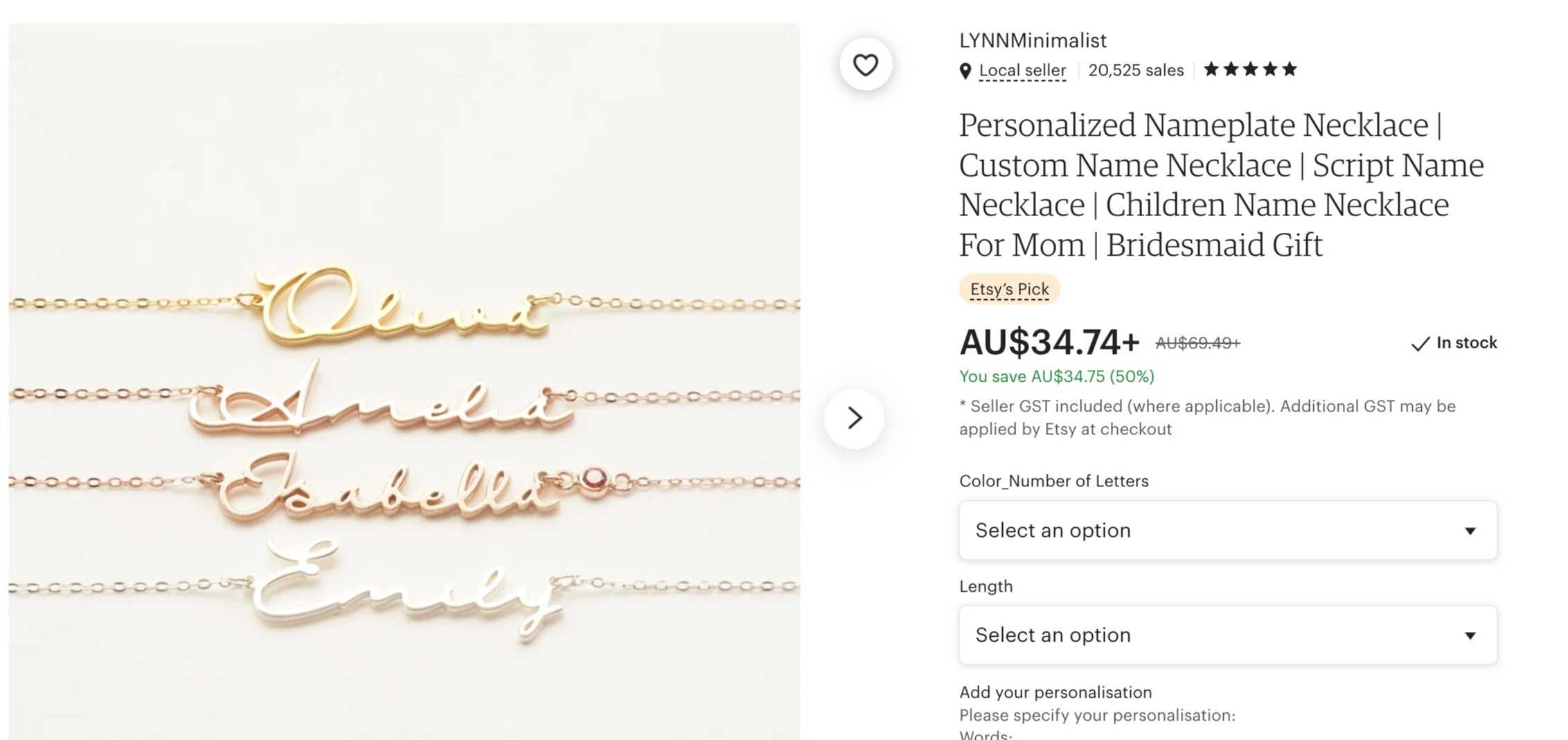 13. Blue Wombat Designs AU 
Resin earrings are all the rage these days, and if you're looking for some fun and flirty designs, BlueWombatDesignsAU is the perfect Etsy store for you!
Based in Australia, this Etsy Australian seller offers a range of handmade resin earrings, including glitter and sparkle styles.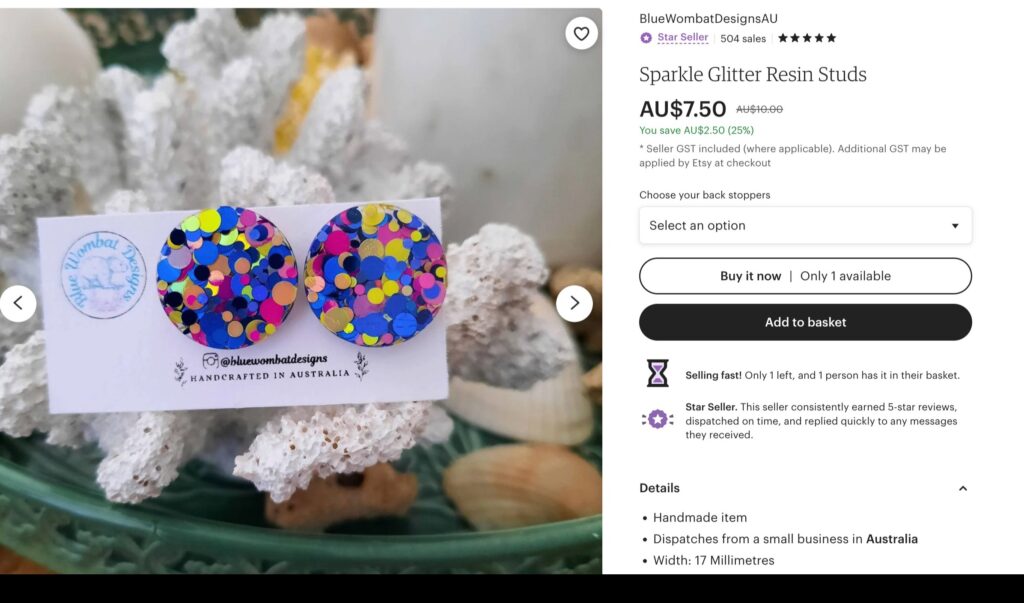 You can find prints with a variety of animals, including elephants, giraffes, and even dinos.
14. My Tommy Prints
Parents love to decorate their little ones' nurseries with customized animal prints and MyTommyPrints offers some adorable options to choose from.
You can find prints with a variety of animals, including elephants, giraffes, and even dinos. Each print can be personalised with your child's name and date of birth.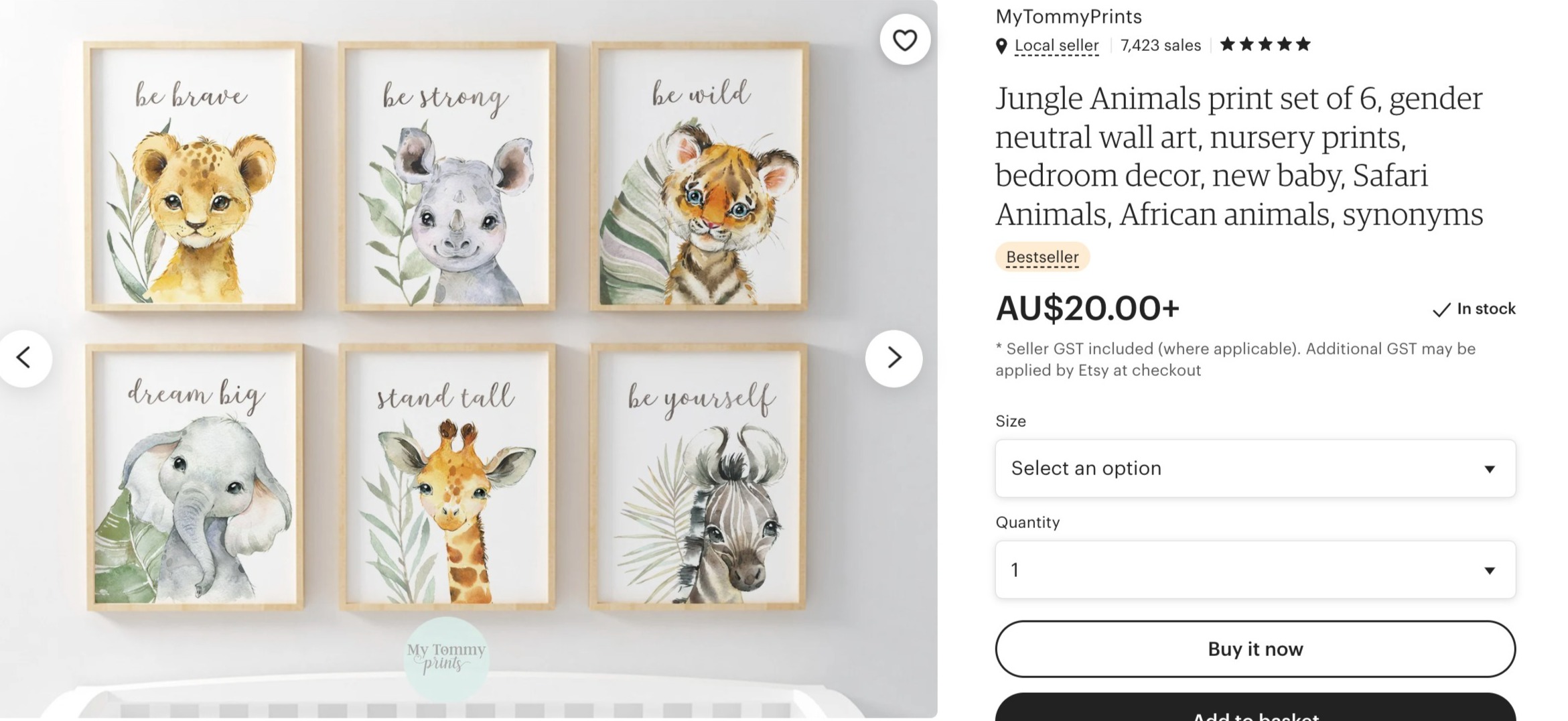 15. The Paper Bird cage
The PaperBirdcage is a great place to find handmade cards for any occasion.
This Australian Etsy shop offers a range of beautiful botanical card designs for different occasions.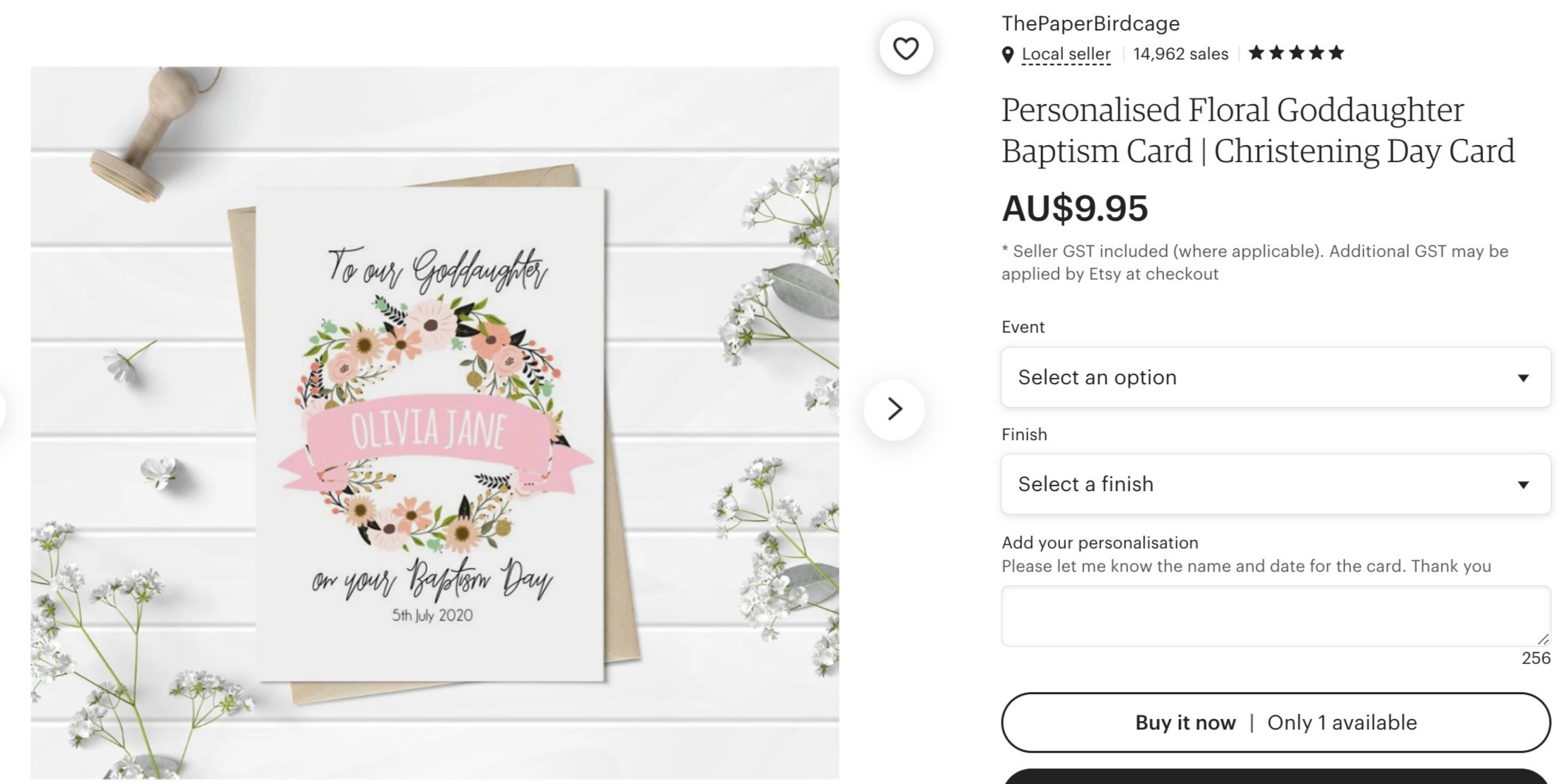 You can also find baby shower favour tags for your next party.
16. Tippy Toez by Kerrie
The Australian artist behind Etsy store TippyToezbyKerrie specialises in one of a kind crochet cards.
I have ordered some of her cards before, and they are really beautiful and well made.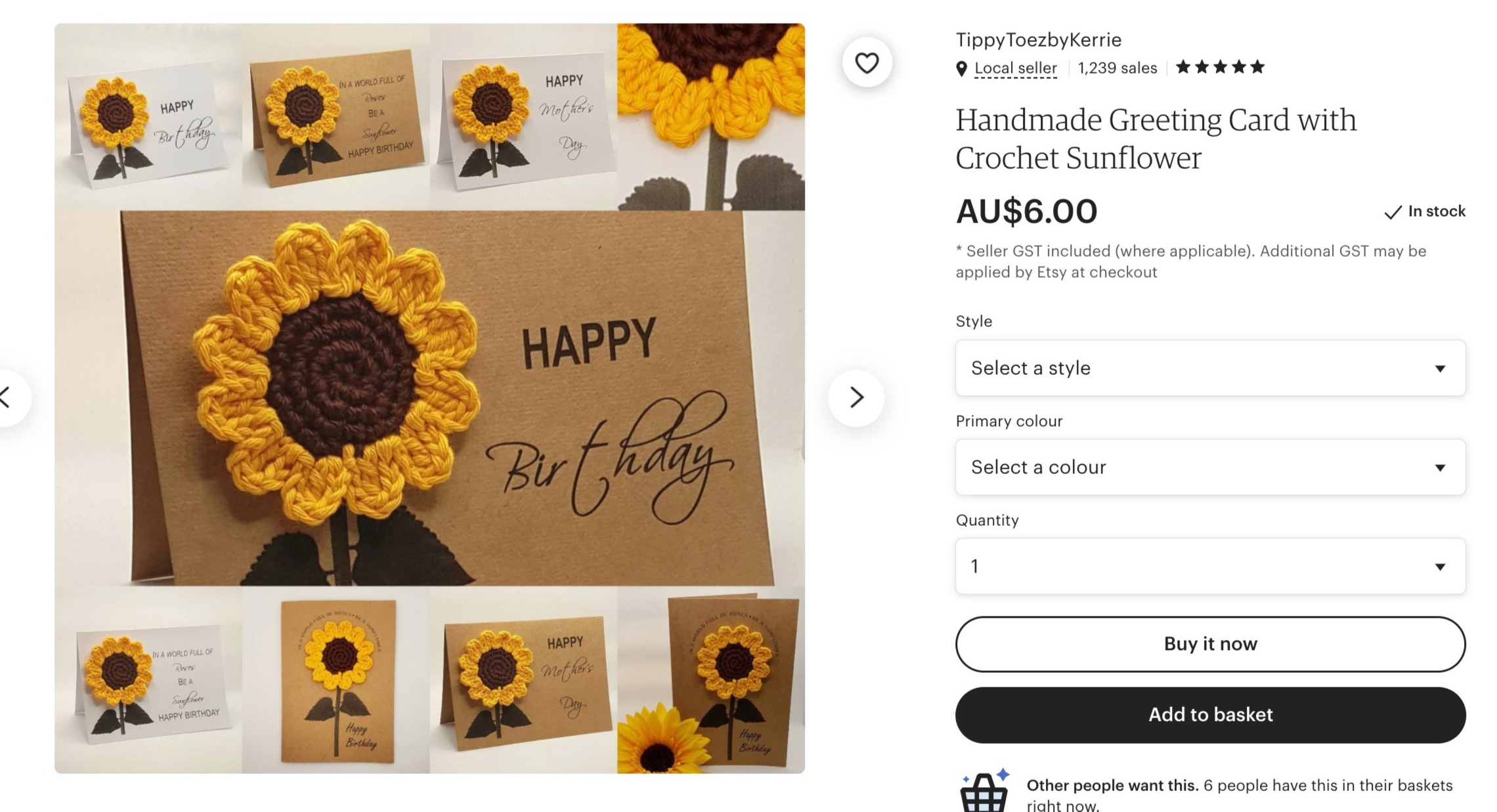 17. able and game
You will love these fun and quirky greeting cards based on humour and real sentiment. The cards have hand-drawn designs of unusual and unique characters that stand out from the crowd.
17. Sweet Little Luna
Sydney based Etsy shop, SweetLittleLuna offers a range of personalized children's puzzles that make great Christmas gifts for little ones.
The wooden puzzles are made from high-quality materials and painted with non-toxic paint.

18. Living By The Sea Design 
If you're looking for coastal style home decor, then LivingByTheSeaDesign is the Etsy shop for you! 
Located on the Sunshine Coast, this Australian seller offers a range of beautiful cushions, quilts and clutches in a variety of tropical fabric designs.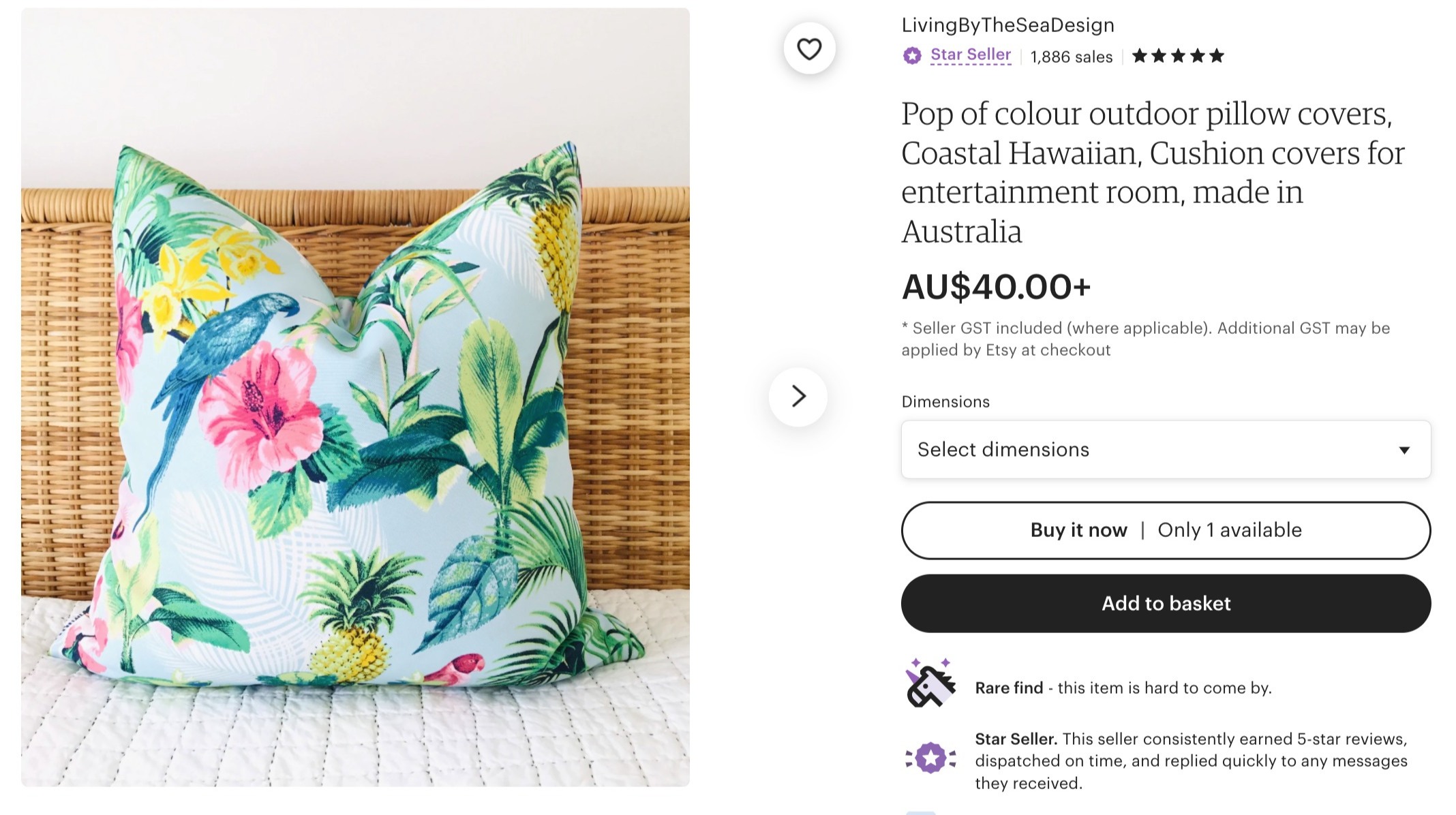 19. Wild flower bath bombs
Wildflowerbathbombs is South Australia based Etsy shop based offers a range of beautiful bath bombs handmade in different shapes.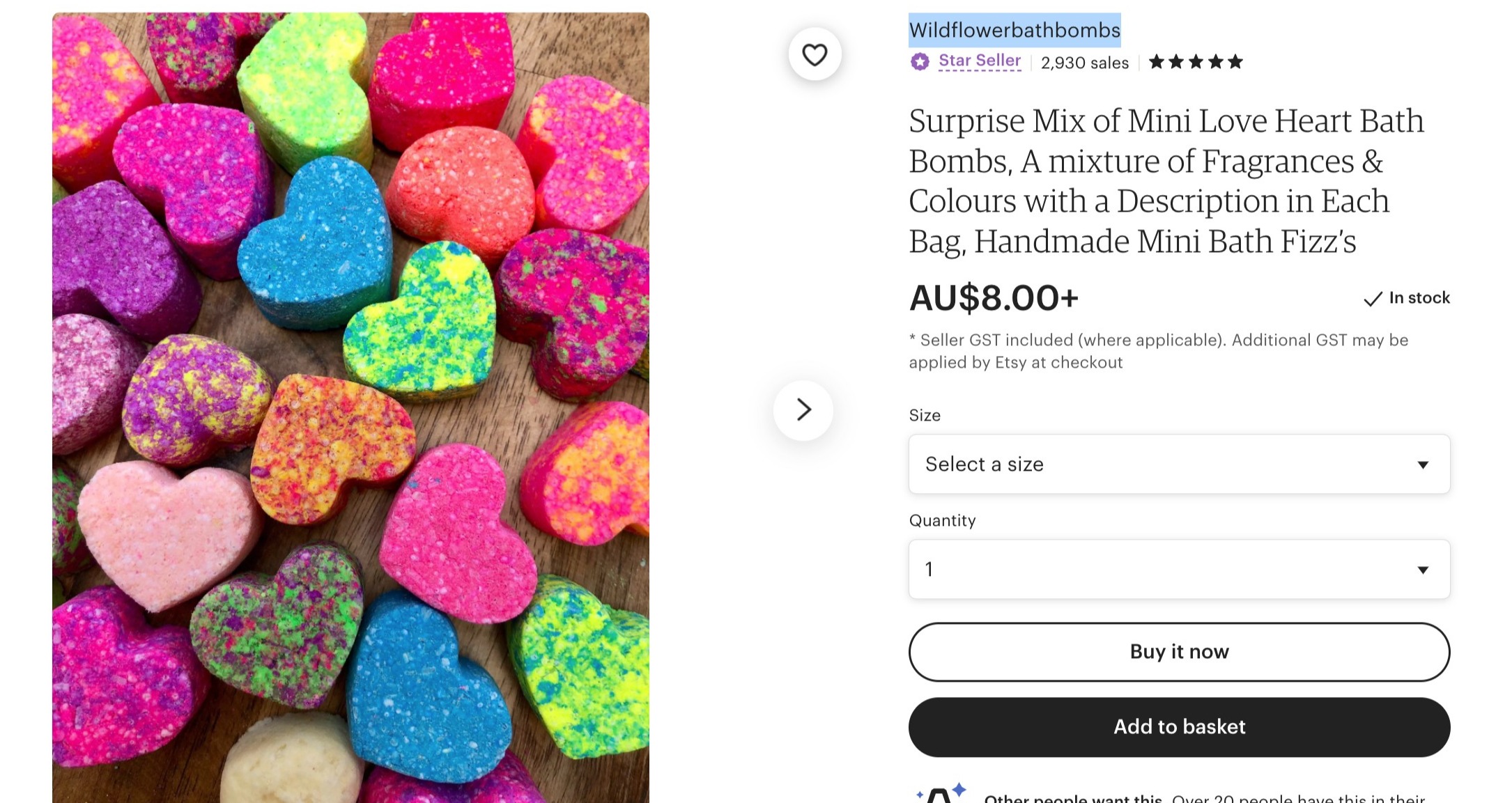 All of the products are made with natural ingredients that are child-friendly and safe.
20. Mooey Gooey Slimes 
Looking for a high-quality slime shop? Check MooeyGooeySlimes!
This Etsy shop offers a range of fun and funky slime designs, perfect for anyone who loves to play with slime.
There are many different types of slime available, including clear slime, cloud slime, and you can even custom design your slime.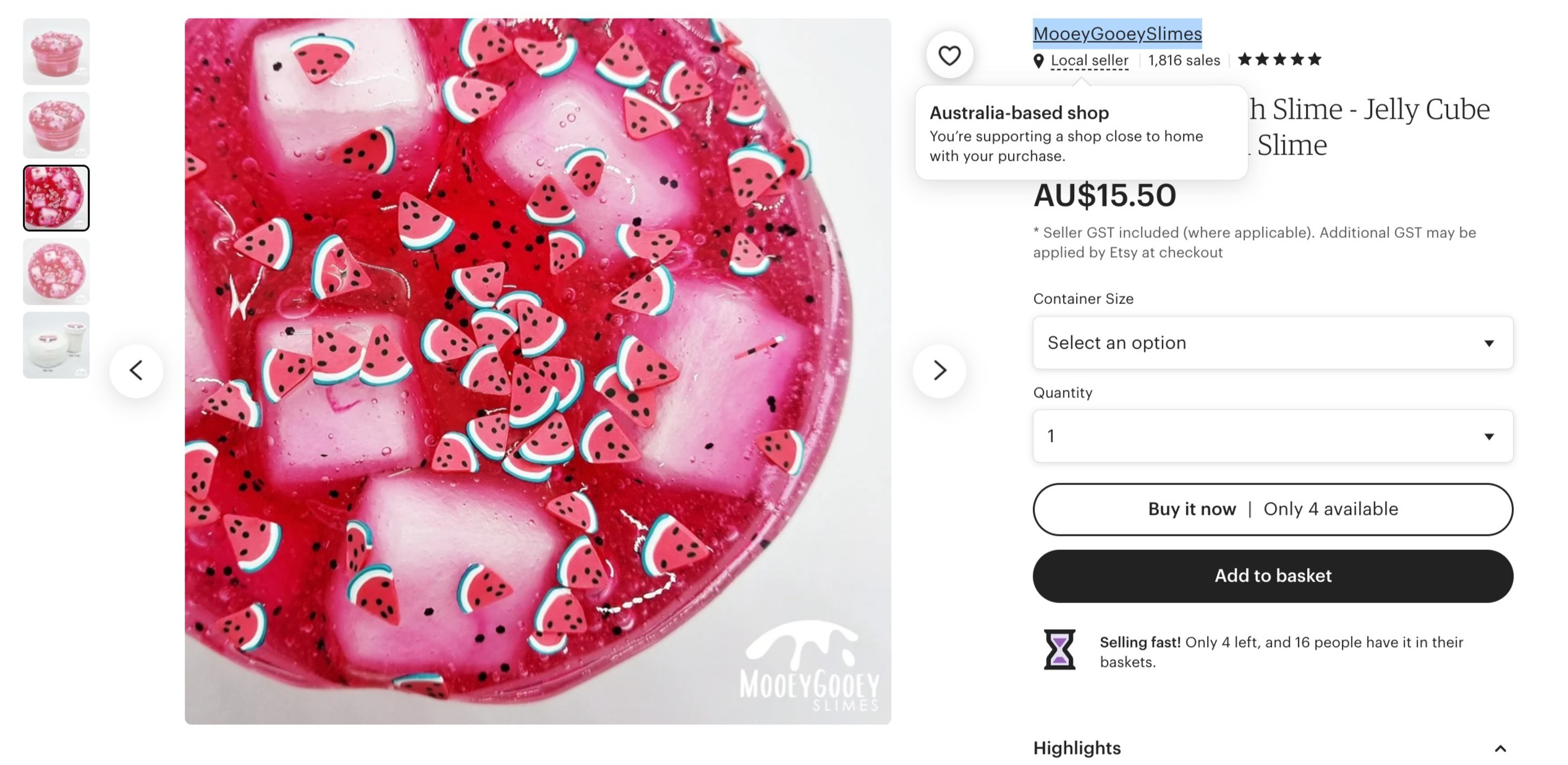 21. Surprise socks AU
Personalized socks are trending these days, and SurprisesocksAU is one of very few Etsy shops from Australia that offers custom face socks for men and women.
Socks are designed and made in Australia so they have a fast turnaround time.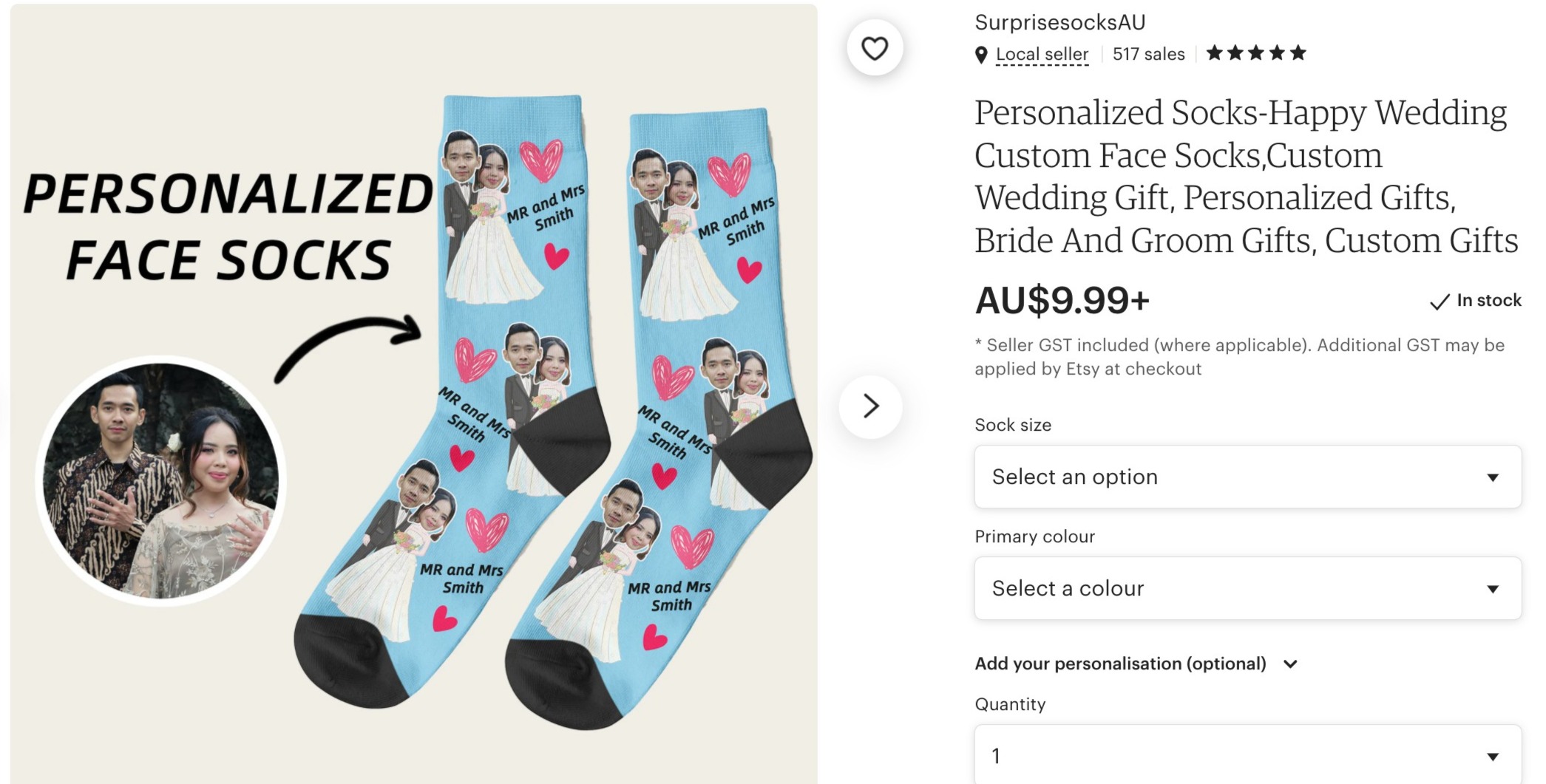 List of Etsy Australian Sellers
| | |
| --- | --- |
| Nursery, gifts for kids | GlobalGumnuts |
| Nursery, gifts for kids, puzzles | SweetLittleLuna |
| Milestone cards | Alfieandmeco |
| Personalised gift sets for newborns | NatalieAndRachel |
| Nursery prints | MyTommyPrints |
| Personalised Baby Blanket | BubsAndBooCo |
| Slime, kids | MooeyGooeySlimes |
| Slime, kids | MrChickenSlimes |
| Bath bombs, kids | Wildflowerbathbombs |
| Personalised mugs, funny gifts for friends | ATreaclePigDesign |
| Personalised jewellery, gifts for her | DaisyJewelleryStudio |
| Personalised silver jewellery, gifts for her | LYNNMinimalist |
| Acrylic Earring, jewellery, gifts for her | KalmerCreations |
| Acrylic Earring, jewellery, gifts for her | SterlyPop |
| Resin jewellery, gifts for her | BlueWombatDesignsAU |
| Gifts father's day, mother's day, wedding | Unique Gifts Australia |
| Bridesmaids, wedding, gifts for her | Enjace |
| Bridesmaids, wedding, gifts for her | Le Rose Gifts |
| Custom photo socks, gifts for her, gifts for him | SurprisesocksAU |
| Custom photo socks, underwear, gifts for her, gifts for him | PicturesArtAU |
| Handcrafted pamper gift boxes, gifts for her, mother's day | AUAPremiumGifts |
| Custom tees | TillyAndWilbur |
| Personalized gifts, laser engraved wooden items | NOOSHxNOO |
| Resin home-wears, personalised gifts for couples | FifthDesign |
| Fabrics, Quilts and cushions | LivingByTheSeaDesign |
| Headwraps | WrapdInLove |
| Embroidered brooches | Thehummingsquirrel |
| Cake toppers | OnekindstudioAU |
| Wedding welcome signs, table numbers, cake toppers | CreatingMonkies |
| Candles, personalised gifts | Waxandcoshop  |
| Dog tags and collars | FidoCreative |
| Dog personalised bowls and accessories | BigDogandSkippy |
| Treats for rabbits and guinea pigs | ResilientBunnyTreats |
| Personalized electronic covers, gifts | CloverDecal |
| Masks | MaskStudioAU |
| Masks | LinenAndCottonCo |
| Polymer clay cutters | PhoenixandSpruce |
| Botanical cards | PaperBirdcage  |
| Handmade crochet cards | TippyToezbyKerrie  |
| Humour cards | AbleAndGame |
| Abstract paintings | InfinityArtByCoco |
| Nursery Prints, Kids Wall Art & Custom Family Prints | SunnySkyePrints |
| Vintage & Fine Art Prints | PaperandSoulArt |
etsy jewellery Shops
Gifts for her
Home
Kids
Etsy Australia Face Masks
best Australia Etsy Shop
There are many other great Etsy shops in Australia that offer unique and beautiful products. Be sure to check out these shops for some great gift ideas!
Do you have a favorite Australian Etsy shop? Let me know in the comments or a category you would like to add.
Related posts:
More Articles You Might Like