Looking to sell your stuff on Gumtree? Learning how to post an ad on Gumtree is the first step to start selling and making money on Australia's favourite online marketplace, Gumtree.
With over 7 million users, Gumtree is a great place to sell your stuff, find new and used items, or even start your own business.
In this article, I'll share how you can easily put up an ad on Gumtree Australia to sell your items through the platform and how to make money with Gumtree ads.
What is Gumtree?
Gumtree is a classified ads website owned by eBay that allows users to post free ads for items they want to sell, buy, or rent in Australia.
Related posts:
Is Gumtree safe to sell?
Yes, Gumtree is safe to sell; many people use it daily to sell their new or unwanted stuff. Gumtree and its community work together to ensure that the services are working well and that the community is safe.
Having said so, it is crucial to note that scams do happen on Gumtree, and Gumtree can't be held responsible for any loss or how sellers and buyers use the platform.
I think it is fair enough as most of the content comes from other users. Therefore, it is necessary to do your research before finalising a deal and learn about different scams on Gumtree. 
Is Gumtree free to sell?
Yes, it is free to post an ad and sell on Gumtree. While you don't have to pay a fee when posting ads on Gumtree Australia, there are some cases where Gumtree will charge you to post an ad.
Ad Packages and promotions
You only need to pay if you decide to feature your advert or promote it. There are various ad packages and promotional features, and the price of each package depends on the category your ad is placed in.
Gumtree free ad limit on certain categories
 You might be asked to pay for your ad if you are posting more than one item in some categories like vehicles and cars, boats, motorsports, properties (commercial or residential), jobs and trades & services.
Pets
If you want to place an ad for a pet, Gumtree will charge you a fee. This fee helps protect animal welfare and support responsible trading under our Gumtree Pets Code of Practice.
But don't get too concerned if the service you choose charges a fee. You'll be able to review the charges and terms before your ad is published.
If the buyer pays you via PayPal, you'll have to pay PayPal's selling costs. This fee is $0.30 plus 2.6 per cent of the sale price.
Now we know it is sale and legit to sell on Gumtree, it is time to learn how to post an ad on Gumtree for free. 
Wait!!! Do you know my favorite ways to make extra money in my free time? Readers love them too!
How to post an Ad on Gumtree for free
It's quite easy to post your ad on Gumtree. To get started, follow these simple steps to start selling on Gumtree:
1. Create a free account on Gumtree
Create a free account by clicking "Register" at the top right corner.

Enter your email address and create a password, or you can use your Facebook or Google account to sign up.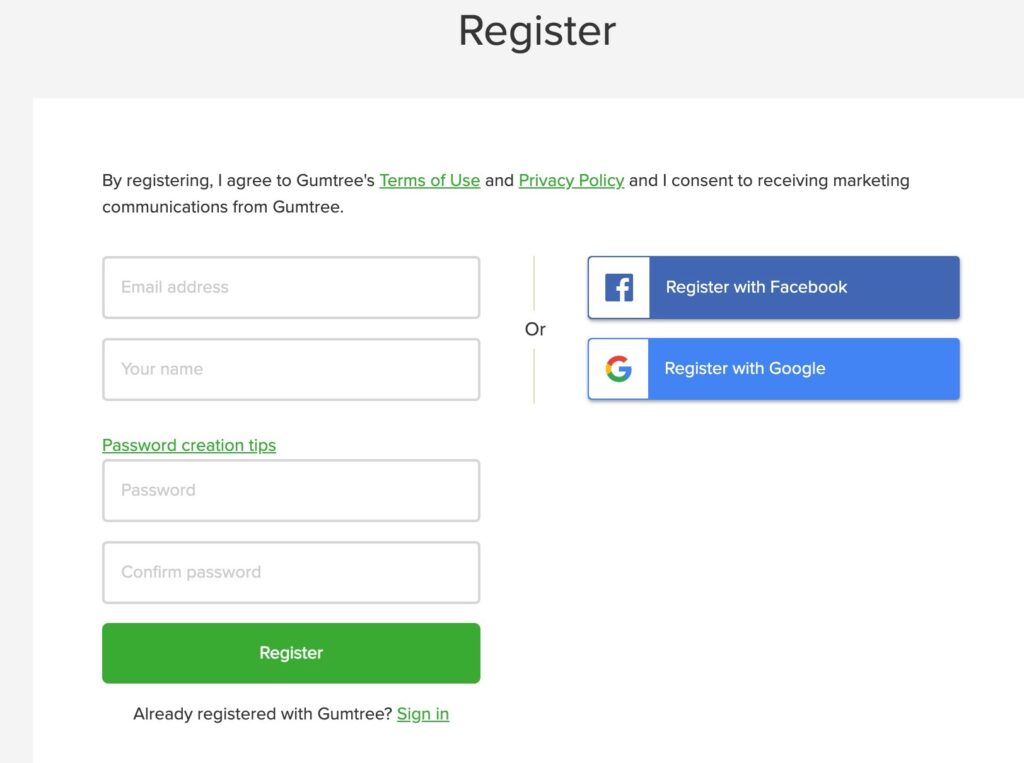 2. Verify your account
You'll be asked to confirm your email address. To activate your account, click the link in your email.
3. Post your Ad
Once you have registered and activated your account, it's time to post your ad. Click the green "Post an Ad" button at the top of any Gumtree page and follow the steps to create a great ad.

4. Start creating your ad
Enter a descriptive title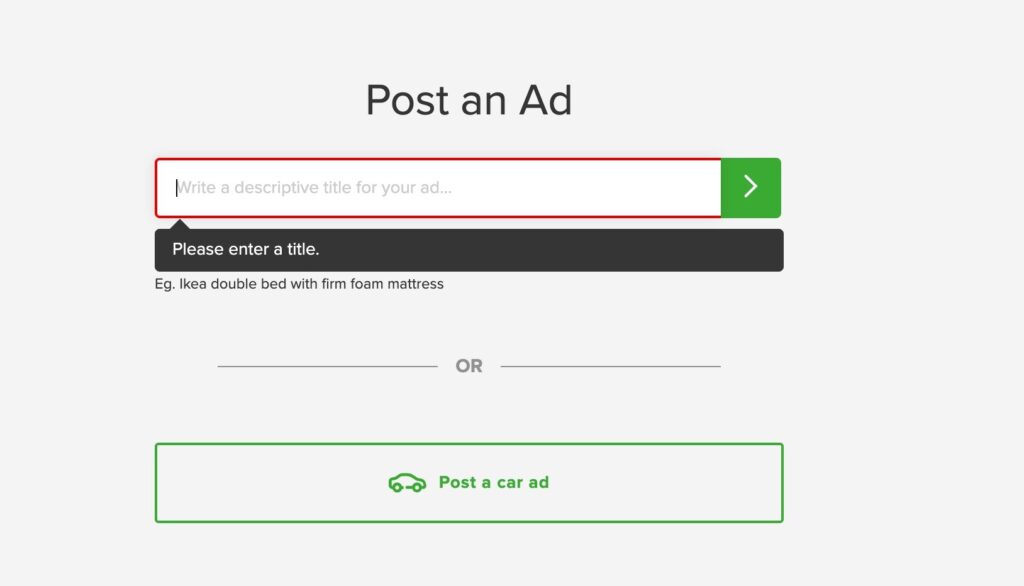 Choose the closest category. Gumtree will also suggest you a category.
The price of your items. Select what's applicable.
Choose negotiable if you're open to offers. You can set a minimum price, so you don't receive any offer below that.

Include as much detail about the product under the description. You might be asked other optional details, like brand, type etc., depending on the product you are selling.
Choose if it's new or old.
5. Upload photos of your item
Upload clear photos of your products. You can upload up to 10 pictures with the free selling plan, and they can be up to 10MB.

6. Enter your details and location
Include your contact number if you would like to (Be aware of SMS scams if you do so).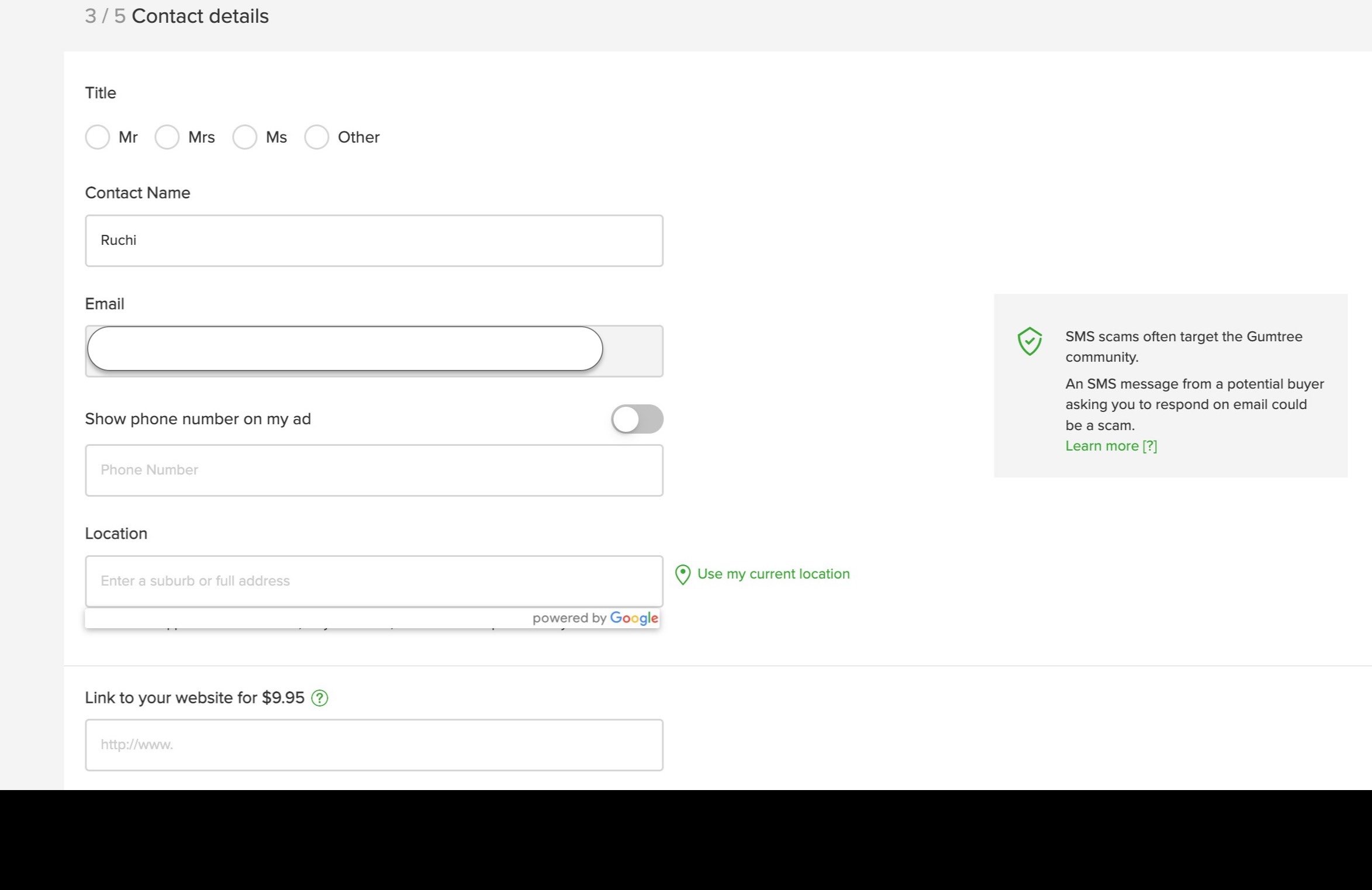 You can also add your website URL for an additional price.
7. Select your ad type
If you would like to get more views of your product.
There are three options:
Free: Unlimited Edits and Up to 10 Photos
Plus: All FREE features, Highlighted background and a Website link
Featured: All Plus features include adding up to 20 photos, top ads and b bigger images in search results,
Premium: All FEATURED features plus Homepage Gallery and 3 images in search results

8. Optional promotion
Depending on the ad type you chose above, you will have the option to promote your ad.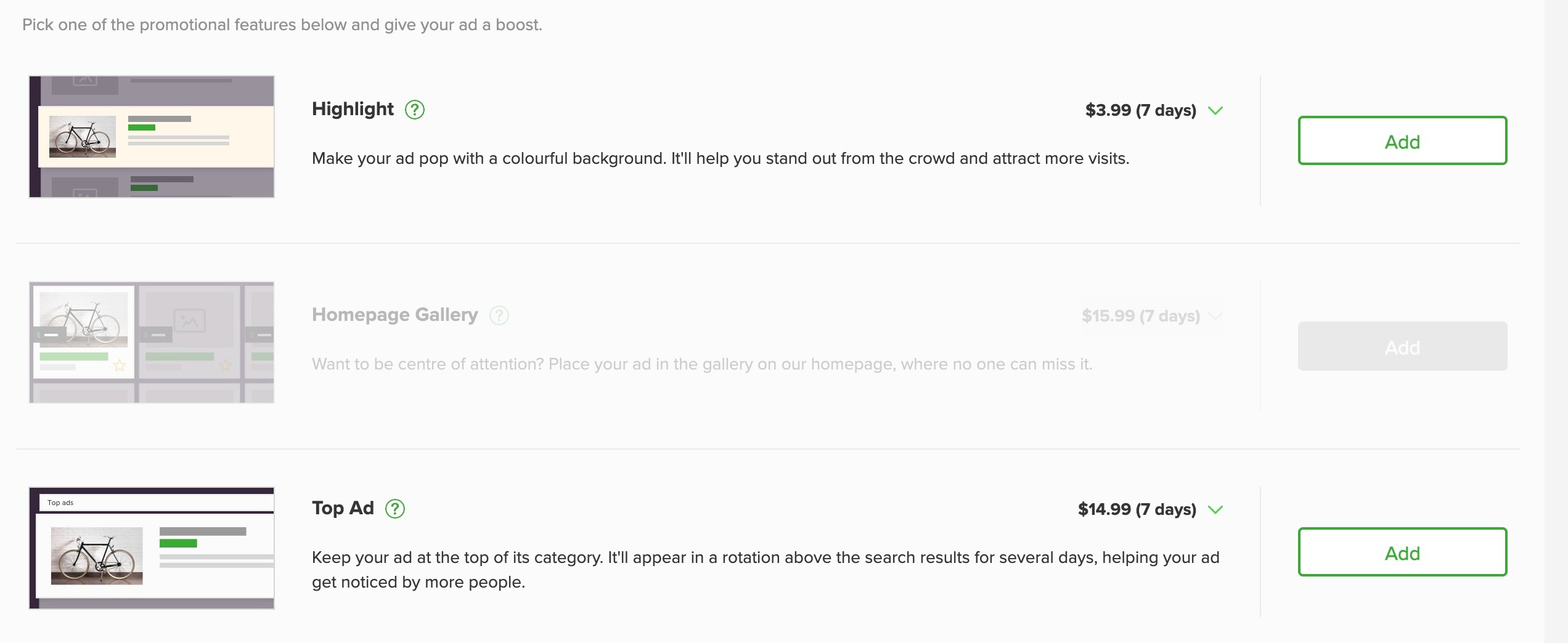 9. Review and post
You'll be able to preview how your ad looks before you publish it. Once it is published, you can edit or delete your ads in "My Gumtree".
Gumtree Paid Features (Types of Ads and Pricing)
We already discussed how to put an ad on Gumtree for free. Now, let's look at how much does it cost to post 'paid ads' on Gumtree and the types of paid ads with their benefits.
GumTree offers three different types of paid ads:
Plus ads
Adding a website link to your ad and highlighting it with a background makes your ad stand out more. It will help you get more views for your ad. According to Gumtree, Plus ads receive around twice as many views as Free ads.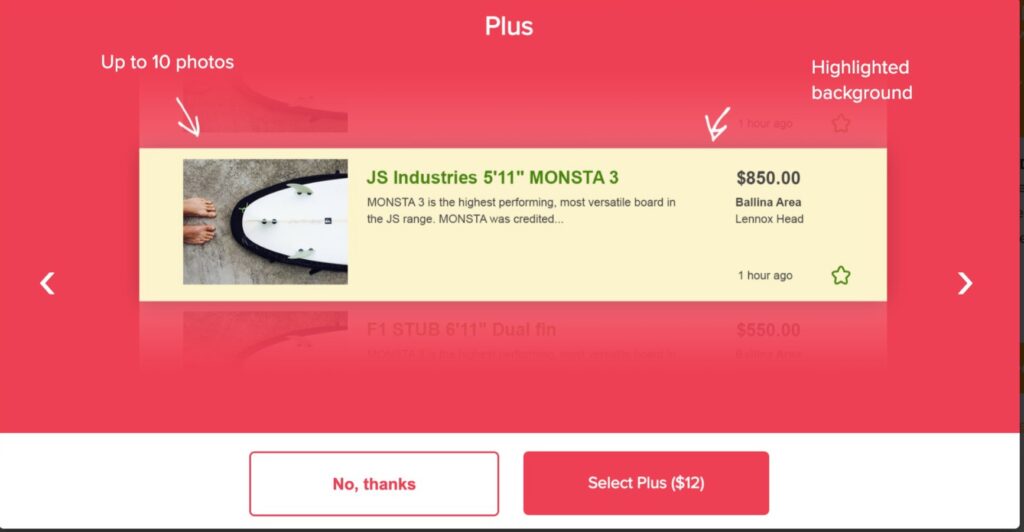 Featured ads
 A Featured ad will give you 7-times more views than a free ad. You can include up to 20 photos, and your ad will be at the top of search results. It will also have a bigger image in search results.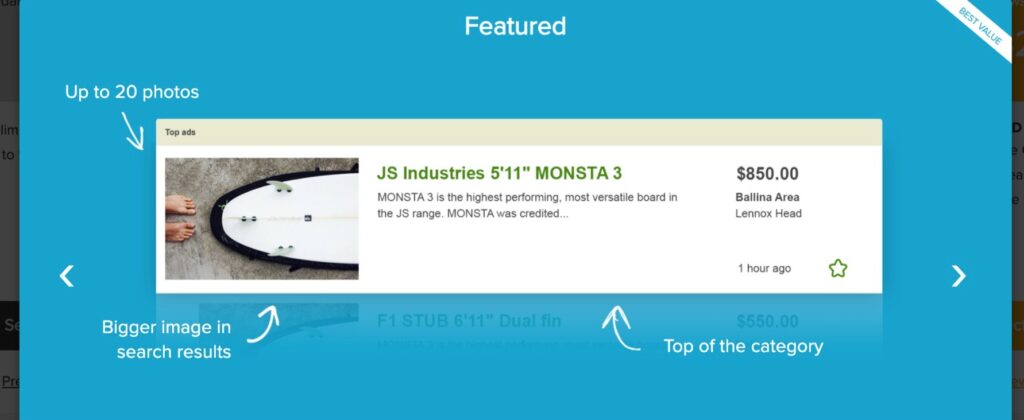 Premium ads
 Premium ads include a Gumtree home page gallery and three pictures in search results, in addition to all of the features of all other packages. On average, premium ads generate 12 times more page views than free ads.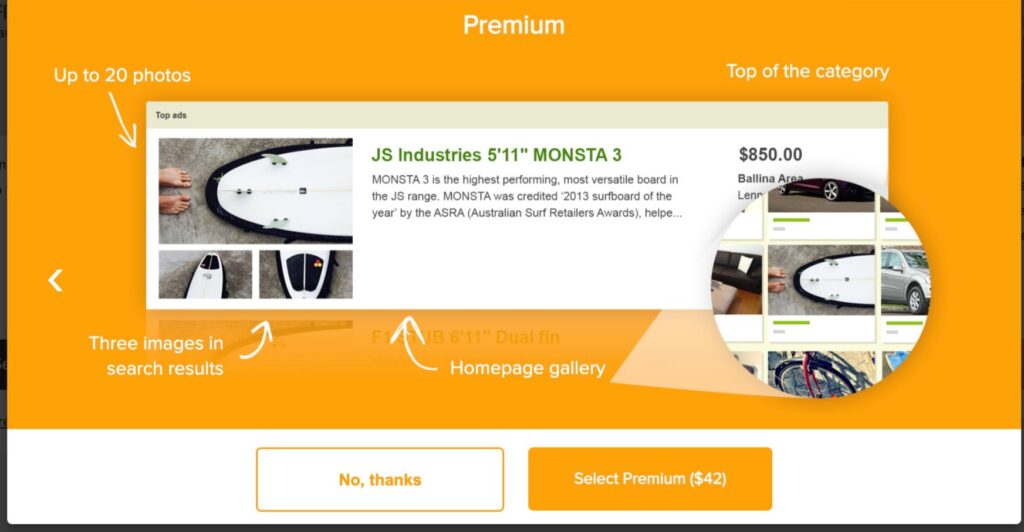 More paid ad types
These add-on packages come with a variety of features that you can purchase separately and use on your ad for seven days.
Bump Up
Purchasing a Bump Up is a less expensive way to get more views.
The Bump-Up feature moves your ad to the top of the category, below any Top Ads, when results are sorted by "Most Recent." Your ad stays at the top of the category until other ads are posted.
Price Drop
The Price Drop label makes it easier for people to see that you have lowered the price of your home.
When you buy a Price Drop alert, it will tell people who have your ad on their watchlist that you have lowered the price.
Urgent 
Urgent ads are listings on Gumtree where the seller wants to sell their item quickly. Ads with the urgent icon stand out from other ads because they look different. It makes it easier to find sellers who are ready to sell their product right away and maybe prepared to take a lower offer than usual.
Aside from these three add-ons, sellers can also purchase top advertisements, highlights, and homepage gallery ads instead of purchasing monthly packages.
Selling on Gumtree Tips
Here are the best tips to sell on Gumtree:
1. Know what can you sell and what you cannot
Gumtree has specific rules about what you can sell on the platform. 
There are certain prohibited items listed in its terms and conditions, such as
Lottery tickets
Fireworks, destructive devices and explosives
Offensive pics
Tobacco items including, e-cigarettes
Used cosmetics
Weapons or related items
Lottery tickets and sweepstakes
Covid related products
Blood and related products
Alcohol
Counterfeit products or replicas
Electronic surveillance equipment
Hazardous materials and pesticides
Supplements/medicine general or pharmaceutical
2. Be honest when listing your item
Make sure you are as accurate and honest as possible with how your product looks, how old it is, how much it costs, etc. Give potential buyers all the information about the item so they can make an informed decision.
3. Include good quality pictures
Taking photos of your product in a well-lit area will increase the likelihood that someone will want to buy it. Consider taking pictures from different angles to show off your product.
If your product has any defects, take a picture of it and post it with the ad so potential buyers can see it.
Presentation of your product matters so take some time to learn how to take good product pictures.
4. Price your product realistically
 Setting a fair price for your product is key to getting people to buy it. Check other listings of similar products on Gumtree to see how much they are selling for.
Gumtree buyers are likely to try and negotiate you down, so consider how low you are willing to go. You can price your items a little higher to handle negotiations.
It is a good idea to do some research before you list how much your product sells on other marketplaces. It will also ensure that you are pricing your item competitively and not leaving money on the table.
If you want to sell your item quickly, consider setting a lower price than usual so people will be more likely to buy it right away.
5. Be patient
Some people don't show up after making an appointment. Selling on Gumtree can take some time, so be prepared. I always mention in my ad that I will reply to serious inquiries only and first come, first served. (But that's my personal preference).
6. Be Responsive
 Respond to inquiries promptly and keep your ad up-to-date with the latest information.
7. Be vigilant
Unfortunately, many people scam on Gumtree and phishing scams are the most common.
Don't post personal information online, and don't give out your credit card or bank details to anyone.
Gumtree clearly states that it never sends communication via texts or whats app. Gumtree never asks for personal information, including bank details or credit card numbers via emails.
Gumtree has a helpful guide on avoiding frauds. For additional details, see Gumtree's article about scams to avoid and suspicious emails.
If something feels off about a buyer or seller, do not hesitate to reach out to Gumtree customer service for help.
Selling on Gumtree FAQ
Why is Gumtree charging me to post an ad?
Gumtree doesn't charge a fee to post an ad, but some fees apply in certain cases. Maybe you are posting in the category that requires a paid subscription to post additional ads or using some extra promotional features.
What payment methods can I use? 
Cash is the most preferred mode of payment on Gumtree, but you can also accept bank transfers and PayPal for high-value items. As I said previously, be sure you actually get paid before handing over the item.
What are the most common scams on Gumtree?
Phishing scams are the most common type of scams. Some sellers will try to trick you into giving them your personal information, including credit card details and bank account numbers by sending fraudulent emails that appear legitimate but link to fake websites.
Is it worth paying an extra fee to have my ad promoted?
Promoting your ad will allow you to highlight the item and increase its visibility. By paying a small fee, you can promote your ad for up to 30 days.
If you don't have time or patience waiting for a potential buyer to view your post, promoting it is probably worth it. However, it makes sense to promote big-ticket items only. For example, if you're trying to sell your car, it's worth the money to have your ad promoted.
How do I protect myself when selling on Gumtree?
It is important to be vigilant whenever you buy or sell online.
Don't post personal information online.
Don't give out your credit card or bank details to anyone
Learn the types of scams that are common on Gumtree.
Most people recommend using cash as the preferred payment method when meeting up with a potential buyer.
If you're accepting bank transfers, don't post the item until you actually receive the money. Scheduling payment is not a confirmation that the money has been transferred. The buyer can easily cancel this after goods are exchanged.
If you still want to accept bank transfers, check the age of the buyer's account and for how long the account has been registered on the platform.
If you're selling an expensive item, it might be a good idea to have a friend or family member present when meeting up with the buyer.
If you feel like something isn't right, reach out to Gumtree customer service immediately for help.
Final thought on Selling on Gumtree 
Using Gumtree to sell your items can be a great way to get rid of things you no longer need and make some extra money.
Just make sure you follow the tips listed above so you can maximize your chances of making a sale!
If you have any questions about how to put an ad on Gumtree or how to sell on Gumtree, feel free to ask in the comments!
Have you ever sold on Gumtree? Do you have extra tips for selling on Gumtree? Please share in the comments below. I'd love to hear. They might be useful for other readers.