If you want to sell feet pictures on FeetFinder but are unsure if it is legit, this post will cover everything about selling on FeetFinder and its reviews from other FeetFinder sellers. 
Here's what we'll cover in this FeetFinder review:
What is Feet Finder? 
Is FeetFinder legit or a scam? 
Is FeetFinder safe?
How to sell feet pics and make money on FeetFinder?
Pros and cons of the FeetFinder website
Real FeetFinder reviews from sellers
What Is FeetFinder And How Does It Work?
It may sound surprising, but FeetFinder is a website where you can sell your feet pictures for money. 
Yes, you heard it right. It is a dedicated feet pics selling platform that connects the buyers and sellers of feet pictures from countries like the US, Canada, Europe, and Australia.
Neilson Patrick, the founder of FeetFinder, says he started the company to help people make some extra money in a safe and secure environment. 
To sell on FeetFinder, you have to be 18 years or older, that's why they ask for your ID verification at the time of account creation. It ensures that all the transactions on the platform are legal and safe.
Rest, it is easy to get started on this website, and the concept is simple: sign up on their website, click attractive feet pictures or shoot videos and earn money. 
It is okay if you do not have a professional camera, as you can get started with your mobile phone. 
💡 Just because you have an account on FeetFinder doesn't mean you'll get sales ideally. You will still need to put hard work into it and promote yourself. 
Don't worry, we will go through all these in detail. 
Is FeetFinder Legit And Safe? 
Yes, FeetFinder is completely legit and safe website for sellers to make extra money selling their feet pics as a side hustle. Started in 2019, this website now has a community of over 100,000 users globally. That's an impressive number for a website formed just a few years ago.
As of this writing, FeetFinder has a 4.9-star rating on Trustpilot, where 91% of users vote the website "excellent."

Regarding safety and legality, most people agree that FeetFinder is a safe and secure place to buy and sell feet pics. 
As I previously mentioned, you'll have to undergo a verification process to sign up on this platform. This step essentially weeds out the scammers, and people who only want to join for fun or to make mischief.
Also, it is PCI compliant and keeps all the data (that you provide when you sign up) safe and secure. It means that your information will not be seen by any other user or person.
Unfortunately, there's been a few reports of scammers as well. According to other sellers, some people try to lure you out of the site with no intention of buying your content.  
Related reading: Best apps for selling feet pics
Is It Free To Sell On FeetFinder?
No, it is not free to sell on FeetFinder. To sell on FeetFinder, you'll have to pay monthly or annual subscription fees based on the plan you opt for.
There are two types of memberships on FeetFinder- Standard, and Pro.
Standard plan: With the Standard membership plan, you'll have to pay $4.99 per month or $ 14.99 per year.
Premium membership plan: If you go with the Pro membership, you'll have to pay $14.99/month or $29.99/year.
Premium membership offers more features like faster uploading speed, increased marketing and profile setting features, more data space, and the ability to communicate directly with buyers.
Furthermore, the sellers keep 80% of all their earnings. Suppose you sell an album for $15, then FeetFinder takes a 20% fee; that's $ 3 per transaction, and you keep $12 as your earnings. The 20% fee covers business expenses to improvise and grow. The models get paid every Friday, and the minimum payout is $30.  
How To Get Started On Feet Finder?
There are a few things to consider before you start selling pics of your feet on FeetFinder. 
You must be 18 years and older age to conduct any trade on this platform.
You must have copyrights of all the images and videos you sell on FeetFinder.
Selling feet pictures in your country should be legal.
 If it's not, I'll advise you NOT to get into selling feet pics as it may have legal implications.
There are three main steps you can follow to get started on FeetFinder.
Step 1. Sign up for a seller account
To sell on FeetFinder, visit the FeetFinder website and follow the guidelines that pop up on the site. They will ask you to create a username and your basic details. 
Here are a few tips for creating a great username:
Many new people register as sellers on FeetFinder, and most do not want to reveal their identities. Therefore, before you finalize your username, look at their website and decide what kind of content you will create for selling on FeetFinder. 
They have many categories, such as socks, heels, souls, etc. Then put on your hats of creative thinker and list down the names you can relate to the type, such as "soulful_feet," "feet_queen," etc.
If you are still unable to find a good username that's catchy and interesting, you can use online username generator tools such as Nickfinder and Spinxo.
Step 2. Verification of ID
The second step is ID verification. Here you will have to upload two pictures. One of the government-issued ID, and the second is your picture holding your ID. It is to ensure that no account created is fake or underage. And they accept photos in PNG and JPG format. 
Step 3: Complete your Profile
The final step is to complete your profile and fill in your details. These will not be displayed and are for your account creation purpose only.
Step 4: Create your display FeetFinder profile and upload content
After your account is verified, it is time to create your display FeetFinder profile and add your content.  
Make sure you add a catchy bio and fill in the details in your 'about section'. To promote yourself on the website, create some free content and add it to your gallery. 
 You can upload as many photos or videos as you want as long as they are not more than 1GB or 10 minutes long.
Tips for a Good FeetFinder Bio
You can follow these tips for a professional FeetFinder bio.
Use relevant keywords: If you are posting anything on the internet, it has become the need for an hour to use tags and keywords. Without it, you cannot sustain yourself in the thriving digital market. Therefore use relevant keywords to give an idea to the buyers.
If you are good at creating beautiful feet content, your bio may look like this, "Hey, I am (name). I have the best beauty feet content. See, my feet align with your beauty needs." 
Make it catchy: Make your bio engaging and persuasive. You may or may not reveal your face. Therefore, to stay in the minds of buyers, do not copy-paste other's styles.
Use your creative side and be precise yet funny to stand out. It is vital to give a detailed description and apt titles to the pictures and videos you upload. 
The buyers are searching for content using keywords. So if you're going to put something like the "pretty feet", you're going to be competing against tens of thousands of other content creators who are putting similar things. The one piece of advice is to be as descriptive as possible and figure out what differentiates you. 
Precise Bio: It is advisable to create a short bio as no one stays on your profile for more than 2 seconds.
How To Make Money On FeetFinder?
There are three ways you can earn money on FeetFinder. You can either sell your feet photos or videos individually or sell them as a monthly subscription.
1. Sell feet albums individually
You create content around a theme and add related pictures to the gallery. You can charge anywhere between $5 to $10 or more depending upon the quality of content and its demand. 
2. Paid monthly Subscriptions
Get subscription fees from your followers by letting them access all of your content. If you go this way, you must create regular new content for your subscribers and remain active, otherwise, there's no point in getting paid subscribers.
3. Tips and custom content
FeetFinder allows you to accept tips from buyers and sell custom content. For example, buyers can approach you with their requirements and pay you to make a custom video or click photos like wearing special socks, walking in the park, etc. 
 How Much Money Can You Earn on FeetFinder?
A single-foot photo on FeetFinder can be sold for $50 to $100, but to get there, you will have to start with as low as $5 to $10. There's no exact number on how much you can earn using this platform, as it significantly depends upon how much effort you put into it. 
As you start getting exposure, you can charge high on the basis of the quality and customization of your content. 
However, if you think your feet pictures are worth more than $5 to $10, I encourage you to set fair prices because no one will be looking to pay $50 or $100 in the first go.
Be realistic and share what's worth.
How Does FeetFinder Handle Payouts For Sellers?
Payouts are diverse depending on your location. The US users get their payment via Segpay. They don't need to have a Segpay account at all. However, for users outside the United States, it is mandatory to have a Paxum account to carry out transactions smoothly. 
Pros Of The FeetFinder Website
Compared to other feet-selling websites, FeetFinder has some advantages to use if you want to make some extra cash as a side hustle. Here are some of the benefits of FeetFinder. 
Easy to use: It is comparatively easy to use as you can surf feet pictures based on categories and tags. 
Verification step: It has ID verification, and it is a positive side because it ensures the users' authenticity. 
You own the rights: There's complete control of your account on the website. You can open and close your account anytime. 
Weekly payments: It gives weekly payments to sellers through secured portals.
Great customer service: FeetFinder team offers great customer service, which is clearly visible via their Trustpilot reviews.
Cash giveaways: This feet pics selling website often offers cash giveaways to the most active feet pic sellers. You can make money just by staying active on their platform.
Make money with your referrals: If someone joins using your referral link, you get 10% of their sale when their content sells. 
Cons Of The FeetFinder Website
But it also has its fair part of disadvantages, such as, 
No app: It does not have an application, making it difficult for the users to always go to the website and do anything.
Monthly fees: The subscription charges and seller fees. Someone just starting may be adamant about paying the subscription fee before making any sale. 
Fake buyers: Some sellers on the site say that buyers are bots or fake and face payment issues.
Selected locations only: The website is only available to sellers in the US, Canada, Europe, and Australia.
What is FeetFinder Referral Program? 
FeetFinder offers a referral program. It is something by which existing users can encourage newbies interested in becoming Sellers on FeetFinder.
Once you get a unique referral link, you can share it with your friends, and when the users become registered sellers using your referral link, you earn 10% on every sale they make.
For example, User A is the existing user and invites his friend User B to join the website using the unique referral code given to user B by User A. Once User B registers as a seller on the website and makes $100 by selling foot content on the website, User A gets $10. 
FeetFinder Seller Reviews: Is FeetFinder A Scam?
Before putting our money into something, we always check for reviews online. If you're thinking about selling feet pictures on FeetFinder, you're probably wondering what other sellers have to say about it.
Here are some real seller reviews from Trustpilot:
These are just some of the FeetFinder reviews from Feetfinder users: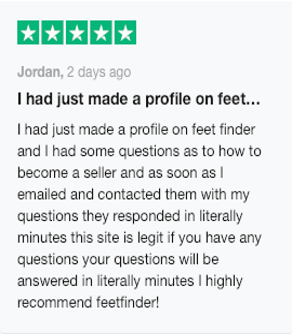 As you can see, there are a lot of sellers who are happy with FeetFinder's security and customer service. This proves that the site is genuine and definitely, not a scam.
Of course, it does not end here. Some sellers are also unhappy, and here's what they have to say, 

One user complaints about ratio of verified buyers is less and they "are here for other things than just feet."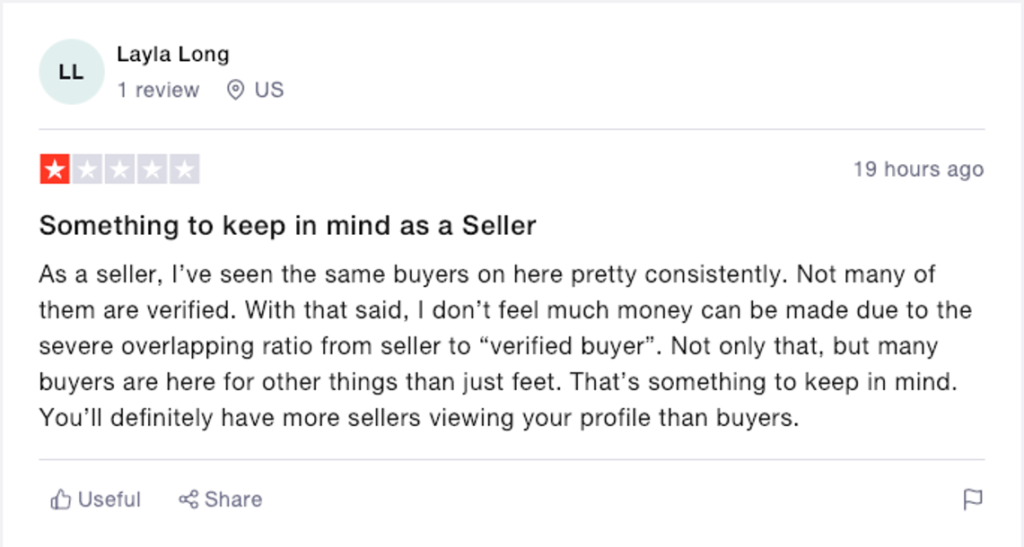 There are constant complaints about buyers trying to trick you to join snapchat or scam you. This is definitely something you need to watch out.
A user also said that she paid for annual subscription and wanted a refund. She said she contacted customer service many times and they never replied. (It doesn't state why she wants a refund.)

These are some legitimate complaints that you should be aware of.
To conclude, FeetFinder is a good website if you are willing to put in the effort and have patience. If you are looking for other sustainable ways to make an income, you can try your hand in VA, DoorDash etc.
Selling On FeetFinder: Final Thoughts
The Internet is full of ideas to make money. Some are more sustainable and have more potential to make you a full-time income, while others are more like side hustles that can help you make some extra cash.
Selling feet pics is one of those ideas – very popular but can be quite ambiguous. Before you plan to sell pictures of your feet on FeetFinder, make sure you know what type of buyers this website attracts.
They are certainly not here to buy your content for marketing needs.
Some might see this as an opportunity to make extra cash, while others may feel uncomfortable about it. It all comes down to personal preference.
If you really want to go this route, FeetFinder is a reliable and one of the most popular websites among the foot pics-loving community.
Just be mindful of the scams and know how to keep yourself safe while selling your pictures.
If you are looking for other sustainable ways to make an income, try other legit side hustles like driving for DoorDash, and Instacart, working as a proofreader, freelancing, and selling products online.
Although there are many reports of people making good money by selling foot pics, the success rate is still unknown.
The side hustles (I just mentioned) are reliable sources of income that you can pursue and make decent money.
FeetFinder FAQs
How Much is FeetFinder Premium?
The FeetFinder premium plan for sellers costs $14.99 monthly or $29.99 yearly.
Can You Sell Hand Pics On FeetFinder?
No, FeetFinder is a niche-specific platform where you can buy and sell photos of your feet. FeetFinder encourages users to create content where the face is visible because if you add feet pictures, they are similar. Therefore, adding faces will give you an edge. 
Can Guys Sell Feet Pics On FeetFinder?
Yes. Anyone above 18 years of age can sell feet pictures on this platform. You can check which category of images is in demand and create content for the same. 
Does FeetFinder have an App?
No, FeetFinder initially was supposed to be an application, but according to the CEO, Neilson Patrick, Google and Apple rejected the idea of an app.