If you want to know how to take feet pictures, then this article can help. I have shared the best tips, popular foot poses, and other related details that can help you learn how to take good feet pics to sell.
Do you know that you can make real money with your feet? Yes! You heard it right. You can make good money selling your feet pictures online.
Feet pictures are the most sought after by digital marketers, and marketing agencies. You will be surprised to know that you can even become a foot model with healthy and beautiful feet.
All you need is an attractive portfolio of your feet pictures. You do not need to have angel-like perfect feet. If you know how to take feet pictures properly then you can do this too.
The more natural your feet look, the better it is. However, you should always keep your feet clean and hygienic.
There are websites like FeetFinder, Instagram, Shutterstock, Tumblr, Instafeet, etc., where you can sell your feet pictures for extra money.
The best thing is that you don't need a professional photographer to take your feet pictures. You can do this of your own and take good feet pics.
So, if you want to start making money with your feet, then keep reading this post on how to take good feet pics to sell.
Let's get started.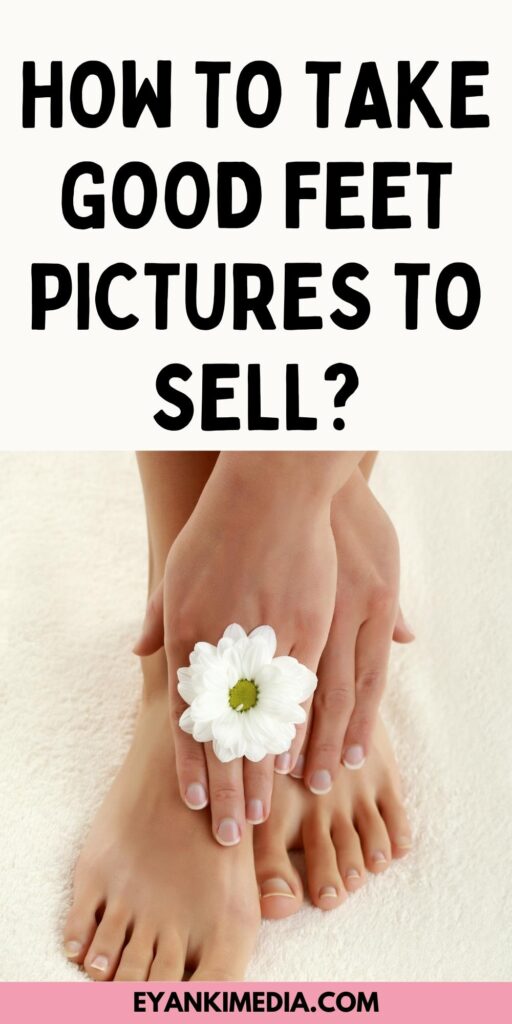 Related Reading:
Wait!!! Do you know our favorite way to make extra money in my free time? Readers love them too!
How to take Good feet pictures
Undoubtedly professional photographers are experts at taking the best shot. You too can take mesmerizing feet pictures just like professionals. If you want to succeed in this field, you will have to learn a few basic things.
Here are a few crucial points that you need to focus on to start taking pretty feet pictures.
1. Beautiful feet
The main focus of your photos is your feet. That is why you need to take maximum care of your feet. 
The first thing that you need to do is to make sure that your feet are clean and well-groomed. Begin by caring for your feet properly.
If you have money to spend on your feet, buy a good foot scrub, foot files, a hydration lotion for yourself.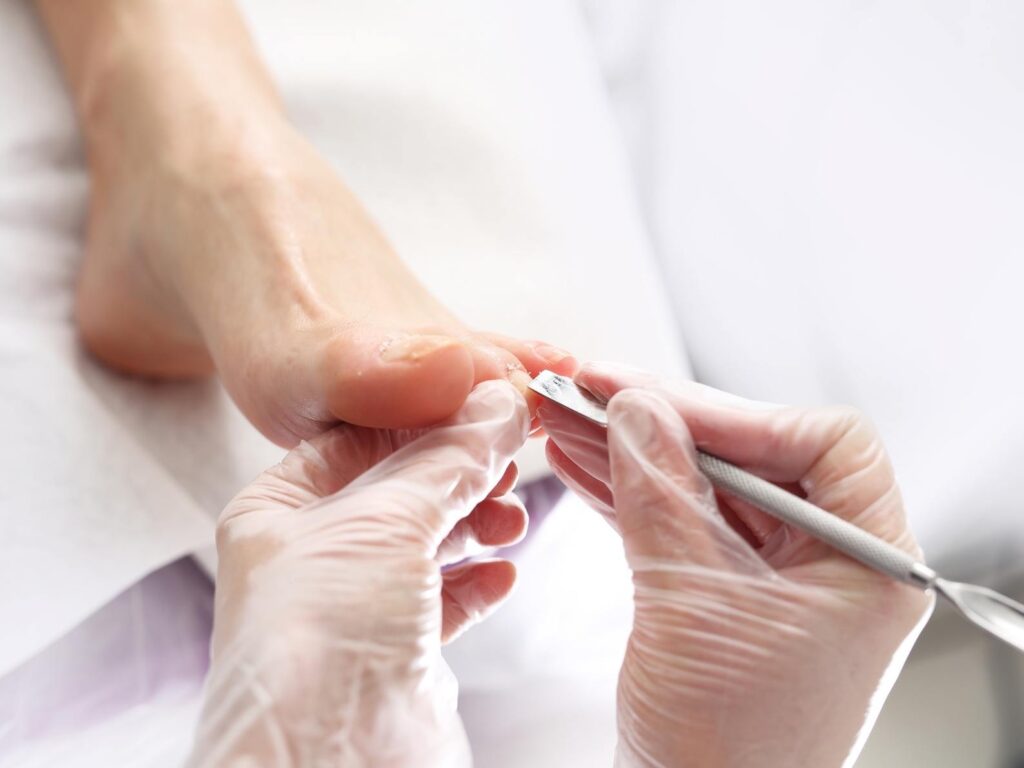 Here are 5 ways to make your feet look good for beautiful feet pics:
Soak your feet in warm water with a few drops of lavender oil for about 15 minutes.
Use a foot scrub to exfoliate your feet, then rinse and dry them thoroughly.
Apply a generous amount of lotion or cream to your feet, and massage it in using circular motions.
Clip and file your toenails, then paint them with a coat of clear nail polish.
Put on a pair of comfortable socks and relax for 30 minutes.
Repeat these steps once or twice a week to keep your feet looking and feeling their best.
If you're not able to take care of your feet yourself, visit a professional spa or salon for a relaxing foot massage and other pampering treatments.
You must ensure that you use quality products and keep your feet clean all the time. It doesn't have to be a perfect foot. All you need is natural-looking healthy feet.
What if you don't have very beautiful feet?
The surprising thing is that even if you have rough and dry feet, you can sell your feet photos. Medical companies or pharmaceuticals are always on the lookout for gross-looking feet to portray medical conditions.
They use raw and coarse feet photos to advertise several feet conditions and the products to cure them.  
Moreover, there is no need to pull out the hair and invest in nail arts. However, you should keep them clean, soft, and in good shape as they are your most priceless asset.
2. Equipment
When you have set yourself on the path to make living by selling your feet pictures, ensure that you have the best equipment. For professionals like photos, it is advisable to get a good camera, lenses, lighting equipment, and editing software.
However, if you don't have the budget to buy new equipment, you can always start with your mobile. At present, smartphones come will exceptional camera quality and aperture.
You can start small with your phone's camera and climb up the success ladder slowly.
No matter which camera you use, you must always take care of lighting. Try shooting in daylight. A bright sunny day is your best day to shoot some amazing feet pictures.
For taking pictures, I recommend you grab a phone holder tripod stand with a ring light. This one is perfect for your needs (and it is the best selling one too!).
If you don't have any natural light, try to use LED light bulbs. They are not too expensive and they will make your feet look good in the picture.
3. setting
Setting plays a major role in enhancing the overall look of your pictures. When it comes to foot pictures people like to see feet in different scenarios. 
The setting makes the pictures creative and beautiful. The best thing to take spontaneous feet pictures is to take pictures wherever you go.
If you are on a beach take the chance to click pretty beach feet pictures.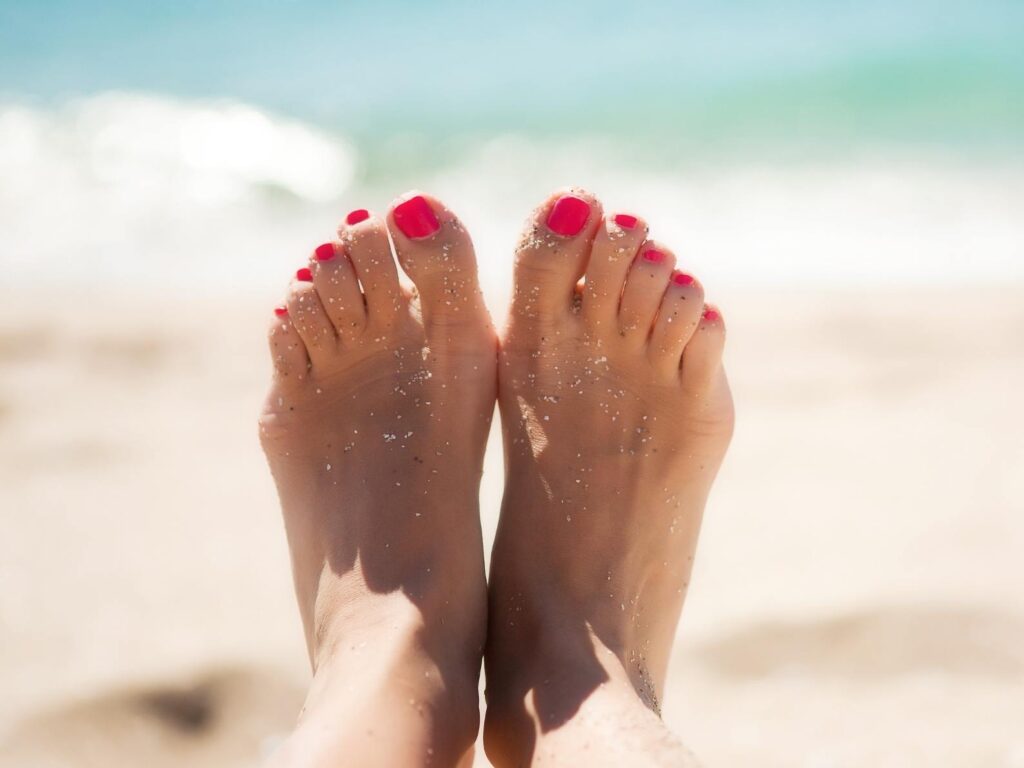 If you are in a garden you can consider an innovative feet picture with flowers or in the wilderness.
It's all about the story you are narrating with your pictures. The idea behind your pictures should fascinate people and compel them to buy your feet pics.
To get great foot photographs, you'll need to pay attention to lighting, decorations, and settings.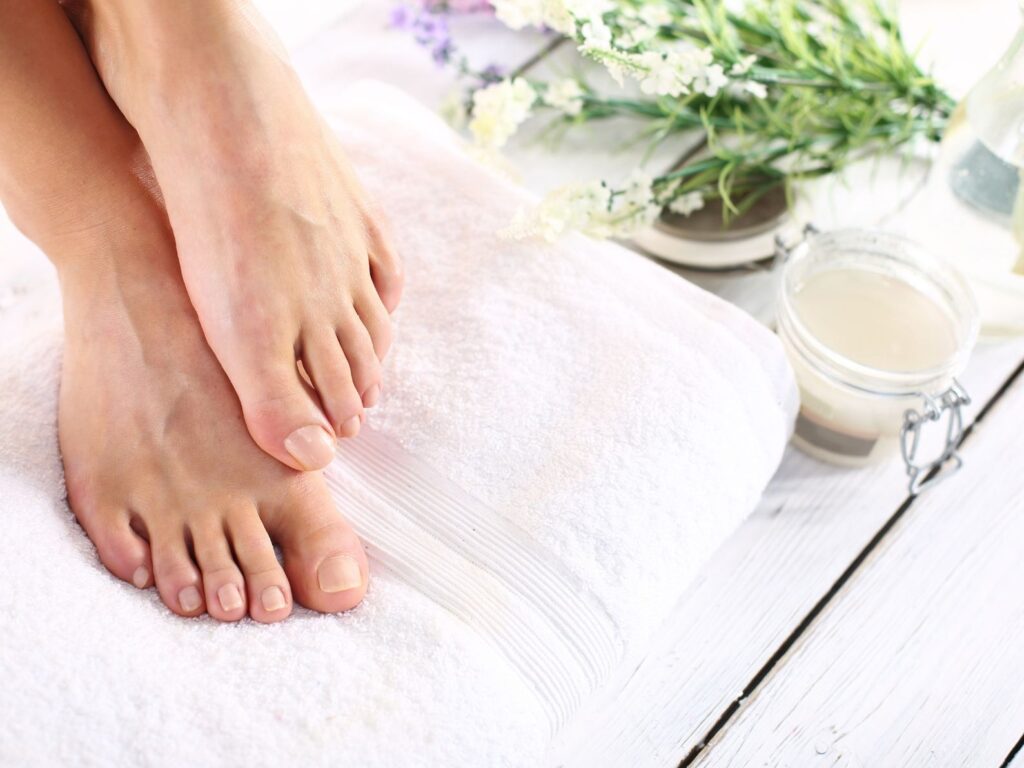 4. Props
Props come with the setting you are choosing for your photoshoot. Props help you get the desired look for your feet pictures. 
You can even set a theme for your feet photoshoot and use props accordingly. The best thing with props is that you can go creative with the things you already have in the house or around you.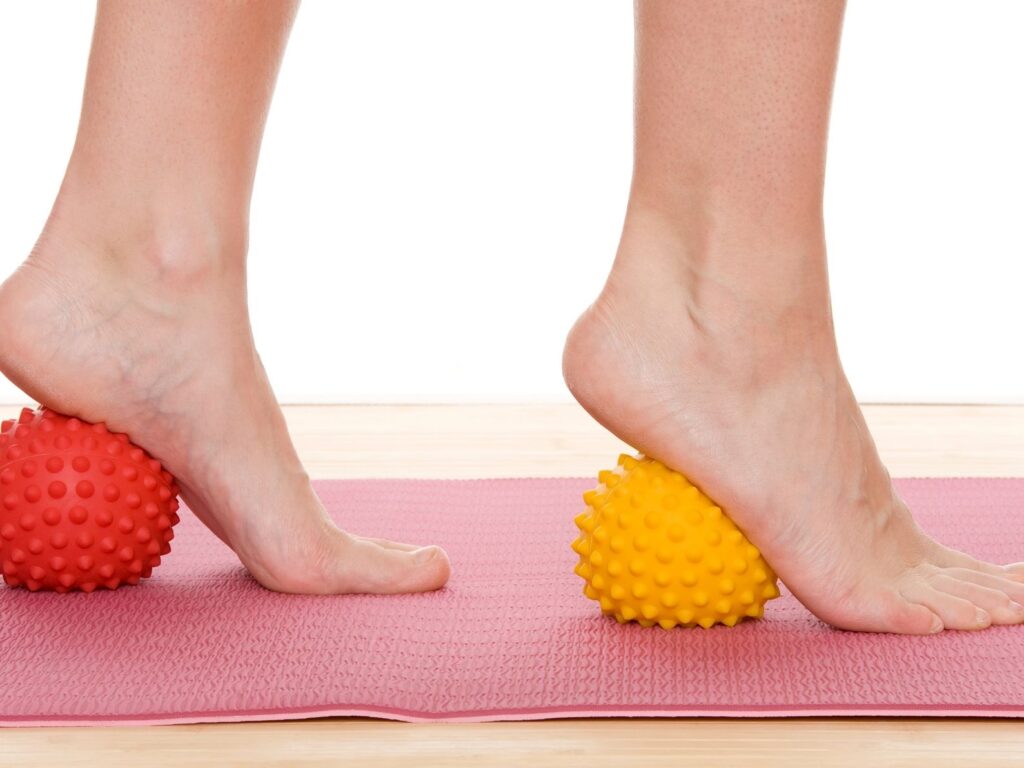 Most of the time, props depend on your client's requirements. Some buyers prefer it, some do not. If you are just setting up your foot in this industry try a mixture of both and then go with the flow.
Here are some useful prop ideas:
Candles: Set up some candles around your feet while taking a photo. They will make your foot photo look nicer.
Flowers: Scatter them around the area where you are taking your photo.
Temporary tattoos:  You can buy these cheaply online or at your local store. They make a great addition to any feet photo shoot and can really add some personality to the photos.
Foot jewelry:  der wearing some foot jewelry for your photoshoot. There are lots of cute and unique options to choose from
5. Time to take feet pictures
Taking good quality feet pictures is not very possible if you don't know what poses and angles work the best.
So, to find the perfect pose or angle that you are looking for, try taking pictures at different times of the day under varying light conditions.
You will be surprised by how much your feet can change in terms of shape and color depending on the time of the day and the type of lighting used.
The best time to take feet pictures depends on what you are trying to achieve with your picture.
Morning sunlight tends to bring out the natural color of your feet, while evening sunlight brings out the softer and warmer tones.
If you want to capture the natural colors and textures of your feet, then try taking pictures in the morning or evening when the sunlight is soft.
If you want to show off your feet with a romantic glow, then try taking pictures under dim lights around sunset time.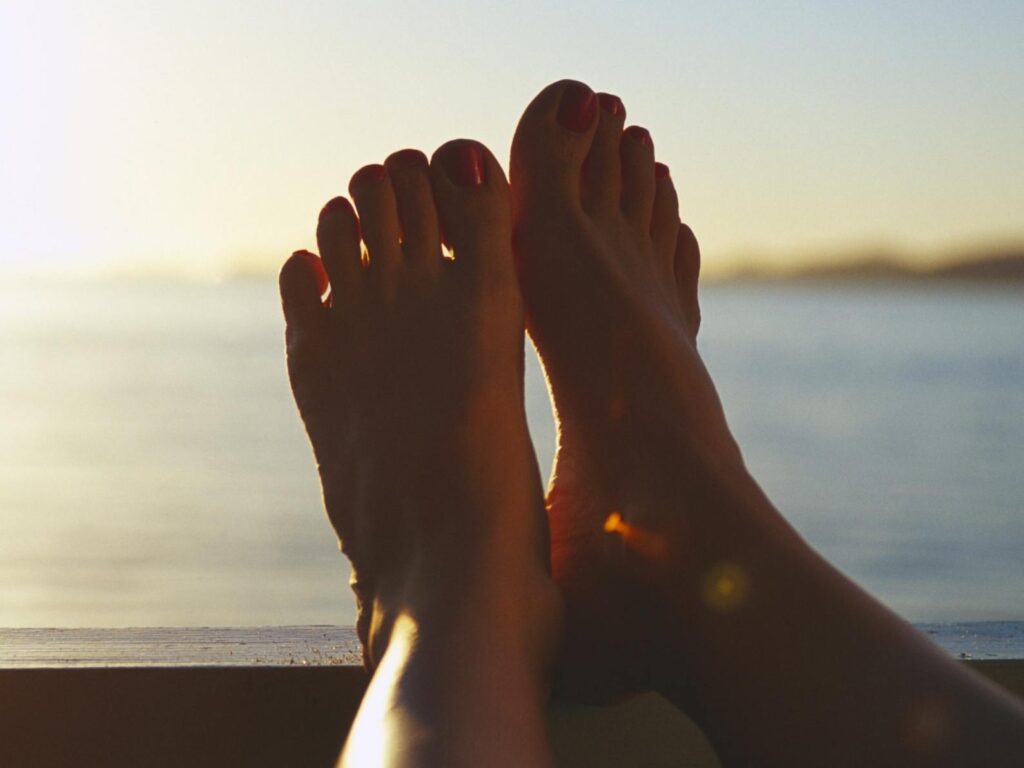 **If you are taking pictures indoors, use a natural light source like a window. Make sure that the window is not too bright and avoid taking pictures near a fluorescent light.
How to Find the best foot pic pose?
When taking pictures of your feet, you want to make sure that the angle is just right. You don't want to have too much or too little of your feet in the picture.
The best way to find the right angle is to try different poses and see which one looks the best. Some buyers prefer natural (unstaged) foot photographs, while others can request you for custom foot pictures.
Here are some of the most popular poses for feet pictures:
Feet in the air: Lying down on your back with your legs in the air. So many ways to take this shot.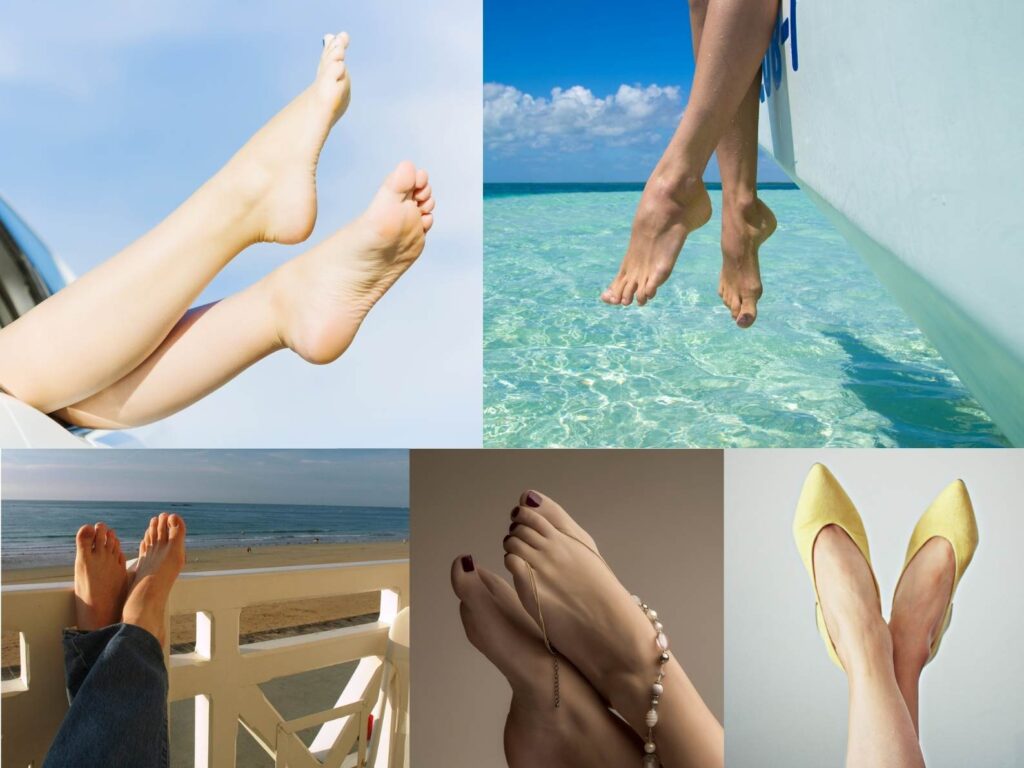 Top of the feet: Top view of your feet for a close-up view.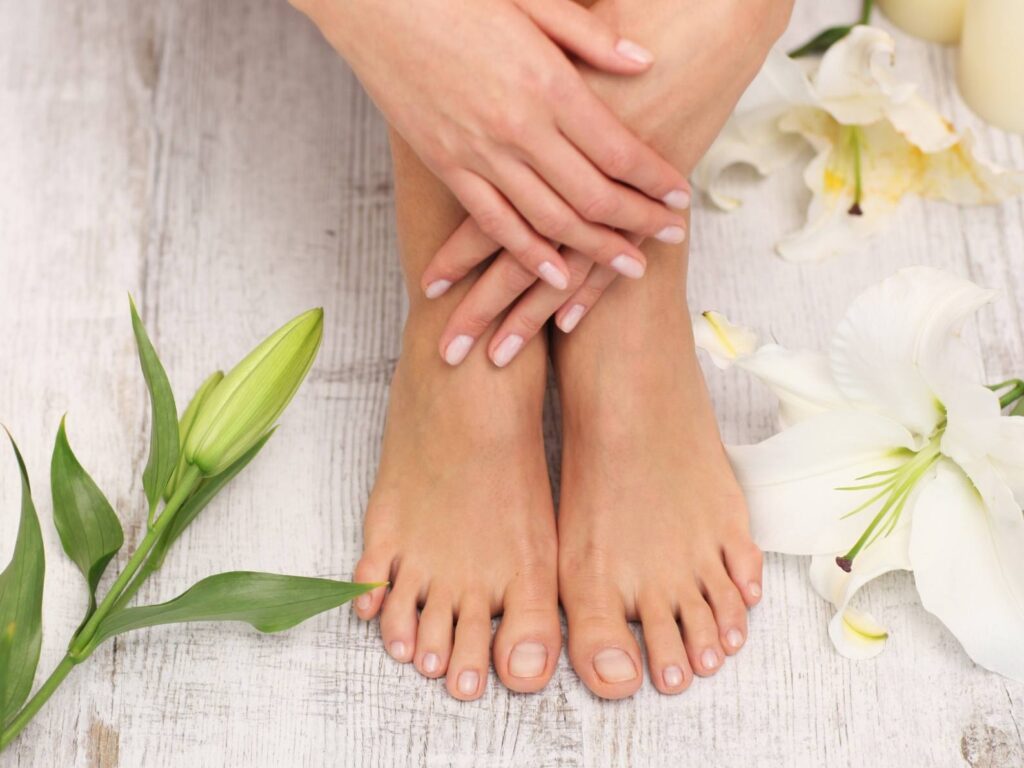 Bottom of the feet: Lying down and pointing your toes upwards for a close-up. Here the emphasis is on the soles of the feet.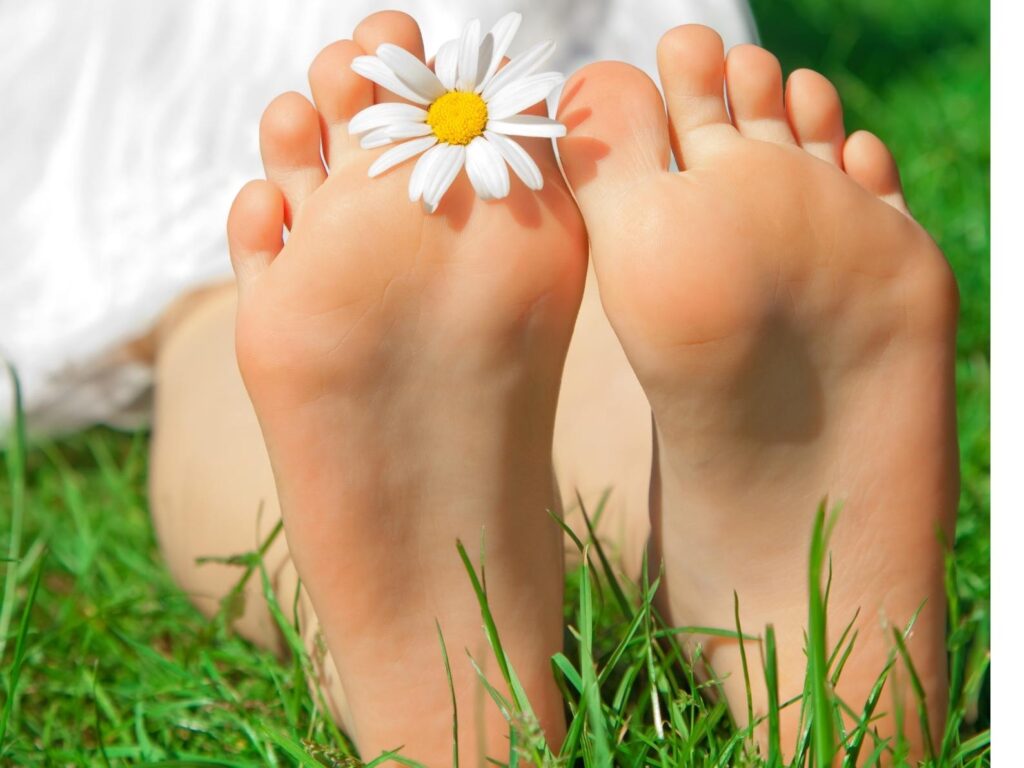 Arched foot: One foot straight and the other arched. You can take photos from the top or the side as long as feet are visible.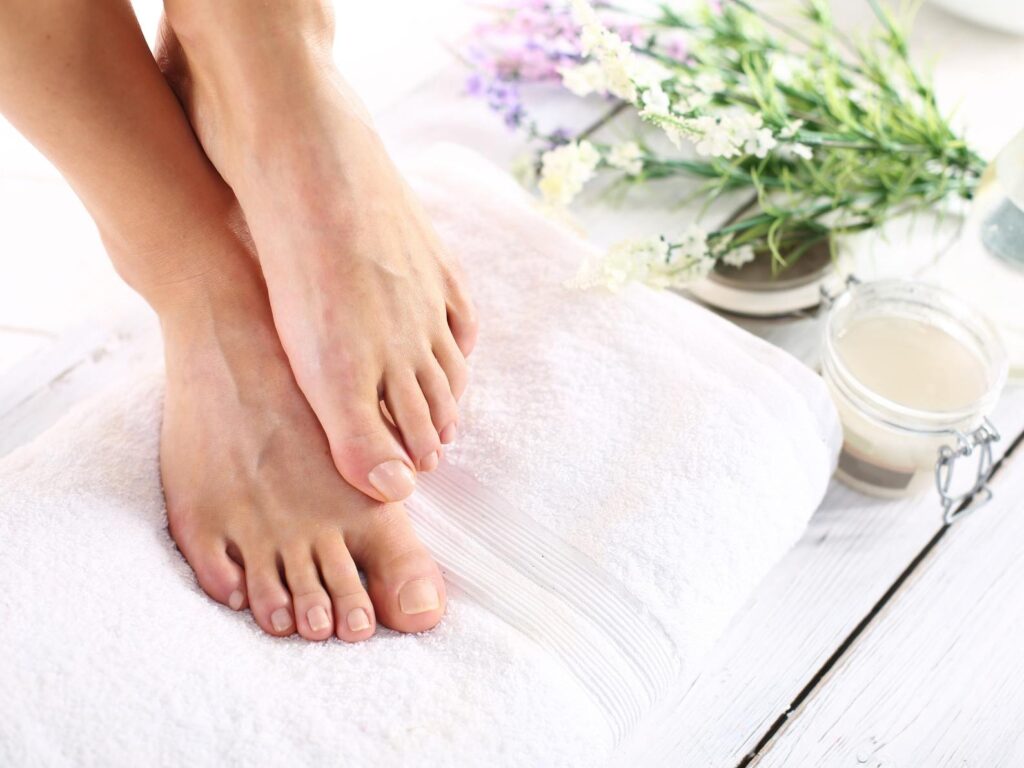 Cross leg: Sitting down with your legs crossed.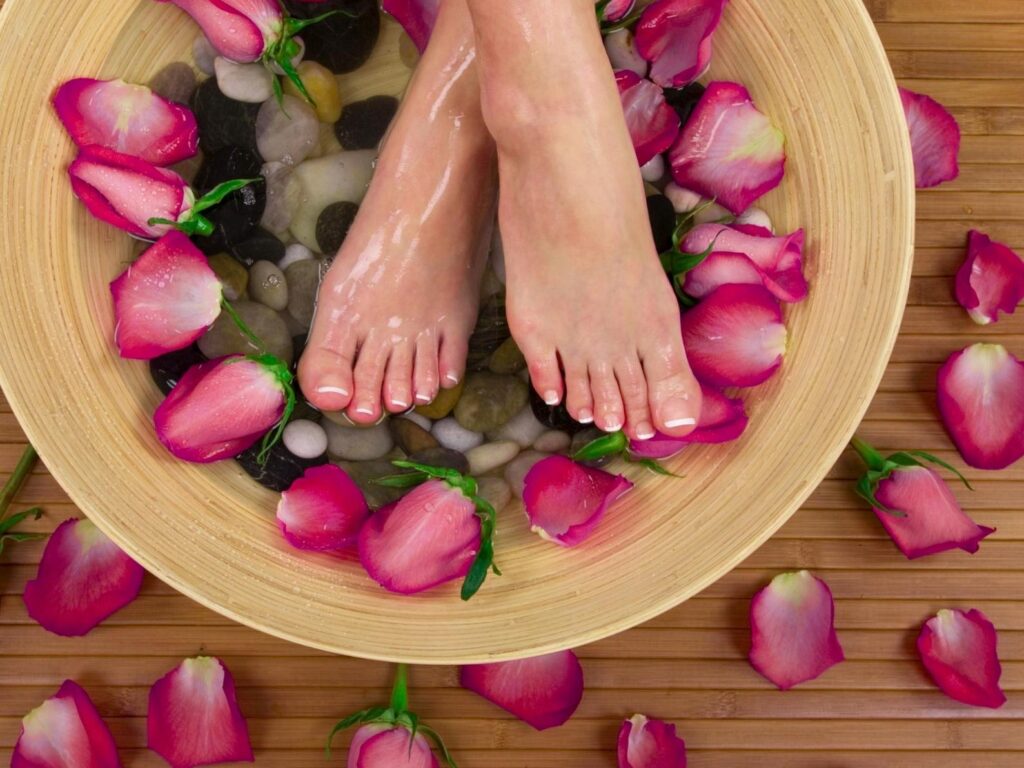 Foot selfie: A selfie of feet with or without shoes.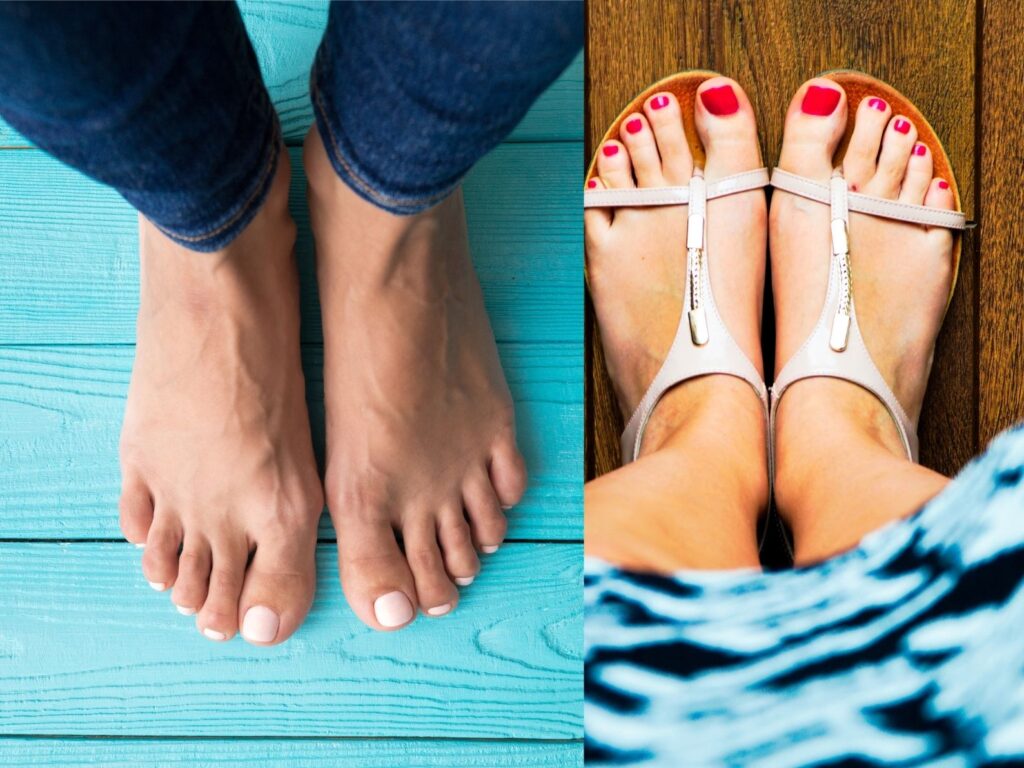 Once you have chosen a good feet picture pose, make sure to take some test shots to get the right angle. Be sure to focus on the details of your feet, such as the wrinkles and curves.
When you are satisfied with the results, press the shutter button and enjoy your beautiful feet pictures.
If you need more tips and poses, you can refer to this video (by a feet model). She has got some great poses to take feet photos.
How to take good Feet pics? More Feet photography tips and tricks
Even after taking care of all the above points if you mess up while taking shots you will ultimately ruin everything.
It is important to take care of your feet and all the settings but it is also advisable to know some feet photography trips and tricks.
Here are some tips on how to take feet pictures like a pro:
Take Good Still Shots
The best way to capture your feet' pictures is by using a selfie tripod like this.
It will ensure that the camera remains completely still so you can take multiple pictures without having any jarring or shaking of the camera. It is more important if you plan on taking pictures of your feet in motion.
Another way to improve the quality of your feet pictures is by using a remote shutter control. This will help reduce camera shake and create sharper images.
If you are not able to use a tripod or remote shutter control, then try to keep your hands as still as possible. You can do this by using a wall or railing to stabilize yourself.
Relaxed Feet
Be at ease and relax your feet and toes. It will help you to take natural photos. If you tense your feet, they will look strained in the pictures.
Practice
Practice makes you perfect. In your case, you can practice clicking feet pictures in several poses. It will boost your confidence and give you an idea of shots and settings.
Keep yourself updated with latest trends (and spy on the competitor)
Do in-depth research on the technique of successful photographers. Explore how they take shots, prepare the setting for the shoot and choose their theme.
Follow famous feet models, and hashtags on Instagram to see what's trending.
You should be on the lookout for new ideas and themes. Never stick to one theme for a long period.
Your innovations will not let your followers and clients get bored.
Be Patient
Photoshoot requires a lot of patience, dedication, creativity, and hard work. Do not get frustrated easily and take things slowly one at a time. If the setting feels odd, try another place.
If your poses seem too plain, get innovative. But never give up as you learn from your mistakes and grow.
Final thoughts on how to take feet pictures to sell
Some people make a living from selling feet pictures. If you have pretty feet and are comfortable with someone seeing them close up, this could be a way to make some extra money on the side.
If you are looking to more legit side hustle in your spare time, I recommend signing up for apps like Doordash that pays more than $25/hr.
There are many apps and websites where you can sell your feet pics. Just be sure to read the terms and conditions carefully before you start uploading your pictures.
Remember, when taking pictures of your feet, it is important to be comfortable and confident in your pose. The best pictures are the ones taken with natural light and a tripod to help keep the camera steady.
Have fun experimenting with different poses and backgrounds, and enjoy showing off your beautiful feet!
Meanwhile don't forget to check how to sell feet pics online for the best places to sell feet pics and the real truth of selling feet pics on Etsy.
Looking for more legit ways to make money from home:
For side jobs from your phone: Best side hustle apps that pay more than $21/hr.
For best jobs from home: Best stay-at-home jobs for moms (All legit and flexible options).
How to make $50 fast: Guaranteed ways to make $50/day.