Last Updated on February 19, 2021 by Ruchika Gupta
In this post, I will give you a detailed walkthrough of the Terrible Blogging Mistakes that Amateur Bloggers often make and hurt their Blog Profits.
Blogging is one of the fastest-growing and viral methods of Making Money Online. People with technical or non-technical backgrounds, both are interested in starting a blog.
The situation is the same for years, but now with time, the rate of people starting a blog is drastically increasing. But the success rate is LOW.
This is what is worth noticing.
If the potential of Making Money Online is higher in Blogging, then why are bloggers failing in it?
The answer is "Amateur Blogging Mistakes by Amateur Blogs"
Bloggers, especially those who are newbie bloggers, make some terrible blogging mistakes in their Blog. Those mistakes take the lead on the entire process and result in a lousy performing blog with no authority and search rankings.
In most cases, Bloggers aren't aware of these mistakes and how they can avoid them. But when they come to know, they find that they are too late. As a result, they become more likely to shut their blog or something else like this.
To avoid these Mistakes, Amateur blog writers should know What they are, How they affect the Blogging Results, and How they can avoid such mistakes.
Let's jump into the content.
11 Terrible Blogging Mistakes Amateur bloggers make and how you should avoid them
Here is a detailed list of the top 11 amateur blogs mistakes that have a higher potential of hurting your blogging results. At the end of each mistake, I have mentioned an easy solution that you can follow to avoid bad rankings.
1. Bad Domain and Hosting Registrar
The foremost step to start a blog is to get a Domain Name and Hosting. Domain Name represents the Unique Identity of a Blog. Whereas, Hosting lets you interact with the online world.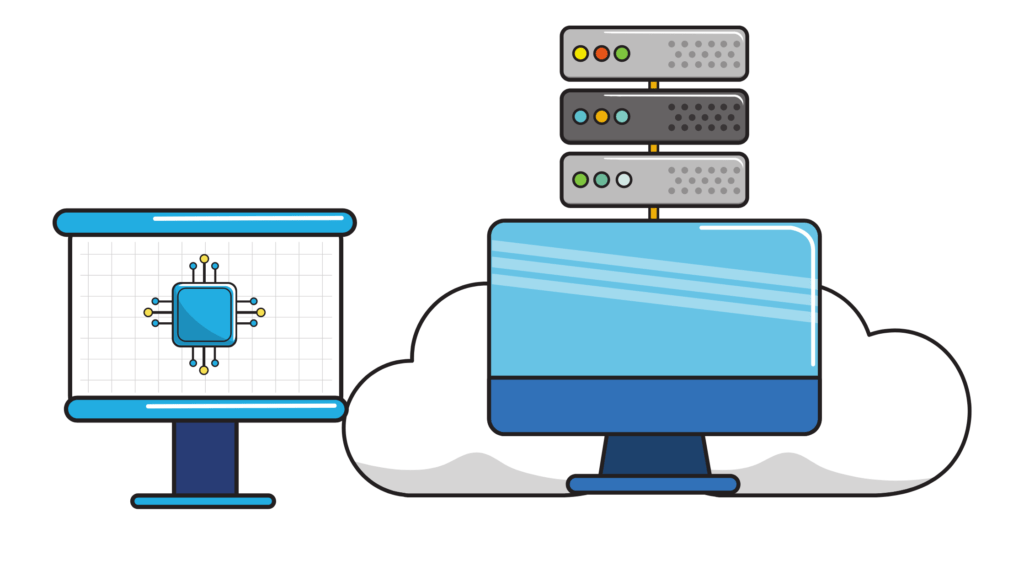 There are many Web Hosting and Domain Registrar Companies available out there with different pricing. However, not all are the same. Only a few are capable enough to worth a shot and rely on.
That's what bloggers should consider.
In most cases, Bloggers tend to minimize their blog initial set up cost. This is where they end up with a bad hosting company just because of a few bucks.
A Bad Domain name, like if it is hard to read, understand, and remember, your audience will be more likely to forget your address. This will make it hard for your audience to discuss your blog and share it among their circle.
A bad web hosting service can lead your site to an alarming response rate, slow loading speed, and ultimately bad search rankings & higher bounce rate. It will result in low blog traffic and ultimately no money.
Solution
If you don't want to end up wasting your money and energy on a bad web hosting site, focus on a few key features while making a purchase. Noticing a few key features that help you grow with your blog will save you time, money, and energy. Moreover, it will give you fantastic blog results.
Notable features of web hosting should include
1. Site Speed and Uptime
Many top-rated web hosting service providers are offering 99.99% site uptime and loading speed. Uptime near to 99.99% is an excellent choice if you are looking for a responsive website that works perfectly fine on your user's end.
SiteGround, DreamHost, and Bluehost are the top rating web hosting services providers. You can trust them about Loading Speed.
2. WordPress Installation
Regardless of your background or information about the technical stuff, if your web hosting isn't providing an easy, simple WordPress installation, you should opt for those offerings. It is a wise decision to start your blog without being caught by the technicalities.
Many Web Hosting service like Bluehost providers are offering One-Click WordPress Installation. It is the most straightforward way to Install and get started with WordPress.
3. SSL Certificate
SSL Certificate is another essential thing that you should consider. It will keep your website/blog safe and inform your audience that they visit a safe and secure web page.
Many bloggers ignore this and think that their audience won't respond to it. However, no one wants to visit any unsafe or secure web page.
Many Web Hosting Companies offer a one year free SSL certificate. While a few don't. In this case, you can pay an additional cost and purchase it from your web hosting to keep things simple and easy for you.
4. Pricing
Pricing is another crucial factor that you have to think about. It is not about the pricing web hosting companies are offering. It is about what they are offering and what will be the renewal one. As for sure, no one wants to taste different things with a gap of a few years.
A few web hosting offers a very low rate for the first year with brilliant features. However, their renewal charges are drastically higher than what they offer. It makes an uncertain situation by making it hard for bloggers to pay for the renewal.
So, it is advised to consider the renewal charges before making a purchase. If it is not mentioned on their website or purchasing page, you can contact the support to ask them about it.
5. Customer Support
Another very important feature that determines the setup of your blog is Customer Support. There are many times I have seen that a few bloggers caught up by the technical issues. They find it hard to resolve such technical problems.
In that case, they reach out to their web hosting customer support. If the Support Team is skilled enough to tackle all these issues, it would be great. However, a few web hosting services do not have a competitive or qualified support team to help you with difficulties. So, consider this too.
2. No Focus on Pillar Pages and Content Silos
Pillar Pages and Content Silos are essential key factors determining the value of the content you produce on the search engines. Most bloggers talk about a broad term without thinking about its subdomains.
Let's have a look at its example.
QuickSprout has published content about "How to Create a Website."
Indeed, it is one of the broadest topics with many subtopics. Such as, "How to buy the right Domain."
If they produce content on such broad topics without talking about the sub-topics, they will waste a chance of providing quality to the audience. Moreover, once the audience gets any question while searching for things online, they are more likely to switch.
As a result, you will lose your visitor without converting them into regular readers.
Not Sure how content clusters and pillar pages work?
Pillar pages are broad meaty posts covering a main broad topic or called core topic. If you are in the baling, you write a broad pillar post about cakes and bakes and then you create blog posts (subtopics) addressing a specific keyword related to a broad topic linking these subtopics with pillar post. This combination together makes a 'Topic cluster.'
Pillar pages are important as they help prevent decluttering and improve interlinking. If there is too much of decluttering and search engine bots do not understand what your content, they will not rank you as you should.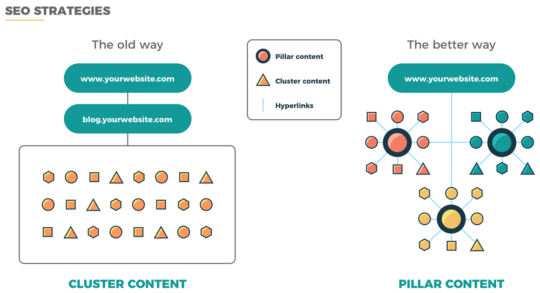 Solution
Create topic clusters and interlink related articles. This will improve search engine visibility and establish your expertise over the topic.
You can create a content calendar with details about your top categories, pillar pages, subtopics you can add.
You can read more about Pillar pages in my post How to Start a Successful Money Making Blog in 2021
3. Produce Poor Quality Inconsistent Content.
Content is Everything in Blogging.
Many Bloggers think that the content could be anything competitive that can perform well on the search engine. Indeed, it is essential, but you don't have to neglect other factors.
There is a long list of factors that determines quality content. As Content is the main product in your Blogging career, you should be aware of the Quality Content.
Many beginners bloggers do not pay any attention to quality and start everything without any prior planning. In that case, they randomly select any topic they want to write about and publish it. Such things do not bring any kind of quality or anything to the blog.
Solution
Creating a Content Calendar that includes a consistent schedule of quality content is more beneficial.
It will help you in
Keeping all topics align.
Build Content Clusters or Silos.
Serve Quality to Search Engine and Audience.
Helps in building a sustainable marketing strategy.
Here's what Youness Bermime says about the Content calendar.
4. No Author Profile
Author Profile plays a key role when it comes to building an authoritative site with reliable content. Many individuals have specialties and expertise in a specific area. If such individuals start a blog with an author profile mentioning their expertise, people will be more likely to trust them.
On the other hand, if you post content on the website without an Author Profile and Bio, you will be less likely to get an audience's trust and build a relation.
This is where many new bloggers end up with difficulties. They do not consider adding an author profile with a catchy bio. This results in no authority and, ultimately, poor results.
Author profiles for Health and Finance Niches: Both these niches are YMYL (Your money or Your Life) niches. According to Google, YMYL (Your Money or Your Life) pages should be created by trusted, authoritative experts on the topic. If you dabble in any of these niches, make sure to have an Author box at the bottom and a detailed 'About me' page to establish your credibility and improve your Google EAT score.
Solution
The best solution is to use an Author Profile with a short bio and a catchy 'About me' Page. You can use your Gravatar's email address if you are using a WordPress site.
To insert an author box at the bottom, check your theme settings or download free author box plugin.
5. Un-Optimized Image Use
Another Blogging Mistake that most newbie bloggers make is not Optimizing Blog Images.
Images need to be optimized for two different purposes and failing to do so can hurt a website.
Let's first talk about optimizing them for search engines: Images that you use in the content are another great asset to getting ranked on the search engine. Let's have a look at an example.
Simply search for the term "How to Start a Blog" on search engines.
Once you hit "Enter" or "Search," you will have results like this.
On this search result page, look at the 'Images" option in the top bar. This is where the images got ranked. But not all, only the optimized ones. Here's how.
You can see that the top positions are occupied by those who do not even rank on the first page of content results on this page.
This is how Optimized Images helps in getting ranked on the search engine. If the images aren't optimized for better rankings, your website might lose a chance to rank on Google images.
Image size optimization: You know many folks (including me once) don't know about compressing images to reduce their size in bytes. Uploading heavy original images on website not only takes up a lot of website storage but also reduce your the page speed.
And Page speed is important. Imagine yourself trying to load a webpage but it even after 3-4 seconds it doesn't load.
What will you do? Bounce back, Right?
Pages with a longer loading time have higher bounce rates and lower average time on page. Longer load times can directly affect your website conversions.
The lighter your image is, faster your page will load.
If you have a slow page, run a speed test with GTMetrix; this test will your page speed, total page size and size of heavy images (if any).
Solution
Optimize all images that you use in the content for SEO.
Always add 'alt text' to your images while uploading them. You can do this while uploading your image in your media library.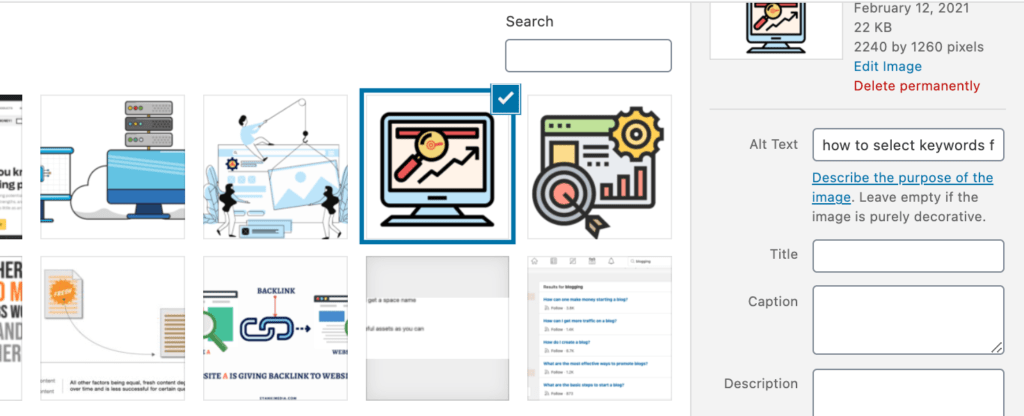 Well-written alt text is important to your website's accessibility, and its search engine optimization (SEO).
For size optimization, always download jpeg files and use WordPress Image compressor Plugins like shortpixel to shorten the image file size and make it fast loading. These plugins compress images without losing the quality of images.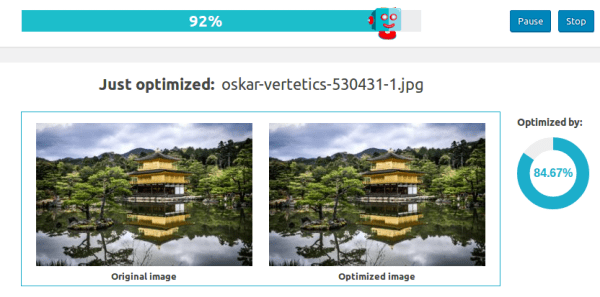 6. Install Unnecessary Plug-ins.
Another failure contributing mistake is the Installation of unnecessary plug-ins. New Bloggers tend to have everything ready before they need it. This is where the plugins come in.
Installation of more than thirty plugins will start affecting the loading speed of the website. This is because they start getting issues in site loading speed.
An increase in site loading time can cause two issue:
Lower ranking: Site speed is one of major ranking factor on Google. Faster site speed not only means better user experience and happy visitors but also better ranking on Google.
Indexation issues: Low site speed can also cause indexation issues too. Slow site means search engines crawl fewer pages with allocated crawl budget. Let me explain how:
Crawl budget: No. of pages/URL bot crawls and index in given time. Slow speed equals less pages crawled. Less pages crawled means less pages indexed.
But if your pages load quickly, Googlebot has time to visit and index more of your pages.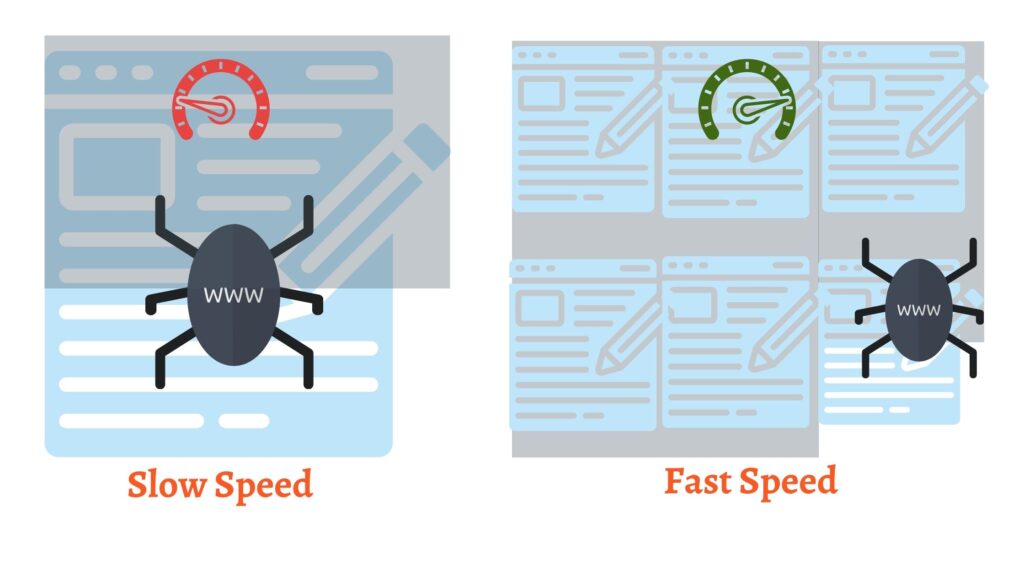 Solution
Avoid the Installation of unnecessary plug-ins and only use those who you need and are must. Website loading speed is more critical than the lucrative design.
Also, always install good reputable plugins from valid sources to avoid for website from bring hacked/attacked and update your plugins on time. Not updating plugins on time can make your website vulnerable to attacks.
7. Use Poor Theme
There are many lucrative blogging themes available out there. However, not all of them are optimized for better search performance. Most of the themes come with additional pages and some bugs that decrease the site loading speed.
And we have already discussed speed is very important for a website performance.
Having a slow-loading and un-optimized theme just because of the visuals is not worth it. If you are doing well with the content but have a higher bounce rate, you should change your theme.
Solution
Use only optimized and well-performing blog themes regardless of their visual customization. As long as a theme is customized, fair, and fast loading, you can use it.
Important Checks before getting a theme
Check for initial loading speed of theme. You can test demo site on testing tool such as GTmetrix.
Check if it is fully mobile responsive.
Check for last update date: It helps to know if the developer is fixing bugs and updating the theme on timely basis.
Check comments and number of installs.
Check for plugin compatibility and any add-on plugins needed with theme.
Check if it is really SEO friendly and has clean codes using W3C Markup Validator.
Good design is a desirable feature but to succeeded you only need FAST, RESPONSIVE AND SEO FRIENDLY customizable theme. Astra and GeneratePress are fast and freemium WordPress themes with very good ratings and customer support.
8. Unoptimized Categories and Tags Archives
Both categories and tags are important for SEO as they help in defining your site structure. A clear site structure can help search engine bots understand your website and its content.
Confusing? Yes, I get it, I had the same confusion sometime back.
I wish I could show you my old tags, Lol, it was a mess!
Let me explain categories and tags with this example. Let's say you want to search for "overnight oatmeals for breakfast" and there are two similar websites but with different structure.
1st website
30 random recipes with no category.
2nd website
25 recipes with 5 different categories. One of the category is "Breakfast recipes" with few breakfast recipes with oats.
Which website do you think will be higher in ranking (keeping all other parameters same)?
The one with clear structure to guide crawlers- 2nd website.
A good site structure not only helps crawlers but make your blog easy to navigate and increase user experience too.
However, most of the bloggers fail at this. They do not set up the page hierarchy and other page navigation. It results in poor performance, which ultimately results in a bad user-experience leading to a higher bounce rate and low traffic volume.
Solution
Add and optimize categories with SEO friendly names. Add little description if your theme allows.
Keep the category count to max 8-10.
Give at-least one category to each post.
Do not give duplicate name to tags and categories.

Don't give same name to category and tag. Eg. If you have a category "make money", don't make same "make money" name tag.
Don't duplicate tags as I did, "Groovefunnels" and "Groovefunnel". They both are the same, either keep a singular form or a plural form.
9. Use Of Blackhat SEO Techniques
When it comes to having higher traffic in a short period, many quick tips include the Black Hat SEO Technique. Black-Hat SEO techniques aren't favored by Google, and it is not credited as brilliant for the bloggers.
Indeed, such techniques are useful in terms of short term results. But for a long time, you will end up with a bad quality website that will be hard to get ranked. I have seen many bloggers with Google re-directs to boost their Website Authority.
Solution
Educate yourself about SEO and current trends in Search Engine Optimization.
Beware of Black-hat SEO and avoid using it.
To increase your website authority:
Create linkable assets like info-graphs, case studies, informative images.
Help a reporter out – Create quality HARO pitches
Build relationship with fellow bloggers
Guest post on good websites
You can follow Search Engine Journal and Backlinko for updated information about SEO.
10. Posting Content Without Lead Magnet
Lead Magnet is an asset that you can use without being active. It could be anything that your audience can store. For example, your content PDF file, an Infographic of your recent listicle, or a PDF ebook of your recent discovery or study.
The lead magnet will help your audience store data in their devices that they can use later on. On the other hand, it will keep bringing the visitor to your site because you use the relevant links.
Lead magnet could be anything that can increase your traffic. For example, if you are writing a software review, share the post on Twitter, and mention that company. They will surely share it with their audience UNLESS YOU DONE IT WELL.
This concept is rare in new bloggers. They think that online content serving is everything for blogging. However, it is not. It is one of the most common amateur blogging mistakes.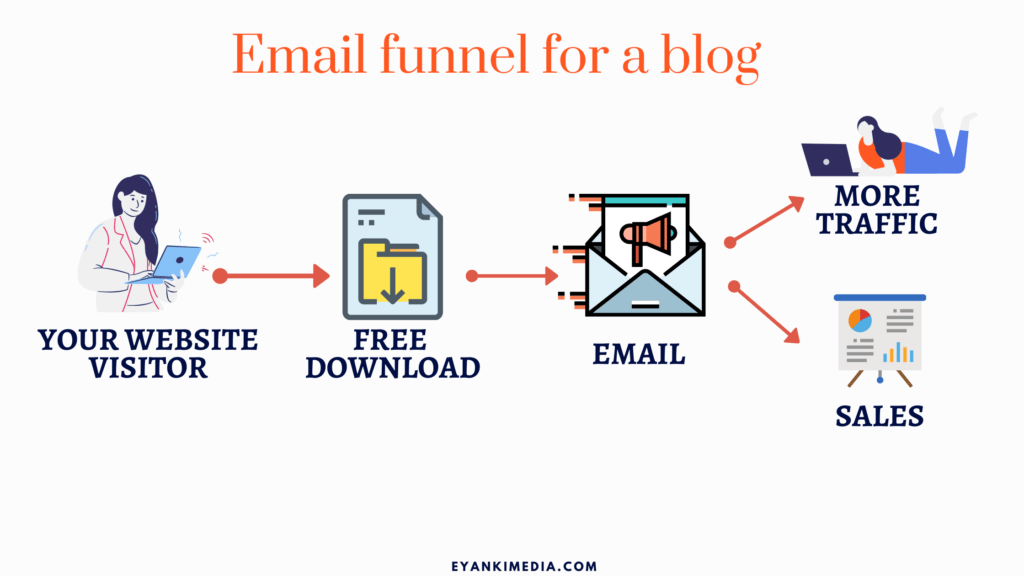 Solution
Add downloadable assets in your post. It could be anything that your audience can store—an eBook, Infographic, or only a PDF version of your online article. You can create and design your lead magnets with canva, I always use Canva and highly recommend as it is very easy to use. Next, use Convertkit to directly deliver your lead magnet to your audience.
11. No Social Presence
A Blog is all about the value you serve to the audience and the Search Engine. But if you do not focus on it, you will end up with bad search rankings and ultimately no volume, which means no money.
That's a matter of fact.
But many bloggers focus on creating quality content and provide value. They do not even consider that the Blog Should have Social Presence.
The Social Presence of your Blog is a valuable asset that you can use to generate tons of traffic. Moreover, if used correctly, it will open the doors of limitless chances to grow in the online world.
Indeed, Creating quality content and serving value needs time and attention. But it doesn't mean you can neglect something else. If you want to grow, you have to schedule everything to give a brilliant combined result.
Solution
To build a robust social media presence for your blog, keep the following things in mind.
Create Pages on Social Media Sites. If not all, start with one platform and master it..
If your blog is new, you can use Pinterest to drive traffic to your blog. Don't forget to use Tailwind or other scheduling app to automate the process and give you more time for other important stuff.
Be active in Question Answer Platforms. I.e., Quora, Reddit.
From Amateur Blogger to Expert Blogger
There are many quick ways to get traffic or get succeed with your amateur blog in the short run. However, not all of them are worth a shot.
A blog needs time, passion, and consistency to generate brilliant results. A blog is one of the best idea to earn passive income. If you want to succeed, focus on the tactics promoted by the pioneers of this industry. Keep everything to align and educate yourself. 
It is the only way you can update yourself about mistakes, vulnerability, and the right way to avoid them.
If you haven't started a blog yet, do read my comprehensive guide on How to start a money making blog in 2021.