Many times I get asked questions like, "Can you make money from blogging?", "how do you make money with a blog?" or "how do bloggers make money blogging?"
If you're a complete beginner or don't know anything about this blogging world, many questions might be popping up in your head.
Believe me or not, It was a light–bulb moment for me as well when I realized that successful bloggers make GOOD money!
One of the best things about Blogging is one of the most legitimate ways to make money and you can make a decent income with your blog from the comfort of your couch or while traveling. 
There are multiple ways of monetizing your blog. But, you have to find authentic ways on how to make money with a blog. 
Curious to know about the blog monetization strategies? Without further ado, let's get rolling. Today, you'd get familiar with multiple ways of making money with a blog. 
What is in this post for you?
In this blog post, I am deep-diving with you to help you understand how bloggers make money along with some tested and tried ways to make money from blogging.
Also, please note that this blog post contains affiliate links, and while I only mention products and services that I'm truly a fan of (or that I personally use), I earn a small commission when you purchase something.
Before we start further, I would recommend you to read my comprehensive guide on how to start a successful money-making blog if you plan to start a blog. If you're still short on reasons to put up a blog, here is another post on reasons you start a blog asap.
Can You Make Money From Blogging?
This is an age-old question, and the answer is Yes– you can make money with blogging but your success DEPENDS upon you.
Many bloggers have been successful in making money from blogging by monetizing either their content or supporting third parties with ads, or selling their products.
However, if you want to make money blogging, it should be treated as a business because it takes patience, hard work, and perseverance to have any chance of success once all of its pieces are in place. So if you want to be like one of these awesome people then do not give up hope! It can make you rich and famous without being tethered to the boss from hell.
How to Make Money with a Blog – The Secret Sauce
In this internet world, it has become a little bit hard to create your own space in the market because you'll find thousands of people doing the same thing. Now, blogging is already considered an oversaturated market. 
Well, if you're a newbie, you would be feeling your heart sinking. Most probably, you would consider quitting this field after struggling for months or even years. 
But, there is a secret sauce, Strategy. 
Most people are not familiar with it. And they start without a strategy, which is like shooting in the dark. Blogging is a serious business. Your success depends 80% on how strategically you proceed and 20% on your fate, and people do otherwise. 
If you have chosen this, then you should have a complete roadmap to beat your competitors. If not, let me guide you! 
Focus on your niche 
The era of specialization, not generalization! You have to keep polishing your skills till you feel no one in this battle can defeat you. Well, picking a niche can be a challenging thing in the beginning. However, it depends on two things; 
Your skills and interests 
Market demand in a specific domain 
You have to consider both for narrowing down your niche. For example, if you love fashion and beauty, then you can pick this niche for you. You can even choose a sub-niche in this regard; you can decide to create a blog regarding makeup only. 
Also, you need to understand what's beauty bloggers demand & space in the market. And what your competitors are doing. When you'll niche down, you will automatically narrow down your competition as well. 
Build trust and Authority 
After narrowing down your niche, you have to build authority and emerge as a credible and reliable blogger. Your chances of success and making money would get increased if you'd successfully create a good position in the market. 
So, how would you be doing it? 
Share Free and authentic knowledge on your blog regarding your expertise and niche. Your personal experiences, tried-and-tested methodologies, or future inclinations work well. No matter what you do and whatever your niche is, it WORKS for all. 
Your audience is more likely to invest in your paid product if they love your free content and feel like they can trust you. You have to make them think "If this is free then how the paid content is going to be!" before expecting them to invest in your product.
Apart from this, stay consistent about sharing the content. Your content strategy differs, but how well you present it to the world that matters. If you'd keep sharing some authentic knowledge with your viewers and readers, then you would be able to get tons of organic traffic on your blog. This is the foremost step that leads to making money with a blog. 
Build your Brand 
Branding not only just helps you build a strong image but also helps you get the right people (audience & clients/customers). You can double the impact and your influence with branding. A strong presence in the market and blogging world with magnetic messaging can unlock the doors of success. 
However, being a blogger, your core and ultimate purpose is to earn money with a blog. So, if you'd proceed with a strategic approach, money will keep flowing in your bank account. 
For this purpose, you have to be present on other social media platforms as well. Some video content platforms (Tiktok, Instagram, YouTube) are best for influencers and bloggers. 
You can even collaborate with other bloggers as it helps in increasing the audience. The more the audience, the more exposure you will get. And ultimately, you will make more money with a blog. 
How do Bloggers Make Money blogging?
Well, as I said earlier, you will find countless ways to make money with a blog. But still, you would be looking for some easiest, authentic, and fast resources to monetize the blog. However, I would recommend you one thing, never go for shortcuts. 
If you want long-term success in any domain, then work for long-term success. Never settle for less or go for shortcuts. 
Here are some authentic and proven ways of how blogs make money. So, let's begin and explore each of them. 
1. Blogs Make Money With Display Ads 
One of the most used and proven blog monetization models is running ads on your site or a blog. Being a blogger, you will find this model simplest and easiest because you don't have to put much effort into it. And you can earn good revenue alongside managing your blog.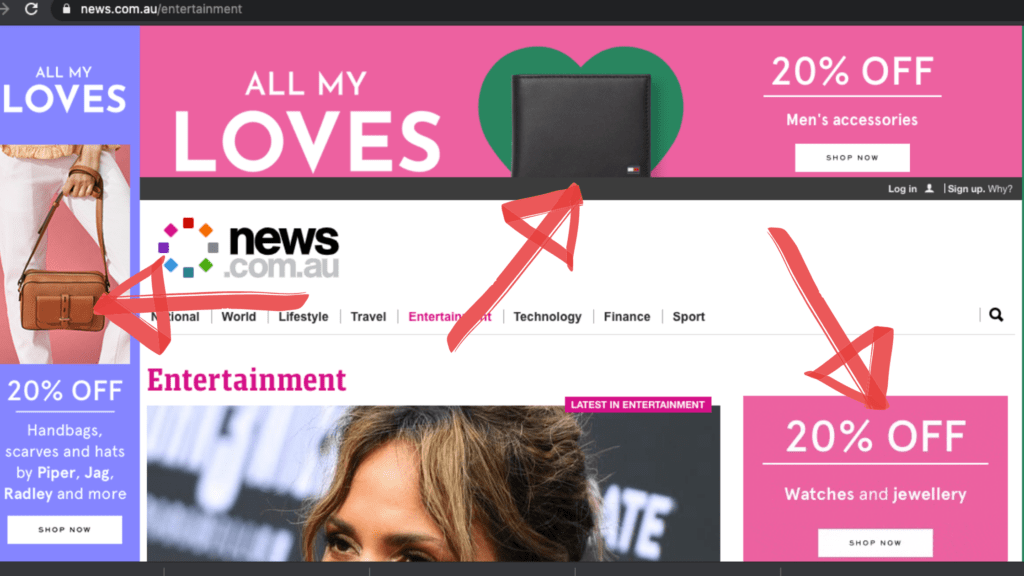 In this strategy or blog monetization model, you can earn money in two ways 
Direct dealing 
Ad networks 
Both methods work well. Usually, most bloggers use both of these ways to earn money with blogging. So, let's understand how both of these models can serve you to make money and flow cash in your bank account. 
Direct Dealing 
In direct dealing, you can sell your ad space independently or privately to companies who want to advertise on your blog. If you both agree on terms and conditions, then brands will show their ads on your blog and provide you with a certain amount in return. 
As far as money is concerned, you can negotiate the price. If you have a good audience, brands will pay you on-demand money for providing them a space for running their ads. Some brands are willing to pay higher if you have a vast audience and a high engagement rate. In my recommendation, this model can help you earn as much as you want. 
This way, you both can benefit each other. Brands will get more exposure, and you'll keep earning money from your blog. In this model you will receive a one-time payment or an installment plan, depending upon the contract. 
Ad networks 
Ad networks are platforms that show the relevant ads on your blog or site. Every time each visitor interacts with the ad, your ad network will pay you for each click or interaction. This is the best way to make money through blogging, and it all depends on page views.
If you've been thinking about starting a blog, there is absolutely no better income stream for beginners than this.
Ad income can be determined by RPM- that one stands for revenue-per-mille and this number is based on the ad network you are with, traffic quality (monitoring your ads closely), site speed load time, seasonality.
Well, this income stream may fluctuate over time depending on your niche. Someday you would be making $$$$ a day and sometimes less than that. So, there is no specific and fixed amount of money. It all depends on the visitors to your site and how they interact with the ads. 
So if we focus our efforts around increasing page views by any means necessary then we can have more success when monetizing!
Again, if your audience is vast with a high engagement rate, then this could help earn a lot with blogging. Because ad networks show the most relevant ads, and people are likely to interact with them. 
Ad Networks for Bloggers 
Adsense – no minimum Page views requirement. Just fulfill Goggle Adsense requirement.
Ezoic: requires 10,000 monthly page views
Mediavine –  50,000 monthly session needed (earlier it was 25,000 page views)
Adthrive – minimum requirement of 100,000 monthly page views
If you're a blogger looking for the best ad revenue, it's important to know how many page-views your blog is getting and which networks are right for you.
Most bloggers start with Google Adsense because anyone can run these ads regardless of their traffic, but bigger (better) ad networks require a threshold number of page views before you can apply to work with them. Generally, people use AdSense in the beginning and then switch to a different network once they have enough traffic.
Adsense seems like the best option for beginners but the downside is it makes the least money and makes your website slow. Mediavine is a great choice for bloggers with at least 50,000 page views per month and they pay up to $60 for every thousand impressions (CPM) as well as offering high-quality ads that don't clutter your site's layout.
What are the payment plans for bloggers? 
Well, the model of payment or pricing varies from network to network. And each ad network has its own criteria for blog monetization eligibility.  
There are four payment plans, and each network would pay you depending upon that pricing method. 
CPM (Cost Per Mille) – pays on the number of impressions per ad. Best for brand awareness campaigns. 
CPC (Cost Per Click) – pays for click per ad. This model is best for engagement campaigns and website traffic where you want visitors to click on ads and land on the brand's website. 
CPA (Cost Per Acquisition) – action or conversion-based model. Best for conversion campaigns. 
Fixed-rate – this model is based on fixed pricing no matter how good or poor the ad performs. 
---
Tips On Boosting Pageviews 
Pageviews are an important metric for bloggers and writers because it's deeply related to ad revenue. If we want to make money, we have to increase our page views.
The key is to find content that people will actually read, share or comment on. Good keyword research, user intent, on-page SEO, and regular blog promotion are some of the ways to increase page views and hence revenue.
I know exactly what it feels like to be in a situation where you are struggling and don't want to give up. I remember when I was trying so hard but there just wasn't enough traffic coming my way, until one day something changed.
It's not that magical click on your website that will suddenly make everything better; instead of I focussed all of my energy on getting people on my website and learned things as well!
Now, this blog makes a decent money per month (on the side when I have kids at home who keep me busy all day long) and it feels like more than enough compensation to start with.
If all this sounds like you, then I'd recommend you take advantage of some free courses and training on how to set up a money-making blog.
Although there are many helpful resources to help improve traffic and page views (they do work but you will grow at the speed of a turtle), I would recommend you to check Lena's free traffic transformation mini-challenge and follow her FREE Blog Traffic Bonus Guide.
These are unlike other free courses and are jammed-packed with actionable tips on how to improve your blog traffic quickly. These are some ideal free courses for beginner bloggers for boosting blog traffic.
If your blog has started gaining some traction but you feel stuck somewhere then I'd recommend you take benefit of her very popular ebook Traffic transformation Guide which includes her strategies to increase page views from 17k to 400k+ in just 10 months. She has included a lot of examples, checklists, and actionable tips that helped many bloggers improve their page views and get into good ad network Mediavine.
Tips on boosting Pinterest traffic:
If you are struggling to get traffic from Pinterest then I would suggest checking out Carly's course, "Pinterest Strategies" or joining her mastermind group. Her strategies and insights have helped me develop a good organic following (and hence clicks) that is growing exponentially.
You may be surprised by the results!

I pinned this 5 days back! My first Viral pin.
2. Blogs earn money with Affiliate Products
Every blogger has their own strategy for how they make money from blogging, but one of the most popular is affiliate marketing. It's easy to do as long as you have blog content that lends itself well to this type of thing – like reviews or articles about products in your niche!
Before proceeding, you must know how affiliate marketing works and what it is. 
Affiliate marketing is about selling other brands' products and services with an affiliate link. You get a certain amount of commission on each referred sale (made through your link). Affiliate marketing is a very legit business model and is being utilized by many influencers and bloggers.
How does affiliate marketing work? 
There is no rocket science about affiliate marketing. There are many affiliate programs offered by multiple platforms (discussed later in the article). However, the simple process for signing up is mentioned here
First of all, choose the product and service you want to promote. 
Look up the sources or platforms that offer affiliate programs. However, some renowned brands provide diverse opportunities for affiliate marketing. 
Sign up for the affiliate program after fulfilling the requirements listed by the platform. 
You will get an affiliate link. On the other side, the platform will maintain and track the orders via your affiliate ID, kept by them. 
Being a blogger, who already has some audience, share the link with your audience in an authentic way. Your product should solve your audience problem.
If someone buys through your link (cookies and affiliate ID matches), then you would be given a commission. 
A very simple example of affiliate marketing is any food blog like below:
Let's say I am reading a recipe, and the blogger suggested a kitchen item with a link to the Amazon store. If I go through the link (that has a tracking code inside) and purchase that item, the blogger will get a commission for the purchase I made.
You can see the below screenshot, it contains an affiliate link with ?tag=minimakistbaker.

This seems quite easy when you already have a vast audience and a good reputation as a blogger.
For those who are new to blogging, it can be difficult to make money through affiliate marketing. They have a lot of work ahead of themselves in order to gain a good reputation and earn the trust of their readers in the marketplace so that people would buy products as they recommend one product over another.
Tips on Boosting Affiliate Sales   
You have an audience and fan following that is already built. However, it's okay to go with what you know so people are likely to purchase from the affiliate link you shared. A quick way for bloggers can boost their sales is through a new channel they may not be using yet – promoting products on your blog!
You're probably thinking: "this sounds like more work."
But 95% of the time when someone promotes something online, they promote a product rather than just services as well which means there's always going to be demand for those goods/products in addition to whatever service(s) being offered (for example if I was selling shoes then my wholesale shoe store would also offer shoe shines). So why don't we take advantage of a company's desire to have us promote their products AND make money off them at the same time?
Be sure to include relevant disclaimers so readers know what kind of partnership/affiliate program there are involved when doing these types of link shares.
Write helpful content
The number one thing to do is write helpful content. Quality content with specific actionable points that the audience wants, needs, or craves will increase sales dramatically over simply "talking about" a product. Aside from writing useful posts, there are also other things you can do to get your readers interested in items that are being advertised on your blog!
For starters, include screenshots of the product, use how-to guides, add video (if you can), how the product can benefit your audience, be transparent and highlight any pros and you will see commissions like these in your mailbox.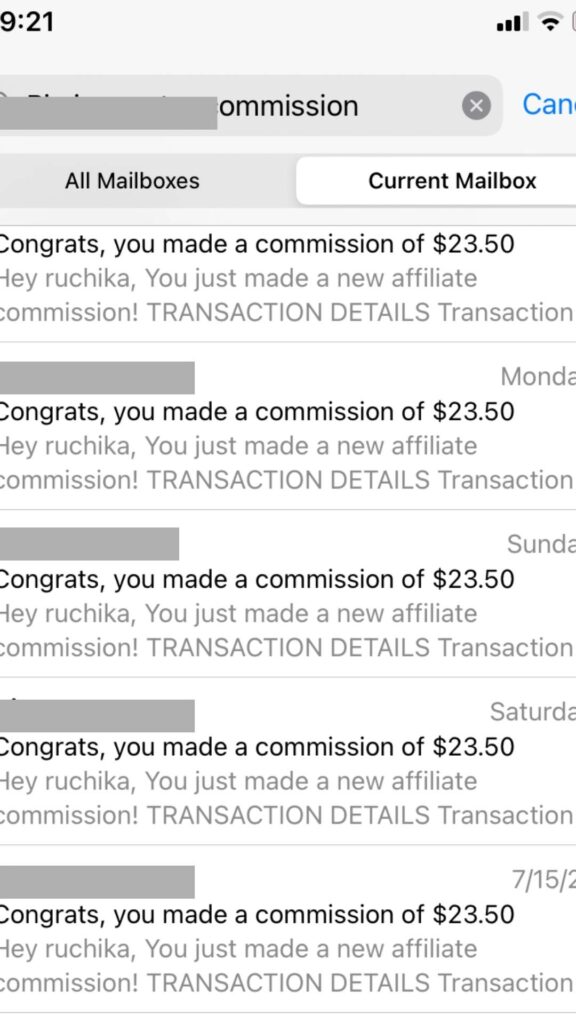 Can you see this pattern! It was only possible once I learned how to write the affiliate posts that make sales. Believe me, throwing your affiliate links in the post won't give you good enough affiliate sales to survive.
If this sounds too confusing, then check out Carly's course on affiliate marketing that I took to improve my affiliate sales. I will start by saying that this course is not for beginners and will make sense if you're fairly knowledgeable about affiliate marketing!
If you are a total beginner and have no knowledge of affiliate marketing then check these free resources: Income school free Youtube channel, Affiliate marketing on Ahref's blog.
Create Video Content 
Thousands of people indeed sign up for the affiliate programs. But only a few people proceed with the strategic approach. Chances of success would get increased automatically when you will have magnetic messaging for persuading people. 
You can create videos regarding that specific product you are promoting. And, don't just share that on your blog but also share it on other social media platforms.
Tell your audience about the product you are promoting, why you're promoting it, how it can solve their problem and fulfill the need. 5-10 minutes of videos are more than enough to tell people about that specific product. Start a video with a killer hook, explain it well, and talk about the benefits.
And end it with a compelling call to action. Make sure you don't sound too pushy or salesy for making money. 
Create an Email List 
You might not be knowing but soon the number of email users would be 4.03 billion, and by 2024, this figure is projected to reach 4.48 billion!
Email marketing is most widely used for conversions for almost all businesses. The conversion rate gets increased with personalized emails. The reason why marketers use email marketing is the number of active email users, personalized way of connecting, and building a network. 
As a blogger, you can create an email list of your audience by providing free content upgrades to your audience and sending them updates about your blog, useful tips for them (not just sales and promotions).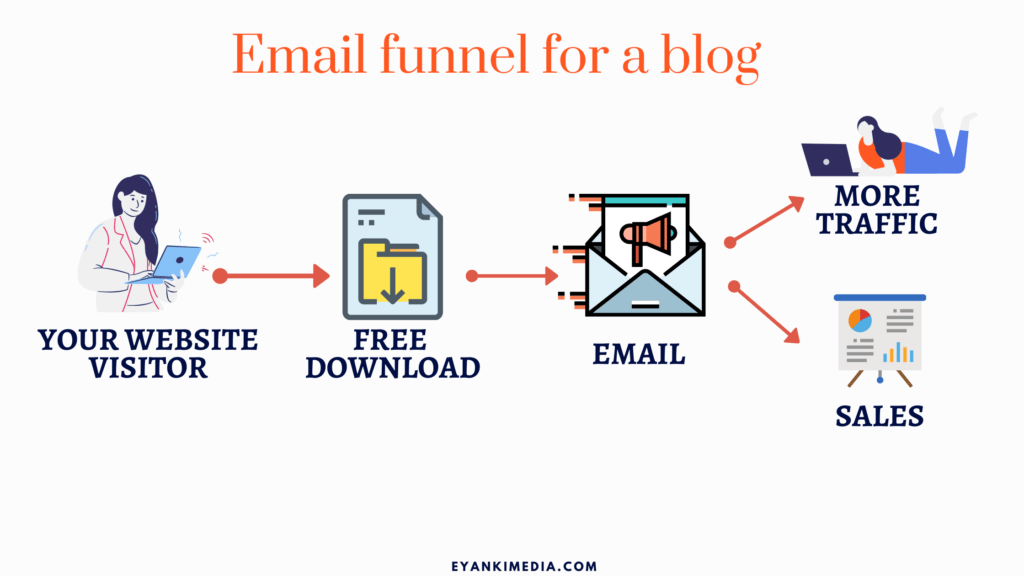 I know it took me ages to actively start an email list for my blog but it should not be the same for you. I would recommend you start building your email list right away. Canva has some good templates you can plug in and edit easily. Use can use keywords like lists, tables, ebooks in the template section to find pre-made templates to edit. And then use a good yet affordable/free email service to send your freebie.
3. Bloggers Make and Sell Products that make money
Are you enthusiastic about building a unique brand? Do you want to develop a strong relationship with your audience? BOOM! There you go! 
Being a blogger, I would highly recommend you sell your products to start making money from your blog. Bloggers make and sell all kinds of cool things that help them earn some extra dough!
If you peek at my shop, you will see I also sell digital products from my blog. But it's not just through this channel that I make sales-I use other platforms too! This is one of the easiest ways to generate passive income with your blog.
You can sell your own product on your websites like an ebook or video course – this is one idea for sure but there are lots more out there for every niche imaginable. You only need some creativity (and don't forget about content!) to figure out a way to create something valuable and sell it.
A few examples for your ease so you can create something similar to that. But, you can categorize those products in two categories; 
Digital products 
Physical products 
Digital Products 
Digital products are non-physical products that can be sold and used online. A lot of bloggers create digital products and sell them through their blogs as a form of passive income stream.
A few things I like about digital products are that you don't need to go through a long manufacturing process for your products.
You can create anything from the comfort of your home using tools like Canva or even WordPress documents. They are easy to create and involve no shipping or stocking. That's why ROI is really good with digital products.
Selling products is a good option to make money for intermediate bloggers as very good traffic builds with time. Digital products can be products that always stay digital (no printing required) or one that needs printing at home or at a photo printing store.
Depending upon your niche and audience, you can sell the following digital products:
| Digitals (no printing needed) | Printables |
| --- | --- |
| Templates for e-books, social media posts, brand kits (all level bloggers) | Printable planners like daily productivity planners, blog planners (all level bloggers) |
| Courses (experienced bloggers) | Journals (gratitude journal)(all level bloggers) |
| e-books (intermediate to experienced bloggers) | Trackers like habit trackers, budget trackers (all level bloggers) |
| Excel sheets to track things like finances (all level bloggers) | Coloring sheets, wall arts, cards (eg Thank you card, invitation cards) (all level bloggers) |
| Apps and themes (experienced bloggers) | Checklists or cheatsheets like chore checklist (all level bloggers) |
There are so many possibilities to explore!
The above-mentioned products can be used by all kinds of bloggers with different niches. This way of earning money from blogging is becoming popular among bloggers. You might have seen many YouTubers and Influencers selling their merchandise.
This not only helps them build a strong brand but also lets them build a strong relationship with their audience. 
Templates
Done for you templates are simple things you can sell on your blog and they don't take much time to create. Done for you templates are really popular because people love being able to buy something once and use it over and again.
Do you have something you use for your blog and it works really well? Why not convert it into a template to sell it to other bloggers for extra blog income.
Some popular template examples include social media templates, printable templates, email swipes, website templates, logo templates, and even homeschooling templates as well.
Printables
If you're looking to buy something that can be both digital and physical, a printable pack is just what your reader needs. A lot of people think these packs only have coloring pages or papers for kids but they also come with planners, activity sheets, booklets- everything!
You don't have to limit yourself just selling products on your blog. Many bloggers make a good amount of money by having an Etsy store where they sell their printable items exclusively too!
Here is one of the printable I recently sold to my fellow blogger client. And I do sell these on my new blog and ETSY shop too. Printable products are a big hit among audiences because they save both time and money. In other words, it's like everyone wins!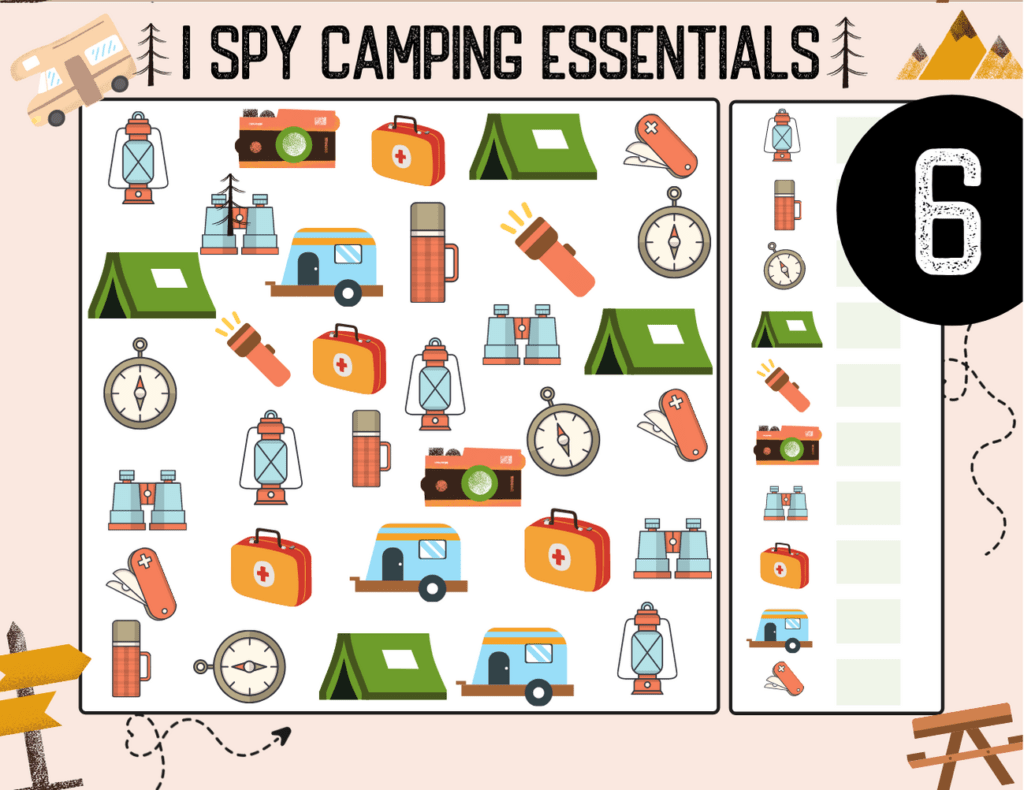 How much money can you make selling printables?
I am still a very new printable seller and but one of the mommy printable sellers, Julie, was able to make $1700 on one design alone and she has earned thousands selling printables!
She has a secret list of best-selling Etsy products which she uses to tap seasonal niches and get more sales. She also gives a free workshop and training for those interested in selling printables, if this is something you desire to do along with your blog, sign up now before the waitlist fills up!
Ebooks
Ebooks with information about your expertise to help people improve their lives in some way are the most popular and easy digital products you can sell on your blog. Ebooks are easily consumable and low-cost products as compared to fully online courses that make them a very good product to sell.
And you can earn a good profit with e-books like Ana who makes $5000 pm passively extra by selling her ebooks on blog and Amazon.
You can do this too! I personally use Canva to design some free e-books I have but you can use Microsoft word docs and convert them into pdf. It doesn't have to be very hard.
Still don't know how to get started with selling e-books? Get this free Canva template that Ana has to start your own ebook to sell or enroll in her best-selling e-book bootcamp to fast-track your bookselling.
Courses
As a blogger, one of the best things you can offer your audience is knowledge. Experienced bloggers make good money by selling their courses to audiences. Selling courses is one the best ways to make money blogging as this is a more stable and predictable way to make money than relying on ad revenue or sponsored posts, and it also gives you the freedom of being your own boss.
Courses sell at a higher price than other digital products but you'll need more than just expertise in the subject topic. If you already have the expertise and want to pack it into an online course, then check these platforms where you can sell your courses.
Physical Products 
Physical products are also in great demand in this blogging world. People who love you will buy from you. Merchandise is a step towards building a network.
As compared to digital products, physical products need some upfront monetary investment and require you to set up a reliable shipping system.
The cool thing about this idea is that you can launch your own brand like a popular Instagram influencer, Kylie Jenner. Kylie has her own skincare brand, and she promotes it on her own blog/account as well. People love and buy from her. She doesn't have to spend so much on marketing because she already has a vast audience. 
There are many other examples like Kylie. Many bloggers and influencers launch their own makeup, skincare, and apparel brands. You can also do the same after building a good audience and choosing a physical product that suits your niche. 
Some of the common products that bloggers sell are; 
T-shirts 
Hoodies, jackets, sweaters, caps  
Mugs and backpacks 
Diaries and journals 
Phone cases 
Stickers & posters 
Pro tip: Maintain a consistent brand image in your packaging, orders, etc. Make sure your packaging seems fascinating and premium. 
4. Bloggers Earn money with Sponsored Posts and Reviews 
Creating sponsored posts is another way of making money with a blog for rockstar bloggers. When you have a strong brand image you can help other marketers build a stable reputation in the market. That's what many bloggers do and get paid for creating content about a product or brand on their websites.
There are two options and both are interrelated.
Sponsored posts 
Providing a detailed review of the products after using them
Sponsored Posts for brands
Being a blogger, you can create sponsored posts and provide reviews about products. In the beginning, you may have to approach the brands. In this regard, new businesses and startups could be helpful, and they usually prefer micro-influencers and bloggers because they have more impact. 
If you don't have millions of followers but have a high engagement rate within your community, then should definitely take advantage of it. Reach out to brands that are similar to your niche and ask them to collaborate with you. 
Usually, sponsored posts are created for brand awareness or while the launch of new products.
Products Reviews
Providing the product reviews is somehow similar to the sponsored posts. But in product reviews, you will actually be using the products and sharing the results with your audience. 
You might have seen how-to tutorials, unboxing videos, and sharing the before/after content about the specific products. All these types of content come under this umbrella.
Being a blogger, your audience trusts you. Your opinion can influence their purchase decision up to a large extent. This is the reason why brands choose to promote their products with bloggers and influencers.  
Tips for Sponsored Posts & Reviews 
Do you want to take this blogging business to the next level? Then be ready for investing your time, energy, and sometimes money. You have to be creative to stand out in a crowd. For creating catchy posts and reviews, here are some tips for you; 
Create video content – share high-quality videos with your audiences and no longer than 2 minutes 
Share content on your other social media platforms 
Edit your content professionally that fascinates the viewers 
Take pictures and videos in natural light. If not, make sure there is a quality lighting system 
Use the professional camera for creating content 
Promote products that might excite or serve your viewers well
Be honest; tell all the pros and cons when writing/creating reviews 
**You have to be careful while sharing product reviews. Be completely honest with them. If products have some cons, make sure to inform your audience else it will leave a poor impression on your audience.
Have I earned any money with sponsored products?
Yes, I have earned money with sponsored posts.
Check out these (tailwind) sponsored post opportunities that came my way at the very start of my blog! These were easy to write as I was already using the product and knew it well. If you're a blogger make sure to check your email for any affiliate newsletters or emails from advertisers – there may be some good deals waiting just for you in them!
5. Bloggers Make money With Subscriptions & Memberships
I am glad you're passionate about blogging and making money with a blog. This is why you have reached the end of the article. Kudos!!
Subscriptions and membership model is another way to monetize your blog. If you have something exceptional to share with your audience then you can use this model for your blogging business. Memberships or subscriptions sites are where bloggers create exclusive content which is accessible to paid customers only.
One of the common examples is Medium's Partner program.
How do the subscription and membership work? 
If you want your audience to sign up for subscriptions, you must provide them with something valuable in return. You may also need to do a little competitor analysis to find out what is working for others.  
After that you can work on the content and resources you would like to sell in the subscription model. The next step would be to set up payment gateways which are convenient in almost all parts of the world. 
Deciding on a price for the subscription can be thought-provoking. But make sure it is not too high, as many times people skip subscriptions because of high rates. Usually, it lies within $20-$30 if you're not sharing something technical like apps or plugins. 
Ideas for subscriptions and membership 
Ideas come in when you're clear about what your niche and your audience needs. Bloggers can decide to make premium content when they have crossed the level of a beginner. 
But, that does not mean you have to wait for long to create the premium content. If you're good at something, just do it. Sharing valuable content will definitely generate revenue for you. 
Some ideas that can help you create your membership programs are listed below 
Provide access to community 
Create small pieces of valuable content in a form of PDFs
Educate people who want to do the same as you 
Create short courses 
Provide experts tips and tricks 
Provide access to the premium tools and resources 
Create premium blog content 
Strategy to Boost Subscriptions 
The lead generation process should be magnetic that helps in signing up. Nothing can be done without a strategy and planning. A clear roadmap of how you will fascinate people to sign up for subscriptions. 
You require a proper strategy to lead people to that point. First of all, make your blog content so good that it resonates with your audience. Create some free resources that give little insights about what value they can get after the subscriptions. Offer some discounts, promote your subscriptions, take advantage of social media. You can use both paid and organic marketing for promoting subscription programs to increase your lead generation.
More Tips for earning with your blog
Invest in Learning
Take your blog to the next level by learning how making money with blogging works! ALL OF THESE BLOGGING INCOME STREAMS REQUIRE LEARNING, TOO.
This is a question people often face: they have written posts and pushed them onto social media, but page views are low because of the lack of time to improve your skillset for making more money from blogging.
You have two options here: 1) continue at this rate – slowly growing your blog income over 10 years with trial-and-error as you go; 2) invest some real effort into learning how to start expanding those sources of income by investing a small amount now that will pay off big later.
Over to you- How do you want to make money with a blog?
Now, you are familiar with the multiple ways of making money with the blog. The best way to make money with a blog is to establish multiple streams of revenue. You don't have to do everything from the start. Start with one and once comfortable keep adding more income streams into your portfolio.
You can even come up with new ideas if you have one. Being a blogger gives you an edge and exposure to passive ways of making money with a blog. 
Blogging and making money from blogs is quite tempting, but like in other businesses, success doesn't happen overnight. You have to put in the work and learn the ropes. You must keep on improving your skills, avoiding amateur blogging mistakes, gaining more knowledge, and adding more ways to make money with your blog.
Do you have any other ideas for monetizing the blog? Let's discuss it in detail!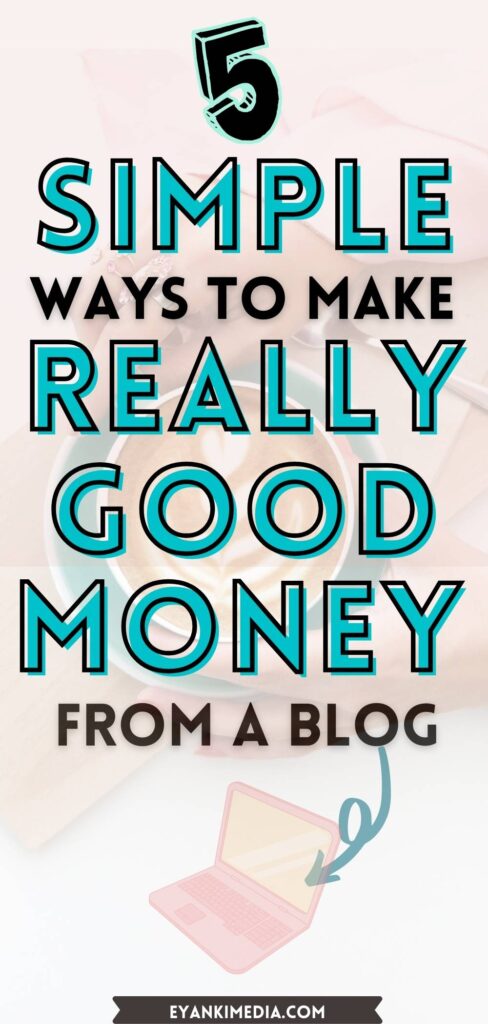 Related posts