Do you want to grow your website traffic using Pinterest but tired of spending hours on Pinterest?
Pinterest is the world's leading visual discovery platform with over 200 million monthly active users. It has become one of my most important marketing tools on the internet and it's only getting BIGGER and BETTER.
But using Pinterest in the right manner can be really TIRESOME.
By the right manner, I mean publishing good quality and relevant fresh Pinterest pins consistently.
When you first start out with Pinterest it seems fun and easy but it can be very hard to keep up with all those pins, especially when you're trying to grow your own business.
Juggling through several posts and manually pinning new pins each day to keep the Pinterest algorithm happy is quite exhaustive for mom bloggers like me.
Disclosure: Please note, this document includes affiliate links and if you make a purchase through an affiliate link, I will receive a small commission at no additional cost to you. See my full disclosure policy here. Additionally, I was paid a bonus commission for sharing my experience with Tailwind in this post. I only recommend products that I personally love and believe they can help my audience too. Thank you for reading!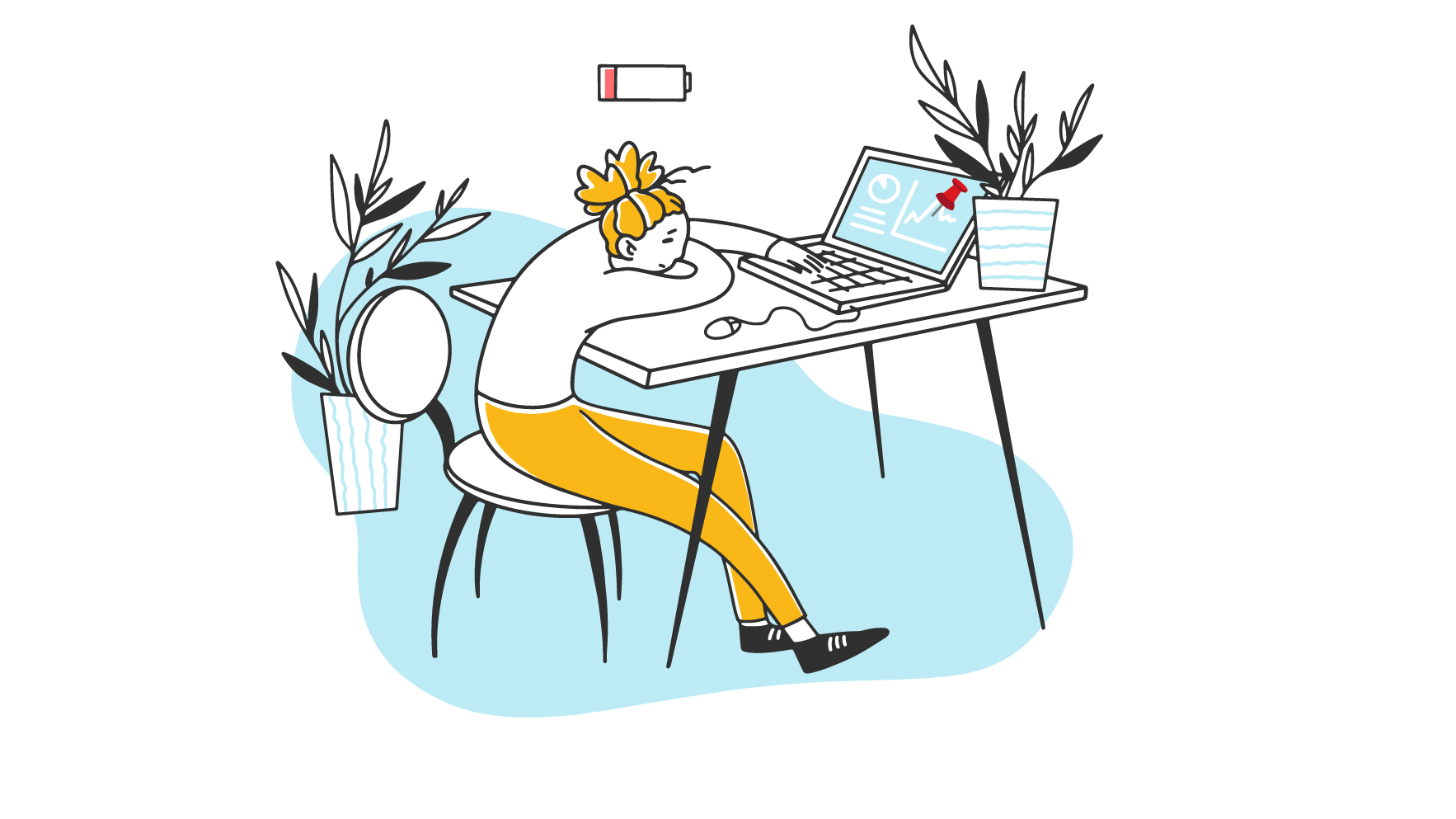 But you don't have to worry now as Tailwind for Pinterest has got you covered. With Tailwind, managing your Pinterest account will be so easy and effortless. It will be like having an assistant who knows just what needs to be done before they even ask – and will work faster than any human could ever hope to do alone.
Tailwind for Pinterest works effectively that eventually making it one of the most talked-about automation tools in recent years. And that is rightfully so. 
Follow this thorough Tailwind guide to rock your Pinterest marketing where you will learn nitty-gritty details on how to use Tailwind for Pinterest marketing effectively to increase your Pinterest reach or drive traffic to your website. 
If you are new to Tailwind, this guide will help you find all details you need to know about Tailwind. Meanwhile, you can grab your free Tailwind account and a $15 credit to try Tailwind Plus.
And if you are new to Pinterest check my post on Free yet Best Pinterest Tools you should have.
What is Tailwind for Pinterest?
Before we dive straight into the fact that how you can use Tailwind for Pinterest, let's talk about what Tailwind actually is?
In simpler words, a Tailwind is a scheduling tool that helps bloggers and marketers increase the website traffic from their Pinterest account.
Tailwind isn't specifically for Pinterest alone. It caters to the needs of Instagram too. However, we are talking about the Tailwind for Pinterest alone, so all the pinners can benefit from it.
Tailwind helps you schedule all your Pinterest pins ahead of time. Of course, you can pin the posts manually, but do you have all the time in the world? Especially mom bloggers like us who are always chasing after their little ones round the clock.
With so much potential in Pinterest to help you grow your audience and traffic, manual pinning can be really nerve-racking to do so. Especially when Pinterest wants fresh content.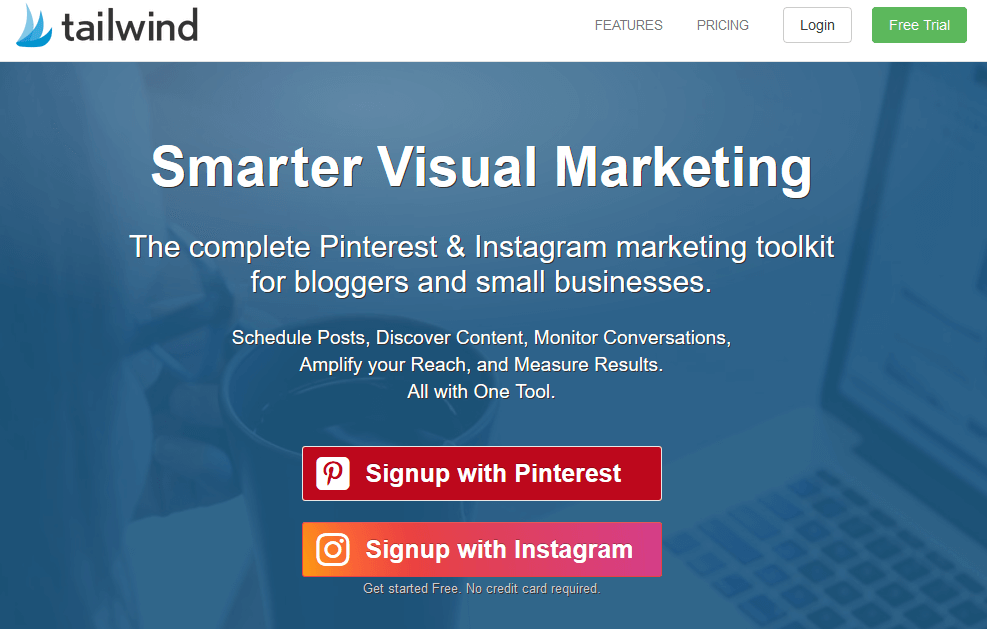 Automation of Pinterest activities via Tailwind can help you save a great deal in terms of money and time. All you have to do is sort the pins for the entire week once and then be stress-free for the following days.
Isn't it amazing?
If you were already looking for a tool that helps you enhance the profile, boost the Pinterest traffic, and increase lead generation then congratulations, you have found the perfect one!
Tailwind and Social Media
Now you might ask that who is Tailwind for?
Tailwind is entirely for the bloggers, influencers, and online businesses (Ecommerce) seeking to gain more and more traffic on their Pinterest accounts. 
Tailwind has so much to offer for your social media; it just doesn't help you with the scheduling alone but provides real-time analytics.
Now you might ask what do you need these analytics for?
Analytics can help you improve your marketing strategies in real-time without wasting more time and money on it. You can continue to proceed with those working strategies and, at the same time, let go of those practices that aren't giving positive ROI.
Some Tailwind Features You Should Know and Use
Tailwind Dashboard
Once you login into your account, you will see this weekly summary on the left. This dashboard will give your briefs regarding how many pins you pinned, how many of them got repined, the number of new followers, the most popular pinboards, and how many referrals you got.
These analytics are crucial in determining the future strategy of your Pinterest marketing.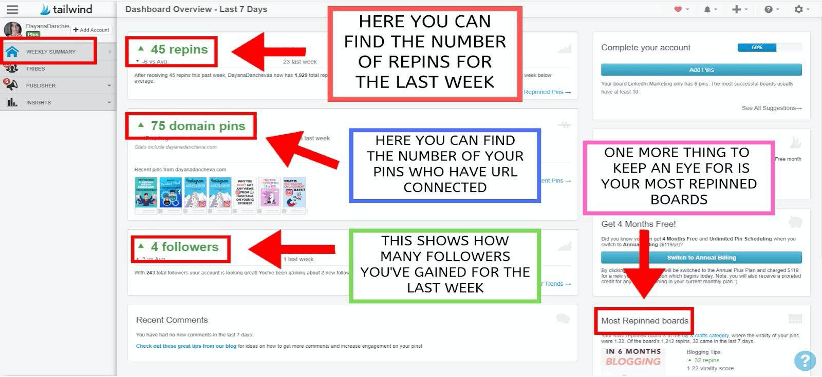 Smartloop
This recently launched feature of the tailwind makes all the social media handling much easier for you. Smartloop works for you in a way, that once you set it up, it will do the whole work for you. Most importantly, it recycles your posts. 
So how Smartloop works is that it picks up your best content and re-shares it. Now, what good does that brings to you? Usually, the pins of the pinboards are missed by the followers. Tailwind Smartloop feature brings back the attention to the previously pinned pins.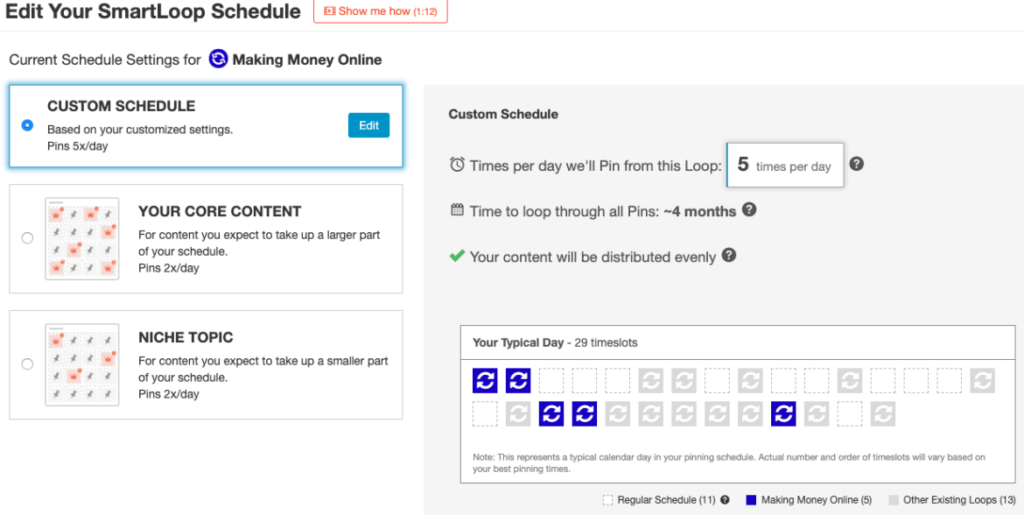 This is a paid feature of the tailwind, but there are no doubts about the efficiency it brings.
Want to know more? You can choose from the options of the evergreen loop and seasonal loop.
Publisher
The scheduling and publishing feature of the tailwind for Pinterest is something that surely standouts. All you have to do is take out time once in a while from your busy, tight-packed schedule to publish the bulk of pins and content on the draft page.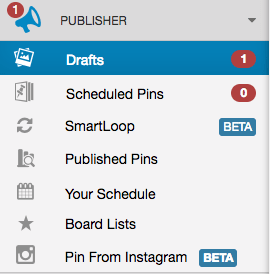 The rest of the pinning work will be done by the app itself. It will pin as per your preferred schedule; furthermore, by automating your calendar, you can benefit from the peak times of publishing as the tailwind for Pinterest considers the followers' engagements. 
With so many great features, a tailwind for Pinterest is definitely a game-changing automation tool.
How to Use Tailwind for Pinterest in 5 Easy Steps?
Now that you have discovered all the amazing Tailwind app features and why you should automate your scheduling, here are 5 steps written tutorial for you to follow. By the end of this, you will be a pro using tailwind for your Pinterest.
As mentioned earlier, Tailwind can be a real game-changer for your Pinterest marketing strategy and general handling. However, there is a "but" here. Tailwind only works if used in the right way. Yes, you read that right. Tailwind can be overwhelming, so let's go through the following steps to make your tailwind for Pinterest journey smooth.
#Step 1: Signup for Tailwind account
The first step is to sign up, of course. You have to open the Tailwind website or app on your laptop or mobile phone for signing up. Once done, you will see two options appearing on your screen.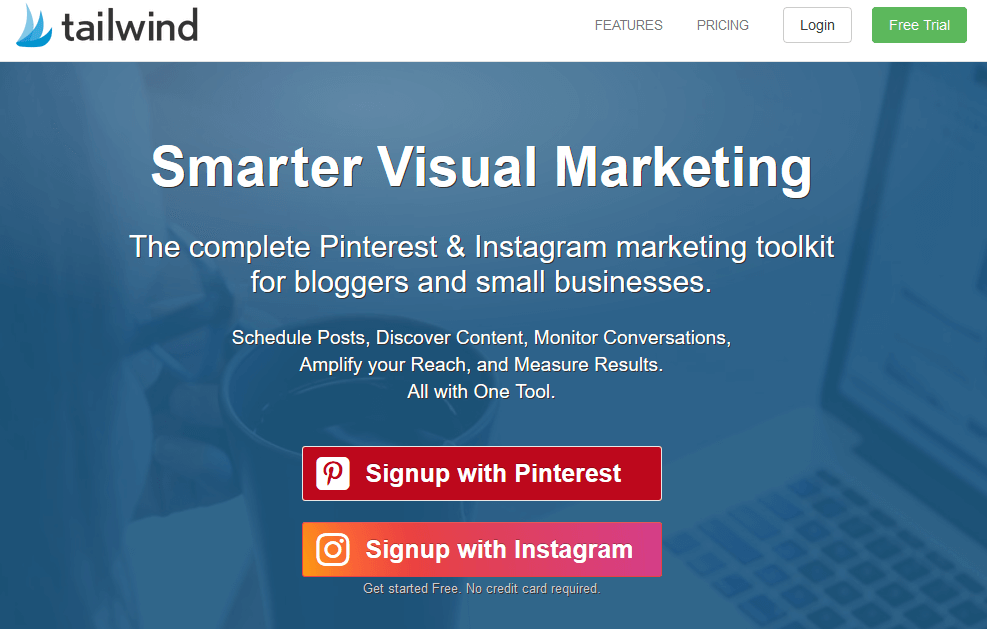 You would either have a choice of connecting your tailwind with Instagram or Pinterest. Click to "sign up with Pinterest" and proceed. It will connect and add your Tailwind to Pinterest.
Then, you will be asked to enter your email and a password for future signups.
As simple as that, there you have your Tailwind account. Wasn't it so easy to set up?
If you are juggling between the thoughts of whether Tailwind is worth the price or not, then you can benefit from a free trial. You get to use the features of the app without giving out a single penny. Once the features of the free trial finishes, you will be in a better position to decide for yourself.
Honestly, you will be finding yourself paying for the subscription, as it is worth it.
#Step 2: Download the Browser Extension
The next "how to use tailwind" step would be to install an extension for your browser. You can install this by going to the chrome web store and click on install. Voila!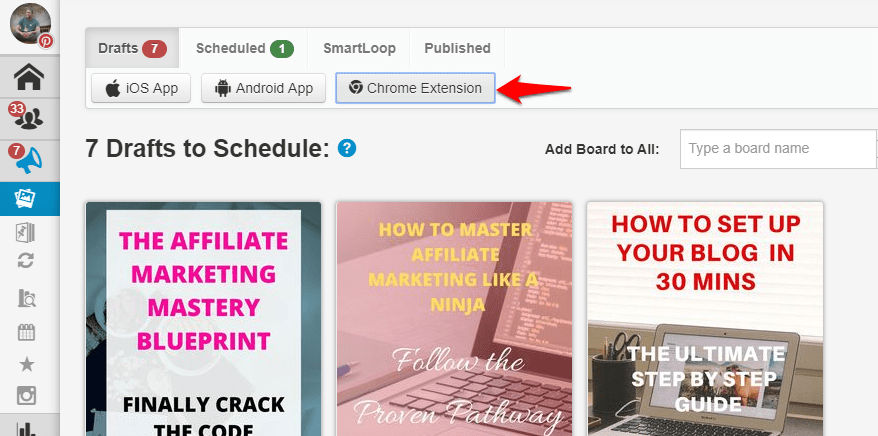 You will see a Tailwind Icon in your browser. This Tailwind extension icon allows you to add the image to the Tailwind draft by just hovering over the pin image.
#Step 3: Add Pins to Your Tailwind
The Next step is to add Pins to Tailwind. There are 4 ways to do it:
Schedule from your Pinterest
Schedule from our website
Schedule from Tailwind Create
Upload Pins directly into Tailwind
For the first two options, use the Tailwind extension Icon to quickly add pins to your drafts. Now, this is where tailwind helps you become efficient and saves you a lot of time. By hovering over the image, you either get to save that post on your tailwind draft. If not, then you can directly add that to your queue.
You can also upload pins or images directly from your computer into Tailwind. Just hover over create a pin and add select upload pins to create a new pin.
Scheduling from Tailwind Create: Tailwind Create is a new feature to create beautiful pin designs quickly inside Tailwind. You can read more about how to create beautiful and Fresh Pins in 5 mins using Tailwind Create in detail here.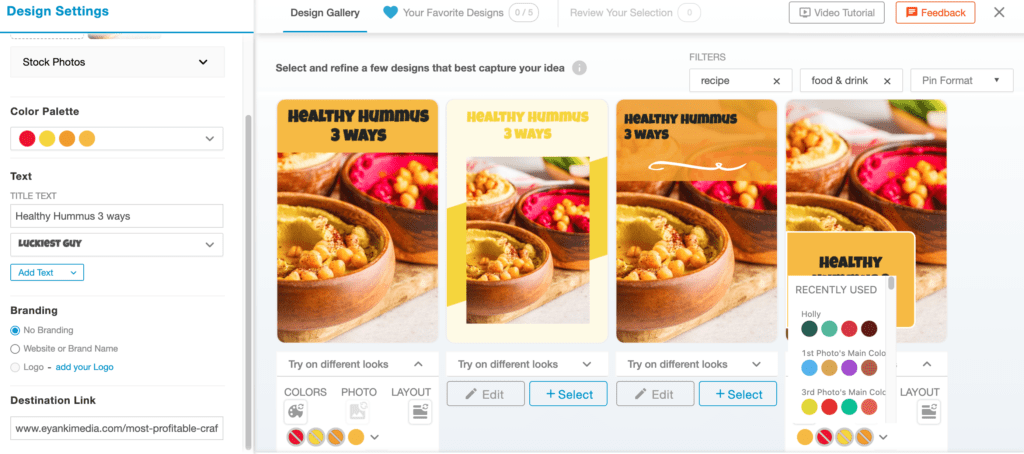 #Step 4: Create Your Pinning Schedule 
Once an account is made, your next step would be to make a pinning schedule. You start by creating a customized pinning calendar for your Tailwind account. You can do this by clicking "Add time slot', and you will be able to personalize the pins spreading throughout the week. 
However, Tailwind's feature- smart schedule can be of great help here. It recommends the optimized times in your schedule, taking into account the user's engagement and activity level. These green outlined schedules can be added to your calendar if you click. 
GREEN time slots are optimized by Tailwind according to your audience
GREY are times selected by me
DOTTED outline ones are suggested times by Tailwind where I can add pins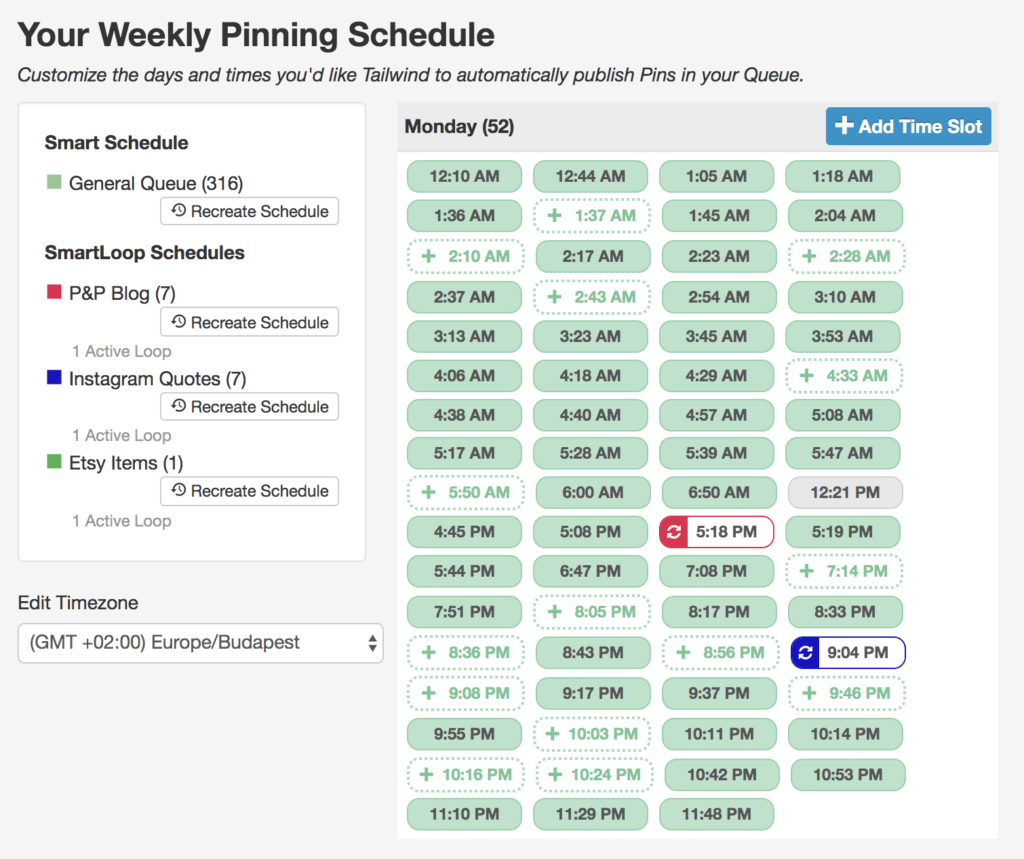 There will be an entire checklist for you to ensure that every step is completed for the setup. Once all the boxes in the list are green ticked, it means you are good to go.
You can add up to 50 pins a day. More than that would instead be considered spam. However, less than that could be an opportunity lost.
#Step 5: Schedule Your Pins from Tailwind Drafts
Once you have set your schedule and uploaded your pins, it's time to finally schedule your pins.
For this, head over Publisher on the left-hand side of the Tailwind dashboard and then navigate to drafts. You will see pins you uploaded to your Tailwind account. Now it's time to fill in necessary details wherever required.
This include:
Board name
Description
Tags
Destination Url
Once you have filled in details and cross-checked, Click 'Add to Queue' at the bottom of the pin and your scheduled pin will be added to your Tailwind queue
Benefits of Using Tailwind for Pinterest
Before we talk about how Tailwind works and how to use it, let's uncover some of the benefits you can receive from attaching tailwind with your Pinterest. Instead of creating from scratch you can just upload your photo and Tailwind will create multiple designs (for Pinterest, Instagram or even Facebook) with it and you can then schedule it with Tailwind smart scheduler.
1. User Friendly
It is easy to set up, signup, and use. You can get started in a few minutes. Even if you face any difficulty, Tailwind has a couple of video guides for each step to help you master Tailwind.
2. Affordable
Tailwind is quite affordable (see pricing below). Or you make the most use out of the free forever plan of the app too.
3. Saves Times
It helps in saving time. Manually pinning new content can take more than 4-5 hours total in a week. Tailwind easily reduces this time by helping you schedule pins in one go. Not only this you can automatically re-pin a pin on relevant boards including group boards using intervals. The multi-board pinning allows you to pin several posts Pinterest pin together with the feature of bulk uploading of images.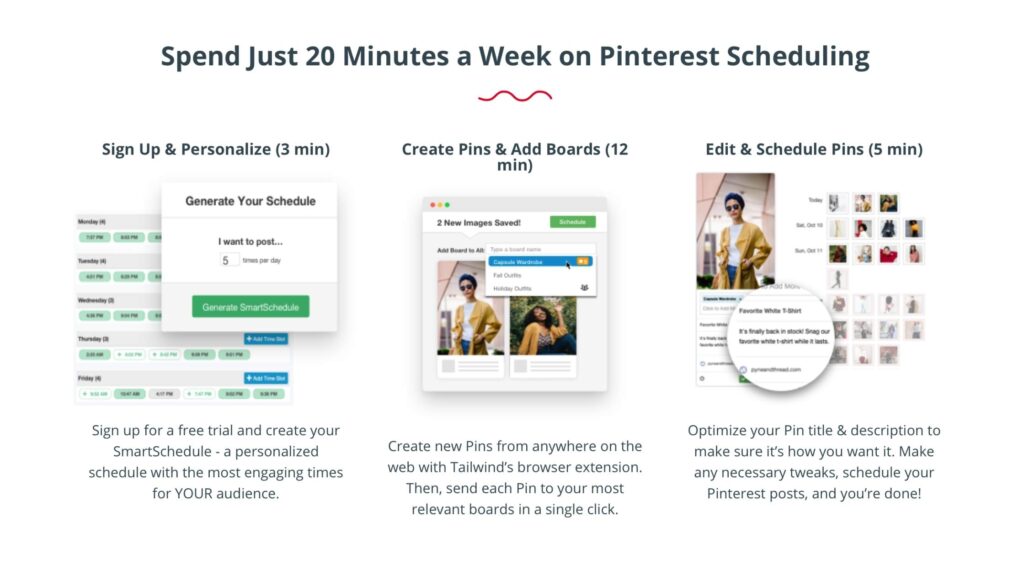 4. Advanced Analytics
Tailwind advanced analytics help you can keep track of your activities and insights. You get to know the engaging audience trends. You can get to measure the effectiveness of the type of content. Tailwind analytics help you help which Pinterest pin and board is performing best for you. Most importantly, it also tells you the number of visitors to your blog post from Pinterest. Tailwind can act as a KPI in altering the Pinterest marketing strategies.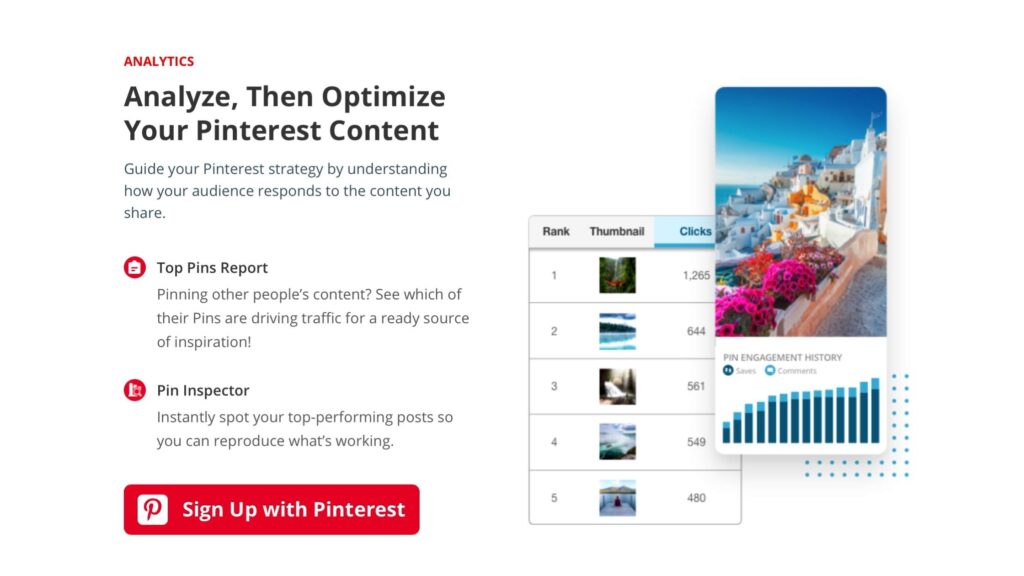 5. Schedule your Pins Smartly taking care of Pinterest good pinning practices
Scheduling pins is one thing but scheduling pins at the best time is what makes Tailwind my favorite Pinterest scheduler Tailwind knows what are the best times for engagement (depending on your audience) and schedules the post at the right time.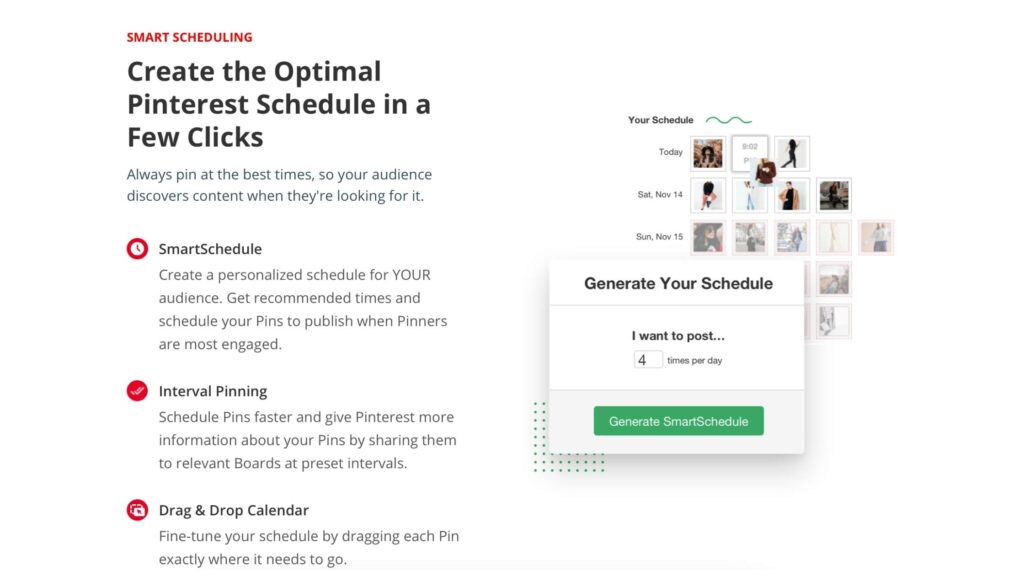 Let's take my example, I am in Australia (a completely different time zone) and most of my audience is active during my late-night hours. Tailwind's smart calendar figures out the optimal time to schedule my pins and recommend time slots based on my audience and analytics. Isn't that cool? No more sleepless nights!
6. Helps you Design beautiful and Engaging Pins Faster than ever
Tailwind now features a new inbuilt designing tool called Tailwind Create that helps you design multiple new pins automatically with just a few clicks.
And Tailwind Create is a game-changer for bloggers like me. According to the latest study by Tailwind, new Pins created by Tailwind Create resulted in 373% more saves than did resharing existing content.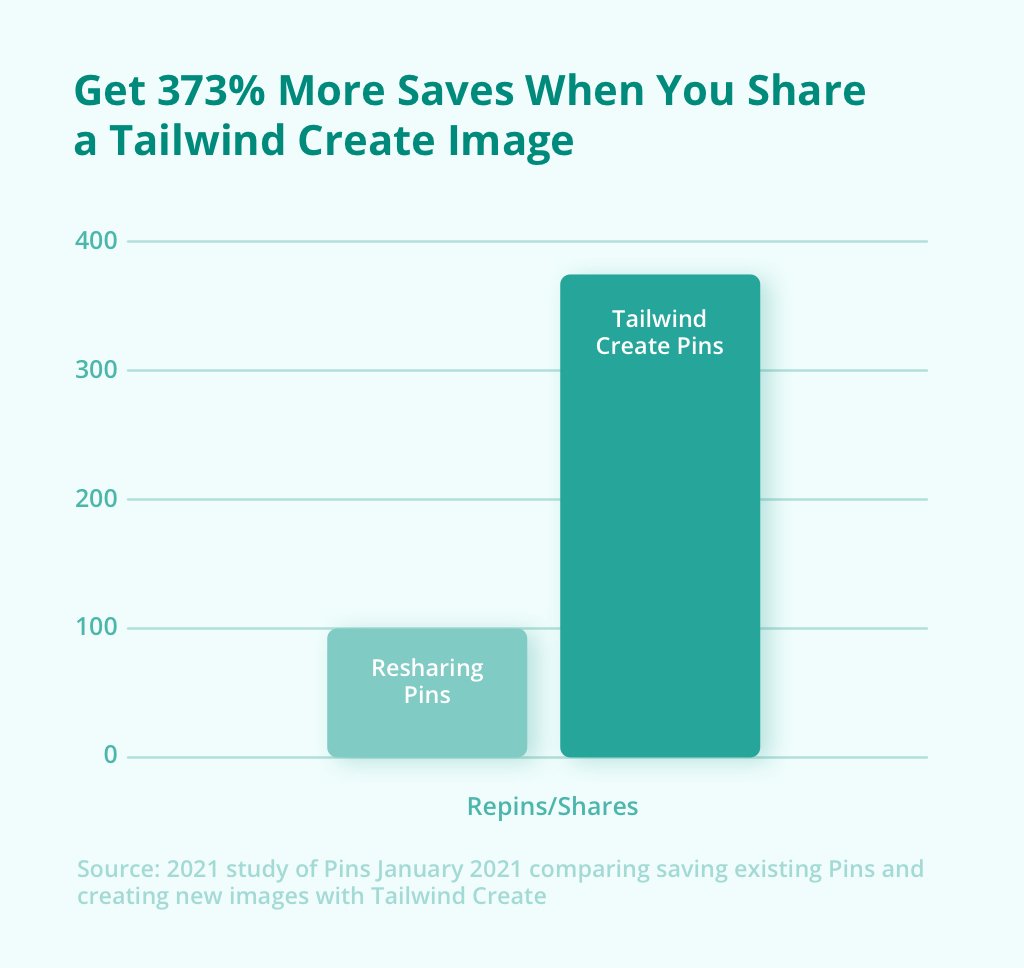 Tailwind for Pinterest 
By following the above mentioned, you will get the hang of the Tailwind for Pinterest. Wasn't it so easy? Want to know more about it? Well, there are some further exciting tips that you should follow. These will help you become a pro in managing and pinning work at Pinterest.
Use Pre-Set Boards 
They are like templates that you can use by just clicking instead of choosing the boards from the board list every time you pin. All you have to do is prepare a list of all the boards that you think goes well together and name it.  
Pinning Other's Pins 
This adds variety to your posts. Moreover, it can be an excellent way of collaborating with other fellow bloggers to share your pins. Collectively, both the users benefit from it, and you can see an increase in the audience.
Use "Shuffle the Queue"
If you notice that the pins in your queue are too repetitive that might become boring for the followers, then guess what? You can shuffle the queue. All you have to do is click the image and drag that to another time slot. 

How Much Does Tailwind Cost?
Tailwind offers different plans based on your pinning and account requirements. All plans are explained below in detail. Here is a quick table for current Tailwind Pricing Plans:
| Plan Type | Price Monthly | Price Monthly (when paid annually) |
| --- | --- | --- |
| Free Plan | Free Forever (20 pins to schedule) | Free Forever (20 pins to schedule) |
| Pro Plan** | $14.99/month | $9.99/month |
| Advanced Plan | $29.99/month | $19.99/month |
| Max Plan | $59.99/month | $39.99/month |
**You can also try plus plan for free with a $15 credit.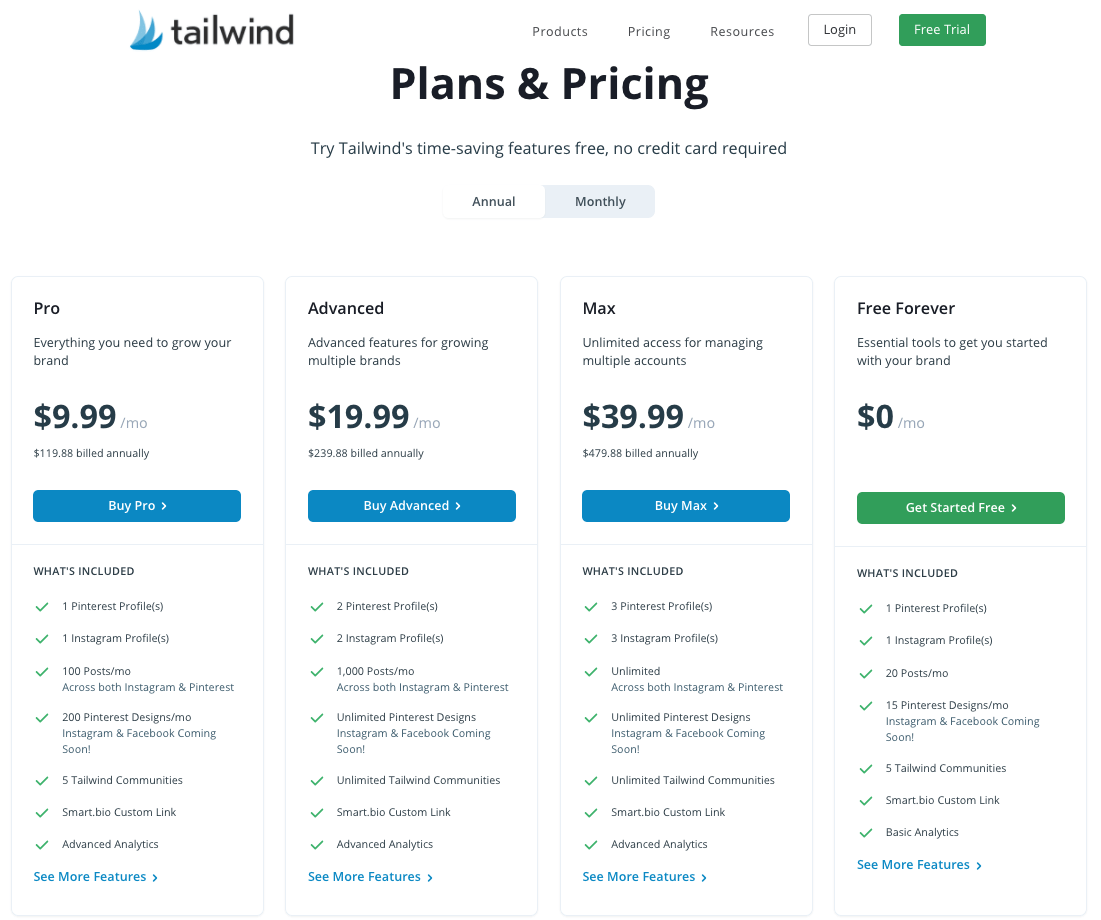 Forever Free Plan
If you are unsure about tailwind's effectiveness for Pinterest, a free Tailwind is what you need. The most prominent feature of the Tailwind free version is that you don't need a credit card to benefit from the trial and you get to experience all features of Tailwind (with some limits of course).
Here's what is included in Forever Free Tailwind:
All free members have 20 posts per month to publish on Pinterest and Instagram.
Additionally, they will also have 20 Tailwind Create posts to use every month.
Free members will also be limited to 5 communities with 30 submissions each every month.
Tailwind Pro Plan
If you are a blogger or an online business owner, you can get yourself an All Plus Plan. You can unlock advanced Tailwind analytics with this plan and create 200 fresh pins with Tailwind Create.
Here's what is included in Tailwind Pro Plan:
Includes 1 Pinterest and 1 Instagram account
Publish 100 posts per month and use Tailwind Create to make 200 posts per month across all 3 platforms 
Access to 5 Tailwind Communities with 30 submissions per month
Want to know the best bit? You can get all this is $9.99 per month (if paid annually) or $14.99 for monthly plans.
You can uplift your Pinterest growth by adding additional features to these plans. Some of them comprise Tailwind Create, SmartLoop, and Tailwind Communities.
Advanced Plan
With advanced features to grow multiple brands on Pinterest, Instagram, and Facebook.
Includes 2 Pinterest accounts and 2 Instagram accounts 
Publish 1,000 posts per month and can make unlimited Tailwind Create posts 
Unlimited access to Tailwind Communities
Max Plan
For those who want unlimited access to managing multiple accounts.
Includes 3 Pinterest and 3 Instagram accounts
Unlimited publishing, unlimited Tailwind Create posts, and Unlimited Communities.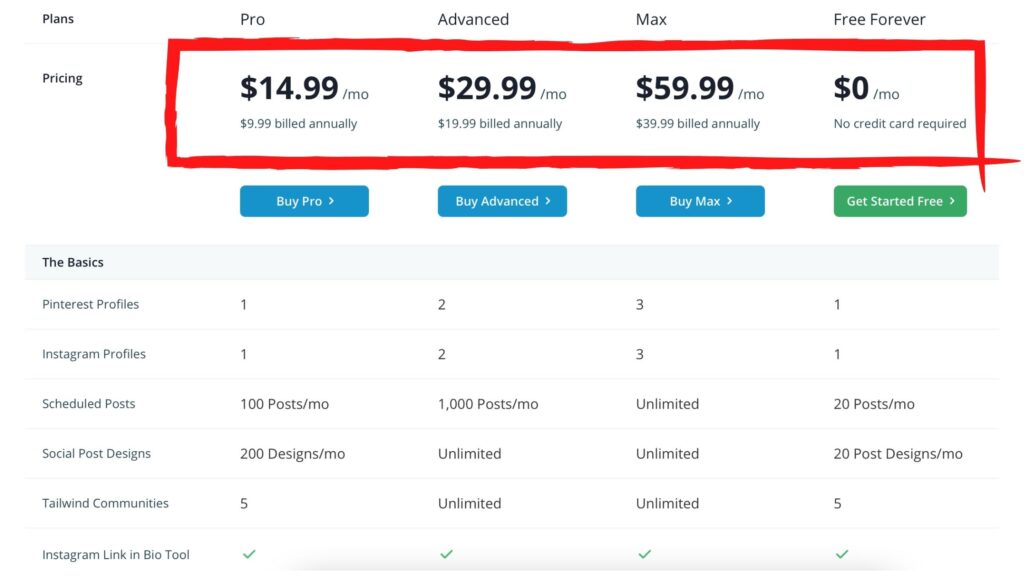 What Are Tailwind Communities? 
As discussed above, Tailwind communities can elevate your handling and managing of the Pinterest account like a pro. But what are these Tailwind communities? 
Tailwind tribe was recently changed into a Tailwind community. It is an advanced tool of the tailwind that assists you in growing. With this tool's help, you enable the community to review, schedule, and share your images and content with their audience. 
In simpler words, the Tailwind community is a pathway to collaborate with fellow bloggers who are doing the same by adding the content to the community group just like you are doing.
Since Tailwind communities are an additional tool, you acquire that separately from Tailwind's Pinterest plans. You also get a free plan comprising of 5 communities with 30 pins in a month.
Does Tailwind for Pinterest Really Work?
If you scroll down Google and Pinterest, you will easily find several articles from bloggers/business owners showing their impressive Tailwind results. There is no doubt that Tailwind can help you grow your Pinterest impressions and overall website's page views.
Luckily I had these two screenshots from my first day of using Tailwind to show you a little glimpse of Tailwind's first impressions.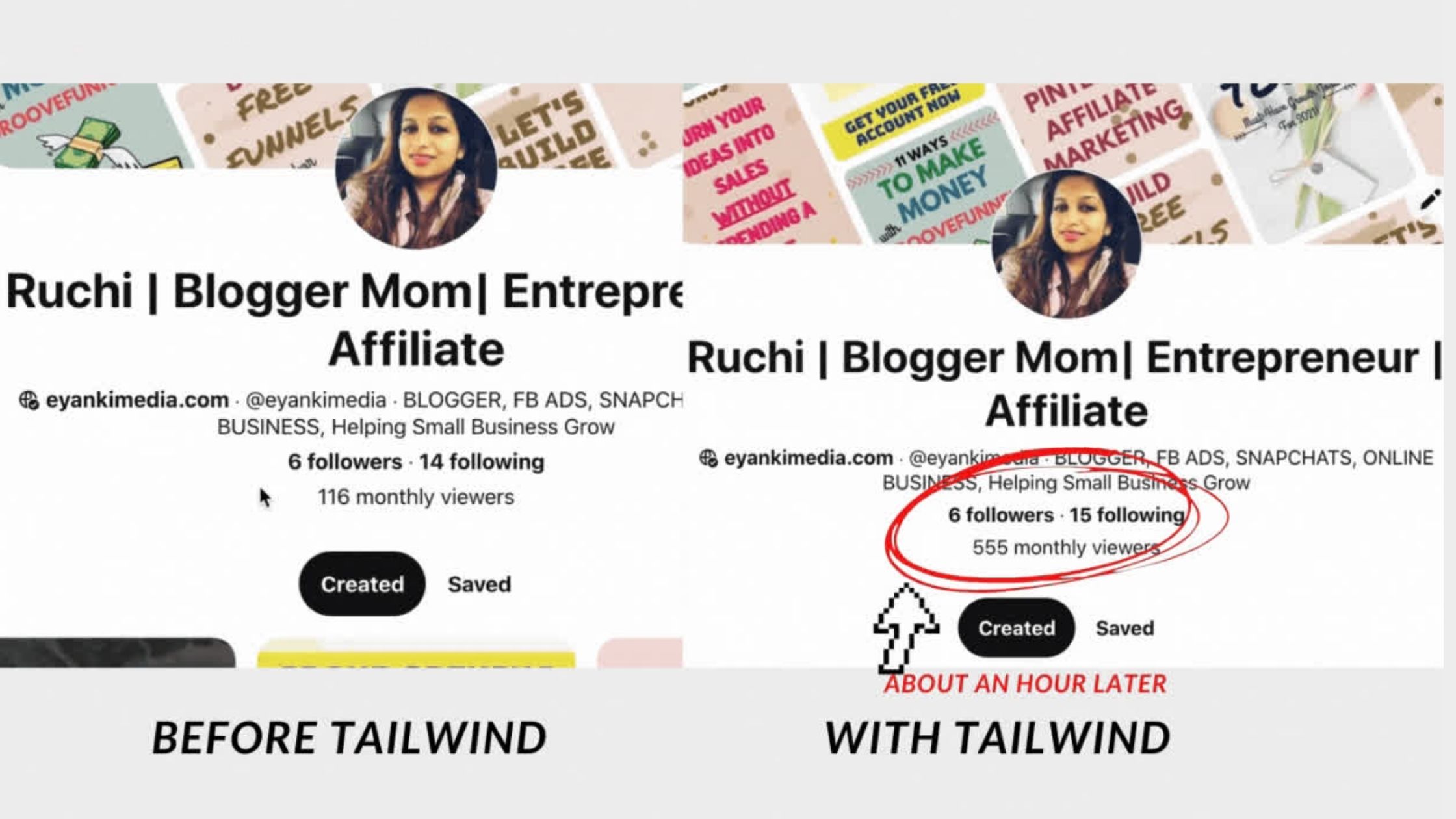 *Please note that these results may not be typical. This was my personal result, but Tailwind also shares the typical results of members every year, so you can see the average growth results of members like you and me.
I was surprised to see these impressions within minutes after sharing my first Pin via Tailwind and you can literally see my Pin profile was so new.
Is Tailwind Really Worth it?
Tailwind for Pinterest is a must freemium tool and worthy investment that saves me so much time from designing to scheduling.
And it will surely help you too! Tailwind is a powerful tool that will help you grow your blog traffic by making things easier and saving valuable time. If you're serious about growing your audience, then it's worth checking out
Tailwind will help you reach a larger audience organically by using the right tools and strategies that work with your business goals. You'll be able to focus on what matters most – creating content that resonates with your audience – instead of spending hours pinning manually every day.
Sign up today for the Tailwind's free forever plan to see how much more effective your social media strategy can be when using Tailwind!
This is how I started with Tailwind, I signed for a free Tailwind plan and then tested Tailwind Pro for a month with a $15 credit. Once I was sure about Tailwind, I upgraded my account and became pro user.
Tailwind for Pinterest FAQS
Is there a Free version of Tailwind?
Yes, Tailwind has recently launched a free forever plan for Tailwind which includes 20 posts per month on both platforms and all other features included with Tailwind. You can also try Tailwind plus for free with a $15 Credit.
How does Tailwind work for Pinterest?

Tailwind app works by scheduling your pins to Pinterest at the best times. Once you connect your Pinterest with Tailwind, this app analyzes your data and generates a pinning schedule for your pins using Smart Tailwind Scheduler. Your job is to upload pins to Tailwind and the rest of Tailwind will take care of.
Can I add more than one Pinterest account to my Tailwind?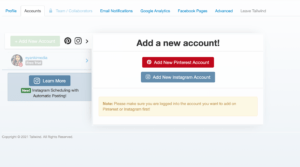 Yes, you can easily add one more Pinterest account to your Tailwind. Go to settings on the right top and click account settings. Then click accounts, you will see a green box to add a new account.
How much is Tailwind a month?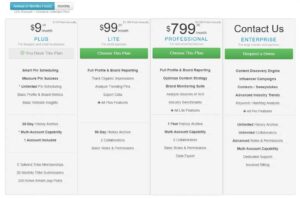 Tailwind has different pricing plans based on your needs. A free forever plan that gives you 20 posts per month and then paid plans starting at $9.99 per month.
Is Tailwind approved by Pinterest?

Yes, Tailwind is Pinterest's official partner and it is safe to use. Tailwind doesn't need your login details once your Pinterest account is connected to Tailwind.
How helpful did you find the blog post about the tailwind for Pinterest? Don't forget to leave your views and thoughts in the comments section below!