Do you want to know what the most popular pins are on Pinterest? Or find it difficult to uncover what works and what doesn't work on Pinterest? If so, then read on as Pin inspector review post is for you!
Pins aren't just pretty pictures on a page- they can be powerful marketing tools if used correctly! 
With over 500 million users and 100+ billion pins, finding high-quality content that converts on Pinterest can be a real challenge. Even worse, many marketers probably waste their time and money trying to create content without knowing what actually works! 
Does that sound like you?
Well, not anymore, as I am going to introduce you to the "Pin Inspector"- one of the first software of its kind that helps you find those "golden nugget" pins you need for your Pinterest marketing! 
With this tool at your disposal, it's easier than ever to find out what people are looking for on Pinterest so you can get in front of them with relevant content and get ahead of your competition.
That being said, the sooner you start using it, the better off your Pinterest marketing strategy will be! So let's dive in.
What's in this review for you: Here, I show you how
What is Pin Inspector?
Who is Pin Inspector for?
Some of the best features that you can use/Things I like.
Is Pin inspector worth investing in?
Pin inspector pros and cons.
I'll be updating my review of this tool as I test it more; make sure to bookmark the article or Pin it so you can get updates on Pin Inspector. For the purpose of this post, I am using 'camping' and 'camping meals' as my research topics.
Recent update: Pin Inspector can now pull data from Keysearch (SEO tool) as well. It is one of the popular keyword research tools widely used by bloggers!
This website contains affiliate links which means we may earn commissions if you purchase through them (no extra cost to you). You can read our policies here.
What is Pin Inspector?
Pin inspector is a newly released first and only desktop software that lets you find high-converting content from Pinterest.
It has 6 powerful built-in tools for uncovering hidden posts, pins, boards, pinners, ads, and top trending searches.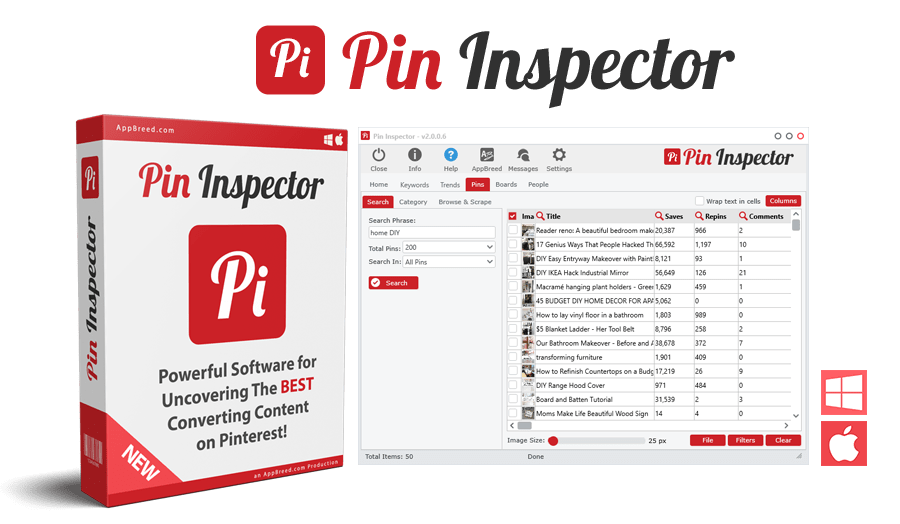 Who is Pin Inspector for?
Pin Inspector is for anyone who wants to learn what pinners are searching for, find the best Pin in their niche, and drive conversions.
In a way, you can say, it's for social media marketers, brands, or retailers that want to see what Pinterest users are looking at online.
With Pin Inspector:
You can easily search by keyword or topic.
Analyze your competitors' pins and boards in seconds.
See what's trending on Pinterest Right Now.
Find top primary and secondary keywords for your seed keyword.
Best Pin Inspector features you will love
1. Find the best keywords from a seed keyword
Enter a seed word, and Pin Inspector will generate related keywords in seconds.
Pin inspector extracts these keywords from Pinterest autosuggest. You can further connect Pin Inspector with your Keyword planner easily and extract Google's monthly search volume, CPC, and competition.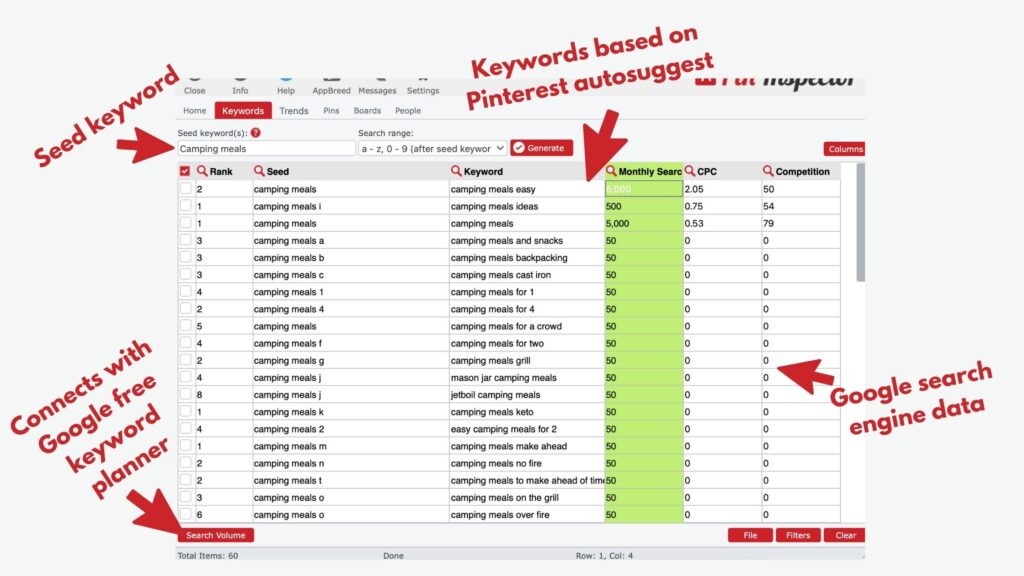 Since Pinterest never gives you this detailed information on keywords in a single click, this feature is really good to target multiple keywords in your board names, pin titles, hashtags, and descriptions.
But the story doesn't end here. You can choose a few keywords from keywords generated and extract out more data.
For every keyword chosen you can find:
Best performing pins, boards and your competitors.
Check Google and Bing SERP data in one click.
Compare Google trends.
Check top product listings on E commerce stores.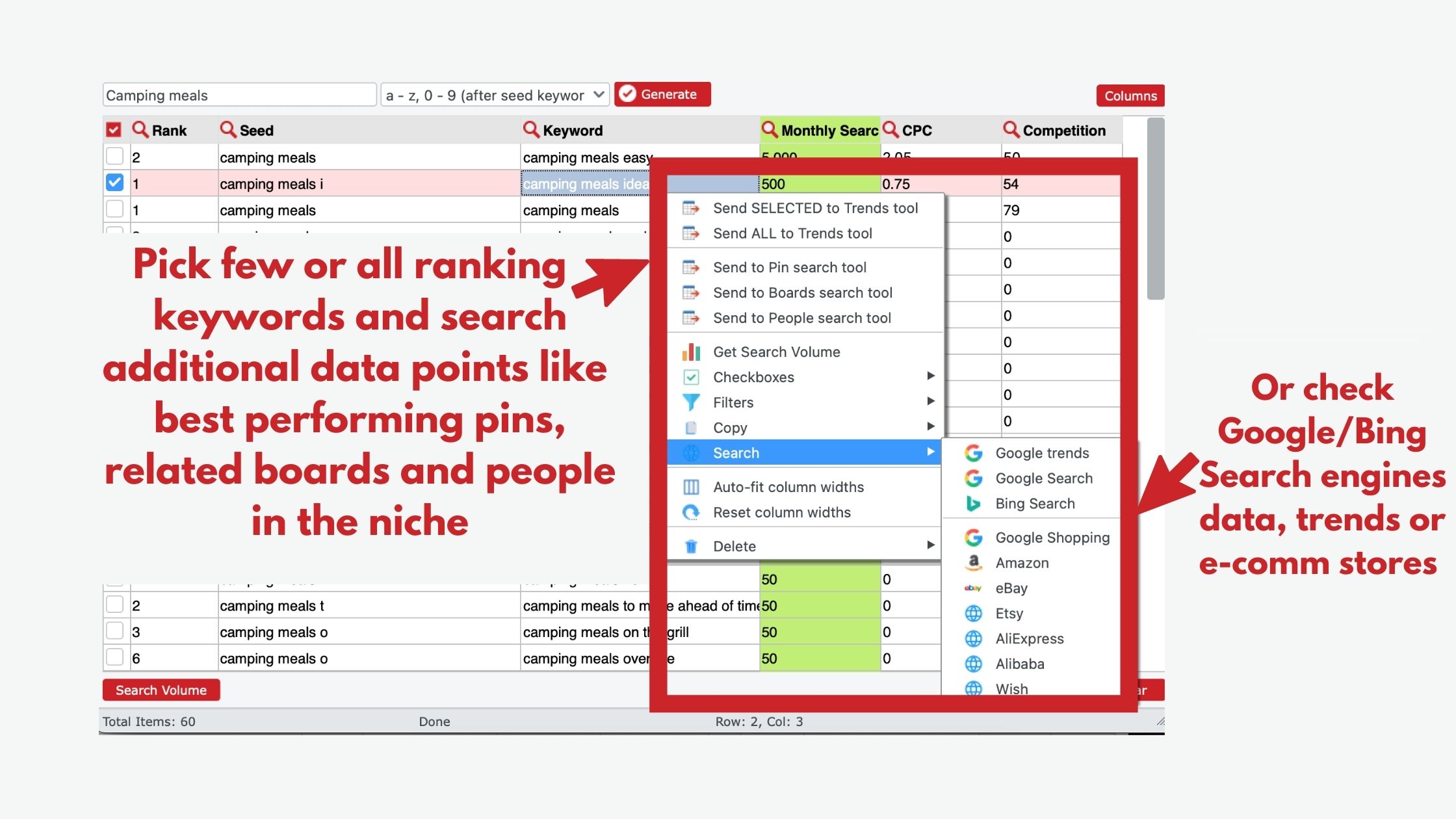 2. Find what's trending in real-time and over the full year with data 
Although Pinterest trends is a great resource to find trending topics, the Pin inspector top-search trend tool takes it to the next level.
The best part of this trending data is the Trending spike.
This trending data make it easy to identify any unexceptional increase or decrease in interest in a topic.
You can use this feature for seasonal keywords or finding viral topics.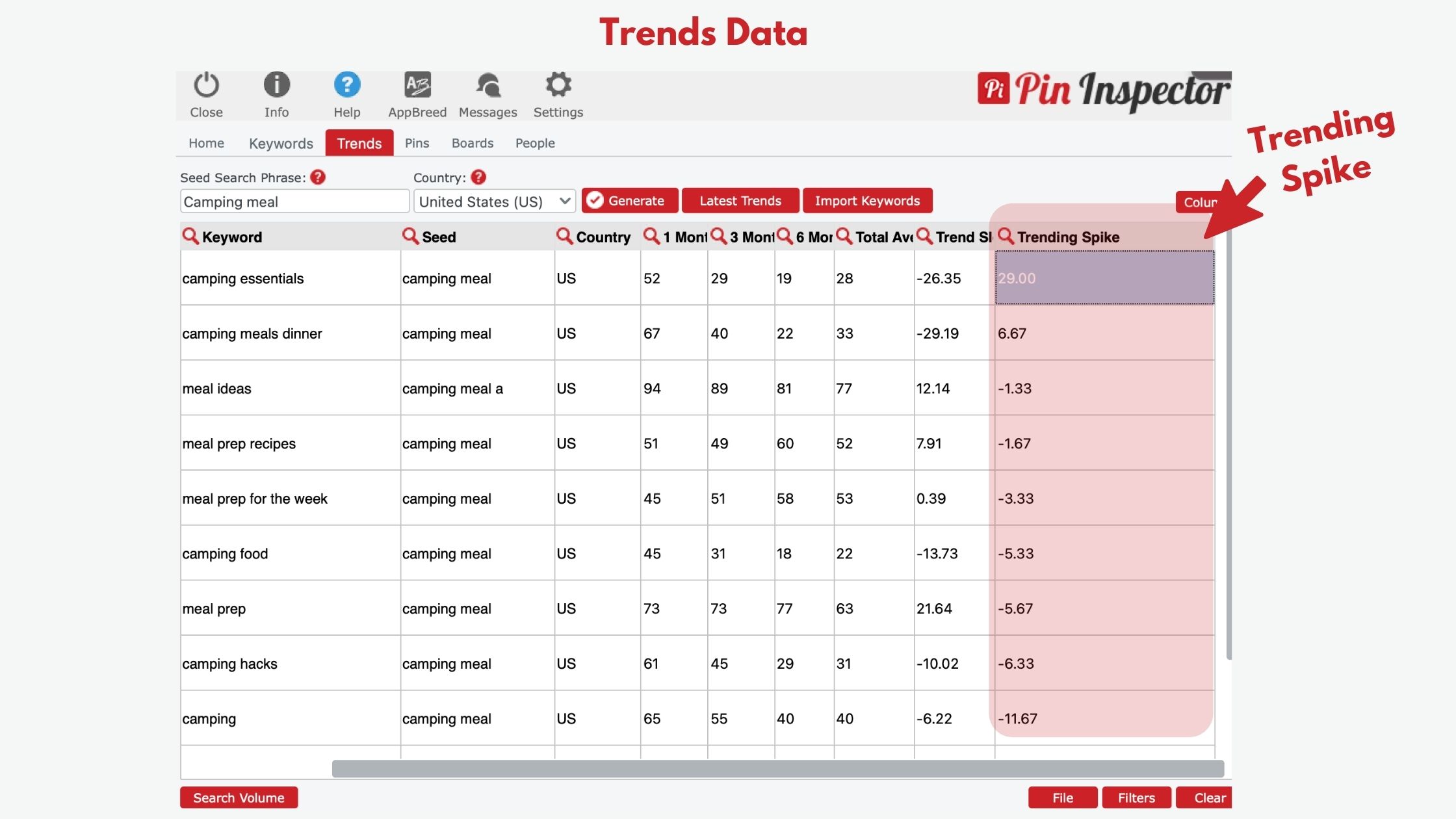 Pin Inspector will show you what's trending in real-time and over the full year with data. This data includes exact search phrases, trend index as well as search trends over the period.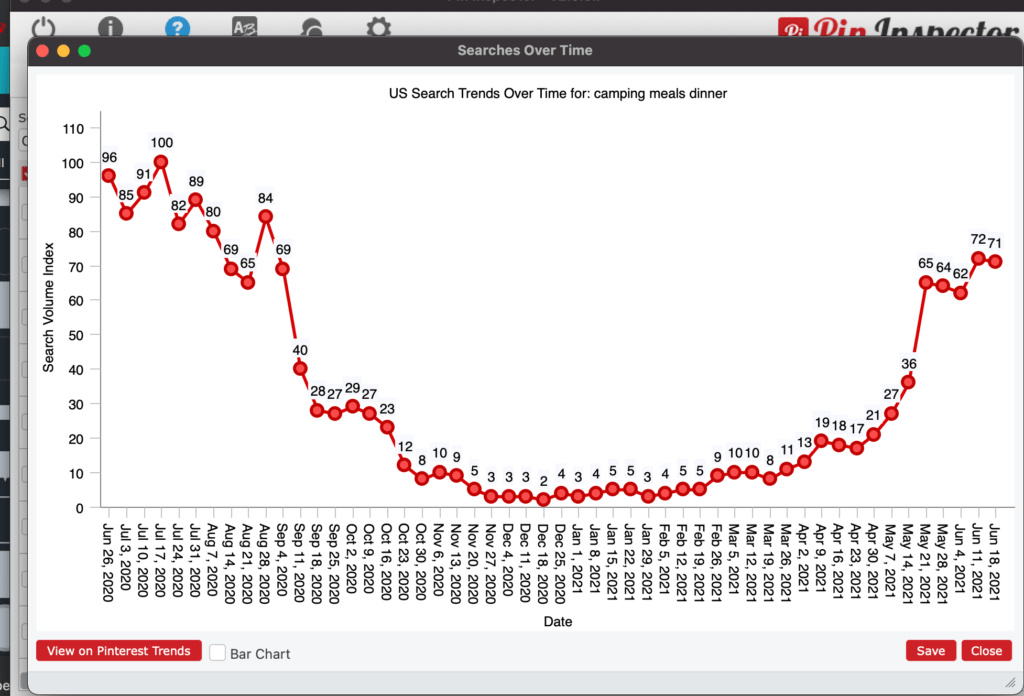 Thankfully, you can dig more into these trending keywords with only a few clicks.
Pick any keyword and find
Best performing pins, boards and your competitors related to trending keywords.
Compare Google and Bing search engine data in one click.
Compare Pinterest trends with Google trends.
Check product listings on E commerce stores.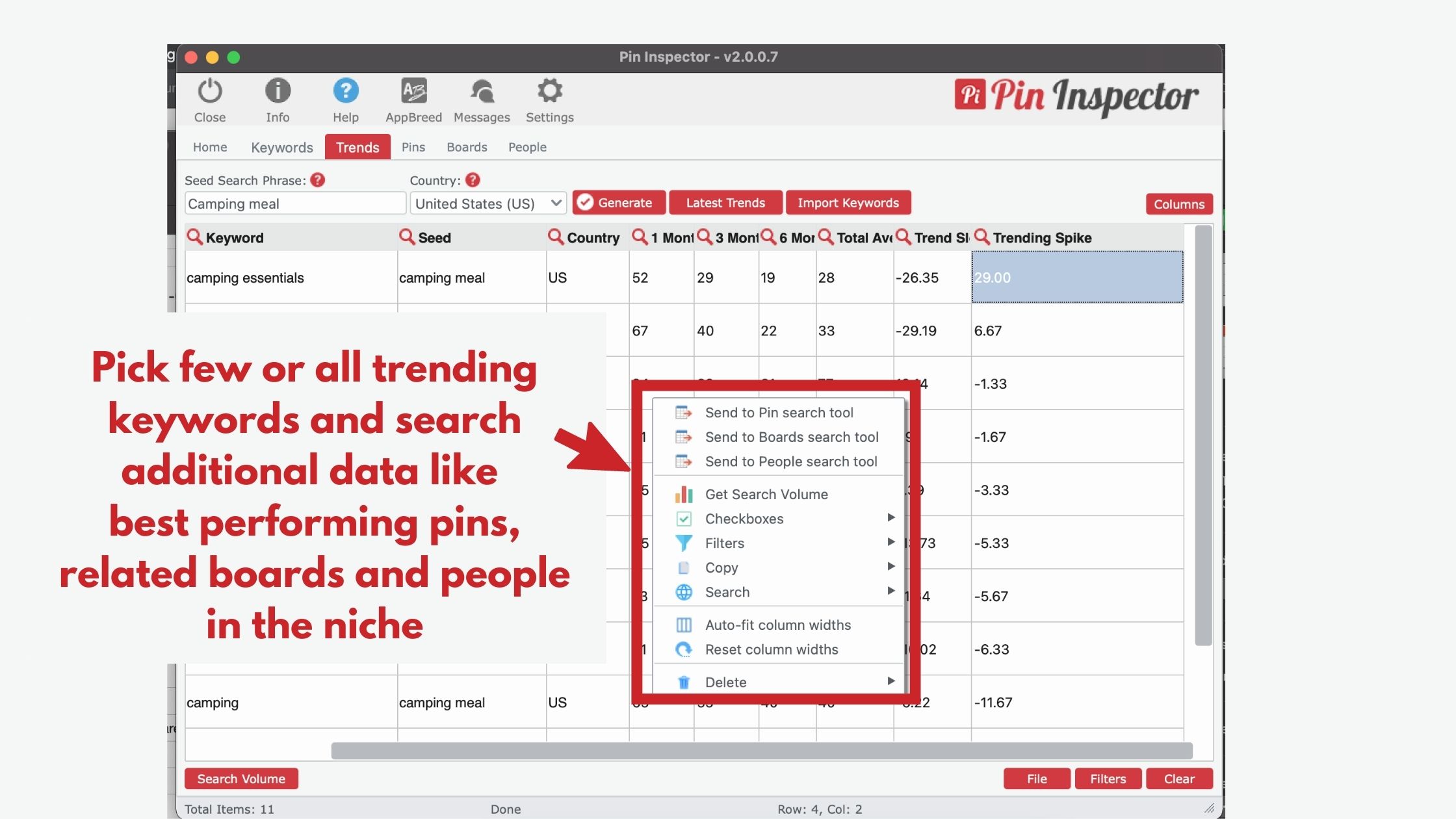 3. Find the best-performing pins with 45 different data points 
Ok, I am absolutely in love with this feature!
With just one click, it will quickly find pins, videos, and ads from Pinterest and pull over 45+ different data points for every pin selected.
The best thing- you don't have to leave the dashboard as it can do all of the work for you.
You can quickly access important metrics like:
Pin metrics: Number of saves, re-pins, comments, likes, promoted or organic pin
Promoter metrics: Number of followers, board names, board followers
Pin details: Title, pin image, pin description, hashtags, etc.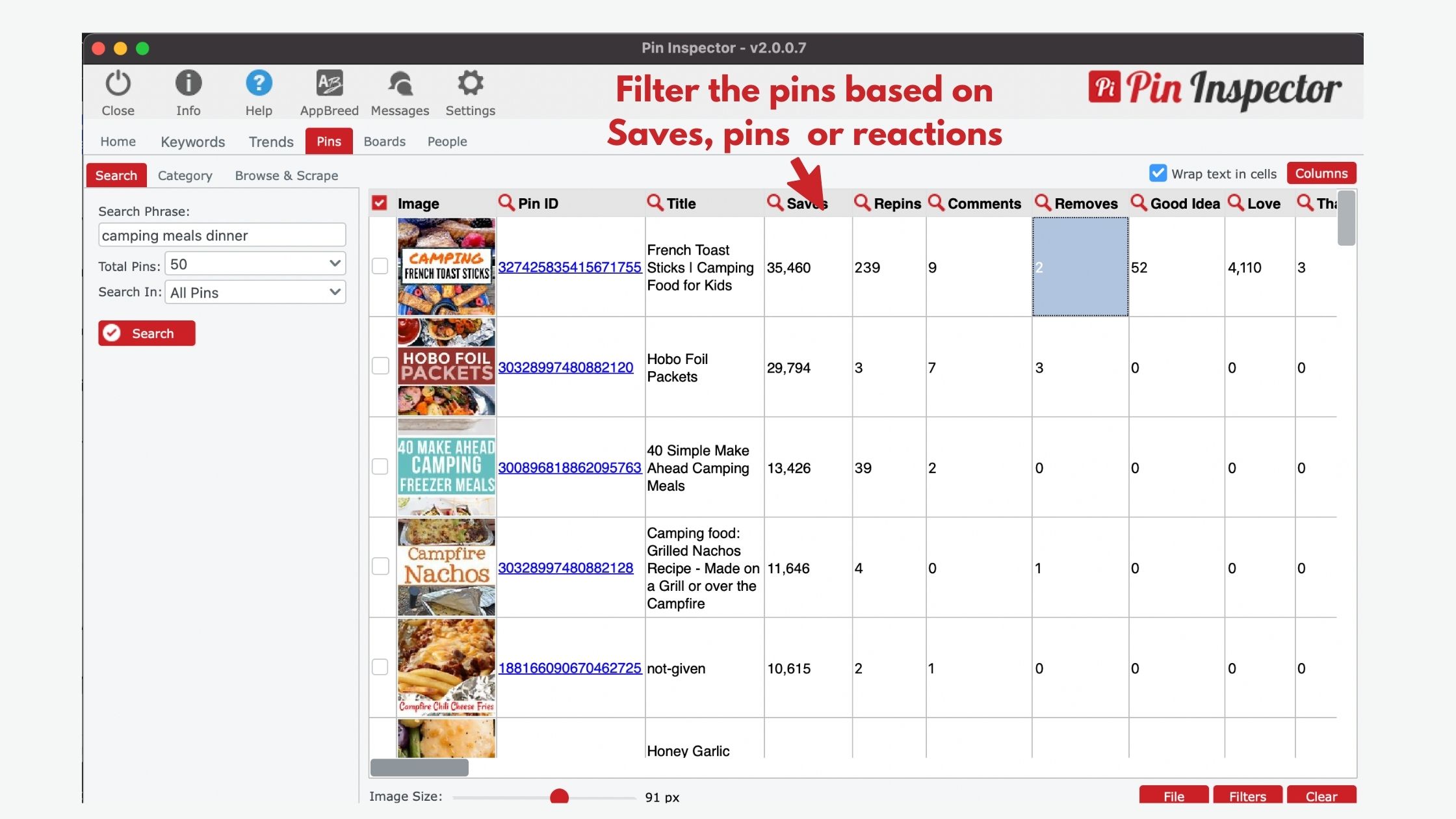 The "Pins Analyzer Tool" in a way is an excellent tool to use – see what the audience really likes, and improve your traffic and exposure.
You can also download this data in CSV or interactive HTML files to sort out more information or give the data to your clients.
4) Discover the most popular board with its best performing content
Want to know the best performing boards? Pin inspector can help!
With this information, you can find the most popular boards based on metrics such as impressions, clicks, likes, and comments and get an insight into top topics or best pins of any board at any given moment.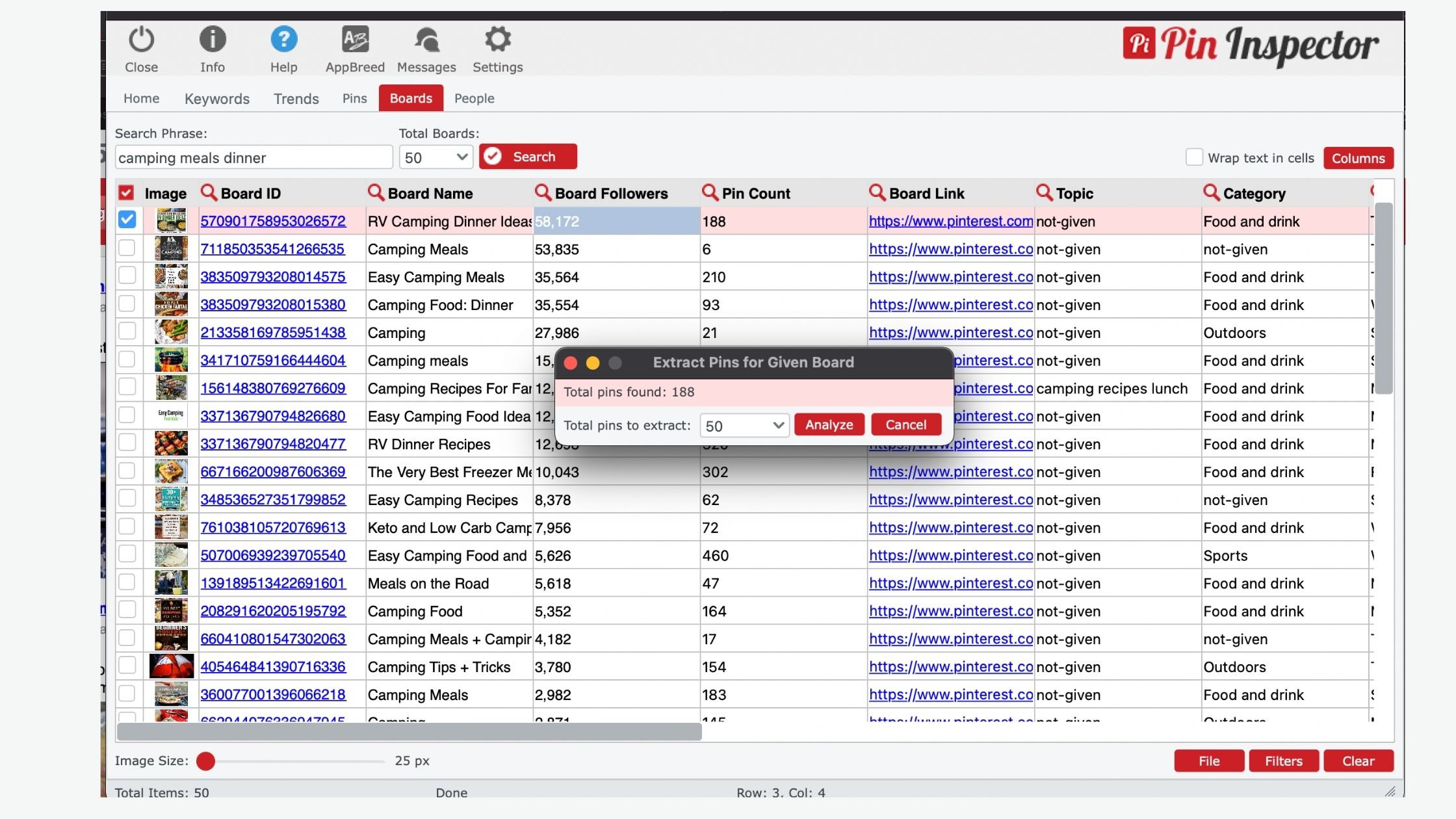 This is not all! You can easily find the best performing boards and with one click find their pins.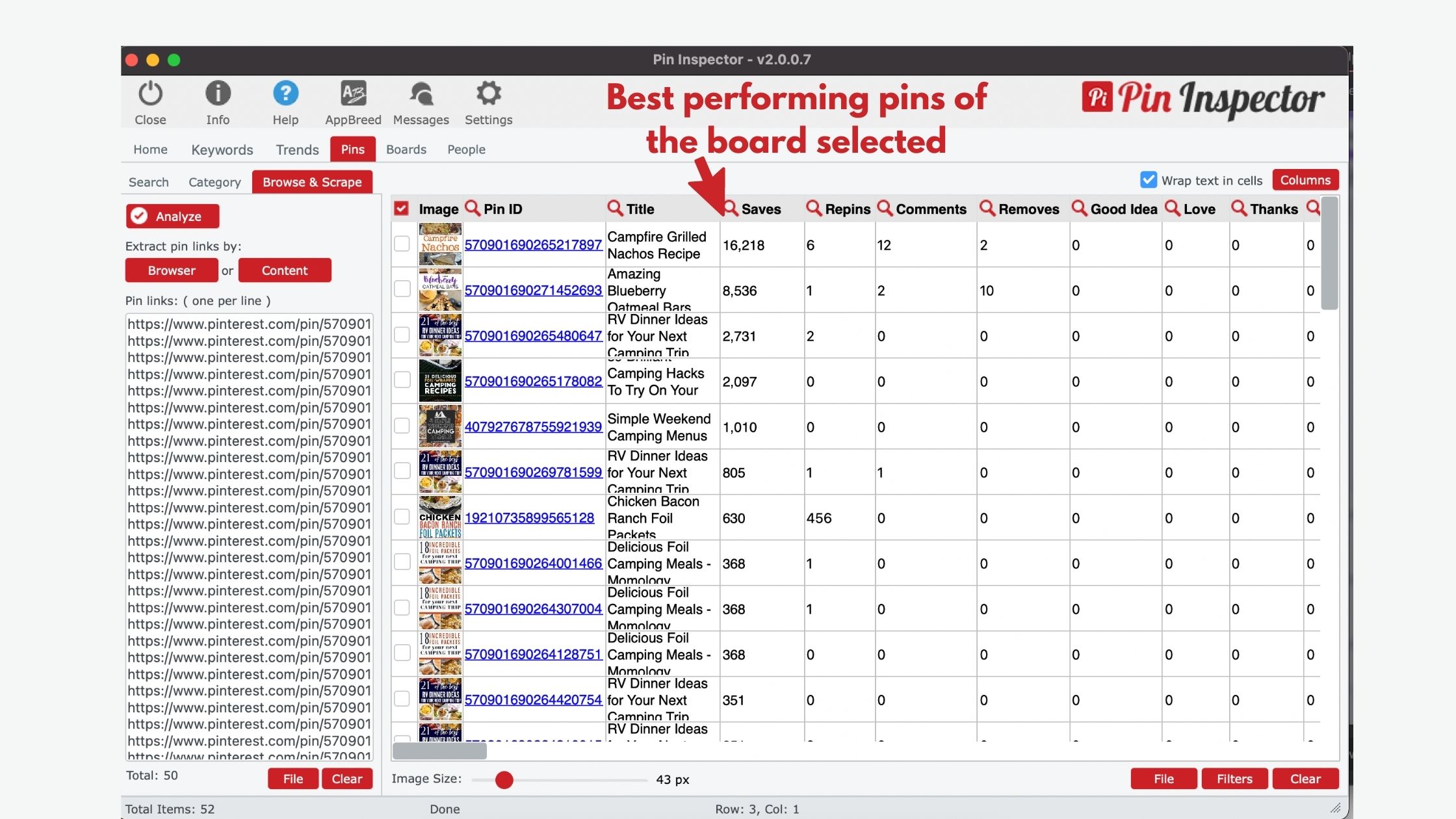 Though I like Pin Groupie as well, Pin Inspector saves me some time and clicks by putting all the info in one dashboard.
5) Find your competitor's Best Performing Pins
Want to know the best performing pins of your competitors?
With one click, Pin inspector will extract your competitor data and will show you how many pins, followers, and profile views top pinners have!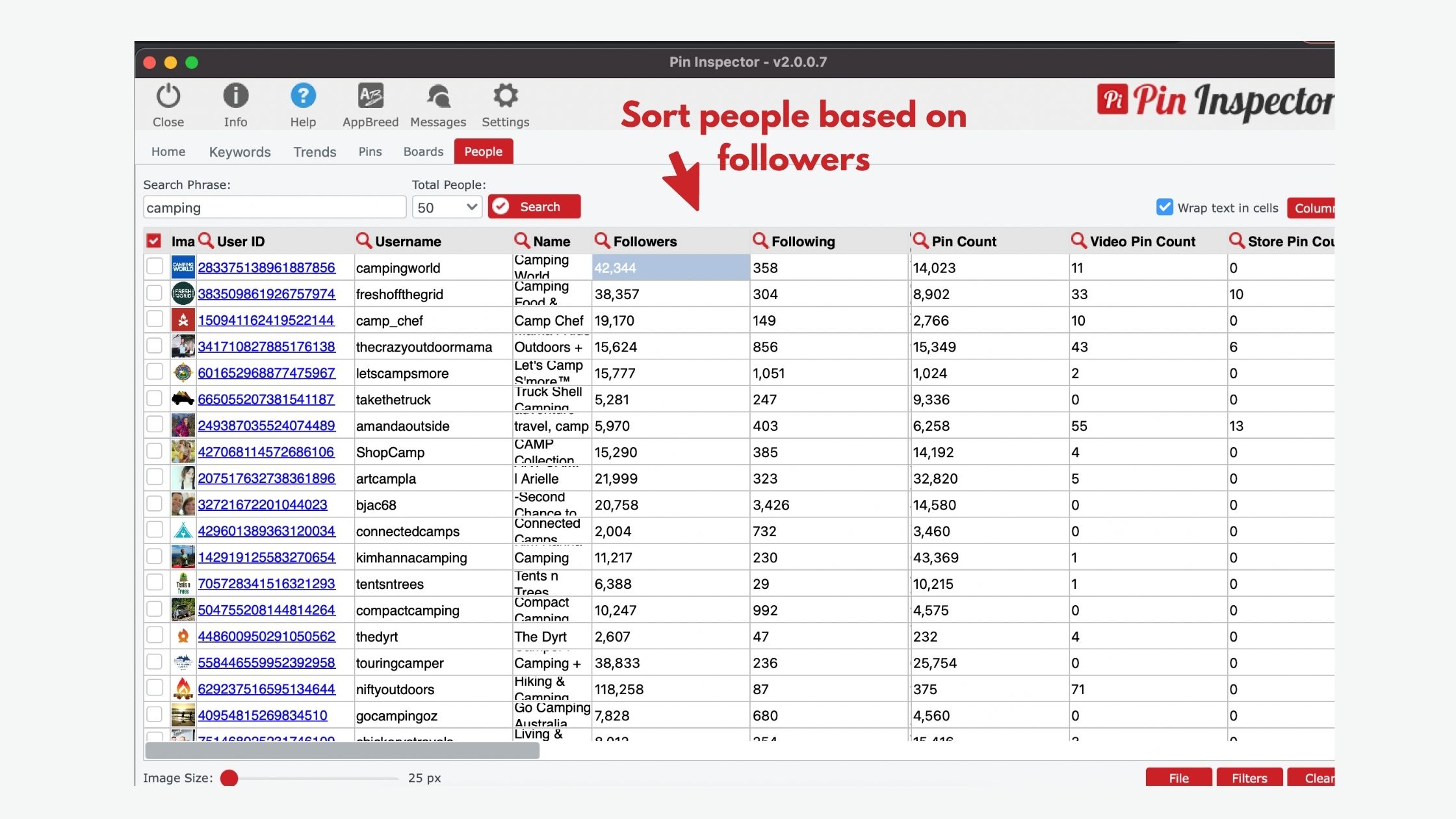 Pin Inspector further makes it easy to break down competitor pins so you can discover what they are doing right and replicate their success with your own account.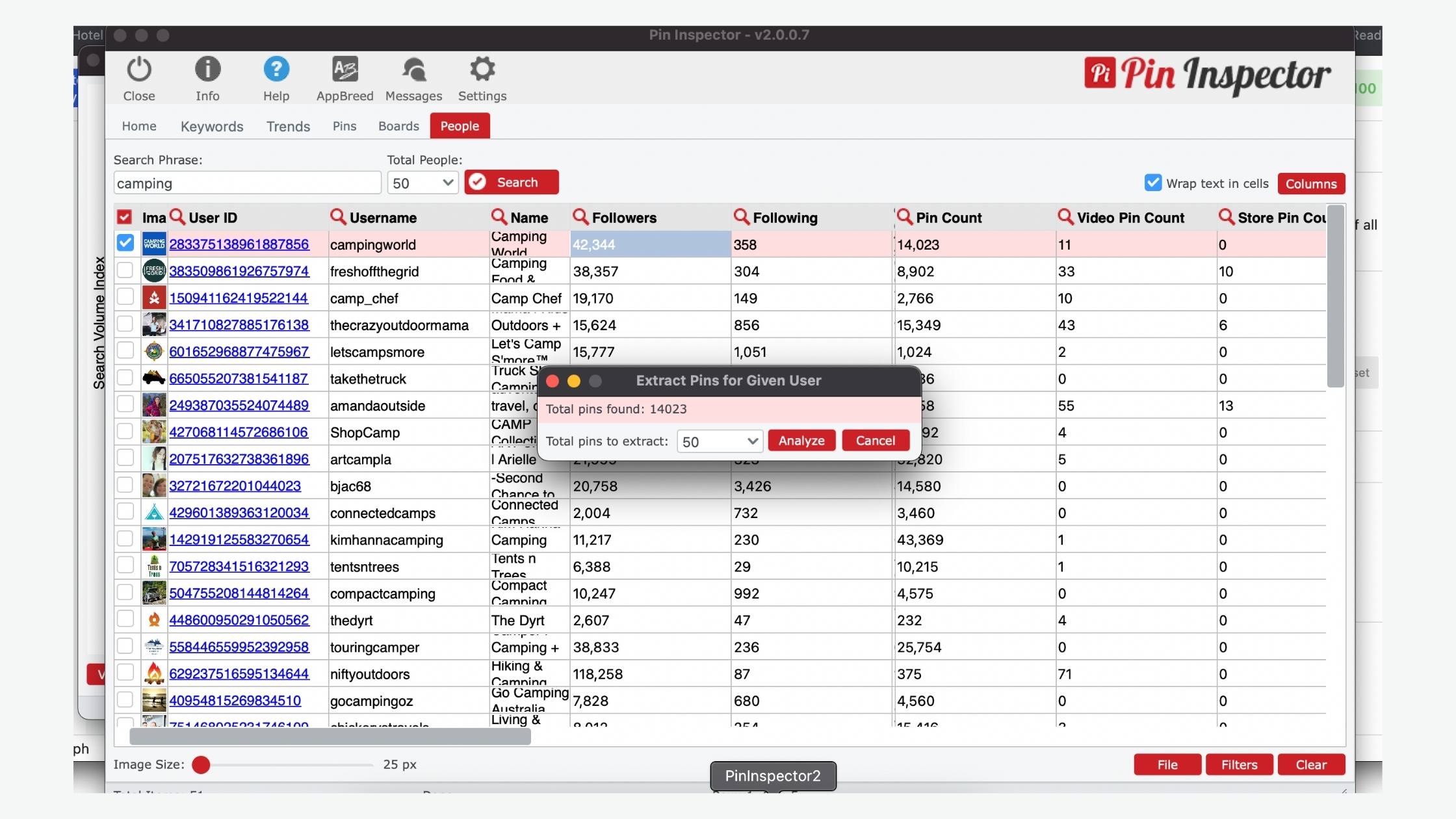 6) Find best performing Pins in your feed
If the only thing you know about your Pinterest feed is that it has pictures of your favorite things, then get ready to dig more information.
With this new tool, you can uncover the most successful pins and ads in your feed and get access to 45+ different points buried by Pinterest.  
Pin Inspector Pricing
Pin inspector is priced at a one-time payment of $67. It gives access to Pin inspector for a lifetime and can be installed on 10 computers. It also includes a commercial license to sell reports generated from the software.
Is there any coupon?
There is an Early Bird Coupon "PIN20" with a $20 discount for Pin Inspector, which brings the price down to $47.
Pin inspector pros
Powerful tool and easy to use interface with all in for on one dashboard
Saves you tonnes of time while doing research
Helps you find low competition keywords and hidden niches
One time payment for lifetime access – Good ROI
Pin inspector cons
It is not Pinterest-approved but works well without connecting your account.
One drawback of the program is that you need to clear pins or any data extracted before running another search or it will stack below previous data and become difficult to navigate.
Overwhelming? Too much data can be overwhelming sometimes.
Tips on using Pin inspector to improve your Pinterest marketing strategy
-Use related keywords when naming pins and boards to make them more easily found with search engines.
-Search for top trending posts, primary and secondary keywords that represent your niche – use these ideas when making future pins.
-Check pin trends before making future pins, and seasonally adjust your content by checking what's popular during certain times of year (holidays) or events like Mother's Day.
This will allow you to get ahead of the competition while boosting engagement rates. 
Is Pin inspector worth investing in?
Whether or not you should invest in a Pin inspector depends on your specific needs. For me, it is a huge time saver but can be a little overwhelming too! It is like Ahrefs for Pinterest.
I love how quickly and easily the Pin Inspector software allows me to find which pins are performing well on Pinterest.
By this, I mean seeing which pins are getting maximum saves, how many saves, re-pins counts, and reactions. You can then take inspiration and make better content for your business.
Pin Inspector saves so much time by scanning your niche's long-tail keywords or phrases with one click. You cannot find all these keywords from Pinterest auto-suggest.
It is safe to say Pin inspector is a worthwhile investment for two reasons:
First, it saves time, and second, it provides you with the opportunity to find new topics and ideas that might help you improve your marketing and hence revenue.
If you still think it is not, you can recoup your investment by offering your Pinterest research services to clients who don't have time to research on their own.
Pin inspector comes with commercial rights to sell data reports to your clients and keep all the income generated.
You can create interactive HTML data reports for keyword searches, trending search phrases, pins, boards, Pin influencers, or the entire Pinterest niche.
If you are looking for a boost in your business and want to avoid the pitfalls of slow growth, try Pin Inspector!
Pin inspector Bonus
Pin inspector team has put out some bonus. These are basically top resources (from other bloggers) to learn more about Pinterest marketing. Refer to the below snapshots from the sales page. These are not PLR files so you cannot use them on your blog.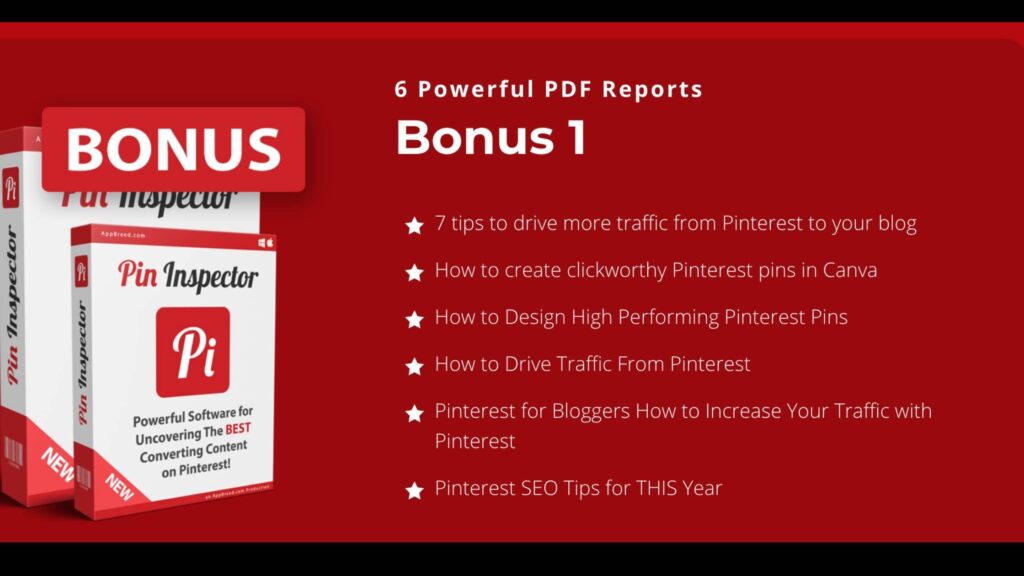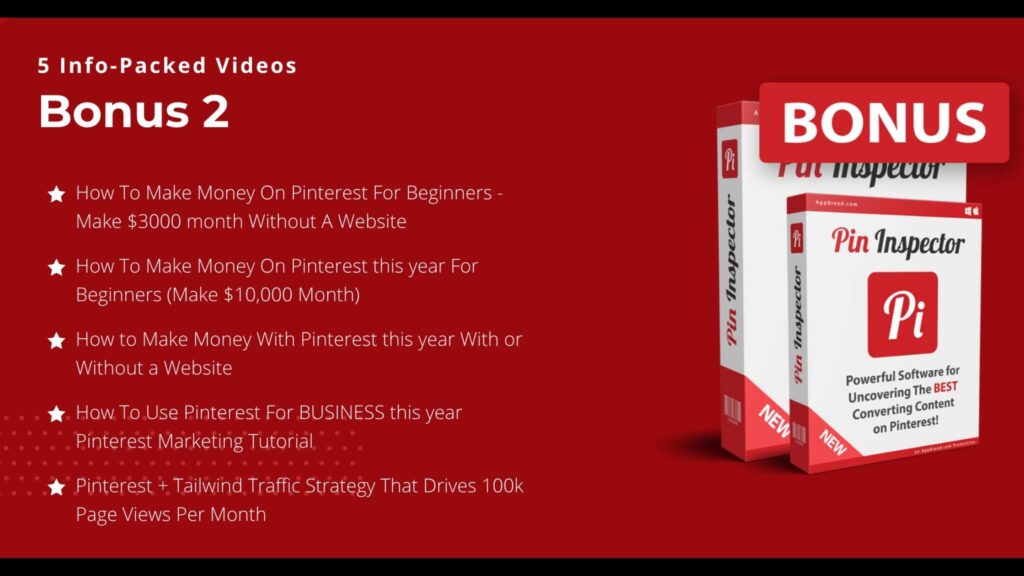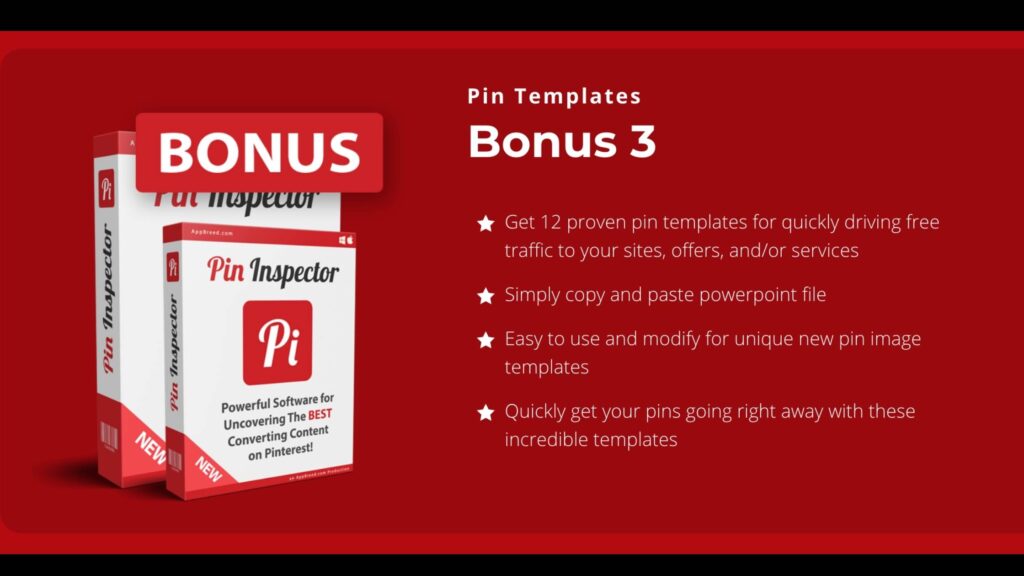 Pin Inspector Review: Powerful Tool for Discovering Hidden Posts, Videos and Boards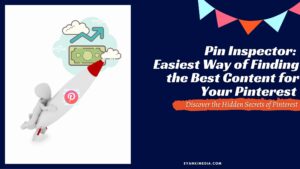 The Pin Inspector is the world's first Pinterest content research desktop software with 6 powerful built-in tools for easily uncovering hidden high-converting posts, videos, boards, pinners, ads and top trending searches from the massively popular social media network! Pin Inspector analyzes millions of pins in seconds so you can focus on what matters most: conversion rate optimization. Pin Inspector will save you hours of time by quickly finding the best pins to repin or curate a new board around. Pin Inspector also provides all sorts of insights into your competitors' strategies with its "analyze" feature. You'll never have to worry about missing out on any hidden gems ever again!
Price: 37
Price Currency: $
Operating System: MAC, windows
Application Category: saas
Related Reading: