Are you looking for a way to stay organized and keep track of your blogging goals?
I have been blogging for a while and I know how hard it is to keep up with blogging, especially when you're juggling other responsibilities. Believe me, I have been there too! It is hard being a blogger–especially if you have two kids at home.
That's why I created this blog post on free printable blog planners for myself and other bloggers like me.
If you are not sure what a blog planner is or why you should get one, these below points might prove helpful:
Blog planners help you track your goals, progress and stay on top of everything so you can focus on what matters most – creating content!
They will make your life easier by helping you plan out your posts ahead of time and reminding you what needs to be done each day- You'll never miss another deadline again!
You'll never forget about an important post idea because you can brain dump all your ideas and thoughts onto the planner and it will help you stay more organized.
They are the perfect tool for any blogger as they make it easy for bloggers to track income, blog progress and daily progress.
Since they are printable pdfs, there is no limit on how many times you can print them so if something happens, simply download another copy from our website! It's that easy.
Isn't that amazing!
If you've ever wanted to get organized but didn't have the time, I'm about to introduce your new favorite way of life.
A free printable planner that's going to help you start more efficiently this year or any other!
I am also going to introduce you to my favorite free printable planners that are available right now on the internet.
Whether you're looking for a monthly calendar to plan out your posts or if there's something like planning out an entire week at once, we have it all here.
Before we get into finding the best blog planners for you, here are some posts I think you may find useful.
How to start a successful money making blog?
How to make money with your blog?
Reasons you should start a blog?
Blogging mistakes that hurt your blog profits and rank
This post may contain an affiliate link which means if you purchase something after clicking on any links, I'll probably earn affiliate commission from it.
Free Printable Blog Planners
Check these blog planners and download one of these planners today. There are six styles of printable planners to choose from, each with its own benefits.
1. My successful Blog goal Planner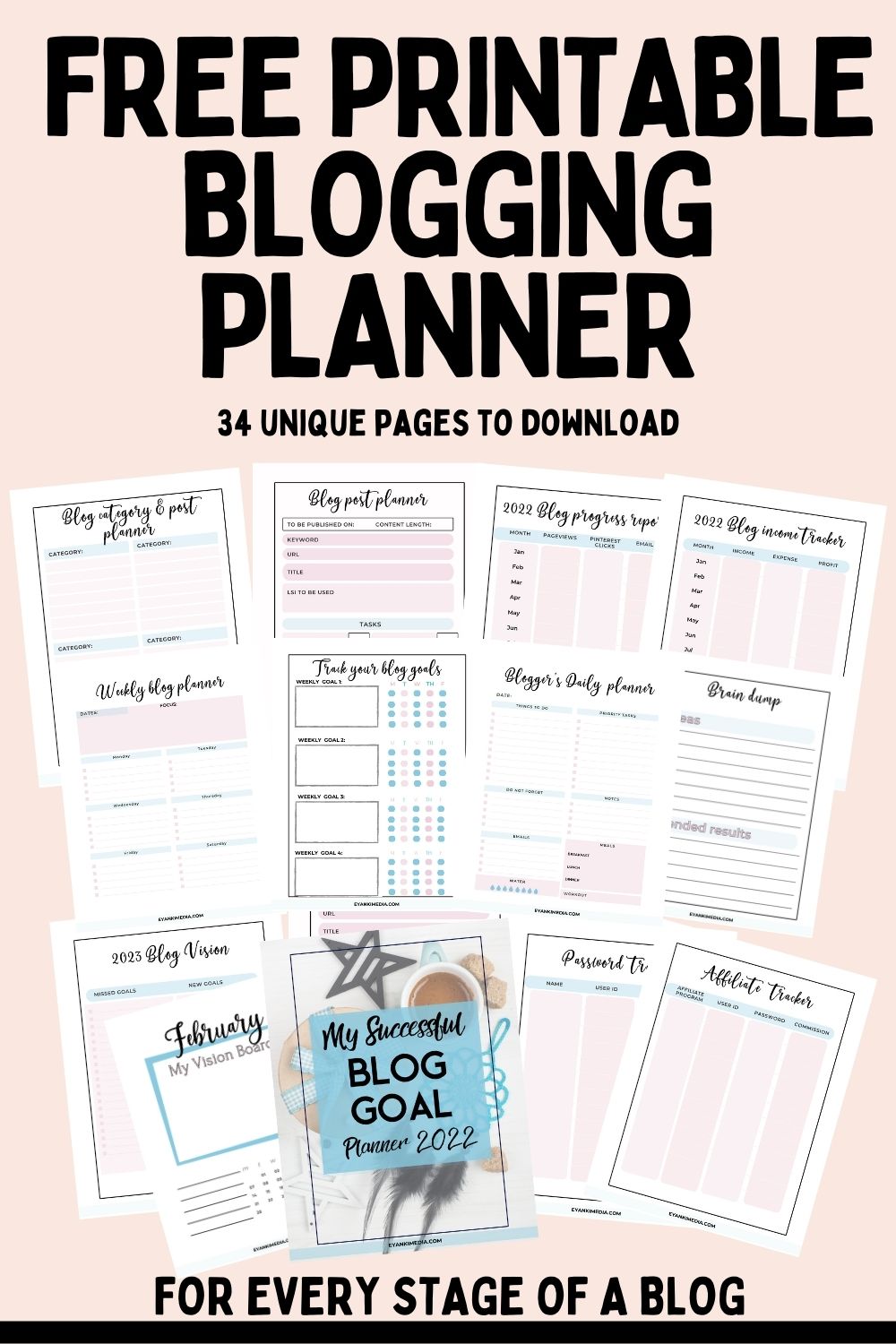 I have a free 34 page 'my successful blog goal planner' (US letter size) for you to download today.
This is what I use to keep a track of my monthly, weekly, and daily goals. It comes as an easy-to-download pdf and you can print the pages you need any number of times.
This 34-pages blog goal planner includes (including 2 different cover pages, 2022 calendar, and your picture-perfect page):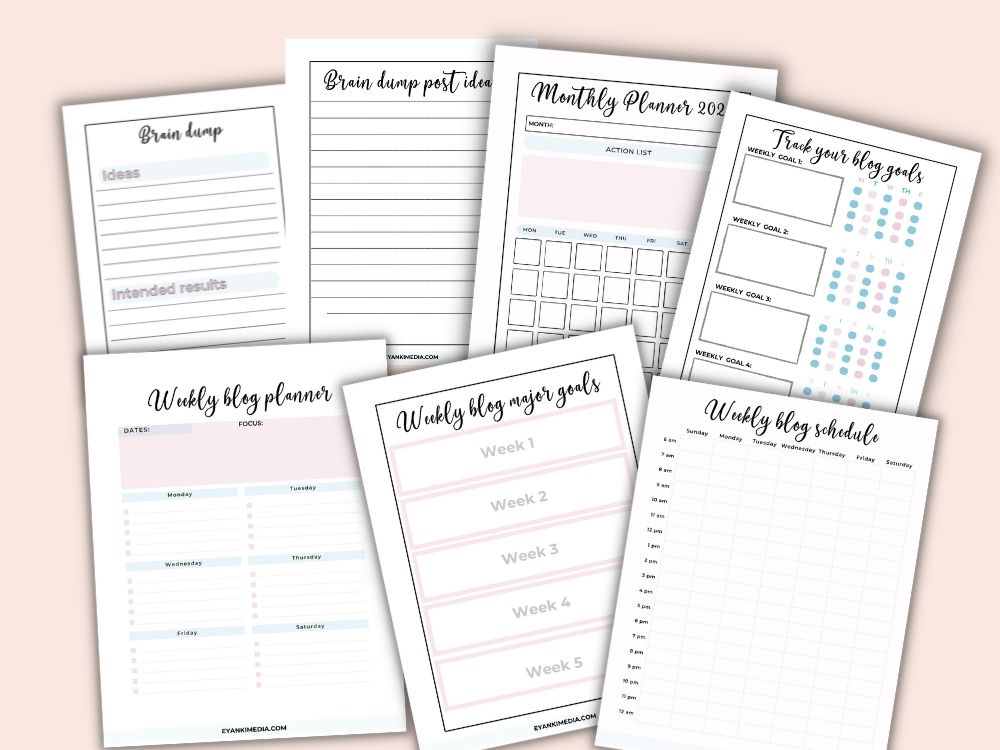 12 pages of monthly vision board and planning list.
1 page monthly action list with check boxes. You can use it for tasks to done daily and tick boxes so you don't miss any day. Print it monthly or as per your needs.
1 page of 2021 goal write up.
1 page of weekly blog planner, print it as many times as you need.
1 page of monthly goal tracker. You can track 4 different blog goals. Again, print it as many times as you need.
1 page of weekly blog goals with rectangular boxes. Write one main goal per box and cut all boxes so they are easy enough to hang on vision board or put anywhere else that's convenient for you!
1 page weekly blog schedule.
2 different pages to brain dump your ideas.
2 pages of blog category and post planner.
1 page blog post planner with a checklist. Print it whenever needed.
1 page blog income tracker.
1 page blog progress report.
1 page password tracker.
1 page blog affiliatr tracker tracker.
1 page daily planner for blogger.
1 page for next year vision to put you missed/dropped goal and write 2023 main goals.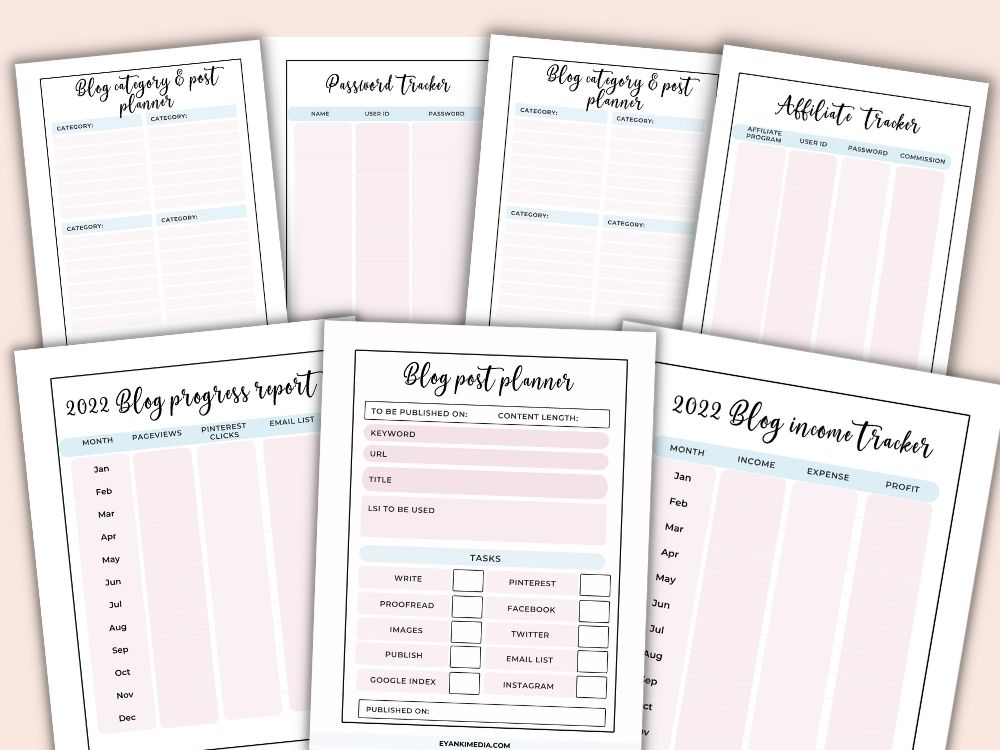 This blog goal planner is for beginners, or those who want a simple and clean way to plan their blog goals. It's not only perfect for beginners but could also be used by anyone looking to set long-term blogging goals.
Download it here or by clicking on the image below: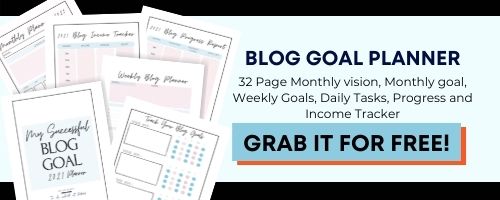 Looking for more ideas:
Check out these awesome printable planners
2. Blog Traffic Planner by Elna
One of the best planners to grow your blog traffic. You can use this free printable blog planner to show you what tasks to do daily, weekly, and monthly. It will help you grow your blog. 
Grab this traffic planner here.
3. Free Blog Post Planner
This is free blog post planning workbook that includes a keyword planning checklist, 2-page keyword planner, blog post planner, and Blog post planning checklist. It also includes an SEO-friendly blog post template (google doc) which you can plug and play to draft your blog posts.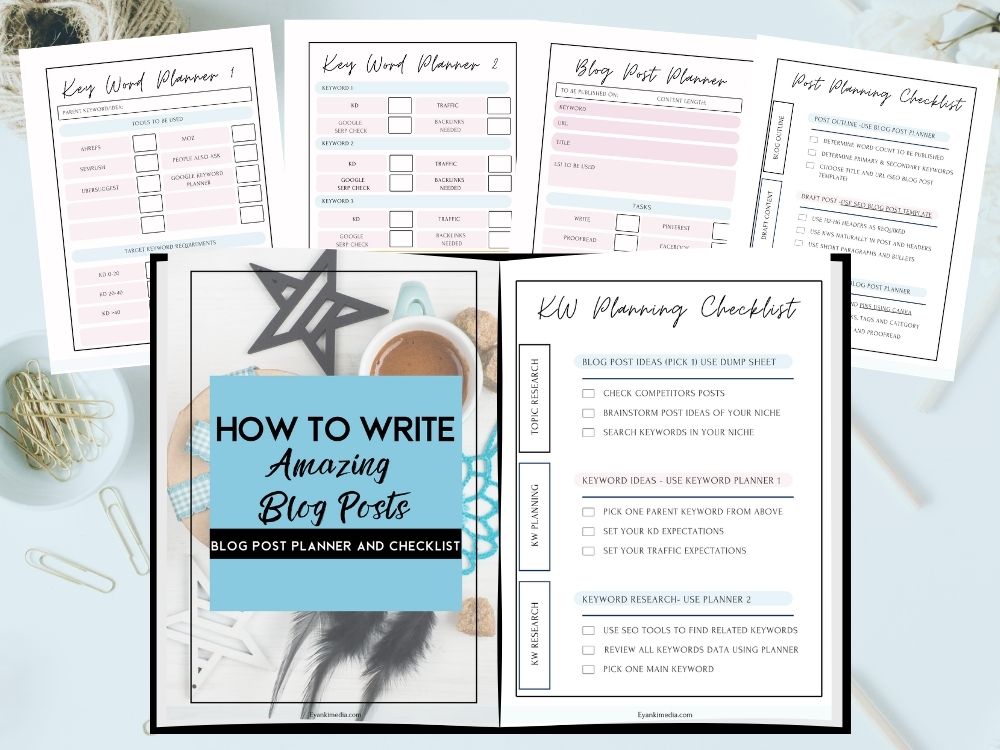 4. Blog Planner by Stray Curls
This is a super cute 12-page planner by Stray Curls available to download. It includes pages to track your yearly goals, expenses, monthly plans, and to-do lists, etc.
Grab This Free Blog Planner Here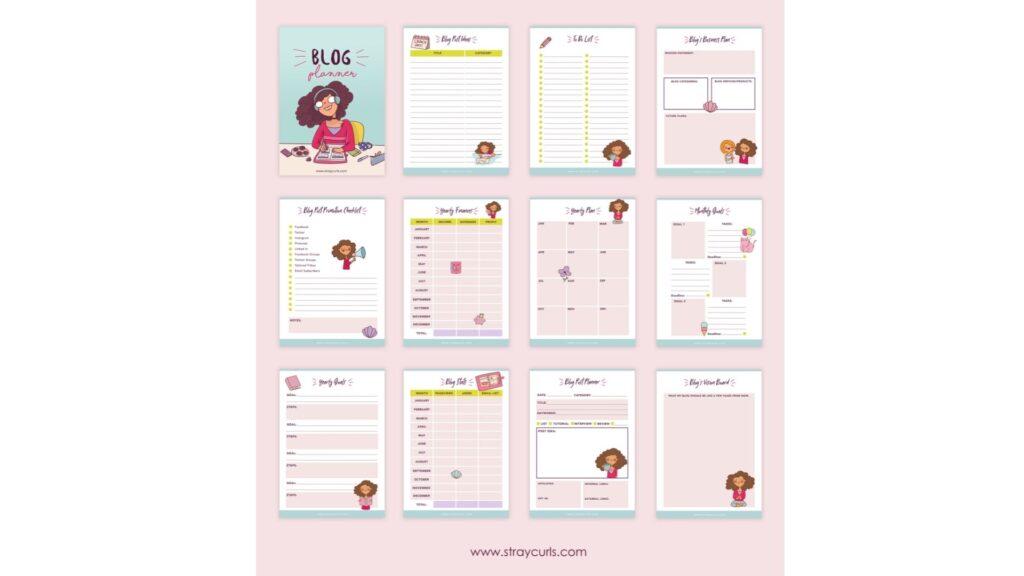 5. The Ultimate Blog Planner Workbook By Sassy Boss
Are you still wondering what to do before starting a blog?
Get the Ultimate Blog Planner Workbook by Sassy Boss and let it guide you through the 13 steps of planning a blog. Stop wondering what to do.
Follow the actionable steps in this planner and find out exactly how to plan your blog for success!
Grab This Free Blog Planner Here
6. Holiday Content Planner by GLITZ & GRAMMAR
This planner has information about the best ways to make more money during the holiday season. People can use it for tips and strategies to make Q4 more profitable.
Grab This Free Holiday Blog Planner Here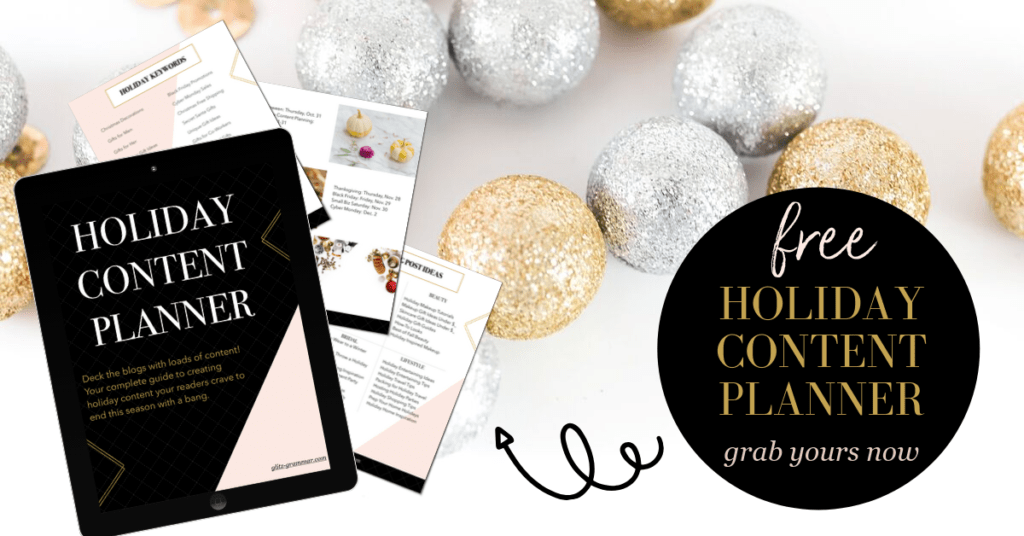 What is the best type of blog planner for me?
There are six different options for planners, and they all have their own unique qualities which are great because you can find the planner that suits your needs.
The blog goal planner will help you stay organized and focused with a daily schedule to keep track of important blog events.
The blog planner workbook is for those who are starting their blog. The traffic planner works for people who want to grow their traffic.
If you are a blogger, business owner, or just someone who has a lot on their plate and wants to stay organized in the process, then you should download one of these free printable blog planners.
These can help anyone with keeping up with deadlines, organizing content ideas, or staying motivated for blogging success!
The possibilities are endless when it comes to these printable planners – which one do you think will work the best?
Do you already have a planner to keep track of your blog? I want to know how you stay organized.