GrooveFunnels vs Clickfunnels: Want to know which one is better?
The internet is a vast place with many options for those who are looking to increase sales or improve their conversion rates. 
Groove.cm (previously called Groovefunnels) is one such option. ClickFunnels is another popular tool that people use to grow their business and make more money online.
The question of which is better GrooveFunnels or Clickfunnels has been asked by many people, but the answer is more complicated than it seems.
If you are our regular reader, you would already know that we usually cover all the required topics on the reader's mind, leaving no room for questions! 
Hence, we are again back with the same.
If you are trying to choose between these two marketing tools, then this Groove.cm /GrooveFunnels vs ClickFunnels comparison article will help you make a decision. We have made a thorough comparison based on practical experiences covering both pros and cons of Groove.cm and ClickFunnels!
We also cover how much they cost (which may be important when deciding).
And let us assure you, by the time you reach the end of the post, you will already have a clear insight regarding your choice.
Meanwhile, make sure you grab its free lifetime account that will surely meet your marketing requirements without paying any monthly subscription. Its freemium account is a must-have even if you don't end up buying platinum or paid GrooveFunnels account.
Let's get started!
This website contains affiliate links which means we may earn commissions if you purchase through them (no extra cost to you). You can read our policies here.
UPDATE: Groove.cm is set to end its lifetime plan on 22, Feb 2022. It makes sense to try GrooveFunnels before the price increase.
What is GrooveFunnels?
Even though we have a comprehensive review of GrooveFunnel and a detailed overview of their pricing plans, here is a small gist about the details of the software just for your reference. 
Groovefunnels is very new to this industry but is quite a hit already within such a short period of time. The pricing, as well as the efficiency, really attracted a lot of customers! 
This web-based application has loads of different tools that you can use for your marketing requirements. A few benefits include email marketing, membership subscriptions, funnel creation, webinars, building websites, landing pages, and so much more. 
The best part is it makes website integration seamless. You don't need to be tech-savvy or a coder to customize your website because GrooveFunnels has your back.
A few key features of GrooveFunnels are:
GroovePages
GrooveSell
GrooveAffiliate
GrooveMail
GrooveMember
GrooveVideo
GrooveSurvey
GroovePages for Shopfiy
GrooveBlog
GrooveCalendar
GrooveQuiz
GrooveWebinars for Live and Automated Webinars
Refer to our Groovefunnels review for detailed information about each feature. 
What is ClickFunnels?
ClickFunnels is also a marketing tool that is mainly focused on providing high-quality templates and the creation of sales funnels which are one of the major aspects of any possible marketer.
Like creation, editing, etc., the entire user interface is very seamless and, therefore, again perfect for beginners too!
Key features of ClickFunnels are:
Landing page building
Shopping cart and checkout system
Email Marketing
Webinar hosting platform
Course hosting platform
Affiliate marketing management system
And more…..
Now when we are done with the basics, let's jump on to the comparison of GrooveFunnels and ClickFunnels!
What are the similarities between GrooveFunnel and ClickFunnel?
There are several similarities between GrooveFunnel and ClickFunnel. A few of them are:
Beginner-friendly
Both GroovefUnnels and ClickFunnels have aimed at making their user interface very easy and streamlined. Even if you are new to marketing or online business, you can easily make full use of both platforms as per your requirements. 
Many people have a dilemma if they can effectively create landing pages. Well, the drag and drop visual editor feature of both platforms ensures that you can easily customize your funnels and landing pages with just a few clicks, just according to your preferences!
Templates
Templates in online businesses are among the most crucial and essential needs of any market in every aspect. You do not need to worry regarding templates on both of these platforms since they have an enormous variety of templates available on their website. 
You can easily explore and choose as per your business needs and type. You can also customize if required for maximum efficiency.
Time required to master
Time is precious for every person. We understand. Hence, the time taken to learn about both platforms is also a very crucial aspect to consider in both the platforms. 
We are not gonna lie. You would actually need at least a minimal few hours to master the entire process. But it is not that hard too!
You might be wondering, where will you learn it from? Where are the resources?
Oh well. Don't worry. Both GrooveFunnels and ClickFunnels have tutorial lessons that will offer you an in-depth insight regarding the working of all the tools.
Both the platforms also run a weekly or monthly webinar which you can attend to understand more about it.
In short, the learning process is not the quickest, but it is quite easy!
Membership management
Both platforms allow a membership management facility wherein you can easily create a customized portal for your subscribers.
With the GrooveMember tool, you can easily organize all your content into various subcategories. This is great for easier navigation for your viewers. You can also decide on the access permissions for your viewers.
Clickfunnels also has a built-in membership feature. Even though the advantages are a bit less with Clickfunnels, but it will not have many losses
Affiliate management
Affiliate marketing is one of the greatest sources of revenue currently. Thus, appropriate attention to it is essential. Affiliate management is crucial, and both of these platforms have an affiliate management tool.
The in-house affiliate management tool of Groovefunnels, which is the GrooveSell, can help with both selling and managing the affiliate products adequately. The most thrilling part here is that you can avail of this feature completely free since this comes under the Free plan of Groovefunnels!
On the other hand, Clickfunnels has an affiliate management tool which is called BackPack. You need a paid membership to access it. Also, it uses a third-party application known as Tipalti, which is not really the most secure option.
Email marketing management
Email marketing is undoubtedly the most powerful digital marketing strategy of all time that is proven to give fruitful results if done correctly.
Email marketing manually is pretty tricky since it is simply impossible to send out so many email newsletters to every subscriber. Automated email management tools are a necessity, and both of these platforms have that!
Both of the platforms have an in-built CRM and email marketing management system, which helps in various aspects such as storing the contacts, details, creating and managing the email lists, sending the emails regularly, and so on. 
The CRM and email marketing tool of Groovefunnels is known as GrooveMail, whereas the CRM of Clickfunnels is called Actionatics!
Affiliate programs
Another interesting part about Groovefunnels is that the affiliate programs are pretty exciting and lucrative. The commission structure is the main focus in any affiliate program, and both of them have an incredible commission rate currently.
Groovefunnels have two-tier affiliate commissions, which are for free and paid members. The free members get about 20% commission for every sale and a 5% in the second tier whereas the paid ones get about 40% and 10% respectively.
Every member you refer will be your affiliate forever. Hence, there are no chances that you might miss out on any commission from your affiliate even if they switch their devices or websites. You will receive your commission, and it is a complete guarantee!
With Clickfunnels, you get an average commission of 20% for every sale.
These rates are exclusive of the incentives offered by these platforms.
Shopping carts
Both the platforms have a full-fledged shopping cart feature wherein your customers can add your services to their cart for a convenient shopping experience. 
Customer service
Previously Clickfunnels had a terrible reputation of having a poor customer service facility. But, nowadays, both Groovefunnels and Clickfunnels have a high response rate.
The fast customer support through live chat or emails is very convenient during any possible doubts or queries if any.
With Clickfunnels, you can also avail of VIP phone assistance if you are a paid member, which is indeed a plus point here.
GrooveFunnels have GrooveDesk, a dedicated support app with an incredibly experienced team that helps with quick and satisfactory assistance. 
What are the differences between GrooveFunnels and ClickFunnels?
Let's come to the differences between GrooveFunnels and ClickFunnels.
Capacity
The technology used by ClickFunlles is pretty outdated. And as a SaaS, it limits the potential and its working. It can be effective in creating pages, but it is not the best for digital marketing, which is exactly what we are here for while looking for a marketing tool. 
On the contrary, Groovefunenls has a pretty advanced framework with high potential and power to expand with a variety of features.
The servers used for hosting here are one of the fastest Google servers, which has greater bandwidth. It is entirely focused as an all-rounder marketing tool which is excellent for all online business owners! 
This clearly justified the benefits of choosing Groovefunnels over Clickfunnels here.
Video hosting
The worst part about Clickfunnels is that it does not have a video hosting platform that is present in GrooveFunnels called the GrooveVideo. 
A video hosting facility is vital for every marketer since a hosting library is crucial to host and connect to their sales pages simultaneously.
Also, the most evident part. It is important for creating video tutorials or podcasts perfectly. There is a wide range of options for customization as per your interests for maximum sales.
Previously there were extra features like tagging and call to action options in the video, which were then temporarily disabled. However, the official team has announced that the features will be back in no time!
Calendar 
A digital calendar is crucial for automating various processes of any online business. You can effectively schedule meetings, set up to-do lists, set reminders, and whatnot!
Unfortunately, there is no feature of a calendar in Clickfunnels, but you can always access it on Groove Funnels.
Speed
Nobody likes a lagging and slow-loading page. It is completely frustrating at times. 
Groove Funnels have the upper hand here since the pages created via GrooveFunnels have a much faster rate than click funnels. 
The pages made by Clickfunnels were observed to be sometimes lagging, which is because of using outdated technologies, as we discussed before.
Blogging platforms
If you are a blogger, Clickfunnels is not the right choice since you cannot really bog with Clickfunnels. However, you can always blog with Groovefunnels with the GBlog that will be out by this year!
Is GrooveFunnels Better Than ClickFunnels?
Both platforms are aimed to help website owners and small business owners with marketing. Groove Funnels is a more affordable option with good future potential, but ClickFunnels has a proven record of success.
If you have a lot of money to spend, then we recommend ClickFunnels for its proven reliability and long-term potential in the market. But, if your budget is tighter, Groove Funnels might be more suited as it comes with an affordable price tag that won't break the bank.
In addition, Groove has all the features that are necessary to make your marketing campaigns a success.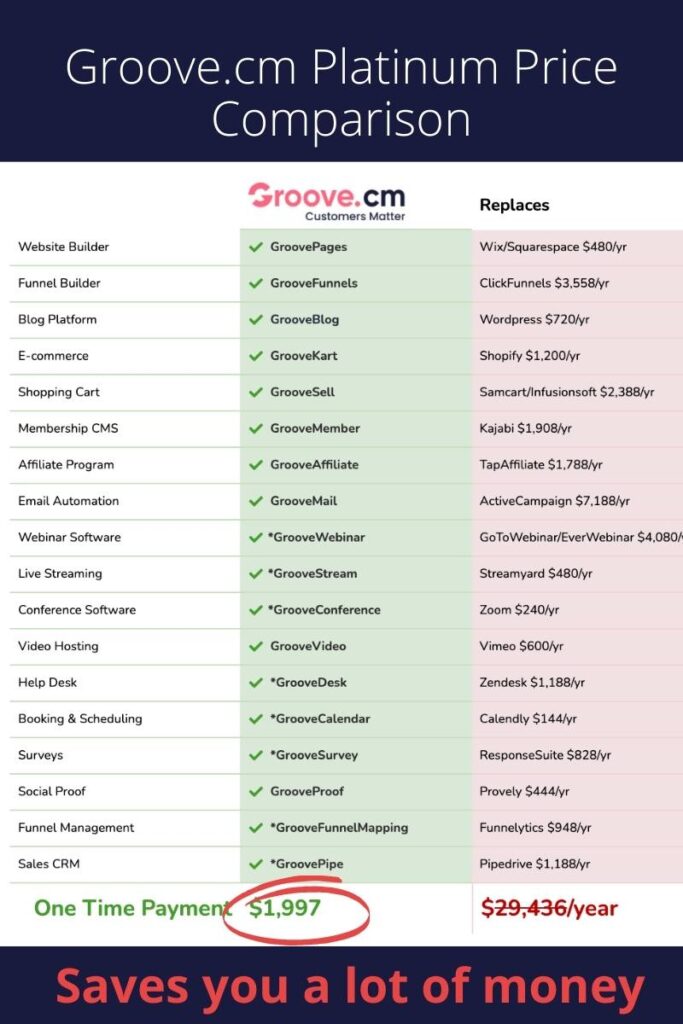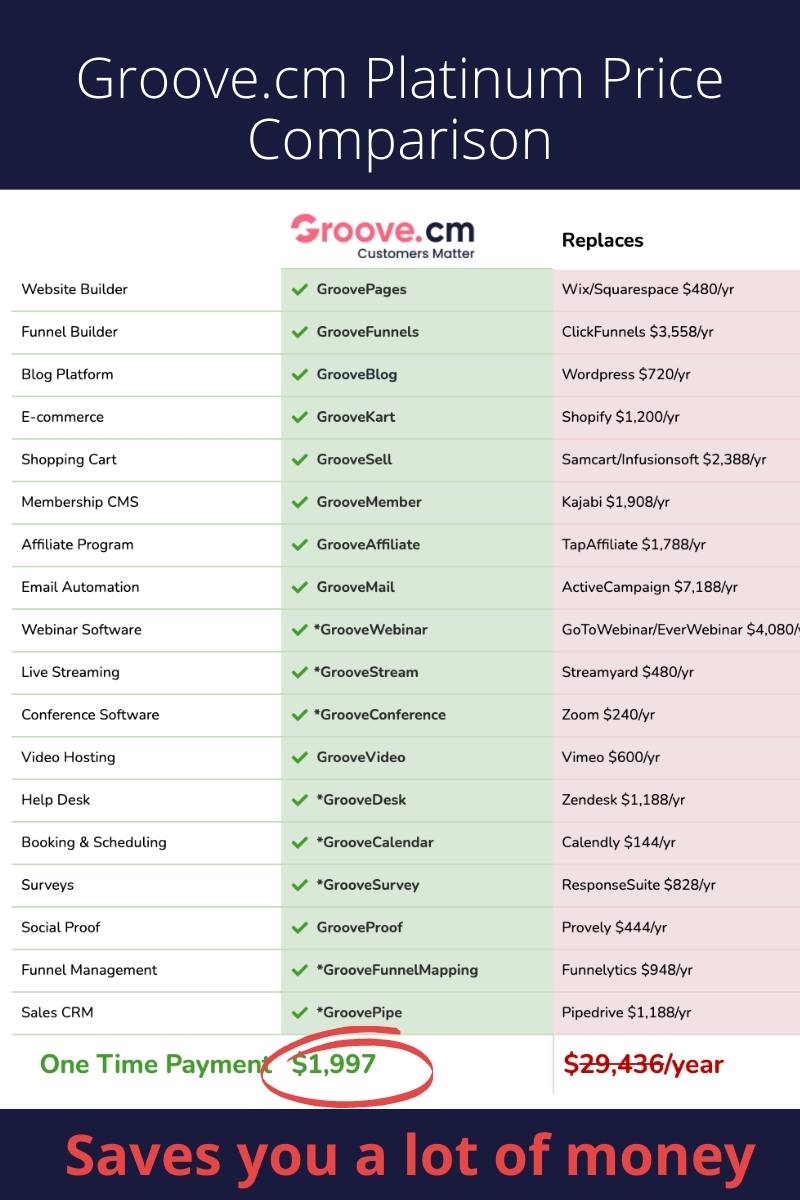 The most important thing when deciding between GrooveFunnels and Clickfunnels is to evaluate your needs. If you are looking for a more mature platform that has been proven in the market, then we recommend Click Funnel because of its reliability and long-term potentials.
However, if your budget is tighter or you need features beyond email marketing automation, then Groove may be the better choice.
What you can do with Free Groove.cm account?
GroovePages: Create free funnels and landing pages.
Groovesell: 100 % free selling platform (no transaction, platform fee)
Set up free affiliate system for your products
GrooveKart: Create free e-commerce store or POD store for free
Create Free membership site
GrooveMail- 500 contacts
Grooveblog- Free hosting
And so on! Thus getting a Groovefunnels Lite account is one the best thing to have whether or not you upgrade to a lifetime account.
Final Verdict: GrooveFunnels vs ClickFunnels
After analyzing all the aspects, it is safe to claim that if you are into full-fledged marketing, then Groovefunnels is the right choice for you.  But again, if you don't want to move because it's in beta, stay with click funnels and wait for it to get out of beta.
Do your research, observe your requirements, and make a suitable choice!
More helpful reads for you: