Do you want to build an eCommerce store? Or you ever wished to have?
I always wished to have a store for myself, but the cost of keeping up the store and maintaining it always made me take a back seat. But when Covid kicked in, and the E-commerce business industry showed a crazy boom, my desire of building a store became stronger.
Crazy! Right? 10 years of growth in 3 months!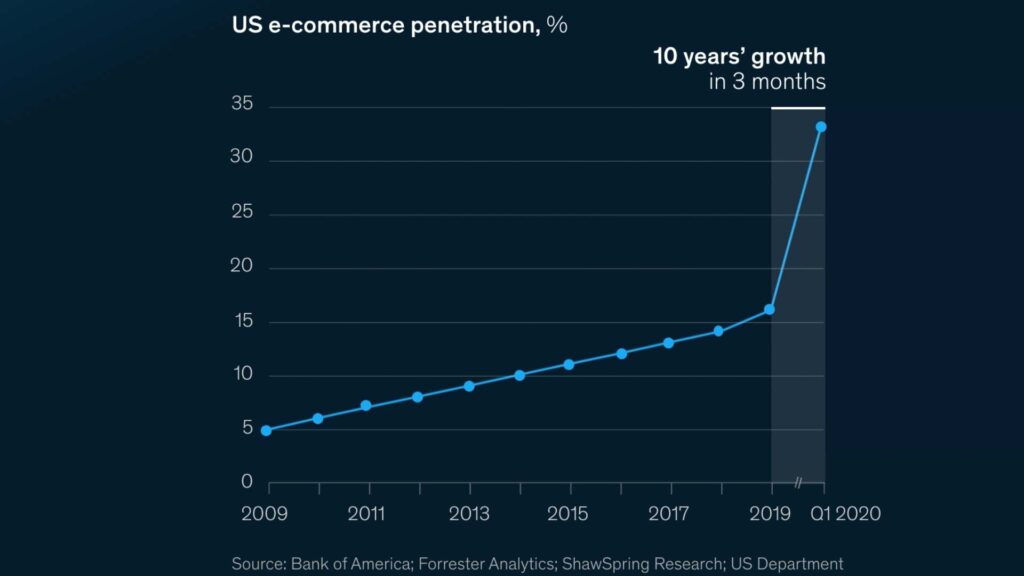 And this was when I learned about GrooveFunnels and its e-commerce store builder, GrooveKart. GrooveKart was one of the reasons I switched to GrooveFunnels and bought the lifetime deal.
If you are still unaware of GrooveKart or haven't read about it before, don't be surprised. I know many people in the same industry are still not aware of it.
Anyway, in this GrooveKart review, I will discuss some fine details about GrooveKart like the idea behind GrooveKart, pricing structure, and some standout points about the same.

So let's get Groovy.
GrooveKart review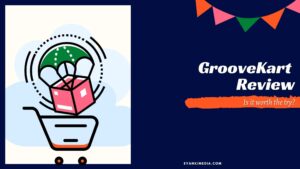 GrooveKart is a new eCommerce platform, developed by Groovedigital, that has been under development for over 2 years. It offers premium features at a reasonable price not available in other eCommerce platforms such as Shopify.
Price: free
Price Currency: $
Operating System: saas
Application Category: e-commerce
GrooveKart –The Complete E-Commerce and Shopping Cart Solution
Creator: Mike Filsaime And John Cornetta, Marketing and E-comm experts
Main Features: No Transaction Charges like Shopify, No Need Of Third-Party App (More Than 20 Apps In-Built), Modern Designing Studio, Free Up-sells, Includes Grooveproof, Zapier Integration, Mail-champ Integration, Include Inbuilt Time Countdown, Ali Express integration, Coupon Finder, Social Proofs,1 Click Shopify Import
Refund: 30 Days Money Back Guarantee for a paid plan
Support: Effective Response
Verdict: Recommended, Sign up here for free store
What is GrooveKart?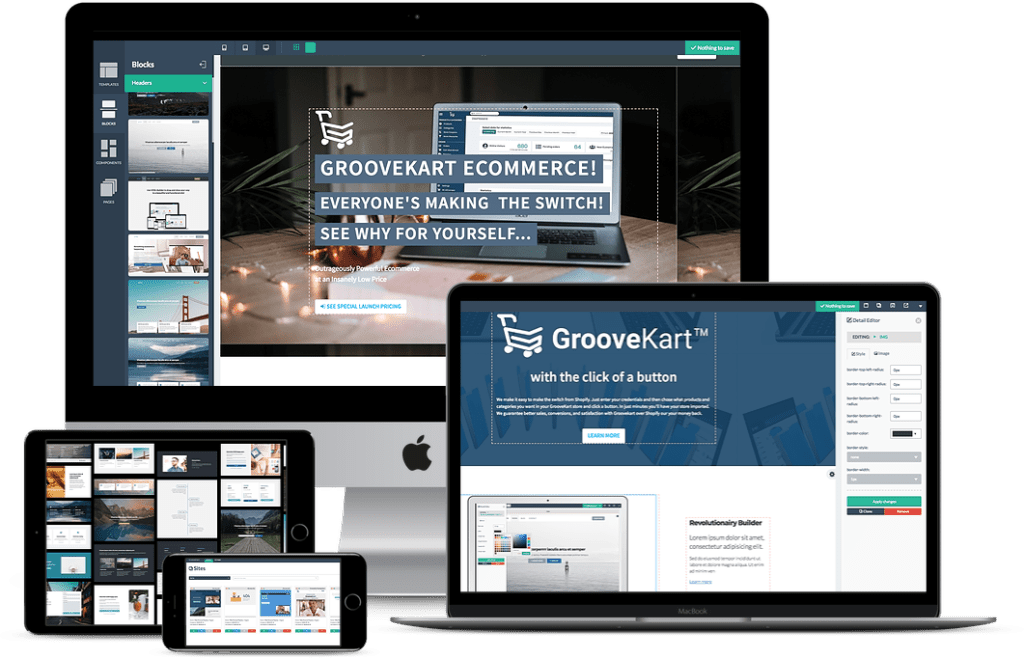 GrooveKart is a new eCommerce platform, developed by Groove digital, that has been under development for over 2-years. It offers premium features at a reasonable price not available in other eCommerce platforms such as Shopify. 
GrooveKart is an easier, cost-effective (with more features built-in standard without having to pay for expensive Ecommerce apps ) alternative to Shopify. 
It also provides high converting templates, timers, scarcity, social proof, reviews, sales funnels, unlimited upsells, bumps, retargeting, analytics, and so much more without any additional cost to you. 
Who created GrooveKart and Why?
GrooveKart is a unique eCommerce platform that was developed by Mike Filsaime as well as John Cornetta. 
Mike Filsaime is a renowned digital marketing expert and co-founder of companies like Kartra, WebinarJam as well as Marketers Cruise.
John Cornetta is a comm expert with extensive experience running 6 figures online stores. John Cornetta knows what can be done to have a prosperous eCommerce site. He is aware of what works and what doesn't. 
He wanted to generate an eCommerce platform that was better but more affordable and offered more than Shopify or WooCommerce and other platforms on the marketplace.
GrooveKart is designed jointly with input from people who have been in the eCommerce space who have the experience and know what online vendors have to handle. Unlike Shopify, Groovekart has no subscription fees if you choose a one-time payment plan or an annual plan. Plus you get premium features not possible with Shopify plans.
Standout GrooveKart Features
1. Beginners Friendly
GrooveKart has easy to use, user-friendly interface. More like a plug-and-play solution.
2. Easy- Drag & Drop No Coding Needed
It is a drag and drop editor, anyone can build a store easily and no experience is needed. With GrooveKart, you will only need a few seconds each day to post your products, reviews, descriptions, and images.
3. Easy Switching from Shopify
GrooveKart developers have made it very easy for Shopify store owners to import their shop from Shopify to your new Groove Kart account with just a click. All you need to do is enter your details and choose the products and categories you want to have in your GrooveKart store.
4. Big savings on 3rd party apps
It comes with 20 inbuilt 3rd party apps needed to run a store. These apps are free for Groove users and may cost a few hundred dollars per month with any other e-commerce platform.
These include expensive apps which you use for order bumps, stacking bundles, generating scarcity and urgency, social proof, import reviews, upsells, currency converter, and so on
5. 1-Click Upsells
This is a powerful feature rolled out by Groovekart developers. With one 1-click you can add additional products to upsell in your shopping cart for more profits. 1-Click upsells included which have actually been proven to raise profits by as high as 35% at checkout. No extra charge for any addition.
5. GrooveKart Studio Product design Tool
Set up your design editor in minutes and give the best experience for your customers. It helps you make a customized store or design products.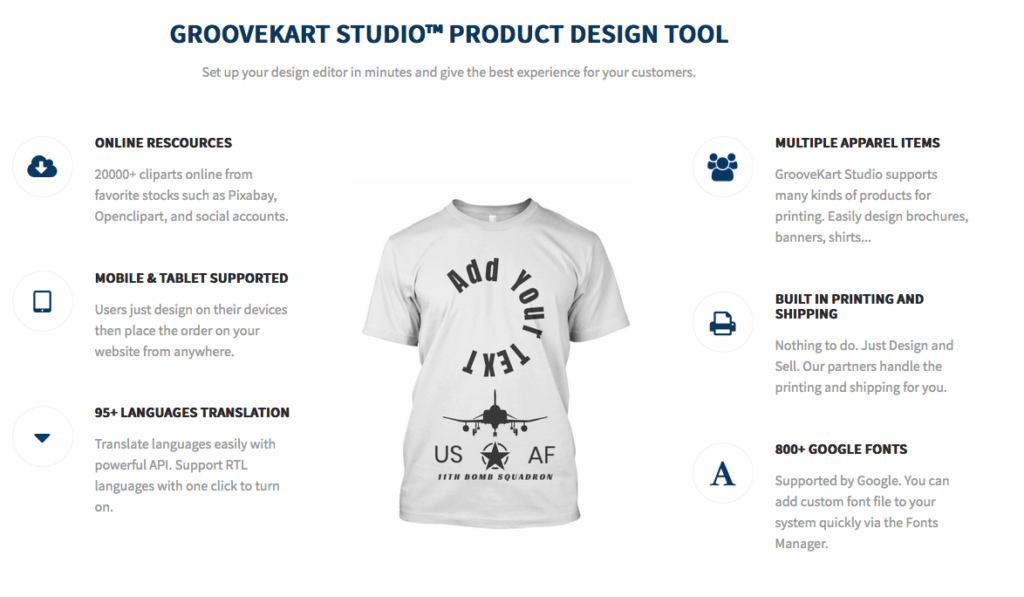 6. Drag and Drop Patterns using Layer App
GrooveKart Studio's LayerApp Exclusive Technology allows users to drag patterns onto apparel for 1-off printing.
7. GK Aliconnect
Find lots of affordable products and low wholesale prices for your GrooveKart store in minutes. Millions of Products with Automated Drop Shipping. GK Aliconnect is easy to use. Browse and find any products on Aliexpress add them to your store with a click of a mouse. Shipping is then sent directly to your customer all hands-off. No risk, no inventory. Just Profits!
8. Built in Print On Demand
Comes with built-in Teescape, a POP service. This Custom Teescape Fulfillment Integration gives you full control of your fulfillment service, with quality brands at the lowest prices in the industry for print on demand. And it comes with Free and premium templates.
Professional Printing & Fulfillment, No Inventory, Automated Dropshipping.
Choose from over 40 different pre-made top-quality supplements all made under the strictest quality control right here in the USA. Private Label Health and Beauty for Skin Care, Weight Loss, Women's Health,  Men's Health, Testosterone Boosters, Energy, Creatine, Protein Powders, General Health, Vitamins, Minerals, Oils and yes. Even Pet Health. 
9. Better Payment Method
No Transaction Fees. Ability to integrate with PayPal or Stripe and accept payments from the leading merchant platforms like GroovePay™ and Authorize.net.
10. No Extra fees like Shopify
This feature comes in Shopify Advance Plan at $299/month so when you add up other 3rd party apps from Shopify, you could be spending close to $600-$700 per month. 
11. Built in Marketing Tools
Since GrooveFunnels includes Groove pages as a funnel builder, GrooveKart also includes many built-in, high converting templates for funnels, landing pages, tracking analytics, etc to help you increase conversion.
12. Built in Helpdesk 
Comes with a help desk/support platform to resolve your customer's issues or queries. No separate payment is needed.
Additional Features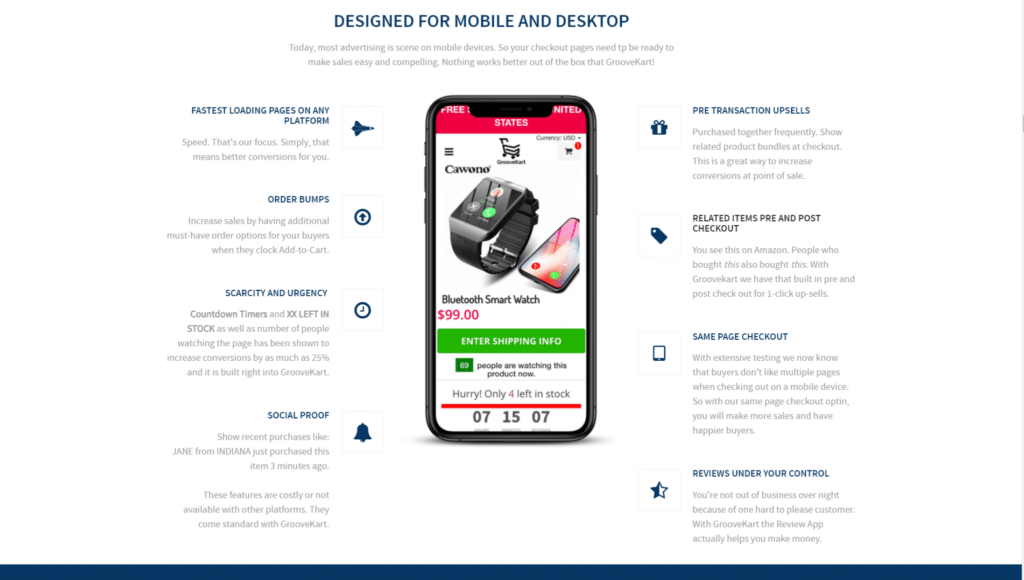 Mobile responsive and fast loading: Today, most advertising and marketing is seen on mobile devices. So, your checkout page should be simple and compelling. Fast loading times result in higher conversions and sales.
Order bumps. Boost sales by having additional essential order alternatives for your buyers when they click 'Add-to-Cart'.
Countdown Timers and inventory supply as well as the number of individuals viewing the web page developed right into GrooveKart.
Discount coupons as well as Discount rates. You can run a promo by: item, category, tag, or your entire store.
Supports multiple language and currencies.
Free transaction emails.
Use your custom domain, free of charge.
Operates on GOOGLE CLOUD PLATFORM so it takes advantage of Google's first-rate facilities and robust set of solutions to develop, operate, and also expand your service in today's competitive setting. Sites built on Squarespace and Shopify may or may not operate at a fast speed.
Stores built with Groove are legally complaint with FTC GUARDIAN
Social Proof integration, Show live views, Stock unit countdown.
Zapier Integration
Chatra Integration
MailChimp Integration
GrooveKart Pricing and Packages
Below is the pricing plan for Groove Kart, you can choose depending on your needs or pick up free access to test the GrooveKart platform.
Free GrooveKart Store with Groove.CM free plan– With this free plan you can create free Groove stores but you will need to pay for 3rd party transactions/processors. At the time of writing this blog post, it is a 2% fee for 3rd party processors.
Lifetime Groovefunnels Platinum one pay: $1397 – Since the GrooveFunnels platform is still in beta, GrooveKart is currently offered as a part of a lifetime one payment deal. You can read about Groovefunnels and inclusions in my Groovefunnels review.
Or compare packages directly at Groove's official page.
GrooveKart Alternatives
Shopify – One of the biggest e-commerce platform
What is Shopify?
Shopify is a dedicated eCommerce website builder that helps us build our own online business. No doubt, Shopify is the most established eCommerce system in the market today. It is easy to use and perfect for beginners. 
It really is very easy as that– you do not need to know anything about website design to get started, you don't need a huge budget. It makes Shopify a fast as well as an inexpensive way of creating your online store. Shopify is a hosted eCommerce platform that allows anyone to set up an online store with hosting and support included. If you are looking for an all-in-one solution for your online store, Shopify is a great way to go.
Shopify Pros
Obtained the greatest score for adaptability as well as client fulfillment
Great inventory system to aid you to manage your online store
Integration with multiple selling networks, consisting of Facebook, Instagram, Amazon, and also ebay.com
Shopify offers the following plans. 
'Standard Shopify'– $29 monthly.
'Shopify'– $79 monthly.
'Advanced Shopify'– $299 monthly.
'Shopify Plus'– prices vary relying on needs (but fees start at $2000 per month)
Shopify Cons:
Extra price add-on/plugin fees – These are 3rd party apps, plugins, or bits of software that you can purchase to make your store better. Usually, these are one-time purchases, but sometimes they run off transaction fees.
Charges extra transaction fees:  They charge an additional transaction fee to pay as a percent of sales unless you use Shopify Payments. If you already have a 3rd party processor like Authorize.net or Square – then Shopify may turn out to be more expensive than other options. But – if you use Shopify Payments, they may be cheaper. 
Credit card fees – They also take up to 0.5-2% of your sales in addition to their regular monthly costs. These used to be pretty standardized – and for the most part, still are. However, Shopify payments run their own POS & processing network. That means fees go to Shopify rather than a processor like PayPal or Authorize.net. 
The website layout is not always mobile-friendly 
The high failure rate for new stores
GrooveKart Vs Shopify?
GrooveKart is good, if not better than Shopify. It has features you won't find on Shopify or on any other eCommerce platform. It was designed jointly with input by people who have been in the eCommerce space who have the experience and know what online vendors have to handle.
There is no subscription fee like in Shopify if you choose a one-time payment plan or annual plan. Plus you get premium features and a built-in app not possible with Shopify plans. So GrooveKart Clearly Saves a lot of money.
With GrooveKart™ you can pay under $42 a month for what may cost you over $500 a month with Shopify. Everyone's making the switch. You should too.-source
With Free Groovefunnels you get unlimited stores but there will be some transaction costs but it is still a cost-effective deal to test the platform.
Of course, the GrooveKart deal is a killer deal. Groove.CM deal has already made many people switch from click funnels to Groovefunnels.
GrooveKart Reviews- Is GrooveKart worth the deal?
The co-founders designed GrooveKart to help online marketers like you enjoy your time when selling your products online. They designed it to help you achieve your goals in various ways. You do not have to worry about add-on expenses and transaction fees, which are likely to reduce your earnings on other similar platforms.
Although the GrooveKart e-commerce platform is still in its infancy stage, it could be an alternative to Shopify in the future. Maybe!! But no one can deny the fact the Shopify is still a leading platform and will always be on the top.
The Freemium version is better than the Shopify platform that charges you the same amount of sales but without any other monthly costs. It could be a cost-effective way for new store owners starting on a limited budget.
Or it could be a good way to test the platform before committing yourself to the platform.  
Do you have an eCommerce store? Or want to build one (like me) to add a stream of passive income? I would love to hear your thoughts.
FAQ'S
How do I join GrooveKart?

GrooveKart is easy to join, click here to create a free account and then upgrade to buy GrooveKart platinum, annual, or monthly plans.

Is GrooveKart Free?

GrooveKart has a free plan (no monthly) to create unlimited stores but you will need to pay transaction costs or third-party payment processors.

How many stores can I build with GrooveKart?

You can build as many stores as you like, with no extra fees for additional stores.

Where will I find my GrooveKart login?

Once you join GrooveKart, you will get an email from GrooveKart support for details. If you don't get any, contact customer support at  [email protected].
Related GrooveFunnels (Groove.CM) Articles