GrooveFunnels Affiliate Program is a lucrative high-paying affiliate program to promote in 2022 that pays up to 40% ($798) affiliate commissions per sale. If you want to make money with this all-in-one marketing platform, then this review is for you.
Affiliate marketing is one of the legit ways to make money online from the comfort of our couch without needing to manage the product from the backend. But to actually make money with affiliate marketing, you need a good and easily converting product to promote.
It is no secret that the success of marketers lies in the product they choose as an affiliate.
GrooveFunnels is one such product that ticks all the right boxes for affiliate marketers. If you are new to Groovefunnels, I would also recommend you to check out my detailed review of Groove.CM platform after this blog post.
For starters, GrooveFunnels is the hottest and fastest-growing marketing platform in the market that has stormed the online business world. And with the current one-time payment lifetime access plan, Groove has definitely caught the attention of digital marketers and affiliates who want to save and make tonnes of money with this platform.
What is in this article for you? Here in this article, we will discuss
GrooveFunnels affiliate commission rates depending on plan.
How it works?
How do you become GrooveFunnels affiliate and earn $798 per sale?
How to promote as GrooveFunnels affiliate?
So, let's dive in.
In a hurry? Read a quick Groovefunnels affiliate program review summary below or scroll down for more details.
This website contains affiliate links which means we may earn commissions if you purchase through them (no extra cost to you). You can read our policies here.
GrooveFunnels Affiliate Program Summary
Groove is an excellent product that meets 97% marketing needs of digital marketers and affiliates on a single platform. The lifetime platinum account is one of the best offers to this time.
Groove affiliates get 20-40% tier 1 -upto $798 per sale and 5-10% tier-two recurring affiliate commissions with lifetime cookie tag.
Easily accessible affiliate tools in the affiliates' dashboard with everything you will need to promote Groovefunnels- Pre-made banners, links, etc.
GrooveJV sends timely notifications for changes or promotions
Get timely commissions- once you have crossed 30 days, you get paid weekly (only after two sales).
Groove has a sound support system for affiliates and hold promotional events for affiliates to boost their sales and reward them.
A Facebook support group to help keep affiliates up to speed with current sales and other news –
A free GrooveFunnels freemium Lite account that give lifetime access to Groovefunnels if you don't want to get/upgrade to a lifetime deal.
What is GrooveFunnels Affiliate Program?
GrooveFunnels affiliate program is one of high paying affiliate programs where Groove affiliates get commissions for promoting GrooveFunnels digital products/tools.
Anyone who signs up for a GrooveFunnels account (free or paid) is eligible to be a Groove affiliate. However, the amount of affiliate commission you may receive depends on your subscription plan, and you only get paid when someone pays/upgrade for any lifetime/monthly GrooveFunnels account.
Therefore, it is important to know the different pricing plans and packages you can promote as a Groovefunnels affiliate.
GrooveFunnels Affiliate Program by Mike Filsaime (Co-Founder)- Source Groove YouTube Channel
What is GrooveFunnels? 
Groovefunnels (developed by GrooveDigital, a company led by Mike Filsaime) is a complete all-in-one digital marketing platform/tool with various GrooveFunnels apps needed to build and run an online business.
GrooveFunnels is now called Groove.cm.
Through this amazing sales funnel builder, you can create unlimited funnels, build mobile and SEO-friendly websites, do email marketing, conduct webinars, create membership sites, e-commerce stores and manage your affiliates, all under one roof.
Whom is GrooveFunnels For (To Whom You Can Promote GrooveFunnels?)
GrooveFunnels is for anyone who is a digital marketer, online business owner, sales funnel creator, SAAS developer, affiliate marketer, and virtually anyone who has a product (physical or digital) to sell.
Groove Funnels is a robust all-in-one marketing platform with tons of tools required for running an online business rolled into one digital product. Unlike many other top-funnel builders, it is more than just a sales funnel software. Simultaneously, the most irresistible thing for choosing this marketing tool is a BIG price difference (refer to the below image). 
Read About GrooveFunnels/Groove.cm Pricing and Limited time Lifetime deal in my Groove.cm review.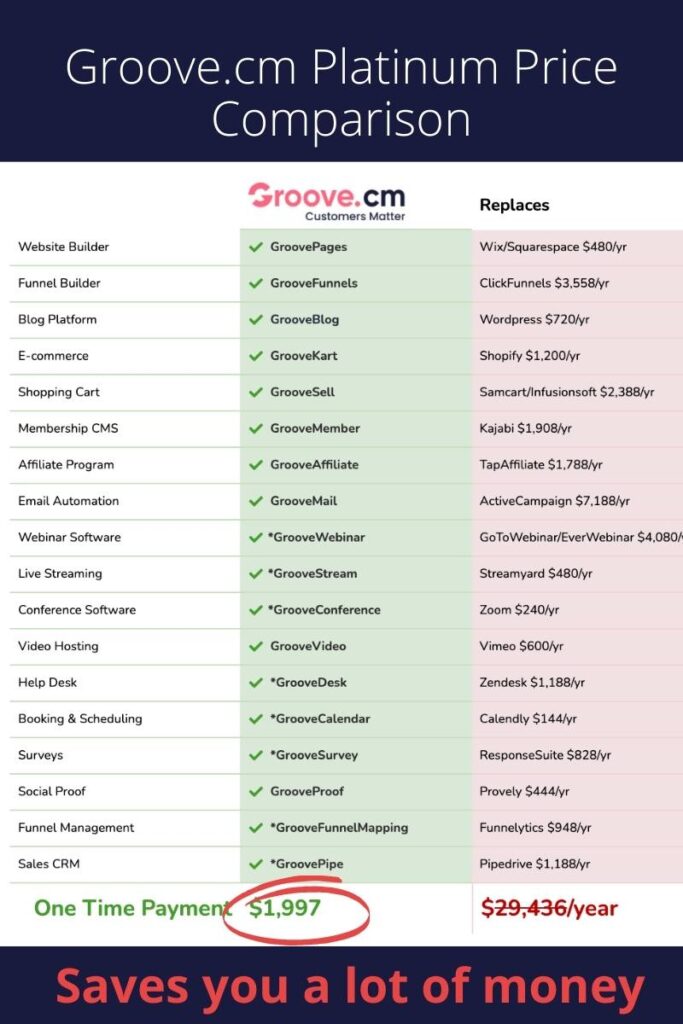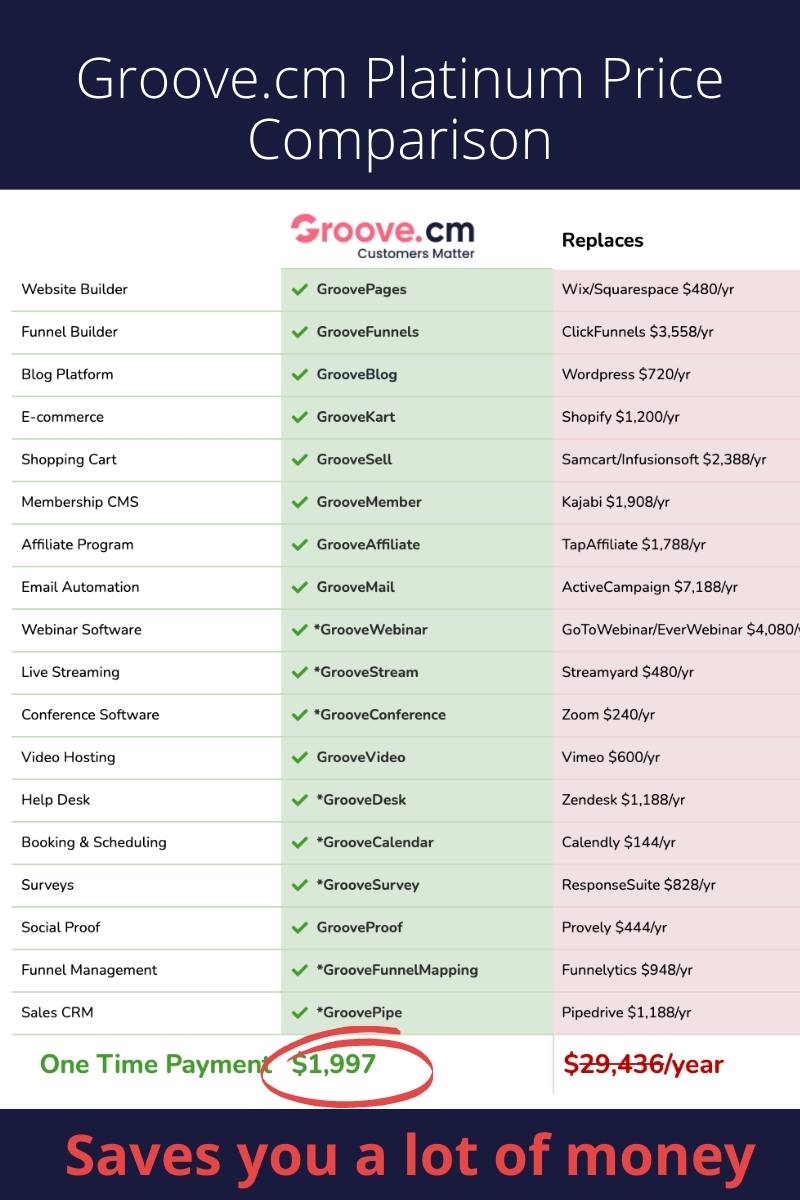 Above, you can see the pricing comparison table of GrooveFunnels Lifetime deal with similar software providers and the equivalent GrooveFunnel apps per year. 
When anyone upgrades to GrooveFunnels lifetime – they will be saving $29.436 in yearly fees! It's very cheap if you compare it with any other software and something worth recommending.
But it is not just the pricing where GrooveFunnels competes with its rivals.
All the apps included in GrooveFunnels are built with the latest technology and have many 'standout features' to help digital marketers. For example, It is the only software with "Mobile-First" Indexing in the websites, landing pages, or funnels you build and the only software that builds SEO-friendly funnels.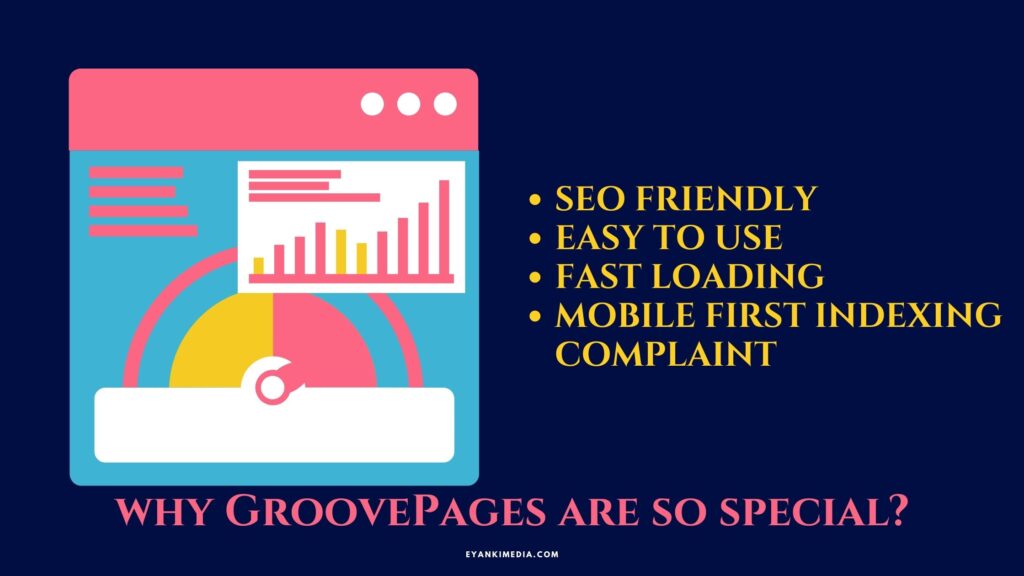 What Are The Different Groove Funnels Products Or Plans You Can Promote?
Currently, there are the following GrooveFunnels products you can promote with GrooveFunnels Affiliate Program::
1. Free lite account – Free lifetime access to the Groove platform. This is a base plan to attract free sign-ups (your affiliates). You will not be credited for free sign ups but if any of your free members (affiliates) upgrade, you will get your commission.
2. Full lifetime account Platinum plan -Full access to the whole platform for $1997 till DEC 10. After that, the lifetime account will go away and it will be replaced by a subscription plan.
Read more about GrooveKart and Groovefunnels.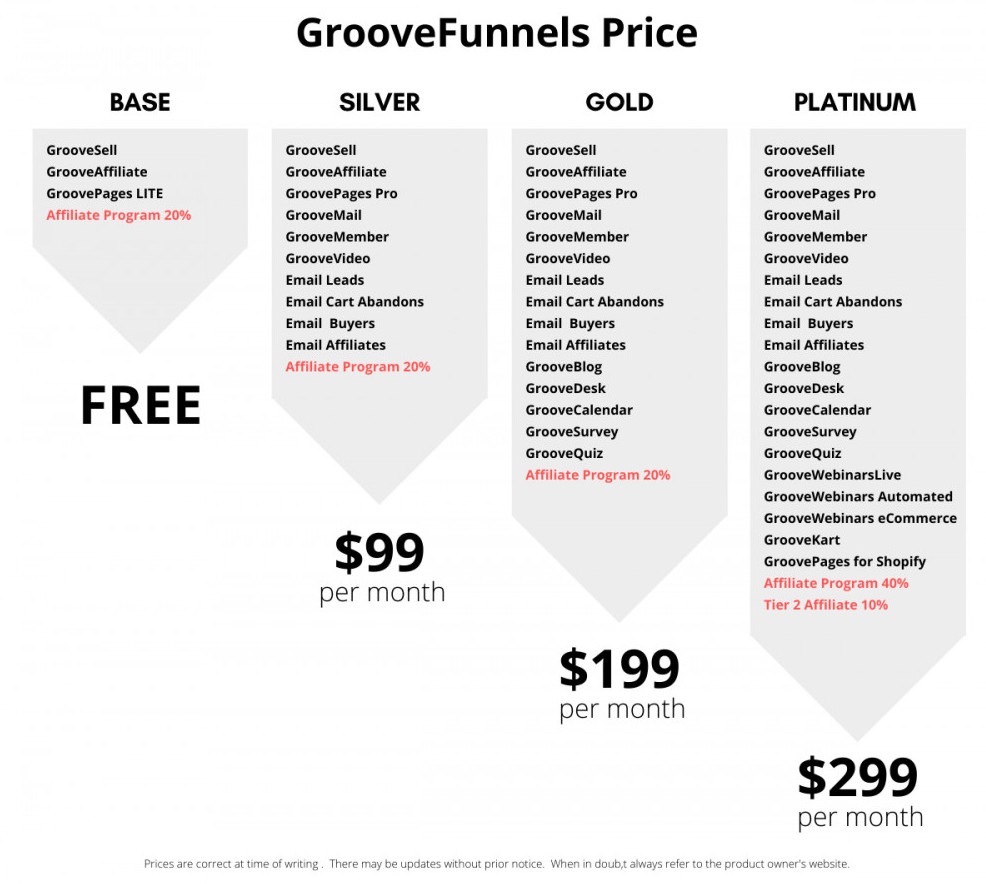 *Silver and Gold plans will be live once it is out of beta.
GrooveFunnels affiliate commission structure
Your GrooveFunnels affiliate commission is based on your GrooveFunnels-Groovesell account. As a GroveFunnels affiliate, you can get 20%- 40% commission on tier one and 5%-10% second tier commissions on every successful sale using your affiliate link.
Before diving into commission and sales, let us first understand different tier plans.
GrooveFunnels Multi-Tier (2-Tier) Affiliate Program Structure
GrooveFunnels Affiliate Program is a 2-tier affiliate program that allows you to earn commission on every sale generated by affiliates you have referred to Groovefunnels.
Tier 1:  When you refer someone and he ends up converting (buying a lifetime deal) from your affiliate link.
Tier 2: When someone you referred earlier (now an affiliate marketer) further refers Groovefunnels to a new person and makes a sale.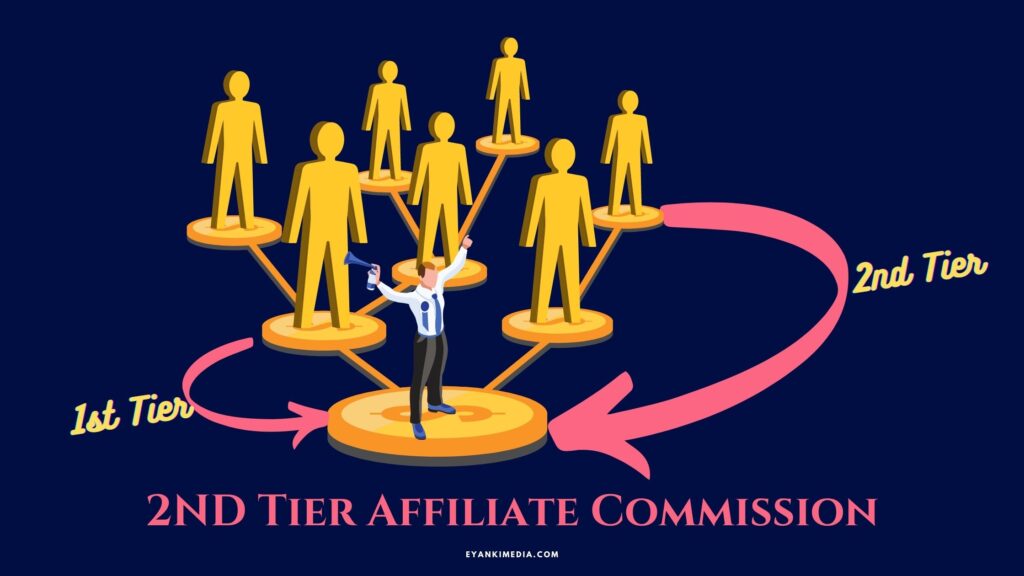 With its 2 tier marketing plan, GrooveFunnels gives its affiliates the potential to grow a truly passive income stream from their second-tier recurring commission system. It is worth it because if you refer someone with a large online following, you can earn a 2nd tier commission from every sale/upgrade they bring in.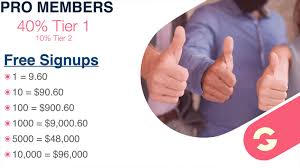 GrooveFunnels Affiliate Payouts 
Free GrooveFunnels account members
Members with a base plan (who have not upgraded). 20% commission. This means that you will only earn a 20% commission ($399 per sale) with your Free Groovefunnels account.
Life Time account Members
Members who have paid lifetime account. Earn up to 40% commissions (tier 1) and 10% commissions (second tier). This means you will earn 40% commissions ($798 per sale) and 10% ($197. 60) tier 2 commission for selling a Platinum Plan.
Cool Features of GrooveFunnels JV affiliate Program
Apart from the colossal commission and second-tier affiliate-commission structure, Groove JV/GrooveFunnel offers incredible features to its affiliate marketers that make it one of high converting affiliate marketing programs.
1. Lifetime Hardcoded Affiliate Tag
The thing I like most about this affiliate program is that the company locks all referrals to you for life.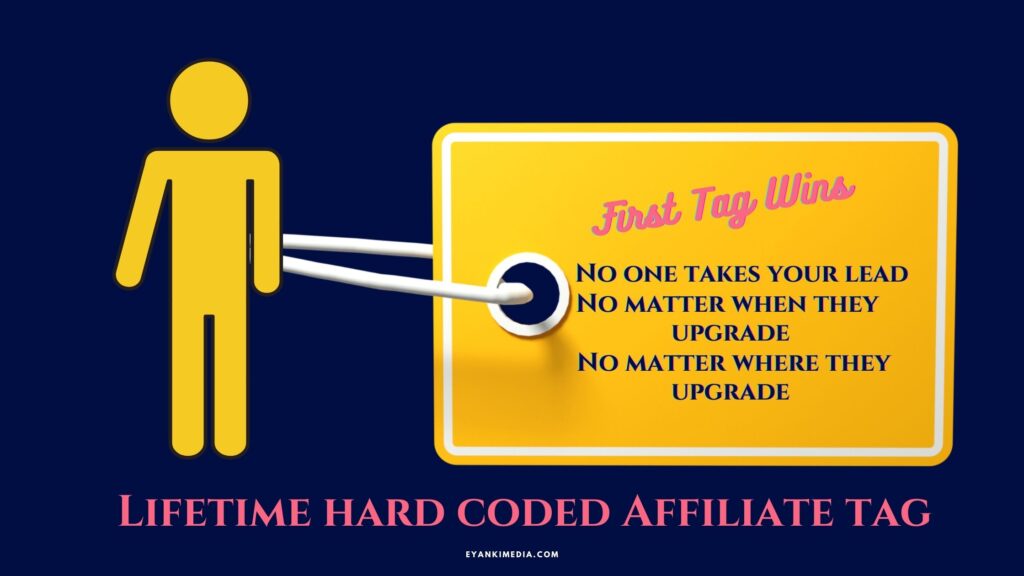 When you refer a user to any of the tools, the software automatically locks them to a chain similar to what Mike Filsaime calls a parent-child relationship. 
"This is hardcoded with an affiliate tag to you." It means that when you successfully refer a person to the Groovefunnels platform and create a free account with your link, their performance is tagged to you for life.
So whenever they upgrade (to any paid plan), you will get the commission as they have this lifetime lock-in concept to tagging.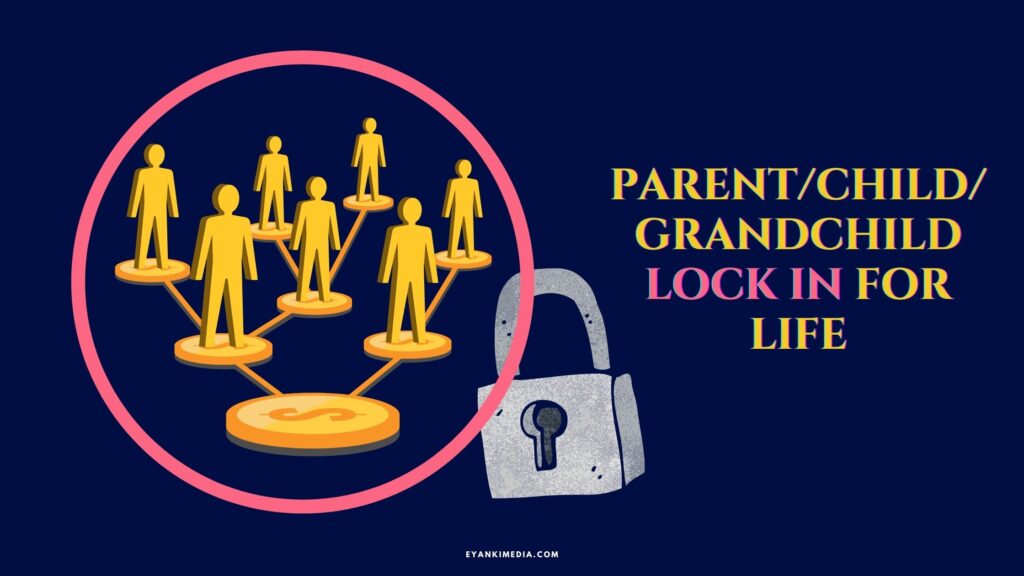 It means that if someone creates a free GrooveFunnels account with your link today and decides to upgrade their account years from now, YOU will get paid for the sale!
This means "First tag wins', even if your affiliates sign up for a lifetime paid account with someone else, you will get the commission.
Groove Affiliate Assist
Another unique feature of this lifetime tag is called the Groove Affiliate Assist. This ensures that you earn when your affiliate signs up for the Pro account with someone else, even if you don't promote the upgrade. Let me clear this for you:
A person "A" signs up through your affiliate link (locked with you forever) and upgrades to platinum, you get the 20%-40% tier 1 commission. But when A upgrades with another affiliate marketer link, you still get 10% because you were responsible for A to sign up on this site. The remaining % goes to another affiliate who made A upgrade to the paid membership plan.
That's the main advantage of joining the GrooveFunnels affiliate program- a Win-Win situation for all.
2. Readily Available Promotional Tools For Affiliates
An affiliate marketer's success is a merchant's success. To help its affiliates make a sale, Groove provides all necessary promo tools inside the affiliate dashboard, some of which are:
Affiliate links
Email swipe files
Pre-written social media posts
Facebook ads
Example blog articles 
Banner ads
Promo videos/video reviews
Ready to use email signatures
Thank you, page ads
Lets have a quick look at affiliate Dashboard
Besides these promo tools, you can also get access to the latest training materials by Groove academy.
How to Promote GrooveFunnels & Earn 40% commissions?
There is no doubt that the GrooveAffiliate program is a high ticket affiliate program and can be very profitable for you too. Free members can get $397.40 for every sale, which is a good amount, but you can earn double that of the free membership if you upgrade to platinum.
Your commission will be 798 per Lifetime plan upgrade (40%) plan with an additional second tier commission of 10%. And with the same effort!! Not to forget, you will get full access to the Groove Funnels platform. That's like the cherry on the top. 
There are different ways to promote GrooveFunnels, and the best part is it is relatively easy to promote GrooveFunnels with all tools provided by the Groove JV team. Before promoting any affiliate product, it is quite necessary to understand the product; as it helps to promote it better and maximize your affiliate commissions. 
The groove platform has a lot to offer, so each Groove app/tool has a different target audience type. It opens lots of possibilities. To be successful with the Groove affiliate program, it is better to niche down and research 'your target audience.'
Blogging
Blogging is one of the popular ways to create Passive Income Online. Blogging is very rewarding, but it takes a lot of learning, plenty of patience, and dedication to develop a successful blog.
You cannot expect results in a matter of a few days. If you want to dip your toes in blogging, it is quite a good time as Groove will be launching SEO-friendly GrooveBlog.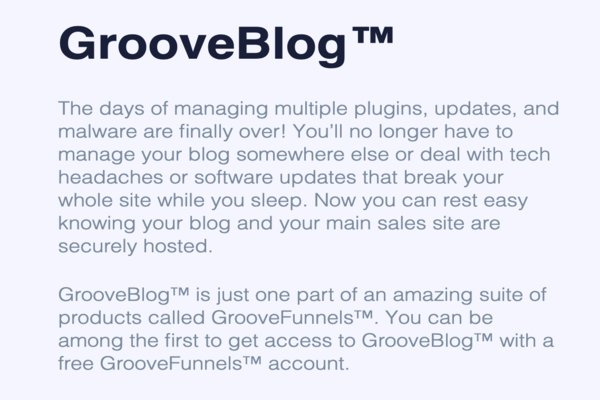 One of the critical SEO factors in blogging is website speed, and the good news is GrooveBlog pages load very fast as they are rendered in HTML. And to add to this, pages built with Groovepages use mobile-first indexing. This will make pages built with GrooveFunnels SEO friendly and you can get good SEO ranking.
Youtube
Youtube is the second largest search engine, and people watch 1 billion hours of videos on Youtube every day. Since GrooveFunnels is still new, you have an excellent chance to shine on YouTube. Keep in mind that Youtube may not allow you to put your affiliate links directly. You can build a simple funnel like this and direct your Youtube traffic to your landing pages. 
Social Media Promotion
Another good way of promoting your affiliate products for free is via social media posts. The four most popular social media platforms are Facebook, Twitter, Instagram, Pinterest, and Snapchat. 
Out of all, Facebook is one the best for promoting affiliate products both by organic marketing and paid ads. Whenever you are promoting organically on Facebook, keep in mind not to spam Facebook with your affiliate links everywhere. Facebook doesn't like direct affiliate links (even in Facebook ads). Instead, you should create a dedicated landing page for your offer, and maximize commissions, offering some good lead magnets and GrooveBonus.
If you are entirely new to Facebook ads, it is better to learn how to run and manage a successful ad campaign; else you will burn your money fast on Facebook advertising. 
GrooveFunnels Affiliate Program Rules & Guidelines You Need To Know
Before promoting GrooveFunnels, make sure to follow T&C. Groove policy clearly states that any affiliate trying to game the system will be banned, and commissions will be voided too. Many people have tried to break the rules.
Signing up for multiple accounts to sell later
Using fraudulent credit cards.
Spamming 
Suggesting people sign up again with a new email to get your bonus or cash rebates to people
Offering cash offers to people to sign up through your affiliate link.
Using negative words like 'scam' or creating a negative review site
Cookie stuffing
Is Signing Up For Groove Affiliate JV Program Worth It?
Can You Make Money With GrooveFunnels Affiliate Program?
Now, are you still wondering if it converts? Or are these commissions even possible? Then, do you remember the screenshot I posted above?
Currently, the conversion rate of someone who signs up for a free account and then upgrades to a paid version is 20%. This means that 1 out of 5 people who sign up through your link is likely to upgrade. 
And most of the serious affiliates upgrade their membership after signing up for a free plan. 
Here are a few reasons why?
1. You get unlimited access to freemium landing page builder – Groovepages, a robust selling platform-Groovesell and e-commerce store builder- GrooveKart. This is not a trial account but a free account for unlimited time—no monthly subscription fees.
2. Attractive Payouts with a two-tier commission structure.
3. Your referrals are always yours with hardcoded lifetime affiliate tags.
4. You get ready-made tools to promote the program.
So, all you have to offer this free lifetime deal by creating content that tells people how GrooveFunnels can help them. Groovefunnels will do the heavy lifting for you, so whenever people upgrade (which will be likely), you will get the commission as they have this lifetime lock-in concept when it comes to tagging.
How Do I Become a GrooveFunnels Affiliate?
Becoming a GrooveAffiliate is a very simple process. If you already have a free GroovePages or GrooveSell account, you are already signed as a GrooveFunnels affiliate! If you are new or don't have an account, you can become an affiliate by signing up for a free account here*; you don't need any credit card. Once you sign up, you will have free access to the groove app and all tools.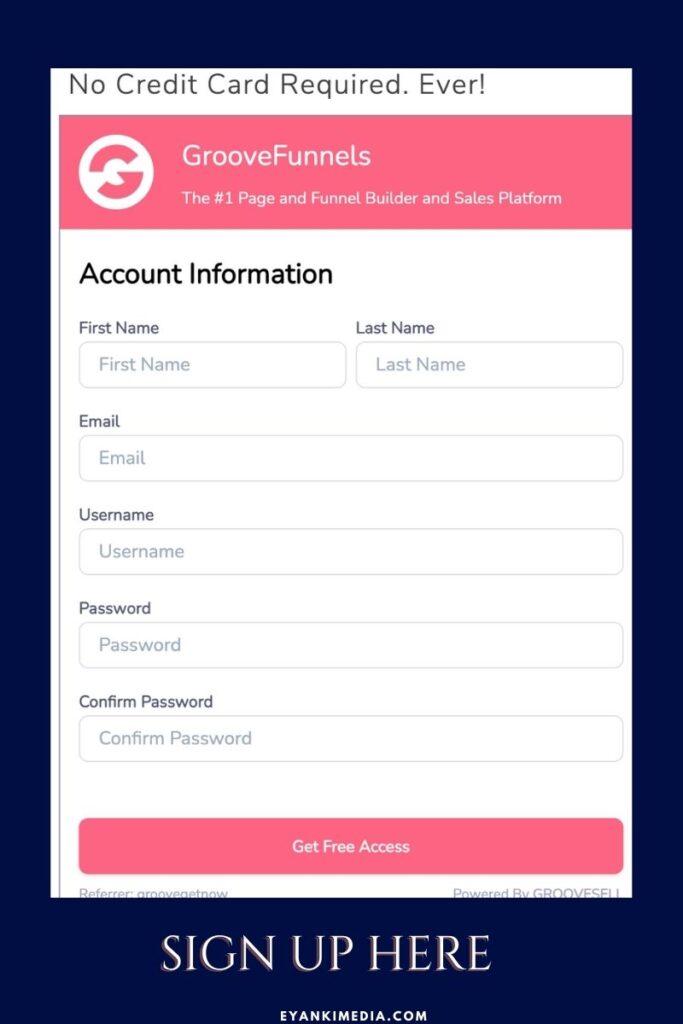 Sign Up For Free GrooveFunnels Affiliate Account 
Also, note though that you will only get a 20% commission ($397 ) with a Free Groovefunnels lite account. In order to access 40% commissions ($798 per sale), you need to get a Platinum lifetime account.  With this, you get full access to use GroovePages and GrooveSell to create landing pages, sell items, and affiliate system for a lifetime. (PS You'd typically have to pay well over $97 per month to get features like that).
No matter you are on a free account or paid Groovefunnels affiliate program is a must to apply for.
Once GrooveFunnels moves out of Beta, the free and lifetime access will go away, and there will be monthly payment plans for the platform. The Silver plan will be $99 a month, Gold will be $199 a month and Platinum will be $299.
Where Do I Find My Groove JV Affiliate Links?
Once you log in to your account, you will find your dashboard like this and on one left-hand side, there will be a 'partner program' icon.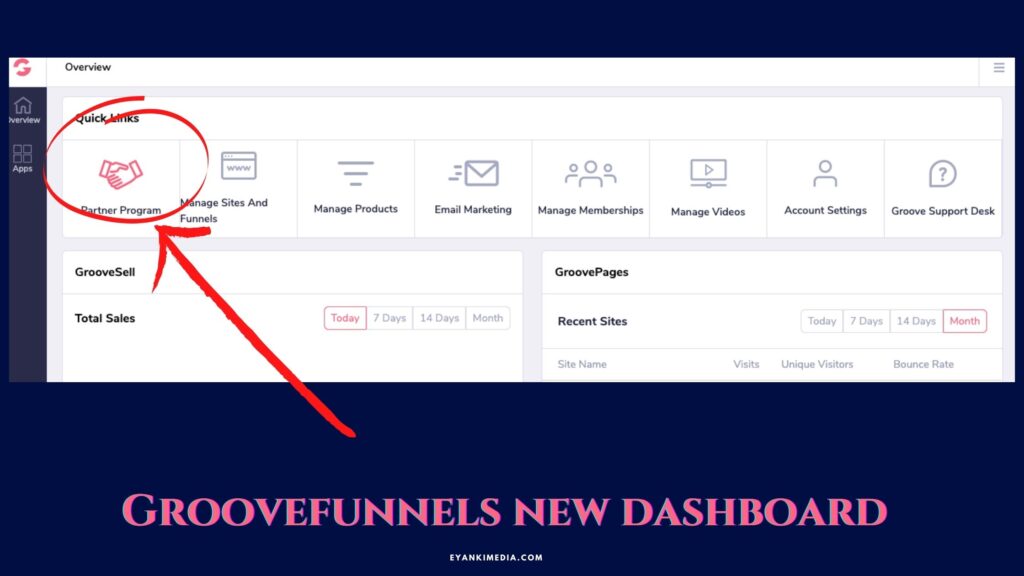 Then click on "partner program" to access the groove funnels partner dashboard and then scroll down a little to access the promotional tools and links you need.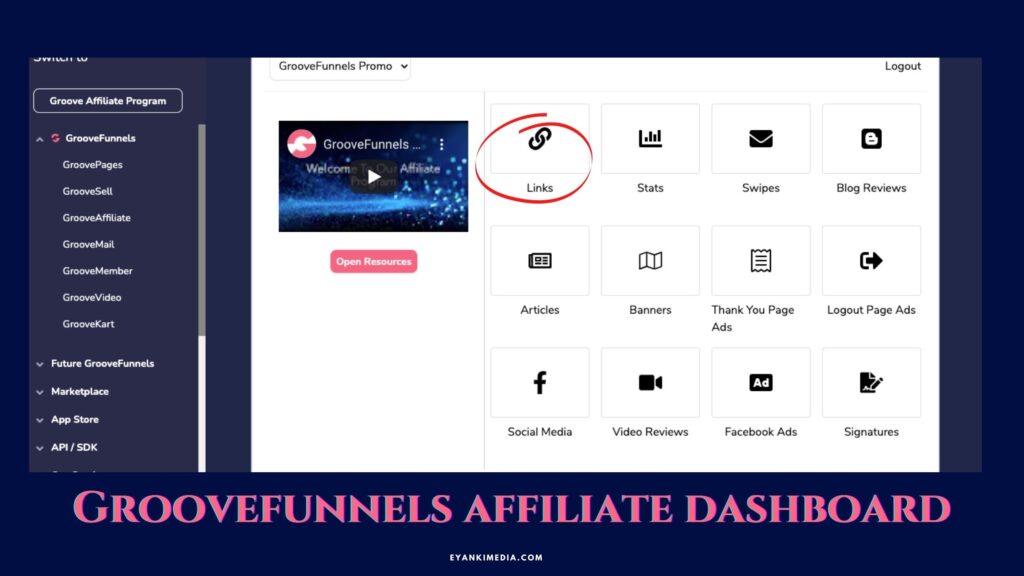 So, I am sure this might have answered some of your questions, If not, then you can contact the Groove support team too.
For me, it was a good decision as it saved me a lot. I hope it gave some value and you make a suitable decision for your online business too. Many people have already joined GrooveFunnels.
Need a head start? Become an affiliate now and get started by downloading my Done for you funnel. Just replace your links and start promoting.
Is GrooveFunnels legit?
Developed by renowned industry experts, GrooveFunnels is a legitimate SaaS marketing tool like other alternative tools available in the market. And the best part is, it's a freemium lifetime account (no credit card required) that gives you way more features than the monthly subscription plans of its competitors.
Its limited-time platinum plan is very powerful and can certainly replace the need for many software needed to run an online business.
How much commission do Groovefunnels affiliates get paid?
GrooveFunnels affiliate payout is based on your GrooveFunnels account. You can get up to 40% commission ($798 for every sale). Free GrooveFunnels account members with a base plan (who have not upgraded): 20% commissions (tier 1). Pro Members (who have paid and upgraded): Earn up to 40% commissions (tier 1) and 10% commissions (second tier).
When do I Get Paid as a GrooveFunnels Affiliate?

GrooveFunnels payouts are weekly but the commissions are released after 37 days. This 37 day period includes the 30-day payment cycle and a buffer time period of 7 days to handle any refunds. This means will receive payment after 37 to 42 days of a sale.
Will my commission increase if I make a sale and then upgrade to the Lifetime Membership?

No. The plan you are in at the time of the sale will be applicable. For example, if a person "A" signs up when you're in the free plan and "B" signs up after you upgrade to the Lifetime membership, then you get a 20% commission on A's sale and a 40% commission on B's sale.
Is GrooveFunnels MLM?
No, GrooveFunnels is not an MLM program. It is a SAAS with a well-structured affiliate program and is free to join.
Disclaimer: This blog post contains affiliate links, meaning I receive a commission if you decide to make a purchase through my links, but this is at no additional cost to you. 
GrooveFunnels Affiliate Program Review
GrooveFunnels Affiliate Program is a high paying affiliate program where Groove affiliates get 20-40% affiliate commissions by promoting GrooveFunnels.
Service Type: Affiliate program
Price: Free
Currency: USD
So what are your thoughts? Is there any affiliate program you like? Let me know if you have any questions, just leave a comment.