Imagine if you could sell unlimited digital products (or physical) or set up your own affiliate system without paying any platform fees?
And this includes advanced tracking, upsells, down-sells, or tripwires to boost conversion rates!
Well, GrooveSell is the one new revolutionary 100% free selling platform that can do all of that and so much more.
The GrooveSell from Groovefunnels is a game-changer for affiliates, marketers, and anyone else who wants to make more money online.
In this GrooveSell review, we'll be looking at the best features offered by Groovefunnels, the pros, and cons of using Groovesell as well as alternatives so you can make an educated decision on whether or not you should use this platform or not.
This website contains affiliate links which means we may earn commissions if you purchase through them (no extra cost to you). You can read our policies here.
Meanwhile, get your free GrooveSell lifetime account now! It won't even need a credit card.
What is GrooveSell?
GrooveSell is a sales and affiliate management platform offered by GrooveFunnels. This sales and affiliate management platform helps you manage your marketing campaigns from one central location.
Groove's team mission is to help businesses grow by providing them with the tools they need to succeed.
I've been using Groove for about ten months now, and it has changed my life as an affiliate marketer significantly and thanks to Groove, I recently launched my first digital product too!
And guess what? It's just the start, and I have so many ideas to put into action because of Groove.
If you are planning to launch your product soon or already have a digital product and want to save more money while getting access to advanced selling features, this review is for you!
Keep reading below if you want a detailed overview of how Groove can help make your life easier as a marketer.
GrooveSell has tons of features that will make life easier for you; if you're into marketing or sales. It may have some cons, but overall I think it's worth checking out.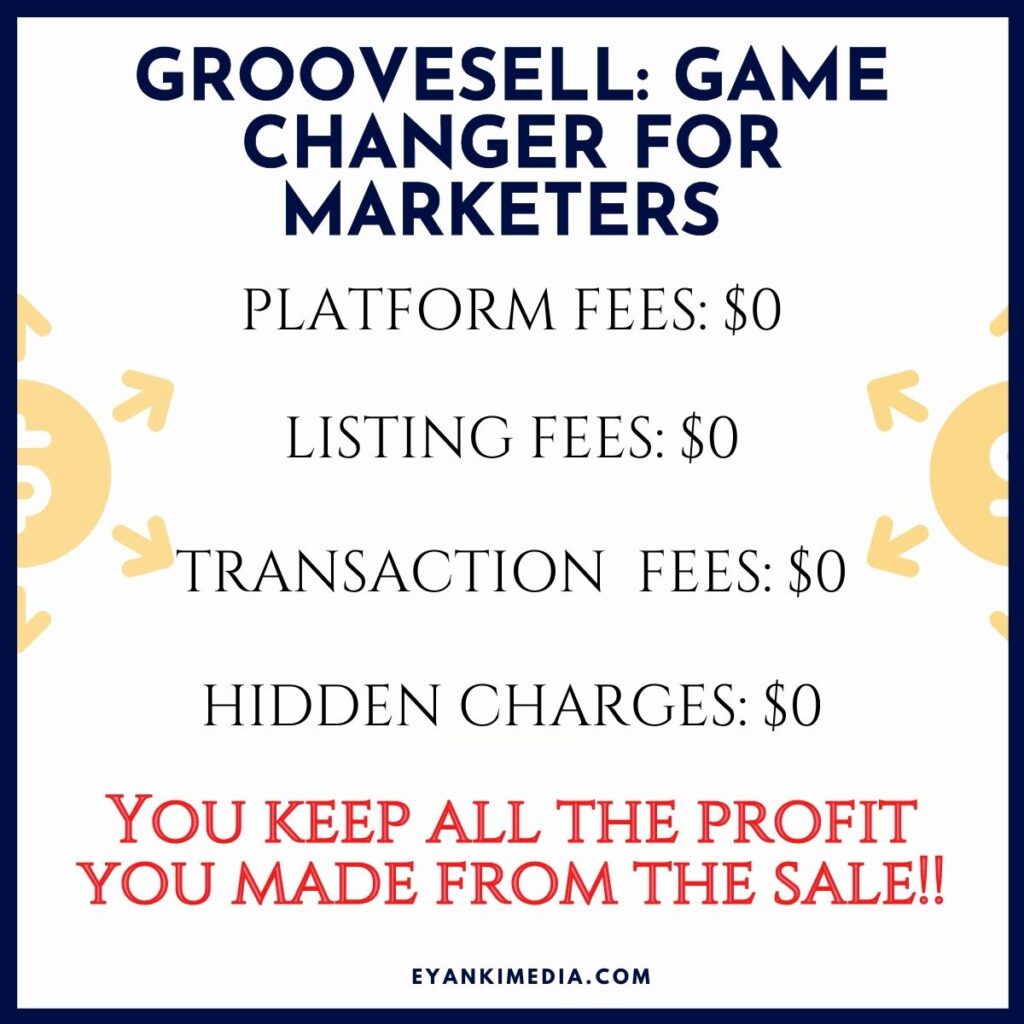 Why is GrooveSell Free?
GrooveSell is free to use because it gives you a chance to try out the features Groove has to offer without investing in any of them.
Well, I know this is a cheesy line, but the truth is Groove was pre-launched in the beta stage during COVID time. Founders thought to give free accounts to newbie marketers as a way to give back to the community till the time the platform is in the beta stage.
And thus, it is a win-win for everyone: Groove gets feedback, improves its platform with time, and we get to try it out without paying anything.
I know you are thinking then how Groove will make money?
Well, Groove is a freemium tool with an upsell of lifetime membership of unlimited features of Groovefunnels for experienced marketers. You can read more about GrooveFunnels pricing and all features included in the lifetime deal here.
But free lite account or lifetime deal, GrooveSell is currently completely free for a lifetime.
What can you do with GrooveSell?
1. Sell Digital Products
Sell digital products or physicals online without any platform fees. It includes advanced tracking, upsells, down-sells, or cross-sales at no additional cost to you.
It connects directly to your payment gateways which means GrooveSell won't make any cut from sales even if you end up converting. When you sell, all the money is yours to keep…There are NO fees
2. Manage Affiliate
Set up your own affiliate system for your products to earn commissions on your sales.
3. Promote Groove.CM as affiliate
Get paid by GrooveSell for every new customer (paying) you refer!- (check commission rates here)
No website hosting is required – just sign up using our one-click installation process!
What are the best features of GrooveSell?
Groove is a robust selling tool with advanced features to boost conversion and sales. Let's go over them so you can know how they can help you improve your business.
1. GrooveSell Selling features:
Unlimited product and sales funnels: A free GrooveSell account provides you with unlimited products and sales funnels to help your business grow. 
One-click Upsells, Down-sells, and Order Bumps: Show your customers upsells, down-sells and order bumps to increase the chances of a purchase. That way, you can make more money without any additional effort! The best part is you don't have to pay the extra dollar for these features.

The best part about GrooveSell is that there are not just pre-sale order bumps, but you can also create a hybrid upsell with a post-sale order bump.

Flexible Pricing:  With this free shopping cart software, you can also offer one-time prices, free trials, recurring payments, installment options, and recurring installment payment options. More payment options mean there's a greater chance of a conversion.

Customize your order form:  Make it like a sparkly pony or match it with your product type; customizing according to your buyer persona help in boosting conversion rates. GrooveSell lets you customize the order form to make it more inviting for your customers.

Real-time Sales, Orders, and Product Management:  Get real-time sales reports, orders, and product management with GrooveSell. It's great for boosting your business! And the best part is you don't have to pay a dime extra per month – it all comes included in every plan.
Cart Abandonment Follow Up: GrooveSell also has a cart abandonment follow-up feature, rarely seen in average current shopping cart builders. Its features help you track your potential customers, send a follow-up email reminding them of the items in their cart and recover sales that would have otherwise been lost.
In-built Reporting: GrooveSell has an in-built reporting feature that is not available in other shopping cart builders. You can create unlimited reports for the dashboard, view your top sellers, failed transactions, or referrers' report with just a few clicks of the mouse – no more messy spreadsheets! And you can export data on a CSV file if you prefer.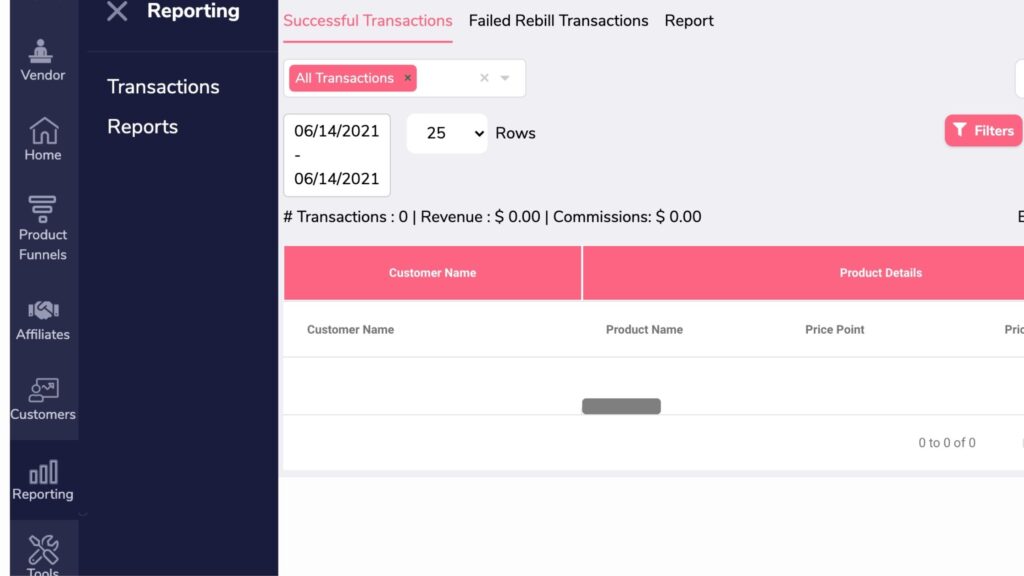 Multiple payment options: GrooveSell is not only a shopping cart builder-it is also an e-commerce store. It has multiple payment options like PayPal, Stripe, Authorize.net, NMI, or their own payment gateway- which no other current shopping cart builders offer at this time.

Coupons and discount codes: GrooveSell has built-in coupons and discount codes feature, not available in other shopping cart builders. You can create unlimited coupons codes for your products and entice your customers with discounts and promotions
Multiple languages: Groove can handle multiple currencies, languages, or countries from day one of release.
ProofWidget: It includes free proof widget as well! Got a high converting product show off to your visitors and attract more sales.

Email integration: GrooveSell will be able to connect to your email services provider like Mailchimp, Aweber, Groovemail (re-launching soon), or Active Campaign and automatically import new subscribers into the system.
2. Powerful Affiliate Management features:
Groove offers a free yet powerful GrooveAffiliate system that will enable affiliates to send traffic and earn commissions from your store. One distinguishing feature of the Groove affiliate system is its ability to be compared with Clickfunnels' Backpack (costs $297 monthly). 

You can add custom promo resources for your affiliates, provide bonuses, and more. 

Groovesell analytics will allow you to analyze how your affiliates are performing and track the best-performing affiliates. You can reward them or give commission bumps to drive more sales to your product.
3. GrooveSell Marketplace:
Groovesell's marketplace is what makes Groovesell so damn unique. It is available to use for Free accounts as well!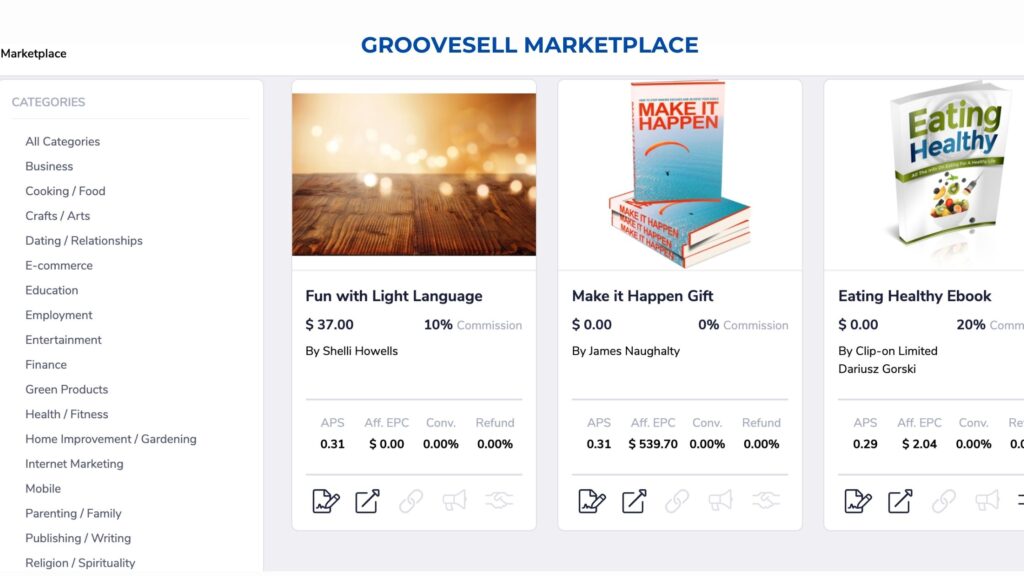 Groove offers a marketplace where vendors can place their offers for free, and affiliates can find products to sell. You no longer have to worry about finding an audience of hungry people who want to promote your offer.
For any marketers or affiliates out there who are looking for a way to quickly build an army of successful marketers while growing your own business at the same time, this is it.
GrooveSell Pricing
As mentioned earlier, Groovesell is completely free.
There are no listing fees, no monthly subscription fees, or transaction fees. You get 100% money from Groovesell in your payment gateway account (stripe, PayPal, or other).
But it is not all – Groove free accounts come with other free Groove features too. Here are some of my favorite ones:
Groovepages lite- Create opt-in funnels or landing pages.
Groovekart: Create one Shopify like an e-commerce store.
Groovemail: Get free 500 contacts
GrooveBlog: Create a blog for free! No hosting is needed.
Groovemember: Create a membership course for free (yes, you can sell your course with a free account).
You can read more about GrooveFunnel's additional features in my Groovefunnels review. For GrooveKart, refer to my GrooveKart review. For additional pricing info, refer to Groovefunnels pricing and inclusions.
GrooveSell alternatives
There are many GrooveSell alternatives, but none of them offer the same features or can beat what GrooveSell offers for free. The closest alternative is Clickfunnels Backpack which costs a $297 monthly subscription.
The other commonly used competitor platforms are:
Thrivecart: Powerful but needs $495 one-time platform fees.
ClickBank: $49.95 activation fee, $1 + 7.5% transaction fee for every sale, and $2.50 payment processing fee.
SamCart: Monthly fees of $49.
PayKickstart: Monthly fees of $99.
JVZoo: Takes away 5% commission on all sales.
GrooveSell Pros
It's lightweight and fast to learn how to use for your benefit by following tutorials provided by the team.
User-friendly interface, no coding needed. 
Free for lifetime-no hidden fees
GrooveSell Cons
A bit of a learning curve for fussy learners as the platform is in beta mode.
GrooveSell Review: is grooveSell legit?
Yes, GrooveSell is a legit software to build carts and shopping funnels. I use it to sell my digital products.
With the GrooveSell platform, you can create your own marketing funnel in minutes without paying any commissions or fees. You only need a free account at GrooveSell to try this revolutionary tool yourself.
I am sure that at the end of this Groovesell review article, we can conclude that GrooveSell is really a game-changing tool for marketers or bloggers like me who want to make more money online with zero investment (and no technical skills).
Don't forget to sign up before it gets out of the testing phase and reap its benefits.
GrooveSell Related Frequent Asked Questions
What's the difference between GrooveSell & GrooveKart?
GrooveKart is like an online shopping store to sell e-commerce products while Groovesell involves sales funnels and custom checkouts.
Does GrooveSell support custom domains?

Yes, you can create a custom domain URL to brand your checkout links and more.
Can I create an affiliate program for my own products and services with free grooveSell?

Yes, you can create your affiliate program with a free GrooveSell account and you will have this access for a lifetime.
---
Groovesell review: Free shopping cart, sales funnel builder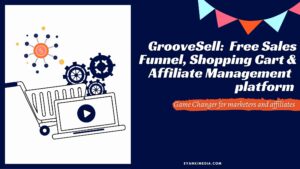 Groovefunnels is a 100% free selling platform that can do everything for you. With upsells, downsells and advanced tracking features to boost conversion rates, it's the perfect solution for anyone who wants to make more money online without paying any fees or being limited by what they can sell.
Price: free
Price Currency: $
Operating System: groovefunnels
Application Category: saas, shopping cart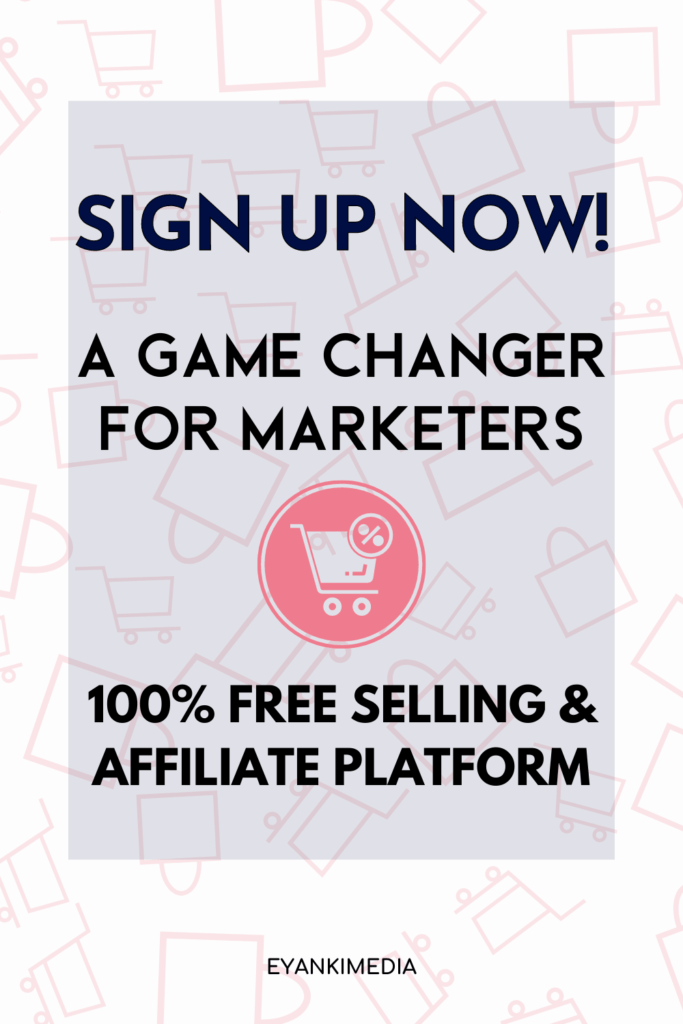 More Groove.cM Articles: