Last Updated on February 16, 2021 by Ruchika Gupta
GrooveFunnels is an all-in-one marketing software suite that contains GroovePages, GrooveSell and other apps to help build websites, sales funnels, Shopping carts, and more.
With its one-payment Lifetime Pricing Option (GrooveFunnels Lifetime deal), You'll be able to save more and use all the future versions of the product.

Click here to sign up for your Free Account first (Limited Time Deal) to access free features- No credit card for a free account.


GrooveFunnels Pros
An all-in-one marketing software suite: Funnels, E-Commerce, Courses, Email marketing, Blogs, Webinars and Videos
Founded by an industry expert with proven records
Affordable pricing (Limited time)
Free Lifetime account (Limited time)
Lifetime Platinum account upgrade (Limited time)
One dashboard access to all apps
Regular updates and bug fixes (Still in beta)
Free unlimited product funnels
Next-gen software technology
Huge community growing very fast
GrooveFunnels Cons
The platform is still in beta, there are bugs and errors but support is great
Many important apps still to be launched and tested
There might be some learning curve initially
Groove funnel is much of the talk these days as Groove boosts to provide all-in-one solutions to cater to marketing needs for anyone in the online marketing space.
Have you explored this latest marketing tool Yet?
If not, I am going to discuss everything about GrooveFunnels in this review so you can take a better decision for yourself and your business. Here we will discuss about its Pricing plans, inclusions in both Free plan and Lifetime Deal, How GrooveFunnels works and Finally is Groovefunnels the right choice for you?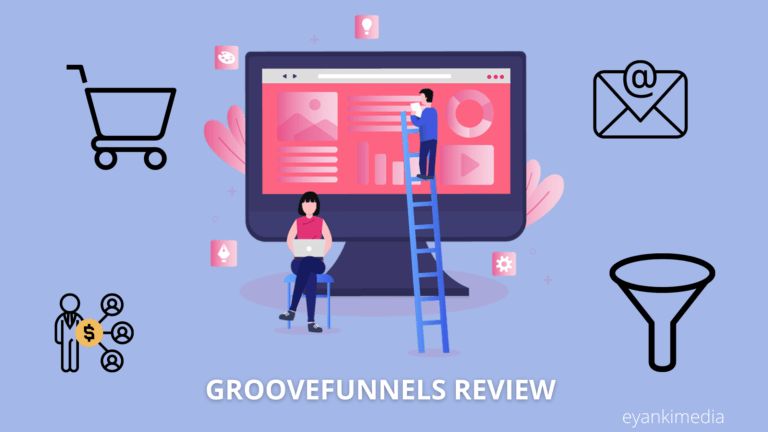 ---
What is GrooveFunnels?
GrooveFunnels is an all-in-one marketing software suite which is also a stand-alone substitute for many well-known software and tools currently used in business. It caters to 97% of all marketing software needs and designed to replace the need for funnel builders, autoresponders, e-comm software, webinar software, and other supporting tools.
GrooveFunnels Is Right For You If:
You're an online marketer.
You create content online.
You have products or services to sell (or promote).
You want to run a membership site.
You want to build funnels and a landing page
What Does GrooveFunnels include?
Let us give you a little sneak peak of software and tools in this Groovefunnels review
GroovePages: Landing page, website, and funnel builder to surpass the need for ClickFunnels.
GrooveSell: To Create complete product sales funnel with custom shopping carts (checkout pages, up-sells, down-sells, order bumps) to sell digital products, online courses, memberships, and physical products. GrooveSell is a shopping cart platform that is similar to Shopify, ThriveCart, PayKickStart, and SamCart.
GrooveAffiliate: Robust affiliate system with in-depth affiliate reporting and promotional tools for your products.
GrooveMail: A full-featured email marketing and CRM system similar to Active Campaign and Clickfunnel's Actionetics email marketing platform. It can integrate with all Groove apps and the GrooveFunnels system. Import up to 25,000 email contacts which means you can send 750,000 emails daily
GrooveMember: To built-in membership, platform to sell your courses or membership subscriptions. Can create multiple membership tiers, each with different content, price points, and Upload files and videos for your members to easily access.
GrooveVideo: To Host private videos for online courses, membership content, or video sales letters.
GrooveWebinars: For both Live (Similar to WebinarJam and GotoWebinar) and Automated Webinars (Similar to StealthWebinar or EverWebinar).
GrooveBlog: Similar to WordPress's CMS and blogging platform. Helps publish search engine optimized content for organic rankings for lite bloggers.
GroovePages for Shopify: An app that's going to sell the Shopify marketplace. It's for people who use Shopify and want to build dedicated landing pages, checkout pages, and sales funnels within their Shopify store.
GrooveSurvey: To create engaging surveys/quizzes with multiple-choice options to identify your next product, service, or lead generation.
GrooveKart: An e-Commerce platform that gives unlimited E-comm stores to compete directly with Shopify.
GrooveCalender: Real-time booking management to schedule meetings and sell consultations.
GrooveDesk: It is a built-in help-desk like Zendesk with a robust ticketing system. Integrates with GrooveSell and GrooveMail too to access full customer Profile.
Chatmatic: It is the latest addition to Groovefunnels, GrooveFunnels has recently partnered with Chatmatic to help its users boost their ROI. The chatbots are the future of marketing and this indeed brings Groovefunnels to the leading front.
This Groovefunnels review is just the Glimpse of tools and software GrooveFunnels is offering. I will cover these topics in detail in other posts separately.
Please bear in mind Groovefunnels is built to compete with various famous marketing tools so Groovefunnels offer many more features than these famous marketing tools are offering. They are also adding new features daily. Like when I joined Groovefunnels they had an option for only one store with Groovekart but now the limit is increased to have unlimited free stores!!
Who are the faces behind GrooveDigital?
Groove Digital Inc. consists of the best digital marketers, online influencers, and software developers. The founders of GrooveDigital are Mike Filsaime, John Cornetta, Mattijs Naus, and Matt Serralta.
Mike Filsaime: Mike is best known for Butterfly marketing which is responsible for the many advanced marketing strategies we see today. He has generated over $125 million dollars in running successful software companies like WebinarJam, EverWebinar, Kartra, and PayDotCom. He has a wealth of knowledge in internet marketing, e-commerce, and software development.
John Cornett: John's e-Commerce stores generate over 6-figures per month and he's the man behind GrooveKart. His mission is to make GrooveKart easier to use and a more affordable solution to the e-commerce software. Working closely with Mike Filsaime and John, this team has a vision and the know-how to outperform powerful solutions like ClickFunnels and Kartra.
Matt Serralta: Matt is the architect of GrooveKart, has more than 10 years of senior and executive-level management experience in executive operations, sales, P&L, and the field of e-commerce. Former COO of Prestashop. Matt Brings years of e-commerce marketing and development experience to GrooveKart.
Mattijs Naus: Matt is the CTO at GroovePages, a hardcore developer with extensive experience in website creators, pages builders, and apps development. He also has experience in running an agency and has a deep understanding of the digital marketing industry and the problems entrepreneurs and digital marketers face.
What is GrooveFunnels Pricing and Plans?
Currently there are two Limited-time lifetime plans for GrooveFunnels.
Lifetime Free Account: Lifetime free Lite GrooveFunnels that gives Free funnels (with up-sells, down-sells), Websites, Hosting, affiliate systems, etc. This is what the company is giving away till the time of the official launch in October as they are still in the testing phase. Many applications are to be launched and many already working.
GrooveFunnels Lifetime Platinum Plan: Access to Groovefunnels premium software and tools for a lifetime at a one-time low cost of $1397! This is by far the most advanced, value-packed, and all-in-one plan that GrooveFunnels offer.
If you're not confident about GrooveFunnels, you can start with a Free plan of GrooveFunnels which gives you access to GrooveSell, GrooveAffilaite, and GroovePages lite version. With a GrooveFunnels Base plan, you can sell your digital products, promote products as an affiliate, and create 3 free websites with GroovePages Lite. You can also promote GrooveFunnels as an affiliate and earn a 20% commission on Tier 1 and 5% on Tier 2.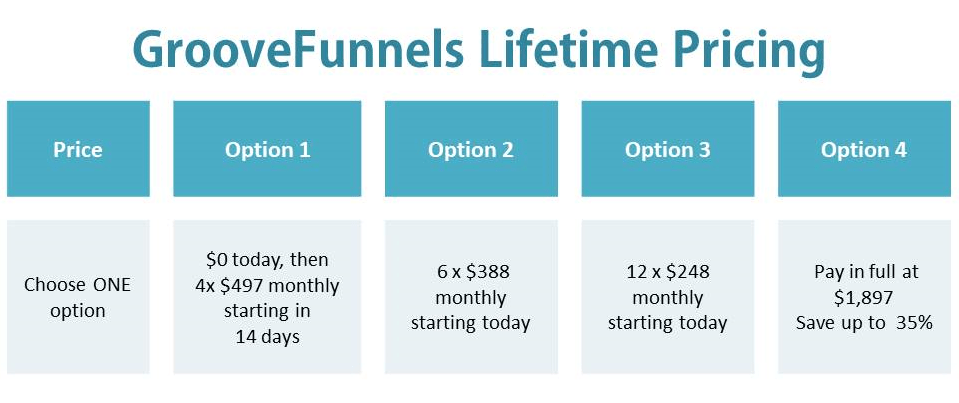 GrooveFunnels Subscription Plans:
The Lifetime deal till it's in beta and after its pricing will switch to a monthly plan subscription with Base, Silver, Gold, and Platinum plan.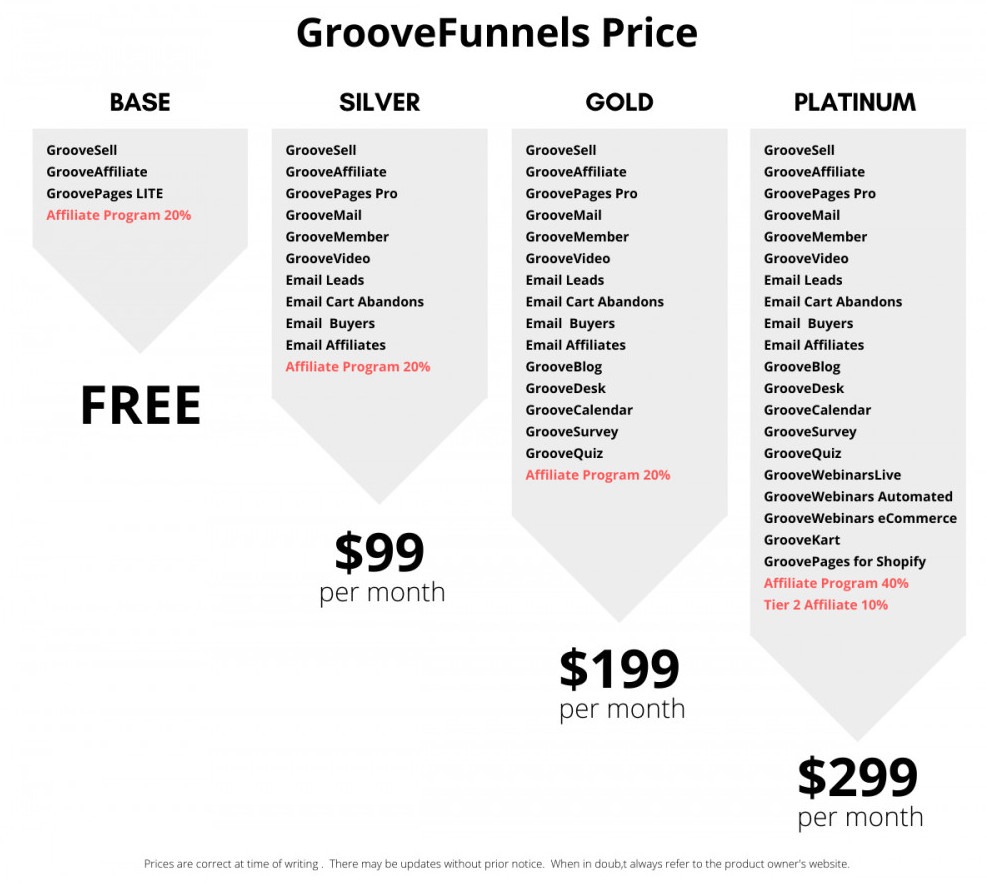 GrooveFunnels Platinum Offer Inclusion and Comparison
Here's a pricing comparison table of GrooveFunnels with similar software providers and the equivalent GrooveFunnel apps. This Platinum deal looks like an arsenal of offers and quite a no-brainer for anyone in the digital marketing industry.
The figures are yearly savings of comparable software subscriptions. When you upgrade to GrooveFunnels lifetime NOW – you will be saving $15,609 in yearly fees!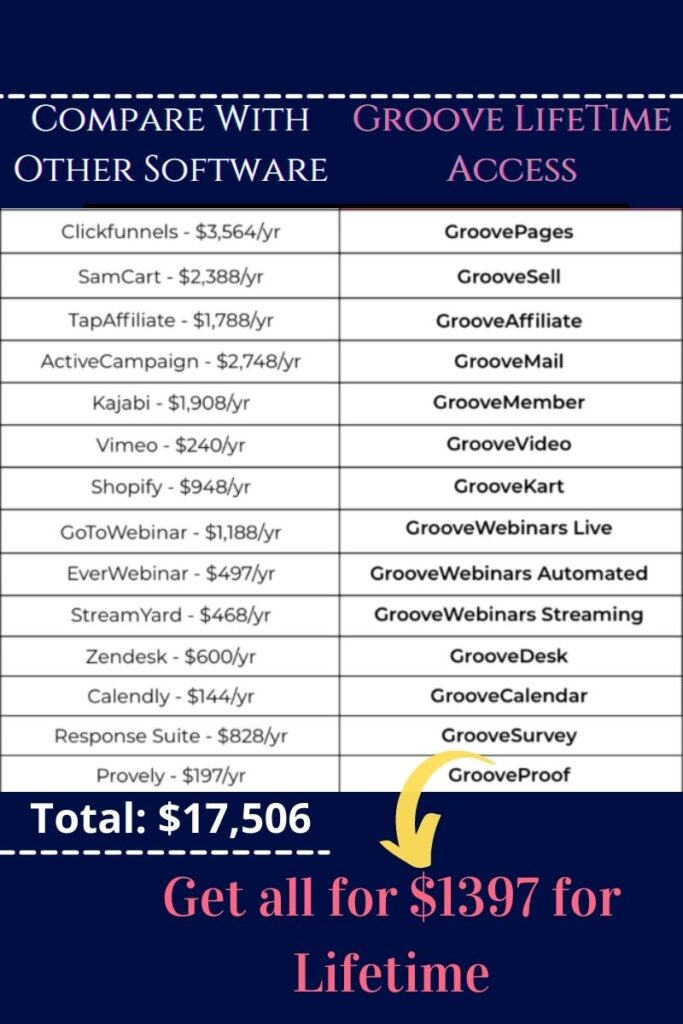 So grab this amazing offer before the timer runs out. You can select any of payment option.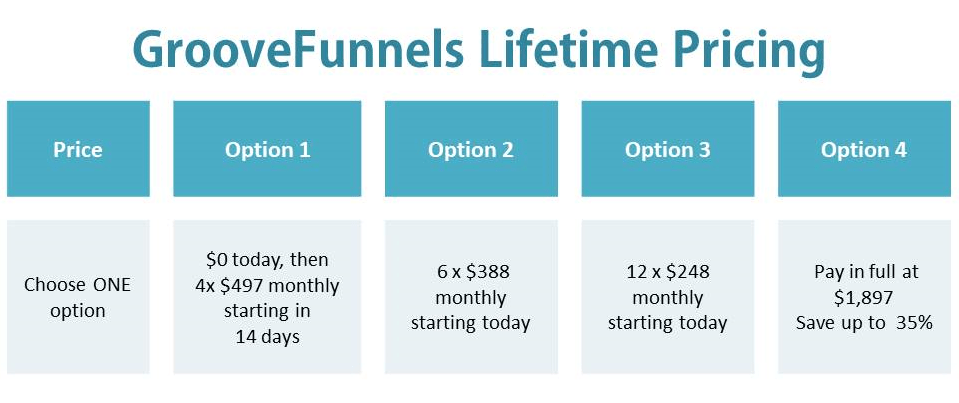 What are the Biggest Takeaways from the Lifetime deal? Why I upgraded to platinum lifetime?
Here are just some of the things that I want to mention in this Groovefunnels review that made this deal a no brainer deal for me.
Freedom from monthly clickfunnels subscription: Clickfunnels costs at least $3,000+ per year but with this LIFETIME deal, you don't have to worry about monthly clickfunnels payment or any other software. I know there are cheaper options available but GrooveFunnels come with new and updated integrations to track and optimize funnels.
Includes GrooveKart Lifetime: Platinum plan includes unlimited e-stores that you can fully integrate with Groovefunnels, Groovemail, Groovedesk , Grooveproof and has GroovePay with lower transaction fees (compared to PayPal). It also gives freedom from monthly Shopify subscription and many third party apps to boosts sales and conversions.
Includes GrooveMail: After flushing thousands on Fb ads and getting so many business managers shut down, I realized having an email list is important for keep your business running. This GrooveMail is their full-featured email marketing and CRM system very similar to Active Campaign and Clickfunnel's Actionetics email marketing platform.It gives around 25000 email contacts which typically cost $799 per month alone. It can fully integrated with all Groove apps and the GrooveFunnels system.
Includes web-hosting with SEO ranking features: It may surpass the need of WordPress and blogging platforms. Currently, it doesn't have huge plugins options but it is ideal for businesses who run paid ads but want to do light blogging.
My hands-on Experience with GrooveFunnels
Before using Groovepages for funnels, I have made funnels with Clickfunnels for my business.
Groovepages have lot of templates in both platinum and free plan to start with and they do add new templated every-week. Free plan has a cap of 100 templates (at the time of writing this). I chose to modify a template to first get hands on Groovepages builder system. It mostly rely on containers (quite similar to 'section' on clickfunnels). There was a little learning curve to understand the structure but nothing too difficult. Groovepages have some additional feature like we can optimize funnels for tablets, desktop and laptop.
GroovePages is the Fastest Landing & Funnel Page Builder.
The big payoff: It's built on the progressive JavaScript Framework VUE.JS which allows you to create sales funnels and websites in an easier and more efficient manner with better results.
At the moment the GrooveFunnels platform is best used on Google Chrome (other browsers may not work properly and the mobile app is still in development).
Is Lifetime-deal worth? Check other users reviews
If you are already into this digital marketing space then you will know how massive this discount is.
You can literally run your ENTIRE business on GrooveFunnels without having to buy separate software and subscriptions ever again. I bought this software in August and already loving it. I wish I had done this sooner.
If you haven't got this Groovelifetime deal you might end up kicking yourself later for not taking it up.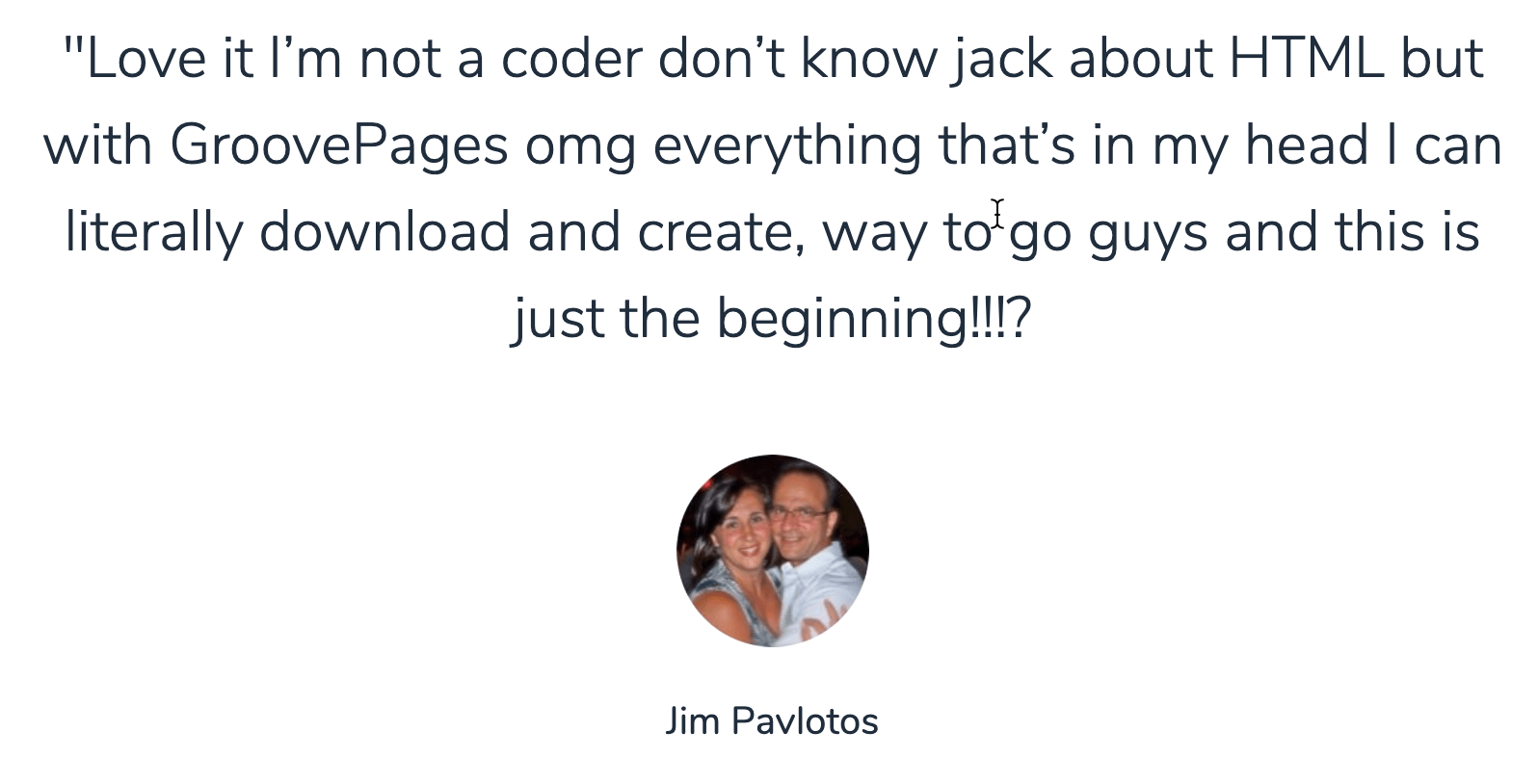 Frequently Asked Questions
What is GroovePages?
Groove Pages is the GrooveFunnels page builder. You can use it to quickly build fast loading and mobile-friendly websites and pages. GroovePages are many with latest technology making them very fast loading and SEO friendly.
What is GrooveSell?
Groove Sell is the shopping cart or checkout software used for building funnels with GroovePages. It's also fully integrated with GrooveAffiliate.
What is GrooveAffiliate?
Groove Affiliate is a separate app that is fully integrated with GrooveSell. It allows you to create resources for joint ventures, recruit affiliates, and track their sales.
Does GrooveFunnels Have a Money-Back Guarantee?
Yes, there's a thirty day money back guarantee if you are not happy with the platform.
Is GrooveFunnels valuable for newbies?
Yes, GrooveFunnels has great value for those new to online business. Groove's free lifetime deal allows you to have free webhosting and you don't need external hosting. You will only need domain name.
What is GrooveMember?
GrooveMember is a membership website platform that is designed for creating online courses.
What is GrooveVideo?
GrooveVideo is a video hosting and streaming platform which gives Groovesters a better option than YouTube or Vimeo.  It integrates directly with GroovePages and comes with limited free hosting for platinum members (free members must provide their own storage space, but may still use the player).
What Does Groove Funnels Integrate With? 
GroovePages integrates with a number of email marketing services including Mailchimp, GetResponse, ActiveCampaign, AWeber, and others. It also has a powerful native Zapier integration.
What is GrooveKart?
GrooveKart is an ecommerce platform looking to offer direct competition to Shopify. It is available separately from GrooveFunnels, but if you buy the GF platinum lifetime deal you can get access to a free GrooveKart store.
Is GrooveFunnels Legit?
GrooveFunnels is not just legit, it's likely going to change the face of digital marketing. No other platform integrates the functionality of Shopify with landing pages, email marketing autoresponders, webinars, and much more. The inclusions in free plan is worth more than $99 per month itself. The full GrooveFunnels suite will replace most of the online software needs.
Is there a discount for GrooveFunnels?
The GrooveFunnels Lifetime Deal is heavily discounted and price will go up once it comes out of beta. However, you can use GrooveFunnels free plan which includes many features to help you get started. These features are equally comparable to what competitors are offering in their monthly plans.
What will GrooveFunnel's pricing be after the Lifetime Deal Ends?
After GrooveFunnels comes out of beta, it switches to a monthly pricing model. Pricing starts at $99/month on the SilverPlan and $199/month on the Gold Plan. The Platinum plan which gives you access to all the apps in the GrooveFunnels Lifetime offer starts at $299.
What else do I need to purchase after GrooveFunnels?
The only thing GrooveFunnels does not give you is a branded domain name. If you're looking to have your GroovePages hosted on your own custom domain, you will need to buy it at a domain registry. I buy my domain names at Namecheap.
Will I be able to import funnels and can I create share funnels?
Yes to both. To import funnels, just paste the URL into GroovePages and the builder will import all text, images and hyperlinks with minor configurations.
What will GrooveFunnels integrate with?
GrooveFunnels will integrate with over 20 email platforms, at least 7 membership software platforms, Zapier, Funnelytics and many more.
Does GrooveFunnel has FREE SSL?
No. You create a free Cloudflare account and use their free SSL. They will have free SSL from 21 Sept 2020
Does GrooveFunnels have any Affiliate Program?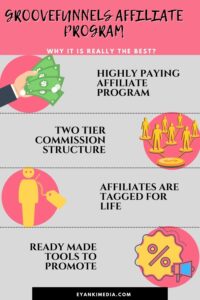 Yes, it has a pretty sweet affiliate program where groove affiliates can earn upto 40% commission ($548 per sale). Anyone can join their affiliate program for free. You can read About Affiliate Program here.
What are your thoughts?
I hope I gave you some insights about Groovefunnels in this review. If you want to be part of revolutionary software that has great potential to be the number #1 sales and marketing funnel platform. You can try the free version to get some hands-on experience and then upgrade for Platinum here if it suits you.
Disclaimer: This article contains affiliate links, meaning I receive a commission if you decide to make a purchase through my links, but this is at no additional cost to you.