In this Daylite CRM review, we're going Daylite Features that Increase Small Business Productivity, Sales and Business!
It's no secret that small businesses need to grow if they hope to survive. But many entrepreneurs struggle with what it means to grow their business and how to get there. They are too busy running their businesses and trying to make a profit that they don't have the time or resources to keep track of their customers and leads data.
As a result, these business owners, knowingly or unknowingly, leave a lot of money on the table by failing to track all of their sales leads and opportunities.
If you're a small business owner reading this article, can you relate? Does that sound like you?
If so, you need an effective system that can help you keep your head above water. And the only way that you can do this and not lose your sanity in the process is by using a CRM system.
Why Should you as a Small Business Owner Invest in a CRM tool?
Most small businesses use multiple tools to handle each aspect of their business, which means they have to switch back and forth between different platforms all day long. They have to juggle everything from marketing to customer service themselves, which makes it hard for them to stay on top of everything that needs attention at any given time. 
Therefore, a CRM is the perfect solution for small business owners who want to track their leads, increase productivity and improve their workflow. I know for many of you, it's difficult to find the right software that fits your needs and budget. The problem with most CRMs is that they're either too expensive or don't have all the features you need for managing your contacts and leads. 
Daylite is an all-in-one CRM solution designed specifically for small businesses like yours at a price that won't break the bank. It puts everything you need into one place so you can see what matters the most to business at once instead of having to jump around from platform to platform. 
What is Daylite?
Daylite is a CRM (Customer Relationship Management) tool for businesses that helps them track leads, supervise projects and tasks, manage contacts, and follow up with prospects.
Daylite helps you do more. It helps you make more sales and finish projects faster. You can manage many clients with Daylite and it's easy to start a project from scratch.
It's the best tool for entrepreneurs who are looking to get more organized and take their business to the next level.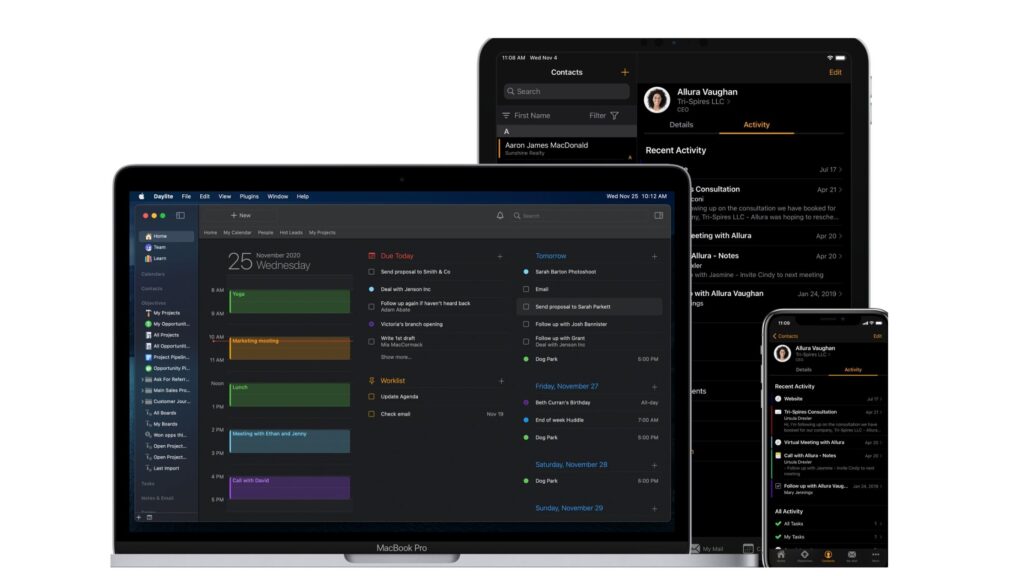 Daylite is exclusively for Apple devices and works seamlessly across all iOS device – Mac, iPhone, and iPad – so you can access your data anytime from anywhere, even without Internet connection.
Who Is Daylite for?
Daylite helps business owners organize their tasks and stay on top of everything while they're always on the go. Daylite's features are perfect for small and medium businesses of 1-100 employees, including professional services firms (consultants, coaches, real estate brokerages, financial advisors, lawyers) as well as creative businesses such as marketing agencies, photographers. Daylite can also be used by larger companies in the wholesale business or construction sector.
6 best features of Daylite to help you drive more sales and business
Daylite is a powerful and adaptable time management app that can help you grow your small business. Daylite has all the tools to help you be more productive and profitable. 
The following are six features in Daylite that will help make you more productive as a small business owner:
1. User-friendly interface
Daylite has a clean and intuitive interface which is designed to help you visualize all your projects or team tasks assigned in different work areas in one place at any given time.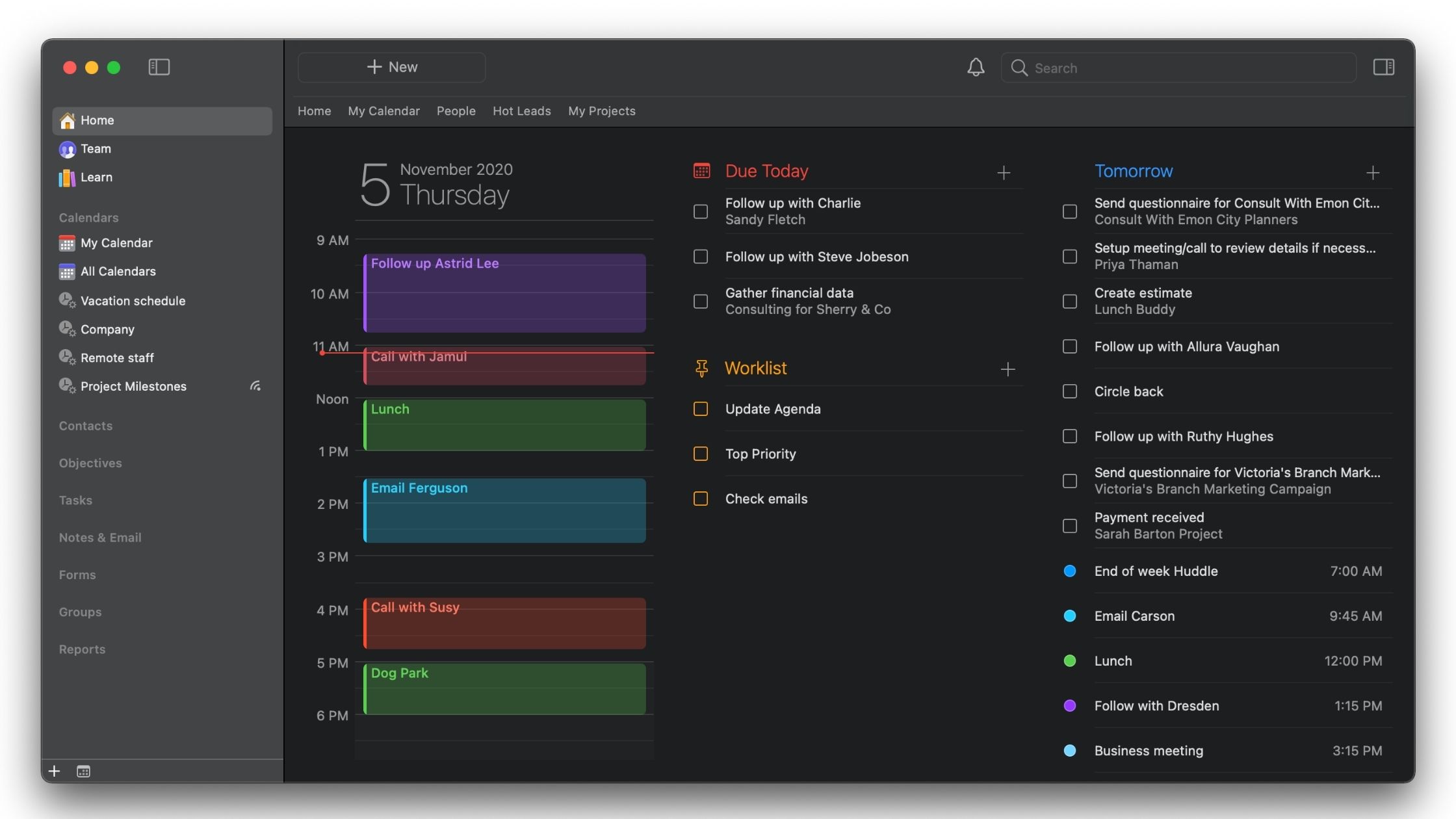 This clean interface makes it easy to be productive by cutting down on the amount of clutter and distractions while you work.
You will enjoy its elegant looking workspace that has three major sections: the top toolbar, left sidebar, and result window. The top toolbar allows you to create new items, such as contacts or tasks. It also shows if there are any notifications about upcoming events. The sidebar contains modules available in the Daylite CRM tool, and the data on the right side comes from these modules.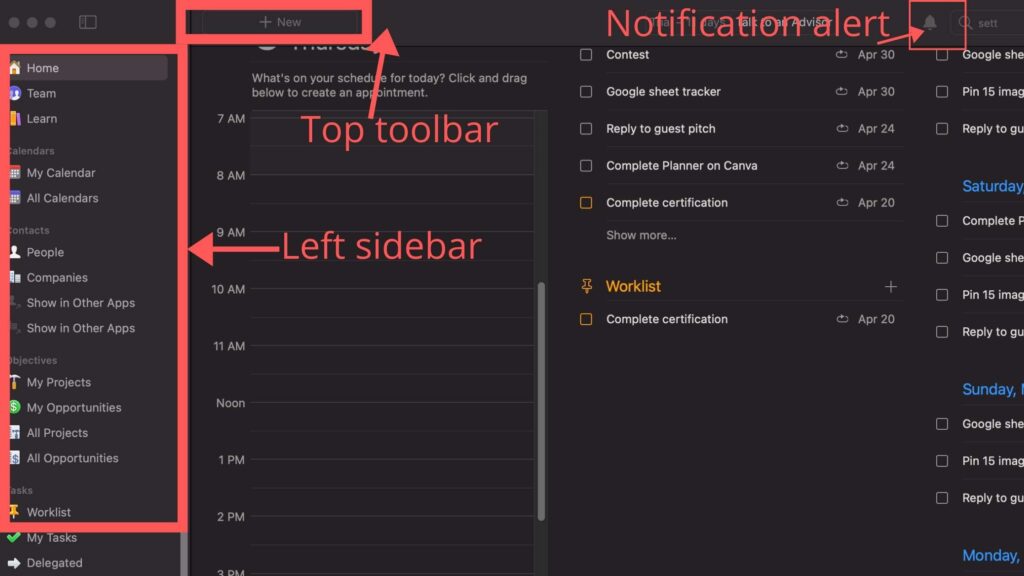 2. Advanced calendaring system
Daylite is the ultimate tool in modern meeting planning. It serves as a perfect calendar for professionals that not only helps you keep track of your appointments but also lets you see what's on tap for everyone else with advanced filtering! You can use it as a practical tool for keeping up with your team and clients.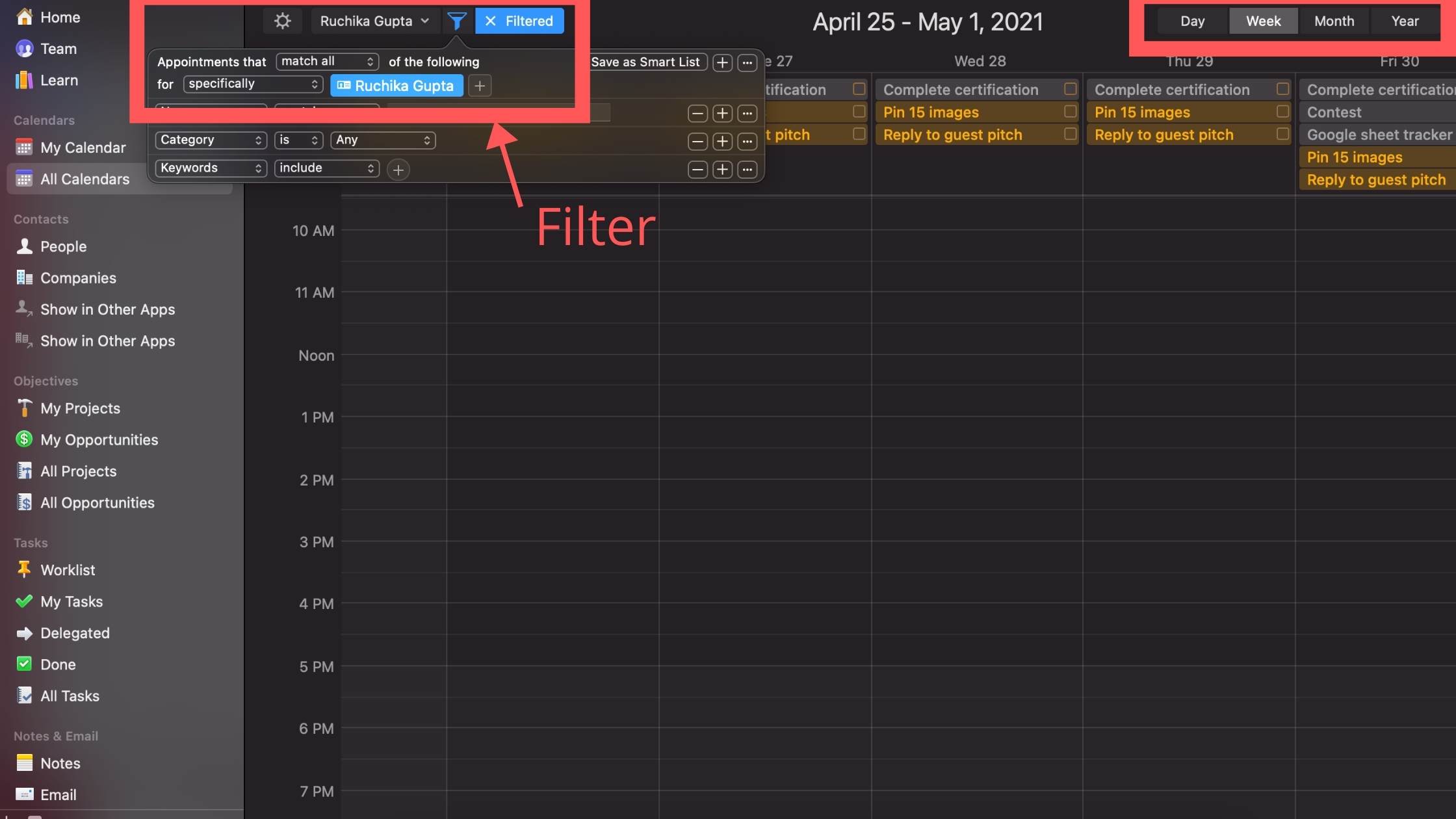 It will help you keep track of what needs to be done today, tomorrow, current week, coming month, or plan the whole year with ease! You'll never miss a deadline with reminders that pop up right on your desktop or mobile device.
It syncs well with your apple calendar and links people, emails, notes, and everything related to your appointments so you can have information in one place. This linking is quite helpful as you can pull up all past conversations with one click before any meeting and meet your client's expectations. 
3. Organized Contact management
Daylite's contact management feature is a lifesaver. It makes sure that you always have at your fingertips the information you need about your leads or customers and know how to use it in a way that drives more sales. 
With Daylite, you can organize all of your contacts in one place and keep track of their interactions with your company. You don't have to worry about lost data or messy spreadsheets anymore! Organized contact management gives small businesses a competitive edge by increasing productivity, sales and business.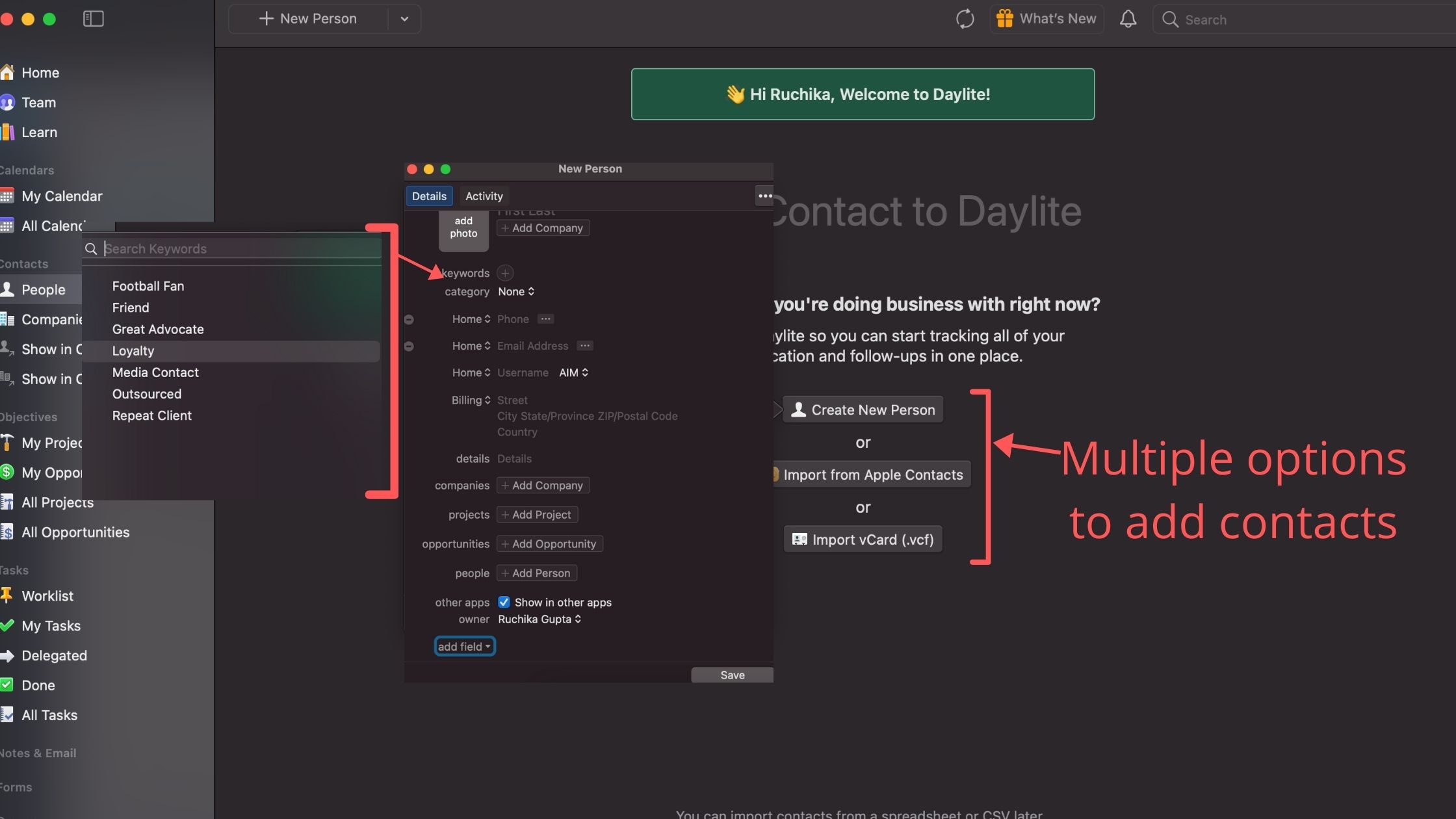 You have multiple options to add contacts to Daylite. Once added, you can link contacts to searchable keywords, companies or projects, tasks or appointments – any other entity really! And that means it is super quick and streamlined when working on day-to-day activities like checking up on leads (in the Contacts module), scheduling calls (from within tasks) meeting notes from those meetings so that they don't get lost again.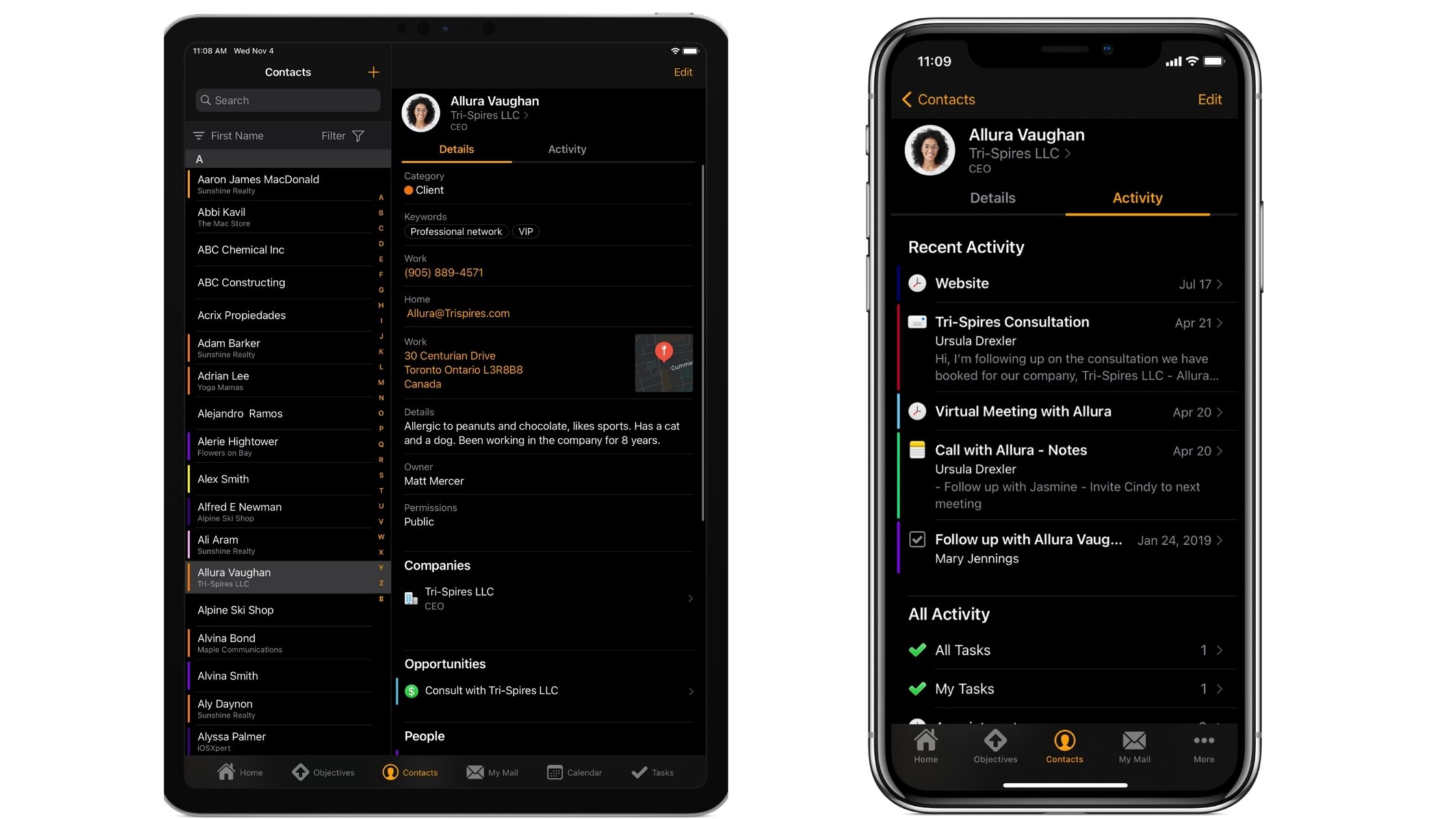 4. Seamless Lead Management and Tracking
Daylite offers a streamlined way to manage and track your lead conversions by centralizing all your data into one place.
It has all the essential tools you need to collect data on new prospects under the module opportunities.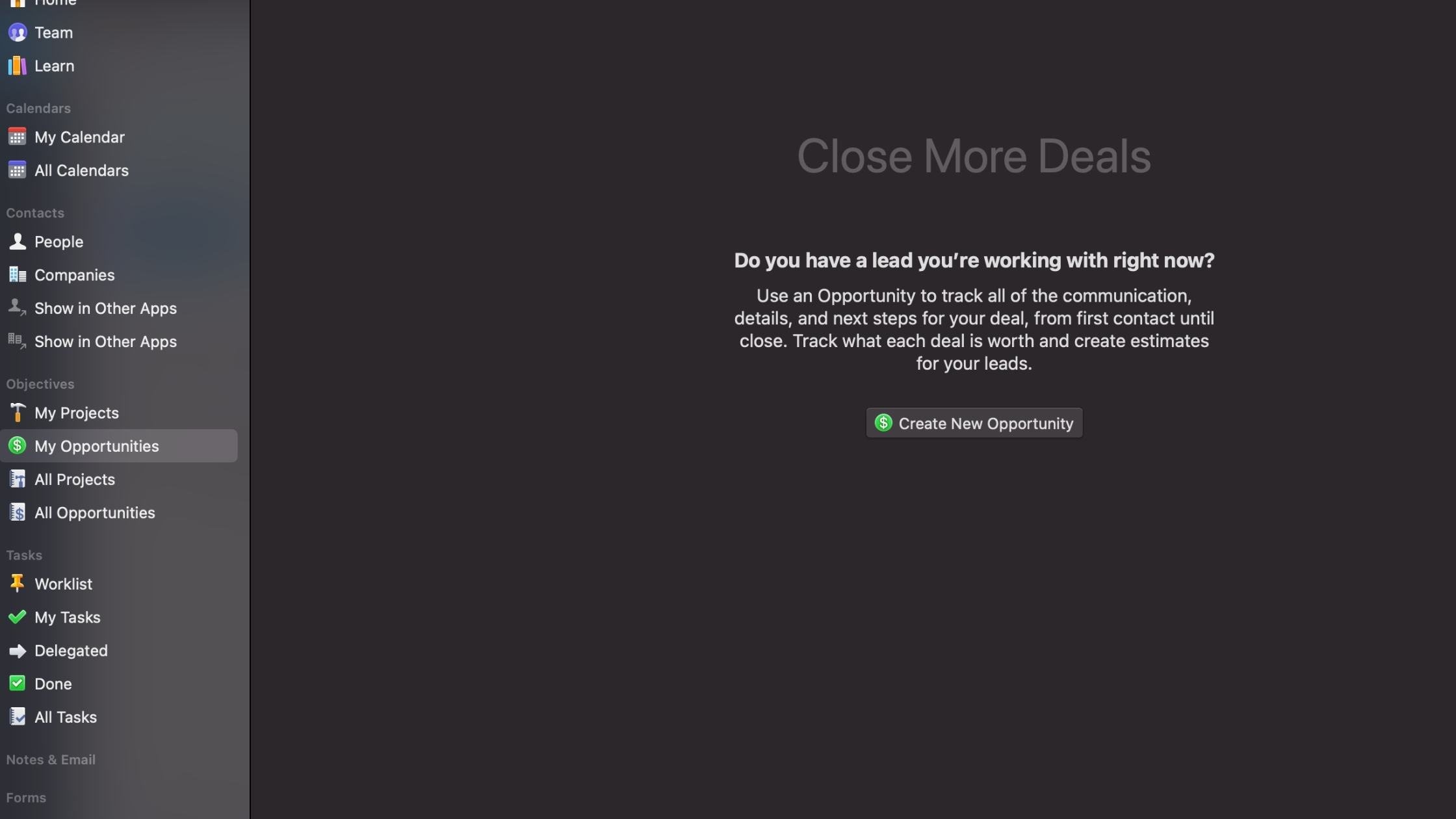 An opportunity is a track of what you need to do with your leads or prospects to convert them into clients. You can easily find out what they are interested in, who referred their contact information, any activity your team had with the leads, or how much the deal is worth.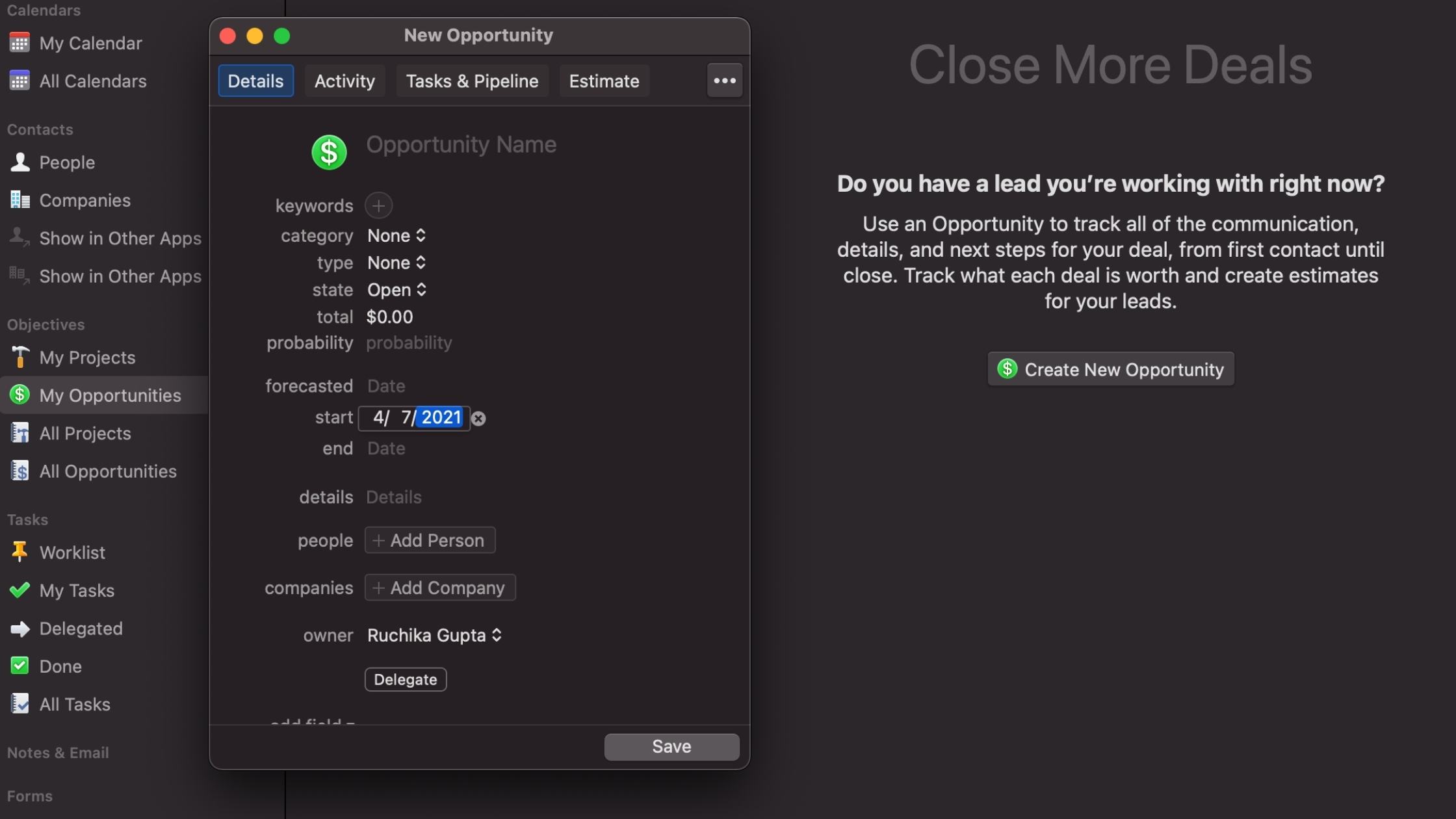 With this knowledge at hand, you can follow up with them before the opportunity expires, prepare compelling sales presentations AND know what is most likely to close the deal!
If this doesn't excite you yet, Daylite features some powerful lead and sales tracker tools that ensure nothing falls through the cracks while also making sure there are no missing pieces during each stage, giving everyone involved the chance for success.
Smart lists
Daylite lets you filter out opportunities according to any criteria of your choice and save these as a list. This list will automatically update with all new listings that meet your parameters for filtering. 

Lead Scoring
Another powerful feature is lead scoring which helps you prioritize your leads based on level of interest (cold or hot), type of interest, or even based on their price tags, so you can know which prospects are worth pursuing and prioritize them. 
Activity sets
The activity set feature lets you work smarter by reminding you of what your next step should be, making it easy for you to stay on top of things and not miss a deal. It also includes tracking features that make sure nothing falls through the cracks of lost emails. 
Daylite alerts users if there is an update on anything pending via email notifications. You can even set recurring reminders on certain dates or times of day for all important meetings.
 Sales Pipeline
Daylite offers an easy solution for sales pipeline management, which will help any small business owner to meet his conversion goals. You can create a sales process by following these steps:
-Create a new task or project.
-Add contacts (individuals or companies) to your pipeline and assign them a status of either Lead, Prospect, Closed Deal, etc.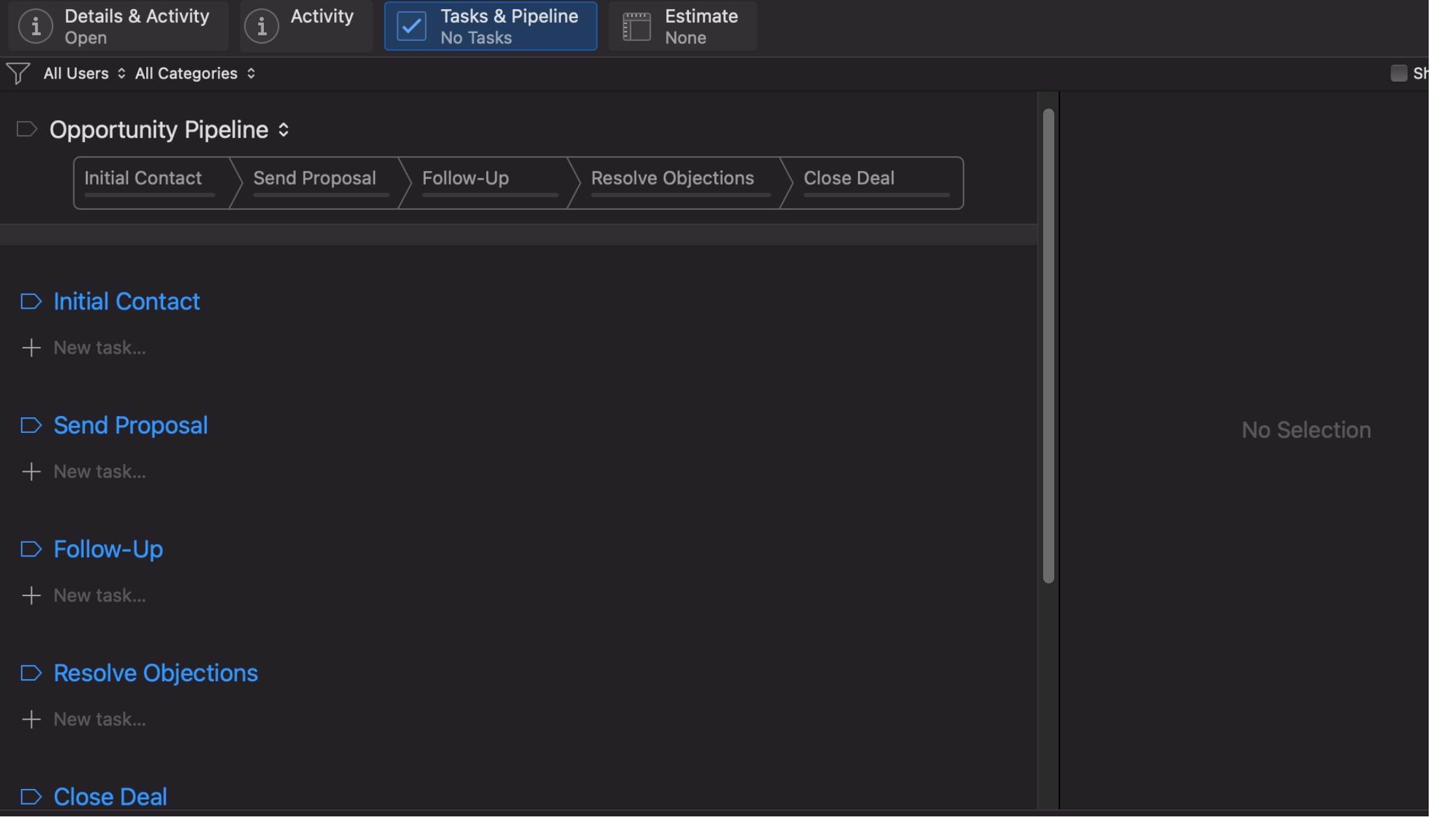 -View the Pipeline on Daylite by clicking the button in the upper left-hand corner of any screen. It will show all tasks/projects with their assigned statuses as well as other information such as scheduled dates for updating contact info and "pipeline" percentages for each stage in the process. You can also add notes to individual entries, so you never miss an important detail about that person/company again!
5. Efficient Project and Task management
To stay at the top of all your to-do list and ensure nothing slips through the cracks this CRM software serves as an easy-to-use project and task management tool as well. 
You can easily create projects, assign tasks to team members, prioritize workflow or create custom pipelines with its simple interface. Once a project is live, you can monitor its progress in real-time visually at a glance or with its built-in reports.

Another noteworthy feature is the ability to set up tasks with specific due dates and times. This feature is helpful for people who need to meet deadlines and get reminders of appointments.
In addition, a task can also be created as recurring so it will reoccur on a certain day of every month. It not only saves time but ensures that all-important items have been crossed off of your list.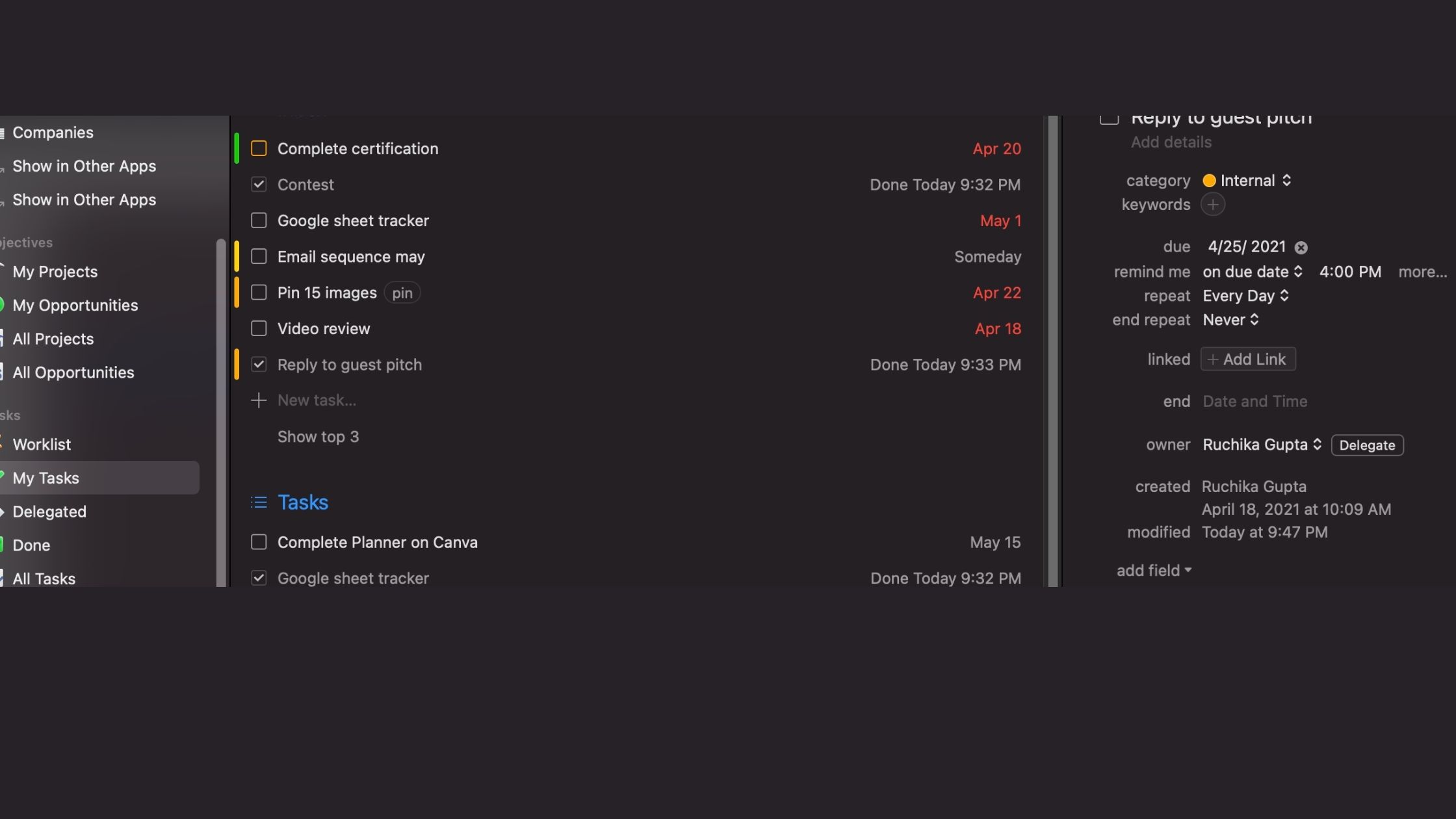 You can also delegate one team member's tasks to another to manage the workload and make sure everything is being taken care of. And as all relevant information (contacts, emails, files, or notes) related to a task is automatically linked to the project, there's no need to worry about information gaps.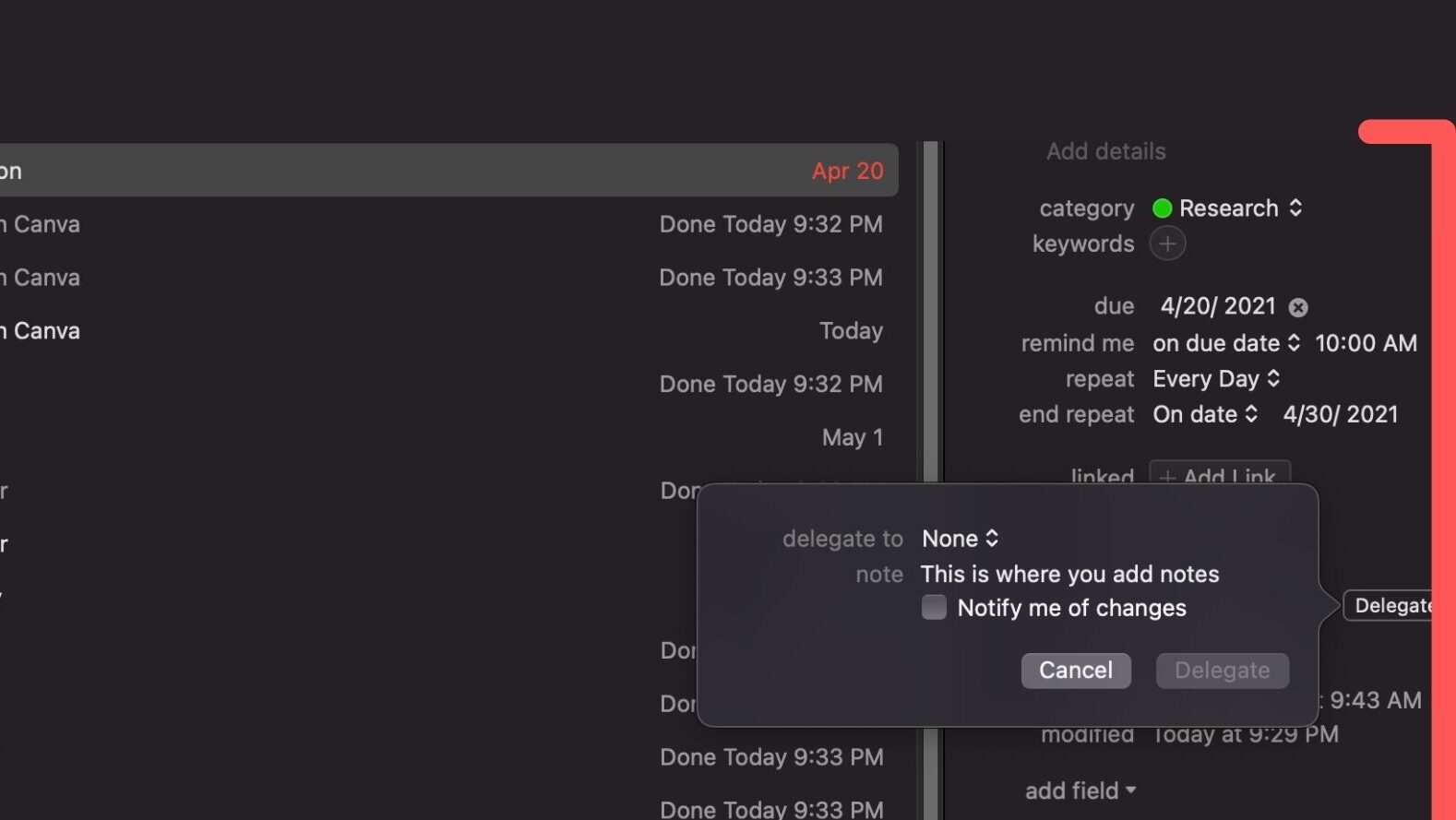 Since it integrates with your apple calendar, you can easily track all upcoming tasks of your team or set reminders and deadlines for them, even on the go using Daylite's mobile app. 
6. Transparent Reporting
Yet another powerful feature of Daylite is the reporting panel. It allows you to filter data in different ways, which can help determine how best to improve sales or productivity within your business as a whole.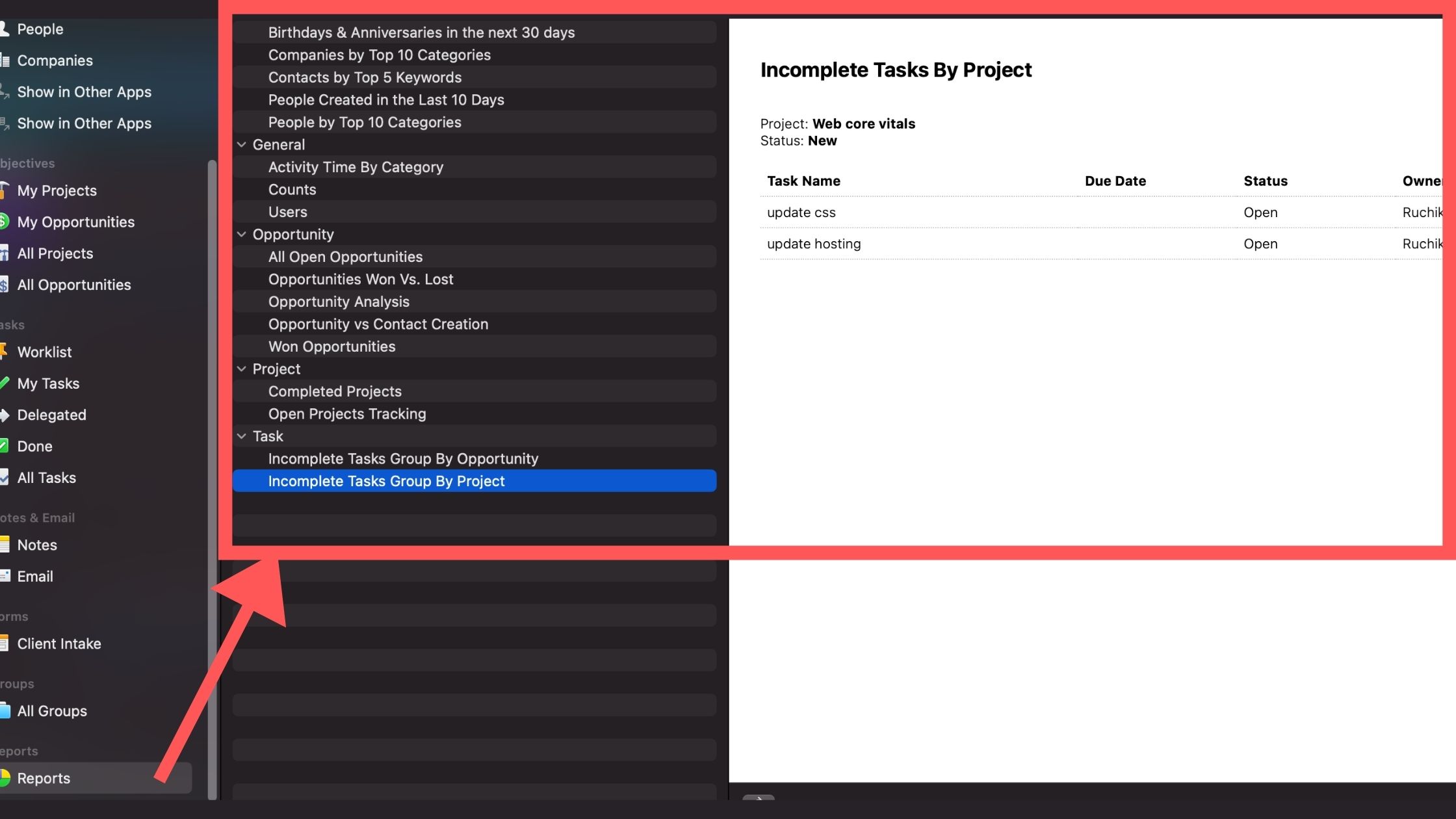 This powerful tool allows you to measure key metrics like lost opportunities, incomplete tasks and projects, time spent on each project or opportunity, and many other variables that determine your business growth. Generating timely reports is a great way for small business owners to get insight into the goings-on of their team and if there anything they can do to improve their sales pipeline.
Daylite CRM pricing
Daylite offers a monthly subscription at an affordable price of $29 per month (billed monthly) or $24 (billed annually) per user. It also offers 30 day free trial which gives new users access to all the features of this awesome CRM.
Daylite Advantages
Daylite offers an array of features that encourage productivity and sales for small businesses around the world. It is designed to be a good way to track things, so you are not spending too much time on spreadsheets or paper-based records management systems.
Daylite's mobile app lets you access your data on the go
You can create custom reports to see how your business is doing
With Daylite, you can sync all of your contacts and calendars in one place
It helps you stay on top of your marketing campaign by tracking all leads in one place
With Daylite, you'll never miss a deadline with reminders that pop up right on your desktop or mobile device
Get an overview of what's happening in each department with the dashboard view
Create tasks and assign them to team members with the click of a button
Track how much time you spend working on each project so you can stay focused and productive
Is the Daylite CRM tool right for you?
You may be wondering, "Should I use Daylite?" or "Is this the right tool for me?".
Daylite will give you everything that a CRM offers with none of the hassle or expensive price tag typically associated with them. 
Sign up now and see how much more productive you can be! The free trial of Daylite gives you access to all the features of this awesome tool without committing to anything long term.
Daylite CRM Review- Summary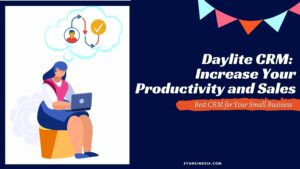 Daylite is the perfect solution for small business owners who want to track their leads and sales. You can create custom fields, customize reports, and sync with your favorite accounting software. It's easy to use so you can spend less time on administrative tasks and more time growing your company!
Price: 24
Price Currency: $
Operating System: iOS
Application Category: CRM
---
Recommended Read:
GrooveFunnels: Free Funnel builder and All-in-One Marketing Platform for Online Business Owners