Do you have clothes in your closet that you never wear? Instead of letting them take up space, why not sell them and make some profit? Here you'll find the best places to sell clothes online and locally for cash in 2022.
When we moved out of the US, we sold a lot of clothes. Clothes we bought from factory outlets, Thanksgiving sales, off-season clearance, or anything you name – let's just say I was obsessed with shopping.
Since it was not a planned move, we had a big stock of used clothes that we had to offload to make space for the ones still with tags.
It was a bit stressful for sure, but thanks to online clothes selling apps and websites that buy clothes, we sold most of our used clothes and got some decent money. 
I still use many of these sites, as I have a closet full of clothes, hoping I'll wear them after shedding some pounds!
This website contains affiliate links which means we may earn commissions if you purchase through them (no extra cost to you). You can read our policies here.
Where To Sell Used Clothes online?
There are many ways to sell clothes online, and each has its own unique benefits.
Some websites are great for those who want to make quick cash off of gently used items.
There are also apps to sell clothes that cater to those interested in flipping higher-priced items for a profit.
And then there are places that allow you to trade in your old clothes for new ones.
Whichever route you choose, we have compiled a list of the best places to sell clothes online for cash.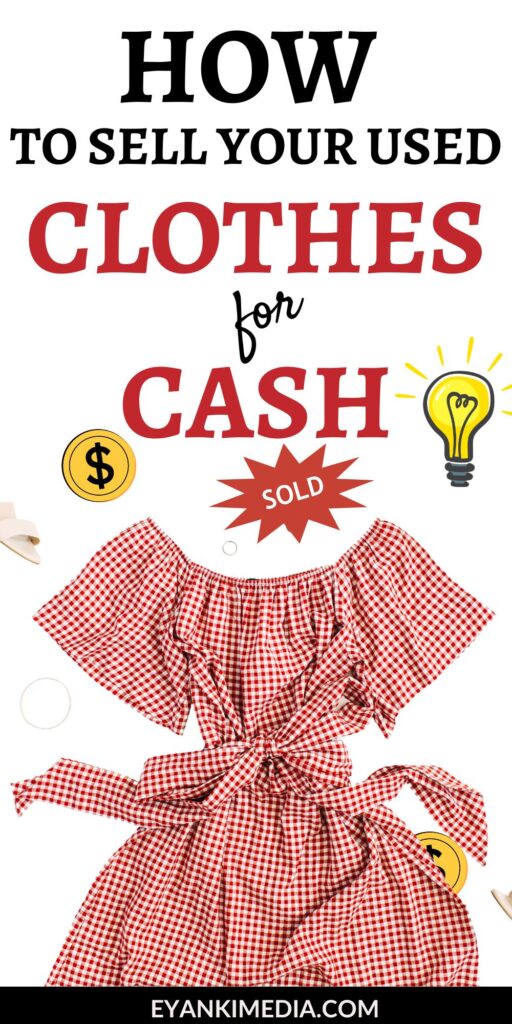 How to Choose Your Clothes Selling App Or Website To sell Your clothes
Before we get into selling, let's look at the things to take care while selecting the best marketplace to sell clothes on.
👉 Know the seller fees: The foremost concern for every seller is to know the seller fees. Every site has a different pricing policy, and you should be aware of all charges before listing your clothes.
For example, some websites may charge a listing fee, while others may take a percentage of the final sale price or both. These fees together can affect your profit margins while selling online.
👉 The customer base: A pro tip here is to choose an app or website with the maximum customer base; that way, you can reach potential buyers without much effort.
👉 The selling items: Before you find a website and think about enlisting your product, look at the items the website accepts.
Currently, women's clothing is the best selling niche, but if you are someone looking to sell used children's clothes and toys, check the website's acceptance criteria.
👉 The ease of selling: Clicking pictures and listing clothes to sell can be time-consuming. If you're too busy or want to avoid all these hassles, go with a platform that handles most of the work for you. Your job is simply to send them the clothes you want to sell.
Best Places to Sell Clothes Online for Cash
There are lots of good apps and websites where you can sell your used clothes online. Consider the following tested and tried sites/ selling apps to sell your old clothes and earn some extra cash.
1. ThredUP
| | | |
| --- | --- | --- |
| TL;DR  | Best for: Everyday clothes | Effort: Less |
Are you looking for the most user-friendly way to sell your clothes online? Look no further than thredUP. 
Forbes says thredUP is the best place to buy and sell used apparel online.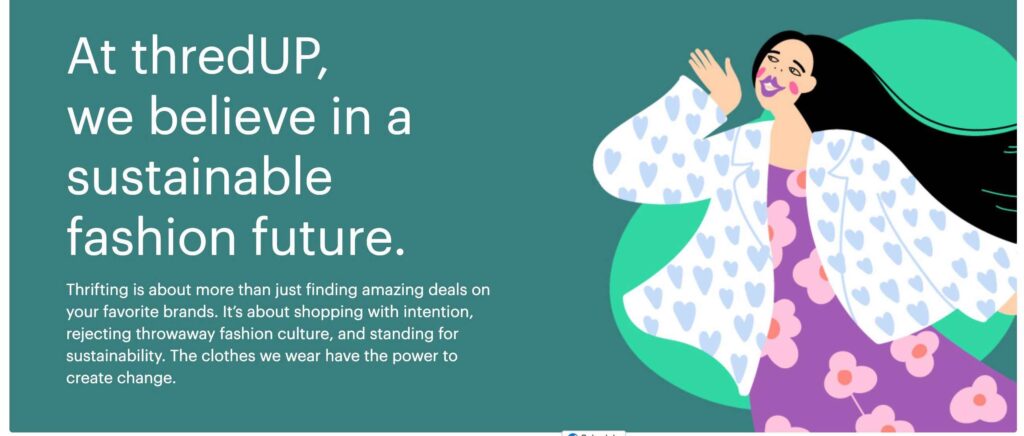 From Gap to Gucci, this online consignment store and thrift store sells over 35,000 women 👗 and kids brands at sustainable prices. 
Unlike other clothing resale sites, with thredUP, you don't have to photograph or list your items on their website. 
Instead, to sell your items at thredUP, you just have to order their clean-out kit 🧺, fill it up with the clothes that no longer require your love, and send it to them.
The rest of the work is looked at by the thredUP team. They will keep what they can resell and list them on the thredUP website.
If you don't want to do any leg work, this is the best site to resale clothes for money.
In general, 40% of your apparel will be accepted, and you'll make 5%-80% of an item sold based on the listing price. This price is based on brand, demand, and quality of the item.
You can also use their online calculator to determine your estimate payout and adjust your listing price. Cool right?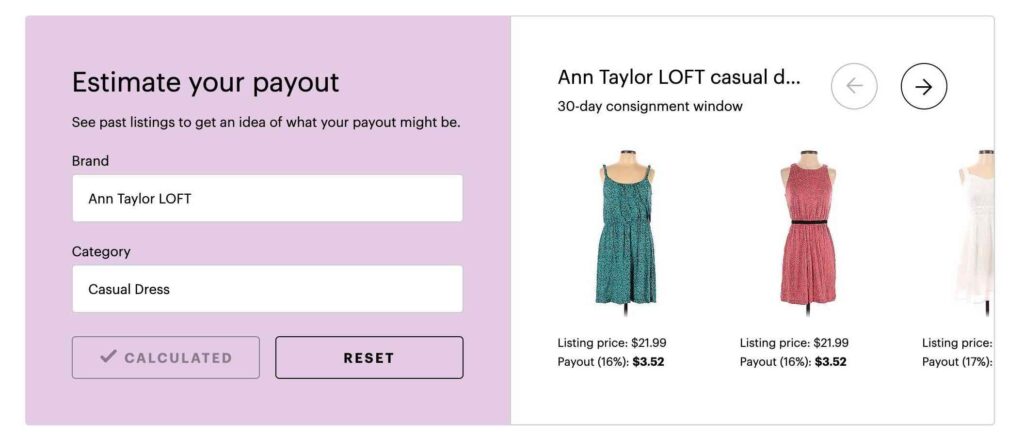 Once your item is sold, you can choose to get paid by PayPal for cash, a VISA prepaid card, or receive shopping credit from thredUP for your future shopping.
What about the rest of the clothes?
You can choose to donate clothes that don't make a cut. thredUP team will take care of the donation and pay you $5 for the donation.
However, if you want to get back those items, you'll have to pay a $10.99 fee. Yes, that sounds unfair, but thredUP is still convenient and easy to use.
To get the most bucks out of your items, there are some things you should consider:
👉 They accept clothes that are mildly used and are in a good state.
👉 Ensure your clothes are in good condition for the best prices. They must be clean, have brand (and size) tags, and are free of tears and taints.
2. eBay
| | | |
| --- | --- | --- |
| TL;DR  | Best for: High end brand mostly but you can sell anything! | Effort: Moderate |
Still ranking as one of the most popular online marketplaces in the world, eBay is the best place where you can sell your clothes at auction or for a fixed price.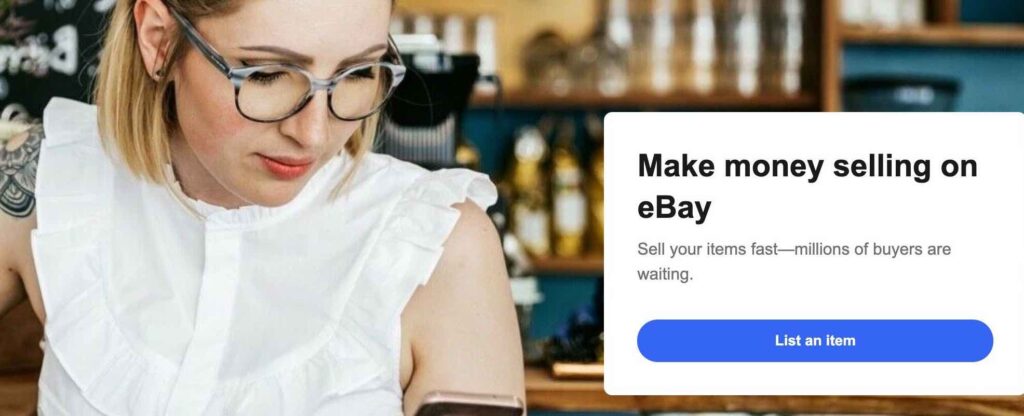 eBay has a huge customer base with millions of visitors, so your clothes will have a better chance of being quickly sold as compared to other places.
Coming to user-friendliness, eBay is pretty easy to use and cheap for selling your new or used clothes locally for cash or online.
To list an item on eBay, start by taking pictures of what you want to sell using their app, write a description and fill in required details to attract buyers and get more bids or offers.
The best part of selling on eBay is that you decide the selling price, style (buy now or auction), and shipping method of your clothes- making it one of the best place to sell clothes online.
The selling fees depend on how much your stuff sells for but typically range from 9-12% of the total sale price for clothes, plus a 3% PayPal fee and $0.35 per listing after your first 250 listings.
3. Poshmark
| | | |
| --- | --- | --- |
| TL;DR  | Best for: Everyday clothes for fashion enthusiasts (best clothes selling app) | Effort: Moderate |
Poshmark is more than just a shopping goal for used clothes. It is simple and easy to use compared to the ones listed above and rated as one of the best places to sell clothes for cash.
Poshmark not only sells used clothes, but it is a community of fashion enthusiasts who also curate looks for the shoppers.

This website sells a lot of items ranging from women's clothing to kids-wear and even electronics. 
To start selling on Poshmark, just download the app and sell your stuff in three simple steps: click, upload, and describe.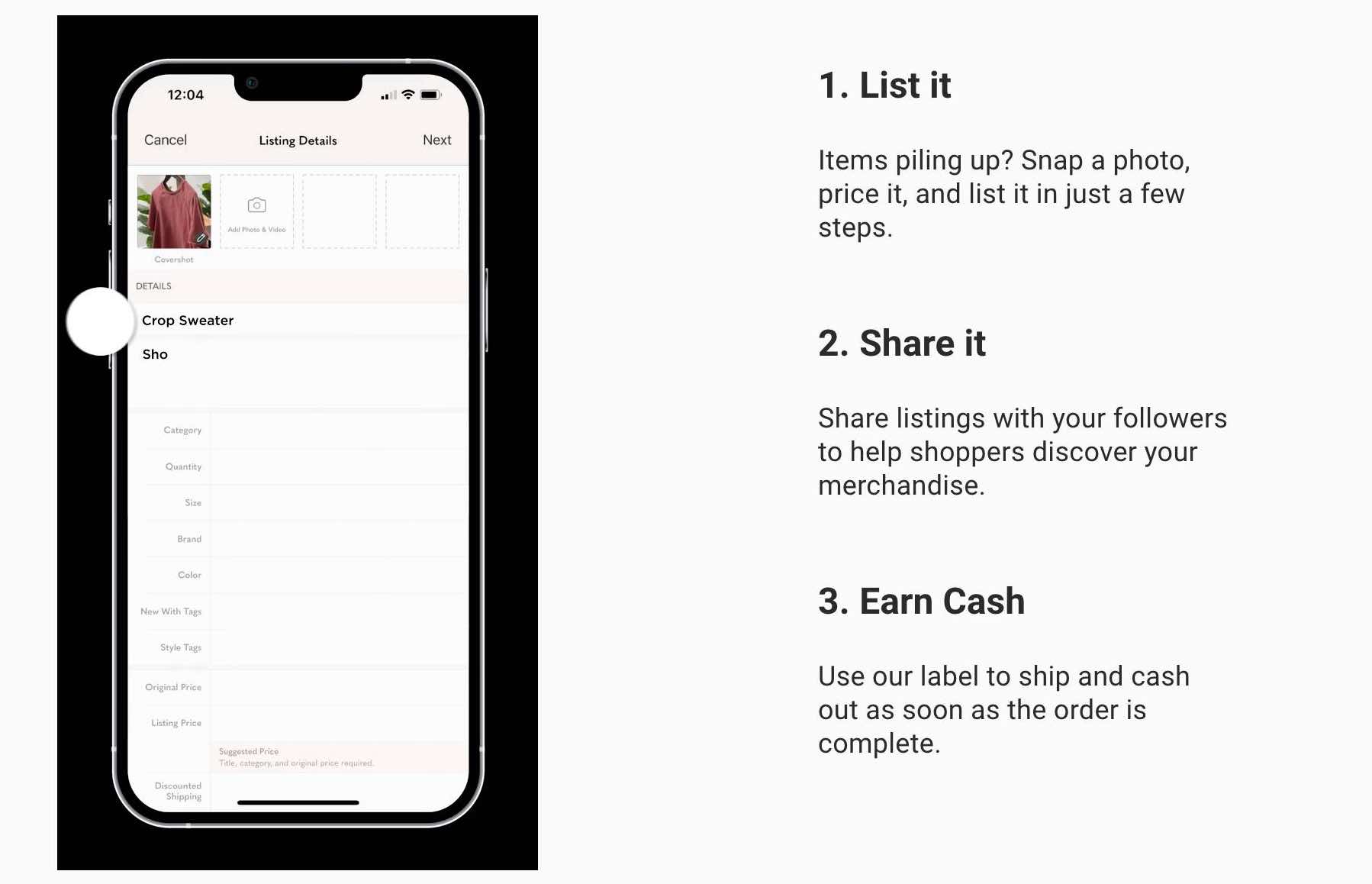 When you make a deal on Poshmark, they give you a prepaid, ready-to-use shipping label to deliver your order. You can drop the order at the USPS mailbox or get it picked up at your doorstep. 
When you make sales of $15 or more, the platform charges 20% as the commission, and for the items under $15, it charges flat fees of $2.95. 
You can keep your payments as credit in your Poshmark account, or if you wish to get it as cash, you can either set up in bank deposits or get a check sent to you.
Here are a few things to consider while using Poshmark to boost your sales:
👉 Respond to comments quickly and attend posh parties (virtual events for buying and selling) to build your audience.
👉 Offer discounts to those who liked your product and close sales early.
4. Mercari
| | | |
| --- | --- | --- |
| TL;DR  | Best for: Sell anything | Effort: Moderate |
Mercari is an online marketplace where you sell anything from clothes to toys. They have an app with a simple design that makes it super user-friendly.

All you have to do is download the app, create an account and start selling. Once the item is sold, you have three days to ship, which becomes easy if you send it through Mercari's printed labels.
Here is what you need to know about selling on Mercari:
👉 The buyer can rate the sellers to establish the seller's authenticity, so be polite, send the items as described, and ship on time.
👉 The buyer gets three days to return if they are not satisfied!
👉 A pro tip is to take pictures while you pack your items so there are no fraudulent return cases.
Similar to Depop, Mercari takes 10% of the final sale price of the product. Additionally, they charge 2.9% +$0.30 as a payment processing fee. You can get the payment directly into your bank account once everything is sorted.
5. Tradesy
| | | |
| --- | --- | --- |
| TL;DR  | Best for: Designer clothes | Effort: Less |
The New York Times quotes Tradesy, "Welcome to the collaborative economy. Spring cleaning has never been more profitable" and I cannot agree more. 
Made by women for women who love fashion, Tradesy is an online marketplace to buy and sell new and pre-owned designer fashion 👝.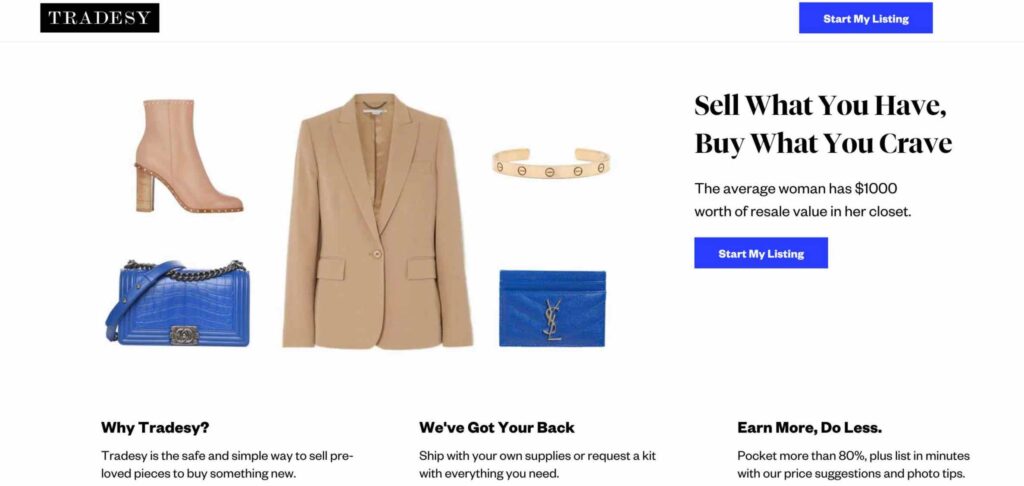 Tradesy is excellent if you have many accessories or other high-end fashion goods like handbags and belts. 
You can sell any luxury product in your closet that's in the best state.
Here comes the juicy part of selling: How do you sell your clothes and accessories on this platform?
You can list your items on their website. When someone buys your item, Tradesy will send you a free package to ship your items. Or if you want, you can print the shipping details and send the items directly to the buyer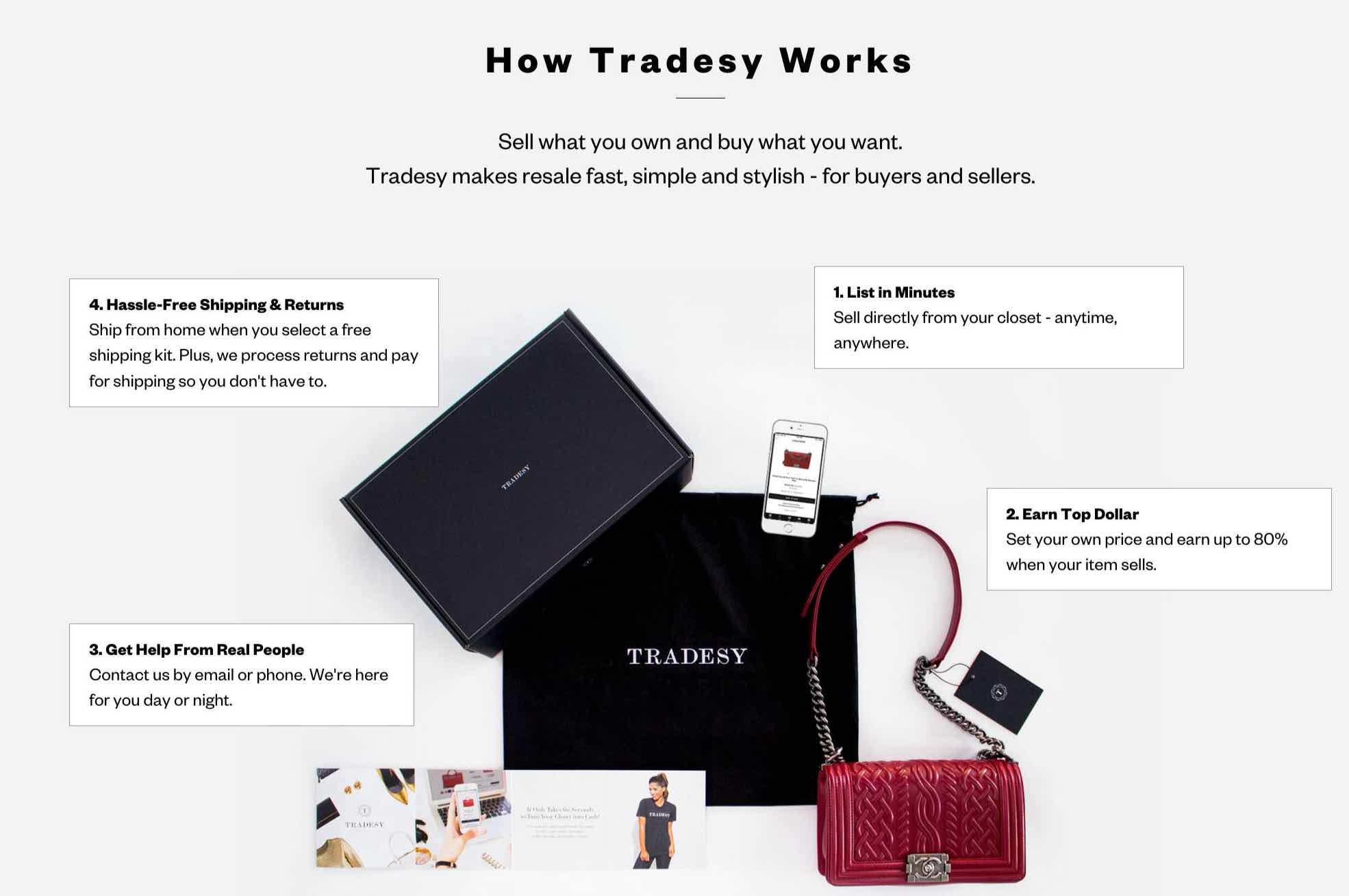 There are a few things to note while you enlist your used clothes at Tradesy:
👉 The listed item must be physically present and ready to ship.
👉 The listed items' photos should represent the item precisely, and descriptions should be accurate.
👉 You must confirm and ship the sold items within ten days of the order date.
Tradesy charges a fee of $7.50 for items sold for less than $50. For items worth more than $50, Tradesy charges a commission of 19.8 percent of the sale price.
Once your sale income is available, you can transfer funds to your PayPal or debit card or keep them on Tradesy to buy something you love.
6. The Real Real
| | | |
| --- | --- | --- |
| TL;DR  | Best for: Luxury brands | Effort: Less |
The Real Real is another great platform if you want to sell your luxury branded items. This site sells brands like Gucci, Prada, Chanel, Louis Vuitton, etc.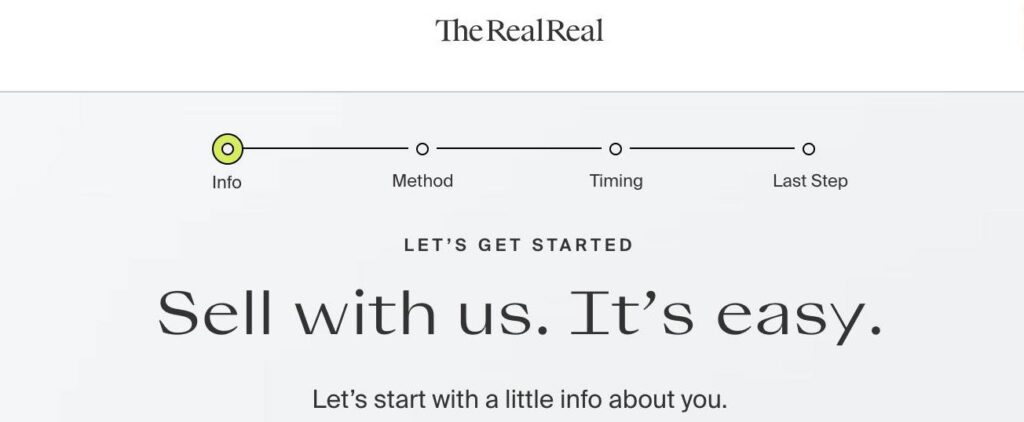 Just like thredUP, The Real Real is a luxury consignment site where you can send your clothes, and their experts will authenticate the product, photograph it and list it on their website.

You can schedule an at-home pickup or get direct free shipping if you have less than ten items. 
As a seller of The Real Real, you can earn 55% to 70% on the brand value, and it also depends on how much you sell with them annually.
Here are a few things to consider while enlisting in The Real Real:
👉 The items you want to sell must be original, not duplicated.
👉 The more you sell, the more you make! You can refer to their handy commission chart for more details.
Start selling clothes on Th real Real and get paid by direct deposit in your account or even earn site credit of +5%. 
7. Craigslist
| | | |
| --- | --- | --- |
| TL;DR  | Best for: Everyday clothes in your local area | Effort: Moderate |
One old-school option for selling clothes online is Craigslist – completely free to list and sell.
Craigslist has been around for years, and it is still one of the good places to sell clothes and other items quickly for cash locally.
The process of selling on Craigslist is super simple, even if you're new to online selling. Just list your items in appropriate categories, and add photos and discription. 
You can also include your contact information if you want to sell something fast. But as a word of advice, stay safe as you don't know whom your are dealing with and try to meet at public place only.
8. Vestiaire Collective
| | | |
| --- | --- | --- |
| TL;DR  | Best for: Designer fashion and pre-owned luxury | Effort: Moderate |
Vestiaire Collective is an excellent global marketplace for designer fashion and pre-owned luxury. The website caters to a community of over 15 million people who love the best quality at affordable prices and live for fashion.
They accept luxury items ranging from women's clothing to children's shoes and accessories. And the best part is you can enlist your products for free on their app.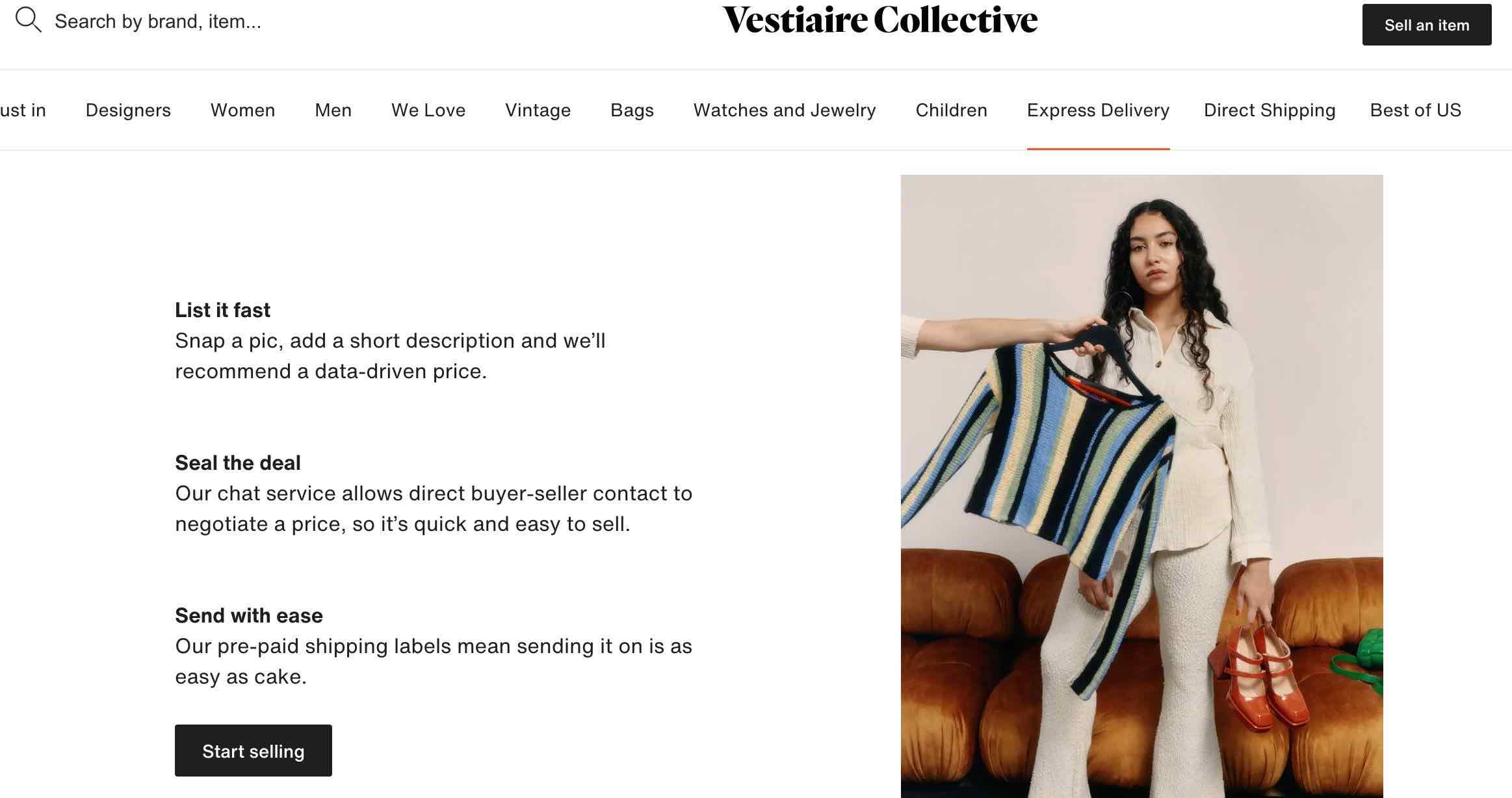 Simply download the app, take some great photos of your items, and list them with a good description.
They charge a 12% commission for items listed between $100 to $16500, and for items below $100, they charge a flat $12. 
Once you make a sale on this platform, ship your goods for free to them, they'll do the quality inspection and send it to the buyer. And voila!
You will receive your payment within in five days if you choose to have it deposited into your bank account or in 24 hours if you prefer to have it in your PayPal account. 
9. Depop
| | | |
| --- | --- | --- |
| TL;DR  | Best for: Fashion marketplace for Gen Z | Effort: Moderate |
Depop is a Gen Z favorite store that lets you set up your virtual shop where you can sell whatever you like, from unique clothes to vintage finds and art.
Once named the best resale shop in a teen survey, Depop has a website and an app which looks like Instagram, but the difference is you can buy and sell things.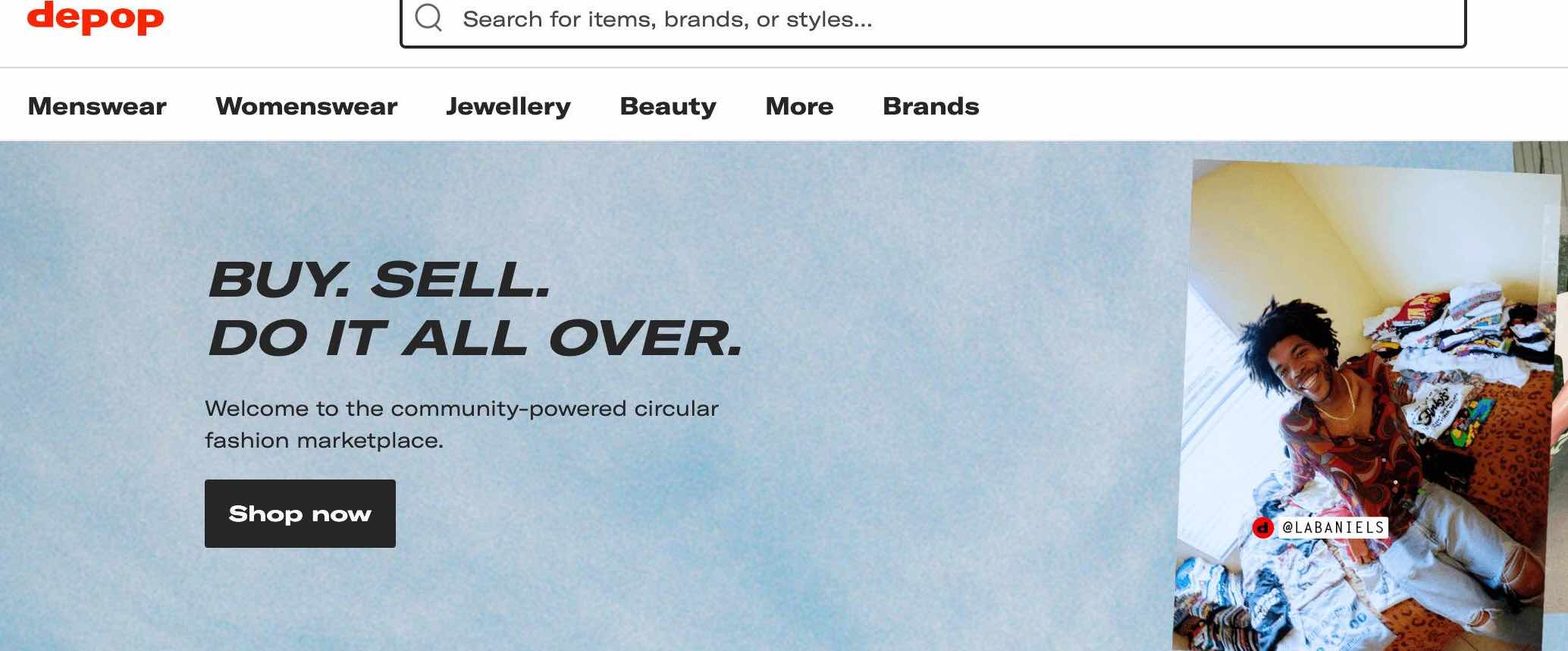 To start selling on Depop, download the app, take 'good photos' of your product, add a description, set the price, and use hashtags to make your products more visible.
Here is what you should know about selling on the Depop app:
👉 The app is best for selling anything unique and quirky.
👉 Since it's like Instagram, your photos should be good enough to make an impact (top sellers' recommendations).
👉 To grow on Depop, be social and follow other users to get noticed.
You are your boss here so when you sell on Depop, the payment is straight to your PayPal account and they charge a flat 10% on every item you sell.
It is great as they don't have any listing fees.
10. Vinted
| | | |
| --- | --- | --- |
| TL;DR  | Best for: Decluttering for all types esp. casual brands | Effort: Moderate |
Vinted is the best place to support the pre-loved fashion movement. If you own items that have retro or vintage vibes; you can sell them at Vinted.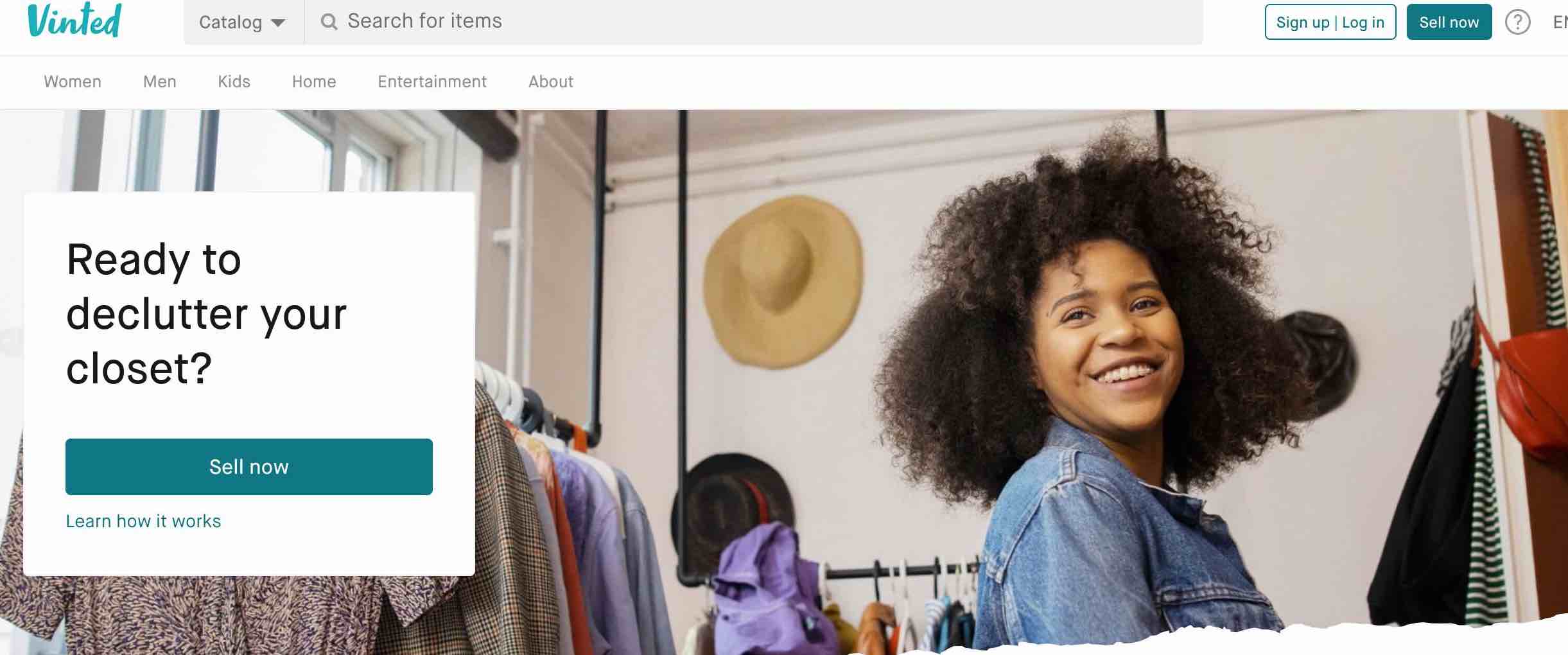 They accept clothes from all, be it men, women, or kids.
It is easy to sell on Vinted as you can list your apparel for free, and like other clothes-selling apps mentioned above, photograph the item you wish to sell and add a description.
Here are some of the cool things about selling on Vinted:
👉 Vinted charges the buyer instead of the seller, making you sell your goods for free.
👉 It also allows users to swap items instead of buying and selling.
👉 It is best to sell casual clothes instead of high-street fashion.
The best part about selling on Vinted is that they don't charge sellers. When you successfully sell an item on Vinted, the company will transfer your money into your Vinted wallet.
You can use this money to shop on Vinted or request a payout into your bank account. If you are already verified on Vinted, the payment will be made directly to your bank account within five working days.
11. Grailed
| | | |
| --- | --- | --- |
| TL;DR  | Best for: Just for men | Effort: Moderate |
Grailed is your go-to selling platform if you are looking to sell men's clothes.
To start selling on Grailed, you must set up an account and link your PayPal ID in advance. Next you are supposed to add a minimum of 3 photos and a good description to get started. 
Depending on what you are selling, you can list your items under four categories: Designers, Streetwear, Classic wear, and Casuals
The seller fees of Grailed are as minimum as 9%, meaning you will be charged 9% of the items sold by it a domestic sell or an international sell. Aside from that, a payment processing charge of 3.49% +.49 is added to each transaction.
The seller protection is what makes Grailed stand out from rest of the clothes selling websites we discussed till now.
12. Kidizen
| | | |
| --- | --- | --- |
| TL;DR  | Best for: For kids and moms | Effort: You can choose |
As the name suggests, this website is specially known for reselling mildly used kids' clothes.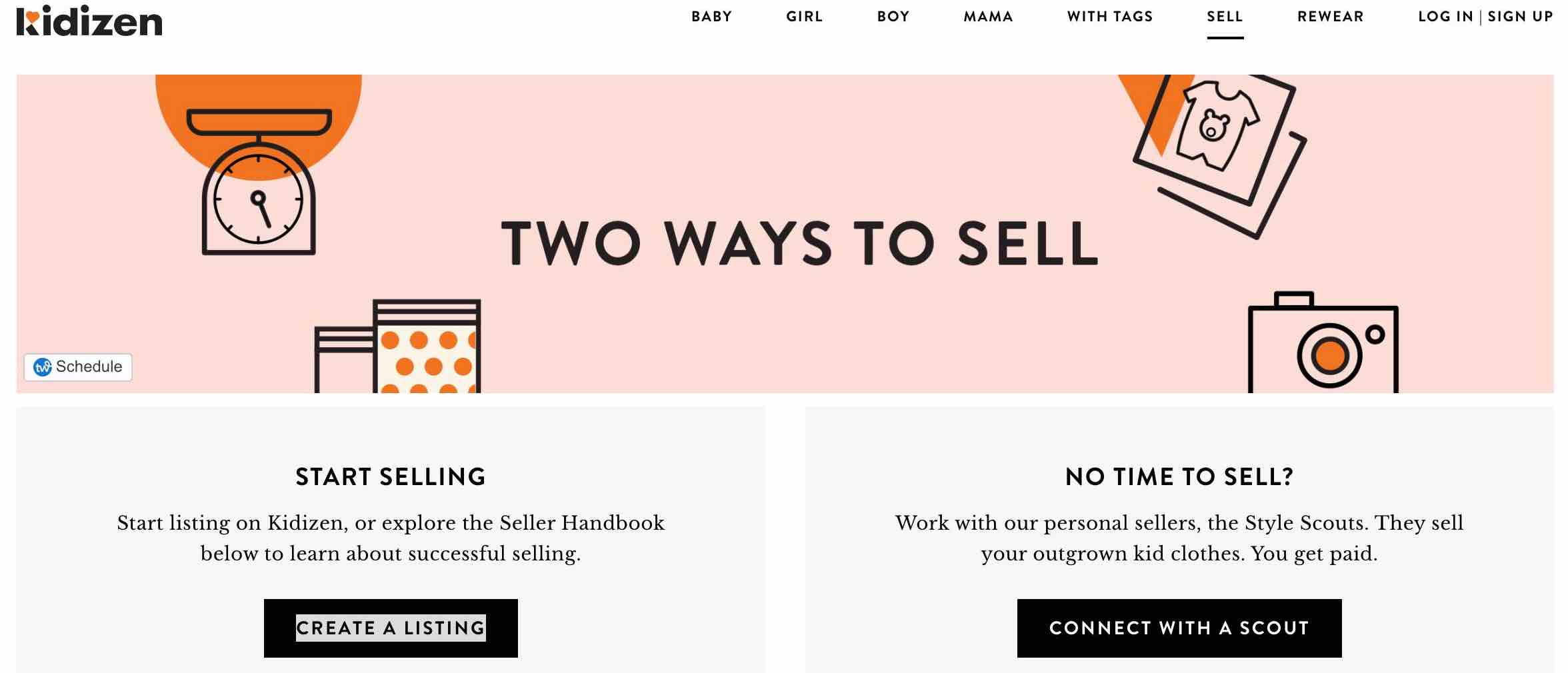 It is like a community of mothers that also sell things for mamas like mom clothes, shoes, and accessories.
There are two ways of selling on Kidizen: you list and sell items by yourself, and the other is you take the help of their professionals (known as the style scouts) who can sell them for you. 
Once your listing is sold, Kidizen keeps a 12% + 0.50 marketplace fees from your sale price.
The money gets transferred into your Kid Bucks balance. You can use this money to shop on Kidizen or request a payout into your PayPal account or a direct bank account. 
13. Swap
| | | |
| --- | --- | --- |
| TL;DR  | Best for: Decluttering for all types | Effort: Less |
Swap is a great place to sell or swap anything you wish, from clothes to books. It is easy to trade here; you just have to create an account and send your items to them.
The cost to ship the box to them is $19.99 (their label fee), which gets subtracted from your sales proceeds.
If the items get approved, they take all the pain to click pictures and add descriptions. 
If your items are not accepted, you can opt for reshipment for a fee or choose to donate. (It may take 30-50 days to get your items listed- so be patient!)
There are a few things to keep in mind while selling on Swap.com:
👉 They have strict acceptance criteria. For starters, the clothes must have the original value of $5 and include brand tags. And yes, they don't accept handmade or vintage items or those that have alternations. 
👉 If more than 40% of your box items are not accepted, they will charge you an extra fee. 
Selling fees:
If an item sells for $8.00 or less, you will receive 15% of the selling price as your commission.
If an item sells for $8.01 or more, you will receive 70% of the selling price minus a flat rate of $4.95 processing charge as your commission.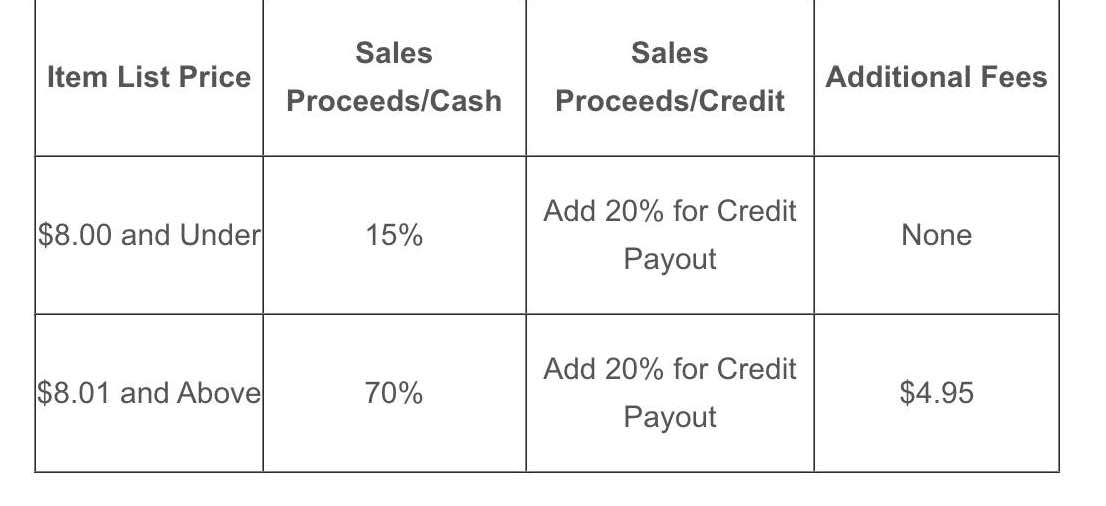 Swap.com has two ways of payment, the first is store credit, and the second is PayPal.
14. Facebook Marketplace
| | | |
| --- | --- | --- |
| TL;DR  | Best for: Quick cash selling your used clothes near you (locally) | Effort: Moderate |
The best way to sell clothes fast for cash locally is on Facebook.
The thing about Facebook is that it has become so popular that almost everyone has an account, making it one of the most popular places in today's digital age where you can find buyers ready to make purchases without having any hassle or delay!
Simple, easy, and convenient to use, combined with the fact that it is free to list clothes on the marketplace, makes Facebook a great website to get rid of your old clothes.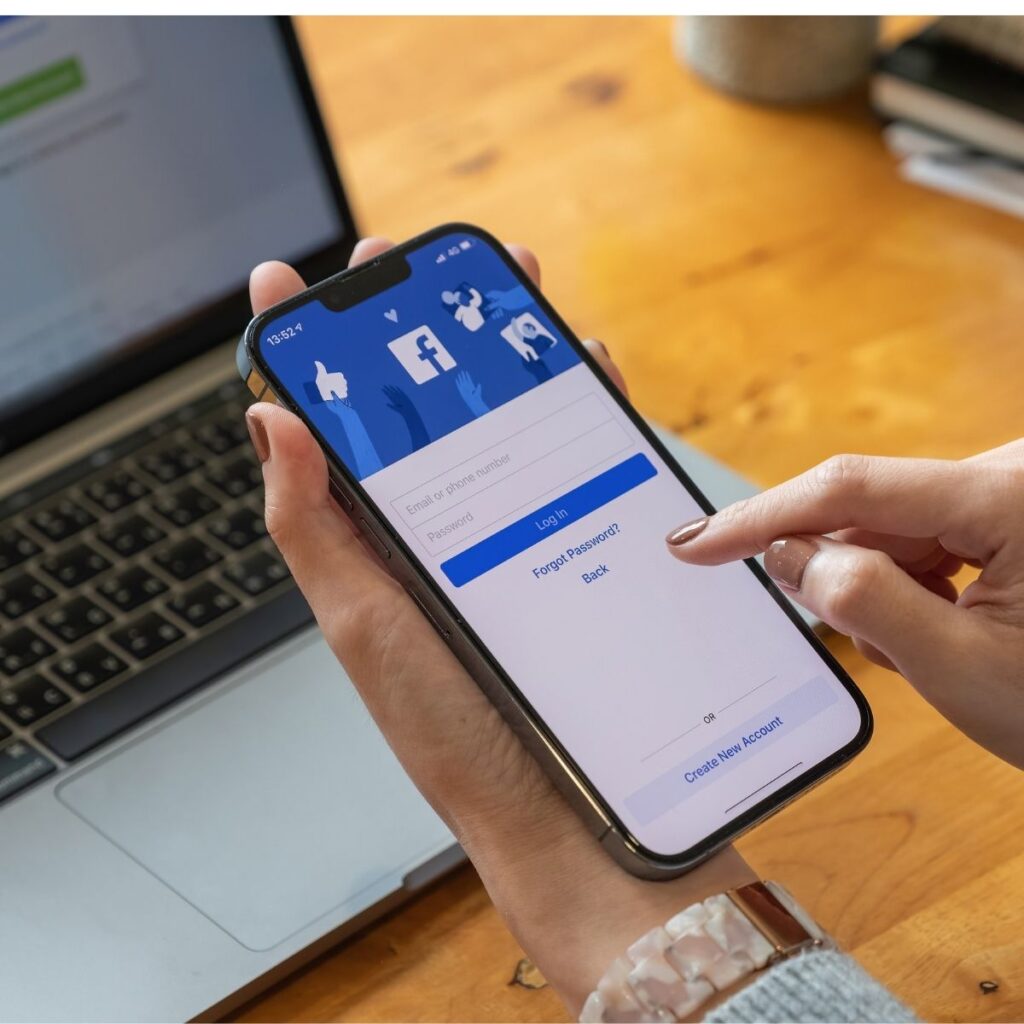 To sell on the Facebook Marketplace, simply take some pictures of what you want to sell and create a listing with a description, title, category, and price.
Once your listing is live, potential buyers in your area will be able to see your clothes and contact you to buy.
Local Facebook selling groups are also a great option if you want to get rid of clothes quickly in your local area without having to deal with shipping your items.
There are thousands of local groups dedicated to buying and selling used items, so there is a good chance you will find one near you.
Related reading:
Best Tips For Selling Clothes Online
Selling clothes online can be a profitable side hustle or a way to make quick money but to make the most out of it, you need to know how to sell clothes online the right way.
There are a lot of sellers in the online space, and to be successful in selling your used clothes quickly and earning a profit, you need to stand out from the crowd.
To help you get started, here are some of the best tips on how to sell clothes online:
Getting Your clothes Ready To Sell
This goes without saying that you cannot just list the clothes you want to get rid of and expect to make a sale.
Buyers love to get inspired by what they see! That's why it is important to make your clothes look presentable and ready for a new owner.
This means taking the time to remove stains or damage, lint-roll, or ironing out wrinkles to make them look nice and clean.
Photos Are Everything
The best way to increase the visibility of your clothes and get buyers interested is by taking photos that make them look appealing.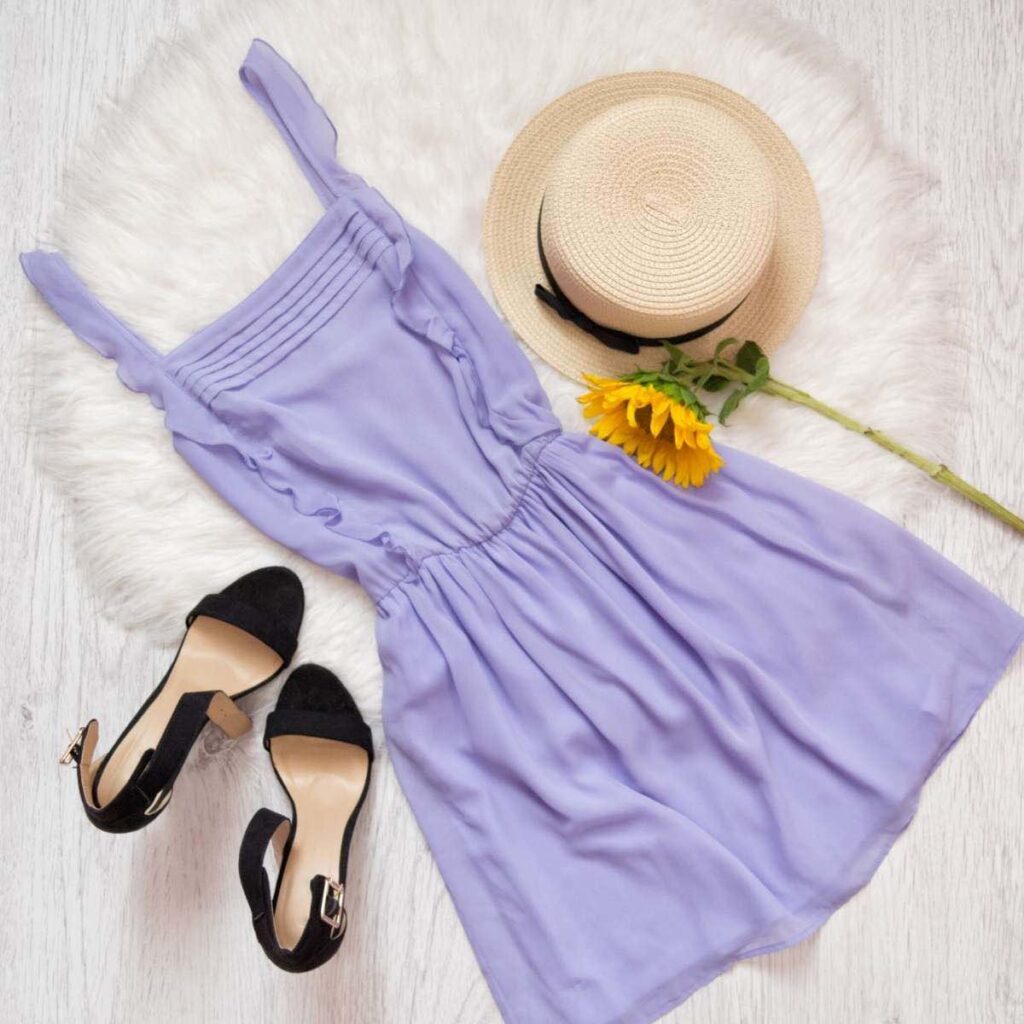 Be sure to take photos in a naturally well-lit room, from different angles and with a clean and clutter-free background.
You can also model the clothes to show how they look on an actual person. It is especially helpful if you want to sell luxury brands and expensive designer clothes.
You can also use mannequins if you don't want to model the clothes yourself. For the rest of the daily wear clothes, hanging on a good wooden hanger can do the trick.
Writing Descriptions That Sell
Your photos might help you get clicks, but if you can't effectively communicate what you're selling, you won't make any sales.
There are two main elements of communication here: The title and the description.
Title: The title of your listing is the first thing buyers will see after photos, so it's crucial to make it attention-grabbing and relevant.
A good rule of thumb is to include the size, brand, type of clothing, and any unique selling points in the title.
For example, "NWT Zara blazer, black size 4, only worn once!"
Description: After the title, your description is the next opportunity you have to sell your clothing to buyers.
Be sure to include important details like brand, size, color, fabric, condition, etc. while writing descriptions for your clothes,
The more information you provide, the better chance you have of selling your clothes quickly.
Incorrect or missing information can lead to returns and loss eventually. You should also mention any signs of wear and tear or damage so buyers know what they are getting.
Pricing Your Clothes To Sell
Figuring out how to price your clothes can be tricky. You want to be sure you are charging the right price for your clothes so you can make a profit from them.
Start by looking at similar listings online to see what other sellers are charging for similar items. Don't forget to factor in platform fees and shipping costs (if you are shipping at your expense) while pricing your clothes.
Seasonability And Trends
I am sure you may want to sell your clothes as soon as possible, but it is equally essential to consider the seasonality and trends when selling clothes online.
You are more likely to sell summer clothes in the spring and fall/winter clothes in the late summer or early fall.
The same goes for trendy items. If you are selling clothes that are no longer in style, you might have a hard time making a sale.
See what items are selling well at the moment so you can list your clothes accordingly.
Get familiar With Your Selling Platform 
Each selling platform listed above is unique in terms of how it operates.
Some platforms require you to ship your clothes to them, while others allow you to list, sell and communicate directly to buyers.
If you are selling on one of these platforms, be sure to respond to buyers quickly and answer any questions they have about your clothes.
The better customer service you provide, the more quickly you are to make a sale.
Ready to sell your used clothes online for cash?
Selling your used clothes online is a great way to clear out your closet and make extra money on your side.
Many people do it successfully and make a living out of it.
Just know that it requires some effort to take good photos, write great descriptions and ship your clothes quickly.
But once you get the hang of it, selling your clothes will be a breeze!
By following the tips above, you can increase your chances of making a sale and get the most money for your clothes.
More money making ideas
Flipping pallets for profit: How to make money selling liquidation pallets
Best stay at home jobs for moms
Best craft business to start from home